The 5 Best Mechanical Watches in Singapore Reviewed
Searching for a fine and classic timepiece to give to your loved one or get for yourself? You'll certainly be impressed with the excellent craftsmanship and personal touch of the best mechanical watches in Singapore.
Mechanical watches work without battery power. They offer accurate time display through hand-winding or automatic self-winding, making the mechanical watch a good, long-lasting option!
That's why despite the overgrowing demand for quartz watches and smartwatches, some people, particularly traditional watch collectors, still prefer to use the mechanical types.
However, since it's not exactly a common item that buyers would look for, it can be hard to determine which features to consider when choosing one.
To save you from hours of reading the specs of each model and trying to understand every single detail, we've summarised and listed the most important factors that you need to keep in mind.
And, so before we see our selected best mechanical watches in Singapore, here are some things that you must know first.
How to Choose the Right Mechanical Watch
As there are a ton of collections to choose from, varying in the material, styles, movement, and prices, it's not easy to find the one that suits you the most.
So, take a look at this guide first before you shop for the best mechanical watch in Singapore.
1. Mechanism
As mentioned earlier, mechanical watches work either by automatic or hand-wound operation.
With automatic or self-winding watches, there's a rotor attached to the watch's movement. When you move your wrist, the rotor spins and winds the watch by tightening the mainspring.
If you prefer more convenience and not having to worry about winding up beforehand, then an automatic watch would be a good option for you,
Meanwhile, hand-wound watches come with no rotor and they need to be manually wound by hand to operate. Due to the absence of a rotor, it's much lighter and thinner than an automatic watch.
2. Style
You also need to consider whether you prefer a metal or leather strap. There are also NATO straps available for some collections.
The choice of the strap will mainly depend on your preferred style, so there's not much to be said here other than to pick the one you can get the most use out of.
3. Dial
When it comes to dials, there are a lot of options to choose from. If you have a specific reason for buying a mechanical watch, then you must pay attention to this feature.
For example, an advanced watch with dials like chronographs would be perfect for divers. But if it's your first time to buy a mechanical watch, then a simple one will do.
The Best Mechanical Watches in Singapore
Now that you already know how to pick the right watch for your needs, you may see our list of the best mechanical watches in Singapore! We've selected each model based on their functionality, durability, and value for money!
Take a look at our recommended timepieces below!
1.   Longines Hydroconquest L3.781.4.56.6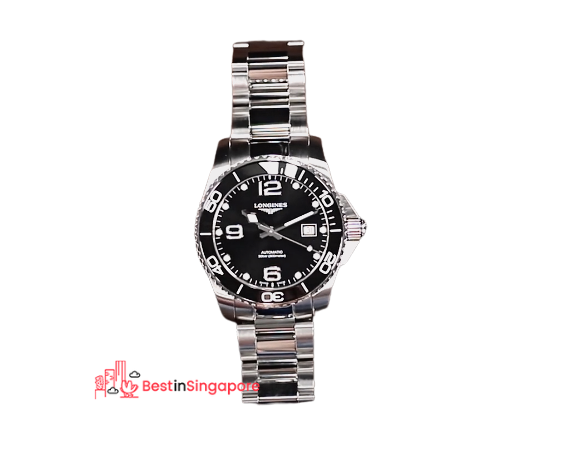 Price: $1,299.00
The Longines Hydroconquest L3.781.4.56.6 is an automatic mechanical watch with a metal strap that's perfect for everyday use! It features accurate displays of hours, minutes and even small seconds and dates so you don't have to check your phone just to see the date.
It's designed with a sleek modern case that's also water- and scratch-resistant, ensuring long-lasting use. Aside from its heavy-duty build, it also has an elegant touch to it, making it an ideal timepiece to wear during special occasions as well!
To make sure that the watch is fully secured to your wrist, it has a double safety folding scalp attached to its buckle. If you're looking for a simple yet durable timepiece, then this can be the best mechanical watch in Singapore for you!
Pros
Date is included in the display
Waterproof and scratch-resistant
Integrated diving extension 
Cons
2.   Tissot Heritage Visodate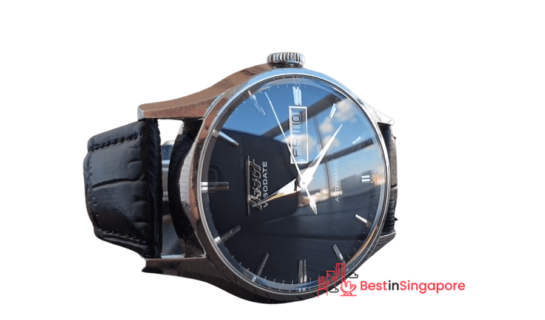 Price: $570.00
To complete your formal outfit for exclusive business meetings or grand company events, you must try the Tissot Heritage Visodate! It has a classic embossed cow leather strap that exudes a smart and sophisticated vibe.
It's also another automatic watch with a date function. However, this one comes with a display of both the day and date.
This modern timepiece features a detailed design with its curved dial that mirrors the dome glass for a clearer view.
The watch's cover is made of sapphire crystal that's highly resistant to impact. So, you can be sure that it won't easily break despite daily use. It's also resistant to water, gas, and even dust, giving you a highly efficient and durable design. 
Hands-down, it's the best mechanical watch in Singapore if you are active, like the outdoors yet still want a classic-looking timepiece.
Pros
Simple and sleek design
Dome-shaped sapphire crystal
Day and date function
Cons
Reserve power dries up within days
Requires frequent winding
Customer Reviews
Most customers said that the Tissot Heritage Visodate is a must-have item for every watch collector. They also said that they loved the clean and subtle look of the watch and its convenient day and date features.
A customer wrote this review:
"The Tissot Visodate is a subtle looking, simple and clean watch and it's design has proven to be timeless. The trusted and reliable ETA 2836-2 movement that comes with a very convenient day and date features will serve you well and provide a nice robust movement. It is very affordable for a totally Swiss Made automatic watch and without a doubt, it is the perfect choice for those just starting out in automatic watches and collectors alike."
3.   Hamilton Jazzmaster Viewmatic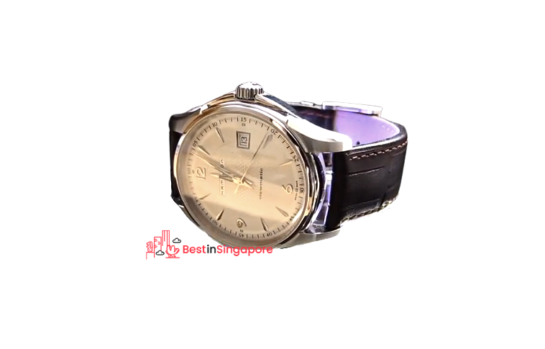 Price: $1,709.06
The Hamilton Jazzmaster Viewmatic features quality craftsmanship with its stainless steel case and fine leather strap, ensuring durability. This can also go well with formal business attire.
Just from a glance at its case, you can immediately see that it's a product of luxurious design. The pearled patterns and streamlined surfaces make it a great option for a pilot's watch.
Unlike the previous option, this automatic mechanical watch has a longer power reserve that can last up to 42 hours. This best mechanical watch in Singapore also has a see-through case back for a modern look.
Pros
Elegant look
Durable leather strap
Luxurious crystal glass
Accurate movement
Cons
Movement can be a bit noisy for some
Customer Reviews
The Hamilton Viewmatic Jazzmaster has earned positive reviews from watch collectors saying that it truly offers high-quality movement and classic style. A customer posted this feedback:
"Hamilton Jazzmaster Viewmatic is one of the brand's good features that most people aren't aware of. It has a beautiful guilloche dial, encased in a gorgeous sleek stainless steel casing which makes it one of the best dress watches I've ever seen. For those wanting a smart dress watch, want it to have that "Made In Swiss" tag without breaking your bank, then this gorgeous timepiece is for you."
4.   Xezo Air Commando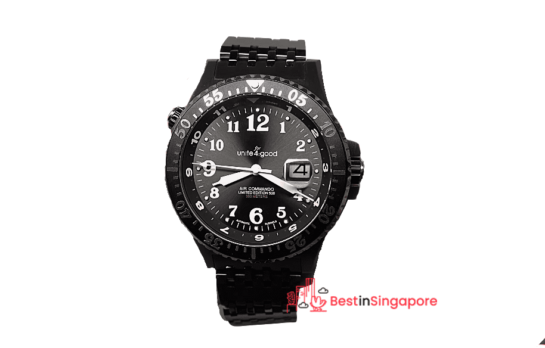 Price: $561.97
The Xezo Air Commando offers a variety of advanced features: one of our favorites is the shock-resistant case, making it the best mechanical watch in Singapore to wear when doing sports activities.
The case is also made up of sturdy material with anti-reflective sapphire crystal glass so you can see the time and date details clearly.
It's comfortable to wear on the wrist due to its large band and fold-over double safety clasp. Its band also has an adjustable pushpin to help you find the perfect fit, especially for those who have small wrists.
The most impressive features of this model are the independent bezels for minutes and dual time zones!
Pros
Nice fit and finish
Dual timezone feature
Shock and water-resistant
Adjustable band push pin
Cons
Bezel doesn't line up correctly with the 12 o'clock position
5.   Hamilton Khaki Field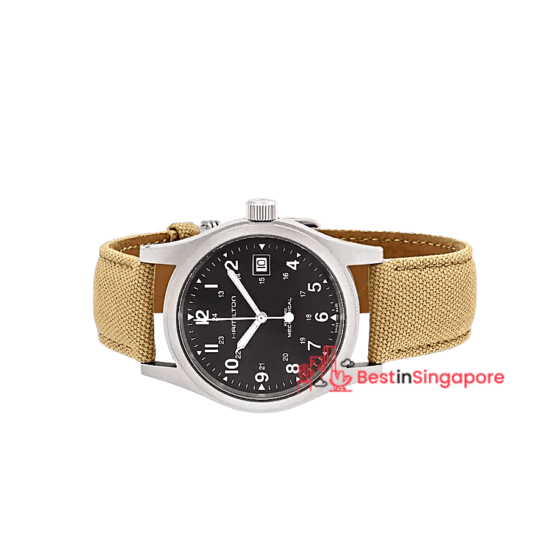 Price: $509.90
For those who love to add unique timepieces to their collection, the Hamilton Khaki Field is an exceptional item that you shouldn't miss! This hand-wound watch offers a personal connection that no other watch can ever offer.
Despite its basic design, it has everything you've been looking for in a watch, like time and date display and stylish design. It features a rugged canvas strap that can withstand heavy use so you can also wear it during travel!
This best mechanical watch in Singapore also offers a great power reserve rating of up to 44 hours so you won't need frequent hand-winding.
Pros
Stainless steel case
Sapphire crystal glass
Water-resistant
Rugged strap 
Cons
A bit specialized: not everyone will like its looks
And that's our list of the best mechanical watches in Singapore! Have you already decided which one would you like to buy? Tell us all about it!
And since mechanical watches require consistent winding to operate, check out our list of the best watch winders in Singapore. They might be helpful for you to maintain the quality performance of your beloved watch.