5 Best Watch Winders in Singapore Less Than $400
If you're very particular with your watches and you want to give them high-quality maintenance, then you should have the best watch winder in Singapore.
Watch winders keep your automatic and self-winding timepieces moving even when you're not wearing them. This ensures consistent time precision and a longer life for your beloved watches.
If you're searching for your first watch winder instead of just replacing your old one, though, you must certain things first. We'll go over them before we dive into our list of the best watch winders in Singapore right now.
Factors to Consider When Buying a Watch Winder
Having a watch winder in Singapore may not be common unless you have a collection of luxurious perpetual movement watches. So, most people may not be quite familiar with them or what to look for when getting one.
We can help you out there, however. To help you choose the right one, we've listed a few things that you should look out for when you go shopping for a watch winder.
1. Number of Watches
First of all, how many watches do you have? If you only have one or two timepieces that you want to maintain for as long as possible, then investing in a single watch winder would be a wise decision.
However, for those who have multiple selections and enjoy switching watches for every occasion, you may want to have dual-type winder or multi-compartment option. Or perhaps look into getting a watch winder box.
2. Accuracy
Good TPD (turns per day) or a high number of winding sessions each day will provide better performance. Thus, winders with high TPD are usually better.
To achieve perfect synchronisation constantly, you may also want to check if the watch winder has adjustable TPD. This will let you choose a more accurate setting for your timepiece. Always bear in mind that there are also automatic watch winders available.
3. Sound
Some watch winders in Singapore tend to produce noises when in use. Therefore, you must always check the operating sound and see if it is quiet enough to not disturb you during your sleep (if you want to keep the winder in your bedroom, anyway).
4. Material
Watch winders can be made of a lot of materials. The most common are wood and leather, though.
If you're picking one made of wood, it's advisable to pick built with premium wood. This will prevent cracks and other damage over time.
Another material is the leather type, which can protect the battery by providing stability between static and other forms of electricity. Again, try to choose one with quality leather, for better durability.
5. Watch Sizes
If you have a series of watches in different sizes, you may consider having customisable options where you can either add or remove compartments. This will let you wind different-sized watches easily.
The Best Watch Winders in Singapore
Now that you know what to look for in a winder, let's take a look at our picks. We've rounded up the best watch winders in Singapore with different sizes, features, and prices, leaving you a wide range of selections!
1. Wolf Cub Winder (Single)
Best for Larger and Heavier Watches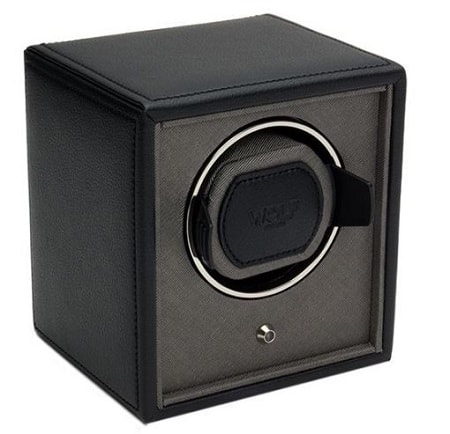 Price: $373.54
The Wolf Cub Winder (Single) is designed with black vegan leather material and can accommodate one watch at a time. This is a good choice for those who don't have a lot of timepieces.
It's also said to feature very precise rotations with its 900 TPD rating. This is pretty good — it's the standard for a decent watch winder.
The rotation settings include bi-directional and pre-programmed pause and sleep phases for more efficient use. For the watch size, it can fit in watches of up to 52mm. 
Highlights
Single type
900 TPD
25 X 4.5 X 5.75 inch
Up to 52mm watch size
Leather material
Pre-programmed pause and sleep phases
AC power or battery operated
Customer Reviews
Many customers shared that the Wolf Cub Winder (Single) doesn't produce much noise and has a nice appearance. They also liked that it could handle watches up to 52mm in size.
They said that it may not work with watches that have small wristbands, though. In spite of that, they said it's still one of the best watch winders in Singapore for those who only have one or two watches.
The Best Watch Winders Guide posted this review:
"If you are looking for a single watch winder that is reasonably priced, yet still functions flawlessly as it is meant to, you should consider a WOLF Designs Cub Series Single Watch Winder. This unit is expertly crafted, as well as being backed by the solid reputation of WOLF who have been making winders since 1834. This single winder is ideal for anyone who simply wants to keep one watch wound. It is able to accommodate larger, heavier watches as well as a good range of watch brands. It features bi-directional turning and comes pre-set at 900 turns per day. It is also simple to operate with a simple on/off switch and features an unobtrusive light to indicate the winder is operating."
2. JQueen Ebony Double Watch Winder
Best for Silent Operation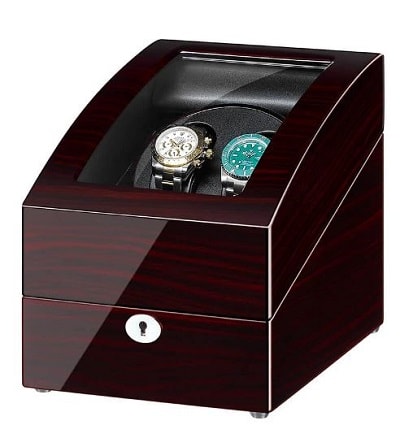 Price: $139.44
For those who have more than one watch to take care of, the JQueen Ebony Double Watch Winder can be the best watch winder in Singapore for you! This one is a dual type and it's made of high-quality wood material.
Aside from being able to operate two watches at the same time, it also has three storage spaces where you can keep your other collections. It's known for its ultra-quiet motor, which lets you sleep soundly throughout the night.
It features multiple rotation settings including clockwise, counterclockwise, and alternating. It also has an elegant design that will surely add a classic vibe to your room. If you prioritise silence and don't mind a classic box design, this could well be the best watch winder in Singapore for you.
Highlights
Dual type
87 x 9.84 x 12.99 inch
Up to 66 mm watch size
Wood material
Ultra-quiet motor
AC power or battery operated
Customer Reviews
Some customers said that it may not be a wise option for those who have large wristbands. Despite this, they still recommend the JQueen Ebony Double Watch Winder for its silent motor and dynamic settings.
Tools of Men features this item on their review and wrote:
"This particular model of watch winder is able to wind two watches at once, perfect if you have two or three watches that you wear regularly. The pillows that the watches rest on are not very big, so men with large wrists may have some trouble keeping the watch from slipping off if it is not adjustable. Its 7"x7", great for small to medium sized watch faces. Larger watches may have some problems due to how close the watch pillows are. Other than that, it is a very good quality watch winder that works without too many issues." 
 
3. Tresor M2-CF Watch Winder (Dual)
Best for Different TPD types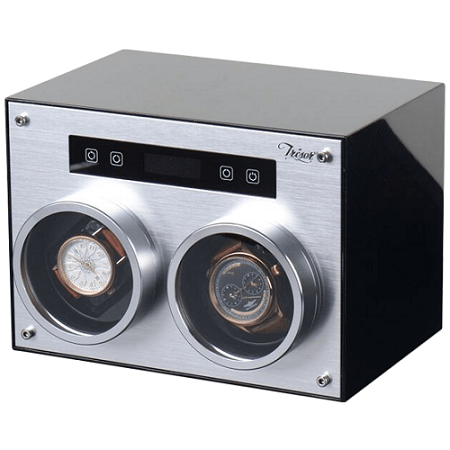 Price: $198.00
The Tresor M2-CF Watch Winder is also a dual type but this one features a distinct style, with its carbon fibre case. It's a bit more rugged than the previous product, but still good-looking.
There's no need to worry about uneven operations between two watches with this one as the winding heads are controlled and powered separately. We like that feature a lot.
But probably the best thing about this watch winder is that it has a total of 5 TPD types. That means you can easily modify the settings according to what your timepiece needs.
For the rotation settings, it has clockwise, anti-clockwise, and bi-directional options. With these qualities, it can definitely be the best watch winder in Singapore for a lot of people. 
Highlights
Dual type
05 x 6.49 x 7.08 inch
Carbon fibre case
5 TPD types
AC power-operated
Customer Reviews
Customers admired the design, variety of modes and TPD of the Tresor M2-CF Watch Winder (Dual). However, some had slight concerns regarding the material quality and touchscreen interface.
Here is some of the feedback posted on the brand's official website:
"Some savings on quality of materials but overall very nicely finished and good looking. Working well and silently. The touchscreen responsiveness is sometimes strange but you get used to it. Good deal for a 2-watch winder."
"just love how unique the design is! It fits the watches pretty nicely and it functions very well. You can choose the mode (clockwise or anti clockwise), the turns (varies from 650 to 1800 turns) within 24 hours time span and the unit as well. Definitely worth every penny. :)"
4. Orux OR005WT Watch Winder (Single)
Best for Easy to Use Settings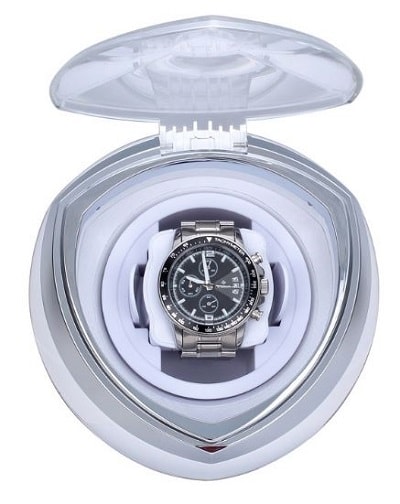 Price: $59.00
The Orux OR005WT Watch Winder (Single) gently rotates at different mode selections including clockwise, counterclockwise, and bi-directional.
Unlike others, it's made of ABS resin material that provides a very smooth and flawless design. Apart from the simple yet aesthetic appearance, it also comes with easy-to-use settings that have switch buttons to control the operation.
For those who want to have a simple but efficient one, this can be the best watch winder in Singapore for you! 
Highlights
77 x 5.98 x 5.70 inch
ABS resin material
Simple design
Different rotation modes
AC power-operated
5. 3+0 Bespoke Watch Winder
Best for Minimalist Design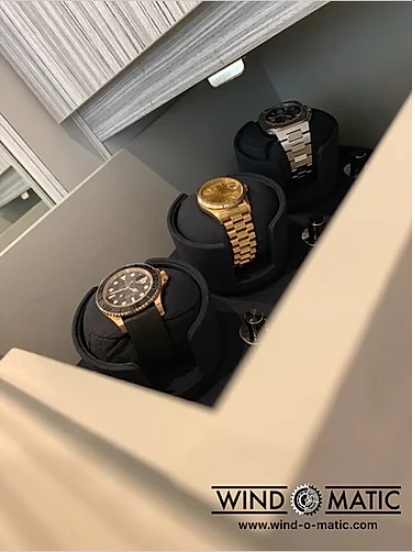 Price: $224.00
If you are living a minimalist life, 3+0 Bespoke Watch Winder is the perfect item for you. It is designed to fit any small compartments like  drawers, wardrobes, cabinets or safe. It also fits all kinds of watches, thanks to its beautiful grey suede and cushions.
The SwissKubiK watch winder is very silent and the chassis is solid and built to last, which is best for those who don't compromise in terms of quality. 
Wind-O-Matic even offers to deliver this across Singapore for free with a 1 year warranty so take your chance to avail this masterpiece of a watch winder now.
Highlights
Mabuchi Motors

5 mode directional settings (individually controlled)

In-built battery compartment (uses 2×2 AA batteries)
That's our list of the best watch winders in Singapore! As you can see, there's something in there for just about everyone and every type of automatic movement timepiece.
If you want to suggest another brand or item that must be included in the list, you can also share it with us! We'd love to know if there are watch winders we missed!
Oh, and if you're also looking for another watch to add on your collection, check out these best men's watches in Singapore!