9 Best Laundry Baskets in Singapore Under $40
Laundry baskets are a great tool for organising and sorting our dirty laundry. If you're searching for the best laundry baskets in Singapore to make laundry days much easier, this is your lucky day!
We've already done a list of the best washing machines in Singapore, so it's only natural that we'd do laundry baskets too at some point. Anyway, they're useful for keeping light clothes away from dark ones.
The laundry baskets we've found are not only durable and compact, they are also affordable. What's more, they're good-looking enough to add a bit of style to your laundry organisation.
But before showing the great options we've found, we'll first answer questions that most buyers of laundry baskets have in mind. Let's start!
FAQs When Buying Laundry Baskets
1. How do I sort my laundry?
Since we don't want to mess up our white shirts by mixing them with the coloured ones, it's best to have a laundry basket in Singapore for white clothes and another one for the coloured garments
A lot of people may not know this, but there are clothes ideal only for hand washing while there are some that do well in washing machines. It's also best to have separate laundry baskets for these to avoid damaging clothes.
In addition, there are garments that are fit only for dry clean, so you must also be wary of where to place them.
If you have a large family, it's highly advisable to have a laundry basket per person to encourage each family member to do their own laundry. It's never too early to teach kids not to depend on someone to wash their clothes for them, after all!
Now that you've discovered that there are multiple ways to organise your laundry, you now know that one laundry basket isn't enough.
However, we're not encouraging you to buy tons of laundry baskets for your household. Just buy enough baskets to fit your budget and use a sensible method of organisation.
2. What are the different types of laundry baskets?
Generally, there aren't a lot of types of laundry baskets available in the market today. What makes each one stand out from the rest is their material and capacity to carry loads of garments.
In this regard, as long as a laundry basket can properly store your dirty clothes in preparation for laundry day, we think it's already good.
Here are some of the different types of laundry baskets in Singapore you can find:
a. Plastic
A plastic laundry basket in Singapore is by far the most common one, but also the most inexpensive. If you are looking to buy more than one laundry basket but have a tight budget, consider getting plastic ones!
Moreover, plastic ones are also lightweight and easy to carry. You won't have a hard time dragging them across the room or bringing them to the laundry shop.
b. Wooden
On the other hand, wooden laundry baskets are considered the most expensive given their material. If you want a wooden laundry basket to match the interior of your room, then this one's perfect for you.
However, you need to make sure not to place wet clothes inside them, because these can cause the wood to get damp. So, sweaty gym attire is a no-no for wooden laundry baskets.
c. Canvas
If you want to go for a simple and minimalist design, then you should get a laundry basket made of canvas. This is cheaper compared to the wooden ones but a bit more expensive compared to the plastic ones — they're basically in the middle.
One of the benefits of having a canvas laundry basket is that it's portable and easy to carry. It also doesn't take up too much space because most of them can be folded.
What's more, they're even easy to clean and wash. If yours starts to smell, just wash it along with your dirty gartments!
3. Can laundry baskets be portable?
 A big yes to that!
Since laundry baskets are designed to carry a huge volume of clothes, a fully-loaded basket can be a bit difficult to carry all the way to the laundry room or the laundry shop. Hence, some manufacturers are coming up with ways to make them easy to transport from one place to another.
Some laundry baskets in Singapore are made with tiny wheels that allow you to drag them from one room to another. If you need to visualise what it looks like, just think about trolley bags and furniture with castors.
If you don't like wheeling them around, some laundry baskets also come with handles for easier carrying.
The Best Laundry Baskets in Singapore
There you have it! Now that we've answered most of your pressing questions about laundry baskets, you must be ready to see our list of the best laundry baskets in Singapore.
Check them out below!
1. Korken Laundry Basket
Best for Minimalist Design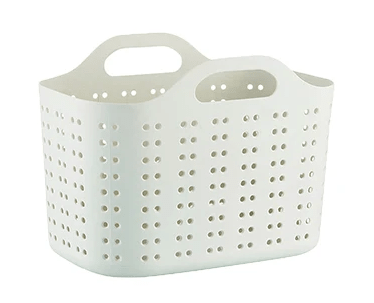 Price: $11.90
Buy it now on Shopee
If you want a laundry basket in Singapore that can store more than just dirty garments, then the Korken Laundry Basket is a great match for you. It doubles as a storage bin that can be used in the kitchen or even in the living room.
It has a simple and minimalist design that doesn't make it look weird even when used as a storage bin. You can even use it as a grocery basket — provided that it's clean, of course.
In addition, it has large handles that make it easy to carry. Oh, have we mentioned that it is also super durable?
Highlights
With different colours
Comes in two sizes
With two large handles
2. Citylife Round Laundry Basket
Best for Affordability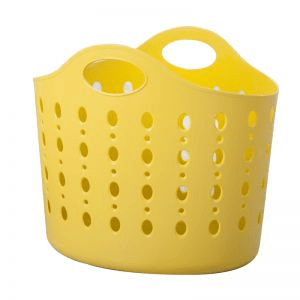 Price: $29.90
The Citylife Round Laundry Basket tops our list for two main reasons: it is affordable, and it can carry up to 38 liters of dirty garments. In addition, it also sports a cute pastel colour that will brighten up the mood of any room.
For portability, it has two smooth handles that won't hurt your hands when carrying. Unlike other laundry baskets, this one won't have you struggling to lift it.
More importantly, despite being plastic, it is made from 100% virgin PP, safe materials. You don't have to worry about exposing your family to toxic plastic items that may pose a risk to their health.
Highlights
Affordable
With different pastel colours
Durable design
Made from child-safe materials
Customer Reviews
Most buyers were shocked that the Citylife Round Laundry Basket is durable despite being cheap. They weren't expecting this much from an item that cost them less than $10. They also added that they would purchase more in the near future.
It also gained a lot of positive reviews from customers because it was able to make their laundry sessions easier once they were able to carry their laundry without hurting their arms and back.
3. Salvi Laundry Rack
Best for Portability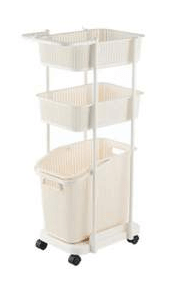 Price: 38.80
If you're looking for a laundry basket with wheels in Singapore, this could be your option.
The Salvi Laundry Rack is a three-layered laundry basket that is perfect for people who struggle with organising their laundry and other items. The bottom tier comes with a large basket ideal for storing clothes while the upper two tiers can be used as storage bins for detergents and other personal items.
This is also ideal for people with small rooms because it doesn't take up too much space. In spite of that, the multiple levels give it a lot of storage space.
In terms of portability, it also comes with four smooth wheels that allow you to drag it from your room all the way to the laundry room. With this one, we promise that you won't have a hard time transporting your laundry.
Highlights
Multi-layered rack
Sturdy material
4 wheels
Customer Reviews
If you take a look at its customer feedback online, you will often see that people are impressed with how easy it is to assemble, as well as with the sturdy build that allows it to carry heavy items. Customers also liked its compact design.
Some customers even commented that they would recommend this to their friends because they have nothing but praise for this laundry basket.
4. Laundry Basket Bag with Multiple Compartments
Best for Easy Segregation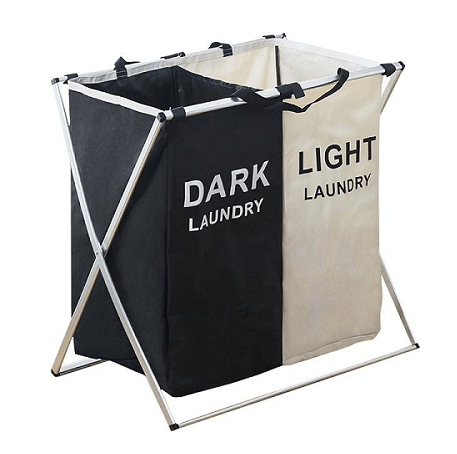 Price: $12.90
Keeping your dirty clothes separated by colour will be much easier with the Laundry Basket Bag. It comes with a sturdy steel frame and two labelled laundry baskets made from cloth, perfect for those who always forget to segregate their clothes.
What we really like about this one is its attention-grabbing labels, like its teaching you not to mix up your dirty clothes with one another. Each compartment has a legible label, so you won't be confused as to where you should put your dirty clothes.
On top of this, you may also fold the laundry bags when not in use to have extra space inside your room. It is also extremely lightweight, making a laundry bag in Singapore that's easy to carry.
Lastly, if two compartments aren't enough for you, you may opt for their laundry basket bag with three compartments.
Highlights
Multiple compartments
Perfect for segregation
Washable material
Durable frame
5. Houze Rattan Tall Laundry
Best for Large Volume of Laundry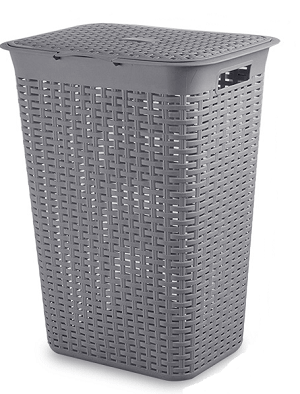 Price: $29.99
 If you want a laundry basket in Singapore that can endure huge volume of dirty clothes, then we highly recommend the Houze Rattan Tall Laundry. Despite being on the expensive side, we think that it's worth your money because it's designed to last long.
In addition, we believe it's ideal for people who dress up multiple times in a week, as it can carry up to a load of 60 liters at a time. You don't have to worry about your dirty clothes spilling over the basket.
It also comes with a lid to protect your clothes from getting dirtier than they already are. There is a good ventilation that allows your clothes to breathe to prevent accumulation of foul odor.
If you want a more minimalist design, you may choose between its muted colors of beige and grey. Any color will surely match the interior of your room.
More than being a storage for dirty clothes, it can also be used as a storage bin for different items such as books, toys, and sundries. So much for being a multifunctional basket! 
Highlights
Big capacity
With breathable ventilation
Extremely portable
Minimalist design
6. Weaved Laundry Basket
Best for Bigger Families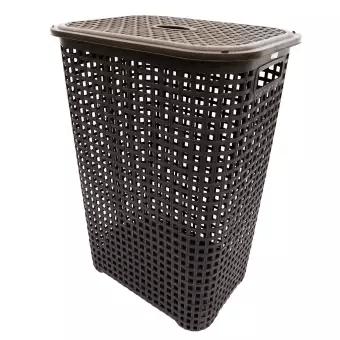 Price: $29.90
The Weaved Laundry Basket is a great match for bigger families because it can carry more dirty clothes than most laundry baskets. Instead of sharing a single laundry basket, you may opt to get one per family member because it's also cheap, considering its capacity.
This is compact and portable. It's also made with strong and quality PP materials, so it looks like it should last long and not break too soon.
More importantly, cleaning it won't be much of a struggle. All you need is an ample supply of water and a bit of soap to wash off the smell. If you are after a bit of nostalgia, you can consider this your modern-day rattan laundry basket in Singapore.
Highlights
Sturdy and compact design
50L capacity
Eye-catching colours
Customer Reviews
If there is one thing that most buyers loved about this laundry basket, it's the perfectly woven design that does not look like it breaks easily. It's common for a woven basket to break easily because many aren't made with quality materials, but they believe that this one is different.
Some customers are also happy that it's cheap compared to other laundry baskets in Singapore with large capacity. Some even recommend buying multiple ones because it's such a great deal!
7. Canvas Standing Laundry Basket
Best for Children's Room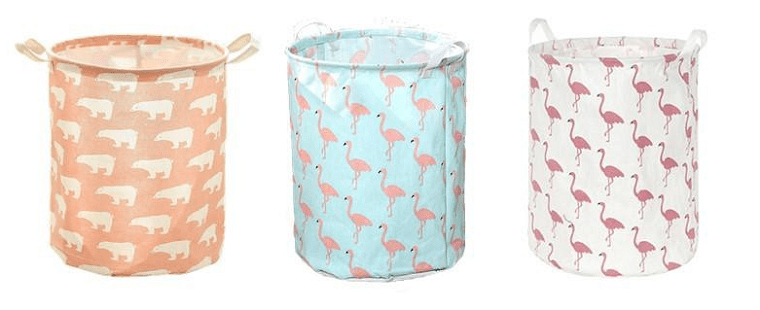 Price: $6.50
If your budget for a laundry basket in Singapore is a bit tight, don't worry because we included one that definitely won't make a hole in your wallet. This is the Canvas Standing Laundry Basket, and we think it's amazing considering its price!
It's made from waterproof canvas that can be folded when not in use. If you have a kid at home, we highly suggest that you get this one because it comes with cute and bright designs that kids (and even kids-at-heart) will love!
More importantly, it is lightweight, so you won't have a hard time carrying it from one room to another. It can also double as a storage bin for your kid's toys!
Highlights
Cute design
Light weight
Waterproof
8. Laundry Basket with Lid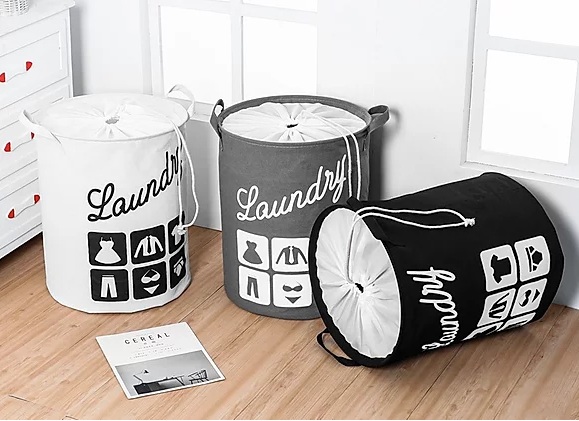 Price: $12.00
Mint Home offers a large selection of laundry baskets in Singapore but this one in particular is one of the best selling. This laundry basket is easily placed anywhere in the room because of its round yet sturdy shape.
It is also aesthetically pleasing that you can conveniently place it anywhere in your room. Aside from dirty clothes, you may also use this as storage of toys, shoes, blankets, etc.
It's lid is a drawstring type so when the basket is completely full, you just pull the string so the clothes won't come out in the open.
Highlights
Waterproof inner waxed lining for easy cleaning

Comes in 3 colors

Drawstring cover lid 
9. Multi-Tier Laundry Basket (With Wheels)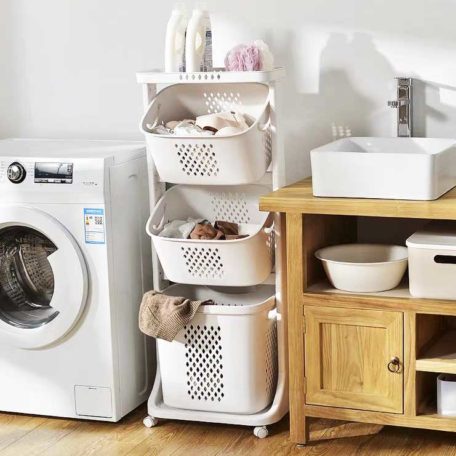 Price: $49.90
Looking for a 3-tier laundry basket with wheels? Style Degree's Multi-tier Laundry Basket changes the laundry scene. Its two or three-tier baskets allows for more storage for clothes, so you won't have to make two trips to the laundry room. Its top layer is flat, so you can place whatever item you need on it.
It's also easily portable as it has wheels, allowing you to push or pull it inside different rooms. The area occupied by the basket is significantly smaller compared to having three individual baskets on the ground, which saves you space and of course, the time to haul it into its designated rooms.
All in all, the Style Degree Multi-Tier Laundry Basket is a life-changing tool that can make life better. It's easy to use, and of course, very affordable! Go ahead and check out for yourself.
Highlights
Comes in a 2 or 3 tier design, with additional top layer storage
Angled upper basket(s) for easy accessibility
Portable large basket at the base with carrying handles
360° Rotatable wheels for easy moving
And there you have it! These are the best laundry baskets in Singapore that will surely make segregating dirty clothes much easier!
If you have a laundry basket in mind that you think deserves to be included in our list, feel free to tell us by leaving a comment below! We want to hear how it helps you make your laundry days more convenient!
By the way, if you're too busy to do your own laundry or just want to rest on weekends, please check out our list of the best laundry services in Singapore! These are the most reliable laundry services we could find on the island.