The 17 Best Washing Machines in Singapore
Is your washing machine starting to act up? If so, now's definitely the right time to get a new one – and we'll help you with that through our list of the best washing machines in Singapore!
Before we get to the nitty gritty of each washing machine, though, we'll go over the prices of the ones that made our list. It'll give you an idea of baseline costs for your purchase.
We'll help you know the difference between a front-load washer and top-load washer as well, so make sure to continue reading until the end.
Let's start!
How Much Are Washing Machines in Singapore?
The prices of washing machines in Singapore largely differ depending on the type. Front loading washing machines are more expensive than top loading ones, mostly because they require less electricity.
There are more differences between front loading models and top loading models, which we'll discuss later on in the article.
If you don't mind shelling out more for a front loading washing machine, expect to spend around $500 to 3,000. There's a budget-friendly option too, priced at around $300 – which we added to our list, of course.
On the other hand, the average cost of top loading washing machines in Singapore ranges from $200 to $1,200. We say that's a great deal for those working around a limited budget!
Either way, both types of washing machines can get the job done. Your choice will primarily boil down to preferences and the flexibility of your budget.
Check out how our picks fall within your budget:
| | |
| --- | --- |
| WASHING MACHINE MODEL | PRICE |
| Bosch WAV28L40SG | $4,499 |
| LG F2721HTWV 21 | $2,799 |
| Panasonic 10KG Econavi NA-120VX6 | $1,099 |
| Samsung WW80J54EOBW | $739 |
| LG Front FC1408S4W | $829 |
| Bosch WAK20060SG | $719 |
| Fisher & Paykel QuickSmart WH7560J3 | $849 |
| Electrolux EWF7525EQWA | $1,079 |
| ELBA Front Load Washing Machine | $1,099 |
| Midea MF728W | $389 |
| Hitachi SF-100XA | $569 |
| LG T2109VSAL | $599 |
| Electrolux EWT105WN | $589 |
| Samsung WA90F5S5QW | $499 |
| Sharp ESX905 | $389 |
| Panasonic NA-F75S7WRQ | $352.80 |
| Midea MT725B | $289 |
The Best Washing Machines in Singapore
Now that you know how much each model in our roster costs, it's time you found out why we added them to our list of the best washing machines in Singapore.
1. Bosch WAV28L40SG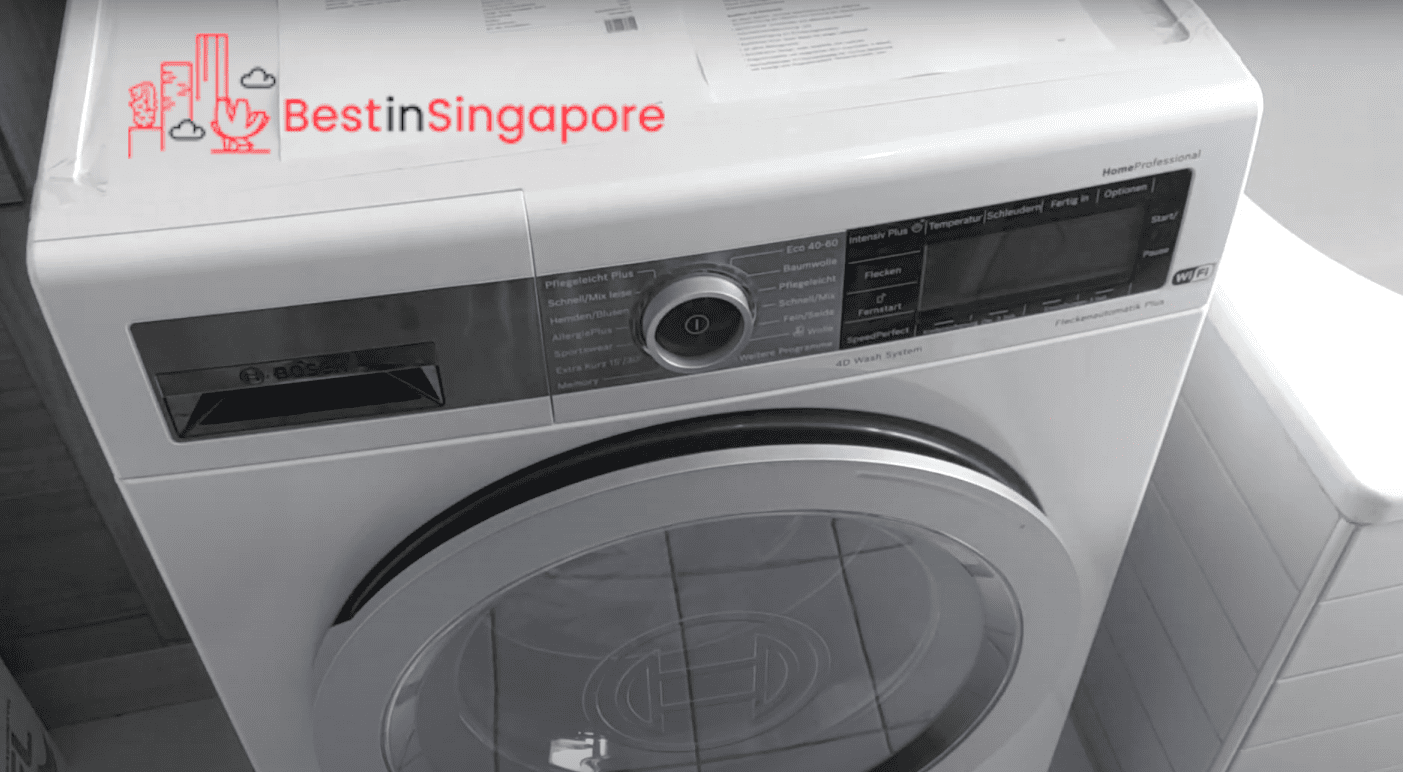 Price: $4,499
| | |
| --- | --- |
| TYPE | Front Load Automatic |
| CAPACITY | 9kg |
| MAIN TECHNOLOGY | EcoSilence Drive™ |
| WASH PROGRAM | Large Capacity, Spin dry, Steam washing, Quiet Operation, Quick Wash, Ultra White, Extra rinse cycle, Automatic temperature control, Automatic dispenser, Handwash+Delicates,Fuzzy Logic, Soap Dispenser, Anti-Allergy,Softener Dispenser, Shoe Washing, Temperature Adjustment, Manual Dispenser |
| RPM | 1,400 |
| DIMENSIONS | 84.8cm x 59.8 cm x 59.0 cm |
| WARRANTY | 2 years of local warranty |
Finding the perfect washing machine is hard, especially if you prefer to have one with many functions. That is why we present you this all-in-one washing machine from Bosch.
First of all, we absolutely recommend them because they have an EcoSilenceDrive motor that is powerful, durable, quiet, and efficient. This is distinguished by its high energy efficiency and speed through its low energy consumption.
In comparison to others, it has SpeedPerfect which is a special function that can reduce your washing time by 65% without compromising results. Plus, it can be used in combination with other programs and can handle all kinds of loads and textiles.
Even though it is more expensive compared to other washing machines, we believe that this is a great investment since it has a number of features that are very helpful. One of this includes its AllergyPlus program that is specially developed for those who suffer from different allergies.
Noise level washing is 48
Noise level spinning is 72
Can clean at very low temperatures
Can control through an application
2. LG F2721HTWV 21/12KG Washer Dryer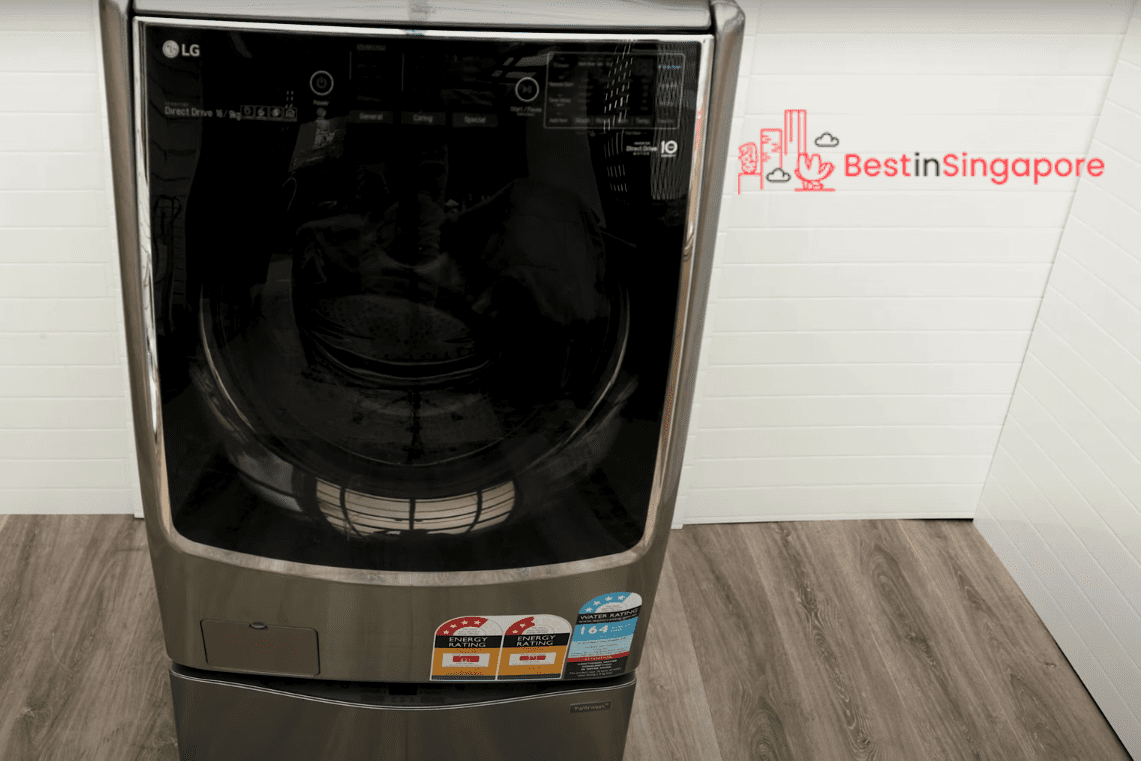 Price: $2,799
| | |
| --- | --- |
| TYPE | Front Load Combo |
| CAPACITY | 21 kg for washer 12 kg for dryer |
| MAIN TECHNOLOGY | Twin Wash |
| WASH PROGRAM | 15 wash programs |
| RPM | 1,000 |
| DIMENSIONS | 700 x 835 x 990 mm |
| WARRANTY | 2 years of local warranty |
The LGF2721HTWV 21 should be considered by anyone who's after the best front loading washing on the island. Here's why it earned a spot on our list:
First, its Twin Wash technology allows two separate loads to be washed simultaneously, reducing your time in the laundry room. There's a smaller wash load at the bottom that's dedicated to underwear, baby wear, and other delicate fabrics.
It can even finish an entire laundry load in less than 50 minutes due to the revolutionary TurboWash technology, which combines quick soaking water spray and filtration. There's no other washer with such an advanced feature!
There's also the TrueSteam feature that makes clothes 99.9% allergen-free, so you don't itch when you wear your newly washed clothes.
In addition, this beauty here is environment-friendly thanks to its EcoHybrid system, which allows you to select Eco Dry mode, no water for drying, or the Normal Dry mode to shorten the entire drying cycle. Either way, you reduce your energy costs.
One of the downsides of a front-load washing machine is having to bend over in order to load and unload clothes from the washer. But it solves that problem with its ergonomic design as a higher top washer.
The result is less bending when putting in and taking out clothes from the washing machine. And in case you want to add an item in the middle of your wash, just press the add button and throw in your additional garment.
Built with two Inverter Direct Drive motors, expect that it will not create noise and vibrations as much as your old washing machine. That means peace and quiet while doing your laundry!
Finally, the LGF2721HTWV 21 can be controlled and monitored using your smartphone, which makes laundry days even more convenient.
Less noise, vibrations
Twin Wash technology
Saves water and energy
Ergonomic design
Can be controlled using smartphone
Expensive
Non-techy people might have a hard time using it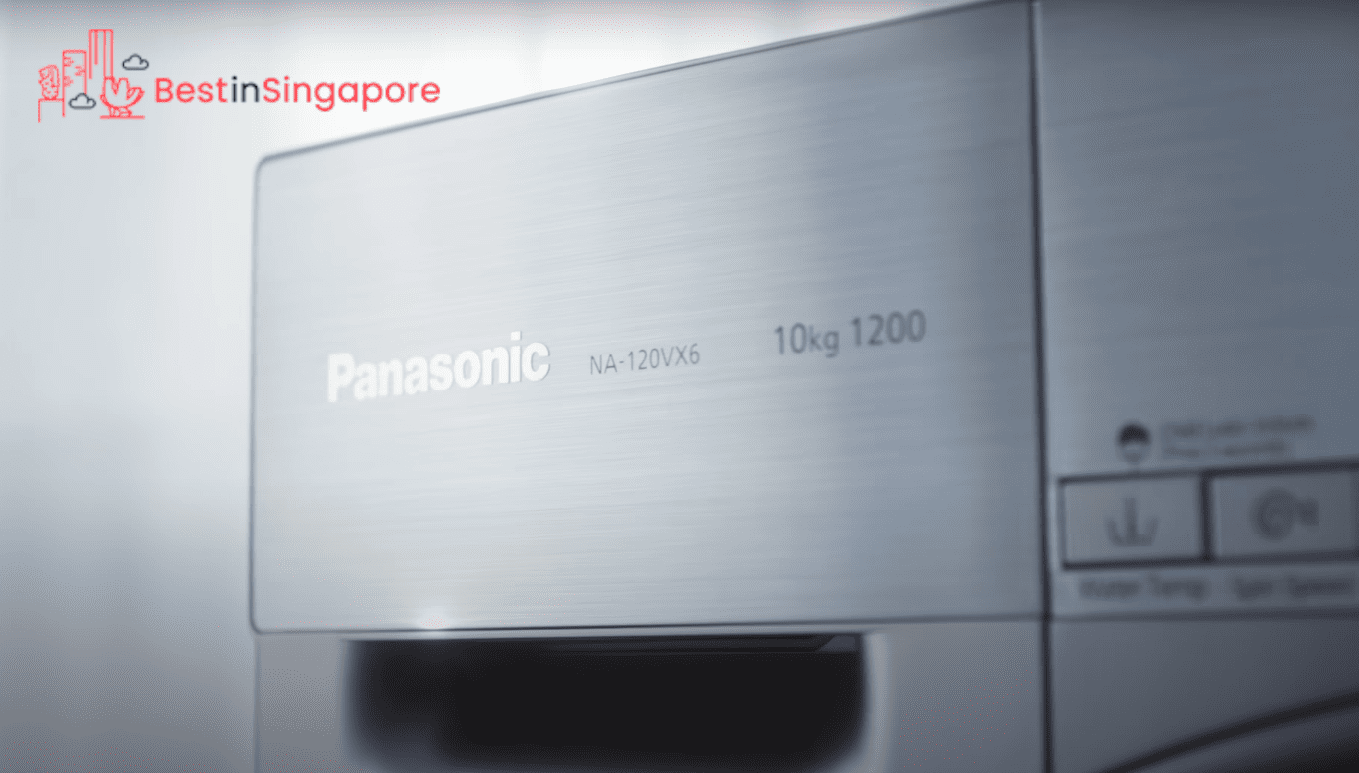 Price: $1,099
| | |
| --- | --- |
| TYPE | Front Load |
| CAPACITY | 10 kg |
| MAIN TECHNOLOGY | Active Foam System and Double Hygiene |
| WASH PROGRAM | 16 wash programs |
| RPM | 1,200 |
| DIMENSIONS | 596 x 560 x 845 mm |
| WARRANTY | 1 year of local warranty |
Filthy clothes riddled with bacteria will be a thing of the past once you start using the Panasonic Econavi NA-120VX6. This dependable washer is surely an indispensable appliance in your home.
If you're looking for a dependable washing machine that can cut your washing time drastically, you need to seriously consider this. It can reduce your laundry time to approximately 49 minutes with its Active Foam System.
Say goodbye to those awful stains too with its Active Speed Wash, wherein highly-concentrated foam penetrates deep into fabrics in order to get rid of stubborn stains. As a result, you get less undissolved detergent and cleaner clothes.
Aside from removing different types of stain, the Panasonic Econavi can eliminate 99.99% of allergens and bacteria with the help of the BlueAg+ feature. This also means less colour fading and shrinking of clothes.
Lastly, it comes with intelligent eco sensors that detect water temperature, laundry material, and wash load amount, and adjust the settings to reduce energy and water consumption. It's a washer worth considering if you want to see lower monthly utility dues.
The Panasonic Econavi NA-120VX6 may be on the high end of the scale again for washing machines, overall, but it's hard to fault in its quality. That's why we still recommend it!
Shorter wash time
Allergen-free clothes
Prevents shrinking and colour fading
User-friendly design
Recommended to households with babies
Expensive
Short warranty coverage
4. Samsung WW80J54EOBW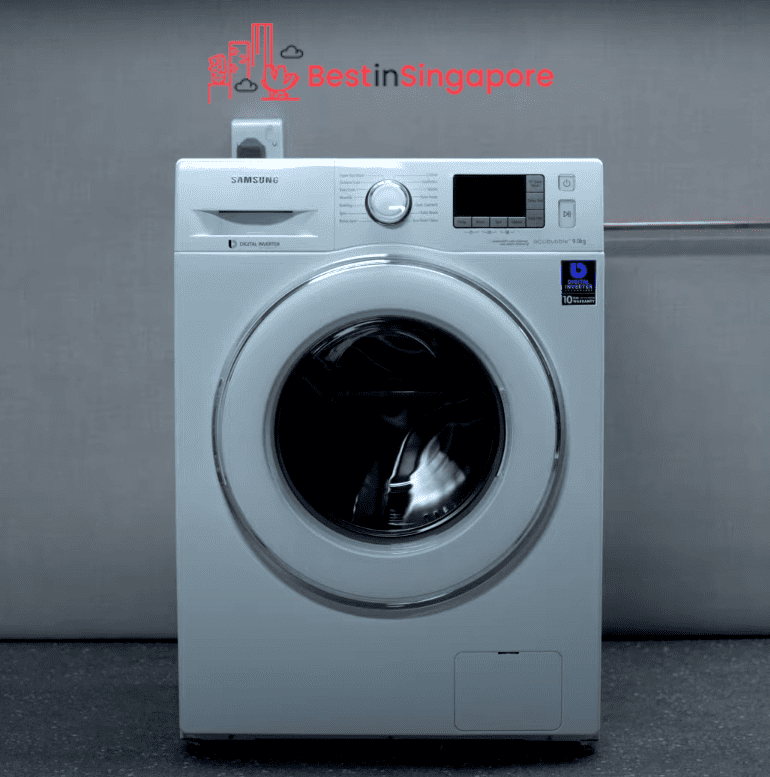 Price: $739
| | |
| --- | --- |
| TYPE | Front Load |
| CAPACITY | 8 kg |
| MAIN TECHNOLOGY | EcoBubble |
| WASH PROGRAM | 15 wash programs |
| RPM | 1,400 |
| DIMENSIONS | 600 x 850 x 550 mm |
| WARRANTY | 2 years of local warranty |
Samsung remains one of the most in-demand home appliance brands in the world, so there's no surprise that one of its models landed a spot on our list. Here's why we think the Samsung WW80J54EOBW is one of the best washing machines in Singapore:
Its designed with Samsung's breakthrough technology called EcoBubble that froths detergent with air and water before the cycle starts. That means the bubbles produced can penetrate clothes and remove stains faster than average detergent.
The best thing about this feature is that it works well with either cool or warm water, so there's no need to wait for the right time to start doing your laundry! It translates to about 70% in energy savings.
If most front-load washers take about 50 minutes to finish an entire load, this one only needs 15 minutes! It may be a powerful washer, but it's just as gentle to all types of fabric, even the delicate ones.
As with our other picks, it comes with a Smart Check feature that detects and diagnoses technical projects at an early stage, reducing the chances of irreversible damage. We have to say that it's its most impressive feature.
Lastly, cleaning the inside of this washing machine is no trouble as well. The Eco Drum Clean does minor cleaning on its own and notifies users then it needs extra cleaning.
The Samsung WWW80J54EOBW does not fall short in our estimation. It's a sturdy and reliable companion that every home in Singapore should have.
15-minute wash time
Easy troubleshooting
Modern, sleek design
Intensive stain removal
Impressive fabric care
5. LG FC1408S4W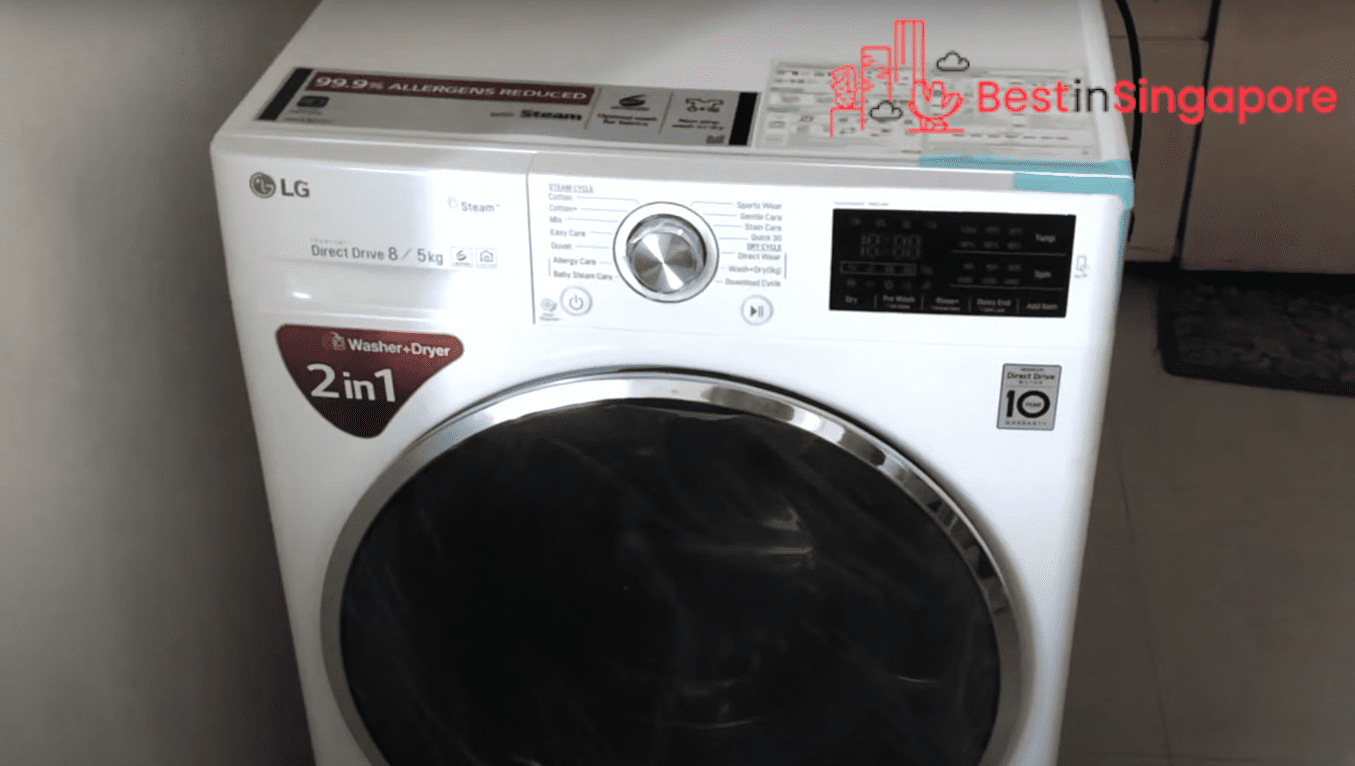 Price: $829
| | |
| --- | --- |
| TYPE | Front Load |
| CAPACITY | 8 kg |
| MAIN TECHNOLOGY | Spa Steam |
| WASH PROGRAM | 14 wash programs |
| RPM | 1,400 |
| DIMENSIONS | 600 x 550 x 850 mm |
| WARRANTY | 2 years of local warranty |
We know when someone's doing the laundry in the middle of the night because of the rumbling sound a washing machine creates. If you'd rather do your laundry without alerting everyone, though, the LG FC1408S4W is the answer.
The LG FC140S4W is built with a 6-motion inverter direct drive that reduces vibration and noise. You can now freely wash your laundry even in the wee hours of the night or morning without interrupting anyone's sleep.
Another note about its motor is that it's tough on dirt but gentle enough to give clothes their much-needed T-L-C. What's even better is that it can actually combat those nasty allergens trapped on garments as well.
It's quite common for powerful washers to destroy the quality of garments, but that doesn't apply to the LG FC140S4W.
In case you want to add an item in the middle of your washing cycle, you can just press the pause button to throw in any additional item. No complicated process required!
No worries about increased electricity bills as it comes with energy saving sensors that can detect the laundry load and calculate the exact RPM and braking time needed to efficiently wash every garment. No water and energy will be wasted.
Those who have bought the LG FC140S4W happily share that it's a value-for-money purchase. Many owners even recommend it to their friends who want top-notch washers at a reasonable price.
Easy to use
Competitively priced
Eliminates allergens
Creates less noise
Gentle on fabric
Limited wash capacity
Lacks special features
Customer Reviews
Here's what customers who got it on Shopee had to say:
"Machine looks great. Really slim. Drum depth looks short, but somehow able to load a full basket of clothes. Hope it can last longer than my previous washers that always give me problems." -dfancier
"The machine is really compact and space saving. Delivery was very quick, the seller was very responsive and assured me that he would arrange delivery the next working day. This washing machine is good, you can control and set it to wash using a phone app when you are not at home. Thumbs up!" -geraldineeesu8970
6. Bosch WAK20060SG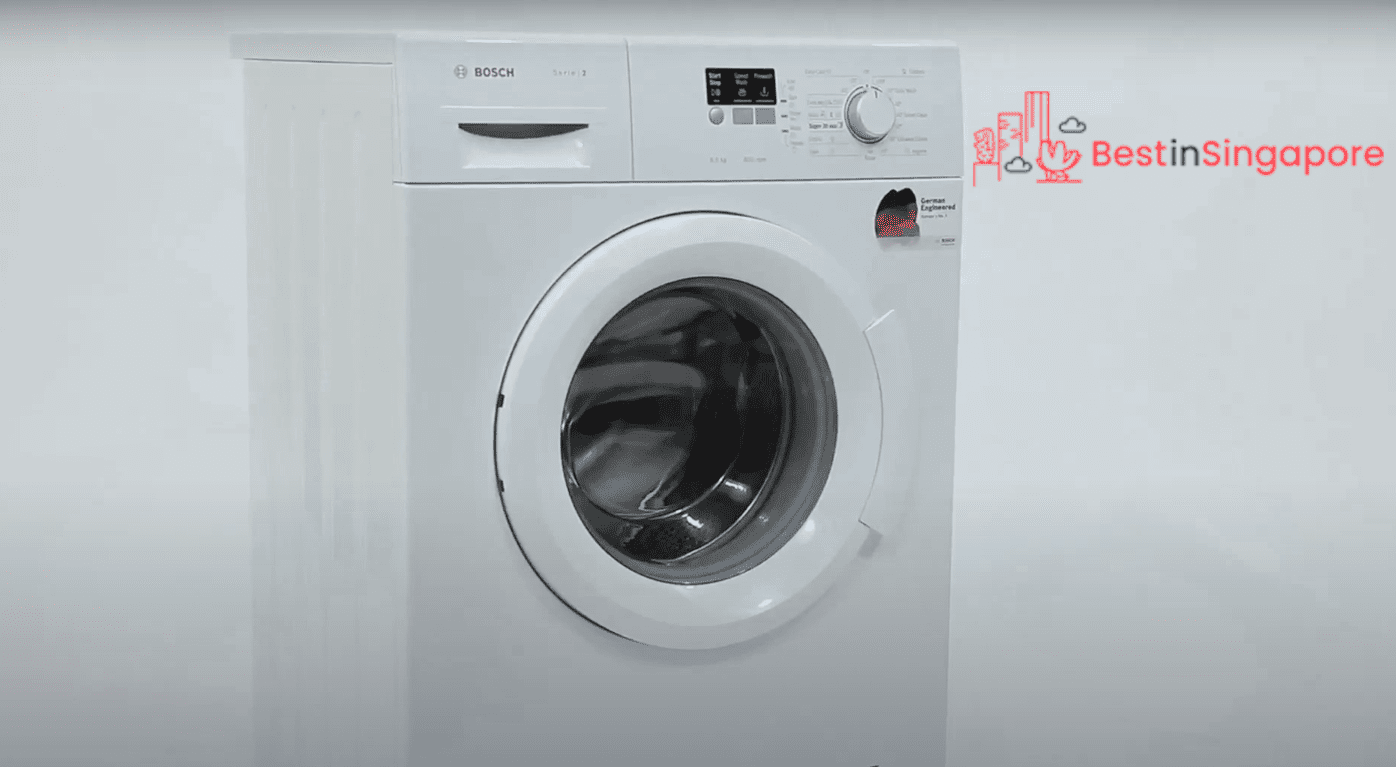 Price: $719
| | |
| --- | --- |
| TYPE | Front Load |
| CAPACITY | 7 kg |
| MAIN TECHNOLOGY | 3D AquaSpa Wash System |
| RPM | 1,000 |
| DIMENSIONS | 850 x 600 x 600 mm |
| WARRANTY | 2 years of local warranty |
The Bosch WAK20060SG does the laundry in a snap. Its VarioDrum feature is tough on the most stubborn dirt but gentle enough for fragile clothes.
Another thing to know about the VarioDrum is the droplet-shaped structure and the size of the paddles that distribute water faster and evenly. It's such a feat for a low-cost washer like this one.
The 3D AquaSpa system enables water to flow and penetrate garments well. Also, its wash programs offer options for washing everything, from the heaviest clothes to ones made of the most delicate materials, like silk.
Its wash capacity is only 7 kg, so we can only recommend it if you're not washing a huge pile of dirty clothes during laundry day. It may be the perfect option for those who live alone and wash only their garments.
That said, it's perfect for washing even only a kilogram of clothes. As with most washers, it easily adjusts its water and spin cycles according to the load, but it's the only one that's actually ideal for smaller loads of laundry.
If you're looking for a standard washing machine with a friendly price that still gets the work done, then the Bosch WAK20060SG 7KG might just be your better half.
Budget-friendly washer
Tough on stain, gentle on fabric
Faster water penetration
Optimum water distribution
7-kg wash capacity
No other special features
7. Fisher & Paykel QuickSmart WH7560J3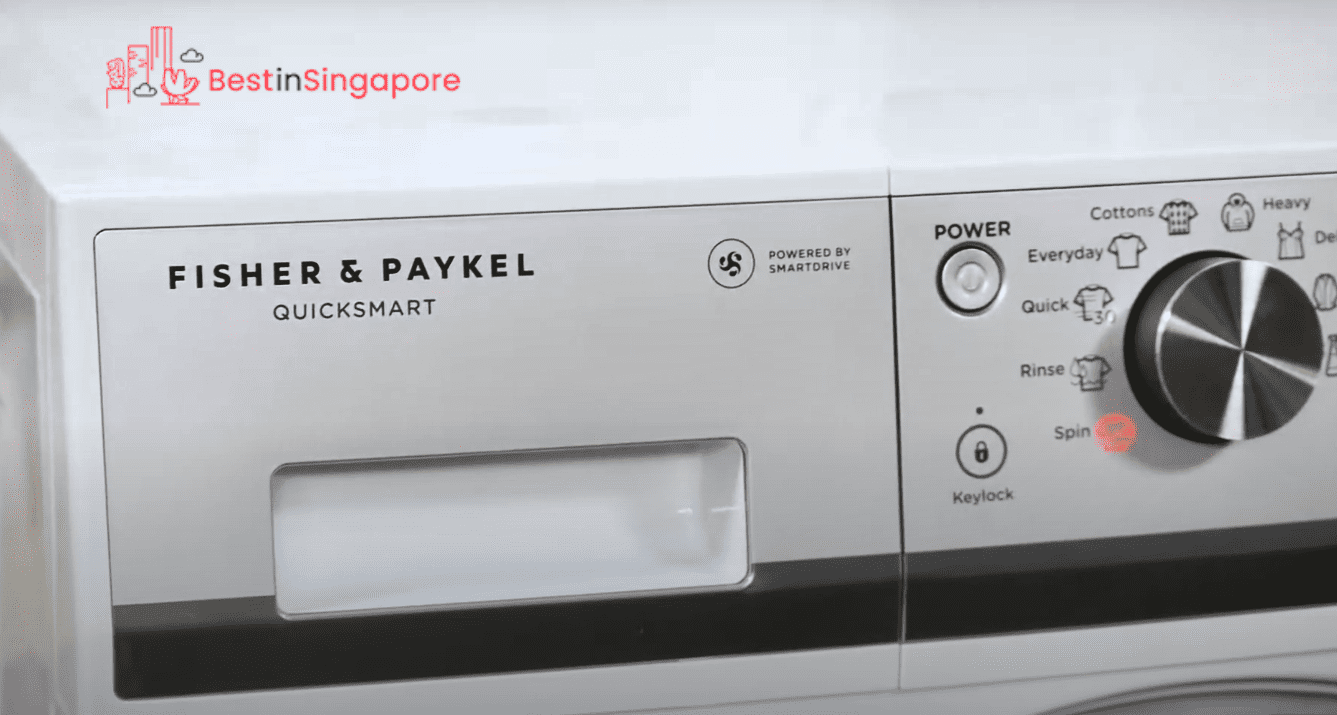 Price: $849
| | |
| --- | --- |
| TYPE | Front Load |
| CAPACITY | 7.5 kg |
| MAIN TECHNOLOGY | Vortex Wash |
| WASH PROGRAM | 9 wash programs |
| RPM | 1,200 |
| DIMENSIONS | 590 x 850 x 600 mm |
| WARRANTY | 2 years of local warranty |
Another front-load washing machine that guarantees a convenient laundry experience is the Fisher & Paykel QuickSmart WH7560J3. It comes with different wash cycles that can accommodate different types of fabric, including delicate and bulky ones.
Its Smart Drive features uses direct drive motors, eliminating the need for belts and pulleys, resulting in less vibrations. If you only have time to do laundry at night when everyone's already asleep, then this one will be a huge help!
Thanks to its Vortex Wash, washing clothes is also a breeze. Water is forced from the bottom to your clothes so that detergent and heat get in contact with your clothes quicker.
With the help of such technology, you'll be done washing your soiled clothes in less than an hour! Combine that with a 4.5-star water rating and 4-star energy rating, and you're sure you won't get a shock from utility bills.
Finally, there's its user-friendliness. There's no doubt that many washers these days have complicated control panels that make them confusing to use.
Not the Fisher & Paykel WH7560J3 though – even if you're not a techy person, you'll know how to use it right away.
Shorter laundry time
Average price
Water and energy saving features
For different types of fabric
Limited wash capacity
Fewer wash programs
Customer Reviews
Take a look at these comments shared by customers:
"I have had good luck with Fisher Paykel appliances and this continues that good trend. It works fine for washing clothes 2-3 times a week. Amazingly quiet, I have it on some thick foam washing machine feet and I don't even hear it when I'm just one wall away. It's also very stable, you can leave things on top of the washing machine and they don't fall off during the cycle. Cleaning it is very easy, it's got a drum clean cycle which takes just under 1 hour, and the pump filter is easy to access at the lower right behind a panel." -Jamie
"In our household our loads of washing vary from sensitive office wear, stinky gym and school clothes to red dirt drenched tradie clothes and this machine has a wash cycle for each. In particular I don't dry clean some items that say I should but a gentle wash and hang on the clothes line has kept the quality and integrity of those more delicate items. I can't use another machine and in fact my dad has now purchased the same one on my recommendation and loves it!" -Melissa
8. Electrolux EWF7525EQWA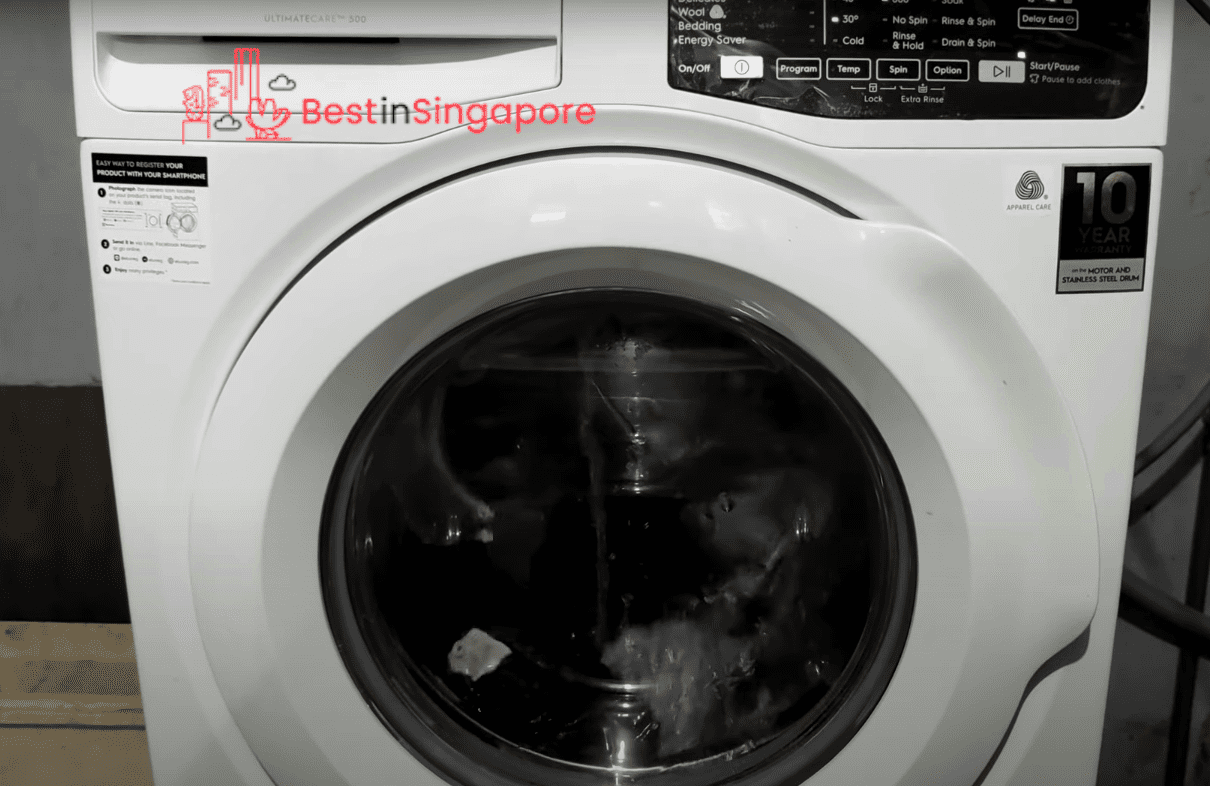 Price: $1,079
| | |
| --- | --- |
| TYPE | Front Load |
| CAPACITY | 7.5 kg |
| MAIN TECHNOLOGY | VapourCare |
| WASH PROGRAM | 15 wash programs |
| RPM | 1,200 |
| DIMENSIONS | 600 x 850 x 569 mm |
| WARRANTY | 2 years of local warranty |
Electrolux is one of those brands that has established itself as a dependable all-around homeware brand. It certainly lives up to its name and commitment with the Electrolux EWF7525EQWA, a front-load washing machine.
The first thing that anyone will notice about the Electrolux EWF7525EQWA would have to be its improved triple XL door, making it easier and faster to load and unload. Its door is about 12% bigger than standard front-load washers.
Another benefit to using it is that you might not need to use a flat iron after all because of its Vapour Care Technology. It's a system that ends each wash with a gentle whoosh of vapour to lessen wrinkles on clothes by up to 22%.
Unlike most front-load washers, the Electrolux EWF7525EQWA can also flush away 99.9% of germs and allergens at just 40°C, requiring less energy in the process. No more stubborn dust mites and pet dander!
Furthermore, it's one of the few washers we found with Woolmark approval. Throwing wool garments into a regular washer will usually affect their quality, but that won't be the cashe with that Electrolux EWF7525EQWA as it preserves the quality of machine-washable woollens.
Other features include a child lock, delicates programme, quick15 programme, and daily 60 programme, among others.
As for its price, though, we do have a problem that it costs more than a thousand bucks but only has a 7.5 kilogram capacity. If you wash a ton of clothes during laundry day, you might want to look for other washers.
Lessens wrinkles
Large opening door
Removes germs and bacteria
Woolmark-approved washer
7. 5-wash capacity
Expensive for its capacity and lack of features
Customer Reviews
Here's what customers had to say about it:
"This model was actually recommended by the store sales person and not our first choice. We picked it for its antibacterial wash. No regrets so far. Machine looks robust and the installer was professional and able to mount our original dryer atop of this washer with the existing stacking kit which is a plus point. Washing is quite quiet but the cycle is slightly longer than our previous model. The load looks clean after each wash and we didn't notice any significant change of water nor electricity with this new washer though. Let's see if this lasts longer than 5 years (drum and motor covers for 10 years or something)." -KC
"The product gives me full satisfaction. It saves on energy. I washes efficiently with correct use of detergent and combines with the right softener. Together with the washing machine is the product drier which works satisfactorily on wet days. To date I am pleased when the big family is back home, and washing need not have to wait in a long queue. In short , there is more time saved for family matters when the machine takes over the job." -Mohd Rashid Kasim
9. ELBA 9KG Front Load Washing Machine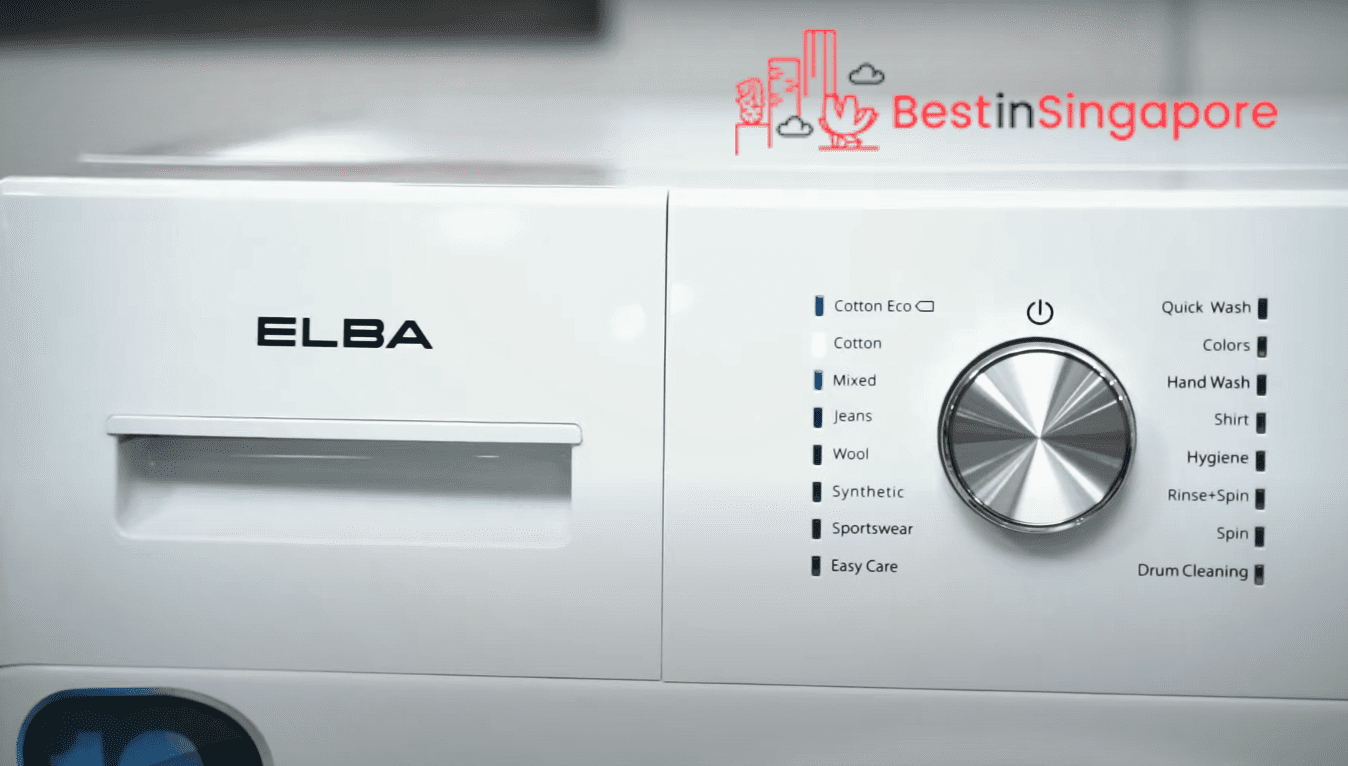 Price: $1,099
| | |
| --- | --- |
| TYPE | Top Load |
| CAPACITY | 8 kg |
| WASH PROGRAM | 16 wash programs |
| RPM | 1,400 |
| DIMENSIONS | 600 x 640 x 840 mm |
| WARRANTY | 2 years of local warranty |
The ELBA 9KG Front Load Washing Machine is a great washing machine to get if you're conscious about the environment. With its built-in water efficiency and energy efficiency, it's able to conserve your electricity and water consumption.
Its quick wash function also contributes to this because a 9 kg laundry load can be washed within just 28 minutes. Another great program it carries is the night mode, which makes it operate silently and uses less energy than the normal setting.
The most noteworthy feature of the ELBA would have to be its 16 wash programs, making it the only washing machine on our roster to have such a feat. That means users can virtually wash any type of clothing item here.
Despite all these perks for the environment, it doesn't sacrifice the quality of your wash because the ELBA comes with a Woolmark® care function as well as an anti-crease option to ensure all your garments are washed gently.
Be prepared for the price though, as it's one of the most expensive front-loader washing machines on our list. But with its features and specs, we think it's worth it.
16 washing program
Water-saving features
Durable build
Night mode for silent operation
Pricey
Multiple features make it hard to use
10. Midea MF728W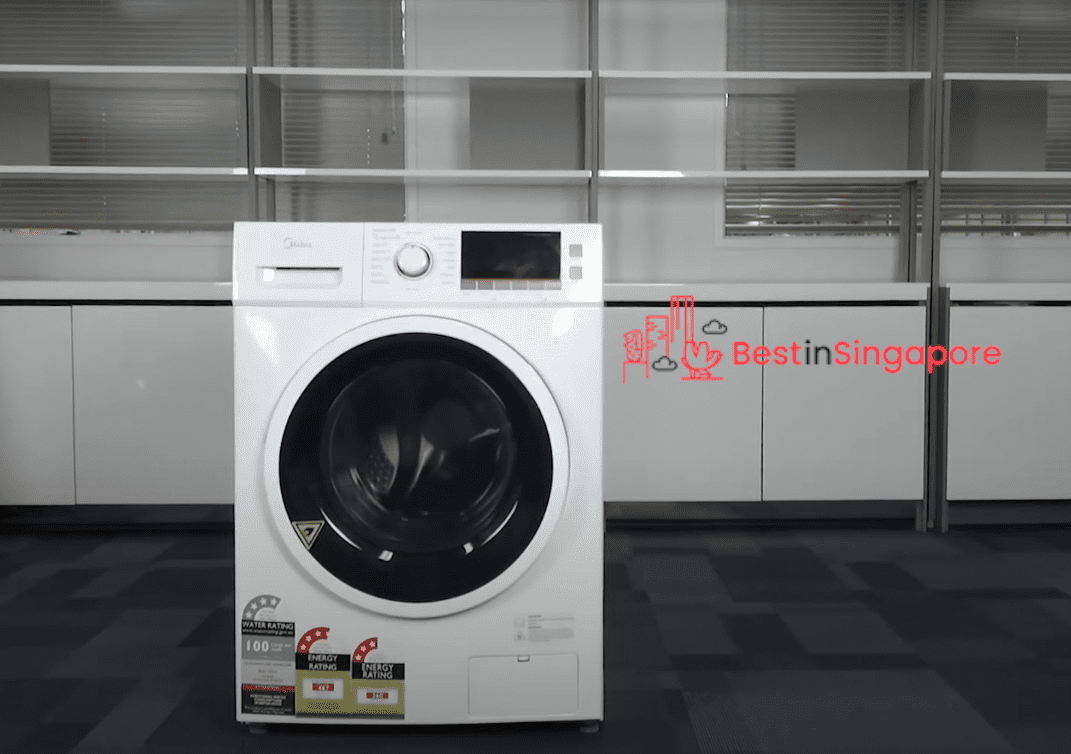 Price: $389
| | |
| --- | --- |
| TYPE | Front Load |
| CAPACITY | 7 kg |
| MAIN TECHNOLOGY | Water Drop Drum technology |
| WASH PROGRAM | 8 wash programs |
| RPM | 1,200 |
| DIMENSIONS | 595 x 495 x 850 mm |
| WARRANTY | 2 years of local warranty |
Capping off the front-load washing machine list is the Midea MF728W. Even at an affordable price, this washer surprisingly doesn't fall short in any of its main features to deliver excellent laundry service.
Its anti-foam control easily adjusts the rinse process once it detects excessive laundry detergent. As such, you get only the best brightly cleaned garments.
The Midea MF728W doesn't have the advanced features present in other front-load washers, but it gets the job done. It comes with various washing modes that can accommodate different types of garments.
More than that, the stainless steel drum interior provides the perfect garment care for your clothes, no matter how delicate and bulky they are.
Now, if you expect that this affordable washer will produce a lot of vibrations and noise, then you'd be wrong. It's not as noisy as you'd expect budget-friendly appliances to be.
The reason we put this on our list is that it offers more than its price tag indicates. For example, the Midea MF728W even has an anti-wrinkle technology that makes every clothing item come out smoother and with less wrinkles.
That's a great feat for a low-cost washing machine. Overall, this is a solid pick for budget buyers.
Low-cost front-load washer
Decent features
Anti-wrinkle technology
Creates minimal noise
Durability is questionable
Limited wash capacity
11. Hitachi SF-100Xa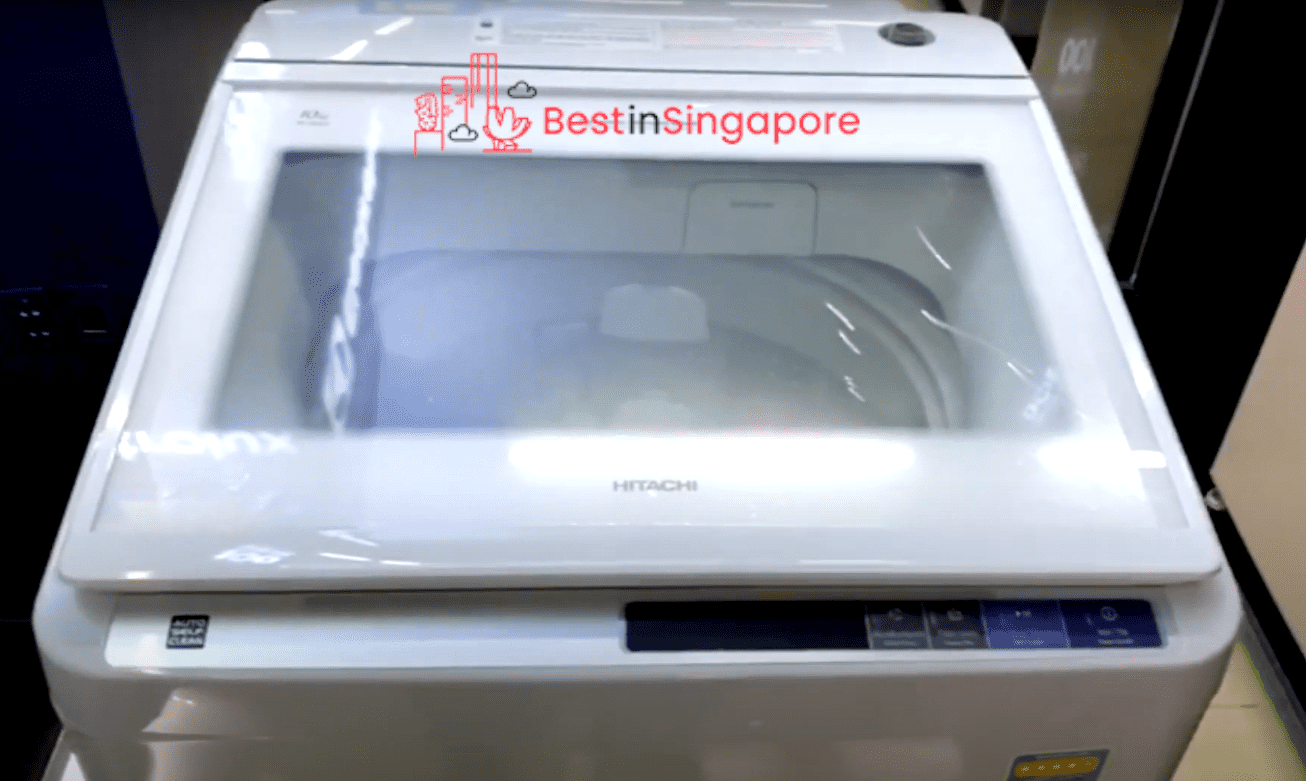 Price: $569
| | |
| --- | --- |
| TYPE | Top Load |
| CAPACITY | 10 kg |
| MAIN TECHNOLOGY | Dynamic Stream Wash and Auto Self-Clean |
| WASH PROGRAM | 7 wash programs |
| DIMENSIONS | 590 x 1,065 x 634 mm |
| WARRANTY | 1 year of local warranty |
The Hitachi SF-100Xa is a top loading washer that's extremely easy to operate due to its four-control button. These days, washers can be a little hard to use because of the complex control panels and endless features, but not this one.
Its main technology is called Dynamic Stream Wash. It's a system that allows large volumes of water to effectively circulate to remove deep-seated dirt on our clothes without damaging the fabric.
Like the front-load washing machines on our roster, the Hitachi SF-100XA comes with the Allergy UK Seal of Approval. That makes it ideal if you and your family suffer from allergies.
Another thing we like about it is the auto-cleaning feature. Every time you do your laundry, the washer cleans itself in the process, so that's less hassle on your end!
No worries if you have children running around the house either, as it comes with a safety lock feature that detects when the lid is suddenly opened.
You can even bid farewell to tangled clothes after a spin cycle! There's a pulsator in the machine that allows clothes to move clockwise and counter-clockwise, so taking the clothes out of the tub is a snap.
Overall, we ourselves like the simplicity of its operation and design. With the Hitachi SF-100XA, washing clothes is trimmed down to its simplest form.
Easy to use
Tangle-free feature
Safety lock sensor
Average price
Bulky, not recommended for small houses
Customer Reviews
Take a look at what a homemaker had to say about it:
"I am a Mum of 3 little boys. I wash very dirty clothes (and occasionally wet sheets) every day, sometimes multiple times a day. This machine is compact but holds a surprising amount of washing. E.g. fitted sheet, waterproof mattress cover, flat sheet, 4 pillow cases and a quilt cover for a king sized bed at the same time. I use the automatic setting and everything always comes out clean (within reason… some stains any machine would struggle with) and sufficiently spun and drained. I am happy with the machine and have had no issues that other posters have claimed. I also really like how easy it is to clean the filter."
12. LG T2109VSAL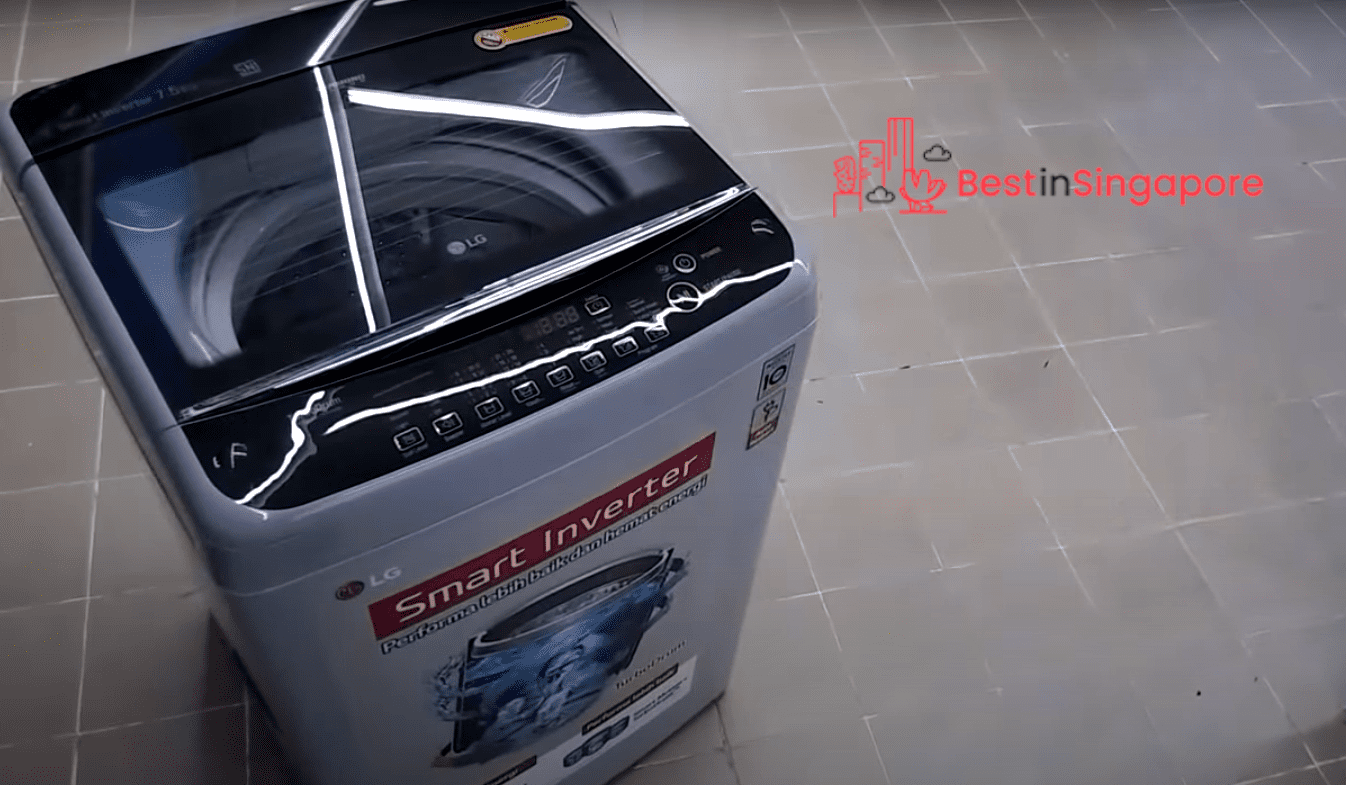 Price: $599
| | |
| --- | --- |
| TYPE | Top Load |
| CAPACITY | 9 kg |
| MAIN TECHNOLOGY | TurboDrum |
| WASH PROGRAM | 8 wash programs |
| RPM | 740 |
| DIMENSIONS | 540 x 540 x 925 mm |
| WARRANTY | 2 year of local warranty |
Nowadays, it's all about energy efficiency – and The LG T2109VSAL doesn't fall short! It's a top loading washing machine that uses Smart Inverter Technology.
To add to that, there is no fabric that the LG T2109VSAL cannot wash because of its smart motion feature. You can use it to wash delicate fabrics like chiffon, lace, silk, wool, linen, and even denim.
Pesky stains and stubborn dirt will be a thing of the past once you discover its Turbo Drum Technology. It's a powerful top-load washing machine that can get rid of anything that other washers can't.
Additionally, all clothes thrown into the washer will be evenly washed because of its Punch+3 system, which creates powerful streams of water to even out the washing process.
Unlike average top-load washers, the LG T2109VSAL comes with a side waterfall function that allows detergent to mix well with water, leaving less detergent residue. We like this one as it guarantees that the clothes will be properly washed.
It's common for washers these days to be controlled using a smartphone, and the LG T2109VSAL is no different. There's also a smart diagnosis feature that helps users in troubleshooting, without having to call a technician.
Troubleshooting through smartphone
Energy efficient
Less detergent residue
Perfect for different types of fabric
No heater
No water temperature selection
13. Electrolux EWT105WN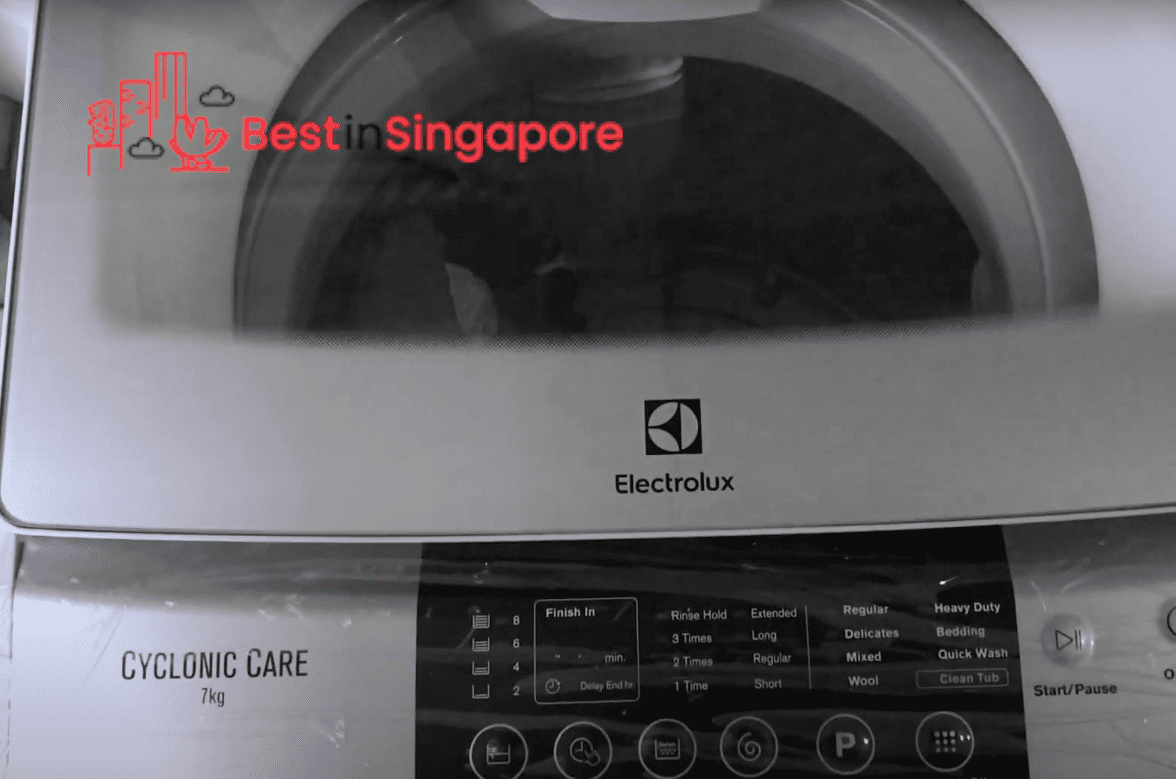 Price: $589
| | |
| --- | --- |
| TYPE | Top Load |
| CAPACITY | 10 kg |
| MAIN TECHNOLOGY | Cyclonic Tub Clean |
| WASH PROGRAM | 8 wash programs |
| DIMENSIONS | 580 x 596 x 968 mm |
| WARRANTY | 2 year of local warranty |
One of the downsides of doing laundry with a washing machine is that clothes lose their natural structure or shape, but that's unlikely with the Electrolux EWT105WN!
It's designed with a system called Cyclonic Care Pulsator that generates a powerful upward water flow, allowing clothes to circulate evenly and preventing them from clumping. It's one of the few top-load washers that can do this, mind you.
Perhaps one of the top features of the Electrolux EWT105WN is the capacity to clean itself while you're doing the laundry. That just means you don't need to do the extra work of manually cleaning it.
If you always end up wasting large volumes of water during laundry day, its time manager feature will definitely help. It determines the optimal water level for your load, as well as allows users to adjust the washing, rinsing and spin duration with no hassle.
It's also worth mentioning that it's one of the top-rated washers on Lazada, which says a lot about its quality. Clearly, Electrolux has done something right with this one!
Durable build
Easy and safe access
Can adjust washing, rinsing, and spin duration
Prevents clothes from clumping together
Customer Review
Here's a comment shared by a customer:
"I like the glass lid to enable me to see how washing is done. The 2 plastic nets to remove lint and dust are good as previously i used the cloth net and those wear out easily and must constantly buy new ones to change. Easy menu buttons to use. My previous washer was 8kg and now with this 10kg washer, it is really great and clothes seem less wrinkled after the spinning process."-Judy
14. Samsung WA90F5S5QWA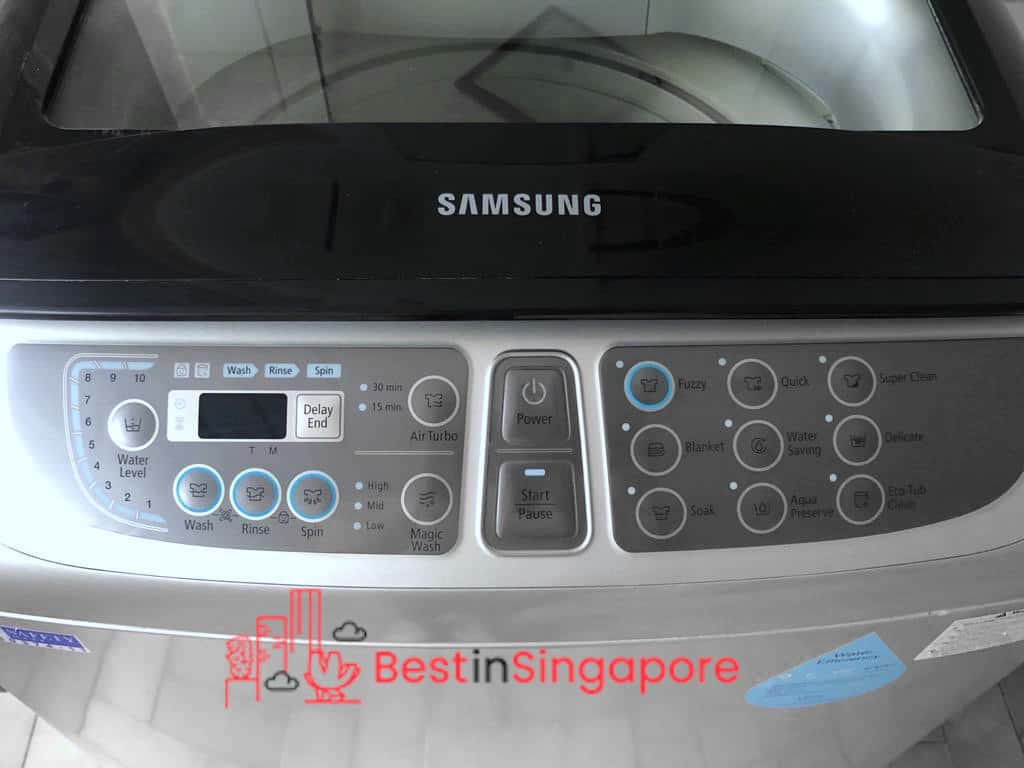 Price: $499
| | |
| --- | --- |
| TYPE | Top Load |
| CAPACITY | 9 kg |
| MAIN TECHNOLOGY | Wobble Technology |
| WASH PROGRAM | 9 wash programs |
| RPM | 700 |
| DIMENSIONS | 610 x 980 x 670 mm |
| WARRANTY | 2 year of local warranty |
We want a washing machine that has a gentle touch on clothes but an iron hand on dirt. Thank goodness for the Wobble Technology of the Samsung WA90F5S5QWA washing machine, which has that!
With the Wobble Technology, your clothes can be washed with a multi-directional wash flow that helps reduce friction among clothes, resulting in no tangles. What's even better is that it uses less water compared to conventional top-load washing machines.
Like its front-load Samsung counterpart, its interior has a diamond drum that lets clothes glide smoothly on the inside, preventing snagging and damage. That's a feature to consider if you want to preserve the quality of your garments.
There's even a magic filter at the bottom that traps all the unwanted lint and debris, making sure that all clothes come out spotless clean.
No worries about that magic filter because it's extremely easy to clean, unlike the standard washing machine filters.
Lastly, the Samsung WA90F5S5QWA is designed with an air turbo drying system that makes drying clothes like a piece of cake.
All in all, these are pretty solid reasons to consider taking home the Samsung WA90F5S5QWA, we think.
Rinse and dry function
Traps lints and debris
Energy saving features
Multi-directional wash flow
Not ideal for small spaces
15. Sharp ESX905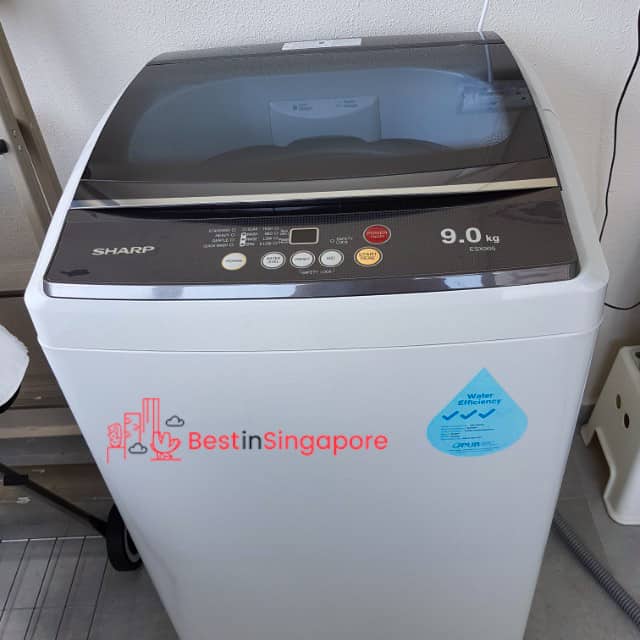 Price: $389
| | |
| --- | --- |
| TYPE | Top Load |
| CAPACITY | 9 kg |
| MAIN TECHNOLOGY | Intelligent Waterfall System |
| WASH PROGRAM | 4 wash programs |
| RPM | 710 |
| DIMENSIONS | 580 x 970 x 600 mm |
| WARRANTY | 2 year of local warranty |
As Sharp claims on its website, the Sharp ESX905KG is a washer that's "engineered for a better wash." Here are the reasons we added it to our picks:
First off, Sharp is an established household name when it comes to home appliances, so we couldn't help but include one of its models to our list. It earned a spot here mainly for its Intelligent Waterfall System that prevents bacteria and mould growth.
With Sharp ESX905KG, there's no need to use excessive detergent to remove foul odour because the machine is engineered to produce clean and fresh smelling clothes.
Another thing to know about Sharp ESX905KG's main technology is that it evenly washes clothes, reducing tangles and preventing them from clumping together. That means you won't always need to flat iron your clothes.
Because of its 3D Wave, all dirt is removed with utmost efficiency. And in case you experience a blackout in the middle of your laundry sesh, fret not – the machine automatically starts by itself after a blackout.
In sum, the Sharp ESX905KG is a great, high-capacity washer from an established brand. Hard to go wrong with it!
Competitive price
Prevents bacteria and mould growth
Produces fresh smelling clothes
Less tangles
Durable build
16. Panasonic NA-F75S7WRQ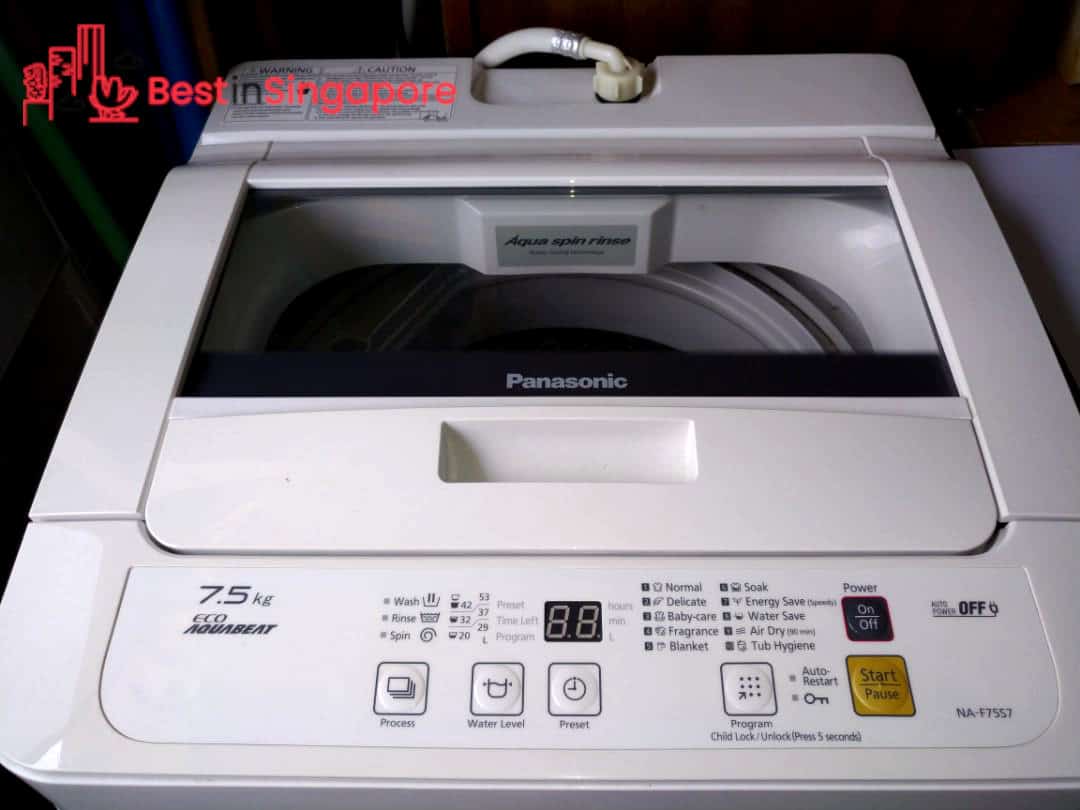 Price: $352.80
| | |
| --- | --- |
| TYPE | Top Load |
| CAPACITY | 7.5 kg |
| MAIN TECHNOLOGY | Dancing Water Flow |
| WASH PROGRAM | 10 wash programs |
| DIMENSIONS | 527 x 571 x 929 mm |
| WARRANTY | 1 year of local warranty |
Imagine a top-load washing machine that makes water dance in order to effectively clean your clothes. The Panasonic NA-F75S7WRQ does that and much more for its humble price.
Its dancing water flow system thoroughly cleans clothes of different fabrics with surprisingly little water. That's great if you're conscious of your impact on the environment and don't want to increase your water consumption.
Panasonic NA-F75S7WRQ's water saving features don't end with its main technology. It comes with a washing mechanism called aqua spin rinse tech that gives clothes a shower to effectively remove the foam, thereby using less water in the actual wash itself.
We couldn't recommend it enough to those who live in small, cramped spaces because of its slim and compact build. If you live in a shoebox apartment, then make sure to get your hands on this one.
We admit that there's not a lot to look forward to in the Panasonic NA-F75S7WRQ when it comes to features, but it's a perfect option if you're not looking for anything fancy and are on a tight budget.
Compact build
Budget-friendly washer
Energy- and water-saving features
Recommended for small spaces
Limited features
Lower capacity
17. Midea MT725B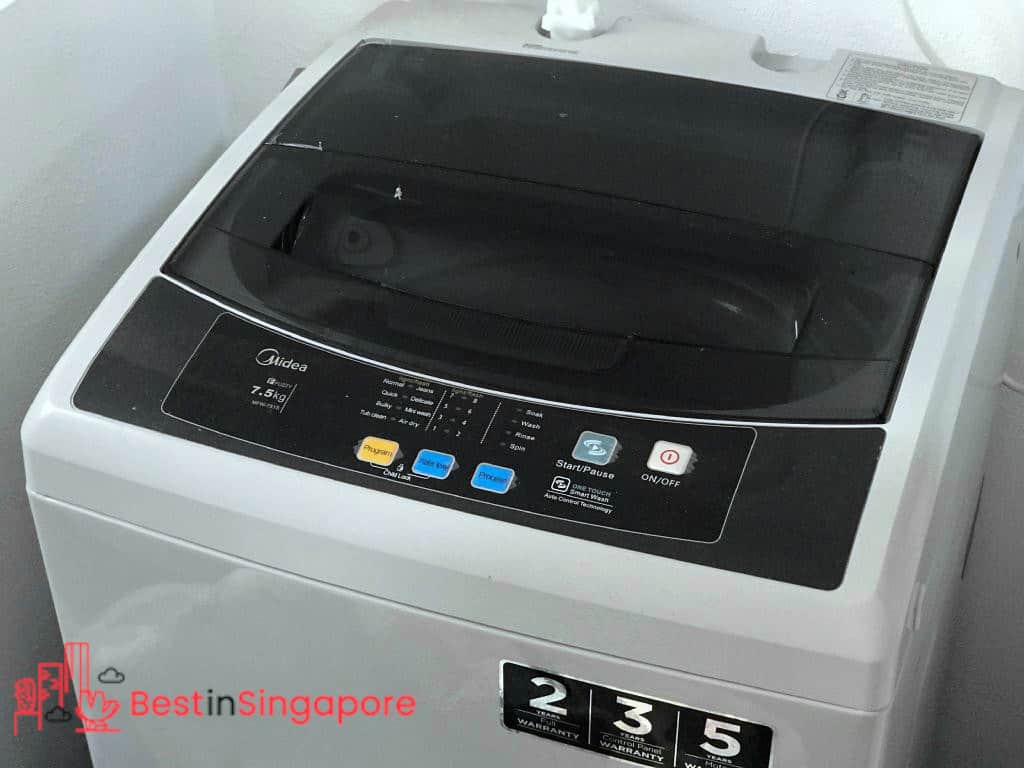 Price: $289
| | |
| --- | --- |
| TYPE | Top Load |
| CAPACITY | 8 kg |
| MAIN TECHNOLOGY | 3D Waterfall |
| WASH PROGRAM | 8 wash programs |
| DIMENSIONS | 630 x 630 x 100 mm |
| WARRANTY | 10 years of local warranty |
If you're after a budget-friendly washing machine in Singapore, then there's no better option for you than the Midea MT725B. Priced at $289, it's the most affordable washer on our list!
It may be a low-cost washing machine, but we're sure it's not a mediocre one. For one, its 3D Waterfall Technology allows water and detergent to penetrate into the fabric quicker, resulting in a deeper cleaner and lesser time in the laundry room.
What's more, its power cleaning system offers various washing modes that adjust well to all kinds of fabric to give clothes proper care. These fabrics include delicate and bulky ones, like silk, denim, linen, and lace.
It also comes with a bag-type lint filter that collects all the lint from the clothes that are washed. Easily remove it manually and throw away the annoying lint with no fuss afterwards.
Lastly, its fuzzy logic controls can detect the laundry's load to identify the ideal amount of water to be used, which means no water will go to waste. All these features make Midea MT725B such a steal, if you ask us.
Overall, it's no wonder that the Midea MT725B is one of the best-selling washing machines on Shopee. It's fairly cheap yet offers better quality than its price indicates.
Low-cost washer
Perfect for all types of fabric
Compact yet powerful
10-year warranty
Limited features
Not the most durable washer out there
Front-Loaders vs. Top-Loaders
There's no quick way to decide between these two because they have their upsides and downsides. In general, they end up pretty much level when set against each other.
Perhaps the easiest way to decide is to evaluate their pros and cons as listed below and decide which points matter most to you before you buy a washing machine in Singapore.
After that, you can just skip to the section of our list of the best washing machines in Singapore with the type you prefer — whether that's front-load or top-load washing machine.
Front-Load Washing Machine
are more energy efficient
use 50% less energy, so they're more environmentally friendly
leave clothes 10% drier compared to clothes washed in a top-load washing machine
are gentler on clothes because there's no agitator
more water efficient
are more accessible, especially to shorter people and those in wheelchairs
can be installed under a countertop or low shelf
generally more expensive than top-load washers
harder to use as you need to bend down
the front control panel may encourage children to play around with the buttons
tts airtight door could start a mould problem
Top-Load Washing Machine
are more prevalent in household use for a bevy of reasons
spin faster than most front-load washers, require less drying time
are more affordable than front-load washers
easier to use because almost everyone grew up using them
don't accumulate mould as much as front-load washers
have less vibrations on the floor
can be tough on delicate clothes
have a tendency to tangle clothes together
less energy efficient and water efficient
can be challenging for short people to use
As you can see, front-load and top-load washers have an equal amount of pros and cons. We believe that your choice will ultimately boil down to the space in your home, budget, and the types of clothes you frequently wear.
If you have a pile of delicate garments, then opt for a front-load washer. If you wear a lot of denim and outdoor clothing, then you're going to benefit from a top-load model.
FAQs about Washing Machines
---
Are you using any of the front-load or top-load washing machines on this list? Please let us know your experience with them if so, as we'd love to hear from you!
In case you can't decide on a washing machine yet, you probably need a laundry service to tide you over until your decision. If so, check out our list of the best laundry services in Singapore!