The 8 Best Foldable Mattresses in Singapore for 2021
If you need a lush mattress that can also save space in your precious bedroom through a foldable design, you're on the right page! Folding beds in Singapore are a popular choice these days because plenty of brands are now able to make them both portable and comfortable.
So today, we're lining up the absolute best foldable mattresses in Singapore!
1. Perfecta Foldable Mattress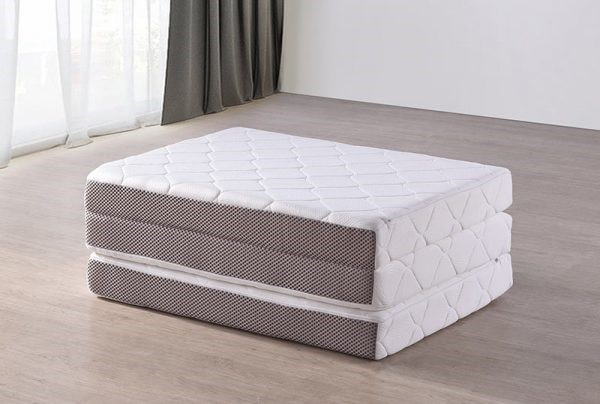 If you're looking for an affordable foldable mattress in Singapore that's comfortable, here's just the mattress for you. With the high-quality foam's 4-inch thickness, the Perfecta Foldable Mattress is the clear choice for a good night's sleep.
Its perfect support will cradle you comfortably. Plus, the foam's 3D meshing allows air circulation to keep you cool while you rest.
The mattress also has an antibacterial and anti-dustmite removable cover. That's good news for those who want to ensure their bedding stays clean!
Highlights
4-inch thick high-quality foam for comfort
3D meshing for all-day, all-night cool feeling
With antibacterial + anti-dustmite removable cover
Special 6-month warranty
Customer Reviews
Customers have enjoyed the cosiness of the Perfecta Foldable Mattress. Aside from its comfy features, they say they like that it helps them save precious space in their homes. It's a popular choice of portable mattress in Singapore for those with limited living space. 
"I really enjoyed this product. It looks really good in my room with a fitted cover and fits well and is SUPER easy to collapse to save space. Comfy and thick as advertised. I like how it's firm enough to be used as a "chair" when not in bed position." – Justin E. via Lazada
2. Seahorse Foldable Mattress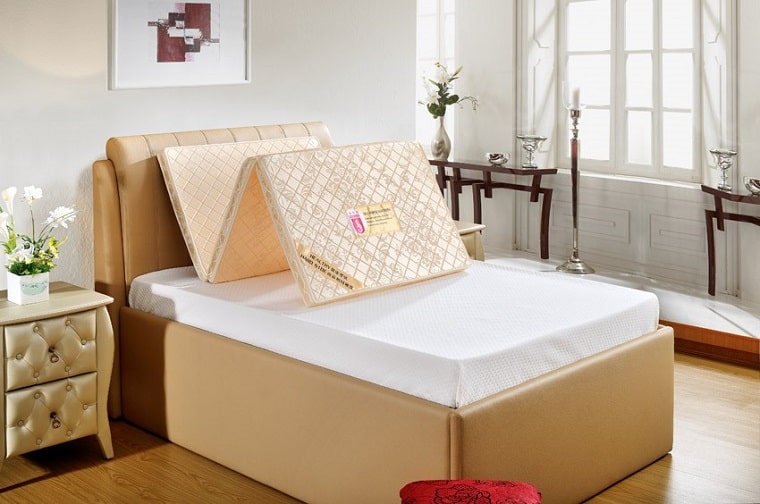 Now here's a cheap foldable mattress in Singapore that really offers quality sleeps. Experience the cosiest sleep ever when you lay on the Seahorse Foldable Mattress. The foam's size — 95cm x 191cm x 5 cm — is just right to save more space in your bedroom for a good night's rest.
When folded, it becomes a third of its length. Hence, you can store it easily while allowing maximum breathing room in your home.
What's more, the mattress is anti-dustmite too!
Highlights
3-fold mattress for foamy portability
Space-saver – 95cm x 191cm x 5 cm foam
Antibacterial & anti-dustmite
Fast delivery – have the mattress of your dreams in 1-2 working days!
3. SUPERFOAM Foldable Mattress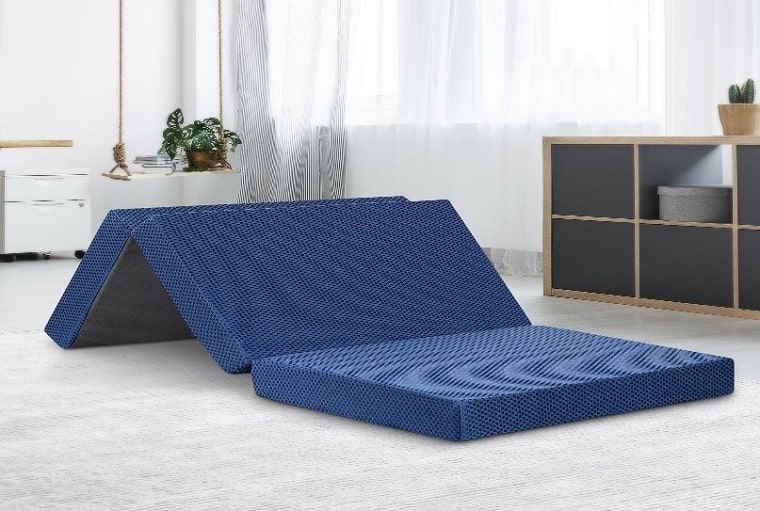 The SUPERFOAM Foldable Mattress is available in different sizes. It comes in 2-inch, 3-inch, and 4-inch foams for your personal choice of maximum relaxation on the foam's medium firmness.
Plus, the super comfy bed is antifungal and anti-dust mite, too! IT even comes with a 10-year warranty providing utmost care and durability. It's really a good foldable mattress to have that's durable and comes in plenty of sizes. 
Highlights
Personal foam options – 2-inch, 3-inch, 4-inch mattresses
Medium firmness for your best rest
Antifungal, antibacterial, and anti-dust mite foam
Exclusive 10-year warranty c/o SUPERFOAM 
Customer Reviews
Most owners of the mattress have been very positive in reviewing it. Take a look at this review, in particular:
 "I'm so thankful to Lynn and her team for delivering this mattress on the same day as I had an emergency situation. The super single mattress I ordered is exactly as advertised. A little hard now as it's new but no complaints. I had a very sound sleep thanks to you!" – Rebecca D. via Lazada
4. Sintex Country Club Mattress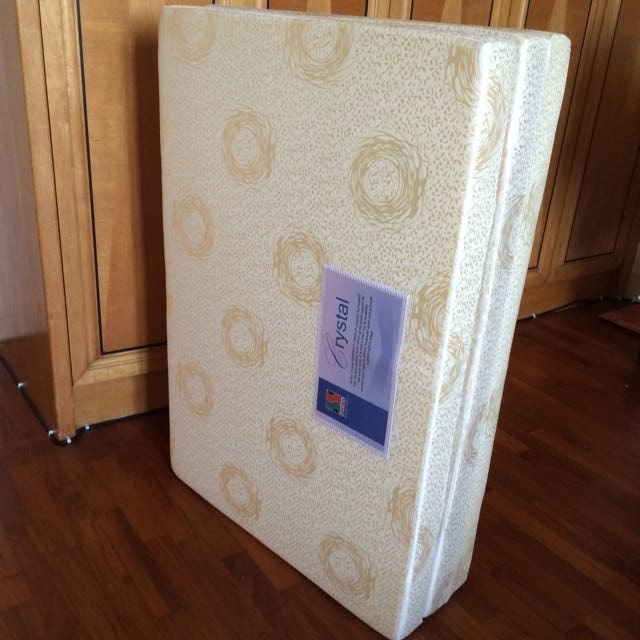 There are plenty of foldable mattresses online but not all of them really offer comfort and a good night's sleep. For pure cosiness, the Sintex Country Club Mattress is your best choice.
Two different firmness levels are provided as well. Choose the one you prefer by flipping the mattress for medium firmness on one side and soft support on the other.
The foam is also built with high density for optimum support. That means you can keep using this for a fair number of years. This is one of the best options for those looking for a foldable bed for maids in Singapore.
Product Highlights
Double support on opposite sides
High-density foam for a cosy sleep
Two different sizes – 2.5-inch and 4-inch mattresses
Customer Reviews
The Sintex Country Club Mattress has impressed many new owners with its quality. The different firmness levels were particularly popular.
5. Seahorse Foldable Quartz Mattress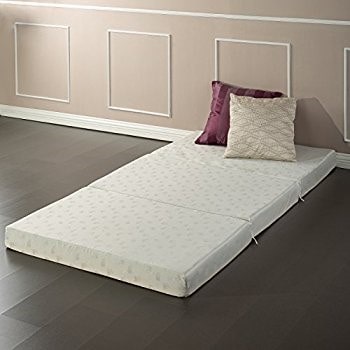 If you have allergies or just have a sensitive respiratory system and are in search of the best foldable mattress in Singapore, this one's for you. The Seahorse Foldable Quartz Mattress is a great choice for those who have trouble sleeping due to allergies. The hypoallergenic foam provides utmost comfort due to its high-density build.
Its 2-inch thickness provides the perfect support as well!
Product Highlights
Hypoallergenic foam for an allergy-free sleep
High-density mattress provides superior comfort
2-inch thick foam – perfect for relaxing support
Seahorse has been a trusted mattress brand for decades
6. Furniture SG Foldable Mattress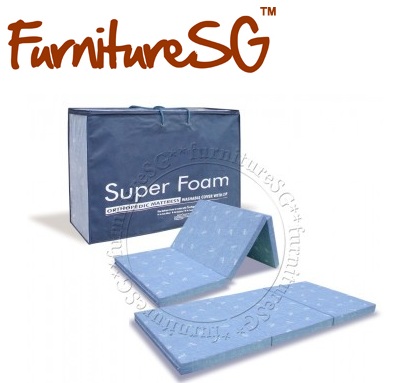 If you're craving a good night's sleep, you may want to try the Mattress International Super Foam Foldable Orthopedic Mattress, available from Furniture SG. This one is designed for the ultimate comfort while remaining compact.
It has a mattress firmness of 5 to 6 (Medium Firm) with a mattress thickness of 2″:3″:4″, so you know your back will get all the support it needs. We like the anti-fungal and anti-dustmite cover too.
Highlights
Priced at $109.00 (see link in description to learn more)
Medium-firm mattress
Anti dustmite and anti-fungal
Washable covers
8-year warranty
Customer Reviews
People who ordered this foldable mattress had 3 things to say about the product; it's compact and firm, highly comfortable, and was delivered promptly. All good things, which tells you this is a mattress worth your money. 
7. (BONUS) F31 PTE LTD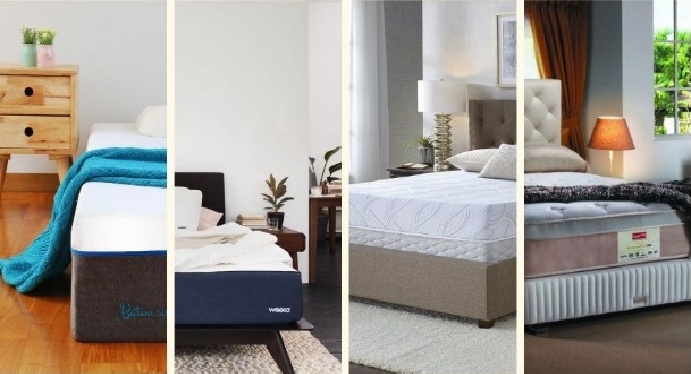 This is technically not a single foldable mattress, but this shop has so many great foldable mattresses that we decided to include them here anyway!
F31 Pte Ltd is basically a team of dedicated furniture providers who helps buyers find the perfect furnishings for their homes. They can help you find the precise foldable mattress you need, based on your requirements, for instance.
Their shop aims to help homeowners shop conveniently, from the comfort of their homes. They provide free shipping to their customers, so there's no need for you to arrange a courier either.
In case you want to view the foldable mattresses they've found for you personally, you are free to visit their physical store too. 
Highlights
Many affordable foldable mattresses in stock — just ask them to find the one you need (see link in description)

Free delivery for all items
Guaranteed high quality foams
Cash on delivery
8. Jiji- Sleepy Night Orthopaedic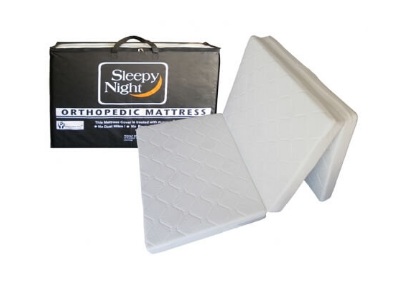 Sleepy Night Orthopaedic is a good choice of foldable mattress as it helps in relaxing your bones and muscles. It comes in different sizes and thickness with a firmness of 6 out of 10. You can use it as it is or place it on top of another mattress. 
It has a washable knitted fabric which makes it easier for you to maintain the cleanliness of the foam. Further, it has anti-dustmite, anti-bacteria, and anti-fungi features. 
Highlights
See link in description above to buy

Washable knitted fabric

With orthopedic support

Anti-dustmite

Anti-bacteria

Anti-fungi

5 years warranty

ISPA approved
Customer Reviews
If you have not yet find a good foldable mattress, this one's for you! Here's a comment from their customer:
Nice and comfy. A good buy as this is very good for your back. Hard to find foldable mattress with this kind of quality. Better than seahorse. Price also reasonable. – hoi***
If you think we missed one that should be on this list, please let us know! Tell us too if you already have any of the above mattresses and what you think of it.
By the way, in case you want perfectly washed sheets to go with your new mattress (and who doesn't?), you may want to check out our list of the best washing machines in Singapore too!
Or, if you're more interested in a proper bed for your master bedroom, consider our list of the best platform beds in Singapore instead. Either way, we wish you only a good sleep from now on!