13 Best Smartwatches in Singapore: Buyer's Guide for 2021
In this fast-paced world, more and more people are becoming convinced that gadgets are essential in our daily lives. Aside from the smartphone, another great product of advanced technology is the smartwatch. At first glance, it may seem less functional for it is being recognized as nothing more but a digital watch. However, smart watches in Singapore have been progressively transforming into a greater and higher quality device.
Before you choose the best smartwatches that you can get in Singapore today, you must first know the important things that must be kept in mind while selecting the best smart watch in Singapore for you.
Helpful Reminders When Buying A SmartWatch in Singapore
OS Compatibility
Above all things, making sure that your smartwatch is compatible with your phone is the most crucial part. The device is mainly classified between Android and iOS. For those who have Android phones, pair it with Android Wear or Wear OS watches and for those with iPhones, you can only pair it with an Apple Watch.
Overall Design
Aside from being a gadget, it is also a wearable device so the appearance must also be on your list. Look thoroughly at the outer design of each smartwatch and take your time. Remember that you are switching into another one is not as easy as swapping regular watches every day.
Know the materials used in building the gadget and check if you feel comfortable while wearing it.
The accessibility to applications is the biggest competency of smartwatches. This the root of their success or failure. Verify the smartwatch if it has enough functional apps that will truly help you.
Battery Life
For how long do you use your device every day? As for a smartwatch, you will probably be using it for the whole time. Not all smartwatches can last throughout the day so determine the device if it has a reliable and longer-lasting battery.
Waterproof
As mentioned earlier, having a smartwatch is quite the same as using a regular watch, which means that you can use it whenever and wherever. Think about the waterproof ability of the smartwatch so you don't have to worry while you are being drenched in rain or enjoying your summertime at the beach.
Take a look at our buying guide below and see how these top-rated devices can make your day even more productive! And if you're also wondering where to buy a smart watch in Singapore, we've included the links for you.
1. Samsung Gear Sport
Stylish and User-friendly Timepiece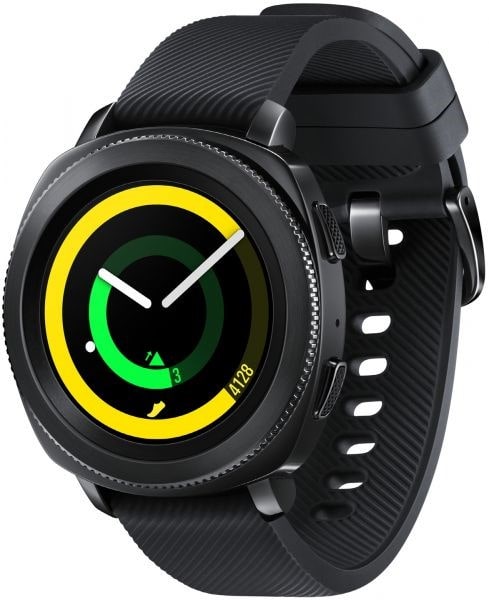 Price: $368.00
Benefits
Easy to use navigation
If you are getting tired of swiping your fingers onto the little touchscreen frame, this Samsung device will certainly make your life easier. With the bezel navigation, you only need to twist the bezel lightly, then you can now easily monitor your calorie intake and use training guide apps. The side buttons are almost invincible, making it less likely to get tangled on sleeves. This sleek-looking device surely lives up to its name due to the overall build and design that is specifically tailored to a healthy lifestyle. It's no wonder that its considered by many to be the best smartwatch in 2021 in Singapore. 
Exceptional customization
What if you can do everything on your smartwatch, as much as you can, as if you're using a smartphone? This gadget can pretty much provide anything you want for it allows a limitless use of custom widgets. You can personalize your layout and settings based on your preferences as well as use the bezel navigation to check the weather, choose the next song that you want to play, store tracking data such as steps and routes taken. The gear sport can also provide timely suggestions wherever you are. This includes a few stretches that you may do while sitting and waiting for the airplane to take off. The best thing about it is the compatibility on both Android and iOS phones.
Long-lasting battery life
It is quite common for us to not have the luxury of time to charge our devices. Gear Sport can help you save up battery life while using it for the whole day. When it comes to energy and time efficiency, this device can top all the existing smartwatches. It can last for a total of three days with a single charge. It also has a wireless charger with a little stand for a more convenient and stable charging stance.
Downsides
Small number of apps
Compared with Apple Watches, it is accountable for fewer apps. It is not the perfect choice for users who want to install a wide-ranging series of apps.
Limited storage
Gear Sport has a maximum of 4GB of built-in storage which is quite lower than the other smartwatches. You have to consistently manage your apps to keep a reasonable amount of space. This might not be an excellent choice if you have an extensive music library.
Customer Reviews
Satisfied users praised the device with its compatibility, great customization, perfectly fit to the wrists, high-quality features and sporty design. Only limited apps can be installed but you can absolutely have the essential apps that you need. Brianna left this outstanding review on Amazon:
"First, build quality. It is excellent on the Gear Sport. The overall look of this watch is very nice and classy, it feels good to wear and doesn't seem big or heavy at all. The touchscreen itself works fine and the watch uses haptic feedback well to let you know that a tap of the screen was successful. I want to note that the Gear Sport gives a lot of options for how long the screen stays on, vibration intensity, Wi-Fi or Bluetooth mode, etc. that can really affect battery life. The included software is pretty good. The step tracking, activity tracker, and heart rate monitor all function similar to the Apple Watch and work pretty well once you enter your weight, height and age."
2. Apple Watch Series 4
Best of the Best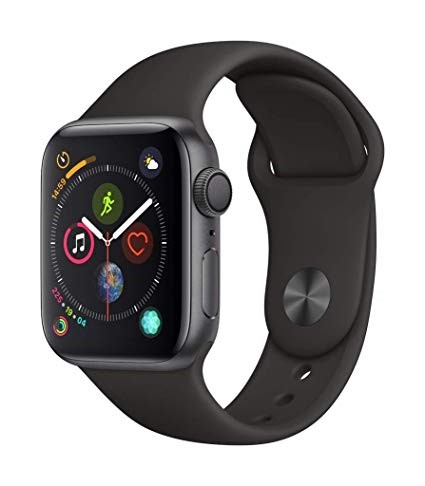 Price: $550.00
Benefits
Evolution of classic design
Familiar but transformative design that undoubtedly stepped up its game with a larger display and curved corners, extending a farther reach on the screen. Thinner but more powerful. It is designed with narrower borders for a wider view and a marvelous power efficiency that lasts throughout the day.
The Apple Watch can be considered a classic that's considered by many to be the best smartwatch in 2020 in Singapore.
First-rate functionality
With the Digital Crown that provides a familiar navigation, scrolling through the screen will be easier and more comfortable. All the apps are displayed in honeycomb-like form, simply use the touchscreen to find and tap the app that you need. While the dial buttons serve its purpose for zooming in and panning out.
Personalization at its finest. You can customize your home screen layout as well as the apps and weather display. In spite of not having a diversity of third-party concepts, you still have an overall of 12 different watch faces to choose from. Almost everything is optional. You can either add more widgets or remove the unnecessary ones to have a clean layout.
When it comes to maintaining a healthy lifestyle, an accurate and updated tracker is a must. Apple Watch Series 4 is the pioneer of a smartwatch that features a built-in FDA approved electrocardiogram (EKG/ECG) that measures the electrical signals in your heart and monitor its rate. The sensors and electrodes on the watch send low and high heart rate notifications, fall detection and emergency SOS.
Great accessibility 
Who says that socializing can only be done through PCs and smartphones? With the Apple Watch Series 4, you can now share your daily activities with your friends and have some little competitions, to be more motivated and encouraged while working out. Challenges and rewards will certainly lead to a fulfilling experience. It also has call and message notification features, apple music and podcasts, and Siri. You might even forget that you are using a watch and not a phone.
Downsides
Definite Compatibility
The device is compatible with iPhone users only and it is also not water-resistant. Regardless of this, it is undeniably the most excellent smartwatch for an iOS that has ever been made. You can use other smartwatches for iPhone, but they will only have limited features.
Short-term battery life
The longevity of battery life is one of the most important factors, but it is also the leading flaw of the Apple Watch. In part of this, sleep tracking might not be fully utilized. Samsung Gear is a better option when it comes to power-efficiency.
Customer Reviews
The timeless smartwatch has earned wonderful compliments for its useful features that are accustomed to fitness and health, beautiful design and decent user interface. It is quite expensive compared to the other smartwatches, but the cost is definitely worth it. A reviewer from CNET wrote: 
"The Apple Watch Series 4 offers a larger, crisp display that shows more with less bezel, super fast speed and a louder speaker. It adds high and low heart-rate detection, fall detection with SOS trigger and an FDA-cleared ECG app for more detailed heart readings. It is the fastest, most connected and best overall smartwatch around, but its battery life and watch face options often fall short of the competition." 
3. Fossil Gen 4 Venture HR
Sophisticated Design and Brilliant technology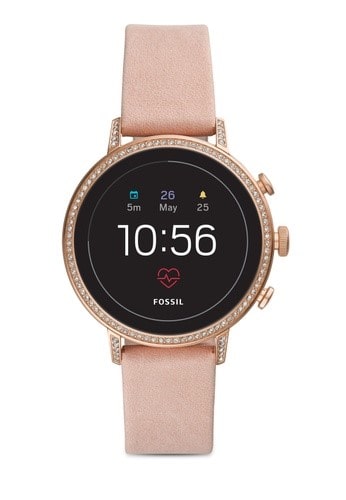 Price: $195.60
Benefits
Fast and responsive scheme
Interaction never felt more real with this device. If multiple buttons on the side of your watch are more complicated for you, then this smartwatch will enlighten your mind. Fossil Gen 4 Venture HR has a responsive touchscreen that makes it easier to navigate the entire system even without a bezel or dial button. With a gentle tap on the screen, you can click, scroll and move around to use the app that you want. You don't have to allot much of your time for charging due to its rapid-charging feature that opts for time efficiency and on-the-go use.
Multi-functional
This exquisite smartwatch is equipped with a built-in fitness tracker including heart rate tracking. It also has convenient and timely qualities such as GPS, Google Pay, personalization of dial, multiple time zones, alarm clock, and swim proof. To connect with your loved ones and friends even without having the phone in your hands, this smartwatch can manage calls, messages, emails, and social media apps notifications.
Subtle and modern style
The beautiful contrast of the Fossil Gen 4 Venture HR is the elegant and vintage style of the frames and straps. With its watch-like appearance, people might not even notice that you are using a smartwatch. You can also change your watch face to match your current mood. You can also match your smartwatch with your outfit by using interchangeable straps. They have plenty of models and styles for specific preferences.
Downsides
Outdated processor
This version of Venture HR is not built with a newer Qualcomm's Snapdragon processor. Although this might hinder the device to showcase the maximum power-saving mode and extend the battery life, it can still last longer than the Apple Watch Series 4.
Limited band options for fitness
Since the brand started with a fashion statement, they are more focused on bringing new styles and designs. Even with the fitness and health functionality of the watch, most of the available bands are favored into stainless steel or leather material which makes it uncomfortable while doing some exercises.
Customer Reviews
This smartwatch is being recognized for its fashionable designs, rapid response and wide accessibility to apps. In spite of not being able to last throughout the whole day, it is still suitable to one's taste. Dorianne left this 5-star review on Amazon:
"This is a beautiful watch. It took me a little while to figure out how to get it all set up, but Fossil was very responsive to Messenger on their Facebook page. Once I got it all set up, I'm really loving it. I love that the Google Play Store is already in the watch, so you can add apps right from the watch rather than the phone app. You can put text in with Google Voice, so it is nice to be able to reply to a text with Google Voice. The watch band that came with it is really pretty, but pretty heavy, and if you have a small wrist, needs to be sized. The only con so far is the battery life. The power saver comes on automatically at 15%."
4. Huawei Band 3 Pro
Youthful and State-of-the-art Design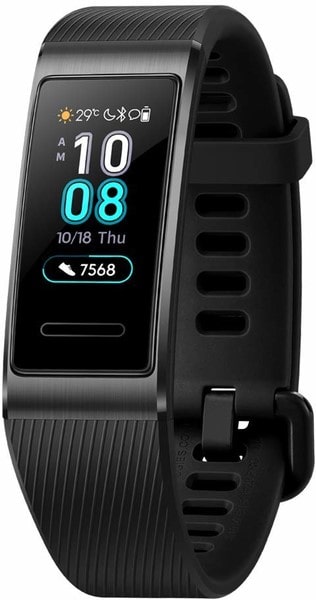 Price: $108.00
Benefits
Fun and colorful display
If you are looking for a vibrant and enthusiastic interface, then this Huawei wearable is the perfect choice for you. It features an AMOLED multi-color touchscreen that illustrates a smooth display. The outer appearance is made up of silicone strap and a metal frame for a classic look. This thin but fun-filled smartwatch goes well with the frequent seasons' change, making it pleasurable to wear anytime, anywhere.
Enhanced tracking and solution provider system
Wouldn't it be nice to always start off the day on the right foot? Every step you take is accurately recorded with the built-in GPS that is equipped with an energy-saving feature. The 24/7 smarter heart monitoring delivers a precise heart rate data. It can also determine common sleep-related issues and give you possible suggestions for better sleep.  Practice your swimming skills with this waterproof device and you will gain improvement with its intelligent feedback. It identifies and improves your strokes as well as record daily data such as calorie intake and the number of turns. If you are looking for the best budget smartwatch in Singapore, this is very well it. 
Additional apps
The Huawei wristband never fails to give you an extensive app selection, making it outstanding and unique compared with the other brands. You can now take selfies, jump shots and group photos more conveniently with its camera shutter remote that is connected on your phone. If you ever lost your phone, this smartwatch can help you search your phone by using the Bluetooth connection and triggering the phone's ringer, even in silent mode!
Downsides
Limited watch faces
Though it is built with a colorful inner display, the manufacturer does not focus on the main interface layout. You only have a small number of watch faces options. It is not the ideal option for those who are looking for a customized interface.
Inadequate Weather Display
It may not be a well-known feature but admit it, we always look at the weather display to see if we can go outside or not. Hence, we tend to look for a complete weather display. This device displays temperature in Celsius only and it also can't show negative temperatures.
Customer Reviews
Most users admired the quality of materials, sensor, tracker, notification features, additional apps, vibrant display, and battery life. It might lack with the range of watch faces and insufficient weather display, but the high-class features of it will certainly overcome these flaws. A reviewer from Amazon wrote:
"After the third try (returned two different products), I found a product that seemed to live up to the description for use in the pool. I am happy with the indoor swimming tracker. I do not feel it is 100% accurate, but as long as it is consistent, that is what I need to track improvements. The built-in GPS tracker is great. I do not have to carry my phone. I have been on two 5-mile hikes since I bought the band. It accurately shows the distance and maps of where I hiked. It syncs to my galaxy without out any issues! Very reliable syncing and Bluetooth connection."
5. Fitbit Ionic Smartwatch
Best Workout Buddy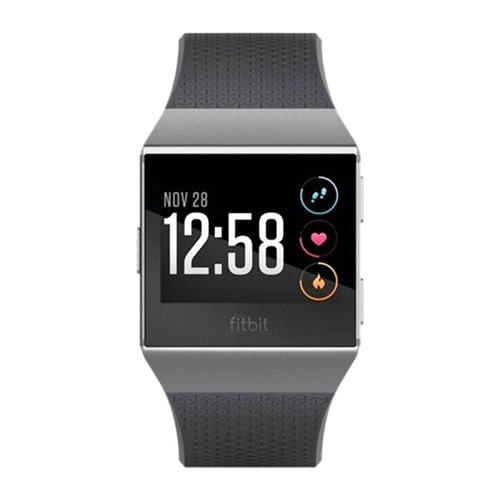 Price: $169.90
Benefits
Accuracy and consistency
Fitbit Ionic Smartwatch is a must-have gadget, especially for those people who have just recently started a healthy lifestyle. The built-in GPS and SmartTrack system are capable of accurately tracking all-day activities, giving reminders to move and providing personal coaching. It can also consistently keep track of sleeping stages along with walk and run distances. It saves up to 7 days of detailed motion and daily totals for the past 30 days.
Extensive storage and practical uses
Unlike the other candidates, Fitbit has a high storage capacity that lets you install helpful apps and tools for a better workout routine. You can also listen to more than 300 songs on Pandora stations and create playlists that will pump your energy levels up. It works with Bluetooth headphones, so it is more convenient when you are running or doing exercises. Making payments, customizing clock faces and enabling smart notifications are also viable in this smartwatch.
Multi-sport and real-time insights
What's better than having a smartwatch for every sport that you want to pursue? Fitbit can perform an ample of multiple tasks including tracking swim workouts, calorie intake, pure pulse heart rate, cardio fitness level together with initializing guided breathing sessions. All these events can be monitored and recorded with real-time zones and see the stats on the screen.
Downsides
Slow Interface Response
Every product has its flaws and Fitbit Ionic is not an exception. The touchscreen interaction on the device can be slower than the other smartwatches. Given the large storage space, it doesn't always have a laggy interface as long as you manage all the apps.
Costly
It goes beyond the typical price range for fitness trackers. Nonetheless, the smartwatch is armed with competent capacity and performance so rest assured that it will serve its price.
Customer Reviews
The Ionic is known for its lightweight, comfortable to wear, interchangeable straps, highly functional features, and good-looking characteristics. However, users claim it as a little bit pricey for a fitness tracker. Nevertheless, here's a positive feedback from a Tech Advisor reviewer:
"While it's quite expensive for a fitness tracker, the Fitbit Ionic does pack in a lot of high-end features that will appeal to a wide range of people, from hardcore fitness fanatics to the more casual gym-goers. While the range of non-fitness apps is not wide at launch what it offers is still beneficial to people looking for a more healthy lifestyle. With built-in GPS and music player, contactless payments and on-screen notifications (Caller ID, texts, WhatsApp, etc.) it means you can leave your phone and wallet at home when out exercising."
6. KW18 Bluetooth Smartwatch
Great Alternative for Smartphones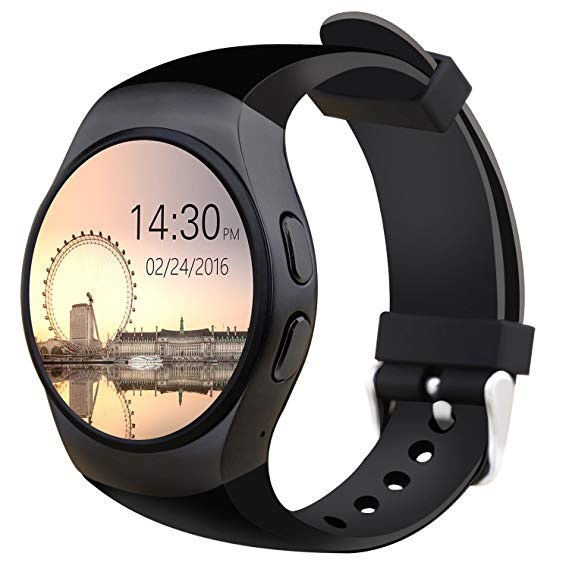 Price: $72.50
Benefits
Device with a communication feature
Kingwear surpasses its competitors with the independent micro-SIM card slot that allows you to receive and make calls, send messages, and sync your contacts. If you prefer a smaller device where you can control and manage almost everything in your life, then this would be your best choice.
Larger display and expandable memory
Similar to a smartphone, you can insert SD card for additional storage that can be expanded up to 16GB. You can now store more tracking data to monitor your daily activities and improvements as well as listen to a fully packed music library. It also has a larger touchscreen display so it will be easier for you to browse and use the apps. Its easy-to-use functions has made it to be one of the best kid smart watches in Singapore. 
Variety of activities
You can never go wrong at a smartwatch that can perform a multitude of tasks. Aside from being able to act as a smartphone, the highly functional device can also work as a fitness tracker. It is composed of having a pedometer, heart rate measurement, and sleep monitoring system. It can also remind you if you are sitting for too long and need to take a rest by relaxing your body for a certain period of time. It is also compatible with both Android and iOS platforms.
Downsides
Delayed notifications
Although it may stand as a substitute for smartphones, it still has its weakness. Notifications and reminders can be delayed with a few seconds late. If you are one of those people who are in need to immediately catch up with messages, calls, and emails, this might not be a good option.
Lack of information display
Kingwear also displays limited weather details and contact information. If a message popped up, only the phone number will be shown so you might still need to check your phone. Regardless of this, it is still better than not being notified by incoming alerts, reminders, and messages.
Customer Reviews
This charming smartwatch has received plenty of wonderful compliments for its visuals, ability to make and receive calls through Bluetooth and local SIM card, long-lasting battery life, and affordability. Though it is not waterproof and it is still lacking on some points, users are still amazed by its ultimate capacity. Carlos gave this positive feedback on Gearbest:
"This is really a beautiful smartwatch. It can make calls using a sim card or connecting via Bluetooth to your smartphone. It has a slot which can be placed both a sim card and a micro SD card (Max 16GB). Also, other watch faces can be transferred to this smartwatch. Best value for money and my favourite smartwatch so far. A must buy, thank you Gearbest. Before I forget, there are three colors available black, white and copper. For me, copper is the nicest." 
7. TicWatch Pro
Dynamic and Award-winning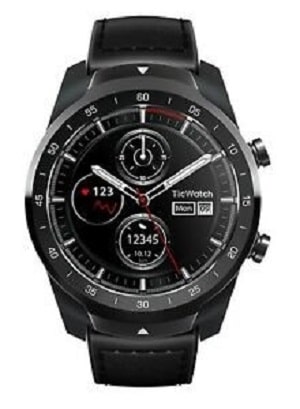 Price: $259.00
Benefits
Layered display technology
Experience extreme power-saving mode with TicWatch Pro. This versatile smartwatch has a layered display technology that provides two types of modes, Smart Mode and Essential Mode, which are in the form of dual screens. Both screens are differentiated between high resolution and energy-saving quality. Simply switch between modes to fully enjoy the capacity of the device. When the watch is reaching a low battery life, an auto-switch to Essential Mode function will be enabled.
Full diversity
As mentioned earlier, TicWatch can last for a few days with its energy-saving mode, which makes it capable of achieving a bunch of activities. With the GPS on and the sensors on the back of the watch, you can consistently keep track of your health and fitness data, record your jogging routes and calorie intake. It has a built-in Wear OS technology that lets you use the Google Play apps for a better experience. The most dominant feature of this device is the Google Assistant that allows you to vocally command tasks with the speech recognition AI.
Topnotch design 
The smart and polished style of this smartwatch won an award at the prestigious 2018 iF Design Talent Awards. The trendy and classic look includes a stainless steel bezel covered with a carbon fiber body and Italian leather breathable straps. There are also thousands of watch faces to choose from depending on your current mood. Make sure to set a good impression with this good-looking watch!
Downsides
No LTE version
The overall capacity of the device makes it a costly product which leaves the users asking for a lite version that they can afford. A high-quality device with a cheaper price is preferred by more customers.
Customer Reviews
Satisfied users cited that it is comfortable to wear, nicely weighed, has a good bezel and accurate sensors, and faultless software. It is a bit pricey but with this kind of technology, every penny spent will be worth it. A reviewer from Techradar gave this final verdict: 
"The Ticwatch Pro is one of the most interesting smartwatches on the market and its dual-screen technology is a genuinely innovative idea that combines the functionality of a traditional watch with the benefits of a top-end Wear OS device. With a mid-range price, a premium design and lots of great features, the Ticwatch Pro is one of the best smartwatches you can buy."
8. Samsung Galaxy Watch
Stronger and Smarter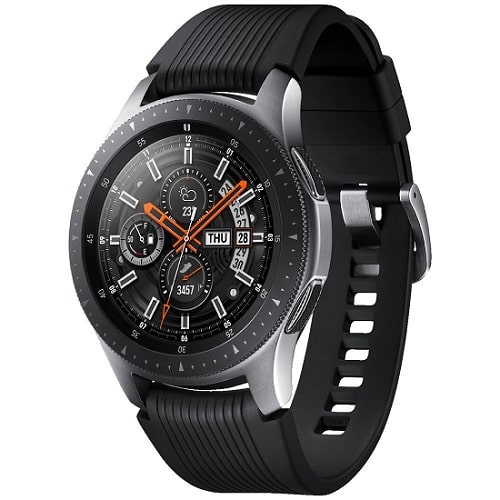 Price: $335.00
Benefits
Damage-resistant and durable
When it comes to the exterior design, everything you need is in this smartwatch. It is suited up with military-grade long-lasting wear and water resistance to support multi-sport activities. It also has a Corning Gorilla Glass DX+ to prevent the high definition touchscreen display from scratches and other potential harms.
Economical and skilled partner for daily activities
Set daily exercises with this reliable smartwatch. It is built with an active health and fitness tracking system that keeps every movement in the record. It doesn't matter how long or how far; you can go on nonstop with a single charge. It can help you gain a healthy mind and body with its meditation and breathing exercises, sleep cycle and heart rate monitoring, and suggested workouts. Even without holding your phone, you can make calls, appointments, messages and set a schedule to accomplish your daily goals.
Unlimited style
With interchangeable straps, you can complete your fashionable look for the day. The Galaxy Watch offers two sizes with stylish and realistic watch faces. You will hardly even notice that you are using a digital device.
Downsides
Low software compatibility
Galaxy Watch does not support all software versions. It has a specific standard to access the entire system. If you don't have the latest versions, you might have trouble using this device.
Minimal apps
For those who are looking for a smartwatch where they can use Google Maps, FB Messenger and WhatsApp, this device is not the right one for you. Its organization and capability are only within the scope of selected apps.
Customer Reviews
Easy to use interface, smooth and responsive settings, accurate tracking, and good build material are the most favorable reasons on why users loved this product. Some may find it flawed because of its lack of more apps, yet it is still considered as one of the best works of Samsung. Techradar gave this overwhelming review:
"The Galaxy Watch is Samsung's most refined smartwatch due to its helpful fitness tracking and four-day battery life – if you opt for the larger 46mm size that we liked and recommended. All of this is packaged inside a sophisticated-looking circular silver-and-black smartwatch that has a rotating bezel for effortless menu navigation. Be warned, third-party apps are lacking and its iOS support is limited if you're using an iPhone. This is best for Samsung fans."
9. Huawei Watch GT
Solid and Boundless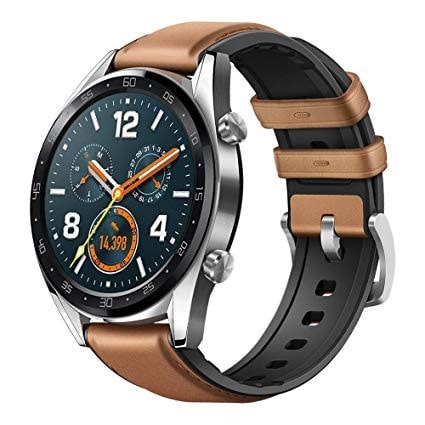 Price: $225.00
Benefits
Slim design and multiple sport modes
Being comfortable with your watch is a top priority! This lightweight and thin smartwatch will help you feel more at ease while working out. It features a full-color AMOLED, screen that provides brighter and clearer display when you are out in the sun. It is also easy to use and all the stats are reader-friendly. You can also find necessary apps such as stopwatch, timer, alarm, flashlight, compass and find your phone feature. The main highlight of this product is the app called Workouts, where you can set up different modes depending on your workout location.
Long-lasting battery life
This Huawei smartwatch is armed with a battery that can reach a full mileage. This would probably be the major reason behind the success of this device. It is said to be capable of lasting throughout a whole 2-week use and it is indeed true! You don't have to recharge it every night before you go to bed or every morning before you go to work. You can save up more of your time with its impressive battery life. 
Affordability 
The price falls much cheaper than the Band 3 Pro. It is still advantageous despite its price. Imagine having a time and cost efficient device that will help you throughout the day. That would be the best feeling you've ever had! Whether you are working out or not, this smartwatch is unquestionably worth-having.
Downsides
Smaller range of app selections
Compared with the Band 3 Pro, it doesn't have a wide selection of apps because the third-party apps are not accessible on this device. It is not actually a bad thing because you still have the essential apps you need for daily use. This would apparently be the only flaw that may get buried with the good deal of features stated above.
Customer Reviews
The compelling watch is being continuously acknowledged by its exceptional battery life, classic looks and precise sleep and heart rate tracking system. This may not be the best to work with third -party apps due to its independent OS but it will surely go a long way. A reviewer left this top-rated review on Amazon: 
"I want to express my appreciation to the developers for their efforts to bring this amazing health tracker to market. I have tried many and this one is by far the closest thing to perfect as one can expect. It is fast, it is extremely accurate, has great battery life, and the health advice it provides is impeccable. I am a heart patient and this device will really help me improve my health goals. I could not possibly be more satisfied with this purchase. It isn't really a smart watch as there is no internet access, no additional apps, no ability to answer a text or take and make phone calls. That is what my phone does, after all, and I didn't buy this to replace my phone. I bought this to help me monitor and improve my health and fitness. For that, this watch cannot be beat."
10. Misfit Vapor 2
Five-star item yet budget-friendly

Price: $229.00
Check It Out on the Misfit Site
Benefits
Low-Cost
Out of all the existing smartwatches, this is the most affordable and yet it is fully filled with functional features, packed enough to make it to the list. If you are searching for a mid-range smartwatch that can perform the necessary tasks you need, then this is a solid choice for you.
Decent competency
Only a few average smartwatches can be lined with the prominent brands and this one of them. As most people say, don't judge a book by its cover. Indeed, don't take the quality with its price. This stainless steel and water-resistant device can go with style and functionality. It can provide the essential information that you need to stay connected in life. This includes call alerts, message notifications, alarms, time and activity display, and app notifications. Almost every setting can be customized for a more personal experience. A smart button function is also provided to let you listen to music, take a photo as well as manage smart home devices.
Detailed accuracy
Who doesn't want an instant and real-time feedback on their smartwatch? Misfit has an activity tracking that will help you monitor your progress and achieve your daily fitness goals. It delivers precise data of tracked steps, distance, and calorie intake, better insights for light and restful sleep, and absolute motivation right through your wrist.
Downsides
Not fully compatible with iOS
It is almost perfect, but the smartwatch features are only limited when paired with an iPhone. If you currently have an iPhone with you and in search for the one that can be matched with it, you better start looking for other options.
Quite feeble-looking
When you look and touch it for the first time, it might seem a little fragile due to its thinner case. However, as long as you use it wisely and take care of it thoroughly, it can certainly be used for a long time.
Customer Reviews
Users find the device to be more useful than expected. It is being recognized by its great accessibility to apps and steady tracking system. iPhone users might not see these features, but it is competent enough to make it a part of your daily life. Here's a feedback from Digital Trends,
"The Misfit Vapor 2 is a versatile smartwatch that's comfortable enough to work out with and has a beautiful design that can be worn both day and night. It also tracks all the necessary health and fitness stats on a daily basis."
11. Ojoy
 Sleek and Kid-friendly Design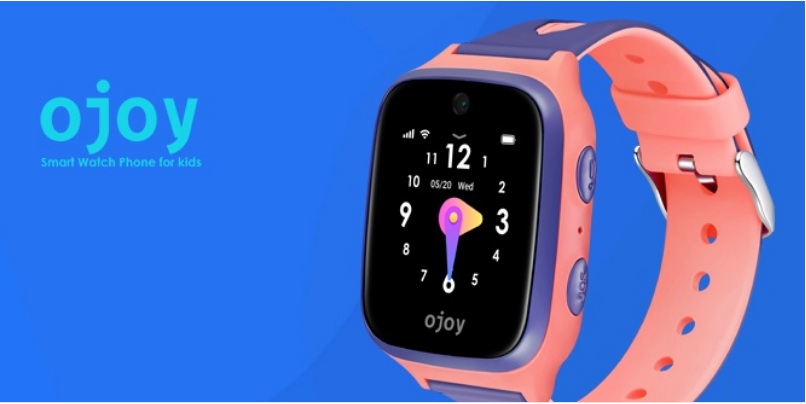 Price: $189.00
Benefits  
Economical
When it comes to budget-friendly options, you can never go wrong with Ojoy. One of the cheapest selections in this list, Ojoy makes it a point to provide budget-friendly products while keeping their standard high-quality intact. 
Intuitive and Funny Display
For a kid's accessory, it's highly important that the product itself is engaging not only in design but on the overall interface as well. This is what Ojoy had in mind while making their intuitive colorful designed smartwatches. Kids won't have a hard time navigating this gadget as every function is streamlined and straightforward. 
GPS Real Time Tracking & Child Locator
Children's safety and security are some of the top reasons to buy this gadget. Keep your mind at ease with their GPS Real-Time Tracking & Child Locator. This function together with their effective and clear voice calling makes it easier for you to stay connected with your kids. 
Downsides
Kinda Heavy
As kids are the main target of the Ojoy brand, some of them might need a little time getting used to the weight of the smartwatch. For a kid's wrist, it may feel kind of bulky at first but after multiple uses, the watch should feel right at home. 
Customer Reviews
Ojoy is garnering more and more loyal customers as the years go by. Their simple interface paired by their sleek and colorful design makes them such a wonderful gift for kids. Read what these customers have to say:
"A brilliant watch for kids. Very easy to use and to sync with all the household phones. Would highly recommend."
"Definitely recommended!! Kids love it simply awesome!"
12. myFirstFone R1 
Suitable for Kids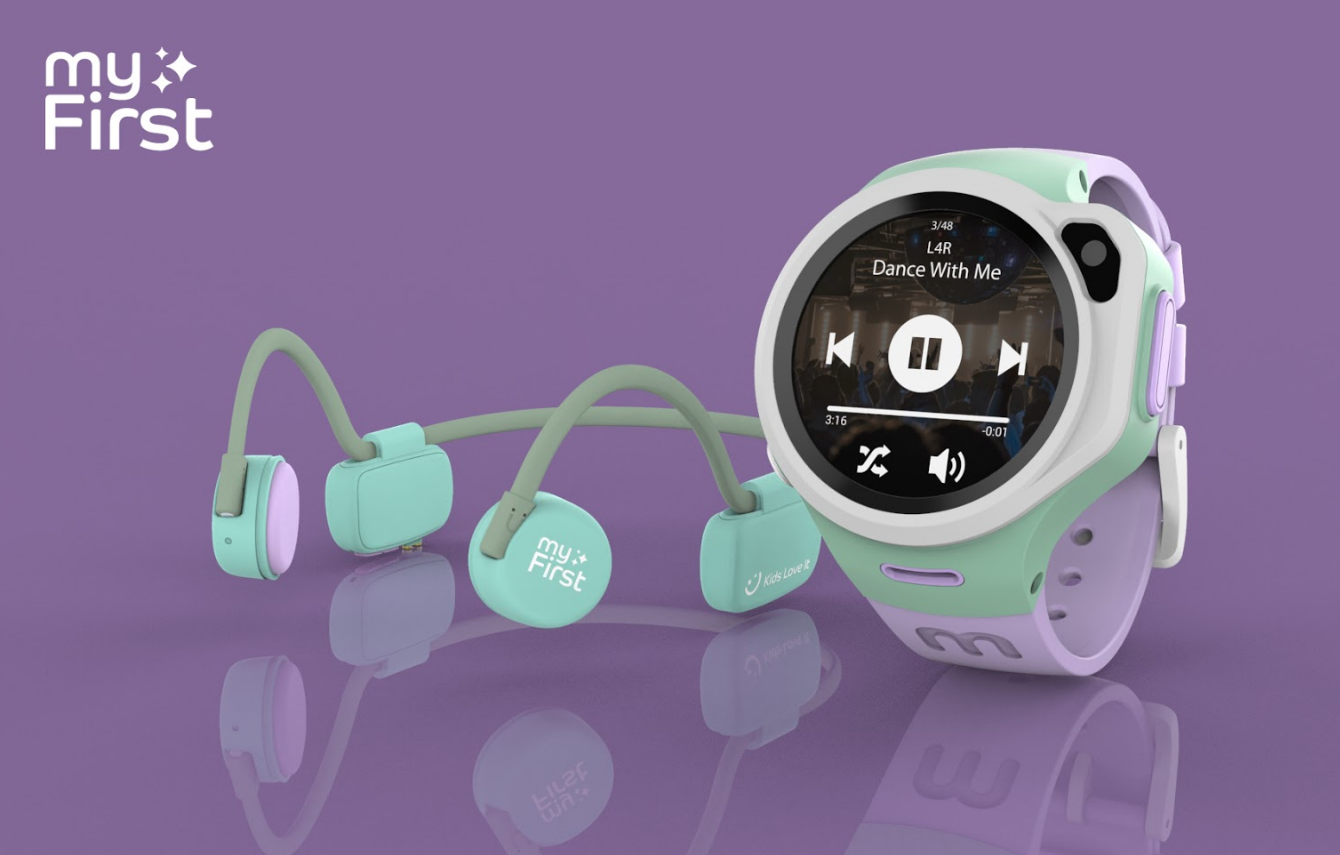 Price: $229.00
Benefits
All-in-one Functionality
The myFirst Fone R1 is best for parents who want to give their kids a smartwatch with safety features: it allows the user to take calls, listen to music, receive messages, and more. That's once the administrator — the parent, in other words — has bound the device to their smartphone using the myFirstFone app (available for both Android and iOS).
The administrator basically uses that app to monitor the location of the smartwatch's wearer, send them messages, do voice chat with them, or even video-call them.
There are myriad features parents will enjoy here, from the geofencing function to the alert that tells them if the child has taken off the watch (a sensor on the back of the watch detects this).
It has a 2.0mp camera, wireless audio, contact list, pedometer, video & voice call, and a touch display.

Kid-Friendly Design
It's definitely designed to be aesthetically pleasing to kids. It comes in several cool dual-hue colorways [see the image above for an idea of what they look like] and comes preloaded with some very nice screen backgrounds and themes.
It also has a music/audio player — and given how small the speaker on this thing is, we were pleasantly surprised by how loud it could get, as well as the general sound quality. It's a pity there's no quick-mute button, but since pausing the player is fairly easy from the TFT screen, it's not a major qualm.

Nice Overall Construction
It's light but sturdy, so we rather liked wearing this device ourselves. The strap is very soft and easy to remove if you feel like switching it out for a different color, and the case didn't feel flimsy at all. Even the magnetic design of the charging cable is a nice touch.
It's also worth mentioning that it's splash-proof for most situations, because, you know… kids aren't always great at keeping dry.
Decent Storage Capacity
The myFirst Fone R1 comes with an internal memory of 4GB. However, the system software will take up around 1.6GB – 2GB of the memory. Nevertheless, that'll leave you with 2GB- 2.4GB free storage space for music and photos.
We think it's more than enough for the average smartwatch user as you can store more than 500 songs and nearly 600 pictures with that much memory.
SOS Button Is Huge
There's a very long button on the right side of the smartwatch that lets kids send an SOS to family members registered on the myFirstFone app. That's a handy thing to have in case of an emergency, and the size means it should be easy to get to even if the user's fingers are on the clumsy side.
Downsides
App Isn't Always User-friendly

The app that administrators use to control the device isn't always easy to work. Some users have reported difficulty calling the smartwatch or getting settings to save on occasion. We ourselves had issues using the app to bind to the device initially.

SOS Button Is Huge
We listed this as a pro, but it can also be a con. If the kid wearing the watch is majorly clumsy, there's a chance he can send off an SOS to you by accident… and shave a year off your life unnecessarily.
13. Timepiece
Minimalist Analog Watch with Heart Rate Monitor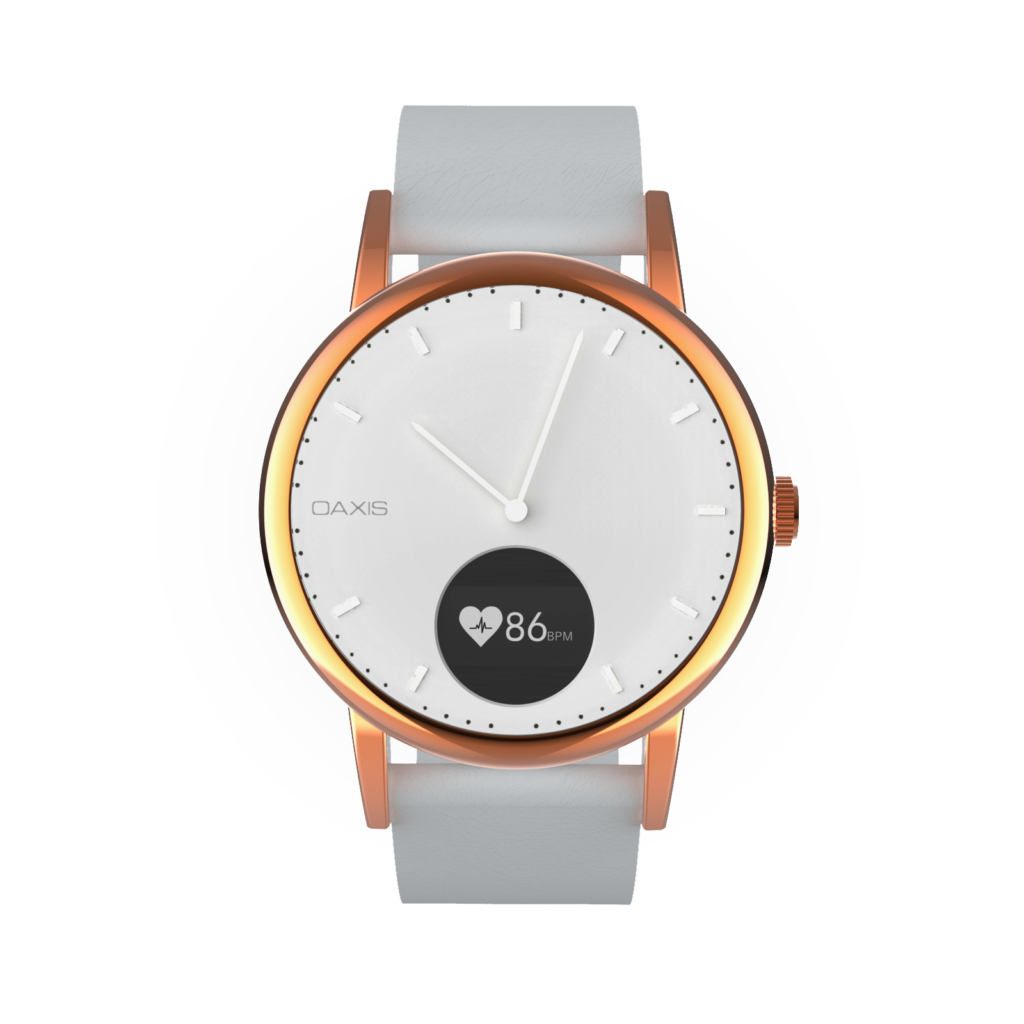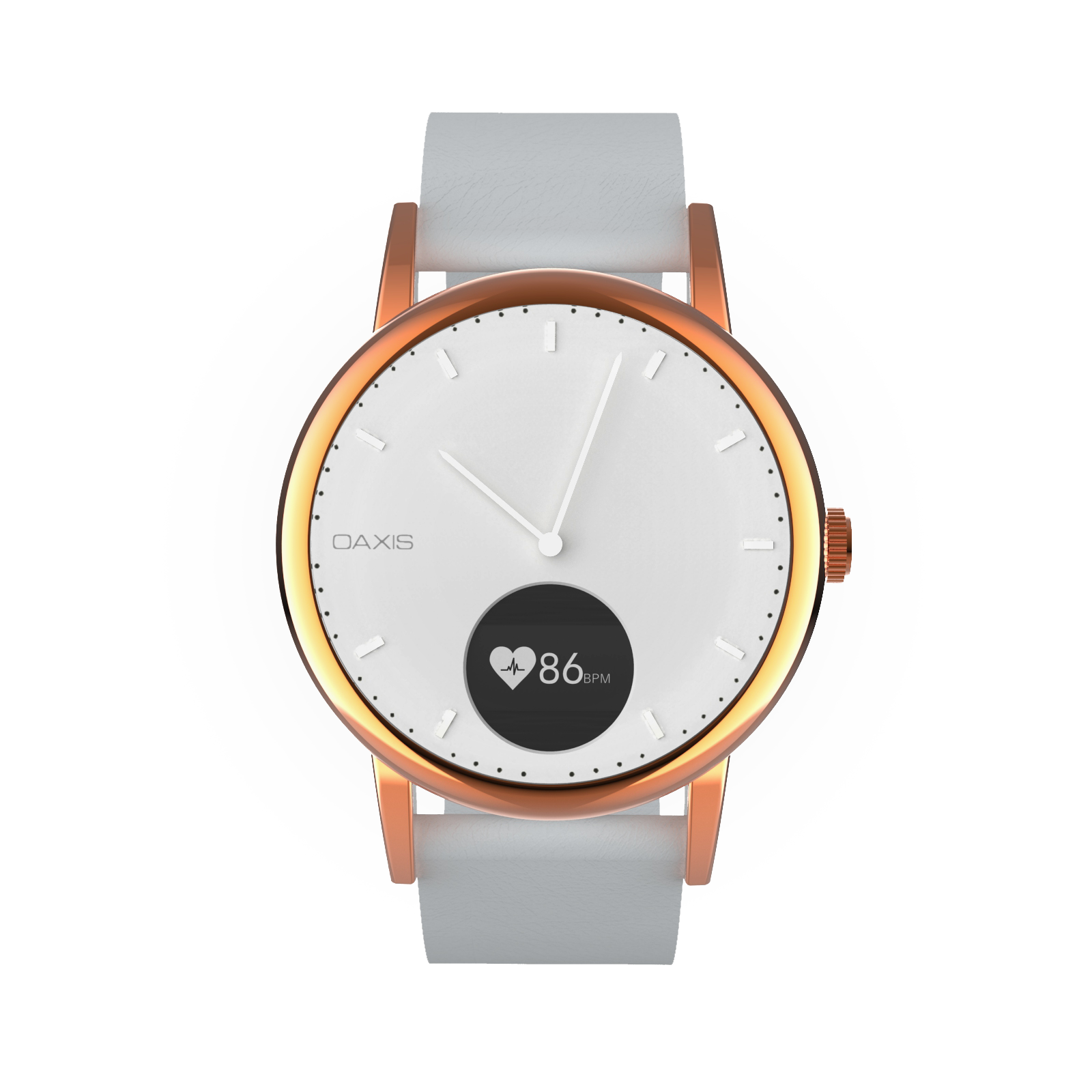 Price: $159.00
Benefits
Exceptional Customisation
This watch is equipped with different functions that includes a heart rate monitor and other smartwatch functions. Even though it looks like an analog watch, it is suitable for fitness activities, it is equipped with a fitness tracker that records your heart rate, calories burnt, and track your steps.
Evolution of Classic Design
Perfectly designed for a every possible situation, the Oaxis is engineered to fit every situation. From formal suits to rugged outdoors, every piece comes with an additional silicone strap. The straps are designed with a quick release valve so you can swap them out between exercises during a fitness activity.
Have you already decided on which of these smartwatches is the perfect companion for you? We hope this comprehensive guide and smart watch review in Singapore has been helpful. Keep in mind to balance your options and look at each choice with fair judgments. Treasure your time and take value on your expenses.