7 Best Bluetooth Speakers in Singapore Less Than $500 (2021)
While listening to your favourite band, have you ever been interrupted because you just stepped on the scattered wires of your sound system? If you'd like to have non-stop music sessions for several hours, you need the best Bluetooth speakers in Singapore.
Bluetooth speakers are wireless portable devices that you can take with you during travel or even use at home. They're more practical to use so many prefer them to regular speakers.
But with the endless options to choose from, how can you find the right one for bluetooth speakers? We'll guide you through that first, then take you through our picks for the best Bluetooth speakers in Singapore.
Things to Keep in Mind When Buying Bluetooth Speakers in Singapore
Many buyers often think that as long as it's a famous brand, it'll surely be the best bluetooth speakers in Singapore. But little do they know that there are plenty of factors to consider.
This includes certain specifications. Most importantly, you must know first whether you're going to use it casually at home or more often on the road.
Let's take a deeper look at these things with our list of things to consider when choosing the best speakers in Singapore. 
1. Wireless Range
Since the power and value of Bluetooth speakers rely on their connectivity, it's best to see the actual wireless range.
A good speaker must have at least 30 feet of distance to detect the device, this will ensure that you can still listen to the music even if your phone is not placed near the speaker.
2. Battery Life
If you're going to buy one for your upcoming trip, you'll need it to last for an average of 6-10 hours. Short battery life will only cause you more hours of charging and less time using it.
3. Audio Quality and Loudness
Some speakers can be too loud, so take your time looking for the one with a balanced sound. The standard frequencies are between 100Hz and 20,000Hz.
Also, if you're going to use it for outdoor use (such as events at large halls), you'll need a powerful speaker that is strong enough to be heard all over the venue.
4. Size
As mentioned earlier, it's important to know where you're going to use it most of the time. If you do enjoy listening to music at home and you don't want to be bothered by wires lying around your place, then a standard size or a large one can be a fit for you.
However, if you're always on-the-go and you need a speaker that you can easily store in your bag or place inside your car, it's best to pick a smaller and a lighter one.
Just remember that the size doesn't entirely define the quality of the speakers, so make sure to prioritise your needs first.
5. Strong Build and Waterproofing
Just like with other devices, it's generally a worthy purchase if it can last for a very long time. That's why you must see if it looks durable and is built with high-quality materials.
For those who are planning to have a summer party at a scenic beach location or poolside, it's better to check if it's waterproof.
6. Bluetooth Version Compatibility
Most of the best wireless speakers in Singapore have Bluetooth 4.0 and 5.0, which are the latest versions. Smartphones and other devices are also highly upgraded nowadays, so you'll most likely find these versions to be very compatible.
The Best Bluetooth Speakers in Singapore
As you now know the specs and other details that you must look through in every wireless speaker, it's time to see our list of the best Bluetooth speakers in Singapore.
They come with varying sizes, features and styles, so there should be one for you in our list of mini speakers in Singapore!
1.   JBL Charge 4
Best for Large Crowds and Halls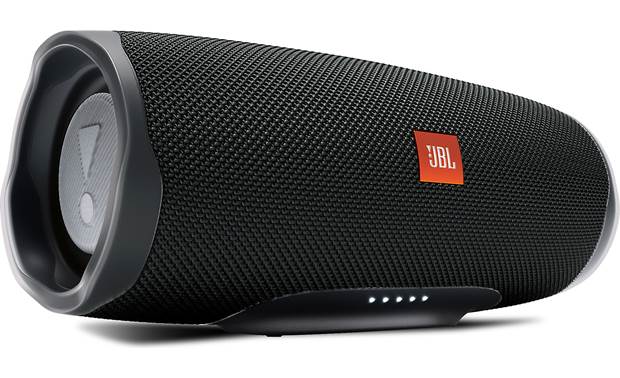 Price: $180.00
For those who are currently searching for a speaker to use for an upcoming big event, you might be interested in buying the JBL Charge 4.
This portable Bluetooth speaker will let you experience a vibrant and livelier party with its dual passive radiators that produce a loud and clear sound.
Moreover, you can connect the speaker to up to 2 devices and use it for a total of 20 hours playtime. This waterproof speaker is made of fabric material and rugged housing for a long-lasting build.
Highlights
66 x 3.74 x 3.66 inch
96 kg
60Hz–20kHz frequency range
7500mAh
Waterproof
2 Bluetooth version
Customer Reviews
Most users love the powerful yet balanced sound of the JBL Charge 4. They were also impressed with its battery life, making it one of the best portable speakers in Singapore. 
Though some were not completely satisfied with the longer charging time and the absence of the 360-degree sound feature, they say that it's still one of the best Bluetooth speakers in Singapore.
TechRadar wrote this verdict:
"The JBL Charge 4 only offers minor updates to the previous generation but it remains an excellent value in wireless speakers. The Charge 4 can pump out gobs of bass that doesn't overwhelm, lasts forever, and can top up your phone in pinch. If the bulky size of the Charge 4 doesn't bother you, it should be at the top your shopping list."
2.  Ultimate Ears Wonderboom 
Best for Outdoor Use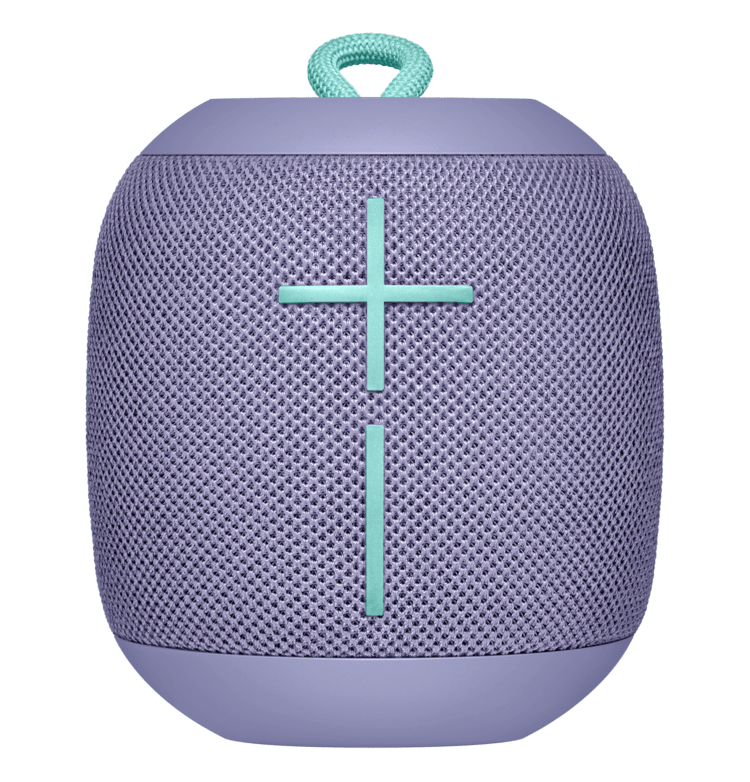 Price: $116.54
Are you the type who can't enjoy a road trip without listening to some of your favourite music? If so, then the Ultimate Ears Wonderboom can be the best Bluetooth speaker in Singapore for you!
With this compact Bluetooth speaker that you can carry around whenever and wherever you are, you can now have some fun time during your long drives or gym class. It has a 360-degree sound feature that'll surround the place with bright music.
This waterproof and drop-proof speaker can also last up to 10 hours and is compatible with all devices that have Bluetooth support.
Highlights
01 inch (height), 3.68 inch (diameter)
42 kg
80 Hz – 20 kHz frequency range
100 ft wireless range
up to 13 hours of battery life
Waterproof 
Customer Reviews
The Ultimate Ears Wonderboom was well-received by many reviewers and users because of its ultimate waterproof feature and full 360-degree sound, despite its compact design.
There were customers who had concerns with the small elastic hoop and the lack of speakerphone, though. Regardless, they mentioned that it's still one of the most competent Bluetooth speakers in the market.
TechRadar gave this review:
"The UE Wonderboom is one of the best waterproof Bluetooth speakers you can buy. It's completely waterproof, offers true 360-degree sound, features a 100-foot range and can pair two devices simultaneously. The Wonderboom does so much right that it's hard to knock its few flaws."
3.   Marshall Stanmore Multi-Room
Best for Durability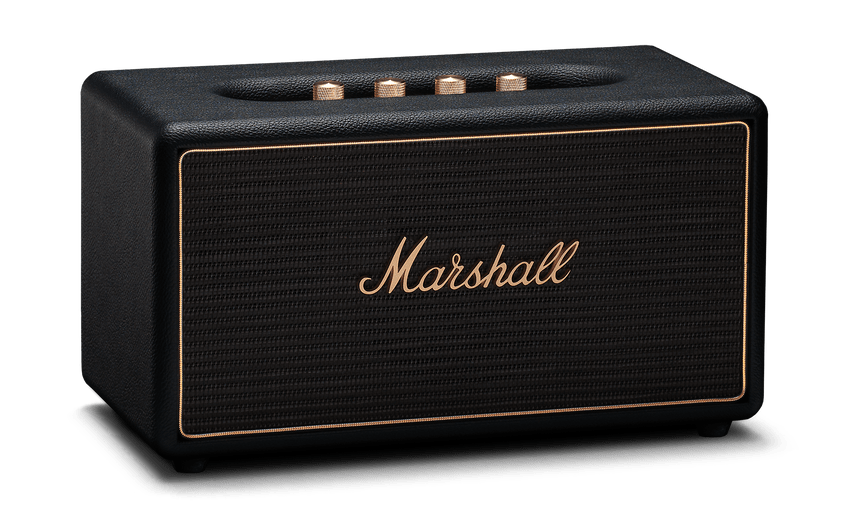 Price: $649.00
Are you currently thinking of replacing your old Bluetooth speaker due to its flimsy build? You should take a look at the Marshall Stanmore Multi-Room.
Just from a glance at its large and thick structure, you'll immediately notice it's quite stronger and more heavy-duty compared to others.
This versatile speaker lets you customise your tune settings by setting up your own one-touch presets, tweaking the equaliser, and more.
It works with just about any room size and you can use it with multiple speakers and at multiple rooms. You can also connect it to Spotify Connect.
In short, it's clearly one of the best Bluetooth speakers in Singapore! 
Highlights
77 x 7.28 x 7.28 inch
70 kg
50 – 20,000 Hz frequency range
2 Bluetooth version 
Customer Reviews
Due to its compatibility with several music streaming apps, stylish appearance, and decent loudness, customers have grown attached to the Marshall Stanmore Multi-Room. 
These are the reasons it has become one of the best Bluetooth speakers in Singapore. Trusted Reviews posted this feedback:
"The Marshall Stanmore Multi-Room is the middle child in Marshall's lineup of multiroom speakers. Although it doesn't quite match these top performers for sound quality, the Stanmore does offer flexible streaming and nails that Marshall guitar amp style."
4.   Xiaomi Mi Compact Bluetooth Speaker 2
Best for Affordability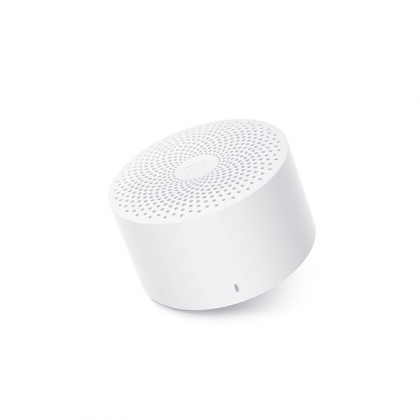 Price: $15.90
Bluetooth speakers are known to be more expensive than standard ones. Yet the Xiaomi Mi Compact Bluetooth Speaker 2 is built with quality specs and is offered at a reasonable price.
This compact and lightweight speaker resonates crystal-clear sound with up to 6 hours of battery life. The most impressive thing about it is the built-in microphone, in which you can receive phone calls without having to access your phone.
Highlights
10m distance limit
200hHz – 18kHz frequency range
480mAh
Up to 6 hours of battery life
2 Bluetooth version
Built-in microphone
5.   Sony SRS-XB41
Best for Long Battery Life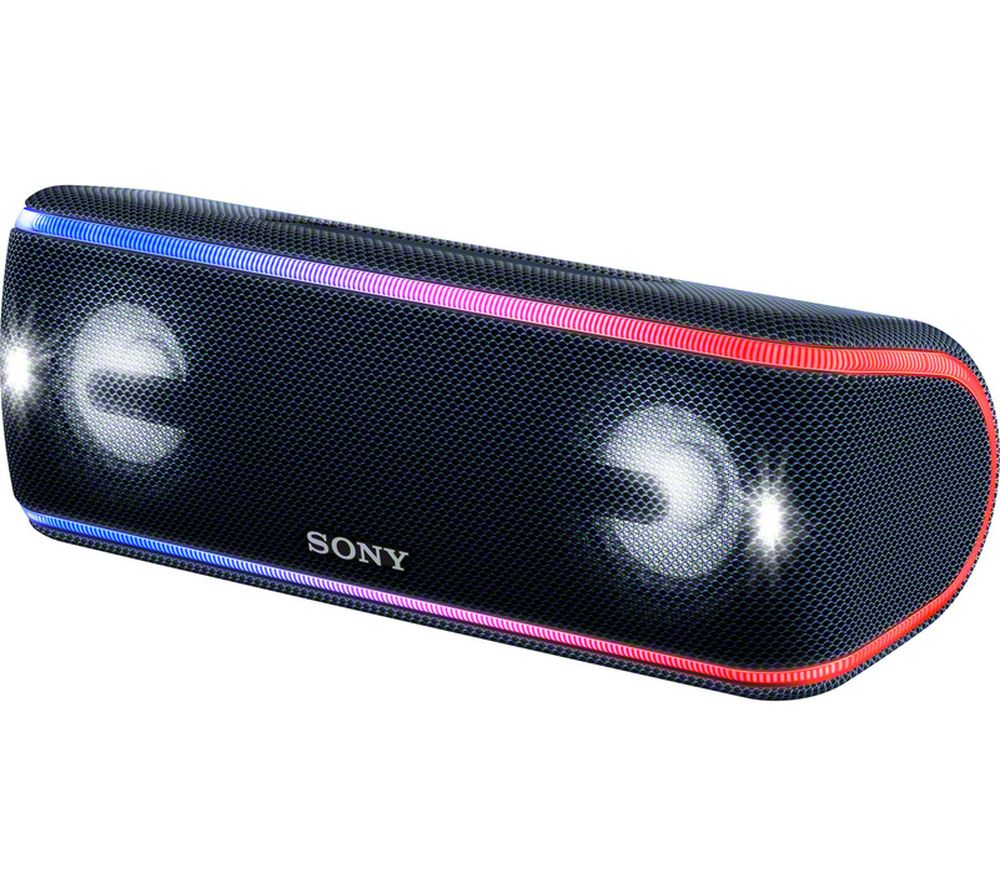 Price: $423.00
If you're having a party where you don't want the music to stop all night long, the Sony SRS-XB41 might be the best Bluetooth speaker in Singapore for you! It features a stunning battery that can last up to 24 hours!
It has different modes that include live sound and extra bass. When enabled, both modes will make your party even more fun!
It's also quite different in terms of style, for it has speaker lights that sync to the music beats and a line light and flashing strobes. These can create a disco vibe in the room!
The speaker is also resistant to rust, dust, and water, making it safe for you to bring during an adventure. 
Highlights
Up to 24 hours of battery life
Waterproof
20 Hz–20,000 H frequency range 
Customer Reviews
Users showed positive responses to the overall performance of the Sony SRS-XB41. They've complimented its durable quality and 24-hour battery life. Some had issues with the light show and live mode but they still think that it's a worthy purchase.
TechRadar wrote this feedback:
"While you certainly wouldn't go wrong picking up the Sony SRS-XB41 – especially if you've got plans for a day at the beach – there are other portable speakers on the market that cost a lot less and sound much better than Sony's $249.99 (£200, AU$240) beast."
6.   Harman Kardon Onyx Studio 4
Best for Office Use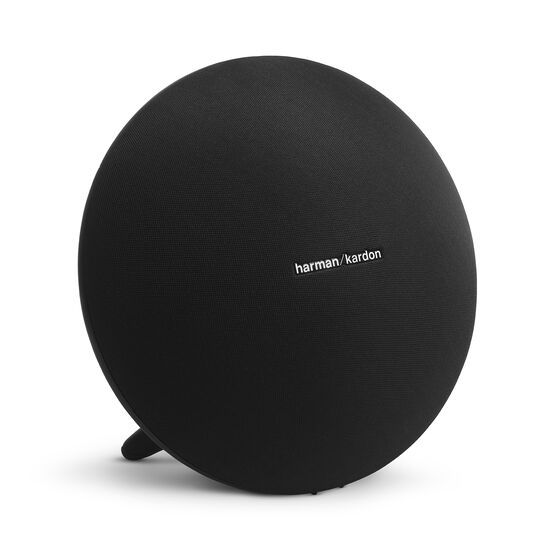 Price: $299.00
Have you ever encountered interrupted business meetings because of a failed speaker setup? If you don't want to go through that situation again, you might want to pick the Harman Kardon Onyx Studio 4.
It's the ideal choice to use for conference calls because it has a built-in microphone conferencing system. This feature has noise and echo cancellation too, which provides clearer communication between two parties.
It also has voice integration for Siri and Google Assistant, allowing you to have easy and direct access to those. The sophisticated design also suits the formality of any business venture.
With its design and specs, it has truly become one of the best Bluetooth speakers in Singapore for many business owners.
Highlights
23 x  0.94 x 6.28 inch
06 kg
50Hz – 20kHz frequency range
3000mAh
Bluetooth version: 4.2
7.   Sonos Play:1
Best for Home Use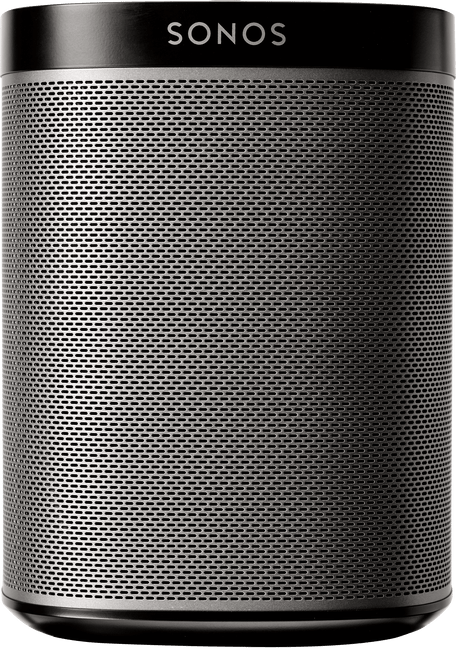 Price: $263.00
Having a reliable Bluetooth speaker around the house is very convenient, especially if you prefer to have some music on while doing some general house cleaning.
With the Sonos Play:1, you don't have to worry about a dull environment at home any longer. It has amplifiers and high-frequency response, giving you a fuller and clearer sound.
It's also humidity resistant so you can be sure that it can withstand the summer season. It's a great pick for home users!
Highlights
36 x 4.69 x 4.69 in
85 kg
50-60 Hz frequency range
Customer Reviews
Reviewers mentioned the small yet convenient size as well as the great sound quality and value of Sonos Play:1. Therefore, they've recommended it and gave it a spot on the best Bluetooth speakers in Singapore.
Trusted Reviews wrote this feedback:
"The Sonos Play:1 is a great little speaker. We have no hesitation in recommending the Play:1 if you find the Play:5 too pricey. It works just like any other Sonos Play-series speaker, and offers excellent sound for both the size and price.The Sonos Play:1 is the most accessible Sonos speaker. It offers all the convenience of its streaming brothers in a smaller, cheaper form."
That's our inclusive list of the best Bluetooth speakers in Singapore! Have you already decided which one you'd like to try? Let us know about it and why it's the perfect pick for you!
Additionally, if you want to explore more wireless device options, here are the best Bluetooth headphones in Singapore! They all come with great specs and quality, and are offered at fair prices, so try them out now to experience exciting music sessions!