7 Best Battery Life Phone in Singapore to Last the Whole Day
If you often use your phone to play games for several hours or binge-watch your favourite series for a whole day, then you definitely need the best battery life phone in Singapore. Otherwise, your phone will keep dying on you!
Now, you're probably thinking that power banks can also be a good solution for short battery life. That's definitely true in some cases, as we found when we were researching the best power banks in Singapore.
But power banks still need to be charged and are an additional device to carry. That's why for many people, it'd be better to have a phone that can last a full day instead.
However, as processors get faster and people demand phones that are ever thinner, finding a great smartphone that offers long battery life can be a bit challenging.
But no worries! We've already done the hard part, which is the research. So now, we've found you some of the best battery life phones in Singapore!
The best battery life phones in Singapore:
1. Samsung Galaxy S20 Ultra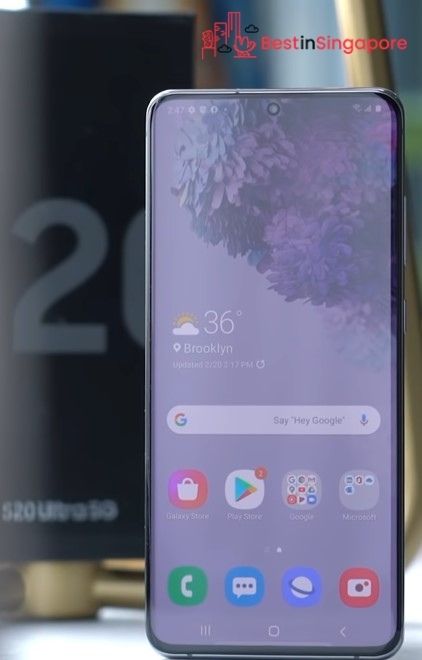 Price: $1,330.00
The Samsung Galaxy S20 Ultra also offers a 5000mAh battery; however, this one can adjust to your mobile habits, allowing you to save power and use your phone way longer on a single charge.
It has a lightweight yet powerful battery that can deliver consistent, high-performance quality through long hours of use. Unlike previous options, it has a fast wireless charging function so you can have it fully charged in just a few minutes.
Along with its high-end processor and up-to-1TB storage capacity, it also offers 5G connectivity for a smooth, fast, and stable connection anytime, anywhere!
With the combination of long-lasting battery life and powerful features, it's truly one of the best battery life phones in Singapore!
Pros
Fast performance
Good battery life
5G connectivity
Expandable storage
Cons
Camera bump
Expensive
No headphone jack
Customer Reviews
The Samsung Galaxy Ultra 20 has gained a lot of praise from the reviewers who've experienced its strong battery life and solid gaming performance for several hours. A reviewer wrote this verdict:
"The Samsung Galaxy S20 Ultra 5G is ultra-everything. It offers every possible feature anyone could want in a phone and more. While the device boasts an impressive display, rapid performance, and powerful cameras, the price tag is so high that the phone is unaffordable to many. If you want the ultra-mate phone, you'll pay the ultra-mate price."
2. Motorola Moto G7 Power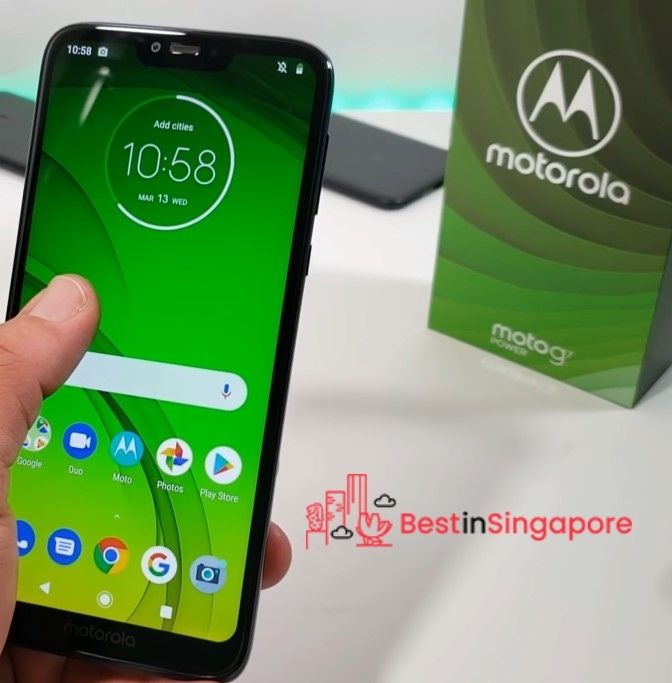 Price: $584
The Motorola G7 Power offers a 5000mAh battery that can last up to 3 days! It also comes with a TurboPower charging feature where you can experience 9 hours of usage with just 15 minutes of charging!
With these features, it can truly be the best battery life phone in Singapore for long-term trips! It also has a lower power consumption than most, with only 15W.
It has an ultra-wide display and octa-core processor, giving you the ultimate streaming experience and responsive gaming for longer hours!
Its storage is also expandable up to 512GB, which is quite rare in smartphones on the market today.
Pros
Exceptional battery life
Bargain price
Large storage capacity
Cons
No wireless charging feature
A bit bubbly
Doesn't support 4K video recording
Low-quality photos at night
Customer Reviews
Many users recommend the Motorola Moto G7 because of its phenomenal battery power and fast charging feature. They also mentioned the impressive durability of the phone despite its affordable price.
A customer posted this feedback:
"The Moto G7 Power is a big and bulky phone with a low-res display, but also the best battery life we've ever seen on a phone and that alone is a remarkable achievement. Its performance is zippy, the camera is decent (but not great) and the price is good. If you like big phones and are looking for an affordable one, the G7 Power is a far less compromised device than the G7 Play."
3. Asus ROG Phone 2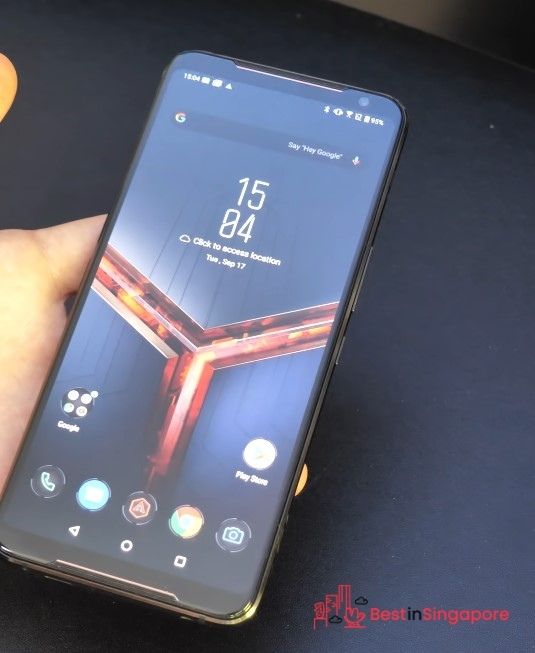 Price: $892.99
If you're an active gamer, then you'll surely love the ASUS ROG Phone II! Compared to the previous options, it has a bigger battery life with 6000mAh capacity, an ideal choice for a superior mobile gaming experience!
This best battery life phone in Singapore has direct-charging technology for safer and shorter charge times. It also features PD charging support so you can easily charge your phone with any USB-C charger.
As you play for extensive hours, its vapour-chamber cooling system will allow you to play more, giving you non-stop and full-speed performance.
Pros
Powerful battery life
Doesn't overheat
Runs all games at maximum settings with ease
Cons
Too bulky and little heavy for daily use
Expensive accessories
Customer Reviews
Users shared that the Asus ROG Phone II is truly the best for watching videos and playing games for hours. They also said that since it has a high-performance CPU, they can smoothly run 3D games without any lagging.
A reviewer left this feedback:
"The ROG Phone II is the best gaming smartphone to own this year, if you are highly invested in the world of mobile gaming. The phone gives a lot of undue advantage to gamers, but to really make the best of this offering from Asus, you need to buy the accessories which will shoot up the costs. Long story short, the ROG Phone II is a mobile gaming console first, a flagship smartphone after."
4. ASUS ZenFone Max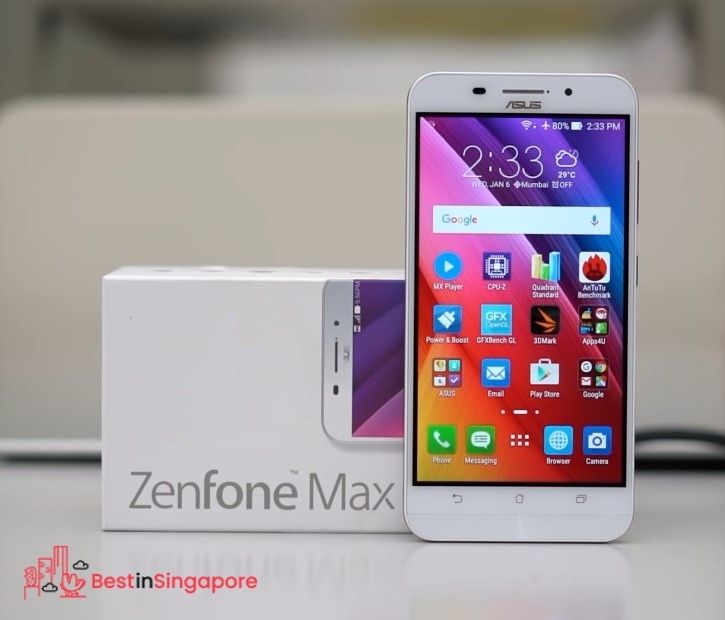 Price: $318
The ZenFone Max comes with an amazing feature: you can also use it as a power bank! Just connect your gadgets to it with an OTG cable and it'll instantly transform into a power bank and charge your other devices!
It's equipped with a custom-crafted 5000mAh battery that produces maximum energy despite being enclosed in minimalist design.
With this best battery life phone in Singapore, you can do more online shopping, enjoy movie/series marathons, and even talk with your loved ones as much as you want!
Together with its powerful battery, the superior and energy-efficient processor can also give you an incredible user experience!
Pros
Built-in power bank
Great battery life
Durable build
Large internal storage
Excellent hardware
Cons
Bloatware
No fast charging
A bit heavy
Customer Reviews
Some users claimed that they can use the ASUS ZenFone Max for about 2 days without any recharge; however, it depends on how it will be used. They also mentioned the long battery life and solid build quality of the phone.
A customer gave this review:
"The display is good with the 5.5inches screen. But the HD resolution is a lower grade, but it also protects the energy consumption, hence we can allow it to some extent. But, in a 5000mAh battery device, what is the need to reduce the resolution to save energy?The snapdragon 615 Octa-core processor is average for the mid-level device. A 3GB RAM is good for people using their smartphones heavily like playing high memory and graphical games and multitasking a lot. The 2GB RAM is enough for many people who use the smartphone casually. Cameras are average. The rear camera has some good features like laser autofocus. Battery is the selling point of this smartphone. The massive 5000mAh battery can provide backup for two days in case of casual use. For heavy use, it can stand for more than 16 hours easily."
5.  Realme XT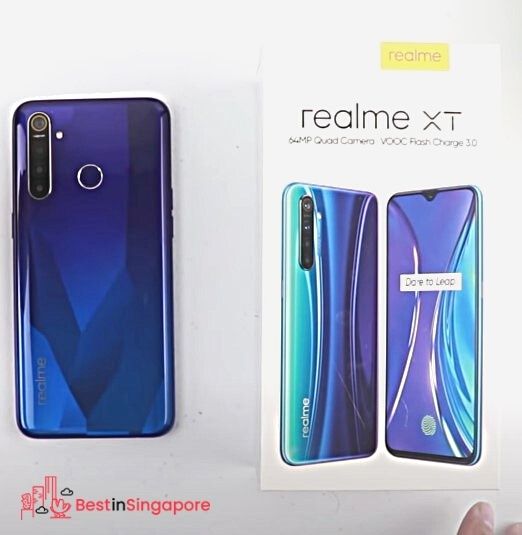 Price: $469.00
The Realme XT features an advanced charger technology that's 5 times faster than normal charging. There's also no worry of it overheating, as it has multiple cooling layers that'll keep your phone cool while charging. It's one of the best battery life phone in Singapore that stays cool while being charged the entire day, and more!
It also has a power-saving mode to reduce energy consumption and prolong battery life. Apart from these excellent battery features, it also has a high-speed processor that optimises your phone so you can experience long hours of binge-watching, shopping, and even gaming!
Pros
USB Type-C port and fast charging
high-speed performance
Long battery life
Cons
Software needs improvement
No display colour adjustment profile
Customer Reviews
Many users were impressed with the fast charging and superb battery life of the Realtime XT. They also complimented the snappy and dependable performance of the phone.
A customer wrote this review:
"The Realme XT isn't perfect, but given the price, its flaws are quite forgivable. The design is premium, there's a punchy AMOLED display on offer, the phone is a solid performer, and the camera is pretty good for the price. Indeed, going into this review we didn't know the price and expected it to cost a lot more. The software is shoddy, but Realme is actively working on replacing it with hopefully a better experience. So, there isn't much to complain about."
6.  Huawei Mate 10 Pro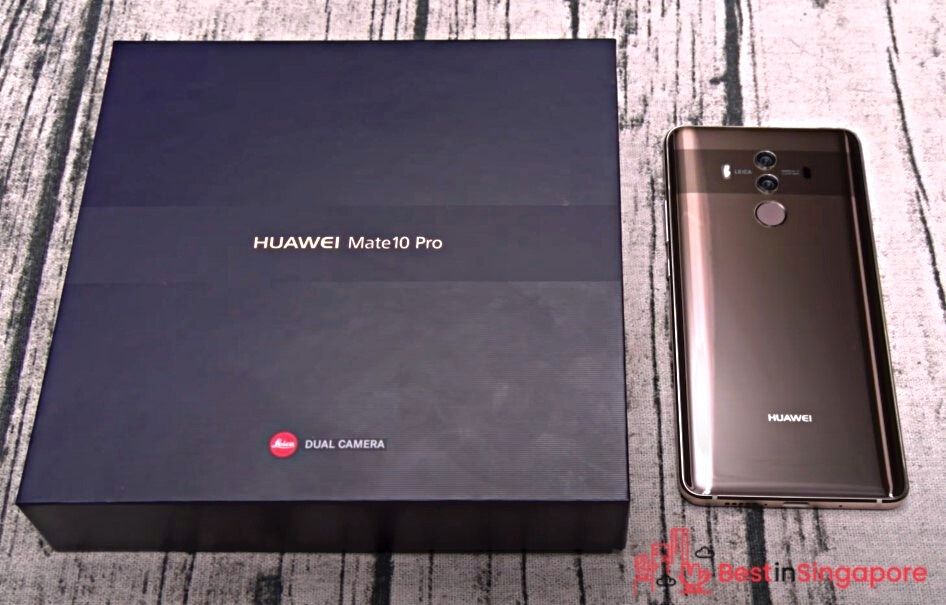 Price: $778.72
With the 4000 mAh of the Huawei Mate Pro, you can do almost non-stop surfing or streaming for the whole day! And in case you get interrupted by a low battery life warning while watching videos or playing some games, there's no need to worry because it has a quick-charging feature.
Since it has a wired charging operation, you can be sure that it'll only take an hour to fully charge the phone — that makes it a perfect choice if you always struggle with the morning rush.
It also offers high-quality performance with its gigabit LTE connectivity for a lag-free online experience, even for long hours of use!
If you're a gamer or simply use your mobile phone for heavy graphic and video use, this could be one of the best battery life phones in Singapore for you.
Pros
Can last for a whole day
Fast charging
Gorgeous display
Water-resistant
Cons
No wireless charging
No 3.5mm headphone jack
No microSD card slot
7.  LG G6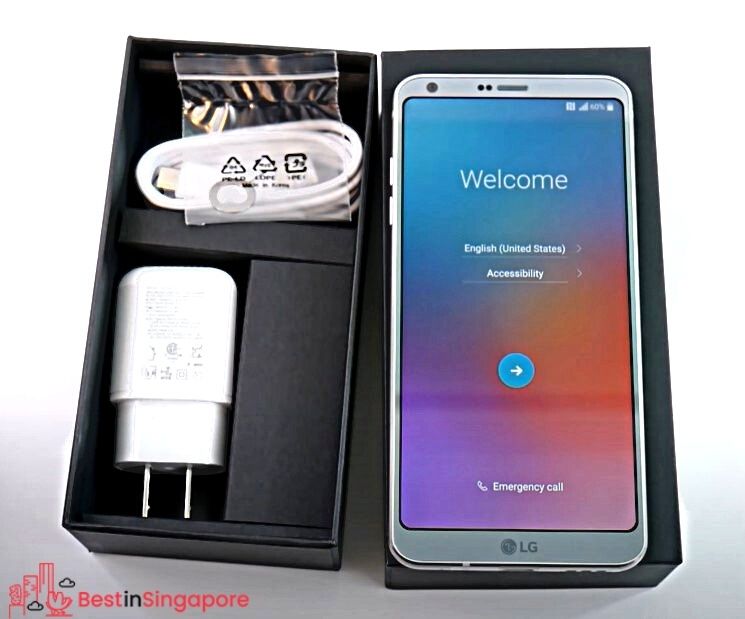 Price: $175.00
The LG G6 has a game battery saver so you can have a great gaming experience without worrying about the battery level of your phone. It also lets you adjust each indicator including resolution and battery for each situation.
This way, you can have full control over your usage and optimise your phone for better performance.
It might have only 3300 mAh battery life, which is lower than the previous options, but that's still better than most other options on the market — and certainly suitable for your everyday needs.
If you don't need super-high battery life yet want a phone that can last for a day without frequent charging, then this could be the best battery life phone in Singapore for you!
Pros
Best for daily/casual use
Wireless charging
Fast and responsive permanence
Affordable
Water-resistant
Cons
Prone to scratches
Less storage capacity
And that's our list of the best battery life phones in Singapore! If you'd like to suggest more options, you may also share your recommendations with us!
And if you're specifically looking for smartphones designed for gaming purposes, see these best Android phones in Singapore. They come with high specs that can give you full-resolution display and dynamic features.