5 Best Cloud Storage in Singapore to Store All Photos and Videos
Don't have enough local storage space on your PC or mobile phone? Well, then you've certainly made the right decision in looking for the best cloud storage in Singapore.
Since it's dependent on online databases, cloud storage has a bigger capacity than local drives — and some cloud storage solutions even offer unlimited capacity.
By storing all of your document and media files on the cloud, you can easily access them whenever and wherever you are. Pick a good provider and you can also be sure that they're protected from cyber hacking.
However, as every platform out there claims that they're suitable for your needs, how can you choose which one is truly the right choice for you? Well, we'll help you figure out the best cloud storage in Singapore for you.
Before we head on to our list of best cloud storage in Singapore, we'll show you how to pick one for your needs. After that, you'll have a better sense of which of the best cloud storage in Singapore is actually best for you.
How to Choose the Right Cloud Storage
Each cloud storage solution offers different capacities, accessibility, and features. So, it can be a bit confusing if you're not familiar with cloud storage platforms in the first place.
We'll make it simpler, as promised. Here are some features to look out for when selecting cloud storage:
1. Functionality
One of the most important features is the sharing option. Aside from letting you store large files, it must also give you the option to share your files — especially, if it's for business purposes.
Some files are not compatible or too large to be sent via certain email or messenger apps. That's why you must check first if your chosen platform has a sharing feature.
2. User-Friendly Settings
There are some users who are not tech-savvy and if you're one of them, then you should go for the option with a simple and easy-to-use interface.
All the settings must come with easy navigation so you won't have to spend hours just to figure out each function. All data must be accessible on different devices as well.
3. Data Security
As mentioned earlier, files that are stored in cloud storage are saved on a specific online data server — which is also one of the reasons some have doubts about using cloud storage services.
When you review a cloud storage service, you must look for the detailed security measures that are in place to make sure that your data is safe and protected against illegal access.
You should also take note of the backup measures and credibility of password encryption.
4. Service Level Agreement
The Service Level Agreement (SLA) contains an outline of the services and responsibilities of the cloud storage platform.
This is crucial for business owners who are planning to keep confidential records on digital storage. Make sure to read the SLA so you know how all of your data will be stored and protected.
5. Tech Support
As some issues on digital platforms are inevitable, customer or technical support must always be available 24/7. They must be fast and responsive enough to solve technical problems such as server errors.
Not being able to access your storage for a few days can cause a major problem in business operations. That's why you should always have reliable assistance from them.
Best Cloud Storage in Singapore
As you consider these features, let's now see the best cloud storages in Singapore! We've gathered some of the greatest platforms that offer truly useful functions and reliable services, so you'll surely find the right one for you here:
1.   iCloud
For all the Apple users, iCloud storage is the best place to keep all of your photos, document files, notes, and many more! With this best cloud storage in Singapore, you can instantly search and share media files from any of your devices, even those that were taken years ago!
To save more space, all full-resolution photos will be automatically uploaded to iCloud but you can still have a lightweight version of them on your device.
All files are accessible through iOS devices, iPadOS, MacOS, and even Windows OS devices. Any changes made to the files will be updated across all your devices so you won't have to do a lot of data transfers.
It also stores apps such as Mail, Calendar, Reminders, Safari, Contacts, and even Messages. So when you bookmark a website or add a new contact, every detail will be saved on the storage.
It also provides automatic backup, which comes in handy when you're switching to a new device. For absolute security, it has two-factor authentication to make sure that your account can only be accessed on your devices.
Pros
Easy to use
Secure and accessible
Automatic backup sync
Stable and reliable
Cons
Large storage capacity is pricey
User Reviews
Many users liked the simplicity and easy-to-use features of iCloud. They also recommended the backup tool feature because it truly backs up every file and contacts automatically.
A user posted this feedback:
"Keep documents and memories safe with iCloud, a great cloud storage solution for all Apple Users. iCloud is great for backing up whatever information you want to keep! Especially photos and messages that you don't want to lose. iCloud will have everything backed up and you won't have to worry if you lose your phone, iPad etc. Your memories will be saved on iCloud and won't be lost! iCloud works pretty well and stores everything in a safe location. The only con about iCloud is that whenever you're close to running out of space it keeps alerting you that it's running out and asks you to expand storage space very consistently. Also, maybe a bit more storage space for each account would be better, rather than the default 5GB."
2.   Dropbox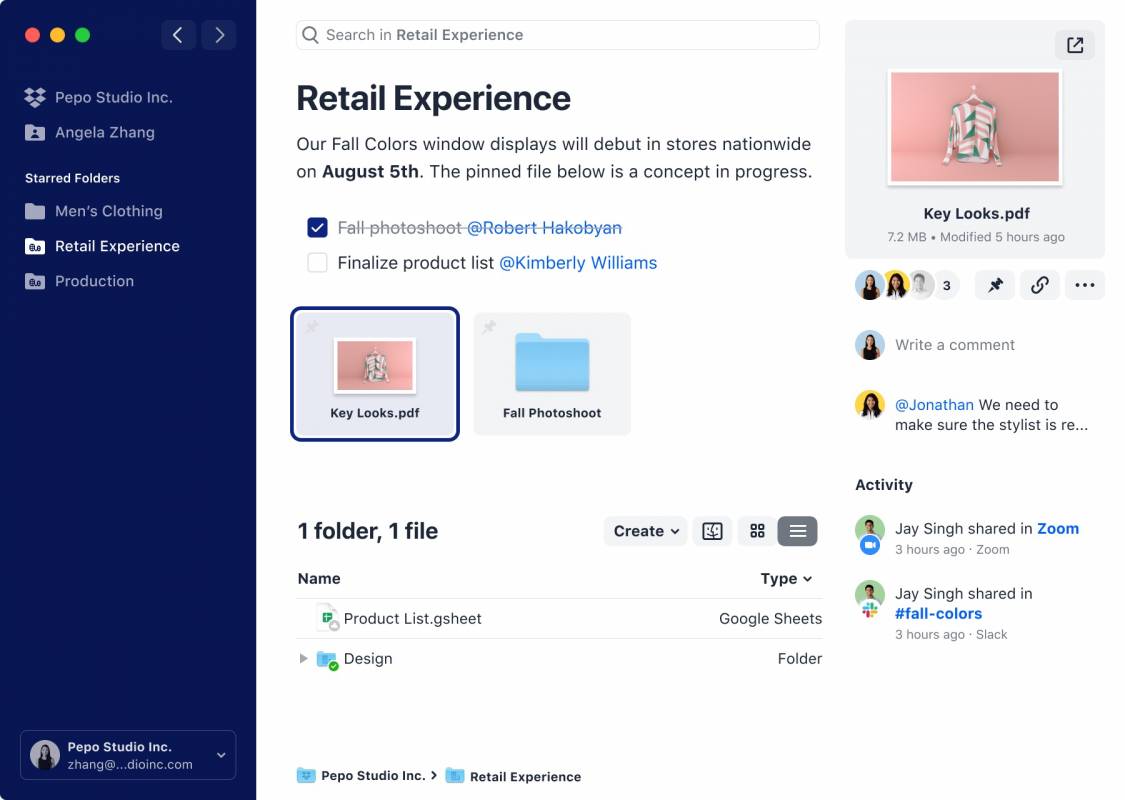 Dropbox is the perfect choice for business owners who want to change their traditional data organization and move to digital platforms. With this platform, you can manage everything in one place — including tools, content, and collaborators.
Aside from having secured storage, you can also have a seamless workflow for enhanced productivity. You can store and share content from Google Docs, Sheets, and Slides as well as Microsoft Office Files.
You can also integrate certain work tools such as Trello, Zoom, Slack, and more. Team projects will be much easier to do as you can use connecting tools and access all content on any of your devices.
It'll also intelligently suggest files and folders so, despite the thousands of files saved on the storage, you can still find the specific files that you've been looking for. With these features, it's indeed one of the best cloud storage in Singapore.
Overall we think this is the best cloud storage in Singapore for small teams or even personal use if you really have tons of files.
Pros
Compatible with most OSs
May integrations in Apps Center
Excellent collaboration feature
Best for professionals
Digital signatures
Cons
Expensive paid accounts
Free version is quite skimpy on storage
User Reviews
Dropbox has earned a lot of happy reviews from users saying that it has reliable file-syncing and storage services with exceptional collaboration features.  A user gave this feedback:
"My experience with dropbox has been epic. Its saved much time and frustration of carrying hard drives and switch computers. No longer do you have to worry about "Storage is full delete or move items to make space." No longer do you have to worry about. Panicking because you accidentally left the harddrive in your other suitcase and your outta town so your projects is on hold. NOPE! Not with dropbox. It's so easy to use I recommend it for anyone that's on projects of any kind. Or just simply wants the security of knowing their stuff is backed up safely if the computer crashes or an external harddrive fails or gets broken. I love how everyone on the team can be on it at one time. Accessing all they need. It's so easy to use. And everything is easy to find. It's way more organized than Google drive. When I say that LOVE this software. I LOVE this software. I worked on a media team so we produce a lot of videos, promo flyers edits ,photoshop edits, Premiere videos, We use A LOT of storage and each person on the production team has a different task to perform. We used to store stuff on hard drives and unplug them from computer to computer which is a hassle. Sometimes when uploading depending on the internet speed it can take quite a while to get everything uploaded. But it's totally worth it because you can save space on your computer and hard drives and can access it anywhere you go."
3.   Box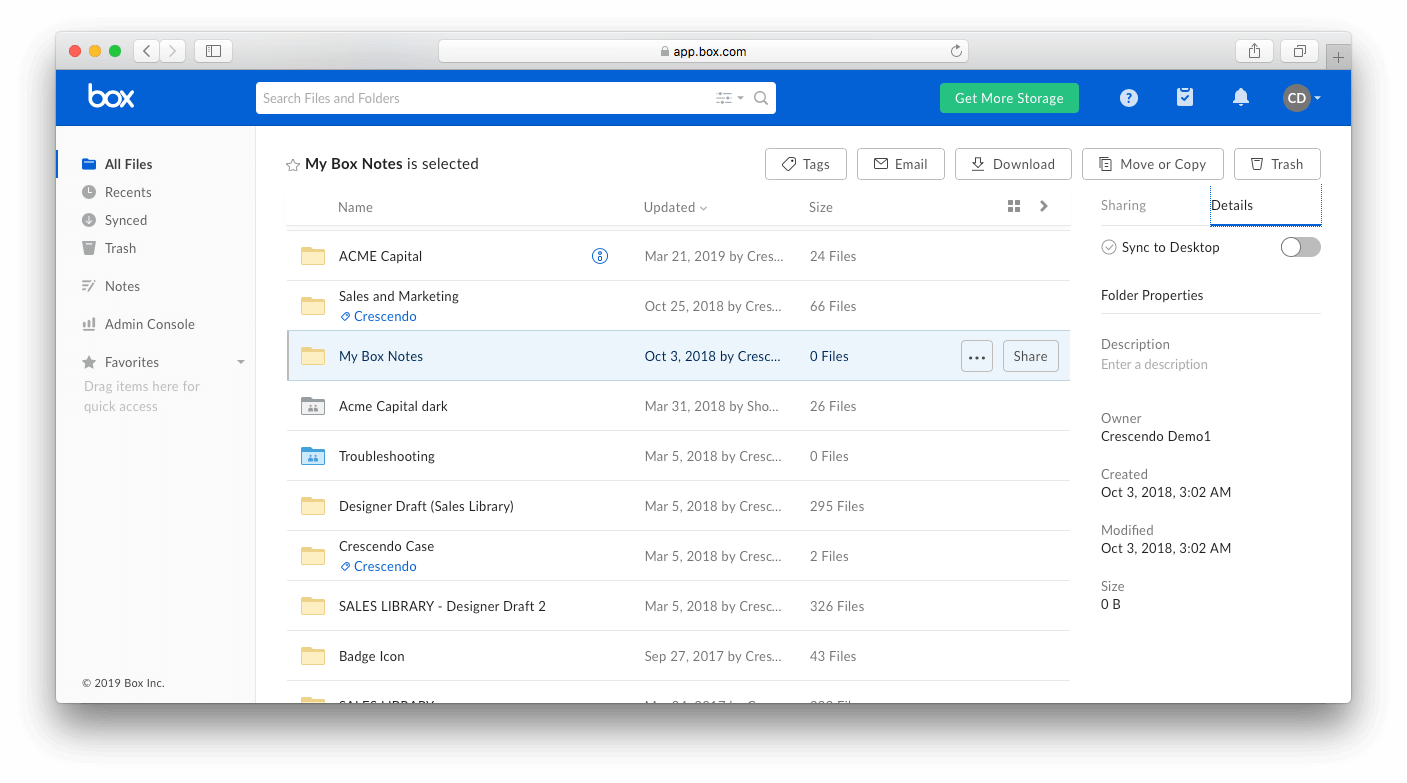 On the Box's cloud drive, you can store any file type and let multiple users edit your files for team collaboration. It also provides quick access from any device so you can always do some work wherever you are.
This best cloud storage in Singapore is equipped with enterprise-grade security so rest assured that every confidential document is encrypted with high-security features. Admin can fully manage files' settings by assigning classifications and configuring sharing and access controls.
You can also actively collaborate with your teammates in real-time so you can always meet the deadlines. Moreover, auto-expirations and password protections can be set for shared links and you can even manually delete a link when it's no longer needed.
With its thousands of app integrations, you can freely access content from Microsoft Office, Okta, GSuite, and other business-related apps.
Pros
Versatile cloud storage
File sharing and synchronization features
Unlimited storage and users
Simple user interface
Cons
Navigation is slightly slow
External users are only given read-only privileges
User Reviews
Users said that they experienced improved productivity at work after they used Box cloud storage. They said that it's fully secured, user-friendly, and highly customisable, offering high functionality.
A reviewer wrote this verdict:
"Box (for Business) has come a long way on the business front. The service includes secure file storage and copious options for workflow, data controls, and compliance. For businesses looking to overlay process automation onto file storage, Box (for Business) is worth a close look."
4.   Google Drive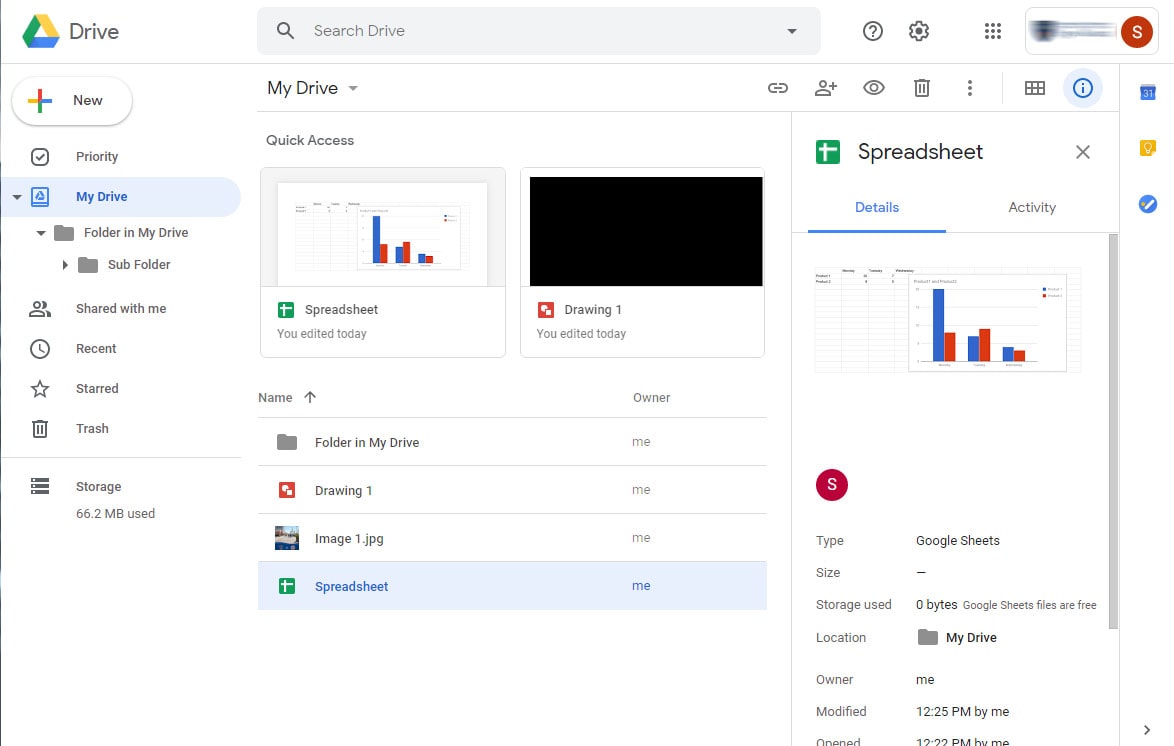 Google Drive is one of the most common cloud storage solutions for both personal and business use. Since almost everyone has a Gmail account, you can easily send, share, and access content for instant editing.
There's no need to migrate files, for it integrates seamlessly with Google Docs, Sheets, Slides, and any cloud-native apps. You can also open, edit, and save Microsoft Office Files without any file conversion.
Other integrated apps include Adobe, Autodesk, DocuSign, SalesForce, and Slack. For quick file search, it has an advanced AI that can predict the file that you've been looking for.
It also provides data loss prevention, which is one of the reasons why many consider it one of the best cloud storages in Singapore.
Pros
Large free storage space
Impressive productivity-suite collaboration
Many third-party integrations
Cross-platform apps
Cons
No password protection for shared files
User Reviews
Most users said that Google Drive has the fullest-features and most generous storage capacity with syncing services. They also mentioned the excellent collaboration features that have helped them finish major projects in no time.
"Google Drive helps keep our business organized by making it easy to create and share access to important documents. We use it to create SOPs and complex spreadsheets with Google Sheets to help us keep track of pages on our website and important metrics associated with those pages. Google Drive allows a business to keep all their documents organized and accessible online. From SOPs to important spreadsheets for your employees, everything can be accessed online and you'll never lose any data because it's always saved to the cloud! Google Drive could offer better security to keep all your sensitive data safe. With ease of accessibility comes the risk of breach. Adding more features that allow Google Drive to be secured more easily would be helpful."
5.   Microsoft One Drive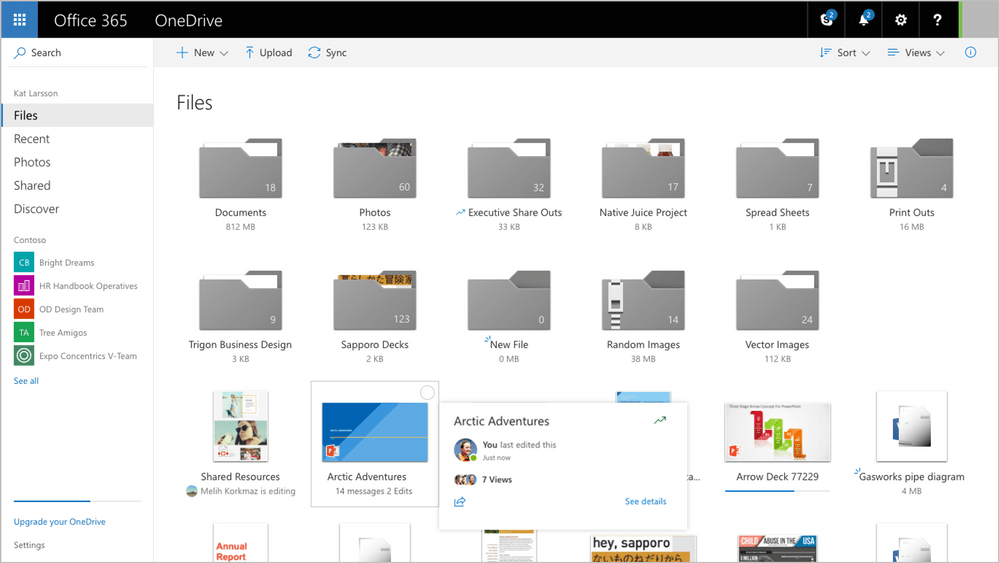 Microsoft OneDrive is highly accessible on all platforms where you can easily send files to your teammates and share memories with your family and friends. There's no need for large email attachments or thumb drives, you may just send them a link via email or SMS, then you can share any file type.
You can also do real-time editing with Office apps for faster progress and stay connected for enhanced team collaboration. With 1TB of cloud storage, you can keep many large-sized files needed for personal or business transactions.
Moreover, you can do ransomware recovery, which is quite rare in cloud storage. With your mobile device, you can scan and store receipts, business cards, notes, and many more.
For additional security, it has a personal vault feature where all confidential files and photos will be saved with an added layer of protection.
Pros
User-friendly interface
Integrated with Windows 10 and Office 365
Excellent photo presentation and management
Powerful file-sharing and editing features
Cons
Allows syncing for specific folders only
User Reviews
Users complimented the auto backup feature and large storage, and great accessibility of the Microsoft OneDrive. A user gave this review:
"OneDrive, the default online storage and syncing service for Windows 10 and Office 365, offers a wealth of powerful features, as well as apps for more platforms than any of its competitors."
And that's our list of the best cloud storage in Singapore! If we missed some other great platforms, you may also share them with us!
And to further secure digital business transactions, take a look at these best Singapore IT companies! They're equipped with skilled developers and expert consultants who'll help you optimise your system management.