5 Best Hair Straighteners in Singapore for Smooth Hair Reviewed
Getting ready for a special event or a date? Or maybe you simply want to try a new hairstyle? Whichever it is, you can do any look as long as you have the best hair straightener in Singapore!
Hair straighteners are also known as flat irons and can help you achieve sleek and pin-straight hair or (ironically enough) create some loose waves for a summer look! They also help you go the whole day without any frizz or tangled hair that might ruin your OOTD!
To help you do salon-quality hairstyles at home, we've rounded up the best hair straighteners in Singapore. But before we go on to our list, you might want to know which features to look out for, especially if it's your first time to buy one or you've failed to choose a good one before.
So, we'll start with some tips for choosing a good straightener for your particular needs. Then, we'll go over our picks for the top hair straightener in Singapore.
How to Pick the Best Hair Straightener in Singapore
A hair straightener is a worthwhile investment… but only if you've got the right one for your needs. To avoid possible hair damage from using the wrong straightener, here are some things that you need to consider when selecting a hair straightener.
1. Shape
At first glance, you might assume that every flat iron is simply flat; however, you must know that the edges of these hair styling tools offer different purposes.
If the outer edges and plates are slightly rounded, for example, then it'll be easy for you to create some curls.
If it has a sharp edge, you might find it hard to achieve a certain style but it can still give you smoother and straighter hair.
2. Plate Width
Hair straighteners with wide plates can straighten more strands of hair in each stroke as well as style your hair quickly. They're also perfect for those who have long and thick hair.
Since it has a wide plate, though, it might apply too much heat. This can cause damage to the hair shaft, so it's important that you know how to use it properly.
On the other hand, those with narrow plates are best for short/medium length and thin hair. They can also easily fit into your bag, making them good options for travel use.
Moreover, they can help regulate the amount of heat you use and prevent hair damage.
3. Plate Material
Hair straighteners' plates are made from various materials. With the right kind of plate, you can achieve your ideal look with amazing ease, so make sure to check this feature before buying one.
Here's a quick guide to the materials:
Titanium irons
This can heat up and straighten your hair faster while keeping a consistent temperature for even application. It's also more expensive compared to the other materials so unless you have really curly and coarse hair, then you may opt for another type.
Ceramic irons
This is the ideal one to have because it offers even heat for most hair textures. The only downside of it is that the ceramic wears down over time.
Tourmaline
This material is great for those who have damaged hair. It produces fewer positive ion concentrations, reducing the frizz and cleaning the hair shaft to protect it from damage.
4. Temperature setting
High heat provides faster and more effective straightening but this can also be damaging to your hair.
It'd be wise to choose a hair straightener with adjustable heat settings so you can control the heat and get the results that you want.
The Best Hair Straighteners in Singapore
Now you know what to look for in hair straighteners. Let's take a look at our selected best hair straighteners in Singapore!
We've got you versatile models, suitable for any hair type or hairstyle, as you'll see below:
1.   GHD Gold Styler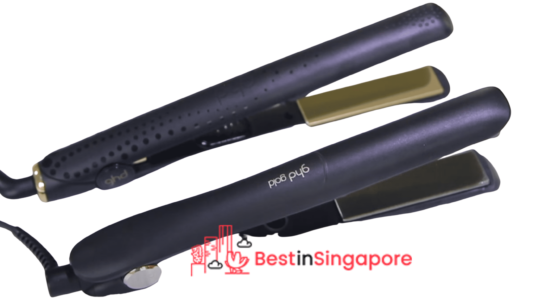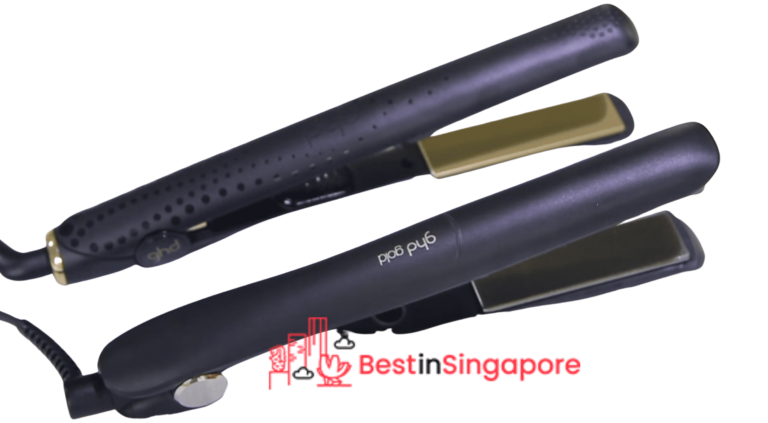 Price: $299.00
Whether you want to have a super-straight style, beach waves, or endless curls, the GHD Gold Styler can help you try any look that you want! It features dual-zone technology, providing even heat distribution for most hair types.
It works with an optimum styling temperature of 185 degrees for healthy and long-lasting results. It'll also heat up for about 25 seconds, so even when you're in a hurry, you can still quickly shape your hair into your usual style.
It has smooth floating plates with a rounded barrel, giving you frizz-free hairstyles. Most importantly, it has an automatic shut-off feature and a heat-resistant plate guard for safety purposes.
Since it has universal voltage, you can also use it wherever you go, this is one of the best hair straighteners in Singapore if you love to travel.
Pros
The temperature wasn't too hot
Makes the hair glossy and shiny
Glides over the hair easily
Cons
Some may find the size of plates too small
Only one temperature variable
Handle might get a little warm
Customer Reviews
Many customers recommended the GHD Gold Styler and said that it's suitable for those who have normal, thick, and wavy hair. They also mentioned that it's easy to use and leaves their hair smooth and soft.
A customer gave this feedback:
"Our GHI testers were delighted to find it was lightweight and made their hair feel silky. Nearly all testers agreed that their hair looked healthier after using the device, with 87% saying the style lasted all day. It was effective at making hair straight and our testers liked the design, which has an audible indicator that tells you when the straightener is ready to use. It was comfortable to hold and created curls and waves with ease, too."
2.   Philips HP8372/03 Moisture Protect Hair Straightener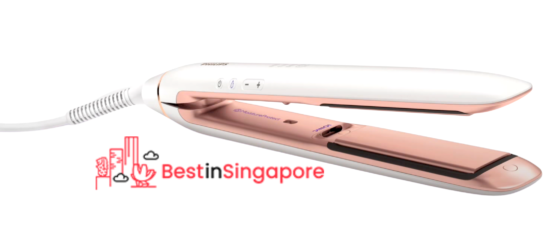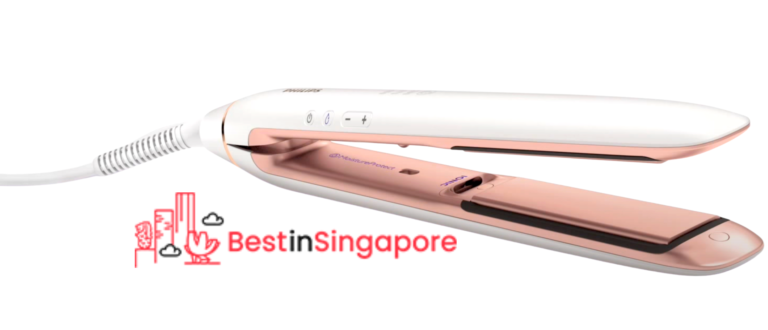 Price: $117.00
The Philips HP8372/03 Moisture Protect Hair Straightener gives natural hydration to your hair, maintaining the moisture balance that your hair needs. It comes with an advanced sensor technology that diagnoses your hair's condition and adapts the temperature for healthier results.
This best hair straightener in Singapore keeps a constant temperature for even heat distribution and fewer strokes. It also has floating ceramic plates that move to adjust the pressure on the hair and protect the hair shaft from any damage and breakage.
It's also charged with negative ions to ensure healthy hair despite the continuous use of flat iron.  Unlike the previous option, it has adjustable temperature settings so you can use the right setup for your hair type.
It provides a faster heat-up time of 15 seconds too, so you can instantly style your hair during the morning rush. It can also regulate the heat to protect your hair from overheating.
Pros
Lightweight
Flexible swivel cord
Moisture protect feature
Prevents static
Auto-shutoff feature
Cons
Short plates
Control button placements
Girth of the device
Customer Reviews
Most customers complimented the sleek design and different temperature options of the Philips HP8372/03 Moisture Protect Hair Straightener. Here's a review from one of the users:
"Absolutely love this thing! So this arrived yesterday and I couldn't help myself, I had to try the curl first. First attempt, perfect curl! It tells you what temperature you should use for what kind of hair you have so I found the right temp for me very quickly. I'm beyond impressed with this straightener. Highly recommended. The last straightener I had was great but expensive. This one is a great price and better than the last one. So happy I decided to try this one. Curling takes a bit of practice but once you figure it out it's quick and easy. Leaves my hair super shiny."
3.   Philips BHS675 StraightCare Vivid Ends Straightener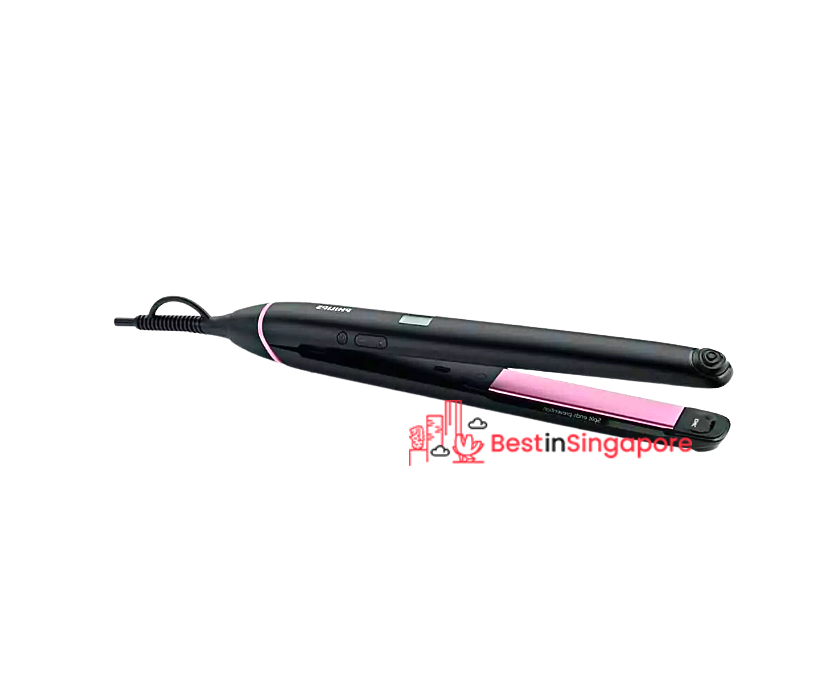 Price: $79.00
The Philips BHS675 StraightCare Vivid Ends Straightener is mainly designed to protect hair from possible breakage. With its SplitStop technology, you can have a gorgeous hairstyle with healthy-looking ends.
In addition to this, it also has an exclusive sensor to keep your hair from being exposed to high heat and friction. It features a total of 11 digital temperature settings for absolute heat control and damage prevention.
It's ceramic coated plate contains Keratin, which is an essential ingredient that makes the hair stronger and healthier. So, you can also take care of your hair while trying different styles.
With its extra-long plates, it can also be the best hair straightener in Singapore for those who want to have a sleek and full straight hairstyle. And in case you want to add some curls or waves, it has a cool tip that you can safely hold while styling your hair.
Pros
Wide range of temperature control settings
Lightweight and compact
Easy to use
Can minimise heat exposure
Enabled safety measures 
Cons
No options for LED indicators
No colour variance
Suitable for heavy curls
Customer Reviews
The Philips BHS675 StraightCare Vivid Ends Straightener has received positive responses from users saying that it has great temperature control and provides long-lasting results. A customer shared this experience:
"Bought this product after researching a lot. Love the results! Temperature control is amazing. Product has great features, and temperature control is the prominent one. Straightening lasted until the next hair wash. Zero damage to hair when used with heat Protectant. Smooth straight hair was the end result. But couldn't curl hair as per the manual given along with it. Overall, Loved the product, thank you Philips."
4.   Braun Satin Hair 7 ST780 SensoCare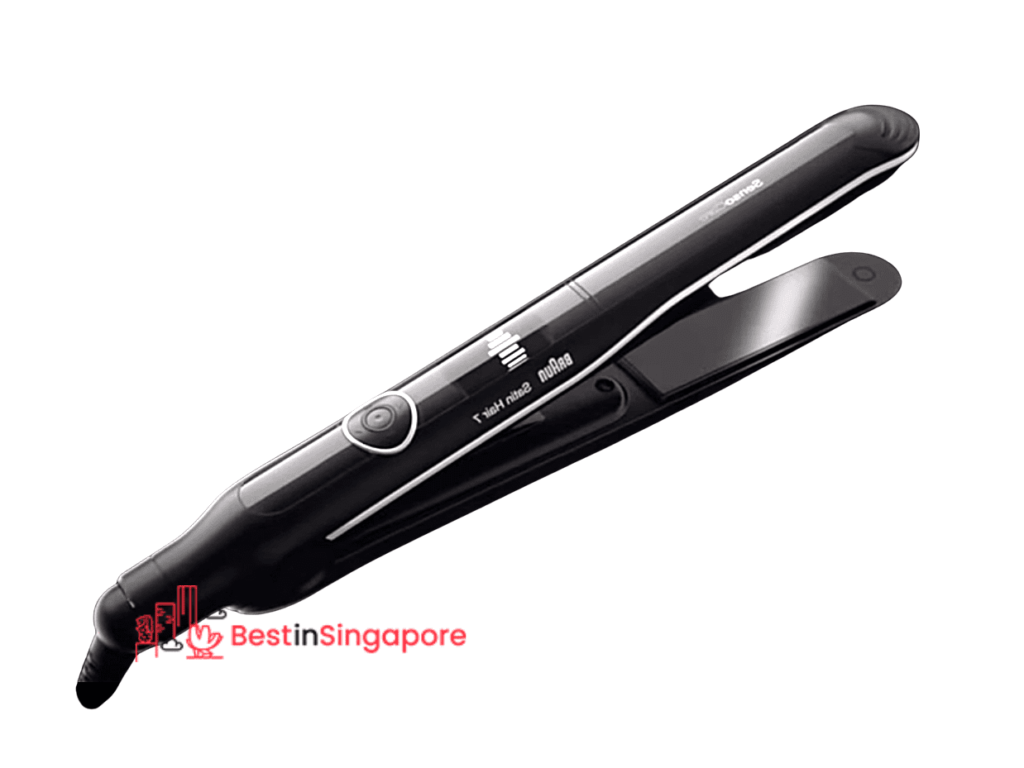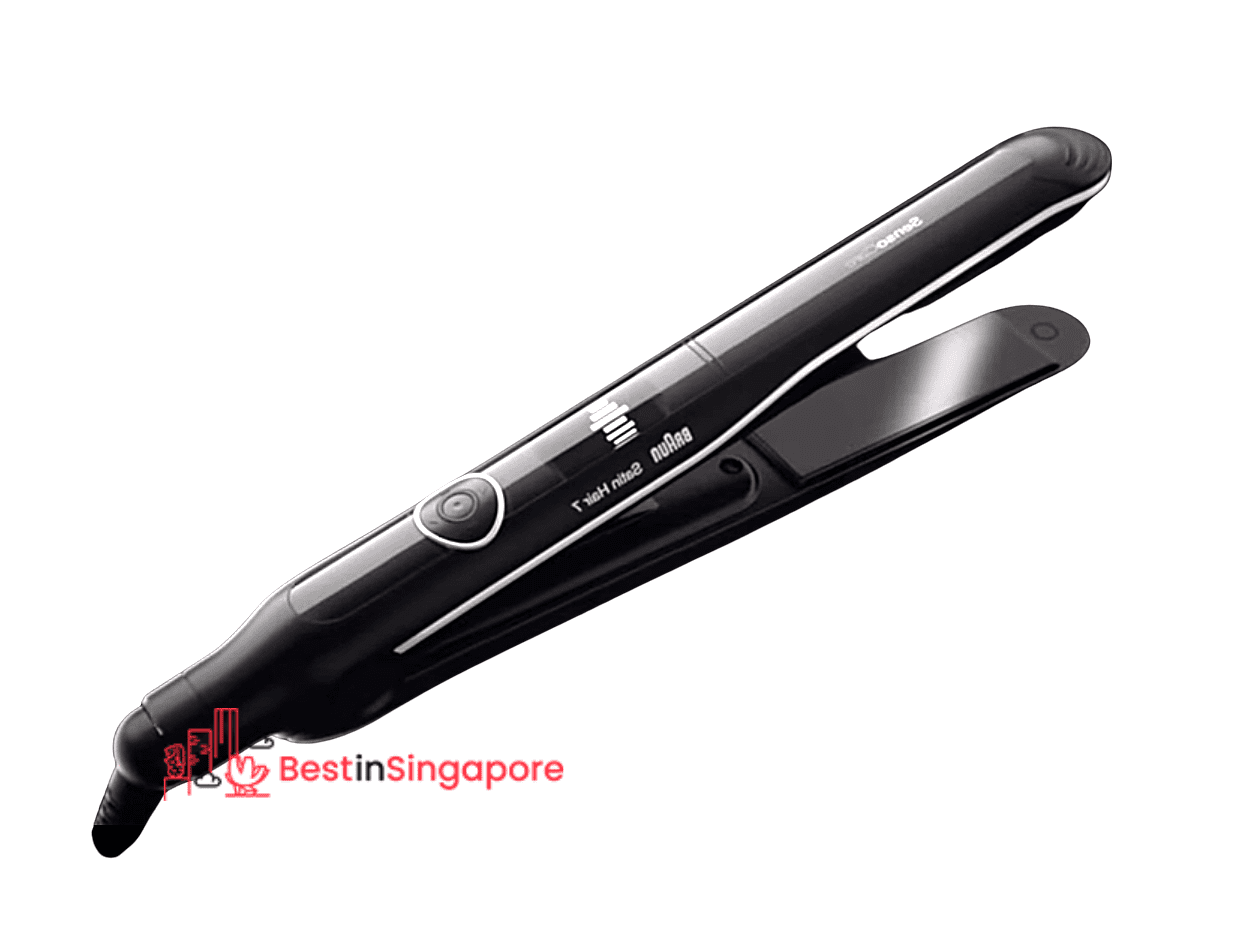 Price: $129.00
The Braun Satin Hair 7 ST780 SensoCare has precision sensors in the ceramic plates to keep the moisture level up as well as continuously adjust the temperature for heat protection.  The best thing about this one is that it has an intelligent display that'll let you save personalised styling setups.
You can save up to 3 individual profiles for multiple users with different hair types. It can also give you feedback about your hair condition and tell you if your hair is dry enough and ready for styling.
To achieve perfect curls and waves, it has active curling edges and cool tips for better control and easy styling. It also has floating ceramic nanoglide plates so if you want your hair styled in a hurry, this is the best hair straightener in Singapore for you.
Pros
Multiple heat settings
Can save programmed settings
Cool handle
Heats up and cools down quickly
Smoothly glides through hair
Cons
Slightly bulky
Doesn't come with stand and heat protection mat
Customer Reviews
Many customers were impressed with the built-in sensors and wide plates of the Braun Satin Hair 7 ST780 SensoCare. A customer posted this feedback:
"The Sensocare styler is easy to program and styles the hair easily. The handle remains cool which makes styling easier and the plates glide through the hair smoothly, but it doesn't quite reach the stated temperature."
5.   Xiaomi YueLi Wireless Mini Hair Straightener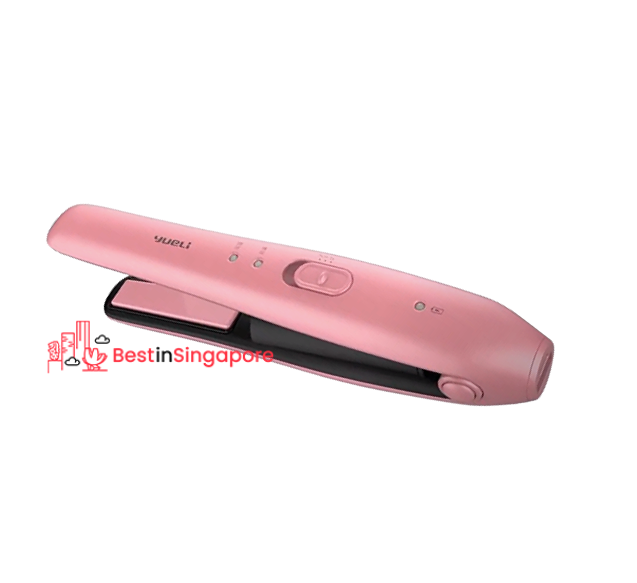 Price: $32.90
Looking for the best hair straightener in Singapore that you can use during travel? You must try the Xiaomi YueLi Wireless Mini Hair Straightener!
This portable and stylish hair straightener has a high battery capacity that can last for a whole day and advanced heating technology that gives you a long-lasting hairstyle. You can also adjust the temperature to prevent hair damage.
It can be used as an alternative power bank in case your phone gets discharged along the way. It's designed with a matte finish, making it dust-resistant and easy to clean.
Finally, due to its rounded form, this is one of the best hair straighteners in Singapore if you want comfortable styling.
Pros
Environment-friendly material
POrtable
Heats up quickly
Cordless device
Cons
For basic hair styling only
Have you already decided which of the best hair straighteners in Singapore you'd like to buy? Let us know all about it!
And if you're struggling with styling your hair because you can't seem to dry it fast, you might be interested in these best Dyson hair dryers in Singapore! They offer various speed settings with a safe heat control system so you can perfectly dry your hair in no time!