The Best Dyson Hair Dryers in Singapore for All Types of Hair
If you're a bit particular with how your hair looks, then we strongly recommend getting your hands on the best Dyson Hair Dryers in Singapore. Dyson's most famous product is the Supersonic Hair Dryer.
However, that comes in different iterations, many of which are still available from various vendors. You'll see them in our list later on, as we'll be comparing them to help you decide which one to get.
But before we move on to our list, we'll also share a few tips that can help everyone spot the best Dyson hair dryers in Singapore. That way, it would be easier to choose which version of the Supersonic Hair Dryer you want to get your hands on!
How Can You Spot the Right Hair Dryer?
If you thought that buying a hair dryer is as simple as checking its price tag, then you're wrong. There are a few things to consider before deciding to purchase a hair dryer to make sure that you're getting the right one.
You might ask if it's worth your time to look into such things, but hair dryers aren't cheap — especially Dyson ones. So, you must take time inspecting every feature to prevent your money getting wasted.
In particular, when searching for the best Dyson hair dryers in Singapore, make sure to check out type, wattage, size and weight, settings, and additional features.
Allow us to elaborate on each point below.
1. Type
One of the first things that a buyer should check out is the hair dryer's type. There are at least 3 common types of hair dryers: ceramic, ionic, and tourmaline, each of which has its own unique features and functions.
If you want stick-straight locks, ceramic hair dryers are the ones for you as a ceramic dryer delivers an equal distribution of heat. They're also believed to be less damaging to hair because they dry hair from the inside out.
Ionic hair dryers, on the other hand, are perfect for curly, frizzy, and wavy hair. They have a unique system that breaks down water molecules in hair, helping it dry faster.
Lastly, tourmaline hair dryers are ideal for those who regularly style their hair. Even if they can dry hair much faster, they won't extract the moisture needed by your hair to look brighter and healthier.
2. Size and Weight
Since it's your hand that's mostly going to the work, you have to consider the size and weight of a hair dryer as well.
Carrying a bulky and heavy hair dryer will only result in an achy arm, which will definitely end up in a rushed blowdry.
3. Wattage
In every household product, the higher the wattage, the more powerful the item… and the same principle applies to the best Dyson hair dryers in Singapore. If you want to dry your hair much faster, then make sure to pick out a unit with a higher wattage.
However, one must also consider the quality of their hair. For those with thin hair, we recommend getting a hair dryer with low heat and low power to prevent tangles.
For those with coarse and thick hair, a hair dryer with wattage that goes beyond 2000 would be perfect.
4. Settings
More than a proper wattage, you must choose a hair dryer with flexible settings, such as allowing the user to control the power from high to low.
Settings are important because they can affect the overall quality and health of your hair. If your hair dryer only has a single setting, it's going to damage your hair in the long run, especially after continuous regular use.
The Best Dyson Hair Dryers in Singapore
With these tips in mind, you're now ready to see our picks for the best Dyson hair dryers Singapore for your household. Make sure to check out the features of each version of the Supersonic Hair Dryer to know which one suits your needs best!
Let's start with the oldest version of the Supersonic Hair Dryer.
1.   Dyson Supersonic Hair Dryer HD01
Best for Durable Build
Price: $775.00
If you're looking for a hair dryer that knows how to adjust to your hair length and type, then look no further than the Dyson Supersonic Hair Dryer. It might be a bit expensive for a hair dryer, but it's one of the best Dyson hair dryers in Singapore… and it's cheaper than its newer siblings!
For one, it boasts a sturdy and durable build that can withstand years of regular use. It's also one of the few hair dryers designed to accommodate the needs of all hair types and lengths.
In terms of weight and size, this version comes in a perfect build. It boasts a weight of no more than a kilogram and length of 100 mm — which is why we consider it one of the best Dyson hair dryers in Singapore.
Another key feature is its smoothing nozzle that dries hair with a controlled and smooth airflow, allowing moisture to stay within the strands of your hair. It also comes with a velocity blade that makes it a lot easier to style your hair while drying.
Compared to the latest version of the Supersonic Hair Dryer, this one comes with fewer additional features, but we still consider it a steal. It comes with a power of 1600 watts, which is perfect for home use.
And as noted earlier, since it's the oldest version, it's the cheapest version among all models, priced at $519. We know that this is still a bit expensive for some, but every purchase comes with a guarantee that your hair will be taken care of!
Highlights
Durable design
For home use
Fast hair drying
Customer Reviews
Take a look at what  a buyer had to say about the Dyson Supersonic Hair Dryer:
"Life changer. Used a salon-grade hair dryer for 5-6 years prior to this. In comparison, the Dyson halved my hair drying time despite the lower heat, left my arm ache free due to its lightweight, was easy to maneuver without having to twist my arms at awkward angles thanks to the rotatable magnetic attachments. I can retire my old monster of a hairdryer, and I can definitely see myself bringing my Dyson even for travels."
2.   Dyson Supersonic Hair Dryer HD03
Best for Additional Features
Price: $599.00
If you're looking for more features other than what the Supersonic HD01 can offer, then you might want to get hold of the HD03 that comes in a sleek, metallic color.
Versions that come after the HD01 are what we can recommend to hair salons and professional hair stylists as they can offer a lot more than the traditional hair dryers.
For one, the HD03 features multiple heat and speed settings. There are three speed settings to choose from and four heat settings, allowing the user to choose their preferred mode.
What's more, the HD03 comes with a re-engineered diffuser that reduces frizz and helps define waves and curls. If you like styling your hair, we strongly recommend this version of the Supersonic Hair Dryer!
Another feature we love about this version is the digital motor that's 6 times more powerful than the configuration of the oldest version. It's capable of producing higher pressure that makes hair drying faster and styling a lot easier.
And of course, it comes with a 2-year warranty and 15-day money back guarantee. Dyson is also known for its excellent customer support, so just give them a call in case you encounter a problem with the HD03.
Highlights
2-year warranty
Powerful motor
Multiple heat settings
3.   Dyson Supersonic Hair Dryer Special Edition
Best for Overall Value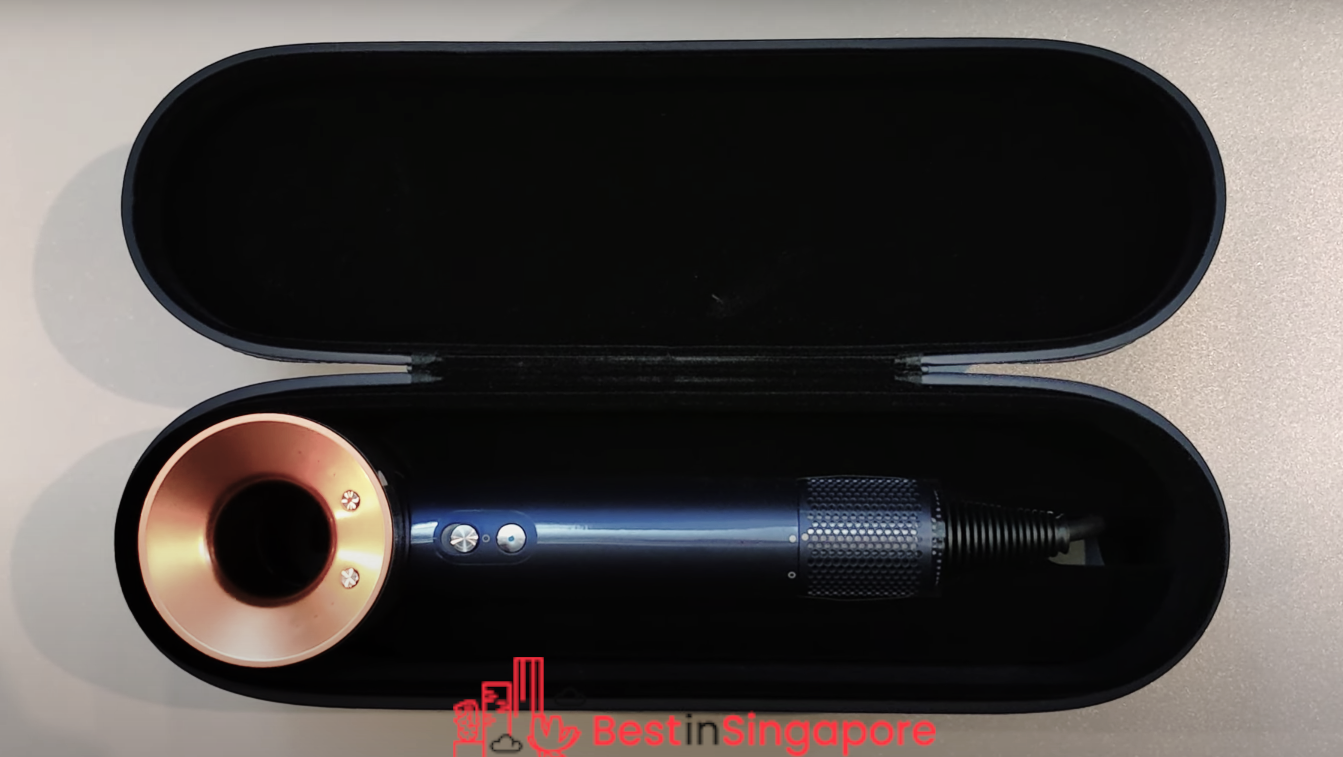 Price: $599.00
Lastly, we've come to the latest version of the Supersonic Hair Dryer, tagged as the Special Edition. It shares the same price as the HD03 but comes with more additional features and attachments.
One of its many improvements from the HD03 is the Air Multiplier Technology, which amplifies the airflow by more than three times to produce more controlled air for faster drying and easier styling.
Another feature we love on the Special Edition are the additional magnetic styling attachments that help users style faster and easier while drying their hair. Users can choose from the three styling attachments: diffuser, concentrator, and smoothing nozzle.
Since it's the Special Edition, each purchase comes with a detangling comb and 35mm round brush. In terms of build, it pretty much has the same weight and size as the previous version.
Lastly, the Supersonic Hair Dryer Special Edition can accommodate all hair types and lengths. Even if you have short curly hair or long curly hair, the Special Edition's setting can be adjusted to satisfy the needs of your hair — which is why we've called it one of the best Dyson hair dryers in Singapore.
Highlights
Multiple speed settings
More powerful motor
Cold shot
Multiple attachments
Heat control system
If you're still confused as to which version you should purchase, just consider the number of times you're going to use it in a single day.
If you're only using a hair dryer at home before leaving for school or work, we recommend going for the first edition because it's cheap and comes with all the right features for you.
On the other hand, if you're a professional or near-professional hairstylist, you'd want to get a hold of either the HD03 or Special Edition. It comes with additional attachments and features that would provide variety to your range of hairstyles.
Since they share the same price, we believe going for the Supersonic Hair Dryer Special Edition would be a better choice between the two, though. More features, after all!
And with that, we conclude our list of the best Dyson hair dryers in Singapore. If you've tried any of these versions before, share with us your thoughts about it!
For more options, you might want to consider other brands of hair dryers. Luckily for you, we have a list of the best hair dryers in Singapore that you can check out.