13 Best Hair Dryers in Singapore for Great Hair 24/7 (2021)
If you're here because you need one of the best hair dryers in Singapore to complete your beauty kit, you know how important hair is for your look.
Looking fab and gorgeous means having each strand of our mane in place in order to make that perfect hair flip. And it's impossible to achieve that if you don't have a good hair dryer to help set your hairdo properly.
That's why we've rounded up for you the best hair dryers in Singapore this year. These are the ones both pros and regular users recommend most often.
If you're ready, let's take a look at them now! Starting from the high-end kind at $500 to the most affordable one at $25, let's go over your options for the best hair dryers in Singapore.
1. Lovrei – Hair Dryer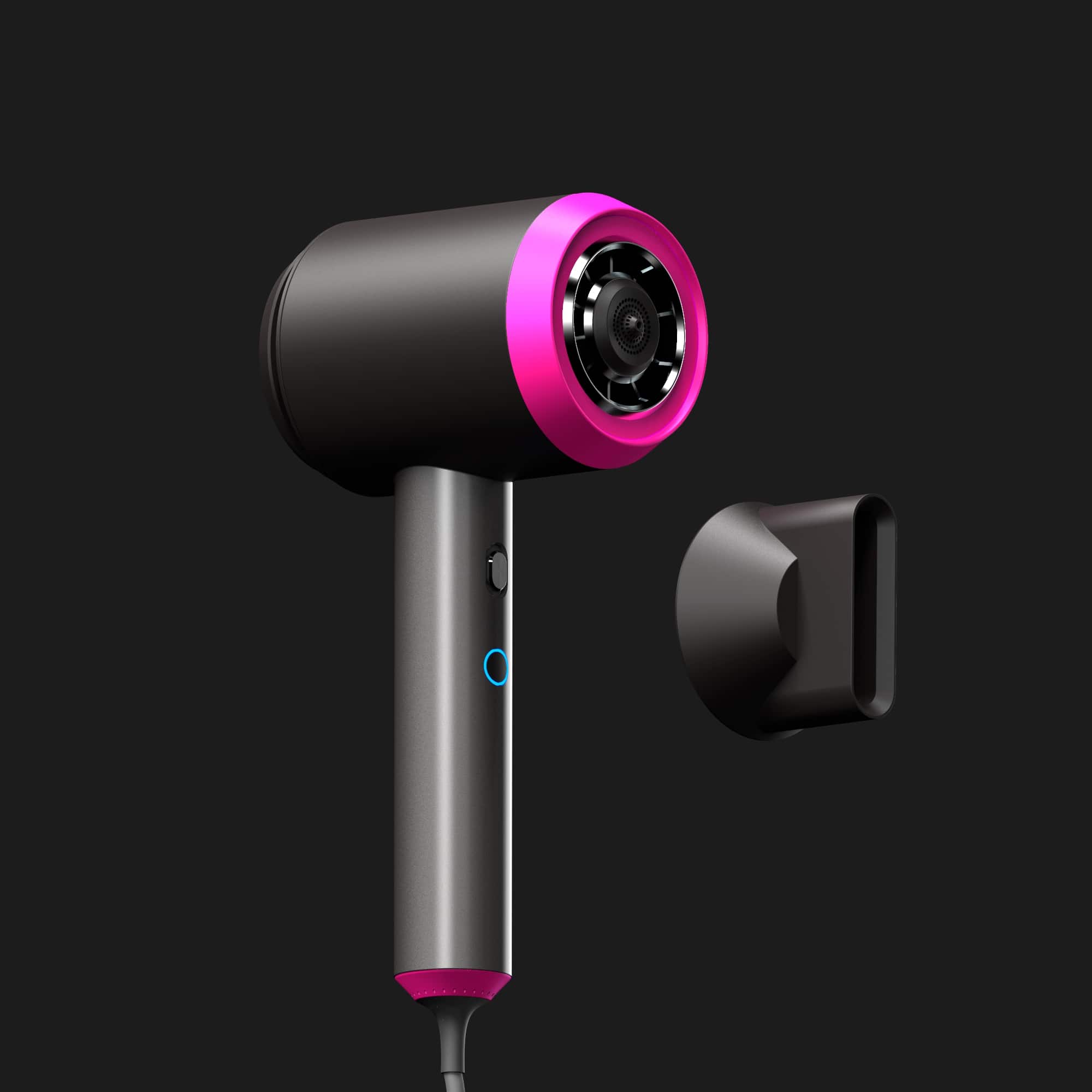 Only Hair Dryer With 20 Million Ions For Healthier Scalp & Hair
Free 20-day trial
Temperature control
Stable airflow technology
360-degree rotation attachment
Anti-scratch
Silent hair dryer
Price: $299.00
Lovrei is the new hair dryer that's taking the industry by storm! Why? Because Lovrei is the only company that creates hair dryers that don't just dry your hair, but heal your scalp over time to give you that silkier and smoother hair you've always dreamt of.
As we all know hair dryers are meant to dry our hair. However, consumers are unaware that most hairdryers in the market will cause long-term damage like frizziness, expanded hair cuticles, and heat- damage, which results in a weaker scalp and weaker hair.
Sounds horrible? It is. Good news though, because Lovrei can solve this problem!
Okay, let's talk about how exactly Lovrei achieves better hair with scalp care.
Lovrei's amazing secret technology to better hair lies in the fact that their hair dryer produces 20 million anions that help prevent long-term damage and even heal your scalp. There is a ton of research done on this exact topic (benefits of anions for hair dryers).
It's a wonder why it hasn't been introduced till today. Unlike the other products on this list, Lovrei's hairdryer is the only one that produces enough anions (20
million anions) to keep your hair fresh and silky.
Among other features, Lovrei also has cutting-edge features such as:
Intelligent AI temperature control
Air Augmentation
Heat Layer Protection
Anti-drop/Anti-scratch cover
Stable Air Flow Technology
Silent Hair Dryer
Magnetic Attachments
If you're still on the fence about this no-brainer absolute steal of a purchase, 98 out of 100 customers have said that they were extremely happy with their purchase (typically we see ratings of 70 out of 100 customers). With over 300+ 5-star reviews, it's easy to see why they're flying off the shelves and preparing to dominate the Singapore market.
Did we mention they have free shipping, 20 days trial and a 5 year warranty? The only catch is that it's $200+ but absolutely worth it if you are someone who cares about the long- term health and condition of your hair.
All in all, this product comes in 1st place because of its unique feature of 20 million anions, something that no other product offer, which goes to show how much research and care the team behind Lovrei has put into their product.
2. Dyson SupersonicTM Hair Dryer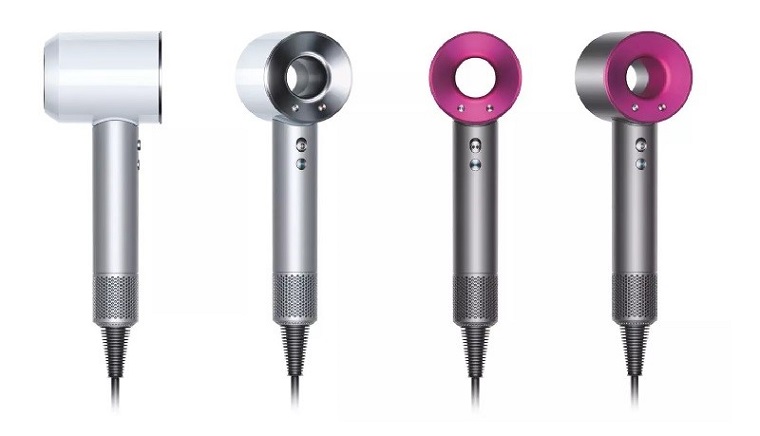 3 speed and 4 heat settings
Dries hair very quickly
Negative ions reduce static
Controls temperature
Reduces vibration
Price: $535
2-year local (Singapore) warranty
The Dyson SupersonicTM Hair Dryer is truly one of the best hair dryers in Singapore. If you have the budget to spare, this could just be the best hairdryer in Singapore for you. 
While this baby may be on the high end of the price scale, we assure you that it'll give you the perfect runway look for your mane. It's worth the investment!
The Dyson SupersonicTM Hair Dryer gives other hair dryers a run for their money with its Air Multiplier technology. Air is amplified three times to produce a controlled, high-pressure jet.
Its motor even spins 6 times faster than other hair dryer motors. More powerful airflow means that drying does not rely on heat, protecting your strands.
Its thermal sensors contribute by controlling heat and airflow every 20 seconds and keeping temperature at 150 degrees Celsius. What's even better is that this beauty is super-light on the hands.
This is because its motor is in the handle. That shifts the centre of gravity to that area when held.
Customers who have bought the Dyson SupersonicTM Hair Dryer at Lazada are raving about how it can dry even long and thick hair in just ten minutes without leaving hair feeling too hot. As one customer asserted, "Dries faster than my previous hairdryer, which was also a 1600W."
The Dyson SupersonicTM Hair Dryer also makes the perfect gift for your better half. As one satisfied customer reported, "Probably the best hairdryer to-date! My wife loves the product's ability to dry hair in less than half the time."
With its totally unique design and technology, Dyson SupersonicTM Hair Dryer will be sure to save your day! If you can afford it, there's absolutely no reason not to get this hair dryer. 
It's not too surprising to know that the Dyson SupersonicTM Hair Dryer is considered to be the best hair dryer in 2021 for Singapore.
3. GHD Air Hair Dryer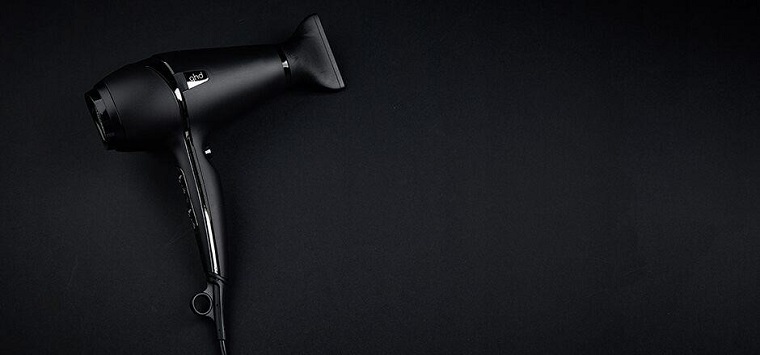 2100-Watt AC Motor
Advanced ionic technology
Variable power and temperature settings
Ergonomic for both left-handed and right-handed users
Price: $225.00
We all want that sleek and smooth salon finish for our mane. Fortunately, you can get that totally gorgeous styled hair with the GHD Hair Dryer.
Tame all that frizz and those flyaway strands with its 2100 watt professional-strength motor and patented removable air filter. Its high-pressure air flow makes blow drying your hair a breeze.
Thanks to its advanced ionic technology, frizz and flyaway will become things of the past. Moreover, its various power and temperature controls are friendly to any hair type.
To set your style, all you need to do is press the cool shot button to instantly get that cold air finish. This is a professional hair dryer in Singapore that's easy enough to use at home for personal use. 
The GHD Air Hair Dryer is also friendly to all lefties out there. Its ergonomic design can be used easily by both left and right-handed users.
4. Braun Satin Hair 7 HD780 Professional Senso Dryer
Thermo sensor for temperature control
Professional AC motor
Infrared heat system
10 temperature airflow settings
Price: $139.90
1-year local (Singapore) manufacturer warranty
The Braun Satin Hair 7 HD 780 Professional Senso Dryer is one of the best hair dryers in Singapore this year. Its built-in sensors can measure temperature up to 6 times a minute, with the dryer easily adjusting to the hair's temperature.
This prevents the hair dryer from overheating, and the hair getting fried. Even when the nozzle is attached, you are assured that air will constantly flow.
Probably the best feature of this hair dryer is its possession of 10 temperature and airflow settings that allow high flexibility when styling. For instance, it has 2 fixed cold shot buttons that produce colder air for setting your hairdo. So if you're looking for a cold air hair dryer in Singapore, this could very well be your answer. 
Essentially, this is another hair dryer on the list worth the investment. It's a five-star product on Lazada, in fact.
Users say the Braun Satin Hair 7 HD 780 Professional Senso Dryer really "dries hair fast". Another cheerfully states its "amazing efficiency".
5. BaByliss Pro Spectrum Hair Dryer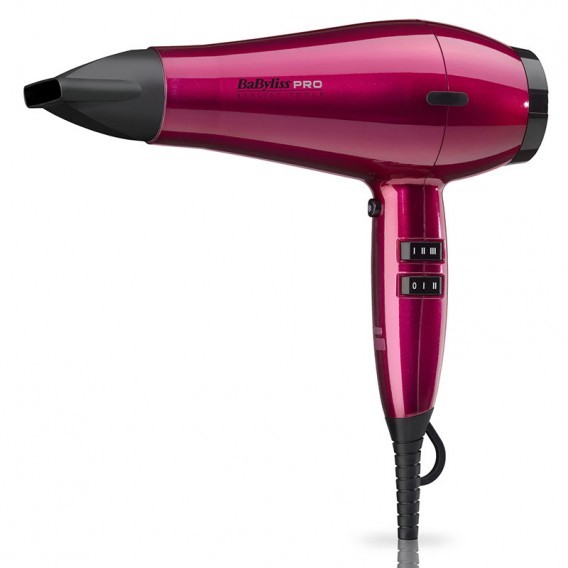 6 heat and speed settings
Advanced ionic conditioning
Slim concentrator nozzle for precise and fast drying
Ergonomic design
Price: $42.12
Raise your hands if you were born with thick and frizzy hair. Those of us who were born with that kind of mane know how gruelling it is to style our hair and hold it for an entire day.
Well, thanks to the BaByliss Pro Spectrum Hair Dryer, having that photo-ready hairstyle is now easy as pie even with such locks.
The BaByliss Pro Spectrum Hair Dryer uses a 2100 high-power motor with an extra penetrating airflow so you finish styling hair in no time. Its advanced ionic conditioning releases over 50% more frizz-controlling ions so that hair won't have static.
You can also easily shift this from one hand to another with its ergonomic design and long cord. Its slim nozzle even allows fast and precise drying.
Take your pick of colours from Purple Haze to Ocean Teal, Hot Pink, Orange Flame, and White Pearl. It even looks good even just sitting on a vanity!
Customers who have bought BaByliss Pro Spectrum Hair Dryer are all ecstatic about this fast hair dryer in Singapore. They guarantee it as a good buy that can dry your hair fast and even make it shine after drying.
6. Philips Pro HPS910 Hair Dryer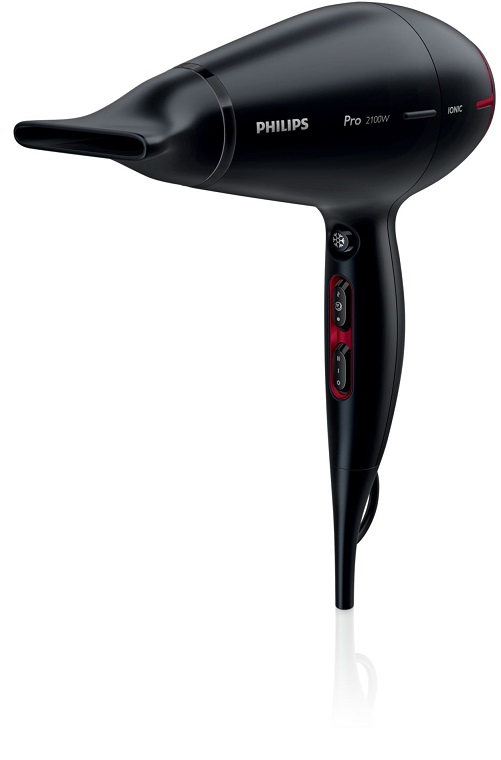 Ionic care
ThermoProtect setting
AC motor 110 km/h
Price: $99.00
2-year international manufacturer warranty
The Philips Pro HPS 910 Hair Dryer brings the salon experience right into our homes. Its ThermoProtect temperature provides the best drying experience for our hair by preventing hair from becoming overheated.
With a powerful airflow, it offers 40% faster drying results while its ionic conditioning allows our hair to shine brightest by preventing nasty static.
Lastly, its ceramic technology releases a gentle warmth that helps dry hair from within, preventing it from getting overdried.
Happy and satisfied customers who have bought the Philips Pro HPS 910 Hair Dryer  find it "awesome" and "light-weight yet powerful". They described it as quick, efficient, and having a tendency to leave hair feeling smooth afterwards.
We find that the Philips Pro HPS 910 is the best affordable hair dryer in Singapore that can give you salon-fantastic results. 
7. Philips HP8280 Moisture Protect Hair Dryer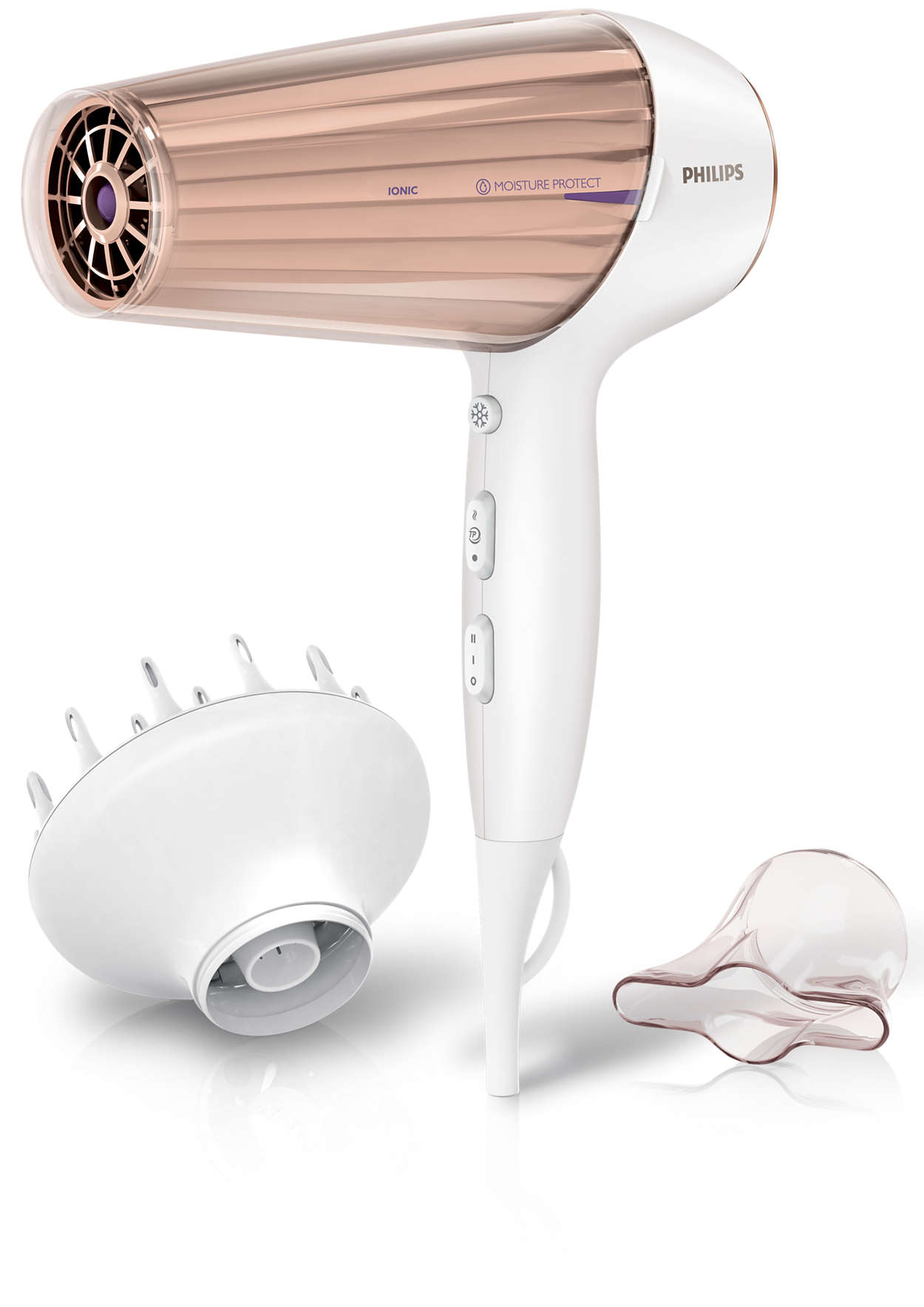 Moisture Protect Sensor
Ionic care
6 speed and temperature settings
Price: $151.52
2-year international manufacturer warranty
No hair dryer review in Singapore is complete without at least two Philips products.
The Philips HP 8280 Moisture Protect Hair Dryer with its Moisture Protect Sensor measures your hair's temperature and automatically adjusts itself, thereby protecting your hair from getting overheated.
Its ionic conditioning helps eliminate static. With this intelligent technology, each hair shaft is conditioned down to the cuticles to make your hair totally shiny and glossy.
It uses infrared technology to not only diagnose the hair and adjust temperature but to also preserve the hair's natural hydration. Get that finishing touch with its cool shot to set all strands in place.
The Philips HP8280 Moisture Protect Hair Dryer also comes in a lovely rose gold copper theme—a total beauty on top of the dresser!
Those who have bought this  feel like they have found their perfect hair dryer match. They do affirm that the Philips HP8280 Moisture Protect Hair Dryer not only dried hair really quickly, but also gave it the perfect T-L-C for that wonderful silky touch.
8. Braun Satin Hair HD 585 Hair Dryer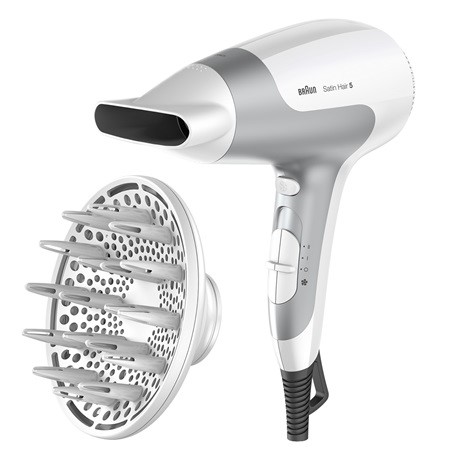 2500 Watts
Lightweight with ergonomic design
Ionic function
Price: $89.00
1-year local (Singapore) manufacturer warranty
You'll be awed by how powerful the Braun Satin Hair HD 585 is! With 2500 Watts, your hair gets dried at the finest and speediest level.
Because it's relatively light on the hands and can move at 360 degrees, it's now easy to get all angles of our head covered and dried. It's infused with millions of active ions to prevent static; thus, you get a sleek and shiny finish.
It distributes heat evenly, along with its 3 heat and 2 airflow settings that let you finish styling in a jiff.
Those who have bought the Braun Satin Hair HD 585, are saying it's not only "useful for all kinds of hair" but it is also "nice and affordable". So if you're looking for a good hair dryer in Singapore, this is definitely a win for anyone.
9. Philips ThermoProtect Ionic Hair Dryer HP 8233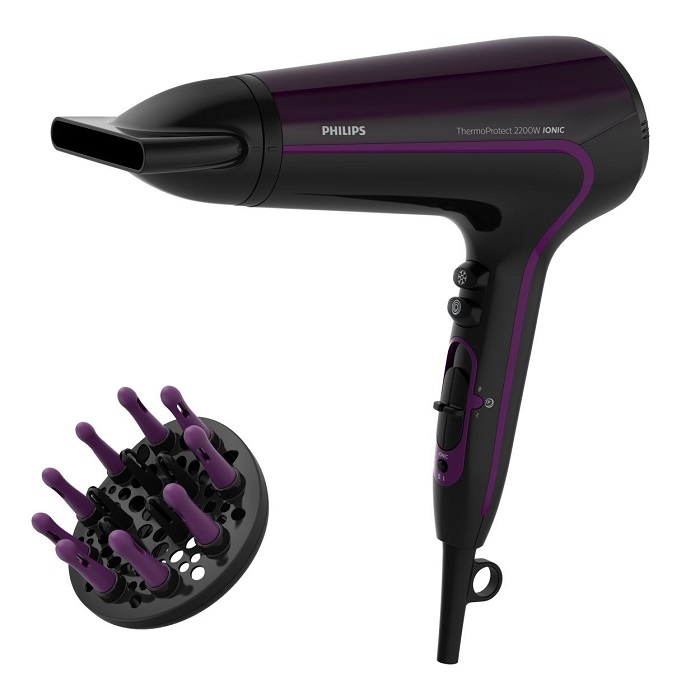 ThermoProtect setting
Ionic care
Massaging volume diffuser
2200W for salon results
Price: $62.00
2-year international manufacturer warranty
Yes, the brand Philips is present again on this list. Well… why not? The Philips ThermoProtect Ionic gives us a lot of reasons to love it.
With a price that's friendly to the wallet, the Philips ThermoProtect Ionic Hair Dryer not only has the most feminine contours, but also has a ThermoProtect temperature setting. That allows the optimal drying temperature while protecting your strands from getting burned.
Its ionic conditioning system allows you to have the sleekest and shiniest finish while its 6 flexible speed and temperature settings allow greater flexibility and ease when styling.
This product comes with a diffuser that allows greater airflow through the strands to boost volume and reduce frizz. You can even use this to make your curls more bouncy.
The Philips ThermoProtect Ionic Hair Dryer is another big winner with a lot of customers. Many liked the quick, non-hair-burning drying mechanism.
Many also appreciated its slick design. This product is a must to have in your dresser if you want to dry "75%" of your hair "within five minutes", as one happy customer testifies.
Moreover, the "ion feature was useful to keep hair from looking frizzy", according to many users.
10. Philips Essential Care Silence Hair Dryer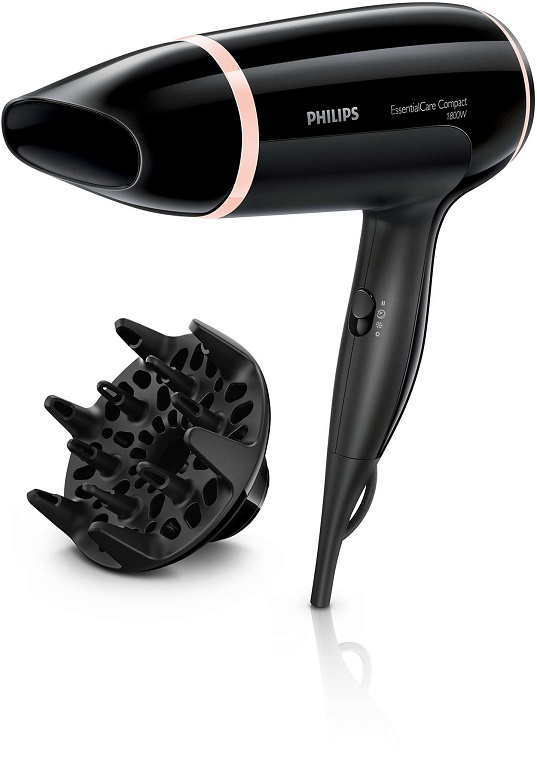 1800 Watts
Cool Shot
220 – 240 Volts
Diffuser
Price: $49.00
2-year international manufacturer warranty
Surely, we cannot be alone in the search for the best silent hair dryer in Singapore? We're so relieved to have found the Philips Essential Care Silence Hair Dryer!
Very few hair dryers in the market can actually snuff out the noisy hair drying sound of the machine. The Philips Essential Care Silence Hair Dryer is one of those actually capable of doing it.
The design of the air inlet grill allows increased airflow, thus allowing more drying effect with a much more pleasant sound compared to other conventional blow dryers.
Like all the other Philips hair dryer on the list, this beauty also comes with a ThermoProtect temperature setting that won't fry our delicate hair shafts.
This product comes with a volume diffuser to help add volume to limp hair. Lastly, its cool shots setting allow for setting the hair for that perfect finishing touch.
You're likely to adore this dryer once you try it, like many other customers. One bought it mainly for the diffuser but then discovered how easy it is to use the product and promptly fell in love.
It "works like a charm", said some, who also lauded its compact, easy-to-carry size and design. A highly recommended product by another if you're going to use it for "simple styling".
11. Tefal HV1342 Hair Dryer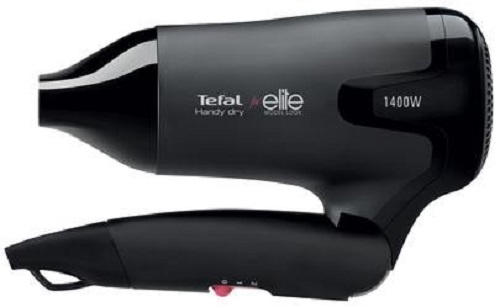 1400 Watts
Foldable
Adapted settings
Concentrator
Price: $24.90
2-year local (Singapore) warranty
Our hair still has to be perfect even when on vacay. Powered with 1400 Watts, the Tefal HV1342 is probably your best travel companion for ensuring that, with its compact and light-weight design.
Like all the other hair dryers on this list, this small but gifted hair dryer has a concentrator that enables precision blow-drying, along with its multiple speed and temperature settings.
It can be folded easily too, so it's easy to stuff in the luggage. So, worry no more about your hair even when on-the-go!
12. TUFT 8005 TURBO+ HAIRDRYER 
3 temperature settings 

2 speed settings

Built-in ultrafine ionic technology

Cool shot

2 concentrator nozzles

Ergonomic design

2200W salon performance

Price: $83.89
Tuft 8005 Turbo+ Hairdryer is well-known for its high-speed hair drying capacity. This is actually a good choice if you're running a hair salon. It has an ultrafine ionic technology which reduces the building up of static electricity in your hair. This removes the frizz in your hair; thus, making it naturally shiny.
When it comes to options, this hair dryer has a cooling shot and three temperature adjustments. Further, it has 2 speed settings which allows you to choose your pace. 
This comes with two detachable nozzles that will help you style your hair for various occasions. It has an ergonomic design which makes the handling easier and more comfortable. 
13. Pritech Hair Dryer – TC-2357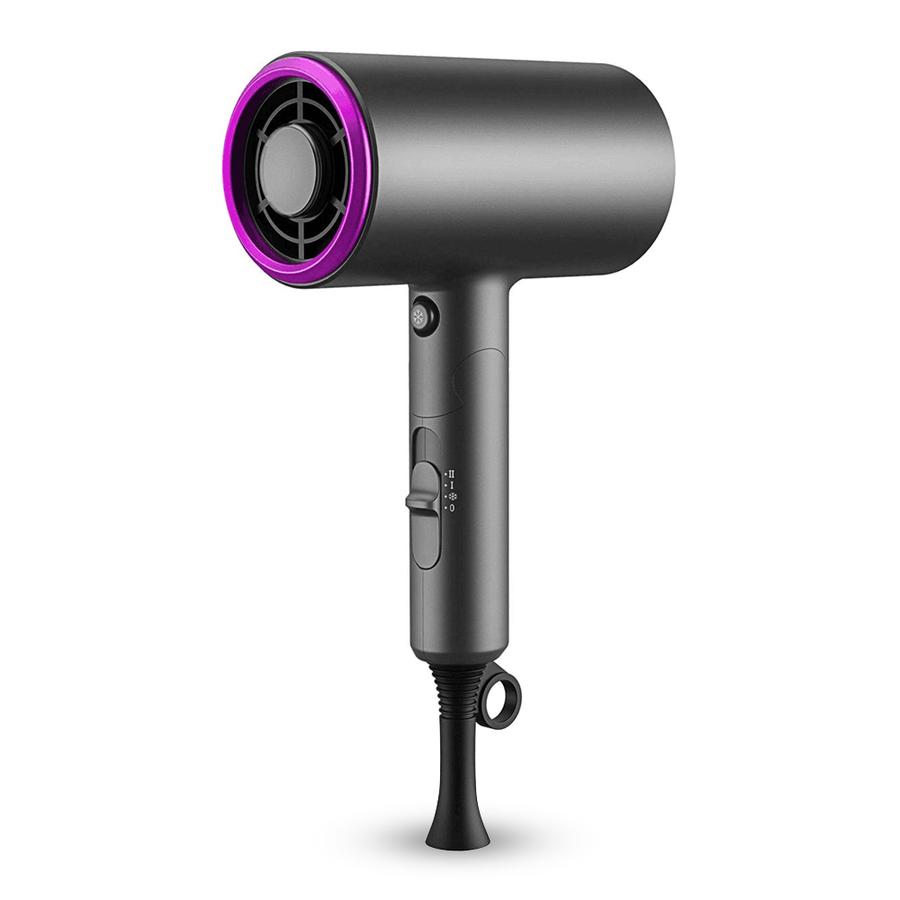 Affordable
Inner Cylinder Motor
Foldable Handle
Safe Radiation Free
Switchable Warm/Cold Settings
Price: $39.99
Sometimes we just want salon perfect hair without going to the actual salon. With the Pritech Hair Dryer – TC-2357, you can get gorgeous hair anywhere.
This hair dryer is perfect for both casual use, professional hair dressers and make up artists. It delivers strong, concentrated winds and has a 360° rotatable styling nozzles, making it easy to control wind direction. All these features result to quick-drying and smooth hair.
As for the settings, this product has 2 speeds and 3 temperature settings; hot air, cold air and cool temperature.
Finally, if you need a hair fix on the go, then the Pritech Hair Dryer is your go-to item. It weighs lightly with only 450 and it's also portable because of its foldable design, which saves you a lot of space. It's definitely a hair dryer you can use to travel on the road.
Looking good has never been this easy with all these options! As you can see, the best hair dryers in Singapore this year offer some real gems.
Do you own one of these already? If so, please do tell us which one it is and whether or not you agree that it deserves to be on this list.
Either way, we're certain the dryers we've listed here are more than capable of seeing you through your worst hair drying emergencies. We'd certainly feel optimistic about using them before a big event!
Of course, if you decide you'd rather leave your do to the experts for a special occasion, that's understandable too. In case you want help choosing the salon to go to, by the way, try our list of the best hair salons in Singapore.