The 32 Best Hair Salons in Singapore
Are you looking for a full-on hair makeover? Or would a simple trim suffice?
Whatever your needs may be, we've looked all over the island just to give you the best hair salons in Singapore today! Our list contains everything you need to know about them, from their contact details to pros and cons.
Before anything else though, let's talk about costs first.
The Best Hair Salons in Singapore
Alright, let's head over to our picks of the top hair salons in Singapore!
1. Walking On Sunshine
Singapore doesn't fall short on its list of Instagram-worthy hair salons, and Walking on Sunshine easily tops our list on that domain!
Despite it having a central location along Orchard, a trip to Walking on Sunshine is like an oasis in the midst of an urban jungle. You'll be greeted with plenty of flowers and plants as soon as you step in.
They have a relatively large team of stylists who can accommodate different services such as haircuts, colouring, treatments, and the like. You can also come in for a free consultation if you're unsure of which service to get.
Despite these pros, we still recommend booking an appointment in advance as it can get pretty busy, even during weekdays.
Oh, and did we mention that they have an in-house café, too?
Our favourite feature of this salon is that you can enjoy a quick snack or a cup of coffee during your hair treatment. You can also head over to their café-slash-bar section to enjoy a meal with friends afterwards.
Customer Reviews
Check out some reviews by Walking On Sunshine's previous clients below:
"Place looks beautiful and has a jungle theme (in a good way). The team is really talented and they're super helpful. I had senior stylist Jessica do a cut and dye and three of her team members surrounded her to assist in wrapping my hair in Cling to set the dye which made the whole process super fast. They readily lent me a charger too and there was enough space to put my laptop and work while waiting for everything to be done. I was really satisfied with the customer experience, the hair cut, ambience and care from the team :)" —Kristie Yeong, Google Reviews
"I cannot express how happy I am with the service here. The place is clean, the ambience was so relaxing and calm. Their system is so efficient, you can make bookings online/via WhatsApp. They really care for their customers, even provides you with a mini bottle of water. Lanny did a fantastic job with perming my hair. He was friendly and helpful, gave me advice on what's best suited for my style and also noticed that I wasn't using my phone as battery was low and offered me a charger. The entire staff team (both salon and cafe) today provided tiptop services. They have a cafe too next door, so you can eat and get your hair done as well. The food is not too bad, definitely better if you were to just sit there and have a meal. Although costly, but I can tell you it's worth every cent you pay. Their cost is transparent and they're honest. I definitely recommend you to come by here to get your hair done or grab a meal." —Rachel Leong, Google Reviews
2. Leekaja Beauty Salon
Leekaja Beauty Salon is one of the most popular and sought-after salons in South Korea. The salon has over 200 branches all over the world, and Singapore is one of them.
It's also one of the most Instagrammable salons on our list. Its rustic mix of plants and wooden decor makes it a perfect backdrop to strike a pose after your service.
The salon specialises in hair treatments meant for heavily damaged hair. You can drop by for a quick consultation so they can assess your hair.
Note that the salon can also get pretty busy throughout the week, leaving walk-ins unaccommodated. Hence, we recommend booking an appointment beforehand to secure a spot.
We also like that Leekaja Beauty Salon has an exclusive area for women, particularly for its Muslimah clientele. Not only is this area hijab-friendly, but they also use organic and Halal products that specifically cater to Muslim women.
Customer Reviews
Check out what clients had to say about Leekaja Beauty Salon:
"Eddie was amazing. It's my first time coming here and they were all so nice. Consulted about my hair for quite a while as Eddie really shared and explained in detail about the steps on what he was going to do for my hair. After the entire process, he even shared with me on how to take care of my hair properly. I'm in love with my new color and I definitely recommend everyone to come here!" —Shannen Purbowo, Google Reviews
"My daughter's second visit to Stylist Olivia and she did a great job both times! She is very knowledgeable and gave great advise on how to style and manage her natural curls.. definitely gonna be visiting her more!" —Cynthia Tan, Google Reviews
3. Hair Studio Flamingo
If you're looking for a hairstyle that's easy to maintain, look no further than Hair Studio Flamingo! Their lineup of experienced Japanese stylists will choose the best look suitable to your facial structure.
In true Marie Kondo style, their salons are quite minimalistic with hints of green. They also serve refreshments to their clients but with restrictions in place, serving drinks and snacks is temporarily postponed until further notice.
Unfortunately, both branches aren't open 7 days a week. But with 2 locations available, you have the option to visit their other salon if your chosen branch is closed for the day.
We also like their flexibility in handling last-minute appointments. As a tip, we recommend heading over to their Facebook page as they provide daily updates of their stylists' availability.
Weekends are quite busy, with some stylists such as Aki being in demand. So if you have a certain preference, you might want to book an appointment at least a week ahead.
Customer Reviews
Here's a glimpse of what some clients have to say about Hair Studio Flamingo:
"Visited Flamingo based on online reviews and am happy to say I've found my regular salon! Been seeing Tomo the past two years and I always trust her taste and leave my hair in her capable hands. Highly recommend!" —Beverly Leong, Google Reviews
"Thank you for the pleasant experience! The staff were very polite, warm and friendly, adding to the well-lit, clean and comfortable ambiance. Prices quoted are reasonable and honest with everything laid beforehand – no hidden costs. Stylist Tomo was extremely attentive to what I wanted and gave useful hair care advice. Besides being bubbly and a great conversationalist, she does her work with much talent, dedication and profession, which also shows through the end product. I would highly recommend!" —Stefanie Cara Ng, Google Reviews
4. Be Salon
If you've looked for hair salons online, chances are you've come across Be Salon—and for good reason. Past and present clients have been raving about them, particularly their hair colouring services.
From crazy hair colours to more subtle ones, they can help you get the look you wish to achieve. So if this service is what you're looking for, then be sure to put Be Salon at the top of your list.
You can find estimates of their services on their website but you can also schedule a complimentary consultation, so they can tell you the exact service you'll need.
We're also fans of their membership reward system, which includes many perks such as discounts, free products, and even birthday month privileges. Memberships come in tiers, but everyone is free to apply for standard membership.
Like most salons with overwhelmingly positive reviews, expect the salon to be fully booked, especially on weekends. As a trade-off, they do have long business hours all throughout the week extending until 9:00 pm—perfect for those who have busy schedules in the day.
Customer Reviews
Here's what some clients have to say about their services:
"It was my first time here and I had high expectations upon seeing all the great reviews for Be Salon- and truly, I have to say that my experience here exceeded all expectations. My hair designer, Darren made me feel so reassured as he patiently listened to all my concerns and preferences on the hairstyle I was hoping to achieve. He took into great consideration that this was the first time that I'm dyeing my hair and gave such great advice, tips and suggestions for my choice of colour and style, as well as how I can maintain it. And I just loved how my hair turned out- really appreciate the amount of care and effort he put in to ensure that the results are 110% Thanks for being so friendly and professional all at the same time! Everyone in the salon was also really nice and made the environment so comfortable (special shoutout to Jackie!); the service is simply impeccable. Can't wait to try out another hairstyle here the next time!" —Pui Yng Ho, Google Reviews
"Chester was amazing, I got the soft rebounding treatment and he listened to all my concerns and the treatment is amazing." —Tanvi Gupta, Google Reviews
5. Picasso Hair Studio
Like its namesake, Picasso Hair Studio takes pride in giving clients artistic and contemporary hairstyles.
Whether you're planning on getting a perm or switching up your hair colour, their large team of award-winning stylists can get the job done for you.
If it's your first time going to a salon, you'll often only know your stylist options on the day of your appointment – but not in this salon. In fact, you can actually read about their profiles on their website to know more about their specialties.
So before coming in for your free consultation, you can already request your choice of stylist beforehand.
We also love that they have 2 salons located at the heart of the city to accommodate a wide reach of clients.
They also open relatively early on weekends. Hence, if you want to beat the afternoon weekend rush, then we highly recommend going early so you can get the stylist you prefer.
Customer Reviews
Here's a glimpse of what some of their past clients said about them:
"Visited Picasso for a digital perm under hairstylist Billy. Service was very comprehensive and professional – they provided in depth analysis of your facial shape and what is the best perm based on your style and facial features. Very impressed with the end results :)" —Guan Ting, Google Reviews
"Visited Picasso for the second time to colour my hair. Wanted a more interesting colour but no bleach, and walked out with a lovely magenta red colouring thanks to the recommendation of my friendly hair stylist Nicole! She was very patient in understanding my needs, communicating ideas and things to note, and just all round attentive service :)" —Pei Xin Tey, Google Reviews
6. Vintage Studio
With several salons spread out across the island, it's no wonder Vintage Studio has become a crowd favourite among Singaporeans.
Most salons are also located conveniently inside malls and within walking distance from the MRT. So whether you're planning to bring your car or commute, their salons are very accessible.
With a wide range of services at reasonable prices, their team of stylists can help you get the hair of your dreams without breaking the bank. They easily have one of the most affordable rates on our list.
For clients who also want a bit of privacy during their service, you'll be happy to know that some of their branches have a dedicated VIP area with massage chairs where you can lounge in peace.
What's more is that clients can also enjoy complimentary light refreshments during their treatments. You don't have to worry about being bored either, as they have movie screenings in their salons, too.
The only drawback we're seeing is the lack of stylist profiles on their website, much to the dismay of first-timers. Furthermore, they don't normally cater to free consultations, but you can always ask them for the most suitable treatment for your hair if you're unsure.
Customer Reviews
Some sample reviews include these:
"I've been doing my hair with Andrew since I was 18. So I followed him to Vintage Studio at Bedok Mall. Andrew always surprises me with stylish hair cuts & colours that suits me perfectly. I've absolute trust in him and his taste. Price is also affordable and reasonable. Will definitely be back for more! 😊" —Yix Nafa, Google Reviews
"I have been coming to their branch for half a year already. All the staff is friendly and professional especially my stylist Marco. They know their job and they will recommend treatments applicable to you. Good job guys." —Joanna Nolina, Google Reviews
7. Jin Hair
Our team here at Best in Singapore are huge supporters of small and local businesses, and Jin Hair is a perfect example of the sorts of businesses we love.
Jin Hair is headed by a mother-daughter duo. They began 40 years ago, and Priscillia (the daughter) took over the business fairly recently.
Since then, she has expanded the salon space, giving it a brighter and cozier makeover. In the same vein, the team at Jin Hair also specialises in creating vibrant hair colours for clients.
They're located at the basement of People's Park Centre, which some may have trouble locating. Contrary to other salons, they're also closed on Sundays, so you might want to skip this one if you're planning to get a cut on your rest day.
But despite this, we think they're still a great option due to affordable rates, particularly the colouring services.
What's worth noting about Jin Hair is that they also conduct onsite courses for a minimal fee of $50 per hour. You can freely customise your course to your liking, which can cover anything from learning how to cut children's hair to basic hair colouring.
Customer Reviews
Here's a glimpse of what clients said about their services:
"I've found my new go-to hair salon. I walked in expecting to get a routine highlight touch up and a simple trim but I walked out absolutely in love with my new hair. Pris and her team, including her absolutely adorable mom, were so sweet and friendly throughout the entire process, and would regularly check on me to see if I was doing okay (because I was in that salon for five hours). Can't recommend this place enough; seriously good value for money with a very casual vibe, and best of all, it's locally owned by a mother-daughter duo. Will definitely be back!" —Katelyn Leong, Google Reviews
"First time visiting Jin Hair after seeing all the good reviews on their IG. Pris took time to understand my hair concerns and problems and she immediately was able to give me suggestions. She knew what she was doing and was very confident throughout which made me knew my hair was in good hands. Her haircut was also superb, even better than some expensive salons I visited! She also did not hardsell which was a great plus point. Her mum who was also at the salon was also very friendly and gave me hair advices, and I enjoyed the hair wash and treatment done by their staff. The end result exceeded my expectations and I can't find anything they did not do well in! I did hair colour, cut and treatment and the price was super reasonable. I would definitely see myself coming back in the future and recommending people to come. Thank you Jin Hair! :)" —RS Goh, Google Reviews
8. Jeric Salon
Looking for a hair stylist who can give you a celebrity-inspired haircut?
Well, Jeric Salon's team can take care of that for you. In fact, Jeric See, owner of said salon, has personally handled several celebrities' hairdos, from Jolin Cai to Elva Hsiao.
Apart from this star-studded status, there are plenty of reasons why Jeric Salon has earned a spot on our list. But above all, we highly recommend them for having a customer-centred approach in their services.
Not only do they serve complimentary snacks and drinks, but they can also assist you with food orders when you're hungry—and for good reason. After all, the salon is located in ION Orchard, with plenty of restaurants at your disposal.
But perhaps the true stars of this salon are their hair treatments meant to fix frizzy hair, most of which come with a relaxing head or neck massage.
There are plenty of electrical outlets available in the salon for personal use too, as a point of convenience. You can also request a laptop table or phone charger if you want to work during your treatment.
Of course, the major downside is that these services come with a high price tag. Note that weekends can be quite busy, too.
Customer Reviews
Take a look at some reviews about Jeric Salon's services:
"Very professional place, had my first hair dying experience here and glad to say the experience was amazing throughout. The stylists were attentive and were able to ease my worries of having my hair dyed the first time. Was glad to have come here to get my hair cut and styled too, they helped to suggest different styles that i could use to change up my look as well." —Jacky Mualim, Google Reviews
"I am a customer of Jeric Salon for more than 2 years and have always been blown away by the end results of my haircut/perm/highlights done by Jeric! His staff and the service there is truly impeccable! I especially love the ambience and products that they use on their customers. Jeric and his team's hairdressing skills are top notch and will highly recommend all to give his place a try!" —Sheryl Ho, Google Reviews
9. Art-Noise
If you find yourself wandering through Holland Village, make sure to stop by Art-Noise. It's one of the few Japanese salons that branched out to Singapore these past few years.
So if you're looking for a Japanese hairdo, Art-Noise is your best bet. Apart from this, they also specialise in hair treatments and hair spas using non-damaging blends of Japanese products.
We also can't help but highlight the fact that they use their own shampoo concoction containing natural ingredients. Not to mention they're environmentally friendly too.
Furthermore, the salon doesn't follow a stylist ranking system. This means that haircuts have a standard price regardless of your choice of stylist.
And while there may only be 3 choices for stylists, you can easily check their schedule and availability on their website. Haircuts are relatively expensive though, even for students and kids.
Customer Reviews
Check out some reviews by former clients below:
"Had my haircut done by Daisuke-san, who was recommended by a friend. Very friendly (and always smiling), professional, and did not push any additional service or products at all (which is a great experience for me as he was sharing his honest opinions on what suits my hair condition, and only if you are keen you can let him know). I enjoyed his scalp treatment and massage very much. Of course, the hair cut was great too!" —Wei Ling Loh, Google Reviews
"Professional and great service provided by them! Did the new Science Aqua treatment and my hair felt so smooth! It's all nutrients and there's no ammonia or chemical smell like other treatment I've done before. Very friendly staff too! Recommended 👍🏼" —Qian Wen, Google Reviews
10. De Arte Hair Studio
You can also consider De Arte Hair Studio as a one-stop shop for all your hair styling needs. They're pretty much an all-around hair salon, providing an array of services such as colouring, styling, and retexturing.
We've included them in this list for 2 simple reasons: accessibility and affordability.
First, they have several branches scattered across the island, from Paya Lebar to Jurong Point. So wherever you are located in Singapore, you're sure to find a branch closest to you.
Next, they also have one of the most affordable rates on our list, with haircuts starting at $35. You can also choose to get a haircut from their director and even then, prices are still affordable at $60 maximum.
Aside from these services, they also showcase some of Japan's best finds in their product line such as Shiseido, Milbon, and de Lamo, which you can purchase conveniently through their website.
As with most hair salons with several branches, you won't find a list of stylists available on their website. Another major downside is that their salons aren't the biggest ones either, which may result in limited availability during peak hours.
Customer Reviews
Some comments about De Arte Hair Studio are as follows:
"Went for a haircut with one of the senior stylist (May) and left the store signing up for a 6x package haircut that doesn't have an expiry date! Staff were all welcoming and every friendly. May really did a wonderful job at layering my short hair. She was very insightful and knowledgeable about hair especially after I said I'm planning to grow my hair out and get some treatment. Overall very happy with the experience and very worth it for the price you pay!!! ($40+ for a wash, cut and blow dry with a senior stylist)." —Della Jachja, Google Reviews
"I don't usually post reviews but this salon really blew my mind with their excellent service and professional haircuts! They did a little consultation with me too since I have no idea what hairstyle I want. FYI, they do NOT hardsell at all! I will definitely visit them again." —Jamie Lee, Google Reviews
11. Aqua Hair
Are you a K-drama fan? Then you'll be happy to know that you can get a Korean-inspired hairdo with the help of Aqua Hair's stylists.
In fact, their senior hair stylists have extensive experience in Seoul, servicing both celebrities and common folks alike. You can read more about their expertise on their website.
We like the idea that the salon's doing its part in helping local businesses and less fortunate families affected by the pandemic. And the best part is that you can look good and help at the same time, thanks to their "hair-care packs."
An example of this bundle includes a perm, a haircut, and hair treatment. Automatically, your purchase includes a donation of 5 packets of warm food to be given to a less fortunate family, purchased from local hawkers.
Furthermore, you can share the pack with a friend. For instance, you can avail of the perm while your friend gets the hair treatment—perfect for an afternoon bonding session!
Customer Reviews
Here are some comments written by clients:
"Went for fringe perm which includes fringe trim meticulously done by Lisa. Even though I opted for only my fringe to be done, I had an overall wash and blow just like how it's being done in Korea. Loving that new life given to my bangs! Kudos to Lisa and her amazing team. ❤️" —JQ, Google Reviews
"An amazing experience for my first visit to Aqua, with Mina! She took her time to study my hair and ran a few strand tests to make sure the desired colour could be achieved. As the home colour I previously had was rather difficult to remove without causing significant damage, she suggested a touch-up rather than a full head colour. Mina gave good advice for what's suitable and also good for the hair. She then gave a great cut that I am so pleased with! I highly recommend Aqua to anyone who wishes to try a new hair style or just to have a great haircut!" —Cherry Cheung, Google Reviews
12. Chez Vous: Hideaway
Chez Vous: Hideaway isn't your run-of-the-mill salon.
Tucked within Ngee Ann City Tower is this brightly gorgeous hair salon that can be mistaken for a secret club. And in its own special way, it kind of is, actually.
It's the only one of its kind on the island to feature 7 Instagrammable zones, specifically designed to take mini photoshoots in.
At Hideaway, you only have 4 basic bundles to choose from, which can be quite prohibitive and pricey.
On the other hand, this also means that you don't have to worry about hidden costs or stylists trying to hard-sell additional services. You only have to pay for the bundle that you've picked—no questions asked.
As an alternative, you can go to their main outlet instead if you don't intend on getting a bundle. Furthermore, we recommend that you skip this salon if you're looking for student or children's discounts as they don't provide any of those.
This is still a great place to go to, though. Each bundle here comes with several complimentary spa-like add-ons including massages, refreshments, among many others.
That said, our favourite part of this salon is its complimentary mini-lounge access, which includes different facilities such as a refreshment bar, massage chairs, and many others that you can enjoy before or after your service.
Customer Reviews
Take a look at what some clients have to say about their services:
"Few years ago, after reading the many good reviews, I decided to give Chez Vous a try, and I am so glad I did. I have been coming back since then. Luis has been my hair stylist and he is very good and professional. I am very happy with my new hair style every time I do a hair cut here. The staffs are friendly too. 100% recommended and will always come back here to get my hair done." —Rica Kartika, Google Reviews
"I'm more than satisfied with the results, it was an excellent experience. Khim made my haircut look great, exactly as I wanted it to be and as I have shown on my old picture. It is difficult to find a specialist to work with thin European hair – this is the first place in Singapore where it was handled in this excellent way! Truly recommend this place for professionalism and overall pleasant experience." —Iana Geras, Google Reviews
13. Visage
Looking for a salon that specialises in Caucasian hair? Dominic, owner and artistic director of Visage, can lend a hand in that!
He has plenty of long-term clients in his salon, particularly expats and Caucasians. The Balinese-themed salon is located at the CBD, overlooking the busy streets of Orchard Road.
Apart from hairdressing services, they also have a full range of beauty services specialising in Caucasian skin, too. Some services include facials, waxing, massages, among many others.
Take note that the hair salon can only accommodate a maximum of 7 clients at a time. They also accept clients strictly by appointments only, so walk-ins have a disadvantage here.
The salon is also closed on Sundays. So if you're planning a Saturday visit, we recommend booking an appointment ahead of time to avoid long lines.
Customer Reviews
Here's what some of their previous clients have to say about their salon experience:
"Great experience with Yvonne's facials from the Salon Visage. She has magic hands and knows how to manage my fair sensitive skin. I used to get out with a glowing smooth skin and totally relaxed (I recommend after jet lag ; ) Her shoulder massage is a plus!" —Marie Caroline Boiron-Mazza, Google Reviews
"Dominic is awesome, for my Indian hair texture and curls, his skills, knowledge and experience was amazing. I would recommend Dominic, his efficient staff and his saloon with eyes closed." —Anu Raj, Google Reviews
14. Kimage
Established in 1994, Kimage is a boutique hair salon chain in Singapore. Today, they have built 10 hair studios across the island.
We'd like to highlight 2 things about Kimage: affordability and their own hairdressing school.
You can have a decent haircut for as low as $20 here, proving to be the lowest rate on our list, thanks to their junior stylists.
The only downside is that junior stylists are only limited to select branches including Kimage Marina Square, Lot 1, Tiong Bahru, and Northpoint. Note that their services are also available by appointment only.
The salon follows a stylist ranking from junior stylists extending all the way to principal stylists, with the latter being available in select branches only.
Despite the ranking, expect to not spend more than $70 for haircuts regardless of your choice. Truly, they have some of the most affordable prices on our list.
Whether you're a budding hair stylist or you simply want to cut your own hair, you can also head on to their own hairstyling school at Marina Square. They have several short courses that you can complete in a couple of weeks.
Customer Reviews
Kimage has received good reviews across all branches. Check out some of them below:
"I don't usually write hair salon reviews, but I can't even begin how impressed I am with this salon. When it comes to haircutting and styling, this hairdresser (Ann Feng) is the ultimate example of excellence. Will come back again." —Cheow Mei, Google Reviews
"Kelly knew what to do with my impossible hair. She is very professional and highly skilled, super nice and polite, as well. My friend who accompanied me and was just watching was also impressed. Will definitely come back." —Joy Ycay, Google Reviews
"Did my keratin treatment at Kimage BP and was very impressed with their services. No hard selling of packages and amazing care from the stylists. Their scalp treatment was especially relaxing. Will definitely come back again." —Jasmine Kwok, Google Reviews
15. Skye Organic Hair Salon
What caught our eye with Skye Organic Hair Salon is in the name. To be precise, we're particularly interested in their use of organic hair products in their services.
As you can probably guess, their primary expertise lies in hair treatments. Their products only contain safe and organic ingredients—your scalp and hair will thank you for it!
What's also worth noting is that you can book a trial session, which gives first-time customers a huge discounted rate across different services. For instance, you can save up to 50% off with their "trial haircut," which only costs about $20.
The only catch with this affordable rate is that it only applies to those with short hair. You'll need to pay a bit extra if you have longer hair.
Currently, they have 4 salons located at different malls in the island. So even before or after your appointment, you can easily shop and dine around the area.
Customer Reviews
We've handpicked some comments about their services. Check them out here:
"Been coming here for years, most underrated hair salon ever? Always coming in with really dry, unhealthy hair and leaving the salon with hydrated, healthy hair. Even dyed my hair here and my hair was so smooth for months. Always my go-to hair salon! Highly recommend them to my friends!" —Megs Ryans, Google Reviews
"Great experience at Tanjong Pagar outlet! Had my scalp treatment. Mei and Coco are very professional and offer great advice! Thank you and will definitely come back again!" —Spare Teo, Google Reviews
"The stuff did a deep analysis on my scalp and recommended me on what treatment I should use. She is really patient in explaining the things I should do and use to improve my scalp. I would definitely come back again!" —Zenn Lim, Google Reviews
16. RuleR SG
A Japanese hair boutique located in South Bridge, RuleR SG has plenty to offer to its clientele, beginning with its location. See, it's highly accessible and boasts a clean, spacious interior that can accommodate numerous clients at a time.
These clients are all handled by staff that are trained, highly skilled, and professional. RuleR SG staff members are known to be patient, taking the time to learn about clients' hair history and wants, before recommending hairstyling options that fit the clients best.
Typically, the staff takes into consideration the hair type as well as the face shape when making recommendations.
Speaking of the styling options, RuleR SG has one of the most extensive menus on this list, featuring options for hair cuts, colouring, perming and rebonding for men and women. Those who are interested in fashion colours will be happy to know that RuleR SG also accommodates such requests.
First-timers and returning clients can book a slot via phone. The boutique is open every day of the week for styling.
Customer Reviews
Check out what some former clients said about their services:
"I did my hair with hairstylist Teppei and it turned out as expected. It was a cut + dye + treatment + style. The salon was very clean, service was professional, hairstylist was patient in recommendation and I enjoyed the session as he was very friendly. I am greatly satisfied with the results, hair became very smooth and silky!"
"I love how accessible the location of the salon and the environment. I was lucky to work with an amazing and friendly stylist, Rena. She is very attentive and provided me with clear explanations on the procedures. I adore the way she styled and coloured my hair according to my desired style while making sure it suits with my face shape at the same time. Highly recommend Rena if you are searching for patience, professional and tender in stylist. Also, the salon has friendly staffs who attend to your needs.Over all, it was an enjoyable and pleasant experience. Definitely, recommending the salon to my friends and families. 🙂"
17. Trimmings Salon & Spa
If you're due for a haircut and a long pampering session, why not do both at Trimmings Salon & Spa? Their extensive range of services catering to a wide variety of audiences earns a spot here.
They have 2 locations available, both of which have different purposes, actually. If you're looking to squeeze in a quick haircut in between work, then we recommend heading over to their salon at Orchard Road.
Otherwise, their branch at Dempsey Hill is like its own little Balinese-inspired haven in the middle of a bustling city such as Singapore. We recommend this relaxing location if you're planning to get a couple of treatments such as a massage or a mani-pedi.
You can also bring the whole family here, as they have services for everyone, from kids to men. They also have prenatal packages perfect for pregnant women.
Perhaps the only downside is the price, seeing that they're on the high side. Moreover, they don't accept cash, so be sure to bring a debit or credit card instead.
Customer Reviews
Check out sample comments about Trimmings Salon & Spa below:
"I enjoyed my aromatherapy pedicure session at Trimmings Salon & Spa. The environment is serene, I was seated in a room that faces the lush greenery outside, it's a beautiful view for me. The products that the manicurist used on me smells pleasant too! Best part is that they don't do any hard selling. I got to rest and relax throughout my entire time there. Love it!" —Cas T, Google Reviews
"Good experience, love that I can have my hair and nails done together- efficiently! Benson spoke to me about what he was doing, how long it would take, what the result would be – would go back." —Erica L, Google Reviews
18. Project Hair
We know how much customers hate being badgered by pushy stylists promoting a certain product or package—trust us, we don't like them too. But luckily, you won't find that at Project Hair, and it's something that they take seriously.
You can also get a haircut by their master stylist at $52 for women—a considerably low rate in comparison to other salons. No need to worry about hidden fees as you can find their rates online.
As part of their complimentary tea service, you can expect a good ol' cup of Clipper Tea, as well as homemade cookies courtesy of their sister bakery, Project Bakery. In fact, they'll even treat you with a cupcake or other pastries available on that day if you're lucky.
Sadly, this service is temporarily unavailable due to the pandemic. But rest assured that they will resume this once restrictions are lifted.
And speaking of sister companies, you can also have your nails done at Project Nails, conveniently located in their salons. This is a perfect add-on service if your treatment requires you to stay in the salon for long hours.
Customer Reviews
Here's what some clients have to say about their services:
"Had my hair cut after Phase 3 and even 2 1/2 weeks later I am still extremely pleased with how Eric did my cut. Was originally unsure of what exact style I wanted but even then he was patient in working through what I wanted, and managed to do up a great end result. For a standard cut it is $42 for men and $52 for women, and while I personally would prefer having my hair cut for cheaper regularly, I would definitely come here again if I want to spend a little extra for something makes me look substantially better. Front staff was also friendly." —Gabriel Boey, Google Reviews
"This was by far the best salon experience and haircut I've had in Singapore. Wonderful staff. Vincent cut my hair beautifully and I could not be happier. The salon and Vincent have definitely found a new client." —Noelle Mostert, Google Reviews
19. Venetian Hair & Makeup
Venetian Hair & Makeup may have been around for a few years now but they just recently opened their newly-renovated shop along Upper Weld Road. And because they're located right in the middle of Little India, it's no wonder this salon has been a hit among the Indian community.
We had to put them here primarily due to its location. They may only be a few walks away from multiple MRT stations but there are also plenty of parking spaces within the vicinity.
They pride themselves on being a one-stop shop for all your hair needs, from haircuts to treatments. But beyond this, we'd also like to talk about one of their primary specialties: makeup services.
From what we've seen, they like to experiment with bold colours in their eye make-up, providing a fitting ensemble to your Sari or any outfit you have. So if you have a special occasion coming up, then we recommend getting a full makeover with Venetian Hair & Makeup.
Sadly, they don't have readily published rates available online. However, you can ring them up prior to your appointment to know what to expect.
Customer Reviews
Here's a glimpse of what some clients have to say about them:
"Was so delighted to have a great hairstyle to flaunt now , all thanks to Sam and his team at Venetian's! I have never seen anyone educate me about my hair this much ! Great service and ambience!" —Cassandra Queen, Google Reviews
"I'm a returning customer because of the amazing experience @ Venetian!!! Coloured my hair and was absolutely in love with it! I was afraid that colouring will make my hair dry but my hair was in safe hands. Stylist Sam ensured that there will be no damage as the product used was organic. Their spa is definitely worth trying. I signed up for a package. Great hospitality during each visit.😊I would definitely recommend Venetian to everyone who wants gorgeous hair!💕 Keep up the amazing job you do Sam!!" —Shivashankari Rajamogan, Google Reviews
20. Salon Vim
Salon Vim aims to unleash the star in you, and they're sure to live up to their word. In fact, they've been involved in multiple high-profile events and labels such as Victoria Beckham, Guo Pei, and more.
Also, if you're a regular salon-goer, you might very well be familiar with L'Oréal products, particularly its hair colouring dyes. Well, you might be glad to know then that Salon Vim is one of L'Oréal Professionnel's flagship stores in Singapore.
Hence, you can expect a wide variety of colours and products at your disposal – if you prefer this brand, that is.
But perhaps the star of their own show is their "Wonder Curls" service, which comes with their own anti-frizz treatment, giving customers a low-maintenance wave hairdo. If you want to have a bit more volume, then this is the treatment to get.
The major downside of this is that they can be quite expensive at almost $300, with additional top-ups for those with longer hair. Similarly, not all rates are available online, so you'll have to enquire beforehand.
Customer Reviews
Some comments about their services include the following:
"My go to person is definitely Daryl! He is thoughtful and careful, and delivers my expectations – also great in service recovery! Spends time with his clients and will make time making adjustments. No rush, great style, trust him with your head!" —Roziana Mohd Hussain, Google Reviews
"Had the best hair cut here by Daryl (a senior hair stylist)!!!! For real. I went without any expectations. I'm super lazy and I barely have time for regular hair cuts (the last one was a year ago). He saved it and more — he listened and understood my needs and lifestyle, then he gave me a hairstyle to suit all that. Daryl is going to be my go-to guy for cuts moving forward and I'm actually excited about my next hair cut (fingers crossed I won't procrastinate)." —Amanda Tan, Google Reviews
21. Mi the Salon
Frequent salon-goers are no stranger to that strong and irritating smell of ammonia. Well, you don't have to worry about that with Mi the Salon.
They strive to be Singapore's first ammonia-free salon, thanks to their selection of Kérastase and L'Oréal Professionnel products. If that sounds a bit familiar to you, Mi the Salon and our previous entry, Salon Vim, are actually sister salons.
This means that you can head over to the other if your preferred salon is a bit busy. They also have a similar set of services.
As for this salon though, their signature service is hair colouring using a specialised technique called AirTouch. It provides a more seamless blend of colour modified to suit Asian hair.
Similar to its sister salon, prices are a bit on the steep side. But if you're unsure, you can come in for a free consultation to know more—just be wary of any hard-selling that may take place.
Customer Reviews
Check out what past clients had to say about Mi the Salon:
"Did a cut+scalp and hair treatment with stylist Ymond. The service is great, no hard selling. Ymond gave me a cut, exactly what I needed. He suggested "volume cut" a bit of layering at the top of the hair. My hair now have a natural volume. I felt great during the treatment as well, after the treatment my hair had a smooth flow when I brush my fingers through my hair. Not kidding. Gonna plan my next session of treatment and maybe add on a coloring as well." —Berlina Khor, Google Reviews
"I've been a fan of mi the salon and some of their hair specialists for 2 years now. The staff is always smiling and ready to transform you ! What I loved was Michelle Ho even modified my color on a couple of occasions when the highlights seemed too pale for my complexion. Although hair salons are expensive and Mi is no exception, the service keeps me coming back :)" —Swapna K, Google Reviews
22. Silkcut Salon
For over 2 decades, Silkcut Salon has built a steady base of loyal customers who come to them for any of their hair needs.
Regarded as another one-stop shop for hairstyling needs, they mostly specialise in fun and unique hair combinations that are also ammonia-free. No need to worry about that sharp smell when getting this service!
They're also a go-to salon for basic services like haircuts, which includes a complete consultation service, a quick scalp massage, and even a prescription for home care.
We also like the central location along Havelock, with plenty of restaurants and shops at its doorstep. Furthermore, the nearest station in Tiong Bahru is only a 7-minute walk away.
We would've liked to see their rates from the get-go though, as this would provide customers an easy overview of how much to shell out for their services.
Customer Reviews
Here's what previous clients had to say about Silkcut Salon:
"Had long hair all my life and got worried as I was dropping alot of hair after giving birth to my baby. trusted my instincts and took the plunge with Geri-I chopped off my long hair to a short bob. She was so attentive to my needs as a new mother and answered all my questions patiently and professionally. She knew right away what hairstyle suits my face shape and recommended a nice hair colour/highlights as well. loving my new hair so much, it's really life changing to have short hair after decades of long hair. been getting many compliments too! Thank you Geri!" —Melissa Lee, Google Reviews
"The professionalism and high standards is always there without fail. They are a very busy salon, so what I really appreciate is they maintain this very warm friendly vibe. Geraldine always looks super cool but beneath it she's jovial and exuberant, very nice and warm. I like their team of supporting assistants too. Serene helped me today and I really appreciate her passionate and care for her customers." —Fernzy Yeo, Google Reviews
23. PREP Luxe
We highly commend PREP Luxe for more than its quality work – it also does free head shaves for cancer patients. Rest assured that they do this service with utmost care and discretion.
In fact, clients can also opt to have it done in a curtained-off area if they prefer to keep prying eyes away. So if you know anyone who just started chemotherapy, you can refer them to PREP Luxe for this service.
Do take note though that appointments must be pre-booked. Hence, walk-in customers for this service won't be accommodated.
We also recommend PREP Luxe for those who are shopping around for a new salon with ultra-stylish hairdos. First-time customers get to enjoy discounted rates at 20% off for any service except those of the director's.
And while we're on the subject, Den Ng—PREP Luxe's director—is an award-winning hair professional who has styled several celebrities including Janhvi Kapoor, Michael Peña, and many others.
So if cost isn't a concern for you, then go ahead and get a celebrity stylist such as Den Ng to do your hair!
Customer Reviews
PREP Luxe has gained a lot of positive feedback from their previous and regular clients. Check out some of them here:
"Was recommended to PREP Luxe by a friend, so I booked an appointment for a haircut, CY was my hairstylist and he was very professional in both his skills and friendly personality. I decided on a 'backcomb' look, and he even touched up my hair to extreme detail after my hair was rinsed. Finishing my haircut, he waxed and styled it as I was heading somewhere after. The quality of service was extraordinary in a good way, and I was satisfied with the end result. Overall, it was a pleasant experience, and I would surely return for my next haircut!" —Zeke Goh, Google Reviews
"Awesome and professional customer service! It's my first time at PREP Luxe and my hairstylist CY did a wonderful job with the hair colour and cut. He gave great advice and was very friendly, as with the entire team. Had a really nice experience!" —Yurong Tay, Google Reviews
24. The Parlour
What sets The Parlour apart from our other entries is that it's led and operated by expats who have extensive experiences in the United States, United Kingdom, and Australia.
They've brought this diversity into Singapore, packed in a friendly neighbourhood salon in Kovan. So if you're residing within the area by chance, good news is that you don't need to travel all the way to the city centre to get your hair done.
And while they may be expats, they're trained to handle all sorts of hair from different nationalities. Whether you're Asian or Caucasian, they can get the job done to suit Singaporean climate.
We're seeing 2 major downsides to this salon though: price and availability.
Despite this being a neighbourhood salon, you see, prices are a bit on the high side. Moreover, they're also quite busy throughout the week, so it's best to book your appointment ahead of time.
Customer Reviews
Check out what customers have to say about The Parlour through these online reviews:
"I had a good haircut & hair colour done at The Parlour. It was a comfortable and cosy environment. Sylvia was attentive & did a great job explaining which colour is more suitable for my current hair and the process of how she will be colouring it. She also does a great head massage while washing hair. Thank you so much!" —Vanessa Kong, Google Reviews
"Great quality cut and dye (for my unusually wavy/thick hair), plus very friendly staff! The appointment system also makes things very efficient. I've already gone twice and would be happy to go again. Thank you Sylvia and Jessie :)" —Celine Wee, Google Reviews
25. Musubi Boutique Hair Salon
Consider getting a Japanese-inspired haircut at Musubi Boutique Hair Salon if you want a trendy change. Whether you're planning to get a classic hair rebond or a new colour, we think their full-range of services can bring your dream hair to life.
Takuya Segawa, Musubi's owner, is also an award-winning hair stylist in Japan. He has handpicked his staff carefully, so rest assured that you're in good hands with them.
We couldn't help but notice how seamless their balayages are in particular, especially those with fun colours. In fact, one of their stylists likes to combine both specialties in colouring and men's haircuts, and they've done a pretty good job with it, from what we've seen.
They also have a membership reward system that entitles loyal customers with discounts.
Sadly, they only have a single branch in the entire island. They do have several sister salons in Japan though – that is, if you ever find yourself needing a trusted hairdresser there.
Customer Reviews
Musubi Boutique Hair Salon has received a perfect 5.0-star rating on Google. Some sample reviews include the following:
"It was my first time here and all the staffs are really friendly and nice. Positive attitude and vibes. Very meticulous with their service. A very humble boss which strongly contributed to the great team behind. Great experience. And great results with the hair work." —Lester Cheng, Google Reviews
"I have been a recurring customer to Musubi and always leave with satisfaction. Taku has done a great job perming and dyeing my hair, his rate is also very reasonable. Friends and family compliments my hair a lot and I have been recommended them to come here! 5 stars!!!" —Syyang Tan, Google Reviews
"Extremely clean area. Hair stylists were professional and friendly. Kudos to all hair stylists ~ Special thanks to Wei Long~ always satisfied and happy with the hair colours and haircuts. Highly recommend !!" —Klaris Kyii, Google Reviews
26. THREES Beauty Salon
THREES Beauty Salon is another Japanese concept salon. They're located inside Clarke Quay Central, which means you can easily find your way there as it's directly connected to Clarke Quay station.
As with most Japanese salons on our list, they make sure to exclusively use damage-free products in their services.
Also worth mentioning is that they use a special "carbonated spring" shampoo designed to remove sebum and excess oil on the scalp, ideal for Singaporean climate.
We also recommend this salon for those who are looking to switch up their current salon. They give out discounts worth 20% off to new customers and as a tip, make sure to mention the code "HP" when booking your appointment!
Do take note that the salon is relatively small, which also means that they have a small number of stylists onsite. Because of its central location, the salon tends to be quite busy, too.
Hence, it's highly advisable to book beforehand to avoid disappointment.
Customer Reviews
Here are some examples of feedback posted by customers on Google Reviews:
"Just had my hair done at Hair Threes for the first time! Very professional and friendly staff. It was my first time dyeing my hair and I asked for my stylist's (Ken) recommendation. Hair wash was super comfortable and relaxing too! Price is good too! Will definitely come here for my hair in the future~ Thank you guys!" —Zi Yu You, Google Reviews
"Very satisfied and please with the hair colour, treatment and hair cut. Hair colour turn out to be quite even as well considering that I dyed and bleached my hair so many times before in the past so my colour was very uneven before this. Most importantly, it's affordable too. Not overpriced at all. And Ken was very attentive throughout as well. Will definitely be back again." —Sherry, Google Reviews
27. Kelture Aveda
Fancy a pampering session after a long day of shopping? Located within Paragon, Kelture Aveda can help breathe new life to your hair.
As you can guess from their name, the salon uses plant-based Aveda products to avoid hair damage. We also like that some services come with complimentary scalp and hand massages as an added treat.
Their team of hair stylists is quite skilled in hair colour customisation. In fact, it's one of their core services.
With a colour guarantee in place, you can ask them to recolour your hair if you're not happy with it—free of charge.
But for most salons with luxurious locations, price can be the biggest rival, and Kelture Aveda is not exempted from that.
While they have a relatively large area and team at their disposal, the salon can still be quite packed, even during the weekdays. Hence, it's always best practise to book ahead of time to spare yourself from disappointment.
Customer Reviews
A lot of previous clients have raved about Kelture Aveda's services. Check out some reviews here:
"Really happy with what Kelvin and his team did for me – ash colour is something that is difficult to achieve but they manage to make it work and I got so many compliments from my friends. It's one of the best decisions of mine to visit Kelture Aveda, please look for Kelvin, him and his team will make you look beautiful!" —Mabel Tan, Google Reviews
"Great experience at Kelture Aveda. Professional korean stylist Lois Park did a Korean digital perm for me. Service is outstanding, they are meticulous in answering my hair concerns and cater to my needs, and provide useful advices on how to better care for my hair condition as well. Overall, I'm satisfied with the outcome. Thanks for the impressive works, kudos to the team!" —Rena Er, Google Reviews
28. Colors Hair Salon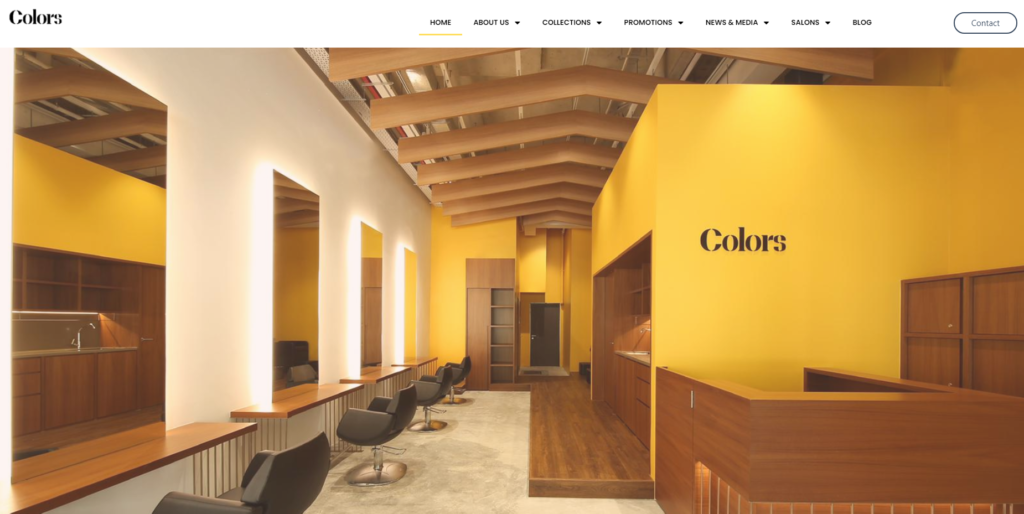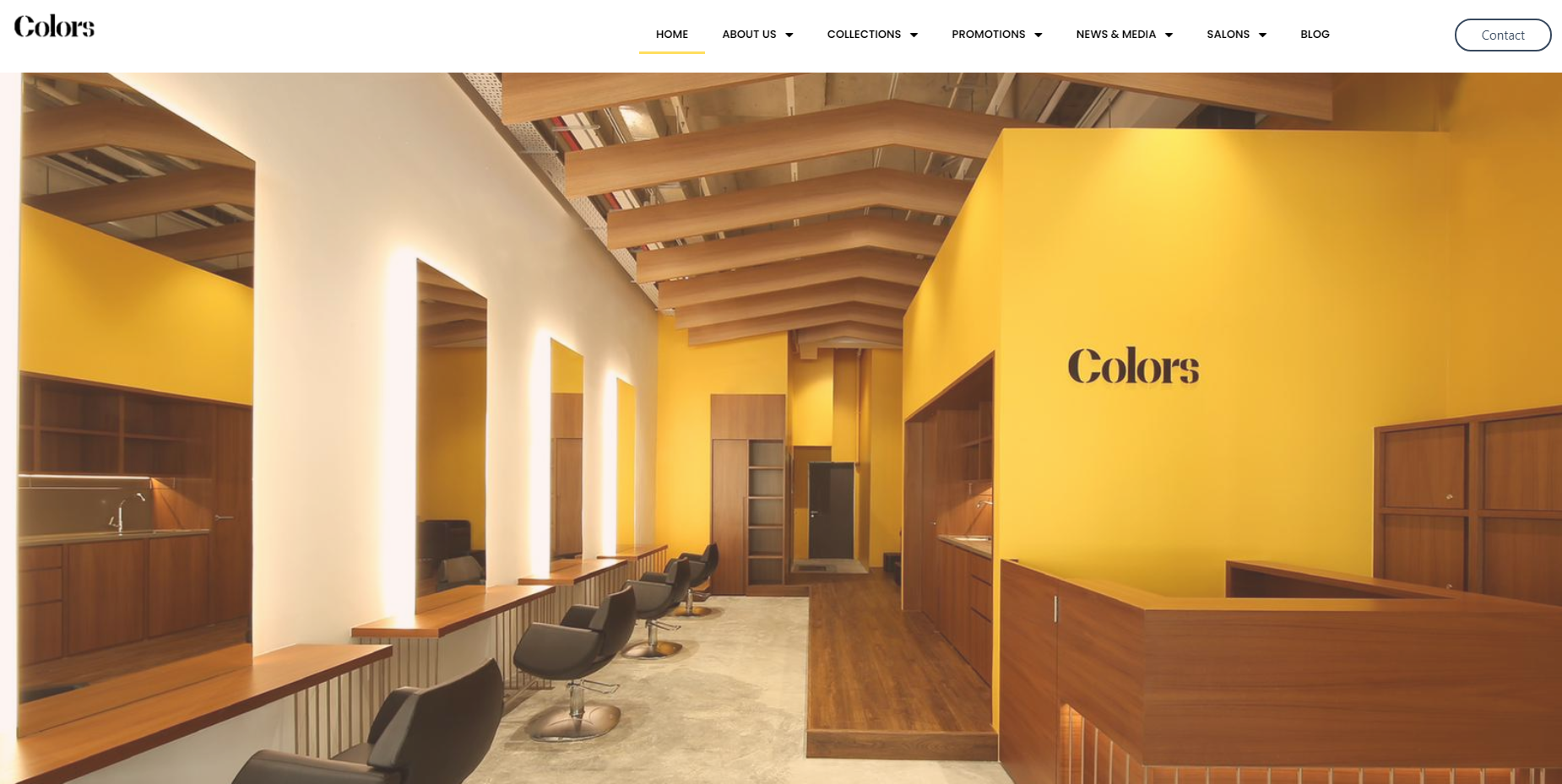 If you're looking for a salon that celebrates individualistic style, then you may want to consider Colors Hair Salon for your next visit.
Colors Hair Salon believes that hair styling is similar to clothing in that everyone has their own essence and style.
With this in mind, Colors Hair Salon takes the time to consult with each client, learning about their hair history as well as their styling wants and needs.
Afterwards, Colors' expert team, which consists of experienced stylists and colourists, will work together with the client and propose a suitable style and colour that brings out the clients' best features.
Aside from customisability, Colors Hair Salon is also known for the quality of their services. Given the fact that each and every team member has years of experience in the field, it is not at all surprising that they take great care in providing the most suited hairstyling options available in the salon.
It's also worth noting that these individuals are highly professional, accommodating, and friendly, and will do their best to deliver what is asked of them.
For further questions, Colors Hair Salon can be reached through call or message.
29. Twist Hair Salon
We can't help but rave over Twist Hair Salon's cozy interiors. Located along Tanjong Pagar, the small yet beautiful salon provides customers with a toasty ambience, with ceiling-high windows letting in natural light.
And although they can only accommodate less than 5 customers at a time, we still think it's worth the wait for a couple of reasons.
Twist Hair Salon is actually a full-service Japanese salon offering everything from hair treatments to perms. If you have kids who need a haircut, you can bring them here too, as they offer discounts for children below 17 years old.
Their services are reasonably priced, given that they provide after-care services to their clients who come through their doors.
What's more is that they only use products that they've tested themselves. So rest assured that they'll only use safe products with almost zero harmful ingredients.
Customer Reviews
Check out what some former clients said about their services:
"Was my first time at Twist Hair Salon and I definitely recommend this salon! It was very comfortable and I am super happy with my new haircut. Very professional service. Thanks Glen!" —Kim Ligding, Google Reviews
"First time phenomenon at a salon where I had to initiate and enquire about packages (instead of it being brought up and hard-sold by the staff) cos I was so pleased with the service and professionalism overall. Glen was meticulous and asked for feedback/clarifications on areas when required. No more, no less. That was well appreciated as some stylist either (try to) talk too much, or don't bother to check in at all. Glen stroke the perfect balance, alongside his affable nature. Used a FAVE voucher and I will be back again soon even if at non-discounted prices :)" —Dungnung, Google Reviews
30. Maax Hair Salon
If you're looking for a new hair salon to visit, we strongly recommend Maax Hair Salon.
Located in Pacific Plaza, Maax Hair Salon boasts a large, clean interior that can accommodate several customers at once. It's also equipped with top-of-the-line salon equipment and hair care products to help ensure every session is a success.
With these materials, Maax Hair Salon is capable of offering hair cuts, styling, scalp treatments, roots retouch and colouring, digital perm, and Brazilian blowouts. Men and women of all ages are welcome at the salon.
In terms of the team handling the clientele, Maax Hair Salon is known for its professionalism. Each and every team member has an extensive background in the field, and do their best to deliver what is asked of them.
Typically, they take the time to consult with each client to better learn about what they want out of the session. These consultations also give the staff better insight into the client's hair health, which result in recommendations that best suit the clients' needs.
Those who are interested can receive a free consultation from Monday to Thursday, although the salon is open for sessions every day of the week, even during public holidays.
31. Iffah Muslimah Hair & Beauty Salon
Iffah Muslimah Hair & Beauty Salon was established in 2003 by Salmah A., who wished to create a space of beauty that specially caters to the needs of Muslimah hijab-wearing ladies.
Clients of Iffah Muslimah Hair & Beauty Salon are treated to world-class service, with each and every staff member endeavouring to provide an overall pleasant experience.
Noting that those who wear hijabs are more prone to scalp problems like dryness, grease, and dandruff, Iffah Muslimah Hair & Beauty Salon committed itself to using specially manufactured Halal-certified, organic products that help address various hair concerns. One of these products is made by the salon itself, known as Energy Hair Revival Tonic & Tea Tree Shampoo.
In terms of the actual service list, Iffah Muslimah Hair & Beauty Salon has one of the more extensive offerings, including the standard cut, wash, blow, and colour, alongside the more unique hair treatments, cream baths, scalp treatments, and texture reformation.
As always, the services are carefully tailored to meet the clients' wants and needs. Iffah Muslimah Hair & Beauty's team takes the time to consult with each client to learn more about their hair history.
So, if you're looking for a salon that will undoubtedly treat you like Royalty, you may want to consider Iffah Muslimah Hair & Beauty Salon.
32.    Salon Le Point
Since 1997, Salon Le Point has been providing various hair services to its clients. They specialize in hair treatments, colouring, and styling.
Andy Leck and Hazel Lim ,Salon Le Point's directors, is a professional hair stylist with training in London and over 30 years of experience and a former leading stylist in various top Singapore salons respectively. Their team consists of senior stylists and a scalp therapist with 40 years of collective experience.
Salon Le Point offers haircut and finishing, shampoo and finishing, colouring, highlights, permanent wave, hair spa and treatment, and nail services. Prices start at $15 depending on the service.
As a plus, they also offer manicure and pedicure services that start at $15. Kids are also welcomed for the service.
Aside from their website, clients can reach Salon Le Point on Instagram at salonlepoint.
Customer Reviews
Here is one of the Google reviews from its satisfied clients:
"They were super nice and helpful. I came in with a certain color in mind and they executed it perfectly 🙂 they really listened to what i wanted and were really professional throughout!" – Nicole Don
FAQs about Hair Salons in Singapore
---
And that concludes our list of the best hair salons in Singapore! We hope our guide helped you find your go-to salon for all your hair dressing needs.
Otherwise, feel free to send us a message if you have any suggestions. We'll check them out as soon as we can!
After your trip to the salon, you'll likely need a hair dryer to maintain its style and volume. If you don't have one yet, you can refer to our list of the best hair dryers in Singapore!