The 15 Best Carpenters in Singapore
DIY projects can be fun but there are just some things better left to the experts. To save you from the trouble of finding the most reliable contractors on the island by yourself, we've got you a list of the best carpenters in Singapore right here.
These are the ones who have years of experience providing carpentry needs. Apart from that, we also have some answers to FAQs at the end of this article.
To start, let's take a look at some costs you can expect.
How much do carpenters charge in Singapore?
In the table below, we listed the estimated base prices of our entries' most common carpentry jobs. Alternatively, you can also check out the links below to see our entries' full price list.
Take note that actual costs will depend on several factors including the material, design, specifications, and more.
To get an accurate quote, we recommend contacting your chosen service provider directly. Don't worry—we also have each of our entries' contact details in the section below.
CARPENTER
ESTIMATED COSTS
Singapore Carpentry
From $130 per foot run (General cabinets)

From $130 per foot run (Kitchen cabinets)

From $100 per foot run (Surface tables)

JS Carpentry & Contracts
From $110 per foot run (Kitchen top cabinets)

From $230 per foot run (Wardrobe with swing cabinets)

From $230 per foot run (Full height storage)

White Artz Carpentry
From $110 (Kitchen cabinets)
Tan Carpenters
From $100 per foot run (Kitchen top cabinets)

From $150 per foot run (Half height shoe cabinets)

From $220 per foot run (Wardrobes)

Roger & Sons
Contact for more information
IN-EXPAT
Contact for more information
La Maison Carpentry
$1,200 - $3,500 (Kitchen cabinet package)

$1,320 - $3,000 (Wardrobe package)

Uniconnect Interior
Contact for more information
Pop Motif
Contact for more information
Sin Siang Huat Renovation
Contact for more information
The Production Workz
Contact for more information
Cheong Cheng 
From $140 per foot run (Kitchen cabinets)

From $160 per foot run (Shoe cabinets)

From $260 per foot run (Wardrobe)

Blackwood Carpentry
Contact for more information
Classic Furniture Design & Renovation Works
Contact for more information
How 2 Design
Contact for more information
The Best Carpenters in Singapore
Here are the most important things that we looked at in coming up with this list:
Moving forward, here are the top carpenters that Singapore has to offer!
1. Singapore Carpentry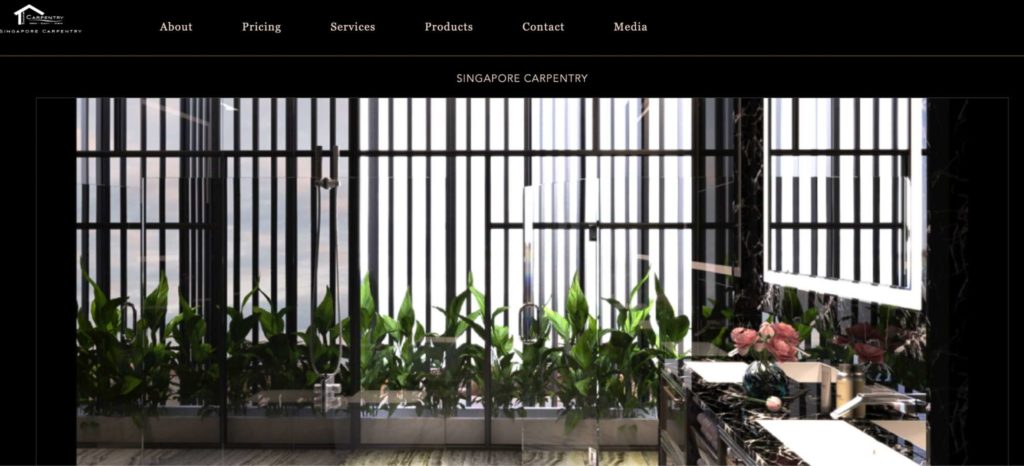 Singapore Carpentry is the one to call if you have major carpentry and renovation projects. They offer a wide selection of services, ranging from carpentry to landscaping.
From what we've seen, it seems like they specialise in kitchen cabinets and countertops. Whatever design you have in mind, rest assured that their products are locally made.
We heard that they use robotic machineries to automate partial fabrication of their carpentry projects. This will ensure that all measurements are precise and up to par with design specifications.
You have the option to choose the carcass of your cabinets. They may be made from a combination of timber, aluminium, or glass products.
Whichever you prefer, their designers will work hand in hand with you to design pieces tailored to your requirements.
We love how transparent pricing is right off the bat. You can check out their price calculator on their website to know how much your chosen product costs.
Unfortunately, showroom visits are by appointment only, much to the dismay of walk-ins. We should warn you that we've also heard of reports about poor service quality rendered by a few novice carpenters.
Customer Reviews
Matched the requested style my family was looking for
"Terrific experience here after I engaged Singapore carpentry for a&a works, the design was superb and matched the requested style my family was looking for. Albeit there was some minor delays due to covid , however the quotation was quite low in comparison to other companies so it's still pretty good. Thank you." —Veronica J, Google Reviews
Willing to work hard to complete the project on time
"Found this company online, great project manager who was willing to work hard to complete the renovation project on time, even though there were small delays due to covid related reasons, in the end the result of the a&a works were commendable. It was a great experience working with Singapore carpentry." —Qi Lin, Google Reviews
2. JS Carpentry & Contracts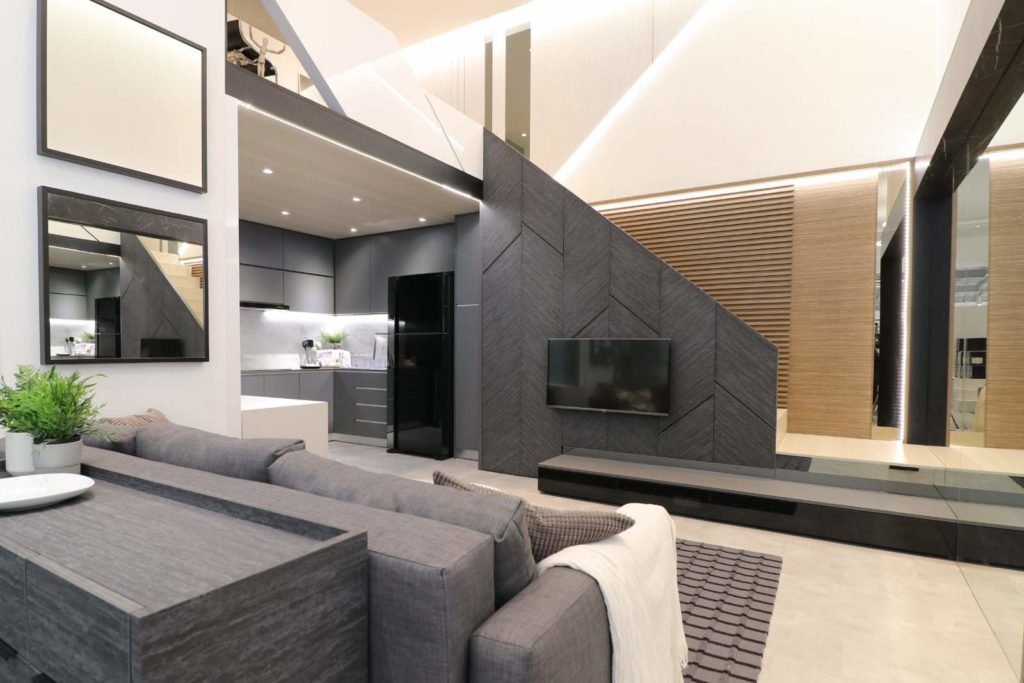 There are several reasons why JS Carpentry & Contracts made it to our list. For one, their large team of carpenters can do all sorts of custom-made projects including wardrobes, storage platforms, feature walls, cabinets, and more.
Unlike other service contractors nowadays, you won't have to worry about working with middlemen such as interior designers. Here, you can work with your carpenter directly, which means that there are no interior designer and builder markups.
We think it's also important to highlight that their carpentry products have a 3-year warranty, which covers defects in materials and workmanship.
Apart from that, we really like how personal their approach is when it comes to dealing with clients. You're welcome to visit their workshop at Woodlands, where you can request a tour around their workshop, materials library, and showroom.
They also serve refreshments (postponed due to COVID-19) and offer guests with free WiFi and parking—so that's another huge point for them!
There's really not much to dislike about them. They're also flexible enough to meet you on Sundays at a cafe to discuss your project.
It's just a shame that response times can be a bit slow sometimes though. We assume that this is primarily due to high demand for their services, so make sure to take that into account.
Customer Reviews
Very satisfied with the services he rendered
"After checking out few other companies, we decided to go with JS Carpentry and was assigned to Justin Ong. He has been nothing but the best! Very transparent with the quotes and was very patient and diligently keep up with our many changes n fickle mindedness. He even went out of his way to accompany us to some of the locations when choosing our tiling and Vulcan. Although there are few hiccups here there, overall we are very satisfied with the services he rendered. He is highly recommended and should be commendable for his efforts. He kept his best to keep to the timeline given despite the covid period." —Mohamad Sufiyan, Google Reviews
Served us patiently and professionally
"We had very specific requirements for our TV console due to our sound system and Caroline from JS Carpentry served us patiently and professionally. It was a small project but she was prompt with our enquiries. We were very pleased with the outcome of our carpentry. They were also on task, finishing within schedule. Their carpenters were very meticulous and skillful. Thank you JS Carpentry and Caroline for." —Dawn Wee, Google Reviews
3. White Artz Carpentry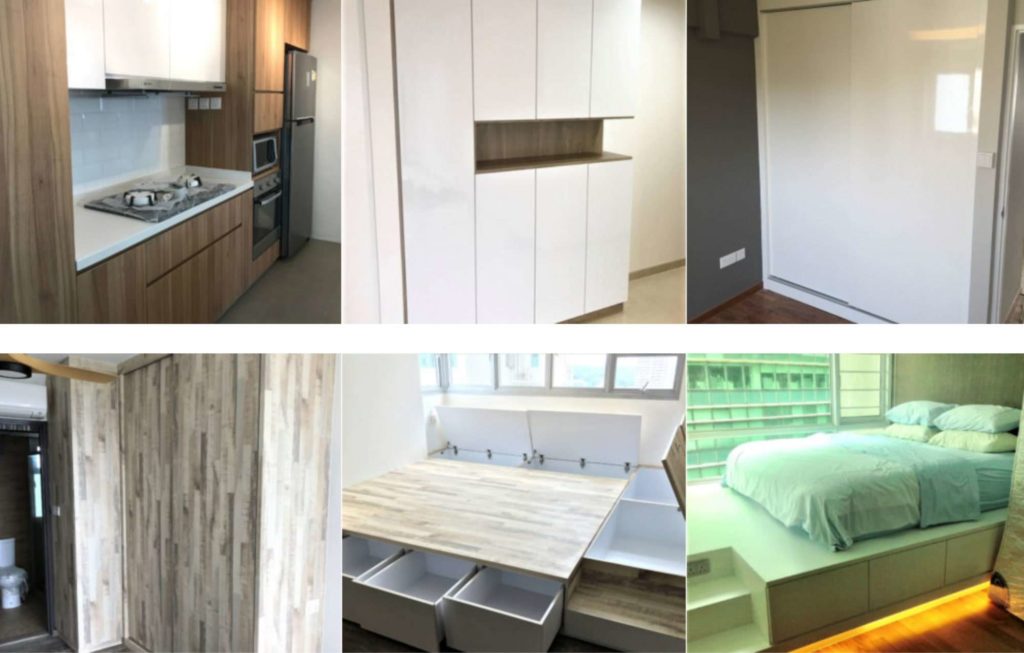 WhiteArtz Carpentry is another homegrown direct carpentry company that's mostly known for their built-in wardrobes, kitchen cabinets, and office furniture.
Being a direct carpentry company means that you're able to work with them directly without the assistance of a middleman. Apart from providing carpentry services to homes and businesses, they also offer other contracting services.
This includes painting, electrical work, doors and windows work, and project management, just to name a few. From this, we can tell that they're pretty flexible tradesmen, which is why we weren't surprised to see plenty of repeat customers recommend them!
We're particularly impressed with how prompt they are in responding to clients. More than that, they work incredibly fast too, from taking measurements down to installation.
It's also great to see that all cabinet projects are covered by a 3 year warranty. You're also free to see their workshop firsthand to check the quality of their cabinet carcasses.
Customer Reviews
Very happy with the final product
"So glad to have engaged White Artz Carpentry to do up a full height carpentry to conceal my bomb shelter! Decided to add this in at the last stage of my reno journey. Keith was very easy to contact via whatapps, and very responsive 👍🏻 I gave the measurements based on floor plan and he was able to give an estimated quotation promptly. Also thank u to Uncle Peter (who came down to take the measurements, and I'm impressed by how quickly he worked!) and the uncle who installed my final carpentry. Very happy with the final product as it turned out exactly like what I wanted! Would definitely recommend them as they are indeed very professional and efficient." —Minyi Sie, Google Reviews
Affordable, quick, responsive
"We engaged their services for my MBR wardrobe, common room wardrobe and customised book shelves. Not only did they do a neat and fantastic job, they were also fast to respond to my queries. Uncle Peter told us that it would take 3 weeks to make my items but within 2 weeks or earlier it arrived and Keith contacted us on when they could come down to install. Uncle Goh did the installation of the carpentry and he did a really good job. He was calm and took his time but the quality of work is impressive. I would definitely recommend them to anyone who needs carpentry services as they are affordable, quick, responsive and most importantly their workmanship is excellent. Thank you once again WhiteArtz for the fantastic job." —Meena Selvaraju, Google Reviews
4. Tan Carpenters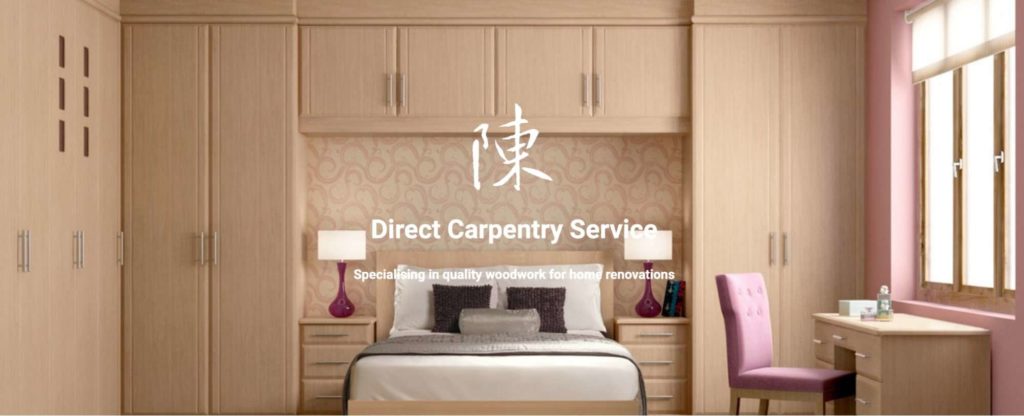 Unlike other service providers, Tan Carpenters specialises in woodworking carpentry. This means that they can design and fabricate pretty much anything that's made of wood—kitchen counters, feature walls, shoe cabinets, bathroom vanities, you name it.
They're also a direct carpentry service provider, meaning that you'll be dealing with your carpenter directly. Whether you're planning a home or office renovation, rest assured that they'll take charge of everything, from the design aspect to installation.
We like that their base prices are relatively more affordable than others. Of course, this will still depend on several factors, so take that with a grain of salt.
From what we've heard, responsiveness is a hit-or-miss. Some clients have reported receiving immediate service while others have hardly received a response.
We also would've liked to see more information about warranties. So don't forget to bring this up if you decide to give their services a try.
Customer Reviews
Quality is absolutely fantastic
"Wonderful service from Andy and his team for their assistance and expertise! I was unsure about what to do, as it was my first experience with the supplier of carpentry, but they made it such a fun and smooth experience and were so patient to answer my questions. We will definitely re-engage their service in future. The quality is absolutely fantastic and my family is extremely pleased with the outcome." —Shirley Fong, Google Reviews
Handled the project very well
"I had engaged Tan Carpenters for installation of carpentry fixtures for my home renovation as I did not engage an ID. The team has handled the project very well and I want to compliment them for their excellent work. They were effective, had tight control of the project and the alternatives are clarified. They were also able to provide other general renovation services which greatly helped me a lot." —Subhesh Gopalan, Google Reviews
5. Roger & Sons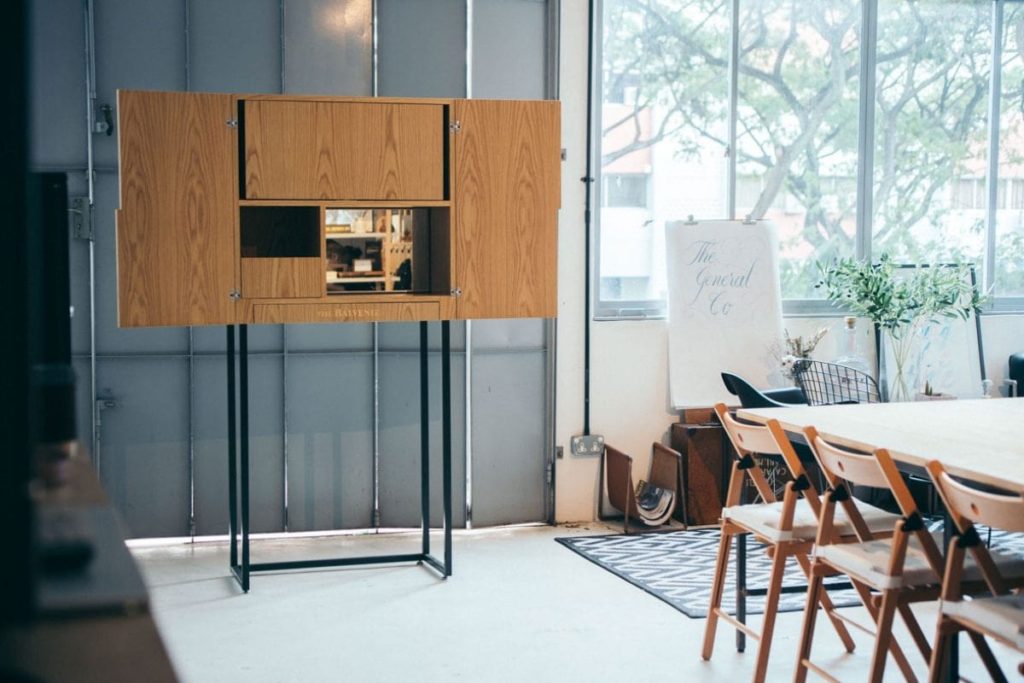 Roger & Sons is another company providing a range of woodworking services. What's particularly unique about this service provider is that they also fabricate fine objects and corporate gifts, apart from furniture.
For instance, they created a custom-made liquor chest and coffee capsule holders for local businesses. We've also seen plenty of home furnishing that perfectly complements industrial and rustic spaces—it seems to be their primary specialty.
So if this is the type of aesthetic you're looking for, then we won't hesitate to recommend these guys. You can take a look at their showroom-slash-workshop in Kallang to see what we mean by this.
Another thing that caught our eye with this family-owned business is their advocacy. Called "The Local Tree Project," they salvage trees that have already been cut by turning them into durable objects and furniture.
In other words, all their products are made from ethically sourced materials. And we think that's worth commending and supporting, seeing that not many service providers in Singapore take initiatives like this seriously.
Customer Reviews
Patiently handled all my queries
"Roger & Sons did an amazing job refurbishing an old dinner table with split ends and bad warping, into a fantastic work study table, with matching shelf and chair armrests. Special thanks to Cedric who did all the design work and patiently handled all my queries and pedantic requirements. All well within budget and they delivered an amazing product exactly how I imagined it." —Adrian Lin, Google Reviews
Super personable and attentive
"Great people, doing great work. I was trying to find someone to design and build a queen size loft bed, with a large whiteboard mounted underneath to make a creative space and have more room. They took my thoughts and expanded on them, and made a very cool looking piece, very functional, more than I hoped for. Very very highly recommend them, they are super personable and attentive, and know their craft, and go the extra mile for you!" —Dan Wheaton, Google Reviews
6. IN-EXPAT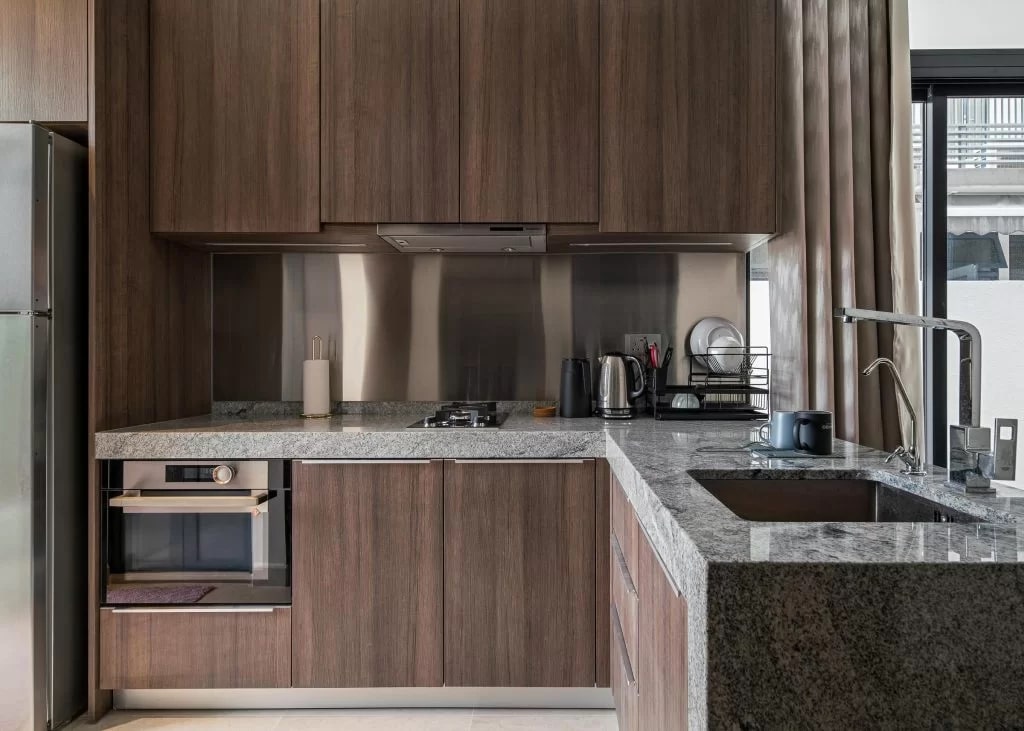 Similar to many of our entries, IN-EXPAT began as a humble workshop with a small team of carpenters. Now, they've scaled up to cater to more clients by offering interior design and construction services.
This means that they don't outsource third-party building contractors, allowing you to engage with your designer and carpenter directly. So if you aren't sure where to look for reliable contractors, then IN-EXPAT is a good place to start.
Apart from carpentry jobs, they can also handle all aspects of general building works including electrical work and plumbing jobs. This is why we think they make an excellent one-stop shop for all building needs.
Another thing that we really like about them is that they offer 5-year warranties covering defects. They can also upgrade your surfaces with laminated finishes, which are more durable and scratch resistant—free of charge as well.
We're just a bit bummed to see how far their workshop is. So if you plan on visiting them, make sure to set aside some time for that.
Customer Reviews
Found them all to be pleasant to work with
"Pleased with the workmanship, especially the carpentry. We had some rectifications and an issue with a very stubborn wall paint but the boss Eric personally ensured it was resolved. Have personally met their staff/contractors: i.e. carpenters, plumbers, electricians and painters and found all of them to be pleasant to work with." —Terence Sh, Google Reviews
Understood what we wanted so easily
"We had talked to so many IDs to help create our dream home, and ended up engaging In-Expat's Jasmine. She is one of the most sincere person we have ever met and we are so glad we picked her for our first renovation journey. She understood what we wanted so easily, and she made the whole process as fuss free as possible. 100/10 would recommend :)" —Jennie Yip, Google Reviews
7. La Maison Carpentry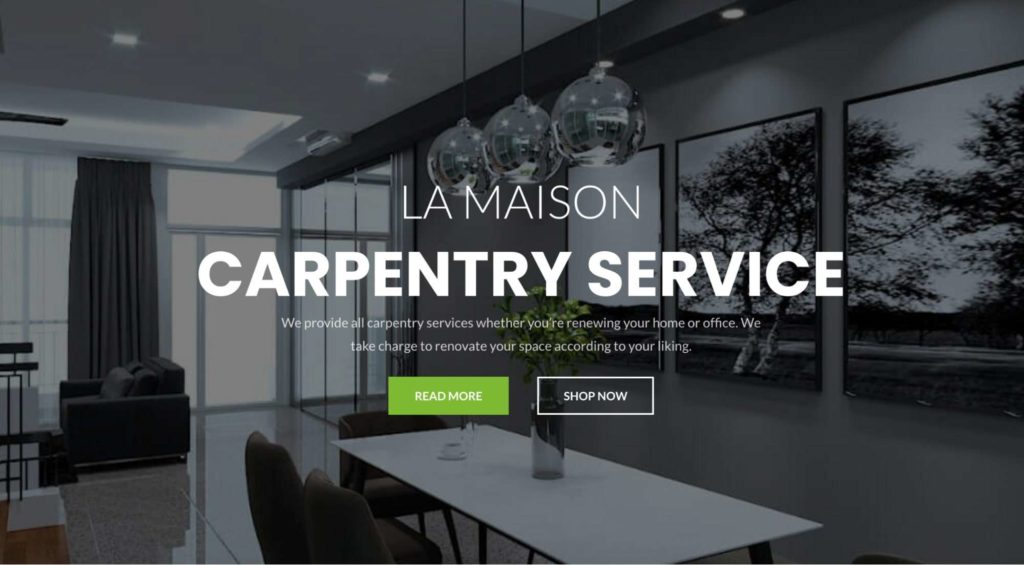 La Maison Carpentry is another company you can rely on for carpentry projects. From what we've seen, they mostly specialise in home furniture including built-in desks, shoe cabinets, platform beds, kitchen cabinets, and so much more.
We included them here primarily because of accessibility. For one, they have an online shop where you can easily pick and purchase the product of your choice at your own pace—no pushy salespeople to worry about!
The online shop is available 24/7, by the way. Regardless of your location in Singapore, they'll directly ship the furniture to you and assemble them on-site.
But if you didn't find anything worth purchasing, you can always have them create custom-made furniture. We like that their interior design services are free of charge for customers who decide to engage in their services.
Rest assured that you'll pretty much pay for direct manufacturing costs only for all carpentry works. We do recommend checking out their showroom first to get an idea of the quality of their products.
Customer Reviews
Handled the project very well
"I had engaged with La Maison for my home renovation as I did not engage with an ID. They handled the project very well and I want to compliment them for their excellent work. They are effective, had tight control of the project and the alternatives are clarified. They were also able to provide other general renovation services which greatly helped me a lot." —Thaddeus Tan, Google Reviews
Always arrived on time and well prepared
"I hired Francis at La Maison to do some decorative carpentry work in my Bukit Batok apartment. He worked patiently with me throughout the planning and preparation stages – reviewing designs and recommending materials. During the project he always arrived on time and well prepared, and as a result he finished ahead of schedule. All of the work is high quality and exceeded expectations.
From our first meeting through the end of the project, Francis was straightforward and extremely easy to work with. He was very responsive, usually responding texts in minutes and never needing to be chased. He was proactive, and would contact me if I needed to do anything or if he had questions. He was also a lot of fun and kept my stress-level low. No regrets hiring Francis; I recommend him highly." —Rachel, Google Reviews
8. Uniconnect Interior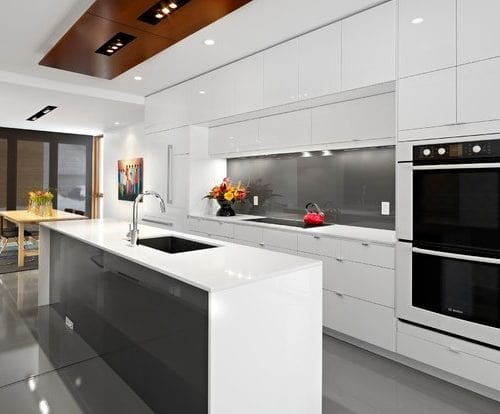 Uniconnect Interior has been in the industry for over 30 years now. Their team of experienced carpenters can take on any carpentry or renovation project for residential and commercial establishments.
What initially caught our attention was the fact that they offer financing options for commercial projects. In fact, they're one of the very few service providers in this field to do so.
We think that this is very useful for small and startup businesses who are planning to open their very first shop. This financing option will allow you to spread out your payments and manage your expenses better.
All you have to do is to tell them your ideas, and they'll bring your dream project to life—be it a simple piece of furniture or an overhaul of your existing space.
We like that they assign a dedicated project manager to each of their clients. These project managers will coordinate with you from start to finish.
We would've liked to see more information about their rates or warranties though. It's also a shame to see that they close early on weekdays, unlike many of their competitors.
Customer Reviews
Satisfied with their service
"I started remodelling my kitchen, and my living room. Needless to say they have the best experience in this and quality materials. Utterly satisfied with their service." —Gregory Hernandez, Google Reviews
Skilled workers are amazing
"UniconnectInterior amazed me when i saw my modified bedroom, it's Superb.They have fantastic collection of design.The Skilled workers are amazing, their works are really good." —Lex Luther, Google Reviews
9. Pop Motif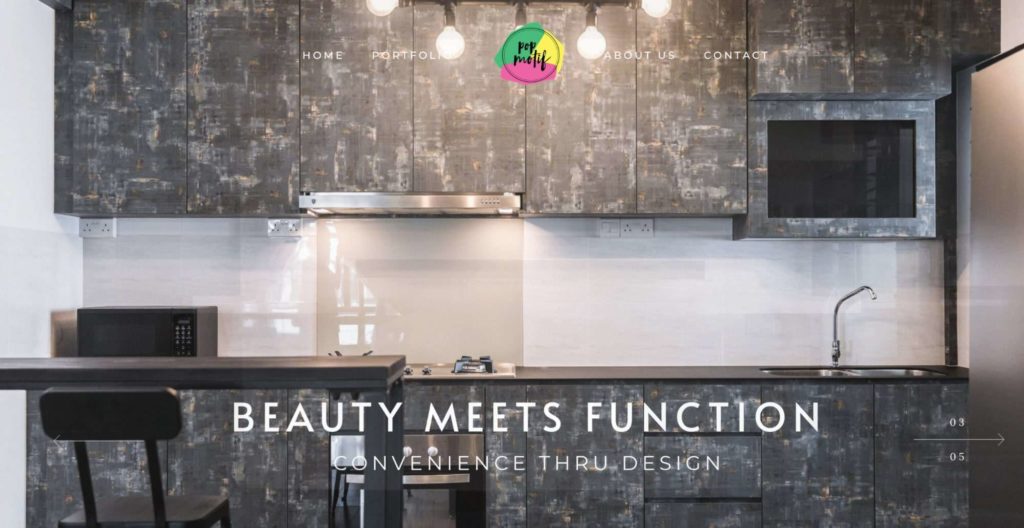 Pop Motif is another fantastic option if you're planning a home remodeling project. We noticed that their expertise lies in creating pieces that are modern, subtle, and functional.
You can take a look at their portfolio to see what we mean by this. It's worth mentioning that they have their own in-house team of carpenters, eliminating middleman fees.  
Just like most of our entries here, being a direct carpenter means that they have more control over their workflow and quality.
We like that they try to be as transparent as possible to clients at the beginning of every project. That said, expect a detailed consultation at the start of the project as well.
However, we wished they were more transparent about warranties and estimated costs though. We also noticed that they mostly cater to residential projects, so businesses may be at a disadvantage here.
Customer Reviews
Impressed with their workmanship and professional attitude
"Engage their service in July 2021. Give them a deadline by Nov 21 to deliver our unit with our expectation and demand. They hustle through covid rules just to get our reno done quickly. Was impressed with their workmanship and professional attitude. They manage to answer all our enquiries with patience. Overall awesome reno journey for us." —Mohd Norman, Google Reviews
Very fast and efficient
"Popmotif was very fast and efficient once we engaged their services to lay vinyl in our living/dining area. Within 1 week vinyl was already laid out. Their after service site inspection also helped us with a minor issue with the main door which was rectified quickly. I want to thank Luqman and his team for such great service. I was so happy that I recommended them to all my family and friends. We hope to engage your services again in future!" —Maryam Mohammad Sesth, Facebook
10. Sin Siang Huat Renovation

We first heard about Sin Siang Huat as an electrical contractor. They've since expanded their expertise to include home renovation and carpentry services—and they're doing a pretty good job at it.
Apart from custom-made furniture fabrication, we're also glad to see that they also provide other home maintenance services such as tiling, flooring, lights installation, and painting, among others.
Overall, this makes them a good option for those who are looking for several services at once. We think that engaging them would save so much time from looking for other contractors who can render the same quality of services.
Unlike other service providers, what's great is that Sin Siang Huat offers free consultations for clients. While their service fees and warranties aren't available online, you can always ask them for more information.
On the plus side, we heard that they help clients resolve any issues with their furniture at no additional cost. Generally, this applies to issues that are caused by their own tradesmen though, so that's something to take into account.
Customer Reviews
Experienced, responsive, and courteous
"Custom-made shoes cabinet. Workmanship is great! Carpenter is experienced, responsive and courteous. Sally whom I contacted for a quote is responsive too and answered all my questions. A trustworthy company that you can depend them to do a good job. Highly recommended as they give reasonable price." —Shan Shan Teo, Google Reviews
Overall they are very professional
"I engaged SSH renovation to paint my entire house, indicating the type of paint that I wanted to use. The project manager, Sally, responded very fast and recommended to use Nippon Anti-moulding paint for the ceiling and Nippon 3-in-1 Medifresh for the entire walls of the house. They also run additional electrical socket for my wifi extender and camera for free. Overall they are very professional, arrived 815am and completed the job even working until 930pm at night. I would recommend them to anyone who wish to engage them for painting services." —Yeo Desmond, Google Reviews
11. The Production Workz
Similar to some of our picks above, The Production Workz also specialises in woodworking projects for homes and businesses alike.
From what we've noticed, they seem to provide the majority of their clients with simple yet functional designs. Whether you need a walk-in wardrobe or some kitchen cupboards, their team of in-house carpenters can get the job done.
We also heard how responsive they are when it comes to answering queries during the initial stages of the project. They also take their time to explain the design and materials to their clients, which is another reason why we had to mention them here.
But like many of our picks, they don't say much about warranties and rates. We wish they did, seeing that this would provide clients with easy references should they decide to push through with their services.
Customer Reviews
Exceeded all my expectations
"Amazing people at The Production Workz. They have exceeded all my expectations with their designs, ability to think out of the box, craftmanship and their friendliness. Despite of the tight deadline given to them, they were able to deliver without compromising on the quality. If you are on the lookout for your renovation needs, these guys will take good care of you. Highly recommended." —Yisheng Lee, Google Reviews
Team is friendly and patient
"My husband and I engaged them to construct our walk-in wardrobe for our new home through a friend's recommendation. The team is friendly and patient and they took time to explain the various types of materials to us so that we could make an informed decision. They were also very honest and transparent with pricing. Installation was done perfectly and they made sure that our place was cleaned up before leaving. The whole experience exceeded my expectations! Highly recommended!!!!" —Stefanie Fong, Google Reviews
12. Cheong Cheng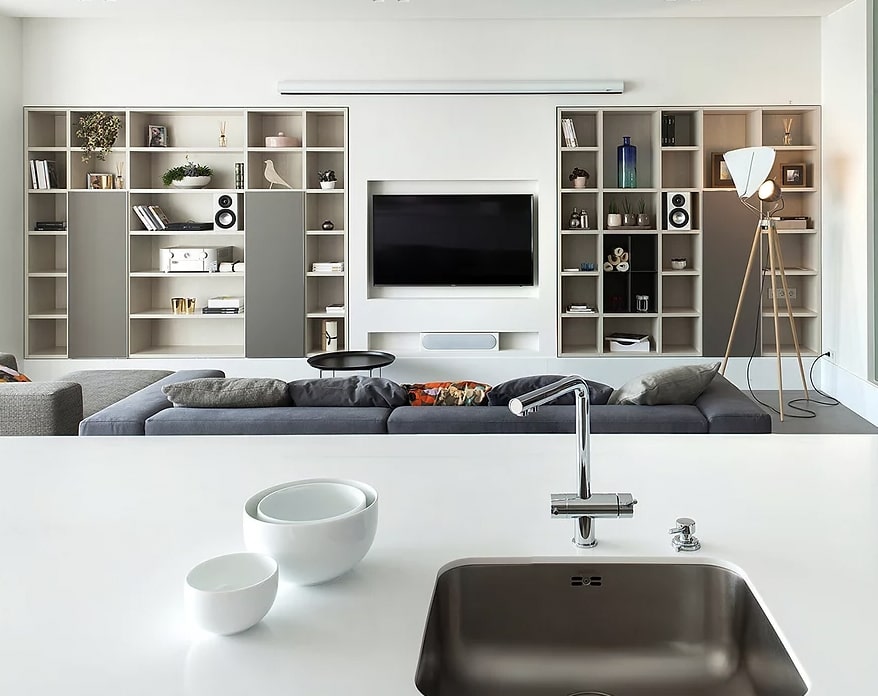 Cheong Cheng has made a name for themselves in the local carpentry industry. They've been around since 1978, supplying cabinets and custom-made furniture items to different types of spaces.
Being around for this long tells us that they're a trusted name in the field. They're also a direct carpentry contractor—no need to worry about middleman fees at all!
For home projects worth $20,000 and above, they provide clients with certain value added services such as 3D visualisation and detailed drawings. While this can be a neat add-on, you won't really need this unless you're planning a major renovation.
So even if you end up with a project costing much less, you aren't really missing out.
Like our other picks, we're also glad to see that they offer related tradesman services like electrical works, general maintenance, and plumbing services.
We've noticed that they're relatively more expensive than others though, which can be a drawback for a lot of clients.
Despite this, we're glad to see them offering 0% interest instalment plans under United Overseas Bank. Clients have the option to choose to spread out their payments in 6 or 12 months.
Customer Reviews
Professional, punctual, precise
"At the end of our Kitchen renovation project, I am delighted we made the right choice. Steven was amazing – professional, punctual, precise and someone one can trust. Strongly recommend! I look forward to work with you again 🙏" —Monami Mukherjee, Google Reviews
Dedication shown from start to finish
"I would like to thank Cheong Cheng again for the excellent work done in my home.
I have used them as my renovation contractor many times and always was very satisfied with their work. The dedication shown from start to finish of the work with consultation and advice was very so helpful to me. I will continue to call upon Cheong Cheng without hesitation whenever I require renovation work. Thank you Cheong Cheng!" —Frederick Dorett, Google Reviews
13. Blackwood Carpentry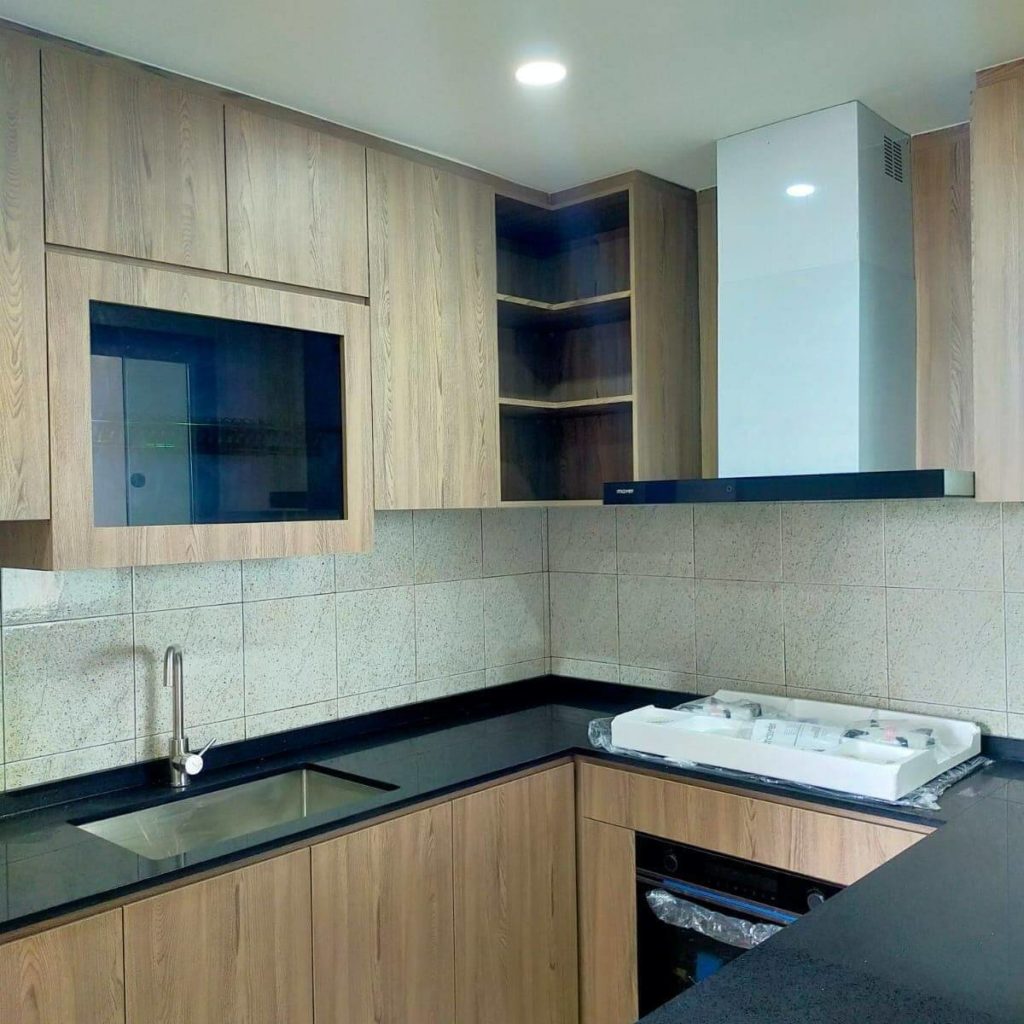 Blackwood Carpentry may be fairly new compared to their other competitors, but they're well on their way to becoming a major player in the industry. They own their own workshop, providing a range of services including direct carpentry and vinyl flooring.
There's more to them aside from those services though. We're also happy to learn that they do all sorts of home renovation services such as painting, plumbing, electrical work, tiling, and more.
It's difficult to get a sense of their prices, seeing that they only provide custom quotes to clients. Despite this, they do offer promotional packages from time to time.
Based on what we've seen previously, they do offer good deals on kitchen cabinets, which seems to be their specialty. There are no limits when it comes to the furniture pieces they offer though, so don't hesitate to ask them to see if they can accommodate your requests.
Customer Reviews
Carried out what I needed perfectly
"We initially engaged with another carpentry who failed to deliver our work on time. I came across Blackwood carpentry and that's when the magic happens. Fei managed to fulfill my work in 2 weeks time with excellent outcome also reasonable pricing. He spent time discussing my request before commencing works and carried out what I needed perfectly. Although it's a small job, Fei still given his full attention and provided me with professional ideas. If you are looking for a responsible and dedicated service, Blackwood carpentry will definitely not disappoint you. Thumbs up!" —Lynn Leong, Google Reviews
Finishing was superb
"Precise and meticulous work done by Fei and his team. Discussion and agreement on final confirmation were carefully recommended to my desired idea in order to achieve the best fitting. Specially the frosted glass. Finishing was superb! Personally, I would recommend Blackwood Carpentry and definitely would hook them up for my future projects ! Thumbs up! Well done!" —Suzie Alzairi, Google Reviews
14. Classic Furniture Design & Renovation Works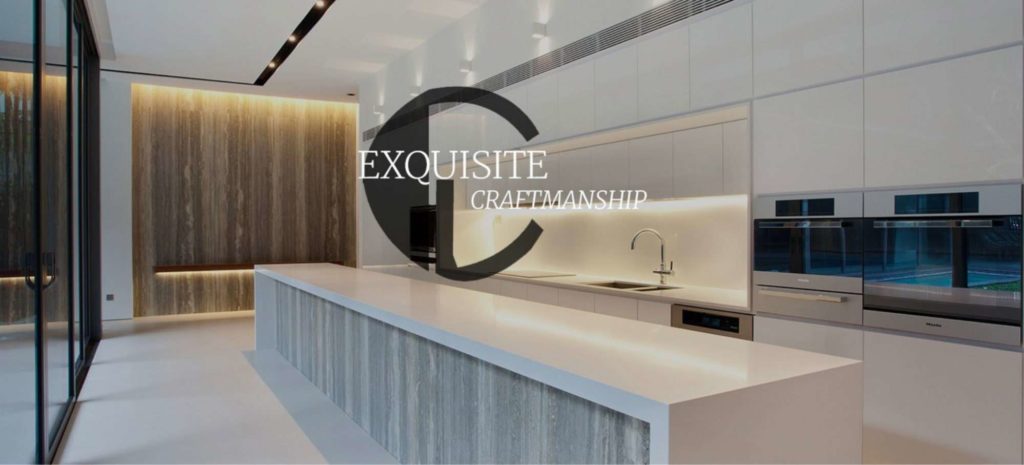 Another company to consider is Classic Furniture Design and Renovation Works. They're a one-stop fix to construction and renovation services in the country, having been in the industry for over 40 years.
Classic Furniture started in 1980 as a carpentry workshop before slowly branching out to design and renovation services.
What makes them a great option is that they have a dedicated group of carpenters and interior designers, ensuring that they consistently provide the best possible output for their clients.
We also like how seamless the entire process is, from initial discussions to installation. This is further proven by their impressive reputation online.
Every project begins with a complimentary consultation. In fact, we highly recommend visiting their massive showroom at Tanjong Katong Complex for that purpose, so you can also check out the quality of their products at the same time.
We are seeing some drawbacks with them though.
For one, expect to pay some surcharges if the minimum project sum is not met. Unlike our other entries, they don't do repair works, modifications, and handyman-related jobs.
We're also a bit bummed to see how limited availability can be, especially for large-scale carpentry projects. So if you're looking for a company that can install your furniture ASAP, then you might have a bit of trouble with that here.
Otherwise, we also suggest booking months in advance if you want to secure a spot.
Customer Reviews
Delivers what he says
"We engaged Classic Furniture to renovate our newly bought 20 year old unit. Our Designer Mr John Wong is an asset to the Company. His professionalism is exemplary. His ideas matches with our lifestyle and needs. He delivers what he says. No empty promises. We now have our dream home. Thank you John!" —Haryati Jamil, Google Reviews
Workmanship is good
"Took some weeks for us to find an ID company for renovating our daughter's bedroom. Classic Furniture did not offer the lowest price, but actually not bad if we do 'apple to apple' comparison. Serene knows very well what our girls want for their bedroom, a plus factor that makes us selecting Classic Furniture. Initially, the installation was planned for August, to our surprise it's completed in July and the workmanship is good too! Our daughters love so much the room. Thanks Serene for making them happy!" —Rudy Dermawan, Google Reviews
15. How 2 Design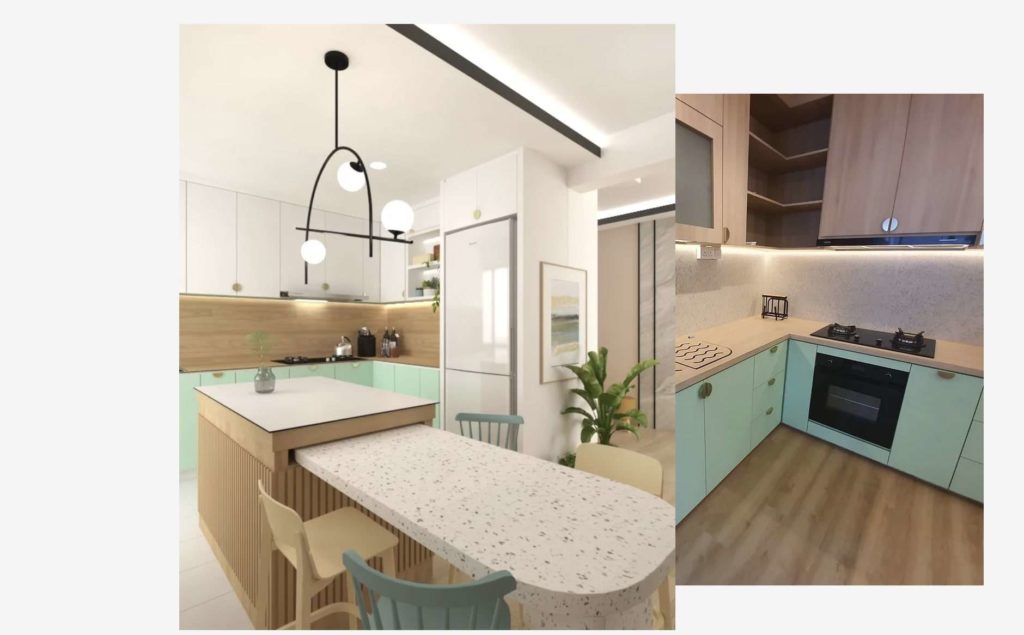 How 2 Design strives to provide the people of Singapore with quality and affordable services. They make it a point to have no markups and middleman fees, only giving direct value to customers with reasonable and transparent prices.
In terms of quality, How 2 Design doesn't skimp out either. Their services are the combined effort of using direct distribution of materials and the skillful work of in-house designers and carpenters.
Aside from the pricing and quality, How 2 Design is also known for their extensive range of services. The company is a one-stop hub for renovation work, known for crafting the finest altars, cabinets, consoles, chairs, tables, wardrobes, and other household items.
It's worth noting that their carpentry and woodwork services are always customised.
From what we've heard, the How 2 Design team is known for their great communication skills, listening and understanding what the clients ask of them and working to ensure that they deliver the best possible outcome possible.
To top it off, How 2 Design also offers other services such as demolishing and reinstatement, handyman services, tiling and masonry, and alterations and maintenance—another point in our book!
Customer Reviews
Felt that we got great value for the money we put in
"It was a challenging to do my reno for my apartment in this covid era. Fortunately, I am well served by How 2 Design with their in-house team from flooring, carpentry and all the way till paint works, resulting in quality finishings! A shout out to my ID Fibi who really work hard to meet my timelines, and at the same time, providing great design ideas and was ever so prompt in her communications to me and her team. My wife and I felt that we got great value for the money we put in. They designed a house so that we can build a home! Thank you How 2 Design!" —Kelvin Nai, Google Reviews
Overall great experience
"For those who are looking to renovate your house look no further. Price is super good/competitive and most importantly trustworthy! Quality workmanship too. My wife & I were glad to have chosen How2Design as our ID. A big thanks to Fibi & Joshua for the prompt replies & solutions whenever we face any issues. Kudos to Eyving for the beautiful designs & ideas she propose. We are very pleased & satisfied with the outcome. Overall great experience with the team from How2Design. Lastly, a big shoutout to Bikash & Anisur for their hard work. We would definitely engage them as our ID again for our next home with no hesitation." —Ken Shum, Facebook
FAQs about Carpentry Services
---
More Resources about Contractors in Singapore