The 24 Best Carpenters in Singapore
If you're currently preparing to build a new home or renovate your old place, you must look for skilled and experienced professionals such as the best carpenters in Singapore. This is so you can achieve your ideal home.
They're the ones responsible for creating or repairing structures like stairways, door frames, flooring, and walls. They may also install kitchen cabinets and other fixtures.
So to save you from the trouble of finding the most reliable contractors on the island by yourself, we've got you a list of the best carpenters in Singapore. These are the ones who have years of experience providing carpentry needs.
1. Singapore Carpentry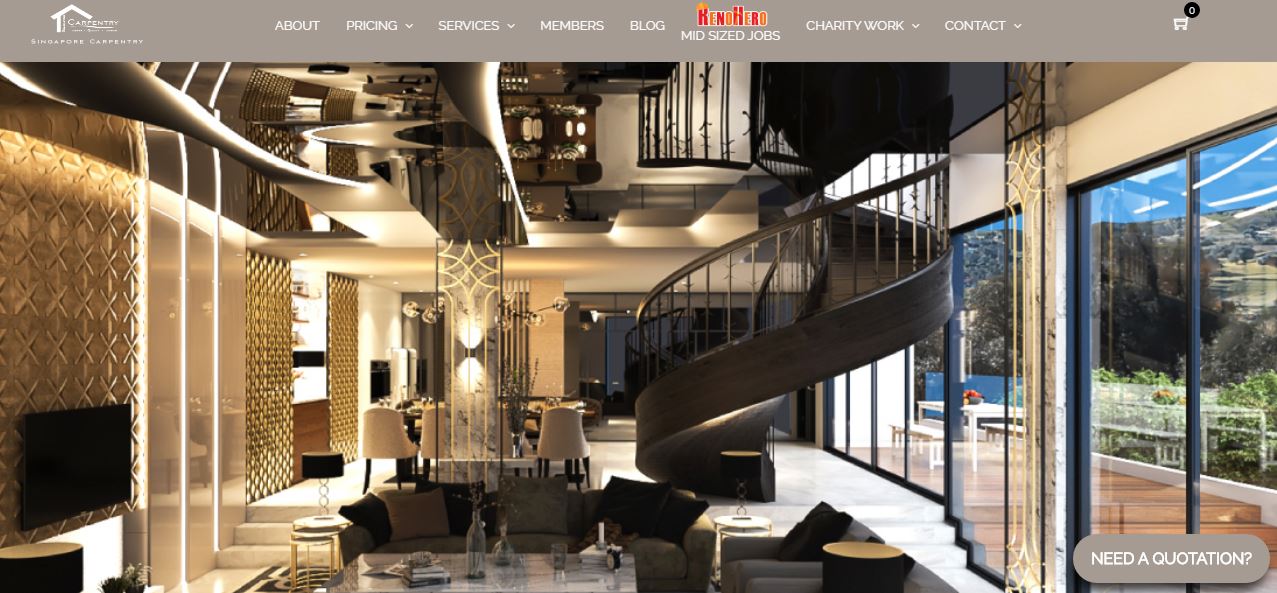 BEST FOR 
Carpentry work and interior design services
PRICING
Rates
WEBSITE
https://www.carpentry.sg/
ADDRESS
Main Office/Experience Gallery

4A Bury Rd Singapore 119824

CONTACT DETAILS
(+65) 8100 4193, (+65) 6251 6368,

[email protected]

OPERATING HOURS
Everyday 10 AM – 6 PM

 

(including Sunday and Public Holidays,

Show room visit by appointment basis only)
Singapore Carpentry takes pride in their timeless and hand-crafted furniture designs tailored to meet your needs and means. They're famous for their bespoke kitchen cabinets, storage drawers, display cabinets, kitchen countertops, wardrobes, and more.
For those who are not yet sure of which concept style to use, they have interior design services for both residential and commercial projects. You can also estimate the potential costs beforehand as they have a list of products and materials with detailed prices.
Highlights
Reinstatement services
Affordable costs
Customer Reviews
Customers were very impressed with how the team of Singapore Carpentry was able to create their ideal design at cost-effective rates – one of the many reasons why they're known to have the best carpenters in Singapore.
A customer posted this feedback:
"Initially I browsed around for different quotes from various ID companies in Singapore, based on quotation and portfolio, I went with Singapore Carpentry for the renovation of my commercial interior. Ernest was sincere and efficient, he was able to accommodate the design changes I had requested and let me know all the relevant costs. I am happy with the work and service provided by Ernest. Overall, Singapore Carpentry is a reliable company and I would like to thank Ernest for the great work done."
2. S3 Carpentry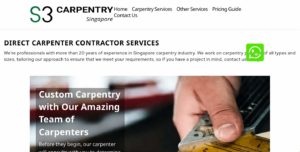 S3 Carpentry is made up of professionals with more than two decades of experience in the industry. The team here can work on all types of carpentry work, so whatever it is you might need, they can get the job done. 
A thing about them that we like is that while they have their many years of experience, they still take into account what the customer likes and tailors their work to their preferences. 
What we believe is another plus of this company is that they're a direct factory. What does this mean? They can give you factory-direct pricing, and this allows you to get what you want at a reasonable price. 
S3 Carpentry specialises in custom built-in carpentry, but we like that this isn't the only thing that they can do. They also have full renovation services and can also do painting work, aircon work, plumbing work, and so many more. 
All in all, we think that S3 Carpentry is a highly recommendable company for any carpentry needs. 
Highlights
Custom built-in carpentry specialists 
Direct factory pricing 
Other services
3. JS Carpentry & Contracts

BEST FOR 
Custom carpentry services, Wide range of workshop materials
PRICING
Rates
WEBSITE
https://www.jscarpentry.com.sg/
ADDRESS
184 Woodlands Industrial Park E5 Level 2 Singapore 757514
CONTACT DETAILS
+65 9488 5077
OPERATING HOURS
Monday – Friday : 9am – 6pm

 

Saturday : 9am – 6pm

Sunday: Closed

Anytime our assigned coordinator is available.
Through decades of providing high-quality carpentry services, JS Carpentry & Contracts has become one of the leading companies in this field. They offer custom carpentry and renovation services.
Whether it's a residential or commercial property, they have a full range of renovation services, helping you build your desired storage platforms, consoles, refurbished walls, and many more!
Highlights
Organic and sustainable materials
Premium workshop brands
Customer Reviews
Many clients admired their work because they're consistent with their services and offer reasonable rates. This is why they're considered to have the best carpenters in Singapore.
A customer gave these compliments:
"Positive: Punctuality, Quality, Responsiveness, Value Everything that was said about JS Carpentary was true, Excellent  workmanship and helpful staff. Especially my Coordinator Benn, having him put in-charge of my Project was a blessing. I am so impressed by his Commitments and Professionalism for recommending great  Systems and Good quality materials and yet within my Budget. Thank you so much Benn for all the Extra  supervisions at my site during  your CNY leaves. I had never had a house renovation done without any hassle and stress. It was delivered more then I can ask for. Thumbs up for the great job Benn n Team. JS Carpentary would be my first choice to recommend for anyone who want a Stress-free Renovation without breaking their bank accounts."
4. Nanyang Carpentry
BEST FOR
Customized woodwork
PRICING

Open site for quotation: https://nygroup.com.sg/contact/

WEBSITE
https://nygroup.com.sg/
ADDRESS

61 Woodlands Industrial Park E9 #02-18 E9 Premium Singapore

CONTACT DETAILS
Phone: 8780 8980
Email:[email protected]
OPERATING HOURS
Monday – Saturday: 9am–6pm
Nanyang Carpentry is an award-winning business in the field of carpentry. With their cheap rates, customers are wowed by how amazing the quality of service is compared to others which are much pricier.
They're workmanship is fast but very efficient. There isn't anything that's too hard for them, so make sure to have them create sturdy but beautiful furniture for your home.
Highlights
Reasonable price
Excellent Service
Quick fixes
5. White Artz Carpentry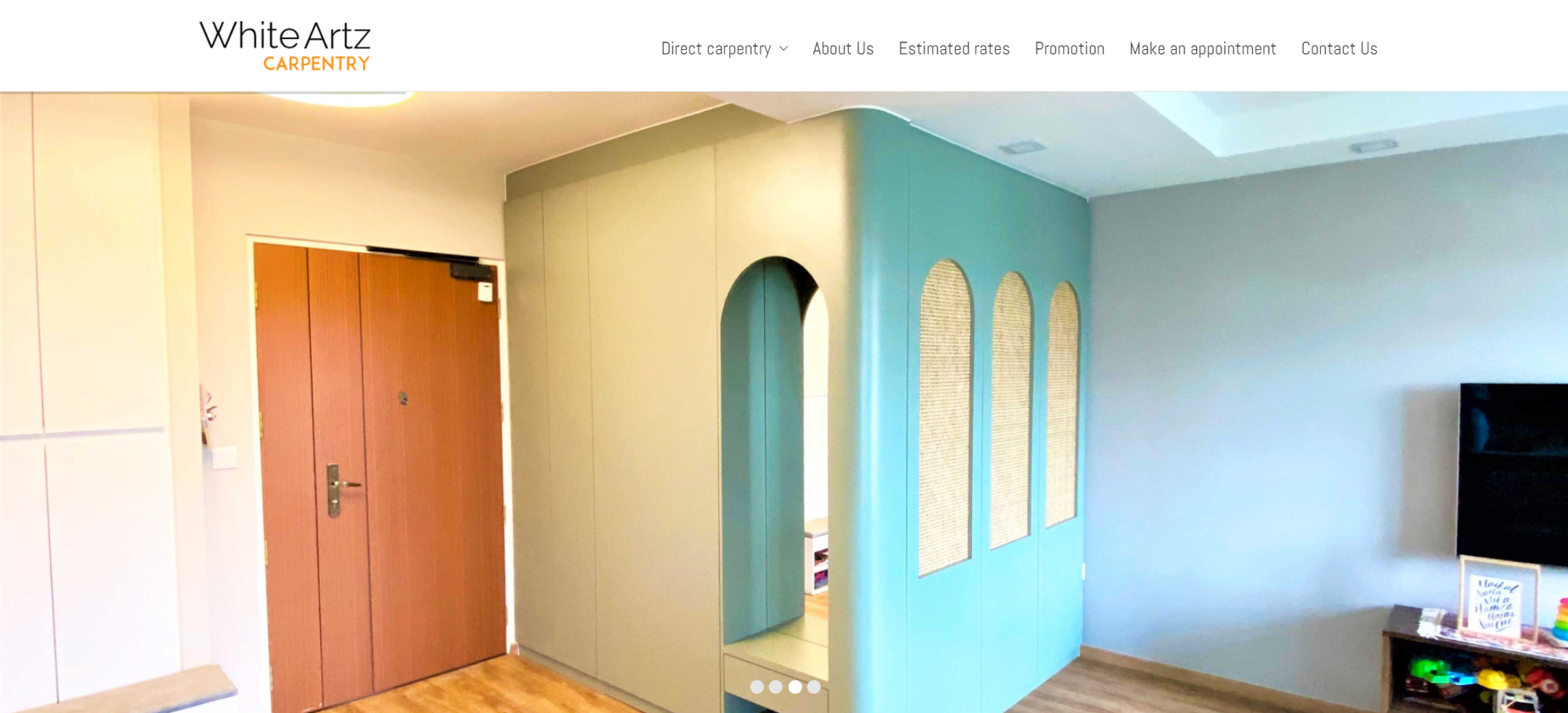 BEST FOR 
Direct Carpentry Services 
PRICING
Rates
WEBSITE
https://whiteartz.com
ADDRESS
61 Woodlands Industrial Park E9 #02-28 Singapore 757047
CONTACT DETAILS
+65 64819103
[email protected]
OPERATING HOURS
Monday – Saturday 8am – 6pm
White Artz Carpentry is a direct carpentry that offers residential and commercial carpentry services, as well as contracting jobs. They're well-known for offering high quality and affordable workmanship.
Their team of skilled carpenters are experts in customised carpentry and storage solutions. From feature walls to shelving and storage, there's no doubt that they've got it covered.
Highlights
Over 20 years' experience
Known for their attention to detail
Cost-effective services
Many areas covered
6.  Tan Carpenters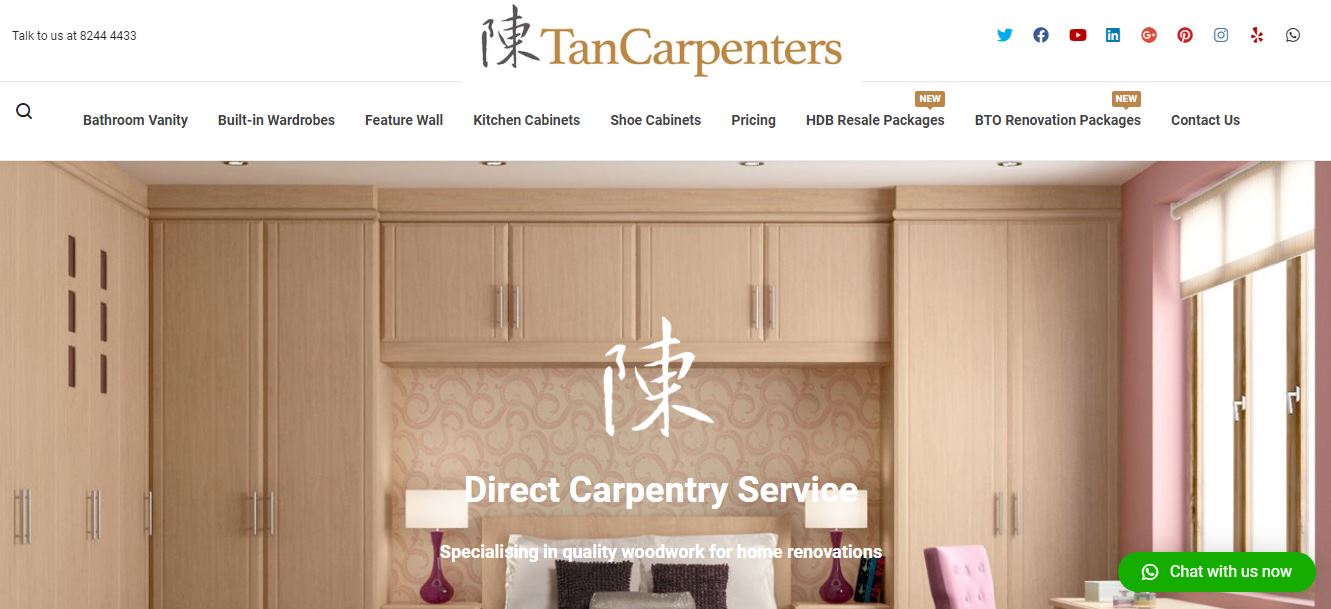 BEST FOR 
Quality woodwork for home renovations
WEBSITE
https://tancarpenters.com.sg/
ADDRESS
5041 Ang Mo Kio Industrial Park 2 #01-497 Singapore (S569544)
CONTACT DETAILS
+65 8244 4433 ,

[email protected]

OPERATING HOURS
Weekdays and Saturday: 9am–6pm
Tan Carpenters specialises in creating and producing a variety of woodwork, suitable for homes and offices. They offer a broad range of renovation services including innovative craftsmanship as well as interior and exterior installations.
Their best carpenters in Singapore can help you build a new design or reconstruct old areas of your place such as your bathroom vanity, wardrobes, walls, cabinets, and more. They always make sure that every piece will match the personality of their clients.
Highlights
Renovation packages
Fast turn around
7.  Rogers & Sons

BEST FOR 
Fine crafts and industrial works
WEBSITE
https://www.rogerandsons.sg/
ADDRESS
(Workshop)

 

115 King George's Avenue, #01-01, Singapore 208561

(Industrial)

71 Woodlands Avenue 10, #05-11/12, Singapore 73774

CONTACT DETAILS
+65 6269 6269

[email protected]

OPERATING HOURS
Weekdays: 9am–6pm
Rogers & Sons creates classic masterpieces that last for a lifetime. With their eco-friendly materials, sturdy build, and elegant design, their vintage furniture collections are among the best of their kind… so if you like this kind of style, they have the best carpenters in Singapore for you.
From residential projects up to product designs, they offer an extensive range of skills and crafts. They also create custom-made corporate gifts in case you're searching for the perfect gift for your colleagues.
Highlights
Sustainable materials
Educational workshops
8. In-Expat
In-Expat was established in 2008 as a carpentry business. From then on, they have integrated to offering other services related to basic carpentry. These include building and construction, interior design, and consultancies.
The team's experience helped the company build itself into becoming one of the most sought after when it comes to carpentry. They aren't afraid to stray away from the typical layouts, proving to be really creative and extravagant with their work.
If you don't have any concepts in mind, don't worry as In-Expat is willing to share you some of their jaw-breaking ideas and designs that they think would suit your needs. They can also collaborate with you, using your ideas and further making it beautiful for you.
Highlights
Convenient Location
Great Service
High Quality Materials
9. La Maison Carpentry

BEST FOR
Home Design Carpentry
PRICING
Contact company for quotation
WEBSITE
https://www.lamaisoncarpentry.com/
ADDRESS

#09-31, 21 Woodlands Close, Primz Bizhub, Singapore 737854

CONTACT DETAILS
+65 9663 6305
OPERATING HOURS
Monday – Friday: 10:30am–5:30pm
Saturday: 11:30am–4pm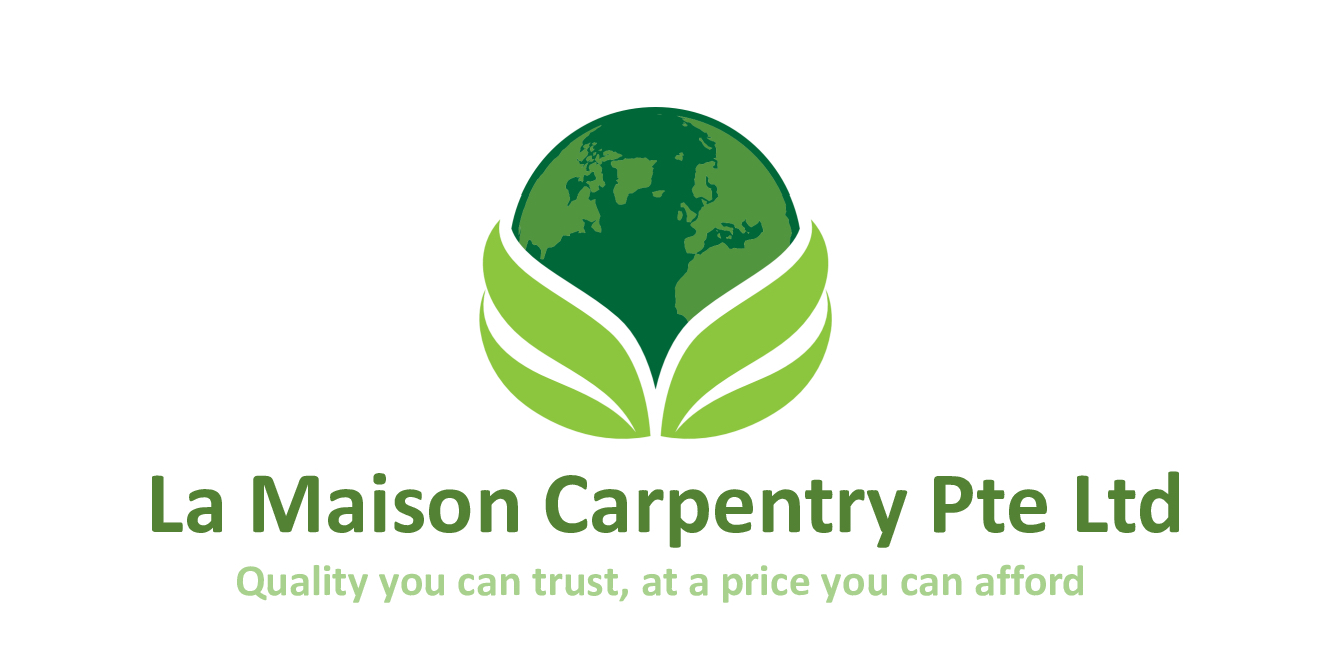 La Maison Carpentry offers ground-breaking carpentry and interior designing services for the residents of Singapore.
They create sturdy furniture that are also beautiful to look at. From their cabinet designs, to wall dividers and island counters, rest assured that their works are of high quality and nothing less of amazing.
Make sure to check out more of their works and don't be afraid to ask questions for customisations and or quotations.
Highlights
Sturdy fixtures
Great design
Wide range of options
Excellent Customer Service
Customer Reviews
"Thank u to Francis for the recent project at my new home at Sumang Lane. Besides being very meticulous in his way of managing even to the finest details of carpentry job, he's also able to demonstrate risk management under given short time frame to promise and deliver, without quality being compromised. Numerous positive feedback had been received from my network especially both the Design as well as Workmanship for the carpentry jobs. Well done and prosperous business."

10. Uniconnect Interior

BEST FOR
Renovations
PRICING
Contact Uniconnect for more details
WEBSITE
https://www.uniconnectinterior.com/
ADDRESS
68 Kaki Bukit Ave 6 #02-03, S417896
CONTACT DETAILS
[email protected]
Fax: 6876 0050
Tel: 6876 0880
Phone: 8250 9966
OPERATING HOURS
Monday – Saturday: 8:30am–5:30pm
Uniconnect Interior prides themselves in providing the most amazing solutions for their clients. It doesn't matter if its's just carpentry or a whole renovation, they always make sure to offer only the best of materials and excellent customer service that leaves every customer satisfied.
Their 30-year experience proves that they're already experts in the field, knowing what is the best for each situation and location.
A team of passionate and hardworking people, they aren't afraid to take on new challenges. They are willing to accept any request, regardless of of the resources need and the size of the fixtures.
Highlights
Highly skilled workers
Great Designs
Quick service
Quality wood
11. IM Carpenter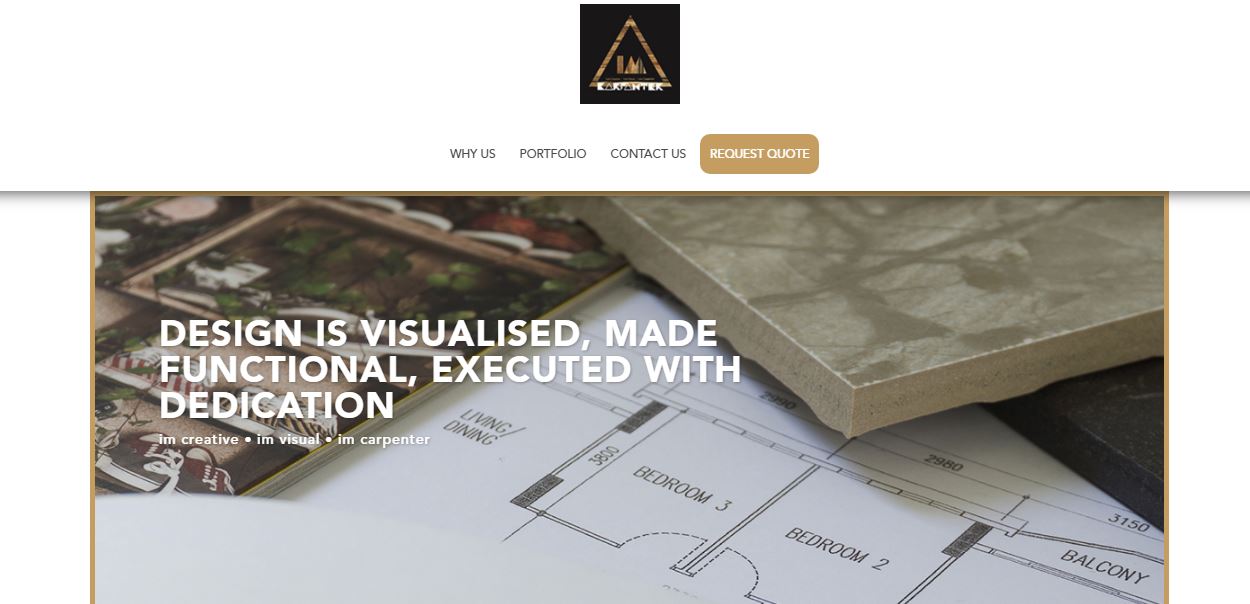 When it comes to producing creative and functional carpentry designs, you can rely on the services of IM Carpenter. Their team consists of the best carpenters in Singapore who collaborate with their clients as they make an impressive concept that exceeds expectations.
Most of their projects are residence properties and they're known for their minimalist yet efficient design. With their brilliant storage solutions and sophisticated concepts, they're able to create a pleasant ambience for everyone's home.
Highlights
High-quality and detailed design
Wood workshop and glass factory
12. Pop Motif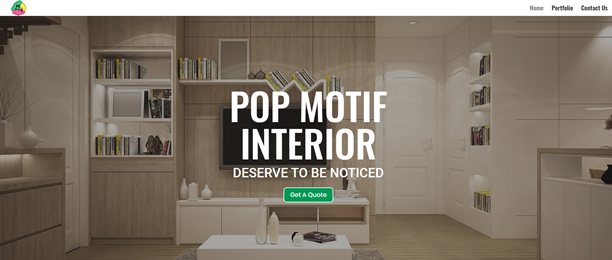 BEST FOR
In-house Carpentry
PRICING
Contact Pop Motif for quotations
WEBSITE
https://www.popmotif.sg/
ADDRESS

280 WOODLANDS INDUSTRIAL PARK E5 #09-08 HARVEST @ WOODLANDS, Singapore 757322

CONTACT DETAILS
[email protected]
+6587556538
OPERATING HOURS
Monday-Saturday: 9:00 AM – 5:00 PM
Pop Motif offers great carpentry service for people who would want to have sturdy furnitures that aren't too much for their wallet.
From the initial designing of the fixtures, each step are taken in controlled and precise detail, ensuring great quality and care for each service.
Pop Motif aims to fulfill your goals for your dream house so let them be a part of your journey into creating a wonderful interior that you'd surely love.
Highlights
Transparent Quotation
Detailed Consultation
Premium Materials
No Hidden Cost
13. Arc:Xource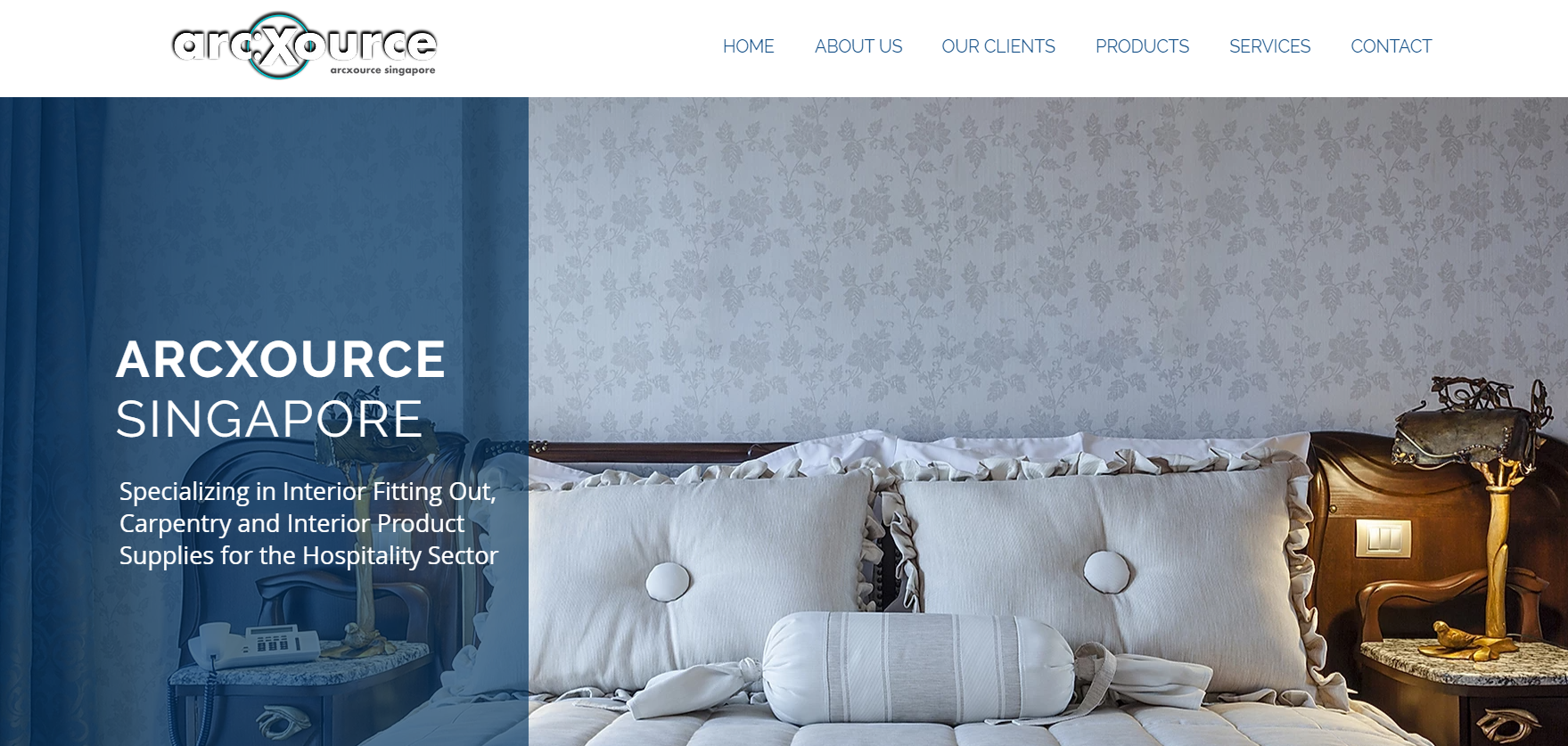 Arcxource is most known for their dealings in interior design and carpentry works. While they may have started with providing for the hospitality industry, they have now grown to be regarded as a one-stop interior solution that caters to commercial and residential markets.
At Arcxource, customer satisfaction is of utmost importance. This is why they forge partnerships and work to suit market trends. Everything that comes out of Arcxource is guaranteed to be the best and will last for a lifetime.
Highlights
Bathroom fittings
Acoustic panels
Vinyl floors
Interior fit-outs
14. Sin Siang Huat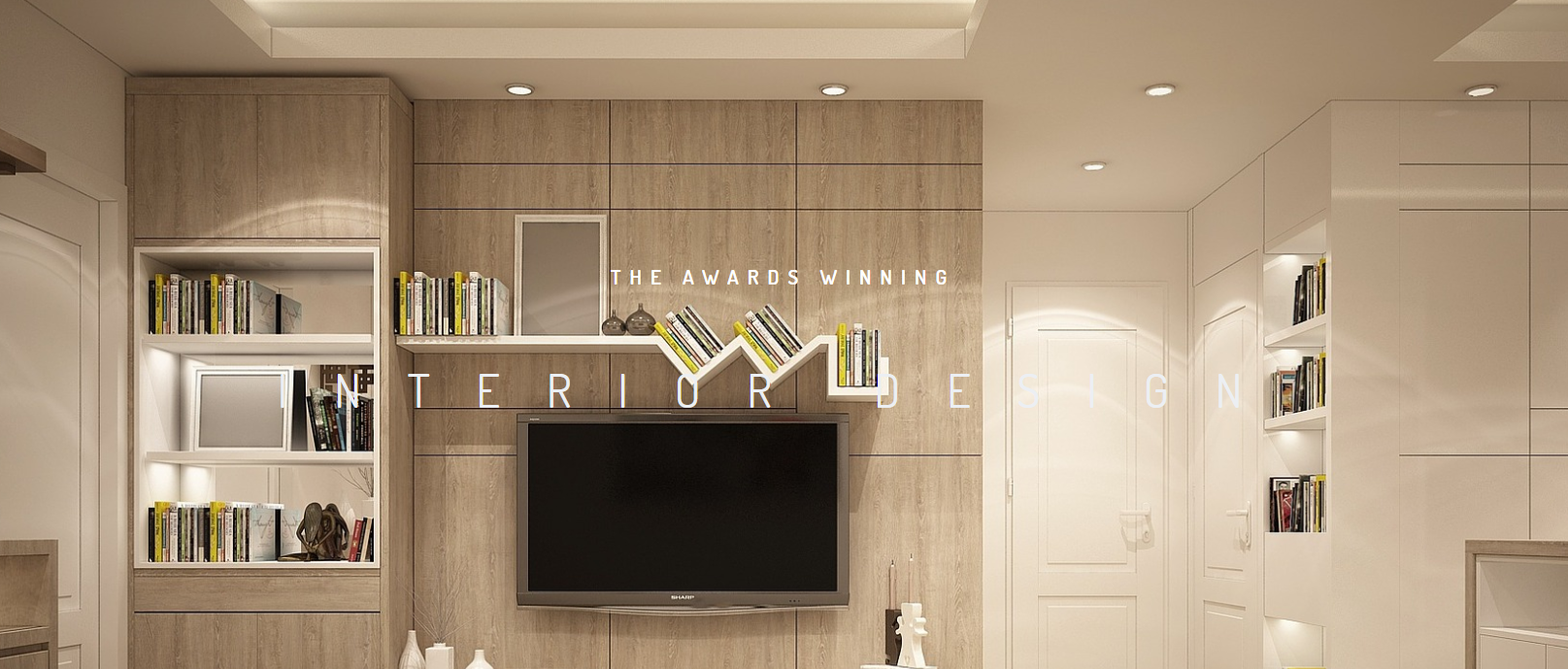 BEST FOR
Custom carpentry services
PRICING
Contact for more details
WEBSITE
https://sshreno.com.sg/
ADDRESS
10 Anson Road #10-20 International Plaza Singapore 079903
CONTACT DETAILS
Phone:+65 9237 5770 | +65 9695 9187
Email: [email protected]
OPERATING HOURS
Sunday – Friday 08:00 – 18:00
Sin Siang Huat has made a name for itself in the Interior Designing field after 40 years of operation. The company may have first been known for their electrical work, but it has since then expanded its expertise to include home renovation and carpentry services.
If you're looking for expertly-made items for your home, check out Sin Siang Huat. Every client that comes to them has been provided with a lot of amazing customised products from their homes. Some to note are wardrobes, shoe cabinets, bookcases, and TV consoles.
You bring the ideas and Sin Siang Huat will make it comes to life.
Highlights
Free quotation
High quality wooden materials
Accurate workmanship
Short fabrication time
15. The Production Workz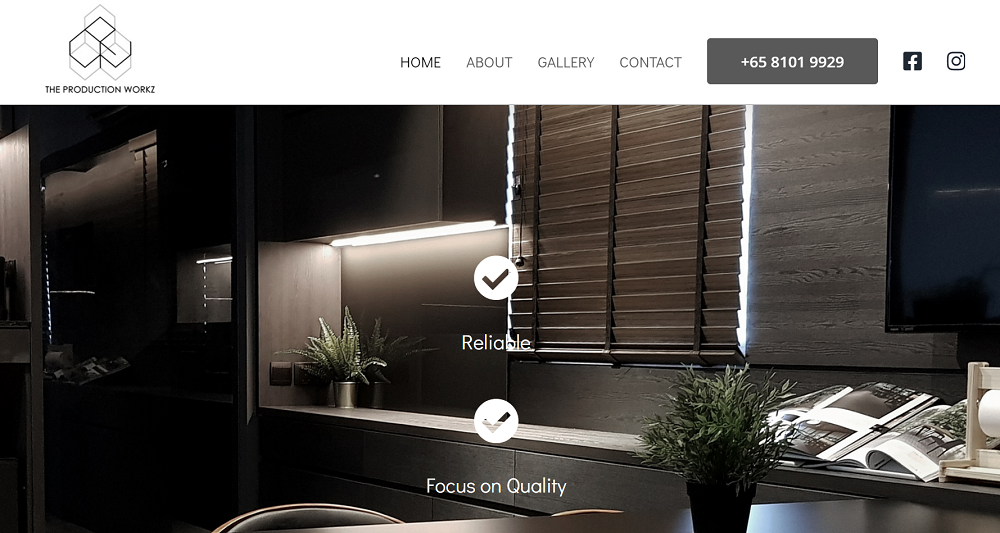 BEST FOR
Renovation and carpentry services for residential and commercial projects
PRICING
Contact for more details
WEBSITE
https://theproductionworkz.com/
ADDRESS
25 Kaki Bukit Road 4
#03-36 SYNERGY @ KB
Singapore 417800
CONTACT DETAILS
8101 9929 | https://theproductionworkz.com/contact/
OPERATING HOURS
Mon – Fri: 8.30am – 6.30pm
Sat: 8.30am – 2pm
Sun: Closed
The Production Workz is your personal carpentry studio which produces exceptional wooden products according to individual projects, satisfying the high quality standard of even the most sophisticated customer. With reliable and experienced in-house carpenters, they are able to provide affordable carpentry services for home renovation and commercial projects.
Highlights
Reliable and experienced carpenters
Quality workmanship
Reasonable & honest pricing
16. Cheong Cheng
BEST FOR
Renovation and carpentry work
PRICING
Contact for more details
WEBSITE
https://www.cheongcheng.com/
ADDRESS
280 Woodlands Ind Park E5

 

#08-12/13 (Lobby 2)

Harvest @ Woodlands

Singapore 757322

CONTACT DETAILS
T : 6367 6763 / Sales Team

 

T : 6262 6763 / Project Team

F : 6262 8763

OPERATING HOURS
Monday to Saturday: 9:00 am to 6:00 pm

 

Sun & PH : Closed (By Appointment only)
Cheong Cheng began its journey in renovation and carpentry in 1978. Now, with over 40 years of experience in the field, they have become one of the best companies to go to if you're in need of quality furniture to complete your builds.
Every piece that comes from Cheong Cheng was meticulously crafted from the finest plywood, assembled by Cheong Cheng's expert team.
Aside from carpentry, the company also offers services in regards to demolition, masonry work, tiling, vinyl flooring, electrical wiring, false ceiling, painting or glass installation.
Highlights
Furniture Layout Plan
3D Perspective Drawings
Designer Concepts & Colour Theme with Material Proposal
Design Consultation & Project Management
Site Management & Inspection
17. SK66 Carpentry

BEST FOR
Innovative carpentry systems
PRICING
Contact for more details
WEBSITE
https://sk66carpentry.com/
ADDRESS
81 Ubi Ave 4, #01-22, S(408830)
CONTACT DETAILS
98287198 / 66048330

 

OPERATING HOURS
 
SK66 is a company with over five decades' worth of experience in the carpentry field. Throughout the years, they have been known to deliver high quality work regardless if they're working with a residential project or a commercial one.
With SK66, you can rest assured that the craftsmanship is the best. Their team gives any and all projects their full expert attention. The size of the project is no issue either, since they can handle anything, big or small.
SK66's team consists of certified specialists who have successfully completed & passed the skill development courses.
Highlights
Authorised and certified Blum installation partners
HDB packages available
18. Leo Furniture and Construction
With Leo Furniture, you can only expect the best carpentry pieces considering how meticulous their planning and preparations are, regardless of project size.
The firm makes sure that every order goes through both steps to ensure not only the quality, but how well the items will fit into the build. Given this, it's not at all surprising that Leo Furniture's satisfaction rate is high.
Highlights
Planning phase before fabrication
Professional carpenters
19. Tian Fu Creation Interior
| | |
| --- | --- |
| BEST FOR  | Interior Design and Renovation |
| PRICING | Contact for more details |
| WEBSITE | https://www.tianfucreationinterior.com/ |
| ADDRESS | Blk 280 #07-08 Harvest @ Woodlands,  Woodlands Industrial Park E5, Singapore 757322 |
| CONTACT DETAILS |  6268 5070 / 8118 3727| [email protected] |
| OPERATING HOURS | Monday to Saturday: 9:00 am to 6:00 pm, Sun & PH : Closed (By Appointment only) |
As a highly trusted Interior Design and Renovation company in Singapore, Tian Fu Creation Interior focuses on satisfying their clients in every project they undertake. They can integrate your design ideas into a space that suits your unique lifestyle.
Their team includes proficient interior designers and skilled carpenters– both who possess years of experience in their respective fields. They also have their own carpentry shop, which guarantees high quality service for their clients.
Tian Fu Creation Interior also provides alternatives and solutions that will help achieve the best design possible. As a client, you can rest assured that they will be dedicated and professional when handling your request.
Highlights
Proficient Interior Designing
Skilled Carpentry Veterans
Customer Reviews
Here is a review left by a very satisfied client:
"Evelyn and her team so far are the best designers I have worked with. The work they deliver is top notch. Quality at a very decent and competitive price. In terms of design Evelyn is patient and attentive to what we want every time. And value adds to go beyond my expectations. She really made the renovation process so much easier. Tell her what you want and you can rest assured it will be done. Keep it up! And thanks so much for the brilliant work." –  Jun Da
20. Bideas Creations

Bideas Creation is a company that offers event in-house carpentry for their clients. They specialise in interior and space planning, Covid protection solutions, and promotional support.   
They're committed to providing the best management solutions for their clients, no matter the event being hosted. With their help, any event you're planning is sure to get the highest quality branding.
Highlights
One-stop solutions provider
Expert, in-house carpenters and designers
Competitive pricing
Quality workmanship
21.

Blackwood Carpentry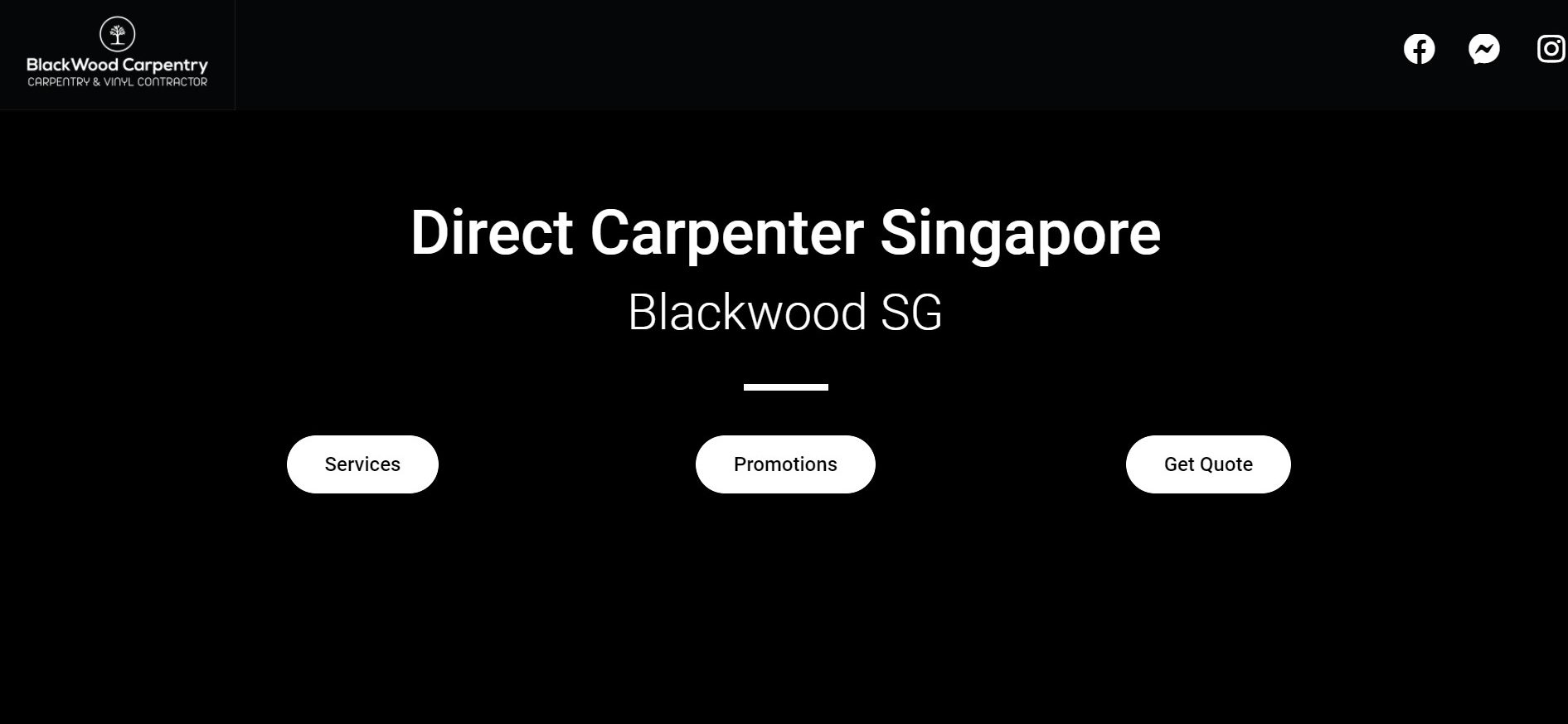 BEST FOR
Carpentry, Flooring, Home Renovation Services
PRICING
Contact to get quote
WEBSITE
http://www.blackwoodcarpentry.co/
ADDRESS
38 woodlands industrial park E1 #05-01 S757700
CONTACT DETAILS
90191919 | [email protected]
OPERATING HOURS
Monday – Friday, 9:00 AM to 6:00 PM
Saturday, 11:00 AM to 6:00 PM
Blackwood Carpentry was set up in 2018 to provide direct carpentry services, vinyl flooring works and home renovation services to home owners who wants to renovate or revamp their houses. By having their own carpentry factory in Singapore, Blackwood Carpentry are able to fabricate and install a variety of customized cabinets for kitchen cabinets, wardrobes, TV console and many more.
It's also worth noting that this company has taken on various project sizes from HDB units to condominiums and landed properties. With the skill and knowledge of their in-house carpenters, they are able to deliver quality service within the given time frame.
Whether it is just renovation your kitchen cabinets or your whole house, Blackwood Carpentry will provide you the best quality materials and workmanship to give maximum customer satisfaction.
Highlights
Renovation Promo Packages
Homes, condominiums and land properties
Efficient and hassle free
22. Classic Furniture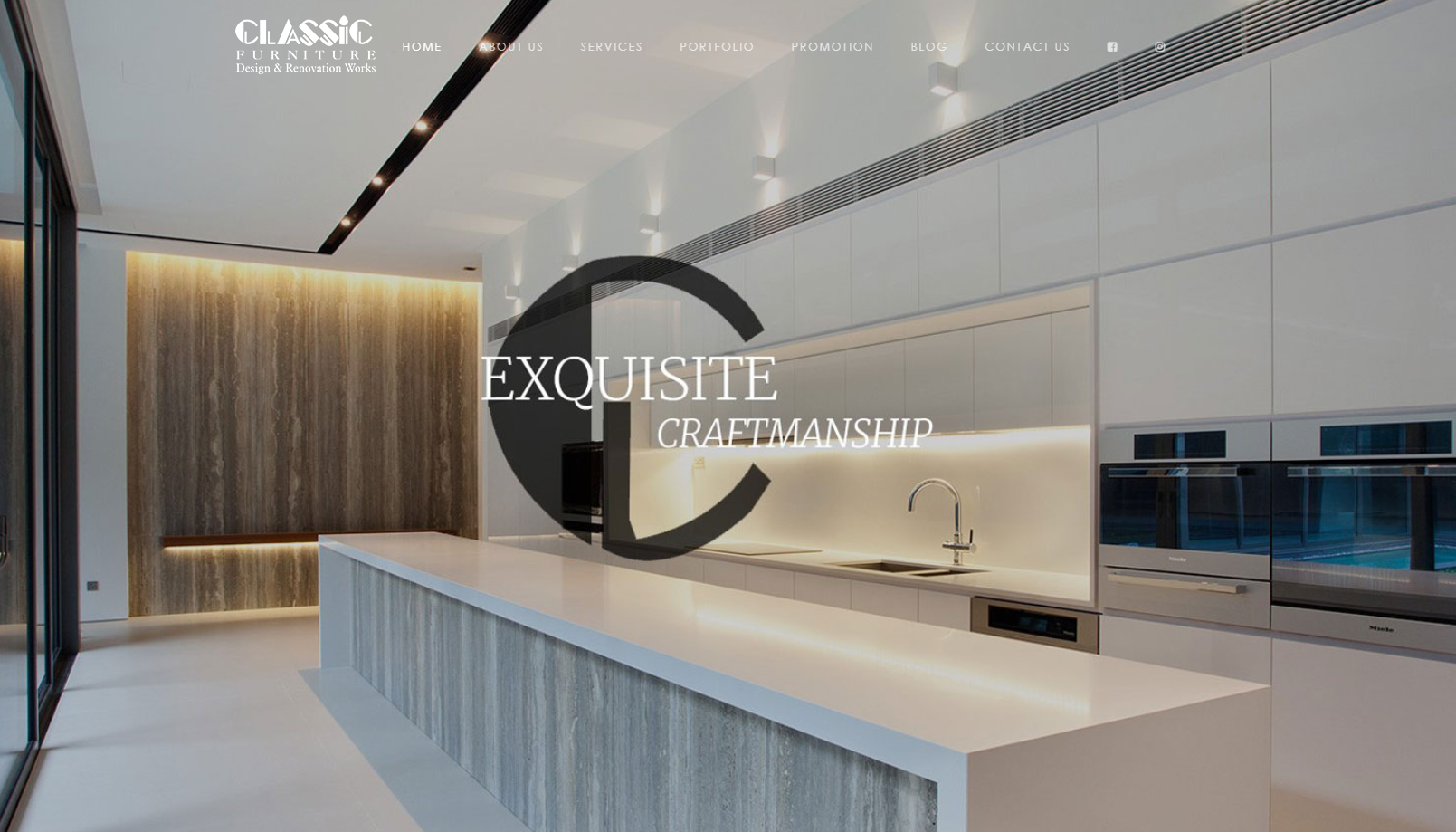 BEST FOR
Beautiful Craftsmanship
PRICES
Contact for more information
WEBSITE
https://classicfurniture.sg/
ADDRESS
845 Geylang Road #03-56
Tanjong Katong Complex
Singapore 400845
CONTACT DETAILS
Contact
+65 6747 4119

Fax
+65 6748 4655

Email
[email protected]
Another company to consider is Classic Furniture Design and Renovation Works. They're a one-stop fix to construction and renovation services in the country, having been in the industry for over 40 years.
Classic Furniture started in 1980 as a carpentry workshop and slowly branched out to design and renovation throughout the years.
What makes them a great option is that they have a dedicated group of carpenters, interior designers, and staff alike, ensuring that they provide only the best possible work and output for their clients.
Another reason would be that Classic Furniture has seamless processing, which makes things run smoother and faster.
They start with a complimentary consultation. Once done, layouts and concepts are fixed before finalizing the proposals and then the actual groundwork construction. Details and design come after that.
With their passion and skill, Classic Furniture has already finished over 30,000 projects and made even more clients satisfied. Be one of their possible customers and consider what they can offer to make your house your true home.
Classic Furniture's portfolio is posted on their website. You can also send your inquiries there, and they'd be happy to get back to you soon enough.
Highlights
Large showrooms
Quality materials made in Singapore
Well-established partners from different industries
Works closely with clients, detailed works
23. How 2 Design

BEST FOR
Customised Carpentry Work
PRICES
Contact for more information
WEBSITE
https://www.how2design4u.com/carpentry-woodwork
ADDRESS

30, Mandai Estate, #04-08 Singapore 729918

CONTACT DETAILS

 

For Product and Shop Inquiries
How 2 Design strives to provide the people of Singapore with quality and affordable services. They make it a point to have no markups and middleman fees, only giving direct value to customers with reasonable and transparent prices.
In terms of quality, How 2 Design doesn't skimp out either. Their services are the combined effort of using direct distribution of materials and the skillful work of in-house designers and carpenters. 
Aside from the pricing and quality, How 2 Design is also known for their extensive range of services. The company is a one-stop hub for renovation work, known for crafting the finest altars, cabinets, consoles, chairs, tables, wardrobes, and other household items. 
It's worth noting that their carpentry and woodwork services are always customised. The How 2 Design team is known for their great communication skills, listening and understanding what the clients ask of them and working to ensure that they deliver the best possible outcome to their clients.
To top it off, How 2 Design also offers other services such as demolishing and reinstatement, handyman services, tiling and masonry, and alterations and maintenance. 
Highlights
Extensive range of carpentry services
Customised woodwork
Honest and transparent rates
24. Foursight Engineering Pte. Ltd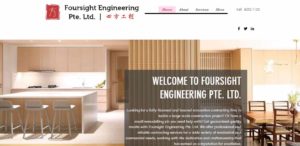 | | |
| --- | --- |
| BEST FOR  | Full Renovation Services |
| PRICING |   |
| WEBSITE | https://www.foursight.com.sg/ |
| ADDRESS | 1 Soon Lee Street #04-34 Pioneer Centre Singapore, 627605 Singapore |
| CONTACT DETAILS | +65 6252 1123 |
| OPERATING HOURS |   |
Foursight Engineering Pte. Ltd is a professional renovation contracting firm that accommodates both residential and commercial projects no matter what the size and building. From flooring to carpentry services, they have since then been servicing Singapore at competent rates and equally exemplary services.
We like that they are comprised of a team of professionals in the field who know their way around specific aspects of the construction project to ensure that all sectors are taken into accountability and consideration with every decision.
Furthermore, they are also adequately equipped and knowledgeable in the field to enable them to handle simple to complex construction projects to make their client's ideas a reality.
Though note that they do not have rates readily available on their website and clients will have to book a consultation with them online before getting an idea of their cost.
Overall, with fully licensed and insured services and personnel and contracting solutions that are flexible to the needs of the client, we highly recommend them to clients in the area who wish to have a remodeling or renovation project done.
Highlights
Multi-disciplinary professionals
Accommodates all project sizes
Modern and classical designs
And that's our list of the best carpenters in Singapore! If you'd like to recommend more shops and services, you may also share them with us! We're also open to your recommendations, if say you need to know the best places to buy a shovel in Singapore, let us know. 
You might also be interested in these best interior designers in Singapore, especially if you don't have any certain ideas yet. These specialists can give you a whole lot of suggestions, suitable for your place and preferences.