27 Best Interior Designers in Singapore
Have you recently moved into a new house or renovated building? You might be thinking of how to visualise and manage its overall interior design right now… and if that's the case, you'll need the help of a great interior designer in Singapore.
The best interior designers in Singapore can do a lot to ensure you get the house of your dreams. They can translate your ideal home into reality, guiding you through every step of decoration and furnishing involved.
If that sounds good to you, then this is the ideal roundup for your needs. We've scoured through all the top interior designers in Singapore and rounded up the best.
Take a look at our picks below for the best interior designers in Singapore!
1. RenoNerds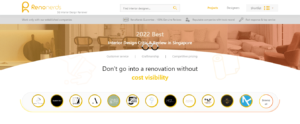 | | |
| --- | --- |
| BEST FOR | Home Renovation Platform |
| SERVICES/SCOPE | Renovation |
| PRICING | Send an enquiry to the designer via the platform |
| WEBSITE | https://renonerds.sg |
| ADDRESS | 60 Paya Lebar Rd, #06-21, Singapore 409051 |
| CONTACT | (65) 8784 7688 |
Those looking for a quick and seamless way to explore different interior designer options would love RenoNerds. An interior design listing platform, it is a gateway to some of Singapore's best and brightest interior design specialists.
A couple of things we like about RenoNerds: an extensive listing and full transparency. The interior designers on their listing have been thoroughly vetted, ensuring clients that they are only looking at firms and individuals with a solid track record.
There are no curated reviews here, either. Each designer review featured on RenoNerds is 100% genuine, which helps clients identify the best partner for their vision.
All designers offer a free consultation when clients enquire through the RenoNerds platform. Once booked using a RenoNerd quotation, clients enjoy a S$50,000 renovation guarantee.
The guarantee safeguards clients' deposits up to that amount in case of a firm undergoing insolvency.
We like that RenoNerds is keen on protecting its users' investments, which tells us that they are serious about their mission to help home owners find trustworthy, reliable and great designers.
Service Highlights
Extensive listing of established and reputable interior designers
100% genuine designer reviews
Free quick consultation
S$50,000 renovation guarantee via RenoNerds quotation
2. Ovon Design Pte Ltd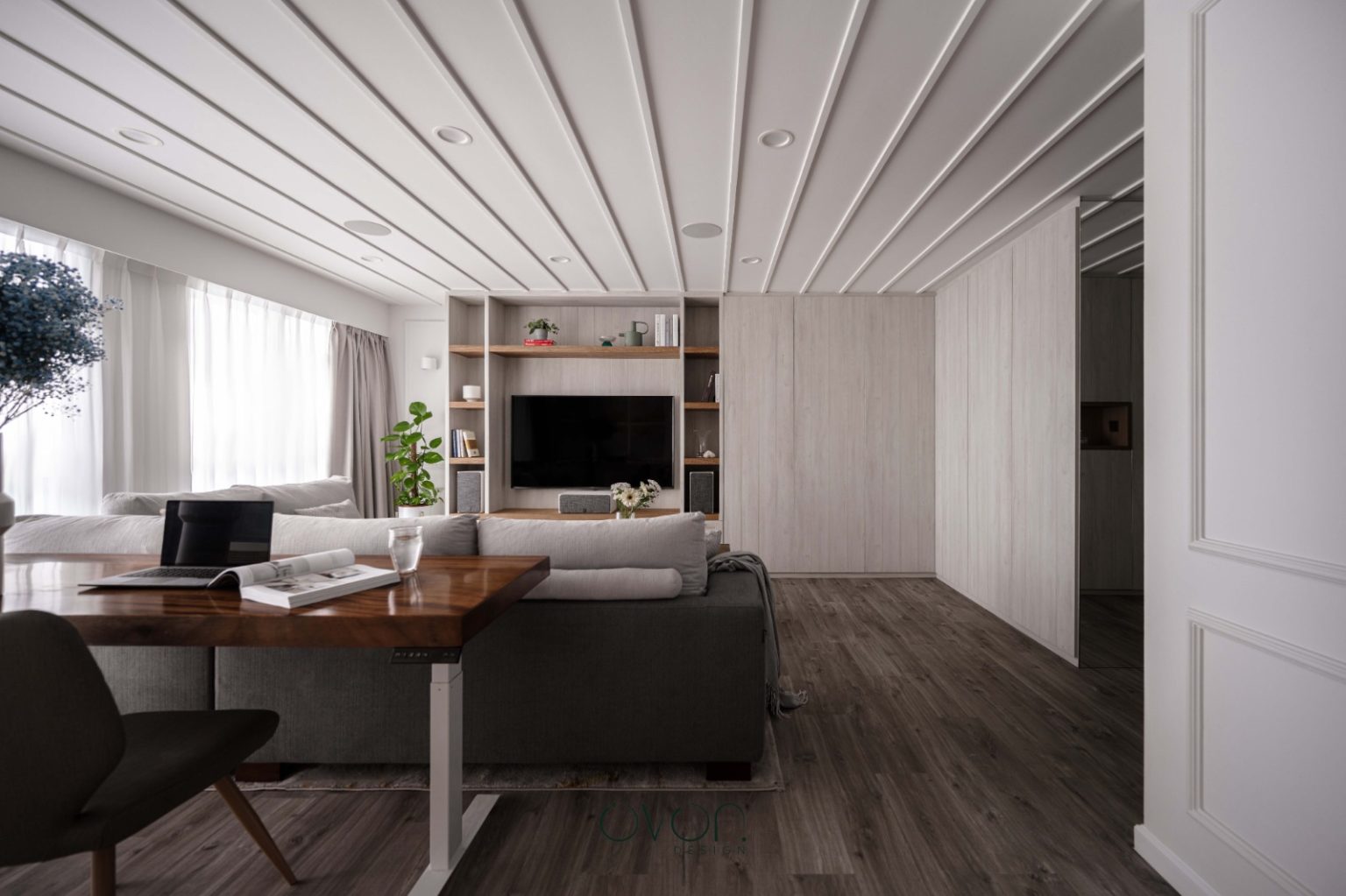 BEST FOR: Conceptualized theme and detail plannings for every functional space.
WEBSITE: https://www.ovon-d.com/
ADDRESS: 53 Joo Chiat Place Singapore, Singapore 427777
CONTACT DETAILS: 8588-2388 | [email protected]
The team behind Ovon Design Pte Ltd is young and unified by a deep admiration for the art and craft of Interior Design.
Similar to others, they make sure to stay updated to the different designs. But what makes them stand out is how they mix it with their own personal touch. 
We prefer them over other companies because even though they always envision all the potential of every square foot of space, they make sure not to over do it.
Another reason why we love them is whether it is a residential or a commercial project, clients are still left astounded. Given their well detailed project workflow, their interior design projects flow smoothly without fail.
Unfortunately, flat rates are not available on their website. They do compensate on this by responding quickly when clients ask inquiries,
Service Highlights
Extensive range of services
16-member team
Design solutions are highly customizable and flexible
Customer Reviews
Here is a review from on of their previous clients:
"I have engaged ID Raymond from Ovon for my new 5-room BTO renovation. I am very happy with his service . He respond promptly to my enquiries good job when we had discussion over my renovation and design ideas. He has been very service oriented. He spent time to understand our need and the issues with the existing layout and then prepared sketches of the proposed layout. I am very thankful for the good job – on time and proper handover after work completion."

Here is another one:
"Our utmost heartfelt gratitude to Raymond Soh & his team (Wai Tuck, Huiwen & many more) of Ovon Design Pte Ltd for helping my family transform our 20-year old 3-bedder unit into a our dream home in a short 2-month duration. Raymond & his dedicated team listen attentively to our needs and are able to provide good and practical suggestions, solutions and designs. They have been patient, honest, responsive and reliable throughout our renovation journey. We are very impressed by their professionalism and excellent deliverables. It is definitely a smooth and happy experience for us. Special thanks to Raymond and his dedicated team!"
3. KWYM Interior Designs
BEST FOR: Interior Design and Carpentry Services
WEBSITE: http://kwym.com.sg/
ADDRESS: 113 Eunos Ave 3, #03-03 Gordon Industrial Building S409838
CONTACT DETAILS: +65 6851 6068 | +65 6851 6069 | [email protected]
KWYM Interior Designs is a company that is flexible to any type of design. This is reason why we like them since it allows them to make the ideas of their clients come to life.
Whether you want to improve your home or office, you do not have to worry as they can do both commercial and interior design. In comparison to other companies, they are one of the few who creates a 3-D rendering of your project so that you can make changes to it before construction begins.
This is perfect for those who are not yet completely sure of how they want their space to look like.
Unlike others, they do not only do interior design. They also offer carpentry services and reinstatement works.
What's great about them is that if they think that there is another better way to design your space, they will let you know about it but will not push it if you disagree.
The catch here is that there are no rates visible on their page but you can still get a free quote here.
Service Highlights
BCA Approved Contractor
Includes architecture consultation
Offers furniture customizing and manufacturing
4. D'Perception Ritz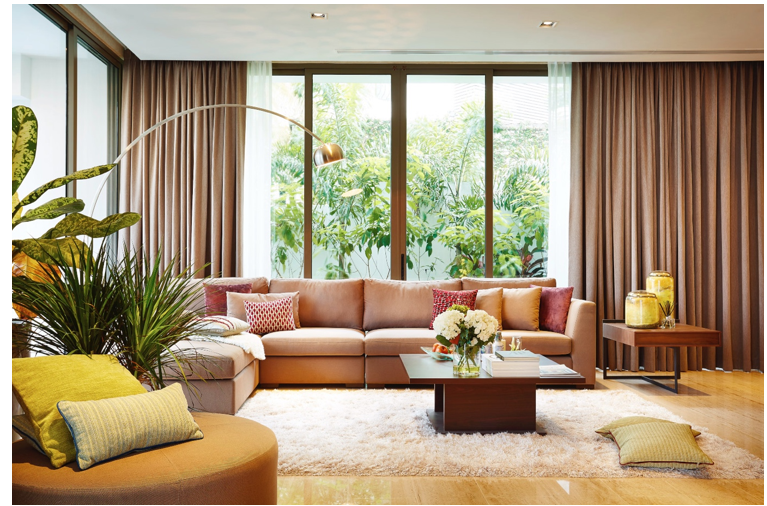 BEST FOR
Sophisticated Interior Designs
SERVICES/SCOPE
Renovations
Design and build
Furniture and decor sourcing
PRICING
You can talk to a designer to get a free quote and sample designs.
WEBSITE
https://www.dperceptionritz.com.sg/
ADDRESS
19, Tanglin Road, #07-01
Tanglin Shopping Centre
Singapore 247909
CONTACT
https://www.dperceptionritz.com.sg/contact
+65 6533 5797
[email protected]
D'Perception Ritz is an award-winning interior design company that has been delivering fresh and unique designs since 2007.
They are known for conceptualizing elegant and captivating interior designs and architecture for the residential, hospitality and corporate sectors. Through active listening, perceptive conception and meticulous implementation, they take design and space planning to a new level.
We have included the in our list because of how they customise interior design solutions unique to individual lifestyle needs and taste preferences of their clients. Plus, their expert direction and attention to detail have helped them elevate all of their finished designs.
Another noteworthy thing that their team has accomplished are the design awards they have won over the years. These titles are evidence of their strong reputation in delivering interior design solutions with the wow factor.
Distinctive and elegant interiors do not get any better than this.
Service Highlights
Has won numerous design and industry awards and is accredited
Has a team of professional Interior Designers & Interior Architects
Distinctive and individualised designs
Customer Reviews
Here's what some people are saying about them:
"We wanted an elegant backdrop for our art collection. Five years on, we are still loving how beautiful our condominium looks at all times of the day. The finishing touch on the choice and position of lighting, wall color shades and window covering were expertly picked by our designer. The carpentry workmanship is very fine, the solution was ingenious and the project was delivered within the time and budget that was discussed at the beginning. – Adam F.
"Everything was done in time, with high level of quality and responsibility, indepth presentation, strong site management, punctual completion of works, and fantastic support along the whole project. – Yaros S.
5. Sense & Semblance
BEST FOR
Minimalist Design
SERVICES/SCOPE

Design Consultation
Project Management
Space Planning
Styling

PRICING
Contact for more information
WEBSITE
https://www.sensensemblance.com/
ADDRESS

One Pemimpin 1 Pemimpin Drive #04-07 Singapore 576151

CONTACT

Tel: 6904 9006

Mobile (Dillon): 9834 9369
Sense & Semblance is not your ordinary Interior Designer. We choose them over other designers because they combine both practicality and aesthetics.
If you head over to their website you, will see that most of their designs are clean and sophisticated. Perfect for those who prefers a minimalistic design.
Unlike others, their design are pretty versatile. We have seen that they can work with almost any request their clients make.
Want a black marble floor? They can make it possible without it looking awkward and even make it leave an impression to your guests.
Even if they are only a small team, you do not have to worry as they are passionate individuals with specialization and unique insights in Interior Design.
Unfortunately. their base rates are unavailable on their website. However, they do compensate on this by replying within 24 hours to inquiries.
Service Highlights
Unique designs
Can work with last-minute renovations
Flexible with their clients budget
Customer Reviews
"A very hard-working and friendly team! It has been a great experience engaging. Always on the ball when comes to communication and updates. They were able to cater to a few of my last-minute renovation needs despite the covid19 situation. Suki and Dilion constantly share their recommendation and advice base on my needs. My study room design was recommended by them and every when I have a housewarming, it makes my friends go "wahhhh!"
"Suki and Dillion had done a great job in renovating our HDB resale flat. Both of them had put in great effort on the designing of our flat to make it cozy and comfortable and tried to keep it within our budget. Dillion had updated us on the progress of the renovation without us chasing for it. They are very responsive to address any concern that arises even after the hand over of our flat. They even went to the extra miles in helping us to source for any items which we required such as the refurbishing of the old furniture and household accessories. Overall, it was a very good experience and we are definitely recommending Sense & Semblance to everyone."
6. Qanvast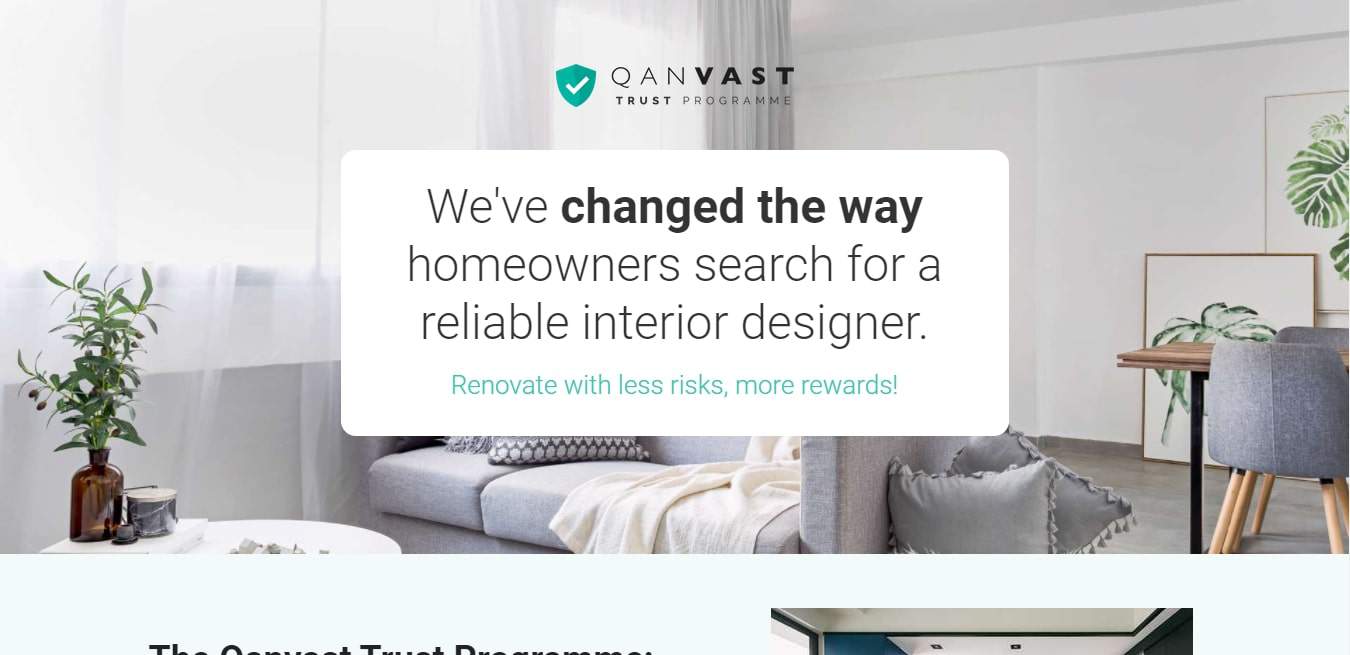 Qanvast aims to assist various clients with their home renovation. With Qanvast, interior design will be a cinch– it enables clients to find and connect with accredited interior designer firms that suit their tastes and expectations best.
Qanvast ensures that it provides its users with quality recommendations at all times. Their portal not only enlists excellent interior designer firms, but also records the feedback of homeowners who have previously availed of their services. In addition, Qanvast makes choosing the best interior designer firm less burdensome for clients, discounting the prices they need to pay.
Qanvast has already helped over 25,000 homeowners build the house of their dreams. You can become one of them by signing up on the Qanvast platform today.
Service Highlights
Wide Choices of Designs
Awesome Staff
Professional Customer Services
High Quality Designs of Home
Customer Reviews
"Isaac was very patient with our demands in realising our Dream Home. He took the effort to research the best for our homes. For instance, we wanted to install a movable ladder to our built-in library. We got our awesome dream home library. Our renovation was done relatively fast, and of very good quality. Isaac ensured that the workmanship was according to the designs we dream for and advise us to ensure the practicality of the designs we ask for. All in all, super satisfied with our home."
7. Renovation Contractor Singapore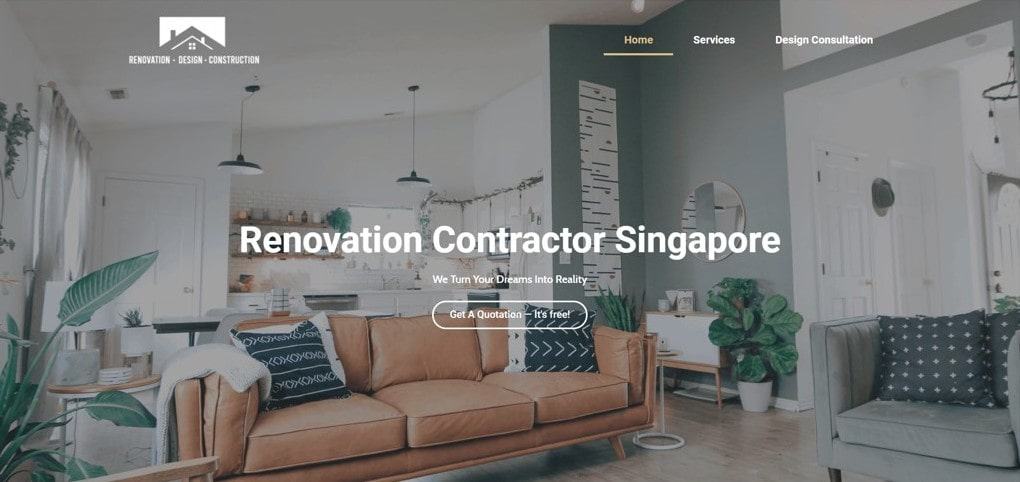 Renovation Contractor Singapore can turn your design dreams into reality. With award-winning interior designers at your disposal, they can create your perfect home from start to finish.
In their capable hands, any room can be both functional and inspirational. They can turn the heart of your home, the kitchen, into a space that inspires you to cook, bond, indulge and more.
This full-service contractor and interior designer can handle any job, big or small, be it a simple paint job or a full renovation. You'll find yourself in exceptional hands with licensed professionals, responsive customer service and excellent after sales support.
Service Highlights
Design to installation service
Licensed professionals
Assured quality and workmanship
Prompt after-sales support
8. De Style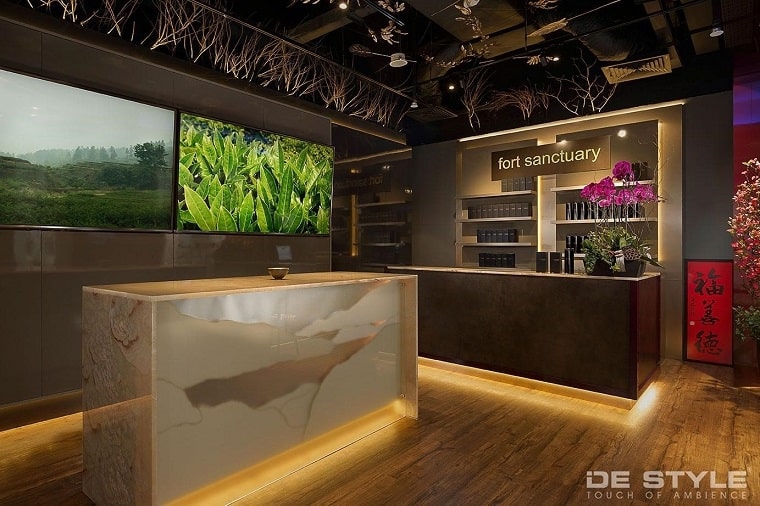 BEST FOR: Creative space-saving solutions
WEBSITE: https://www.destyle.com.sg/
ADDRESS: 62 Ubi Road 1 #01-02 Oxley Bizhub 2 Singapore 408734
CONTACT DETAILS: +65 6555 5200, +65 6555 5212
OPERATING HOURS: Monday to Sunday, 10am to 8pm
De Style will guarantee you transformative designs that not only good but also feel comfortable. They have years of experience in reconstructing the interiors for both residential and commercial areas.
They are also very considerate with the preferences and needs of their clients. That's why they always take note of their suggestions before working on the proposed layouts.
Service Highlights
Extensive resource suppliers and technical support
Selections of energy-saving fixtures and appliances
Renovations for both commercial and residential spaces 
Customer Reviews
De Style has been acknowledged as meticulous and detailed in every process of their creation. Their team always ensures the safety and security of their clients.
Most of their projects are co-designed with business owners too, and they are named some of the best interior designers in Singapore for commercial developments.
HuiYing Lau wrote this review of them:
"After visiting a few interior design companies, my husband and I decided to engage De Style to design and renovate our house. We are glad that we have chosen De Style as we are very pleased with their completed work. Initially, we got Simon as our Interior Designer (ID) to help us with the design. But due to some unforeseen circumstances, our ID changes to Yong. Despite the change in ID, we are glad that the service standard did not drop. Yong was very helpful and reliable throughout the renovation process. He helped us to find solutions to the hiccups and gave us valuable advice. We would like to thank Yong for the wonderful work and helping us to achieve our home sweet home."
9. Space Atelier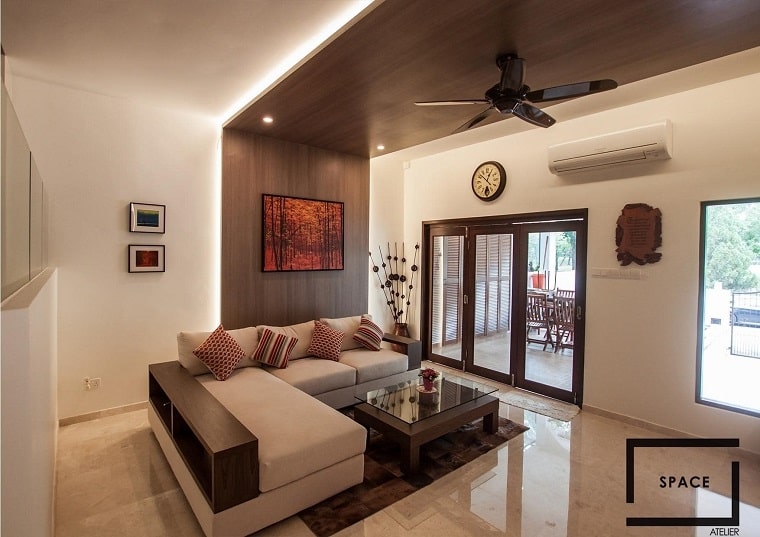 BEST FOR: Innovative and well-furnished renovations
WEBSITE: https://www.spaceatelier.com.sg/
ADDRESS: 6 Harper Rd, #05-07 Leong Huat Building, Singapore 369674
CONTACT DETAILS: +65 6296 0155
OPERATING HOURS: Monday to Sunday, 11am to 9pm
When talking about the best interior designers in Singapore, Space Atelier will always be a part of the conversation. The brand's masterpieces can be seen through the schemes of residential areas, restaurants, retail shops, and company offices.
Their team has systematic step-by-step procedures for each project. This level of organisation ensures that their results are always of a high quality.
Service Highlights
Excellent teamwork
High-quality crafting spaces
Accurate and accessible solutions
Customer Reviews
Satisfied customers felt assured and at ease while working with Space Atelier. They were able to professionally manage each project and reliably resolve any complications that arose.
A former customer gave this positive feedback on the official website:
"Space Atelier was one of the IDs recommended by Qanvast. We met up with quite a number of ID whom we shortlisted and got a few quotations from them. Although Space Atelier was not the cheapest, they were the only one who did follow up with us all the way. Hence, we decide to engage them for our renovation for their good service. The ID was very responsive and prompt in replying to our queries. As we had a specific idea in mind, the ID is able to understand what we wanted. He is also willing to go on an extra mile, helping with the DIY stuffs for our home which we bought online. Although there were some delays, they are able to resolve the hiccups. As aspect for further improvement will be with regards with their pricing. Although their quality is very good, we still find it quite pricey."
10. Design4Space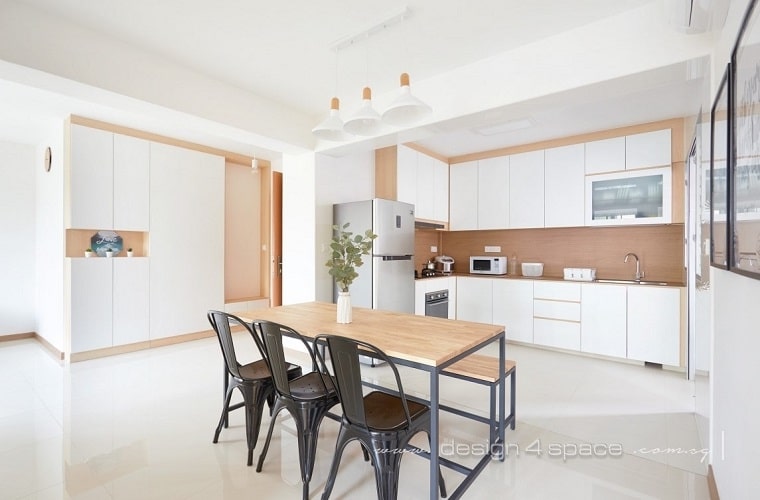 BEST FOR: Contemporary and elegant interior designs
PRICING: https://www.design4space.com.sg/contact/
WEBSITE: https://www.design4space.com.sg/
ADDRESS: https://www.design4space.com.sg/contact/
CONTACT DETAILS: https://www.design4space.com.sg/contact/
The best thing about Design4Space is their ability to transform a house into a home. They focus on bringing a familiar, cosy, and comfortable environment to every project they handled.
They also have been praised for their excellent work ethics. Most of their work tends to the contemporary and clean styles.
They also often have promos and packages, which makes Design4Space a great choice if you're considering an affordable interior design in Singapore.
Service Highlights
Competent team of skilled and experienced designers
Combination of original style and client's needs
Special promotion packages
Customer Reviews
The clients of Design4Space range from local to international, and their work has earned them various awards and accreditations. This has made a company that's trusted for top interior design in Singapore.
Mark Wong, a customer, left this positive feedback on the official website:
""Excellent, worry-free experience"
It has been a wonderful, worry-free experience from the 1st walk-in meeting to handover. Both Tee and Gary had been accommodating and responsive to all needs and queries. Extremely knowledgeable and experienced, and attentive to details. They were the reason we chose Design 4 Space, after walking-in to other firms. All works were carried out on-time according to schedule and were always keeping us posted on the progress. Highly recommended!"
11. Sky Creation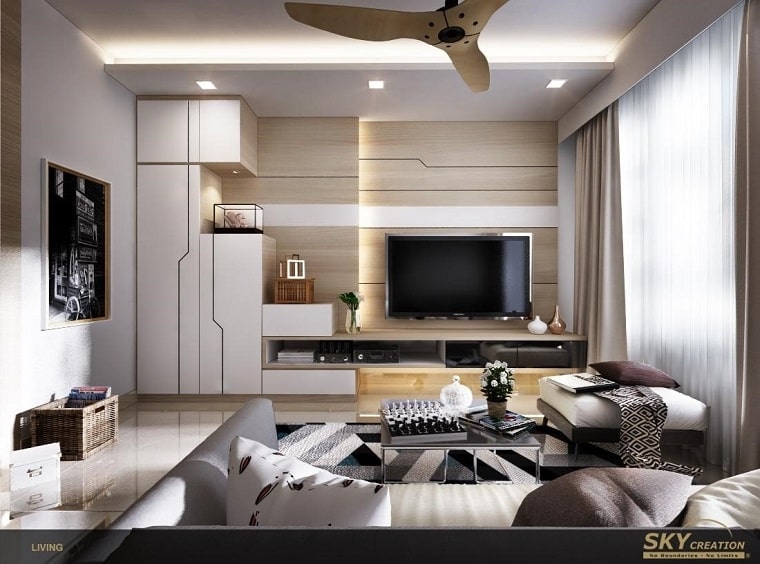 BEST FOR: Functional and aesthetic renovations
WEBSITE: https://www.skycreation.com.sg/
ADDRESS: Singapore (HQ) No 8, Kim Keat Lane, Singapore 328865.
CONTACT DETAILS: +65 63528809
OPERATING HOURS: Mon-Fri, 9am until 6pm
For those who are looking for a Singapore interior design service that can renovate an existing design, collaborating with Sky Creation may be the wisest decision you can make.
Sky Creation is a firm of interior design in Singapore focusing on creating well-planned and well-designed renovations. Each project features an excellent combination of the visualisation of the team and the ideas of the clients.
It's also worth mentioning their meticulous cooperation with clients regarding given budgets and schedules. This is a client-pleasing, award-winning company that has been recognised as the best interior design in Singapore by the most prestigious institutions in the industry.
Service Highlights
Combination of modern designs and practicality
Responsive and timely updates
Reliable and accommodating team
Free defect checking services
Customer Reviews
Behind the success of Sky Creation is a team of experts and top interior designers in Singapore who have been in architecture for many years. Clients say it shows in their work and describe them as very consistent, trustworthy, and hardworking.
All of this allows them to build a reliable connection with their clients. Jasmine Tan shared her own experience with the team and wrote this review on Home Trust:
"We are really lucky to have met a dedicated ID, who not only designs beautiful homes, but also carefully considering practicality when it comes to usage. He listens and takes feedbacks to ensure that the finishing product aligns with what we envision our dream home to be. We have been staying in our new place for the past month and are extremely satisfied with how beautiful yet practical the place is. Sky Creation gives good transparent pricing with top notch service and quality carpentry finishing, products etc. We are really glad to have chosen it as the ID firm for our home.
 Thank you Kaze & Sky Creation for creating our dream home for us, and for allowing the whole process of renovation to be so smooth and enjoyable for us."
12. ARTrend Design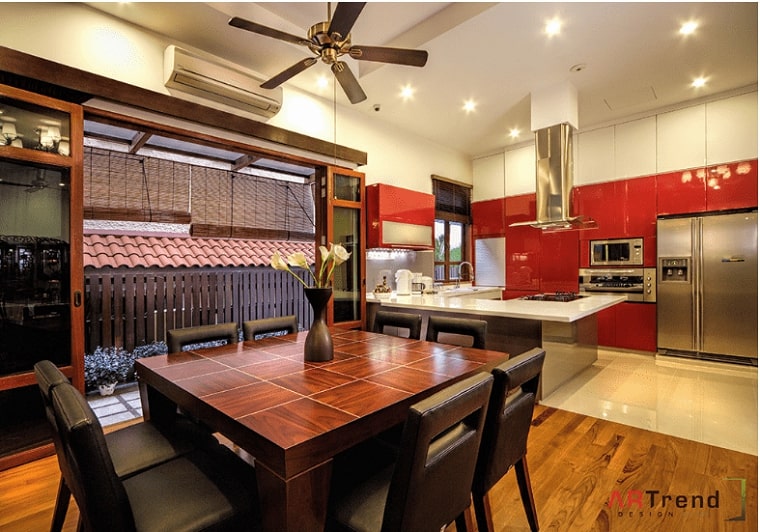 BEST FOR: Custom-made carpentry
WEBSITE: http://artrend.com.sg/
ADDRESS: Blk 22 Woodlands Link, #04-13 Woodlands East Ind Est Singapore 738734
CONTACT DETAILS: +65 6756 7783
OPERATING HOURS: Monday to Saturday, 9am to  5pm
From the interior designs to the overall functionality of the house, everything is well-prepared when handled by ARTrend. Whether you're building a new home, office, or renovating an old space, or just needing interior design services in Singapore, they're capable of decorating it to suit your requirements.
The company is one of the longest-running in the interior design field in Singapore. Throughout the years, they've managed to stay abreast of trends and developments in the industry.
They have also conquered every area of expertise such as commercial, residential, condominium, and renovations. Regardless of the size and age of the whole area, they'll be able to provide creative ideas and suitable solutions.
Service Highlights
Dynamic area of expertise
Customised carpentry services
Organised project management
Customer Reviews
Many customers appreciate the diversity of ARTrend's team, as it includes not only the standard package of interior design in Singapore but also carpenters. You can have a free consultation with them too, which many customers again approve of.
Christopher Lee, CEO of Share Investor, left this review on the company's official website:
"We are pleased to confirm that Artrend Design Pte Ltd had successfully collaborated with us on the completion of a large scale renovation to our office in 2006. With regards to the overall concept, design features, functionality standpoints, the completed works certainly matches our design brief given during the inception of the project. In addition, they had demonstrated their competency and strict adherence with the building code requirements and regulations of the various building authorities.
Artrend Design had not only completed the said project within the stipulated contract period but has also provided us with a fabulous looking office."
13. The Interior Lab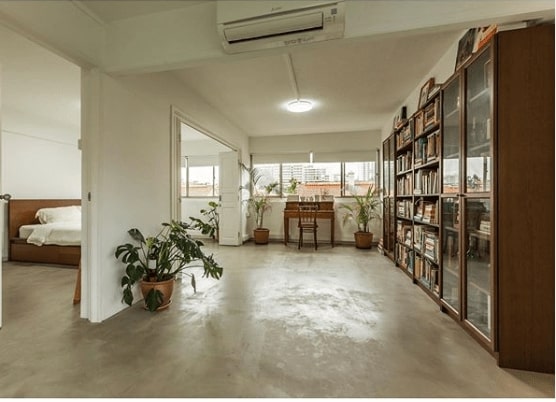 BEST FOR: Unique and creative conceptual designs
WEBSITE: https://www.theinteriorlab.com.sg/
ADDRESS: 86 Joo Chiat Place, Singapore 427803
CONTACT DETAILS: 6345 6783
OPERATING HOURS: Monday to Sunday, 10am to 8pm
If you're looking for a company that provides home interior design in Singapore with a focus on unique concepts, you will certainly appreciate The Interior Lab.
The Interior Lab is one of the most promising interior design firms in the country. The team's craftsmanship has paved way for many home and business owners to have a simple yet stylish environment.
If you do not currently have a particular concept design, they will be able to offer you ideal themes with different styles. Apart from the visual layouts, they also encourage the value of functionality for the well-being of their clients.
Service Highlights
Detailed initial plan layout
Brilliant space planning solutions
Special renovation deals 
Customer Reviews
In spite of The Interior Lab's well-established services and superior workmanship, they still offer a lot of special deals and promotions that help you afford their services at a tight budget. This is something many of their clients praise in particular when working with them.
A reviewer from Google Reviews wrote:
"I was referred to The Interior Lab by a friend. When I first got the key, I was greeted by an old and very dated place that has not been renovated since the 1900s.  That was also where I first met my interior designer, Suki, she was able to understand my vision for my home and was willing to work within my budget thus, I decided to engage her for my home renovation. The renovation project was well managed by Suki. In the midst of the renovation, I trusted Suki with the progress of the renovation and went on a holiday. The outcome of the home was what I have envisioned, there is a modern yet classic touch to the interiors. Thanks to Suki and The Interior Lab the whole renovation was fuss-free! I would highly recommend Suki and The Interior Lab as they are professional, pay high attention to details and really delivered in terms of quality."
14. Cozy Space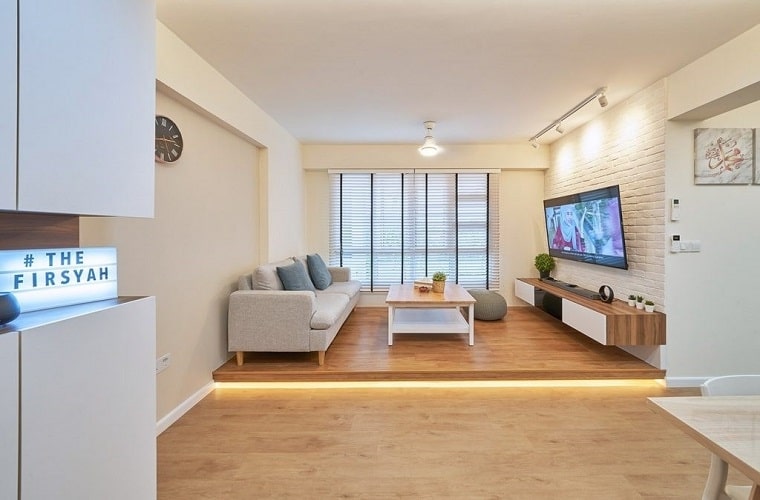 BEST FOR: Fashionable and trendy designs
WEBSITE: http://www.cozyspace.sg/
ADDRESS: 48 Race Course Road #02-01, Singapore 218560.
CONTACT DETAILS: +65 9009 2395
OPERATING HOURS: Monday to Sunday, 10am to 6pm
Have a wonderful personalised experience with Cozy Space's interior designs, tailored to your visions and goals. They can also compromise when it comes to the budget because they believe that a great home comes from a happier life, not scads of money.
No matter what your preferred style elements and suggested ideas are, they will certainly bring your visions to life. Building personal connections with their clients is their top priority too, so they're very comfortable to work with.
Service Highlights
Excellent portrayal of planned layout
Coordinated management
Attentive design team
Customer Reviews
Cozy Space has gained the trust of clients because of consistency, great work values, and open communication. A reviewer from Home Trust gave this positive feedback:
"A special thank you to Jax and his team for the fantastic job done for our new house. Jax is reliable, professional, attentive and experienced in giving ideas. Jax has been very patient in listening to our request and also willing to tell us the pros and cons to the request we made. He has followed through very closely from the start till the end of the project. Jax has accommodated to many of our last min changes and even proposed a better solution. He has also good choices of household products to be added in the unit. Workman ship done was impressive. Even small defects were corrected fast and efficiently.
15. Millimeters Studio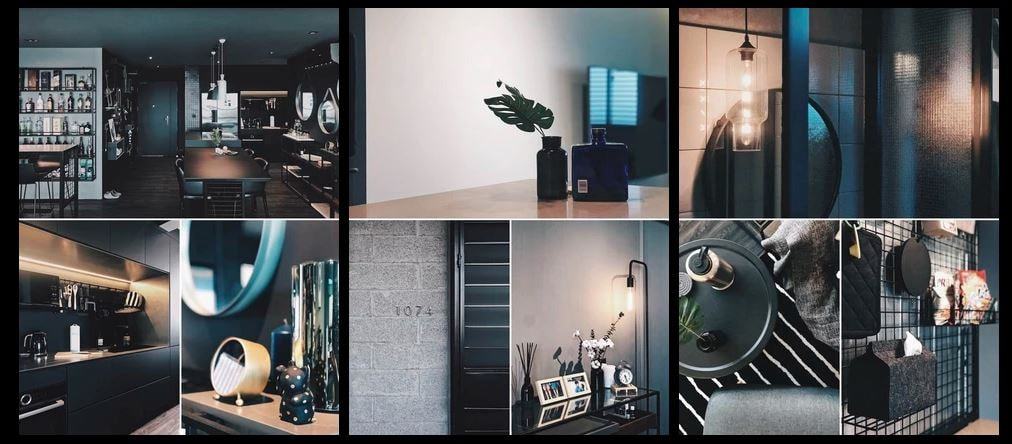 BEST FOR: Timeless and tailored interior design
WEBSITE: https://www.millimeters.com.sg/
ADDRESS: Contact for more information
CONTACT DETAILS: [email protected] | 96801477
OPERATING HOURS: Contact for more information
Millimeters Studio is made up of committed like-minded individuals that believe in timelessness and a good balance of aesthetic and function. The studio takes on a limited number of projects yearly to ensure sufficient time and space for in-depth understanding and thought for every project.
They emphasise human experience in interior design – each project is uniquely tailored through a conscientious process, banking on the clients' expectations and pushing the limits of the studio's work. More than the projects they undertake, they also aim to build strong and lasting relationships with their clients.
Service Highlights
Monochromatic interior design
Color-focused interior design
Customer Reviews
"Sherlynn is a friend first, then a vendor. She makes you comfortable with her timely assurances and you can trust that things will be on track with her at the helm. Her designs have also been one of the main drawing points for me to engage her company for multiple projects, one of which is proudly showcased in a popular interior design magazine." -Kelvin M.
16. Voilà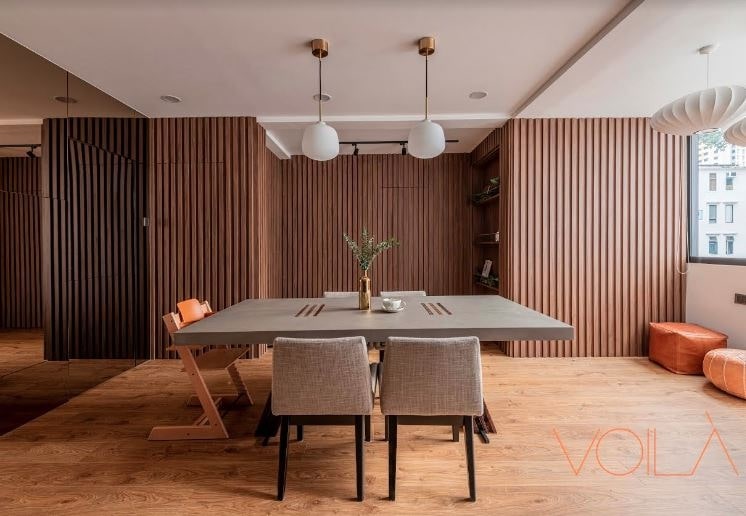 BEST FOR: Personality-based, preference-inspired interior design
WEBSITE: http://voila.sg/
ADDRESS: 101 Thomson Rd, #01-53 United Square, Singapore 307591
CONTACT DETAILS: +65 6455 8861
OPERATING HOURS: Monday to Friday: 11am to 9pm, Saturday: 10am to 8pm, Sunday: 10am to 7pm
At Voilà, every detail of your preferences and identity is important for their team. Applying this privileged knowledge and understanding, they put function and form together, transforming your home, office or retail shop into a space of individuality, asserting your very quintessential self.
Service Highlights
Voilà offers a complete interior design solution from conceptualization to execution, assuring successful completion on time and within budget.
Customer Reviews
5-star Google review from Su Su:
"Professional in meeting customer needs and takes on a personalized approach in design. My ID took the time and effort to understand my family profile and recommended design alternatives that worked better for our lifestyle and budget; even if it meant cost savings on my part! Renovation is such a massive undertaking, but my experience with Voilà has been fuss-free as my ID keeps track of deadlines and provides timely updates. I never had to micromanage as my ID is trustworthy and his team has proven to deliver quality workmanship. I am a satisfied and grateful renovated home owner thanks to Voilà!"
17. Artistroom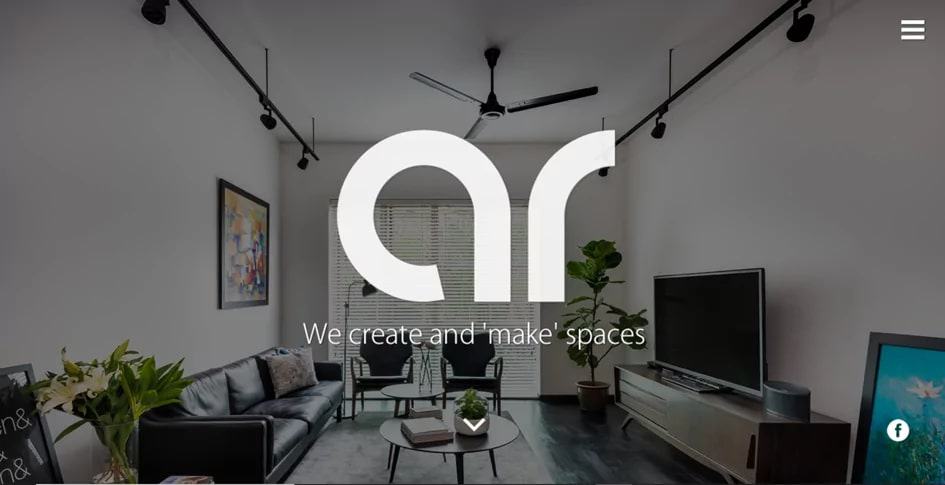 BEST FOR
Customised functional interior spaces
SERVICES/SCOPE

Spacing Planning, Construction, Furniture, Interior Design

PRICING
WEBSITE
http://www.artistroom.com.sg/
ADDRESS
195 Pearl's Hill Terrace,
#02-01A,
Singapore 168976
CONTACT
T: 65-6557-0244
E: [email protected]
Artistroom is an interior designing company known in Singapore for their professional designers and jaw-dropping styles. Since they first started in 2008, they have continuously offered their amazing services. They have helped thousands of people in customising their very own interior spaces.
When in contract, they provide room for their client's added input, taking into account their ideas, without compromising the betterment of the interior's design. Artistroom makes sure that the entire process is seen and made both by the designer and the customer.
From the initial planning to spacing and designing, best believe you can rely on Artistroom to give off the best choices, leaving you with a beautiful space worth every money spent.
Highlights
Multi-award winning designers
Superior ideas
Flexible and maximised budgeting for design
Customer Reviews
Read what a very satisfied client had to say about Artistroom's amazing designs:
"Mark and Katy renovated my present residence a couple of years back. They were recommended by very good friends who gave us some names to check out. Mark and Katy presented their ideas and were reasonably priced. We weren't need much convincing to go with them, as they were engaging and passionate about what they do. They did a massive amount of work, from gutting to complete refitting of the place. Overall, it was a painless and easy process, and the check-in's were consistent and regular. After our unit was done, we had neighbours and realtors when showing units in the estate, who would stop by to see if we would open our door to show prospective buyers the potential of the place. Our place is fitted well, with clean lines and is easy to maintain. Mark continues to keep in contact, supporting us with small stuff that needs to be looked into as part of maintenance."
18. TCA Think Tank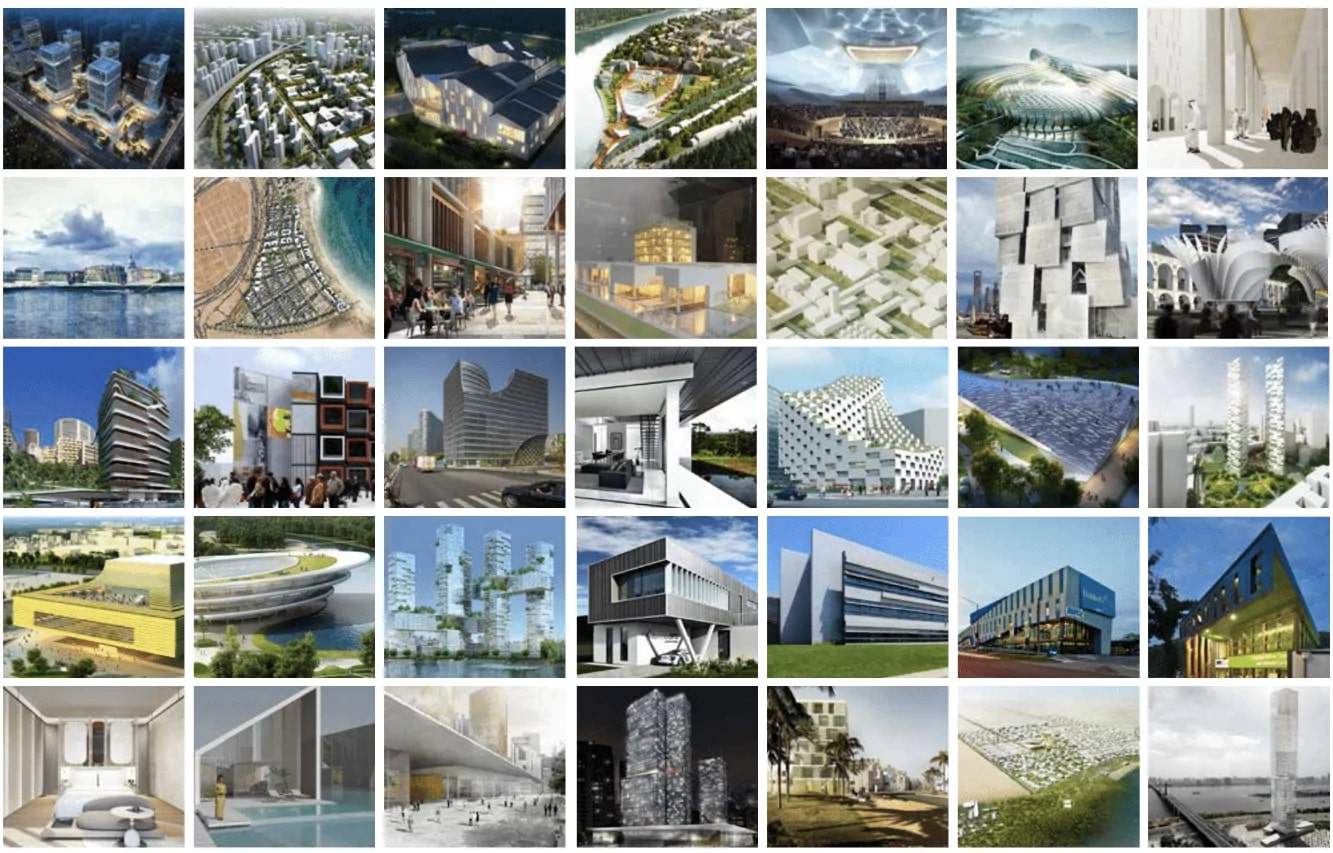 | | |
| --- | --- |
| BEST FOR  | A wide spectrum of architectural work |
| SERVICES/SCOPE | Residential and Commercial Spaces, Art installations, Custom made furniture, Publications, Exhibitions |
| WEBSITE | |
| ADDRESS | 20 Depot Ln, #01-07, Singapore 109763 |
| CONTACT DETAILS | + 65 83814587 |
| OPERATING HOURS | Monday – SUNDAY, 10:00 AM to 8:00 PM |
TCA Think Tank is a multidisciplinary practice based in Singapore, with branches in Italy and Vietnam.
TCA's works include public space design, land art, light installation, pop-up event, landscape design, masterplan, coliving, heritage renovation, research, and printed publication. Working with public and private institutions, developers and clients, galleries, and universities, TCA escapes the constraints given by scale and function, aiming at "transforming anonymous spaces into human experiences".
TCA Think Tank's works can be found in South East Asia, Europe, South America, the Middle East, Australia, and China. TCA has been exhibited at Venice Biennale, Stamford Art Center and Seoul Biennale.
Service Highlights
Contemporary Architectural Design
Modern and unique designs
Multi-awarded firm
High-quality output
Innovative concepts
Well-experienced designers
19. Classic Furniture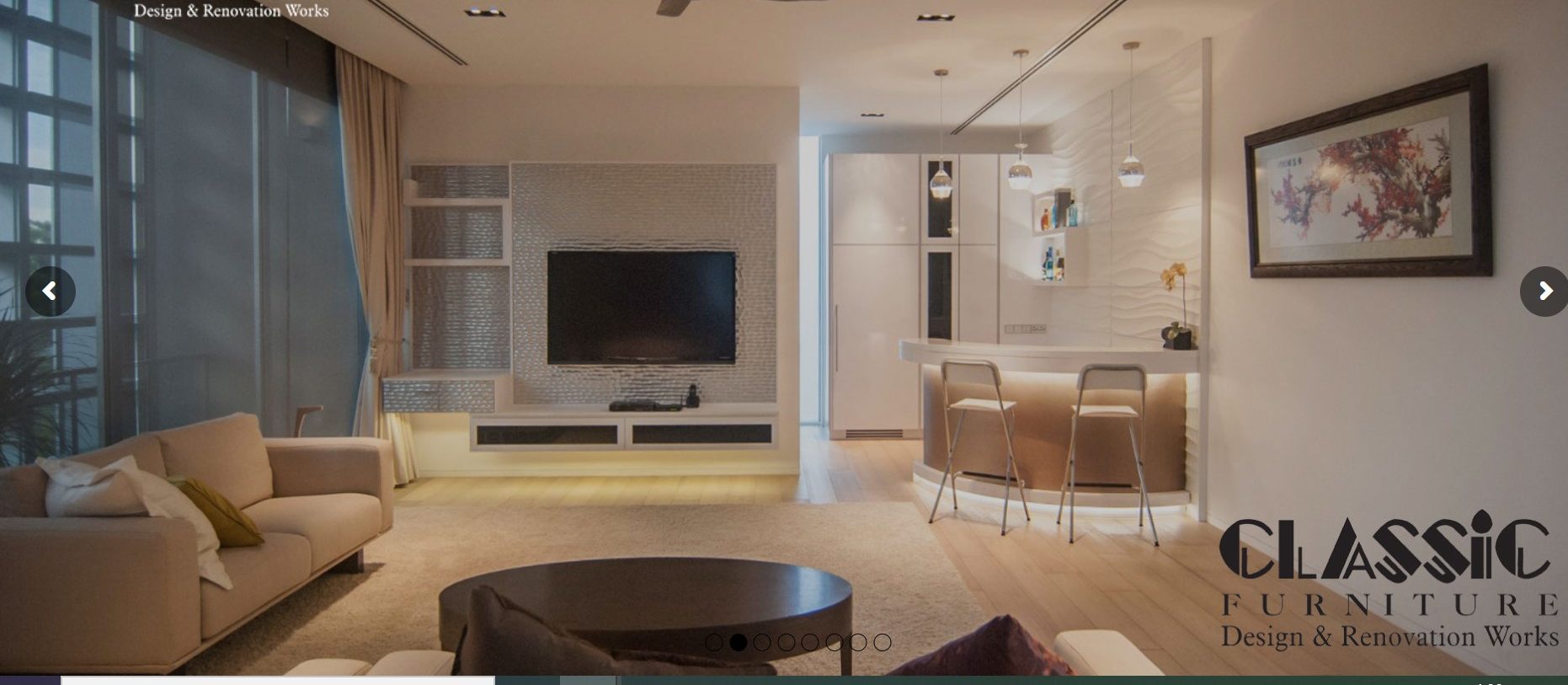 BEST FOR
Beautiful Craftsmanship
SERVICES
Carpentry, Renovation, Interior Design
WEBSITE
https://classicfurniture.sg/
ADDRESS
845 Geylang Road #03-56
Tanjong Katong Complex
Singapore 400845
CONTACT DETAILS

Contact
+65 6747 4119

Fax
+65 6748 4655

Email
[email protected]
Another company to consider is Classic Furniture Design and Renovation Works. They're a one-stop fix to construction and renovation services in the country, having been in the industry for over 40 years.
Classic Furniture started in 1980 as a carpentry workshop and slowly branched out to design and renovation throughout the years.
What makes them a great option is that they have a dedicated group of carpenters, interior designers, and staff alike, ensuring that they provide only the best possible work and output for their clients. Another reason would be that Classic Furniture has seamless processing, which makes things run smoother and faster.
They start with a complimentary consultation. Once done, layouts and concepts are fixed before finalizing the proposals and then the actual groundwork construction. Details and design come after that.
With their passion and skill, Classic Furniture has already finished over 30,000 projects and made even more clients satisfied. Be one of their possible customers and consider what they can offer to make your house your true home.
Classic Furniture's portfolio is posted on their website. You can also send your inquiries there, and they'd be happy to get back to you soon enough.
Service Highlights
Large Showrooms
Quality materials made in Singapore
Well-established partners from different industries
Works closely with clients, detailed works
20. Home Guide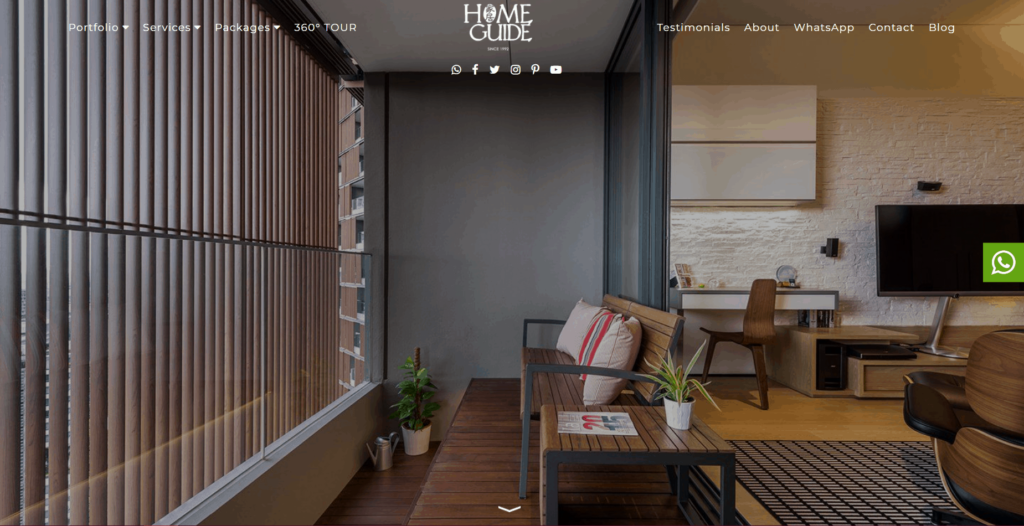 BEST FOR
Interior Design
SERVICES
BTO
HDB Resale
Condominium
Landed Property
Interior Design Consultancy
Office
Retail
Renovation Contractor Services
WEBSITE
https://www.homeguide.com.sg
ADDRESS
2 Leng Kee Road, #02-03
Thye Hong Centre
Singapore 159086
CONTACT DETAILS
(65) 6253 2539
[email protected]
Home Guide is an interior design company that's known for their meticulous work process and comprehensive home transformations. Many praise them for employing a client-first approach in their work.
After serving the clients of Singapore for more than 25 years they've been able to hone their skills to the fullest, helping them create interior designs that fit right in with the current trends as well as the client's preferences.
Their commission process starts with with a free, in-depth design consultation, where they get a better idea of what the client wants for their interior. Afterwards, their skilled interior designers will work to bring their client's ideas to life, all while making use of their extensive skills and numerous connections in the process.
All in all, Home Guide will provide you with an interior that's unmatched when it comes to quality and style. Given their top-notch services and attention to the client there's no doubt if you hire them, your interior will be in good hands.
Service Highlights
More than 25 years of experience
Customer first approach
Meticulous working process
Free interior design consultation
21. Livspace Singapore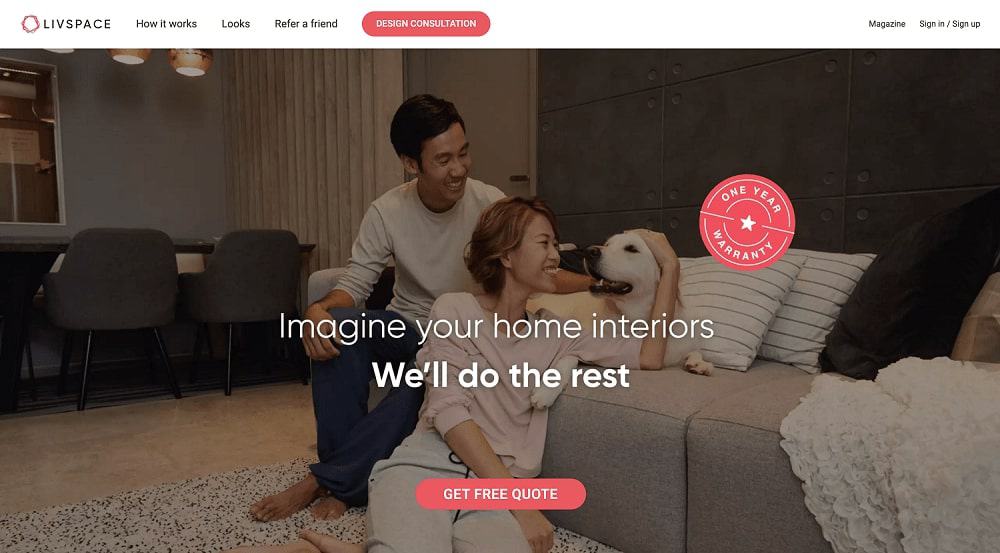 BEST FOR
Renovations, Full Home Interiors, Carpentry
SERVICES/SCOPE
Renovations
Design and build
Carpentry work
Demolition, hacking, masonry, plumbing, etc.
Furniture and decor sourcing
PRICING
You can talk to a designer to get a free quote and sample designs.
WEBSITE
https://www.livspace.com/
ADDRESS
Level 6, Beach Centre, 15 Beach Road, Singapore 189677
CONTACT
https://www.livspace.com/
Livspace is one of the leading choices if you need the best contractors in Singapore for home interiors and innovation. They have award-winning designers and verified contractors to help customers make their long-lasting dream homes a reality.
To make sure they only hire proven contractors and service professionals, each contractor undergoes a 3-step quality check: Onboarding (portfolio screening), Testing (performance evaluation projects) and Monitoring (via a project manager). For peace of mind, customers also get $4 million insurance cover by AXA as well as one year warranty on all civil and woodwork.
Livspace has proven their mettle in various living spaces, including condos, HDB homes and landed homes. You can start the process of building or renovating your home in 5 easy steps via their convenient and easy-to-use platform.
If you need an interior design company in Singapore that provides the full process of designing to construction, Livspace should be one of your options.
Don't just take our word for it, check out past testimonials and feedback from over 20,000 happy and satisfied clients. In fact, 4 out of 5 customers recommend Livspace!
Service Highlights
Award-winning designers
Verified contractors
$4 million cover by AXA
One year warranty
Customer Reviews
After meeting a few renovation companies, we decided to go with Livspace to design and renovate our new home. We worked with William and found him to be approachable and accommodating. Mostly, he could articulate designs, which were practical yet appealing while taking into consideration safety aspects for our young child.
–Willie Yeo via Trusted Interior Singapore
Livspace was highly recommended and we were pleased. It was the first time we have used a design professional and I would highly recommend leveraging the skills and experience of Livspace.
–Andy Clark via Trusted Interior Singapore
I recently dealt with Livspace for the renovation of my apartment. Their suggestions were non-intrusive but useful and my designer was able to understand my taste, budget and requirements and plan accordingly.
–David McGoldrick via Trusted Interior Singapore
22. M3 Studio
BEST FOR
Unique designs
SERVICES/SCOPE
Interior Design and Renovation
PRICING
Contact for more information
WEBSITE
ADDRESS 

2 Kallang Avenue #09-04, CT Hub, Singapore 339407

CONTACT
Phone: +65 6443 7001 (Main Line)
+65 9237 2952 (Haikel Washi)
Fax: +65 6887 4313
Email: [email protected]
Another recommended company for HDB renovations would be M3 Studio. They're considered to be one of the best in interior designs, and has continuously provided amazing designs and renovations to clients in Singapore.
M3 Studio does both residential and commercial spaces, so it doesn't matter if it's your home or your office that needs revamping, they would surely be able to accommodate your needs and requests.
Another thing clients love about M3 Studio is how detailed they do their plans for each projects. Each part of the process is explained thoroughly, with the company constantly checking in with their clients to ensure that they agree with possible changes.
From conceptualisation, to the actual work in progress and even after finishing, M3 Studio will be there every step of the way. Allow them to assist you in achieveing your dream space.
You can check out their portfolio on M3 Studio's website and take a look at their previous projects. For further questions, you can simply drop a form there as well, or get in contact with them through call or email.
Service Highlights
Beautiful designs and styles
Fast and efficient work
Professional interior designers
23. OSCA
BEST FOR
Innovative Office Design
SERVICES/SCOPE

Office Design

Rennovation Services

PRICING
Request a Quote
WEBSITE
https://www.osca.asia/
ADDRESS
114 Lavender Street #06-88/89, CT Hub 2, Singapore, 338729
CONTACT

+65 6336 1800
OSCA is an interior design agency that specializes in putting a unique twist on workplaces to ensure that all individuals who work there would be comfortable and productive. With over 12 years in the business and around 250 work achievements, they are now able to accommodate international clients from 7 countries and counting.
We found out that their designs are largely leaning toward an open-office facility so that employees can not only use various areas of the place as a means of business but also for lounge, privacy, and meetings as well.
We think that their customization approach is very personalized and can help employees identify with the brand that they work for since they make sure that their corporate identity is also exhibited from the color scheme down, layout, and office furniture.
Their website is simple and visual-based in which clients can easily access their portfolio so that they can get a glimpse of what kind of interior design they offer.
Despite their lack of concrete reviews, their past clients recommend their services and overall customer interaction that has proven to be effective and professional from the consultation to the actual building.
Service Highlights
Detailed interior designs
Specializes in Asian countries
Accommodates multi-functional rooms
24. Office Renovation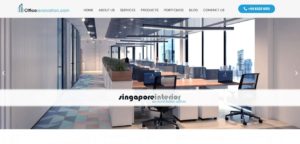 BEST FOR
Industrial Renovations
SERVICES/SCOPE
Office Interior Design
Office Renovation
Office Space Planning
Office Space Partition
Office Reinstatement
PRICING
Request a quote
WEBSITE
https://officerenovation.com/
ADDRESS
124 Lor 23 Geylang, #08-01/02 Arcsphere (Lift Lobby 2), Singapore 388405.
CONTACT
+65 6323 9213
[email protected]
Office Renovation is an interior design company that specializes in providing professional spaces for offices ever since the year 1993 when they were established. With various in-house services, they are able to employ both the latest technology and strategies to make office renovations, designs, and partitions alike to be up to industry and client standards.
We like that they can help clients to visualize and conceptualize more of the design they want due to software such as CAD and other 3D design tools to better help decide regarding what the best design is to be taken.
Their approach is customer-focused in a way that clients can expect that their own projects are adequately given proper attention and planning from the marketing material, planning consultancy, pricing, and design among many others.
With over 5,000 satisfied clients nationwide, and their diverse experience in commercial interior design they are able to accommodate all sorts of office spaces and turn them into one that is both space-efficient and up to the preferences of the client.
Overall, their past clients have since then commended them for their professionalism and expertise in the field wherein they are able to apply it easily on their projects to which we highly recommend them to clients who are in need of such services in the area.
Service Highlights
Full-time contractualization services
Customized projects
Unique and innovative design and visualization tools used
Customer Reviews
Here are some reviews from their clients:
"I will like to express my appreciation to Singapore Interior and their team for the major renovation undertaken for our regional office. The team displayed a high level of professionalism and completed the work on time, safely and to our satisfaction." – Ernest Young
"We personally seen the professionalism and efficiency of the working team on site. They are knowledgeable and possess good standards of communication on their required tasks. Engaging Singapore Interior saves us the hassle to coordinate separately with different contractors for different jobs required. The high quality of the works and fittings done within our budget in a short turnaround time is an excellent recommendation factor for us to refer Singapore Interior to anyone needing office renovation." – Caroline Lim
25. Juz Interior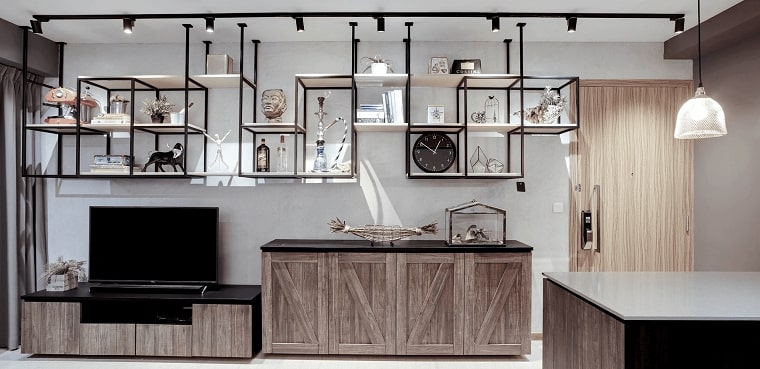 BEST FOR: Minimalist, functional, and sophisticated designs
WEBSITE: https://juzinterior.com/
ADDRESS: 33 Ubi Ave 3, #01-37 Vertex Building, Singapore 408868
CONTACT DETAILS: 6282 8268
The common denominator of Juz Interior's projects is the use of minimalist designs that make each area more spacious. If you have a small place and you want to create an illusion that will make your area look larger and more pleasant, then you might consider their interior design services.
You can completely rely on the talent and skills of their team, thanks to their extensive experience. They can guide you even through a renovation or reconstruction.
If you are looking for the best interior designer in Singapore for minimalist and functional design, you may have found the right company. 
Service Highlights
Dependable team
Affordable rates
Commendable alterations
Customer Reviews
Juz Interior may not be one of the oldest companies in the industry, but they undoubtedly go beyond expectations, say clients. Jane Lim gave this review on Home Trust:
""Glad that I found the right ID!"
Being a detail oriented person myself, I shortlisted a few ID firms and went through long meetings with each of their designers several times to ensure all grounds are covered. Ian of Juz Interior emerged as the most resourceful designer, being attentive to details, keen to listen to my never-ending wants. Through our discussion, he refined my design and raised it a notch higher. Needless to say, I engaged him as my ID.
Throughout the renovation process, he keeps me updated of the progress. Ian and his team showed their professionalism and technical expertise in getting the work done. They even helped to do some minor installation at no charge. It was a great positive experience working with Ian and his team.
Thanks to Juz Interior, the result was a beautiful home with the right finishing touches. The workmanship is excellent.
I would highly recommend Ian & Juz Interior to whoever wants an ID they can relate their needs to. Ian's sincere demeanour make one comfortable working with him and the quality work they produced showed their commitment to deliver."
26. Swiss Interior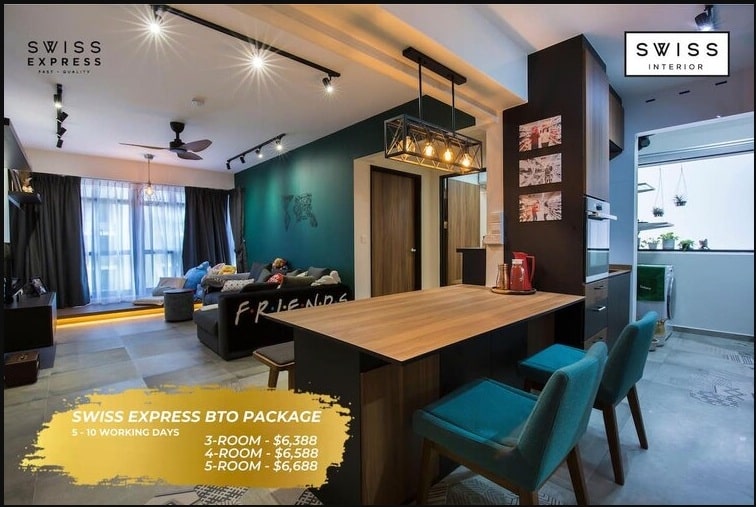 Swiss Interior has been in the business for 12 years and have completed over 500 interior design and home renovation works in a constantly top quality. 
While the company specializes in smart designs that can outlast trends today and the years to come, they are still very much open to discuss your preferences and collaborate your desired finished look and their ideal layout.
For a more convenient and hassle-free renovation processes, you can check out their packages offered at very fair rates.
Service Highlights
Modern approach designs

Customizable

Renovation packages
Customer Reviews
"We will like to appreciate Catherine for the total makeover of our newly resale flat. She has a listening ear and patience to understand our requirements, and careful plan the details onto the design. She coordinated well with all the workers and completed the project on time and to our budget. The results turned out to be so close to the 3D image. We strongly recommend prospective home owners to engage her and enjoy her excellent services."
27. Visual Spaces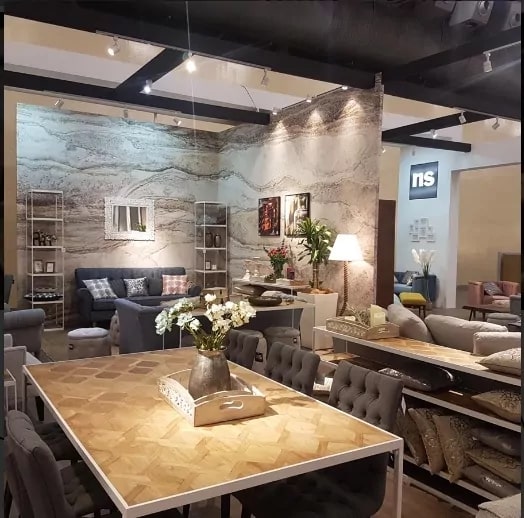 Working on a limited space is definitely not a problem with Visual Spaces. In fact they have accomplished quite a number of commercial facilities with restricted areas like cafes, retail shops, and bars and they managed to transform them to be more aesthetically pleasing for the customers.
The company has more than a decade of experience customizing interior designs of commercial areas and everyday they still strive to provide their clients with exceptionally beautiful concepts that will truly match the shop's branding.
Service Highlights
Originally crafted concepts and designs

Expert designers with years of experience

Seamless project managements
If you end up with any of the interior designers we've named here, you should be well-served. These ID outfits all have the experience and talent needed to transform a so-so space into a spectacular one.
If you think we missed a particular interior designer in this lineup, let us know! Tell us why you believe they're worthy of being among the best interior designers in Singapore too.
Oh, and if you need a place to keep some things before or after your interior design project, give our list of the best storage providers in Singapore a try. This can save you the trouble of wondering where to store those possessions you don't know where to put in your new home/office yet.