If you want your business to grow, than you have to start by having a well-designed working space that encourages everyone to be productive. What better way to do that than by working with the best commercial interior designers in Singapore?
Some business owners have yet to realize how important it is to have a pleasant business space, but since you're here, you have definitely found the light.
Since we want to help you out, we compiled all the best commercial designers in Singapore.
1. LIVSPACE

| | |
| --- | --- |
| BEST FOR  | Personalised interior design services, Renovation |
| SERVICES | Design & Build, Design Consultancy, Project Management, Designer Matching |
| WEBSITE | Livspace Commercial Interiors |
| ADDRESS | Level 6, Beach Centre, 15 Beach Road, Singapore 189677 |
| CONTACT DETAILS | +65 3129 2402 |
| OPERATING HOURS | Book with them on their website for a schedule. |
Livspace has to be one of the first companies you think of when you want the best commercial interior designers in Singapore. Their renowned designers and rock-solid contractors have a reputation for providing top-notch services for business owners in need of both fresh interior design and commercial space renovation.
The company strives to assure clients of the quality of its contractors and designers. As such, each contractor undergoes a 3-step quality check: Onboarding (portfolio screening), Testing (performance evaluation projects) and Monitoring (via a project manager).
To add to that, customers also get $4 million insurance cover by AXA as well as a one-year warranty on all civil work and woodwork.
Check out their website if you want to see just how simple getting a good commercial interior designer can be. From designer matching/selection to contract completion, it takes only a few steps via their platform.
SERVICE HIGHLIGHTS
Award-winning designers
Dependable contractors
$4 million cover by AXA
One-year warranty
CUSTOMER REVIEWS
Here are some reviews from customers of Livspace. Most of these may be for residential projects, but it does give you an idea of what to expect from the company:
After meeting a few renovation companies, we decided to go with Livspace to design and renovate our new home. We worked with William and found him to be approachable and accommodating. Mostly, he could articulate designs, which were practical yet appealing while taking into consideration safety aspects for our young child.
–Willie Yeo via Trusted Interior Singapore
Livspace was highly recommended and we were pleased. It was the first time we have used a design professional and I would highly recommend leveraging the skills and experience of Livspace.
–Andy Clark via Trusted Interior Singapore
I recently dealt with Livspace for the renovation of my apartment. Their suggestions were non-intrusive but useful and my designer was able to understand my taste, budget and requirements and plan accordingly.
–David McGoldrick via Trusted Interior Singapore
2. Singapore Office & Retail Design Consultants (SORDC)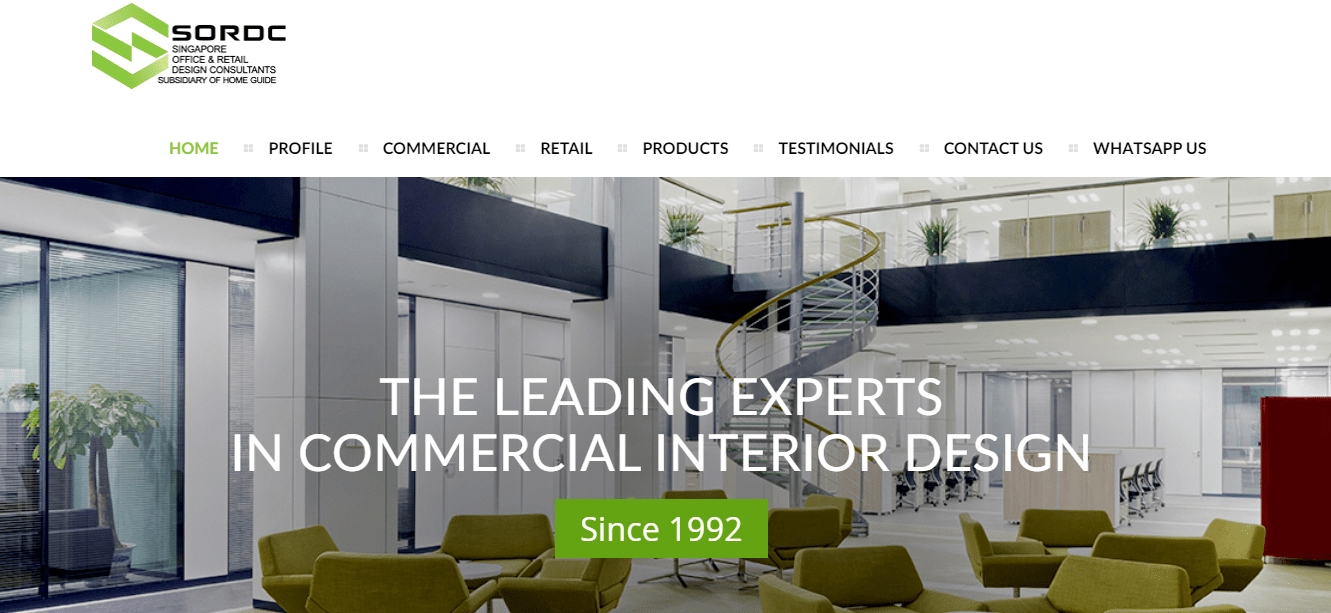 | | |
| --- | --- |
| BEST FOR  | Office and Retail Services |
| SERVICES | Design & Build, Design Consultancy, Regulation Submission, Soft Finishing, and Project Management |
| WEBSITE | https://www.officeinteriordesign.com.sg/ |
| ADDRESS | 2 Leng Kee Rd, Singapore 159086 |
| CONTACT DETAILS | +65 6474 7333 |
| OPERATING HOURS | Monday – Friday, 9:00 AM – 6:00 PM |
SORDC has been creating business spaces in Singapore for almost 28 years now, making them one of the first commercial interior designers on the island. If you want to make your office look brighter and more pleasant, then you should definitely call them up.
SORDC can turn your basic and boring office into a lively space where everyone doesn't get bored and is motivated to be more productive. One of their goals as a company is to have their designs contribute to the company's day-to-day operations.
Another reason that makes SORDC worth your money is that they will guide you every step of the day — from paperwork down to the actual renovation. What's more, they have a team of professional interior designers who are the best persons for the job.
Highlights
Affordable rates
Professional team of designers
Functional designs 
Customer Reviews 
As one of the leading commercial interior designers in Singapore, SORDC has received nothing but praise. Here are some comments commending their work:
"On behalf of all the staff and bosses of Koh Dental Surgery Pte Ltd, I would like to thank Home Guide especially you and Jack for the quality work you both have delivered through the entire process of renovating and designing our new dental clinic at NeWest Condo. We appreciate the invaluable help and advice from the initial planning to liaising with our dental equipment suppliers right down to the selection of materials in completing the finishing look of our now posh and classy dental workspace. Also, I have to put in a special mention that Lance was very attentive in terms of creating the design and style we were looking for." 
"We engaged SORDC/ HomeGuide for our office upgrade. Zac was very meticulous and paid attention to all our requirements. He is a very practical designer with a good aesthetic sense. We took his recommendations and are very happy with the results. We are loving the height adjustable desks!" 
3. The Interior Lab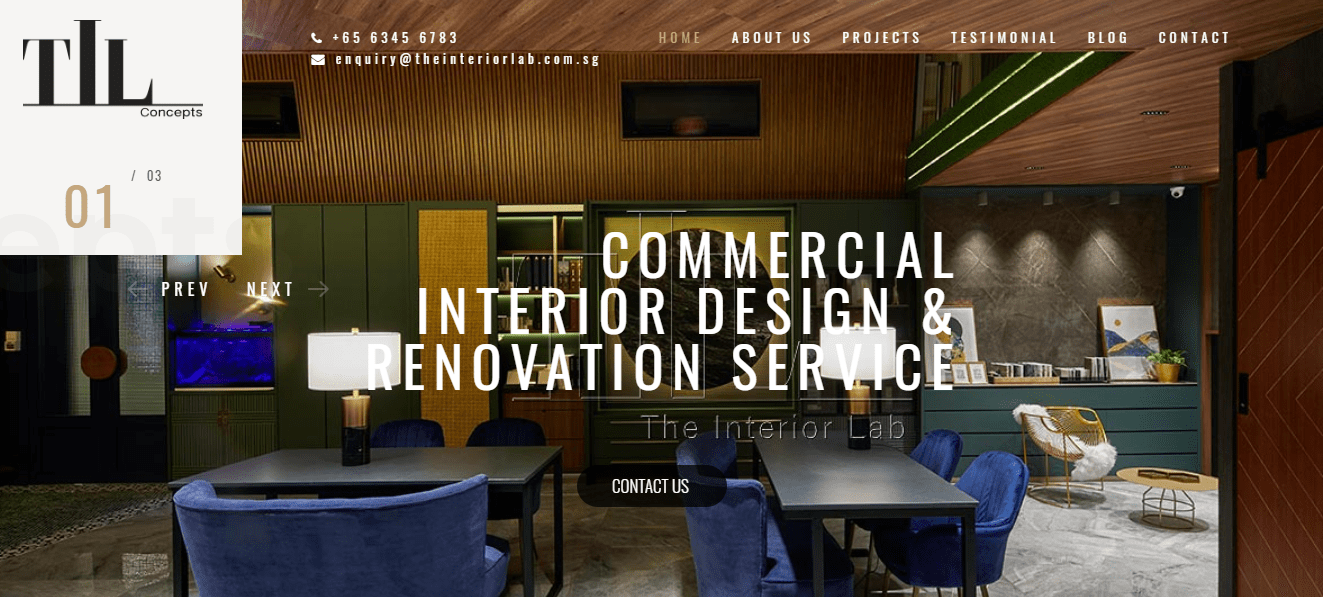 BEST FOR 
Architecture, Interiors, and Planning
SERVICES
Office Interior Designing and Renovations, Office Reinstatement, Cafe & Restaurant Interior Design
WEBSITE
https://www.tilconcepts.com.sg/
ADDRESS
86 Joo Chiat Place, Singapore 427803

114 Lavender Street #07-80, CT Hub 2, Singapore 338729

CONTACT DETAILS
+65 6345 6783
OPERATING HOURS
Monday – Friday, 10:00 AM – 8:00 PM
 With only 12 years of experience, The Interior Lab has managed to collect clients like high-profile Accellion, Crossland, Kensington, and even Shashlik, proving that their work can be trusted even by small businesses.
As a company, they offer interior designing and renovation services to a wide variety of business spaces in Singapore. Whether your space is a corporate office or a cafeteria, they know exactly what to do to make your space more appealing.
On top of this, before starting any work, their team of designers will take their time to consult with you to ensure that your vision will come alive through their designs.
Highlights
12 years in the business
Creative team of designers
Office and retail designs
4. SINGAPORE CARPENTRY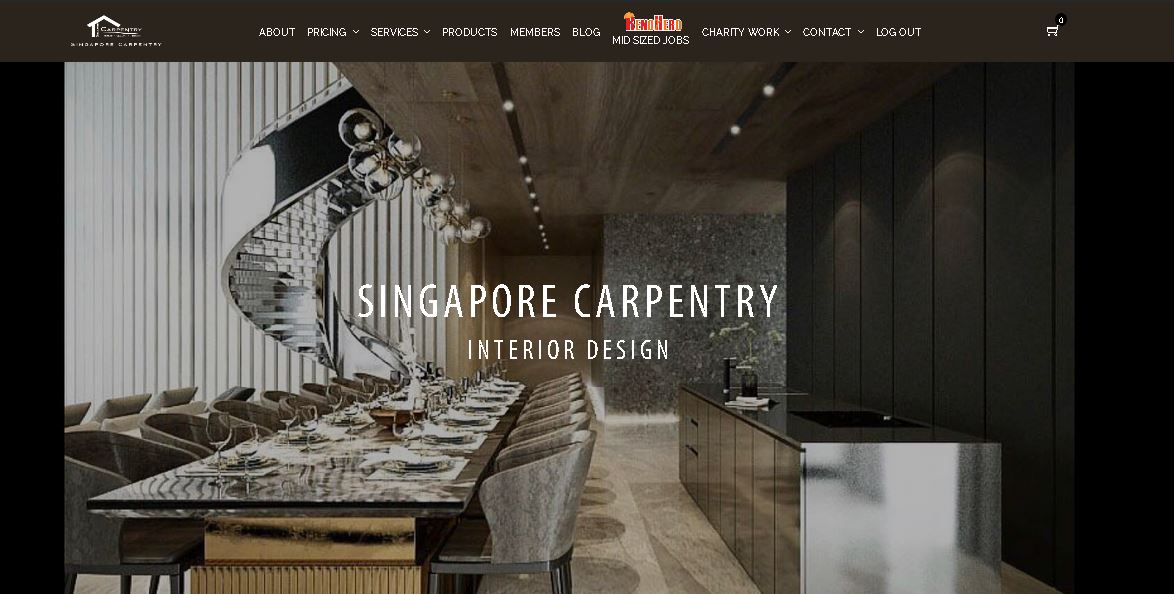 Singapore Carpentry could handle small or big construction services with their highly-skilled carpenters. They could ensure productivity, efficiency, and reasonable prices. 
Moreover, they were recognized as one of the carpentry factories that led invested in modern technology like robotics. These technological advancements were incorporated on their operations to ensure quality and efficiency. 
With regards to interior design in commercial spaces, they make sure that they consider the branding, industry, ambience, and demographics of your company. They incorporate it in the design to fully envive the identity of your company. 
Highlights
Online Pricing request

Complete construction service

Complete design consultation

Customized service
Customer Reviews
Customers of Singapore Carpentry were impressed by the quality of service and their efficiency. Most of them mentioned how amazed they were with the management of projects, renovations, and customer service. 
"Hired Ernest as our Interior Designer for our new apartment. Really awed by how our design came to life. He understands what we are asking for, and does not hesitate to manage our expectations whenever needed. Definitely appreciate his honesty. No over promising and under delivering."
"Their in house factory produces high quality carpentry work at value price for us.  He also helped us to cut cost by importing the furniture and materials from overseas. Whole project was smooth and our penthouse was more beautiful than we expected. "
5. Earnest

| | |
| --- | --- |
| BEST FOR  | Commercial and Corporate Services |
| SERVICES | Interior Design and Planning, Pre-Lease Services, Design Management, and Project Management |
| WEBSITE | https://earnest.sg/ |
| ADDRESS | 2 Kallang Avenue, #08-06 CT Hub, Singapore 339207 |
| CONTACT DETAILS | 6445 1683 |
| OPERATING HOURS | Monday – Friday, 9:00 AM – 6:30 PM |
 Earnest Singapore believes that the key to having a successful business is a well-designed workplace that encourages everyone to be productive.
One of their best assets is their team of professional and experienced interior designers who are committed to giving their clients the best possible workplace.
However, they aren't always about the design of a space. While they believe that aesthetics in the workplace are important, they think it should be more about functionality and practically rather than design.
If you need help outside of interior design, they also extend their services to cost planning, design management, and even project management.
Highlights
Affordable rates
Experienced team of designers
Functionality over aesthetics
Customer Reviews 
Here are some compliments that Earnest has received: 
"It has been a pleasure to have you manage the renovation of our office.Everything was planned for in advance, delivered on time and no surprises.You even went the extra mile to fix a few items that make the difference. Your professionalism has been outstanding and I look forward to working with you in the future for any following renovation works." 
"We are pleased that the project was completed on time as planned and there were no major "hic-cups" in the whole renovation project. They have demonstrated a high level of professionalism and positive attitude in meeting our expectations and requirements. We are very pleased to work James Lim as he has exhibited his commitment and responsibility throughout this project. Last but not least, we strongly recommend Earnest Design to any organization as they have demonstrated the extra and high quality of delivery to achieve client's satisfaction." 
6. OSCA Singapore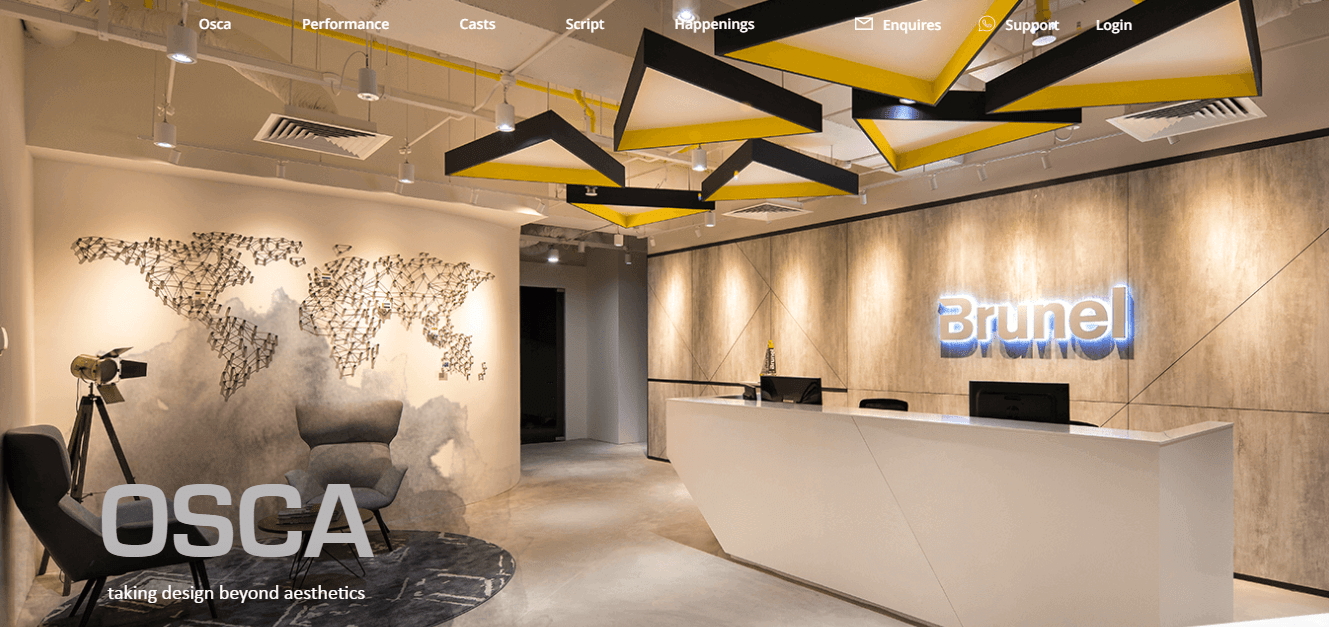 | | |
| --- | --- |
| BEST FOR  | Corporate and Retail Interior Design |
| SERVICES | Office Interior Designing and Renovation and Design Consultancy |
| WEBSITE | https://www.osca.asia/ |
| ADDRESS | 114 Lavender Street #06-88/89 CT Hub 2 Singapore 338729 |
| CONTACT DETAILS | +65 6336 1800 |
| OPERATING HOURS | Monday – Friday, 9:00 AM – 6:00 PM |
 As one of the top commercial interior designers in Singapore, OSCA promises to deliver services that will meet their clients' standards and expectations.
If you have a boring and plain office, just hire their services and let them do their magic. One of their strengths is in delivering fresh yet functional designs that have never been seen before, perfect for the most creative spaces in Singapore.
Highlights
Uncompromised quality
Quick response
Fresh and original designs
7. Offix Design

| | |
| --- | --- |
| BEST FOR  | Office Interior Design and Office Space Planning |
| SERVICES | Carpentry Work, Electrical Work, Data and Telephone Cabling, Licensed Electrical Work, Endorsement Sprinkler, Installation/Relocation, Ceiling Work, Partition Work, and Office Reinstatement Service |
| WEBSITE | https://www.offix.com.sg/ |
| ADDRESS | 18 Howard Rd, #01-04, S369585, Singapore 369585 |
| CONTACT DETAILS | +65 6909 8989 |
| OPERATING HOURS | Monday – Friday, 10:00 AM – 6:00 PM |
Offix Design knows that for an office to grow, it needs to be conducive for productivity, and productivity can be triggered by a well-designed and clean office.
Established only in 2016, it has grown into one of Singapore's most in-demand commercial interior designers for its innovative designs and ideas.
Despite being in the business for less than 5 years, they have managed to help businesses through eye-catching designs that captivate visitors. They have expert designers who can come up with the freshest, most functional designs that can help workers to concentrate on their work.
Finally, their goal as a company is for every worker to feel that their workplace can be their second home, where they can relax, have fun, and release their stress. If you have a workplace that encourages all these, then expect that your business will grow.
Highlights
On call even on holidays
Proficient interior designers
Office furniture installation
Functional designs
8. Eight Design

| | |
| --- | --- |
| BEST FOR  | Commercial and Residential Interior Designing |
| SERVICES | Design Consulting, Architectural Renovation, Fire Protection System, and Security Solutions |
| WEBSITE | https://www.eightdesign.com.sg/ |
| ADDRESS | 140 Paya Lebar Rd, #01-04 [email protected] Lebar, Singapore 409015 |
| CONTACT DETAILS | 6266 8880 |
| OPERATING HOURS | Monday – Friday, 10:00 AM – 6:00 PM |
 If you want an interior designer that can bring out the best out of your office, then Eight Design is the perfect match for you.
Catering to both residential and commercial spaces, they promise to provide you with a hassle-free experience that won't disrupt the operations in your workplace.
What we truly love about this interior designer is that their prices are affordable and competitive. While most tend to charge higher rates because there are more people working, this one will give you fair and honest price without ever sacrificing the quality of their work.
Highlights
Free quotation
Competitive rates
Customer Reviews 
"After looking around and meeting many Interior Designers, we chose the duo (Waikit and Chin Hao) from Eight Design. We are so glad we made the absolute right choice. They were very patient and great support from start to finish. Their ideas and creativity is brilliant. Their suggestions were very handy when we had to decide on various material. All the work finished within the timelines given,, some even sooner. We couldn't have found anyone better. Thank you Waikit and CH (Eight Design)." 
"Thank you Eight Design Pte Ltd! Khai was fantastic. He made our house practical for our everyday life and we could not be more ecstatic with the results! His top priority was making sure we loved the home and had a stress-free experience. Our house is everything we have ever wanted and more. I definitely cried happy tears when I saw the end result. Khai kept us updated every step of the way and truly listened to our design wants and needs. He completely catered to our style and schedule. Thanks to him we feel confident in our choices." 
9. My Reno Diary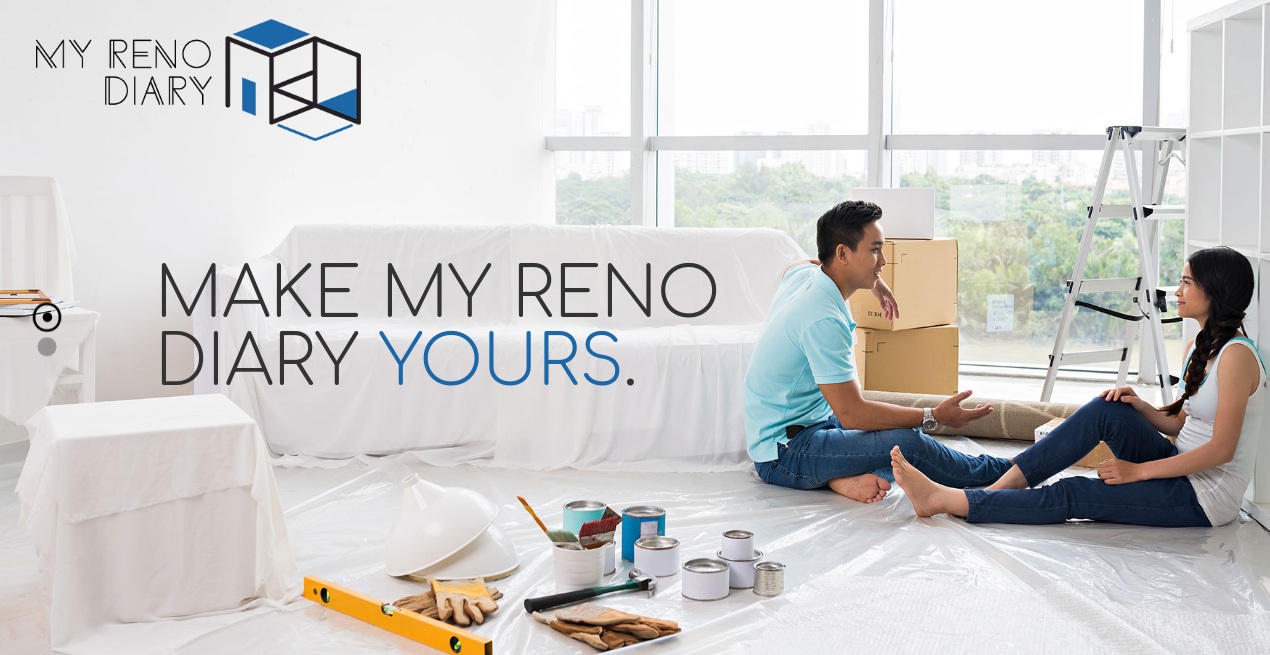 My Reno Diary is highly committed to transforming any houses into a delightful and illuminating home and turn offices to a more motivating vibe by incorporating their creativity and talent in interior designing.
Through their wide range of personalized interior designing services, they are able to bring into reality your ideal home and office setup in a very cost-effective way while keeping their standards high and your expectations met.
The team makes sure to always keep up with the latest innovations and to always go the extra mile that will make their designs stand out. 
They are available everyday from 10am to 9pm if you want to seek consultation from them.
Highlights
Innovative materials and procedure

Reliable and high quality before and after services

Personalized designs
Customer Reviews
My Reno Diary has a 4.5 high rating on Google because of their professionalism, credibility, and cost-effectiveness. Their clients appreciate their reasonable prices without compromising the quality of their work.
"Renovation can be a nightmare if we engaged the wrong people for the job.  We are thankful ours was a smooth and a pleasant one. 
We have shortlisted a few reno companies, in the end we decided to go for Simon Choo from Reno Diary.  Their quote is very reasonable, and his experience gave us confidence he can do the job well.
Throughout the renovation process, from idea generation to sourcing of materials to actual works, Simon offered us sound and professional advice. He was very responsive to our queries and requests.
We have to say that his response time is awesome, and his customer service is top notch. He is one of the few people that I deal with that delivers what he promised. 
If you are looking for someone trustworthy to renovate your house, I strongly recommend you to look for Simon Choo"
10. LE INTERI DESIGN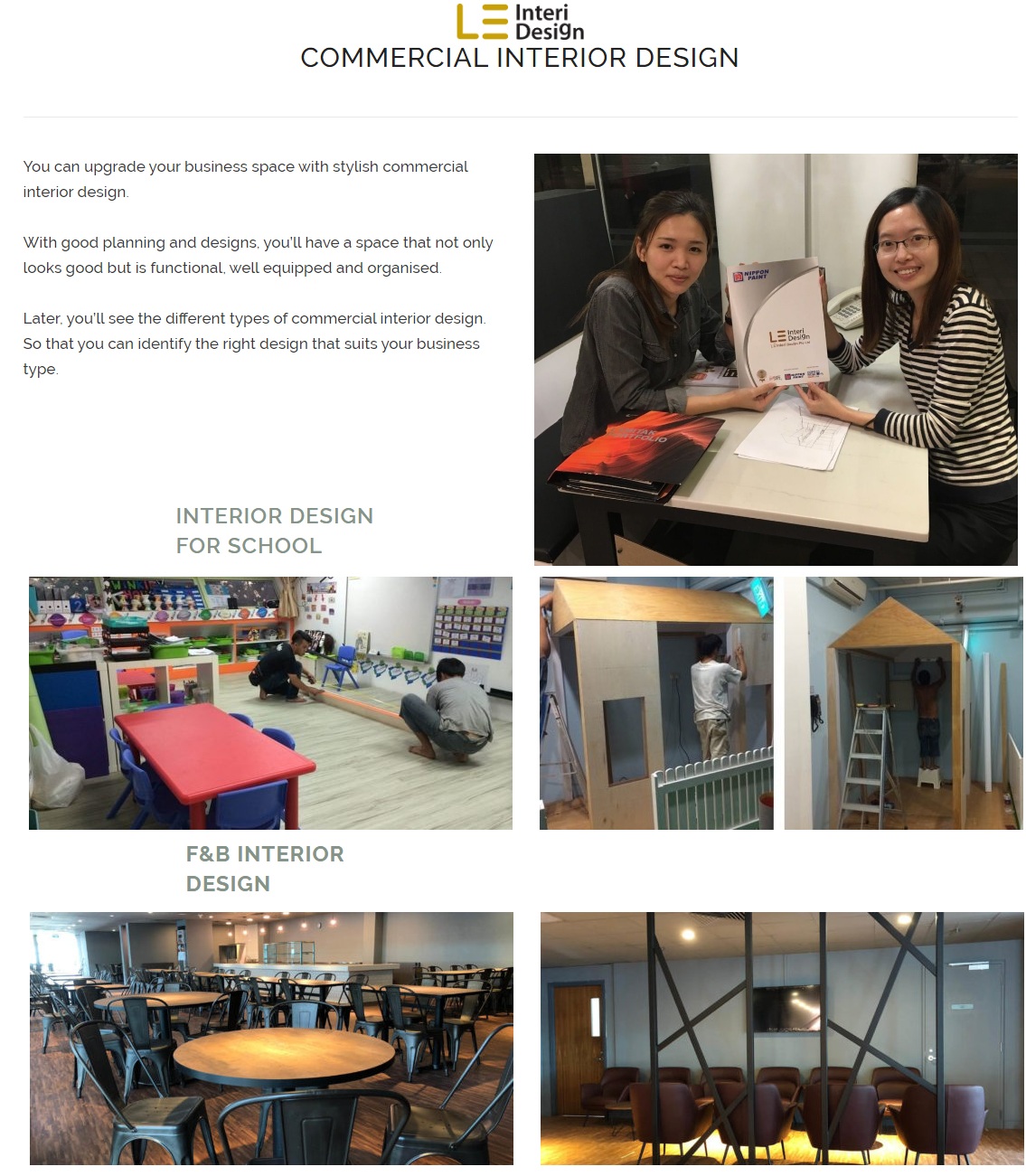 BEST FOR
Stylish interior design 
WEBSITE

https://leinteri.com/commercial-interior-design/

ADDRESS

5 Tampines Central 6, Singapore 529482

CONTACT DETAILS

+65 6786 3289

OPERATING HOURS

Monday – Friday: 11:00 am – 8:00 pm

Saturday – Sunday: 12:00 pm – 6:00 pm
Are you looking for a company that could design the interior of your office space, restaurant, retail shop, or other commercial space? Well, look no further because Le interi design could design any interior space. 
They create stylish designs that fit your company's branding and identity. They make sure that the design communicates the right messaging that fits what your company products and services are. 
But more importantly, they make the layout of your space organized and functional. 
Highlights
Fixed fees for your business size

Excellent customer service

Compliant with regulations and standards
Customer Review
This company could just have cracked the code for the perfect interior design. Functional space, stylish design, and integration of branding could be their secret to a 5 star rating in Google. 
Don't believe it yet? Here are some of the best reviews of their customers:
"Highly recommend Cecilia Yow as a professional and reliable interior designer. During the whole renovation period, she communicated with us well and gave useful suggestions, answered all our questions promptly via call or msg, updated us daily the progress when we were aboard. "
"We are happy to get Cecilia as our ID. She is responsible for her work and provides very detailed quotations with no hidden cost. Cecilia also provides options to cater to our needs. Well done!"
11. EEQUALITY DESIGN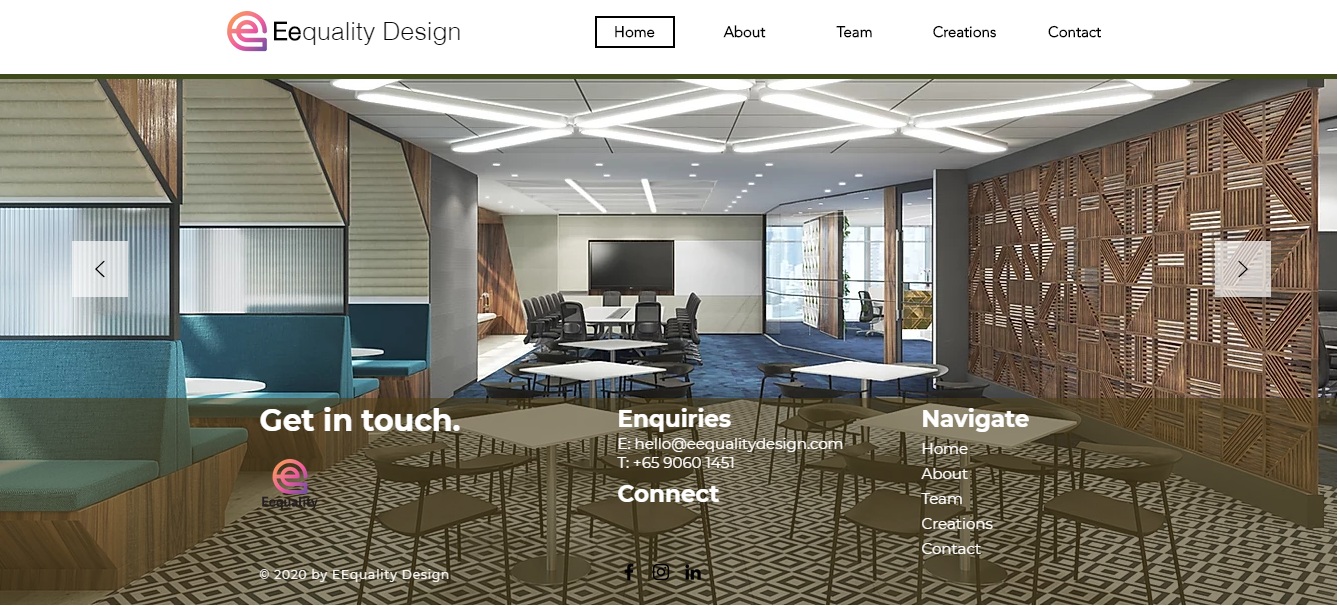 | | |
| --- | --- |
| BEST FOR | Innovative design |
| SERVICES | Consultation, Design, and Execution |
| WEBSITE | https://www.eequalitydesign.com/ |
| ADDRESS | 180 A Bencoolen St., The Bencoolen #09-09 Singapore 189647 |
| CONTACT DETAILS | +659060 1451 |
| OPERATING HOURS | Monday – Friday: 9:00 am – 6:00 pm |
EEQuality Design aims to deliver a balance between design and functionality. That's why they collaborate with their clients in making the right design and layout for the commercial space. 
They ensure that what they would be delivering would meet their client's needs. They involve them every step of the process to make sure that they are on the right track and everything is error free. 
They make sure that the design is stylish to ensure proper ambience and innovative to amaze people who would visit the space. 
Highlights
Innovative and stylish design

Close coordination with clients

Functionality and maximization of space
12. CARPENTERS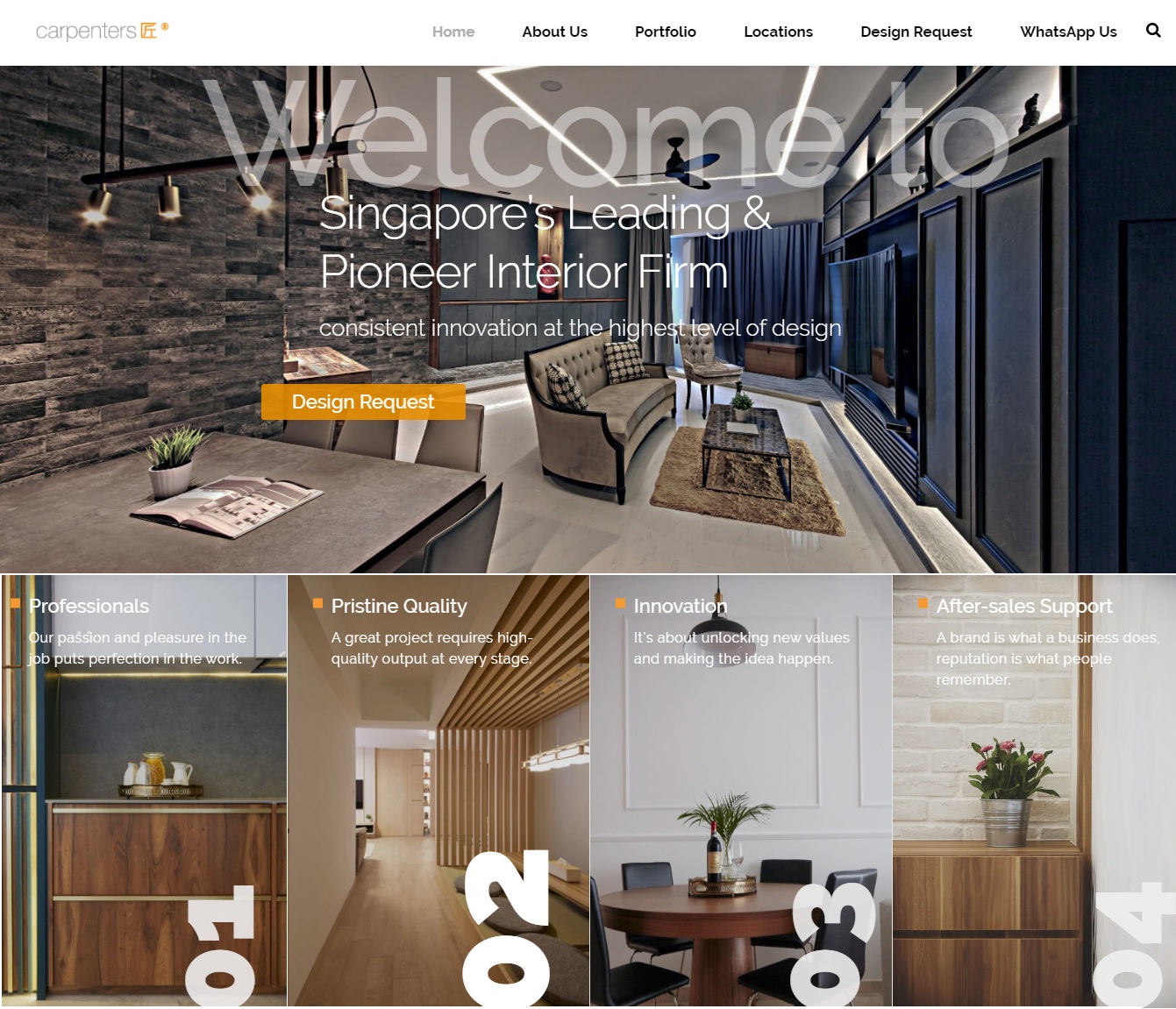 BEST FOR
Innovative design
WEBSITE

https://www.carpenters.com.sg/

ADDRESS

62 Ubi Road 1 #01, Oxley Bizhub 2, Singapore

CONTACT DETAILS

+65 6443 1123

OPERATING HOURS

Monday – Saturday: 11:00 am – 8:00 pm

Sunday: 11:00 am – 6:00 pm
Carpenters is recognized as one of the best interior design providers in Singapore. According to them, this is because of their business processes that were transparent and accountable. 
They have the most skilled and creative team to design your commercial space and turn it into a spectacular funcional space. They've handled 12, 564 projects before and a number of satisfied customers. 
Moreover, they incorporate trendy designs to their work to ensure unique, stylish and current commercial space. 
Highlights
Commitment to professional and excellent service

High quality output

Innovative interior design

Courteous customer service

Free Consultation 
Customer Reviews
Their customers enjoyed the experience of working with Carpenters, especially their patience, new ideas, and skilled contractors. 
"Creative, customer centric, easily contactable and overall nice guy. We hit it off from the first time we met when our design ideas were enthusiastically discussed. He was open to new concepts and even gave good insights on what works and what is just plain impractical."
"Our designer Nicole was very supportive and responsive throughout the process. She coordinated the entire project really well and knew how to get all the ideas into place. Highly recommended!"
13. JESCO DESIGN "N" OFFICE SYSTEM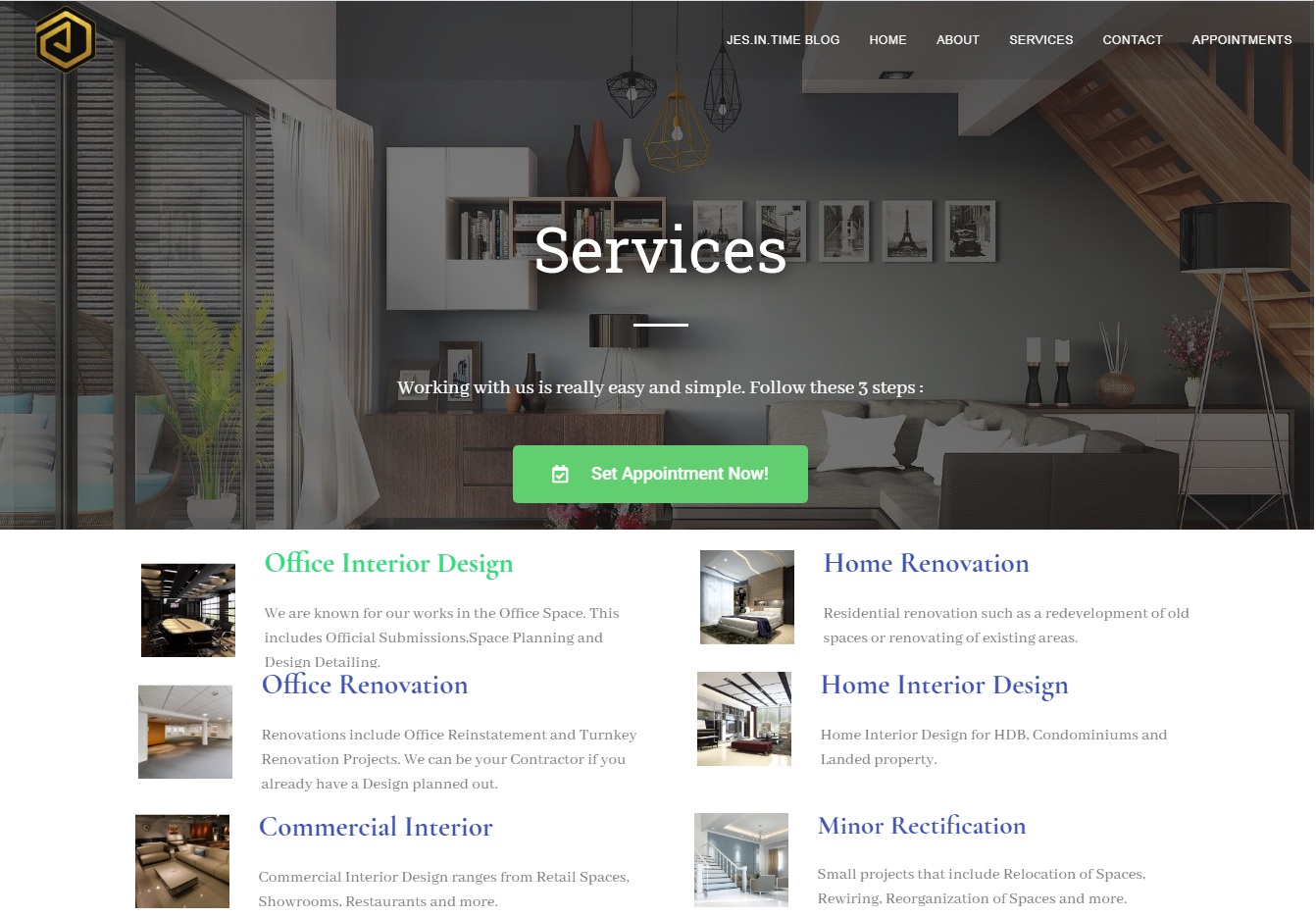 | | |
| --- | --- |
| BEST FOR | Efficient service |
| WEBSITE | https://jescodesign.com/ |
| ADDRESS | 756 Upper Serangoon Rd., Rd., Singapore 534626 |
| CONTACT DETAILS | +65 9008 6790 |
| OPERATING HOURS | Monday to Saturday: 10:00 am – 7:00 pm |
Since 1992, Jesco Design N Office System keeps their customers satisfied with the streamlines process and beautiful outputs. They strive to provide easy, simple, and trustworthy service all the time. 
To ensure best service, they kept their processes simple and easy. You could book an appointment online. Then, they'll visit the space you plan to have designed and they will provide you a quotation right there. 
They specialize in transforming a commercial space into an engaging and inviting place for your restaurant, retail shop, school, and others. 
Highlights
Online Booking

Site Analysis

Site Renovation & Improvement

Convenient and Easy Process
Customer Reviews
Customers of Jesco Design appreciated the genuine approach and simple steps. They made sure that the the customers are involved in the process to meet their requirements and preferences. 
"Hired Jesco to renovate my home office area, Jesley listened to my suggestions and expectations and also advised certain changes to lower my cost. Very genuine. Definitely worth it ! Thank you."
14. BAN YEW INTERIOR DESIGN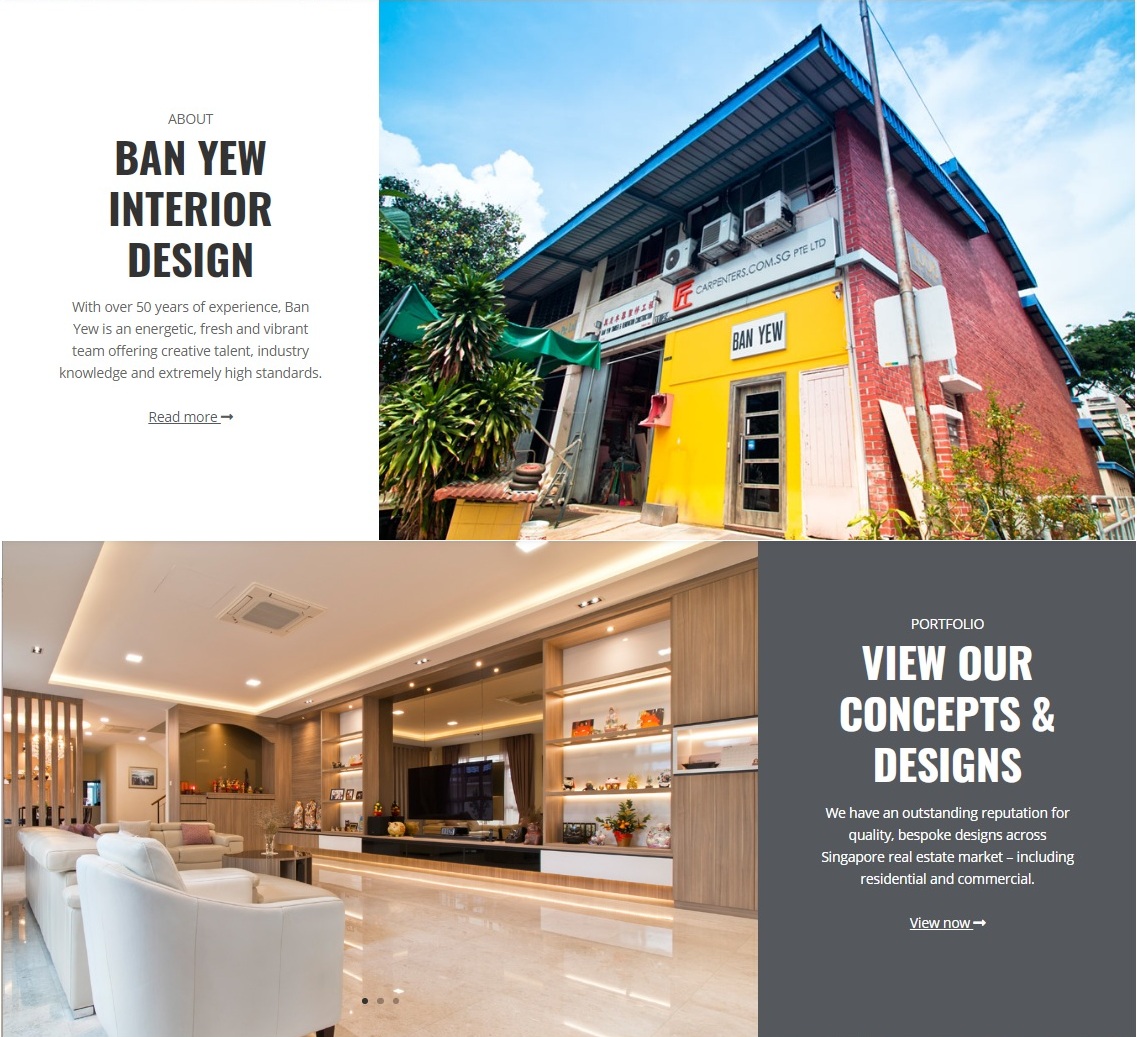 | | |
| --- | --- |
| BEST FOR | Vinyl Flooring |
| SERVICES | Sales & Packages |
| WEBSITE | https://banyew.com/ |
| ADDRESS | 100 Eunos Ave., 7 #01-24 Singapore 409577 |
| CONTACT DETAILS | +65 9692 6022 |
| OPERATING HOURS | Monday to Saturday: 8:30 am – 5:30 am |
Ban Yew has 50 years of experience in interior design, but they try to keep abreast with the newest trends in their industry. This lets them keep clients from coming back as they offer contemporary design. 
It is a one stop interior design provider as they could do everything for you from design up to execution. They even offer a warranty to cover their work and products for a year. 
They have talented designers to create unique commercial spaces for you and skilled carpenters to ensure proper execution of the plan. 
Highlights
Prompt response

Excellent workmanship

Quality and Unique Designs
Customer Reviews
Their customers offered brief but meaningful reviews about Ban Yew. 
"Quick response and good service!"
"Good workmanship and prompt renovation..SATISFACTION GUARANTEED.!"
15. TA.LE ARCHITECTS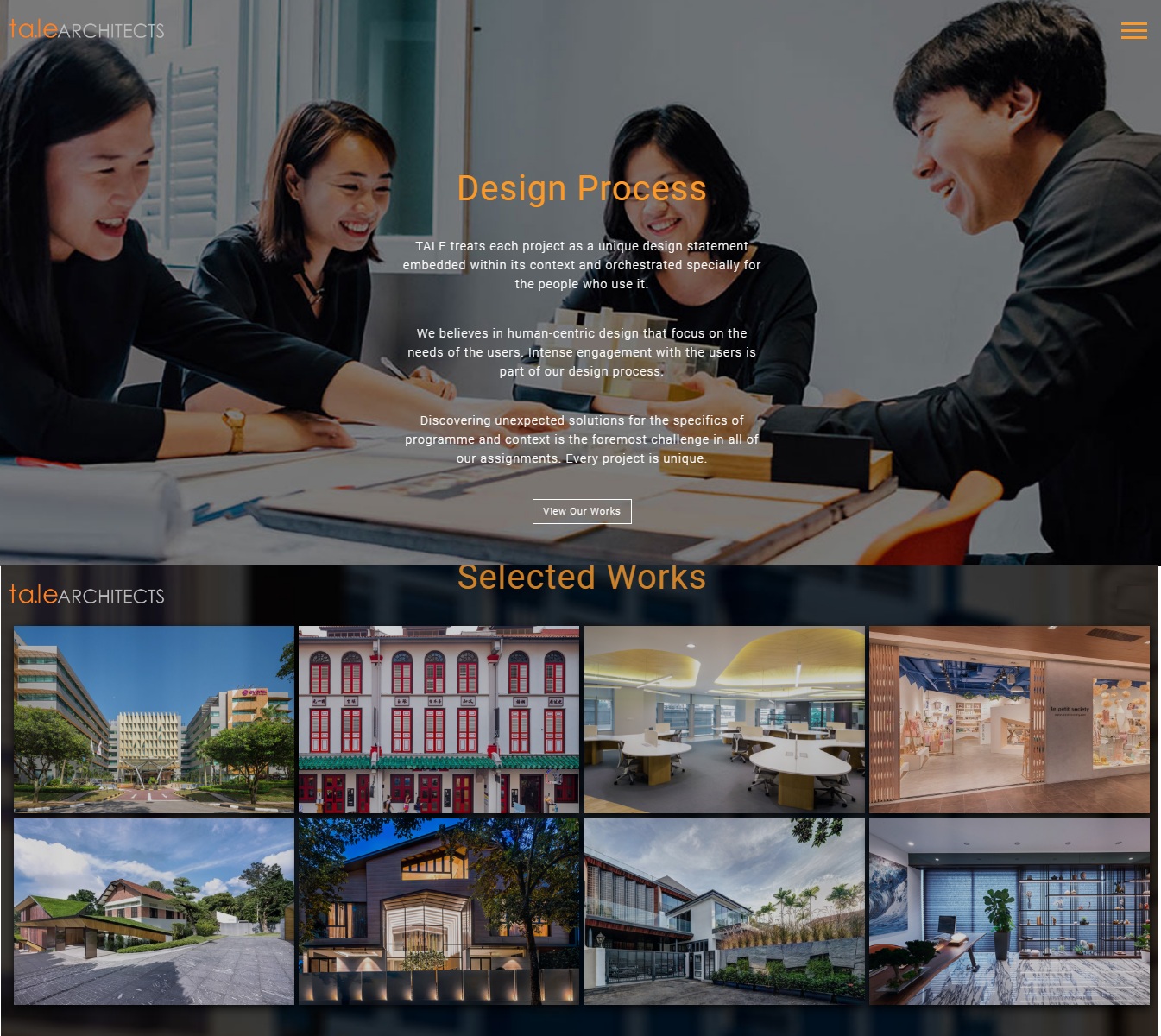 | | |
| --- | --- |
| BEST FOR | Total Design Package |
| SERVICES | Design & Implementation |
| WEBSITE | https://talearchitects.com.sg/ |
| ADDRESS | 150 Cecil Street, #11-03, Singapore 069543 |
| CONTACT DETAILS | +65 6221 6332 |
| OPERATING HOURS | Monday – Friday: 9:00 am – 6:30 pm |
TA.LE architects is an award winning architecture firm with the  2018 and 2019 Good Design Award. They turn your space into a magnificent work of art with their fresh take on architecture and interior design. 
They listen to their clients' requirements and needs. From there, they try to incorporate their unique design and purpose of the space with their client's points in mind. 
Afterwards, they oversee the construction of the approved design. This way, they coordinate with the construction firm to follow the design and specification. 
Highlights
Beautiful Design

Fresh take on architectural design

Reasonable price

Excellent customer service
Customer Reviews
As an award winning architecture firm, their works are certainly to be looked for. Good thing their customers gave good reviews that could give you a gist of how well they work with clients. 
"I have used TA.LE Architects in numerous projects both in Singapore and across APAC and would highly recommend them for all architectural services. They are professional and personable with their directors offering a hands on approach"
"Had engaged TA.LE to renovate my office. Very happy with the customer care, how the team managed to design a space that is suitable for my business and to my personal liking."
16. ZENITH ARC PTE LTD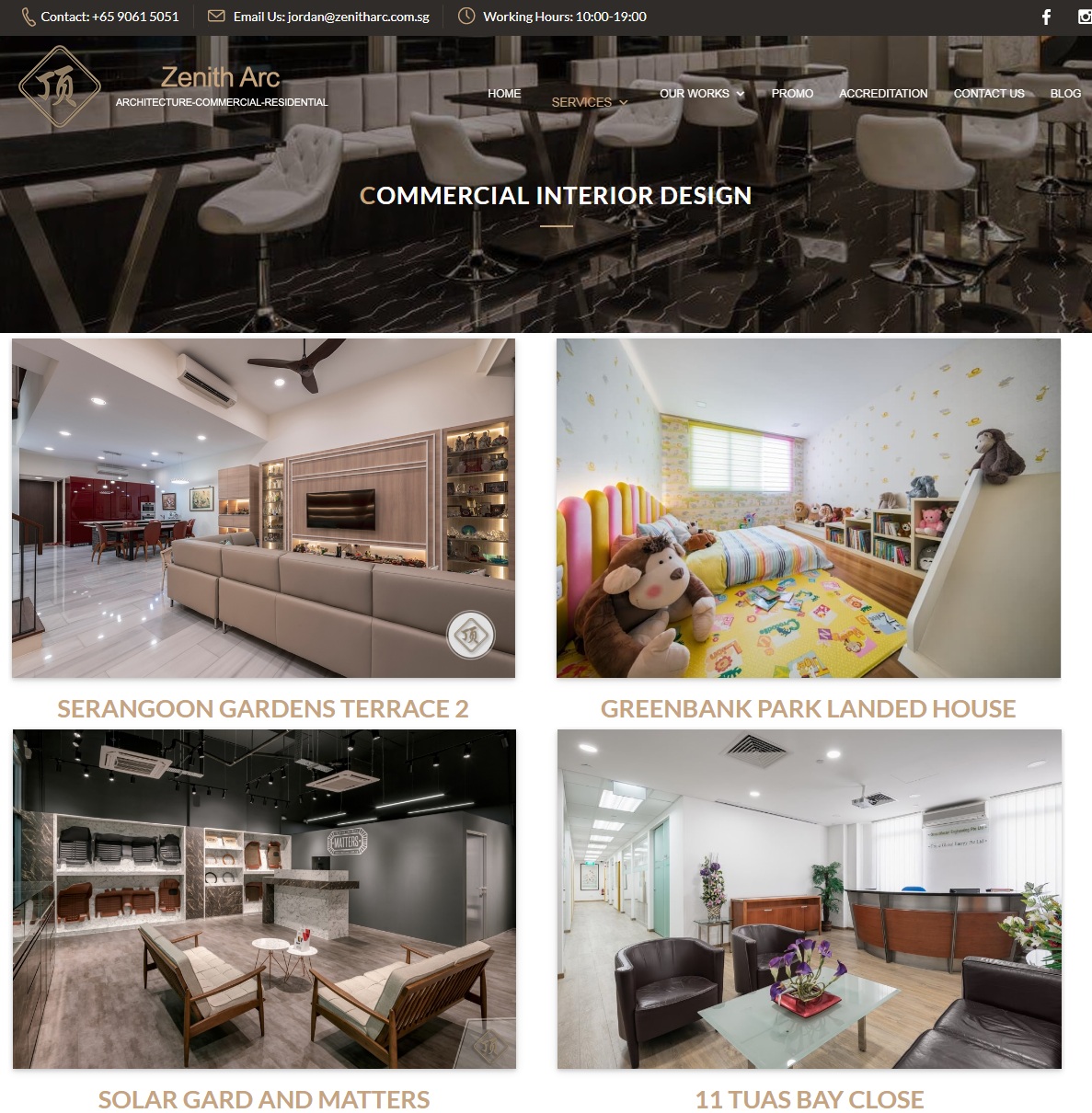 Zenith Arc PTE LTD is known for their team's creativity and unique concept on interior design. They wanted to incorporate new and fresh designs into their works to keep their designs beautiful and refreshing. 
They come up with a systematic plan to ensure that the needs of their clients, creativity, and functionality has been met. This optimizes their processes ensuring that the end project will be aesthetically appealing and fully functional. 
This results to the perfect formlula to ensuring cusromer satisfaction. 
SERVICE HIGHLIGHTS
Trendy designs 

High quality materials 

Tailor Made interior design

Prompt and supportive interiors designers
CUSTOMER REVIEWS
They received a five star rating on Google Reviews. Their customers certainly love the prices and the end product. 
"I found Zenith Arc on Facebook and google, I have engaged them for quotation and seek their consultant for some advice on our new house renovation and compared to our company. Their pricing is reasonably good hence I decided to accept their offer."
17. Space Change Pte Ltd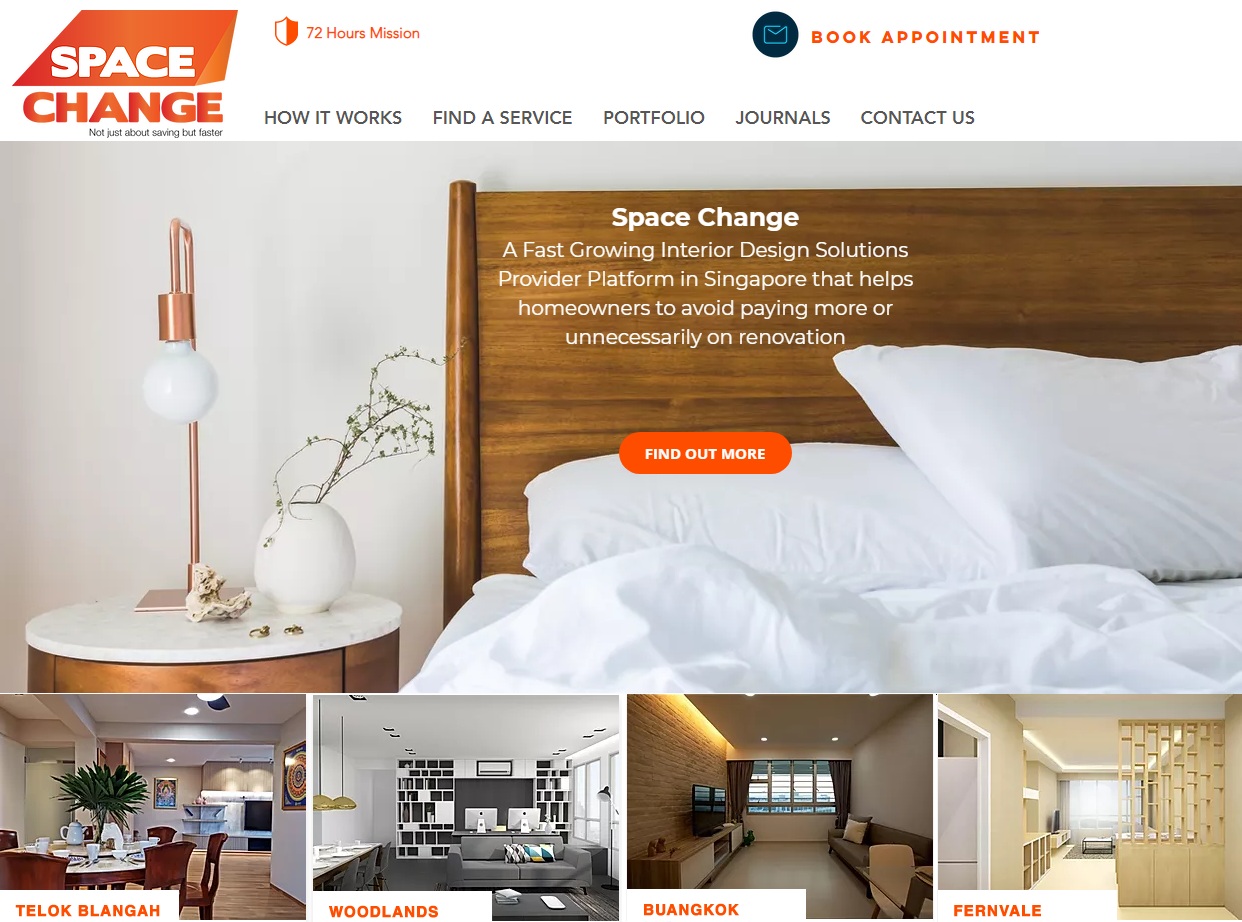 Space Change a design studio that specializes in providing efficient spatial solutions that comprise of a balance between aesthetic, quality, precision & cost.
Space Change's deep understanding and adaptability to the ever-evolving markets & clients' sentiments enable them to provide tailor-made solutions for each client.
Guided by this belief, value is added to spaces and home are made possible & meaningful.
Service Highlights
Free renovation quote with design

Reasonable fixed fee rates

No hidden fees
Customer Reviews
Space Change really charmed the Singapore market with its honest business platform. Top designs, professional team, and affordable pricing can really boost any company's popularity. Here are a few words from their client:
"We had engaged Jay the ID, for our renovation for our new home! I would highly recommend him should you be thinking of hiring an ID to renovate your home with a trustworthy and honest firm! I did several comparisons with their quotation and they are one of the most upfront and reasonable company i had found! Jay has been wonderful to work with from the get-go! He is so patient in listening to our ideas and our needs, and he came up with several ideas that helped to tie in everything nicely! More importantly he used his experience to advice us on what is a good investment to spend on the house and what's not, that had saved us some costs and unnecessary expenditure. Additionally, he was very present and involved throughout the reno, before first payment all the way to the last! We were thoroughly impressed by his constant updates and contact, we even had a holiday in between to Japan, and Jay constantly updated us on the Reno progress and work got done on time! The end result is one that my family and myself is truly grateful for! The workmanship and the attention to details are impressive to the point that many of my friends that came over for house warming had requested for their contacts! Jay and his Team , had turned a new house that we bought into a Home that we are so happy with for many years to come! Thank you and continue with the awesome work!  👍👍👍" – Joel – Humes Ave
18. THE OFFICE DESIGNER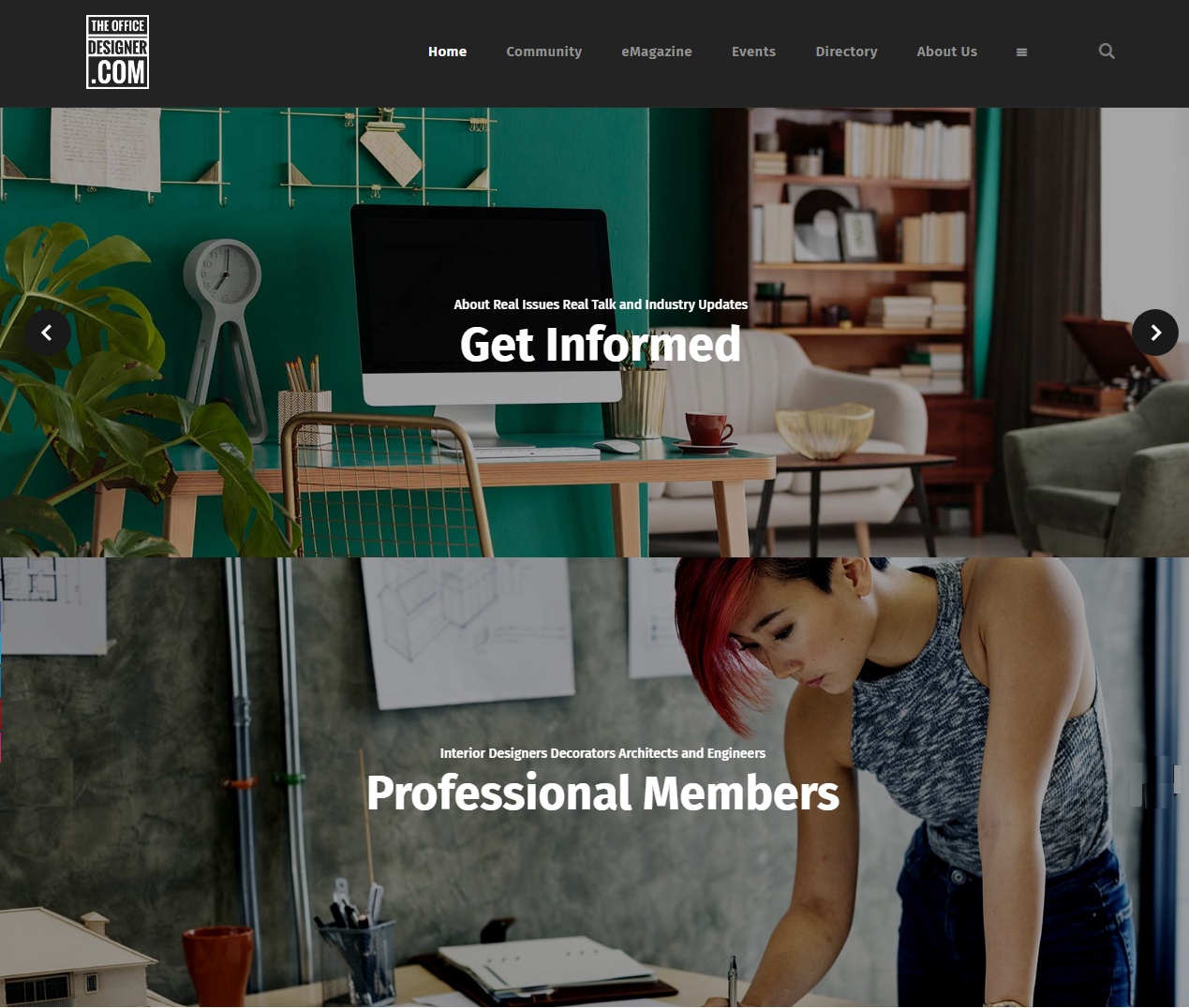 The Office Designer is an online marketplace meant to save yourself from searching all over the web and printed directories for the best commercial interior designers and materials suppliers within Singapore. 
This online community binds together interior design professionals, students and industry players who have the same burning passion for commercial interior designing. 
So, if you are a client who is looking for credible companies, you can easily track them through The Office Designer.
SERVICE HIGHLIGHTS
Large inventory of interior design companies

Provides all the latest information on trends, products, events and workshops
19. Cameron Woo Design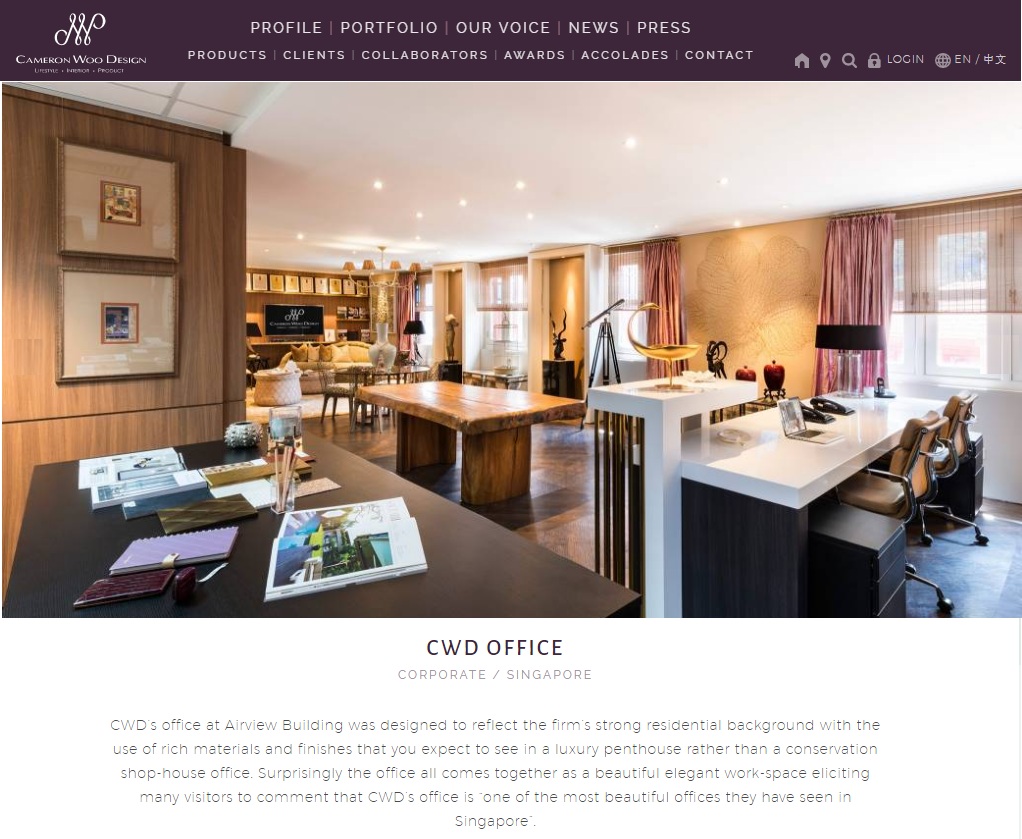 BEST FOR

Unique interiors and experience

SERVICES

Interior Design, Landscape Design

WEBSITE

https://cameronwoodesign.com/

 

ADDRESS

2 Jalan Kilang Barat

#04-03 Panasonic Building

Singapore 159346

CONTACT DETAILS

+65 6222 0280/Fax: +65 6222 0680 |

[email protected]
 Cameron Woo Design does not only aim to provide their clients with a stunning interior design for their commercial properties but they also want an arrangement that will give you an ultimate and unique experience.
With this, they strive to create a distinct space for each of their clients. They make sure to create designs that will make that specific commercial space stand out and to show its genuinity through arts and design.
Cameron Woo Designs also takes pride in their team of extremely talented and highly qualified designers.
Highlights
Bespoke designs

Multi-award winning interior design studio

Sought-after team of designers
And that's it for our list of the best commercial interior designers in Singapore! If you've already tried out one of our picks, tell us about it by leaving a comment below!
If you're also looking to have the walls and ceilings of your office painted, then you might want to check out our list of the best painting services in Singapore. Any of these options are good are either residential or commercial projects!