16 Shops for the Best Office Furniture in Singapore
Renovating your old home office or building a new one for your startup? Whether it's for replacement or new purchase, we've listed some of the local favourite shops that offer the best office furniture in Singapore!
On our list, you can find various types of furniture, such as chairs, desks, cabinets, pedestals, and many more! Take a look at our list of places with the best office furniture in Singapore to explore more selections and prices as well.
1. SilverSpace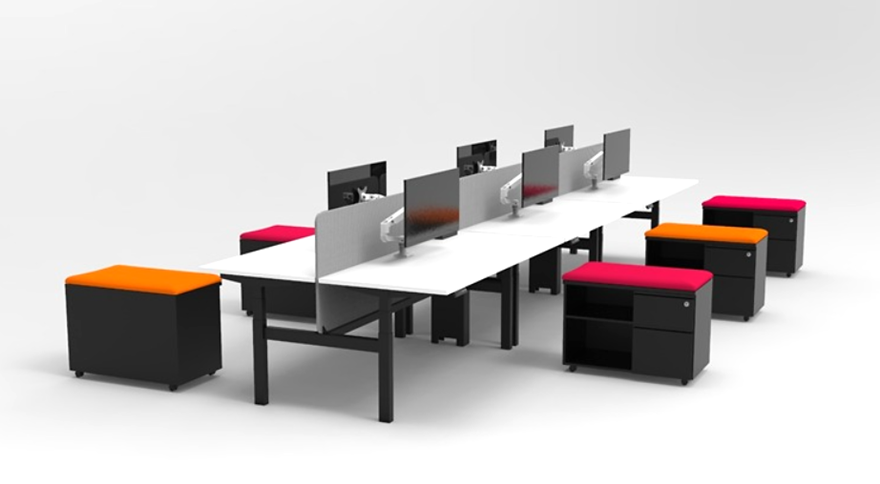 BEST FOR

One-Stop Office Furnishing Solutions

WEBSITE

ADDRESS

33 Ubi Ave 3, Vertex, #05-66
Singapore, 408868

CONTACT DETAILS

Email: [email protected]

Whatsapp / Contact No: 9366 0399

OPERATING HOURS

Mon – Fri (10am-6pm)
Silverspace prioritizes listening to their customer's needs above all and delivering what matters most. They are known for offering simple and effective office solutions to their clients.

It is through listening that they now in their range, all the products required in any office. From Ergonomically Designed Workstations & Chairs to Sound Absorbent Acoustic Panels & Privacy Pods, they have it all.
Their team of experienced professionals will be with you from pre to post-sales, every step of the way to ensure all your needs are taken care of effectively.
With SilverSpace, you can be assured that your office furnishing requirements will never be a hassle.
Highlights
One Stop Office Furnishings Centre
Leader in their industry
Highly experienced team that is always ready to listen and offer simple, effective solutions.
2.  Maple Interiors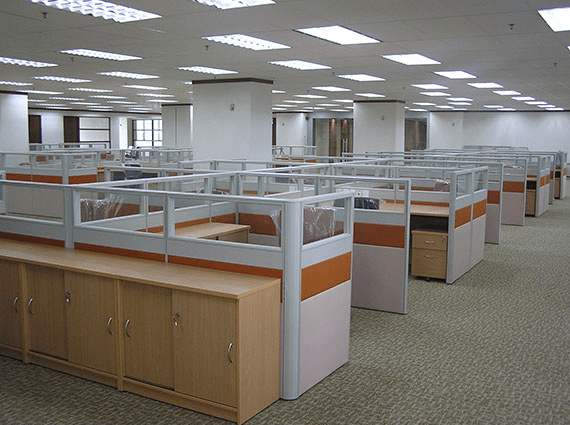 | | |
| --- | --- |
| BEST FOR  | Customised office furniture |
| PRICING | Shop |
| WEBSITE | http://www.mapleint.com/ |
| ADDRESS | 57 Tampines Ave 1, #02-02 Singapore 529774 |
| CONTACT DETAILS | 65-62417887 |
| OPERATING HOURS | Monday to Saturday, 9am to 6pm |
If you already have your own furniture design in mind, Maple Interiors can help you bring your ideas to life! Their creative designers specialise in curating custom design furniture with high quality and value.
Just from a glance at their featured works from the past decade, you can see their innovative craftsmanship. They also make sure that the overall design will fit within your estimated budget and preferences.
They have sets specially designed for certain areas, such as a conference room, lobby, executive office, and many more. They even have multiple workstation furniture sets: a total of 6 employees can use each station.
With their skills and experience, you can surely have the best office furniture in Singapore that'll help build a pleasant working ambience for your employees.
Highlights
Office, commercial space, industrial services
Office system furniture
Interior design and renovations
3.  Offitek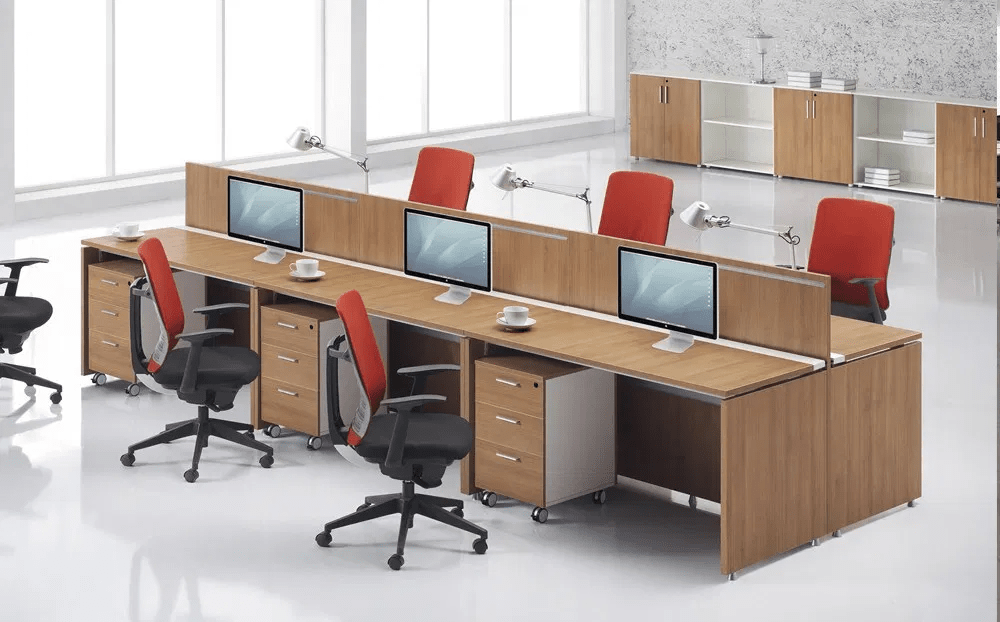 | | |
| --- | --- |
| BEST FOR  | Open-concept office layout |
| PRICING | Shop |
| WEBSITE | https://www.offitek.com.sg/ |
| ADDRESS | 5042 Ang Mo Kio Ind Park 2 #01-505 Singapore 569545 |
| CONTACT DETAILS | (65) 6282 1655 |
Offitek is known for their modern and open-concept office layout furniture with quality designs. They're also recognised for using top-grade materials in each design.
Unlike most stores, they offer a complete set of furniture like workstations, desks, conference tables, storage cabinets, chairs, as well as partitions and carpet flooring!
Aside from creating furniture systems, they also provide space planning services to maximise work areas and help clients acquire a functional working environment.
From the drafting up to the final installation, they take charge of the whole process and even provide aftercare services to ensure a perfect workspace.
Sofas, coffee tables, and reception seating items are also part of their collections. Whatever you need for your ideal office, name it, and they'll make the best office furniture in Singapore for you!
Highlights
Space-efficient design
Made from premium materials
Detailed craftsmanship
Custom-made office system furniture
CAD and virtual 3D designs
4. Peng Tat Furniture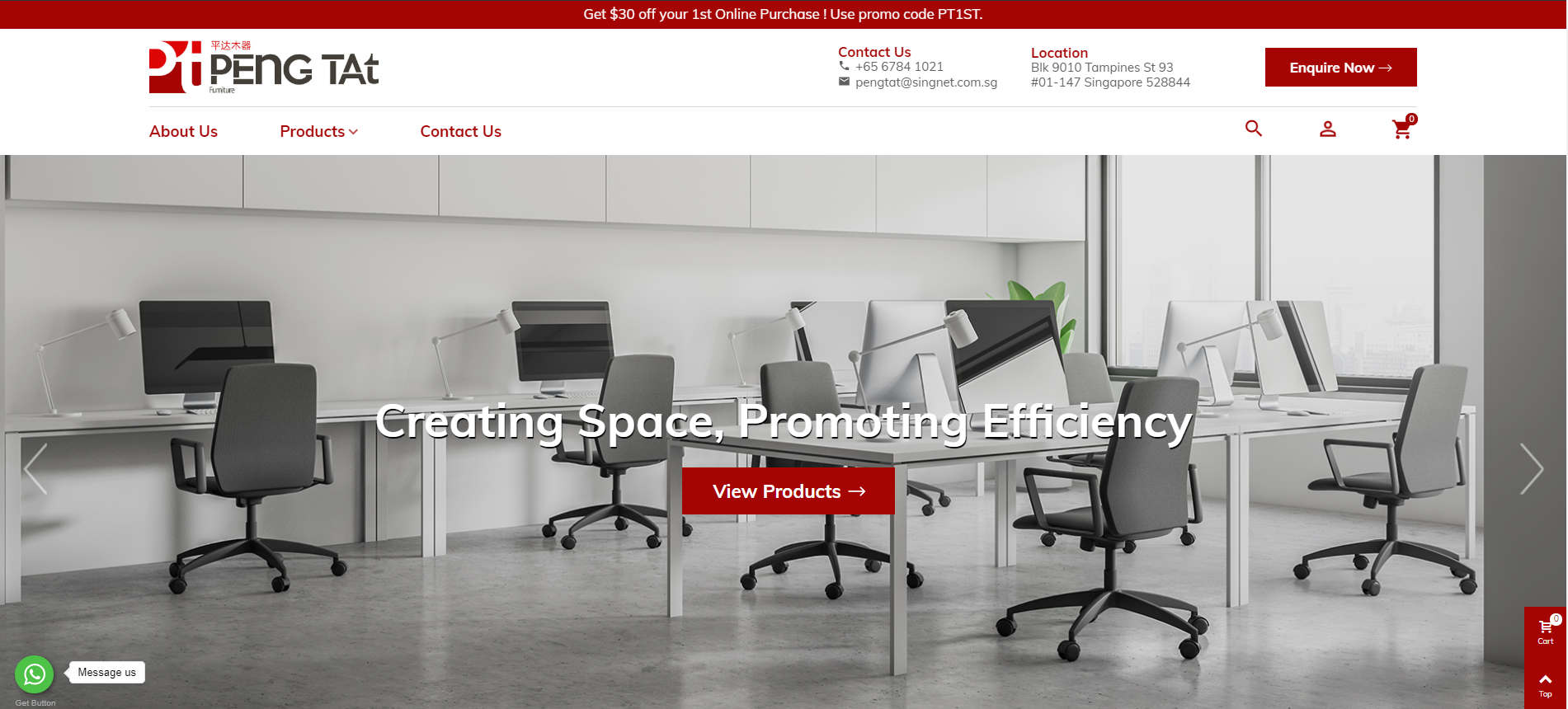 With over 40 years of experience working with a diversified and extensive portfolio of customers in both the public and private sector, Peng Tat Furniture aims to provide only quality furniture and furnishings to suit your company needs while maximizing your comfort at work.
Operating with a core in-house workforce, they believe in building strong and long term relationships with their customers. They do not just supply furniture, they provide office solutions.
You can also shop online with them at their website.
Highlights
Over 40 years of experience
Full range of custom-made office furniture
5. Marvable

With Marvable, choosing the right furniture for your office won't be an issue. Besides offering office furniture for sale, they also advise customers who aren't sure about what they want.
Their wide range of furniture ensures that if you step into their store, you'll walk out satisfied. As a plus, they offer space planning consultations for free. Contact them now!
Highlights
Complimentary space planning consultation
Affordable prices
6.  SgShelving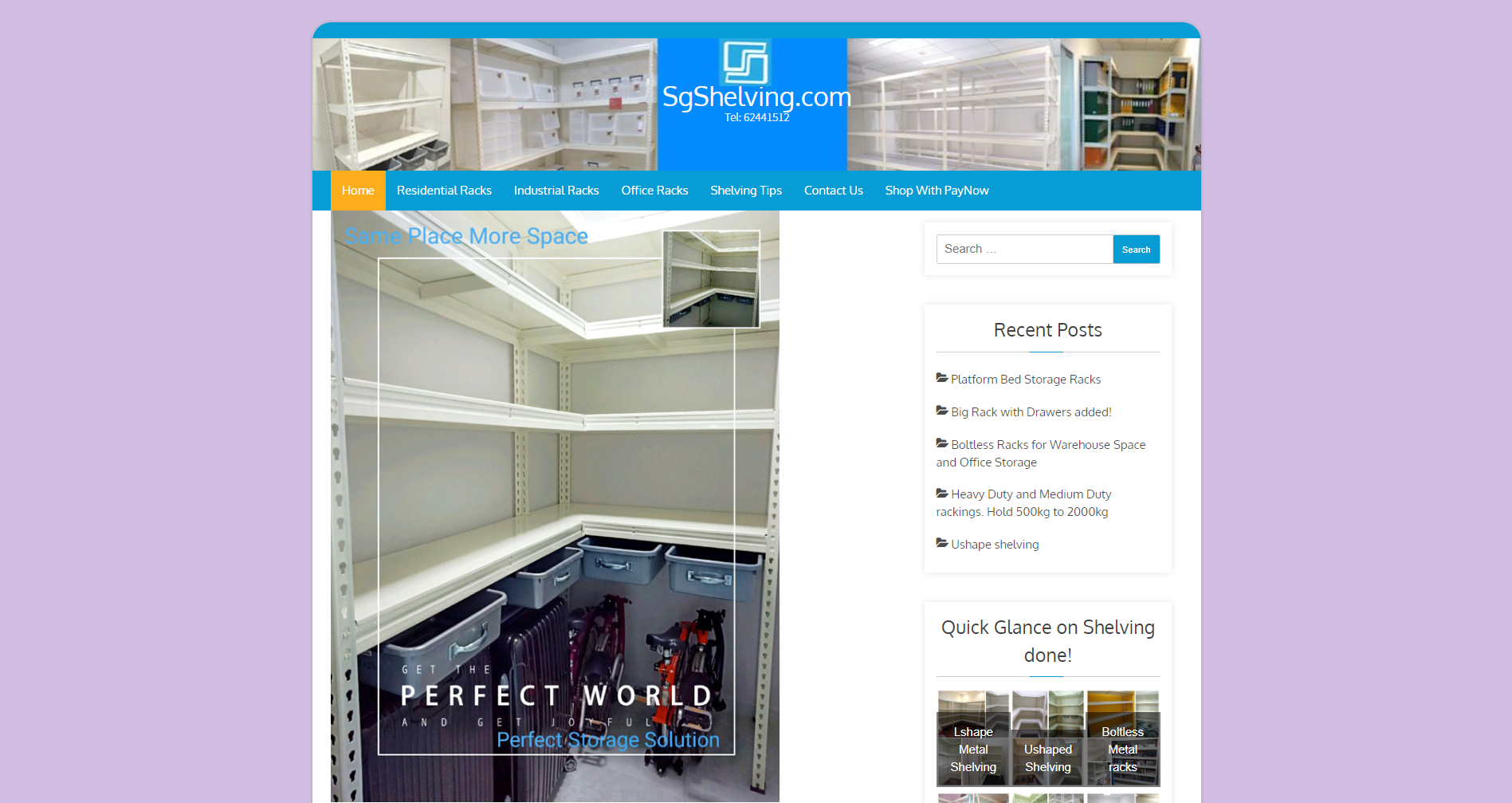 BEST FOR 
Various Shelving Systems
PRICING
Shop
WEBSITE
http://www.sgshelving.com/
ADDRESS
10 Ubi Crescent #03-54 Ubi Techpark
Singapore 408570
CONTACT DETAILS
Phone: 62441512
Email: [email protected]
OPERATING HOURS
Monday-Wednesday, Friday-Saturday: 9 AM-6 PM
Thursday: 9:30 AM-6 PM
Closed on Sunday
SgShelving offers various high-quality shelving systems suited for any of your needs. They have a wide range of racks, from residential to office types.
Their shelving systems are made of galvanised steel, a material known to be strong and firm. They also use epoxy powder so that it lasts for a longer time.
Take your time browsing through their catalogue on their website. You're sure to find something you'll like!
Highlights
Wide variety of shelving systems
Made with high-quality and durable materials
7. Amercis Office Furniture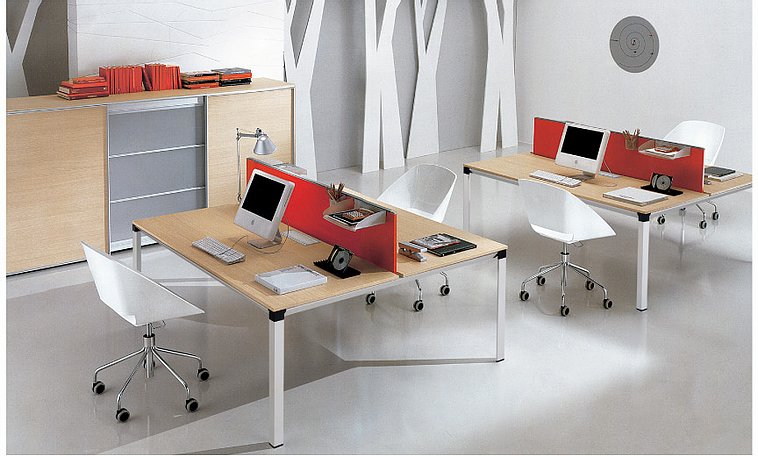 Create the perfect workspace with Amercis Office Furniture. Known for their high-quality materials and manufacturing, you'll surely get your money's worth.
They have various options for you to choose from. Amercis Office Furniture has desks, office chairs, storage, and even supplies, to offer, ensuring that whatever you may need, they can all provide for you.
Check out more of their listings on their website, and contact the company for any other inquiries.
Highlights
Wide collection of office furniture
Premium quality
Low costs
8. Solos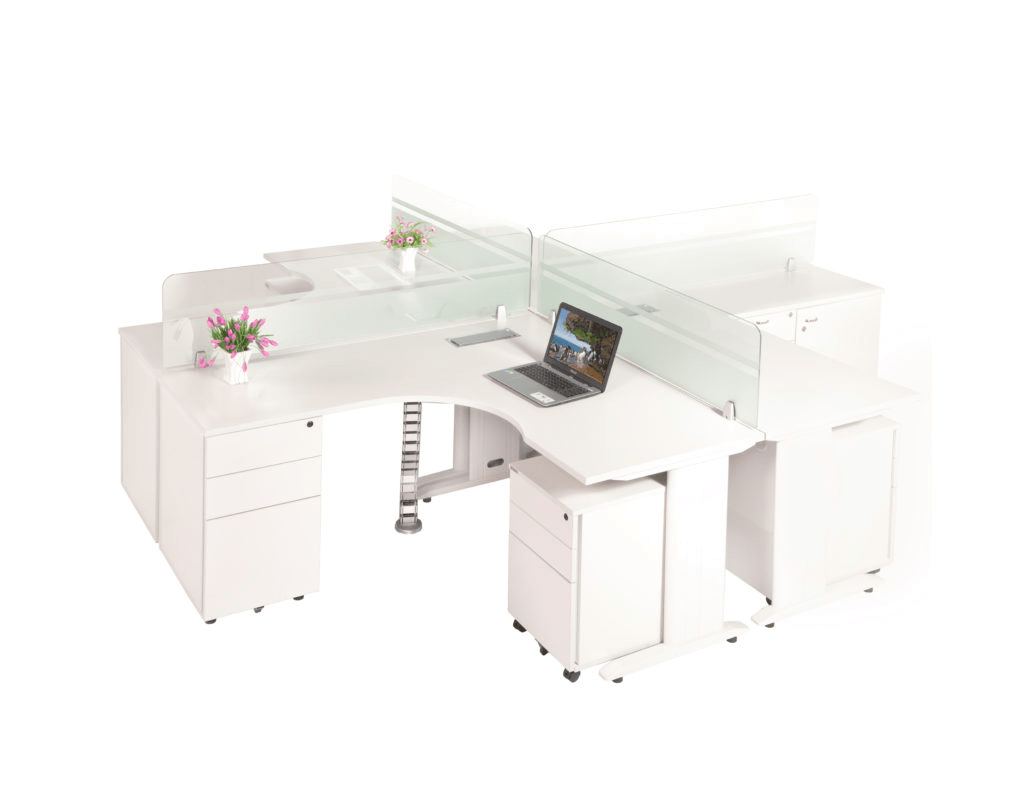 Solos is claimed to be one of the most trusted suppliers of office furniture because of their up-to-date designs, reliable consultations, and quality customisations.
With their desk/tables collections, they have a series of models for executive, conference, training, and discussion purposes. These products also come with adjustable settings so everyone can comfortably use them.
On the other hand, their workstations feature different kinds of panel systems. They also make multifunctional cabinets that can be used as storage for documents or pantry food.
Moreover, they've worked with many acclaimed institutions like NUS, Raffles Hospital, Ogawa, and more.
With their experience and extensive range of products, there's no doubt that you can find the best office furniture in Singapore at their shop!
Highlights
Up-to-date designs
Office design and innovation expertise
budget-friendly sessions
Special promotions
9. Heat Office Design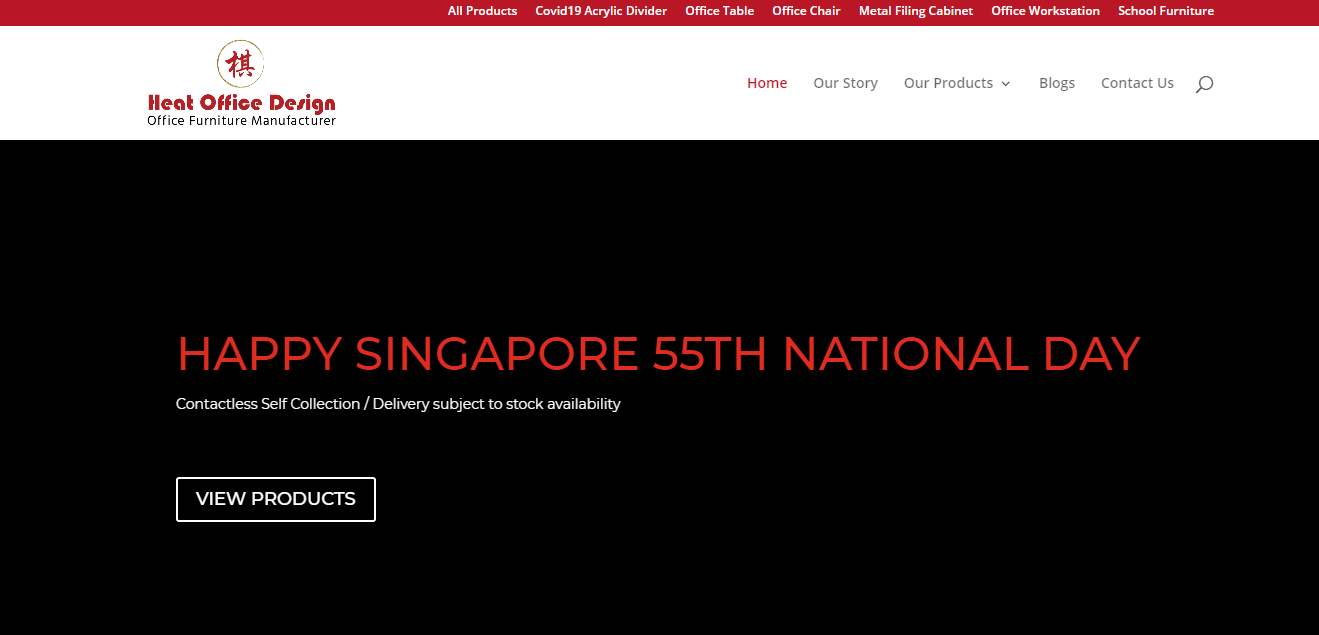 Heat Office Design incorporated in 2010 was set up with the vision that customization of office furniture should be fuss-free and fun. It is with this intention a group of like-minded partners come together and create the dream together for our prestige clients.
They have a trusted and dedicated team of professionals. Their team not only aims to exceed client's expectations and requirements but also endeavours to achieve more.
With more than a decade specialize in office furniture manufacturing, they are more than competent when it comes to the selection of the best material. They will always ensure quality and standards in a lower price.
Highlights
High-quality designs
Online platforms are available to receive orders
Cheaper than in malls
Good in customising
Wide range of products
Customer Reviews
Here are some examples of the feedback posted by customers on Google Reviews:
"Great quality!"
10. Décor Viz System

Décor Viz System is an office solutions provider that takes pride in offering stylish and ergonomic products. They always strive to create products that continue to accommodate their customer's needs.
Their skilled team has experience handling both small and large scale projects. With their commitment to providing the best service, you can rest assured that your office will look and feel great for your employees.
Highlights
1 year product warranty
Lowest prices available
11. Howfine

BEST FOR
Lowest Bulk Prices
WEBSITE
http://howfine.com.sg/
ADDRESS
No. 5 Kaki Bukit Road 2, #02-07, City Warehouse, Singapore 417839
CONTACT DETAILS
Tel: +65 62861108
Whatsapp: 65 90070896
OPERATING HOURS
Mon. – Sat. 9.00am – 6.00pm
Closed on Sundays & PH
Howfine is an office solutions provider that serves clients all around Southeast Asia. They offer a wide range of premier office furniture and ergonomic solutions tailored for each of their customer's needs.
With their help, you can avoid the stress of designing your office. Let your office environment achieve its peak form and function– contact Howfine now!
Highlights
Offers both new and used furniture
Personalised services
12. d'Doubles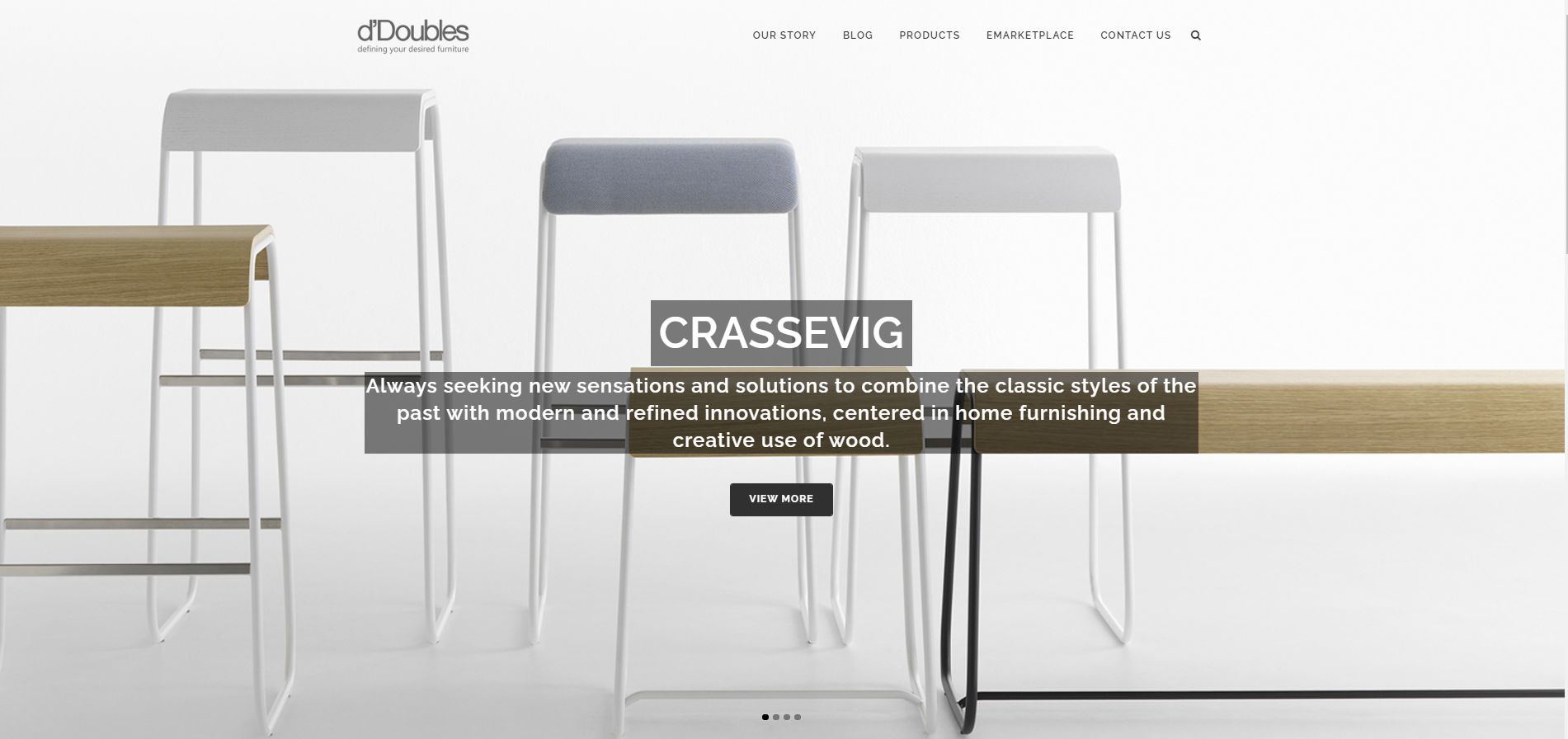 d'Doubles is a company that aims to provide the best furniture solutions to their customers. They achieve this by always keeping up with the latest design trends and technologies.
Their continuous growth has given them the chance to open an online marketplace, to serve their clients better. Even after many years in the industry, customer satisfaction remains the core of their services.
Highlights
Extensive product range
Online marketplace
13. Office Empire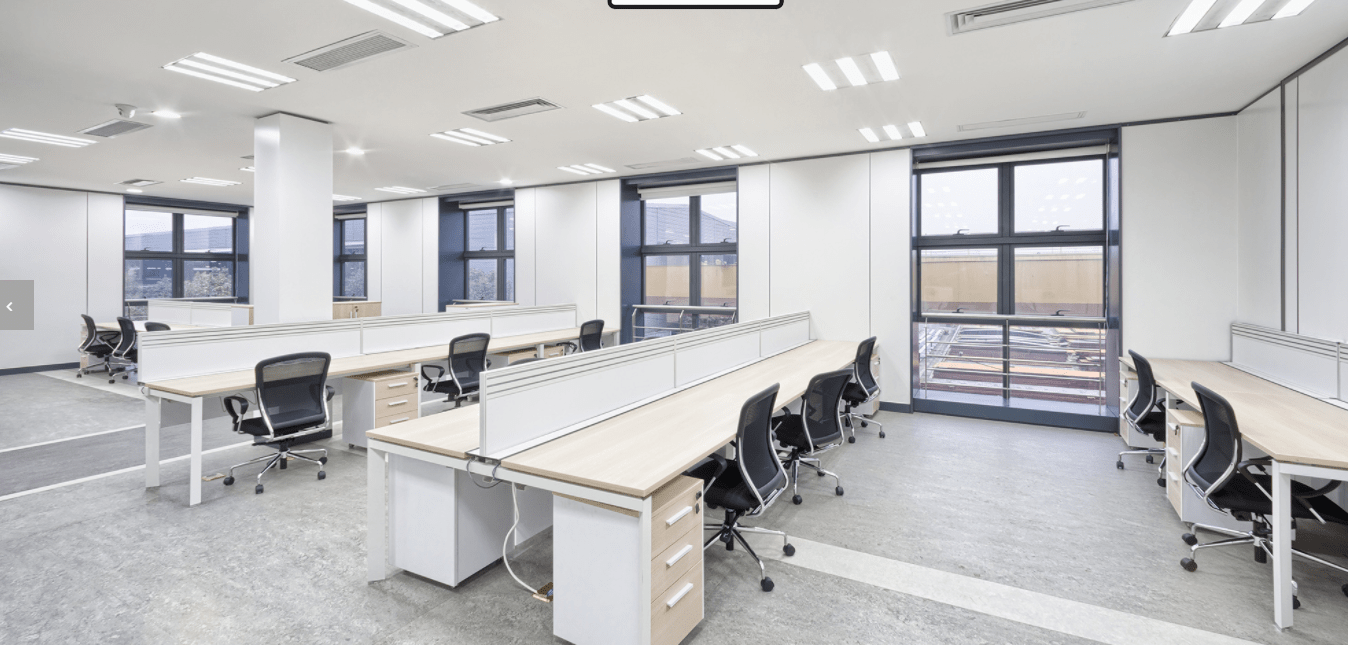 | | |
| --- | --- |
| BEST FOR  | Commercial renovation services, Office refurbishment services |
| PRICING | Shop |
| WEBSITE | http://www.office-empire.com/ |
| ADDRESS | 17 Mandai Estate #05-01 Hwa Yew Industrial Building (Lift Lobby A) Singapore 729934 |
| CONTACT DETAILS | +65 6369 8123 |
If you're searching for a professional contractor who can do an entire office renovation, you must consult with the specialists at Office Empire.
They're equipped with certified commercial renovators who provide restoration and decoration services for offices, industrial, and retail outlets in Singapore.
They can make your office look brighter, neater, and more aesthetically pleasing for both employees and visitors. Their services include interior building and designing, office space planning, carpentry and electrical works, and reinstatement.
You can choose from their large selection of furniture featuring partitions and workstations, conference tables, chairs, cabinets, sofas, coffee tables and many more.
Reception counters, meeting booths, discussion pods, and even desk accessories are also included in their collections.
With their best office furniture in Singapore, they can completely transform your old office into a newly refurbished space filled with modern interiors and a pleasant work environment.
Highlights
Overall renovation work
Relocation services
Worked on government office redevelopment
Customer Reviews
Clients said that Office Empire has truly given them reliable services, ensuring quality design, and safe and secured workstation for everyone. A customer gave this feedback:
"The Office Furniture, especially the carpentry works that they did for my new Office Renovation was superb. Won many praises from our clients. Keep up the good work!"
14. Ashley Furniture HomeStore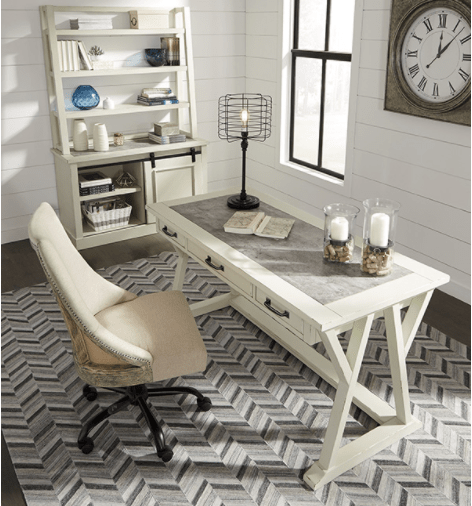 Ashley Furniture HomeStore is an independently-owned shop that offers a vast collection of lifestyle furniture, including their home office selections. For those who have a work-from-home setup, they've got some of the best office furniture in Singapore!
Their selections feature desks, chairs, and bookcases, ranging from new traditions to vintage casual style. For the desks, they have simple designs, containing only drawers and cabinets if you prefer a minimalist style.
However, if you need a more functional desk, they also have desks with multiple shelves. When it comes to their office chairs, all designs are made with a soft and velvety texture, displaying a sophisticated look that matches both formal/casual office interiors.
And for the book lovers out there, they also have plenty of bookcases, mostly made from fine wood and capable of carrying heavy books and ensuring long-lasting use.
Highlights
Traditional and modern design
Vintage casual style
Holiday specials
Space planning
Customer Reviews
The Ashley Furniture HomeStore has earned positive reviews from the customers who were delighted by the simple yet functional designs of their furniture.
Here's feedback from one of their customers:
"Went on christmas day itself and was served by a sales person named Wilson . Very professional and definitely no hard sell kind of sales man . Even taught us the difference between leather and pvc . Wanted to go elsewhere to look see at first but we were sold by his honest selling tactics . Will shop there for furniture again . Oh also to add , the price is pretty reasonable too."
15. Offitek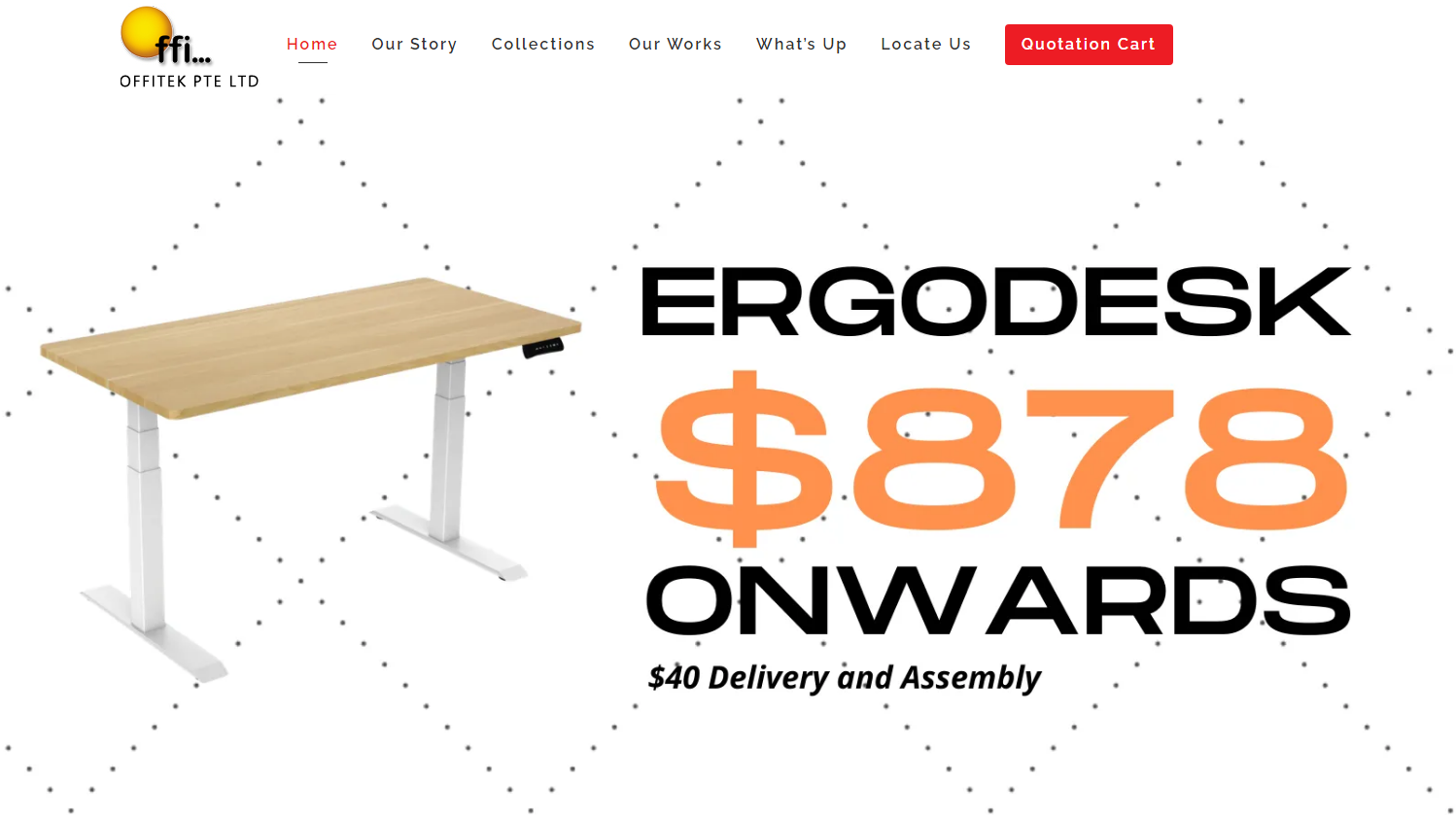 BEST FOR
Office furniture shop
WEBSITE
https://www.offitek.com.sg/
ADDRESS
5042 Ang Mo Kio Ind Park 2 #01-505
Singapore 56954
CONTACT DETAILS
Tel: (65) 6282 1655
Fax: (65) 6282 9755
Email: [email protected]
OPERATING HOURS
Monday-Friday: 9:00am-5:30pm
Offitek was founded to redefine work experience. Through a systematic approach, the design of the workspace has become refreshing and inspiring.
Offitek was established at a time when most offices were fitted with archaic furniture. This had the danger of providing limited, if any, space optimization or aesthetic quality, resulting in an uninspiring work environment.
Finding most work places wanting in design and space efficiency, Offitek stood in the gap to offer office system furniture. They aim to create smart, productive and attractive workspaces.
Highlights
Fast delivery service
Free quotations
Beautiful and functional items
Customer Reviews
"Offitek provides a good height-adjustable table. I am surprise that the motor is not noisy and quite stable. I like that the showroom is open for me to test."
16. Atwood Pte Ltd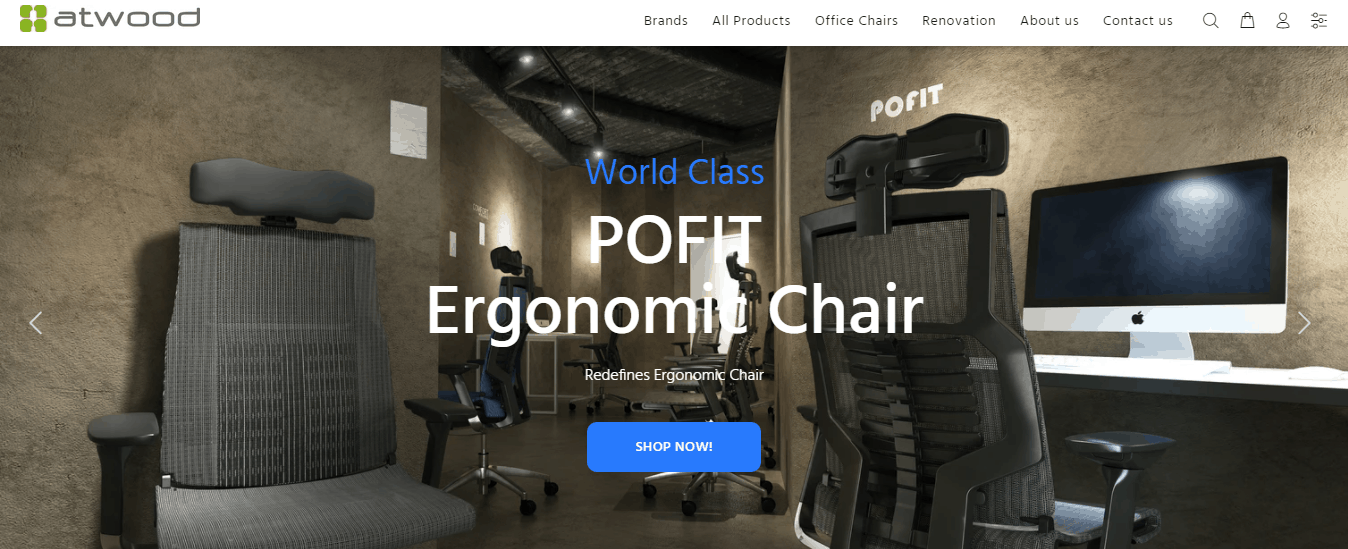 | | |
| --- | --- |
| PRICING | |
| WEBSITE | |
| ADDRESS | 1 Tampines North Dr. 1, #04-02 T-Space, Singapore 528559 |
| CONTACT DETAILS | +65 6484 4588 |
| OPERATING HOURS | Monday – Friday: 8:30 AM – 6:00 PM |
Atwood offers numerous options for ergonomic chairs and lumbar back supports on its website. Its chairs aren't even limited to employees as it also has ergonomic guest and lounge chairs.
While Atwood focuses mainly on chairs, its online catalogue also has other office furniture like tables, anti-fatigue mats, and even under-the-desk stationary bikes from various brands. All in all, Atwood's products collectively promote wellness in the workplace.
Atwood also boasts of its ISO 9001 accreditation. To top it all of, this office consultant and furniture supplier is trusted by prestigious corporate identities like the British Council, West Pharmaceuticals, and Panasonic.
Aside from supplying these kinds of office furniture, Atwood also does office design and planning. So, those who are thinking of renovating their offices, board rooms, and learning centres can approach this company.
But while this service may be useful, you should know that Atwood only truly supplies chairs and tables. So, you'll still have to find other suppliers for the other components of your office.
Highlights
Ergonomic chairs and office furniture

Office renovation services

ISO 9001 accreditation

Wide selection of office furniture brands and items
Customer Reviews
No company is perfect, and Atwood is no different. But we've discovered that Atwood takes time and effort to correct any mistakes and deliver excellent service, just as these customer reviews have shared:
"Went to the showroom to look at ergonomic chairs and was assisted by CY. Good selection of chairs that we were able to try. CY answered the questions that we had and despite us trying almost all of the chairs, we were never rushed. We pre-ordered the chairs. Upon delivery there was a missing item that Cassandra was able to help fix promptly. Highly recommend Atwood for topnotch customer service and a wide range of chairs!"—Ryan Peralta
"Went to visit the showroom at Tampines and served by CY. CY showed and explained a few options of chairs after listening to what we need. He also explained the features of each chairs to make sure we know what we are buying. My wife ended up buying an office chair while I bought back support that I can put on my own chair. The chair was delivered within 2 days after we placed order."—Winarto Zhao
And that's the end of our list of shops with the best office furniture in Singapore! Have you already decided which place you would like to visit? Tell us all about it!
And if you're looking for chairs in particular, you might be interested in seeing these best office chairs in Singapore! They come with high functionality and durability, giving you a comfortable seat while working non-stop on your desk.