Finding The Best Office Chair in Singapore: 2021 Buying Guide
If you work on a desk, you should invest in the best office chair in Singapore. It doesn't take a genius to see why.
Thousands of dollars are usually spent on gadgets, laptops and PCs, so why should you be content to sit on a cheap chair? Why wait for your neck and back to start feeling the burn?
Remember, prevention is better than cure! So, to avoid spending thousands on treating neck and back disorders in the future, it's best to invest and find the best ergonomic chair in Singapore for you.
We'll help you with that today. This definitive guide on buying the best office chair in Singapore includes everything you need to make your purchase.
If you're wondering where to buy ergonomic office chairs in Singapore you've come to the right spot!
Choosing the Perfect Office Chair
First, let's talk quickly again about why you need the best office chair in Singapore if you're bound to your desk.
The fact is, working long hours in front of your computer makes you prone to a number of musculoskeletal disorders (MSD). This is characterised by discomfort, impairment, disability, persistent pains in joints, muscles, tendons or other soft tissues.
MSD can be attributed to awkward postures adopted by office workers often aggravated by poorly designs workstations. So, to mitigate MSD among office workers, workplace ergonomics is essential…
Most especially now that many are working from home, it's all the more important to invest in the best ergonomic chair in Singapore.
That's where the best office chair in Singapore comes in.
What makes a good office chair?
You can skip to our short list of the best office chairs in Singapore if you already have a general idea about what to purchase.
If not, you need to learn about the factors to consider when buying an ergonomic office chair in Singapore.
According to the National Institute of Health, the standard features of an ergonomic chair include:
casters and a five-point base,
a seat pan with dense, small-cell foam padding or coils,
a backrest with lumbar support,
soft armrests with an adjustable height and width,
a hydraulic seat height adjustment feature, and
a tilt adjustment to transfer some body weight to the chair's backrest.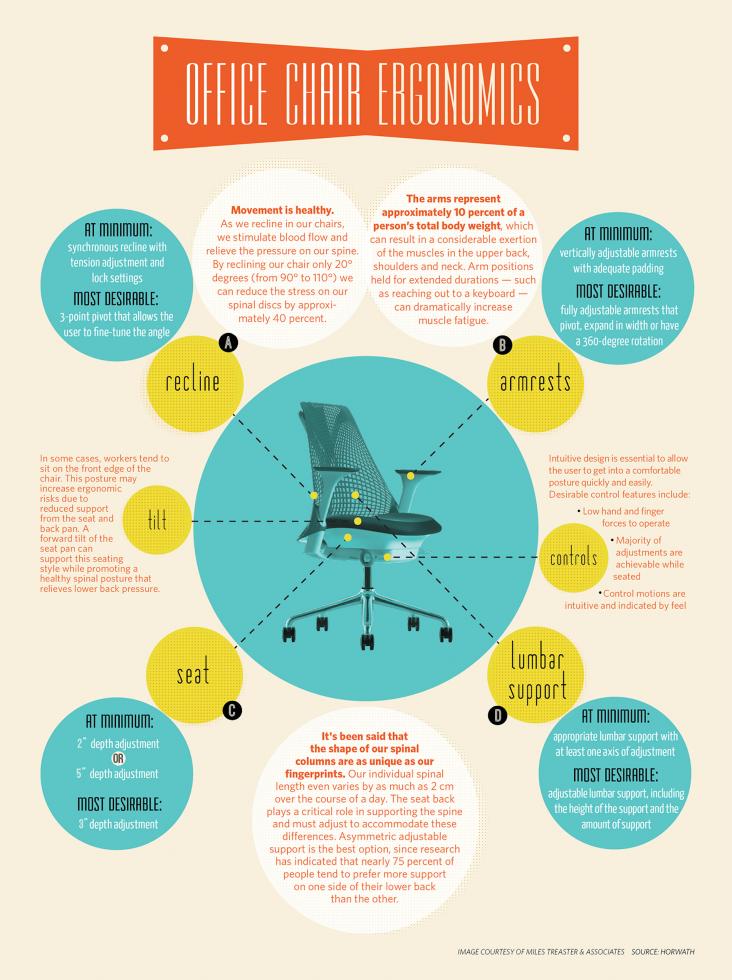 Best Office Chairs in Singapore
Now you have a clear picture of what you want or should be looking for. As such, it's time for us to go over our picks for the best office chairs in Singapore.
Note that we've classified our picks for the best office chairs in Singapore according to their price points. We've also labelled them according to what we think their main selling point is.
For instance, we have a chair for those who want something with an ultra-minimalist aesthetic, a chair for those on a budget, and those looking for the best executive office chair in Singapore, etc. Just go through our list to find the one that suits you most.
Premium Office Chairs (> $1000)
BEST ERGONOMIC: NeueChair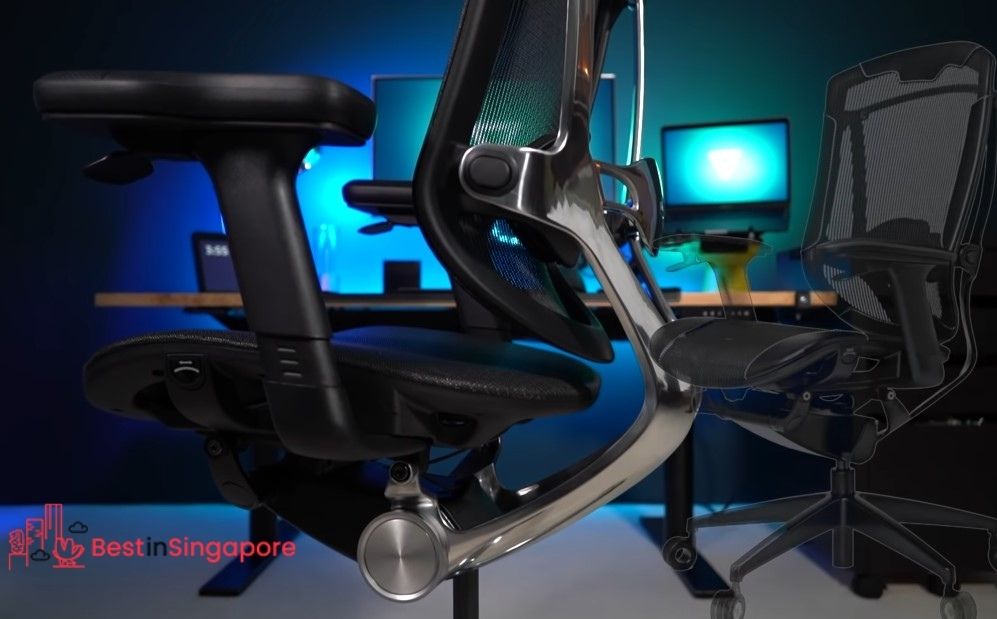 Specifications & Dimensions
Seat Height
Can be raised or lowered
Base Tilt
Not tiltable
Armrest

Height adjustable
Soft PU coated

Backrest

Can be tilted forward or backward

Height adjustable lumbar support included

Footrest
Not available
Materials

Made with NeueMesh, a 3 layer mesh created from polyester fibre and DuPont yarn
Core structure is made of ADC12 aluminium alloy

Max Load
Less than 110 kg
Warranty
12 year warranty excluding wear and tear
Original Price: S$999
Sale Price: S$799
Get the NeueChair from SecretLab
 The NeueChair  is designed to be the ultimate modern computer chair. It combines ergonomics, ease of use, and comfort into one sleek and stunning design. 
It's perfect for those who spend long hours sitting at work. If your work involves sitting at a desk, then it's no surprise that your posture might not be the best. The NeueChair is remedies that problem by helping the body not only remain upright, but also keep your body balanced and well-supported.
If you're looking for an ergo chair in Singapore that is both comfortable and keeps your posture straight, you should keep an eye on this.
It has various ergonomic settings for you to switch to, ensuring that you experience the best comfort as you work. Get it from SecretLab now!
Pros
Ergonomic
Intuitive to use
Comfortable
Noise reduced wheels
Adjustable lumbar support
Cons
No other colors available
BEST IN CLASS: Herman Miller Aeron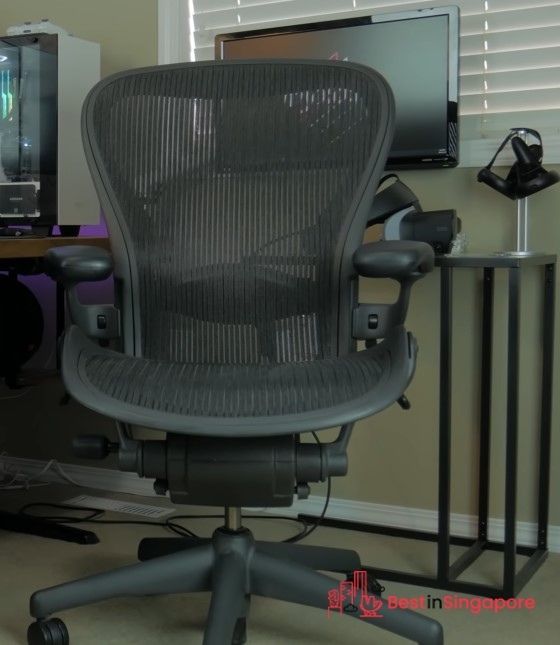 Specifications & Dimensions
Seat Height
Can be raised or lowered
Base Tilt
Tilt tension can be increased or decreased
Tilt forward and back with tilt limiter
Armrest
Up-down adjustment
Pivot left or right
Move forward or back
Backrest
PostureFit SL™ Adjustment with tilt limiter
Height adjustable
Footrest
Height adjustable
Materials
Seat and backrest: Breathable Pellicle suspension
Frame/Base: Graphite/Polished Aluminium; Mineral/Satin Aluminium; Mineral/Polished Aluminium; Graphite/Graphite
Max Load
300 -350 lbs
Warranty
12 Years
Price for original Aeron: $900
Price for Remastered Aeron: $1599 – $2500
Get the Remastered Aeron from Shopee
Now here's an ergonomic office chair in Singapore that is extremely stylish.
20+ years after it launched, this chair remains best-in-class when it comes to ergonomic office chairs. That's probably no surprise given that it's a Herman Miller.
Ask most executives what they think of when someone mentions a premium ergonomic office chair, and they'll likely say Herman Miller first. This American brand has a catalogue of iconic pieces including excellent options for office seating.
Their designs are based on the biomorphic principles of the body. This is why the chair actually adjusts to the needs of the user based on the natural curvature and movement of the human body.
A Herman Miller office chair is definitely an excellent investment since it will last you years and years, especially with their 12-year warranty. Designed by Don Chadwick and Bill Stumpf, the Aeron chair in particular is a classic.
Note that the Herman Miller Aeron Remastered Office Chair is an improved version of the original Aeron. However, if you can't afford this latest incarnation, the acclaimed Herman Miller Aeron Mesh Office Chair is just as good, with all the functionality and smart engineering that will last for years.
The Aeron Remastered has the same features and functionalities as the original Aeron but with more customisable elements. Different sizes are available to accommodate the various weight, shapes and sizes of users.
Updates included in the Aeron Remastered Office Chair are the refined tilt mechanism, adjustable PostureFit SL, and 8Z Pellicle suspension. This is as close as you can get to a bespoke office chair that perfectly supports and hugs the contours of your body.
| | | | |
| --- | --- | --- | --- |
| Aeron Chair  | Small (A) | Medium (B) | Large (C) |
| Total Height | 38.5″ | 41″ | 43″ |
| Seat Height | 14.75-19″ | 16-20.5″ | 16-20.5″ |
| Width | 25.75″ | 27″ | 28.25″ |
| Depth | 16″ | 16.75″ | 18.5″ |
This office chair became a game-changer after it debuted in 1994, as it prioritises function over form. The Aeron pioneered the woven seat and backrest instead of cushions.
Plus, with 94% recyclable parts, this is truly a bold move into creating superbly-built yet eco-friendly office furniture. With its impeccable and innovative design, the Aeron is now a fixture in the permanent collection of the Museum of Modern Art in New York City.
Owning this iconic and best-selling chair not only elevates your workspace. It's also a health-positive addition to your life.
Some people may have trouble with all the adjustments to make the Aeron fit your body type and movements, but once you get the hang of it, it will be worth it!
For instance, a gamer noted that "the Overwatch League uses Aeron chairs on stage". This speaks highly of the product since gamers spend hours sitting, hence comfort is of utmost important.
Another reviewer purchased the Aeron with all the trimmings, writing, "If you have had 'regular' office chairs, you will never again sit in one without thinking of an Aeron."
The same reviewer added, "I waited a long time to do it. Way to long. Now my shoulder doesn't ache and my leg doesn't go to sleep. If they had a headrest, I'd probably sleep in the thing. And I still haven't used all the adjustments yet."
One review about this remastered version notes that it is an improvement "upon the original Aeron's enduring legacy". The reviewer further states, "with new colors, improved tilt functions, and a woven pellicle fit for a king or queen, it's hard not to get too passionate about my office chair."
So, if you have cash to spare, then go for the remastered for all the trimmings. Your body will thank you for years to come.
Pros
Can last decades
Elegant design
Moves and glides quietly
Extremely customisable to fit the user's body and preferences
Pellicle allows air, body heat, and water vapor to pass through the seat and backrest to help maintain even and comfortable skin temperatures
PostureFit SL comes in adjustable, individual pads that stabilize the sacrum and support the lumbar region of the spine to mimic that healthful standing position
Environmentally-sensitive design with 94% recyclable parts
Cons
Pricey
No headrest
Seat width and depth limitations
BEST HEALTH-POSITIVE OFFICE CHAIR: Herman Miller Embody
Specifications & Dimensions
| | |
| --- | --- |
| Seat Height | Can be raised or lowered |
| Base Tilt | Tilt tension can be increased or decreased with tilt limiter |
| Seat Depth | Can be increased or decreased |
| Armrest | Raise or lower, adjustable arm width |
| Backrest | BackFit™ Adjustment for flat or curved backrest |
| Materials | Graphite frame/base, fabric upholstery |
| Max Load | 350 lbs |
| Warranty | 12 Years |
Price: $4,180.30
This was conceptualised by Bill Stumpf, the visionary behind the iconic Aeron chair, along with designer Jeff Weber. They designed it with input from a team of physicians and doctors specialising in physical therapy, ergonomics and biomechanics.
In the Herman Miller Embody office chair, the application of biomorphic principles of the body into ergonomic design is beautifully rendered. From the curvature of the spine to the toughness yet breathability of skin, this chair is a luxurious yet practical investment for your well-being.
For instance, the exoskeleton or frame of the backrest dynamically corrects the user's posture and keeps the spine aligned.
The backrest uses the human spine as inspiration in its flexible and responsive design—adjusting to the curves of the back as the user adjusts position and redistributing pressure to decrease stress and strain to the user's back.
Plus, it's an eco-friendly purchase as 95% of the parts are recyclable.
Almost everything in this chair is customisable, making us believe that it might just be the most adjustable ergonomic chair in Singapore.
| | |
| --- | --- |
| Total Height | 42-45″ |
| Seat Height | 16-20.5″ |
| Width | 29.5″ |
| Depth | 15″–18″ |
One review describes the Embody as "the most comfortable chair for the money, and ESPECIALLY if you spend all day sitting."
He notes that once you adjust the chair to "fit your body perfectly," it's a hands-down winner for people who tend to sit for hours while working. "It takes a few days of adjustments and trial to finally get that sweet spot, but once you do, it's amazing." 
Pros
Very customisable
Wide and adjustable seat depth
Long-term durability can last well beyond the 12-year warranty
BackFit™ Adjustment keeps your back supported and corrects your posture
Cons
Armrest material may be flimsy for some, though you can choose leather arm pads for an additional fee
Armrest tends to move, unstable
BEST HOME OFFICE CHAIR: Humanscale Diffrient Smart
Specifications & Dimensions
Base Tilt
Self-locking recline mechanism with 20 degrees of movement
Seat Depth
Adjustable
Armrest
4D arms (Smart Plus) attached to the back frame
Backrest
Automatically pivoting backrest with seven-degree back tilt offers perfect lumbar comfort in all positions
Materials
Backrest: Tri-Panel non-stretch Mesh Technology
Seat: Technogel cushion
Base: Plastic (Standard Smart) / Aluminium (Standard Smart and Smart Plus)
Max Load
300 lbs (Diffrient Smart) | 400 lbs (Diffrient Smart Plus)
Warranty
15 Years
Price: $1,700
Those looking for a good office chair in Singapore for small spaces are in for a treat with Humanscale Diffrient. 
Let's face it, not everyone can afford a large space in Singapore's expensive real estate market. Thankfully, this chair is economically designed to fit small spaces, making it a perfect choice for a home office or a small workplace.
American Industrial Designer Niels Diffrient envisioned this office chair, which automatically adjusts to the user's size and shape. Even though this comes third on this list, the Humanscale Diffrient Smart is at par with the previous two premium options.
The New York Times has called it "the gold standard in office seating". Plus, next to a lifetime warranty, its 15-year warranty is one of the best you can find in the market.
Diffrient Smart is also available as the Diffrient Smart Plus, which has a wider seat and additional support.
| | | |
| --- | --- | --- |
|   | Humanscale Diffrient Smart | Humanscale Diffrient Smart Plus |
| Total Height | 40 – 44.80″ | 40-44.80″ |
| Cushion Thickness | 2″ | 3″ |
| Width | 26.50″ | 26.50″ |
| Depth | 16 – 19″ | 17 – 19″ |
In a review comparing Humanscale Diffrient Smart to the Herman Miller Aeron, the Humanscale Diffrient Smart rates better for accommodating a wider range of body types, especially with the Smart Plus option.
Though the Aeron scores better on adjustability, the Diffrient Smart holds its own in terms of seat comfort and back comfort.
It is also deemed "the better option for people that are looking to create a unique color combination. The Diffrient Smart allows for a wide variety of upholstery and color options."
Pros
Backrest automatically adapts instead of manually adjusting whenever you change position
Modular design
Uses highly recyclable aluminium
GREENGUARD Indoor Air Quality, GREENGUARD Gold and level® 2 certified.
Self-locking recline mechanism
Cons
Limited adjustability
Automatically pivoting backrest may be uncomfortable for some
BEST SUSTAINABLE DESIGN: Haworth Zody Task Chair
Specifications & Dimensions
Seat Height
Adjustable
Base Tilt
Forward tilt
Seat Depth
Adjustable
Armrest
4D
Backrest
Lumbar: Height adjust Optional Asymmetrical Lumbar Adjustment
Adjustable headrest
Backrest lock with tension control
3-point synchro recline mechanism
Materials
Back: Soft mesh
Seat: Technogel Soft Lite
Base: Plastic/Aluminium
Max Load
300 lbs
Warranty
Lifetime
Price: $1,180
This award-winning office chair holds GREENGUARD GOLD and BIFMA level™ 3 certifications.
It's also exceptionally sustainable, with 42% of its body crafted from recycled materials. It's even 93% recyclable!
So, after a long and useful life, Haworth's Take Back program will take care of properly disassembling a Zody and recycling each component.
That means if you're conscious about your carbon footprint and impact on the environment, this masterpiece in sustainability is an excellent purchase.
The Haworth Zody Chair is a high-performing chair that's extremely adjustable, just like the Aeron. It balances function and form since it gives customers a lot of options for customising the chair with options for materials and accessories.
For example, they provide an optional back jacket in fabric or leather… although mesh is really the more practical way to go in Singapore's hot and humid climate.
| | |
| --- | --- |
| Total Height | 38 – 43″ |
| Seat Height | 16 – 21″ |
| Width | 29″ |
| Depth | 29″ |
Some customers have issues with the PAL lumbar system, which can seem flimsy because of the plastic material, but they rate it highly for adjustability. So, to get the appropriate bang for your buck, it's best to get the fully loaded version.
One review states that the "the best aspects of the Zody are the lumbar support (it looks like a cheap piece of plastic but it is surprisingly effective) and the upper back support on the outside of the shoulders".
In addition, the 6-foot, 190-pound customer noted that the "top corners of the chair extend exactly up to the outer tips" of his shoulders for a true full-back support. Another plus is in the stable armrests, which do not swivel, unlike other office chairs.
Pros
High adjustability
Exceptionally sustainable
Recommended by the American Physiotherapy centre
Pelvic pad prevents slip disc and similar back problems
A wide range of options, finishes, colours, and upholstery to fit any culture and atmosphere, from casual and fun to chic and elegant
Cons
Lumbar support material may be flimsy for some
Back still tends to recline even with tilt tension at its highest setting
Mid-Range Office Chairs with Premium Materials & Features ($500-$1000)
WILD CARD: ErgoTune Supreme
| | |
| --- | --- |
| Seat Height | Adjustable |
| Base Tilt | Tilt lock, tension adjustable |
| Seat Depth | Adjustable |
| Armrest | Freely rotatable, height adjustable |
| Backrest | Height adjustable |
| Headrest | Tilt, depth, and height adjustable |
| Materials | Aluminium base, DuraWeave™ hybrid mesh back and seat |
| Max Load | 220kg |
| Warranty | 12 years |
Price: From $399
With a full eleven points of adjustment, the ErgoTune Supreme is probably the chair that will conform to your body the easiest. Its design takes into consideration how everyone's body type is unique and that the daily activities we perform will require our chair to be set up differently.
One such feature that showcases this thoughtfulness would be its GyroBrace™ armrest. It's one of the few armrests out there that is height-adjustable AND freely rotatable! This means that your arms are fully supported whether you're sitting straight and typing away on your laptop or reclined and scrolling through Facebook on your phone.
However, its best feature would probably be the ATLAS™ (Auto Tuning Lumbar Area Support) backrest, which automatically adjusts itself to fit your lower back perfectly no matter how far you recline. There's also the ErgoTune Classic, which retails for only $399!
In terms of design, Ergo Tune is one of the sleekest and minimalist ergonomic chairs in Singapore. 
| | |
| --- | --- |
| Total Height | 1150-1350mm |
| Seat Height | 465-530mm |
| Width | 510mm |
| Depth | 635-675mm |
According to a review, "I spend 8+ hours a day, 5 days a week infront of the laptop so this chair, with the excellent lumbar support feature, is a total lifesaver for me. Could really feel the difference because my back would start to hurt after a mere 1 hour on other chairs, but I don't face such problems despite sitting long hours in the ErgoTune Supreme."
Pros
12-year warranty
ATLAS™ (Auto Tuning Lumbar Area Support)
5D armrest
11 points of adjustment
Cons
Heavy, at 23.5kg
Mesh material is not for everyone
FULLY ADJUSTABLE TASK CHAIR: EuroTech Ergohuman
Specifications & Dimensions
Seat Height
Adjustable
Single-lever Adjustment
Base Tilt
Tilt Tension Control
Tilt Lock
Synchro-Tilt
Seat Depth
Adjustable
Armrest
Arm Height Adjustment
Swivel Arm
Arm Depth Adjustment
Backrest
Back Height Adjustment
Back Angle Adjustment
Headrest
Adjustable Headrest on high-back models
Materials
Mesh back, Aluminium frame
Max Load
250 lbs
Warranty
Lifetime
Price: $999
If you want the excellent adjustability of the Aeron chair but with a significantly cheaper price tag, the Eurotech Ergohuman is your best bet.
It features 8 ergonomic adjustments to ensure user comfort. It even trumps the Aeron since it has a headrest for a full back support.
All Ergo models include a synchro-tilt mechanism with infinite lock, sliding seat, pneumatic height adjustment, and headrest.
For customisation, you can choose from mesh, leather, or other textures from their Fabrix catalogue. Of course, considering Singapore's climate, mesh is a more practical option.
| | |
| --- | --- |
| Total Height | 46-52″ |
| Seat Height | 18.1″ – 22.9″ |
| Width | 26.5″ |
| Depth | 29″ |
While still quite pricey, customers get a good deal in terms of functionality, form, aesthetics, and value. This makes the Eurotrch Ergohuman win our vote for overall best desk chair in Singapore.
One satisfied customer wrote: "I have terrible chronic back issues and this chair allows me to sit through meetings that are hours long, when before I had to stand and take breaks."
Another reviewer praised their warranty and customer service. Aside from a good product, that just elevates the value of this office chair.
Pros
8 types of ergonomic support
Contoured backrest for smart lumbar support
Ergonomic headrest for superior reclining capability
Excellent lumbar support
Greenguard certified
Cons
Armrest does not lock firmly in place
Armrest lacks sufficient support
BEST VALUE FOR MONEY: Knoll ReGeneration
Seat Height
Adjustable
Base Tilt
Adjustable, recline resistance
Seat Depth
Adjustable
Armrest
Free float arm pads easily move in width, depth and pivot
Backrest
No Adjustment Necessary
Flex Back Net, Flex Seat, Dynamic Suspension control
Height adjustable lumbar
Headrest
None
Materials
Flex Back Net, Aluminium base
Max Load
300 lbs
Warranty
Lifetime
Price: From $820
If you want a no-nonsense yet effective ergonomic office chair, you will love the Knoll ReGeneration. With up to 270 degrees in adjustability, this office chair adjusts to the user's weight, posture and shifting positions.
While high adjustability accommodates a wide variety of shapes, sizes and needs of users, the straightforward and responsive design of Knoll ReGeneration simplifies the process of using an office chair.
No need to familiarise yourself with multiple knobs and levers, the innovative Dynamic Suspension will adjust to your weight and movement to give you the appropriate support you need.
Meanwhile, intuitive adjustments will respond with ease for maximum comfort. All in all, this is the perfect balance of pricing and functionality.
| | |
| --- | --- |
| Total Height | 38.1-43.3″ |
| Seat Height | 16.4-21.6″ |
| Width | 29″ |
| Depth | 24.6″ (excluding base) |
Wired praises the Knoll ReGeneration chair for being "exceedingly comfortable, and adjusts to almost any body type". In addition, the "back support is unrivaled".
Pros
Dynamic suspension control
Intuitive adjustments
Awarded the Good Design Award after being released in 2012
Sustainable design and environmental certifications
BIFMA level® 3 certified
Rated SMaRT© Sustainable Platinum
GREENGUARD and GREENGUARD Gold Certified
Can contribute to U.S. Green Building Council LEED® certification
Cons
Flex Seat Fabric lacks the breathability of other woven, suspension seat designs
VERSATILE CHAIR: Viva Office Mesh Chair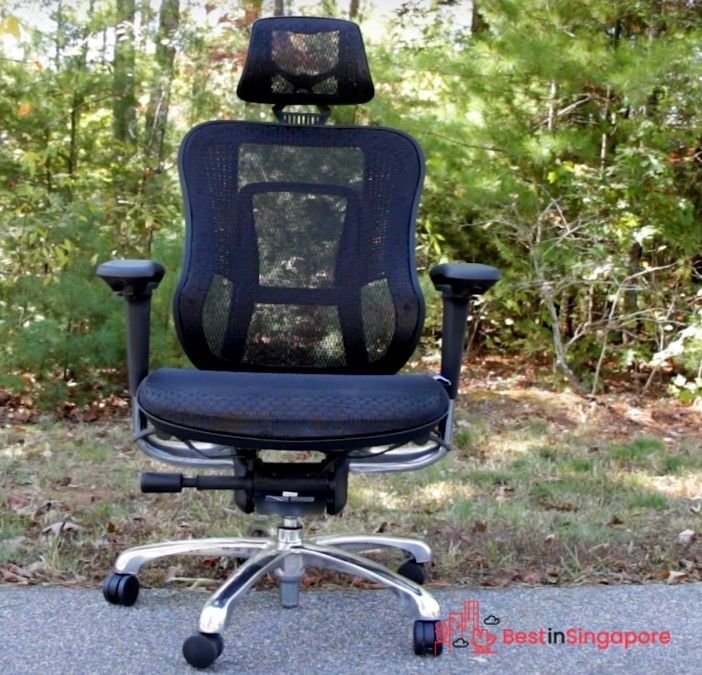 | | |
| --- | --- |
| Seat Height | Pneumatic height adjustment |
| Base Tilt | Advanced tilt tension control and a synchro tilt lock |
| Seat Depth | Adjustable |
| Armrest | Adjustable PP armrests |
| Backrest | Adjustable back height |
| Headrest | Adjustable |
| Materials | Aluminium Base, Aluminium+PP+PU armrest,  Special Mesh back |
| Max Load | 250 lbs |
| Warranty | 2 years |
Some chairs are better suited as a task chair (better adjustments), some are ideal for managerial tasks (moves and glides with ease), while others are better for gaming (durable with dynamic recline system).
The nice thing about the Viva Office Mesh Chair is that it works well whether you're a task-heavy user, an executive, or a gamer putting in hours of wear to your chair.
Taller customers will appreciate the headrest feature, but if you're on the smaller side, it can be a nuisance or just useless.
A comfortable chair that adjusts to your height and size? That's got to be the best office chair in Singapore!
| | |
| --- | --- |
| Total Height | 45.3~48.8″ |
| Seat Height |   |
| Width | 29.5″ |
| Depth | 29.5″ |
The lumbar support is the most important aspect of an ergonomic chair and the Viva Office Mesh Chair delivers on that aspect.
One customer wrote: "This reclining back may be my favorite feature of this chair. With the built in lumbar support, the reclining back could almost put you to sleep. I love being able to adjust this chair to the perfect height from the floor, perfect height of the head rest and perfect angle for your hips and back."
Unfortunately, there have been issues with durability and with only a two-year warranty, this is not a high-wear, long-term type of investment.
Pros
Fully adjustable
Versatile and professional look alongside comfort and performance make this ideal both as an office chair as well as a gaming chair
Mesh back keeps your back cool and comfortable
Easy to assemble
Adequate lumbar support
Cons
Build may not be as durable as the other mid-range options
Seat cushion may be uncomfortable
Not fit for 5'5" or shorter frames
Users above 6 ft. may also experience problems with the headrest
Can be noisy when reclining
Limited 2-year warranty
MINIMALIST YET HIGHLY FUNCTIONAL: Herman Miller Sayl Chair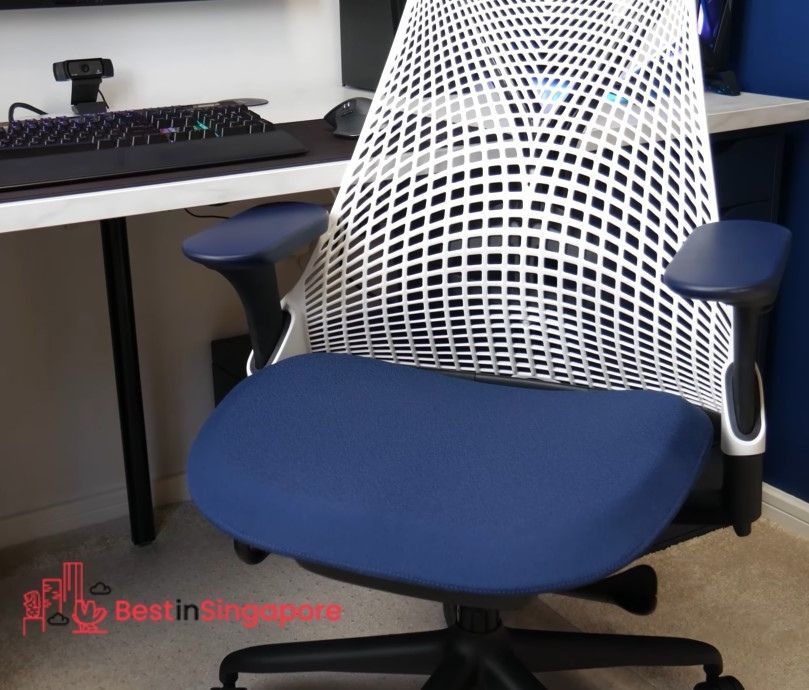 | | |
| --- | --- |
| Seat Height | Adjustable |
| Base Tilt | Tilt Tension, Forward Tilt, Tilt Limiter |
| Seat Depth | Adjustable (optional) |
| Armrest | Height adjustable (optional) |
| Backrest | Adjustable lumbar height (optional) |
| Headrest | None |
| Materials | Aluminium base, stretch knit back |
| Max Load | 350 lbs |
| Warranty | 12 Years |
Price: $799 to $962
If Aeron and Embody are out of your budget range, this Herman Miller chair is a suitable alternative at less than half the price!
Designed by Yves Béhar, the Sayl Chair features a Y-Tower webbed backrest with a suspension tower. It was inspired by the famous Golden Gate Bridge from San Francisco, which Behar calls home.
Through expert engineering, though the suspension backrest uses less material than others, it offers superior lumbar support. Plus, unlike other office chairs that can look intimidating, the Sayl Chair looks hip, modern, and comes in a variety of fun colours.
| | |
| --- | --- |
| Total Height | 33.75-40.75″ |
| Seat Height | 15.5-20″ |
| Width | 24.5″ |
| Depth | 16-18″ |
One customer describes this chair as "nearly perfect." The standard version lacks adjustability, so be sure to buy the fully-loaded version so you can adjust according to your needs.
Pros
Used in the British School of Osteopathy
Made of recycled materials
Affordable product from a legendary brand
Modern and minimalist design
Cons
Armrest material is not as sturdy
Not as adjustable as the high-end products from HM, but that's what you get for the affordability it offers
FULLY ADJUSTABLE AND CUSTOMIZABLE: Kliig Bestseller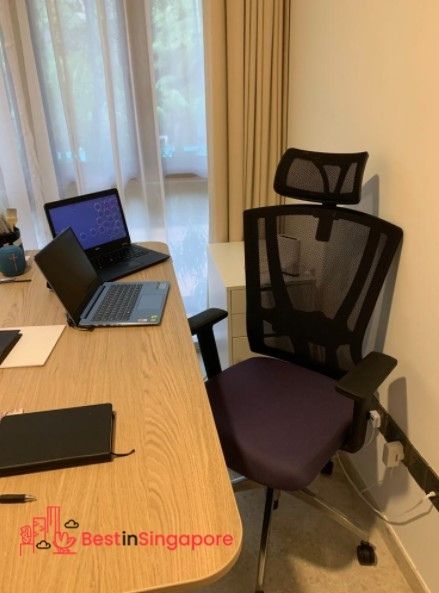 | | |
| --- | --- |
| Seat Height | Adjustable |
| Base Tilt | Adjustable |
| Armrest | Adjustable (up and down, forward and back) |
| Backrest | Fully adjustable |
| Footrest | Not available |
| Materials | Premium Fabric and Leather |
Price: SGD299.00
Kliig's Bestseller Chair is another excellent option for those looking at days where they spend hours on end working. For its low price, customers can gain access to a chair that's highly comfortable, with wide seating and a tall backrest that accommodates any body type. 
It's worth noting that the Kliig Bestseller Chair is fully customisable, from the colour of the moulded foam seat to the head and armrests. Not only that, but it has a synchronised locking mechanism and adjustable tilt tension. 
The fabrics used for the Bestseller Chair is wear and tear-resistant, meaning it can go for years without breaking. It is also water-resistant so stains won't be too much of a problem.
With 24 colours to choose from, the possibility is almost limitless and everyone is sure to get something fit to their taste. Check out more of the details on Kliig's website.
| | |
| --- | --- |
| Total Height | 710/790mm |
| Seat Height | 42-52cm |
| Width | 530mm |
| Depth | 50cm |
Pros
Wide variety of colours
Wide shoulder support
Ergonomic
Moulded foam seat
1 year warranty
Cons
No footrest
Arm support is limited
Budget-Friendly Ergonomic Chairs (< $500)
SMART DESIGN ON A BUDGET: Alera Elusion Swivel Chair
Seat Height
Adjustable
Base Tilt
Tilt tension
Seat Depth
Not adjustable
Armrest
Arm width and height adjustment
Backrest
Back tilt adjustment
Backrest height adjustment
Headrest
None
Materials
Nylon base, mesh back
Max Load
250 lbs
Warranty
5 years, limited warranty
Price: $913.70
The Alera Elusion Swivel Chair is the best office chair below $500. Though the design is a bit lacklustre, it ticks all the necessary ergonomic chair features.
| | |
| --- | --- |
| Total Height | 36 5/8″ – 42 7/8″ |
| Seat Height | 18 3/4″ – 22 3/8″ |
| Width | 24″ – 25 5/8″ |
| Depth | 26″ |
A "fun-size" (4'9") customer was happy this is a petite-friendly office chair. She wrote: "The chair adjusts low enough that my bare feet can touch the floor." Since the average height of females in Singapore is 5'3", the Alera Elusion Swivel Chair will fit them comfortably.
Pros
Cool, breathable mesh back
Height- and width-adjustable arms
Height-adjustable ratchet back for optimal lumbar support
Perfect for petites
Cons
Durability could be better
Limited customisability
BASIC, CONTEMPORARY CHAIR: Flash Furniture High Back Mesh Chair
| | |
| --- | --- |
| Seat Height | Pneumatic Seat Height Adjustment |
| Base Tilt | Tilt Lock Mechanism rocks/tilts the chair and locks in an upright position |
| Seat Depth | Not adjustable |
| Armrest | Padded Flip-Up Arms |
| Backrest | Built-In Lumbar Support |
| Headrest | Adjustable |
| Materials | Chrome plated nylon base, mesh back |
| Max Load | 250 lbs |
| Warranty | 2 Years |
Price: $335
The Flash Furniture High Back Mesh Chair looks the part of a sleek, high-end ergonomic office chair without the hefty price tag. There are sacrifices to the material for the price, but the important functionalities are present.
These include tilt tension adjustment, adequate lumbar support, and even an array of versatile colour options if you want your chair to stand out.
| | |
| --- | --- |
| Total Height | 47.50″ – 52.50″ |
| Seat Height |   |
| Width | 25.5″ |
| Depth | 24″ |
Durability is an issue, though, with some customers already noticing reduced support and significant wear on the fabric after using the chair for less than a year.
However, it is a good basic chair that is comfortable and functional, with adequate lumbar support. Here's a review from a satisfied customer:
"A Herman Miller replacement at 1/10 the price. My last office had Herman Miller chairs, costing $1K each and, while not quite as comfortable or adjustable, this chair offers nearly every "key" option I loved about my Herman Miller for 1/10 the price."
Pros
Easy to assemble
Contemporary office chair
High-backed design with adjustable headrest
Ventilated mesh back
Built-in lumbar support
Tilt lock mechanism rocks/tilts the chair and locks in an upright position
Affordable!
Cons
Lacks durability
Seat flattens over time
Lowest seating position still too high for petite users
Armrest does not lock firmly into place
ERGONOMIC ON A BUDGET: Sail Basic Ergonomic Chair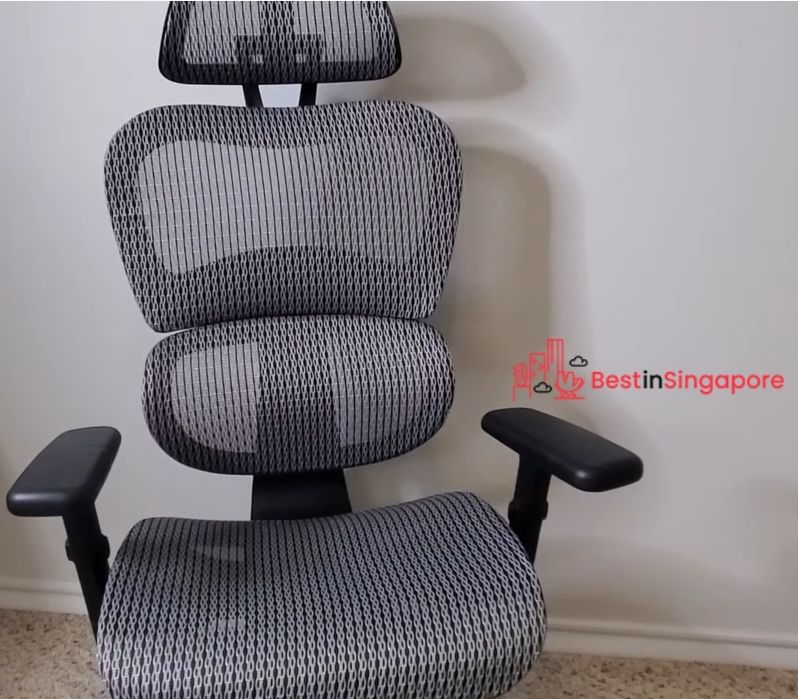 | | |
| --- | --- |
| Seat Height | 42cm – 50cm |
| Base Tilt | Tilt tension adjustment |
| Seat Depth | 42.5 – 48.5cm |
| Armrest | 4D adjustment |
| Backrest | Height adjustment with lumbar support |
| Headrest | Mesh seat and mesh back |
| Materials | Nylon base, mesh back |
| Max Load | 120kg |
| Warranty | 2 year warranty against mechanism (i.e. hydraulic gas lift) |
Price: $449.00
Considered as the flagship ergonomic chair of Take A Seat, the Sail Basic is an award-winning product that proves that you can get all the best qualities of chair for a reasonable price. It's known to suit all body types, having adjustable height for the headrest, backrest, and even the armrest. Seat Depth adjustment is also available, so you won't have to settle with uncomfortable, hard seating.
Maximum weight is comparable to the initial Vision Chair, which was only suited to petite people with weights just over 90 kilograms. With Sail Basic, more people will be able to use it, as its maximum strength can cover up to 120 kilograms.
To add on to it, you won't have to worry about shipping costs, as Take A Seat offers free delivery within Singapore! Definitely a steal for a great chair you won't be able to get anywhere else.
| | |
| --- | --- |
| Total Height | 42cm – 50cm |
| Seat Height | 42cm – 50cm |
| Width | 50cm |
| Depth | 42.5 – 48.5cm |
There were no widescale issues presented for the products by the customers who have bought it. Only positive reviews were received, showing just how amazing the Sail Basic Ergonomic Chair is.
One review says that it was worth every dollar spent on the chair. It reads, "Fantastic value for a new chair. Great support for the back while I work. Perfect for local weather. Well done. I hope the mesh material will be long lasting!"
While another one says, "Great product and very efficient service from ordering to delivery."
 Pros
Supports back and spine
Good value for money
Adjustable height and comfortability
Cons
Not as durable as chairs with leather material
Tips for Office Ergonomics
Now, whichever of these you choose, you'll have a fantastic office chair, of that we're certain. But at the end of the day, it's still not healthy for anyone to be sitting down for hours on end.
Even if you use a premium office chair, if you don't know how to take care of your body or maintain good posture, you're not going to maximise the benefits of ergonomics.
So, we're concluding our roundup with some additional tips for a health-positive work experience: