17 Best Pillows in Singapore For a Good Night's Sleep 2021
A prized pillow lets you dream as if you are floating in the sky amid a cloud of comfort. Its velvety suppleness sinks you into a calming sleep, the best nap in this lifetime. Have a cozy rest snuggling these best pillows in Singapore.
We all know the importance of a good night's sleep. The quality of our sleep affects the way our day turns out. In this regard, it's crucial that we only sleep with the best pillow in Singapore.
And this is why we created this article. We searched and tested plenty of pillows and here are, in our opinion the top 14 pillows in Singapore that you can buy to get a good night's sleep:
1. Peacelily Latex Pillow (Firm)
Balancing Durability and Quality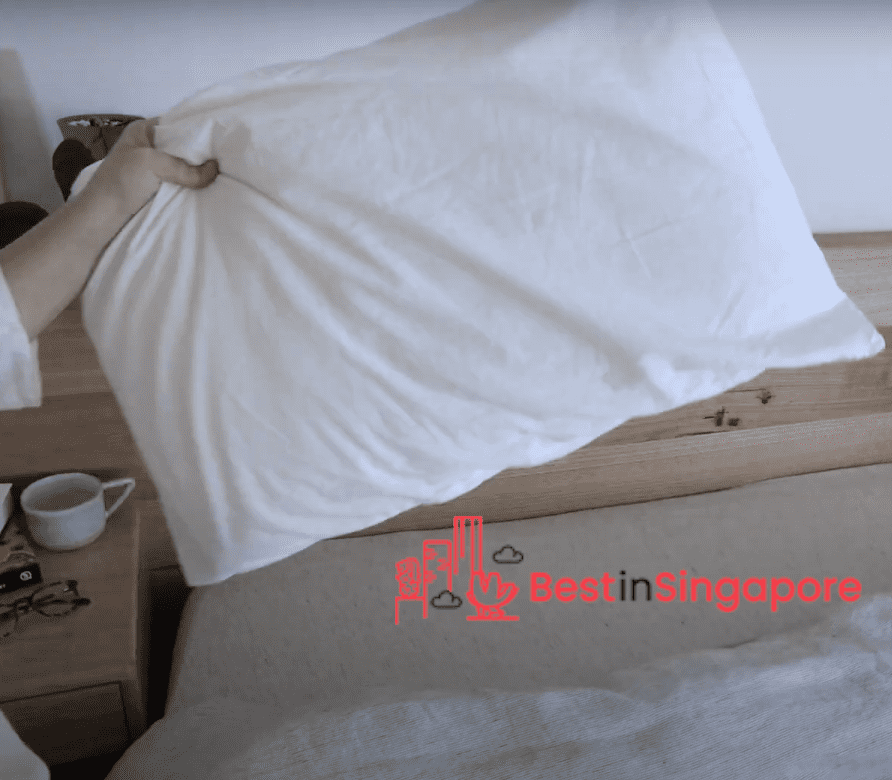 Price: $119
Peacelily's non-toxic latex pillow is made from 100% natural latex and is wrapped in a GOTS certified 100% organic cotton cover to deliver you a fresh, durable medium comfort feel. It's made with premium quality natural latex rubber (the same latex that they use in their luxury comfort mattresses) and tucked inside a ridiculously luxurious, high-thread count organic cotton cover.
These pillow are made to provide firmer neck support and for extended durability. In fact, a lot of their customers have provided the feedback that it gives them proper support when they sleep, ensuring that their necks are not in strained in any way once they wake up.
Regardless of whether you sleep on your side or your back, this pillow is perfect for you
Furthermore, their non-toxic pillow contains only 100% natural latex from Sri Lanka, which provides some of the highest quality latex in the world. It has no synthetic latex and no usage of common polyurethane and memory foams which can cause off-gassing.
A lot of people have sensitive skin, and because of certain toxins, they wake up with their skin irritated. Being 100% natural materials, Peacilily eliminates this possibility altogether.
Going Soft on the Details – Essential Info
Free shipping and returns
1 year warranty
100 night trial
2. Emma Foam Pillow
Maximum Sleeping Comfort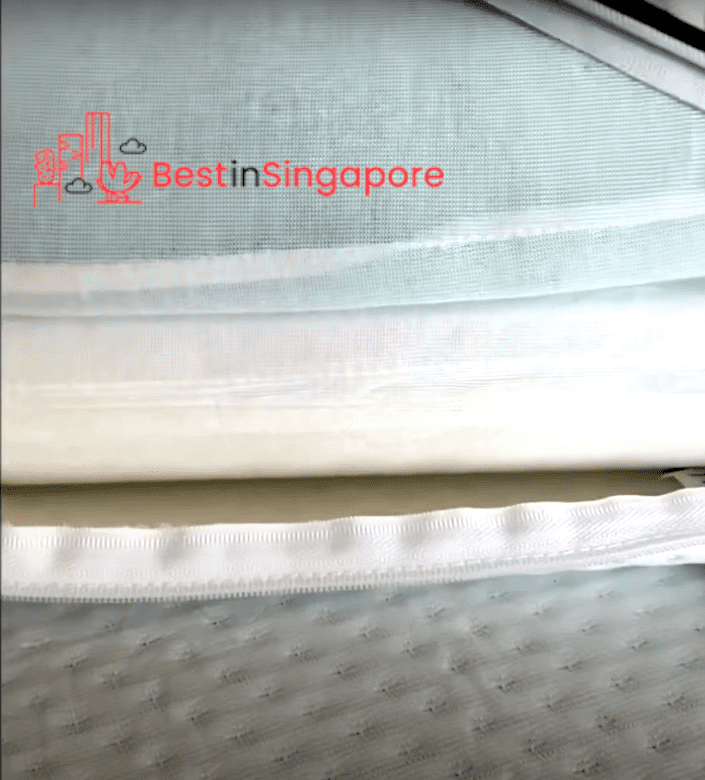 Price: $111.21
Unlike other shops that sell pillows, they offer 100 nights trial to those who will buy. This is to let the customers see how the product would work on them for over three months.
People prefer to buy from them because of their 10 years warranty. If the pillow is not perfect for you, you may ask for a return and refund without a hassle.
What's unique about Emma Foam Pillow is that it is a pillow for all sleeping positions! No matter if you sleep on your side, back, or on your stomach, with the individually removable layers you can adjust the pillow height exactly to your needs.
Over the years, other pillows usually get deformed. However, with Emma's 100% carefree Foam Pillow, it can retain its shape and support for years.
Use their promo code "BESTINSG" for a 10% off!
Going Soft on the Details – Essential Info
Height: 70 x 40 cm
Total Weight: 1500 g
Filling Weight: 1200 g
Breathable and hypoallergenic
Height & lying comfort adjustable
3. Weavve Home Silk Pillow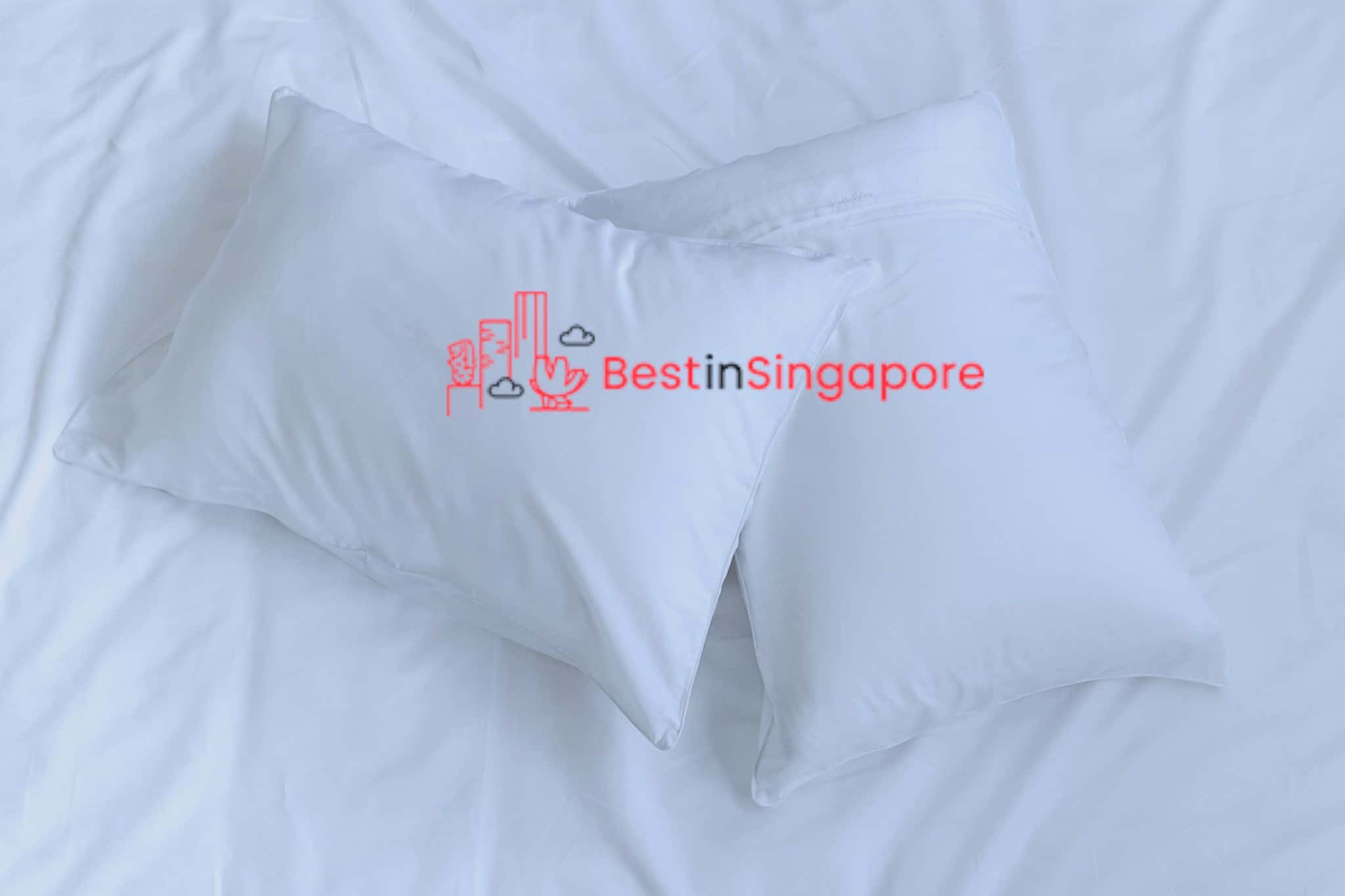 Price: $149.00 SGD
The Weavve Home silk pillow isn't just a silk-covered pillow – it's actually filled with silk! To be precise, it's a soft pillow packed with 100% silk floss in a layer of silk cotton.
That already makes it unique on our list. Silk-filled pillows still aren't that common, though based on our experience with this particular sample, they should be.
Let's start with first impressions: the pillow actually comes packaged in a handsome canvas carry bag shaped and sized precisely for it, with two handles for even easier toting. That's not a bad touch, especially for a pillow that belongs to the premium options on the market.
Inspecting the pillow itself reveals why it's a high-end option. The cover is genuine silk and unzipping it to poke around in the filling gives no cause to doubt the company's claims about its materials.
Weavve Home claims that silk pillows are thermally regulating as well as hypoallergenic thanks to their make-up. This makes sense: silk is a good thermal regulator, most of us have known for a while now.
That panned out in usage too, with the pillow feeling cooler on a warm night than most of us expected. Definitely a welcome result in this heat!
Comfort was very good as well. The company says its customers call these pillows "clouds of bliss" and we can see why: they're bouncy, fluffy, and easy to sink into.
In fact, that's probably our only gripe – well, if you can call it one – thus far. The marketing materials for this pillow claim that it's medium to medium-soft, you see, but we think it's actually more on the medium-soft to soft side.
Is that a problem if you need support? Not so much, in practice. We found that even side-sleepers could use the pillow with fair ease.
The only real issues came from the need to adjust to its softness for those used to firm pillows. Even then, however, they found no neck pain or strain afterwards. One even suggested that it might be more psychological than physical, as a complaint.
Whatever the case, these are excellent pillows if you want to try something more luxurious than usual and have a fancy to sink into, well, "clouds of bliss" in your bed.
Going Soft on the Details – Essential Info
Filled with silk floss encased in cotton silk layer
100% silk cover
Organic and hypoallergenic
Thermoregulating
Medium-soft
4. Amour Latex Pillow
Balancing Cozy and Dreaming Firmness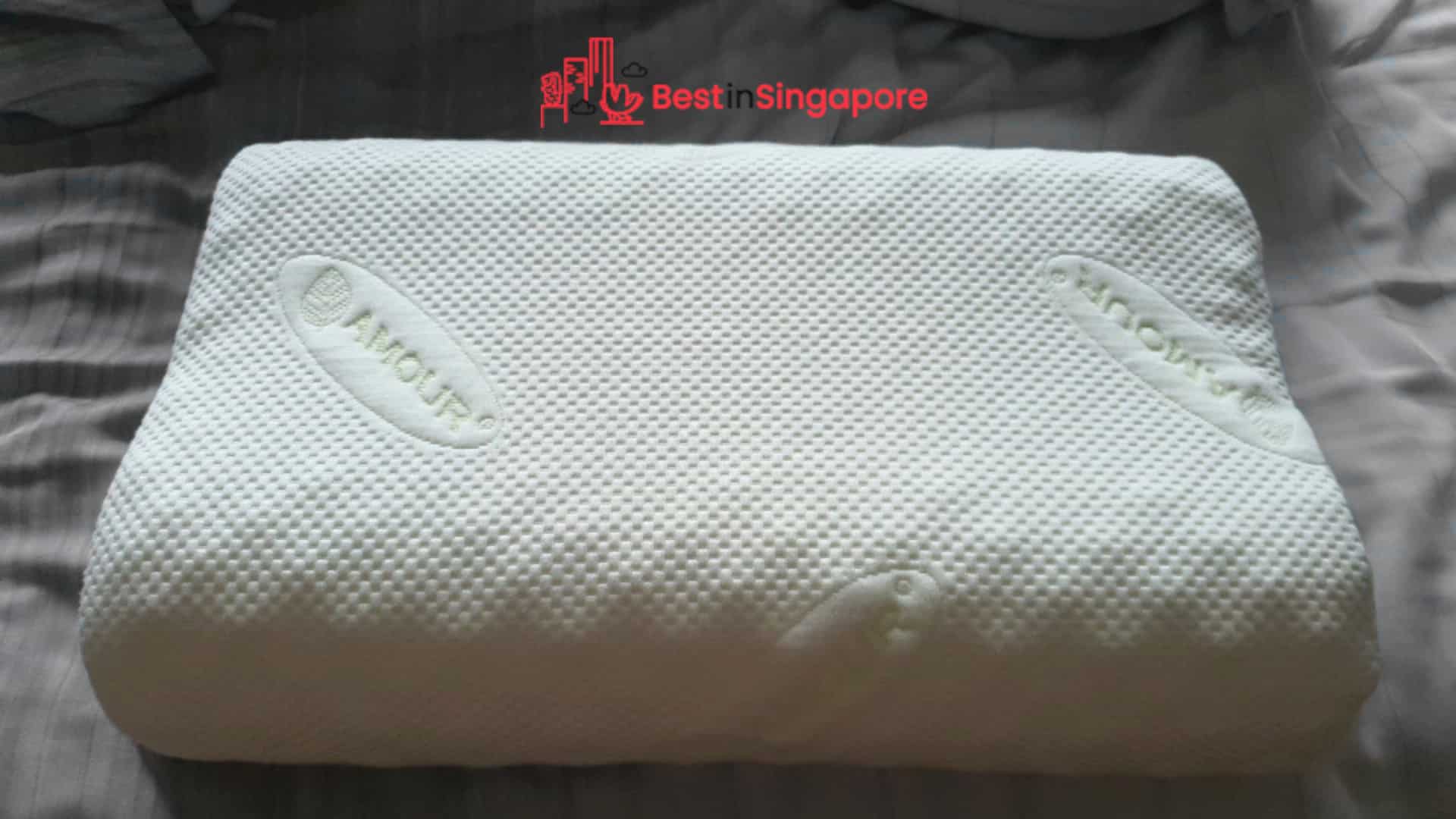 Price: $29-59
If you're looking for a latex pillow in Singapore that won't cost an arm and a leg, do check the Amour Latex Pillow.
The Amour Latex Pillow is made with Thai natural latex for a relaxing sleep. With a balanced firmness, it is soft to perfection so sleepers can snuggle like crazy. Constant airflow across the pillow is ensured through the natural breathable latex. Dream with balanced coziness upon lying on the Amour Latex Pillow.
Due to its breathability and firmness, we think that the Amour Pillow is one of the best latex pillows available in Singapore.
Going Soft on the Details – Essential Info
SGD 59
Made with natural Thai latex for nurturing posture alignment
Medium firm
Hypo-allergenic
Anti-microbial
5.  SOMNI Fluffy Pillow
Get Lost in its Surreal Softness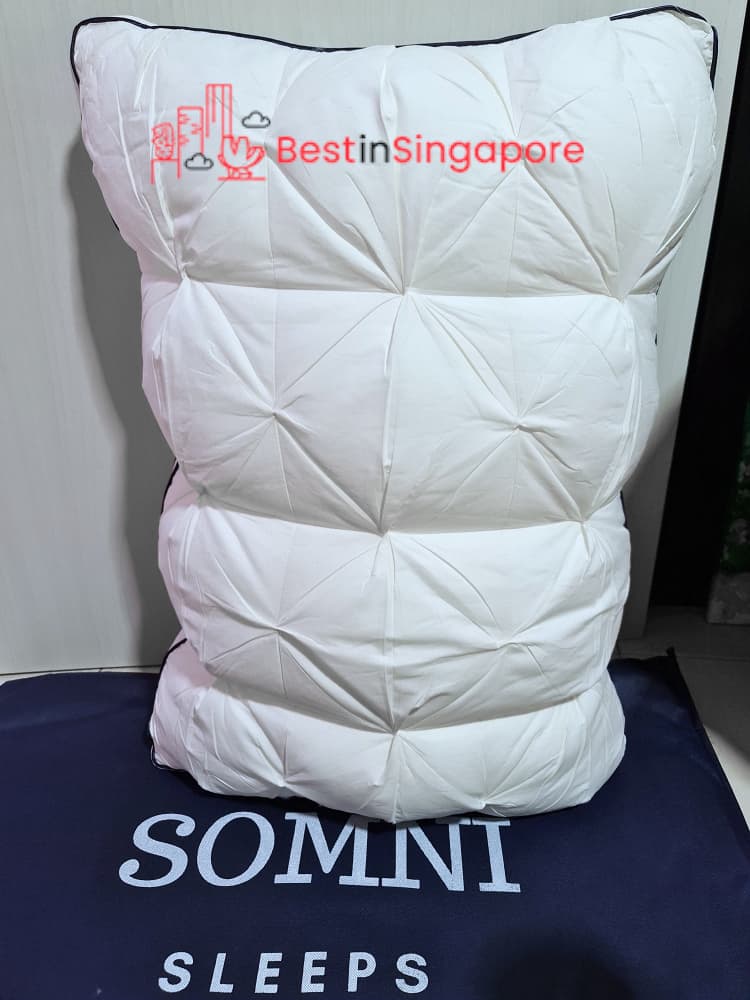 Price: $24.90
Not everyone wants a firm solid pillow. For those who need their pillows soft and cuddly, the SOMNI could be the best pillow for side sleepers in Singapore.
A fluffy cuddle awaits with the SOMNI Fluffy Pillow. The pillow's super microfiber allows for tenderness that makes dreaming a simple luxury. Its quilted pockets saves the shapely fluffiness, so sleepers can achieve a comfortable rest. Believe the cloudy softness of the SOMNI Fluffy Pillow.
Going Soft on the Details – Essential Info
Quilted design to maintain fluffiness
100% cotton ticking fabricshell
Super microfiber fill
Medium firm
6. Akemi Optimal Contour Memory Pillow
Rest with a Snug Posture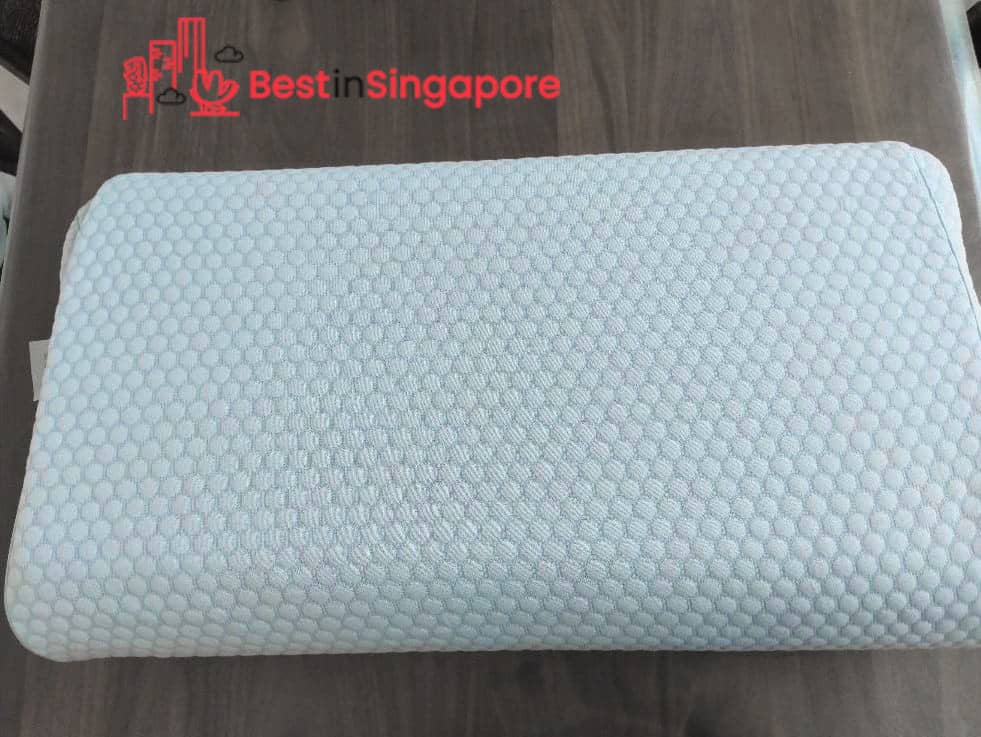 Price: $44.57
If you're looking for a good neck pillow in Singapore, you may want to check this out. Postures are sure to be comfy and aligned while snuggling the Akemi Supreme Contour Memory Pillow. Featuring a contour shape, it provides cozy support for the head, neck, and shoulders while helping straighten the spine. The pillow is hypoallergenic, thus, sensitive sleepers will be treated to a soothing doze. Snuggle in comfy posture care of the Akemi Supreme Contour Memory Pillow.
The natural curvature of the pillow that accommodates the neck and the head makes us believe that the Akemi Supreme Contour Memory Pillow is the best pillow for neck pain in Singapore.
Going Soft on the Details – Essential Info
Soft to medium firm
With a cooling effect to promote a breezy rest
Microscopic memory pocketed foam
Support the body's posture
7.  Hotelier Prestigio Buckwheat Pillow
Sleep into Your Cool Posture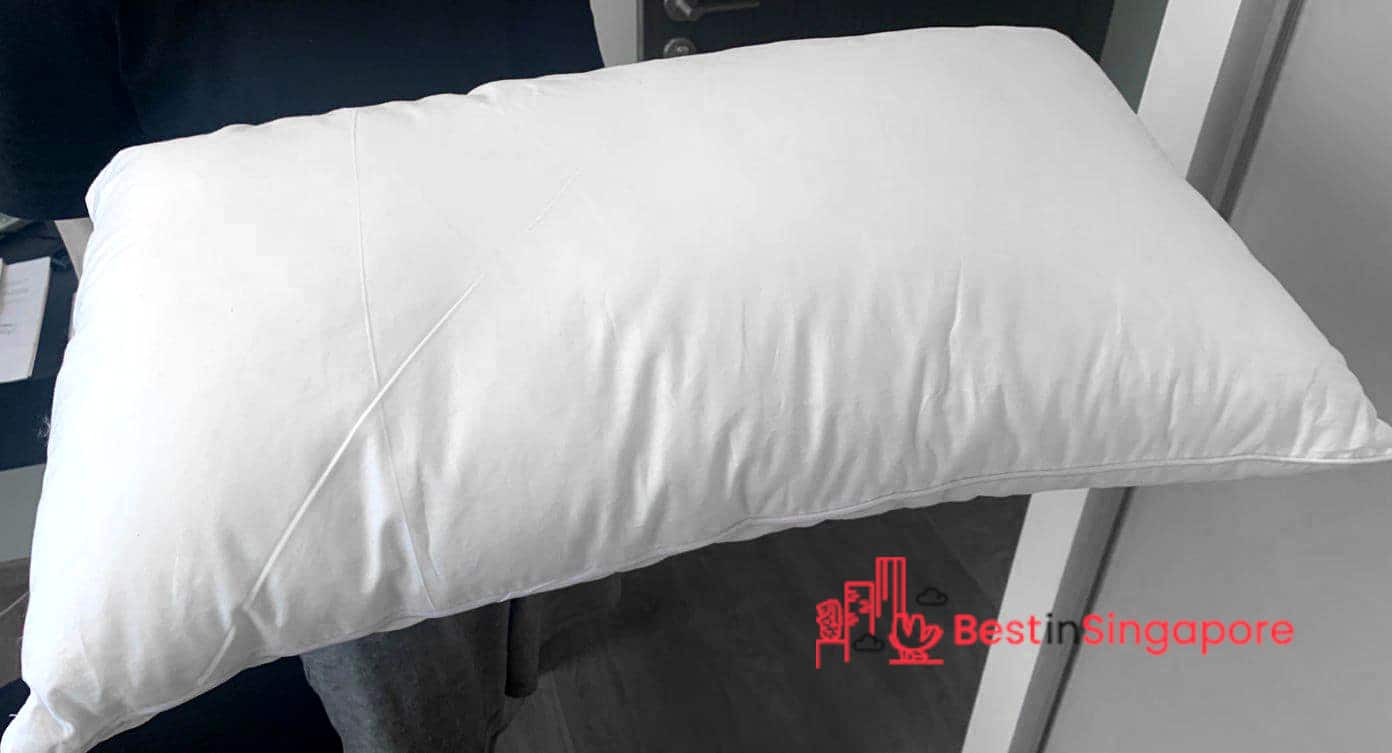 Price: $29.90
Now there's a reason why we love sleeping in hotels: it's because of their superior beddings and pillows. If you've been wondering where to buy pillows in Singapore that are of hotel quality, this should answer your question.
Sleeps are made cool thanks to the Hotelier Prestigio Buckwheat Pillow. The buckwheat and microfiber materials in the pillow combine a cooling atmosphere plus softness. Because of the buckwheat, heat is breezed away, letting owners relax into sweet dreams. Its seamless tenderness supports the posture as well.
If you want hotel-quality sleeps in your home, this is the best hotel pillow in Singapore that you could take home.
Going Soft on the Details – Essential Info
Consists of 30% buckwheat hull plus 70% microfiber
100% cotton outer cover
Hypo-allergenic
With anti dust-mite guard
Naturally eliminates heat
8.  Tempur Cloud Breeze Dual Cooling Pillow
Fresh Sleeps and Soft Snuggles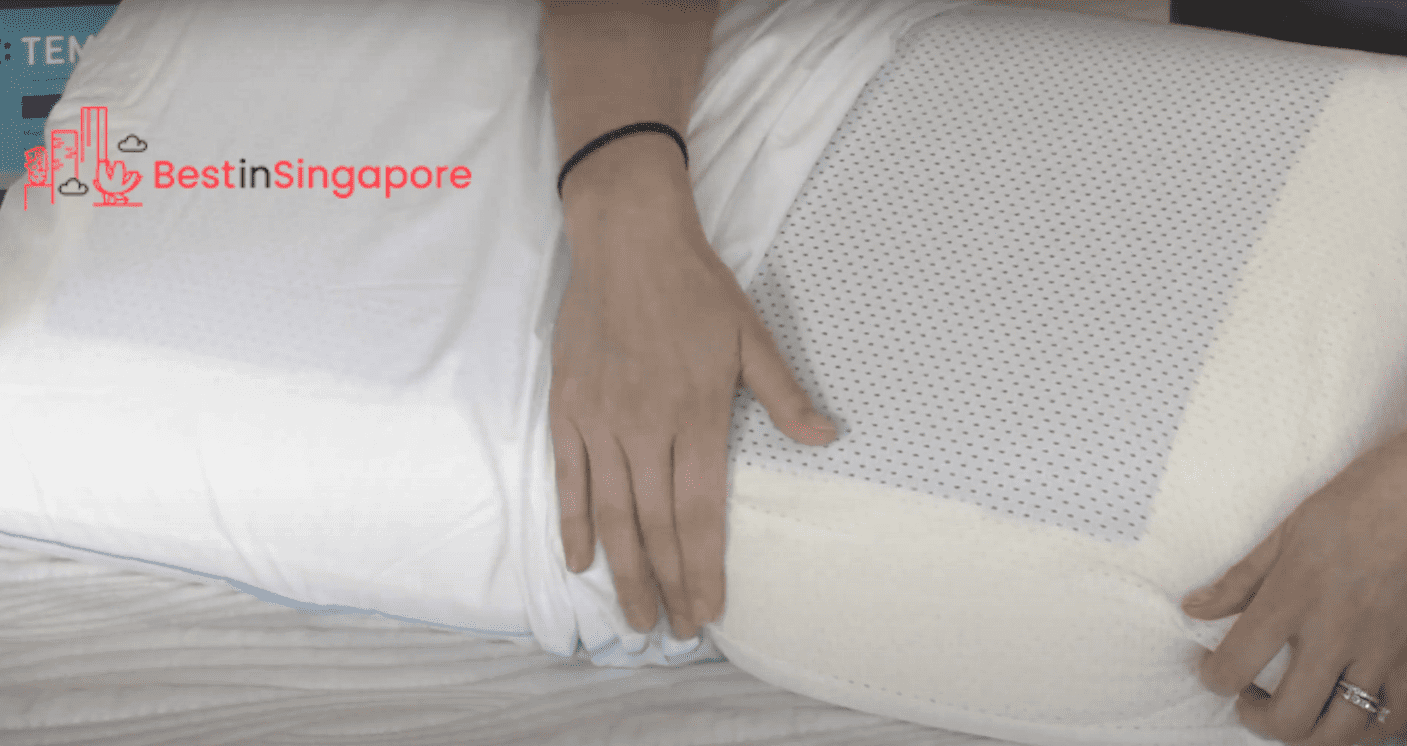 Price: $417.03
Tempur is one of the most famous pillow brands in Singapore and is also globally known.
Only a cool rest is guaranteed with the Tempur Cloud Breeze Dual Cooling Pillow. It has a cooling gel layer that ices the temperature in the pillow for a calming sleep. Since the pillow has perfect fluffiness, the whole body is promised a dreamy relaxation. Snug in to fresh sleeps with the Tempur Cloud Breeze Dual Cooling Pillow.
It's not the cheapest option but the cooling property of the Tempur Cloud Breeze has made it the best pillow in Singapore for 2020, according to customer reviews.
Going Soft on the Details – Essential Info
Made with 50% cotton and 50% polyester
Soft to medium firm
Meant for back, side, and stomach sleepers
The pillow returns to its original shape after each use
9.  Seahorse Foam Contour Pillow
Made for Making Postures Cozy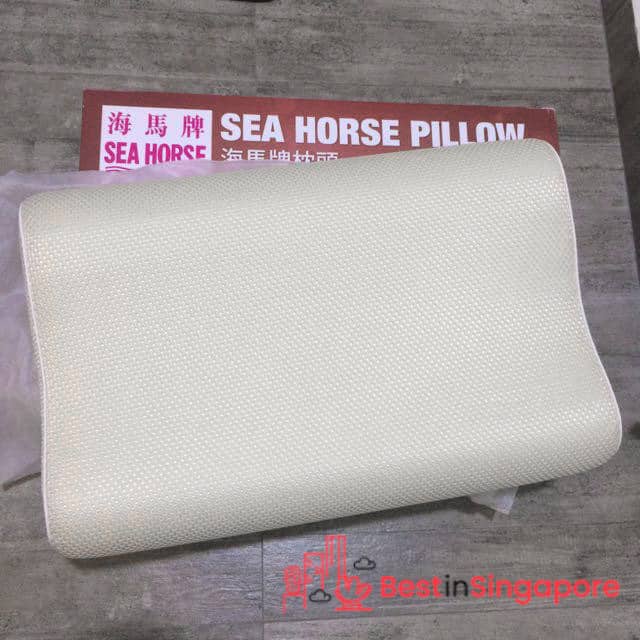 Price: $27.50
Fancy a pillow that adapts to the posture? Cuddle with the Seahorse Foam Contour Pillow as its cervical shape supports the neck with comfy feels. The pillow is especially designed to readjust according to the sleeper's posture and position, so they can sleep in extra coziness. Own comfy sleeps by resting on the Seahorse Foam Contour Pillow.
Also, you don't need to wait for a pillow sale in Singapore. We love how affordable the Seahorse Foam Contour Pillow is for the value that you get.
Going Soft on the Details – Essential Info
Soft to medium firm
Cervical-shaped for premium support
Treats the body to a posture-hugging fluffiness
Perfect softness to nurture comfortable rests
10.  Mediflow
World's First Water Pillow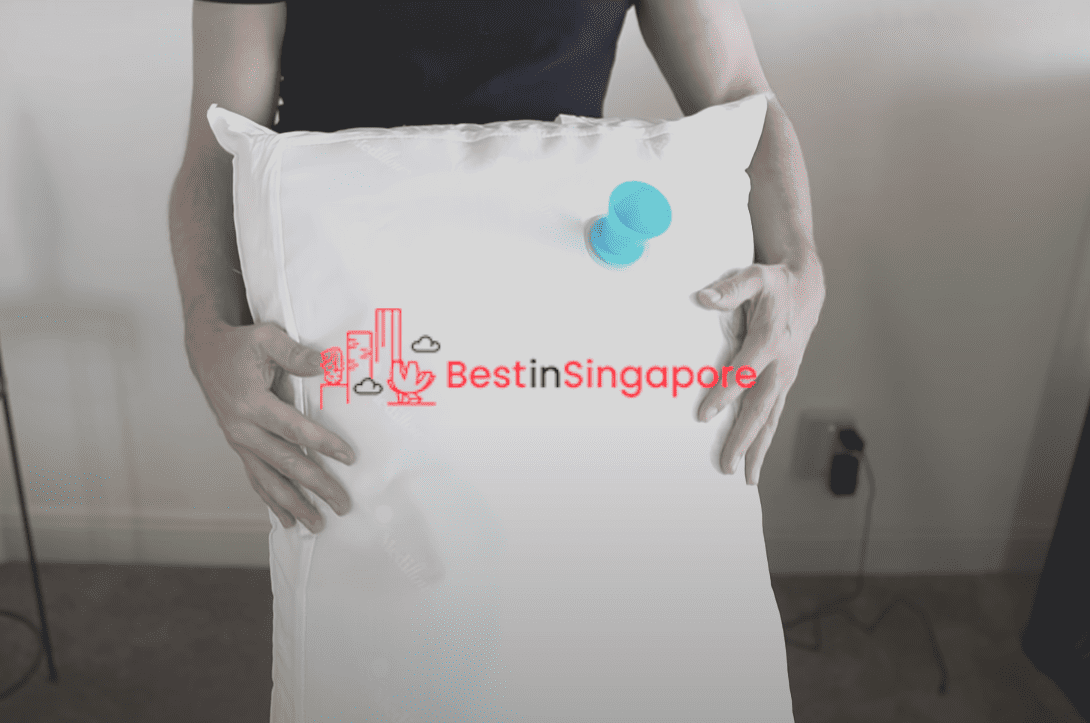 Price: $326.84
If you want to experience a different kind of sleeping sensation, listen up: Mediflow is the first pillow in Singapore (and the world) to be filled with water.
Mediflow, according to their site, is the first ever water pillow in the world. This has a soft layer of fiber which provides comfort to your head or body. What's good with this is the fact that its firmness can be adjusted. This can be done by pouring water through the hole placed in the pillow. According to studies, this kind of pillow can reduce neck pain and improve your sleep.
Going Soft on the Details – Essential Info
Hypoallergenic
Water Pillow
3-year warranty
30-day satisfaction guarantee or money back
Comes with instruction
11. Bodyluv Addiction Pillow 
Made to Improve Quality of Sleep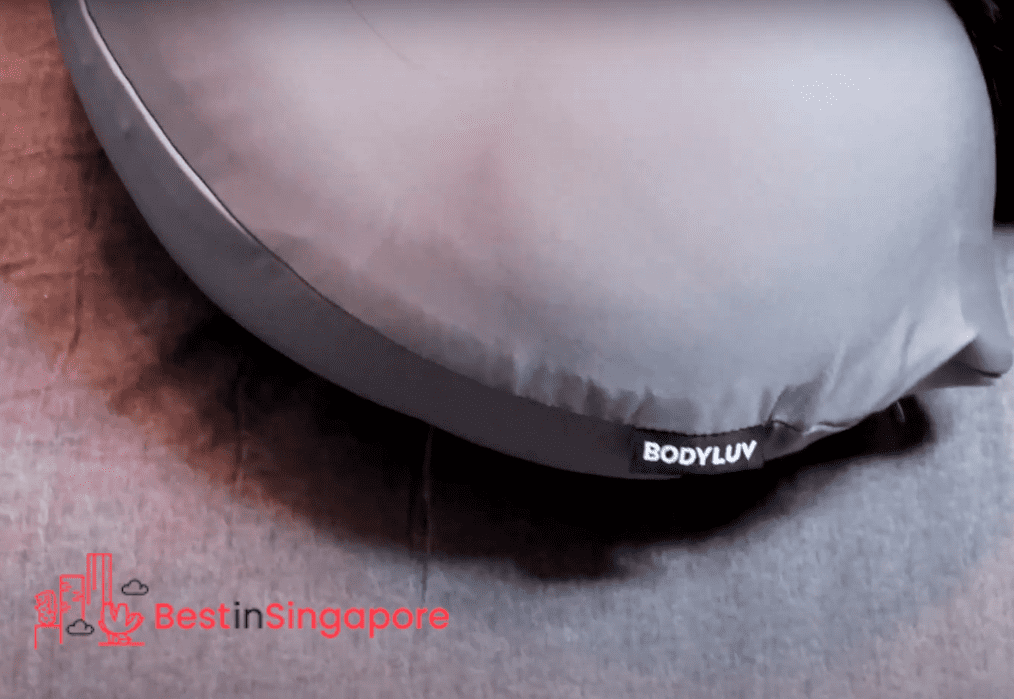 Price: $47.80
If you've read hundreds of pillow reviews in Singapore and none of them can still give you quality sleeps, perhaps this is the answer.
Bodyluv Addiction Pillow is a 3D Ergonomic Pillow from Korea to help improve your sleep quality. It is filled with millions of micro air balls to help absorb pressure,in order to reduce neck, shoulders and back pain.
Washing it is also quite easy as you can simply put it inside the machine as a whole and come out fresh and fragrant.
When you purchase Bodyluv Addition Pillow, you also get Pillow Cover, Laundry Net, Deodorizing Charcoal Pack & Dust Bag so it is a complete package.
Going Soft on the Details – Essential Info
Easy to wash
Best to relieve muscle pain
Comes in variety of colors
12. Hugsie
Brings Comfort to Pregnant Women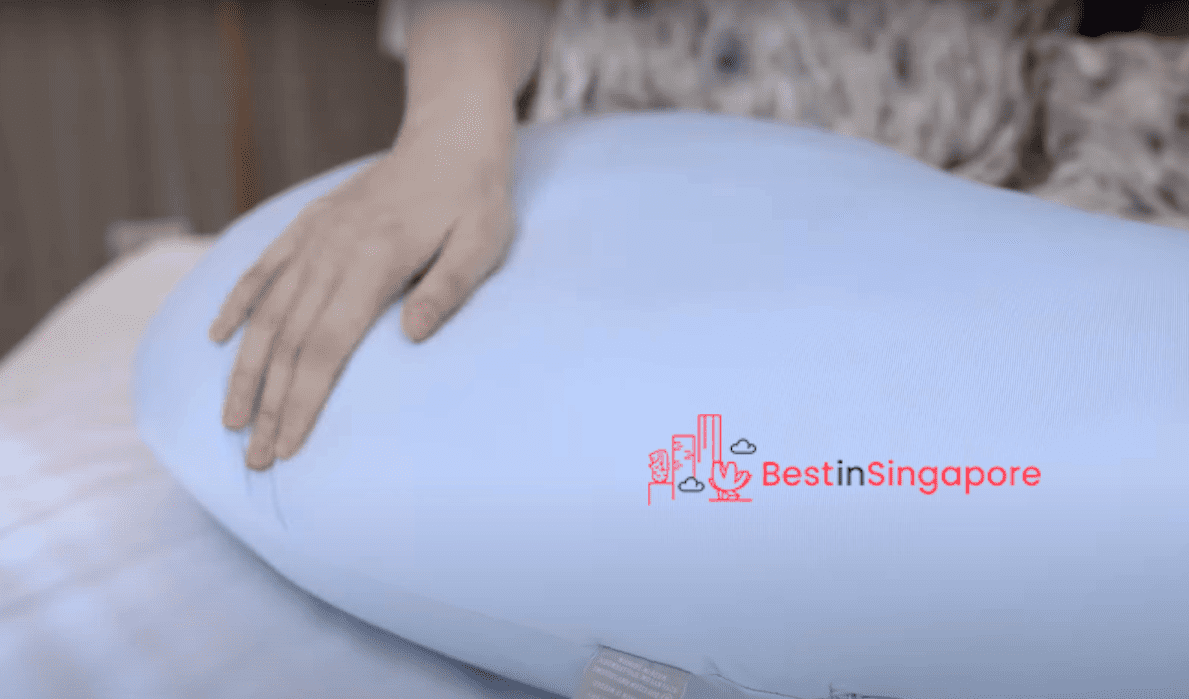 Price: $159 onwards
Having a growing baby bump is not as easy as it sounds and the more a woman gets near her due, the harder it becomes to sleep in a comfortable position. Thankfully, there is a specialized pillow intended to help them sleep better. It's the Hugsie, a comfort series maternity pillow with cooling touch.
It is a c-shaped pillow ergonomically designed to give some space to a huge baby bump while the mother is sleeping on her side. It can also be used to support the back and relieve pressure from the stomach.
Hugsie is specially created as a multi function pillow which you can use as a U-shaped pillow, head pillow, reading pillow, side-sleep pillow, leg-lifting pillow, nursing pillow, back support pillow, and baby comforting pillow.
Going Soft on the Details – Essential Info
8-in-1 multi function
Obstetrician recommended
Anti-mites
100% polyester fiber
13. The Woosa Pillow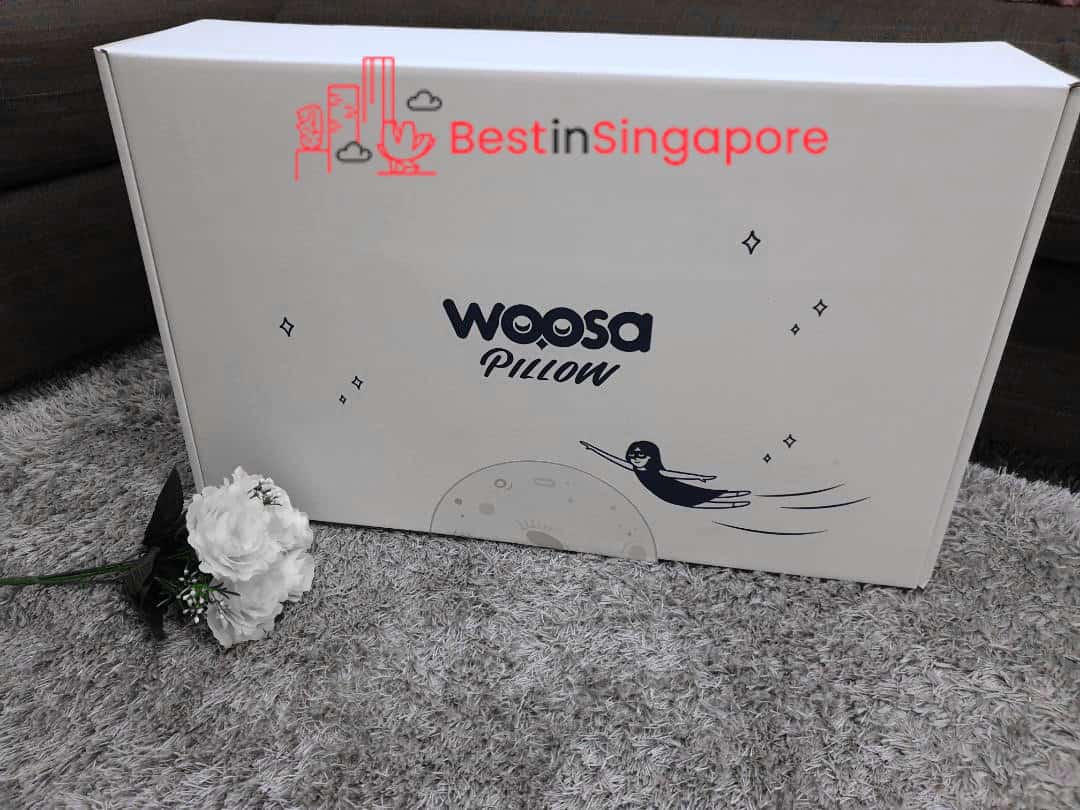 Price: $149.00
The Woosa Pillow offers a good night's sleep like no other, thanks to the amazingly plush and supportive material that makes up the pillow. With Belgian experts, Woosa developed the Woosa Cloud Foam, a combination of memory foam and down pillows that removes the drawbacks and comes with all the positives that the two pillow types have to offer.
As a result, The Woosa Pillow has become one of the best there is in the market, with its soft and breathable material that provides enough support for comfort. The Woosa Cloud Foam is found within the pillow, wrapped in a thin, strechy, polyester blended fabric to ensure the pillow stays dry and cool throughout the night.
Going Soft on the Details – Essential Info
Combination of memory and down pillows
Polyester blended fabric
3-year warranty
Provides fuss free shopping through door to door delivery.
14. Neck Kool Cooling Gel Memory Foam U Pillow
Comfortable Sleep While on Travel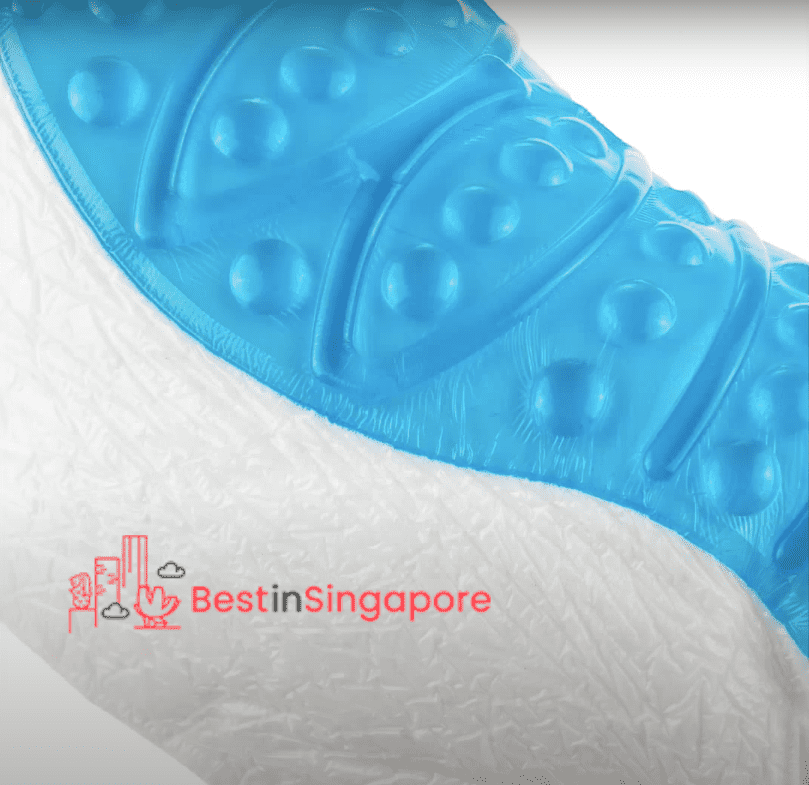 Price: $44.97
Travelling is fun until you fell asleep and woke up to a painful or stiff neck. In times like this, you should know that you must invest in a pillow that will bring comfort wherever you go.
The Neck Kool Cooling Gel Memory Foam U Pillow of Golden Value SG is truly a must-have when you are travelling especially long-drives because it gives a satisfying comfort as if you are not on a road.
It's premium quality memory foam not only brings you comfort but also oozes with a cooling effect because its layers are filled with natural plant extracts.
Overall, it's a good pillow in Singapore for those who suffer from beck and shoulder pains.
Going Soft on the Details – Essential Info
Perfect ergonomic design
Easy Care And Long-lasting
Cools the skin temperature by 1-2 degrees
15. Wing Pillow
For Back and Side Sleepers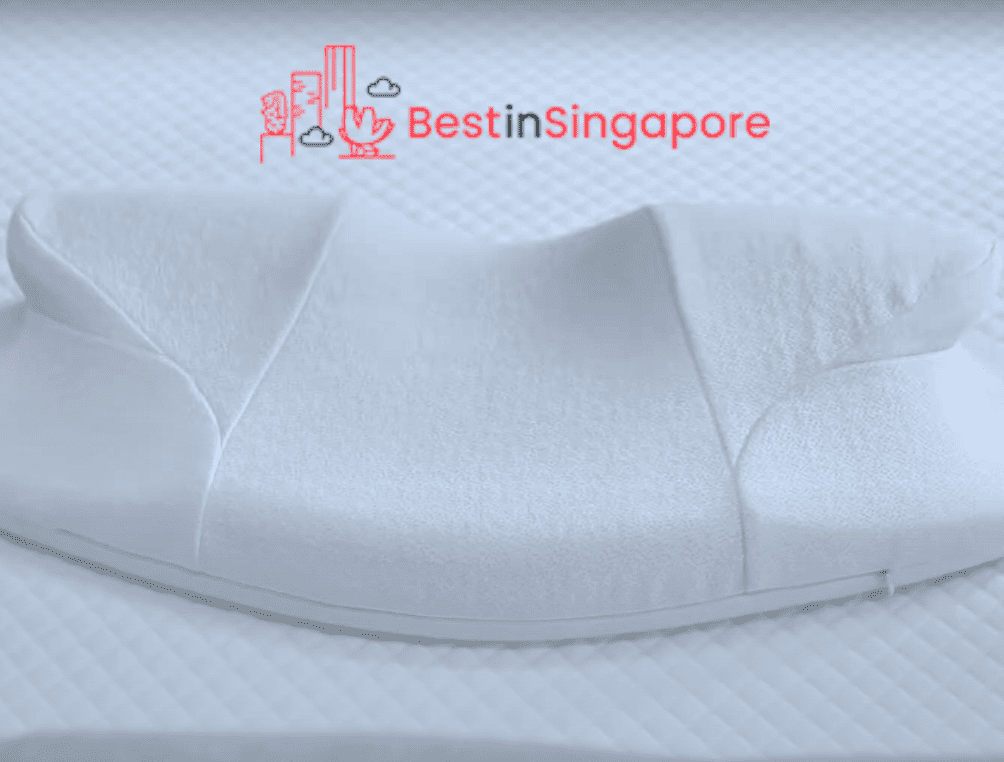 Price: $99.00
Do you suffer from stiff necks and shoulders? Baton Sleep's Wing Pillow is designed to help ease these symptoms.
It's ideal for relieving neck stress as it is shaped to support the natural neck contour. Besides giving you proper head and neck support, it also provides an arm slot for side sleepers, ensuring better blood circulation throughout the night.
Made with non-toxic memory foam for the ultimate comfort and support during your sleep.
Need to try out the pillows before committing? Drop by their big and beautiful showroom at Eunos – they have a proper bedding section that allows you to lie down on a bed so you can test out the pillows the way you would at home!
Going Soft on the Details – Essential Info
Innovative wing-shaped pillow
Covers are removable and washable
Has center dip and indented sides
16. Plushopedic™ Memory Fluff Pillow
Get Your Maximum Comfort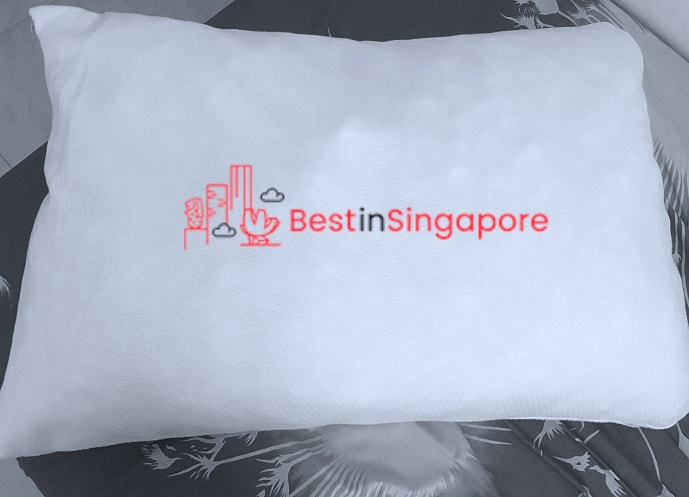 Price: $39.90
Unlike standard fiber-filled pillows that flex your neck upwards and rebound everytime you move, the Plushopedic™ pillow's viscoelastic memory fluff cushions your head, cradles your neck, and disperses motion.
This memory foam pillow can be adjusted its loft and shape to be more suited to your desired comfort while still catering to its main purpose of sinking at the center where your head rests whilst providing comfort for your neck.
Plushopedic™ is best for all kinds of sleepers. Whether you are a back-sleeper, side-sleeper, or combination-sleeper, this product guarantees you a good night's sleep.
Going Soft on the Details – Essential Info
Maintains volume and support for years
Easily remove and store away filling to adjust pillow loft.
3-month warranty
17. Lofty
Get Lost in its Comfortableness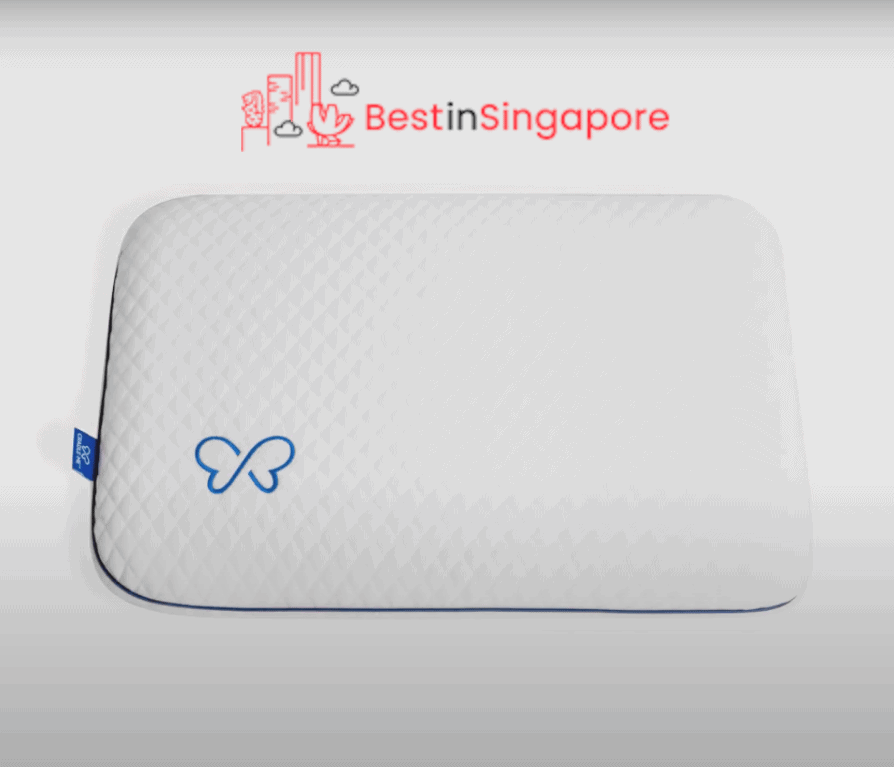 Price: Starts at $44.99
Lofty has been providing its consumers with comfortable beddings so that you can sleep better and wake up in a good manner. They have pillows with ergonomic design that are helpful in keeping your posture well-balanced.
What makes this a good choice is that they allow you to try their products in 100 days. After such time, if you don't want their product, you can give it back to them. On top of that, you will get a full refund.
Going Soft on the Details – Essential Info
Ergonomic-designed pillow
Offers different kinds of pillows depending on your needs
100 days trial period