The 6 Best Chinese Fertility Treatments in Singapore
When it comes to fertility, both men and women have long used traditional Chinese medicine (TCM) to improve hormone levels and reproductive functions.
In this review, we gathered top centres to help you find the best Chinese fertility treatments in Singapore.
How much does Chinese fertility treatment cost in Singapore?
Chinese fertility treatments in Singapore incorporate techniques like acupuncture with herbal medicine to stimulate better harmony within the body.
Fertility treatments vary and are usually charged per session. Here are the estimated costs of getting Chinese fertility treatments in Singapore.
| Treatment Type | Estimated Cost |
| --- | --- |
| Consultation | $80 to $120 |
| Acupuncture | $90 to $200 per session |
| Herbal medication | $15 to $30 per prescription |
| Moxibustion | $30 per session |
| Cupping | $30 per session |
Top-Rated Centres for Chinese Fertility Treatment in Singapore
We assessed the best centres for Chinese fertility treatments based on the following criteria:
1. Great Wall Acupuncture Clinic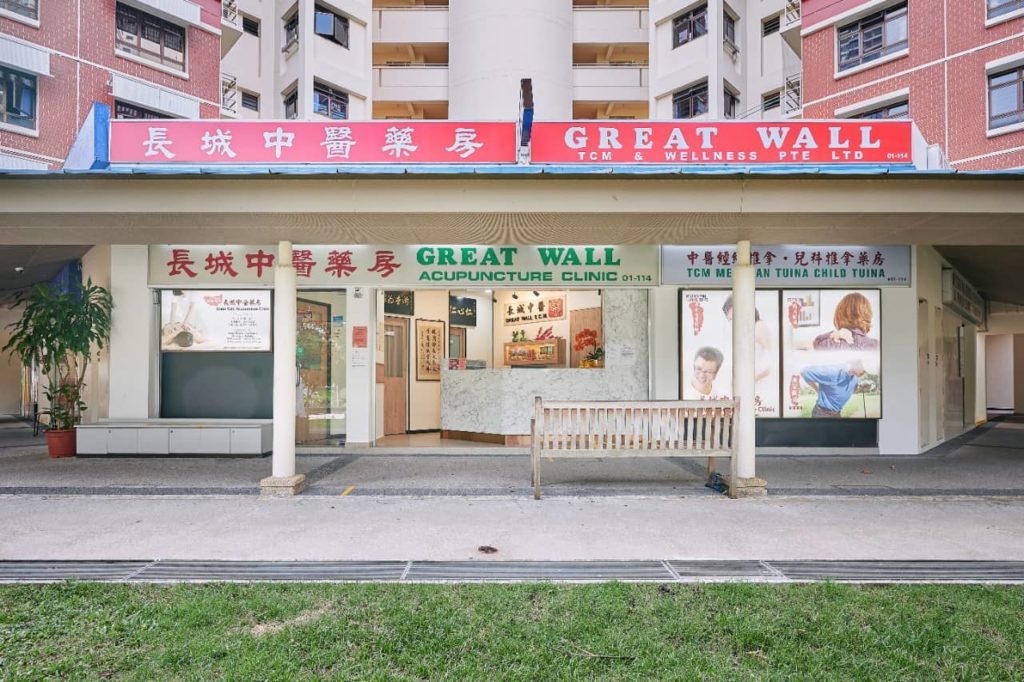 | Title | Info |
| --- | --- |
| PRODUCTS | Tui na massage, moxibustion, Chinese fertility treatment, herbal medicine, acupuncture, shingles treatment |
| WEBSITE | https://www.greatwalltcmclinic.com.sg/ |
| ADDRESS | 75-D Redhill Road, #01-106/114 Singapore 154075 |
| CONTACT DETAILS | +65 6474 0869 |
| OPERATING HOURS | Monday to Sunday, 9.30am - 8.30 pm |
Great Wall Acupuncture Clinic has been serving patients across Singapore since 1977 known for its specialty treatments such as Fertility, Shingles, and pain management issues. It has healed thousands of patients since its inception and attained an average of 4.7 stars for its google review. It is no wonder that many heart warming testimonies of successful pregnancies can be found there.
Their foundation of success is jointly laid by Dr. Tay Hao Xiang (Ph.D. in TCM Gynaecology) and his team of physicians. They are bilingual in English and Mandarin and are able to analyze lab reports, giving them a holistic view of the patient's condition from both TCM & Modern medicine perspectives.
Coupled with a good understanding of Modern medicine treatments for fertility issues such as IUI and IVF, Dr. Tay Hao Xiang (Andy) and his team are able to design a customized treatment plan consisting of Herbal Medication and/or Acupuncture for both male and female patients. Herbal medicines prescribed to patients usually come in powder, syrup, capsule or tablet form, making it very easy and convenient for their patients to consume.
Acupuncture sessions may also be prescribed, depending on the physician's diagnosis and assessment of the patient's condition. It is well- known that having regular Acupuncture sessions is able to increase the success rate of IVF treatments, regulate the menstrual cycle and treat Erectile Dysfunction issues.
It is important to note that the treatment duration is different for every individual. While some patients are able to conceive successfully within 2 months of TCM treatment at Great Wall TCM, there are also cases whereby the patients took more than 6 months to conceive. The duration of the TCM treatment cycle depends entirely on the body condition of the couple.
For couples who are very eager to conceive, do consider complementing your TCM treatment with IVF as this is a very popular way to shorten your time to pregnancy.
If you are currently in the midst of a treatment cycle prescribed by your gynecologist, it's important to discuss your current treatment plan with the TCM physician at the clinic so as to ensure a TCM treatment plan can be crafted to complement the existing treatment you are currently having.
We are glad to know that Great Wall TCM has made a conscious decision to limit the number of patient appointments scheduled per day out of respect for their patients' time, therefore the waiting time to see a physician is generally within 10 to 20 minutes if an appointment is made in advance.
However do be prepared to wait longer if no appointment is made beforehand as they are usually quite fully booked, this is especially so for their night and weekend clinical hours where appointments can be filled more than a week ahead. Hence one is highly encouraged to make an appointment before heading down to the clinic.
Good track record in helping couples to conceive
The physicians are able to understand lab reports
Provide IUI/IVF support Acupuncture sessions to increase the success rate of the IUI/IVF treatment.
Often fully booked with waiting list
Longer waiting time especially on weekends
Waiting list for Weekend clinic & Weekday Night clinic for 1st Fertility Consultation
Customer Reviews
Friendly and inviting atmosphere
"So glad I came here for treatment. Saw the younger Dr Tay who is extremely well-versed in his field and always patient and detailed in his advices. Best of all, he is also proficient in English medical terms, which allows him to review medical reports, medications and supplements to complement his treatment plan. Front desk staff and nurses are also very friendly. Overall highly recommended."—Wai Yin, Google Reviews
Multilingual physicians
"Dr Tay is fluent in English and able to explain concepts/diagnoses in Western medicine, that is not something you can find in most TCM physicians in Singapore. Most importantly, his medication / treatment works. Expats or people who are not too "Asian" or who cannot converse in Mandarin should really consider consulting Dr Tay."—Erin Leung, Google Reviews
2. Raffles Chinese Medicine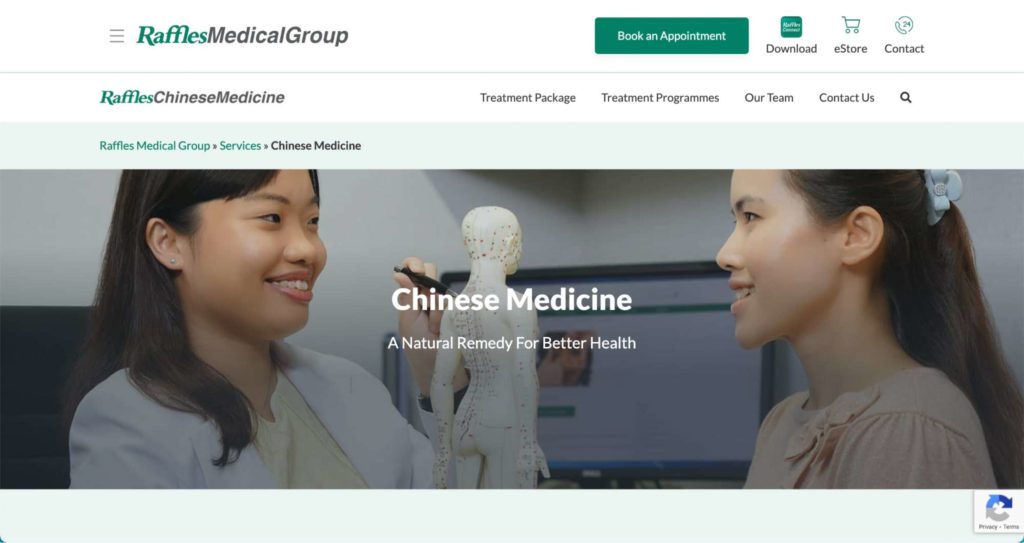 Title
Info
PRODUCTS
Chinese fertility treatment, pain management, acupuncture, shingles treatment, skin diseases, men's health, women's health
WEBSITE
https://www.rafflesmedicalgroup.com/services/chinese-medicine/
ADDRESS
585 North Bridge Road, Raffles Hospital, Singapore 188770
CONTACT DETAILS
+65 6311 2388
OPERATING HOURS
Monday, Wednesday and Friday, 8:30 am to 7:30 pm;

Tuesday and Thursday, 8:30 am to 6:00 pm;

Saturday, 8:30 am to 1:00 pm
Raffles Chinese Medicine is another leading centre for Chinese fertility treatments in Singapore. Because the clinic is an extension of the esteemed Raffles Hospital, patients get access to top-notch facilities.
Since the clinic is part of the Raffles Medical Group, it's no surprise that the TCM physicians are highly trained and respected in the field.
As more patients learn about the benefits of TCM, fertility treatments from Raffles Chinese Medicine have become one of the clinic's most popular services.
This is because Raffles Chinese Medicine blends the healing foundations of TCM with the medical innovation of modern medicine.
When combined, patients get quality healing and wellness that addresses the mind, body, and soul without intense medical intervention.
It's also a lot cheaper than going through IVF treatments. Depending on the treatment plan the TCM physicians prescribe you, the prices and duration of your fertility treatment will vary.
That said, Raffle Chinese Medicine does charge its patients slightly higher rates than other private TCM clinics in Singapore.
What's great about getting treated at Raffles Chinese Medicine is the accessibility to a broad range of services.
The clinic offers complementary programmes such as Chinese treatments for endometriosis, post-natal care, pain management, and menopausal management.
If cases become urgent, the clinic has an emergency hotline available 24/7. Just note that even if the hotline is available for use, we noticed a slow response rate from the team.
This is troublesome for patients who need urgent medical advice when emergency situations arise.
Emergency hotline available
Easy access to Raffles Hospital
Offers a broad range of services
Slow response rate
Expensive rates
Customer Reviews
Excellent facilities
"Excellent TCM clinic, including the staff, doctors, spotless facilities, and ease of booking appointments."—Grace Chanani, Google Reviews
Effective herbal medicines
"First time here do TCM treatment. Excellent experience with herbal medicine therapy. I highly recommend Jenny for the treatment."—Tina Z, Google Review
3. NovaHealth TCM Clinic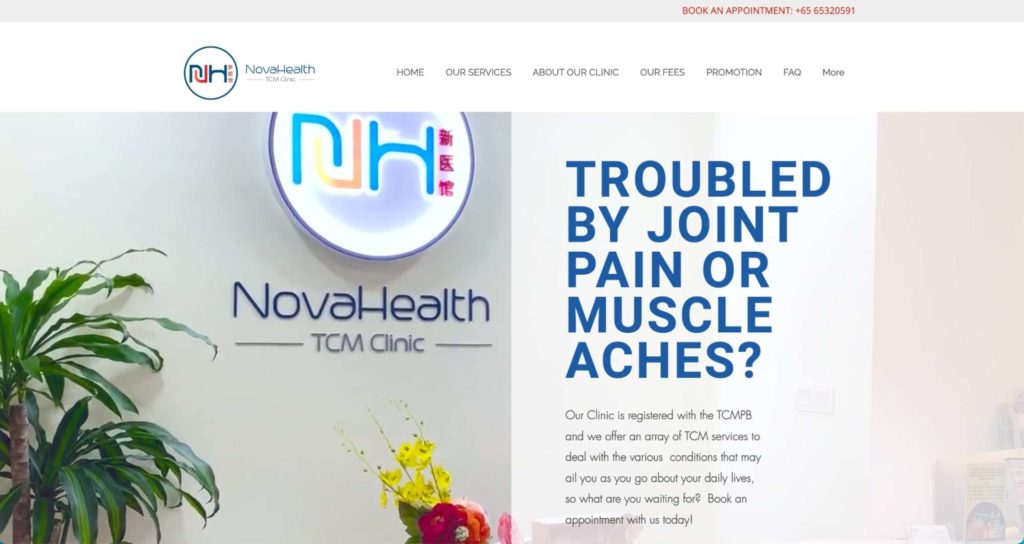 Title
Info
PRODUCTS
Tui na massage, herbal medication, moxibustion, fatigue treatment, slimming treatment, acupuncture, fertility
WEBSITE
https://www.novahealthtcm.com/
ADDRESS
1 Raffles Place, #05-17 One Raffles Place, Singapore 048616
CONTACT DETAILS
+65 6532 0591,

[email protected]

OPERATING HOURS
Monday to Friday, 10:00 am to 8:00 pm; Saturday, 10:00 am to 6:00 pm
At the heart of the city's central business district lies a leader clinic for Chinese fertility treatments in Singapore. NovaHealth TCM Clinic boasts the perfect blend of innovation and tradition.
Patients get a first-time visit promotion where your initial consultation, subject to terms and conditions, is free of charge.
We love that the clinic is consistent with its promotions and regularly offers them. This is especially important because patients deserve access to quality care, no matter the budget.
That said, it's also impressive that the clinic offers its services at affordable rates, even without promotions. Consultations are only $20 to $30 per session, for example.
Aside from the clinic's affordable rates, the main branch is strategically located. There are several branches across the country, and patients can easily find their way into any of them.
Just note that the clinic opens relatively late in the morning. If your afternoons are packed, we highly suggest finding time to squeeze in a quick consult in the late morning.
The clinic also focuses on pain management. The physicians are highly trained in Chinese pain management treatments, but if you're specifically looking for specialists who focus on fertility, this clinic may not be your best bet.
Affordable treatments
Available in several branches across Singapore
Opens relatively late in the morning
Clinic focuses on pain management services 
Customer Reviews
Highly trained professionals
"Dr Ardy, Dr Joyce and staff are extremely professional and experienced. They've been taking care of my various injuries over the years and I have the utmost praise for them for the quick alleviation of pain and reducing recovery time. Great conversations too!"—Daniel, Google Reviews
Effective treatments with no hard selling
"Best place for an all rounded TCM consultation and treatment. Dr Ardy is very knowledgeable and professional and he takes the time to listen to your health issues or concerns and advise what's best. Also I like that they do not push you to buy products or sign up with aggressive package. Highly recommended."—Mariana Ibrahim, Google Reviews
4. Oriental Remedies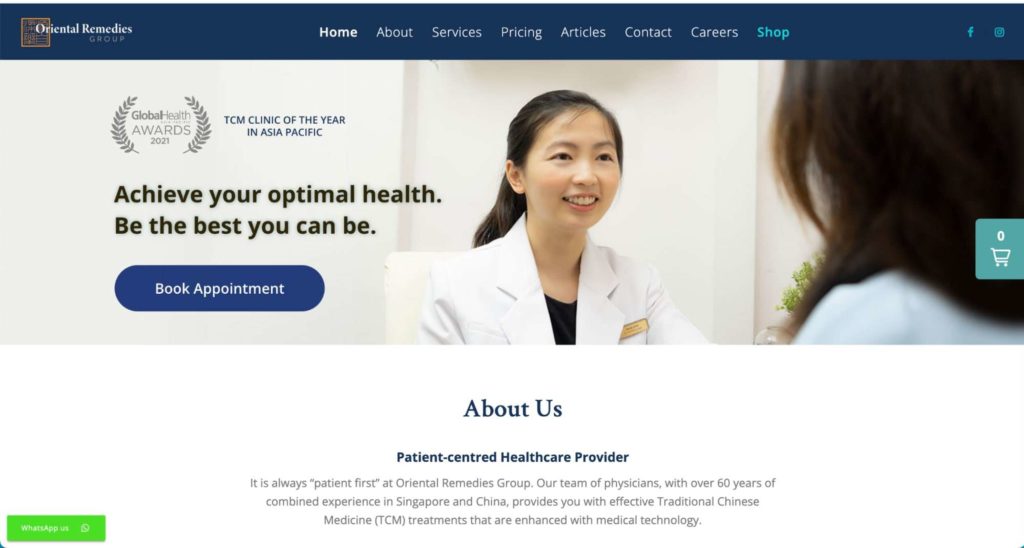 Title
Info
PRODUCTS
Guasha, tui na massage, moxibustion, acupuncture, fertility treatment, cupping, paediatric massage
WEBSITE
https://www.orientalremediesgroup.com/
ADDRESS
253 Jurong East Street 24, #01-227 Singapore 600253
CONTACT DETAILS
+65 8742 2163,

[email protected]

OPERATING HOURS
Monday, 9:00 am to 6:00 pm;

Tuesday to Saturday, 9:00 am to 9:00 pm;

Sunday, 9:00 am to 6:00 pm
Oriental Remedies believes that all patients seeking to conceive deserve to be treated with utmost privacy and care, no matter the process.
The clinic's use of high-tech equipment to supplement its TCM services gives patients a better edge at getting their desired results.
They are able to help patients who want to try conceiving naturally as well as those undergoing IVF. For natural conceiving, they can help with hormonal balance, healthy ovulation etc; for IVF they can help enhance the success of IVF by aiding egg retrieval, embryo implantation etc. Both traditional TCM and tech-enhanced therapies can be part of the treatment plan, based on each individual body condition and constitution.
It's a huge plus that patients get the option to undergo Chinese fertility treatments alongside medical innovations like IVF. We love that Oriental Remedies supports this.
Acupuncture, moxibustion, and tui na massage are all popular services at Oriental Remedies. They are also available as supplementary treatments for fertility.
Most of their physicians are trained in NTU and Beijing University of Chinese Medicine (BUCM). They graduated with a double degree in biomedical sciences and TCM and they are trained to communicate effectively to ensure our fertility patients are clear about their treatment plan. 
Herbal medicine is an integral part of the clinic's fertility treatment, and the service quality meets the clinic's high standards.
Speaking of high standards, we are impressed by the clinic's use of state-of-the-art technology in treating patients.
This makes getting TCM from Oriental Remedies a lot more holistic and well-rounded. The clinic's methodology is highly suitable for patients with mixed views about alternative medicine.
If you're planning on booking an appointment, we highly suggest doing so ahead of your preferred schedule. The clinic has a slow response rate, making it highly inconvenient for patients with packed schedules.
It may also take a while before an appointment is set due to the high influx of patients the clinic receives regularly. Schedules are often fully booked, making it difficult to talk to a TCM practitioner.
Nonetheless, we still highly recommend Oriental Remedies as a premier provider of Chinese fertility treatments in Singapore.
Suitable for patients undergoing in-vitro fertilisation
State-of-the-art tools and equipment
Slow response rate 
Often fully booked
Customer Reviews
High-quality herbal medicine
"Visited Oriental Remedies to condition my body to prep for family planning. Consulted Physician Foo, she prescribed me with herbal meds and undergone a few sessions of negative ion. After a few sessions, I felt less tired easily and also successfully got pregnant! The therapists and customer service staff here are also very friendly and approachable! Highly recommend consulting with Physician Foo. She explains details clearly and answers my queries whenever i have them. My husband continues to consult her for general wellness and body conditioning."—Amanda Tay, Google Reviews
Helpful and informative communication
"I am grateful not just for the physician's advice but also the team for always patiently explaining things to me. Some of them even offer health tips for my condition. I am also glad that they took time to explain the different savings I could get from the packages as it made the long term care more affordable….this is very important as I want to care for myself but I also need to stretch my dollar for my kids."—Lisa Goh, Google Review
5. Thomson Chinese Medicine
Title
Info
PRODUCTS
Fertility treatment, paediatric Chinese medicine, pain management, stroke rehabilitation, skin treatment
WEBSITE
https://www.thomsontcm.sg/
ADDRESS
290 Orchard Road, #18-11/12 Paragon Medical Centre, Singapore 238859
CONTACT DETAILS
+65 6352 5800,

[email protected]

OPERATING HOURS
Monday, Wednesday, and Saturday, 8:30 am to 7:30 pm;

Tuesday, Thursday, Friday, and Sunday, 8:30 am to 5:30 pm
Thomson Chinese Medicine specialises in Chinese fertility treatments in Singapore. There's a myriad of women's health and post-natal services available at the clinic.
It's a huge plus that most of the physicians at the clinic are female, making personal consults more comfortable for women who want to discuss sensitive health concerns.
Thomson Chinese Medicine has been a leading provider of TCM since 2009. As an extension of the renowned Thomson Medical Centre, patients get access to cutting-edge medical services and world-class health care.
The clinic combines both Western and Chinese medicine in its fertility treatments. Patients can personalise their treatment plans according to their current lifestyles and medications for fertility.
Aside from fertility, Thomson Chinese Medicine also offers acupuncture, cupping, and tui na massage to supplement fertility treatment.
We love the extra attention to detail when it comes to helping more women get the health care they need and deserve.
What we like most about the clinic is its home service. Since not all patients can easily make their way to the clinic, a team can visit a patient's home and conduct the service there.
This makes the clinic a highly suitable option for patients with disabilities and mobility issues.
If you think Thomson Chinese Medicine is the clinic for you, we highly suggest booking an appointment in advance.
There have been notable instances of slow response rates and poor communication between physicians and patients.
If you have a preferred schedule in mind, it's best to visit the clinic in person if you can't get a hold of a representative on the phone.
Thomson Chinese Medicine is still a solid choice, and we hope that the clinic finds a way to improve its customer support system to address patient concerns efficiently.
High focus on fertility and women's health 
Highly suitable for patients with disabilities or mobility issues
Slow customer support
Could improve on communication
Customer Reviews
Knowledgable and experienced physicians
"Dr Chen fang is very detailed and knowledgeable in both Chinese and western medicine. She is very comforting and does not prey on my fears. She is a good listener and answers all my queries. Highly recommend her."—TCY, Google Review
Clean and comfortable environment
"I've been lucky enough to be treated by Chen Fang and I can't recommend her enough. She is attentive and addresses all my issues. The office is always clean and comfortable and the front desk is always kind. I look forward to every appointment."—Kelsey Hunt, Google Review
6. Yi TCM TripleOne
SERVICES
Consultation
Fertility
Pediatrics
WEBSITE
http://www.yitcm.com.sg/
ADDRESS
111 Somerset Road, TripleOne Somerset #04-18, Singapore 238164 Somerset MRT Exit A
CONTACT DETAILS
[email protected]
8511 0418
OPERATING HOURS
Monday – Sunday, 9:00 AM – 6 PM
Yi TCM TripleOne is a reliable clinic to check if you're looking for reliable Chinese fertility treatments. They are known for their use of combining Eastern medicine and techniques with Western knowledge to provide you with the best service and results possible.
Their founders realized the necessity of quality medical care for fertility-related issues for their patients and are incredibly dedicated to fertility. Their firm belief in improving medical care for fertility issues spurred them to open a clinic that specializes in fertility.
Their fertility treatments are well-known. Many couples seeking fertility therapy come to them not just for successful therapies, but also because they understand and empathize with what they are going through with infertility.
Despite their expertise in other parts of TCM such as pain treatment, cancer care, and increasing general body health, physicians are interested in fertility. They frequently debate the success of various approaches as well as what type of treatment and herbs are most suited to particular ailments.
We like how dedicated they are and how they will never give up on you as long as you don't give up. As they say "Our success is, after all, dependent on your success". We highly recommend them for people who are dedicated to solving their problems regarding infertility.
Personalized treatments
Available 7 days a week
Experienced professionals
Rates are not available on their website
Customer Reviews
A very intimate, quiet and calm environment.
"A very intimate, quiet and calm environment. Staffs are friendly, patient and professional. Physician Na is very knowledgeable, through in her discussion with me, patient and gentle. Conversing in English helps me explain and understand my condition even better. There are individual rooms for a healing session. It is so calming during my acupuncture that I feel like I am in a spa!" – Jennifer Seow
Has been seeing Physician Na since 2021
"Has been seeing Physician Na since 2021. She is the most patient Physician I have ever met and always making me feel comfortable during treatments. Knowing that I have fear for needles, she is gentle and assuring. Clinic staff are friendly and welcoming too. Thank you so much!" – Shirli Pang
FAQS about Chinese Fertility Treatments in Singapore
More Medical Resources