The 22 Best Office Spaces in Singapore
If you're planning to set up an office soon and are in need of a large space, worry no more because we have you covered. We looked all over the island in search of the best office spaces in Singapore!
Whether you're starting a small or big business, renting the best office space in Singapore is a good way to kick off your latest business venture. So, without further ado, here's our list of the best office spaces in Singapore.
1.  Regus

| | |
| --- | --- |
| BEST FOR  | Furnished Offices |
| SERVICES | Office Space Sale and Rental |
| WEBSITE | https://www.regus.com/en-us |
| ADDRESS | 1 Fullerton Road #02-01 One Fullerton, Singapore 049213 |
| CONTACT DETAILS | +65 6408 3800 |
If you're searching for a fully furnished office space, then you might hit the jackpot with Regus Spaces. It's one of the best office spaces in Singapore that come with all the items and furniture needed to keep a business running.
What's more, it offers different types of office spaces, from window offices down to co-working spaces. It's also up to you how long you want to use their spaces because monthly leases and yearly leases are allowed.
One great thing about that is that you're not tied to a long-term contract that makes it hard to move to another space. This is one of the best options if you want to rent instead of buy.
Highlights
Multiple locations
Monthly or yearly lease
With WiFi
Customer Reviews
Take a look at what clients have to say about its Regus Spaces:
"Conveniently located in the heart of the city, clean and conducive environment, with a great view to boot, this place encourages productivity and creativity in those who do their work there! Plus points for great customer service as well. No better place to rent for an office space!"
"Regus Fullerton has an impressive location near the landmark of Singapore, the Merlion itself. Besides the location it is the excellent and high quality service that the Regus Fullerton team provides that makes the centre more appealing. Last but not least, it has some amazing eateries nearby."
2.  Spaces Works

With a total of 7 locations scattered all over the island, Spaces Works allows you to choose in which part of Singapore you want to be located. Its branches are found in City Hall, Clarke Quay, Joo Chiat, One Raffles Place, Paya Lebar, Robinson, and Somerset Road.
If your business is related to design and art, you'd definitely want to work inside Spaces Works as it's known for its gorgeous interiors and fully-furnished rooms. Each office space also comes with a stable and fast Internet connection.
Another reason we consider it one of the best office spaces in Singapore is its affordable and competitive monthly or yearly rates. So, if you want a spacious and beautiful office space for rent, then make sure to check out Spaces Works!
Highlights
Gorgeous interiors
Fully-furnished rooms
15 meeting rooms
3.  Singapore Office Spaces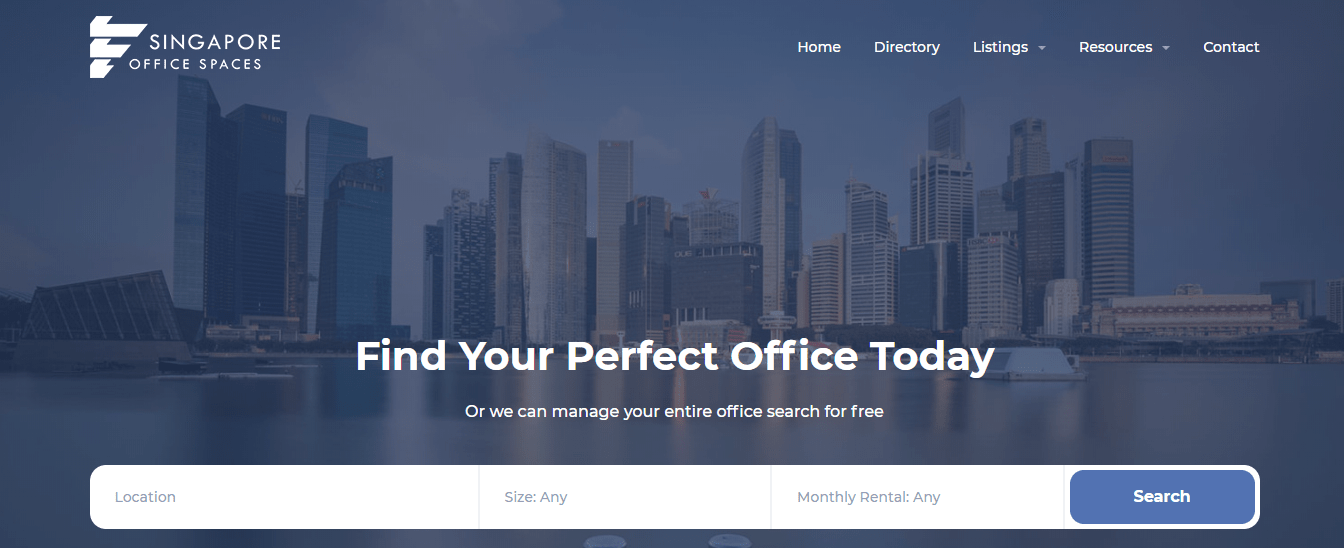 | | |
| --- | --- |
| BEST FOR  | Popular Locations |
| SERVICES | Office Space Sale, Office Rental, and Co-working Space |
| WEBSITE | https://singaporeofficespaces.com/ |
| ADDRESS | Singapore |
| CONTACT DETAILS | +65 6996 1103 |
Since you're looking for the best office spaces in Singapore, you might want to check out what Singapore Office Spaces can offer. Kay Lian, its office leasing agent, can offer you different spaces that can fit your budget and your ideal working environment.
What's more, Singapore Office Spaces doesn't charge clients agent fees, so rest assured that you're only going to be paying for the rental fee and utility bills. Most of its office spaces are also located in the most popular areas in Singapore.
Highlights
Affordable rental fees
Monthly or yearly lease
No agent fees
4.  Office Wise

| | |
| --- | --- |
| BEST FOR  | Spacious Office Spaces |
| SERVICES | Office Space Sale and Office Space Rental |
| WEBSITE | http://www.officewise.com.sg/ |
| ADDRESS | 480 Lorong 6 Toa Payoh HDB Hub East Wing #10/11-01 Singapore 310480 |
| CONTACT DETAILS | +65 63030 585 |
Office Wise remains one of the most in-demand office and commercial spaces on the island, boasting more than 10 years of experience in real estate.
Its office spaces are known for being spacious and affordable — which is why we consider it one of the best office spaces in Singapore.
More than that, the majority of its office spaces are located in popular and busy areas in Singapore to ensure that your business will keep running at all times.
Its leasing agents will also help you find which office space best fits your business and the working environment you want for yourself and your employees.
Highlights
Located in popular areas
Large office spaces
5.  Parkway Suites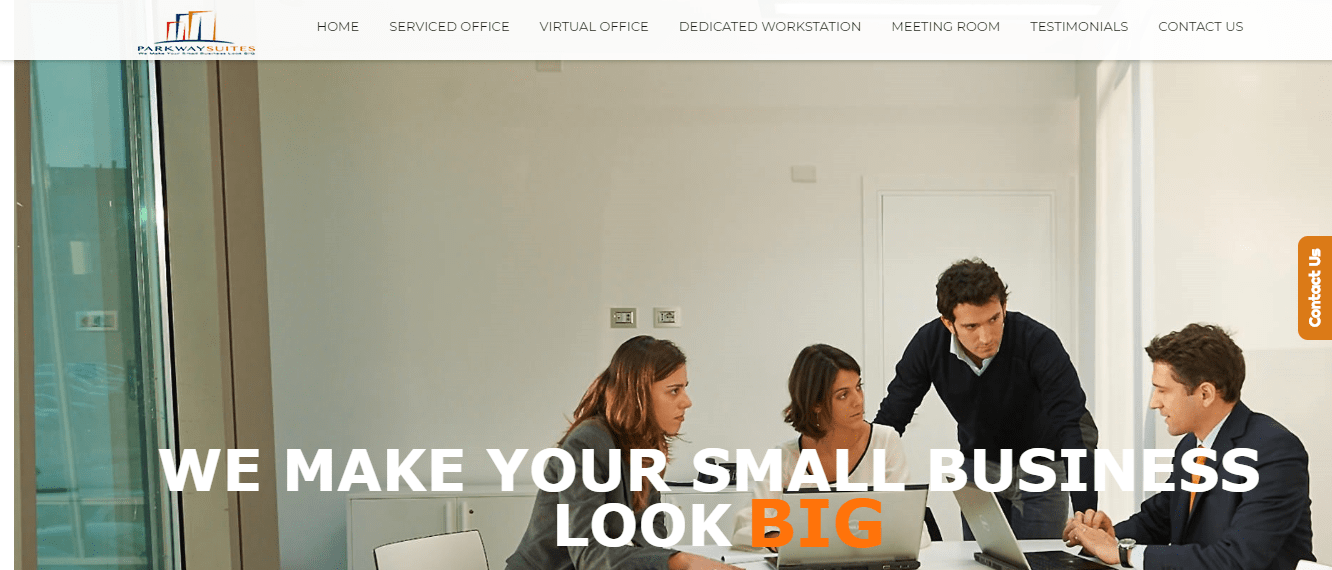 | | |
| --- | --- |
| BEST FOR  | Small Business |
| SERVICES | Office Space Sale and Office Space Rental |
| WEBSITE | https://parkwaysuites.com.sg/ |
| ADDRESS | Paya Lebar Central Square, 60 Paya Lebar Rd, #07-54, Singapore 409051 |
| CONTACT DETAILS | +65 9622 4926 |
If you're not yet ready to commit to large office spaces with long-term contracts, then we highly recommend checking out Parkway Suites. We believe it's the ideal option for small businesses and startups as it's reasonably priced and there's an option to choose short-term leases.
Parkway Suites is located at the heart of the island, only several walks away from the train station, so everyday commute won't be much of a hassle.
Lastly, every office space comes with different rooms, including meeting rooms, function halls, spacious workstations, and of course, maintenance rooms.
Highlights
Short-term lease
Affordable monthly lease
Walking distance from MRT
6.  Executive Centre

| | |
| --- | --- |
| BEST FOR  | Large Businesses |
| SERVICES | Office Space Rental, Private Workspace, and Virtual Office Space |
| WEBSITE | https://www.executivecentre.com/ |
| ADDRESS | 10 Collyer Quay, Level 37 & 40 Ocean Financial Centre, Singapore 049315 |
| CONTACT DETAILS | +65 6808 6288 |
If you've ever dreamt about working in a spacious and posh office, then you might want to check out the Executive Centre. It's the home to some of the best office rentals in Singapore with gorgeous interiors, large meeting rooms, and private rooms.
More than that, the Executive Centre will present you with choices that complement your business and match your ideal working experience. It has all kinds of office rentals, from private offices to coworking spaces.
It's also one of the most trusted office rentals in neighbouring Southeast Asian countries, so rest assured that you're going to like what it has to offer for your business.
Highlights
Exclusive workspaces
Spacious offices
Ideal location
7.  The Company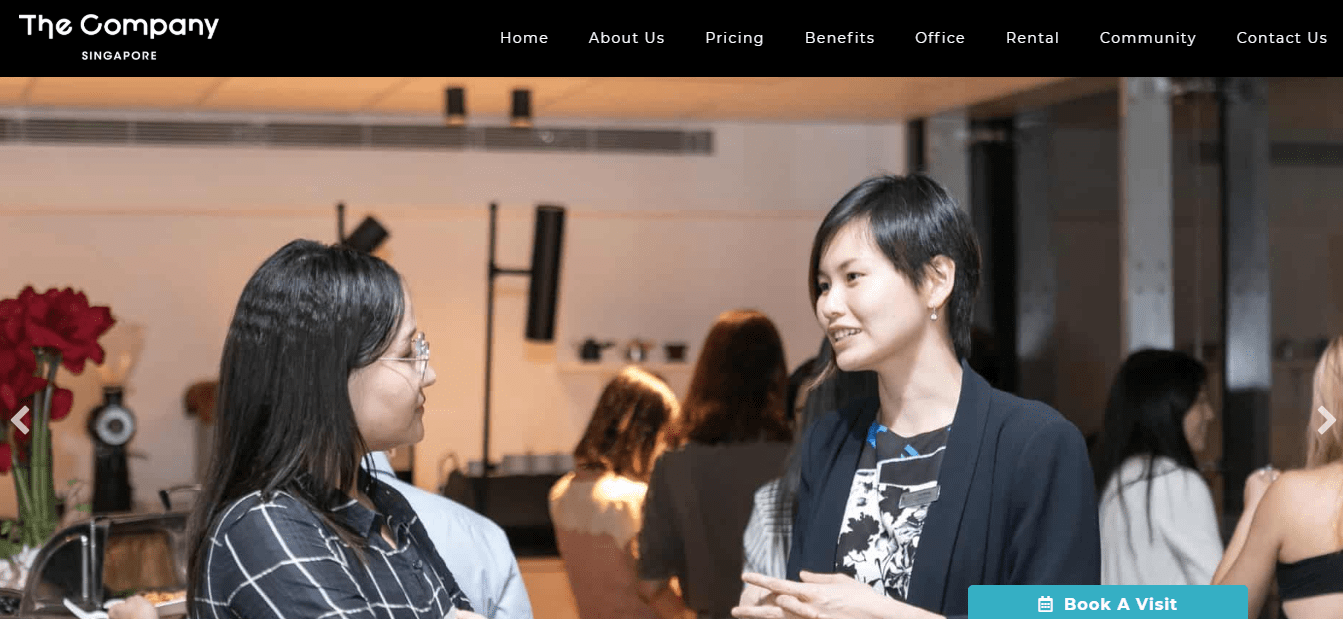 | | |
| --- | --- |
| BEST FOR  | Flexible Work Environment |
| SERVICES | Office Space Rental and Coworking Space |
| WEBSITE | https://thecompany.sg/ |
| ADDRESS | Odeon Towers #02-01 331 North Bridge Road Singapore 188720 |
| CONTACT DETAILS | +65 6914 2677 |
If there's anything that The Company can offer your business, it's a peaceful and flexible work environment where your team can be productive and relax at the same time. It offers both private and coworking spaces for an affordable price — which is why we consider it one of the best office rentals in Singapore.
The Company would be the ideal rental space for small companies and startups as it often conducts community sharing, panel discussion, and networking sessions among all its tenants, most of which are small tech companies.
More than that, The Company comes with an in-house cafe to cater to the caffeine needs of employees and workers. You don't have to leave the premises in order to get your caffeine boost anymore!
Highlights
Ideal for startups
With in-house cafe
Community gatherings
8.  Mustard Seed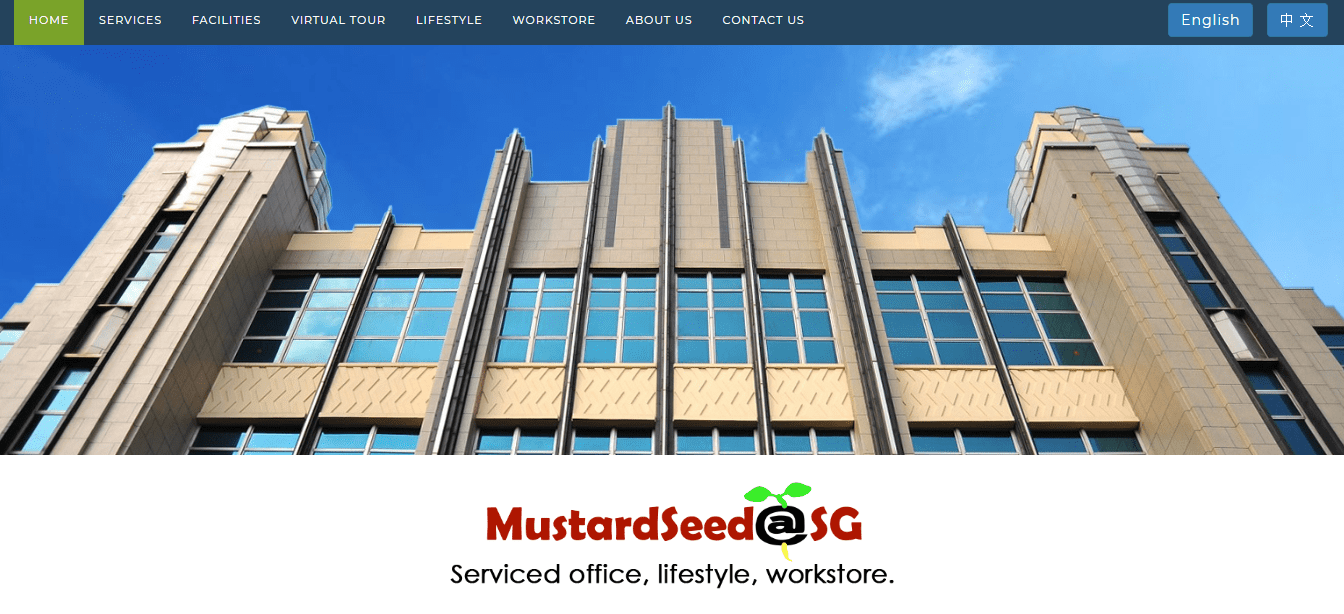 | | |
| --- | --- |
| BEST FOR  | Affordable Rent |
| SERVICES | Office Space Rental |
| WEBSITE | https://www.mustardseedatsg.com/ |
| ADDRESS | SG 25 Tagore Lane #04-04/05 Singapore, 787602 |
| CONTACT DETAILS | +65 62200944 |
Amidst the skyrocketing rental fees in Singapore, Mustard Seed remains committed to helping small businesses by providing quality office rentals for a competitive price. Each of its office spaces comes with premium facilities, meeting rooms, fast and stable Internet, and even free refreshments.
What's more, Mustard Seed is placed at an ideal location, so commuting everyday won't be part of your worries anymore. It also offers free bus shuttle services to its tenants to selected areas in Singapore — which is why we call it one of the best office rentals in Singapore.
In terms of security, it doesn't disappoint as well. It's guarded by security personnel round-the-clock and is surrounded by security cameras. You know your office will be safe here!
Highlights
Competitive rates
Premium facilities
Free WiFi
9.  Cross Coop

| | |
| --- | --- |
| BEST FOR  | Japanese-quality Services |
| SERVICES | Coworking Space |
| WEBSITE | https://crosscoop.com/o |
| ADDRESS | 80 Robinson Rd, #10-01A, Singapore 068898 |
| CONTACT DETAILS | +65 6420 6370 |
Established in 2011, Cross Coop has been catering to the needs of small businesses, startups, and the like ever since. Over its years of operation, it has housed more than 600 companies in all of its branches worldwide.
If you're not yet ready for a private working space, then renting a coworking space would be the most practical option for you. More than that, coworking office spaces regularly hold business seminars, community gatherings, and networking that may help your business grow.
In terms of facilities, Cross Coop doesn't disappoint as well. It offers 53 private and coworking spaces that can accommodate no more than 15 persons. Every room, from meeting to private rooms, is fully furnished as well.
Highlights
Competitive rates
Fully-furnished rooms
In-house cafe
10.  ShopHouseOffice

| | |
| --- | --- |
| BEST FOR  | All Kinds of Business Spaces |
| SERVICES | Office Space, Coworking Space, Shop Rentals, and Service Office |
| WEBSITE | https://www.shophouseoffice.com/ |
| ADDRESS | 100 Peck Seah St, Singapore 079333 |
| CONTACT DETAILS | 65 8181 8134 |
If you want endless options when choosing an office rental, then look no further than ShopHouseOffice. It offers all kinds of business spaces, including private offices, coworking spaces, rental shops, and even service offices.
Since it offers business owners with a lot of options, they will be able to choose one that fits their business, monthly budget, and their ideal working environment.
Lastly, once you've chosen the right office rental for your company, ShopHouseOffice will lend its hand in space planning, moving in, logistics, and many more.
Highlights
Wide range of options
Spacious office spaces
Reasonably-priced rentals
11. LEVEL3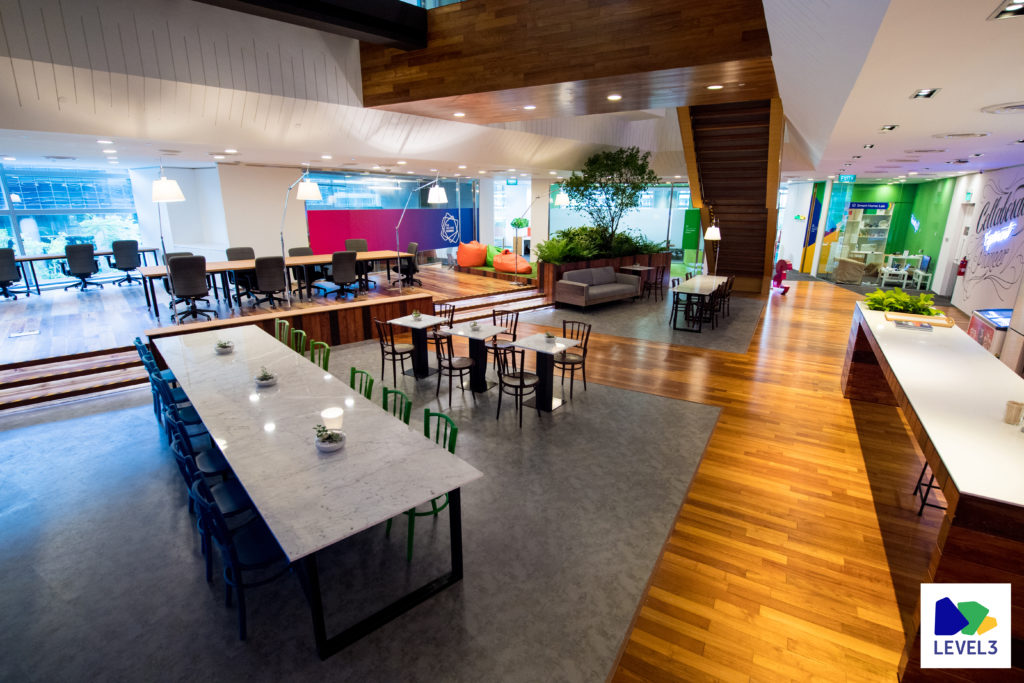 BEST FOR
Startups & Collaborative Events
FACILITIES
Professional AV equipment, high speed Wi-Fi, private adjacent meeting rooms
PRICING
Community Member: $100/month
Community Member+: $275/month
Hot Desk: $400/month
Personal Desk: $650/month
Team Suite: Enquire for prices
WEBSITE
https://l3.work/
ADDRESS
Mapletree Business City
20 Pasir Panjang Road
(East Wing)
#03-22/24
Singapore 117439
CONTACT DETAILS
 +65 8755 1405 | [email protected]
OPERATING HOURS
9am – 6pm
LEVEL3 offers a unique coworking experience because of its connection to Unilever's regional headquarters at Mapletree Business City, Singapore. It brings together startups, corporates, and ecosystem partners to drive innovation and create new partnerships that deliver meaningful business impact.
Highlights
Access to Unilever Foundry Mentorship Programme, pro-bono consulting, capacity-building workshops and more
Discounts for food and beverage at Mapletree Business City and gym membership at Fitness First
Customer Reviews
LEVEL3 got a lot of positive feedback for their many facilities, huge space for meetings and conferences, great location and friendly staff. One feedback describes LEVEL3 as a "Wonderful startup incubation space."
12. Find Your Next Office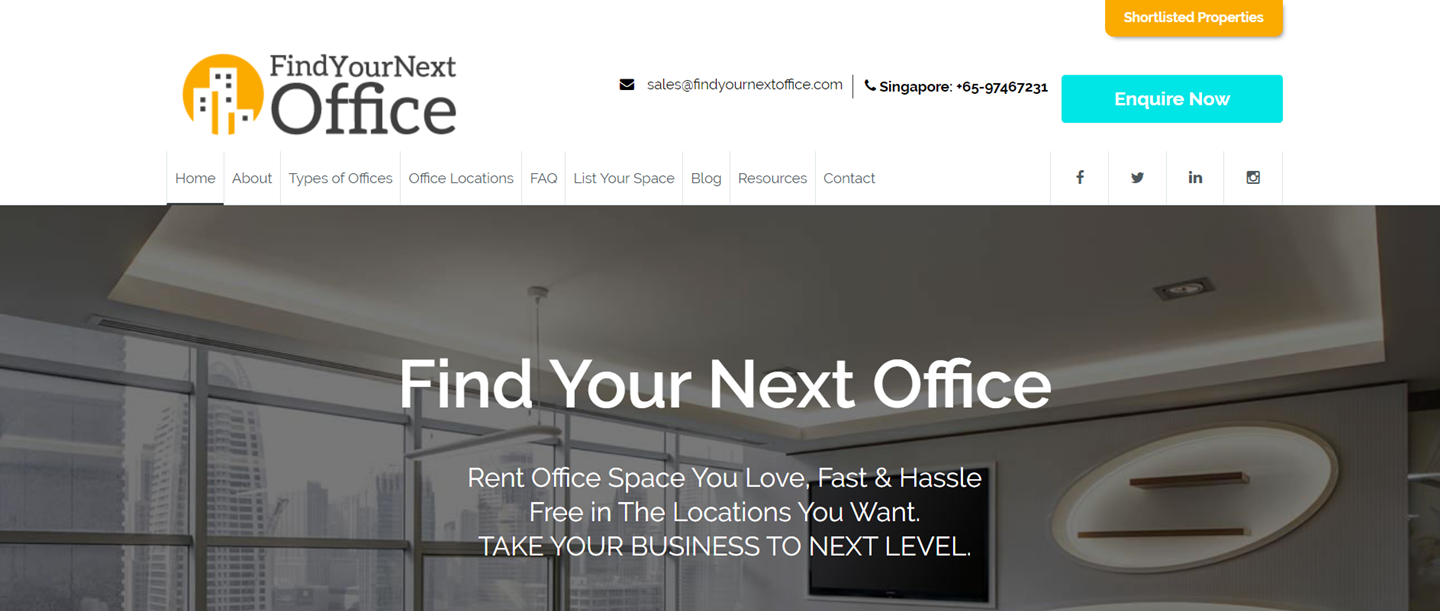 | | |
| --- | --- |
| BEST FOR | Wide Variation of Office Spaces |
| FACILITIES | Office Rental, Consultation |
| PRICING | Enquire for Prices |
| WEBSITE | https://findyournextoffice.com/ |
| ADDRESS | 10 Anson Road #27-15 International Plaza, Singapore 079903 |
| CONTACT DETAILS | [email protected] | +65-97467231 |
| OPERATING HOURS | N/A |
If you're in need of an office space and you need it fast, then Find Your Next Office is what you need. It's a marketplace that can search for not only what best suits not only your budget, but also your needed space, desired furnitures, functionalities, and every single detail you're looking for. They can link you with potential office leases and set up viewing schedules.
A company as great as theirs have decided to go beyond Singapore. They have expanded to countries all over Asia; from Hong Kong, Thailand, Philippines, and more. Wherever you may be, you can have someone who'll look out for you and provide you unbiased consultations and advice about renting and leases.
With just a few clicks, Find Your Next Office will be able to lay out a list of probable choices and present you only the best of the best. What makes it even better is that not only is it fast and efficient, but it's also totally free!
Highlights
100% free of charge
Links clients to potential Office providers from their extensive database
Saves time and money
Fully impartial recommendations
13. FlySpaces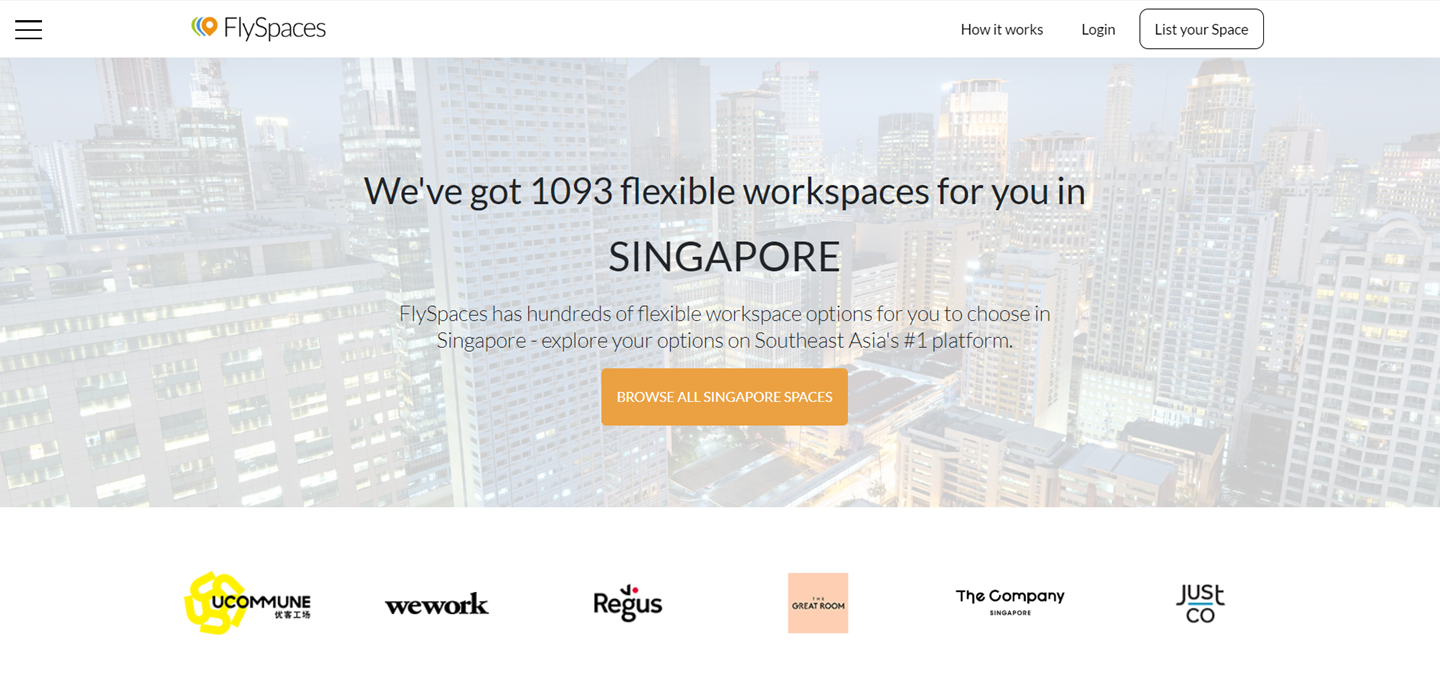 If you don't have the time to look for the right place, then have FlySpace find the perfect office space for you in a matter of minutes! Considered as South East Asia's number 1 leading platform, the company boasts hundreds and hundreds of flexible working space that caters to the need of different sizes, accessibility, facilities, and of course, budget!
Whatever you might need, may it be a coworking space, an event space, cost-effective working space, training and workshop rooms, or even a virtual office, FlySpace would be able to provide it for you. Just make sure to contact them about your preferences, and have them tour you around the places that surely fits your desired qualities.
Highlights
Fast and efficient service
Wide variety of options
14. City Serviced Offices

BEST FOR
Flexible Term Lease
FACILITIES
Executive Offices
Virtual Offices
Meeting Rooms
Video Conferences
City Space
Co-Working
PRICING
Enquire for Prices
WEBSITE
https://www.city-servicedoffices.com/
ADDRESS

38 Beach Road
Level 30
South Beach Tower
Singapore 189767

 

9 Raffles Place,
Levels 57 & 58,
Republic Plaza,
Singapore 048619

 

9 Raffles Place,
Levels 17,
Republic Plaza 2,
Singapore 048619

CONTACT DETAILS

https://www.city-servicedoffices.com/contact-us/

68231388

OPERATING HOURS
Mondays to Fridays 8.30am-5.30pm (Except Public Holidays)
Whether it's a temporary hot desk or a more permanent work office, City Serviced Office ensures that they'll be able to provide the best lease for you. They pride themselves in having the most flexible and budget friendly spaces you can find in the heart of Singapore.
If you decide to get an office, no matter how long your stay is, best believe you'll be receiving the best perks at an affordable price. Some examples of services included are 24-hours use of utilities (electricity & water), maintenance and window cleaning, building insurance, 24-hours, 7 day a week access with high security access card system, and more.
You'll only get these quality services from City Serviced Offices, so contact them with your desired space, time-span and budget, and they can provide you a list in no time.
Highlights
Short term or long term leasing
Office packages
Multiple locations
15. O2Work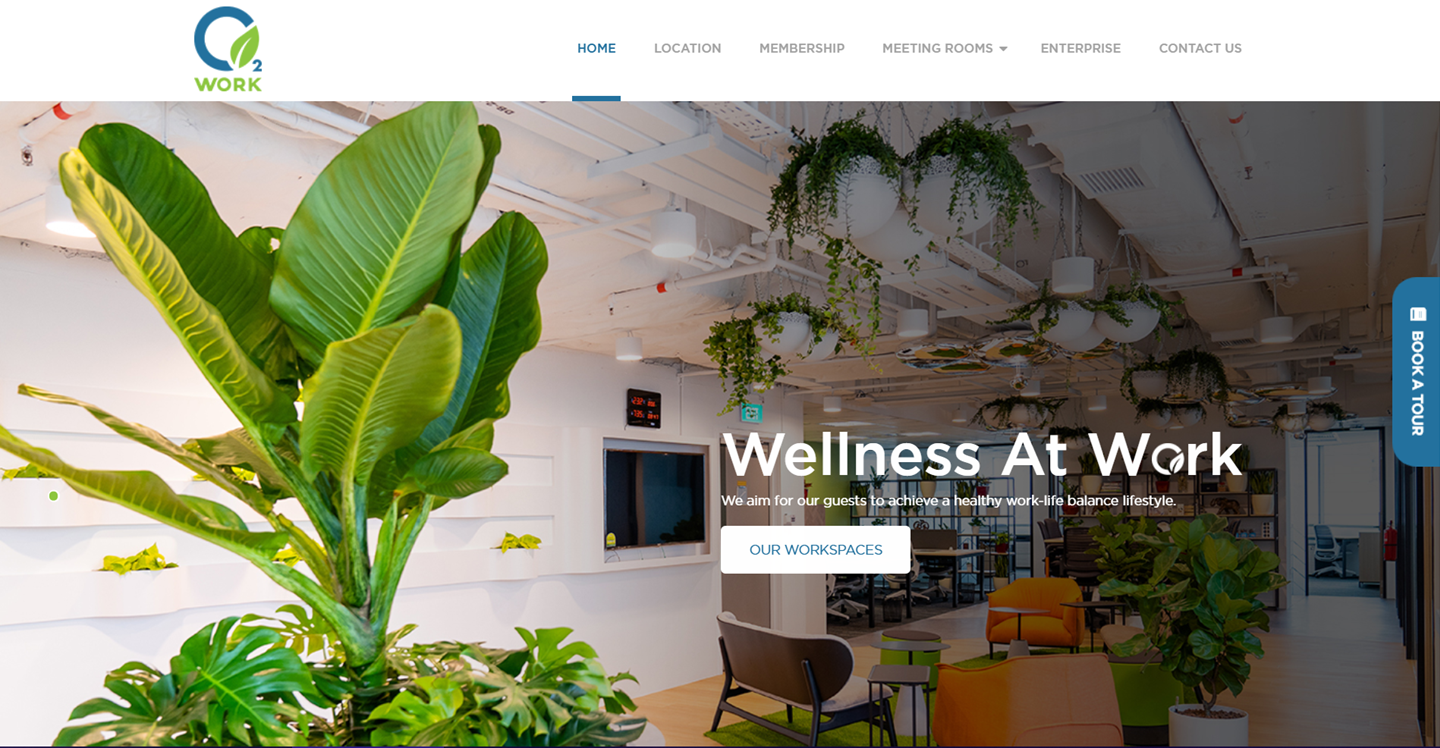 BEST FOR
Flexible Membership Programs
FACILITIES
Meeting Rooms
Event Spaces
PRICING
Enquire for Prices
WEBSITE
http://www.o2-work.com/
ADDRESS
Level 22 & 23,
Odeon Towers,
331 North Bridge Road,
Singapore 188720
CONTACT DETAILS
[email protected]
Eng: (65) 8361 2361 / Chin:(65) 9869 4753
OPERATING HOURS
N/A
O2Work is known to provide an eco-friendly workspace made to help members balance life and work easier. They have conduced a space meant for inspiring ideas, creativity and productivity.
Their coworking space offers a place for growth and development among peers, learning both from the work and from the people they're surrounded with. Besides that, they also offer meeting rooms, event spaces, and office spaces that are functional and cheaper than most.
You won't have to worry about strict rules and payment dates as you can create your own lease with O2 Work's flexible plans. With them, you'd surely find a working space fit to your needs and your budget.
Highlights
Hot Desk Unlimited
Private Offices
Mail and Packaging Handling
16. CBD Office Space

CBD is one of the new real estate work branding pages, having started only a few years back. CBD's amazing performance in consulting service has led to it receiving various clients in the business world.
Nowadays, CBD has risen the ranks and has proved to be a highly competent consultant when it comes to office space. With the help of CBD Office Space, you'll be able to find and rent a workspace or your very own building for your growing company.
Highlights
Centralised proposal
Agent will manage appointments and leasing process
Comprehensible leases
17. Office Finder

| | |
| --- | --- |
| BEST FOR | Flexible/Traditional Office Space |
| SERVICES | Office Space and Rental |
| PRICING | Enquire for Prices |
| WEBSITE | http://officefinder.com.sg/ |
| ADDRESS | 10 Anson Road, #27-15, Singapore 079903 |
| CONTACT DETAILS | (+65) 878-11-000 or [email protected] |
| OPERATING HOURS | N/A |
If you're searching for an office space to buy or rent, then Office Finder is here to help! They're simply one of the best, with their wide range of working spaces to choose from as well as prices that you can afford.
Considered as Singapore's trusted resource in terms of office spaces, they have a team of highly professional real estate agents who have the knowledge and skills to assist and advise you with your needs and concerns. With their expertise, they can provide you the best office spaces at your own convenience.
Make sure to check them out because with Office Finder, you'll surely find what you need.
Highlights
100% free of charge from real estate agents
Wide variation of office space
Fast and efficient service
18. Lionsworld Business Centre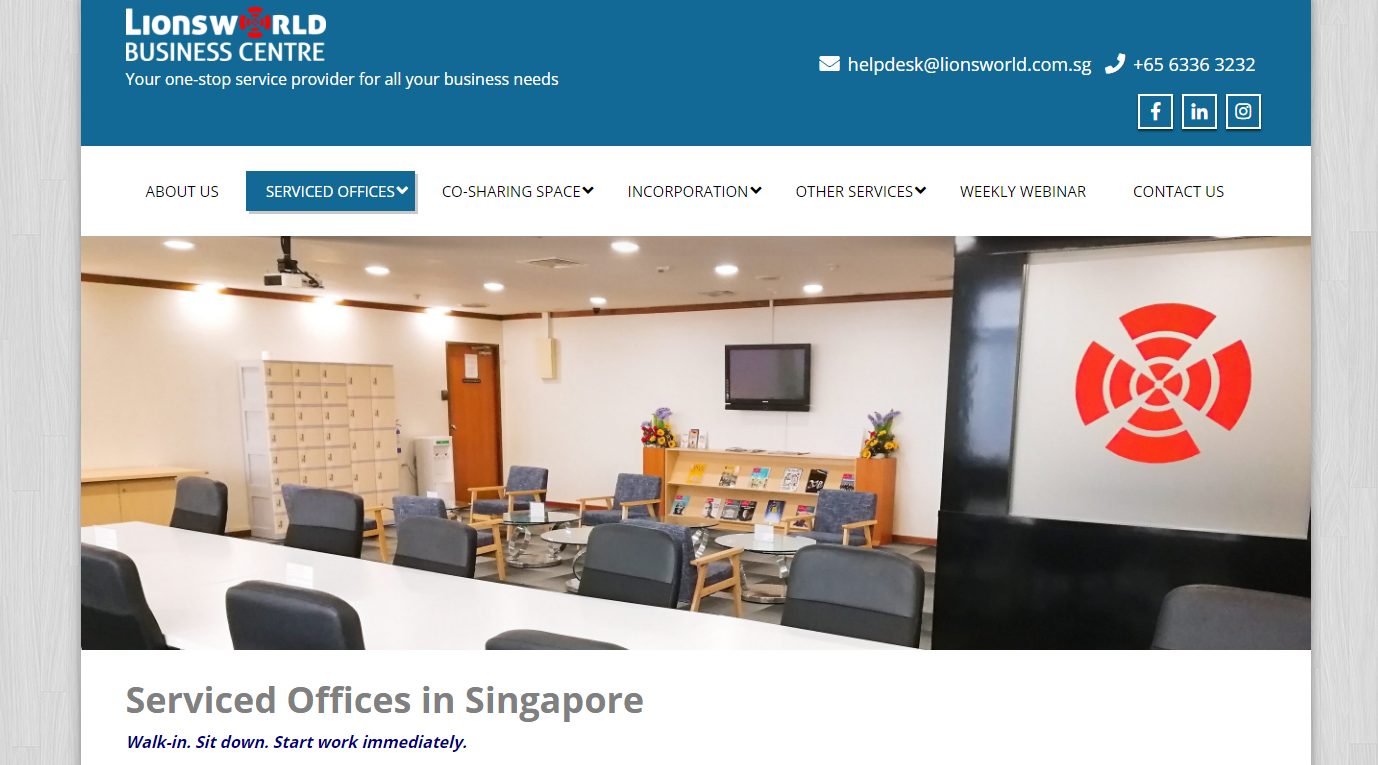 BEST FOR
Fully-Furnished Work Stations
SERVICES
Serviced Offices, Co-Working Space, and Conference Rooms
PRICING

Rates start from $900/month

WEBSITE
https://lbcweb.sg/serviced-offices/
ADDRESS
111 North Bridge Road
#21-01 Peninsula Plaza
Singapore 179098
CONTACT DETAILS

Tel: +65 6336 3232

 Whatsapp: +65 9869 5512

OPERATING HOURS

Monday to Friday: 9am – 5.30pm

Saturday: 9am – 1pm

Sundays and Public Holidays: Closed
Lionsworld Business Centre is a premier hub for corporate services. Entrepreneurs and businesses looking for a formal space to work in need not look further since Lionsworld offers both Serviced Offices and Co-Working Spaces to their clients.
Comfort and productivity are of no issue when it comes to using Lionsworld's offices. Not only are these spaces large, but they're also ergonomically furnished to optimise professionalism. 
It doesn't stop there. Opting for serviced offices guarantees clients access to Lionsworld's wide range of facilities and amenities, which include high-speed fibre internet, a dedicated landline phone and fax number, quality printing equipment, conference and meeting rooms, and a fully-equipped pantry that will undoubtedly make workers feel at home. 
Those who are interested can schedule viewings with Lionsworld, where further questions can be raised and answer. 

Highlights
Offices come with dedicated support from trained receptionists
Parking available within office building
High-speed fibre optic broadband internet   
Convenient location
CCTV cameras and electronic door locks present in the premises
19. Found8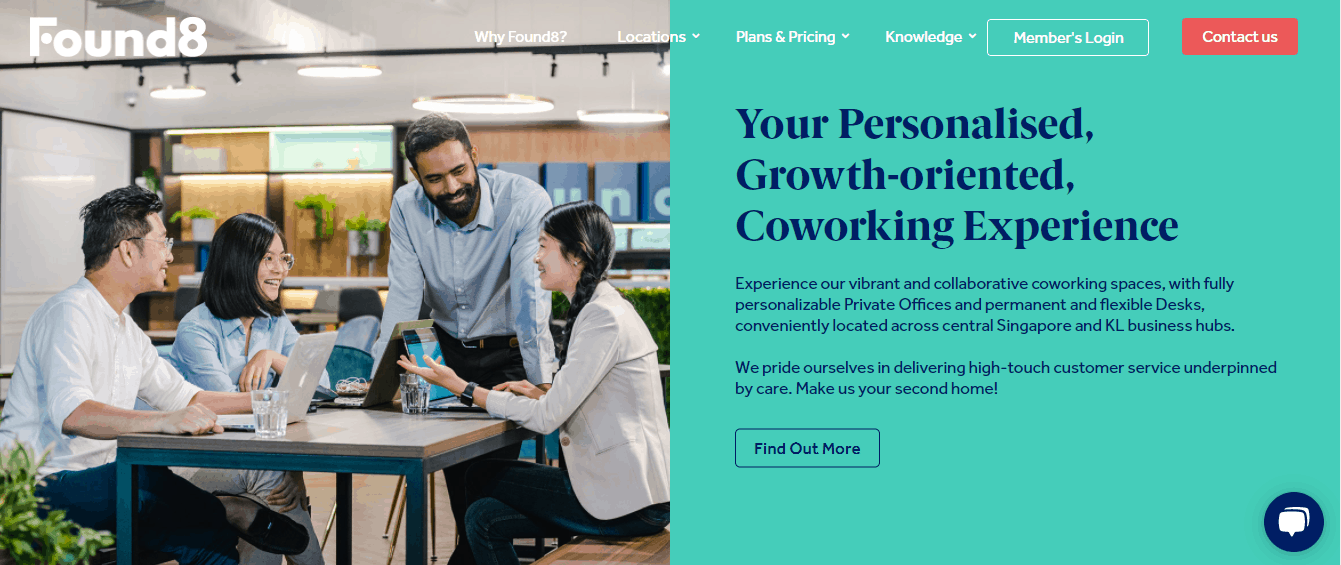 SERVICES

Private offices, hot desk, virtual office

WEBSITE

ADDRESS

Tanjong Pagar (Anson): 79 Anson Rd, #23-01, Singapore 079906

 

Amoy: 100 Amoy St, Singapore 069920

 

High Street Centre: 1 North Bridge Rd, #08-08 High Street Centre, Singapore 179094

CONTACT DETAILS

Tanjong Pagar (Anson): +65 9658 3813

Amoy: +65 9658 3813

High Street Centre: +65 6250 7888

OPERATING HOURS

Tanjong Pagar (Anson): Monday – Friday: 9:00 AM – 6:00 PM

Amoy: Monday – Friday: 9:00 AM– 5:00 PM

High Street Centre: Monday – Friday: 9:00 AM– 5:00 PM
Found8 is one of the most prominent co-working spaces in Singapore, particularly because it has 3 locations spread around the island. It has locations in Amoy, High Street, and Tanjong Pagar. 
This coworking space has three different plans, so workers can choose either a private office, hot desk flexi, or virtual plan. The private office plans are fully customizable to suit you and your co-workers' needs.
On the other hand, the hot desk flexi offers not only a desk in a large shared space but also occasional private office access, a mailing address and access to event spaces and meeting rooms. Lastly, the virtual package allows you the same perks, but without the private office.
These packages are already generous on their own because Found8 also offers business growth support and some necessary community offerings like credits to Hubspot, Osome, and AWS.
But what we really like about Found8 is that each of its packages also come in different tiers, so those who only want access to a certain number of days can still benefit from this space.
Highlights
Flexible packages for private, hot desk, and virtual office

Business growth and community support

Fully-customizable private office

3 locations in Singapore
Customer Reviews
Customers who have worked at Found8 have left nothing but positive feedback to the coworking space. Read these reviews to know why:
"Great place in a cozy setting, nice building and lift lobby. Staff were very helpful in the booking process, and entire process from booking to conclusion of workshop went smoothly. Thank you!"—Berenice Choong
"Being a foreigner to the country – i felt right at home right away when greeted by the team here at Found8 Amoy. Their onboarding program was excellent and genuine. People offer help on their website but never in-person, at Found8 they back it up and made me sit into a one-hour onboarding that I was skeptical about but actually added a lot of value to me. The facilities are all i need to operate and grow my business and ideally located also. The community here is especially great having met founders and professionals of all different walks of life. Highly recommend."—Robert Lai
20. Servcorp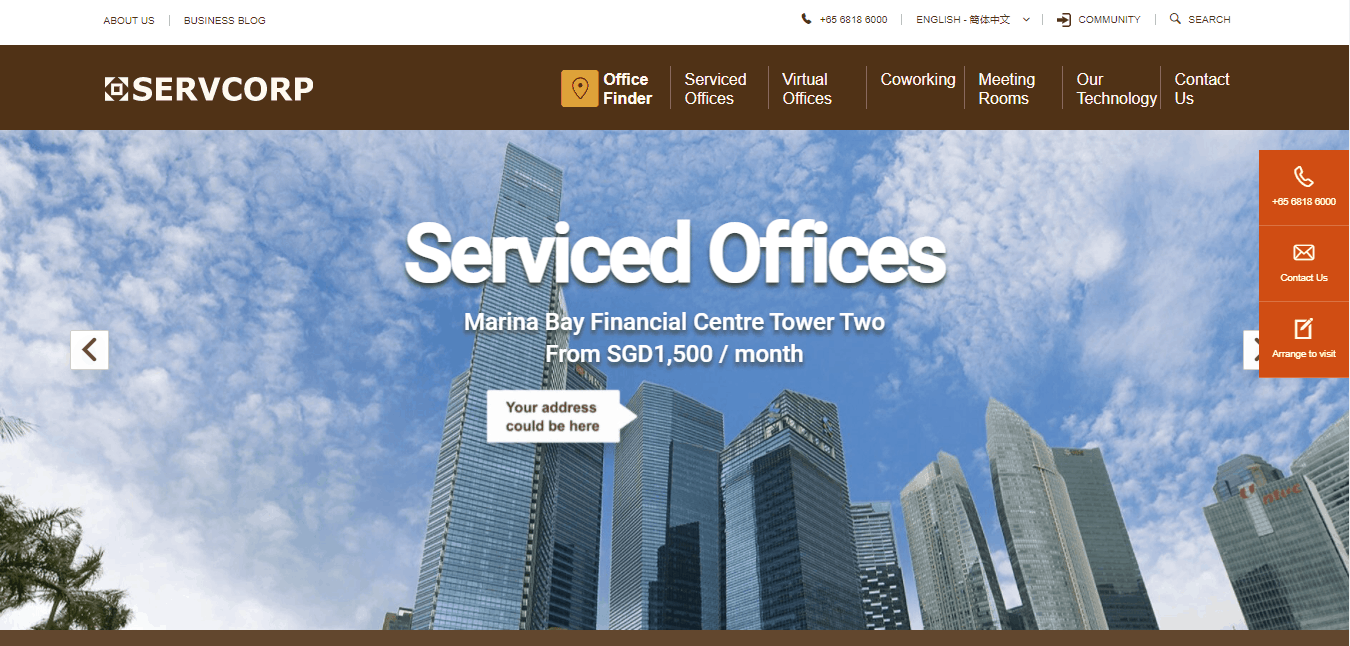 A lot more than just flexible workspace, Servcorp has developed a product that will give SME's, branch offices, start-ups and Fortune 500 companies access to the best locations, facilities, technologies and people at the lowest possible cost.
Servcorp's offices and coworking spaces have been designed to offer your business a comfortable, professional and hi-tech place to work efficiently, meet and socialise. Whether your team comes to the office every day or whether in combination with working from home, Servcorp's easy to use business solutions allow for optimum working conditions and a  smooth business operation.
With 42 years of experience at the forefront of our industry, Servcorp offers 5 premium locations in Singapore, 150+ locations worldwide.
Purpose-built technology, IT security is their priority. Servcorp's secure global IT network is operated and maintained in-house and forms the backbone of the services they provide to their clients.
Servcorp's online platform gives clients access to Wi-Fi, phones, meeting rooms, coworking spaces or any other resources to use wherever they travel to within Servcorp. Their IT support is unparalleled in the industry.
It's also worth noting that they verify each customer and only allow access to their workspaces to their own clients – for your safety and security. Servcorp's 50,000+ worldwide members are all linked into their Online Community for you to buy from, sell to, network with. 
Highlights
Member access to working spaces in 23 countries

Proximity to terminals, restaurants, and other lifestyle establishments

Private and hybrid office packages

Lightning fast and secure internet with 24/7 network monitoring, encrypted Unique Password WiFi.

Board room and meeting room access for all clients
Customer Reviews
Here are some reviews from Servcorp Marina Bay's previous customers to help you manage your expectations should you choose this working space:
"Our company have been a loyal client of Servcorp for almost three years now. What we like about Servcorp is the strategic location of the office, helpful secretaries, and the flexibilities of accessing and using Servcorp virtual office around the globe when we are travelling abroad!"—PB
"I am extremely satisfied with the handling of my account. The services I have subscribed for, have helped me keep my overhead costs low while maintaining a presence in both Singapore and Kuala Lumpur."—Lee Hakka
21. Ezco Workspace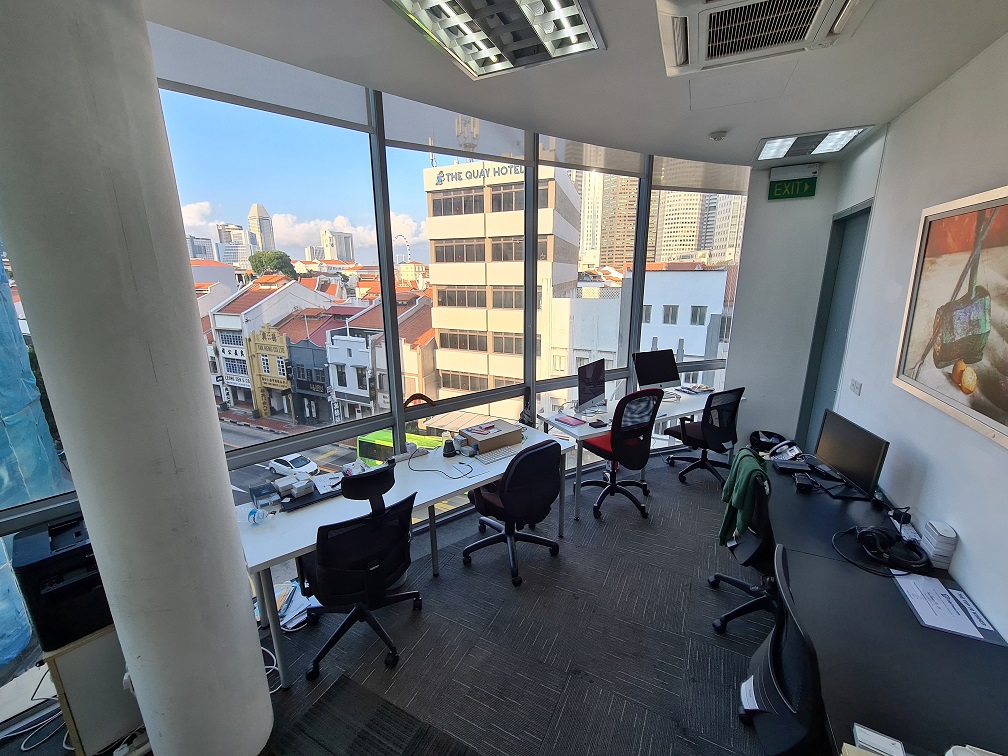 Ezco Workspace is a company that offers a wide variety of spaces, rooms, and facilities that are ideal for corporate and professional business transactions. With various partnerships, they have since then expanded into a small and inclusive community that is ideal for startup businesses and small enterprises.
We like their locations have various inclusions and amenities such as access to air conditioning, unlimited printing, and 24/7 room usage for clients who are unsure of how long their transactions will take.
Aside from this, they also have memberships readily available to better suit the needs and purposes of business owners wherein a ready-made package is available.
Though note that there isn't any flat pricing available, and clients may need to further inquire and transact with them for the rates and their charged fees if any.
Overall, with their responsive and accommodating customer service and amazing interior design to better enhance productivity, we highly recommend them to business owners in the area who are in need of a virtual and physical office to grow their business.
Highlights
Multiple inclusions and amenities
24/7 space usage
Ideal for small businesses
Customer Reviews
Here are some reviews from their clients:
"Great coworking space with super friendly owner. People from different areas of expertise working here and everyone is friendly and professional. Focused environment and a beautiful roof terrace that is great for both working and relaxing. The location is incredibly central, close to Chinatown and the Clarke Quay MRT. Pricing is very competitive and the free pass that is offered makes it a no risk option to check out. I highly recommend contacting them and trying the place yourself!" – Lennart Claassen
"Fairus Dasimin recommends EZCO Workspace. 7 August 2018 路 EZCO Workspace gets it right in all of what i've been searching for. Convenient and hassle-free office space for anyone who's looking for one. The big plus point would be the complimentary wi-fi, aircon and 24/7 office usage. Highly recommended!" – Fairus Dasimin
22. SnapMail Virtual Office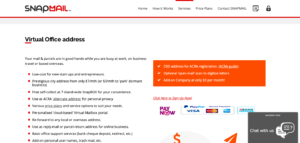 These days, virtual work is on the rise but at times we'd still need an address for our businesses. This is where SnapMail Virtual Office comes in. 
We know our mail and parcels are in good hands while we're at work, on business travel or even based overseas. 
We like that they have a low cost for new start-ups and entrepreneurs and how we can get a prestigious city address for just $7 a month!
They don't only have a physical address, but they also offer a personalised cloud-based Virtual Mailbox portal. 
What we think is also great about them is how they can re-forward mail to any local or overseas address. 
All in all, we like the convenience they offer businesses, start-ups and entrepreneurs. 
Highlights
Virtual office address 
Low cost for new start-ups and entrepreneurs 
Offers a personalised cloud-based Virtual Mailbox portal
Customer Reviews
Here are some reviews from their clients:
"Very useful for ACRA registration. Very good system and convenient for self collection. Highly recommended"

"Good service and Reasonable pricing"
And that's it for our list of the best office spaces in Singapore. We hope that you were able to pick at least a few that you think will be best for your business.
If you know of other office spaces in Singapore, don't hesitate to share their locations with us! We'll add them to the list if they're good options too.
Once you've found the right office space, it's time to shop for office furniture. You might want to start looking for the best office chairs in Singapore as these are important for all business spaces.