By Colin Ng
Demand for the best coworking spaces in Singapore has been rising in the past few years. This is because more people have been discovering the perks of such spaces.
The best coworking spaces in Singapore provide a comfy location with all the facilities and conveniences you need to get the job done. The best ones even come with in-house cafes and similar perks… so you won't have to run out for your daily latte anymore.
In today's roundup, we've put together the best coworking spaces in Singapore. Whether you're a freelancer, startup owner, or SME employee, these are undoubtedly the top coworking spaces in Singapore. 
1. THE GREAT ROOM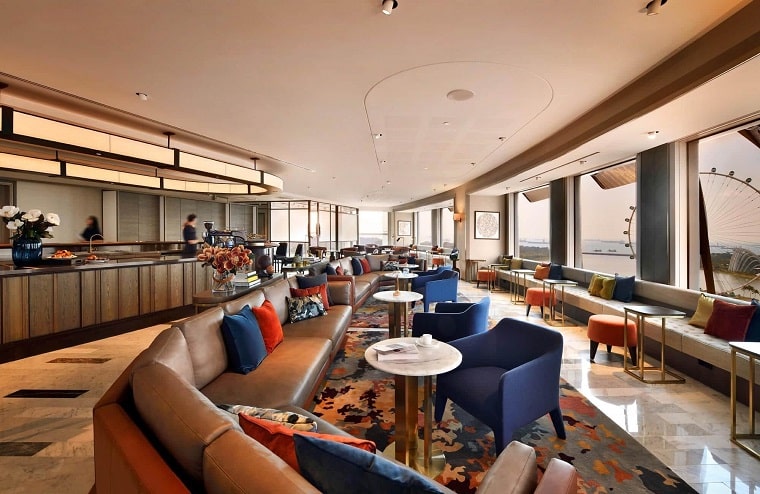 BEST FOR
Upscale environment, business meetings & hot offices
FACILITIES
Enterprise-grade Wifi, Monday Breakfast Club, Meeting Rooms, Specialty Coffee and Tea, Video Conferencing, Private Phone Booths, Weekly Social Networking, Mail and Package Handling
PRICING
Day Pass: 70 SGD a day
Hot Desk membership: From 750 SGD a month
Dedicated office: From 2500 SGD a month
WEBSITE
https://thegreatroom.co/
ADDRESS
Singapore: One George Street
One George Street, Level 10, Singapore 049145

Singapore: Centennial Tower
3 Temasek Ave, Level 17 and 18, Singapore 039190

Singapore: Ngee Ann City
391B Orchard Rd, Level 22, Ngee Ann City Tower B, Singapore 238874
CONTACT DETAILS
Singapore: One George Street
Tel: +65 6816 8000

Singapore: Centennial Tower
Tel: +65 6817 9590

Singapore: Ngee Ann City
Tel: +65 6950 1720
OPERATING HOURS
Monday to Friday between 9am and 6pm
The Great Room will make you feel accomplished and professional with elegant furnishings like leather sofas and hardwood floors. The space was specifically designed by a hospitality designer to "increase casual collisions and heighten productivity".
They have a variety of membership options depending on your needs too. For freelancers and professionals looking for an alternative workplace, they have the hot desk option and day passes.
Entrepreneurs and startups can avail of a dedicated office or virtual office, by contrast. They may also join their business club for networking.
SERVICE HIGHLIGHTS
Great for business meetings, with professional furnishings and stylish interiors
Free coffee from Papa Palheta
Flexible packages for various work and business requirements
CUSTOMER REVIEWS
While The Great Room is technically just one entry in this list of the best coworking spaces in Singapore, it actually has several locations.
Of their three locations, The Great Room in George Street has the most Google Reviews. The one at Centennial Tower is the most highly rated, though (with a perfect 5-star rating).
People laud their staff for being attentive and providing a 5-star hotel experience. The plush decor and swanky digs make this an ideal choice for professionals.
Many patrons note that this is one of the best coworking spaces in Singapore when organising business meetings and client appointments. Meanwhile, some also praise them for their happy hour reserved for members — so they can relax after a hard day's work.
2. THE HIVE
BEST FOR
Flexible packages & rates
FACILITIES
Free Coffee, Community Events, Hosted Space, Phone Booths, Mailbox Locker, Printers, Super Fast Wifi
PRICING

The Hive Carpenter
Hotdesk: From SG$250
Dedicated Desk: From SG$580
Private Office: From SG$900

The Hive NBR
Hotdesk: From SG$210
Dedicated Desk: From SG$450
Private Office: From SG$600


The Hive Lavender
Hotdesk: From SG$210
Dedicated Desk: From SG$450
Booth Desk: From SG$650
Private Office: From SG$800

Day passes at $30 (before GST)
Contact the company for special rates

WEBSITE
https://thehive.sg/
ADDRESS
The Hive NBR
59 New Bridge Road, Singapore
The Hive Carpenter
36 Carpenter Street, Singapore 059915
The Hive Lavender
Level 6, 1 Kallang Junction, Singapore 339263
The Hive Studios
Level 6, 1 Kallang Junction, Singapore 339263
MakerHive
Level 6, 1 Kallang Junction, Singapore 339263
CONTACT DETAILS
The Hive NBR
+65 6532 2119 | newbridgeroad[at]thehive.sg
The Hive Carpenter
+65 65350229 | carpenter[at]thehive.sg
The Hive Lavender
+65 6291 7861 | lavender[at]thehive.sg
The Hive Studios
+65 6291 7861 | studios[at]thehive.sg
MakerHive
+65 6291 7861 | contact [at] makerhive.com.sg
OPERATING HOURS
8am – 8pm Monday to Friday
For as low as S$30 a day, members can get access to desks, the lounge area and the cool rooftop cafe. This is a great co-working space for creatives, freelancers, young professionals and entrepreneurs looking to network and collaborate. They have three locations, so you can choose which one is more convenient for you, location-wise.
SERVICE HIGHLIGHTS
Social events to enhance your creativity or boost your productivity, ranging from sunset yoga to crafting your own fragrance
Free coffee
Printers
Access card
Flexible packages, can be customised based on your needs
Team desks
CUSTOMER REVIEWS
The Hive Carpenter is their flagship and newest branch in Singapore. Rated highly on Google Reviews, customer feedbacks cite a relaxed and cosy atmosphere, beautiful decor, friendly staff and competitive prices as the reasons why The Hive is a great place to work or congregate.
3. JUSTCO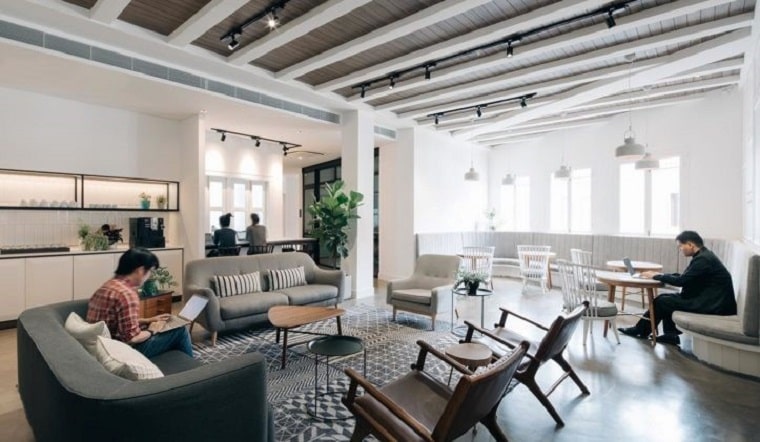 BEST FOR
Hip Environment, Cheap Rates
FACILITIES
Global Access, Move-In Ready, Perks & Benefits, Regular Events, Events Spaces*, In-House Cafe*, In-House Entertainment, Dedicated Community Team, 24/6 Access & Security, Private Phonebooth*, Mail Handling Services, Printing Facilities, High Speed Internet, Pantry, Cleaning Service

*Available at selected centres
PRICING
Day Pass: From S$50
JustDesk Basic: From S$98/month
JustDesk Unlimited: From S$398/month
JustDesk Dedicated: From S$750/month
JustStudio: From S$800/month
WEBSITE
https://www.justcoglobal.com/sg
ADDRESS
120 Robinson Road
#15-01, Singapore 068913

20 Collyer Quay
Level 1, Singapore 049319

6 Raffles Quay
#16-01, Singapore 048580

AXA Tower
8Shenton Way AXA Tower #50-01
Singapore 068811

Asia Square
12 Marina View Asia Square Tower 2
#23-01, Singapore 018961

China Square Central
18 Cross Street, #02-02 & #02-01
Singapore 048423

MacDonald House
40A Orchard Road, MacDonald House,
#03-01, Singapore 238838

Manulife Tower
8 Cross Street Manulife Tower #28-01,
Singapore 048424

Marina One East Tower
7 Straits View, Marina One East Tower,
#05-01, Singapore 018936

Marina One West Tower
9 Straits View, Marina One West Tower,
#05-07, Singapore 018937

Marina Square
6 raffles Boulevard, Marina Square,
#03-308, Singapore 039594

Samsung Hub
3 Church Street Samsung Hub,
#12-02 & #25-01, Singapore 049483

UIC Building
5 Shenton Way, UIC Building,
#10-01, Singapore 068808

Verizon Innovation Community Managed by JustCo
10 Collyer Quay, #16-01 Ocean Financial Centre
Singapore 049315

Westgate Tower
1 Gateway Drive Westgate Tower
#07-01, Singapore 608531
CONTACT DETAILS
 +65 6911 8891
OPERATING HOURS
 
JustCo caters more towards the hip, millennial crowd. The place is designed like a cafe, so freelancers and professionals used to working in a cafe environment will feel right at home. The view of the city skyline at the Parakou branch is bound to give you inspiration when you need it.
SERVICE HIGHLIGHTS
Cheap monthly rates
Hip, modern vibe
Ping pong and foosball table
Fully stocked pantry
CUSTOMER REVIEWS
JustCo's highest rated location is at Marina One West Tower, followed by Asia Square Tower. According to one Google Review:
"JustCo made this place an enjoyable place to get work done without all the obstacles that usually get in the way. There's good space for meetings, super fast internet, awesome break out space with arcade and foos table and lastly,  great helpful and friendly staff… I feel that it's a big difference working in JustCo and from home. Over here, it's easier to stay focus being surrounded by other professionals and even opportunities to make businesses and be friends with other members."
4. O2Work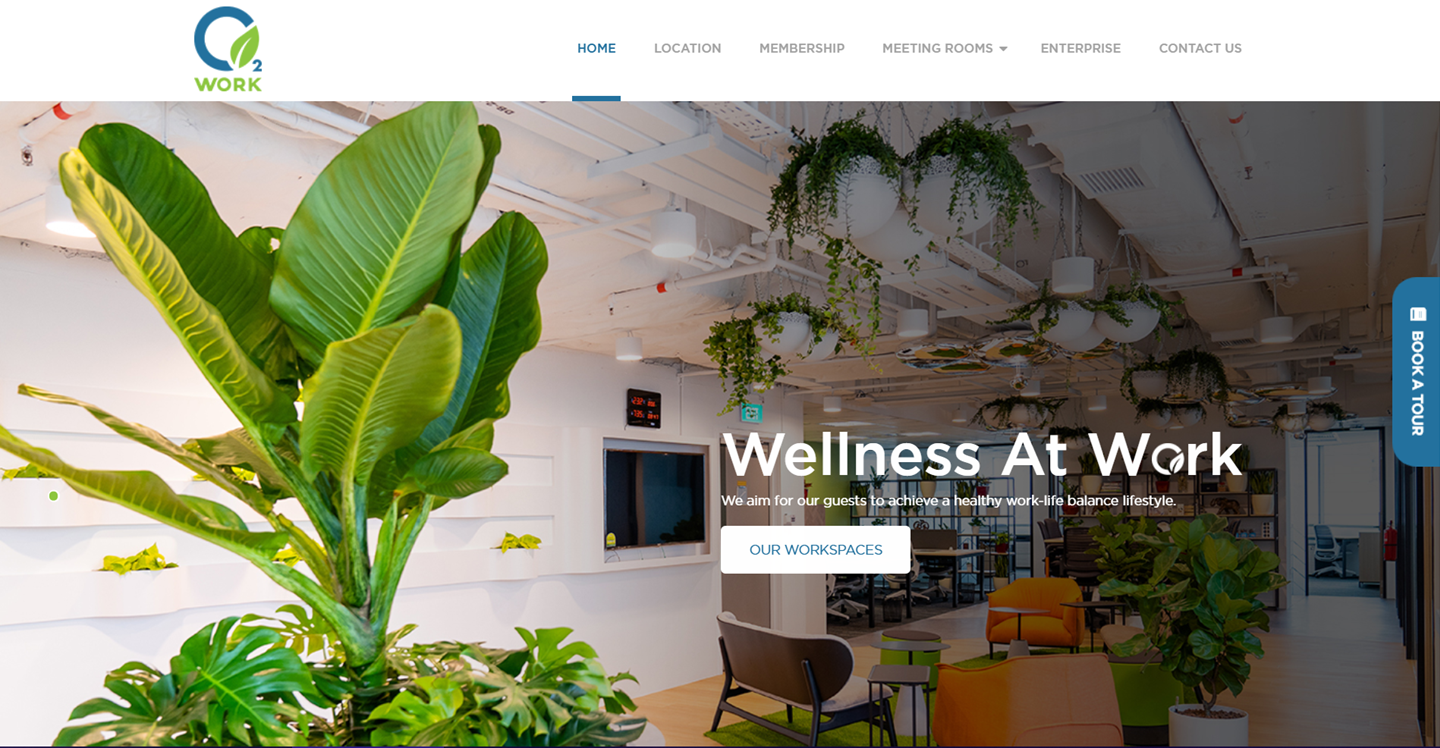 BEST FOR
Flexible Membership Programs
FACILITIES
Meeting Rooms
Event Spaces
PRICING
Enquire for Prices
WEBSITE
http://www.o2-work.com/
ADDRESS
Level 22 & 23, Odeon Towers, 331 North Bridge Road, Singapore 188720
Level 12 & 13, [email protected], 16 Collyer Quay, Singapore 049318
CONTACT DETAILS
[email protected]
Eng: (65) 8361 2361 / Chin:(65) 9869 4753
OPERATING HOURS
N/A
Locals know o2Work for its eco-friendly workspace that allows members to balance a regular life with work easily. The team behind O2Work has conducted a space that inspires and boosts creativity and productivity. 
The coworking space at O2Work offers a place for growth and development among peers. Here, you can learn from your work and the people that you're surrounded with. Not only that, but you can even utilise the meeting rooms, event spaces, and office space that are functional and more affordable than most options in the market. 
You won't have to worry about strict rules and payment dates as you can create your own lease with O2 Work's flexible plans. With them, you'd surely find a working space fit for your needs and your budget.
Highlights
Hot Desk Unlimited
Private Offices
Mail and Packaging Handling
5. FOUND8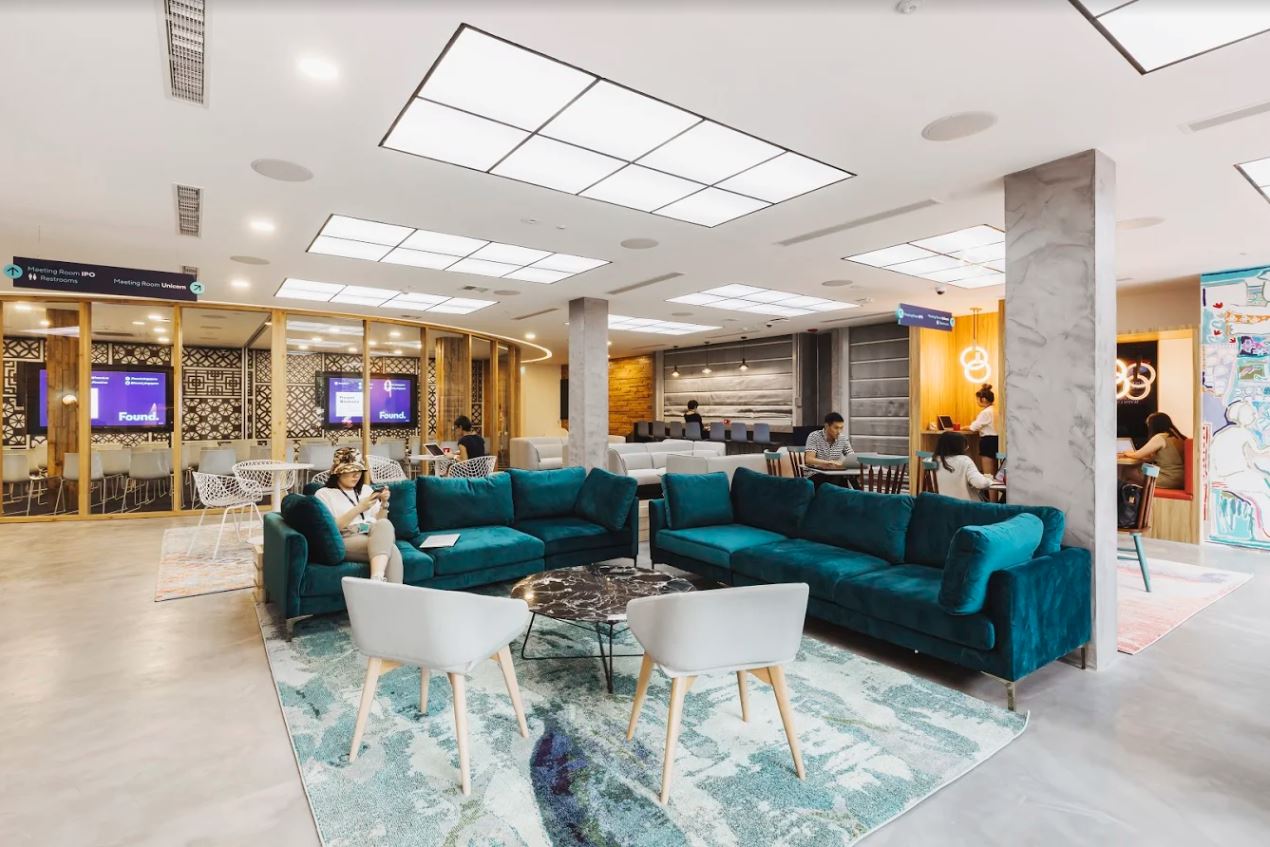 BEST FOR
Networking, Diverse Community of Innovators
FACILITIES

Team Room (5 pax), Dedicated Desk, Hotdesk

PRICING

Hotdesks: SGD 490/month

Dedicated Desks: starting from SGD 650/month

Team Rooms: starting from SGD 800/month

WEBSITE
https://www.found8.com/
ADDRESS

Amoy

100 Amoy St, Singapore 069920

Tanjong Pagar

79 Anson Rd, #23-01, Singapore 079906

Orchard

29A Cuppage Rd, Singapore 229456

High Street Centre

1 North Bridge Rd, #08-08, Singapore 179094

Prinsep (Antler Flagship)

128 Prinsep St, #01-01, Singapore 188655

CONTACT DETAILS

9833 2434

OPERATING HOURS
Contact the site
Found is 1000-strong— Sit next to a potential investor, friend, or business partner in  their curated house of members. They'll make sure you make the most meaningful connections within their walls as you get business done.
SERVICE HIGHLIGHTS
Printing and library
Toilets & showers
Tea, coffee, water and snacks
Workshops
Bar station
Mentors network
CUSTOMER REVIEWS
Customers rate Found8 very highly. Facebook Reviews include praises for their managers, IT support and beautiful space. They co-working space has lots of natural light as well as breath-taking views. Au Utama wrote:
"What a great experience! Located at a strategic place in downtown area, and it is well designed for personal workspace and/or collaboration and team building."
6. LEVEL3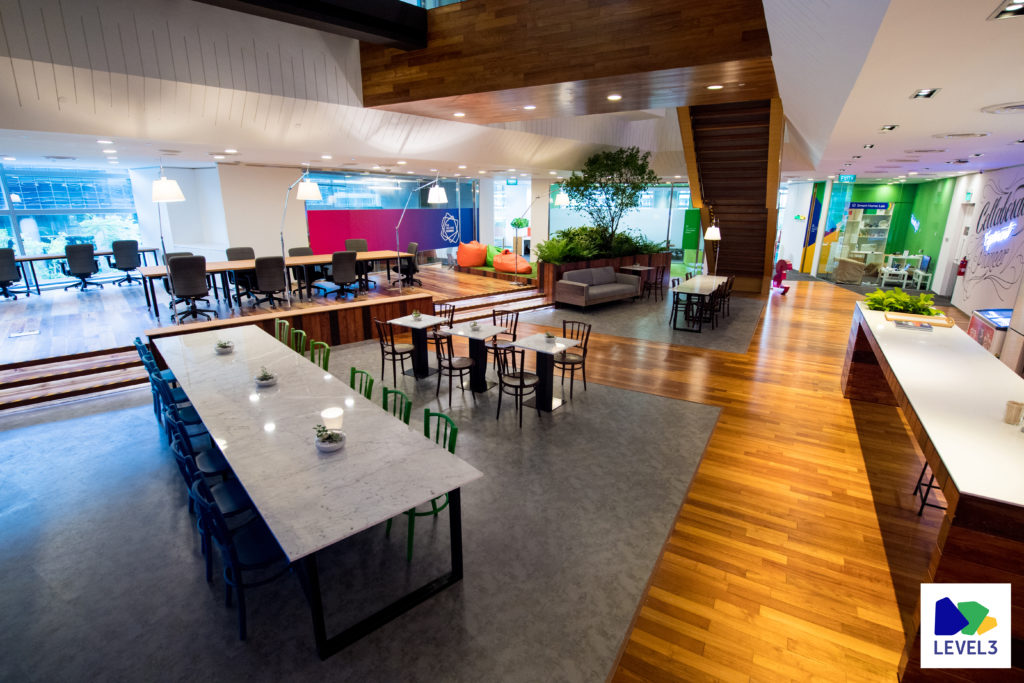 BEST FOR
Startups & Collaborative Events
FACILITIES
Professional AV equipment, high speed Wi-Fi, private adjacent meeting rooms
PRICING
Community Member: $100/month
Community Member+: $275/month
Hot Desk: $400/month
Personal Desk: $650/month
Team Suite: Enquire for prices
WEBSITE
https://l3.work/
ADDRESS
Mapletree Business City
20 Pasir Panjang Road
(East Wing)
#03-22/24
Singapore 117439
CONTACT DETAILS
 +65 8755 1405 | [email protected]
OPERATING HOURS
9am – 6pm
LEVEL3 offers a unique coworking experience because of their connection to Unilever's regional headquarters at Mapletree Business City, Singapore. They bring together startups, corporates, and ecosystem partners to drive innovation and create new partnerships that deliver meaningful business impact.
SERVICE HIGHLIGHTS
Access to Unilever Foundry Mentorship Programme, pro-bono consulting, capacity-building workshops and more
Discounts for food and beverage at Mapletree Business City and gym membership at Fitness First
CUSTOMER REVIEWS
LEVEL3 got a lot of positive feedback for their many facilities, huge space for meetings and conferences, great location and friendly staff. One feedback describes LEVEL3 as a "Wonderful startup incubation space."
7. THE CO.
BEST FOR
Minimalists, Affordable Rates
FACILITIES
 
PRICING
Individual desks: From S$45 a day
S$350 for 10 visits a month
Monthly: From S$600

Meeting & Conference room facilities available from S$80 per hour and event spaces from S$ 250 per hour.

Meeting & Conference room facilities available from S$80 per hour and event spaces available from S$ 250 per hour.
WEBSITE
https://jointhe.co/
ADDRESS
DUXTON
99 Duxton Rd, Singapore 089543

HIGH STREET
75 High Street Singapore 179435
CONTACT DETAILS
DUXTON
+65 6950 2730

HIGH STREET
+65 6595 6288
OPERATING HOURS
 
The Co. keeps things simple with their clean, minimalist aesthetic. This allows the mind to focus on the essential and stay productive without the unnecessary clutter in the surroundings. They're great for hot-desking as well as corporate events, with an open venue on the third level.
SERVICE HIGHLIGHTS
Great locations with vibrant shophouses and hip neighbourhoods
Benefit from exclusive partners for events, lifestyle and opportunities
Award-winning design
8. THE WORKING CAPITOL
BEST FOR
Cheap Rates in the CBD
FACILITIES
Meeting Rooms, Event space, Beer Garden, Breakout Areas, Café, Workshop Room, Phone Booths, Showers, Outdoor Balconies, Printers / Scanners, Lounge, Laptop and Gym lockers
PRICING
Workspot: From S$255/month
Workdesk: From S$729/month
Workspace: From S$900/month
WEBSITE
https://theworkingcapitol.com/
ADDRESS
KEONG SAIK
1 Keong Saik Road, Singapore 089109
CONTACT DETAILS
 +65 6805 4050
OPERATING HOURS
M – F, 8.30am – 6pm (excluding PH)
The Working Capitol has some of the cheapest rates among co-working spaces in Singapore. The open plan takes in a lot of natural light which makes the whitewashed space even more airy and spacious. Co-founders Ben and Saranta Gattie decided to transform an old biscuit factory on Keong Saik Road into a unique coworking and lifestyle destination. This concept combines Ben's passion for revitalising spaces with Saranta's belief that a strong culture is needed to bind people and create community.
SERVICE HIGHLIGHTS
Beautiful, purpose-built workspaces
Dozens of partner benefits
Regular members-only events
Showers
Regular Members' Lunch
Customised I.T.
Well-stocked pantry
CUSTOMER REVIEWS
The beautiful shophouse feel, convenient location and the downstairs coffee shop are some of the reasons given for their high Google Reviews rating. While this may not be the fanciest space on this list, they get major points for being convenient and cosy.
9. 80RR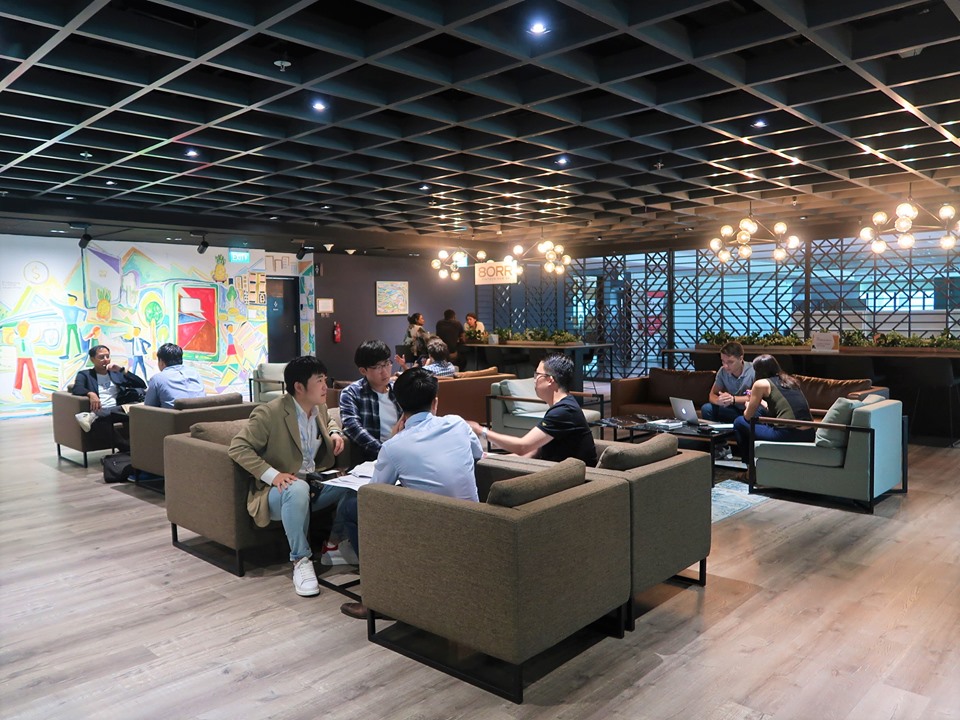 BEST FOR
Fintech Working Hub Within CBD
FACILITIES

Event Space, Meeting Room, Pantry, Dining Hall, Breakout Areas, Meeting Pods & Calling Booths, Showers, Printers / Scanners, Lounge, Lockers, Server Space

PRICING

As low as SGD300* per desk per month

WEBSITE
https://www.80rrfintech.com/
ADDRESS
80 Robinson Road #08-01 Singapore 068898
CONTACT DETAILS

Email: [email protected]

Telephone: +65 6228 6313

OPERATING HOURS
Standard business hours
80RR was set up as a joint effort among Hong Leong Holdings Ltd (HLHL), the Monetary Authority of Singapore (MAS) and Singapore Fintech Association (SFA) in to foster the growth of the Fintech Industry in Singapore. 80RR is home to more than 50 companies from diverse countries and background, providing them with affordable coworking space within the Central Business District (CBD) accessible via public transport.
SERVICE HIGHLIGHTS
Singapore's first Fin-Tech Hub
Coworking spaces from hot desks to private office
Event space that can accommodate up to 250 pax
Advisory Committee featuring experts-in-residence
Access to various professional clinics such as IP Finance and Legal clinics 
Gain access to complimentary work spaces across Asia such as Indonesia, Phillipines, Malaysia and Thailand
CUSTOMER REVIEWS
Reviews from 80RR's official Facebook page:
"Centrally located, flexible working space and good floor plate size." – Aik Meng Lim
"Great Co-working space. Great lighting at feature wall." – Julian Lee
"Awesome co-working space!" – Koh Tee Chin
10. CLUBCO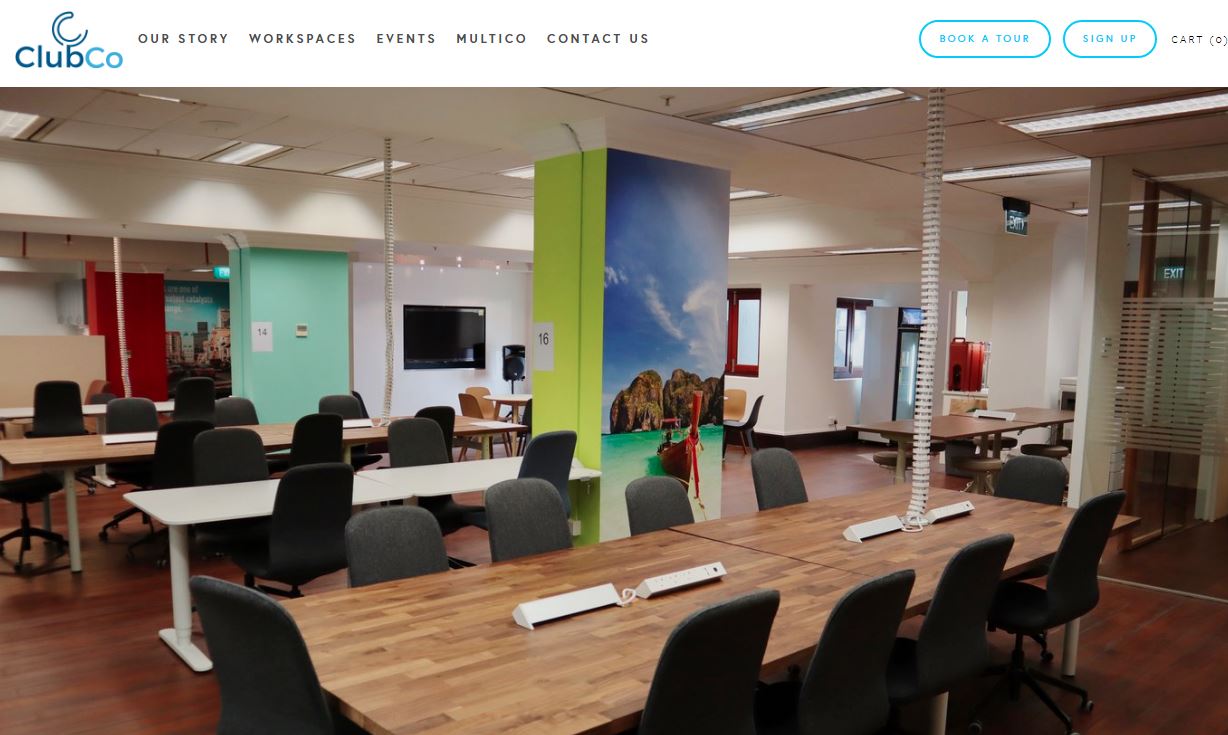 BEST FOR
Tailored Working Space Packages
FACILITIES
All-inclusive membership packages that include flexible workspaces and services plus F&B.
PRICING
Contact for prices
WEBSITE
https://clubco.sg/
ADDRESS
25 Church Street, #02-02 Capital Square, S049482
19 Cecil Street, #04-00 The Quadrant, S049704
CONTACT DETAILS

Email Address : [email protected]

Phone Number : 6222 8662 / 6653 5300

OPERATING HOURS
Standard business hours
Stop paying for features you won't use and start paying only for those you will with ClubCo. They can provide you with a tailored working solution according to your budget and your requirements. As their saying goes, "Your team is unique, so should your space plans."
SERVICE HIGHLIGHTS
Their in-house team has spent the last 20 years in Singapore building crucial networks with MNCs and Investors
Event space for casual meetings, seminars or a networking session
They have three workspace packages: capital square, the quadrant, and MultiCo
CUSTOMER REVIEWS
Reviews from ClubCo's official Facebook page:
"Warm cosy space to feel comfortable working in. The staff are very friendly and helpful. It feels very personal int hat small sufficient space, hence homely yet vibrant. I like the segregation between the restaurant and work space but at the same time they are together right there. The flexibility of the using the credits is much appreciated and great draw to sign up and the good foods is never enough!" – Celia Wong
11. THE EXECUTIVE CENTRE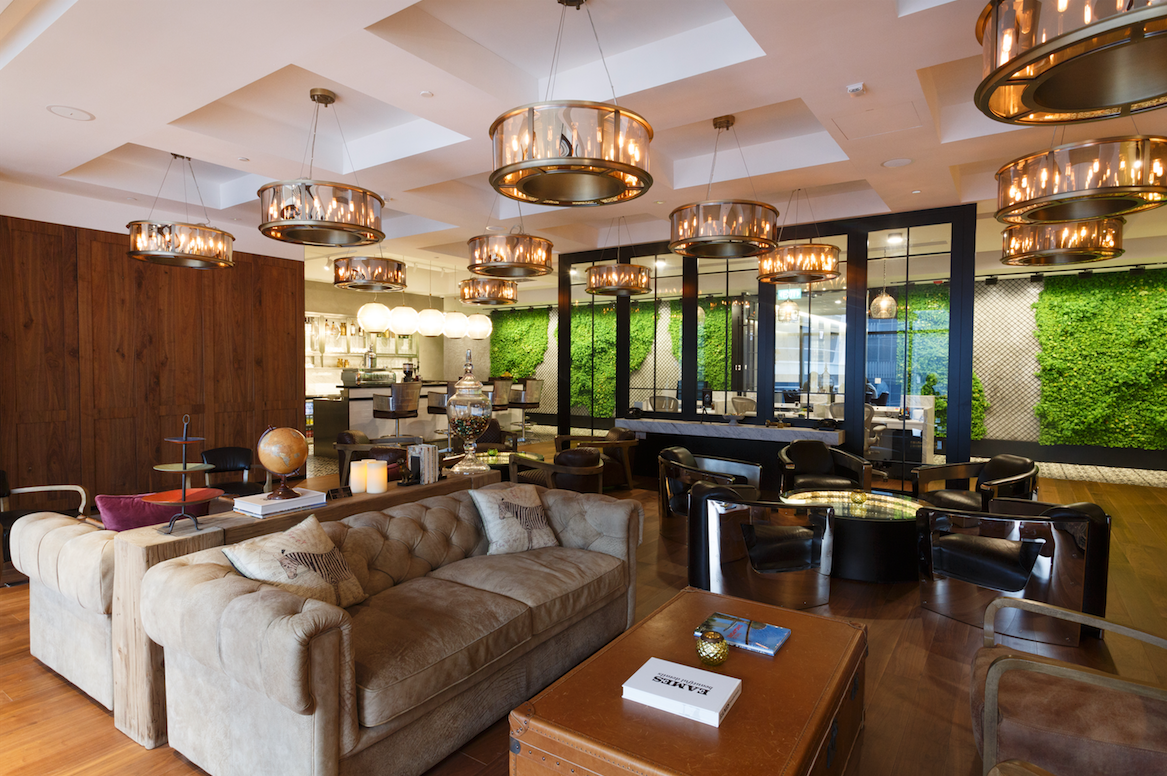 BEST FOR
Flexible Workspace Ecosystem
FACILITIES

Private Workspace
Enterprise Solutions
Coworking
Virtual Office
Meeting & Conferences
Business Concierge

PRICING
Contact for prices
WEBSITE
https://www.executivecentre.com/
ADDRESS

Frasers Tower +65 6956 9000
Level 17 | Frasers Tower, 182 Cecil Street, Singapore 069547

Ocean Financial Centre +65 6808 6288
Level 37 and 40 | Ocean Financial Centre, 10 Collyer Quay, Raffles Place, Singapore 049315

Six Battery Road +65 6232 2777
Level 42 | Six Battery Road, Singapore 049909

One Raffles Quay +65 6622 5888
Level 25 | One Raffles Quay North Tower, Raffles Place, Singapore 048583

Marina Bay Financial Centre Tower 1 +65 6653 4688
Level 11 | Marina Bay Financial Centre Tower 1, 8 Marina Blvd, Singapore 018981

The Gateway West +65 6727 6888
Level 35 | The Gateway West, 150 Beach Road, Singapore 189720

CONTACT DETAILS

+65 6808 6288

OPERATING HOURS
Standard business hours
The Executive Centre is the leading premium flexible workspace provider in 32+ cities and with 130+ centres in Asia Pacific and UAE. In Singapore, their Centres are also designed with distinctive TEC elements such as Timothy Oulton furnishing, Herman Miller ergonomic chairs, 9AM height-adjustable standing desks, dedicated barista bar, keyless locking system, Cisco telephone systems etc. in order to provide their embers with the best working environment to be in.
SERVICE HIGHLIGHTS
They have 6 locations all located in premium / Grade A office buildings within Singapore (including Marina Bay Financial Centre, One Raffles Quay, Ocean Financial Centre, Six Battery Road, The Gateway West and Frasers Tower)
Expert Insights – Access to global knowledge
Tailor-made Solutions – High-end custom workspaces
World-class Infrastructure – Seamless connectivity
Dedicated Support – Professional operational expertise
CUSTOMER REVIEWS
Reviews from The Executive Centre's official Facebook page:
"Very generous and helpful Operations team, sales team and reception staff. High standards, clean, modern technology, adequate privacy and very spacious. Great maintenance!" – Hetal Udani
12. MUTUAL WORKS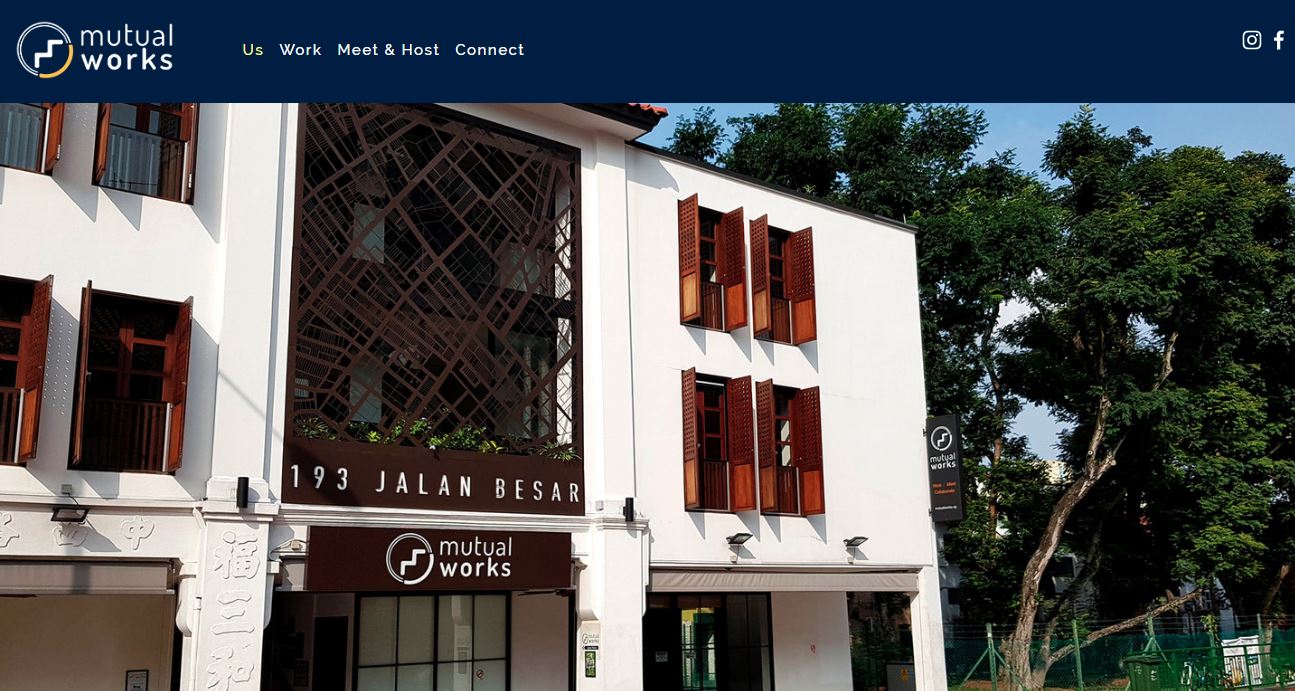 BEST FOR
Shophouse Coworking
FACILITIES

Hotdesking spaces, dedicated desks and private office space

PRICING
Contact for prices
WEBSITE
https://mutualworks.sg/
ADDRESS

193 Jln Besar
#02-01, Singapore 208883

CONTACT DETAILS

https://mutualworks.sg/contact-mutual-works

OPERATING HOURS
Staffed hours: Mon-Fri, 9am – 6pm (excluding Public Holidays)
Here's a unique coworking sanctuary where medieval meets modern: Mutual Works is a coworking space based in a modern-heritage shophouse. All of their desks and private offices are designed & managed thoughtfully to keep your mind and body happy.
SERVICE HIGHLIGHTS
Centrally located at the city-fringe in Jalan Besar, the meeting rooms and event spaces are connected via 4 MRT stations and many buses serving the heartlands and the city
Supported by professional and friendly staff
The community at Mutual Works comprises of authentic & thoughtful entrepreneurs and change-makers who strives to make the world a better one each day
CUSTOMER REVIEWS
"Coworking space with an extremely personal touch. the team runs the place with passion and great dedication. I would definitely recommend Mutual Works to anyone who wants that one-of-a-kind experience working in the heart of eclectic Jalan Besar!"
— Estella | Co-founder, rippleroot
13. EZCO WORKSPACE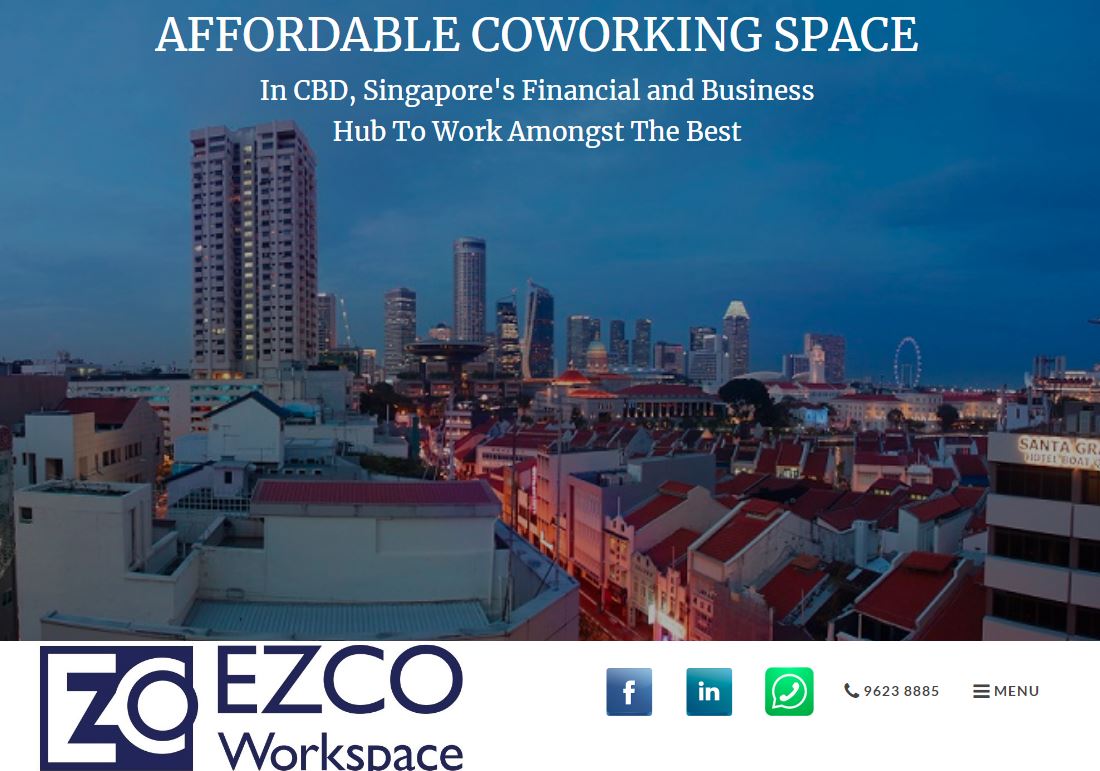 BEST FOR
Joining the EZCO WORKSPACE community comes with free & easy desk, meeting room usage in CBD or West CBD
FACILITIES

Basic space provider with gym and swimming pool

PRICING
24/7 Hot desk $358/mth
WEBSITE
http://ezcoworkspace.com/
ADDRESS

Shenton Way Business District:
70 Shenton Way
Eon Shenton 21st flr, Singapore 079118
Tel: 65 96238885
[email protected]

Singapore CBD Business & Financial Hub:
70 South Bridge Road
Prosperity Building, Singapore 058700
Tel: 65 96238885

CONTACT DETAILS

 9623 8885

OPERATING HOURS
—
EZCO serviced offices has a group of people working together as a team that trusts each other. For them,  "Transparency is the element of integrity. Integrity leads to success." This means that you're in the hands of people who continuously work hard to provide you with a hassle-free coworking experience. EZCO is also growing, building new workspaces in central locations within Singapore. 
SERVICE HIGHLIGHTS
Located in Singapore Central Business Districts
Near Victoria Art Gallery, Heritage Centre & Theatres, International Cuisine Restaurants & Local Food Stalls, Boat Quay and Clarke Quay Clubs/Pubs, Central Mall, Esplanade, Marina Bay Sands Shopping Malls, and Fantastic City Living condominiums
Ample/open space car park
CUSTOMER REVIEWS
"Great coworking spot. Has a an awesome rooftop breaks pot with views to Boat Quay. Boat Quay is just around the corner with great food and after work options. The coworking space has a mixture of hot desks and private offices and meeting rooms. If you are looking for a coworking space to grow out of in Singapore you need to check out EZCO Workspace." – Customer review published on EZCO Coworking space website from Buddy Rathmell
14. TINKERTANK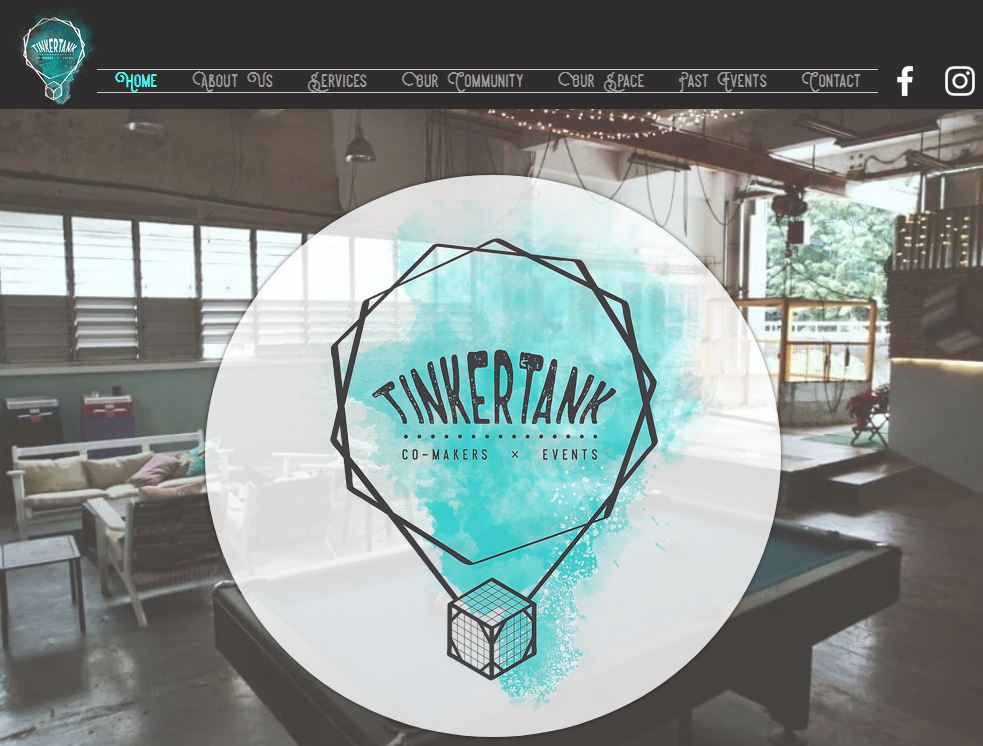 BEST FOR
Spaces for various businesses such as Wood-workers | Designers | Artists | Photographers | Videographers | Florists | Events | Musicians | Soap-Maker | Apparels | Tattooist
FACILITIES

See service highlights

PRICING
Contact for prices
WEBSITE
https://www.tinkertanksg.com/
ADDRESS

50 Geylang Lorong 17 Level 3

Singapore 388570

CONTACT DETAILS

[email protected] | Tel: 81119618 / 83235505

OPERATING HOURS
—
Tintertank aim to be a space that brings together creative individuals, makers, freelancers and entrepreneurs with big dreams across disciplines and generations. They're a co-working space, like an office – without the politics! Their 8,000 sq ft studio with industrial-style units will definitely fit the bill for start-ups and business at any level. Their space also caters to events such as photo-shoots, video-shoots, flea-market, workshops and more!
SERVICE HIGHLIGHTS
24 Hour Security Access

Shared Pantry and Restrooms

High-Speed Fibre Broadband

Entertainment Facilities and Common Rest Area

Complimentary Parking

Bbq and Gathering Space

Community of Friendly Neighbours
CUSTOMER REVIEWS
"A great space and great location for business." – Customer review published on Facebook by Karl Reis.
15. COQOONS COWORKING
BEST FOR
Bright workspace, Vibrant community, Convenient location
FACILITIES

Hot desk
Dedicated desk
Private offices
Meeting rooms

PRICING
Check prices here: https://www.coqoons.com/en/Page/spaces
WEBSITE
https://www.coqoons.com/
ADDRESS

Harbourfront Tower 2

3 HarbourFront Place, HarbourFront Tower 2, Level 11

Singapore 099254

CONTACT DETAILS

CALL
+65 6350 5700

EMAIL
[email protected]

OPERATING HOURS
Monday to Friday, 9am-6pm
(Exclude Public Holiday)
CoQoons  is made to ensure you get closer to your Eureka and breakthrough moments. It is an ecosystem of transformative ideas, people, and spaces. They're conveniently located at HarbourFront Tower 2, where you can enjoy refreshing views of both lush greenery and the ocean and access amenities nearby. 
CoQoons is centrally located at HarbourFront, and only minutes away from the MRT (NEL/CCL), bus interchange and Singapore's largest retail mall VivoCity. A vibrant community in a warm and welcoming work environment where you'll enjoy refreshing views of both lush greenery and the ocean, as well as full-fledged amenities all around. With natural light filling your workspace, you'll be sure to get inspired here!
SERVICE HIGHLIGHTS
Unlimited Wifi
Mailing address
Pool table
Shower facilities
Pantry with daily refreshments
Office cleaning and maintenance
Scan, print and copy
Meeting room credits
24/7 Secured Access
CUSTOMER REVIEWS
"Fell in love with this space just after the 1st visit here. Nice ambiance, great view, friendly fellow co-workers, awesome location, and a whole ton of positive vibes every day." – Customer review published on Facebook by Leslie Yeo.
16. CARROT PATCH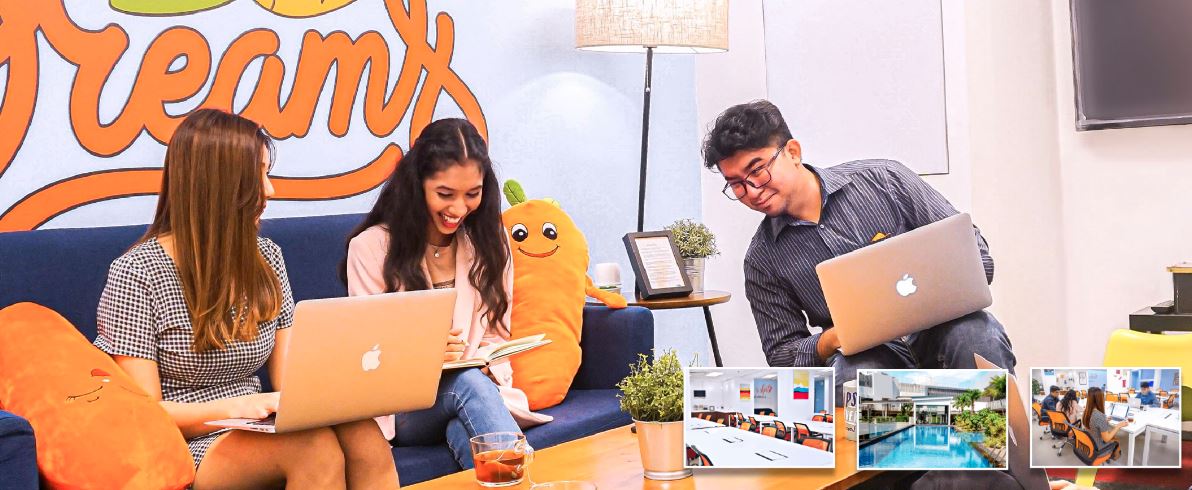 BEST FOR
24/7 solution for an all-day work space
FACILITIES

Contact the space providers through their website

PRICING
Check prices here: https://thecarrotpatch.co/price-plans
WEBSITE
https://thecarrotpatch.co
ADDRESS

201 Henderson Rd, #02-09, Singapore 159545

CONTACT DETAILS

+65 8222 2252 / +65 6222 8743 | [email protected]

OPERATING HOURS

24/7 Access
Reception Opening Hours
Monday 9:00 AM — 6:00 PM
Tuesday 9:00 AM — 6:00 PM
Wednesday 9:00 AM — 6:00 PM
Thursday 9:00 AM — 6:00 PM
Friday 9:00 AM — 6:00 PM
Saturday Closed
Sunday Closed

Closed on Public Holidays​
The Carrot Patch @ Henderson, is recommended for the workaholic or hustler who needs to rush some urgent stuff over the night or weekends. You can also hold your important presentations in their 12 pax board room, enjoy a dip in the rooftop swimming pool or even hit the gym. They also offer private offices suites that be used on permanent terms. You can contact them to get a complimentary tour of their facilities and amenities.
SERVICE HIGHLIGHTS
High Speed Wi-Fi
Bottomless Coffee and Tea
Power Outlets
Meeting Rooms & Breakout Areas
Rooftop Amenities
Parking Lots
Public Transport-friendly
CUSTOMER REVIEWS
"Pocket friendly, city fringe location, huge selection of F&B options, all in a charming neighbourhood of old and new. What are you waiting for?" – 5-star rating review published on Facebook by Cheese Lim Xiu Xia.
17. COWORKING SPACES

| | |
| --- | --- |
| BEST FOR | Comprehensive Listing Of Coworking Spaces in Singapore |
| FACILITIES | Contact the space providers through their website |
| PRICING | Contact the space providers through their website |
| WEBSITE | https://coworkingspaces.com.sg/ |
| ADDRESS | Contact the space providers through their website |
| CONTACT DETAILS | +65 31386958 | [email protected] |
| OPERATING HOURS | Contact the space providers through their website |
Coworking Spaces is made up of a team of professionals who aim to meet your need for easy, efficient coworking. Whether you need a run-of-the-mill coworking space, or an unique, unorthodox one, they can find the right coworking space for you at no charge. 
18. The Common Ground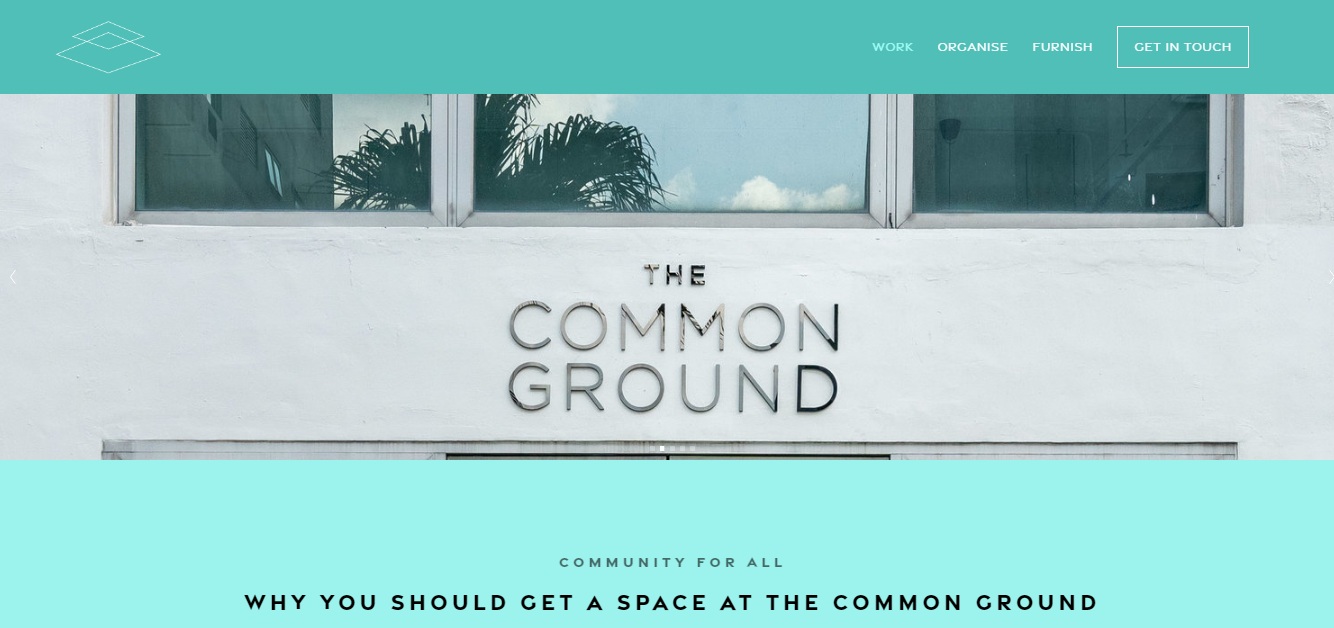 | | |
| --- | --- |
| BEST FOR | 24/7 Available Facilities; Fair pricing |
| FACILITIES | Virtual Office, Private Suite, Fixed Desk, Event Spaces |
| PRICING | Starts from $100/month per company |
| WEBSITE | |
| ADDRESS | 12 Arumugam Road LTC Building B #01-01 Singapore 409958 |
| CONTACT DETAILS | |
| OPERATING HOURS | Open 24 hours a day |
The Common Ground has five different facilities available for utilization for various purposes such as the actual work space, co-storage, event spaces, furniture, and gym. This co-working space is open 24/7 to address your need for a convenient and cost-effective working environment. It is also strategically located just outside MacPherson MRT interchange so commuting will never be a problem.
SERVICE HIGHLIGHTS
Highly accessible- good location and 24/7 service

Membership subscription

Offers chic office furnishing solutions

Events spaces can accommodate as much as 250 persons
19. The Harmony Space
BEST FOR

Conference Facilities

FACILITIES

Standard Private Office, Hot Desk, Virtual Office, Meeting Room

PRICING

Contact establishment for quotation

WEBSITE

ADDRESS

111 North Bridge Rd, Peninsula Plaza #13-01, Singapore 179098

CONTACT DETAILS

+65 69777 299

OPERATING HOURS

Monday – Friday: 9am–6pm
Saturday – Sunday: Closed
The Harmony Space believes that affordable rates don't have to compromise the quality of service, and that's why it's one of the best in the market. At very reasonable rates, you will find a perfect place for you in their facility. 
Making sure that the environment is nothing but supportive, even the smallest of business is sure to flourish in their arms. So, if you want to reach success at a considerable amount of time that not only makes your company bigger, but also make you grow as a businessman., then better check out The Harmony Space!
SERVICE HIGHLIGHTS
Air-conditioning available beyond normal operating hours in common areas
No setup costs and monthly overheads
High speed broadband to support your business
Print and Scanning
20. WEWORK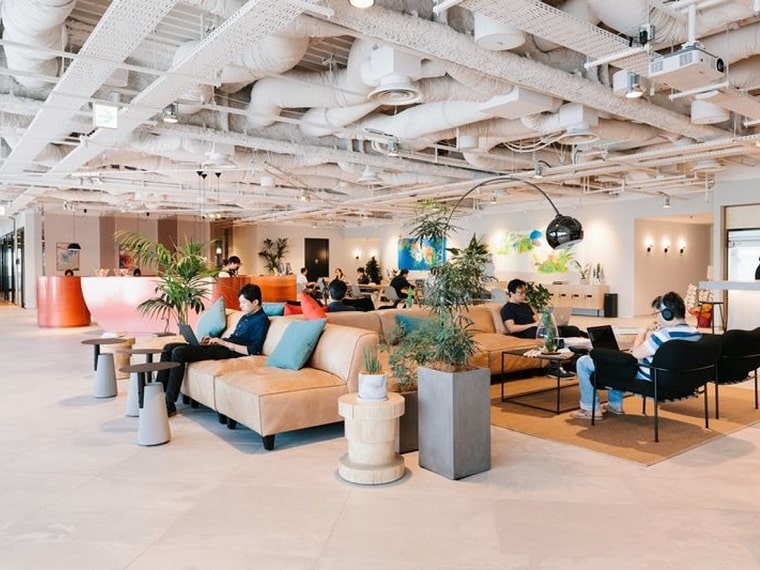 BEST FOR
Networking & Collaborations
FACILITIES
Super Fast Internet, Daily Cleaning, IT Support, 24/7 Building Access, Global Network, Office Supplies, Craft on Draft, Bike Storage, Business-Class Printers, Micro-Roasted Coffee, Mail & Package Handling, Private Phone Booths
PRICING
Private Office: From S$1,100/mo
Dedicated Desk: From S$500/mo
Hot Desk: From S$520/mo
WEBSITE
https://www.wework.com/l/singapore
ADDRESS
9 Battery Road
Singapore 049910

109 North Bridge Road
Singapore 179097

380 Jalan Besar
Singapore 209000

22 Cross Street
Singapore 048421

15 Beach Road, 2nd Floor
Singapore 189677

36 Robinson Road
Singapore 068877

71 Robinson Road
Singapore 068895

60 Anson Road
Singapore 079914

8 Cross Street
Singapore 048424

2 Science Park Drive
#02-06 Singapore 118222

5 Temasek Boulevard
Singapore 038985
CONTACT DETAILS
 +63 2 626 3187
OPERATING HOURS
Mon-Fri 9am-6pm
WeWork not only has a global network; they also have several branches of co-working spaces in Singapore. They are located in trendy work areas to help workers find a conducive environment to get their work done with all the conveniences of a modern workspace.
SERVICE HIGHLIGHTS
24/7 office access for members
Well stocked pantry
Micro-roasted coffee and craft beer on draft
Refreshing fruit water
Printers
CUSTOMER REVIEWS
With 11 branches in Singapore, you'll never ran out of co-working spaces. They do not have a lot of Google Reviews yet, but they have already been featured in a number of lists of top co-working spaces in Singapore.