The 29 Best Rated Coworking Spaces in Singapore
Are you a freelancer who no longer has productivity in a work-from-home setup? Well, maybe now's the time to consider shifting to coworking spaces.
For today's article, we've rounded up the best coworking spaces in Singapore to make things easier for you. You'll get to know more about them today and what makes them a hit among startups and freelancers.
Before we reveal where these coworking spaces are located, we're going to share the expected cost of renting one, so you know how much money you need to shell out.
The Best Coworking Spaces in Singapore
It's time to move on to our picks for the top coworking spaces in Singapore. Check them out below to see which one can provide your ideal working setup as a freelancer or a startup owner.
1. REGUS
Similar to our previous pick, Regus is a coworking space with an international network, allowing its members to work in any part of the world, including Singapore. It houses global companies, startups, local businesses, and every business in-between.
Regus may be the perfect coworking space for you if what you're after is flexible terms. It doesn't pressure its customers with long-term contracts, and makes it easier for them to move locations or add more workstations.
In terms of facilities, it has everything that freelancers and startups need in order to be productive: dedicated desks, meeting rooms, private offices, business lounges, and even snack bars.
Those who rent a dedicated desk of their own can even personalise their workstations, which can definitely boost their productivity. No need to worry about other people meddling with your workstation either.
We believe that it's safe to say that Regus is a coworking space perfect for corporations and startups from any type of industry.
Customer Reviews
Here are some comments shared on Google Reviews:
"Reachable and responsive Regus team are definitely the plus point, the scenery has you staying sitting in this beautiful office. Virtual offices are ideally designed for oversea investors to have an initial setup prior to strategic full scale operation. The Office in One Fullerton had its decisive location where it is easy for access and design to fit as the connecting hub of island wide. May the Regus One Fullerton Team uphold the quality service and greatly appreciate the help given."

-Chin Wee Chong

"Right in the heart of town, the most accessible perfect workspace for professionals. Great ambience and state of the art amenities. Not only are the workspaces conducive, service is top notch and the meeting rooms are well furnished with hi-tech visual and sound equipment. Major thumbs up!"

-Charlene Pillay
2. The Great Room
The Great Room can motivate anyone to be productive through its gorgeous interiors and top-notch facilities alone. It's a coworking space designed by a hospitality designer, so it's built to increase casual collisions and heighten productivity.
It offers a variety of membership options that match the needs of both freelancers and startup owners. Freelancers may choose between a day pass or hot desks, while startups owners may settle with either a private office or virtual office.
In terms of location, The Great Room's branches are strategically scattered all over the island's hot spots, making them easier to access by anyone. There's nothing to worry about as long as you know how to commute.
Another thing we like about this coworking space is that tenants are given the chance to mingle with each other through regular social events.
Aside from social events, The Great Room gives its business clients a chance to network and interact with fellow entrepreneurs through its business club. It's for individuals who want to be part of a like-minded community and widen their network.
Customer Reviews
While The Great Room is technically just one entry in this list of the best coworking spaces in Singapore, it actually has several locations.
Of their three locations, The Great Room in George Street has the most Google Reviews. The one at Centennial Tower is the most highly rated, though (with a perfect 5-star rating).
People laud their staff for being attentive and providing a 5-star hotel experience. The plush decor and swanky digs make this an ideal choice for professionals.
Many patrons note that this is one of the best coworking spaces in Singapore when organising business meetings and client appointments. Meanwhile, some also praise them for their happy hour reserved for members — so they can relax after a hard day's work.
3. The Hive
The Hive is one of the many coworking spaces in Singapore with multiple branches islandwide, but there's more to it than its accessible locations.
For one, it treats its tenants with a gorgeous overlooking view of the Marina Bay Sands, which can help increase their productivity. Who doesn't love looking at Singapore's urban landscape while working, right?
Another thing we like about The Hive is the fully equipped private rooms and desks that promote creativity and productivity. All essential tools will be kept at a close distance as well, whether it's a printer or a fax machine.
If you want to take a break from work, you can go up the rooftop where you can have freshly roasted coffee every day. You can admire the view while sipping on your coffee and chatting with other people.
This is a great coworking space for creatives, freelancers, young professionals and entrepreneurs looking to network and collaborate. Its multiple locations serve as a bonus as you're able to choose which one is more convenient for you.
Customer Reviews
Take a look at these comments shared on Google Reviews:
"Charming setting for a co-working space. Much better energy and good vibes compared to most other shared office spaces I've personally worked at in Singapore. Really helpful and friendly staff, tasteful furniture especially in the lounge and co working spaces that feel luxurious. Lots of places to grab a bite nearby and given the location is right by Clarke Quay, great views for a mid day walk / meeting / call / whatever by the area. Would highly recommend it."

-AK Hemanth

"Our team has had a fantastic experience working at the Hive in the hotdesking areas. The best thing about the shared space has to be the community vibes and great coffee. The team is super helpful in any requests that we had. Would highly recommend any smaller business to try the office spaces out!!"

-Jake Burgess
4. JustCo
If you're looking for a coworking space that leans towards the hip and millennial crowd, then look no further than JustCo. It landed on our list for two main reasons.
JustCo is a coworking space designed like a cafe, so freelancers and professionals used to working in a cafe environment will feel right at home. It definitely stands out in a pool of coworking spaces that feel like corporate offices.
There's more to it than its "Instagrammable" and stylish interiors. JustCo is also equipped with everything that employees need to be productive, including printing facilities, ergonomic furniture, and even in-house entertainment.
We strongly recommend checking it out if you're a startup owner chasing after flexible rental terms. JustCo is more than willing to adjust your contract in case you need to decrease or increase the number of your workers.
Customer Reviews
Here's what customers had to say about its branch at Collyer Quay:
"The best part of this office besides the standard coziness and work-friendly amenities, is the effort the staff put into to make you feel at home. The welcoming vibe every morning just brightens your day, and they are really on the ball to handle any assistance you might need day-to-day. Special mention to Aisyah, Farah, Suhailah and Mai who are always ready to greet you with chirpy, bright smiles (behind the masks, I might add), and you could see how they are trying to bring the community together with their enthusiasm and professionalism. Even the office cleaning lady's friendliness is infectious. The location is also a big plus for those looking for a convenient work space to pop in to take a call, have a meeting, or finish that pesky proposal in a relaxed yet conducive environment."

-Scarlett Chong

"I love this office location! Great view of the Marina Bay area, conveniently located near affordable food options. The ambience is great too, clean and well-maintained. Last but not least, staff are responsive to your requests and genuinely friendly."

-KL Hokkien
5. O2Work
Locals know o2Work for its eco-friendly workspace that allows members to balance a regular life with work easily. The team behind O2Work has conducted a space that inspires and boosts creativity and productivity.
The coworking space at O2Work offers a place for growth and development among peers. Here, you can learn from your work and the people that you're surrounded with. Not only that, but you can even utilise the meeting rooms, event spaces, and office space that are functional and more affordable than most options in the market.
You won't have to worry about strict rules and payment dates as you can create your own lease with O2 Work's flexible plans. With them, you'd surely find a working space fit for your needs and your budget.
Customer Reviews
Here's what a customer had to say about his experience at O2Work:
"I have used this office multiple times. Great location, spectacular view of the city and a unique green space that is warm and pleasant to work in. The staff are one of the best parts… friendly, flexible and accommodating. The other office patrons are very nice… everyone is cordial. During these covid times, it is very relieving that everyone here wears a mask, and excellent for health and safety. I saw quite a few offices before I found this one, and I am glad I did."

-John Hamalian
6. Camelot Suites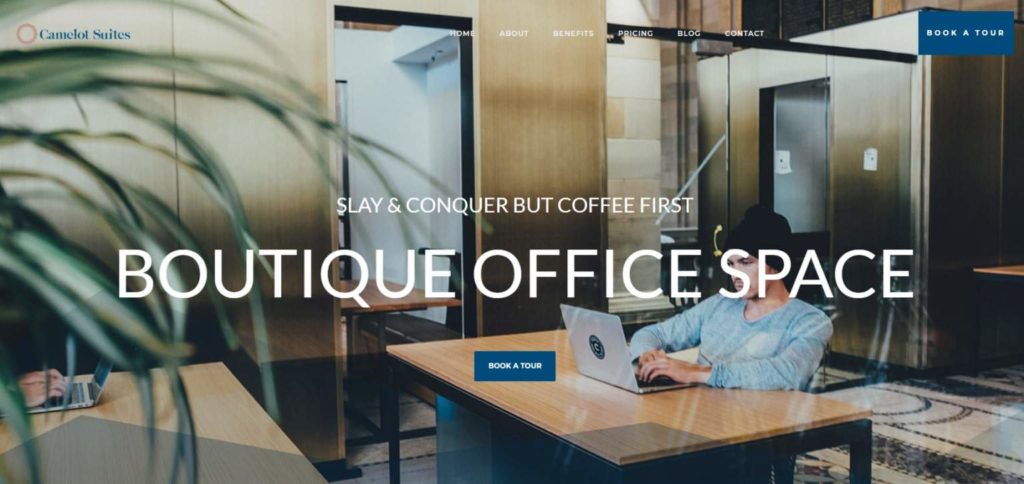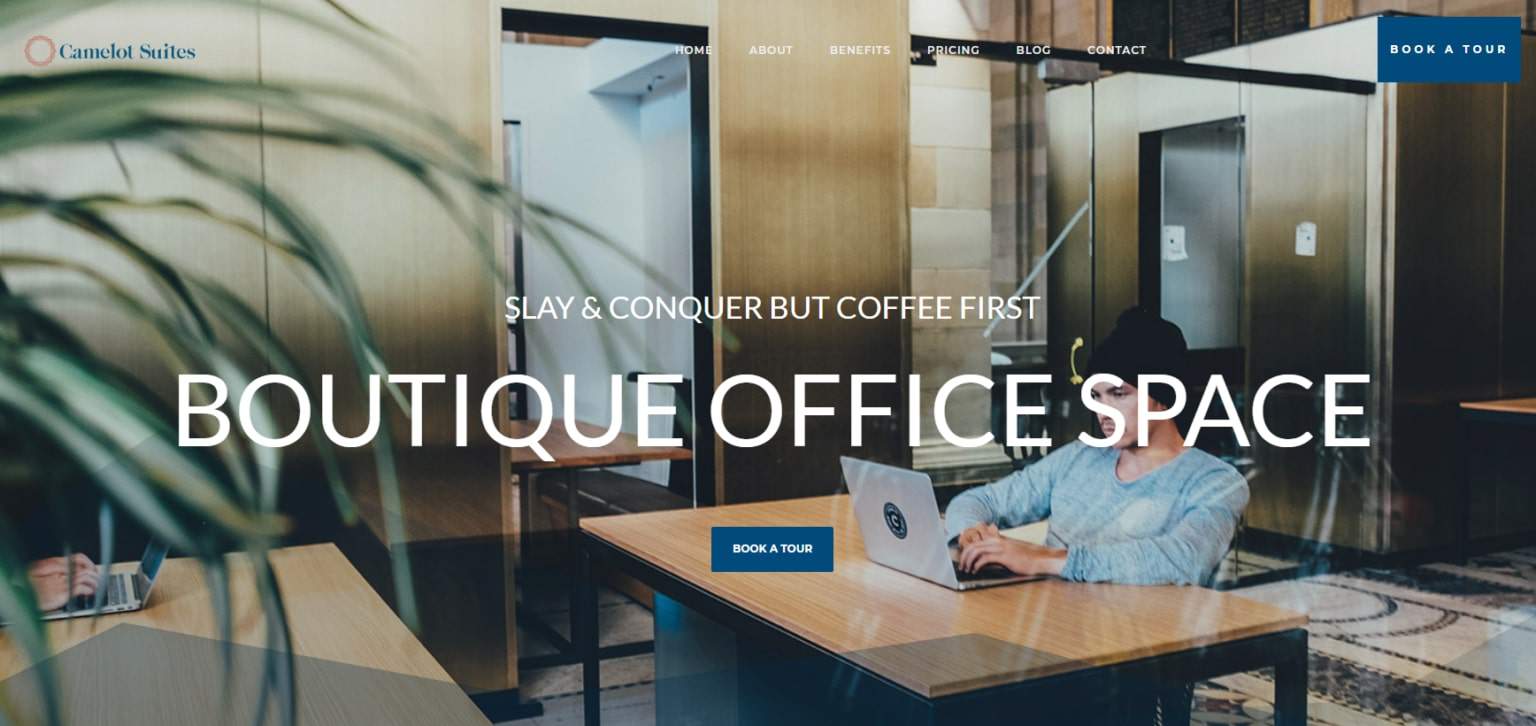 Camelot Suites creates an environment that allows anyone to focus on their work, which is what you should be looking for in a coworking space.
It stands out from other coworking spaces because it's a boutique one, so it's meant only to house only a few people. It's made up of a small and friendly community of freelancers, creatives, startup owners, and everything in-between.
Camelot Suites may not be as huge as other coworking spaces, but it has the features of the best coworking spaces in Singapore: 24-hour access, free coffee and tea, accessible location, modern interiors, and stable Internet connection.
However, its desks and private offices can only be rented on a monthly basis, so it doesn't hit the mark if what you're after is a one-time day pass. The monthly rates for its dedicated desks are reasonable, though.
7. LEVEL3
LEVEL3 is a coworking space that brings together startups, corporates, and ecosystem partners to drive innovation and create new partnerships that deliver meaningful business impact.
Apart from housing these individuals and businesses, what it does best is to create an environment that allows every member to interact and network with each other, which can benefit both parties in the long run.
LEVEL3 operates on a membership basis, so one can only enjoy its benefits once they sign up for any of its coworking plans.
It offers personal desks and hot desks to corporate employees and freelancers who want a private space that motivates them to be productive. The price range for these is between $400 to $650 a month.
For small teams who prefer a bigger and more private space, then we recommend choosing its suite offices. Every member of your team will gain access to individual lockers through this plan as well.
Members of a startup can be entitled to a 10% discount as well, which applies all of its available plans, so it's indeed a perfect choice for those who have just started and are looking for a coworking space that doesn't hurt their budget.
Customer Reviews
Here are comments shared on Google Reviews by past visitors:
"A huge space to hold big crowds of meetups and conferences. Sits inside Maple Tree Business Centre. I only got to see this during the Startup Guide Singapore Meetup and got overwhelmed with the moving crowd. They served decent food and overflowing beers and wines! Just perfect for big meetups!"

-Aucyn F

"Pleasant co-working space at the fantastic Mapletree Business City. It has all that you need, which is the right environment, professional co-working team, excellent facilities, and at a reasonable price. After one year and 1/2 there I genuinely recommend it."

-Juan Carlos C.
8. The Co.
If you want a coworking space that regularly holds social and industry events, then The Co. may be the perfect match for you. Here's why we included it to our list:
For one, it keeps everything simple with clean and minimalist interiors and aesthetics. It doesn't overpopulate its coworking areas with unnecessary clutter that do nothing to boost the productivity of its visitors.
Second, there are two locations in Singapore alone, with the branch along Duxton Road serving as the main branch. It's found near hip restaurants and bars, so looking for places to unwind after a long day at work is as close as walking a few blocks.
Through its frequent events, freelancers and startups owners will be able to increase their network. It can actually hold all types of events, including launch parties, team building, corporate get-togethers, and social nights, among others.
It's not the largest coworking space in Singapore but it can provide anything you need as long as you're not searching for anything fancy.
9. The Working Capitol
The Working Capital offers some of the cheapest rates for a coworking space here in Singapore, so we strongly recommend it to those looking for spacious working space that doesn't hurt the budget.
It may have one of the most budget-friendly rates on the island, but that doesn't equate to mediocre facilities and services. We wouldn't add it here if it provides poor services, obviously.
Its customisable and flexible plans make it a perfect choice for startups and small business owners as they're allowed to change inclusions depending on the growth of their company. No worries about being tied down to strict and unfair contracts.
When it comes to location, The Working Capitol is close to restaurants, bars, shoppings malls, and even hawker centers. You will never run out of lunch and dinner options, even of after-work hangout places.
It's quite close to gym and fitness areas as well, so members will now be able to squeeze a short workout while taking a break from work.
The icing on top of the cake would have to be the beer garden, where members will get to enjoy one bottle of beer everyday. It's quite rare for coworking spaces to have this type of service.
Customer Reviews
Here are some comments posted on Google Reviews:
"The Working Capitol is a co-working space that is just over a year old. It's located in the heart of Chinatown which makes it accessible to a lot of areas. There is an MRT that is less than 5 minutes away and the CBD is also about 5 mins away. The working environment is great. Tons of interesting people who are working out of there and they also give access to members to some awesome events – the last one I attended was one done by Mashable. The staff is very friendly and accommodating and the space is designed really well. I work on my own so being here is great for me as I met many people who I have connected with for work – way better than working in a service office (which is what i was doing before). Highly recommended for entrepreneurs and small companies."

-Anjali Datwani

"Gorgeous co-working space, with loads of natural daylight and an active community from all walks of life. Great place to work, huge events space for up to 200 pax in a walk up shophouse with brand new facilities."

-Pamela Sng
10. 80RR
With more than 50 years of experience, 80RR has grown into one of the most trusted coworking spaces in Singapore, catering to both freelancers and startups. It earns a spot here for two main reasons.
First, it's conveniently located at the heart of the Central Business District, so gaining access to it won't be a problem for anyone. It's close to different shopping malls, restaurants, bars, and cafés as well.
Second, it comes with full-range facilities: hot desks, dedicated desks, private office, meeting rooms, training rooms, seminar rooms, and event spaces. All these are accessible as long as you're a member.
However, 80RR isn't here to cater to any type of business, as it was set up mainly to support fintech business. As of writing, it's currently housing 50 fintech companies of all sizes and backgrounds.
Regardless of the type of companies it accepts, we had to include 80RR to our list mainly because of the endless list of benefits that its members will get to enjoy.
Customer Reviews
80RR boasts a near-perfecting rating of 4.9 out of 5 on Google Reviews. Here's what previous visitors had to say about it:
"It is an open co-working space with quality sound proof pods, and many conference rooms to cater for groups who require scheduled meetings. They have a nice pantry area for your meals, with good coffee/beverage machines with some home appliances to heat your food. As an open concept in mind, you can literally work "anywhere" within the premise. Generally, it is safe to leave your items around, and for a peace of mind, with a small fee you can rent a storage compartment to store your things. The rental pricing is well worthy, with value-added complimentary hours to use the conference rooms and limited free printing and copying. Do check it out, and I believe that it will be a nice place for your company/yourself to be stationed at, be it temporary or a long period of time!

-Verticys

"Fantastic coworking and event space. The place is cosy and comfortable for working as well as relaxing. They have all kinds of features as well as some privacy soundproof pods for all the users to use. Also, they have a group of friendly and helpful staff. Two thumbs up"

-Ellie Teng Chen Yuen
11. ClubCo
ClubCo is a coworking space that offers tailored working solutions according to your needs and budget, so there's no need to pay for packages that come with unnecessary inclusions.
As with most coworking spaces in Singapore, it's located at the center of the CBD. What makes it stand out though is that it's open to everyone, regardless of their scale of work, size of business, and industry.
Whether you're a freelancer or an entrepreneur, you can sign up for any of its membership plans, which by the way, are all budget-friendly.
For freelancers and contract workers, we recommend choosing either fixed desks or hot desks. Both of them come with round-the-clock access, high-speed Internet, mail handling services, and complimentary coffee and tea.
It comes with private offices as well, which are in-demand among small teams and startups. These come with 24-hour access, complimentary soft phone line, complimentary drinks, registered office address, and high-speed Internet, among others.
Based on its customisable packages, we'd like to recommend it to small businesses and startups looking for a coworking space that can cater to their needs without going beyond their budget.
12. The Executive Centre
The Executive Centre is another coworking space with a global network that reaches other parts of Southeast Asia, North Asia, Greater China, India, Australia, and even the Middle East. It earns a spot here for two main reasons.
For one, it has a total of six branches in Singapore alone, allowing it to accommodate more local businesses without overpopulating one location. It continues to grow as its domestic clientele continues to expand.
Second, its coworking facilities are unlike what you can find in a regular coworking space. Each branch comes with Timothy Oulton furnishing, Herman Miller ergonomic chairs, height-adjustable standing desks, barista bar, and keyless locking system.
Another thing we like about The Executive Centre is the community of like-minded individuals, all of whom are driven by their goal of seeing their small business succeed. No member would ever like a fish out of water because of its welcoming environment.
However, it doesn't have the most budget-friendly rates on the island, so you might want to think twice before signing up for a membership. You'll understand why it has one of the highest rates in Singapore, though.
Customer Reviews
Take a look at this feedback shared by a previous customer:
"Booked here a few weeks back and was absolutely pleased with our meeting room. Room was very clean and the lighting was great. Some might find the room a little warm though. Their complimentary coffee tasted very well. Very great lounge as well, not too quiet and loud. In the meeting rooms, you will have your privacy without the trouble of hearing the hussle and bussle of the street. Staff was very accommodating and professional. They're also highly considerate and service-oriented. They recommended us a better room ahead of our schedule. It's a little pricey but, this is worth the price if you need to impress a client. Hassle free booking and transaction. The process was quick and easy."

-Dino Dans
13. Ezco Workspace
Ezco Workspace admits that it's not one of the fanciest coworking spaces out there, but it knows that it can provide its members with a conducive workspace that fuels productivity.
It has two locations in Singapore: one in Shenton Way and another one along South Bridge Road. Both branches can only accept a limited number of people due to limited space, but everyone is welcome to sign up for a membership.
What it lacks in space it makes up for extensive facilities that every member can enjoy, from unlimited use of meeting rooms down to free access to gym and shower. Members even use its swimming pool if they want to take a short break from work.
If most coworking spaces offer their meeting rooms on a limited basis, Ezco Workspace allows members to use them as long as they want, provided that no other people are in line to use them.
For what it's worth, Ezco Workspace is worth checking out if you're not looking for anything fancy but simply want a space that's designed for productivity.
Customer Reviews
Here's what a member had to say about their experience:
"Great coworking spot. Has an awesome rooftop breaks pot with views to Boat Quay. Boat Quay is just around the corner with great food and after work options. The coworking space has a mixture of hot desks and private offices and meeting rooms. If you are looking for a coworking space to grow out of in Singapore you need to check out EZCO Workspace."
14. Thinkertank
Tinkertank is one of the few coworking spaces in Singapore that cater to creative individuals, such as photographers, graphic artists, and designers. It aims to be a shared space that brings out both productivity and creativity.

Unlike most coworking spaces, it's not strict when it comes to what members can do or not do. Its industrial-style studio is made up of private offices and dedicated desks that members can design to turn into their own personal space.
This is the coworking space for you if you're not interested in a working environment that feels like a typical corporate office. Tinkertank's entire atmosphere is like being on a camping trip with your friends, which is what makes it unique from others.
Aside from the private offices and desks, there are several common areas where members can hold events and do shoots for their projects. The rates for these are much cheaper compared to most coworking spaces.
For what it can offer, Tinkertank is the coworking space you should be chasing after if what you want is a space that encourages freedom and individuality.
15. CoQoons Coworking
CoQoons is conveniently located at HarbourFront, only a few minutes away from MRT and VivoCity, the island's largest retail mall. It landed a spot here for three main reasons.
First, its customers will get to enjoy a relaxing view of the ocean and greenery, which can be a huge help for their productivity. Who wouldn't get motivated to work when you're in front of such a breathtaking view?
Second, it's designed to house at least 100 individuals to avoid overcrowding. If other coworking spaces will accept as many customers as possible, consider CoQoons different.
Lastly, all customers, regardless of their chosen plan, will benefit from its long list of perks, such as shower rooms, pantry with daily refreshments, pool table, and locker storage, among others.
Customers who avail of its dedicated desks and private rooms will get to access them anytime of the day, even during midnights. Those who choose hot desks will only get to use them for nine hours a day, though.
Customer Reviews
As one of the best coworking spaces in Singapore, it's received mostly praise from its members. Here's what some of them had to say:
"We booked the space for a month due to office renovation. Great working spaces. There are large rooms where you can have private meetings and also pockets of spaces where you can find a quiet spot to work when you need to be alone. Great staff service too – to give little helps where required. Free flow of coffee and tea. Quite often, you get members' contributions of tidbits from their home town that spice up the pantry too."

-RK Tang Tan

"Coworking with a view. Very friendly staff and warm welcoming. Hot Desks available at a very competitive price. Close to Harbourfront MRT. Perfect if you are looking for a very nice and quiet place to work in Singapore."

-Grégory
16. Coworking Spaces
Coworking Spaces isn't technically a coworking space in itself. However, we're still adding it here because it's a great way to connect with them.
This is an online platform that helps freelancers and startups find the right coworking space that matches their needs and budget. There are hundreds of coworking spaces in Singapore alone, so looking for the perfect one is easier said than one.
Whether you're a contract worker or running a small business yourself, you can get hold of Coworking Spaces. The best part about it is that you won't have to shell out anything, not even a dollar.
It's worth noting that it doesn't rely on algorithms or artificial intelligence, so what will be recommended to the user is carefully reviewed and handpicked by an actual human to make sure that it hits their preferences.
17. The Common Ground
The Common Ground is a coworking space that not only enables its members to become productive, but live a healthier lifestyle as well. It comes with five different facilities, including a gymnasium, that can be accessed anytime by its members.
It may seem like an average coworking space, but there's more to it than its spacious private offices and fitness centres.
The Common Ground is open 24 hours a day, seven days a week, allowing its members to come in and work any time of the day. It's a perfect choice for those who have a different working schedule than most people.
In terms of location, it's only a minute-walk away from MacPherson MRT interchange, so reaching it shouldn't be a hard time for anyone.
The Common Ground comes highly recommended to local startups due to its affordable office spaces and full-range facilities. As business owners, you don't have to worry about the responsibilities of running an office because those will be taken care of for you.
Another reason we added it to our list is its diverse community of business-minded people, which is perfect for those who want to build their network and increase visibility.
18. The Harmony Space
With its budget-friendly rates, The Harmony Space proves that no professional or startup needs to go above their budget in order to gain access to a conducive working environment. It earns a spot here for the following reasons:
First, it's open to companies of all sizes and industries, even the smallest of businesses is sure to flourish within their premises. In fact, it's currently housing both established companies and young businesses.
More than that, all tools and facilities needed by its members to get work done are available from morning until night, including printers, scanners, meeting rooms, private workstations, and of course, stable Internet connection.
Lastly, there's a friendly and supportive environment that motivates business owners and their employees to reach their monthly goals and quota. As per previous customers, they felt like they're part of a community during their stay at The Harmony Space.
However, it doesn't hit the mark if what you're after is customisable coworking plans and unlimited access. Most members tend to look past that given that it offers some of the lowest rates on the island.
19. WeWork Singapore
As one of the most prominent and in-demand coworking spaces in the world, we couldn't help but include WeWork to our list. It's rightfully earned its spot here though.
WeWork has a total of 11 branches scattered all over the island's trendiest districts, making it one of the most accessible coworking spaces in Singapore. There's no need to commute for half an hour because we're sure there's a branch near where you are right now.
It houses all types of professionals of businesses as well, regardless of their line of work and the size of their company. It's particularly famous among large enterprises looking for an expansion outpost for their employees.
In terms of facilities, WeWork doesn't fall short. All customers will get to enjoy its business-class printers, micro-roasted coffee, private phone booths, office supplies, and mail and package services.
The only downside with WeWork is that it gets overcrowded at times given its popularity as well. However, with its growing number of branches in Singapore, its locations will surely decongest in no time.
20. Cosy Corner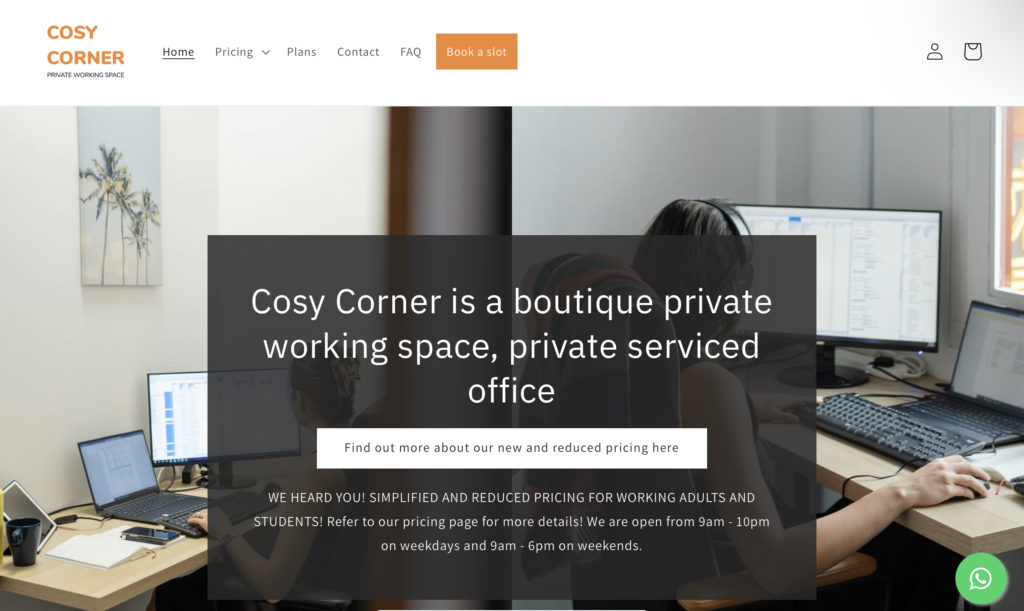 The Cosy Corner is one of the top coworking spaces in the island where professionals and students alike can have the right environment for work and learning.
They provide a lot of amenities including individual rooms with acoustic soundproofing, dimmable lighting, shared printer, WiFi, and many more. We like that they do not only provide comfort, but the complete needs of their clients as well.
Aside from the completeness of amenities, they provide complimentary refreshments and snacks to their clients. The studio space and lighting is also accessible for different projects like photoshoots.
For long term office rentals, they are given 24/7 access to the space. Cosy Corner recognizes that some work might require more or different hours than usual.
In terms of pricing, they offer monthly or daily passes good for one-person or two-person rooms for students and working adults. They also have a membership plan for those who plan to spend more time in their spaces.
Customer Reviews
Here are some Google reviews from their clients:
"I love the space here! I was looking for a space to work and concentrate better and so glad that Cosy Corner opened nearby. Plus point is that you can lock up your room and head off to the many food options nearby for lunch with a peace of mind ✌🏻" – Marissa Goh
"Place is uniquely located with alot of amenities to prep yourself camping for a course or work rush! The rooms is nicely size. I got the single room, away from the window because it was too bright earlier. Otherwise, the room is sized nicely, and not to cramped. Conveniently they have a toilet and a free snack bar too!
10/10 for cleanliness, staff hospitality and amenities within the place itself!" – Muhammad Afiq
21.     The Cocoon Space
If your line of work is along design, creation and creative thinking, The Cocoon Space could be just the right coworking space in Singapore for you. It's an initiative of a group called Textile and Fashion Federation (TaFF), built with creatives and design professionals in mind.
Those who work in the creative field will be thrilled because it's fully equipped with design tools and equipment. It may not be the cheapest coworking space in Singapore, but it's likely one of the best, if not the only one, for designers and creators.
The Cocoon Space's most notable feature would have to be its multiple membership plans that come at different prices, allowing professionals and startups with varying budgets to gain access to its conducive coworking spaces.
The price range of its membership plans start at $224.70 and can go as high as $3,852, so we think it's unfair to call an expensive coworking space. Its rates for virtual offices, on the other hand, can go as low as $96.30 per three months.
All these plans are flexible as well, allowing its members to cut their membership short or add more inclusions to it, depending on the situation of their work. There are no strict contracts that will tie down members for months or years.
The Cocoon Space isn't all about work. It has a specialty coffee shop where members and visitors will get to taste speciality coffee while taking a break from work.
22.     CoCRE8
CoCRE8 is a coworking space that operates day in and day out, allowing its members with busy schedules to use its facilities past regular working hours. It earns a spot here for the following reasons:
For one, it can cater to those who need only a one-time day pass and those looking for a dedicated desk or private office that can be rented on a monthly basis. Its rates are cheap too because members don't have to pay for what they need.
Second, you cannot get more central than CoCRE8. It's only a three-minute walk from Orchard Station, so it's extremely accessible to everyone.
Lastly, its facilities are designed for productivity and comfort. Visitors and members will get access to large desks, ergonomic chairs, spacious conference rooms, and high-speed Wi-Fi connection, among others.
The best feature about CoCRE8 would have to be the access to natural light. Only half of its walls are windowed, allowing natural light to enter and cultivate the physical and mental well-being of its customers.
With the amount of perks that come with a membership, it's surprising that CoCRE8 has some of the cheapest rates for a coworking space in Singapore.
Customer Reviews
Due to its central location and affordable rates, CoCre8 has garnered a fair number of reviews online. Here's what a member had to say:
"Came here to study under the hotdesk one day early bird promo. Very spacious with extremely helpful and friendly staff. Noise level quite moderate, will get noisier during lunchtime, as expected from an office space. But, you can use the 2 telephone rooms available for your zoom or conference calls."
23.     Distrii
If you prefer a co working space in Singapore that knows what it does best, you might be interested in what Distrii has to say. Distrii proudly and clearly states that they specialise in 4 areas of expertise: Shared offices, workspace design and customisation, smart office solutions and corporate / administrative services.
Distrii is a Chinese company with 8 offices around China, and Distrii Singapore is their first international office. Distrii Singapore occupies 6 levels of the Republic Plaza, spanning 62,000 square feet with over 900 work stations, team spaces, private offices and meeting rooms.
This makes Distrii a perfect co working space in Singapore for large groups or a huge start up. Distrii also has in-house F&B partners: Hans Im Gluck and Mellower's Coffee bar so coupled with their administrative services, Distrii provides a truly corporate co working space in Singapore.
Customer Reviews
Distrii has built quite a strong impression in Singapore since they opened in 2016. Here's one of the more detailed and comprehensive reviews about Distrii Singapore from Tina Shroff:
"One of the best places to work out in the CBD. If you're looking for a co-working space or short term leases with excellent benefits and tie ups for you and your employees / organisation, this is the place for you.

If you're looking for a hot desk space with good layout and space – this is for you too. The staff go out of their way to ensure the satisfaction of their clients. They're warm and friendly and always take great initiatives to keep their clients happy and provide them with some or the other benefits / associations.

We've had gatherings and get-togethers arranged by Distrii where we interact with other people from different organisations which was so much fun. They're flexible and helpful.

The ambiance is great and keeps you motivated to come in to work everyday and give your best. The association with Tower Club is an added perk to woo your clients. 5 Stars are not enough for the wonderful team at Distrii!"
24.     Found8
If there's a coworking space in Singapore that knows all about having teams in multiple locations, Foun8 would be it. They have 3 central locations in Singapore, and one KL Sentral location in Malaysia.
Most work spaces in Singapore are centrally located, but Found8 has three locations scattered across the island: Amoy, High Street and Tanjong Pagar. Found8 allows members to access workspaces interchangeably across Singapore and Malaysia so this is perfect if your company runs businesses between the two countries.
Found8 also has a multitude of meeting rooms and event space options, all of which you can view here. And it's also more than just a co working space in Singapore: they also invest in early-stage start ups with Aurum Investments, their multi-billion dollar venture capital fund.
Customer Reviews
With four locations around Singapore and Malaysia, Found8 has several reviews available online. Here's one from Robert Lai, who has this to say about their Amoy office:
Being a foreigner to the country – i felt right at home right away when greeted by the team here at Found8 Amoy. Their onboarding program was excellent and genuine.

People offer help on their website but never in-person, at Found8 they back it up and made me sit into a one-hour onboarding that I was skeptical about but actually added a lot of value to me.

The facilities are all i need to operate and grow my business and ideally located also. The community here is especially great having met founders and professionals of all different walks of life. Highly recommend.
25.    Gather CoWork
A coworking space in Singapore that's pet-friendly, encourages socialising and work-life balance? Yes, it exists and they have aesthetically calming interiors too.
Gather CoWork understands that every company has different workspace needs so they specialise in creating bespoke spaces. Whether you need a fully furnished office or a space to host a function, you can easily book your required co working space in Singapore with Gather.
And because they encourage socialisation and networking, all their common areas are designed for people to be able to easily convene and communicate. Your new work space in Singapore might just be the venue for your new social circle!
26.   The General Room
As a co working space in Singapore, The General Room is aptly named. It has the formal, no-frills yet sleek interiors like that of a no-nonsense General, and at the same time, it provides all general needs of a company.
In a world of co working spaces trying to modernise and out-trend one another, The General Room offers something refreshing. The reliability and efficiency of a sleek, formal work space.
The General Room is great for those who need a formal setting for meetings with high-profile clients or partners. They have a very central location in Orchard Road and Somerset and is one of the rare co working spaces in Singapore that offers free trial.
Customer Reviews
The General Room has an impressive five-star rating on Google. Here's what members had to say about their experience:
"Excellent, clean and beautiful space to work in. Calm and relaxing environment. Spacious desks with ergonomic chairs. If you're interested, there's a smart and vibrant community to connect/brain-storm with. Not forgetting a super helpful and professional host too – thank you Pam! Working here is fantastic value for money – highly recommended! :)"

-Sara L

"Cozy place. There are work desks and couches to use. Printer/scanner is also at your disposal with card access. Water cooler, tea, coffee are also available. As well as counter to eat at. Everything you need for comfortable work."

-Dasha Karavaieva
27.   Lionsworld Business Centre
Lionsworld Business Centre is a corporate service provider known for their reasonably priced serviced offices and co-sharing spaces.
Co-Sharing spaces in this hub are wide and airy, furnished with ergonomic equipment to maximise comfort and productivity. Those who wish to gain full access to the facilities and amenities can look to the classic Co-Sharing Package, which also comes with the use of high-speed internet, 24/7 usage of the co-sharing spaces, and even free lunch and dessert on weekdays.
Those who need calls forwarded while they work in Lionsworld can opt for the Call Answering Package, which entails professional receptionists answering the call with personalised messages and instructions. This package also gives a one day access to the meeting and conference rooms.
Aside from their affordability and wide-range of benefits, Lionsworld Co-Sharing Spaces are also known for their convenience. Workers who are interested can easily book a viewing online and later formally sign up with little to no hassle involved.
Customer Reviews
Take a look at these comments shared on Google Reviews:
"Needed to find a place for a last minute meeting. Rented one of their serviced offices for half a day at a reasonable price. Arranged via phone call and came down immediately. Will approach them again if I need office space. Bit dated but serves its purpose for the affordable price tag."

-Wakka Chen

"Their co-sharing space is comfortable and staff are very friendly. Due to covid-19, the seats are reduced but a private room was kindly opened for our use when seats are insufficient. small and comfortable workspace overall"

-Adam Mohammed
28.    Productive PLQ
Productive Paya Lebar Quarter is a workspace that offers affordable day passes. You can also make an hourly booking on their website – you only pay for the time you use the space.
They have free flow coffee, tea, iced water, and snacks. The team is always happy to help you with anything you may need. The space is used by a wide range of people – freelancers, small businesses, solopreneurs, students, and more.
They hold fun and engaging events and meetups for you to network and meet other people who get their work done at Productive. Most interestingly, Productive is a workspace in the day and it transforms into a bar/restaurant by night – you can stay on and meet your friends for dinner and drinks!
They also have a lunch delivery service, you can order food at a discount from nearby restaurants and have it delivered to your spot. They also offer partners discounts – for food and workouts after you're done with work for the day.
Customer Reviews
Productive PLQ is a highly sought after co-sharing space commended for its amenities, cleanliness, and accessibility. See comments from previous patrons:
"Love the quiet and cosy setting, although it's not a huge space. It's good enough to settle down your work and the area is surrounded by greeneries and a close walking distance to endless food options at PLQ. The lemon-infuse water, coffee and snacks were a nice complimentary. Give it a try if you'd need an alternative wfh space."

"Good study space with plugs readily available. They provide drinks and assorted snacks to refuel while studying. They offer an affordable lunch delivery service if you're too lazy or too pressed for time to walk anywhere. If you do have the time, it's within walking distance to Paya Lebar MRT so it's accessible and has lots of food options nearby."

"Conducive setting for work, surrounded by greenery, also has a great alfresco section outside to shoot the breeze. Free flow drinks and friendly staff. All that with a very reasonably priced day pass!"
29.    MOX
If
How would a diverse community of creators and creatives interact?Located within Katong Point, MOX is the first independent design resource workspace for creative entrepreneurs and creative start-ups.A platform for makers, designers, artists and creative entrepreneurs, our members work and co-exist together with experiential retail spaces that showcase their creations and products.Beyond standard co-working features, MOX's members enjoy specialty rooms such as 3D printing, sewing, photo studio, crafting stations, and workshop rooms.The name MOX is inspired by the word 'moxie' which means to be brave, bold and daring. This is exactly what MOX's community exemplifies, the courage to be different.Other facilities available at MOX includes an auditorium space, general workshop room, napping room, and a pantry.
They also have a lunch delivery service, you can order food at a discount from nearby restaurants and have it delivered to your spot. They also offer partners discounts – for food and workouts after you're done with work for the day.
FAQs about Coworking Spaces
---
And with that, we conclude our list of the best coworking spaces in Singapore. Already decided which one to go with? Tell us all about it!
If you know other coworking spaces that we missed out on, don't hesitate to share their names with us so we can check if they're worthy of being added to our list.
If you're an owner of a business, you might want to check out our list of the best office spaces in Singapore for more options. These are choices worth considering if you're looking for corporate spaces as well.