Should You rent office space or do coworking in SG?
If you're planning to set up shop in Singapore, the first thing you should know is that conventional office spaces aren't always a viable option. Instead, you can also consider renting coworking spaces for your employees.
Today, we'll be talking about the differences between coworking spaces and conventional office rentals in Singapore. Costs, facilities, and more—these are just a few of the things that we'll answer in this article.
So if you're not sure which working environment to go for, then read on!
An Overview of Coworking Spaces in Singapore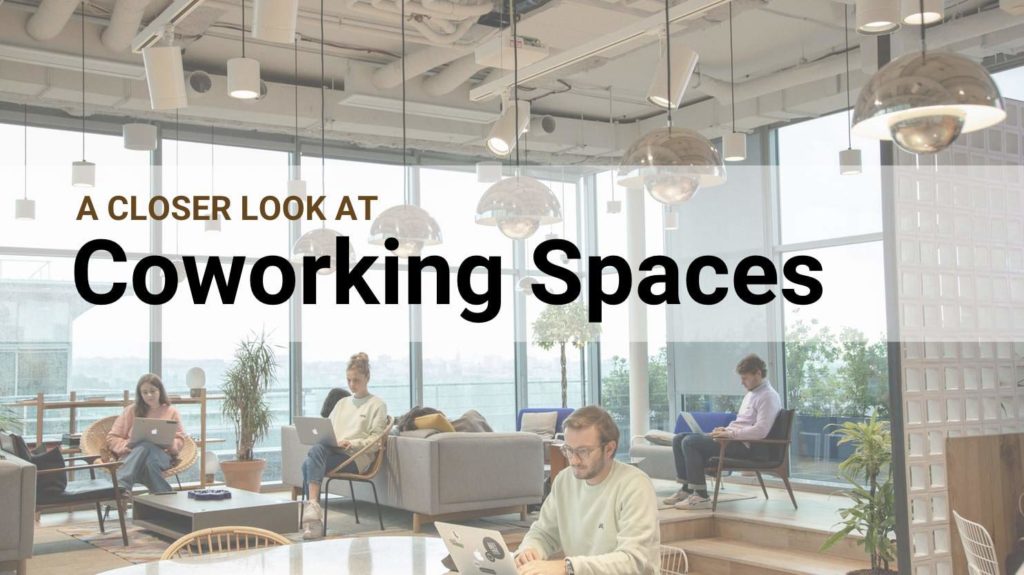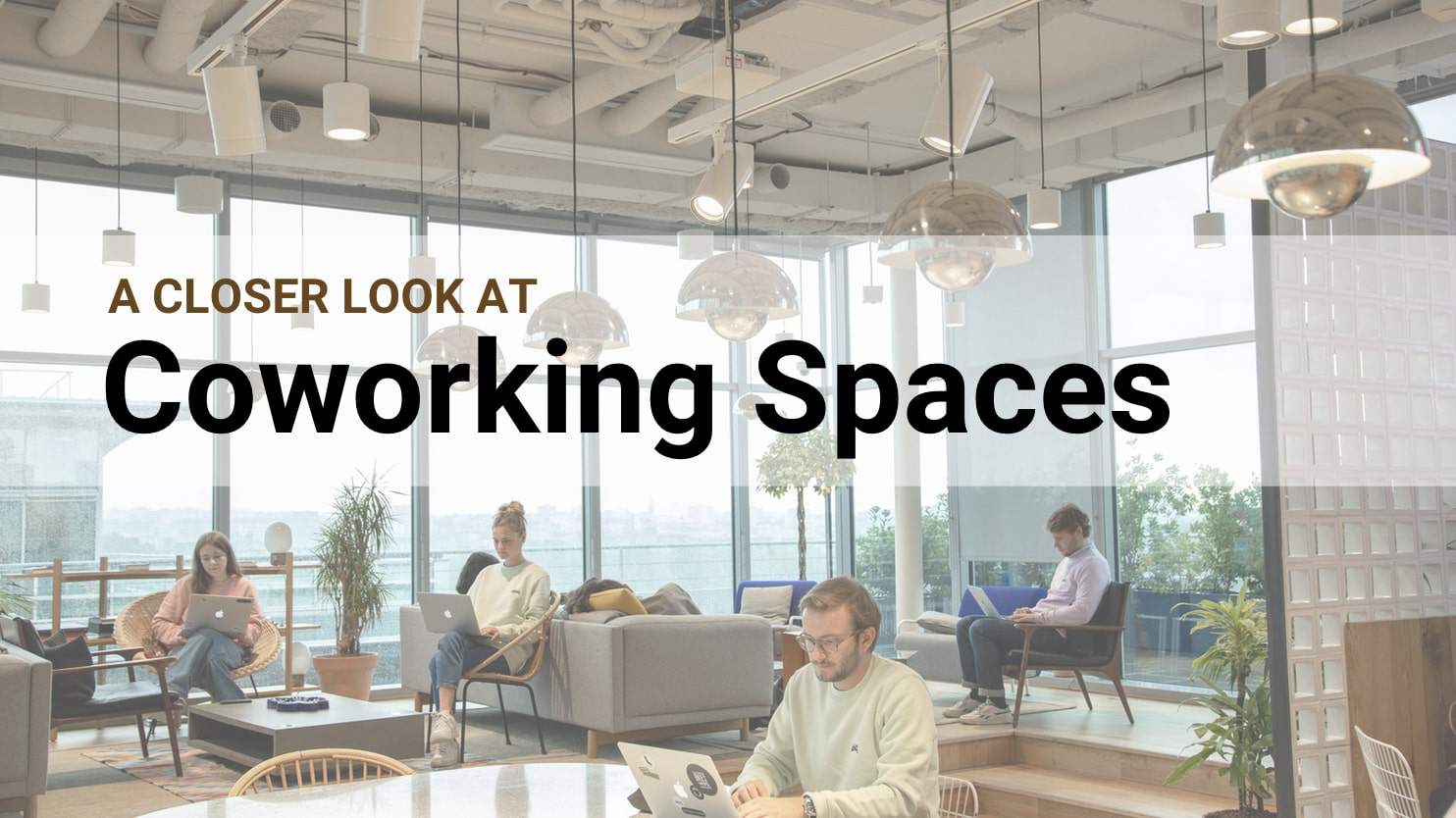 Coworking spaces in Singapore have been around for a few years now. However, co-working really gained traction during the COVID-19 pandemic—and for good reason.
Coworking spaces offer more flexibility to remote workers, startups, and small and medium-sized enterprises (SMEs) in terms of price, amenities, and arrangements.
The main selling point of coworking spaces is that they boost productivity for employees while opening opportunities for networking.
Normally, you have to subscribe or become a member of your chosen coworking space to use its amenities.
There are also coworking spaces that charge clients on the go, meaning that clients can use the space for as short or long a term as they like.
Apart from the open space, there are also private offices that offer even more value-added services, made especially for professionals and businesses with a bit of budget to spare.
There are plenty of coworking spaces scattered around Singapore, each of which vary when it comes to the terms of membership plans and therefore, prices. The majority of coworking spaces in Singapore are located in the central area.
And because there are so many of them, it's also safe to say that each coworking space has its own target market. For instance, some coworking spaces exude a hip vibe—perfect for creatives and young professionals.
Meanwhile, there are some coworking spaces that are carefully designed for new mothers, equipped with play areas for kids, nursing rooms, and other childcare services.
Some coworking spaces are also pet-friendly—so really, there's something for everyone.
Coworking spaces have various operating hours. Some are open 24 hours a day while others open from 9 to 6 PM and close on weekends, resembling typical office hours.
Facilities
A typical coworking space would include an open-concept layout with chairs, tables, and couches that's available for everyone to use—hence, the term "coworking spaces."
This means that those with a subscription can use the space and all the amenities it offers.
Coworking spaces are also equipped with WiFi connectivity, a pantry including coffee or tea making facilities, printers, scanners, telephones, and mail forwarding services, just to name a few.
Take note that some facilities like printing, scanning, shower facilities, and the use of conference rooms may command a separate fee, depending on the coworking space you joined.
Apart from that, utilities are also included in the price you pay. This covers electricity, water, waste collection, and even cleaning services.
Depending on your chosen coworking space and subscription, it may also include value-added services like free snacks and refreshments (including whiskey at times), international access to more coworking spaces, workshops, networking events, and more.
When it comes to coworking spaces, there are several options available, namely hot desks, dedicated desks, and private offices.
Hot Desks
Hot desks refer to an arrangement where you can freely sit on any available desk at a coworking space. We weighed the pros and cons of hot desks below to help you decide whether they're suitable for you or not.
Pros of Hot Desks
They offer a more flexible option to remote workers who don't really need to stay put in one area. In other words, professionals who take the hot desking route are free to move around based on their mood or needs.
There are even coworking spaces with several branches around Singapore that allow you to hop from one place to another——perfect for individual workers who'd like a change of scenery every now and then.
Generally, hot desks are the most affordable option out of all arrangements available in coworking spaces.
Hot desking is usually charged by the hour or per day, depending on your chosen coworking space.
More networking opportunities
Because of the free-seating arrangement of hot desks, this also means that you can share a desk with other professionals with different skill sets, interests, and industry experience.
In other words, there's no hierarchy among professionals using hot desks.
You can take advantage of this kind of arrangement to socialise and collaborate with others.
And who knows? Maybe this would even open more doors for you when it comes to partnerships or even employment.
Cleaner surroundings may improve productivity
Because hot desks aren't fixed to one person, they're generally cleaner and more organised. Personal belongings must be taken home at the end of the day, making it easier to keep the spaces clutter-free.
Hot desks are also tidied up by the coworking space's cleaning personnel each day at no additional cost to clients.
Cons of Hot Desks
Availability can take its toll
Hot desks are on a first come, first served basis. This means that someone else may take your usual spot if you leave your space for a long period of time.
This can also be the case if someone else came in much earlier than you. Depending on how busy the coworking space is, all hot desks may also be full at a given time.
Since desks aren't fixed, this means that you can't decorate your desk in a way that you want. Similarly, there are no lockers or personal storage cabinets that you can use.
Hence, it's important to keep your belongings secure. Any items you may have left may be lost.
Sharing the space with other professionals has its fair share of drawbacks, and that includes having to deal with less privacy and even occasional onlookers.
This can be crucial if your job requires you to handle confidential documents and accounts.
If you need peace and quiet to concentrate on your task, you may have to deal with occasional noise sometimes depending on how busy the space is. Overall, this may affect your productivity.
Not suitable for big teams
Hot desks are designed especially for digital nomads and freelancers, not so much for big teams within a single company. This is because hot desks are essentially available for everyone.
Because hot desks follow a first come, first serve basis, it would be difficult to secure an entire desk for your team. More often than not, team members may have to sit separately, which can also hamper productivity.
Dedicated Desks
In essence, dedicated desks are fixed workstations reserved especially for you. Unlike hot desks, a dedicated desk subscription is usually designed for long-term use.
Pros of Dedicated Desks
You won't have to worry about someone taking your spot with a dedicated desk. This means that you can come in and out as you please, and you'll always have a desk to work on no matter how busy it gets.
Generally, dedicated desks have a semi-private arrangement shared with two or three people, making the area quieter.
This is a step up from hot desking, which in contrast normally consists of six to ten people on a single area or desk.
Dedicated desks also normally come with a storage cabinet where you can securely keep your valuables, important documents, and other belongings.
Dedicated desks allow you to personalise your space up to a certain degree.
For instance, some dedicated desks are equipped with dividers where you can put post-it notes and photos. You can also install a personal computer if you prefer using one for work.
Be sure to check your chosen coworking space's terms and conditions to know what you can and cannot do.
Room for collaboration and professional relationships
Some say that staying put in a designated space for an extended period of time can form better friendships or professional relationships.
It can be easier to initiate conversations with people whom you're familiar with thanks to long-term acquaintance, after all.
Cons of Dedicated Desks
Compared to hot desks, dedicated desks are generally more expensive. This is because dedicated desk memberships require you to subscribe for a longer period of time.
More often than not, membership plans are charged on a monthly basis. You still have to pay a fixed fee even if you use your desk a few times only.
While dedicated desks mean that you won't have to race with others to get a spot, this means that you're confined to one specific desk and location. In other words, you can't sit on other desks and move to other physical locations in case you want a change of scenery.
Often, dedicated desks are also placed in an area away from common areas or collaborative spaces, which can make things feel a bit isolating sometimes.
Being stuck in one area may be problematic if you're seated with other professionals whom you don't get along with. Personality clashes are unavoidable, especially when noise or neatness is concerned.
Private Offices
Private offices, sometimes called serviced offices, represent the best tier when it comes to coworking spaces. They come in different sizes, catering to individual needs or large groups.
Regardless of the size you picked, you and your team (if applicable) will have exclusive access to all its amenities.
Pros of Private Offices
Most suitable space for personalisation
A private office space can literally be considered your own space. You're free to design your space as you wish as long as it doesn't go against the coworking space's policies, of course.
While private offices are fully equipped with furniture, clients have the option of choosing an unfurnished private office.
This means that you can bring your own office furniture and other office equipment such as a printer, lamp, paper shredder, and even your own desktop computer.
The main selling point of private offices is that they offer clients the best level of privacy as far as coworking spaces are concerned. Depending on the coworking space, you're free to choose and customise the layout to your liking to cater to that.
Professionals who work on highly confidential documents and tasks will benefit the most from this type of arrangement. You can also lock your private office, so you can come in and out whenever you want.
Suitable for larger teams
Private offices are the most suitable option for growing businesses or companies with larger teams. Generally, you're allowed to scale up your space as your needs and requirements change.
You can even rent out an entire level if your team requires it. The costs you'll be paying are inclusive of utility charges, cleaning services, and security, saving you potentially thousands of dollars for operating costs.
More value-added services
In general, a private office membership will also grant you with value-added services such as free use of meeting rooms and unlimited printing credits, for instance.
Private offices at coworking spaces get all the perks that one can get at a typical office rental—a pantry, mail handling services, IT support, reception services, and phone lines, among others.
Cons of Private Offices
Unfortunately, all the perks included in private office memberships come with a steep price. While they're more affordable than traditional office rentals, they can be pretty costly for solo practitioners.
Private office memberships also typically require longer commitments. So unless you're willing to shell out a huge sum monthly, then you might want to settle for dedicated desks or hot desks.
Less collaborative opportunities
If you're a solo practitioner, you're technically confined to your own private office, which can be a blessing or a curse depending on how you see it. If conversing with others helps with your productivity, then you'll find private offices a bit lonely.
The only time you can network and collaborate with others is during community events, which coworking spaces organise once in a while.
While most private offices in coworking spaces are available 24/7, some coworking spaces set restrictions in terms of the facilities that you can use after-hours.
For example, some coworking spaces turn off the central air conditioning unit at 10 PM.
An Overview of Office Rentals in Singapore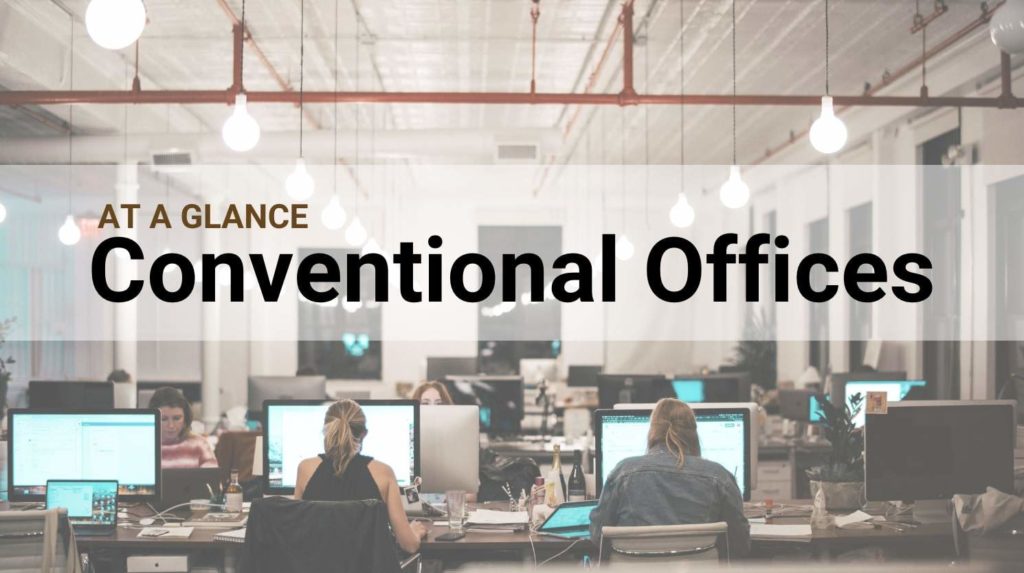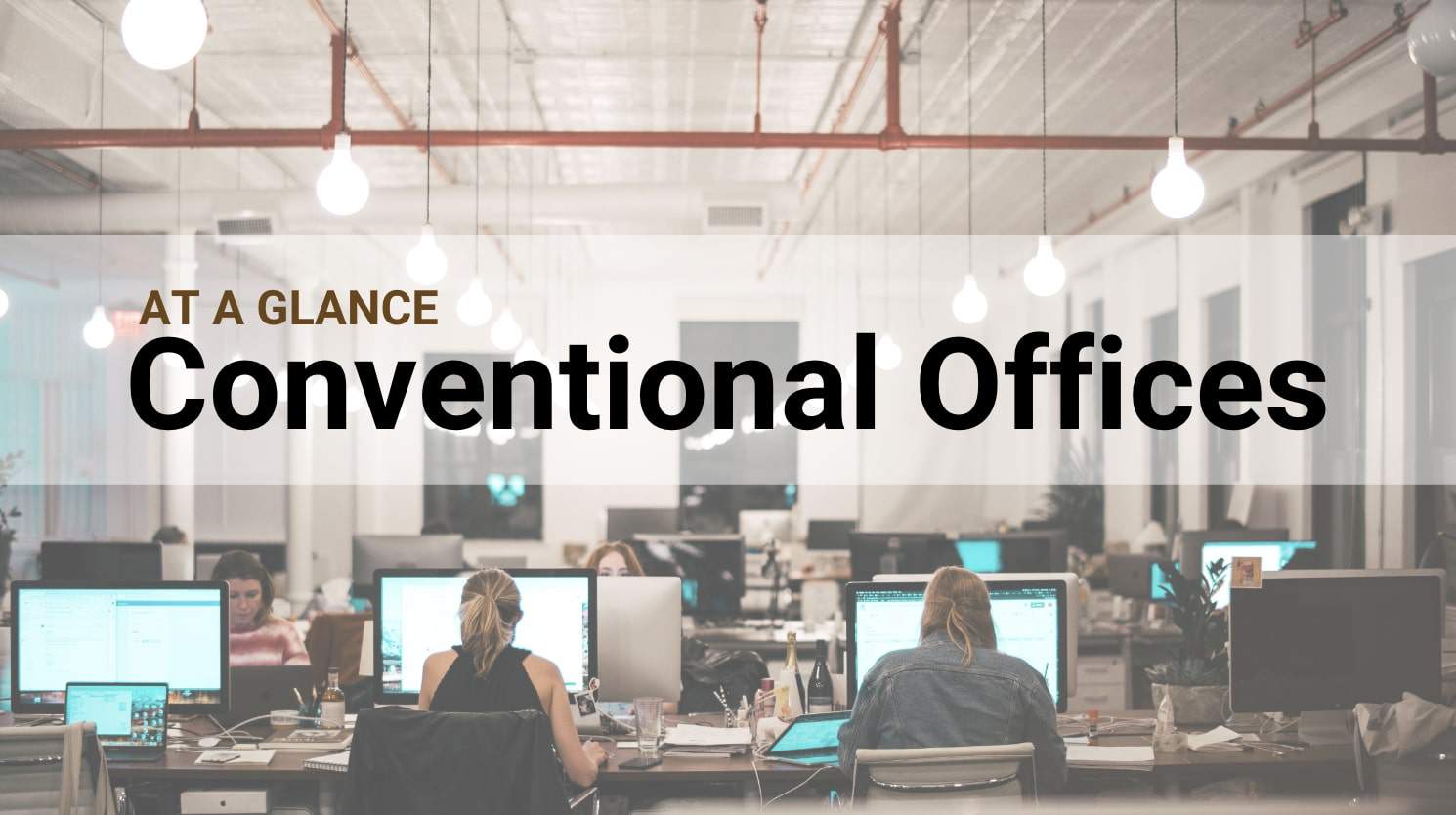 Still not sold on coworking spaces' private offices? Then you might want to take the traditional route and consider a conventional office lease instead.
Conventional offices give you full control over how you design, occupy, and manage them.
In Singapore, office rentals normally require signing a two or three year lease at least. There are different types of office spaces available, varying in size and location.
Office spaces are also charged per square foot. For instance, a 1,000 sq. ft. office space located along Orchard will cost you around $7 per sq. ft., amounting to $7,000 per month in rent.
Leasing a conventional office will also incur an initial capital expenditure like renovation, considering that they come unfurnished.
Unlike serviced offices, you're also responsible for upkeep costs, which includes cleaning services, utility charges, among others.
This is why office rentals are only suitable for companies and businesses that are stable enough to maintain all these costs in the long-term.
Here's a quick rundown of the pros and cons of leasing a conventional office:
Pros of Traditional Offices
Leasing your own office will give you the power of designing and managing your space in whatever way you want. This will give businesses the chance to develop and utilise their own brand identity.
Direct access to coworkers and managers
Conventional offices are organised according to a company's organisational structure. This makes it easier for employees to locate their managers and vice versa.
Conventional offices are leased for a minimum of two to three years, as mentioned. This will ensure that you'll always have a dedicated area to meet with clients, suppliers, and even potential employees.
Even if your initial capital outlay is on the steep side, conventional offices' maintenance costs will lessen over time, especially if you have maintenance contracts for a fixed period of time.
Cons of Traditional Offices
As mentioned, you need to shell out a huge sum before moving in. This includes renovation fees, furniture, hiring maintenance personnel, and other fit-out costs.
Office spaces are also charged per square foot, which can ramp up costs easily especially if you're located in the central area.
And because of the minimum two or three year commitment, you have to be sure that you can afford rent throughout this period.
Possible challenges in scaling up/down
Some office spaces are limited up to a certain area only, making it difficult if you're planning to expand your office space as your business grows. In the same vein, it's also possible that a certain area of your office will become unused if you're cutting corners.
Either way, you still have to pay the amount on your lease regardless of how much or little you use the space.
Strenuous pre-lease procedure
Unlike coworking spaces where everything is taken care of for you, looking for an office space requires you to start from the ground up.
If you don't have a broker, you have to deal with all the scouting, negotiating, and handling all required paperwork.
Before Your Lease: Things to a Determine Before Leasing a Space
Finding the best office space for your business can be a lengthy and demanding process.
Unlike serviced offices where almost everything is taken care of from the get-go, there are plenty of things to do before deciding whether to rent a conventional office or not.
Know Your Purpose
The basic thing to figure out is the purpose of your office space. Ask yourself this: why get a conventional office instead of serviced offices or coworking spaces?
If you want complete control over your office space, then conventional offices are the best option for that. So yes, there would be a point to choosing this over coworking spaces then.
As another example, it's also more practical to get your own office space if you want a permanent space for your employees, especially if you host visitors regularly.
Determining these things also tells you exactly what to look for in an office space, which leads to the next point.
Know Your Needs
Before scouting around for properties, it's important to narrow down your options from the start so you don't get overwhelmed.
To do that, determine the amount of space your team needs first.
The amount of space you'll need ultimately depends on the size of your team, the amount of furniture you plan on using, and the amenities you plan on having.
As a general rule of thumb, you'll need about 80 to 100 sq. ft. of office space per employee. It does vary by situation and layout, though.
Here are some rough benchmarks on how much space you'll need for each office amenity or area, to demonstrate:
| Office Amenity | Floor Size |
| --- | --- |
| Meeting Room (4 to 8 people) | 150 - 180 sq. ft. |
| Pantry | 100 - 150 sq. ft. |
| Conference Room (Up to 30 people) | 300 sq. ft. |
| Copy Room | 150 sq. ft. |
| Reception Area | 300 sq. ft. |
Know Your Options
Once you've determined the basics, it's time to look around for potential offices around Singapore – and here's the thing to remember: by and large, you'll have a tonne of options, so don't panic.
You can start by doing a quick Google search on available properties, where you can filter out options according to your desired floor area, cost, and location.
If you wish to skip most of the work, there are also property agents in Singapore who will take care of everything for you, from arranging viewings to signing the lease.
During your viewing, make sure to consider the overall condition of the property and building where it's located. Don't rush and take time to inspect each option with care.
Here's a checklist of what to look out for during viewings:
Emergency facilities
Overall durability (like cracks, leaks, stains)
Electrical and water supply
Accessibility (elevators, public transportation, parking, PWD-friendly amenities)
Building security
Nearby facilities (like shops, restaurants, banks)
Property restrictions
Expansion capabilities
Ideally, it's best to have around three to five properties for comparison.
Make sure that your chosen property also comes with a "rent-free" period, by the way. This is so you don't have to worry about paying rent while you're renovating your new office.
Comparing Costs: Coworking vs. Traditional Office Rental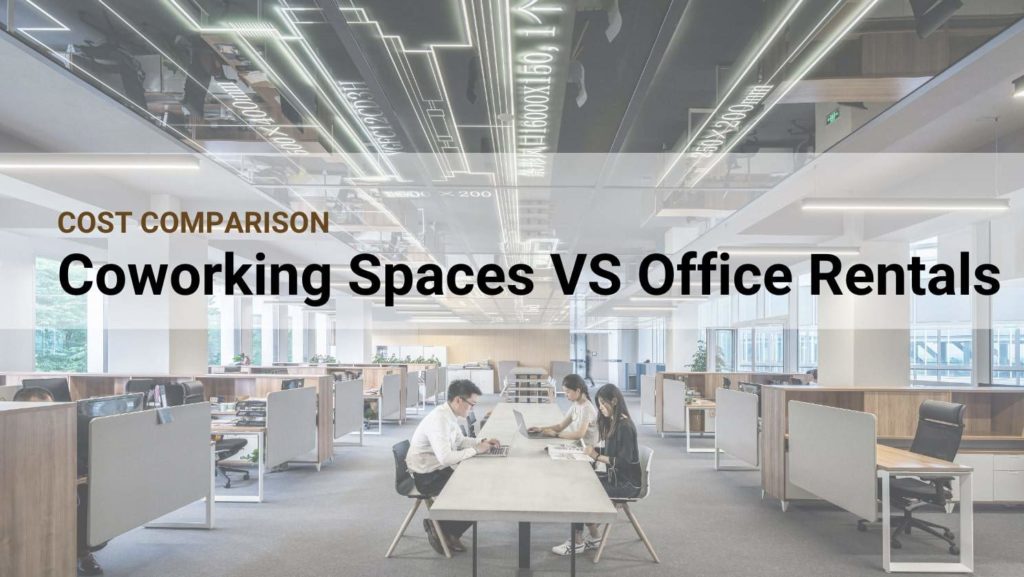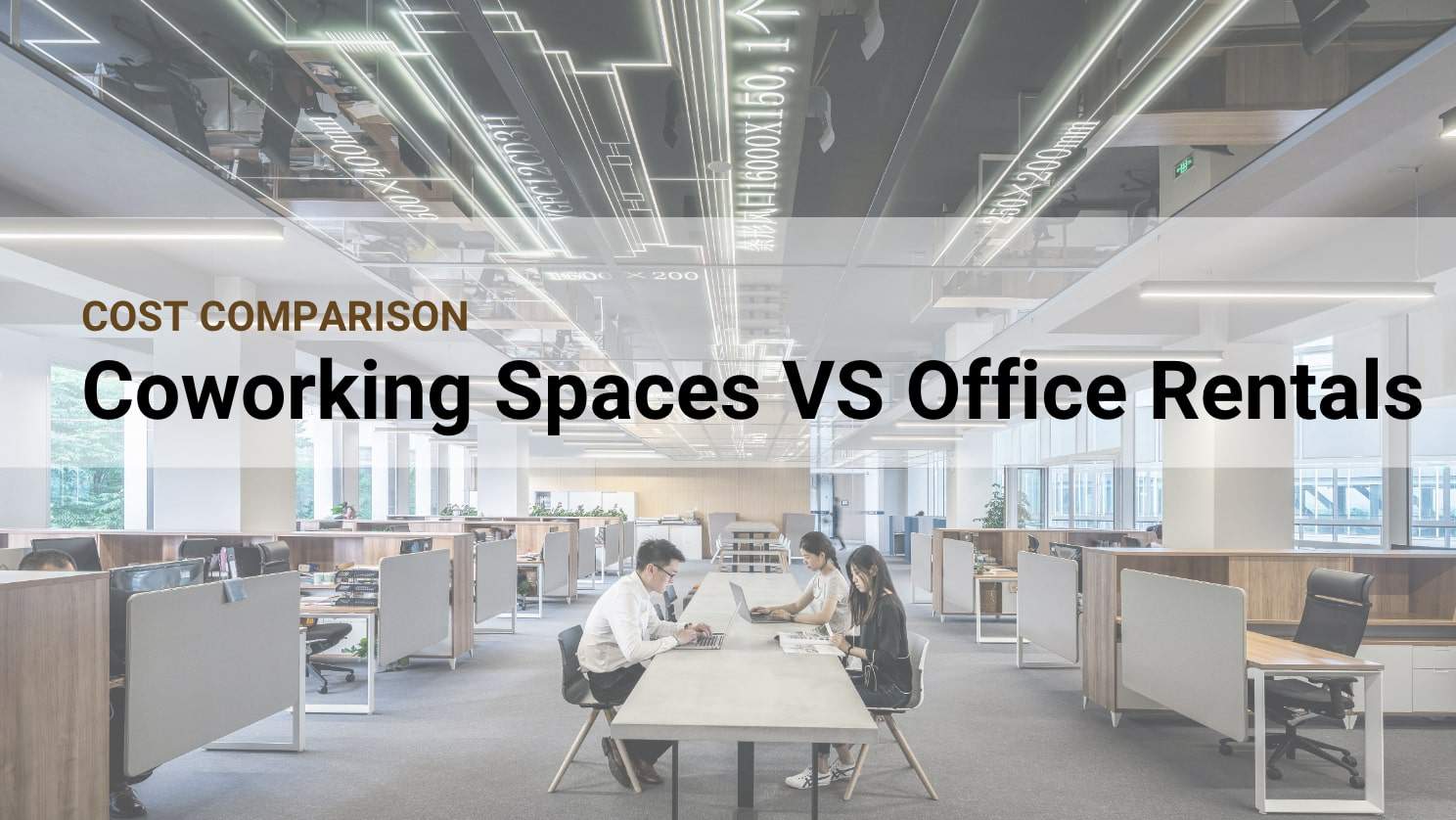 Now here comes the tough part: weighing the costs and benefits of each office space option available.
As mentioned before, coworking spaces charge clients depending on their usage, which can be on a daily or monthly basis. You can refer to the table below for some ballpark figures of coworking arrangements in Singapore.
Take note that actual prices may vary depending on location, your chosen coworking space, and membership plan. For an exact number, we recommend contacting your chosen coworking space directly.
| Coworking Arrangements | Estimates |
| --- | --- |
| Hot desks | $200 - $450 (per month; unlimited access) |
| Dedicated desks | $400 - $800 (per month) |
| Private offices/serviced offices | From $900 (per month) |
Meanwhile, the cost of conventional offices varies depending on location and office type.
Office Spaces Singapore has noted the average costs of monthly rentals you can expect in various districts. The table below includes office buildings, shophouses, business parks, and B1 offices.
| Coworking Arrangements | Estimates | Average Monthly Rate (Per Square Foot) |
| --- | --- | --- |
| 1 | Boat Quay, Chinatown, Havelock Road, Marina Square, Raffles Place, Suntec City | $9.40 |
| 2 | Anson Road, Chinatown, Neil Road, Raffles Place, Shenton Way, Tanjong Pagar | $8.00 |
| 4 | Keppel, Mount Faber, Sentosa, Telok Blangah | $7.25 |
| 5 | Buona Vista, Dover, Pasir Panjang, West Coast | $5.00 |
| 6 | City Hall, High Street, North Bridge Road | $8.00 |
| 7 | Beach Road, Bencoolen Road, Bugis, Rochor | $8.50 |
| 9 | Cairnhill, Killiney, Leonie Hill, Orchard, Oxley | $7.50 |
| 11 | Chancery, Bukit Timah, Dunearn Road, Newton | $6.50 |
| 14 | Eunos, Geylang, Kembangan, Paya Lebar | $5.25 |
| 16 | Bayshore, Bedok, Chai Chee | $4.50 |
| 17 | Changi, Loyang, Pasir Ris | $4.50 |
| 18 | Pasir Ris, Simei, Tampines | $4.50 |
| 22 | Boon Lay, Jurong, Tuas | $4.50 |
Consider the figures above, your organisational needs and size, and other requirements to operate. This should give you an idea of which option is better for your budget.
---
Ultimately, whether you decide to go for coworking spaces or conventional offices, the fact remains that office infrastructure can be pretty expensive.
The key takeaway here is to spend only within your budget and needs, so it's very important to assess that before anything else.
And that concludes our guide on coworking spaces and office rentals in Singapore. We hope we've helped you decide on the most suitable office space for you and your business.