The 6 Best Office Printers in Singapore
If you're on the lookout for a reliable printer that can handle all-day printing, then you've come to the right place! Today, we're taking a look at some of the best office printers in Singapore adored by office workers, home-based employees, and students.
We believe that the best office printers in Singapore should be cost-efficient, easy to use, reasonably fast, and capable of providing print outs with smooth and clear details. Anything outside any of these should be a questionable choice.
Anyway, if you're one of those who don't know enough about the best office printers in Singapore, we have you covered! Before we introduce our picks though, we're going to share the factors that you should consider when shopping for printers for office and home use.
Knowing these tips will make it easier for anyone to know which office printer can complement their daily work or school needs.
How to Pick the Best Office Printers in Singapore
If you have a job that heavily relies on paper works and organising them, then investing in the best office papers seems like the most attractive option. Who doesn't want a dependable printer that is fast and can produce crystal-clear print outs?
It's worth noting that office printers aren't exclusively made for offices. Almost all of them can be used at home too, even by home-based employees and university students.
It's hard to know which printer is the right one for you when there are hundreds of brands and models to choose from. Worry not though because we're here to make everything a lot more convenient for you.
Here are some of the factors you need to remember when picking out the best office printers in Singapore:
1. Printer type
According to the office and home-based workers we talked to, they either go for an inkjet or a laser office printer.
There are multiple types of inkjet delivery systems, but the most common among consumers is the separate ink cartridges because it's the least expensive without the compromised quality of print outs.
The number of ink cartridges differs per model though. There are inkjet printers with either 2 or 4 cartridges, but based on our experience, the former is the cheapest.
Inkjets printers are also the perfect option for those who need high-quality and coloured images.
A laser printer, on the other hand, uses lasers to produce static electricity on a running drum inside the printer. Instead of ink, it uses toner, which is more expensive but lasts longer than liquid ink.
We recommend going for laser printers if you deal with more texts and black and white images.
2. Print resolution
Print resolution is usually measured in DPI. If you want clear, smooth, and bright images, then opt for an office printer with a higher DPI.
Some of the best office printers in Singapore can produce 1,200 X 1,200 DPI resolution. Take note, however, that the higher the DPI, the more expensive the price tag.
There are cheaper options that can produce only 600 X 600 DPI resolution, which isn't so bad if you're only planning on printing texts and black and white images.
It's common for some laser printers to have 1,200 x 600 DPI resolution, which should be enough for basic school and corporate needs.
If you're planning on getting a laser printer for office or home use, then keep this figure in mind to avoid spending money on an office printer with an unnecessarily high print resolution.
3. Print speed
Everyone would agree that print speed should be one of your priorities when looking for the best office printers in Singapore.
Whether you're an office worker or a student, getting an office printer that produces print outs quickly is a no brainer. Who wants a printer that moves at a snail's pace, right?
Print speed is measured in PPM (pages per minute), but what is the acceptable print speed for an office printer? We found that the print speed of some of the best office printers in Singapore could range from 10PPM to 30PPM.
However, when manufacturers include print speed on a printer's labels, it usually refers to how many non-coloured pages can be printed in a minute. You will have to dig a little deeper to know the speed rate when printing coloured documents.
4. Connectivity
Connectivity is a crucial factor when it comes to picking an office printer that's going to be used by multiple people. If an office printer doesn't have network connectivity, it can only be connected to a single computer, allowing only a single person to use it.
If you're shopping for a printer that's going to be shared at the workplace, then go for a model that includes an integrated Ethernet network interface.
An office printer with wireless connectivity also makes it possible for wirelessly networked laptops to use that printer.
The Best Office Printers in Singapore
It's time to go over the options we believe are worth checking out by office workers, home-based employees, and even students. Keep our tips in mind while browsing our picks to make sure that you'll land on a printer that suits your needs.
Let's start our list with the cheapest office printer on the island we could find.
1. HP Smart Tank 615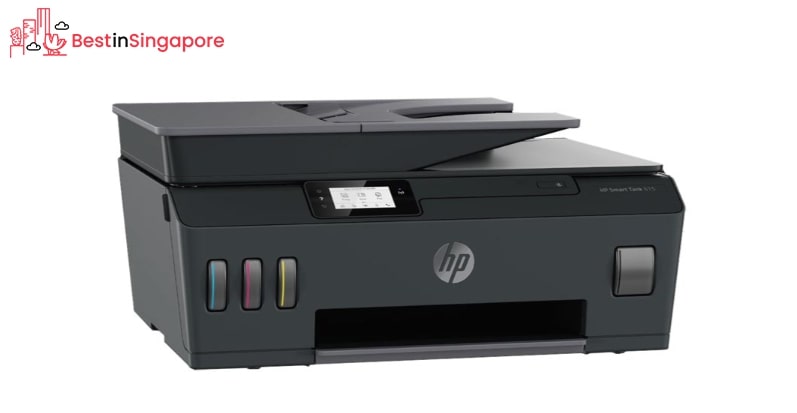 Price: S$272.00
The HP Smart Tank 615 is one of the top-rated office printers on Shopee, with an average rating of 4.9 out of 5. It's in-demand among those working in offices and those who have home offices.
It may be more expensive compared to the previous options, but it can save users a whole lot of money in the long run. You only need to prepare yourself to shell out a huge sum of money in the beginning, but no need to worry about the costs in the future.
Aside from being a cost-efficient office printer, the HP Smart Tank 615 comes with decent specs too. It has a print speed of 11 pages per minute and a print resolution of 1200 x 1200 DPI for black and 4800 x 1200 dpi for coloured pages.
The HP Smart Tank 615 makes it possible to print your files even if you're not at home or in the office, as long as it's connected to the Wi-Fi. You can even customise the shortcuts on your phone for a hassle-free remote printing and scanning.
It's compatible with all types of papers too, including matte brochures, glossy brochures, photo papers, envelopes, and other speciality inkjet papers. It's a perfect feature if you do some arts and crafts on the side.
Pros
ADF printer
Low-cost printer
11 pages per minute
Wireless connectivity
Impressive print resolution
Cons
2. Canon PIXMA TR4570S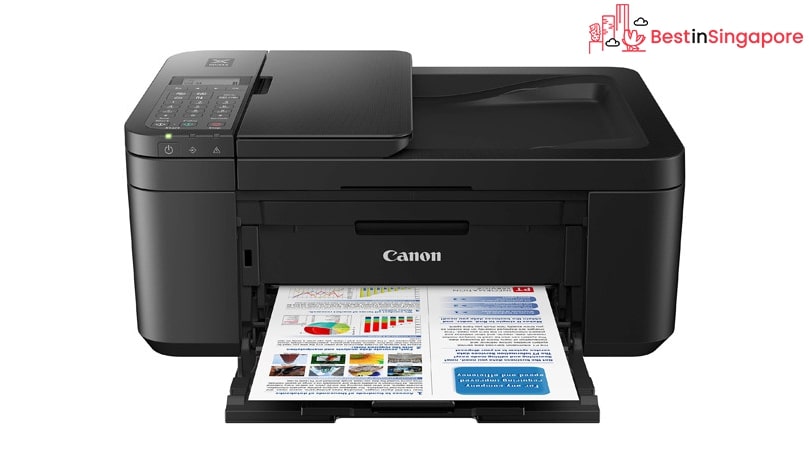 Price: S$138.00
The Canon PIXMA TR4570S is a budget-friendly all-in-one printer that can be used at home and in the office. It proves that there's no need to go beyond the budget to get your hands on a high-quality printer that can handle large volumes of printing.
Aside from printing, the Canon PIXMA TR4570S can scan, copy, and fax all sorts of printed files and images. It's compatible with both Windows and Mac operating systems as well, even the most updated ones.
We love to call it a cost-efficient office printer because of its 20-sheet auto document feeder and extra-large cartridge options that can save paper and ink in the long run. It's also why we call it one of the best office printers in Singapore.
In terms of resolution, the Canon PIXMA TR4570S doesn't disappoint. It boasts a maximum print solution of 4800 x 1200 DPI, so rest assured that all your print outs will not be hard to look at.
If you're printing a basic text document, it can take approximately 8.8 seconds to print a single page, which is already a decent print speed.
Lastly, we like that Canon PIXMA TR4570S is small and compact, making it easier to fit into small spaces and crowded shelves in your home or in the office.
Pros
Affordable
Small and compact
Compatible with Mac and Windows
8.8-second printing speed
Mobile printing
Cons
Limited network connectivity
3. Canon imageCLASS MF244dw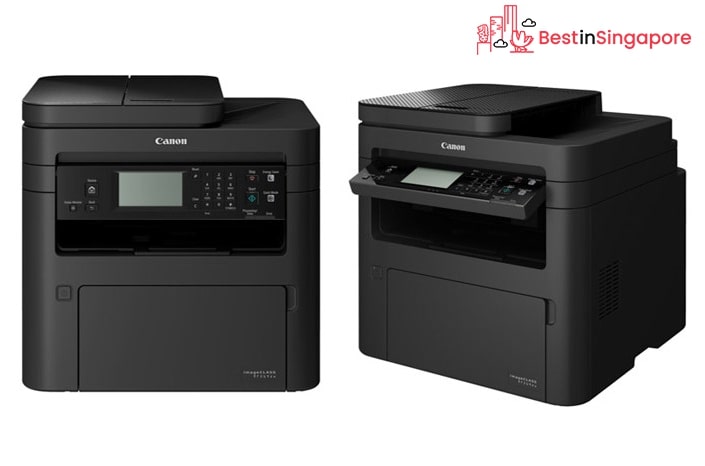 Price: S$229.00
Since we couldn't get enough of Canon's office printers, we decided to include another one in our list. Here's the Canon imageCLASS MF244dw, and we believe that it's one of the best office printers in Singapore.
First of all, the Canon imageCLASS MF244dw sports the classic office printer look that complements any type of workplace. It may be bigger and bulkier than other printers, but it will surely match your office's atmosphere.
The Canon imageCLASS MF244dw is an all-in-one office printer that functions as a copier and a scanner as well. It boasts a print speed of up to 27 pages per minute, one of the fastest for an office printer.
Apart from that, it comes with a built-in PCL language that enables it to work with a whole range of business applications–which is why we call it one of the best office printers in Singapore.
Other features of the Canon imageCLASS MF244dw we love are the 1200 x 1200 DPI print resolution, wireless connectivity, double-sided printing, direct connection, and one-touch solution keys.
Pros
All-in-one printer
Built-in PCL language
Double-sided printing
Wireless connectivity
Cons
Bulky and heavier
Complicated network device set up
Customer Reviews
Here's what customers who got it off Amazon had to say about it:
"I was looking for an affordable solution to my printing needs for my home office. I did some research and found the Canon imageCLASS MF244dw laser printer. This printer seemed like it would be a good fit for me and my printing needs so I went ahead and purchased it through Amazon.com and I'm glad I did! This printer is wonderful! I did not need to print in color so the fact that this printer only prints in black and white is perfect for me. I also like the fact that you can get several thousand pages printed on a single toner cartridge."
"The print quality is great, and it's quite fast. Picked this one over the more expensive model with touchscreen controls, as there were too many complaints about the touch screen being unresponsive. Connected via network cable to a router. Software setup for a printer couldn't be simpler on both Mac OS and Windows 10. However, scanner setup is too complicated for a network device."
4. Brother DCP-T510W
Price: S$260.00
If you're looking for an office printer that's easy to refill, then look no further than Brother DCP-T510W. It's a low-cost printer that doubles as a copier and a scanner—all for the price of a single device.
Office workers and students love the Brother DCP-T510W because it's extremely convenient to use, with no complicated features whatsoever. Aside from its basic control buttons, it's easy to load the tray with papers and keep track of the current ink levels.
Speaking of trays, the Brother DCP-T510W can handle up to 150 papers, making it possible to print that many documents in one go. It can print up to 27 non-coloured and 10 coloured pages per minute, which is an impressive printing speed.
If you're using a Windows computer, you can enjoy up to 1200 x 6000 DPI of print resolution. We're not sure with the maximum print resolution for MAC operating systems, though.
Another feature we love about the Brother DCP-T510W is the multiple connectivities. Not only can it accommodate multiple users at once, but it's also possible to print from anywhere too.
Pros
Competitive price
Multiple connectivities
27 pages per minute
Easy to use
Cons
No other special features
Doesn't support double-sided printing
Customer Reviews
Here's what a user from India had to say about the Brother DCP-T510W:
"Setup was super easy!! I tried all kinds of prints and must say a big "Thumbs-up" to the performance. Documents, both typed & scanned, Photocopy feature and especially photos, all printed with brilliance!! Prints were made from both computer and an iPhone, and works seamlessly. It has Air-print capability, good for Apple products!! Duplex printing is missing though, you need to manually handle 2 sided printing!!"
5. Epson EcoTank L4150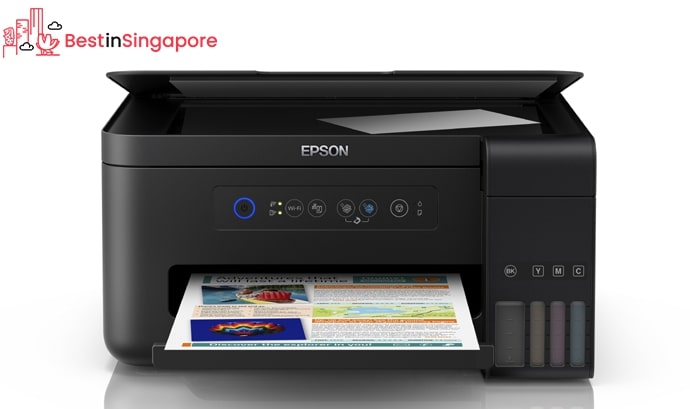 Price: S$359.00
If you're willing to spend beyond your budget for an advanced office printer, then you might be willing to get your hands on the Epson EcoTank L4150. It's a high-end office printer that costs S$359, so it'd be too much for some university students who have a limited budget.
The Epson EcoTank L4150 features a compact and sleek design that makes it easier to fit into shelves with limited spaces. It's a heavy-duty office printer that doesn't come with a colossal and bulky build.
One of the common issues with any office printer is the regular ink spills, but the Epson EcoTank L4150 doesn't share that problem. It comes with individual ink bottles with unique nozzles that perfectly fit into their respective tanks.
In terms of printing speed, the Epson EcoTank L4150 is the fastest office printer on our list. It can print up to 33 non-coloured pages and 15 coloured pages per minute.
The Epson EcoTank L4150 functions as a copier and a scanner as well. It has a printing resolution of 5760 x 1440 DPI, a copy resolution of 360 x 360 DPI, and an optical resolution of 1200 x 2400 DPI.
Its wireless connectivity makes it possible for users to print and scan documents even when they're not present at the office. It also allows network connectivity, so multiple computers will be able to connect to it.
Pros
Wireless connectivity
Network connectivity
Fast printing speed
Compact design
Non-spill printing
Cons
Expensive
Ideal mainly for office workers
6. Epson WorkForce WF-2851 Colour Inkjet Printer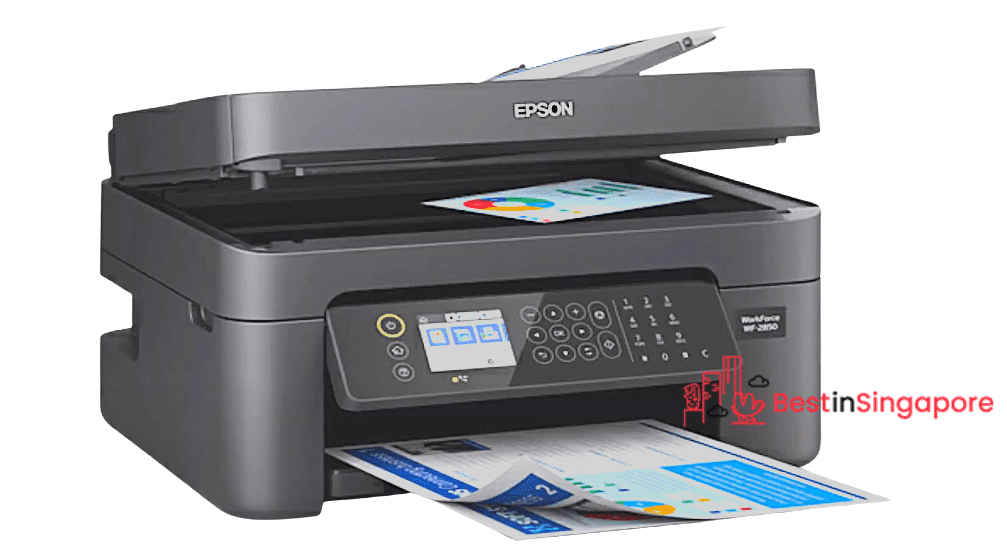 Price: $155
The Epson WorkFroce WF-2851 Colour Inkjet Printer is must-consider should you want a printer that features a 4-in-1 MFP. It has an advanced printing technology along with other features such as scan and fax, ADF and automatic duplex printing as well.
It comes in a compact size that is perfect for any space you might want to place your printer. Furthermore, it has an integrated connectivity feature wherein you can even connect and print using your mobile device without the use of your Wi-Fi router.
The printer also features and supports a variety of Epson Connect applications such as Google Cloud Print and Epson iPrint among many others to for your convenience. Its design enables you to have a stress-free printing experience and even automatic 2-sided printing for all your print format needs.
We recommend this printer for your on-the-go printing needs due to its extensive wireless print connect feature along with its comprehensive printing technology that helps you print your pictures and documents at optimal resolutions.
Pros
● Support various wireless printing features
● Convenient on-the-go printing
● Has an automatic 2-sided printing
Cons
● Can be costly
And with that, we conclude our list of the best office printers in Singapore. If you've used any of these printers in the past, share with us your experience with using them!
If you know other office printers that should've been in our list, tell us their names and then we'll see we can add them to our roster.
If you're looking for a printer that can print photos with exceptional quality, you might want to take a look at our list of the best photo printers in Singapore. We included a wide range of options in there to cater to different budgets.