8 Best Routers in Singapore for Strong Connection Reviewed
Having some difficulty while working from home or can't seem to finish your movie marathon? Well, this might be because of the slow Internet connection you have at home — we suggest changing your old router for the best router in Singapore!
Some may think that the connection speed mainly depends on the ISP (Internet Service Provider). Many users are not aware that the router also contributes to overall network performance.
Therefore, when you're experiencing interrupted connections, you might need to consider buying a new router. Of course, you should know some of the important things to take note of before purchasing one.
So before we go on to our list of the best routers in Singapore, take a look at these tips that we've put together — they can help you differentiate good models from poorly made ones.
How to Pick the Best Router in Singapore for You
Choosing a low-quality router can worsen your online streaming, browsing, shopping or gaming experience at home. Therefore, it's extremely important that you know how to determine an excellent router.
1. AC Standard
Whether you're buying a new router or upgrading an existing one, it's highly recommended to use a router that supports the 802.11ac standard. The 802.11ac is a common wireless networking standard.
If your ISP offers a speed of 100 Mbps but doesn't support the networking standard, you'll have wireless issues. So make sure to check if your chosen router supports the 802.11ac standard.
2. Single or Dual Band
Choosing between a single or dual-band router depends on your residential area. If you're living in a heavily populated area, then it's better to choose a dual-band router.
Dual-band supports both 2.4 Ghz and 5 Ghz frequencies, which provides more efficient and better connectivity. But if you have just a regular number of neighbours, then you may opt for a single band.
A router with a single band either supports the 2.4 Ghz or 5 Ghz frequency, a smart choice if you don't need a high-speed connection.
3. Lifespan
Since a router usually operates for a whole day and is connected to various kinds of devices, its networking hardware may experience overload, resulting in a degraded performance.
This is why it's crucial to choose a high-quality router with a good lifespan. It's better to invest in a costly router once than to buy a bad one, then pay even more in the long run due to frequent repairs or changes.
4. Range
The router's maximum range indicates the actual distance of its signal strength. If you live in a large house, then you'd need a strong router with long-distance range.
A high-end model usually offers a minimum of 150 feet of indoor and 300 feet of outdoor Internet connection.
Check the given range of a router to ensure that you can still experience a seamless connection even when you're far from the router.
The Best Routers in Singapore Reviewed
Remember that the most expensive router might not be efficient for you, especially if you mostly use the network for work purposes only. So make sure to pick the one that's most suitable for your needs.
In any case, let's now see the best routers in Singapore!
1. Xiaomi Mi Router AX9000 – Tri-Band Wi-Fi 6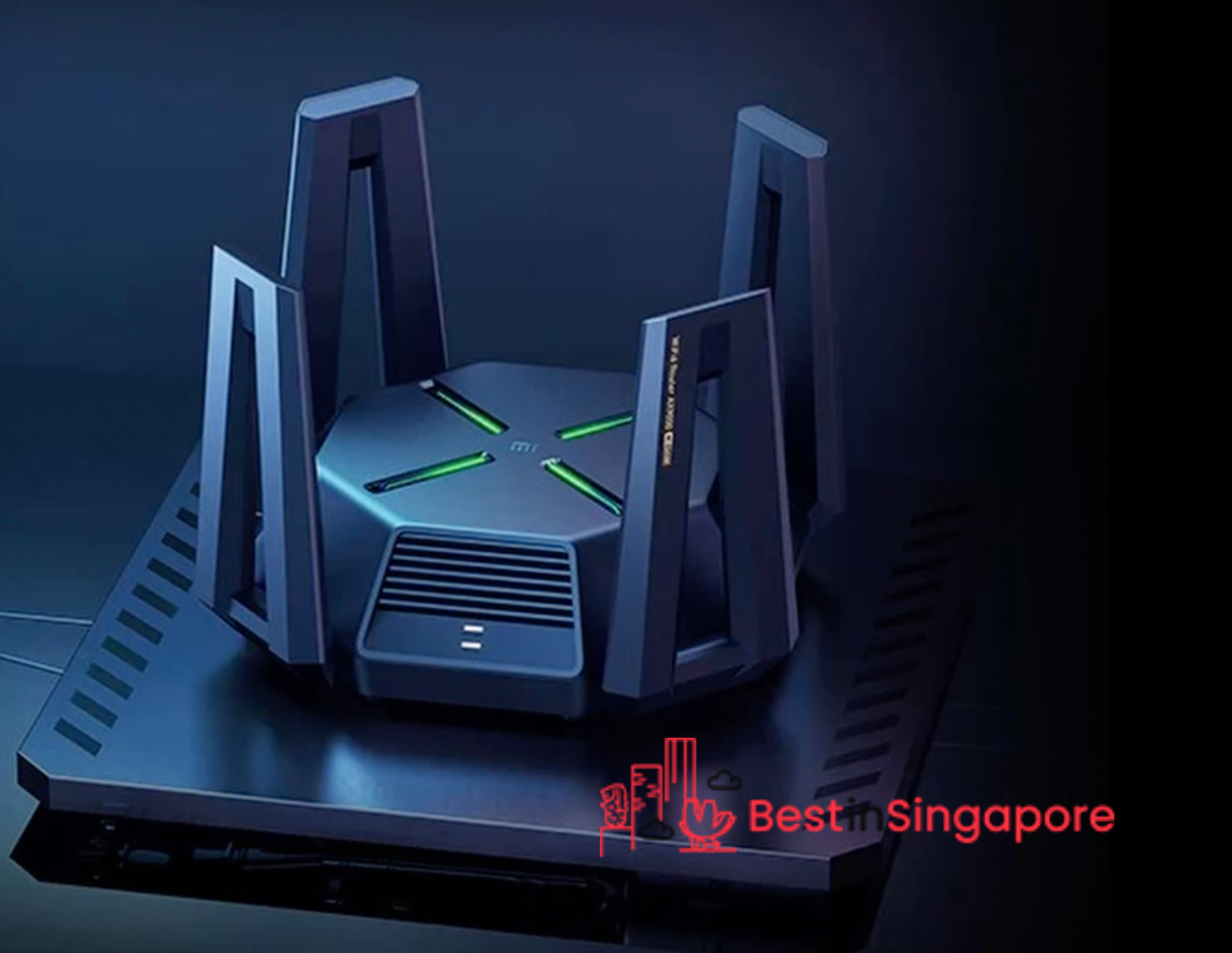 Price: $549.00
Are you a gamer and looking for a router that can amp up your internet? We introduce to you the Xiaomi Mi Router AX9000, a router that is specifically built for gamers.
In comparison to other products, this is not a single nor a dual-band, but is a tri-band type of router! It supports 5GHz for gaming, another 5GHz for entertainment, and 2.4GHz for smart home devices.
Since it has three separate bands, if you get this, you will game without any interruption and interference from other devices.
What's awesome about this is its 160MHz bandwidth, which is doubled than our typical 80MHz bandwidths. This will give you double the speed and it will definitely meet the high-speed connection requirements of multiple devices.
Another factor why we can recommend this is that it has a 4K QAM higher data transfer density which makes the Wi-Fi speed increase again by another 20%.
If you are a gamer and want uninterrupted hours of gaming and entertainment, this could very well be the best router in Singapore for you.
Pros
Equipped with Qualcomm® quad-core 2.2GHz CPU + dual-core 1.7GHz NPU
Has 12 independent high-performance signal amplifiers
Supports simultaneous connection of 248 devices
Custom gaming lighting effects
Has active cooling
USB 3.0 Super Speed port
2.5Gbps Ethernet port
Cons
On the pricier side of the market
Customer Reviews
Here is one review from their Lazada Page:
"Came in good condition and easy to install."
2. ASUS ROG Rapture GT-AC5300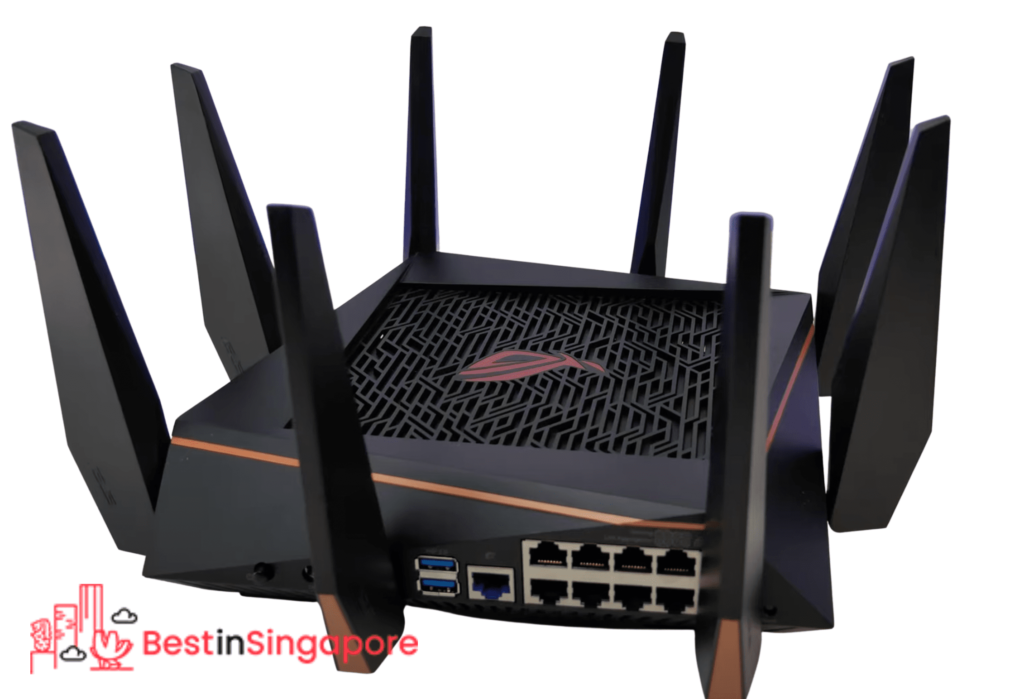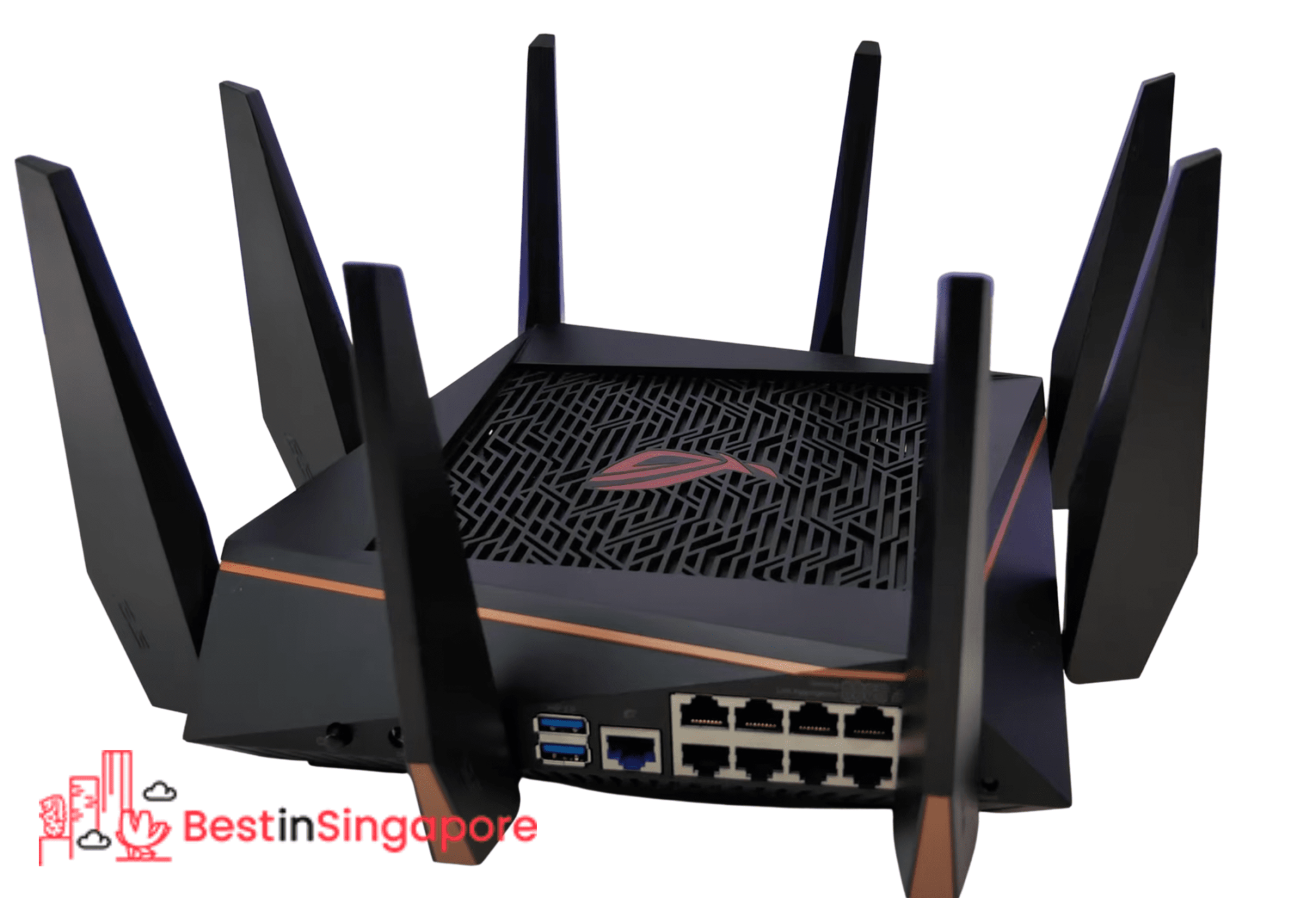 Price: $399.00
For those who are upgrading their router to get a better gaming experience at home, the ASUS ROG Rapture GT-AC5300 is a great choice. It's built with a quad-core processor that provides triple-level game acceleration, giving you lag-free gaming sessions.
The design is obviously for gamers. Its hardware is also made with strong features that are mainly designed to withstand long hours of gaming.
It provides a real-time update about all of the devices and connections and shows you the fastest servers.
The best thing about this one is that you can run a VPN connection simultaneously — so even if there are other network users who need to use a VPN, you can still experience maximum gaming speed.
This router also has a RangeBoost feature that increases coverage while maintaining a strong connection. Moreover, it supports AiMesh so you can connect other compatible ASUS routers for an even more powerful network.
It has 8 LAN ports, including dedicated gaming ports so you can easily manage and set up your gaming devices. With its frontline network security, there's no need to worry about possible Internet threats when downloading a game.
Overall, this is one of the best routers in Singapore for fast and numerous connections and network.
Pros
Fast network performance
Works with Alexa voice command
Game acceleration
Range boost feature
VPN fusion
Cons
Large form factor
Average file-transfer speeds
Customer Reviews
Most gamers said that they were able to enjoy engaging and interactive online gaming activities, thanks to the gamer-friendly features of the ASUS ROG Rapture GT-AC5300.
They also said that it's indeed one of the fastest and best routers in Singapore, offering flexible settings. A user gave this verdict:
"The Asus ROG Rapture GT-AC5300 is overkill for most home users, but if you take your gaming seriously and want to ensure that your network is providing maximum throughput for all of your play and streaming needs, this router is as good as it gets. It delivered the fastest 5GHz close-proximity throughput performance of any router we've tested, and its 2.4GHz and MU-MIMO performance numbers were also solid. It offers a bomber-load of gigabit LAN ports with built-in acceleration for gaming applications and a wealth of other gamer-friendly optimization features, all of which are controlled using a well-designed interface. This router doesn't come cheap, and its file-transfer performance could be a smidge better, but neither gripe prevents it from earning our Editors' Choice high-five for high-end routers."
3. Netgear Orbi AC3000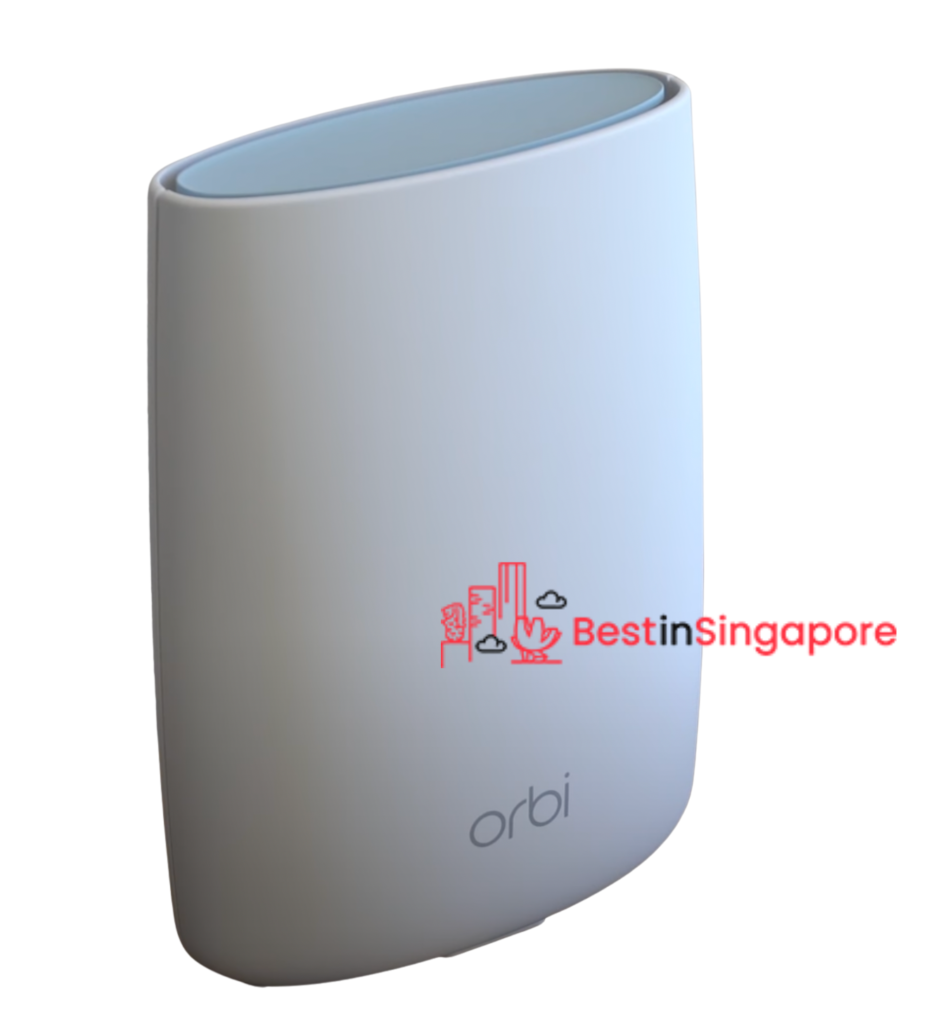 Price: $429.00
If you're currently living in a large house, you may opt for the Netgear Orbi AC3000. This router covers a space of up to 5,000 sq.ft, offering a long maximum signal range that can reach every room in your place.
You can also easily control its settings through the Orbi app where you can do speed tests, set up parental controls, and so much more. When you're expecting some guests to come over, you can immediately set up a separate and secure network for the visitors.
It also has multiple antennas to ensure stable and fast performance. To accommodate the heavy processing power, it's designed with cool and fan-less hardware.
We like the cooling design it has so it's one of the best routers in Singapore that surely won't overheat.
Pros
Long signal range
Works with Amazon Alex and Google Assistant
Smart Parent control
Guest network
Works with Comcast, Verizon Fios, and more ISPs
Easy to install
Multi-user capable
Flexible configurations
Cons
Bulky
Limited USB functionality
Customer Reviews
The Netgear Orbi AC3000 has been claimed as one of the best routers in Singapore because of its impressive coverage, fast wireless connection, and several LAN ports. A user posted this feedback:
"Home Wi-Fi systems offer a user-friendly alternative to the more complex router/extender solutions used to blanket your home with wireless coverage, and the Netgear Orbi High-Performance AC3000 Tri-Band Wi-Fi System (RBK50) is currently the best of the burgeoning crop. Both the router and the satellite delivered higher scores on our single-user throughput tests than the Luma, Eero, and Ubiquiti systems, and the Orbi system offers more LAN connectivity and management options as well. Although the Orbi's MU-MIMO performance in testing was good, it isn't quite as fast as what you get from a high-end router like the D-Link DIR-895L/R, or even a midrange router, such as the Linksys EA7500, but at least it supports the technology (the other home Wi-Fi systems we've tested don't). That said, enabled USB ports would be welcome additions. "
4.   Google Nest Wi-Fi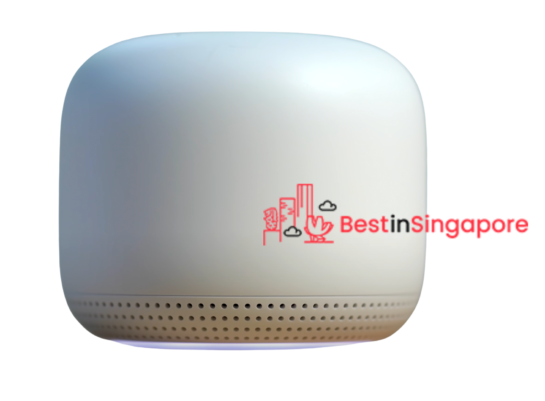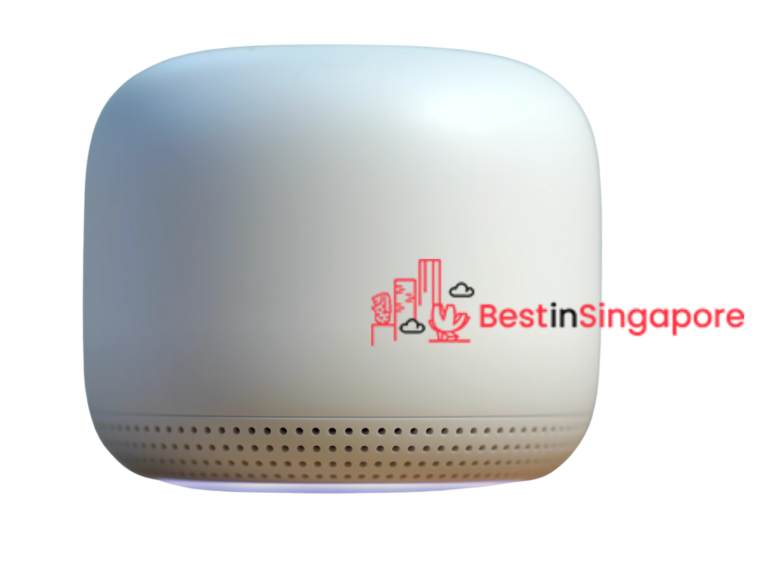 Price: $229.00
Planning to buy a router that you can use for casual online streaming, browsing, or shopping? You might want to consider getting the Google Nest Wi-Fi.
This model might be too simple for some but it's reliable and efficient enough to manage multiple devices and online activities.
If you have kids at home, then its family-friendly controls would be useful for you — you can schedule a regular Wi-Fi pause on your kid's devices and block explicit websites.
With the Google Wi-Fi app, you can monitor the connected devices, run a speed test, and troubleshoot issues, as well as set up a guest network.
When it comes to cyber threat protection, it has a cloud-based security system that'll automatically update itself to keep all of your devices safe and secure.
Overall, if you have young children at home and have numerous users, this is one of the best routers in Singapore we can recommend for you.
Pros
Range-extending Nest Wi-Fi points
Easy to use
Can be used as Google Assistance smart speakers
Less expensive than most routers
Family-friendly controls
Cons
Only two Ethernet jacks
Advanced settings require a separate app
No USB ports
Customer Reviews
The Google Nest Wi-Fi has gained positive remarks due to its aesthetic design, easy installation, impressive upgrades, and powerful hardware. A reviewer wrote this verdict:
"The Google Nest Wifi provides an easy way to eliminate Wi-Fi dead zones while bringing Google Assistant to any room in your house. It's very easy to install and delivers solid throughput performance, and it offers parental controls that will block access to adult websites and allow you to create access schedules and pause internet access with the touch of a button. You can manage your network using the same mobile app that you use to control other Google Home devices, but it lacks protection against viruses and other malware. Moreover, you'll need a separate app to tweak advanced settings. But if integrating the Google Assistant voice platform isn't a priority, you'll get better performance with the TP-Link Deco M9 Plus. It costs $30 more than the two-piece Nest Wifi, but it offers more coverage and advanced features, and remains our Editors' Choice for Wi-Fi mesh systems."
5.   Netgear R9000 Nighthawk X10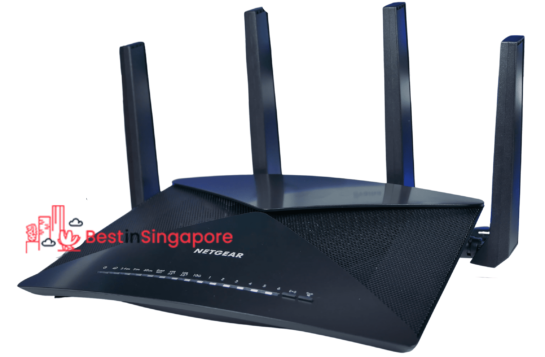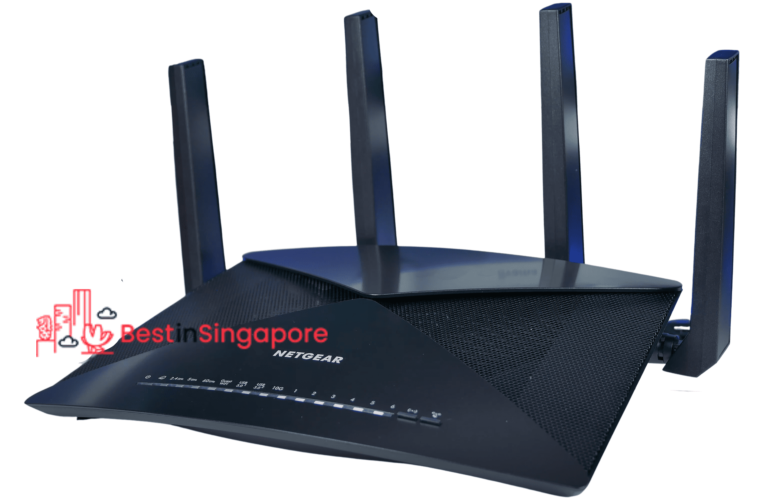 Price: $975.93
Among our chosen options, the Netgear R9000 Nighthawk X10 is the most expensive model that offers high-class features. This includes the Plex media server that's capable of delivering ultra-smooth 4k streaming, instant downloads, and even VR gaming!
It's also built with a quad-core processor that can handle several devices at the same time and several active antennas to maximize range.
Just download the Nighthawk app and you can immediately install the router and access all network settings. This includes Internet traffic, speed test, firmware updates, guest network, and more.
Unlike other routers, this model focuses on providing the fastest speed for media transfers and backup. In just a short time, you can transfer large-sized files, movies, and VR videos as well.
If you want quality streaming and smooth gaming or graphics, this is the best router in Singapore for you.
Pros
Excellent network performance
Fast network storage speed
Suitable for media streaming and gaming
10 Gbps support
Cons
Bulky
Sluggish web interface
Limited Wi-Fi customisation
Too expensive
Customer Reviews
The Netgear R9000 Nighthawk X10 has earned praise from many users because of its undeniably ultra-fast wired connection. Its media streaming features have also caught the attention of many reviewers.
A user left this feedback:
"You'll pay big bucks for the Netgear Nighthawk X10 AD7200 Smart WiFi Router (R9000), but you get a high-end, feature-packed router that delivers some of the fastest throughput performance we've seen. While there are other routers that have MU-MIMO, 160MHz, or 802.11ad Wi-Fi capabilities, the R9000 is the only one we've seen so far with all three. It's loaded with six Gigabit LAN ports, an SFp LAN port for 10-gigabit connectivity via fiber (a feature we haven't seen in a consumer-level router until now), and automatic Amazon Drive backup and Plex Media Server capabilities. Granted, there aren't many clients around to take advantage of the 802.11.ad and 160MHz Wi-Fi features, but if you want to get ahead of the curve with a router that is ready for the future, the Netgear Nighthawk X10 R9000 is our latest Editors' Choice for high-end routers. If $500 is too steep, you'll get 802.11ad connectivity and better MU-MIMO performance with the $350 TP-Link Talon AD7200, but you'll have to do with fewer I/O ports, and there's no 160MHz Wi-Fi."
6.   TPLink Archer C5400X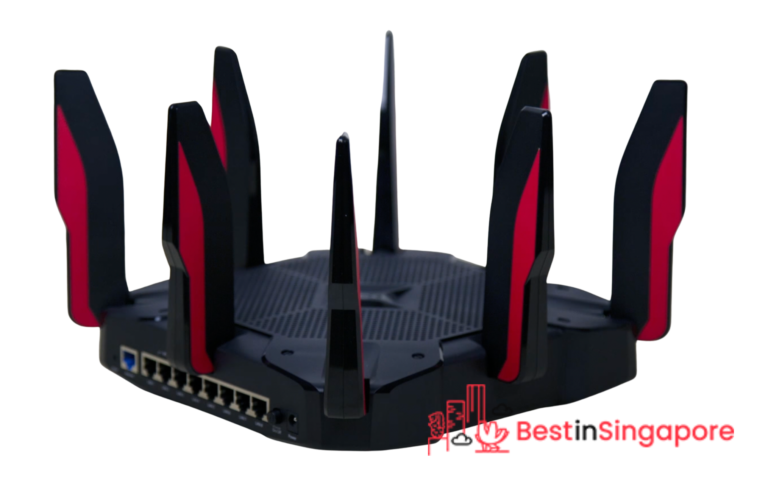 Price: $378.00
The TPLink Archer C5400X is another ideal option for all the gamers out there. With its battle-tested processor and doubled wired speeds, you can experience long hours of gaming without any network interruption.
This gaming router is quite different from the usual models — you can set the engine to a gaming mode that keeps a fast connection even when other network users are online.
It also has a RangeBoost feature that covers amazing distances at home. Aside from its gaming features, it also provides a stable connection when streaming 4k movies.
This best router in Singapore has built-in VPN with acceleration features for a secure and fast network.
Pros
Built-in antivirus
Works with Alexa and IFTTT
Multiple ports
Far-reaching Wi-Fi range
Easy to configure
Robust QoS engine
Cons
Slower 2.4 GHz throughput
Customer Reviews
Many users said that the TPLink Archer C5400X  is truly a high-end router that's loaded with satisfying features. A user gave this review:
"The TP-Link Archer C5400X is an excellent enthusiast-grade router which retains an easy-to-use interface. It's incredibly fast, it covers a very wide area, and QoS shaping routines inside (and a not insignificant processor and memory combination) means it's ready for anything. Bit expensive, though…"
7. D-Link DIR-X5460 | AX5400 Wi-Fi 6 Mesh Router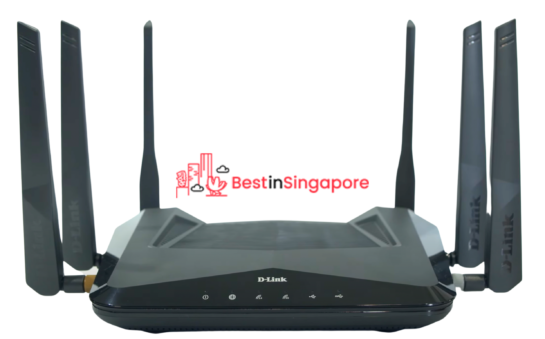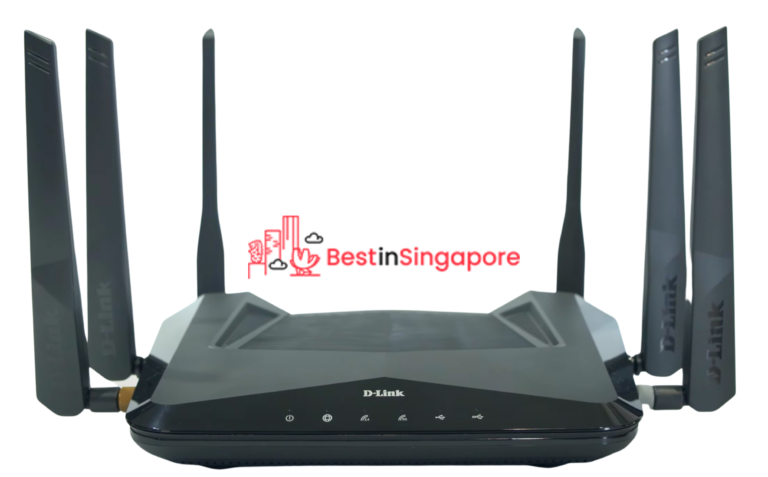 Price: SGD259.00
The D-Link DIR-X5460 is a router you might want to consider if you are looking for one that provides faster speeds, greater capacity, and less network congestion. It is also able to support various D-Link Wi-Fi Mesh enabled solutions for your convenience and to create more spaces within your home that is within Wi-Fi coverage.
This product also features a dual-band Wi-Fi that will make any internet heavy activities such as VR Gaming and 4K streaming easily attainable and at excellent speed and quality as well. It also features OFDMA and MU-MIMO technology that enables more devices to receive more data without the risk of lagging even if used simultaneously.
It has a backward compatibility to ensure that all it supports not only current Wi-Fi standards, but also previous devices and standards should you have started with a model prior to its release. Furthermore, they have also strengthened Wi-Fi security by employing 128-but encryption so you can browse with ease and comfort.
We recommend this Wi-Fi router for you due to its multi-functional features that will surely lead you a seamless and lag-free Wi-Fi experience at home or in any space you may need it for.
Pros
Has a voice control feature
Works with D-Link App for easy set-up
Has various USB ports for maximum shared storage
Cons
8. Synology Router RT2600ac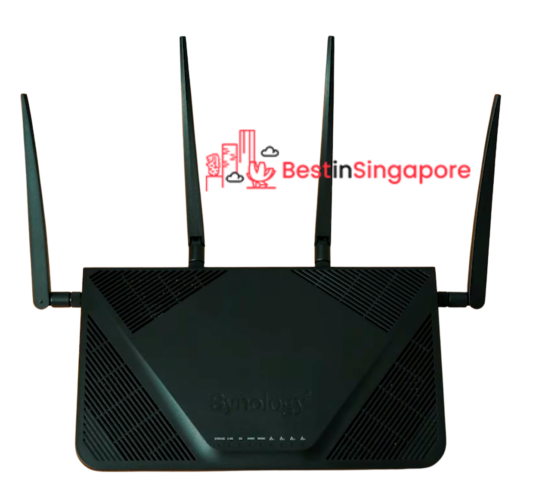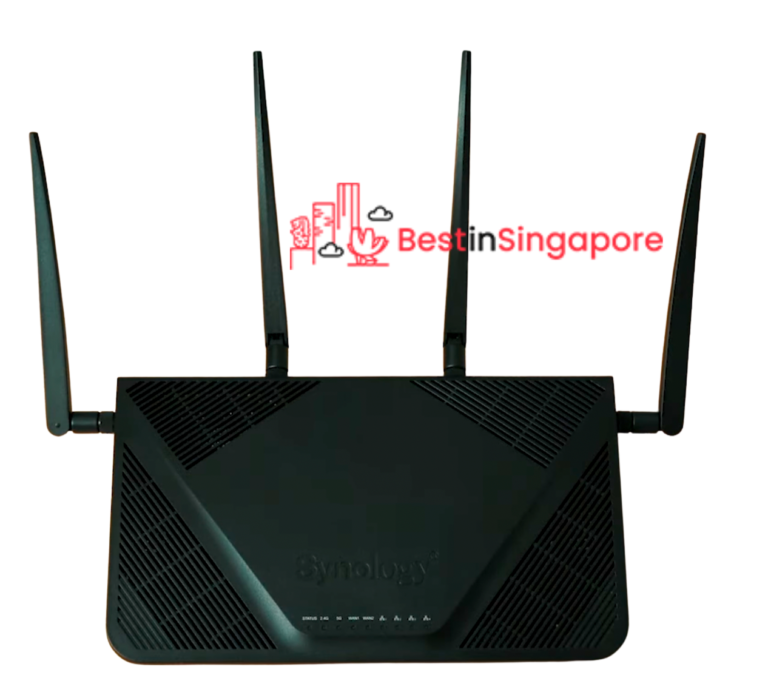 Price: SGD349.00
The Synology RT2600ac is a Wi-Fi router to consider if you want an ultra-fast internet experience that ranges up to 2.53Gbps. It can easily accommodate residential homes and small offices and ensure that areas of the said place are covered.
With a mesh Wi-Fi technology, its coverage is easily expandable as well by purchasing an additional router to further your internet experience to the maximum. It supports MU-MIMO which can help optimize your network to have minimal performance loss and ensure that you network is always in tiptop shape.
It has a two-year warranty so you can easily have it repaired and replaced should there be any factory defects or should you find any problem with it within the period. Furthermore, the Synology Router Manager that it contains makes visible your network speeds and the like to make information more straightforward.
We recommend this Wi-Fi router for you due to its complex design that enables you to understand, always control and secure your network.
Pros
Hardware Acceleration Engine
Powerful Wi-Fi
Can host more than one broadband connection
Cons
Lacks network ports for optimal LAN port support
Customer Reviews
Here are some reviews from their clients:
"The kindergarten cannot be a media-free room. We therefore looked to Synology to help us set up a wireless network so we could best prepare our children for the digital future." – Martina Böhm, Director of KiTa Tulpenstraße
"With its reliable performance and granular traffic/IP management features, Synology's mesh system has helped us solve all the Wi-Fi challenges we faced in our staff dormitory." – Chen Yong-Qi, IT Manager, Grand Mayfull Hotel Taipei
There you go! That's our list of the best routers in Singapore! If you've got more options in mind, you may also share them with us!
And for more devices that can help improve the Internet speed at home, here are the best powerline adapters in Singapore! With these adapters, you can connect your computer, smartphone, or smart TV directly to the router, providing a reliable connection.