8 Best Saucepans in Singapore for All Types of Cooking
Searching for a cooking pan and the best cookware in Singapore that you can use for multiple purposes? Well, then you must look for the best saucepan in Singapore!
Saucepans can be used when you're heating soups, making sauces, boiling vegetables and potatoes, cooking oatmeal and rice, and many more. It has a greater depth compared to other cooking pans so you can put in a larger amount of ingredients.
They usually come in sets because it's highly convenient to have different-sized saucepans. But how will you know which brand/model of pots and pans in Singapore mostly suits your needs and preferences?
So, to help you figure out how to determine high-quality pans from poorly made pans, we'll go over some things that you must consider before we show you our list of the best products.
What to Look For When Looking for the Best Saucepan in Singapore
Before you shop for the best saucepan in Singapore, you should know first that a good saucepan must heat evenly and cool down immediately when removed from the flame. That's the first thing to look for when buying one.
There are other things to look out for, though. Whether you're a professional cook or you just enjoy trying out new recipes, keeping these factors in mind will help you find a functional and durable saucepan.
1. Material
Saucepans vary in material. Each material has its own benefits that cater to specific cooking needs:
Aluminium pans are strong, lightweight, heat-conductive, and most importantly, they're available at affordable prices. It's the recommended material for saucepans because it heats fast and is relatively non-stick.
However, they're chemically reactive, so they might alter the taste of foods which are acidic, basic, and those with eggs, making it unsuitable for cooking sauces.
There are also saucepans that are made from copper. They're the most expensive among other types.
They're great conductors and they also heat evenly and quickly but they're toxic (if unlined), reactive, and corrode easily, so they must have a stainless steel surface.
A stainless steel material may not be an excellent heat conductor, but it's still a good choice because it's non-reactive, non-toxic, and non-porous.
Stainless steel pans in Singapore are thus the best for everyday use — just make sure to choose one with a copper or aluminium base so it can heat and cook evenly.
Enamel-coated cast iron saucepans are perfect for cooking soups and tomato sauces. They're extremely durable, non-reactive, and they provide even heat.
If you opt for this material, be sure that it's heavily coated for long-lasting use.
2. Non-stick surfaces
The decision of whether to get or not get non-stick cookware is based on your preferences. However, you still need to know why saucepans with non-stick surfaces are highly recommended.
First of all, they're easy to clean and require less oil than conventional pans. They don't offer absolute browning of food, though: that's why many manufacturers now combine aluminium with non-stick polymers to provide a better browning process.
3. Handle
A saucepan's handle must be sturdy and remain cool to the touch at all times so you can cook with ease. This includes the handles that are made from stainless steel (which are oven safe and can remain cool for a period of time).
Wooden handles provide excellent grip. However, they're not the best to use in an oven.
Cooking pans with plastic handles can be used on an oven, on the other hand… but they can only withstand up to 250 degrees and they can also melt under a broiler.
Also, avoid handles that are spot-welded or attached to the pan through screws. This is because they'll easily become loose and broken.
The Best Saucepans in Singapore
If you take the factors above into consideration, you'll easily find the right one that fits your needs. Let's now see which ones are the best saucepans in Singapore!
1. Circulon Ultimum Nonstick Saucepan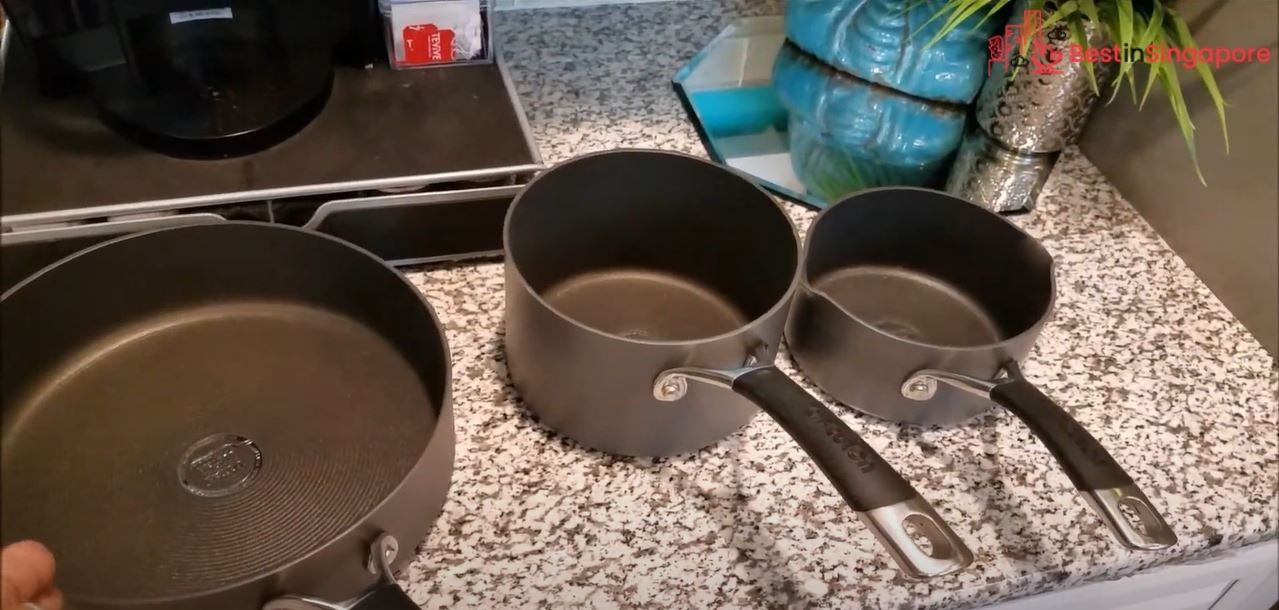 Price: $70.28
If quick cooking time is what you're looking for in the best saucepan in Singapore, then you need to take a look at this.
The Circulon Ultimum Nonstick Saucepan is made of heavy-gauge aluminium, giving you fast and even heat distribution. This durable saucepan also has a triple-layered nonstick surface and a stainless steel base.
Both the handle and the lid are made from stainless steel so you can monitor your cooking with ease and comfort. With these features, you can have your favourite meals ready to serve in no time!
Highlights
Aluminium body material
Stainless steel base, handle, and lid
Nonstick surface
Induction suitable
Customer Reviews
Many customers loved the overall design and multifunctionality of the Circulon Ultimum Nonstick Saucepan. A customer gave this feedback:
"I love this little saucepot! We are a small family of 3, living in a small apartment, so I really appreciate the versatility of this pot. I use it mostly for simple cooking tasks like heating up soups, boiling eggs, pasta, and blanching vegetables. When I'm done, it stores easily inside the stove. The lid is surprisingly heavy for its size. It's thick aluminum and has a bit of weight to it. This is useful for keeping steam trapped inside the pot when cooking. The handle is also relatively tall, making it safer to touch. I've never had a problem handling the lid barehanded."
2.   Tefal L'Artisane So French Saucepan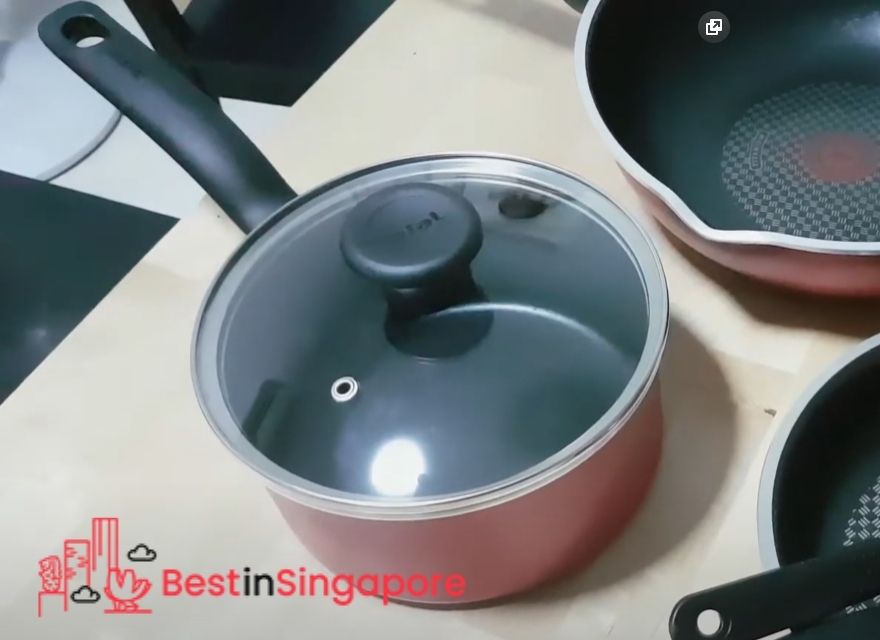 Price: $69.90
The Tefal L'Artisane So French Saucepan offers superior heat retention that produces ultra-tender results for rich-in-flavour dishes! It has a thick induction base and non-stick coating for easy clean-up and long-lasting use.
Whether your recipe needs high-temperature or slow cooking, this pan can bring out the full flavour of any meal. So, if you're planning to serve festive dishes for an upcoming celebration, this can be the best saucepan in Singapore for you!
Highlights
Aluminium body material
Non-stick surface
Glass lid
3.   Cuisinart MultiClad Pro Stainless Saucepan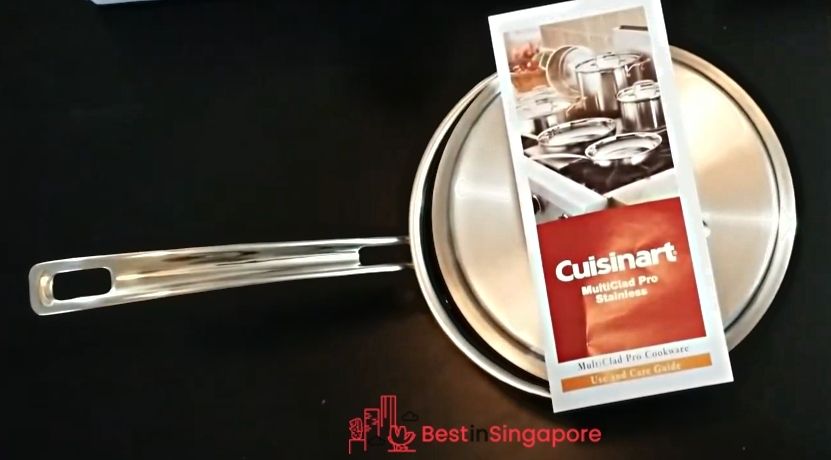 Price: $78.04
For hearty soups and flavourful sauces, the Cuisinart MultiClad Pro Stainless Saucepan is a great choice! It has a stainless steel cooking surface so it'll not alter the flavours, cause any discolouration, or react with food.
This best saucepan in Singapore also provides even heat distribution. It seals in moisture and nutrients with its tight-fitting cover, serving you a healthier meal.
Highlights
Aluminium and stainless steel body material
Solid stainless steel; handle
Drip-free pouring rim
Suitable with induction cooktops
4.   All-Clad BD55203 Saucepan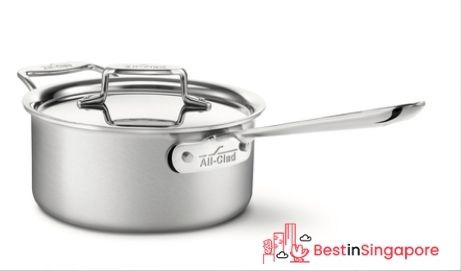 Price: $221.22
The All-Clad BD55203 Saucepan is another brushed stainless steel pan in Singapore with alternating layers of aluminium and steel. It heats evenly and limits evaporation, delivering perfectly browned dishes.
It also has a long handle and large bolsters for absolute safety and control while cooking. Moreover, it's oven- and broiler-safe, so you can cook a variety of dishes with this one.
Highlights
Stainless steel and aluminium body
Flared touring rim
Oven and broiler safe
Customer Reviews
The All-Clad BD55203 Saucepan has received positive reviews from customers saying that it heats up well and is easy to clean. Some of them even claimed it as the best saucepan in Singapore:
A customer posted this review:
"Cooks fantastic. I made stove top Mac and Cheese and it turned out perfect. I left the pan overnight and didn't rinse it out.. Put it in my Bosch dishwasher and it came out spotless. So cleanup for me has been easy."
5.   Sakura Toss & Turn Saucepan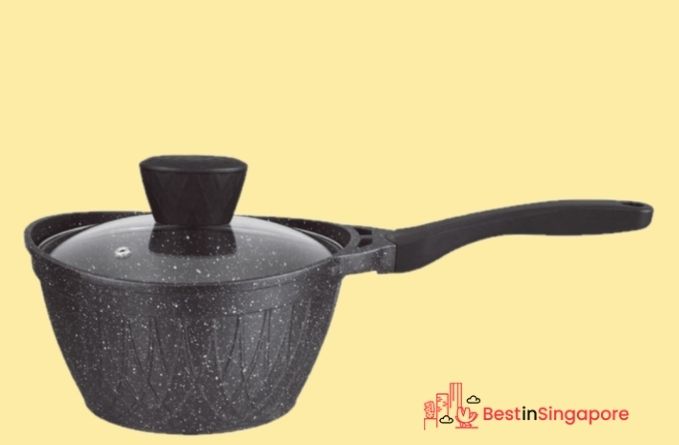 Price: $63.00
The Sakura Toss & Turn Saucepan features an elegant and polished design that's made from aluminium, providing exceptional heat conductivity for healthy meals. It also has an induction base, making it suitable for all stoves.
The glass lid comes with a stainless steel rim for absolute safety. The best thing about this one is that it has multiple layers of coating, ensuring a durable and non-stick surface. This is the best saucepan in Singapore for all types of houses.
Highlights
Aluminium body material
Nonstick surface
Glass lid
Suitable on all stoves
6.  SCANPAN HaptIQ Non-stick Saucepan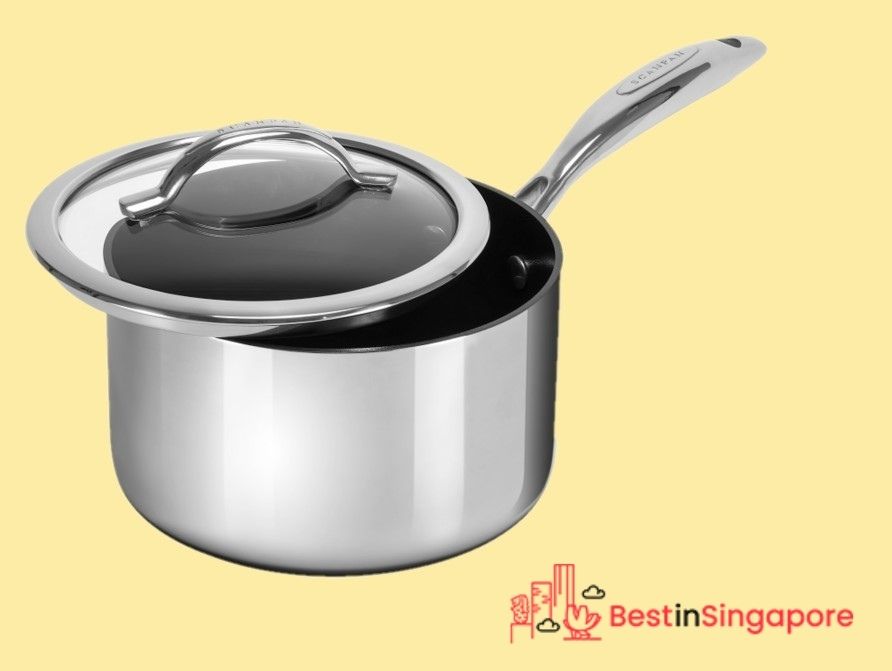 Price: $169.00
Here's another stainless steel pan in Singapore for high temp cooking. The Scanpan HaptIQ is an five-layer construction stainless steel body with aluminum core that gives quick heat distribution. It has a non-stick coating for easy cooking and cleaning.
This pan will serve out the best in your meals, may it be in high temperature or slow cooking. Purchase this product and give yourself an easy to clean and metal utensil safe with 10 years warranty services!
Highlights
Stainless Steel and Aluminum body material
Easy to clean
Commercial Grade STRATANIUM+ non-stick coating
Safe to use in the oven
Dishwasher and metal utensil safe
8.  Fika 1.7QT Saucepan, Glass Lid


Price: $69.99
The Fika 1.7QT Saucepan is a pot to be considered if you often do liquid-based cooking procedures such as braising, boiling, and more. Its design is certified and recognised as a Reddot Design Award due to its simplicity yet efficiency when it comes to its usage.
It has a Scandinavian inspired design that features simple color selections and other safety features as well such as a wooden non-slip grip oval handle for easy handling. It also has a glossy sand-colored inner coating to make your washing experience less of a hassle and more of a help in getting any residue left in the pot with ease.
Its glass lid also helps insulate the heat better and accurately covers the whole pot both with precision and free of sound. Furthermore, all materials used in the said pot are all non-toxic which makes this an excellent choice for your family's kitchen needs.
We recommend this pot for you due to its sleek yet ergonomic design that will not only satisfy your aesthetic goals but also in terms of its utility.
Highlights
Materials used enhance cookware's durability
Eco-friendly
Non-stick
Easy to clean
And that's the end of our list of the best saucepans in Singapore! If you'd like to recommend more options, you may also share them with us!
And to complete your home-cooked meals, take a look at these best rice cookers in Singapore! These selections feature customisable and user-friendly settings that you'll surely love.