Public vs. Private Healthcare in Singapore: Which to Choose?
Singapore is home to one of the best (if not the best) healthcare systems in the world. But to understand why Singapore has been so successful at it, it's important to look at the system as a whole for starters.
To put it simply, Singapore's healthcare system boasts a unique mix of private and public healthcare that's unlike any other.
And if you're wondering what sets public and private healthcare apart, then our guide will cover exactly what these two sectors offer. This will help you make a better decision on which facility to go for when the situation calls for it.
Options for Financing Healthcare in Singapore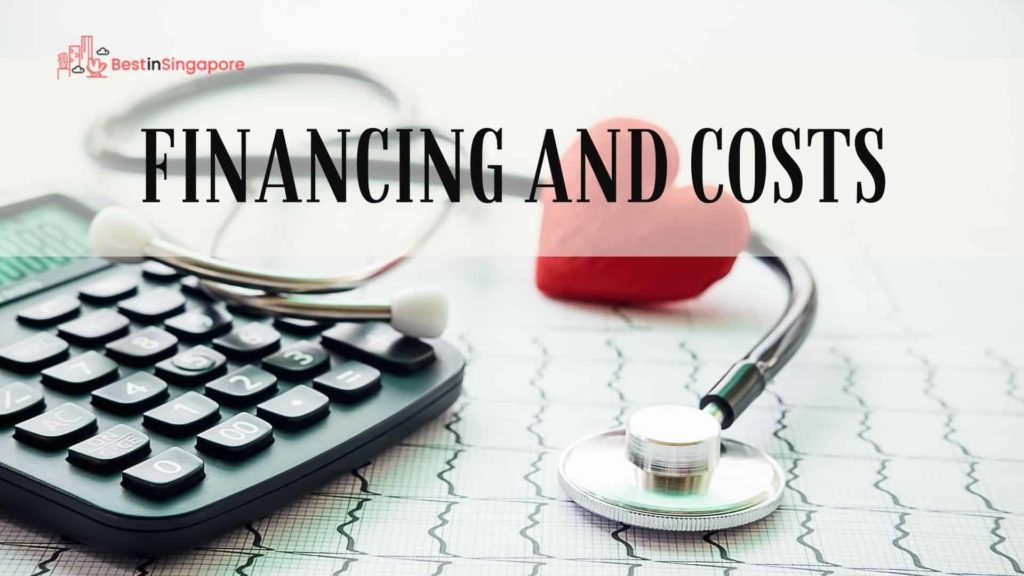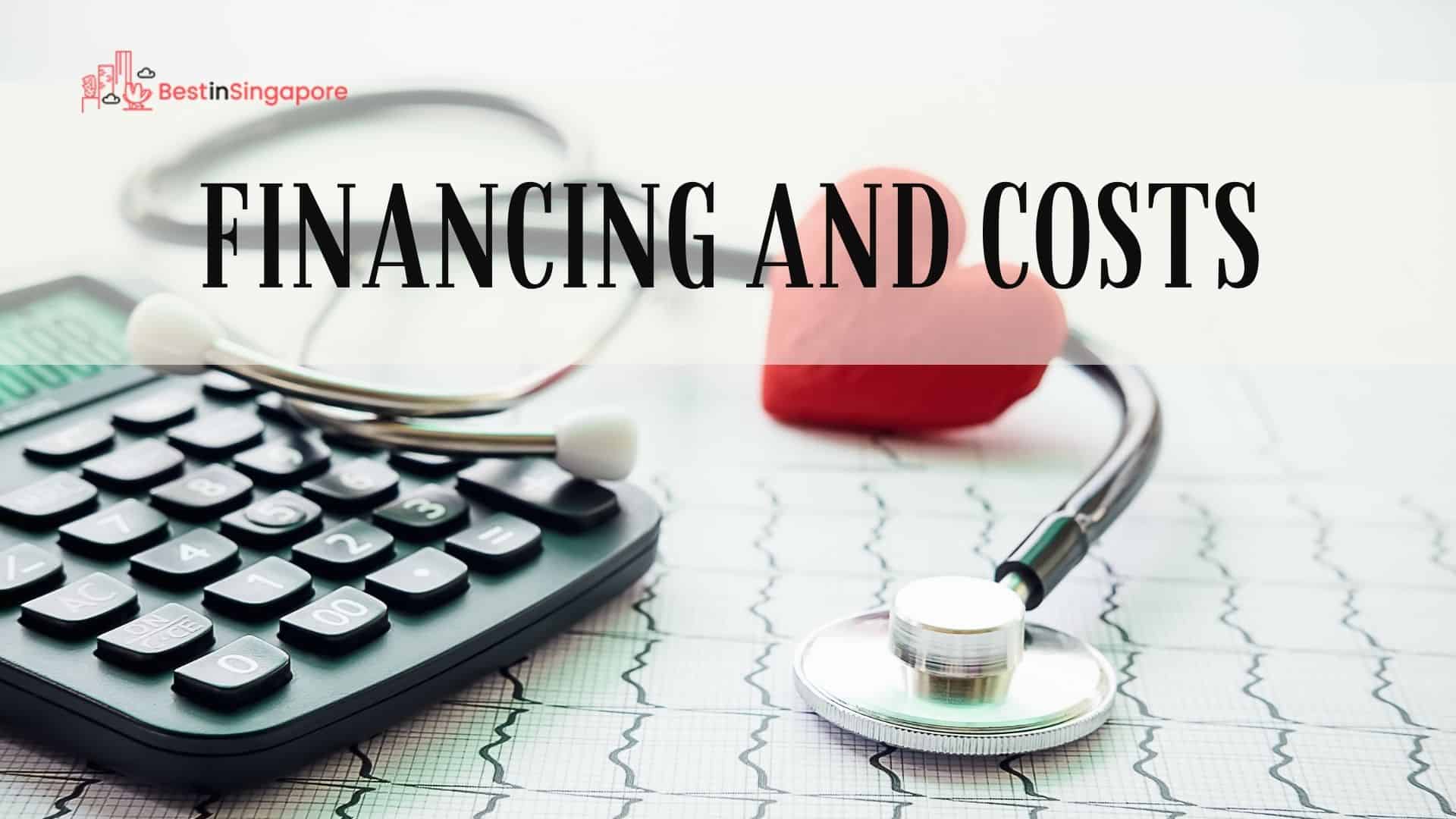 Singapore's healthcare system consists of public and private facilities, both of which offer high quality medical care. However, there are several things that set them apart including patient care, comfort, and most importantly, cost.
In terms of cost, the main distinction between them is how they're managed and financed. In this section, we'll discuss both of them in detail so you can plan your medical budget for future use.
Public Healthcare
Managed by the government, public healthcare coverage is available to all citizens and permanent residence (PR) holders. It revolves around the "3Ms," which are schemes that help keep healthcare costs low for everyone regardless if they can afford it or not.
MediSave
This is a government-mandated savings account that takes up 8% to 10.5% of a worker's monthly pay. In other words, individuals are forced to save part of their monthly salary for medical bills that may be incurred in the future.
MediSave is just one part of the three accounts under the Central Provident Fund (CPF)—a mandated savings scheme that deposits your monthly contributions into different accounts.
For the purposes of this article, we'll only be focusing on MediSave. You can refer to CPF's website for more information about your other monthly contributions.
As for MediSave, the percentage of your monthly contributions increases as you age, which will be offset by lower monthly contributions to other accounts. Check out the table below for easy reference.
| Age Group | Ordinary Account | Special Account | MediSave Account | Total % of Monthly Wage (Covered by Employee) | Total % of Monthly Wage (Covered by Employer) |
| --- | --- | --- | --- | --- | --- |
| 35 and below | 23% | 6% | 8% | 20% | 17% |
| Above 35 to 45 | 21% | 7% | 9% | 20% | 17% |
| Above 45 to 50 | 19% | 8% | 10% | 20% | 17% |
| Above 50 to 55 | 15% | 11.50% | 10.50% | 20% | 17% |
| Above 55 to 60 | 12% | 3.50% | 10.50% | 13% | 13% |
| Above 60 to 65 | 3.50% | 2.50% | 10.50% | 7.50% | 9% |
| Above 65 | 1% | 1% | 10.50% | 5% | 7.50% |
To illustrate, say a 30 year old person has a monthly salary of $4,000. Before getting your take-home pay, your employer will deduct $800 (20% of $4,000) from your salary to deposit into your CPF accounts.
Along with that, your employer will shell out an additional $680 (17% of $4,000) on top of your monthly salary to deposit into your CPF accounts. In total, your contributions will amount to $1,480 monthly.
Thus, your take-home pay will be $3,200 (20% of $4,000) deducted after contributions. In this case, your MediSave monthly contribution amounts to $320 monthly.
MediSave contributions are also required for self-employed individuals earning more than $6,000 monthly. You can use CPF's online calculator to know how much your contributions would be.
You can use your MediSave account to cover daily ward fees, treatment charges, investigations, and medicine during hospitalisation. Take note that you can only use MediSave up to a certain amount, depending on the medical procedure.
In other words, you also have to pay for your surgery out of your own pocket once you've exhausted the limit. You can use up to $550 of your MediSave for the first two days of hospitalisation, and $400 per day thereafter.
Moreover, your MediSave account can only hold a maximum amount of money, which is currently at $66,000 for CPF members aged 65 and below. Any amount beyond that will be deposited into your other CPF accounts.
MediShield Life
In simpler terms, MediShield Life is a low-cost medical insurance that you can use alongside MediSave to cover medical bills. Just like MediSave, it's mandatory for Singapore citizens and PR holders, even those with pre-existing conditions.
The main difference between MediSave and MediShield Life is that the latter has wider coverage and acts like a regular health insurance plan, whereas the former functions just like a savings account.
You can file a claim to cover certain medical costs, hospitalisation, and outpatient treatments, regardless if it's in a public or private hospital.
In terms of payment, you may use your MediSave account to pay for your premiums. And speaking of premiums, you only have to pay for it annually, which will increase as you age.
Refer to the table below for MediShield Life premiums. Low-income earners may also apply for a subsidy to cover a certain percentage of their premiums, which is detailed on the Ministry of Health's (MOH) website.
| Age on Next Birthday | Annual MediShield Life Premiums |
| --- | --- |
| 21-30 | $195 |
| 31-40 | $310 |
| 41-50 | $435 |
| 51-60 | $630 |
| 61-65 | $755 |
| 66-70 | $815 |
| 71-73 | $885 |
| 74-75 | $975 |
| 76-78 | $1,130 |
| 79-80 | $1,175 |
| 81-83 | $1,250 |
| 84-85 | $1,430 |
| 86-88 | $1,500 |
| 89-90 | $1,500 |
| >90 | $1,530 |
One of the key highlights of MediShield Life is that it can cover your hospitalisation in larger Class B2/C wards. Here's a list of other benefits you can avail with MediShield Life as of March 2021:
Annual claim of $150,000
Claim limit of $800 for normal wards
Claim limit of $2,200 per day for intensive care unit wards
Additional claim limit of $200 for the first two days of hospitalisation
Claim limit of $2,600 for more complex procedures
Limit of $3,000 per month for outpatient chemotherapy
Limit of $1,100 per month for outpatient kidney dialysis treatment
You can refer to MOH's website to get the full list of MediShield Life benefits. 
At a glance, MediShield Life may offer substantial benefits but it also comes with heavy restrictions. For instance, it doesn't cover ambulance fees, cosmetic treatments, overseas medical treatment, among many others.
Another thing that you should know about MediShield Life is that you should pay a fixed amount called a deductible before MediShield Life can cover the costs. Essentially, you only have to pay it once per year using cash or MediSave.
In other words, you don't have to pay a deductible if you end up being hospitalised multiple times a year. The table below shows the deductibles you have to pay as of March 2021.
| Deductibles | | |
| --- | --- | --- |
| Ward Class/Treatment | 80 and Below | 81 and Above |
| Class C1 | $1,500 | $2,000 |
| Class B2 and above (including stay in private hospitals) | $2,000 | $3,000 |
| Day Surgery | $1,500 | $2,000 |
| Outpatient Treatments | Not Applicable | |
Another thing that you should know about is co-insurance. Basically, this represents a portion of your bill that you have to pay out of your own pocket as a supplement to MediShield Life.
Co-insurance is calculated as a percentage of the amount you're attempting to claim. Unlike deductibles, you must pay co-insurance each time you file a claim.
| Co-insurance | |
| --- | --- |
| Claimable Amount | Co-insurance(Percentage of Claimable Amount) |
| $0 - $5,000 (Inpatient and Day Surgery) | 10% |
| $5,001 - $10,000 (Inpatient and Day Surgery) | 5% |
| >$10,000 (Inpatient and Day Surgery) | 3% |
| All Outpatient Treatments | 10% |
To illustrate, let's say a 40 year old man has been hospitalised. He chose to be confined in a Class B2 for his stay.
He stayed in the hospital for 10 days, incurring a total cost of $9,000. Because it's his first time to be hospitalised in a year, he would have to pay $2,000 for his deductible to cover his stay in the Class B2 ward.
He then filed a claim for $7,000 to cover the rest of his medical expenses. Given that his claims were approved, his co-insurance will amount to $700 for the first $5,000 and $100 for the remaining amount, bringing the total to $800 in co-insurance.
MediFund 
And finally, MediFund is an endowment fund that assists low-income Singaporeans with their medical bills. HealthHub notes that patients who face financial issues with their remaining expenses can use MediFund as a safety net.
The most important thing to remember about MediFund is that there's no standard amount on what you can receive. Ultimately, the final amount will depend on several factors including the total amount of your bill, you and your family's financial, health, and social circumstances.
Your application will be decided by your healthcare provider's MediFund Committee. To qualify for MediFund assistance, you must meet the following criteria:
You're a Singapore citizen
You're a subsidised patient
You have received or require treatment from a MediFund-approved institution
You're having difficulties paying for your healthcare bills after Government subsidies and other means including MediShield Life, MediSave, and cash
Private Healthcare
With rising healthcare costs, relying purely on your MediSave account and MediShield Life coverage may not always be enough. More often than not, you might require additional health insurance coverage to ensure that you're sufficiently protected from high costs at all times.
Even though private hospitals are theoretically allowed to set their own prices, the government carefully regulates the market to ensure that costs remain accessible for everyone.
There are different types of private health insurance plans in Singapore including Integrated Shield Plans, critical illness insurance, maternity insurance, and more. 
To know which one makes the right fit for you, it's important to familiarise yourself with the most common ones available in Singapore today. From there, you can determine which private insurer gets you the best coverage for your budget and needs.
Integrated Shield Plans
The best thing that you can do to enjoy wider coverage is by getting an Integrated Shield Plan (IP). IPs provide optional yet additional coverage on top of MediShield Life.
In Singapore, there are seven accredited insurers providing IPs, namely:
Depending on your IP, they can cover the costs of your confinement in Class A wards in public hospitals or even private hospitals. Each IP provider also has a network of preferred doctors and clinics called panels, giving you the flexibility of choosing the most suitable one for you.
Here are just some of the advantages of getting an IP as an upgrade to your MediShield Life coverage:
| Coverage | MediShield Life | Integrated Shield Plans |
| --- | --- | --- |
| Annual claim limit | $150,000 | Up to $2,500,000 |
| Class ward | Class B2/C wards - Public hospitals | All wards inc. standard rooms in public and private hospitals |
| Hospitalisation cover | $800 per day for normal wards | As charged |
| Pre-hospitalisation cover | NA | Up to 180 days |
| Post-hospitalisation cover inc. outpatient treatments | No post-hospitalisation cover; monthly limits vary depending on outpatient treatment | Up to 365 days; outpatient treatments as charged |
While IPs are meant to complement MediShield Life, they can also provide coverage to foreigners and expats. If that's the case, just take note that expats won't receive MediShield Life coverage that citizens and PR holders enjoy.
Just like MediShield Life and regular insurance plans, expect to pay annual premiums to retain your insurance policy with your insurer. The amount will depend on the insured individual's age and circumstances.
Keep in mind that getting an IP won't exempt you from paying deductibles and co-insurance. IP deductibles may cost you up to $3,500 while co-insurance is fixed at 10% of your bill.
However, you can also get an additional rider on top of your IP to cover your deductibles and co-insurance. In general, riders reduce the total amount you'll be paying out of your own pocket from 10% to just 5%.
Just like MediShield Life, IP and rider premiums are also subject to price increases as you age.
To illustrate, say you incurred a medical bill amounting to $50,000. You're covered by the most comprehensive IP that your insurer is offering, so you naturally chose to be confined in a Class A ward in a private hospital.
If you don't have a rider, this will cost you a $3,500 deductible, plus $5,000 for co-insurance. Given that your claims were approved, you only have to pay a total of $8,500.
But if you have a rider, you end up paying a total of $2,500 of co-insurance only subject to your policy terms. As long as you seek treatment from your insurer's panel of doctors or clinics, then you can pay a maximum of $3,000 only as co-insurance even if you exceed that amount.
While you can still seek treatment from a non-panel doctor, just take note that you won't be eligible for the co-insurance cap, plus other benefits noted in your insurance policy.
Critical Illness Insurance
Another health insurance product you can get from private companies is critical illness insurance. If you're diagnosed with a serious disease (covered by the insurance policy), you'll basically get a lump sum payment.
Unlike IPs and MediShield Life, you aren't restricted to use the payout for medical services. In other words, you're free to use the payout in whatever way you wish.
Most policies cover 37 critical illnesses set by the Life Insurance Association (LIA) of Singapore including, but not limited to:
Coronary artery by-pass surgery
Stroke
Coma
Paralysis
Heart valve surgery
Blindness
Maternity Insurance
As you can tell by its name, maternity insurance provides expecting mothers and their children with comprehensive medical coverage over the course of their pregnancy and shortly after birth. 
Depending on your chosen policy and insurer, you may receive a one-time lump sum or a daily hospital allowance to help with unexpected medical expenses. You may purchase maternity insurance starting from the 13th week of your pregnancy.
It's not designed to cover prenatal care such as gynaecologist consultations, ultrasounds, regular hospitalisation and labour costs but rather, complications that may arise during the policy term.
While MediShield Life and IPs also cover pregnancy- and delivery-related complications, note that they'll only cover very specific conditions.
In essence, maternity insurance covers a wider range of conditions for the expecting mother and the baby. We noted some examples in the table below.
| Covered Conditions (Mothers) | Covered Conditions (Babies) |
| --- | --- |
| Pre-eclampsia or eclampsia | Absence of two limbs |
| Still birth | Cleft lip and cleft palate |
| Uterine rupture | Cerebral palsy |
| HELLP Syndrome (Haemolysis, elevated liver enzymes, low platelet count) | Congenital blindness, deafness |
| Fatty liver of pregnancy | Down's syndrome |
Taken from Aviva's MyMaternityPlan as an example
Types of Healthcare Facilities and Services in Singapore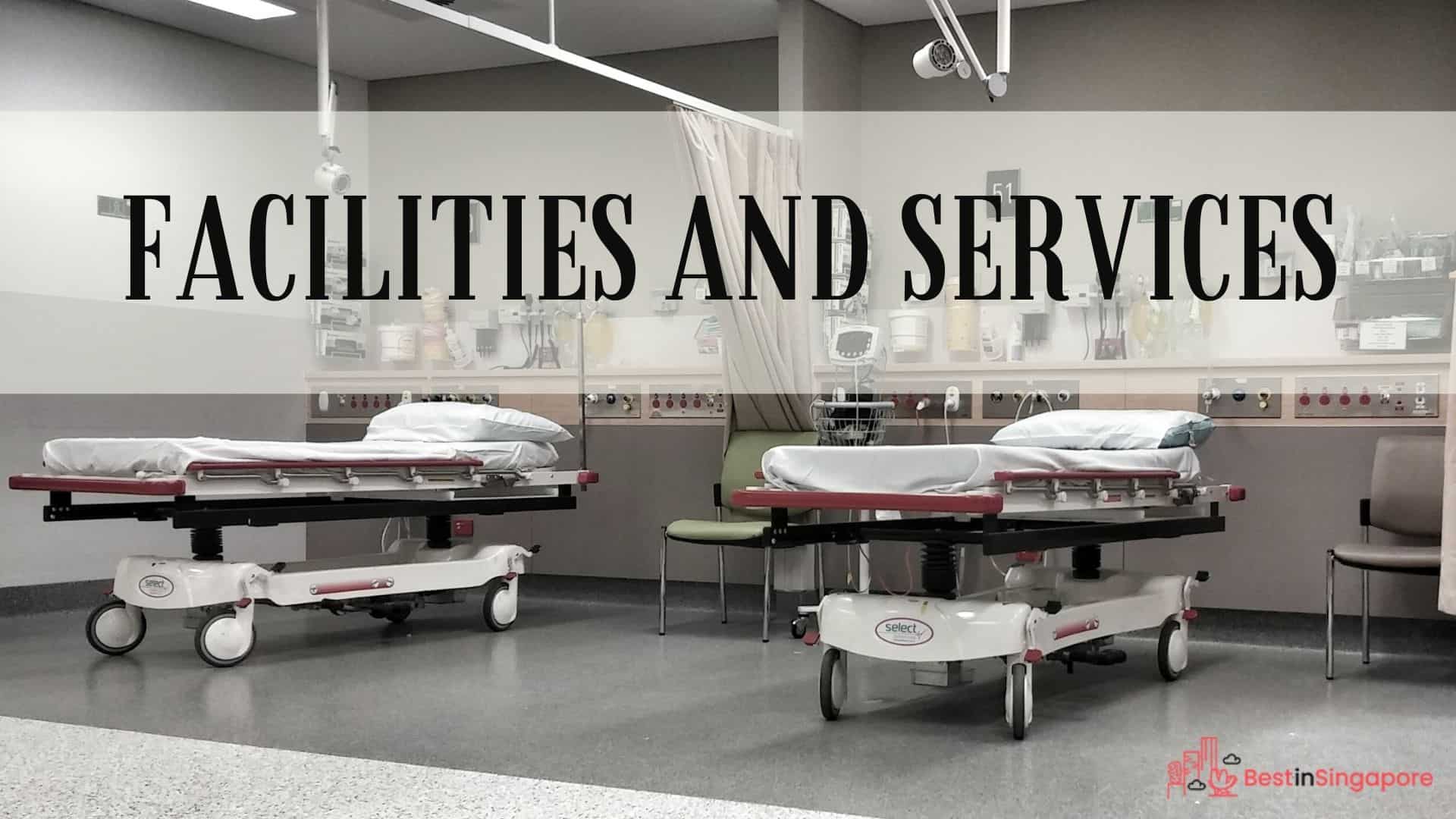 At the end of the day, a bulk of the costs you'll be paying will depend on how comfortable you want your hospitalisation to be. While not all facilities are built equally, the best one will still depend on your needs and budget.
Public/Restructured Hospitals
Public hospitals are owned by the government or state-owned organisations. They're not to be confused with restructured hospitals, which simply means that they're managed autonomously.
In Singapore, there are two types of public hospitals: general/acute and community hospitals.
A general hospital functions just like your textbook hospital. They provide in- and out-patient treatment for various medical disciplines.
Regardless of income, patients have the flexibility of choosing whatever room they prefer. However, subsidies will vary depending on ward class and income.
Ward Class
Facilities
Subsidy
Rates
Class A
•Single room

•Attached bathroom and toilet

•Toiletries

•Television

•Telephone

•Fully automated electric bed

•Choice of meals

•Sleeper unit for accompanying adult available for an additional charge

No subsidy
From $508.46 per day
Class B1
•4 beds in a room

•Attached bathroom and toilet

•Television

•Semi-automated electric bed

•Choice of meals

20%
From $251.45 per day
Class B2
•Up to 6 beds in a room

•Semi-automated electric bed

50% - 65%
From $79 per day
Class C
•Up to 8 beds in a room
65% - 80%
From $35 per day
Taken from Singapore General Hospital
It's no secret that public hospitals offer longer waiting times than private hospitals. According to the MOH, wait times range from one to four hours on average for public hospital admission.
On top of that, patients also don't get to choose their doctor for treatment.
On the other hand, community hospitals offer medical services and short-term care to patients who have recently been discharged from the hospital.
Community hospitals aren't nursing homes nor do they offer day care or long-term care to patients. Rather, they're meant to provide rehabilitation or palliative care to discharged patients until they recover.
In Singapore, there are 16 public hospitals (general and community) to choose from:
Changi General Hospital
KK Women's and Children's Hospital
Sengkang General Hospital
Singapore General Hospital
Khoo Teck Puat Hospital
Tan Tock Seng Hospital
Alexandra Hospital
National University Hospital
Ng Teng Fong General Hospital
Bright Vision Hospital
Institute of Mental Health
Jurong Community Hospital
National Heart Centre
Outram Community Hospital
Sengkang Community Hospital
Yishun Community Hospital
Polyclinics
Meanwhile, polyclinics aim to provide subsidised outpatient medical care. They offer several medical services at affordable rates including immunisation, health screenings, dental services, medical follow-ups following a discharge, diagnostic and pharmaceutical services, and more.
There are 22 polyclinics scattered all over Singapore, namely:
Ang Mo Kio Polyclinic (NHG)
Bedok Polyclinic (SingHealth)
Bukit Batok Polyclinic (NHG)
Bukit Merah Polyclinic (SingHealth)
Choa Chu Kang Polyclinic (NHG)
Clementi Polyclinic (NHG)
Geylang Polyclinic (SingHealth)
Hougang Polyclinic (NHG)
Jurong Polyclinic (NHG)
Marine Parade Polyclinic (SingHealth)
Outram Polyclinic (SingHealth)
Pasir Ris Polyclinic (SingHealth)
Queenstown Polyclinic (SingHealth)
Sengkang Polyclinic (SingHealth)
Tampines Polyclinic (SingHealth)
Toa Payoh Polyclinic (NHG)
Woodlands Polyclinic (NHG)
Yishun Polyclinic (NHG)
Because they're subsidised, expect longer waiting times here compared to private clinics. According to the MOH, the average waiting time for consultations range from 45 to 60 minutes on average, which varies on your chosen location. 
Private Hospitals
In essence, private hospitals are owned and managed by private entities. They offer a full range of medical services under various disciplines, from specialised surgeries to general services.
More than that, they're widely considered to be a more "luxurious" option in terms of healthcare, offering more privacy, comfort, short waiting times, and additional amenities. For reference, take a look at Gleneagles Hospital's selection of private rooms.
Room Type
Amenities
Costs
Single room
•24m2

•Electric hospital bed

•Private bathroom

•Sofa bed

•Television

•Telephone

•In-room safe

•Mini fridge

•Slippers

•Towels

•Toiletries

•WiFi

From $722
2-bedded room
•31m2

•Electric hospital bed

•Shared bathroom

•Television

•Telephone

•Locker

•Slippers

•WiFi

•Towels

•Toiletries

From $329
Executive suite
•31m2

•Sofa bed

•Television

•DVD player

•Telephone

•In-room safe

•Mini-fridge

•Nespresso machine

•Hairdryer

•Slippers

•Kimono

•Towels

•Toiletries

•WiFi

From $1,288
For the full list of private rooms, check out Gleneagles Hospital's website.
Of course, all that comes with a high price tag. Refer to the table below for the MOH's fee benchmarks on private medical services. 
Surgeon fee estimates below are based on the simplest to the most complex procedures of a specific medical discipline. Note that prices depend on your chosen specialist, medical procedure, and hospital.
| Medical Discipline | Surgeon Fee Estimates |
| --- | --- |
| Ears, Nose, Throat (ENT) | $160 - $10,300 |
| Gastroenterology (Digestive) | $600 - $20,000 |
| Cardiovascular (Heart) | $400 - $25,000 |
| Ophthalmology (Eye) | $300 - $12,850 |
| Urology (Urinary) | $700 - $5,150 |
| Integumentary (Skin and Breast) | $240 - $10,700 |
| Hemic & Lymphatic (Blood) | $1,300 - $3,700 |
| Neurology (Nervous/Brain) | $1,250 - $6,400 |
| Pulmonology (Respiratory/Lung) | $1,050 - $2,000 |
| Musculoskeletal (Orthopaedic/Bones) | $300 - $12,850 |
| Endocrinology (Endocrine/Thyroid) | $6,400 - $11,750 |
Clinics
And finally, private clinics and doctors represent about 80% of Singapore's primary care facilities. According to the MOH, there are about 1,800 GP clinics across Singapore, ranging from solo practitioners to medium and large corporate groups.
There are different types of private clinics in Singapore including ones that specialise in mental health, health screenings, medical issues, dental problems, and cosmetic enhancements. 
There are also private clinics that cater to age-specific medical problems from children and seniors. In other words, you essentially have plenty of options to choose from depending on you and your family's needs. 
Compared to polyclinics, consultation and treatment fees are generally more expensive. And because they aren't subsidised, you have to pay for their services from your own pocket.
However, you can also use your IP or other private health insurance to pay for their services, but keep in mind that there are limits on how much can be covered.
Generally, private doctors or specialists charge patients around $150 for their first regular consultation and about $170 for extended or emergency consultations. Subsequent consultations cost less at around $100 to $120 per session.
We also noted some common out-patient services that you can avail in private clinics based on MOH's fee benchmarks, just in case you don't want to queue up at large hospitals.
---
At the end of the day, the best way to choose between public and private healthcare is to know your budget, needs, and preferred comfort level.
If you're on a tight budget, then public hospitals and polyclinics are the best way to go. But if you have some extra cash to spare, then private hospitals and clinics offer top-notch facilities to make your stay extra comfortable too.
And that wraps up our guide of public and private healthcare in Singapore. We hope our guide will help you choose the most suitable facility if you ever need it one day.