Our 8 Favourite Haemorrhoids Clinics in Singapore
Seeking treatment for haemorrhoids can be somewhat daunting and embarrassing but there's no need for that! This is a legitimate medical concern that may be a sign of a serious issue if left untreated.
While most cases normally get better after a few days, consider seeing a doctor if your symptoms don't go away. Luckily, we know some of the best haemorrhoids clinics in Singapore in case you don't know where to find them.
So, in this list, we made sure to include only those with experienced specialists, complete medical equipment, and a wide range of services for those seeking relief. If you're ready, let's get started!
How much does it cost to treat haemorrhoids?
Most specialists in Singapore don't make their rates readily available to the public. Because of that, we did a bit of digging to give you price estimates of common treatment costs for haemorrhoids.
We also included costs for colonoscopy, which is a test that some doctors require you to take in order to give you a more accurate diagnosis.
Of course, actual rates may vary per clinic and hospital, and will depend on the complexity of your case and your doctor's experience.
TREATMENT/SERVICE
ESTIMATED COSTS
Over-the-Counter Haemorrhoid Cream
$7 – $10
Haemorrhoidectomy
From $10,000
Consultation
$100 – $150
Diagnostic Colonoscopy (Day Surgery)
$576 (Public Hospitals; Subsidised)
$2,590 (Private Hospitals)
Colonoscopy Screening
$397 (Public Hospitals; Subsidised)
The Best Haemorrhoids Clinics in Singapore
Let's proceed to our picks of the top haemorrhoids clinics in Singapore!
1. Colorectal Surgeon Singapore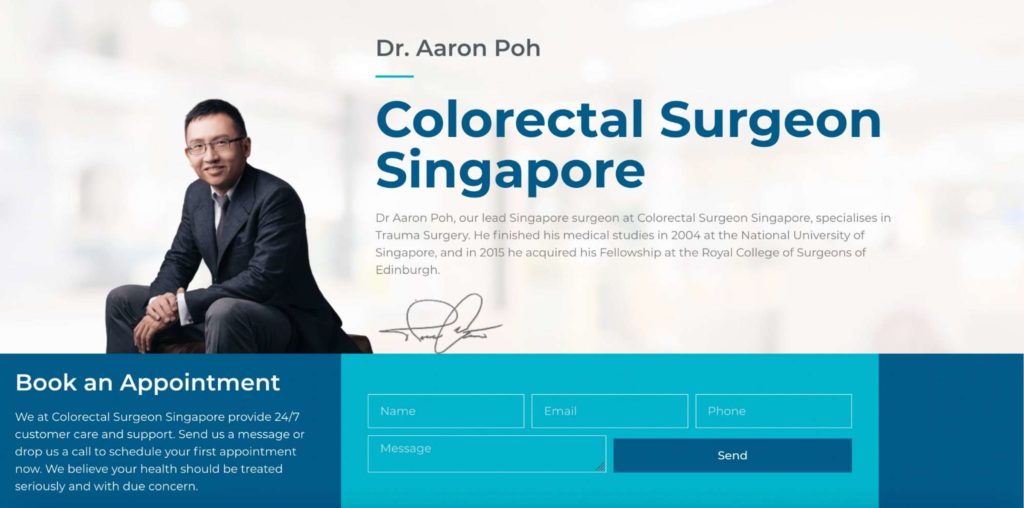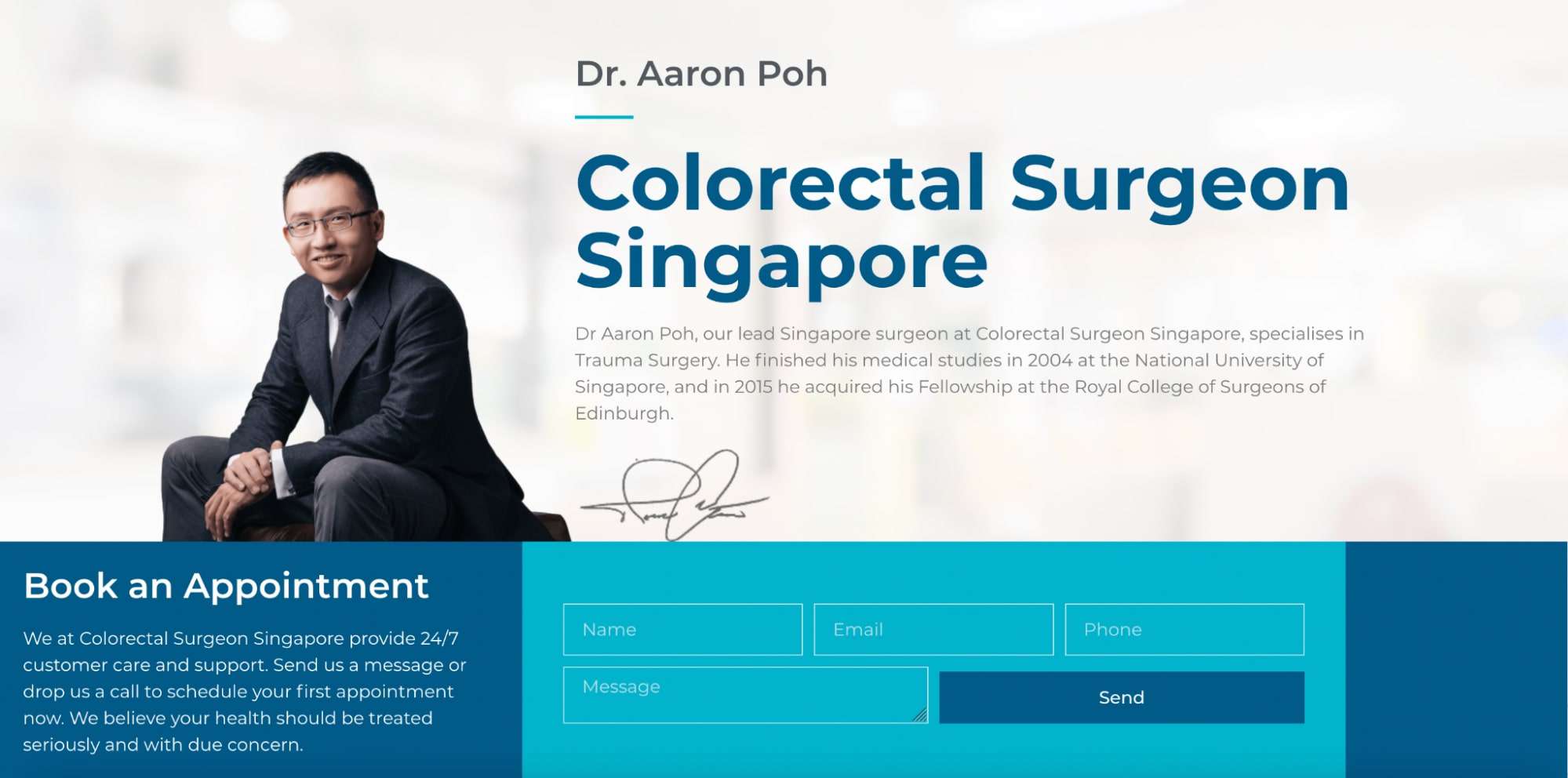 SERVICES
Colorectal Cancer Screening, Diagnosis and Treatment for Haemorrhoids, Anal Conditions, Pelvic Floor Disorders, Diverticulitis, Inflammatory Bowel Diseases
WEBSITE
https://www.colorectalsurgeonsingapore.com/
ADDRESS
3 Mount Elizabeth #17-16 Medical Centre, Singapore 228510
CONTACT DETAILS
+65 6951 5363 |

[email protected]

OPERATING HOURS
Mon to Fri: 9:00 am – 5:00 pm
Sat: 9:30 am – 12:30 pm
If you have haemorrhoids that don't seem to go away, you might want to consider Dr. Aaron Poh of Colorectal Surgeon Singapore. He's a surgeon who specialises in treating colorectal diseases such as colon polyps, colitis, and haemorrhoids.
We really like the fact that this clinic has an extensive range of medical services. Apart from surgeries, they also provide health screening, vaccination, and even dental services, making them a one-stop shop for those who are looking for several services at once.
Now, if you've been diagnosed with a more serious haemorrhoid condition requiring surgery, rest assured that Dr. Poh is fully equipped to handle that. Some common procedures he has performed include haemorrhoidectomy, stapled haemorrhoidopexy, and THD method.
The clinic has relatively short business hours, which isn't uncommon among clinics based inside hospitals. Despite this, we're very glad to learn that they provide their patients with 24/7 customer care and support.
So, if you ever need emergency care at some point, all you need to do is to give them a call and they'll take it from there.
Wide variety of services
Convenient location
24/7 customer support
Specialises in colorectal surgeries
Emergency care available
Short weekend hours
Rates unavailable online
2. Bernard Lim Specialist Surgery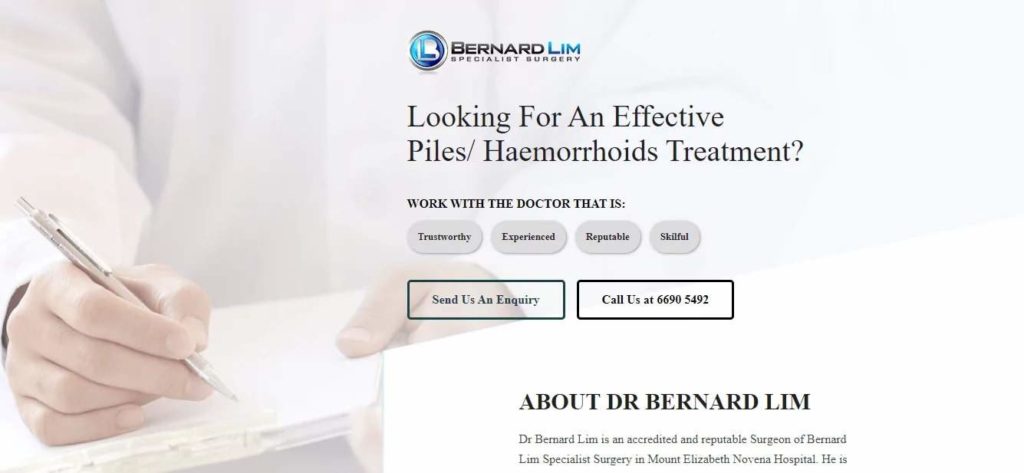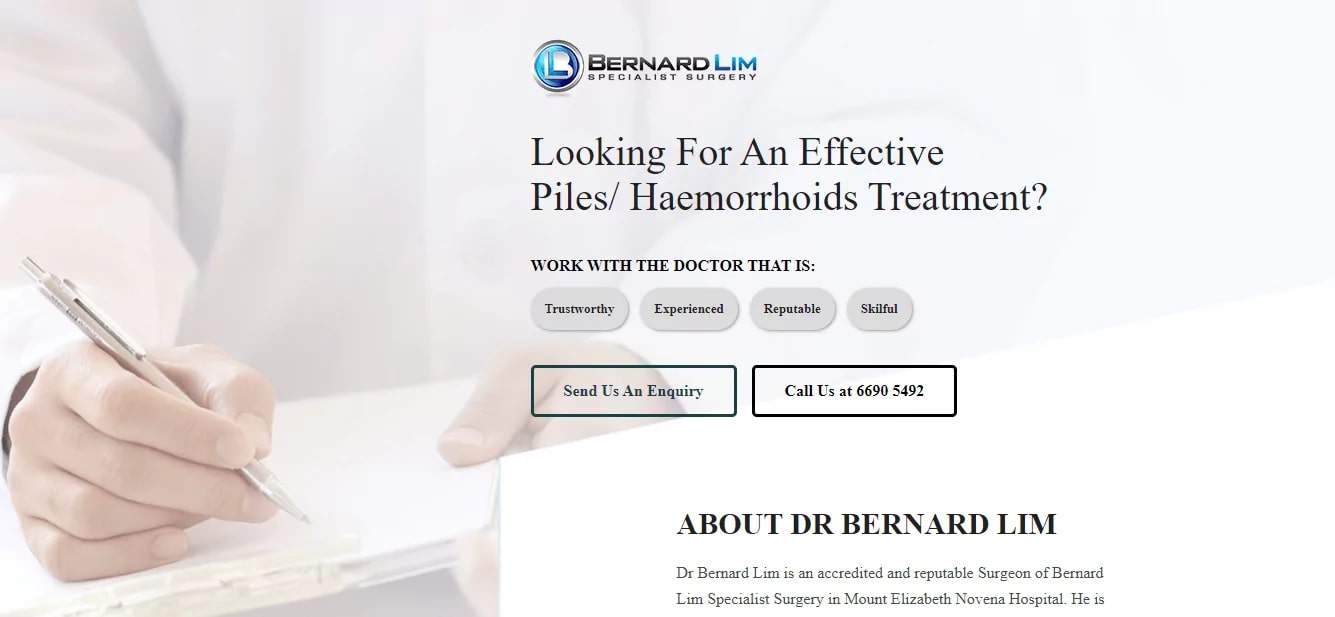 SERVICES
Diagnosis and Treatment of Haemorrhoids, Endoscopy (Gastroscopy and Colonoscopy), Colon/Rectal Cancer Surgery, Hernia Surgery
WEBSITE
http://www.drbernardlim.com.sg/
ADDRESS
Mount Elizabeth Novena Specialist Centre, 38 Irrawaddy Road #08-52, Singapore 329563
CONTACT DETAILS
+65 6334 7988 | Enquiry Form Available Here
OPERATING HOURS
Mon to Fri: 8:30 am – 5:30 pm
Sat: 8:30 am – 12:30 pm
If you're looking for a clinic equipped with complete and advanced medical tools, then look no further than Bernard Lim Specialist Surgery.
Dr. Bernard Lim, the clinic's principal consultant, has extensive experience in dealing with haemorrhoids using surgical and non-surgical procedures. In fact, he has successfully treated over a hundred patients with colon and rectal problems.
This track record is also backed by his reputation of being an empathetic doctor, which is why we weren't surprised to see why local and overseas patients alike come to see him.
We love the fact that patients don't have to wait for weeks until their appointment. From what we've heard, patients can immediately see him for a consultation within a day or two, given that slots are free.
We've also heard that he also sees patients who need urgent care, so you can add this clinic to your list of options if you ever need it!
Specialises in minimally invasive procedures
Fast appointment turnaround 
Convenient location
After-care patients are prioritised
Emergency care available
Short weekend hours
Rates unavailable online
Customer Reviews
Patiently explained the procedure
"The first time I had a serious health issue (acute pancreatitis) removal of gallbladder was needed. I was hesitant as it was very difficult to trust anyone especially with surgery. I was a very anxious patient. My gastro doctor recommended Dr Bernard. When i met Dr Bernard he patiently explained the procedure for me to understand what was going to happen. That time I know already, this is the surgeon that I'm looking for. He assured me that everything will be fine and that he will take care of me. True enough the surgery went smoothly. I'm now on my 1 year after surgery and enjoying my life with my family. Thanks so much Dr Bernard. I highly recommend Dr. Bernard for those first timer that needs any emergency surgery or anyone just looking for a specialist surgery. He's the Surgeon that cares for his patients. Thanks also to Elmi his kind staff who assisted me and treats patients like me with care." —Chris O, Google Reviews
3. HC Surgical Specialists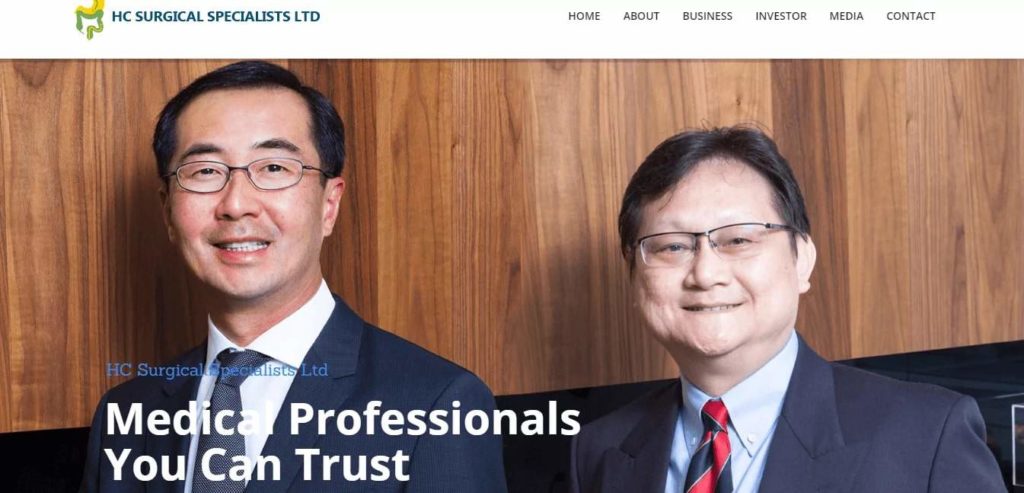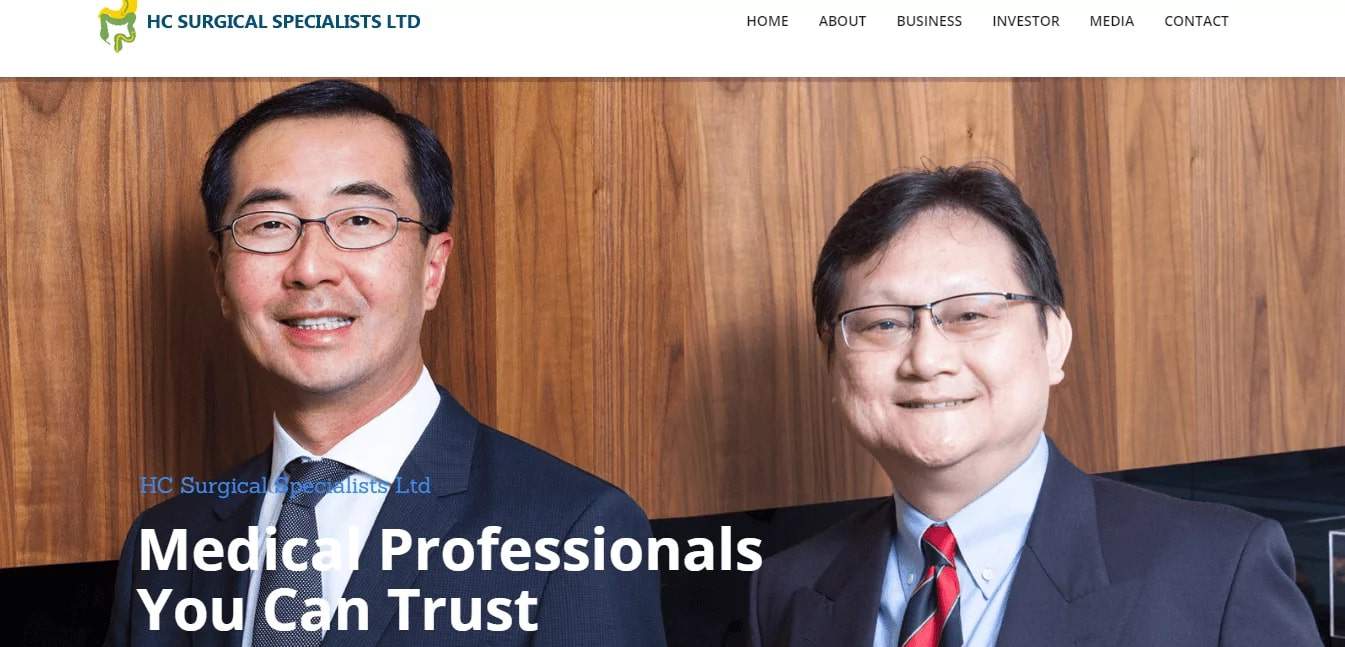 Now, this one may seem like an odd one out because HC Surgical Specialists is a network of several clinics around Singapore, rather than one single clinic.
They're composed of a large team of skilled and trained surgeons and specialists with a diverse set of medical subspecialties including matters of the colorectal region. Speaking of which, the majority of their clinics are dedicated to treating haemorrhoids.
One such example is Jason Lim Endoscopy & Piles Centre located in Novena Medical Centre. This clinic provides 24/7 emergency and same-day operations for serious anal conditions.
It's one of the very few of its kind to offer such flexibility to patients, which is why we highly recommend them for serious cases of hemorrhoid treatment.
Going back to HC Surgical Specialists' network, their clinics are scattered throughout Singapore in both residential areas and central areas, making them very accessible to the public.
Important to note that their clinics are also accredited by Medisave, which simply means that you can use your Medisave account as a form of payment.
The only thing we would've liked to see is a readily available list of doctors. We think that this would aid patients in their search for clinics and doctors.
So if this is something that concerns you, we recommend ringing up your chosen clinic beforehand.
Extensive network of clinics
24/7 emergency care available
Accredited by Medisave
Various clinic hours
No list of doctors online
Customer Reviews
Very knowledgeable and experienced
"Doctor Jason and team is very professional and takes good care of their patients all the time! Whatever concerns or fear you have, Dr Jason will assure you his best and his confidence gives you the utmost trust. Very knowledgeable and experienced surgeon! A big shout out to the nurses as well, very patience in explaining all the procedures and administrative stuffs!" —Terrence Quak, Facebook, Jason Lim Endoscopy & Piles Centre
Exceptionally good services
"Staff and Doctor are very professional, friendly and helpful in every way. Helped taken care of everything, including all the documents for filing to my insurance. Explanations regarding procedures/health condition/etc was very detail and easily understandable. Great thumbs up for the exceptionally good services and professionalism! Thanks for treating my stomach ulcer and gastritis condition, will follow up till fully recovered!" —임정권, Facebook, Jason Lim Endoscopy & Piles Centre
4. Ho Kok Sun Colorectal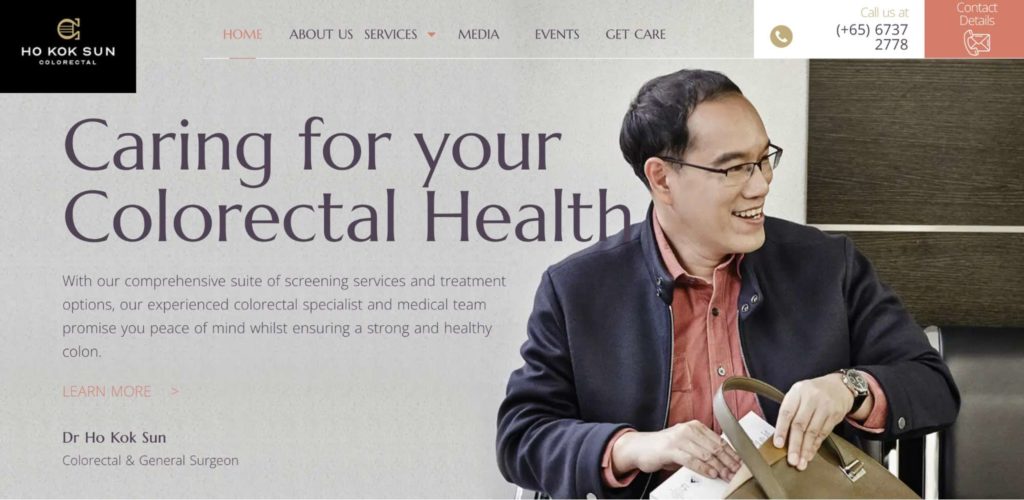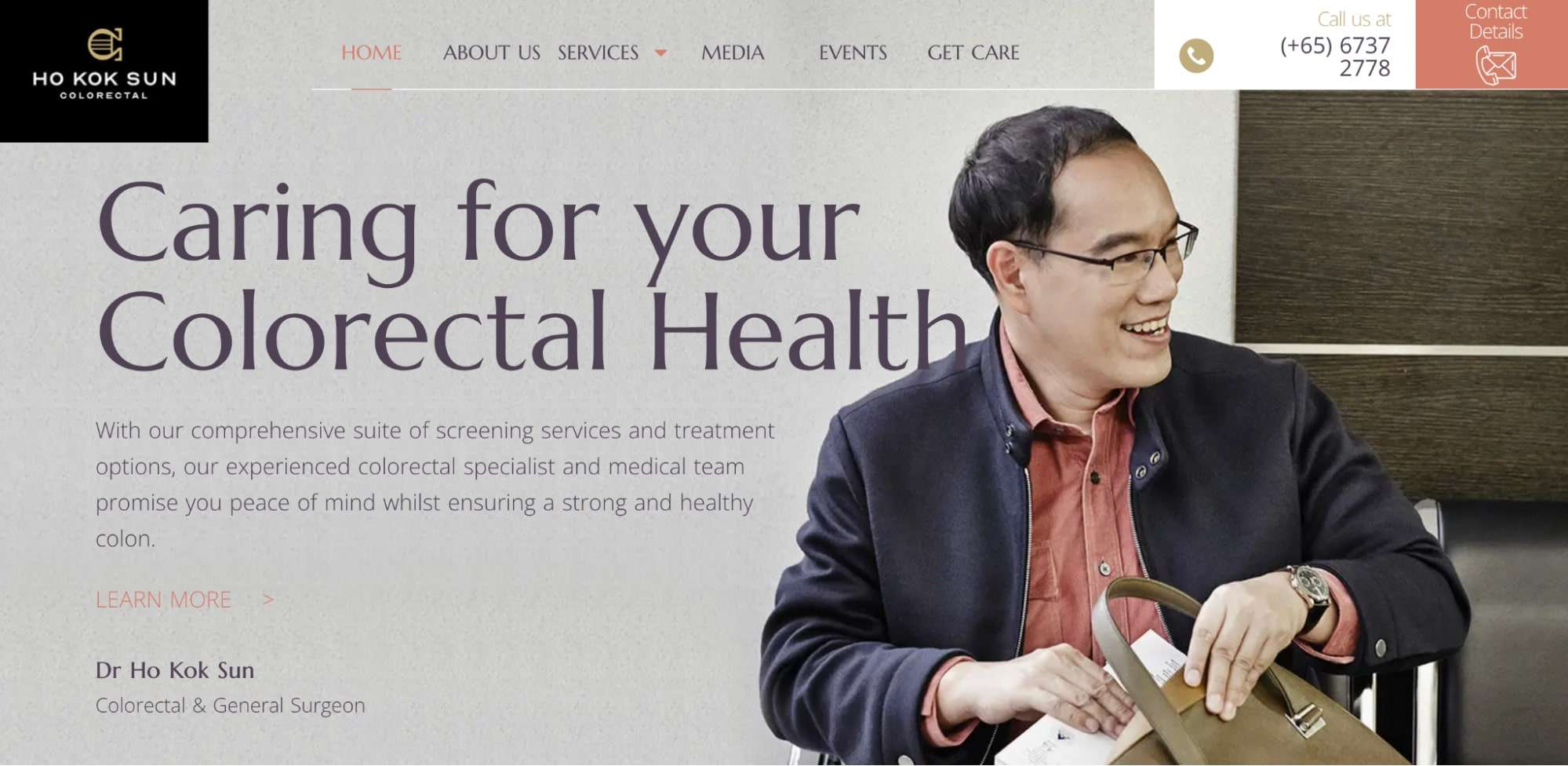 SERVICES
Diagnosis and Treatment of Haemorrhoids, Colorectal Cancer, Hernia, Anal Warts, Appendicitis; Colon and Rectal Surgery, Endoscopy
WEBSITE
https://www.hkscolorectal.com.sg/
ADDRESS
3 Mount Elizabeth, Mount Elizabeth Medical Centre #12-09, Singapore 228510
CONTACT DETAILS
+65 6737 2778 |

[email protected]

OPERATING HOURS
Mon to Fri: 9:00 am – 1:00 pm; 2:00 pm – 5:00 pm
Sat: 9:00 am – 1:00 pm
You could also put Ho Kok Sun Colorectal as one of your options to go to if your behind isn't getting any better. They have an extensive list of services, which include piles surgery, appendix surgery, colorectal cancer surgery, hernia surgery, and many more.
That said, it can be easily deduced that their chief consultant, Dr. Ho Kok Sun, specialises in colorectal surgery. He has been in the practise for many years now, and continues to be an active member in the medical community.
In fact, he's also one of the very few surgeons in Singapore accredited to perform robotic colorectal surgery. This simply means that he has the skills to use robotic instruments to perform the surgery, allowing for greater precision.
Not to mention that this procedure also reduces scarring while allowing shorter recovery time to patients. So if this is something that you'd need eventually, then Dr. Ho is your best option for this.
Another thing we'd like to highlight about him is that he's bilingual in English, Mandarin, Cantonese, and Hokkien. Rest assured that he can effectively communicate your diagnosis and treatment plan, whichever of these languages you're most comfortable with!
Wide range of services
Doctor fluent in English and Chinese languages
Specialises in robotic colorectal surgery
Convenient location
Short weekend hours
No emergency care
Customer Reviews
Highly competent
"Dr Ho is an excellent doctor, not just because of the fact that he's extremely knowledgeable, but because he sincerely cares for you. He takes the time and effort to hear you, understands your concern, and advises you accordingly. He is never one to rush you, and Is always there to answer all the questions you may have. Dr Ho is highly competent, my colonoscopy procedure went smoothly and successfully. Thank you, Dr Ho, for your sincerity and genuine nature. A highly recommended Dr." —C L, Google Reviews
Sincere in treating his patients
"He is the best doctor in the world ! One who really cares and sincere in treating his patients…so personable , truly caring and an absolutely great doctor. He is still taking care of my mum by the way and our whole family just loves him. He is not one of those doctors who just goes thru the usual humdrum and shoves you medication etc – there are really no words to describe Dr Ho except deep sincere gratitude from our whole family ( here in Singapore and overseas ). I even send my staff and friends to him, they too come back and say a big thank you to me. Oh and not only that even his nurse/assistant Melissa – she's a gem!! Just wish there were more doctors like him and clinics like his in Singapore….." —Barbara Lee, Google Reviews
5. Tonyo Medical Hall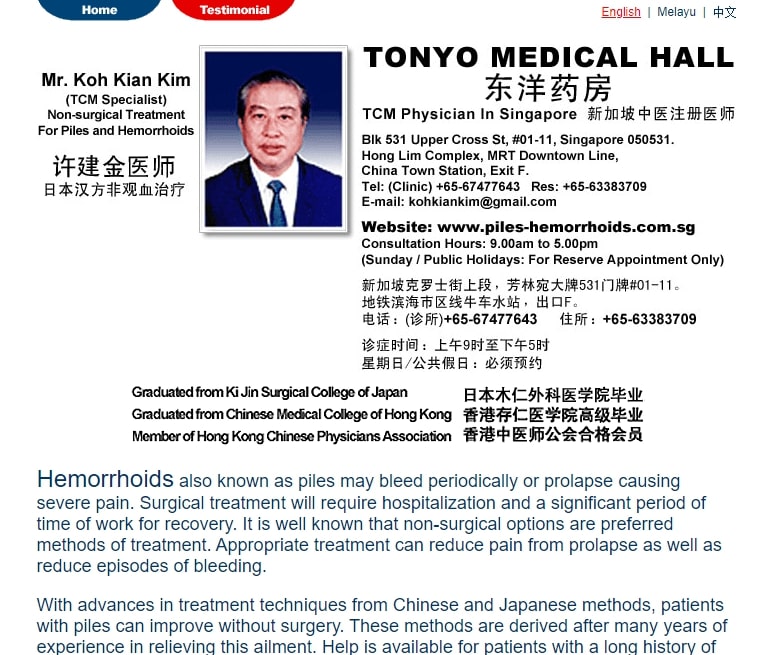 Tonyo Medical Hall is an ideal option for patients who don't like to go under the knife. That's because they specialise in non-surgical treatments for haemorrhoids, anal fissures, and many more.
Dr. Koh Kian Kim is the clinic's principal consultant, who's also one of the few traditional Chinese medicine (TCM) specialists in Singapore. Not only that, but he also uses Japanese medical techniques that have treated patients with a long history of piles.
Because TCM isn't meant to substitute certain medical procedures, we also recommend getting a second opinion from a specialist practising modern medicine, just to get a more accurate picture of your case.
Compared to our other entries though, this clinic has long business hours, with Sundays open by appointment. This makes them a good choice for those who can't come by for a consultation on weekdays.
However, we should also warn you that we've heard of some complaints regarding unhygienic practises in this clinic. So make sure to take that into consideration prior to scheduling a visit!
Specialises in TCM
Long weekend hours
Sundays available by appointment
Reports of unhygienic practises
No surgeries available
No emergency care
Customer Reviews
Keeping the treatment short
"I am writing with regards to the treatment I have received from Dr Koh. I have been suffering from haemorrhoids from quite a while and it has quite disrupted my quality of life with pain at times. While I have seek medical help from colorectal specialist, my condition did not improve in any way and I also did consider going for surgery. Then, I came across Dr Koh website on how he can treat my condition without any surgery. I decided to visit Dr Koh for my condition. At first, I was quite skeptical on how he can treat without surgery. But after much explanation, he assured me that it can be done and he had treated numerous cases like mine and some even more serious than mine. After a few treatments, my condition has vastly improved and I was impressed by Mr Koh professionalism and keeping the treatment short and relatively pain free each time. Now I have fully recovered, I would like to express my gratitude to Dr Koh." —Kelvin Toh, Website Testimonials

6. Colorectal Practice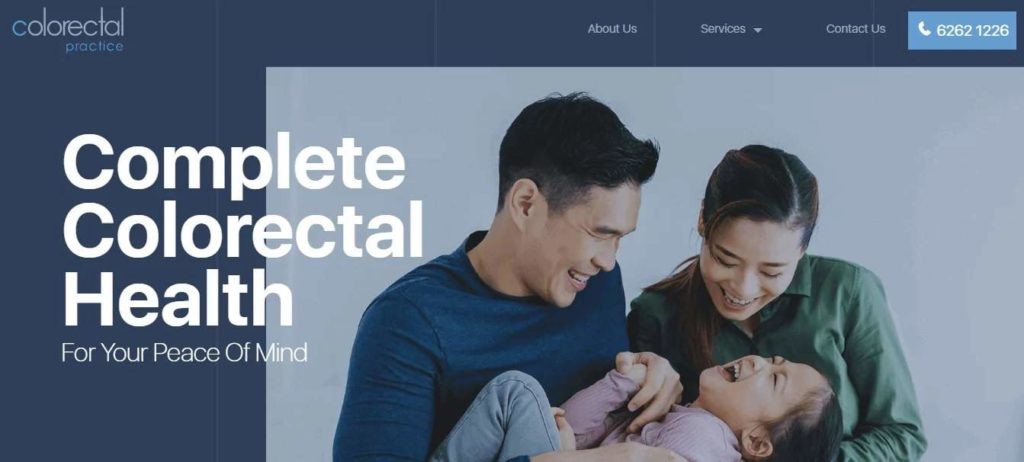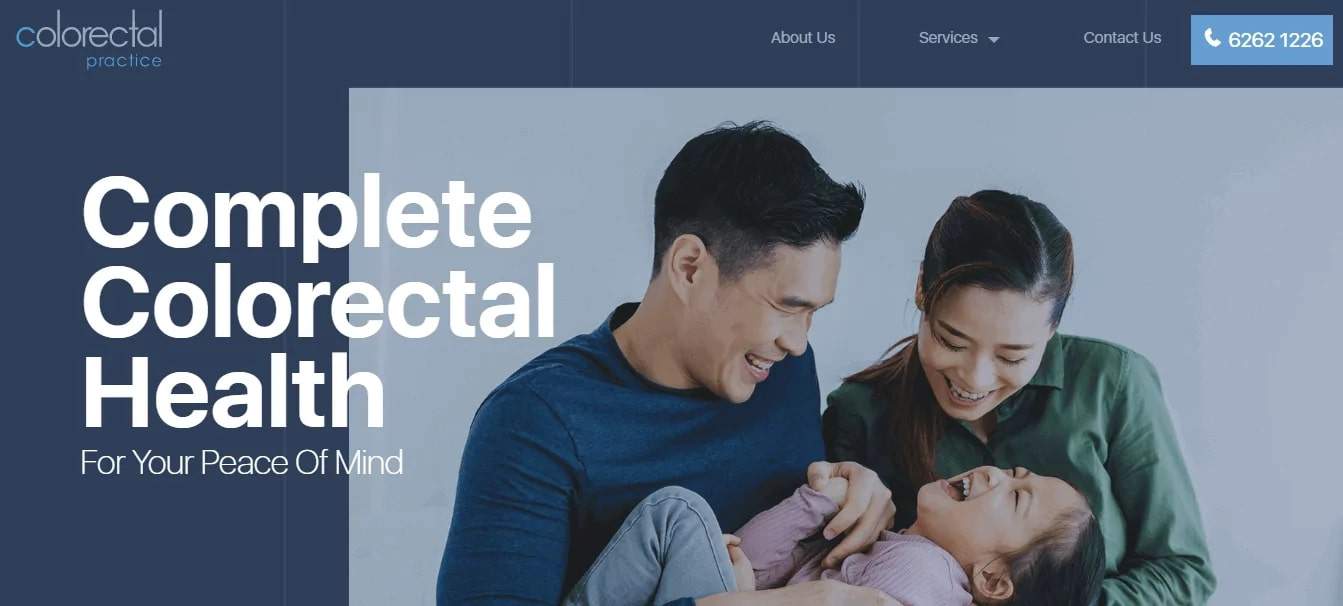 SERVICES
Diagnosis and Treatment of Haemorrhoids, Colon Cancer, Hernia, Inflammatory Bowel Disease, Appendicitis, etc.
WEBSITE
https://www.colorectalpractice.com/
ADDRESS
Orchard
3 Mount Elizabeth, #12-14 Mount Elizabeth Medical Centre, Singapore 228510

Novena
38 Irrawaddy Road, #10-28/29, Mount Elizabeth Novena Specialist Centre, Singapore 329563

Farrer Park
1 Farrer Park Station Road, #14-09/10 Connexion, Singapore 217562
CONTACT DETAILS
Orchard
+65 6262 1226 |

[email protected]



Novena
+65 6266 1226 |

[email protected]



Farrer Park
+65 6262 1226
OPERATING HOURS
Mon to Fri: 9:00 am – 1:00 pm; 2:00 pm – 5:00 pm
Sat: 9:00 am – 1:00 pm
Colorectal Practice is headed by a duo of experienced colorectal surgeons, Dr. Dennis Koh and Dr. Sharon Koh Zhiling. Yes, you heard that right—Colorectal Practice is home to one of the very few female specialists in Singapore.
This is welcome news to female patients who would be more comfortable in seeing a female doctor. She's a highly qualified surgeon who specialises in minimally invasive colorectal surgeries like laparoscopic and robotic surgeries.
She's also an active member of the local and international medical community to boot! All this tells us that she's more than capable of doing the job, which is why we won't hesitate to recommend her to female patients.
If she isn't available, her colleague Dr. Koh is also worth seeing. Similarly, he also has vast experience in minimally invasive and open colorectal surgeries.
Either way, both doctors are proficient in delivering a comprehensive range of services and treatment options with ease and empathy, which is exactly why patients like them!
Wide range of services
Ideal for female patients
Doctors fluent in English and Chinese languages
Specialises in minimally invasive surgeries
Multiple locations available
Rates unavailable online
Short weekend hours
No emergency care
Customer Reviews
Professional, understanding, patient-oriented
"Am grateful to have Dr Dennis Koh as my surgeon, his friendliness and professionalism put me at ease. I have been uncertain about having surgery for several years, but after a referral from another doctor, I met with Dr. Koh. His bedside manner, questions about why I wanted the surgery, helped me to make my decision. I chose to let Dr. Koh (and his awesome team, Wei Lin, Jennifer and Ariel) perform my surgery. I would recommend Dr. Koh…. He is professional, understanding, and patient-oriented. Highly recommended!" —A C, Google Reviews
Pleasant consulting and operating
"My life is now back to normal. I am able to do things which I couldn't when I was having colorectal issues. Thanks to Dr. Dennis Koh who has completely solved my health issues with pleasant consulting and operating. He has vast experience in treating colorectal issues as well as treating patients pleasently with confidence who undergo mental pressure regarding colorectal problems." —Sowmia Gopalam, Google Reviews
7. PanAsia Surgery Group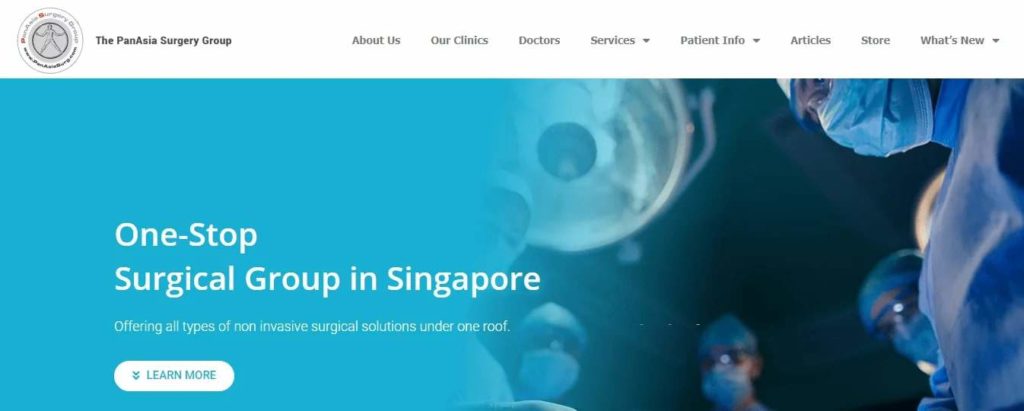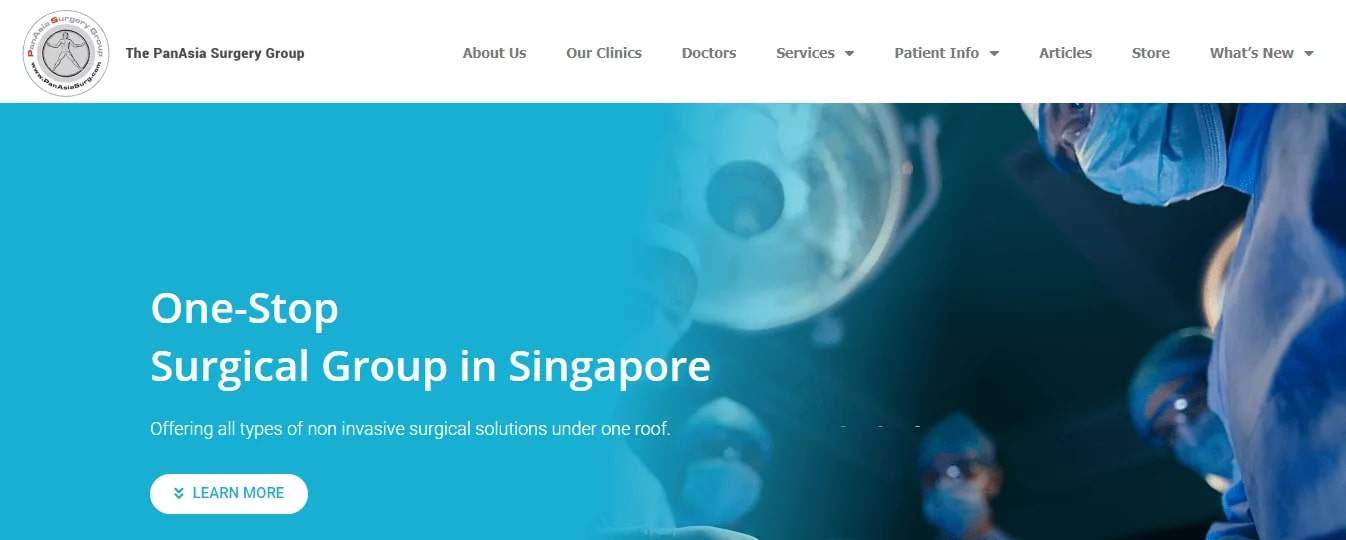 PanAsia Surgery Group is a multi-specialty surgical group practise providing a full range of emergency and elective surgical procedures. Some conditions they specialise in include haemorrhoids, hernia, hyperthyroidism, and much more.
Like some of our entries above, they're also equipped to handle keyhole laparoscopic colorectal surgeries—a minimally invasive procedure that involves the insertion of a tiny camera into your abdomen through a single incision only.
If this sounds a bit daunting, not to worry because you'll be under anesthesia throughout the procedure. Post-op care is generally less painful either.
So if this is something your doctor would recommend as a viable treatment option, you can rest in knowing that they're fully capable of doing the task.
Apart from that, what we really like about them is accessibility. They have multiple branches scattered all over Singapore, so gaining access to their treatments wouldn't be that difficult.
This goes hand in hand with the fact that they offer emergency services. So if you ever reach a point where you'll need urgent care, then you can call them for that.
Wide range of services
Several clinics available
Emergency care available
Specialises in minimally invasive surgeries
Various clinic hours
Rates unavailable online
Customer Reviews
Speaks good English and Mandarin
"Dr. Look is super super nice (and most importantly – very handsome). He is quite patient and speaks good English and mandarin, which makes me feel easy in front of him while asking any questions to understand my gastrointestinal problems better. I did gastrointestinal endoscopy there recently. The receptionists were friendly and explained to me patiently step by step about the preparation works I would need to do before the endoscopy. The nurses at Mount Elizabeth Orchard are nice too:) They offer delicious sandwiches where ME Novena doesn't have this choice haha… Thanks to you all and especially to Dr. Melvin Look."
8. Dr. Sim Hsien Lin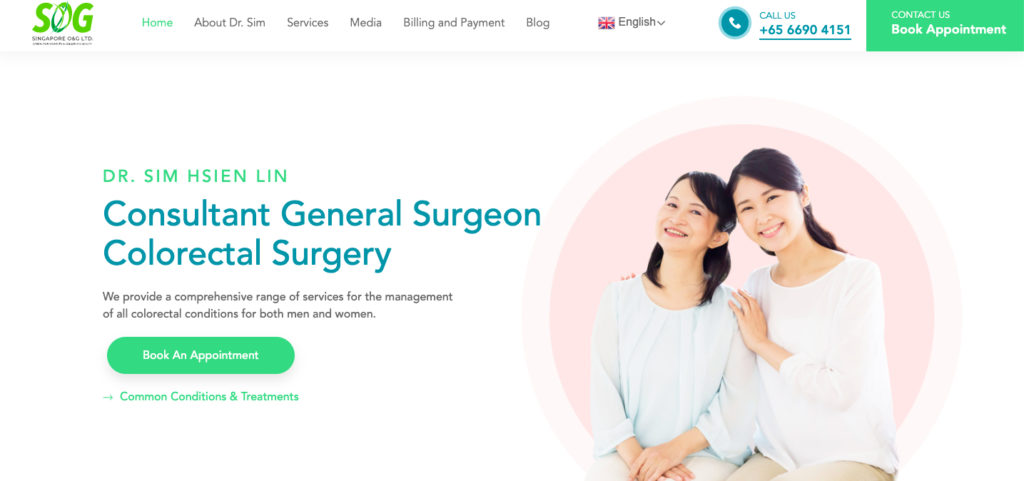 SERVICES
Colorectal Services (Anal Fistula, Haemorrhoids), Diagnostic and Therapeutic Endoscopic Procedures, Colorectal Surgery
WEBSITE
https://hlsimsurgery.com.sg/
ADDRESS
Main Clinic
38 Irrawaddy Road, #06-53
Mount Elizabeth Novena Specialist Centre
Singapore 329563
CONTACT DETAILS
Main Clinic
T: +65 6690 4151
F: +65 6261 9622
M: +65 9657 7464
E: +65 6333 5550 (emergency)


[email protected]

OPERATING HOURS
Mon, Wed, Thu: 9:00AM – 5:00PM
Tue: 9:00AM – 1:00PM
Fri: 9:00AM – 12:00PM
Sat: 9:00AM – 1:00PM
Clinic is closed on Tuesday afternoon, Sundays and public holidays
Dr. Sim Hsien Lin is a specialist colorectal surgeon in Singapore with more than a decade worth of experience. In fact, she's one of the few female colorectal surgeons in the country.
She also has a number of sub-interests, including laparoscopic colorectal surgery, transanal endoscopic microsurgery (TEMS), surgical management of inflammatory bowel diseases and complex anal fistulas, as well as diagnostic and therapeutic endoscopic procedures.
Besides her medical background, another reason why we recommend her is because she practises at different clinics which makes it convenient for patients to set an appointment with her.
However, if you would like to go to her other clinics and not her main one, you can't walk-in since consultations are by appointment only. What we find nice though is that despite this, she has an emergency hotline.
She's also on the panel for a large number of insurers and is medisave accredited. You just have to speak to their staff about using any of your insurance plans.
Her notable experiences and convenience make us confident enough to recommend her for your medical concerns.
One of the few female colorectal surgeons in Singapore
Practises at many clinical locations
On the panel for a large number of insurers & medisave accredited
Wide range of services, including health screenings and IV Iron infusions for pregnant women
Closed on Tuesday afternoon, Sundays and public holidays
Rates unavailable on website
Customer Reviews
"Dr Sim is very knowledgeable, was quick to identify/diagnose my problem. She's professional in her approach and at the same time very patient too! I'm grateful to her for her services and highly recommend her." – Shweta Jain
FAQs about Haemorrhoids
---
And with that, we end our list of the best haemorrhoids clinics in Singapore. If you've consulted with any of these clinics before, share with us what your experience was like!
For more options, we recommend checking out our list of the best general surgeons in Singapore. Most of these surgeons also offer colorectal-related treatments that may include what you need right now.