Our 21 Favourite Dental Clinics in Singapore
When was your last visit to the dentist? If it's been a while that it's hard to remember, you should take that as a sign to book a consultation with your dentist as soon as possible.
In this list, we rounded up the best dealntal clinics in Singapore based on the quality of their treatments and what their patients think about their services.
Before we start, we'll take a look at the average cost of various dental services on the island. We've answered a few questions about them as well, so make sure to read until the end of this article.
How Much Does It Cost to Visit Dental Clinics in Singapore
There are two types of dental clinics in Singapore: public and private clinics. As with any medical treatment, it's cheaper to have a dental procedure at a public dental clinic because of the government subsidies.
Obviously, private dental clinics don't come with subsidies, but some of them accept insurance that makes it possible to avail of complicated dental procedures at a lower price.
The main advantage of going with private clinics is that there's no long waiting time, which can't be said about public clinics. We recommend opting for public clinics if you're in a rush and only need basic dental services.
When consulting with a dentist at a private clinic, expect to pay around $100 to $200 for the consultation fees.
A public dentist, on the other hand, would charge only $15 to $30 per consultation.
Here's a more detailed look into the prices of common dental procedures in Singapore:
PUBLIC CLINIC
PRIVATE CLINIC
PROCEDURE
AVERAGE COST
Dental implants
$1,600 – $2,000
$2,000 – $4,900
Crowns
$650 – $790
$400 – $2,200
Orthodontics
$3,000 – $4,900
$2,000 – $11,000
Wisdom tooth removal
$600 – $900
$400 – $2,000
Root canal (anterior tooth)
$300 – $370 per tooth
$400 – $850 per tooth
Root canal (molar tooth)
$670 – $820 per tooth
$400 – $1,600 per tooth
Root canal (premolar tooth)
$420 – $500 per tooth
$400 – $1,300 per tooth
Teeth whitening
$150 – $200
$ 400
Fluoride treatment
$ 10 – $ 15
$ 15 – $ 30
Polishing and scaling
$ 40 – $ 80
$ 85 – $ 100
Bonding or composite veneer
NA
$ 250 – $ 500
The Best Dental Clinics in Singapore
After detailing the average prices of common dental services in Singapore, it's time to move on to our list of dental clinics that are worth visiting. Continue reading below to know more about their services.
By the way, our list is in no particular order. We also took several criteria into account when forming our list, as well as the advice of several dentists on what to look for.
As an example, here's what one of our expert sources told us about seeking a dentist. This is Paul Springs, DMD and Prosthodontist at Timeless Dentistry in Queens, NYC:
When selecting a dentist, you should look for someone who cares about their patients enough to answer all their questions and cares enough to keep up to date with the latest techniques and research. As a fellow dentist, it's easier for me – I can see who is going to continuing education courses with me, and really get into details of treatment, but for non-dentists I recommend asking what kind of education the dentist has (have they done a residency beyond dental school? Do they teach? how much continuing education do they do?). If you're looking for a new dentist, a regular check-up is a good time to get to know your dentist's personality as well – do they spend time with you answering your questions patiently, or are they rushing through to get to the next patient?

The biggest red flag to me is when dentists diagnose you with needing a lot of work after a routine cleaning, when you haven't noticed any symptoms. It's possible that if you haven't been to the dentist in a few years, significant problems could creep up without you noticing, but if it's only been 6 months and suddenly you have 10 cavities that need filling according to your new dentist, I would get a second opinion. I'm biased as a small practitioner, but I've noticed a lot of chains have a tendency to do that – lure you in with a free cleaning and suddenly say your mouth needs thousands of dollars of work.

Paul Springs
Nuffield Dental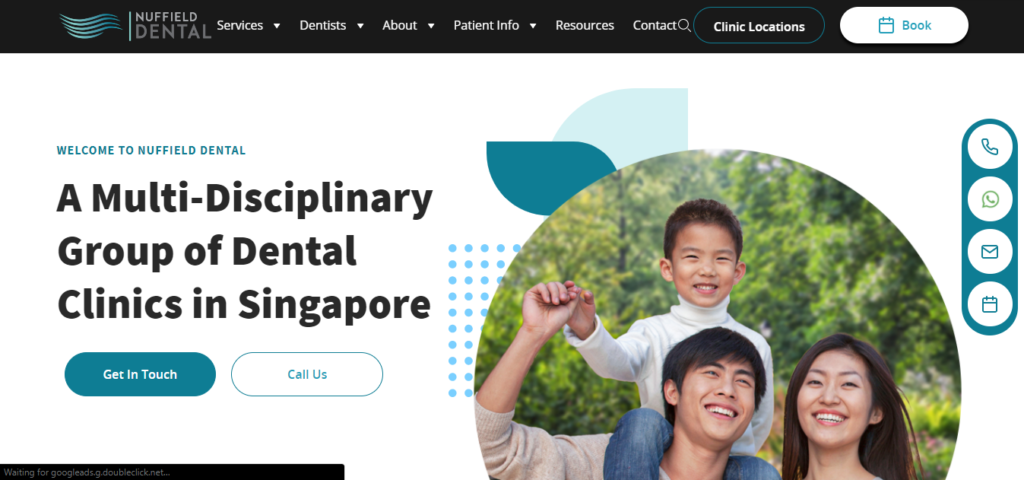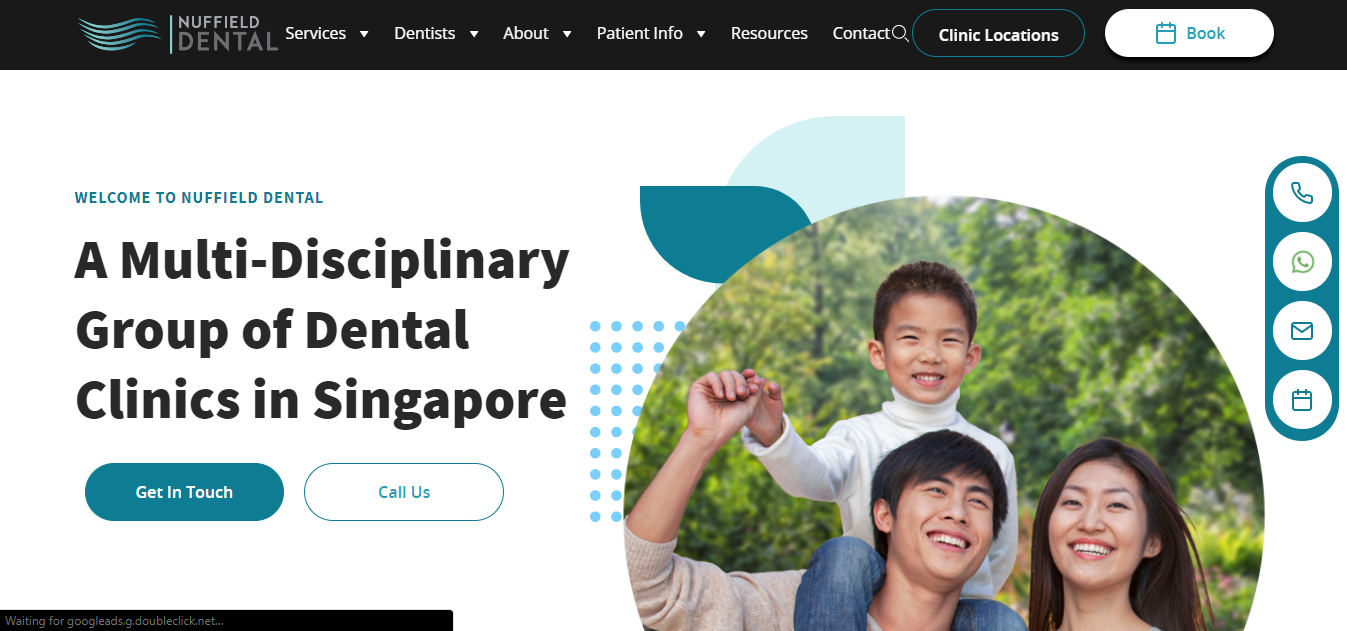 Nuffield Dental is a one-stop and multi-disciplinary dental care clinic. We think they are great because they always provide personalized services for each paptient.
They have been serving Singaporeans since 2014. With their different locations across the island, from Serangoon Gardens to Siglap, you can experience their great services no matter where you are.
In comparison to other dental centers, they carry out their assessments thoroughly. This enables them to provide their clients with comprehensive information that can help them in making decisions about their treatment plan.
They are one of the clinics we recommend because of their state-of-the-art technology. Their clinic places a strong emphasis on integrating technology to increase the exact of our procedures: digitalising manual procedures, incorporating 3D printing, intraoral scanners.
They invest in these to gain a better understanding of their patient's unique oral conditions and treat them better.
Need a tooth implant? Wisdom tooth extraction? Root canal treatment? Or any other dental services?
They can help you for they offer almost all the services an individual can need.
Healthway Dental Group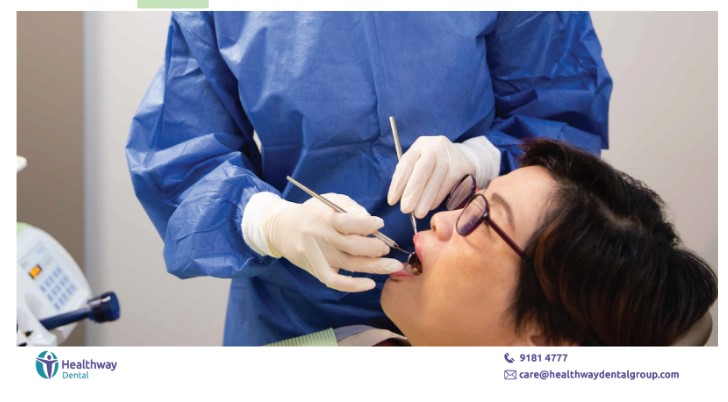 Healthway Dental Group (a member of Healthway Medical Group) offers a full range of general and specialist dental services.
Their services centre around their patients to help them understand how they can enhance and maintain their oral health in order to avoid future disease and structural complications.
Healthway Dental also invests in medical equipment to enable their specialised teams to have the resources they need to accomplish the desired aesthetic and treatment goals with minimal patient discomfort and downtime. To ensure no risk of the spread of bacteria or viruses from patient to patient, standard procedural protocols involve full sterilisation of reusable equipment, safe disposal of one-time-use materials, and the use of medical-grade air compressors.
In 2022, they expanded their dental services with the addition of a new brand, Tooth Stories. Tooth Stories provides valuable dental services at competitive prices, enabling a greater access to a wider spectrum of dental care.
Using only quality materials in its treatments, Healthway Dental favours advanced alternatives such as color composites and high-tech ceramics to amalgam materials. They make sure to choose the best quality care for their patients.
Advanced Dental Group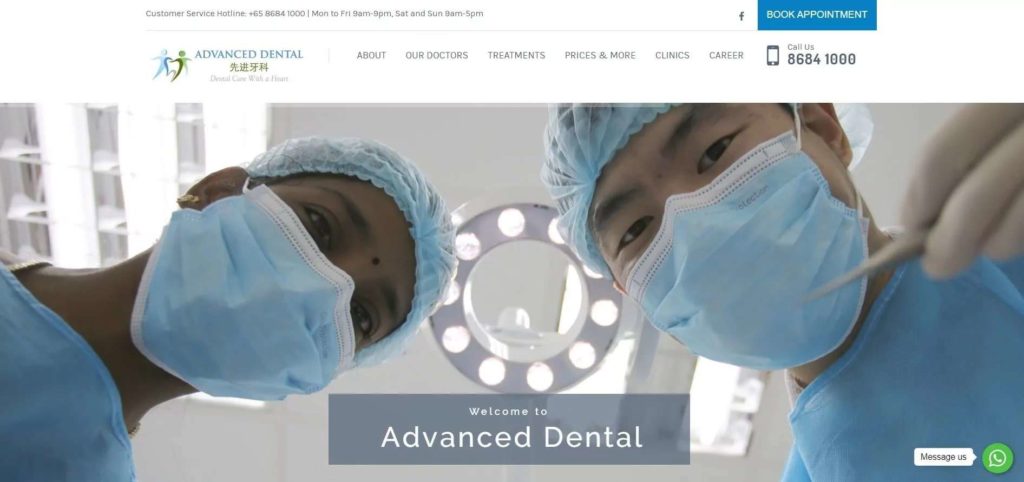 Established over three decades ago, Advanced Dental Group has grown into one of the most trusted dental clinics on the island. It offers full-range dental procedures that cover both minor and major conditions.
You've probably seen at least one or two branches of Advanced Dental Group because it has 11 locations scattered all over in Singapore. It has one in Toa Payoh, another in Serangoon, and in Upper Changi Road.
That said, it's one of the most accessible dental clinics in Singapore, so we're sure that there's a branch at least a two-minute walk from where you are right now.
Advanced Dental Group boasts one of the largest dental teams among our picks as well, with more than 30 dentists in its staff. Every dentist has their speciality, so basically every dental concern can be accommodated here.
It may be a private clinic but its rates are slightly lower than the average rates of other private clinics. For example, its consultation fee starts at $20, which is at par with the fee of public dental clinics.
Customer Reviews
Clement Wong shared this comment about his experience at the Bedok branch:
"I have a filling done on my molar tooth which is half cracked and kudos to Dr. Evelyn Khong
for a fantastic job! She is experienced and is able (and willing) to explain to me the procedure step by step clearly. She is friendly and communicative and I'd recommend her to everyone. Thanks to the friendly staff at the clinic too!"
Another customer named Guihao Cheong posted this:
"Came here for cleaning after more than 10 years of no dentist visits. Was better than I thought. Dentist was very helpful in explaining which areas I did well on and where and how I need to improve on my brushing, to reduce the amount of tartar on my teeth."
Specialist Dental Group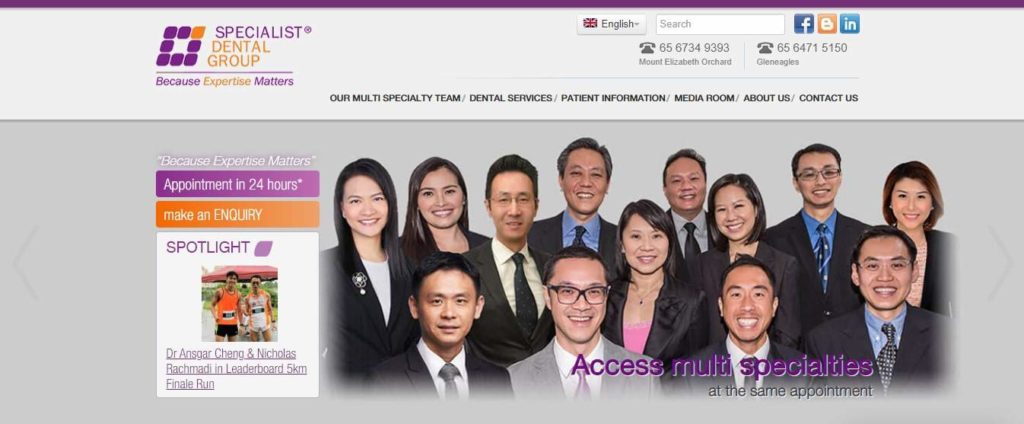 If there's one thing that makes Specialist Dental Group stand out from other clinics, it'd have to be its diverse roster of internationally recognised dentists with different specialities.
Its team includes dentists that specialise in general dentistry, children's dentistry, dental surgeries, and even aesthetic dentistry. It's safe to say that Specialist Dental Group can address all sorts of dental conditions.
Some of the dental issues that can be fixed by its dentists are missing teeth, crooked things, toothache, wisdom tooth pain, dental cavities, loose teeth, and even misaligned jaws.
Specialist Dental Group is an in-demand dental clinic, but it can still accommodate appointments in less than 24 hours, which is great news for those who need emergency dental procedures.
If the emergency happens outside of office hours, the patient may directly call their dentist on their mobile phone in order to arrange an appointment as soon as possible. It's solid proof that dentists are willing to go out of their way for the welfare of their patients.
Customer Reviews
Take a look at these comments posted on Google Reviews:
"Dr Irene Sim did root canal treatment for one of my teeth. She was very experienced and very kind. During the treatment, she cared about my feelings to ensure that I was comfortable. I did feel comfortable and relieved though I was a little stressed before the treatment. She was also very patient to explain all the treatment options and the potential consequences. She prioritized superb treatment results over everything else. Dr Irene Sim specialized in root canal treatment. She can also speak fluent Mandarin." -Weiwen Luo
"A surprisingly smooth and pleasant experience with Dr Ben Wang. Quick and precise diagnosis. Very professional and caring. I am very relieved when Dr Wang explains each step in detail. Two wisdom teeth removed. Barely feel it!" -Xuan Zhang
Smile Makers Dental Clinic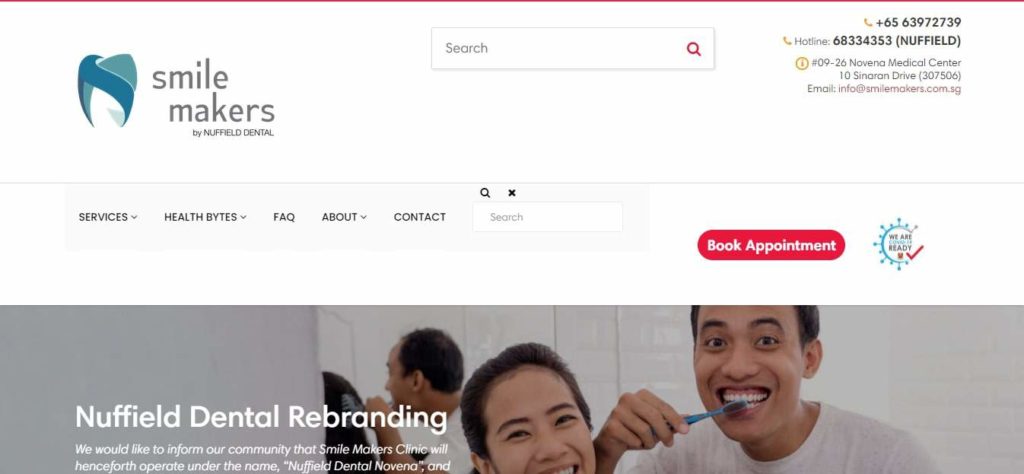 If you're looking for a Singapore dentist that specialises in periodontitis and orthodontics, Smile Makers should be one of your top choices. Here are other things you should know about them:
Smile Makers is made up of four dentists and two dental assistants. Its dental team may not be as extensive as other dental clinics, but its dentists can provide treatment for a wide range of dental conditions, from gum diseases to tooth sensitivity.
It's open to patients of all ages as well, including toddlers and seniors. We highly recommend it if you want a single dental clinic for all the dental needs of your family.
Despite the inconsistent operating hours, Smile Makers operates from Monday to Saturday, allowing it to accommodate more patients every week. There may be a long appointment queue, but there's a huge chance you'll get a schedule on your preferred date and time.
Smile Makers purely works on an appointment basis to make sure that no patient will have to wait for a long time inside the clinic.
If you have a CHAS card or Pioneer Generation Card, by the way, Smile Makers should definitely be your choice as you'll be entitled to discounts on some dental procedures.
Q & M Dental Group
As the largest private dental clinic in Singapore with more than 70 locations islandwide, there's no way we're not adding Q & M Dental Group to our picks. It definitely takes the top spot when it comes to accessibility.
You won't need to worry about a shortage of dentists because Q & M Dental Group has about 200 experienced dentists stationed in different branches all over the island. If your preferred branch is fully booked, then just transfer to the nearest location.
No worries about safety too, because it's implementing comprehensive operating procedures to make sure that every patient who visits is safe and comfortable inside any of their clinics.
In terms of facilities, Q & M Dental Group doesn't disappoint either. Whether you're dealing with toothache or gum problems, its dentists can solve your condition thanks to their modern and cutting-edge dental technologies.
Its dental treatments include general dentistry, aesthetic dentistry, dental surgeries, digital dentistry, and even emergency services.
Another thing we like about this clinic is how easy it is to book an appointment. All you have to do is go to its website, choose a preferred location, and pick your preferred date and time.
Customer Reviews
One of its branches has a perfect 5 out of 5 rating on Google Reviews. Take a look at some of the comments:
"My experience at Q&M dental clinic @ kinex had been amazing. Dr Sarah Tan who attended to me was kind, patient n professional. Dr Sarah Tan is first dentist who let my mouth rested in between and not require me to open it continuously throughout the entire scaling and polishing session. The session was pain-free and she put me at ease. Highly recommend her." -Bee Yeo
"Making of appointment on the same day is just a phone call away! Did polishing and scaling and extraction of decayed tooth. Dr Sarah is gentle and soft spoken. I did not feel pain during the process. She explained to me how to efficiently brush my teeth and gums as I had swollen gums. Not like some dentistry clinics where they sighed or made negative remarks with their expressions. Dr Sarah is patient and understanding. And the charges was very reasonable with my blue chas card. Definitely would come again in 6 months time. Highly recommended." -Nur Nadirah Ismail
Garden Dental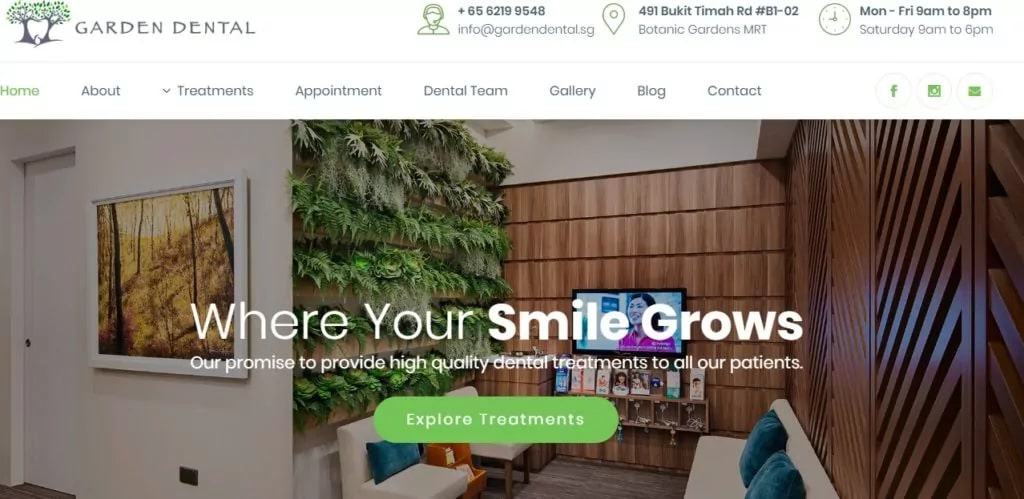 Conveniently located within Botanic Gardens MRT station, Garden Dental is known for its serene and tranquil environment that puts patients at ease before a treatment. It landed a spot on our list based on two reasons.
For one, it may be a younger clinic than most of our picks, but it's managed to earn the trust of hundreds of locals due to its high-quality dental treatments. We've also noticed that newer clinics tend to have cheaper treatments, and this one is no different.
Second, it's headed by a dentist with local and international experience. Dr. Robin Baek is a Korean-born dentist who practiced cosmetic and surgical dentistry in the US and Korea, giving him an edge over other local dentists.
Despite it being a young dental clinic, Garden Dental's range of treatments doesn't fall short. It provides common procedures like dental implants, fluoride treatment, tooth extraction, crowns and bridges, and more.
Garden Dental accepts Medisave, CHAS, Health Assist, and Pioneer Generation, so you may want to check it out if you want subsidised and discounted dental services. This is good news for those who can't afford to shell out huge money for a dental treatment.
Customer Reviews
Take a look at these comments shared on Google Reviews:
"I just wanted to express my appreciation for the courtesy, kindness and professionalism of Dr. Robin. I have been very fortunate to have Dr. Robin worked on my brace treatment. The treatment experience has been smooth and he made the process as comfortable as possible. I will gladly have my dental implant done by him. I would also like to thank Jessica and the staff who have been helping out during my brace treatment process. Thank you very much! I have no hesitation recommending Garden Dental to anyone." -Larry
"I was there for a sports mouthguard. I have never had such a comfortable mouthguard. I always failed to find one suitable for my mouth because I have a very sensitive gag reflex. But thanks to Dr. Robin and the 3-D scanner in this clinic, it took only ten minutes or less. Also, I now have no difficulty in exercising with my own mouthguard. 🥊 Services are affordable and high standard. Thank you Dr. Robin and friendly staff for helping me out." –Kangho Kim
NTUC Health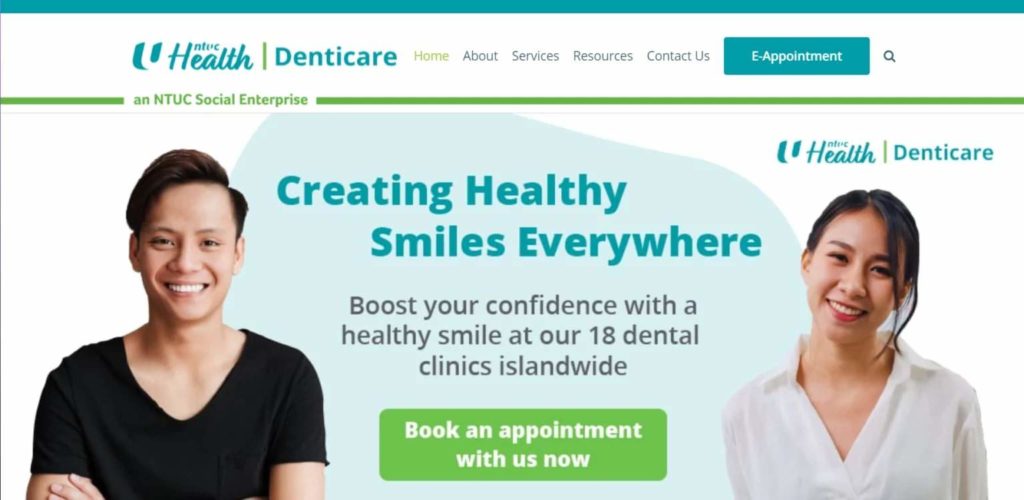 NTUC Health is primarily known as a family medicine clinic, but most people don't know that it has a dental wing composed of a large team of experienced dentists.
With 18 branches and two mobile clinics islandwide, it's another dental clinic worth checking out if what you're after is accessibility. Its locations are conveniently scattered all over the island, so there's a branch in every busy district in Singapore.
Unlike most private clinics, NTUC Health accepts dental insurance. Patients holding CHAS, Pioneer Generation and Merdeka Generation cards are entitled to discounted and subsidised dental treatments.
Its comprehensive dental services cover general, preventative, restorative and aesthetic procedures, which is what patients should look for in a dental clinic. Basically, all types of dental issues can be treated here.
NTUC Health is also running a corporate dental programme with generous coverage. This is something worth considering if you're a business owner who wants to provide your employees with dental benefits.
Customer Reviews
Kelvin Lee Thomas shared this feedback on Google Reviews:
"Just did a filling here. Regular dentist is Dr Wong Li Qing. She is an excellent dentist. When I did my filling and was in pain, she was patient and delicate with her technique. Also explained to me that my condition could be a cracked tooth and the treatments I could pursue. Been here for years and highly recommend it."
Sean Goh shared this comment as well:
"Both dentists Joseph and Ji Ding are professional and approachable, carefully talking me through the procedures and tests they were carrying out for my tooth ache . The counter staff are also friendly and quick to attend to me despite me not having an appointment. Sometimes open at night, call to check."
Dental Designs Clinic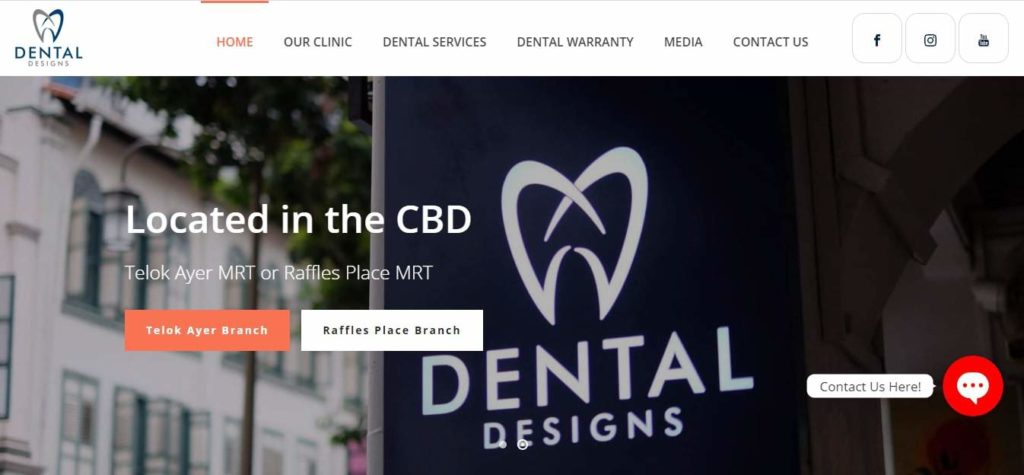 Dental Designs Clinic earned a spot on our list because it uses cutting-edge technology to resolve every dental condition experienced by its patients. It has two branches, both located near MRT stations, so finding either of them wouldn't be a problem.
Its dental staff can put an end to every dental problem you can think of, including toothaches, uneven teeth, tooth decay, cracked teeth, and periodontitis. It offers preventative treatments as well to stop those from coming back.
However, Dental Designs Clinic is more prominent for its aesthetic dental procedures, such as Invisalign, teeth whitening, dental implants, and porcelain veneer. With its expertise in cosmetic, preventative, and general dentistry, it sure is a well-rounded clinic.
One thing that makes it stand out from other dental clinics is its dental warranty. There aren't a lot of clinics that offer this level of reassurance to patients, so we admire them for that.
You'll definitely receive what you pay for here at Dental Design Clinic. It's not the most budget-friendly clinic out there, but with the quality of its treatments, we're sure that your money will be worth it.
Customer Reviews
Want to know what patients love about it? Here are some comments:
"I've been going to Dental Designs Clinic for my regular check ups and cleaning with Dr. Hani for over a year now. Dr. Hani is a friendly doctor who always patiently answers my questions on treatments and dental care. Her scaling and polishing is always meticulously done and I've not had any problems with the filings done by her. Overall, my dental health has improved considerably since I started going to the clinic and I definitely recommend Dr. Hani and this clinic for their friendly and professional service." -Annabel Tay
"I have been coming here for the past year and half for regular teeth cleaning and check-ups. Communication & scheduling with the clinic is easy and all my appointments here have been very pleasant. The staff is friendly and professional and always take the time to give me helpful advice related to my dental problems. Highly recommended!" -Yuan Chen
Ocean Dental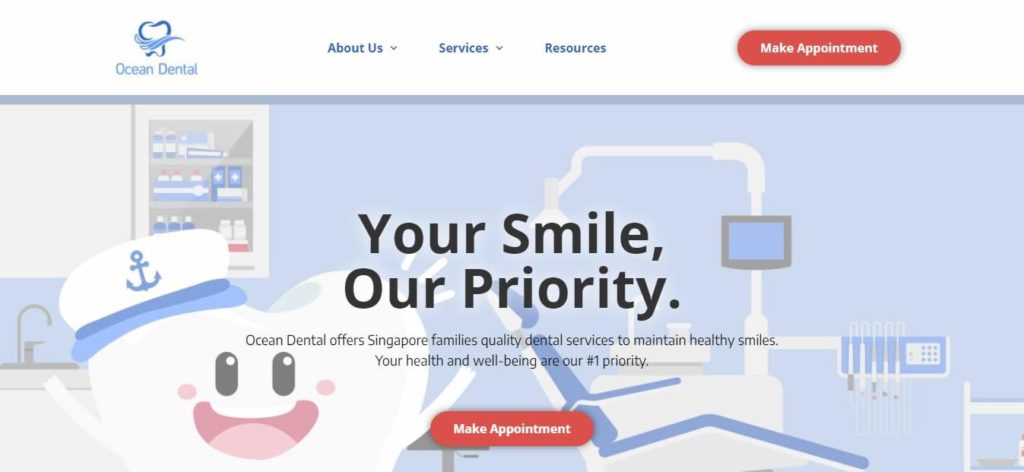 Established in 2017, Ocean Dental is another relatively young dental clinic in Singapore that's successfully earned the trust of many patients. It didn't take too long given that it's an all-around clinic with young and friendly dentists.
First, what we like about it is its easy-to-find location. It's located at Clementi West Street 2, near West Coast Community Centre and National University of Singapore.
Its dental procedures include surgical, restorative, preventative, and cosmetic surgery, so its dentists can basically address a variety of dental conditions.
Its loyal patients are a testament to the quality of its dental treatments. In fact, most of its first patients during its first year of operation are still regularly dropping by, which means there's something worth going back to about it.
Ocean Dental prioritises personalised services above all. Its dentists don't believe in a one-size-fit-all approach, so every patient can expect a tailored answer to match their dental needs.
Lastly – and this may be hard to quantify, but it's worth noting – there's a bright and friendly energy inside its clinic that can help patients feel comfortable. We believe that's because of its young and energetic team of dentists.
Customer Reviews
Check out these rave reviews from satisfied patients:
"The dental service provided by Dr Terence Kooi and his team is top notch. Dr Terence is a very meticulous, skilful and yet caring and patient dentist who takes time to explain my dental problem and the treatment options. Can always count on him to do a thorough cleaning for dental hygiene. Strongly recommend Ocean Dental!" -Lim Huan Hee
"Did my wisdom tooth surgery here. Was so scared at first but everything went very smoothly. Doctor explained everything very clearly. My dentist is doctor Chan. She's very professional 🙂 Receptionist and all the people there were very friendly as well 🙂 thank you so much!" -Jing Lin
Elements Dental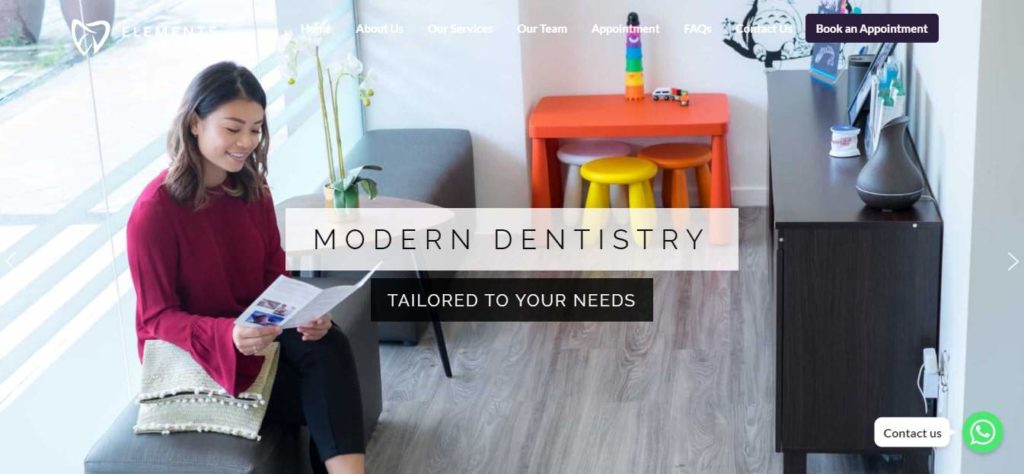 Elements Dental is a family dental clinic located in Bukit Tamah that's open to patients of all ages, from toddlers down to elderlies. Here are the things you should know about it:
What allows its dentists to resolve an extensive range of dental conditions is cutting-edge and advanced technology partnered with modern dental techniques. It's also constantly upgrading its techniques and tools to better serve its patients.
It's definitely a dental clinic worth checking out if you're after subsidies and discounts. Elements Dental is accredited by Medisave and CHAS, so patients covered by this insurance will receive lower rates.
It's headed by Dr. Matthew Wong and Dr. Sharon Kwek, both of whom have years of experience under their belt. Patients appreciate having another senior dentist on call in case our dentist is unavailable.
The only problem we have with Elements Dental is that it's closed on Sunday to Monday, which are generally crucial appointment days for patients. Those who only have free time during Sunday may have a hard time booking a schedule with them.
Customer Reviews
Take a look at these comments shared by patients on Google Reviews:
"Many thanks to Dr Wong and the team 🙂 Very clear and detailed explanation of my underlying dental problems and the solutions to tackle it. Dr Wong was able to provide me with insight and solutions that my previous dentists were never able to explain to me and he managed to salvage and restore my badly decayed teeth. Minimising pain during dental visits was one of his top priorities and I'm very grateful for that because I have always associated visiting the dentist with excruciating pain. Definitely the best dentist I've ever visited!" -Abigail Liew
"Excellent work from Dr Wong and his assistants today for fixing a chipped front tooth. The process was explained clearly and the procedure done very comfortably in a soothing ambience! 2 thumbs up! Will definitely be back again." -Edwin Lo
Little India Dentist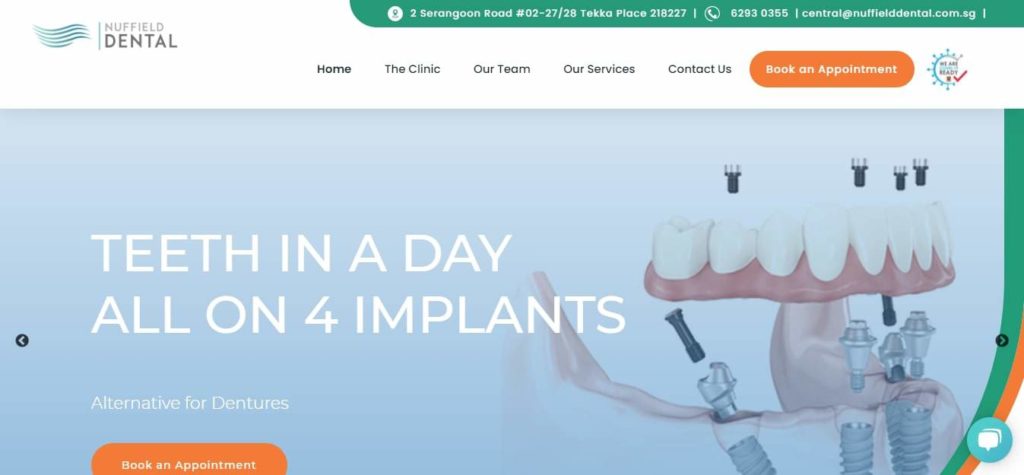 When it comes to emergency dental care, Little India Dentist remains the top choice for many Singaporeans. Patients who need urgent dental treatments don't need a prior appointment: just walk into the clinic!
Little India Dentist is made up of three senior dentists, so emergency patients don't need to wait for a dentist to become available. No worries if all dentists are booked, even, because the receptionist will find a way to have you accommodated right away.
Apart from emergency procedures, Little India Dentist provides dental services to people of all ages, including children. It's a family-friendly dental clinic with dentists who know how to work around the behaviour of toddlers.
Speaking of toddlers, Little India Dentist is accredited by Baby Bonus, which means that parents will receive subsidies and discounts on the dental treatment of their children.
It's extremely easy to book and re-arrange schedules with Little India Dentist as well. In case you're no longer free on your appointment date, all you have to do is give them a heads-up and pick a new date that fits your schedule.
Customer Reviews
Here are some comments about Little India Dentist posted online:
"First time at this dental clinic and experienced really good and efficient service. Dr Samintharaj was professional, friendly and reassuring. Ms Parvati who helms the front counter was also very kind to call me back when she had an earlier slot. Would recommend this place to anyone!" -Lydia Hang
"I had my premolar tooth cap done from Little India Dentist. I am very satisfied with the final result. Dr Kumar is really skilled and caring with his patients. Miss Parvathi is also very good and attentive. The clinic is neat and clean. Patients are attended on the scheduled time." -SK Sr
B9 Dental Centre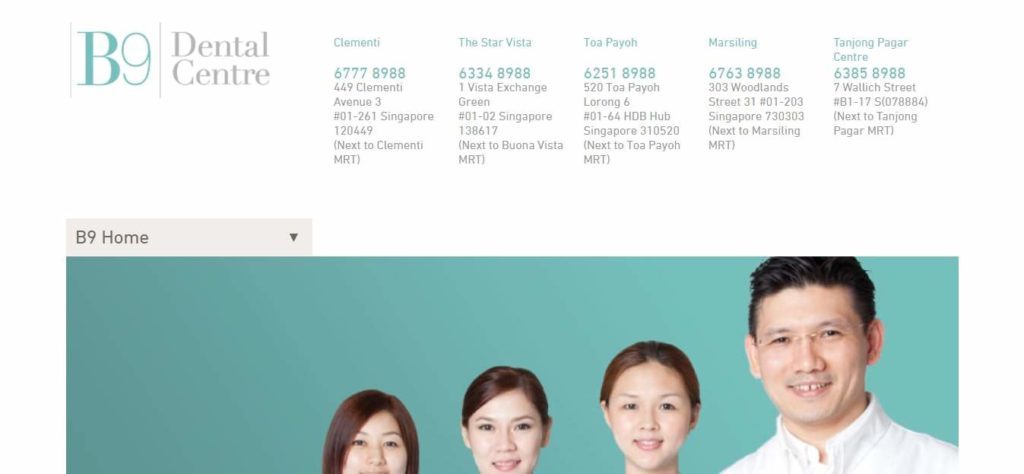 Are you looking for a dental clinic that's won numerous awards? If so, there are few better options for you than B9 Dental Centre.
Although relatively new, B9 Dental Centre has received countless praise from its patients and the medical community in Singapore. It's even highly recommended by doctors specialising in other fields.
Unlike other dental clinics, it doesn't take advantage of its reputation to charge ridiculously large dental fees. Its dental treatments are priced competitively to make sure that everyone has equal access to them.
It boasts a full-range clinic equipped with modern equipment and tech, including intraoral camera, zoom whitening, cone beam computed tomography, and KaVo i-CAT tomography 3D eXam. All these tools make high-quality diagnosis and successful treatments possible.
Another impressive thing is that it has multiple branches islandwide. It's not common for new dental clinics to have several locations early on, so we like them for that.
Lastly, it's known for its relaxing and comfortable environment that puts all patients at ease. There's even a television screen to keep patients entertained while waiting or during the treatment.
Customer Reviews
Want to know what customers think about B9 Dental Centre? Check out these reviews"
"Excellent dental service! I have a phobia to see a dentist but Dr Raymond is a very skillful and very professional dentist. My wisdom tooth surgery was done smoothly and I have no pain the next day. Thanks to B9 accepting me as a walk-in patient, even if I reach at night and the waiting hour is worth it and if compared with hospital A&E, the waiting time in B9 is shorter and fees are cheaper . This clinic does not charge any consultation fees and GST and dental consumable. I recovered well and fast from the surgery too. All in all, I think B9 dental deserves a 5 star review :)" -Sunny Phor
"Much better than those "expat" clinics at Orchard. Very polite, efficient, transparent with no hard sales. Really like the ceiling TV and watching movies while getting the procedures done. Everything is discussed and explained very nicely. Also really reasonable prices. Highly recommended." -Marcel Bandur
B & F Dental Clinic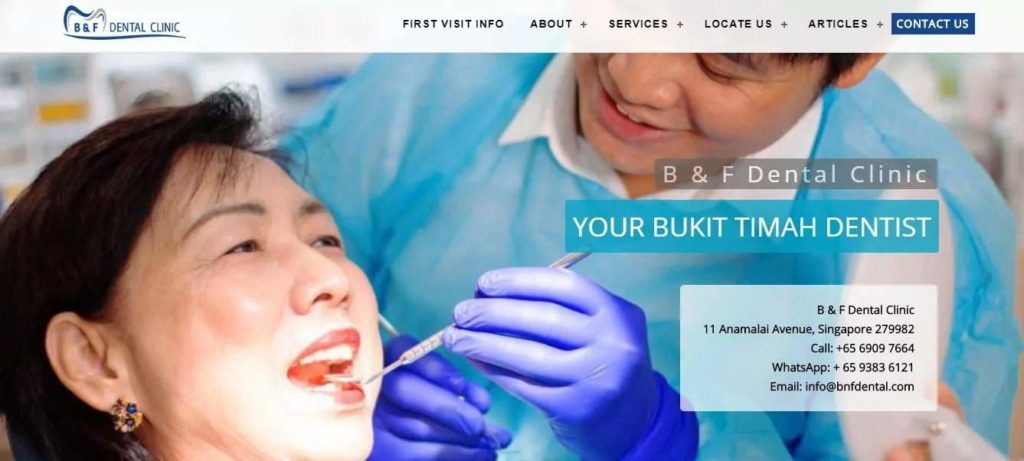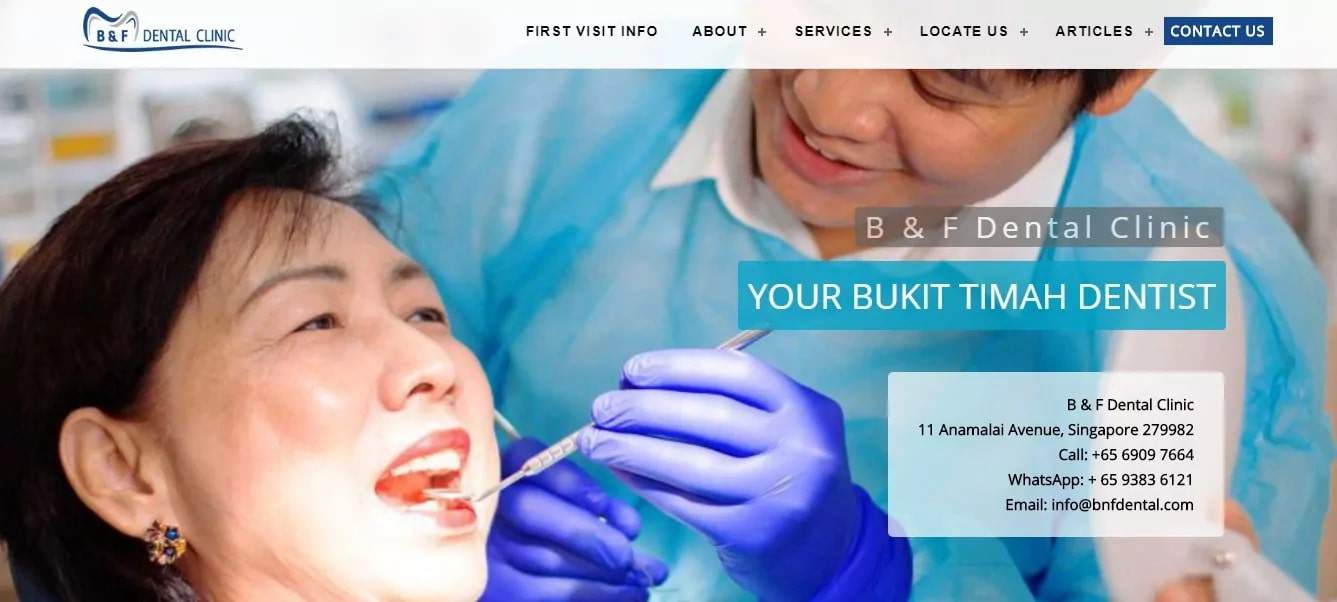 B & F Dental Clinic provides patients with flexibility in all aspects of dental treatments, starting from the date of appointment down to price of treatments.
There's no doubt that dental services at private clinics are expensive, but here at B & F Dental Clinic, patients are offered a range of treatments that fit their budget. Its dentists will exhaust all options to make sure that no patient will overspend.

The most common feedback we've heard about this dental clinic is how friendly and approachable the dentists are. We believe that all dentists should have these traits, so you're lucky that you'll be under the care of such dentists.
Another thing we like about B & F Dental Clinic is the dedicated patient aftercare. In case a patient has questions or needs assistance, its dental team will be more than willing to help, even days after the treatment.
Additionally, hygiene is a must for all dental clinics, but we have yet to see another dental clinic that takes it to the next level like B & F Dental Clinic. It even invested in German sterilization technology to minimise hygiene-related concerns.
Customer Reviews
B & F Dental Clinic has a perfect 5 out of 5 rating on Google Reviews, making it one of the top-rated clinics on the island. Take a look at these comments:
"Colleague recommended me to B&F. Went there for a root canal treatment. Dr Hong was very detailed and meticulous in his work. Explained clearly to me the options and what needed to be done. Whole process was painless and the follow up was great. I am very much impressed by his attentiveness and patience. Will continue to visit his clinic for periodic check ups." -Mun Seng Lee
"Dr Benjamin Lim is extremely quick and gentle, perfect for people like me who are usually fearful of the discomfort with dental treatments. Dr Ben's skilful hands and reassuring demeanour kept me coming back after my braces journey for regular sessions. I highly recommend Dr Benjamin if you want someone who is very meticulous and brings a pack of sunshine for that extra dose of awesome experience! Thank you Dr ben!!! You are absolutely the best!!! :)" -Candice Ong
Mount Elizabeth Dental Surgery


Mount Elizabeth Dental Surgery isn't technically a dental clinic, but has its own multi-speciality dental wing that's been around for more than three decades. If it's been around for that long, that when you know it should be trusted.
The prominence of its dental wing comes as no surprise considering that its dental team is made up of experienced and certified specialists recognised by both the Singapore Dental Council and Ministry of Health.
Since it's part of one of the largest medical centres in Singapore, there's no doubt that it's equipped with advanced and modern dental technologies. It shows through how well-rounded its dental treatments are.
Aside from the basic dental services like scaling and complicated ones like oral surgeries, Mount Elizabeth Dental Surgery delves into children's dentistry as well.
Overall, Mount Elizabeth Dental Surgery is just as excellent as our other picks, but it stands out in particular because almost every Singaporean is familiar with its name.
G Plus Dental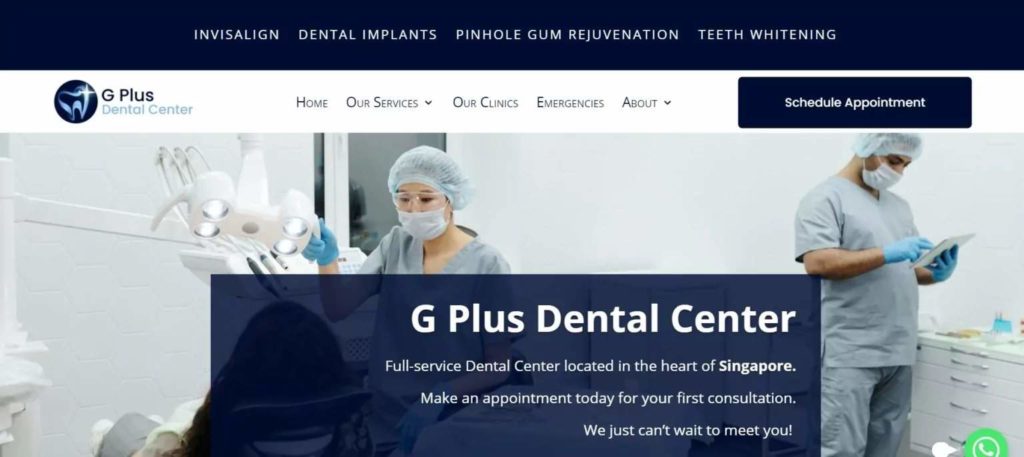 With more than 30 years of experience, G Plus Dental has proven multiple times that anyone can count on them whatever dental services they may need, from dental cleaning down to oral cancer treatment.
It seems like any other dental clinic out there, but only its long-time patients know how hands-on and attentive its dentists are. Aside from that, its dentists have been praised for being warm and approachable.
There's more to it than its team of dentists, though. G Plus Dental offers emergency dental care to individuals with abscesses, traumatic dental injuries, infections, broken tooth, toothache, and other dental conditions that need urgent treatment.
Patients with emergencies don't need to schedule an appointment. Even if there's a long line of patients, you will be accommodated right away as long as your case is considered an emergency.
Another thing we like about G Plus Dental is how comprehensive its dental treatments are. It's basically a full-service clinic that caters to all types of dental concerns, even the most complicated ones.
Pure NZ Dental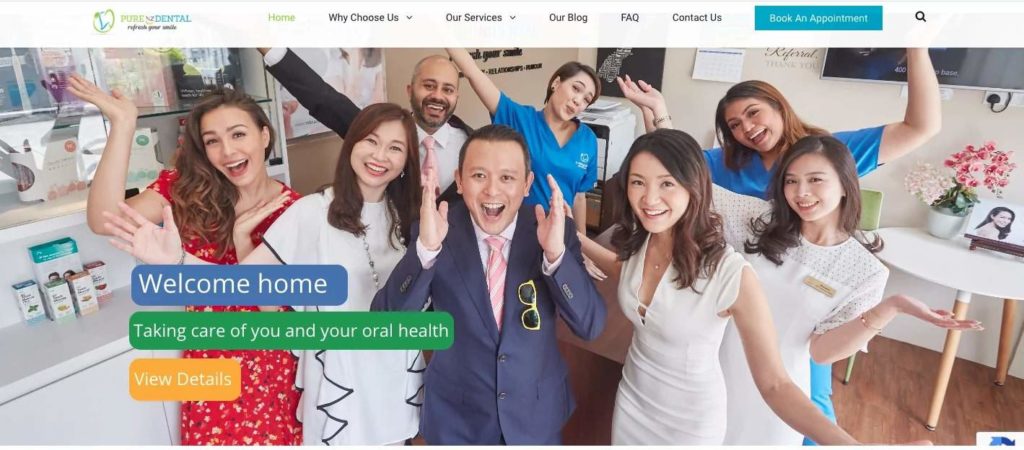 If you're looking for a dentist in Singapore that specialises in personalised customer and dental care, Pure NZ Dental just might be the right dentist for you.
Founded in 2014 by Dr. Justin Stewart and his wife, Pure NZ Dental's goal is to bring Kiwi hospitality coupled with the latest dental innovations to Singapore. This is what ultimately sets it apart from other dental clinics on the island.
Pure NZ Dental has three dentists on rotation, so walk-in patients don't need to wait too long to be accommodated. There may be a long queue of patients on busy days, but no patient has ever had to wait for hours.
One thing to know about its dentists is that all of them obtained their degrees and dental experience internationally. If you want a dentist with an excellent track record, then you wouldn't be disappointed with them.
Individualised patient care is its primary focus and this can be seen on its website. Finally, it's extremely easy and fast to book an appointment at Pure NZ Dental.
Customer Reviews
As Pure NZ Dental has been operating for almost seven years, it's earned its reputation as one of the best dental clinics in Singapore. Here are some recent reviews from patients:
"Our whole family has been coming to Pure NZ Dental since we've been in Singapore. We were referred to them by another expat family and we can see why NZ Dental has such a great reputation in the community. I see Dr Yao and she is incredibly patient, thoughtful and meticulous in the work she does. Their office staff are very friendly and conscientious about giving us all reminders on impending appointments. You simply can't go wrong." -Peter Corcoran
"Dr Justin was really amazing with my 5yo son. He took time to answer all his questions, never hurried us despite all his other patients waiting for him outside. He was also very gentle and explained his teeth condition to me thoroughly. We enjoyed our visit very much!" -Teresa
Casa Dental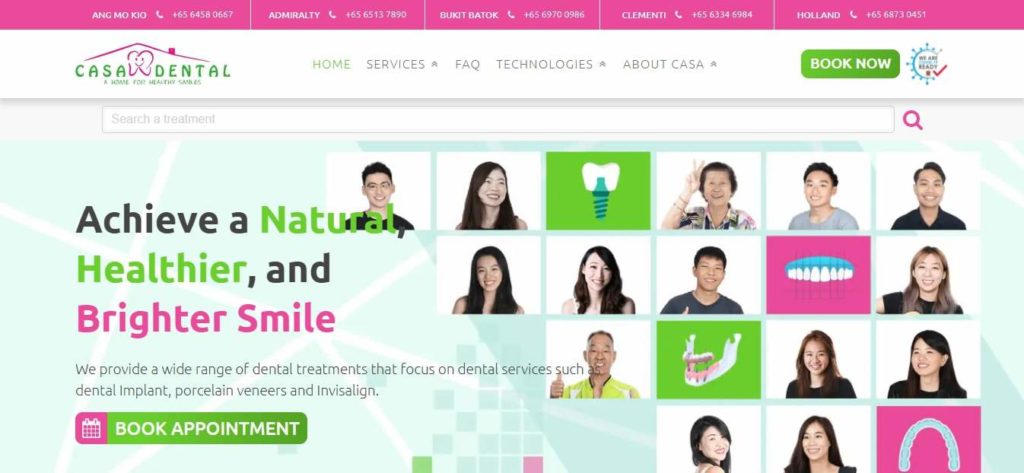 If it is a reliable Singapore dentist you need, Casa Dental could be your next go-go dentist. With four clinics scattered all over the island and more locations coming soon, there's bound to be a branch near both me and you!
Casa Dental is open seven days a week, making it perfect not just for dental emergencies but also for patients who only have time during the weekends.
They pride themselves on caring for patients of all age ranges and backgrounds. Coupled with their extensive range of services, this makes them one of the best dental clinics in Singapore for the entire family.
When it comes to payment, patients with insurance have nothing to worry about. Casa Dental is accredited by various insurance providers, including Medisave, CHAS, Pioneer Generation, Merdeka Generation, and Baby Bonus.
Those who don't have enough cash on hand may take a breath of relief as well. Casa Dental offers flexible payment options with little to no interests.
Lastly, it's one of the few dental clinics in Singapore with dental treatment guarantee on implants, crowns, bridges, dentures, and more.
Customer Reviews
Because of its several clinics and numerous clients, Casa Dental has many reviews online. Here's a recent one from a client named Yuting Liu:
"Thanks Dr Rocky for the wisdom teeth removal surgery. The whole process was fast and enjoyable. No pain at all, and the background music was nice! I recommended him and the clinic to my friend. I will definitely come back for another dental treatment in the future!"
Here's another one from Richard Cheah, considered a local guide in Google:
"Staff and dentists are all very friendly. Both the dentist that handled my oral hygiene carefully explained my situation so that I can be well informed before making a sound decision. They do not rush me into making any rash decisions that may cause me to regret later. Overall, with my tooth extracted, I do not feel any pain at all. I got no hesitation in recommending Casa Dental to anyone trying to choose a good dental clinic. If you have a good experience with your current dental clinic, then it is time to try a better dental clinic here. Thumbs Up!"
Teeth Q Dental Surgeons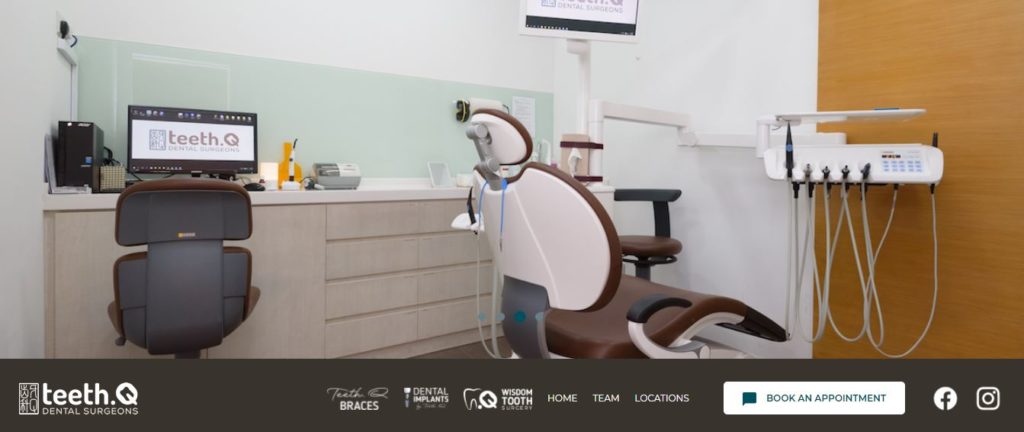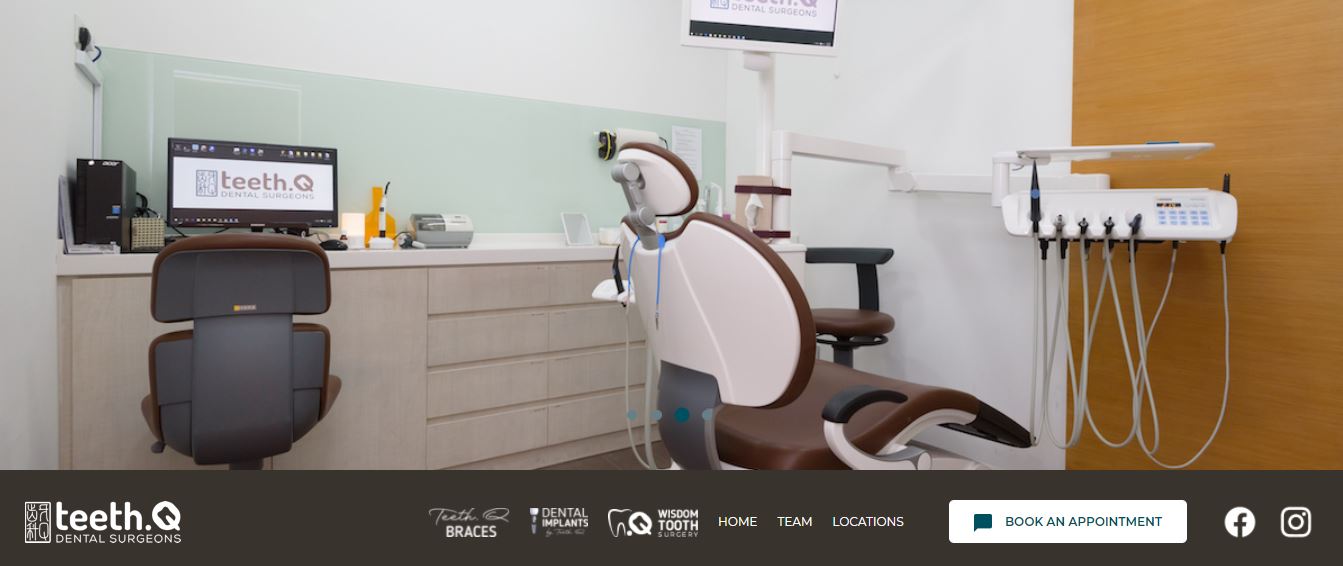 Teeth Q Dental Surgeons is composed of a large team of eight dentists with differing specializations. With many specialities in one, this dental clinic can provide all sorts of dental services, from polishing and scaling to wisdom teeth surgery and braces.
Each dentist also has a gentle and informative attitude to keep their patients relaxed before, during, and after any dental procedure.
These dentists are already the best in their respective fields, yet Teeth Q Dental Surgeons still allows its patients to pick which dentist they want for their appointment. Patients need only fill out Teeth Q's online appointment scheduling forms for this.
But since Teeth Q Dental Surgeons has numerous locations, its large team of dentists is spread around. Fortunately, this also means that you can still choose the same dentist even if you move to any of Teeth Q's other clinic locations.
Lastly, Teeth Q Dental offers numerous payment and subsidy schemes and has at least two more private insurance partners.
Customer Reviews
Teeth Q's customer reviews often cite the clinic's warm and gentle nature. Here are just some of the reviews you can check out:
"Always afraid of going to the dentist since young. However, every trip here I had a very comfortable experience and pain was very minimal. Dentist is really patient and gentle with the services provided and very informative to how we should care for our teeth. Thumbs up and will definitely be back again for my regular checks 👍"—Jasmine Xu
Highly recommended for Doctor Ho! She was very professional and patience with my queries. It was one of my most pleasant experience with a dentist as she was gentle and keeps me informed of the step by step procedure. Will surely go back to her again on my next dental appointment! 👍👍👍"Florence Loke
Had my wisdom tooth extracted here 6 months ago and didn't hurt a bit, even the healing process was not painful! (but definitely it varies person to person)
back here again 6 months later for the normal scaling and polishing and still, doesn't hurt. Dr Soh was very caring to check in on me during the process whether it hurts or gets too sensitive but it didn't hurt at all!"—Joselyn Ng
Alpha Dental Group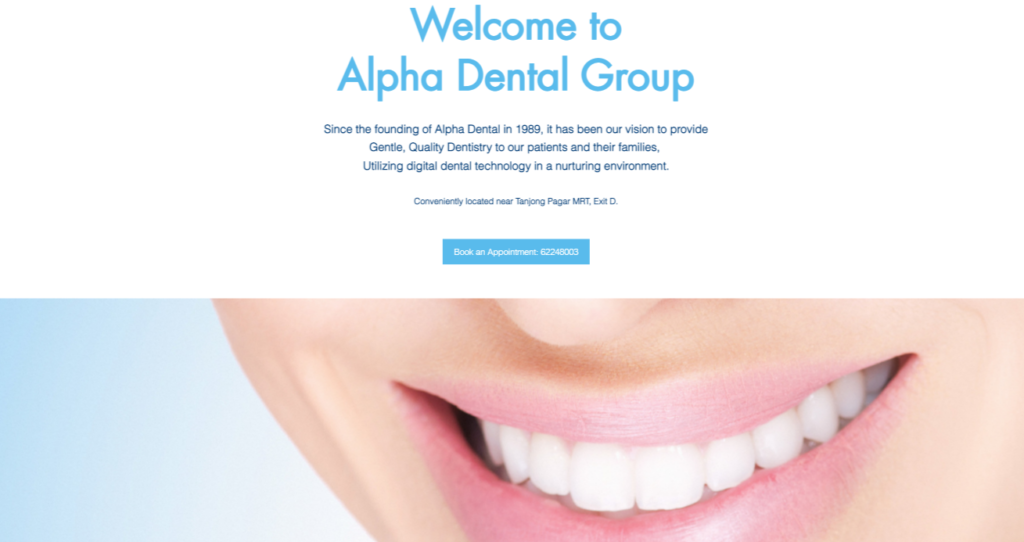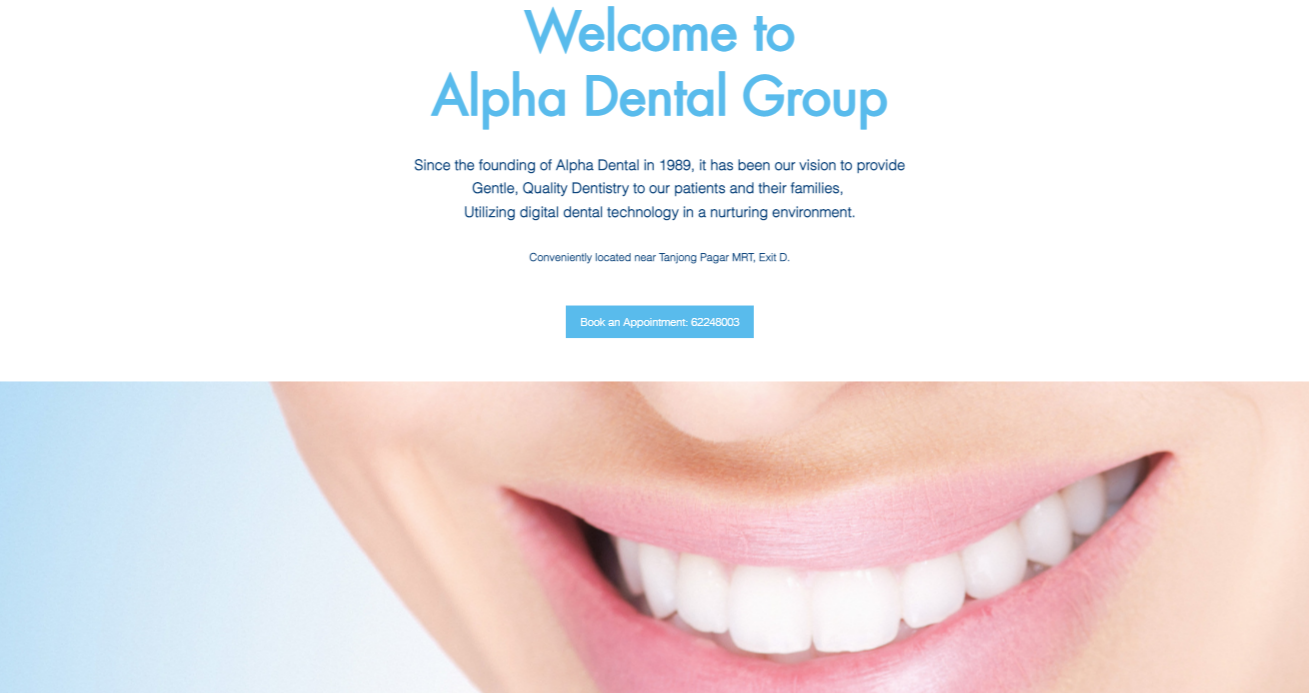 Alpha Dental Group first opened its doors to the public in 1989 with one simple goal in mind: To provide quality dental care to the people of Singapore.
Now, there are many reasons why one should consider Alpha Dental Group for their dental needs. For one, the clinic is known for its environment, which is cosy, safe, and nurturing. Children and adults alike have no problem getting comfortable in Alpha Dental Group's clinics.
Another reason is Alpha Dental Group's team, which consists of trained, highly professional dentists, each with their own specialities. These dentists' years of experience in the field make them qualified to deliver the care that one needs.
Next is the list of services, which is one of the most extensive among all of the entries. Alpha Dental Group offers a wide array of dental services, including cosmetic dentistry, laser dentistry, root canal therapy, orthodontics, dental implants, and general dentistry.
Those who are interested will also be happy to know that Alpha Dental Group accepts various insurance options. Some to note are AIA Dental panel, AVIVA Insurance, MHC Dental, and IHP Dental insurance.
Alpha Dental Group can be reached via phone or email for further inquiries and booking purposes.
WeSmile Dental Care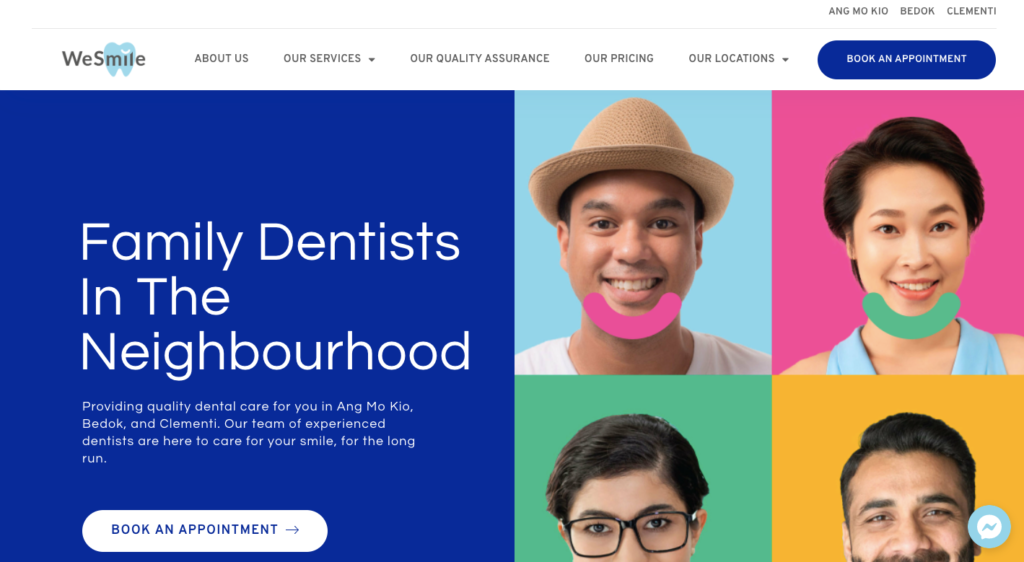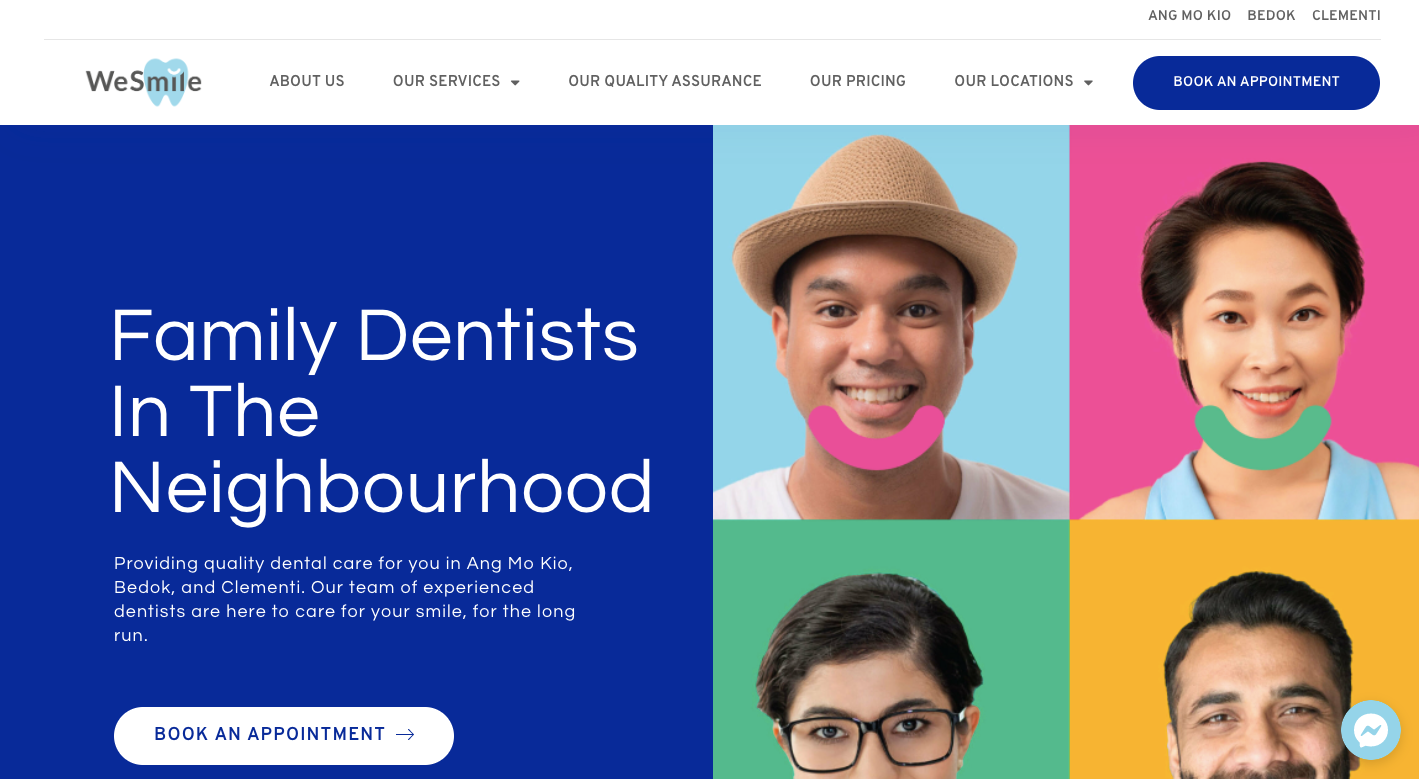 Previously known as Liverpool Dental Care, Toronto Dental Care, and Manchester Dental Care, WeSmile Dental Care is their rebranded name which provides high-quality dental care in Ang Mo Kio, Bedok, and Clementi, Singapore with their team of skilled dentists.
Their name may have changed but rest assured that essentially their services remain the same, with no changes to their dentists or the quality of care provided under the previous brands. Instead, their rebranding paved the way to provide better care by grouping more dentists together.
With over a decade of experience, they have been providing a full range of services of preventative, restorative, and cosmetic dental services through a team of dedicated and experienced dentists.
Scaling and polishing, wisdom tooth extraction, dental implants, root canal treatment, aligners & braces, veneers, and many other procedures are available.
FAQs about Dental Clinics in Singapore
---
Anyway, that's it for our list of the candidates for the title of best dental clinics in Singapore right now. Go to any one of them for brighter, healthier teeth — we're sure these professionals can deliver!
And remember, this is just one of our many resources for those seeking the best healthcare providers on the island. Try out our article on the best dermatologists in Singapore too, for example!