Did you know that a shoddy tooth extraction can lead to enduring pain, discomfort, and even a lethal infection? That's why you should only go to the best dental clinic in Singapore for everything tooth-related, even if it's as simple as a cleaning.
That's easier said than done if you don't know where to find the best dental clinics in Singapore, of course. Luckily for you, we're here to direct you to them.
We've done the research and found the clinics with the best track records and most positive reviews from their patients. Naturally, we've chosen only clinics with the proper licenses and credentialled dentists.
Today, we'll take you over our finds. Below is our list of the island's clinics eligible to be called the best dental clinic in Singapore.
1. Specialist Dental Group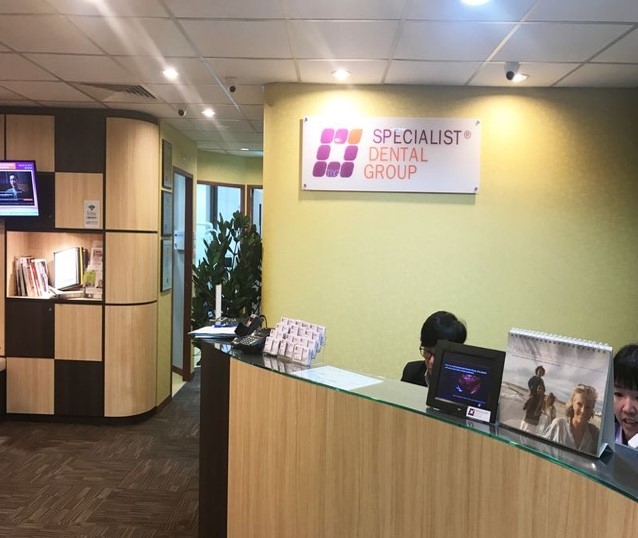 *Photo from Specialist Dental Group's website
Dentists of Specialist Dental Group are perpetually expanding their knowledge of their specialisation. They do this to ensure progressive, evolving expertise in dentistry.
This is thus a candidate for the title of best dental clinic in Singapore when it comes to staying updated in the field. It's known for conducting media outreach to boost dental health awareness, too.
Essential Information
Location
3 Mount Elizabeth, #08-03/04/10, Singapore
Clinic Hours
9 AM – 5:30 PM (Monday-Friday)
9 AM – 1 PM (Saturday)
Contact Number
Website
Services
Braces
Cosmetic dentistry
Gum treatment
Dental fillings
Jaw surgery
Customer Review
The Specialist Dental Group's service quality is undeniable. Patients claim only delightful experiences when having their teeth treated at the clinic. They also say it's a bonus that the staff are genuinely compassionate.
"Best service. My husband had a surgery to remove his 4 wisdom teeth. The operation was done wonderful. Doctors are helpful and compassionate. The staffs are great, and I would recommend definitely to others." – Chee Kin W. via Yelp
2. Smile Makers Dental Clinic 
  *Photo from Smile Makers Dental Clinic's website
According to Smile Makers Dental Clinic, convenience is key to maintaining a healthy smile. Hence, their dentists are on-call six days a week to care for Singapore's pearly whites.
The clinic is known for giving dental treatment for the entire family, building bright smiles across healthy generations.
Essential Information
Location
10 Sinaran, #09-26 Novena Medical Center, Singapore
Clinic Hours
8:30 AM – 6 PM (Monday-Wednesday)
8:30 AM – 4 PM (Thursday)
11 AM – 7 PM (Friday)
9 AM – 5 PM (Saturday)
Contact Number
Website
Services
Braces
Invisalign
Dental care for children
Teeth whitening
Root canal treatment
Customer Review
Patients feel well-cared-for here due to dentists' professionalism and their honesty in providing recommendations for treatment. They say they appreciate the absence of attempts to "upsell" further treatments that may not be necessary for actual dental health.
Along with that, the clinic earns major points for hospitality. Take a look at this review:
"I have been a patient of Dr. Asha for 5 years now and I'm really happy with her expertise, friendliness, efficiency.  She doesn't recommend unnecessary treatments. Very professional.  Her staff are also very good." – Joy A. via Yelp.
3. Victoria Dentalcare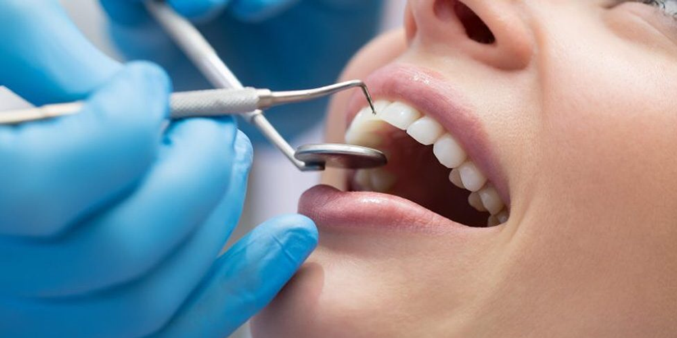 *Photo from Victoria Dentalcare's website
Longing for genuine pampering? At Victoria Dentalcare, they provide dental wellness with empathy, treating patients with warmth and soothing attenting.
That's because treating the teeth is just one part of their bigger philanthropy — nurturing the oral health of Singapore's family. Victoria Dentalcare is intent on promoting better dental health for all on the island.
Essential Information
Location
Blk 476D Upper Serangoon View #02-03, Singapore
Contact Number
Clinic Hours
9 AM – 9 PM (Monday-Thursday)
9 AM – 6 PM (Friday-Saturday)
9 AM – 2 PM (Sunday)
Website
Services
General dentistry
Periodontics
Oral surgery
Cosmetic dentistry
Dental sleep medicine
Customer Review
According to patients, Victoria Dentalcare shines when it comes to communication. They clearly relay to patients the treatment and long-term assistance needed for their teeth.
They also say that dentists here let clients feel that they are involved in the whole process of ensuring dental wellness. Patients approve of this empowering approach, as well as the clinic's commitment to professionalism.
Here's a review from one patient:
"Visited Victoria Dentalcare for years and they have not disappointed me in any ways at the moment. Very professional and patient dentists who explain clearly what needs to be done to your tooth before he/she actually starts the process. Had Dr Chye as my dentist for years, he's good." – Stella L. via Yelp
4. Nuffield Dental Kovan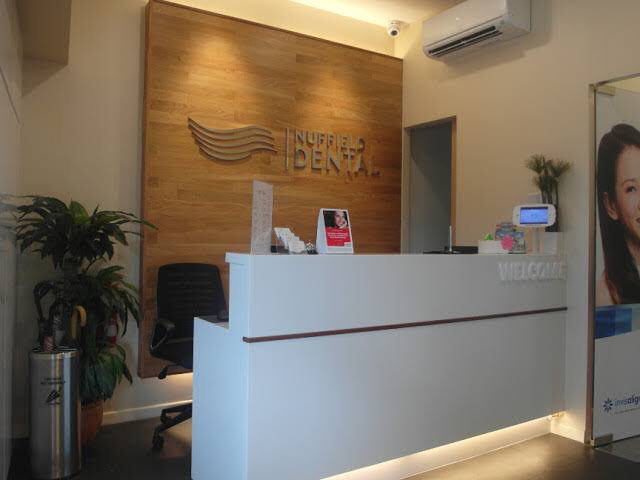 *Photo from Nuffield Dental Kovan's website
Equipped with contemporary technology, Nuffield Dental Kovan is dentistry at its peak. They guarantee near-painless procedures for a serene experience.
Versatility is their specialty, which means this is one of the best dental clinics in Singapore if you need many and varied procedures performed. Nuffield Dental Kovan delivers dental care that is tailor-made for every patient's needs.
Essential Information
Location
2 Kovan Road, #01-03 Simon Plaza, Singapore
Contact Number
Clinic Hours
9 AM – 9 PM (Monday-Friday)
9 AM – 6 PM (Saturday-Sunday)
Website
Services
General dentistry
Holistic dentistry
Face rejuvenation
Dental crowns and bridges
Dentures
Customer Review
Overall, patients are satisfied by their time in Nuffield Dental Kovan. Comfort is of utmost importance here, and clients receive it during treatment at the clinic.
The staff also puts extra effort into catering to the concerns of every customer. Here's a review showing patients' appreciation for this:
"The clinic feels very comfortable, and the staff at the dental clinic are very friendly and helpful." – Wan Qi Ti via Yelp.
5. Q & M Dental Group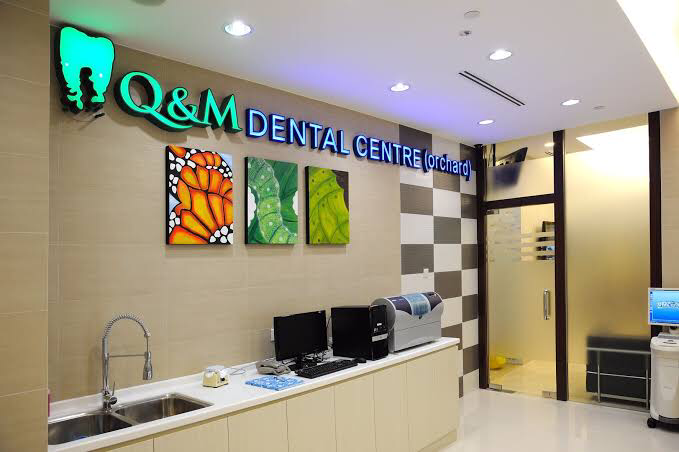 *Photo from Q & M Dental Group's website 
Having been around for 20 years and counting, Q & M Dental Group has grown into Singapore's largest dental healthcare association.
Through the years, the clinic has developed a full range of services that center on patients' safety, comfort, and wellbeing. Q & M Dental Group is a surefire provider of top-tier dental care.
Gum Get Some – Essential Information
Location
176 Orchard Road, #03-16/17/18/19 The Centrepoint, Singapore
Contact Number
Clinic Hours
*Not provided. Check their website or contact the clinic for more information.*
Website
Services
General dentistry
Dental laser
CAD CAM digital dentistry
Dental implant
Braces
Customer Review
Students flock to Q & M Dental clinic because of the affordability of their services. They appreciate the accommodating staff as well and say being at Q & M Dental clinic lets them feel well taken care of, as seen below:
"The staff was nice and helpful. The dentist was very gentle and professional. There was no hard selling at all. The cost was reasonable for a student like me." – Rosalita T. via Yelp
6. Garden Dental
  *Photo from Garden Dental's website 
Garden Dental Clinic's doctors believe that one's oral health employes a holistic focus on oral care. Their medical team aims to minimise the fear and discomfort, in hopes of ensuring a pleasurable dental visit for you and your family.
Essential Information
Location
491 Bukit Timah Rd #B1-02, Botanic Gardens MRT
Contact Number
Clinic Hours
Mon – Fri 9am to 8pm
Saturday 9am to 6pm
Sunday 2pm to 6pm
Website
Services
Braces (Orthodontics)
Invisalign®
Cosmetic Dentistry
Dentures
TAD (Temporary Anchorage Device)
Extraction
Fillings
Gum Treatment
Dental Implants
Crowns And Bridges
Root Canal Therapy
Scaling And Polishing
Fluoride Treatment
Wisdom Tooth Surgery
Customer Review
5-star Facebook review from Sharon Lim:
"The dr and the staffs are professional and friendly. The environment is clean and neat. The cost of the treatments are reasonable too. Highly recommend this place if you are going to a dental clinic. Thumbs up!"
7. Dental Designs Clinic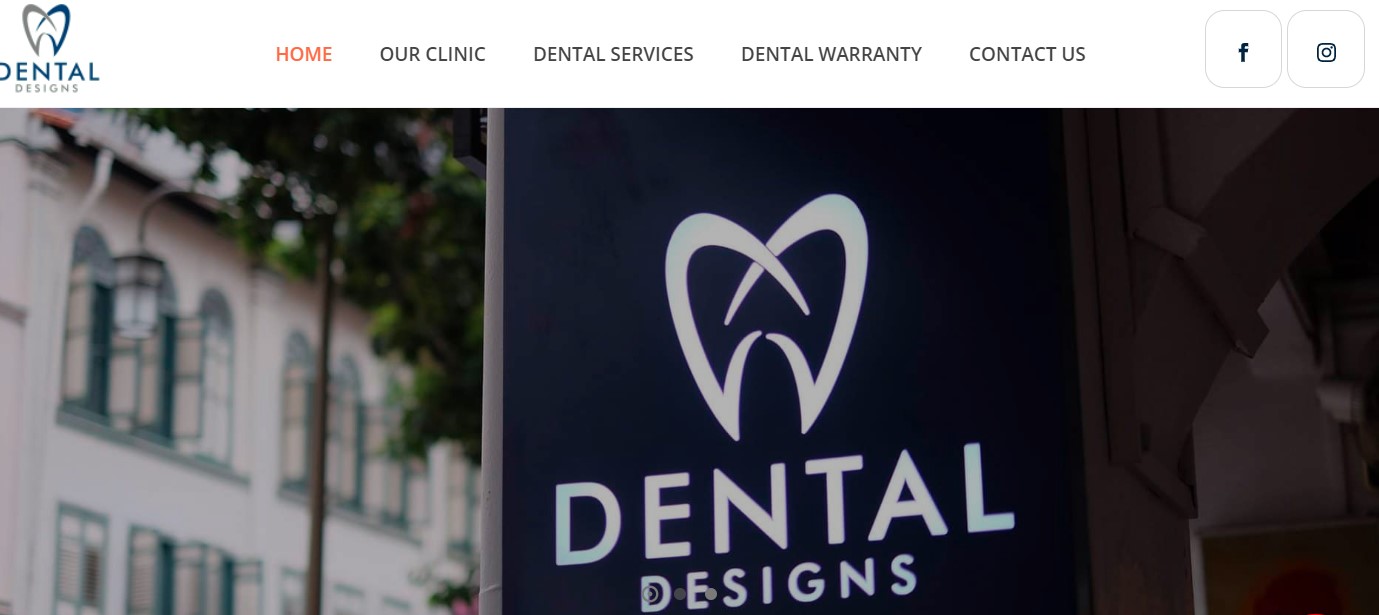 *Photo from Dental Designs Clinic's website 
Dental Designs Clinic uses technology to achieve predictable long-lasting results, to minimise discomfort to their clients.
Their clinic provides a full range of dental services to using high quality products and equipment from Germany and Switzerland. At Dental Designs Clinic, their dentists are trained in the latest high tech equipment such as a SIRONA CEREC 3D CADCAM machine which can produce high quality, long lasting ceramic and zirconia crowns in a day, compared to typical clinics which require 2 weeks for a crown.
When you come for your consultation, they offer thorough examinations, a detailed discussion of your oral health condition, and treatment plans customized to your needs.
Essential Information
Location
Dental Designs Clinic is located close to the junction of Cross St and Telok Ayer Street, near to Telok Ayer MRT.
Contact Number
Clinic Hours
Mon – Fri 9am – 6pm
Sat 9am – 1pm
Website
Services
Dental Designs Clinic provides general dental services, with a focus on cosmetic, crowns and bridges, dental implants, and Invisalign.
Customer Review
"Highly recommended this clinic, Dr Chong Wei Ling was professional and very gentle, had the best experience when I went in to get my fillings replaced. Dr Chong even took the time to conduct nerves tests prior to going through with the procedure. Very satisfied. I had been to many dentists for the past 25 years but none had left a good impression in term of the personal touch and the technology used to treat patient.  – Fui Fah Ho via Facebook
8. Ocean Dental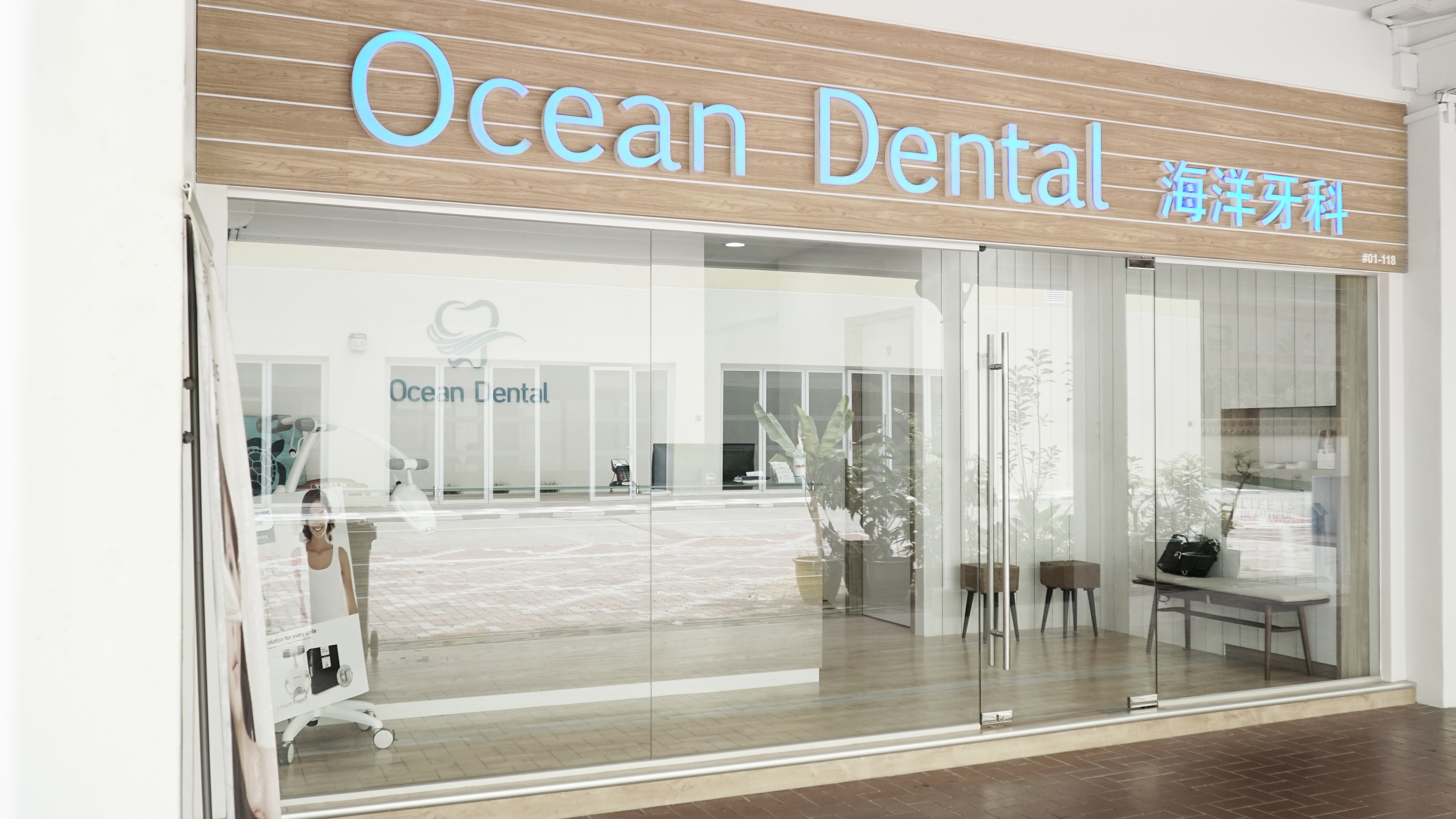 Although fairly new and was only established in 2017, this dental practice headed by Dr. Terence Kooi continues to garner loyal customers through their genuine care and ethics. Besides their expertise in dentistry, their warm approach to their customers are of the reasons people keep coming back for their services. 
Essential Information
Location
Blk 721 Clementi West Street 2 #01-118 Singapore 120721
Clinic Hours
Monday – Friday: 9am – 9pm
Saturday: 9am – 6pm
Sunday: 9am – 5pm
Contact Number
+65 6266 3011
+65 9636 6118
Website
Services
Routine Check-up
Scaling & Polishing
Dental Fillings
X-Ray
Dental Braces
Teeth Whitening
Wisdom Tooth Surgery
Dental Implant
Dentures & Veneers
Root Canal Treatment
Crown/ Bridge
Children Dentistry
Customer Review
With 4.8 rating on Google, Ocean Dental is undeniably impressive dental clinic that treats each patient with expertise and friendliness. Customers of Ocean Dental also express their gratitude towards the team's patience especially in handling childrens' appointments. 
"Doctors here are very friendly and patient. They also give detailed and clear explanation. And, the place is bright and clean. :)" – Ramon Bespinyowong via Google reviews
9. Elements Dental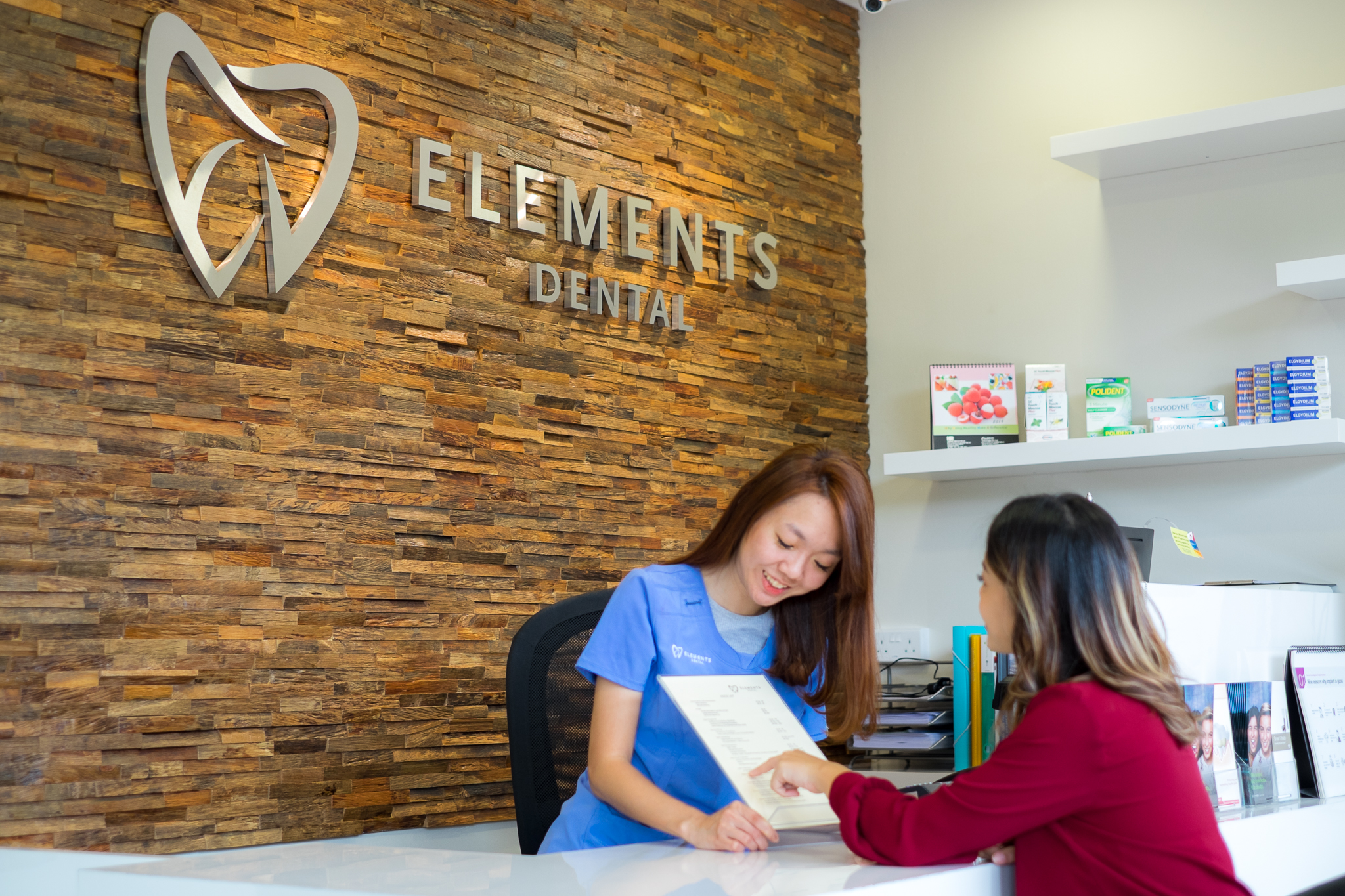 Elements Dental is a dental clinic strategically located in the heart of Bukit Timah, Singapore. The team of Elements Dental aims to show the public that dental care is not something that they should avoid and be scared of.
With this in mind, they equip their clinic with modern, state-of-the-art techniques and equipment to ensure that not only will your dental appointment be efficient and effective, but it will also be comfortable and fun.
Essential Information
Location
895 Bukit Timah Road, Singapore 589616
Clinic Hours
Tues: 9:30 – 20:30

Wed and Thurs: 12:30 – 20:30

Fri and Sat: 09:30 – 17:30

Sun, Mon and PH: Closed
Contact Number
Website
Services
Preventative Dentistry

Pain Management

Teeth Whitening

Dental Restoration

Orthodontics

Paediatric Dentistry

Prosthetic Dentistry

Aesthetic Dentistry

Wisdom Tooth Removal
Customer Review
Elements Dental is praised for their wonderful line of dental services as well as their effort to keep a great relationship with their patients. Robin Matzinger left this comment at Google Reviews.
"The best dental experience I've ever had. Excellent service and communication. You feel authentically perceived and saved.
As for the treatment, everything was extraordinary. The latest techniques and equipment and great craftsmanship. You gotta try…! :-)"
10. Little India Dentist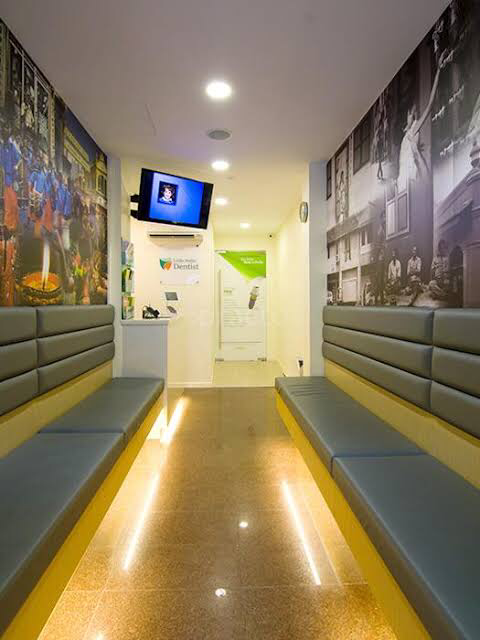 *Photo from Little India Dentist's website 
Little India Dentist is proud of investing in contemporary equipment to deliver excellent wellness for customers' teeth. The place is family-centric, administering dental care for a brightly smiling community.
This may be the best dental clinic in Singapore if you want the best of traditional dentistry combined with advanced techniques.
Essential Information
Location
12 Kerbau Road, Singapore
Contact Number
Clinic Hours
9 AM – 9 PM (Monday-Friday)
9 AM – 7 PM (Saturday)
9 AM – 5 PM (Sunday)
Website
Services
Tooth whitening
Cosmetic dentistry
Veneers
Preventive care
Cfast treatment
Customer Review
Patients of Little India Dentist are happy with the safe and fast treatment. They also like the clean environment.
They say they like that the dentists at the clinic are friendly and good at delivering laughs too, as you can see here:
"Dr Kumar is very professional. I was very worried about the dental implant procedure initially, but Dr Kumar assured me that the whole procedure will take only 10-15 mins and true enough. He is also very humorous. Place is very clean and new." – Jasmine Y. via Yelp
Anyway, that's it for our list of the candidates for the title of best dental clinic in Singapore right now. Go to any one of them for brighter, healthier teeth — we're sure these professionals can deliver!
And remember, this is just one of our many resources for those seeking the best healthcare providers on the island. Try out our article on the best dermatologists in Singapore too, for example!