The Best Dental Clinic in Singapore: Top 18 Dental Clinics (2021)
Did you know that a shoddy tooth extraction can lead to enduring pain, discomfort, and even a lethal infection? That's why you should only go to the best dental clinic in Singapore for everything tooth-related, even if it's as simple as a cleaning.
That's easier said than done if you don't know where to find the best dental clinics in Singapore, of course. Luckily for you, we're here to direct you to them.
We've done the research and found the clinics with the best track records and most positive reviews from their patients. Naturally, we've chosen only clinics with the proper licenses and credentialled dentists.
Today, we'll take you over our finds. Below is our list of the island's clinics eligible to be called the best dental clinic in Singapore.
(Note: This list is in no particular order.)
Symmetry Dentofacial Aesthetics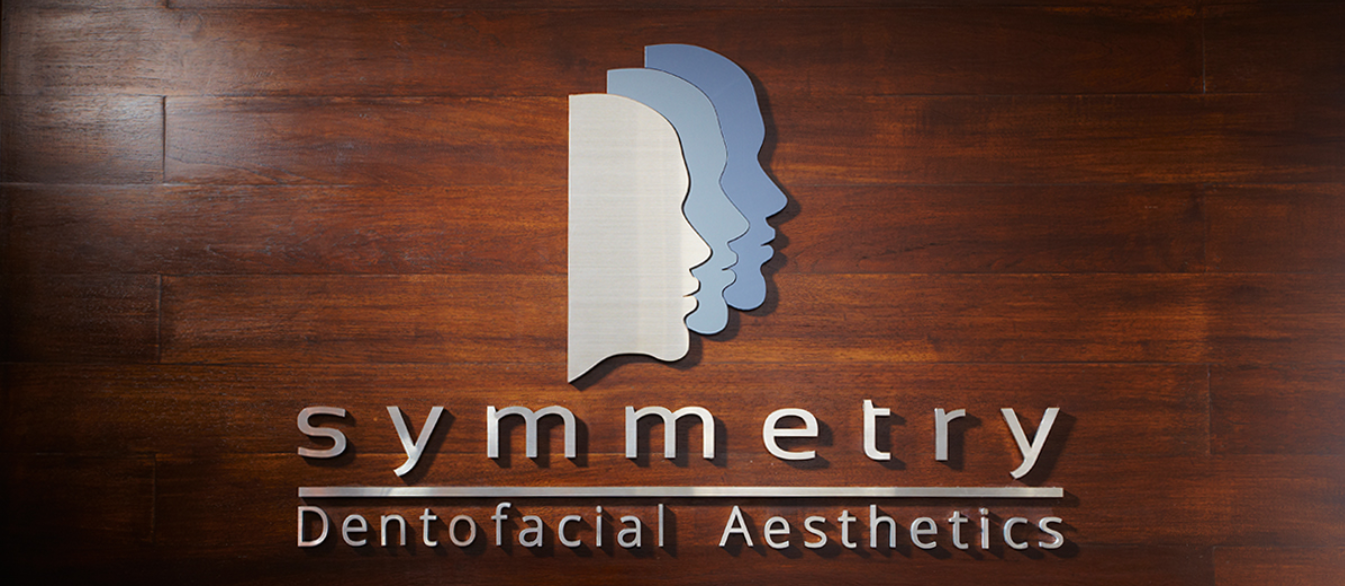 BEST FOR 
Dentofacial Aesthetics
PRICING
Contact for more details
WEBSITE
https://www.dentalsingapore.co/
ADDRESS
1 Farrer Park Station Road
#15-15 Connexion
Farrer Park Medical Centre
Singapore 217562
CONTACT DETAILS
+65 6432 8285
OPERATING HOURS
Tuesday – Friday 9.30am – 7.30pm
Saturday 8.00am – 2.30pm
Closed on Sundays, Mondays and Public Holidays
Symmetry Dentofacial Aesthetics is a premier specialist clinic that offers a variety of personalised dentofacial aesthetic services for the teeth and face. Throughout the years, the clinic has served both local and international patients.
Dr Eugene Wee, a resident specialist at the clinic and the Clinical Director, is one of the first few dental surgeons to receive accreditation from the Singapore Dental Council. He spent 10 years in full-time public service at NDCS and is now a registered specialist with the Singapore Dental Council, and the Academy of Medicine.
Some services that the clinic offers are Aesthetic Brace Treatments, Surgical Orthodontic Treatment, Routine Dental Maintenance, Teeth Whitening Treatment and Adjunctive Non-surgical Aesthetic Treatment.
Services
Metal Braces
Ceramic Braces
Lingual Braces
Invisalign®
Interceptive Management of Jaw Growth Problems
Managing Jaw Growth Problems
Managing Facial Frown Lines
Teeth Whitening
Wisdom Tooth Removal
Scaling
Polishing
Air Polishing
Advanced Dental Group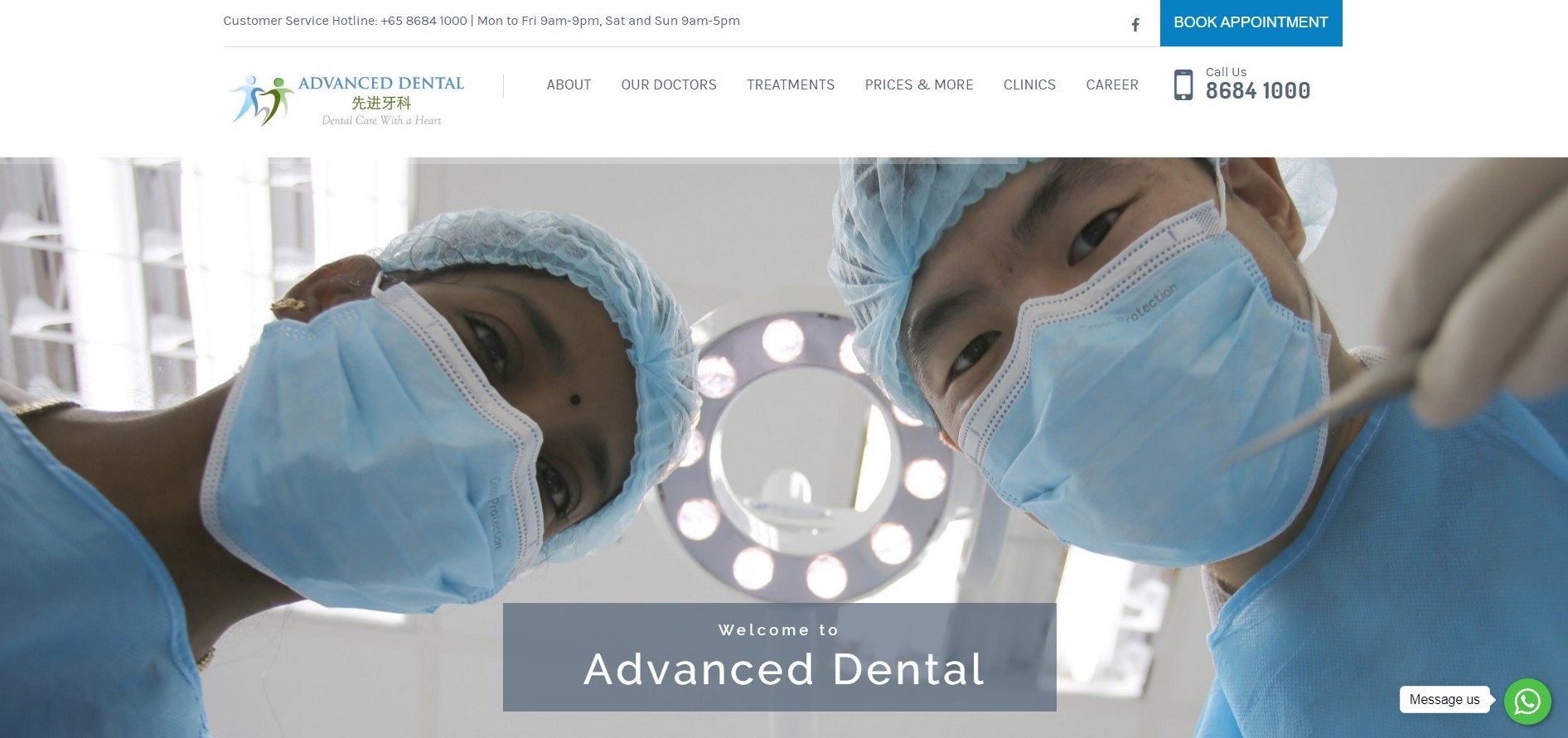 WEBSITE
https://www.advanceddental.com.sg/
LOCATION
CLINICS: ANG MO KIO | BEDOK | BOON KENG (CENTURY) | BUKIT BATOK (THONG HOE) | BUKIT PANJANG | JURONG WEST | PASIR RIS | SENGKANG | SERANGOON | TAMPINES | TOA PAYOH
CONTACT DETAILS 
86841000
CLINIC HOURS
Monday to Friday: 9am-9pm
Saturday and Sunday: 9am-5pm
PH: Closed
Advanced Dental Group is a growing chain of dental clinics in Singapore. Their very first clinic was established in 1986 and now they have grown to 11 clinics islandwide. They have maximised their more than 30 years of history to expand services and provide their patients with the full range of treatments in-house.
Advanced Dental Group's team of dentists and nurses are superbly trained to provide professional and gentle dental care. They're not just dentists, they're a trusted partner to their patients.
Thanks to their 11 clinics throughout the country, we will never find it hard to find a dentist in Singapore near me and you!
Services
General Dentistry
Aesthetic Dentistry
Dental Pain Management
Replacement of Teeth
Oral Surgery
Orthodontics
Children's Dentistry
Dental Sleep Medicine
Specialist Dental Group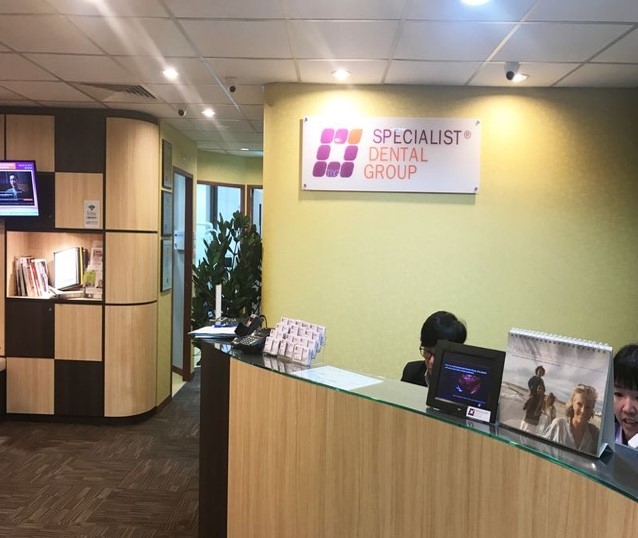 WEBSITE
www.specialistdentalgroup.com
LOCATION
3 Mount Elizabeth, #08-03/04/10, Singapore
CONTACT DETAILS
+65 6733 7883
CLINIC HOURS
9 AM – 5:30 PM (Monday-Friday)
9 AM – 1 PM (Saturday)
Dentists of Specialist Dental Group are perpetually expanding their knowledge of their specialisation. They do this to ensure progressive, evolving expertise in dentistry.
This is thus a candidate for the title of best dental clinic in Singapore when it comes to staying updated in the field. It's known for conducting media outreach to boost dental health awareness, too.
Services
Braces
Cosmetic dentistry
Gum treatment
Dental fillings
Jaw surgery
Smile Makers Dental Clinic 
WEBSITE
www.smilemakers-dental.com/wp/
LOCATION
10 Sinaran, #09-26 Novena Medical Center, Singapore
CONTACT DETAILS
+65 6397 2739
CLINIC HOURS
8:30 AM – 6 PM (Monday-Wednesday)
8:30 AM – 4 PM (Thursday)
11 AM – 7 PM (Friday)
9 AM – 5 PM (Saturday)
According to Smile Makers Dental Clinic, convenience is key to maintaining a healthy smile. Hence, their dentists are on-call six days a week to care for Singapore's pearly whites.
If you need a Singapore dentist that specialises in orthodontic care, Smile Makers should be on your list. They provide orthodontic consultations which include mould fitting of the teeth and dental x-rays.
The clinic is known for giving dental treatment for the entire family, building bright smiles across healthy generations. Many consider them to be the best dental clinic in Singapore for families that need orthodontic care.
Services
Braces
Invisalign
Dental care for children
Teeth whitening
Root canal treatment
Q & M Dental Group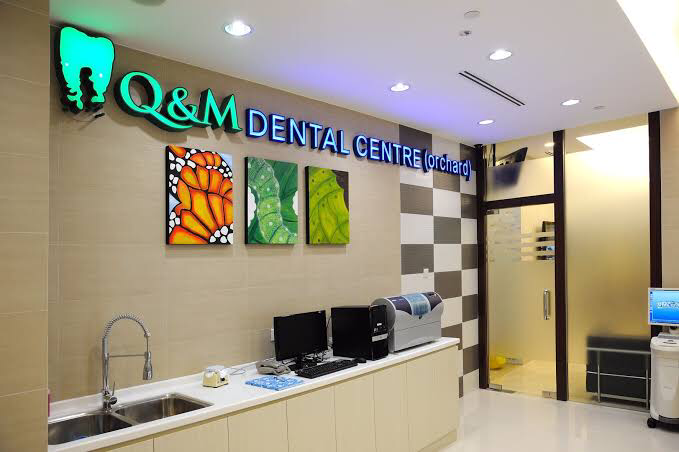 | | |
| --- | --- |
| WEBSITE | www.qandm.com.sg |
| LOCATION | 176 Orchard Road, #03-16/17/18/19 The Centrepoint, Singapore |
| CONTACT DETAILS | +65 6509 1133 |
| CLINIC HOURS | *Check their website or contact the clinic for more information.* |
Having been around for 20 years and counting, Q & M Dental Group has grown into Singapore's largest dental healthcare association. This is why if you're looking for a top dentist in Singapore, chances are you will find them at Q & M Dental Group.
Through the years, the clinic has developed a full range of services that centre on patients' safety, comfort, and wellbeing. Q & M Dental Group is a surefire provider of top-tier dental care.
Services
General dentistry
Dental laser
CAD CAM digital dentistry
Dental implant
Braces
Garden Dental
WEBSITE
https://gardendental.sg/
LOCATION
491 Bukit Timah Rd #B1-02, Botanic Gardens MRT
CONTACT DETAILS
+65 6219 9548
CLINIC HOURS
Mon – Fri 9am to 8pm
Saturday 9am to 6pm
Sunday 2pm to 6pm
Garden Dental Clinic's doctors believe that one's oral health employes a holistic focus on oral care. Their medical team aims to minimise the fear and discomfort, in hopes of ensuring a pleasurable dental visit for you and your family.
Services
Braces (Orthodontics)
Invisalign®
Cosmetic Dentistry
Dentures
TAD (Temporary Anchorage Device)
Extraction
Fillings
Gum Treatment
Dental Implants
Crowns And Bridges
Root Canal Therapy
Scaling And Polishing
Fluoride Treatment
Wisdom Tooth Surgery
Dental Designs Clinic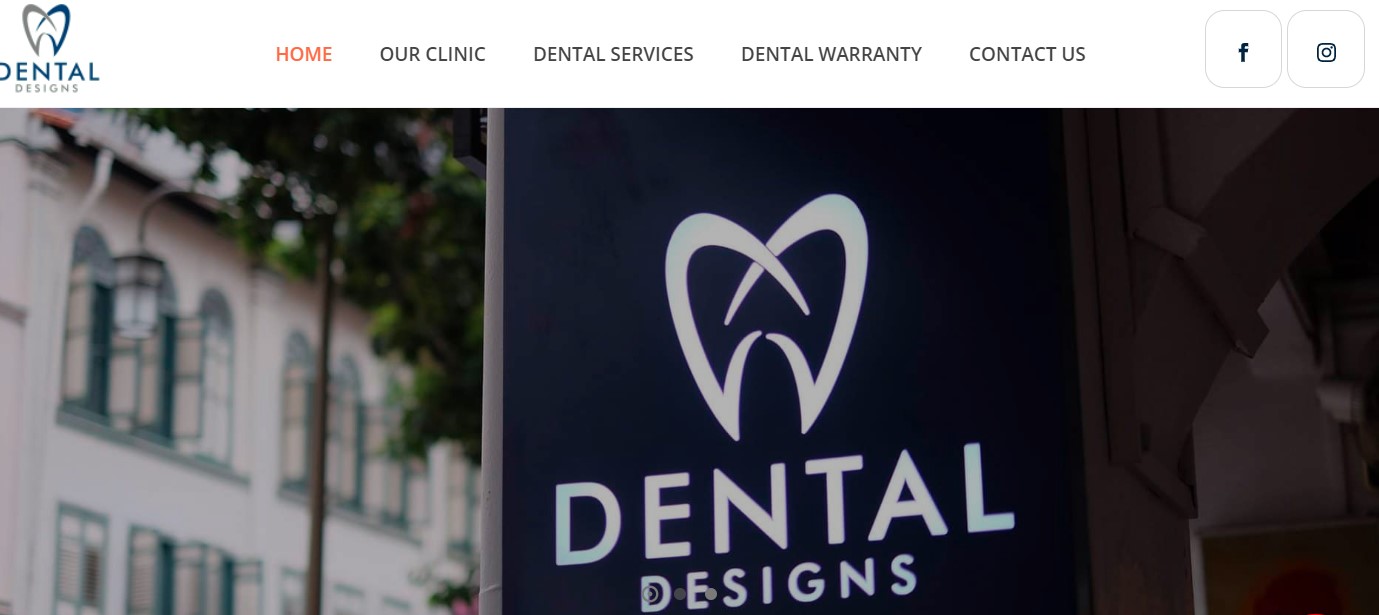 WEBSITE
https://dentaldesigns.com.sg/
LOCATION
Dental Designs Clinic is located close to the junction of Cross St and Telok Ayer Street, near to Telok Ayer MRT.
CONTACT DETAILS
6221 8284
CLINIC HOURS
Mon – Fri 9am – 6pm
Sat 9am – 1pm
Dental Designs Clinic uses technology to achieve predictable long-lasting results, to minimise discomfort to their clients.
Their clinic provides a full range of dental services to using high quality products and equipment from Germany and Switzerland. At Dental Designs Clinic, their dentists are trained in the latest high tech equipment such as a SIRONA CEREC 3D CADCAM machine which can produce high quality, long lasting ceramic and zirconia crowns in a day, compared to typical clinics which require 2 weeks for a crown.
When you come for your consultation, they offer thorough examinations, a detailed discussion of your oral health condition, and treatment plans customized to your needs.
Services
Dental Designs Clinic provides general dental services, with a focus on cosmetic, crowns and bridges, dental implants, and Invisalign.
Ocean Dental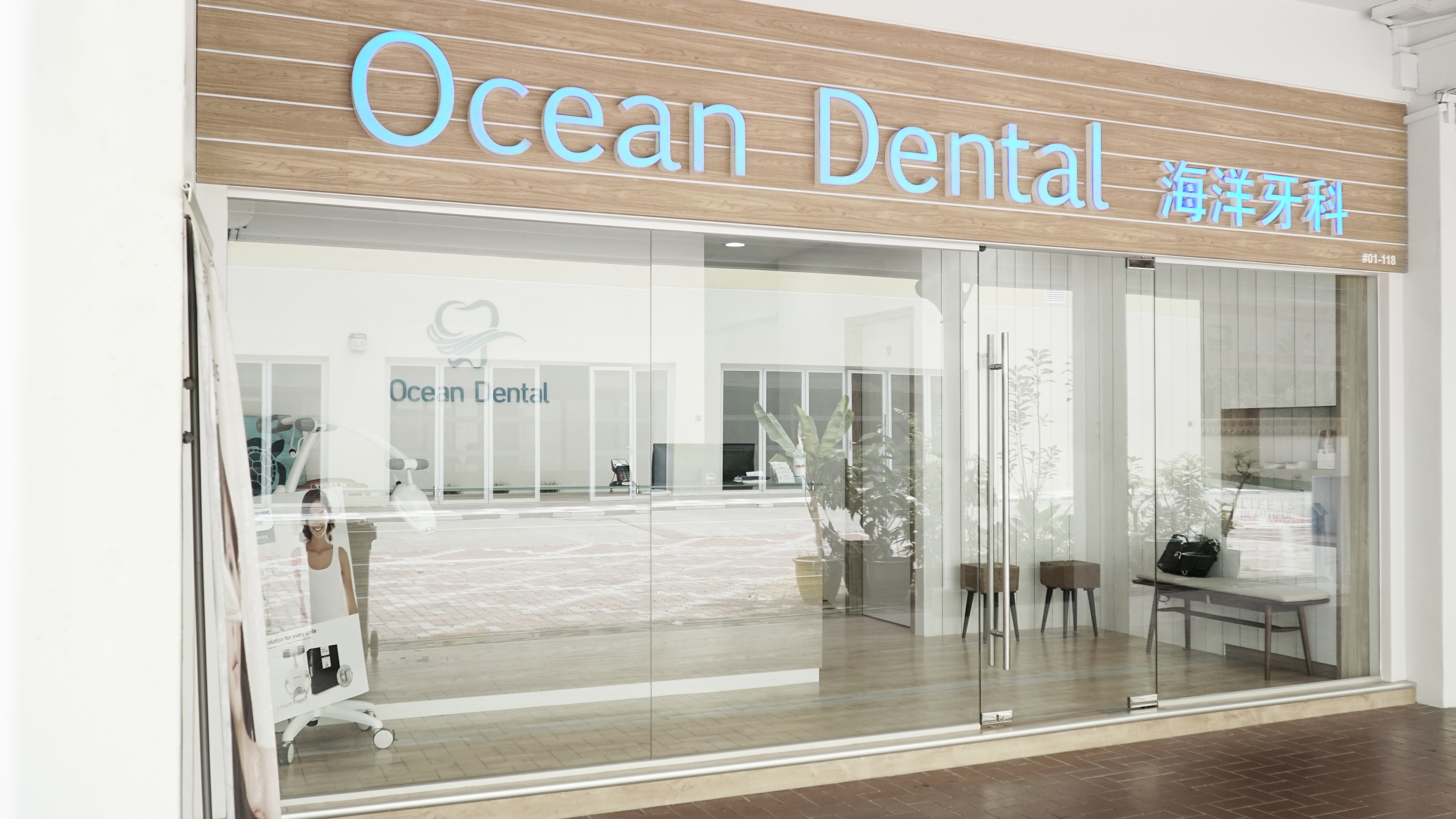 WEBSITE
https://www.oceandental.sg/
LOCATION

Blk 721 Clementi West Street 2 #01-118 Singapore 120721

CONTACT DETAILS

+65 6266 3011

 

+65 9636 6118

CLINIC HOURS

Monday – Friday: 9am – 9pm




Saturday: 9am – 6pm




Sunday: 9am – 5pm
Although fairly new and was only established in 2017, this dental practice headed by Dr. Terence Kooi continues to garner loyal customers through their genuine care and ethics. Besides their expertise in dentistry, their warm approach to their customers are of the reasons people keep coming back for their services. 
Services
Routine Check-up

Scaling & Polishing

Dental Fillings

X-Ray

Dental Braces

Teeth Whitening

Wisdom Tooth Surgery

Dental Implant

Dentures & Veneers

Root Canal Treatment

Crown/ Bridge

Children Dentistry
Elements Dental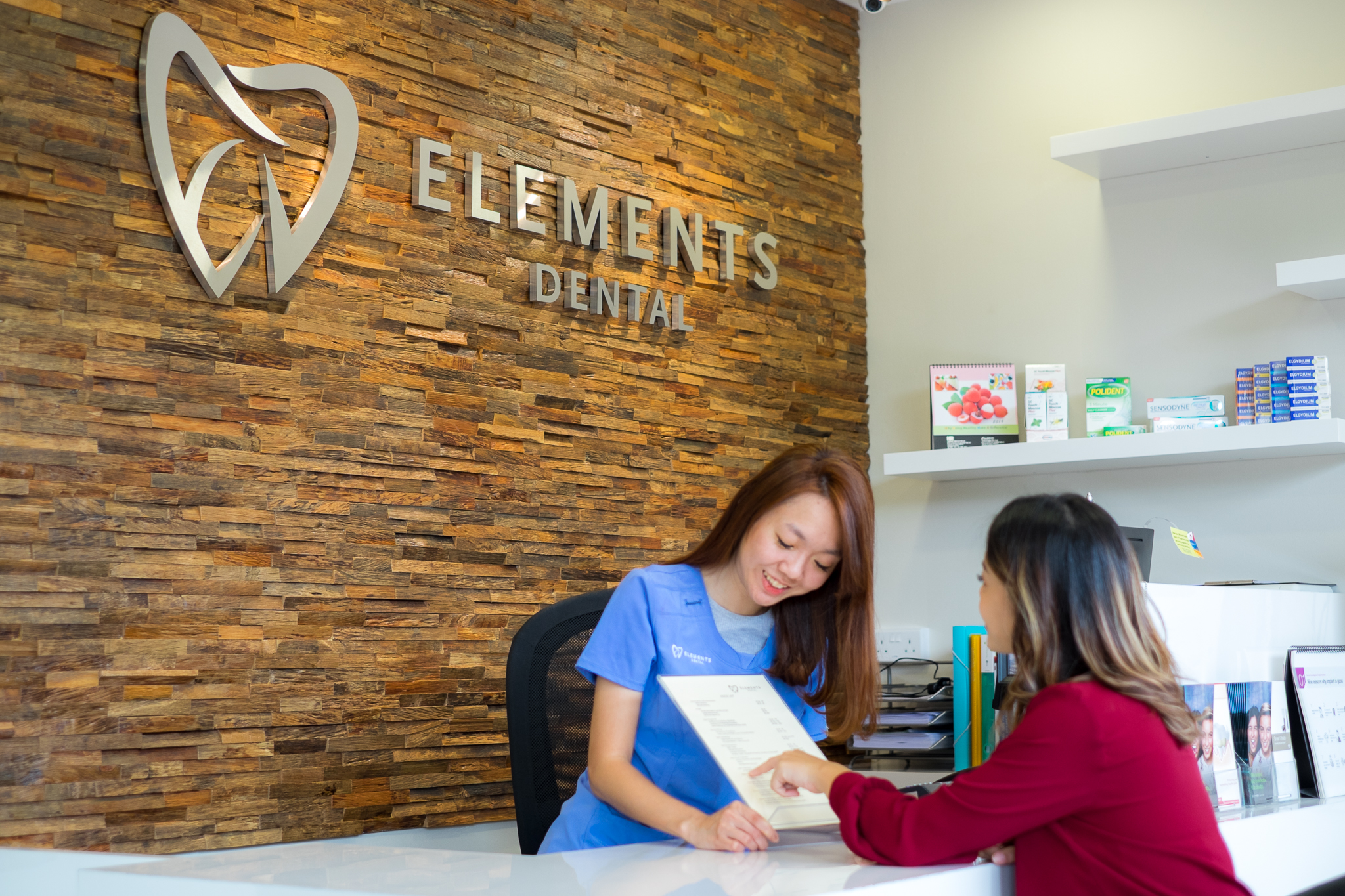 WEBSITE
https://elementsdental.com.sg/
LOCATION

895 Bukit Timah Road, Singapore 589616

CONTACT DETAILS
+65 6463 2830
CLINIC HOURS

Tues: 9:30 – 20:30




Wed and Thurs: 12:30 – 20:30




Fri and Sat: 09:30 – 17:30




Sun, Mon and PH: Closed
Elements Dental is a dental clinic strategically located in the heart of Bukit Timah, Singapore. The team of Elements Dental aims to show the public that dental care is not something that they should avoid and be scared of.
With this in mind, they equip their clinic with modern, state-of-the-art techniques and equipment to ensure that not only will your dental appointment be efficient and effective, but it will also be comfortable and fun.
Services
Preventative Dentistry

Pain Management

Teeth Whitening

Dental Restoration

Orthodontics

Paediatric Dentistry

Prosthetic Dentistry

Aesthetic Dentistry

Wisdom Tooth Removal
Little India Dentist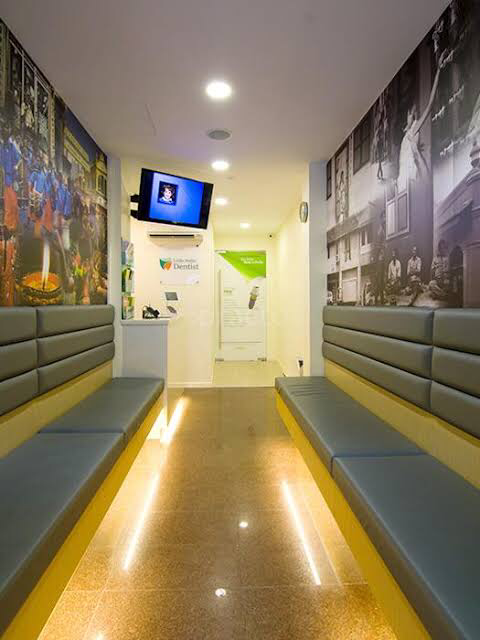 WEBSITE
www.littleindiadentist.com.sg
LOCATION
12 Kerbau Road, Singapore
CONTACT DETAILS
+65 62930355
CLINIC HOURS
9 AM – 9 PM (Monday-Friday)
9 AM – 7 PM (Saturday)
9 AM – 5 PM (Sunday)
Little India Dentist is proud of investing in contemporary equipment to deliver excellent wellness for customers' teeth. The place is family-centric, administering dental care for a brightly smiling community.
This may be the best dental clinic in Singapore if you want the best of traditional dentistry combined with advanced techniques.
Services
Tooth whitening
Cosmetic dentistry
Veneers
Preventive care
Cfast treatment
B9 Dental Centre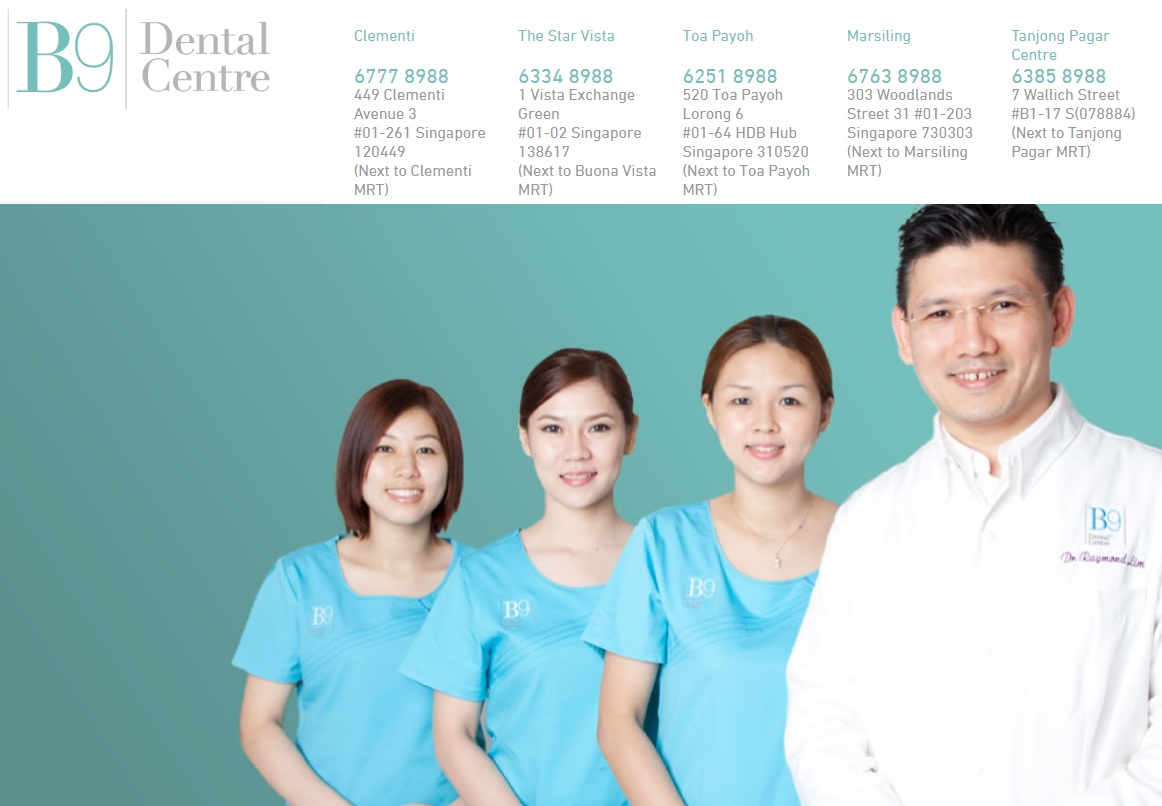 WEBSITE
http://www.b9dental.com/
LOCATION

449 Clementi Avenue 3 #01-261 Singapore 120449

 

1 Vista Exchange Green #01-02 Singapore 138617

520 Toa Payoh Lorong 6 #01-64 HDB Hub Singapore 310520

303 Woodlands Street 31 #01-203 Singapore 730303

7 Wallich Street #B1-17 S(078884)

CONTACT DETAILS

[email protected]

CLINIC HOURS
Monday – Saturday:

9:00 am – 9:00 pm
Looking for a good dentist in Singapore that has won awards? Then, your search is over. B9 Dental Centre was awarded and included in the Top 10 Special Achievement in Dental Care which is part of the country's Promising SME 500 initiative. This is award signifies the quality of service that the clinic is providing to its patients. 
Although relatively new, B9 Dental Centre has received positive feedback from its clients and the medical community. They promise and guarantee that the complete well-being of their patient is the top priority of the clinic. 
Services
Scaling and Polishing

Fillings

Extraction

Partial Dentures

Full Dentures

Root Canal Treatments

Crown and Bridge

Veneers

Teeth whitening

Dental implant

Brace 
B & F Dental Clinic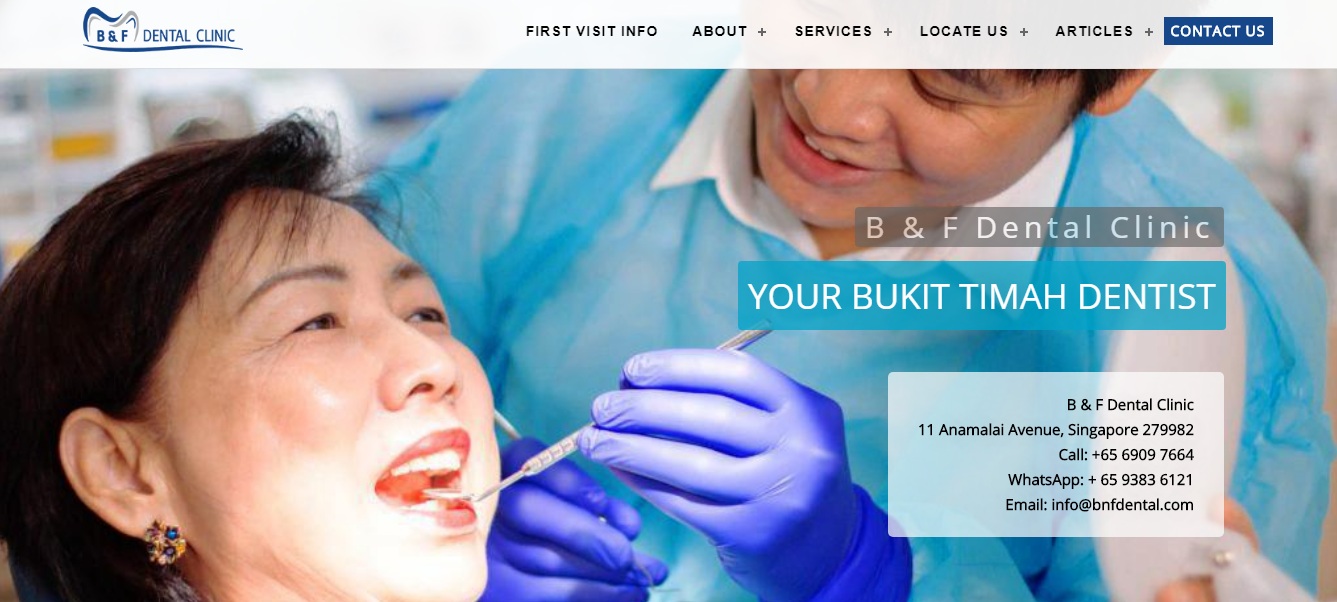 WEBSITE
https://www.bnfdental.com/
LOCATION

11 Anamalai Ave, Singapore 279982

CONTACT DETAILS

+65 6909 7664 

 

+65 9383 6121

CLINIC HOURS
Monday to Thursday: 10:00 – 13:00; 14:00 – 18:00; 18:30 – 20:00
Friday to Sunday:

10:00 – 13:00; 14:00 – 17:00
At B & F Dental Clinic, you can have all the flexibility you want. They provide a full range of dental services to cater to their patients' needs. In fact, they will offer you all the options that fit your budget. Then, according to your preferences, they will recommend the best options for you to make the final decision.
The clinic takes pride in having the latest technology and up-to-date dental treatment. This is to afford their clients with the best care they can provide.
Services
Dental Crowns and Bridges

Dental Emergencies

Wisdom Tooth Extraction

Scaling & Polishing 

Root Canal Treatment

Dental Implants

Teeth Whitening

Periodontal Surgery
Mount Elizabeth Medical Center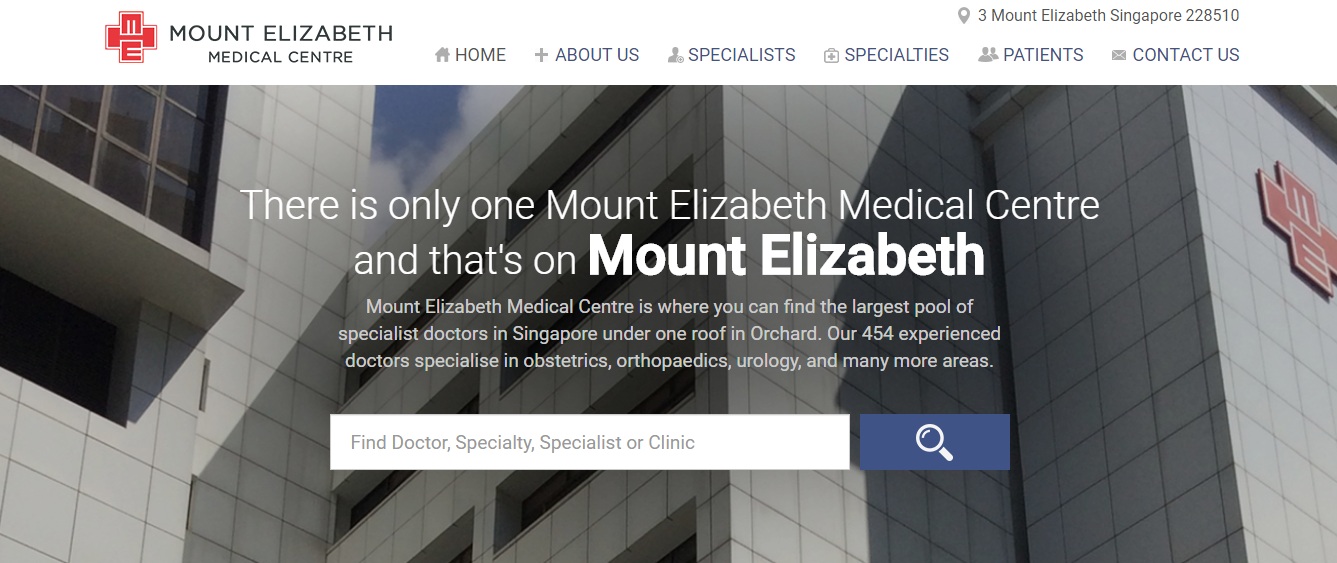 WEBSITE
https://www.memc.com.sg/
LOCATION

3 Mount Elizabeth, Singapore 228510

CONTACT DETAILS

Contact Form

CLINIC HOURS
Monday – Friday:

9:00 am – 5:00 pm


Saturday:

9:00am to 1:00pm
Mount Elizabeth Medical Center is a hospital located in the heart of Singapore's shopping district.  That being said, you can easily locate the clinic and visit such for consultation. They have numerous practitioners in their hospital. In fact, the total of which is 454 to be exact. These experienced and professional doctors specialized in obstetrics, orthopedics, urology, and other
Services
Endodontic Services

Oral and Maxillofacial Surgery

Orthodontic Services 

Paediatric Dentistry 

Periodontic Services 

Prosthodontic Services 

Dental Implants 
Nuffield Dental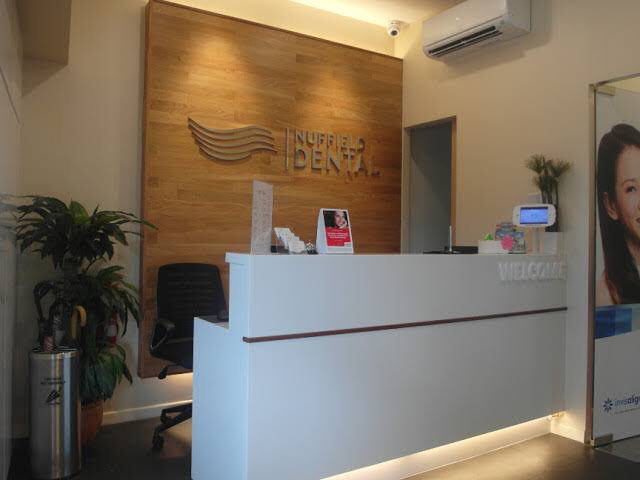 WEBSITE
www.nuffielddental.com.sg
LOCATION
Raffles | Novena | Harbourfront | Serangoon | Seletar | Kovan | Siglap
CONTACT DETAILS
+65 3129 2708
CLINIC HOURS
9 AM – 9 PM (Monday-Friday)
9 AM – 6 PM (Saturday-Sunday)
Equipped with contemporary technology, Nuffield Dental Kovan is dentistry at its peak. They guarantee near-painless procedures for a serene experience.
Versatility is their specialty, which means this is one of the best dental clinics in Singapore if you need many and varied procedures performed. Nuffield Dental Kovan delivers dental care that is tailor-made for every patient's needs.
Services
General dentistry
Holistic dentistry
Face rejuvenation
Dental crowns and bridges
Dentures
G Plus Dental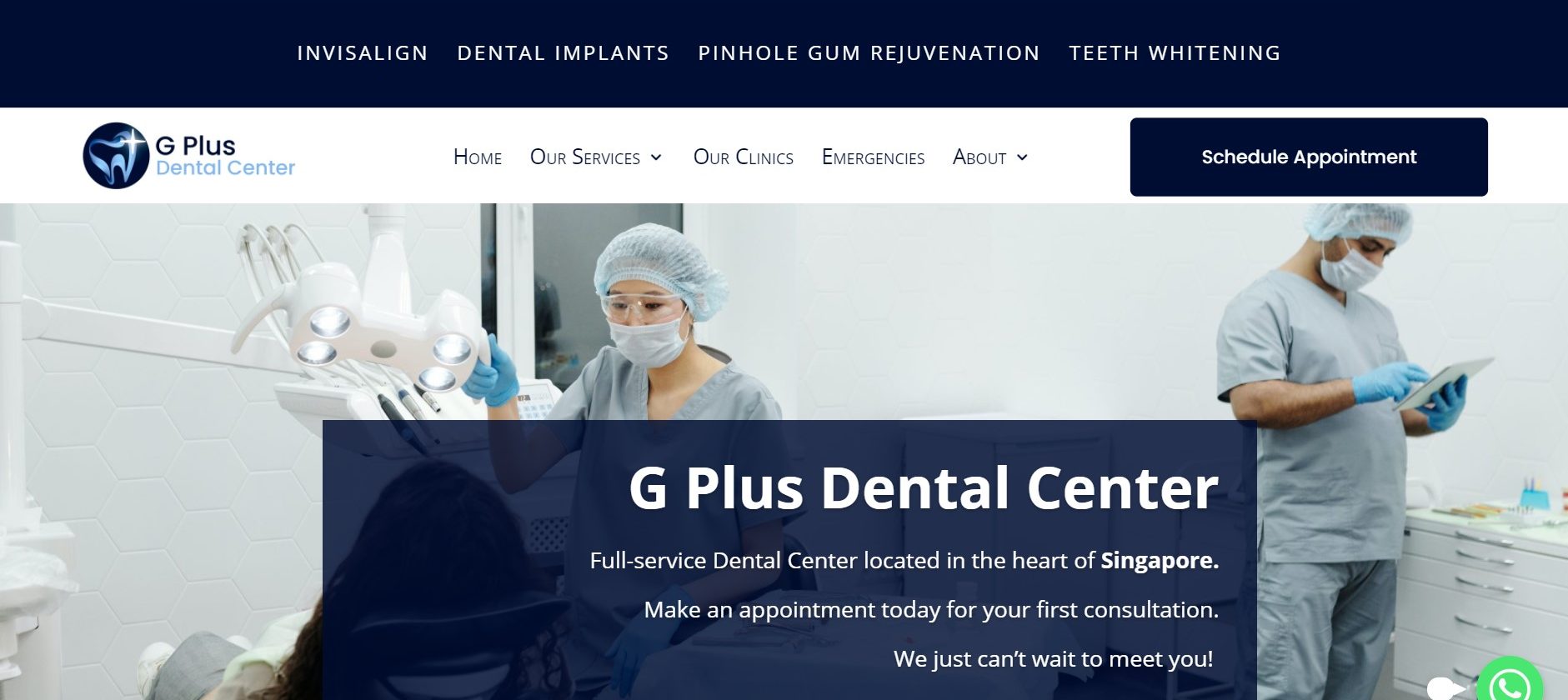 BEST FOR
Wide range of dental services
WEBSITE
https://www.gplusdental.com.sg/
ADDRESS

Camden Medical Centre, 1 Orchard Boulevard, #02-01, S248649

CONTACT DETAILS
+65 8339 0092
[email protected]
OPERATING HOURS
Mon: 09:00 – 17:00
Tue: 09:00 – 17:00
Wed: 09:00 – 17:00
Thur: 09:00 – 17:00
Fri: 09:00 – 17:00
Sat: 09:00 – 13:00
Sun: Closed
Whatever dental service you may need, you can count on G Plus Dental to provide to you. With their wide range of services, rest assured that you won't need to switch clinics just to complete every service.
What's more is that they only use the best materials and latest technology, guaranteeing successful results that are sure to be high quality.
Never settle for less, make sure to trust only the best. Contact G Plus Dental for more inquiries or for booking an appointment.
Services
Wisdom Tooth
Invisalign
Dental Check-Up
Children's Dentistry
Crowns & Bridge
Surgical Procedures
Cosmetic Procedures
Pure NZ Dental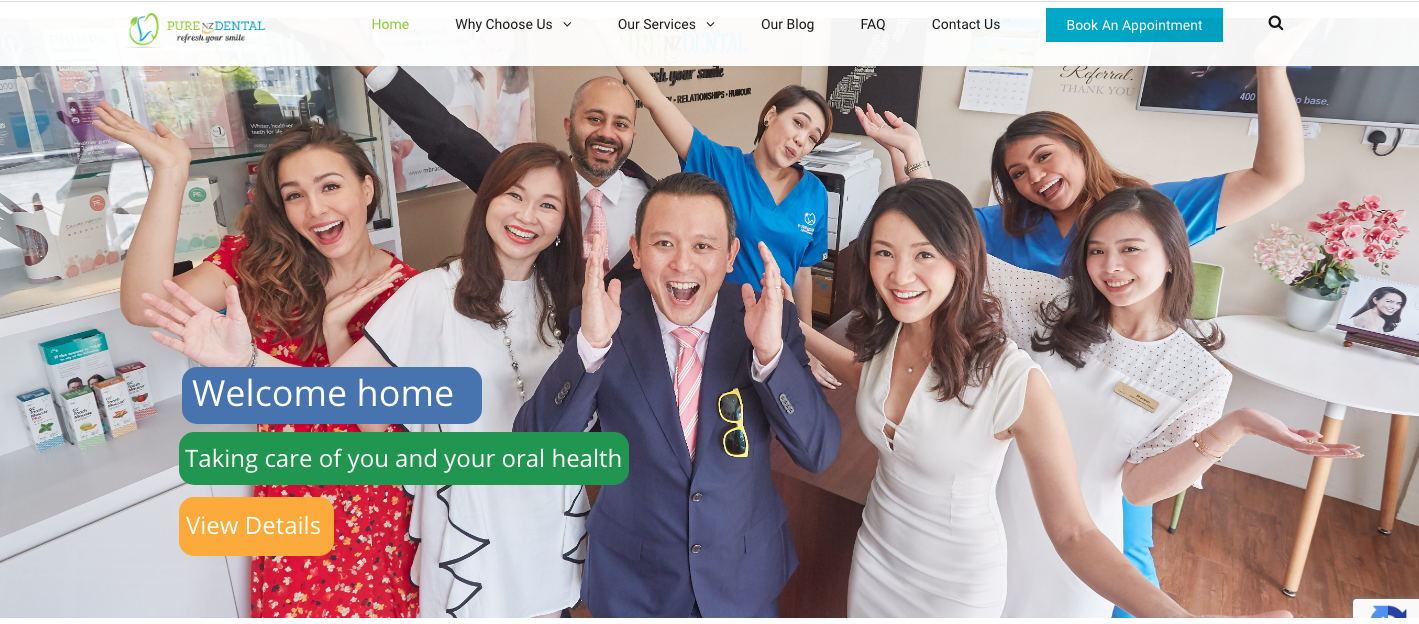 BEST FOR
Individualised service and dental care / attention
WEBSITE
https://www.purenzdental.com/
SERVICES

Invisalign treatments
Preventive dentistry
Dental care for children
Root canal treatment
Oral surgery / tooth extractions
Sedation dentistry
Dental implants
Wisdom teeth removal
Cosmetic dentistry

ADDRESS
62 Jalan Jurong Kechil JK Building, Singapore 598584
CONTACT DETAILS
+

65 6463 0257

OPERATING HOURS

Mondays and Thursdays : 09:00 AM – 20:00 PM
Tuesdays, Wednesdays and Fridays: 09:00 AM – 18:00 PM
Saturdays: 09:00 AM – 17:00 PM

Closed on Sundays
If you're looking for a dentist in Singapore that specialises in personalised customer and dental care, Pure NZ Dental just might be the right dentist for you. Founded in 2014 by Dr. Justin Stewart and his wife, Pure NZ Dental's goal is to bring  Kiwi hospitality coupled with the latest dental innovations to Singapore.
Pure NZ Dental has three dentists on rotation, all of them having obtained their dental degrees and extensive dental experience in New Zealand, the UK and USA. 
Individualised patient care is Pure NZ Dental's primary focus and this can be seen on their site. One can get a glimpse of the founder, Dr. Justin Stewart's personal life from the site as he wears his many hats of being a dentist, husband and father. 
Patients can easily schedule an appointment with Pure NZ Dental online. 
Pros
Convenient booking and appointment can be done online
Extremely personalised approach
Easy to get in touch with the dentists from the site
Wide range of dental services
Cons
Customer Reviews
As Pure NZ Dental has been operating for almost 7 years, they have earned their reputation as one of the trusted Singapore dental centres. Their latest online review comes from Helen Lim, a very satisfied client:
I have seen Dr Yao today for polishing and fillers and this is my first visit . She is very professional and communicated very well upfront on the cost. One of the most patient dentists I have visited.
Teresa is another happy client who left this review on Google:
Dr Justin was really amazing with my 5yo son. He took time to answer all his questions, never hurried us despite all his other patients waiting for him outside. He was also very gentle and explained his teeth condition to me thoroughly. We enjoyed our visit very much!
Casa Dental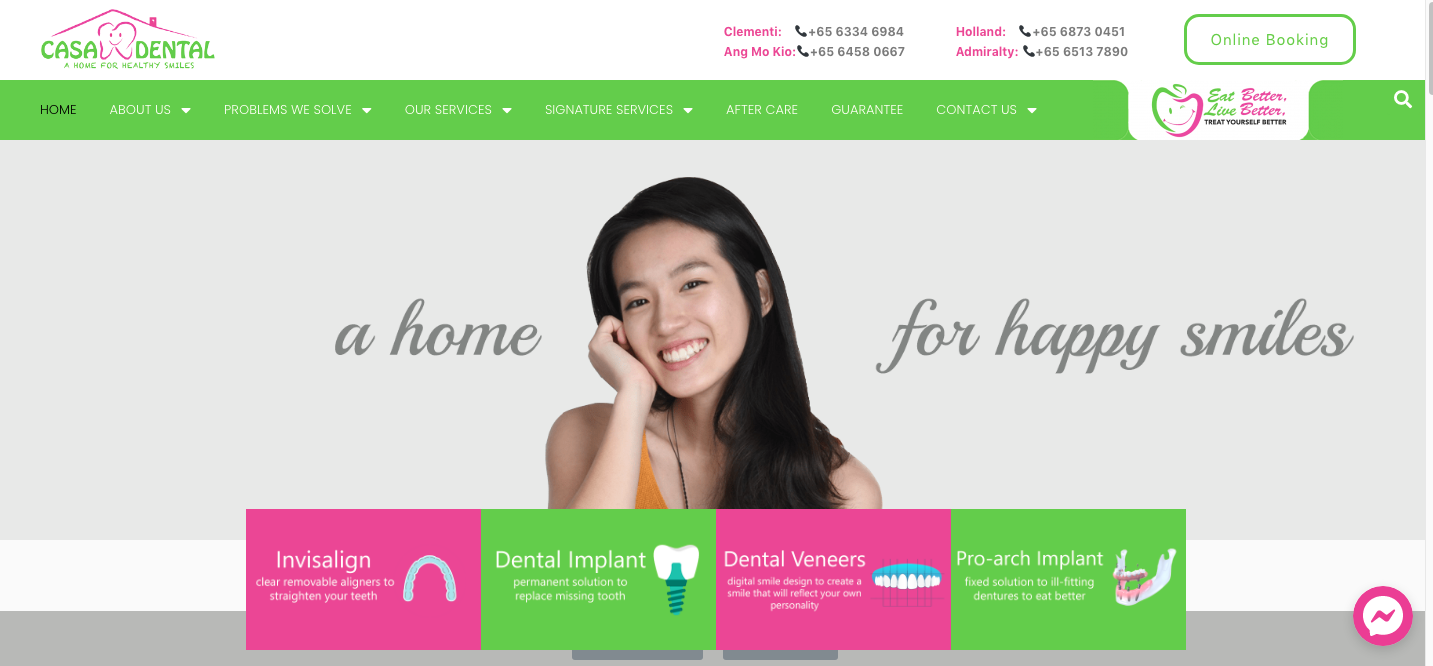 BEST FOR
Emergency dental care
WEBSITE
https://www.casadental.com.sg/
SERVICES

General dentistry
Root Canal 
Crown / bridge
Emergency dentistry
Gingivectomy
Open flat procedure 
Fillings
Wisdom Tooth Surgery
Cosmetic dentistry
Digital dentistry
Invisalign
Implant
Veneers
Pro Arch implant

ADDRESS

Clementi : 420A Clementi Ave 1, #01-02 Singapore 121420
Holland : 45 Holland Drive, #01-353 Singapore 270045
Ang Mo Kio : 710 Ang Mo Kio Ave 8, #01-2611 Singapore 560710
Admiralty : 693 Woodlands Avenue 6, #01-05 Singapore 730693

CONTACT DETAILS

Clementi  +65 6334 6984
Holland 
Ang Mo Kio
Admiralty

OPERATING HOURS

 Clementi : Monday-Friday 10:00 AM – 20:30 PM /   Sat-Sun  10:00 AM – 17:00 PM 
Ang Mo Kio: Monday – Friday 10:)) AM – 20:00 PM / Sat-Sun 10:00 AM – 17:00 PM
Holland: Monday – Friday 10:00 AM – 20:30 PM / Sat-Sun 10:00 AM – 10:00 AM – 17:30 PM
Admiralty: Monday-Friday 10:00 AM – 20:30 PM / Sat-Sun 10:00 AM – 17:30 PM
If it is a reliable Singapore dentist you need, Casa Dental could your next go-go dentist. With four clinics (and another coming soon) all over Singapore, there's bound to be a Casa Dental clinic near me and you. 
With over ten highly experienced dentists across their clinics, Casa Dental is open 7 days a week, making perfect not just for dental emergencies but those with busy schedules. No matter how busy you are, you will surely find a Casa Dental clinic that can accommodate you. 
Casa Dental prides themselves in caring for clients of all age range and dental backgrounds. Coupled with their extensive range of services, this makes them the best dentist in Singapore for the entire family. 
Pros
Open 7 days a week
Online booking available
Several clinics across Singapore
Wide range of dental services
Guarantee claim on their works
Cons
They have plenty of clients (both good and bad)
Customer Reviews
Because of their several clinics and numerous clients, Casa Dental has many reviews online. Here's a recent one from a client named Yuting Liu:
Thanks Dr Rocky for the wisdom teeth removal surgery. The whole process was fast and enjoyable. No pain at all, and the background music was nice! Has recommended him and the clinic to my friend. I will definitely come back for other dental treatment in the future!
Here's another one from Richard Cheah, considered a local guide in Google:
Staff and dentists are all very friendly. Both the dentist that handled my oral hygiene carefully explained my situation so that i can be well informed before making a sound decision. They do not rush me into making any rash decision that may caused me to regret later.

Overall, with my tooth extracted, i do not feel any pain at all. I got no hesitation to recommend Casa Dental to anyone trying to choose a good dental clinic.

If you have a good experience with your current dental clinic, then it is time to try a better dental clinic here.

Thumbs Up !!!
NTUC Health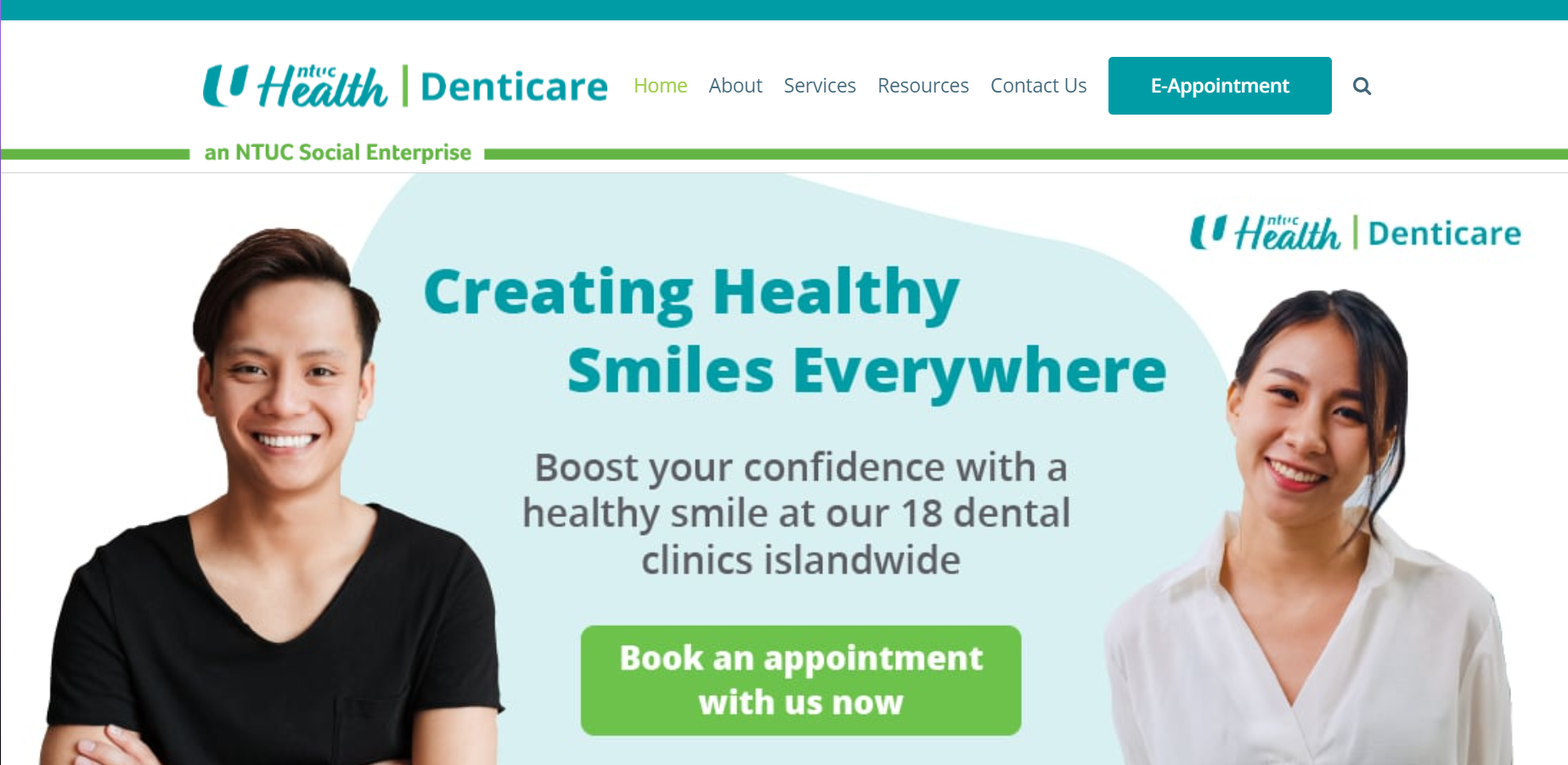 BEST FOR
Comprehensive and Affordable Dental Services
WEBSITE
https://ntuchealth.sg/denticare/
SERVICES

General Dentistry
Wisdom Teeth Removal
Teeth Whitening
Dental Braces
Gum Treatment
Dental Implants
Root Canal Treatment
Dentures
Fees & Subsidies
Plus! Benefits

ADDRESS

55 Ubi Ave 1 #08-01 Singapore 408935

CONTACT DETAILS

T. +65 6590 4300
F. +65 6590 4389

OPERATING HOURS

Mon-Fri, 830am-6pm, except P.H.
For a healthy smile that lasts, NTUC Health is the dental clinic to go to. They offer some of the most comprehensive and affordable services in Singapore.
Their services range from general dentistry to restorative dentistry, and everything in between. They also have a corporate dental programme available for companies that are interested.
Their many, many branches can be found all around Singapore. No matter your location, you can rest assured that quality dental care is available thanks to NTUC Health.
Pros
One of the leading dental clinics in Singapore
Wide range of dental services
Numerous clinics around Singapore
Corporate dental programme available
Cons
Anyway, that's it for our list of the candidates for the title of best dental clinic in Singapore right now. Go to any one of them for brighter, healthier teeth — we're sure these professionals can deliver!
And remember, this is just one of our many resources for those seeking the best healthcare providers on the island. Try out our article on the best dermatologists in Singapore too, for example!