The 20 Best Dental Clinics in Singapore
A brighter and healthier smile starts by visiting a dental clinic at least every six months. Many clinics offer specialised dentistry, and it's important to be aware of which treatment you should be visiting your dentist for.
To help you start on your journey to better oral health, here is our review of recommended dental clinics in Singapore. Before we discuss our picks, let's talk about typical dental costs.
How much does it cost to visit dental clinics?
Dental clinics charge varying rates depending on whether they are private or public, their specialist's training, and their location.
Here are the estimated costs of some of the most common dental treatments in Singapore.
Dental Treatment Type
Estimated Cost
Consultation
Private: $35 to $100

Public: $0 to 30

Scaling and Polishing (per tooth)
Private: $80 to $200

Public: $60 to 100

Teeth Cleaning
Private: From $120

Public: From $80

Dental Implants (per tooth)
Private: From $2,200

Public: From $1,500

Veneers (per tooth)
Private: $500 to $1,000

Public: $180 to $300

Teeth Whitening
Private: $450 to $1,000

Public: $150 to $500

Wisdom Tooth Extraction 
Private: $500 to $1,500

Public: $400 to $900
Top-Rated Dental Clinics
We assessed the best dental clinics in Singapore based on the following criteria:
Best Dental Clinics in Tampines
You won't have to go far to gain access to the best dental clinics in Tampines. If you're in the area, check out our top listings and find one nearest you!
1. Q&M Dental Surgery
"Largest private dental healthcare group in Singapore, with over 90 clinics island-wide"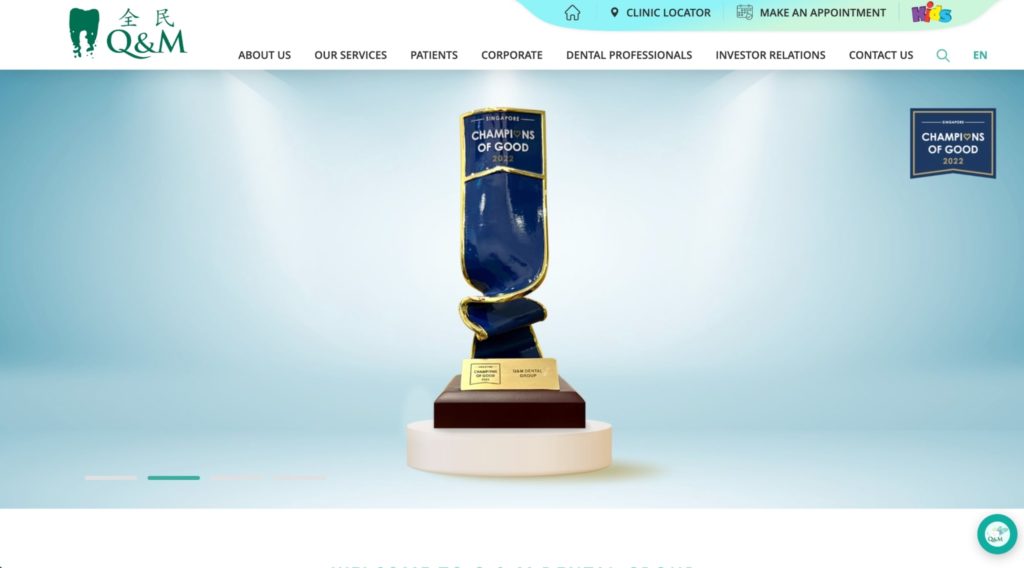 Q&M Dental Surgery has a roster of some of the best dentists in the country, especially within the Tampines area. The dental group has several branches within Tampines and across Singapore, making it highly accessible to patients all over the city.
Even better, there's a large network of dentists at Q&M Dental Surgery who are all experts in their respective fields of dentistry.
Whether it's paediatric dentistry or tooth cleaning, Q&M has the equipment, facilities, and dentists to help you with your dental needs.
Since they have several locations across Singapore, the group's operating hours are inconsistent. Some patients may find it troublesome to head over to a clinic just to find it closed for the day.
Customer service could also be improved when it comes to accommodating queries and appointments online.
Faster response rates could potentially bring in more satisfied patients, but if you don't mind that, Q&M Dental Surgery is definitely a must-visit dental clinic in Tampines.
Customer Reviews
Professional dental services
"Visited here for scaling/polishing in April. Dr Au Yong's service was excellent, professional and assuring. He was also patient and detailed in explaining about my teeth condition and advise on the appropriate dental care. The clinic is very clean and well equipped. Receptionist and nurses were friendly and polite. Overall a great experience."—Joel N, Google Reviews
Great patient-doctor communication
"My appointment time is right on schedule. The staff are professional and they don't show a barrier in communication. Very welcoming staff. Dr. Lee who have done my filling is very professional. He updates me on what's going to happen and what can be done regarding dental care. Very calm doctor. It's a very nice place to do dental check up."—Joni Jay Castillo, Google Reviews
2. Advanced Dental @ Tampines East
"Full range of dental treatment services at all our 20 clinics in Singapore"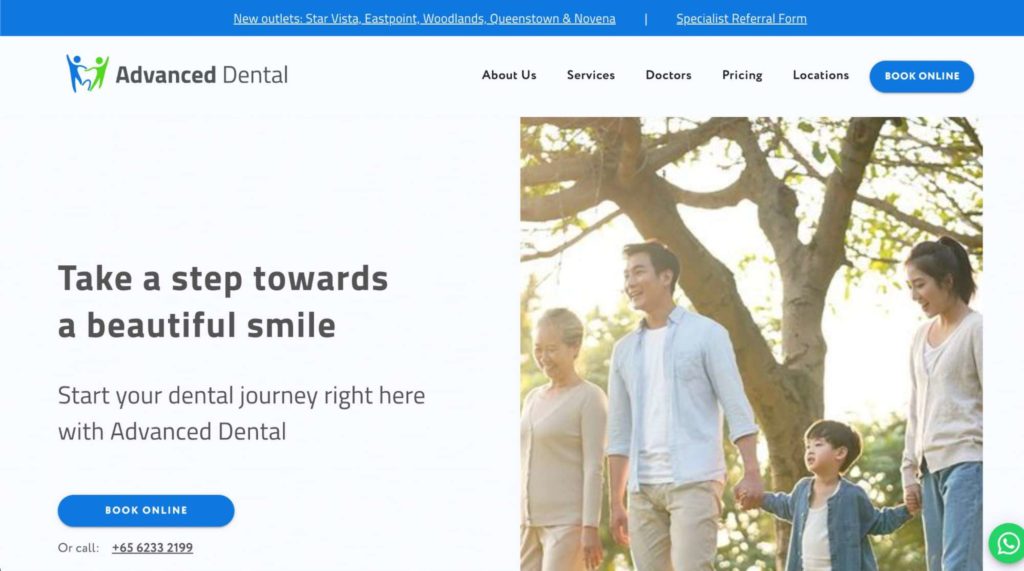 If you're on a budget but want to get your teeth cleaned or checked by the best dentists, Advanced Dental at Tampines East offers comprehensive dental services done by trained experts.
The Tampines branch is open daily, and the hours are relatively long. We like that this dental clinic is accessible and transparent with its pricing and procedures.
Rates are reasonable, especially from a private clinic. The clinic also offers flexible payment methods where patients can maximise instalment plans.
It's really impressive for a renowned private dental clinic to offer great deals for its patients. That said, long waiting times are not surprising, as many people flock to Advanced Dental each day.
If you don't mind waiting, you can easily book an appointment online or through a call. There may be some delays with customer service responses, but the team will get in touch with you when available.
Customer Reviews
Pleasant dental experience
"Went Advanced Dental at Tampines for the first time end of July. Dr Ma was very detailed in polishing my teeth. The receptionist lady was nice too as I've asked her a few questions regarding teeth problem and she answered me patiently👍It was a pleasant experience!"—Eve Ngoh Google Reviews
Worry-free downtime and consults
"Wisdom tooth surgery was done fast and well. Dr Jennifer constantly checked on me to ensure that I was not feeling any pain. While I was extremely nervous and scared for this, I am glad that all went well. Recovery has been smooth so far as well. I will recommend this clinic!"—Amalina Zaihan, Google Reviews
Best Dental Clinics near SengKang
Looking for a dental clinic near you? We gathered top dental clinics near Sengkang to help you jumpstart your oral health journey.
3. Vista Dental Surgery
"Because everyone deserves to smile"
Vista Dental Surgery is a dental clinic near Sengkang that offers a full range of dental services that are backed by cutting-edge technology. Procedures like dental surgery and emergency tooth services are conducted in-house.
Even better, Vista Dental Surgery is open daily, meaning patients get access to quality dentistry each day of the week. Booking an appointment is also seamless, and the excellent customer service makes Vista Dental Surgery one of our best picks.
Since Vista Dental Surgery is one of the well-known dental clinics near Sengkang, slots for appointments are usually fully booked. Once you do get an appointment, there are often long waiting times due to the high influx of patients per day.
Patients who need to undergo complex dental procedures may find the wait taxing, but emergencies are prioritised if you experience critical symptoms.
Customer Reviews
Efficient and friendly customer service
"Don't be put off by the simple interior design. The receptionist was friendly and proficient. The dental assistants were professional and attentive. Dr Ong was patient in explaining my condition and skillful in extracting my tooth. The whole procedure was quick and painless. The cost was very affordable. Overall, a very pleasant experience. Will return for the future procedure and highly recommend to others."—Zhiyan Fu, Google Reviews
Skillful and professional dentists
"Thanks to Dr Andrew Chia and nurses for the good experiences of tooth removal and implant surgery. Dr Chia is very skillful in his sergeries and could delivery the process with minimum pain. Highly recommend!"—Run Wang, Google Reviews
4. Caring Dental Sengkang
"Caring Dental aims to provide optimal dental care in a welcoming and friendly environment."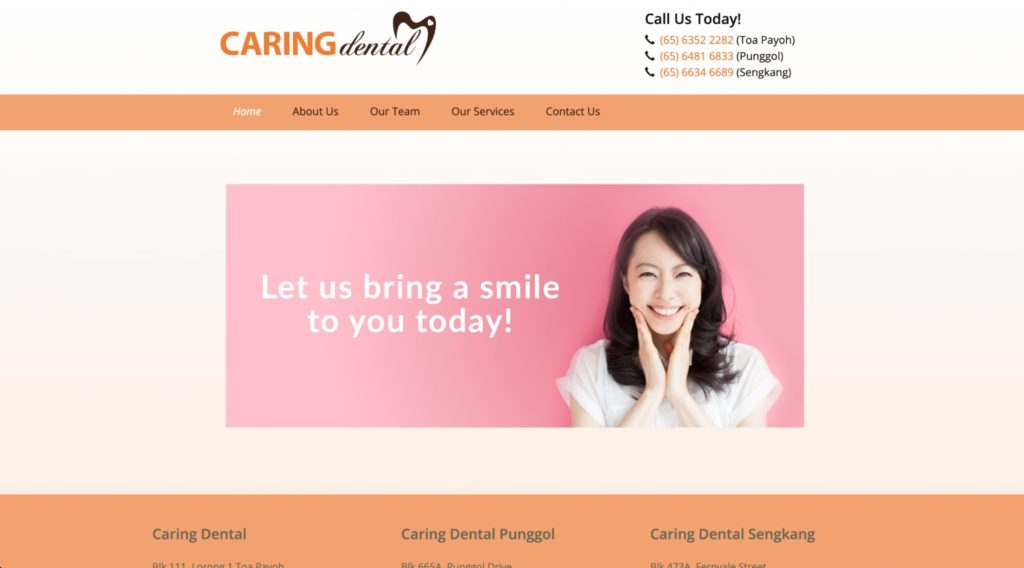 Caring Dental Sengkang provides patients with thorough teeth management and treatments that boost oral health in the long run. Children are welcome in this inviting facility, especially ones looking for dental clinics near Sengkang.
The clinic is open daily and accepts same-day appointments for emergencies. If you live nearby, this is a convenient one-stop dental clinic to visit for critical dental conditions.
Since the clinic is suitable for children, many of the specialists at Caring Dental are experts in paediatric dentistry. They know how to handle and manage young patients with compassion and empathy.
Rates tend to fluctuate, however, and are not very clear online. It's best to clarify bill charges with the clinic before confirming your appointment.
Customer service could also be improved to help alleviate concerns with communication.
Customer Reviews
Friendly neighbourhood dental clinic
"Don't be put off by the simple interior design. The receptionist was friendly and prMy friendly neighbourhood dental clinic. Now this is one thoughtful dental clinic. I remember having to go here six months ago for oral cleaning. Fast tracked to six months after, I received a postcard in my mailbox reminding me about my oral cleaning and just a routine checkup. I highly appreciate it. It just goes to show that they really are a caring dental. Very satisfied with my dental care."—Anna Louise, Google Reviews
Quality services at reasonable prices
"I have phobia to dentist, but Dr Regina had over come all my fear.I saw Dr Regina last week, I broke my front tooth, Dr Regina was very patient and nice. She check carefully and explained I need extraction, the extraction was done painless I can say, done within 10min. The price also very reasonable."—Happy Forever, Google Reviews
Best Cheap Dental Clinics
The road to a healthier smile shouldn't burn your budget. Take a look at our best cheap dental clinics in Singapore to get you started on better oral health.
5. PKWY Dental Specialist Practice
"PKWY Dental Specialist Practice is a dental centre comprised of experienced dentists and dental surgeons who provide dental treatments in Singapore."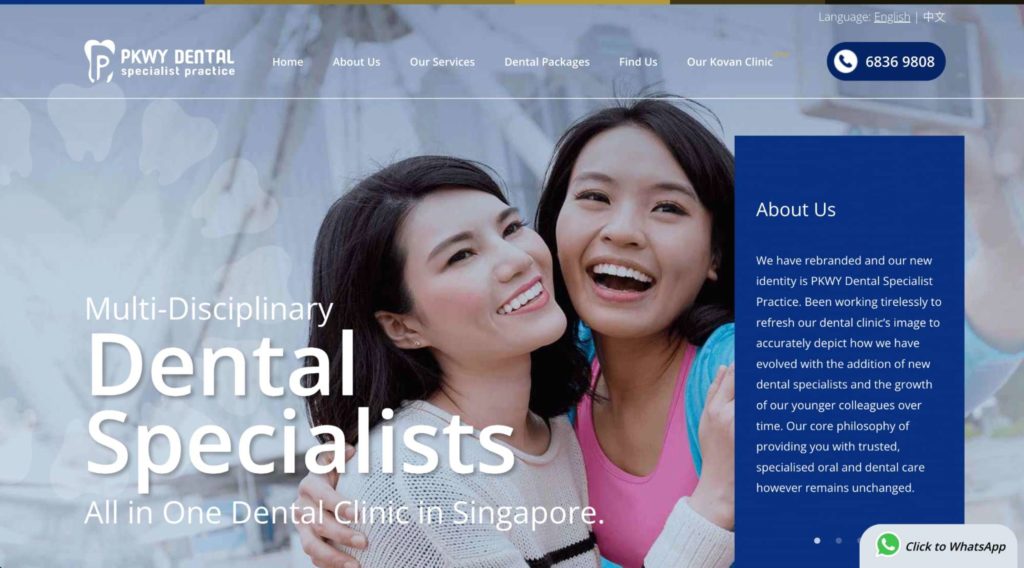 PKWY Dental Specialist Practice is a dental clinic that specialises in dental surgery and root canal treatments. The clinic is fully equipped to perform complex procedures on patients of all ages.
The modern and inviting ambience of PKWY left a notable impression on us. The reception area is comfortable, which is a huge plus due to the usual long waiting times here.
This may mainly be due to the limited availability of the dental clinic. There's usually a high influx of patients booked in line, so you might have to adjust your schedule if your preferred time slot is not available.
As expected from great dentists, PKWY uses top-notch equipment and technology for a myriad of its dental services. Whether it's a root canal or dental implant, getting treated here is worth the time and money.
Customer Reviews
Informative dental experience
"Enjoyable dental appt with Dr Joyce. She's gentle on my tooth. I even learnt new stuff like various type of toothbrushes and brushing techniques."—Slain Siren, Google Reviews
Nice and clean environment
"Nice environment and clean. Dr Joyce Mary Boudeville is professional and friendly. Love to visit here again."—N.I., Google Reviews
6. Greenlife Dental Clinic
"We provide a comprehensive range of dental treatments to cater to all your needs."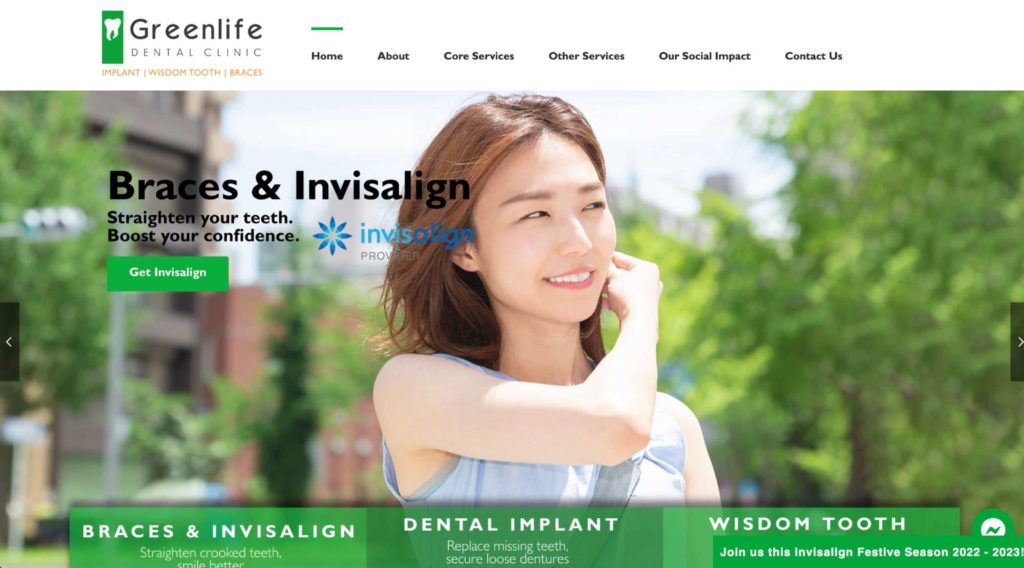 Greenlife Dental Clinic is a solid clinic to visit if you're planning on getting braces or dental implants. It's a suitable clinic for aesthetic dentistry, with services ranging from teeth whitening to fillings.
The clinic's core services are braces, wisdom tooth extraction, and dental implants. Unless you're getting treated for these specific services, some patients may find Greenlife's range of services slightly lacking.
The clinic also receives a high influx of patients per day, making free appointment slots limited. It's best to get in touch with the clinic by booking an appointment online or calling the hotline to reserve a slot.
Overall, Greenlife Dental Clinic is a solid option for patients seeking aesthetic dentistry services and oral health maintenance.
Customer Reviews
Exceptional customer service
"Had my braces done by Dr Felicia. As with many other positive reviews here, she is one of the best dentists around the area. I have to admit I am not the best patients but she is so patient with my requests and I am extremely satisfied with the service provided. The clinic nurses were also super attentive and I love it when they remembered my name everytime I stepped into the clinic. This is what we call exceptional customer experience. Keep it up!"—Ka Wing Au, Google Reviews
No hard selling
"Dr Tan is friendly, and well-versed. He explains procedures well and gives options based on your needs. Removed my wisdom tooth and did cleaning as well. Highly recommended! Will definitely go back to Dr Tan."—Deena Sharmin Alam Shah, Google Reviews
7. B9 Dental Centre
"B9 Dental Centre offers the best dental and healthcare services with professional treatments, precision and absolute dedication."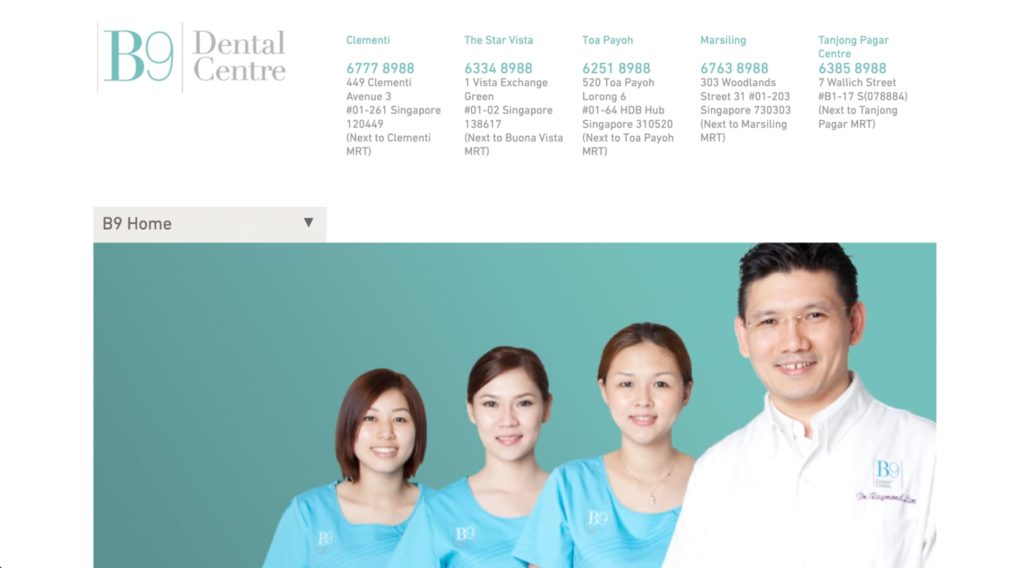 Another solid dental clinic is B9 Dental Centre. This clinic has multiple locations across Singapore, making it highly accessible.
The clinic is also open daily and on public holidays, albeit with different operating hours. You can choose a branch nearest you or visit another B9 Dental Centre branch if you prefer different hours.
Like most clinics with specialised dentistry, B9 Dental Centre has limited availability due to the number of patients who book appointments per day.
It's not unusual for patients to wait in line, but we think this is something they should improve on.
Customer service could also improve, especially when it comes to communicating important information to waiting patients. Despite that, B9 Dental Centre is still a solid clinic to visit for your dental needs.
Customer Reviews
Patient and professional dentists
"Dr Raymond Lim is the best dentist I ever come across in Singapore. He is patient and very pro with his duty. I did a RCT by him and it is painless."—Pheesoon Yeoh, Google Reviews
Services that aren't rushed
"While the waiting time may be rather long, the service rendered is really good and the dentists are very professional. I feel that my teeth are in safe hands while with them, and that the waiting time is worth it. Rather go with dentists that take the time to make sure the work is perfect than do a rushed job!"—Edwin Tan, Google Reviews
8. Azure Dental
"Azure Dental in the heart of Bukit Timah is an affordable family dental clinic."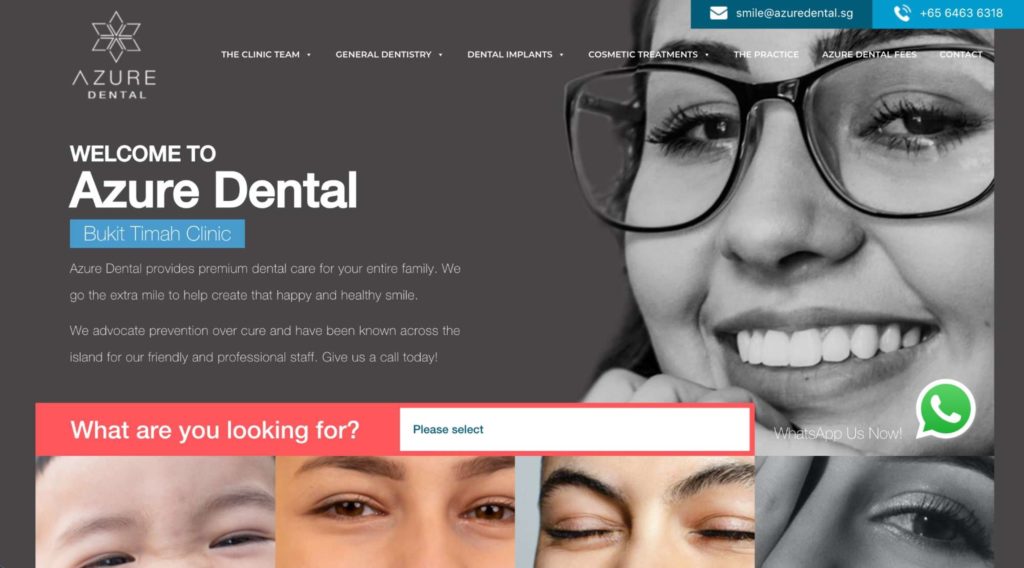 Searching for a dental clinic that specialises in affordable cosmetic dentistry? Azure Dental's full range of cosmetic and general dental services may be the treatments you're looking for.
It's also reassuring that Azure Dental has top-notch facilities and great dentists for emergency cases. You can contact the clinic's hotline if you're experiencing critical symptoms that require immediate attention.
While booking a general appointment is fairly simple, you might have to wait a while before a representative gets back to you.
It's crucial for Azure Dental to improve its customer service to ensure that patients are attended to, even for simple queries.
Customer Reviews
Trained and knowledgable dentists
"The dentists and staff at Azure are really great! Doctor Prashanth keeps up with the literature and is very knowledgeable. He is lovely, very professional and great at evaluating dental health based on his assessment. This is also a great office for taking your children Dr. Sharon is wonderful too with adults and kids too!"—Pore_XX, Google Reviews
Stress-free and painless procedures
"A big thank you to Dr Sebrina for making our experience so painless, stress-free, and pleasant. Your entire team is an example of how true professionals perform. Keep up the phenomenal work. Do look out for the state of the art dental equipment they have and of course their Brazilian coffee."—Beeta Shukoor, Google Reviews
9. Trust Dental Surgery
"Affordable dental implant clinic in Singapore. Medisave accredited dental clinic."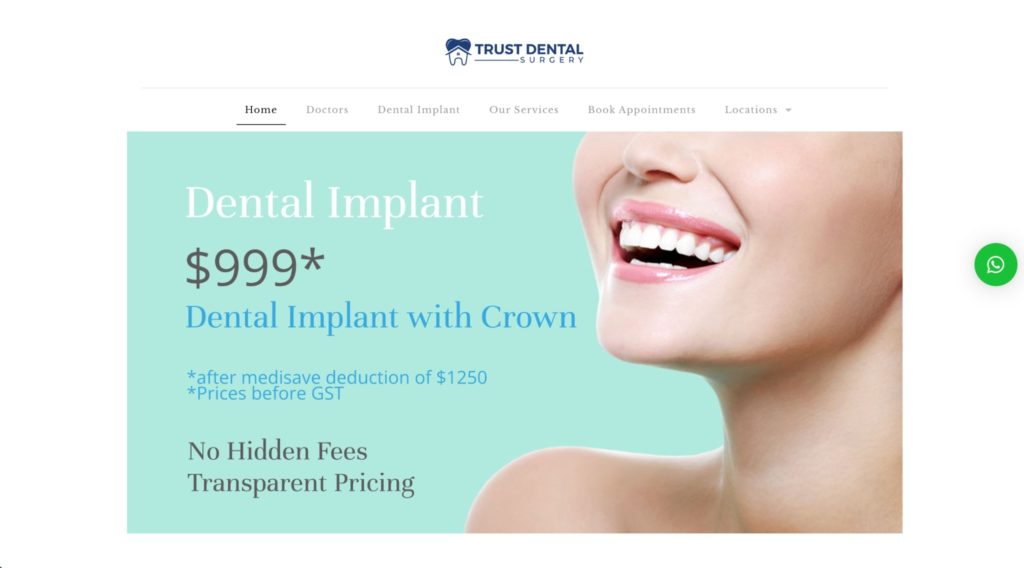 Trust Dental Surgery is another dental clinic that you can trust. You can expect a professional yet comfortable environment with multi-lingual staff members ready to greet you at the door.
Booking appointments are also seamless, as the clinic responds quite quickly. The clinic can also clarify expenses, especially the costs after subsidies.
While we appreciate the rate transparency, the clinic's services are slightly more expensive than other private clinics.
However, subsidies are generous, and the clinic is accredited with the Community Health Assist Scheme, MediSave, and Merdeka Generation.
Trust Dental Surgery specialises in dental implants, root canals, and dental surgery. If you want dental services for your child, we suggest taking them to a children's dentist instead.
Customer Reviews
Professional and trustworthy dentists
"Professional and trustworthy, this clinic totally deserves all the high ratings. The receptionist is friendly and speaks multiple language. The doctors are gentle and do their job thoroughly. Shout-out to Dr Celeste who is very thorough with the scaling and polishing. She also shared great suggestions on teeth maintenance and wasn't pushy in recommendations. If every dentist is like her, I am sure more people will be comfortable with their visit to the dentist."—Ryan Chong, Google Reviews
Attentive customer service
"Big props to the friendly receptionist for patiently answering my questions and being so helpful. Nurses are friendly and attentive. Dr Ng was very kind, patient, informative, and professional as well; got my wisdom tooth out in a jiffy via surgery."—O Xinqie, Google Reviews
Best Government Dental Clinics
Singapore has one of the best healthcare systems in the world. Take advantage of subsidised services at top government dental clinics in Singapore.
10. Coast Dental
"A healthier smile for a healthier you"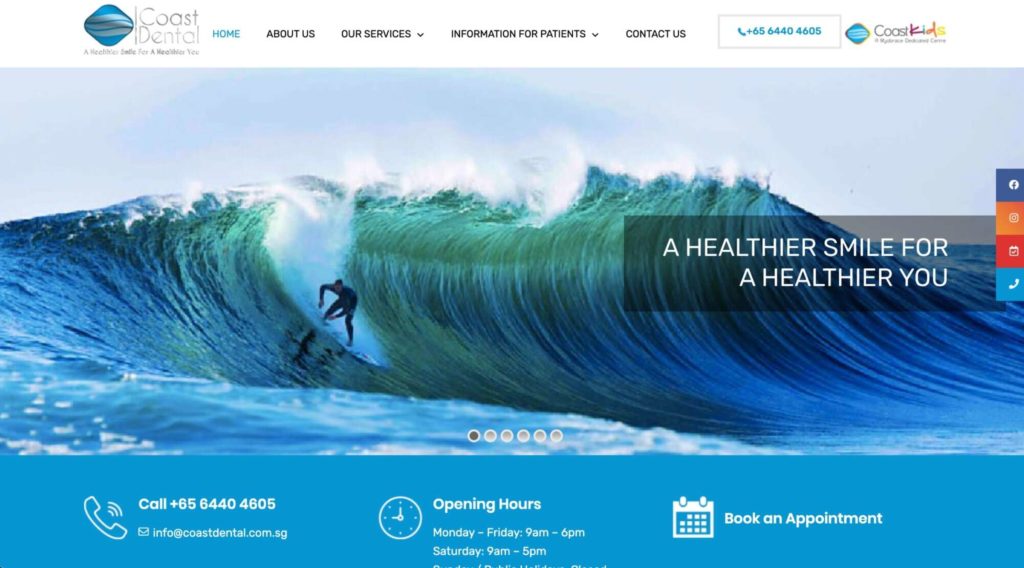 Coast Dental's dental services range from Invisalign treatments to family dentistry. It's a highly recommended dental clinic for teeth alignment and dental implants.
Even better, the clinic's dentists use state-of-the-art technology, including lasers, when treating patients for various dental issues. This leads to faster and more efficient processes that deliver natural-looking and pain-free results.
If you're visiting Coast Dental for general dental concerns, note that the clinic focuses on restorations rather than fillings. You may incur extra fees for a complete restoration instead of fillings.
Consults are comprehensive and include a full examination of your teeth. Fees are relatively higher, but we think it's worth the cost for what's included.
Customer Reviews
Suitable for children
"Dr Sean was absolutely fabulous with the way he made my son feel so comfortable at the clinic and with the animated orientation of the dental instruments. It was a pleasant experience for parent and child with clear and concise explanation of the process, the remedial actions required. Strongly recommend to parents who have an active child who needs the close attention to stay focused and allay all fears about visiting the dentist."—Prakash Jagateesan, Google Reviews
Warm and welcoming staff members
"Thank you for being a truly spectacular dentist. My teeth have never been in such good shape! The office staff is also extremely welcoming and warm. Thank you for your skill and professionalism."—Christy Chen, Google Reviews
11. The Dental Centre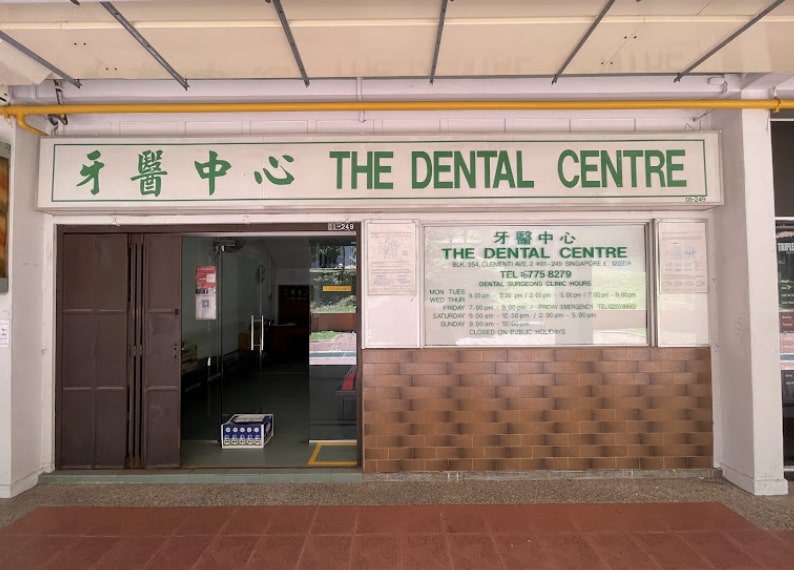 The Dental Centre has been providing dental services since the 1980s, with many loyal patients coming in regularly for routine checkups or extractions.
The clinic is known for its reasonable prices and friendly staff who are fluent in Mandarin. Head dentists and nurses are very welcoming and accommodating.
If you're visiting The Dental Centre for the first time, note that the clinic closes for two hours in the middle of the day. This could cause scheduling conflicts if your schedule is packed.
While The Dental Centre is a trusted dental clinic, its facilities need some updating. The environment still has its old-school charm, but we think that a few updates in facilities and technology could bring in more loyal patients.
Customer Reviews
Suitable for all dental problems
"Dr Eric and the nurse are very friendly and attentive. Within minutes, Dr Eric quickly identified my dental problem and kindly explained to me. It is a great place for people who just want the dental problem addressed."—Crystopaz Angga, Google Reviews
Old-school charm meets seasoned dentistry skills
"Doctor Lee is nice dental practitioner. The equipment may not look as fresh and new as the more prominent chain brand dental clinics but Dr Lee's expertise is real."—ES Lim, Google Reviews
12. Casa Dental
"A home for healthy smiles"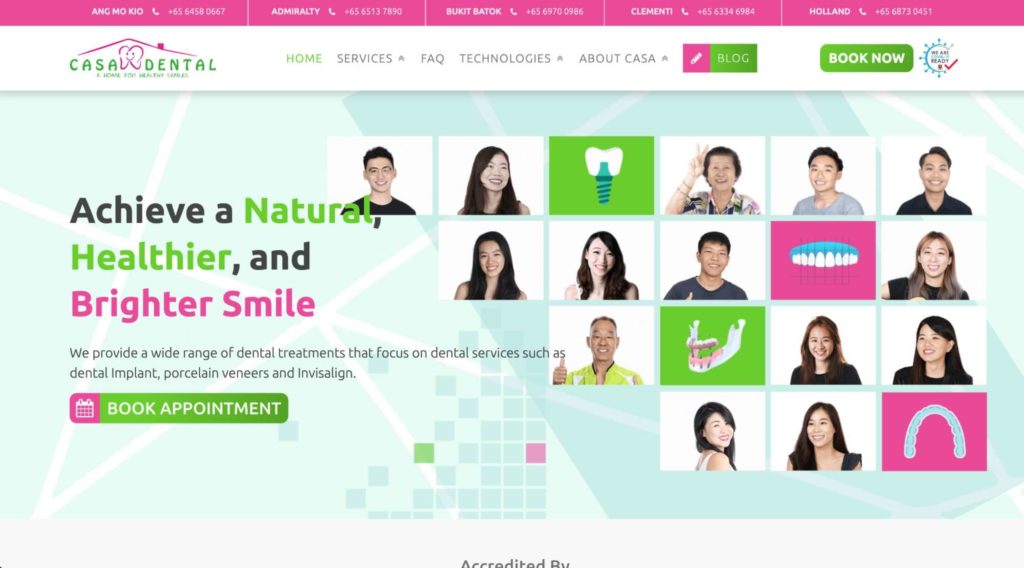 Casa Dental is an excellent dental clinic that provides its customers with dental guarantee schemes for dental implants, veneers, and crowns. It's a smart way to offer dental services with the extra reassurance that your oral health remains cared for.
The clinic also accepts payment instalments, which is a huge plus for us. We love the flexibility, as it makes quality healthcare accessible for patients who need it.
Casa Dental also has branches across Singapore, so it's fairly accessible when you encounter dental problems in other parts of the country.
While booking an appointment online is simple, customer service can often be slow once you arrive at the clinic. You'll still have to wait in line before your appointment due to the high influx of patients.
Customer Reviews
Careful and pain-free procedures
"My experience with Dr Andrew at Casa Dental Holland has been great. I remember how he did my wisdom tooth surgery, and although I couldn't take any pain medication as I was breastfeeding, it hardly hurt at all due to his skill! Regular clean ups are also fast and comfortable. Thank you!"—Daphne Ng, Google Reviews
Trustworthy dental specialists
"Been doing my dental treatment here for about a year and all doctors were good and professional. My own doctor, Dr Roland is very kind & experienced. No pain & very gentle. Always recommend to my friends & relative to come here."—Antionette M, Google Reviews
13. National Dental Centre Singapore
"National Dental Centre Singapore (NDCS) is a specialty centre for oral health, providing multi-disciplinary and integrated care for patients."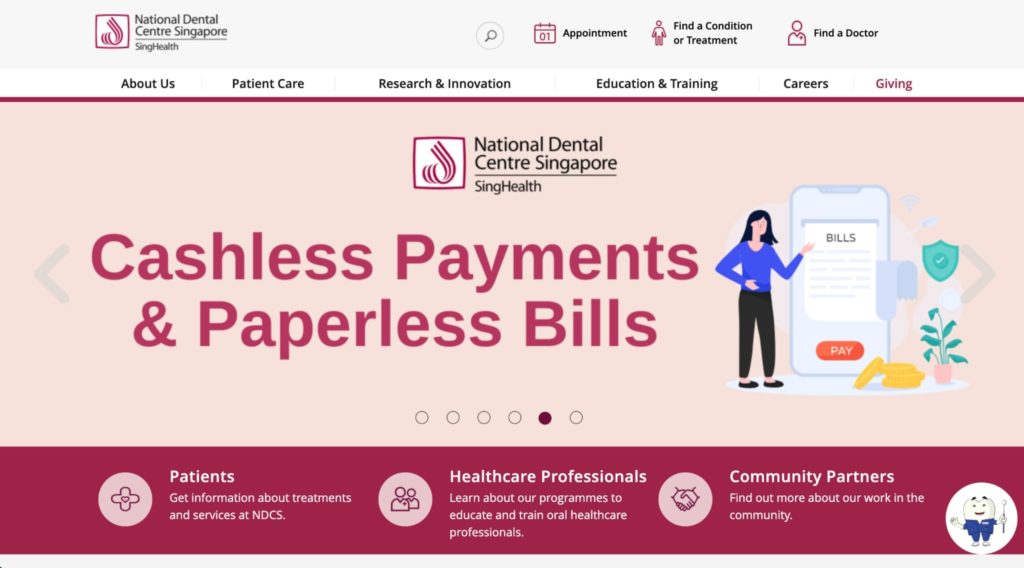 The National Dental Centre Singapore is located in and operated by the Singapore General Hospital, a leading public hospital in the country.
Because of the hospital's reputation, you'll find dozens of great dentists practising their expertise here. The facilities are fully equipped to receive emergency care patients too.
You'll also find a full range of dental services here, from surgery to implants. Due to its operation in the public sector, patients enjoy subsidised medical care for a number of procedures.
Credit cards, however, are only accepted on weekends. This could lead to longer waiting times, as many patients books appointments per day.
We suggest preparing some cash on hand to prevent coming in on limited availability.
Customer Reviews
Highly specialised dental care
"The doctors and nurses are very professional and they treat dental issues that the usual dental clinic cant treat, example sensitive gums. It is next door to health promotion board and share the same basement car park. The clinics are spacious and clean and well maintained."—Backyard Xplorer, Google Reviews
Friendly and helpful medical staff members
"My daughter went for wisdom teeth removal, the dentist and nurses are very professional to explain in details, friendly, patient and helpful. Thanks for their hard work and their excellent service."—Quek Candy, Google Reviews
14. NTUC Health (Denticare)
"Boost your confidence with a healthy smile. Book your appointment in advance at our new Alijunied clinic!"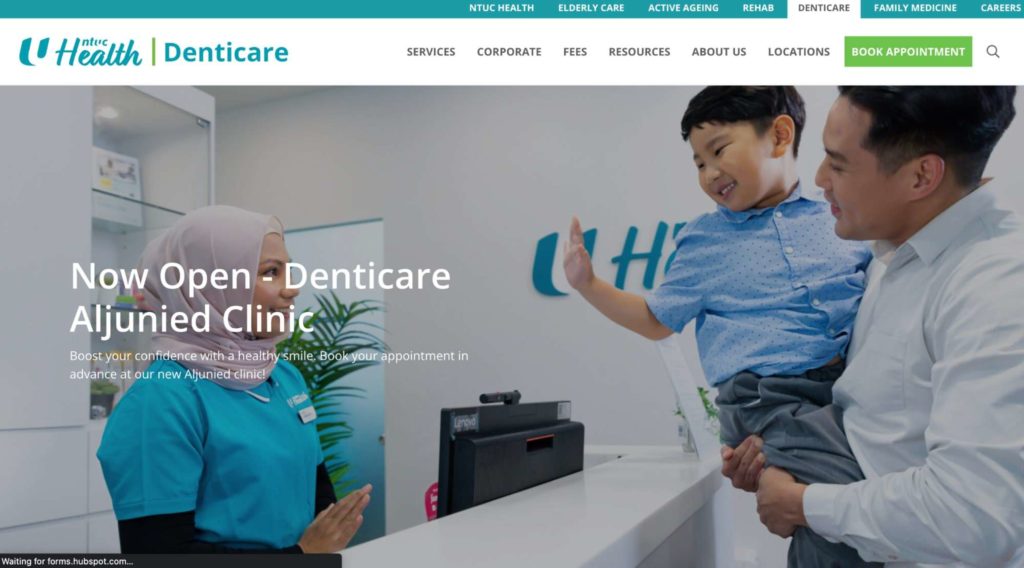 NUTC Health's dental services arm is Denticare, a dental clinic that operates in multiple locations across the city.
The clinic offers a comprehensive corporate dental programme that business owners and companies can take advantage of for their employees.
This is could be a smart move, as Denticare's services are relatively pricey without subsidies. The clinic partners with CHAS, MediSave, Merdeka Generation, and more, giving patients many options to finance their respective treatments better.
One thing we noticed that might affect some patients is the lack of an in-house dental surgeon. While the clinic does offer such procedures, patients would have to book another appointment and schedule a consult.
Despite the inconvenience, patients can trust Denticare's network of great dentists. An appointment with one of them is just a few clicks away.
Customer Reviews
Knowledgeable and meticulous dentists
"Dr.Roy Yeo is knowledgeable and meticulous in his work, also, friendly and always willing to share as much details about my dental health as possible! Im very happy as a patient to be served by him. Great Work!"—Aloysius Lim, Google Reviews
Great attention to detail
"Doctor Goh is very good, gentle and kind.
Every procedure he do will told me, and the most important thing i never feel any pain when he doing extraction of my teeth. I will highly recommended him. He also give me discount bcoz im a helper, thanks a lot Doctor Goh!"—Nene Sapon, Google Reviews
Best Children's Dental Clinics
Teach your child how to maintain their oral health by taking them to the best children's dental clinics in Singapore.
15. G Dental Centre – Ghim Moh
"Your dedicated Invisalign and family dental centre"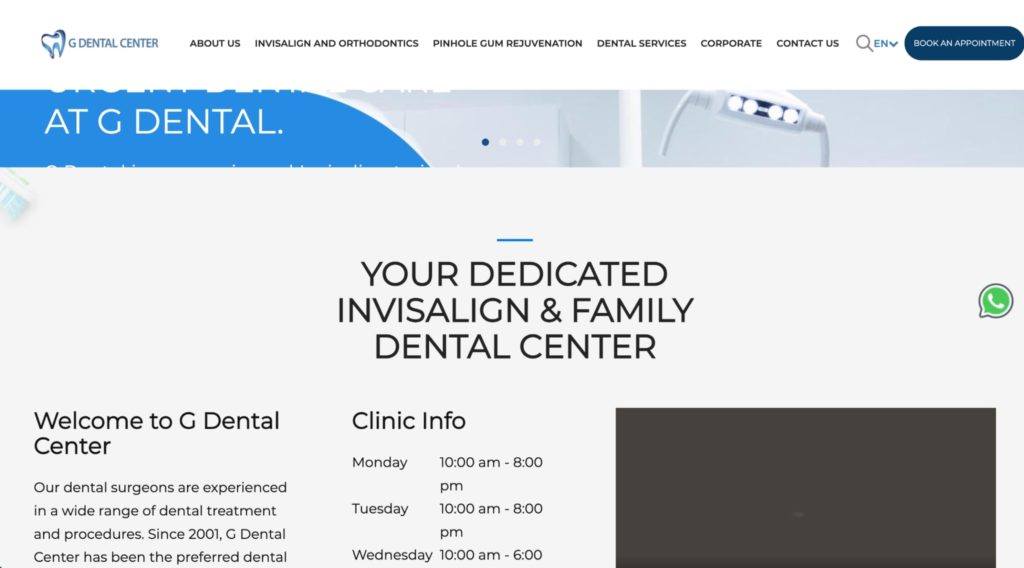 Children may often fear trips to the dentists, but at G Dental Centre at Ghim Moh, young patients are greeted with a warm welcome and friendly medical staff.
The dentists at G Dental Centre are highly trained in communicating with children, especially for procedures that may seem intimidating. This is also why the clinic is recommended for foreign patients.
Young patients can avail of tooth cleaning services and even alignment treatments that are specifically curated for their age. Slots are quite limited, however, so we highly suggest booking an appointment as soon as possible.
For what the clinic offers, prices are relatively steep. If you're willing to pay a premium for your child to gain a healthier smile, then G Dental Centre is worth the cost.
Customer Reviews
Experienced head dentist at your service
"Dr Foo was an extremely professional and experienced dentist. It was a very enjoyable and painless experience and I will definitely recommend him. will be visiting again soon!"—Benedict Lui, Google Reviews
Expert workmanship
"The doctor and team was great. Even the front desk lady was nice and so accommodating 🙂🙂🙂.
I would say the price is good for all 3 treatments and procedures taken before I actually move to next step for clear aligners. 🙂 I strongly recommend. Trust and love their workmanship and services. ! Genuine!"—Nur Afiqah Ismat, Google Reviews
16. T32 Dental Group
"Multi speciality dental clinics in Singapore"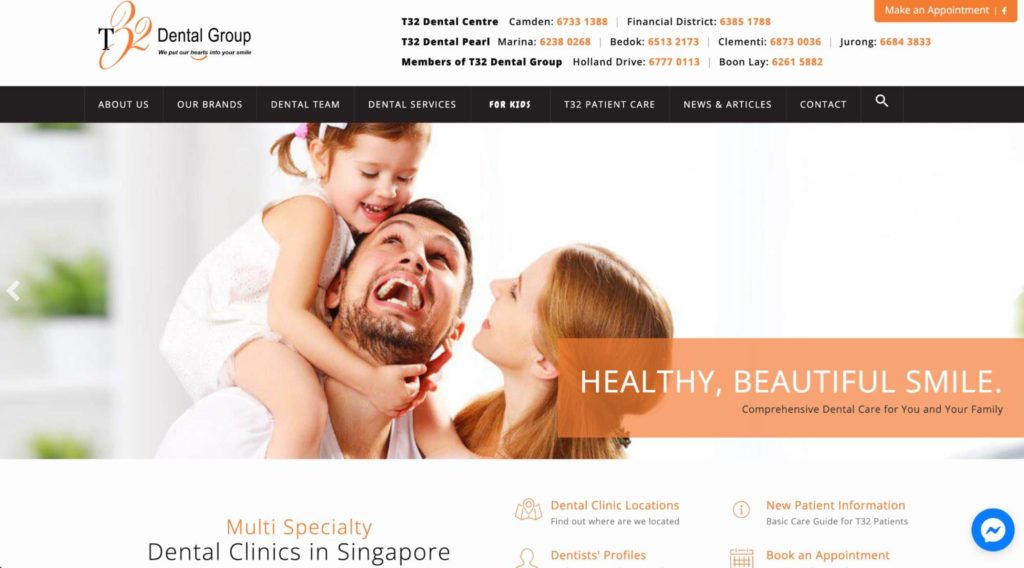 T32 Dental Group has a dedicated dental clinic for paediatric dentistry. It's quite sought-after among parents seeking quality oral healthcare from trained paediatric dentists.
The facilities are high-end, and the technology is up to date. Patients are bound to be comfortable from the moment they walk inside.
While the general reception area is commendable, we think the clinic should also prioritise the children's reception area. It's noticeable that the waiting area is lacking child-friendly items to help ease children's dental anxiety.
It doesn't help that there are usually long waiting times between appointments. The head dentist, however, is known to be patient, understanding, and well-versed in handling young patients.
If you don't mind the wait, T32 Dental Group is definitely a must-visit for your little one!
Customer Reviews
Safe environment for children
"Like the nice kids environment. My boy was seen by Dr Amanda, for a tooth filling and she was so gentle and sweet!"—Aggie Ho, Google Reviews
Excellent customer service and great views
"Probably the best dental office I've been to in Singapore. Lesley from customer service was super friendly and helpful. Truly good at being aware of customers across the waiting room. Dr. Leo was also very good, thoughtful and detailed. Definitely coming back and also nice views"—Tony Chan, Google Reviews
17. Gentle Dental
"Your smile matters."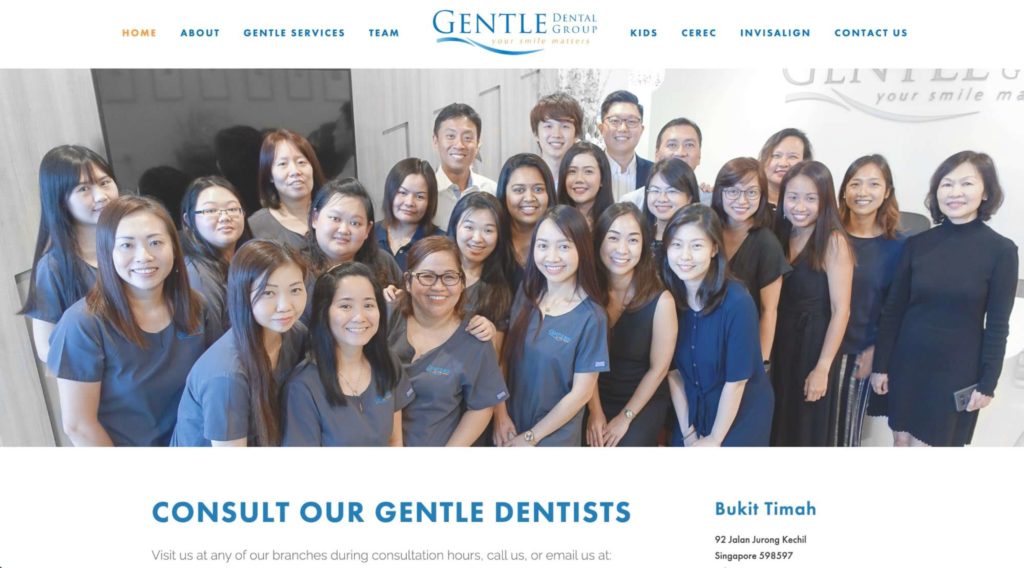 Taking your child to Gentle Dental Group may be a smart move if you're looking for dental clinics that cover a wide range of paediatric dental services.
Mainly known for orthodontics, your child gets access to excellent providers of braces and Invisalign. The facilities cater to children and include cutting-edge technology.
In case the main branch is too far away, there are two other branches of Gentle Dental Group. You can call the hotline of your preferred branch or book an appointment online for more info.
If you're wondering how much this clinic charges its customers, we noticed that Gentle Dental Group leans towards the steeper side.
The clinic could improve on rate transparency so potential patients can make informed decisions before booking an appointment.
Customer Reviews
Gentle approaches
"My child and I have been going to Dr JD Tan for many years. He's truly gentle and has a great approach to paediatric dentistry. He also did an amazing job with my wisdom teeth extraction. I used to have a fear of dental procedures and am thankful to have found him. I always recommend him to anyone looking for a dentist and they always return singing his praises."—Fang Qi Lim, Google Reviews
Provides great dental advice
"Dr Steven Ng has been our family dentist for the last two decades. He is patient, gives good advice and is very knowledgeable. He has a gentle touch, is never pushy and always explains clearly what needs to be done. I have a low pain threshold but with Dr Ng, the injections are always light handed and I hardly feel an extraction. Thank you Doctor."—Kai Lee Pang, Google Reviews
18. Nuffield Dental
"A mutli-disciplinary group of dental clinics in Singapore"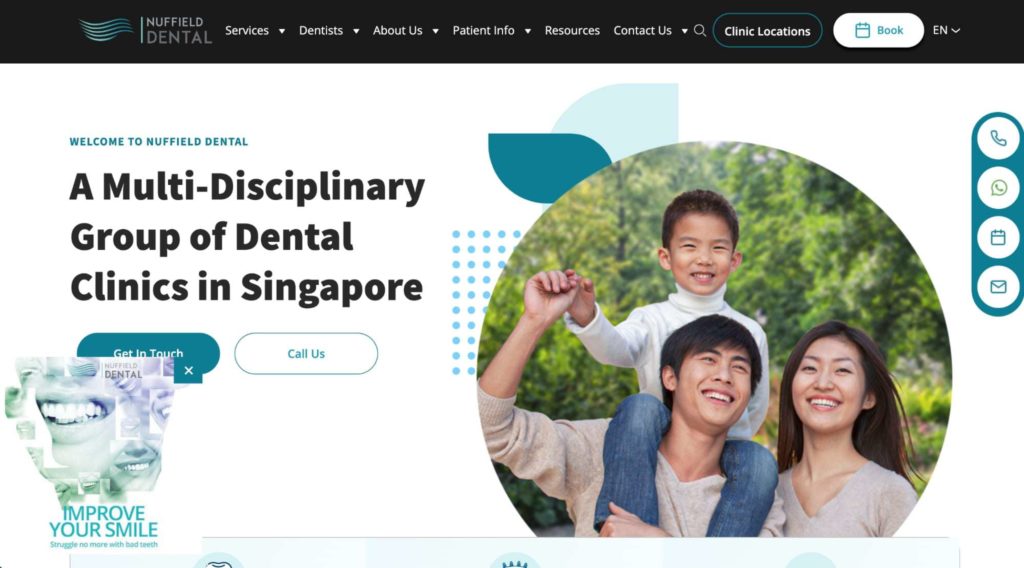 Nuffield Dental has some of the best dentists in the country on its roster. The clinic has an arm that specifically caters to foreign patients, which is a huge plus for expat families or tourists.
If you have international insurance, Nuffield Dental may have the capacity to accept it for insurance-claimable services, especially for children's dentistry.
Parents can take their children to Nuffield for services like gum treatment, checkups, polishing, and scaling. Other more complex procedures include bite balancing, therapy, and wisdom tooth surgery.
If you're planning a visit anytime soon, note that Nuffield is closed on weekends. Emergency dental services also close by 2:00 am, which may be troublesome for some patients, as accidents can happen at any time.
Customer Reviews
Prompt assistance and resolution
"I am very grateful for Dr Kumar's prompt assistance to resolve the issue I faced at my implant site. He is very reassuring and professional. The procedure is quick and he addressed my queries patiently. It is a very good experience. Many thanks to the few counter staff for creating such a positive experience for my visit today as well. 😀"—Lim Shuying, Google Reviews
Reassuring consultations
"Visited Nuffield Dental Raffles for my routine dental check and cleaning. Oral health therapist Aaron Seah is patient with answering all my queries and constantly reassure me during treatment. Highly recommended!"—Wan Chee Ng, Google Reviews
19. My First Dentist
"My First Dentist is a paediatric specialist clinic designed with young kids and their families in mind."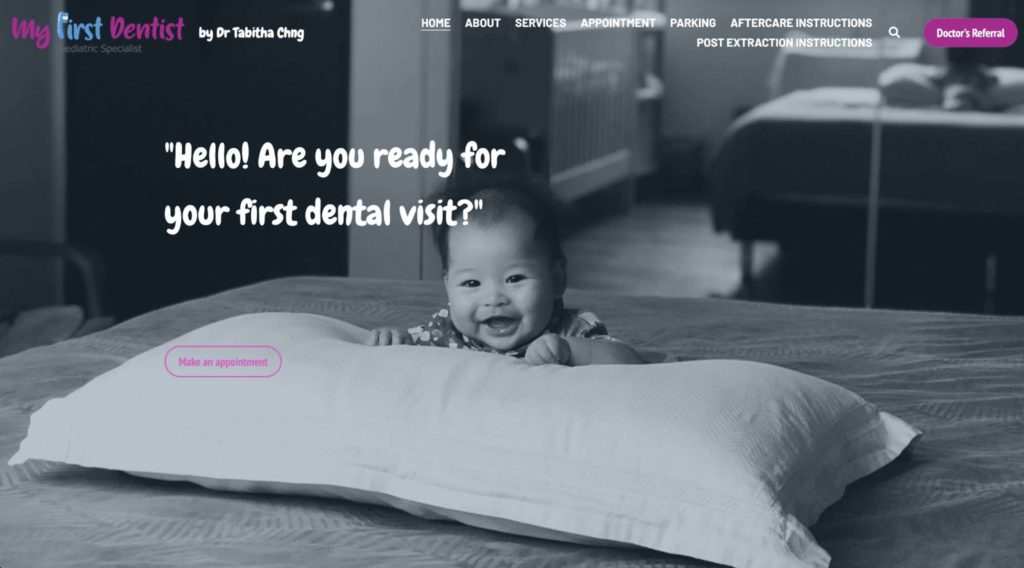 My First Dentist is helmed by Dr. Tabitha Chng, a double-certified dentist for children's dentistry. Her expertise in handling paediatric cases is renowned in the city, and her practice is dedicated specifically to children.
Even better, My First Dentist's dental services are designed to cater to children with special needs. Dr. Chng's time, patience, and training are impressive.
That said, it's not surprising for her clinic to charge steep rates. Consults alone are quite expensive, but we don't doubt that the cost of seeing her will be worth it.
If you're booking an appointment with her soon, consider coming in at least 15 minutes early. Parking is very limited in the area, so we suggest either commuting using public transportation or arriving early.
Customer Reviews
Child-friendly clinic
"The clinic is a kids friendly environment with approachable customer service ladies at the reception. Dr Tabitha is very detailed and patient during the consultation. She uses her gentle voice and singing to help my child feels comfortable during treatment."—Xinyi Lim, Google Reviews
Trustworthy children's dentist
"My kids have been seeing Dr Tabitha since they were 2 years old. They are now older and can have their checks done with the school dentists, but they still like having their teeth checked and cleaned by Dr Tabitha. She is very gentle and patient with the kids, and yet very thorough. Highly recommended."—Melissa Wong, Google Reviews
20. Petite Smiles Children's Dental Clinic
"A child with a smile will go the extra mile!"
Petite Smiles Children's Dental Clinic is a one-stop paediatric dental clinic that offers a wide range of services like emergency care, dental fillings, extractions, and restorations.
Since the clinic specialises in children's dentistry, the specialists are well-versed and experienced in treating medically compromised children or young patients with special needs.
We love that the clinic's facilities are child-friendly and inclusive, especially for patients who need extra attention and caution.
While Petite Smiles has two branches in Singapore, it's best to contact the clinic before scheduling an appointment. Confirming your time slot will save you time, as the clinic doesn't accept walk-ins.
There's also limited availability, depending on which branch you visit. Confirm with the clinic as to which branch you should visit in your preferred time slot.
Customer Reviews
Friendly and welcoming reception staff
"Dr. Ng is a kind and patient dentist. The office was warm, clean and welcoming and the front desk staff were friendly and professional. Dr. Ng was excellent with my 2 year old who has some tooth decay. She gave us great advice and options for treatment. I highly recommend her for anyone looking for a pediatric dentist."—Kerrian Lawrence, Google Reviews
Kind and patient children's dentists
"Most child friendly dentist ever. My son had been visiting a few dentists over the years and had phobia doing so. However, Dr Ng managed to patiently guide him through the procedures. I am impressed!"—Patricia Foo, Google Reviews
FAQS about Dental Clinics
---
More Dental Resources
Take a turn towards a healthier smile by reading more helpful articles on dental services in Singapore: