Our 7 Favourite Raffles Panel Clinics in Singapore
Medical services in Singapore can cost you an arm and a leg, but it doesn't have to be that way – if you're covered by an Integrated Shield Plan (IP). Raffles can offer you wider coverage and with a panel of over 150 specialists, it can be tough to narrow those down.
To help you in your search, we've rounded up the best Raffles panel clinics in Singapore. We've managed to pick the most exceptional ones under each major medical specialty.
Before availing an IP, it's important to know how much premiums you'll have to spend yearly first. So if you're still on the fence about Raffles' IP policy, read on to know more about rates and benefits you can expect.
Raffles Shield Premiums
Premiums are a fixed amount that you must pay yearly for an insurance policy. Costs vary depending on the insured individual's age and circumstances during the time of entry.
We've gathered Raffles' different tiers and listed down premium estimates, as well as their key benefits in the table below.
Note that the scope below covers individuals aged 1 to 75 years old. We recommend contacting Raffles to get a more accurate quote.
IP TIER
PREMIUMS
KEY BENEFITS
Raffles Shield Private
$339 – $4,664
$1,500 000 limit per policy year for in-panel and $600,000 limit per policy year for non-panel treatments


Pre-hospitalisation cover of 180 days before confinement


Post-hospitalisation cover of 365 days after confinement


100% coverage up to single bed class wards in private hospitals
Raffles Shield A + Raffles Hospital Option
$288 – $4,006
$600,000 limit per policy year


Pre-hospitalisation cover of 180 days before confinement


Post-hospitalisation cover of 365 days after confinement



100% coverage up to A class wards in public hospitals + Raffles Hospital (all wards)
Raffles Shield A
$218 – $2,985
$600,000 limit per policy year

Pre-hospitalisation cover of 180 days before confinement



Post-hospitalisation cover of 365 days after confinement



100% coverage up to A class wards in public hospitals
Raffles Shield B
$201 – $2,383
$300,000 limit per policy year


Pre-hospitalisation cover of 90 days before confinement



Post-hospitalisation cover of 90 days after confinement



100% coverage up to B1 class wards in public hospitals
The Best Raffles Panel Clinics in Singapore
We've factored in many things in coming up with this list including the following:
Scope of services, which allows you to undergo treatment in one place from start to finish
Accessibility, which may include location, tele-consultation options, number of clinics available, and others
Service quality, which we compared to other clinic competitors
Customer experience, as these reflect consistency in service quality and patient retention
Without further ado, here are our picks of the top Raffles panel clinics in Singapore!
1. Advanced Urology


BEST IN
Urology, Men's Health, Women's Health
SERVICES
Diagnosis and Treatment of Bladder, Kidney, Prostate, Fertility Conditions
WEBSITE
https://urology.com.sg/
ADDRESS
Gleneagles Medical Centre, 6 Napier Road, Suite 04-07, Singapore 258499
CONTACT DETAILS
+65 8866 1838 or +65 6475 3668 (After Hours) Online Form Available Here
OPERATING HOURS
Mon to Fri: 9:00 am – 12:30 pm; 2:00 pm – 5:00 pm
Sat: 9:00 am – 12:30 pm
We're so impressed by their services that we had to feature them again here. It's the only Raffles-accredited clinic that includes a female specialist in their panel, so that gets a huge point here!
There are 5 experienced urologists available in this clinic, 2 of which have actually made it to our list of the best urologists in Singapore! However, that doesn't mean that the other doctors in their selection aren't equally good—far from it.
At Advanced Urology, each specialist has their own sub-specialisation. For instance, you can rely on Dr. James Tan for kidney-related problems while Dr. Shirley Bang is the go-to doctor for urinary problems affecting women.
Despite the fact that there are several clinics available, we really like the fact that they offer tele-consultation options for patients who are unable to come. They're also one of the very few urologic clinics in Singapore that offer after-hours emergency services.
The only thing that we would've liked to see is a list of other insurance plans they accept. We also think that it would've been helpful if they had readily available schedules of their doctors, just so it would make booking easier.
However, those are minor concerns. It's still safe to say that this clinic has almost got it all, which is why we didn't hesitate to give them another mention here.
Wide range of services/procedures
Relatively large team of doctors
Several clinics
Ideal for men and women
Tele-consultations available
Accredited by several insurance companies
Emergency number available
No list of doctor schedules
No list of other accredited insurance plans
Customer Reviews
Excellent post-operative care
"Wanted to shout out to the staff by the name "Sew Hwa" for her excellent customer service! I am require to undergo a surgery and was worried about the fees. She help me to obtain LOG and advise me on the amount that I am require fork out (in the worst scenario). She is very friendly and cheerful person. Thank you Dr.Liew for your excellent care and post operation care! Definitely the friendly urologist to go to!" —Rachel Chen, Google Reviews
Very patient in explaining the procedure
"I was referred to Dr James Tan by my insurance concierge and the first appointment was quickly set up within 3 days. My first review with Dr James was insightful; he was very patient in explaining the procedure to me and at the same time reassuring me that I'll be in good hands. The night before the surgery, I (stupidly) read up on the procedure online and viewed some of the recorded videos of the operation. It freaked me out as this is the first time I'll be doing a GA/LA, and also my first time getting cut open by the doctor while being in a sedated state.
The next morning, I requested to see Dr James once more to confirm on the type of procedure (also partly to see him again to calm my nerves) I'll be going through and he reassured me again that it's just a very minor operation and it will be over before I know it. I must say I'm glad to have gone through this with Dr James, and I'm very happy with the post surgery results! Google reviews seem to be lacking for this small clinic; thought I should do my part to get people know more about his clinic and give him a try. Post surgery appointment was set a week later and I was completely discharged.
All in all, the whole process (from scheduling my first appointment to discharge) took a little more than 2 weeks. Pleasant experience (but hopefully won't have to visit again 😅)" —K Tan, Google Reviews
2. SOG – Beh Clinic for Women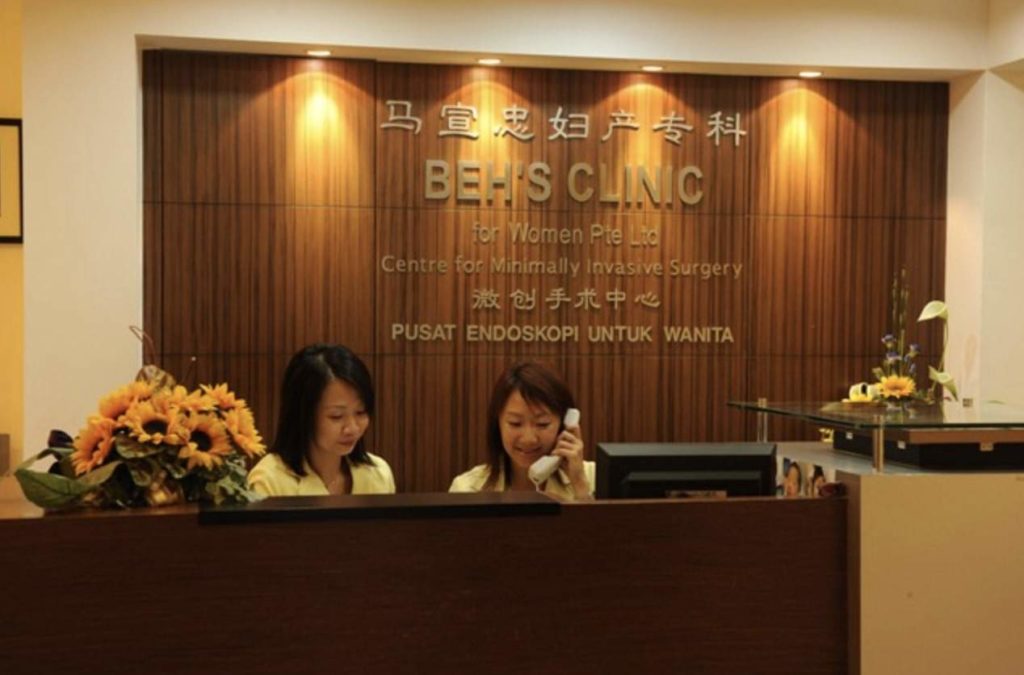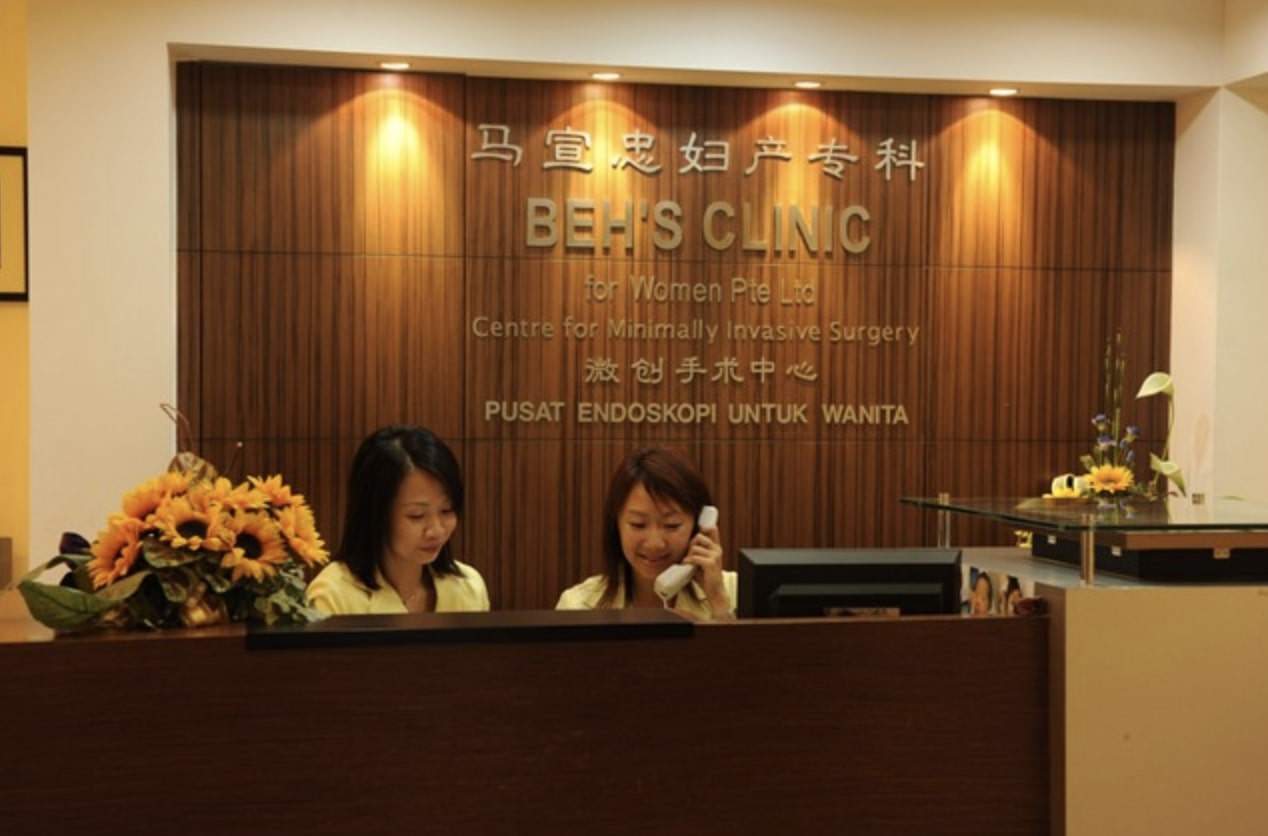 BEST IN
Obstetrics and Gynaecology
SERVICES
Pregnancy Care and Delivery, Health Screening, Colposcopy for Abnormal Pap Smear and Cervix, Cancer Prevention and Treatment Including HPV Vaccination, Treatment for Gynaecological Disorders Affecting Menses, Infertility Investigations and Treatment, Specialized Gynaecological Keyhole Surgery
WEBSITE
http://www.drbeh.com.sg/eng/
ADDRESS
339 Thomson Road #05-03, Thomson Medical Centre, Singapore 307677
CONTACT DETAILS
+65 6352 9227 or +65 6333 5550 (After Hours) |

[email protected]

OPERATING HOURS
Mon to Fri: 9:00 am – 5:30 pm
Sat: 9:00 am – 1:00 pm
Beh Clinic for Women is just one part of SOG's network of ob-gyn clinics around Singapore. They pride themselves on being a one-stop clinic for a wide variety of services including pregnancy care and delivery, cancer prevention and treatment, and many more.
Headed by Dr. Beh Suan Tiong, he specialises in advanced minimally invasive gynaecological surgeries including hysteroscopic surgery. This surgery allows him to look inside your uterus to get a more accurate picture of abnormal bleeding patterns.
In fact, Dr. Beh has gained a reputation in dealing with gynaecological problems through surgery—it's definitely what caught our eye in the first place. So apart from pregnant ladies, we also recommend this clinic for women who have menstrual or infertility problems.
Important to note that this clinic is also located within Thomson Medical Centre—the only private clinic in Singapore dedicated to the healthcare of women and children.
This is why we think that convenience is not a problem here, considering that women have easy access to plenty of services. We think that this will also come in handy for new parents looking for a paediatrician after the birth of their newborn.
Speaking of convenience, we're seeing the lack of tele-consultation options a minor drawback though. Still, this clinic is available around the clock for emergencies.
Wide range of services/procedures 
Specialises in gynaecological surgeries
Emergency services available
Convenient location
Short weekend hours
No tele-consultation available
Customer Reviews
Very friendly and caring
"Thank you Dr Beh for performing a successful hysterectomy surgery for me 2 days ago. I have minimal pain and am able to walk now. I will recommend Dr Beh to anyone who is looking for a good doctor. He is very friendly and caring. You can ask him anything if in doubt. Thank you, Dr Beh." —Soo Li Li, Google Reviews
Fast service
"Great place to have a medical check for women, fast service and reasonable price. Recommended." —Deddy Nursalim, Google Reviews
3. Capital Heart Centre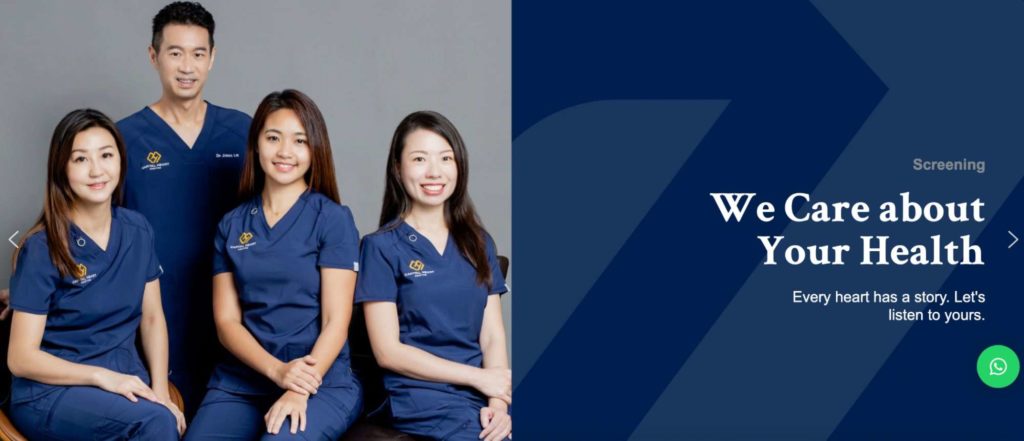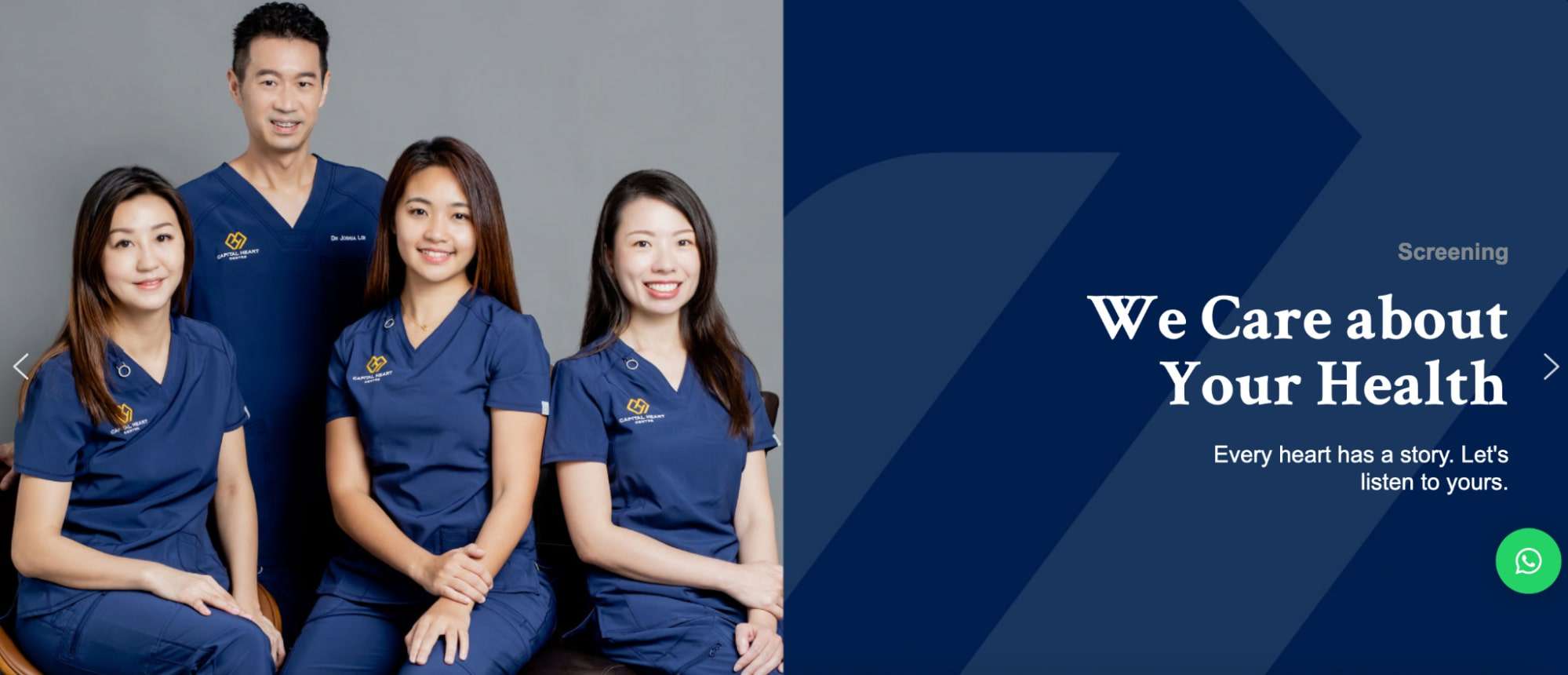 BEST IN
Cardiology
SERVICES
Non-invasive Cardiac Investigations, Invasive Cardiac Investigations and Treatment, Screenings
WEBSITE
https://www.capitalheart.sg/
ADDRESS
Mt Elizabeth Novena Hospital, 38 Irrawaddy Road #06-48/49, Mt Elizabeth Novena Specialist Centre, Singapore 329563
CONTACT DETAILS
+65 8874 1989 (Day/After-Hours) |

[email protected]

OPERATING HOURS
Mon to Fri: 9:00 am – 5:00 pm
Sat: 9:00 am – 12:30 pm
From prevention to treatment, Capitol Heart Centre aims to provide quick access to consultations, diagnostic services, and procedures that are suited to your needs.
You'll find a comprehensive range of services here from heart health screening to invasive cardiac procedures like coronary angiography.
Dr. Joshua Loh is the clinic's resident cariodologist. He's well-versed in all areas of heart health, with a special expertise in complex coronary interventional procedures.
Apart from Raffles, we're also glad to see that this clinic is part of several other panels including Aviva, AXA, and Great Eastern. On top of that, they also accept several corporate insurance plans, which you can check out on their website.
We really like how seamless insurance processing is at this clinic. If you end up having surgery, you don't have to worry about processing your medical claims manually because their staff members will do it for you.
The lack of tele-consultation options is a minor drawback. But like most cardiology clinics, you can contact them anytime for urgent concerns.
Wide variety of services/procedures
Accepts several panel plans
Emergency services available
Seamless processing of medical claims
No tele-consultations available
Only 1 location available
Customer Reviews
Very professional and friendly
"Dr Joshua and his team are very professional and friendly. I'm happy to have a heart assessment here to understand my heart better and had a detailed assessment for my heart performance during exercising. Dr Joshua is very patience and detailed and experience doctor, he went through the test result in every aspect with me. Thumb up for the good work for Dr Joshua and his team!" —James Loi, Google Reviews
Explains complex procedures in simple terms
"My Dad has been seeing Dr Joshua Loh since many years ago. Dr Loh is such an experience doctor who always explains complex medical procedures in simple terms so that we can understand easily. The staff here are also friendly and shorter waiting time is definitely a plus for us. Thumbs up!" —Miki Tan, Google Reviews
4. Assurance Skin, Laser & Aesthetics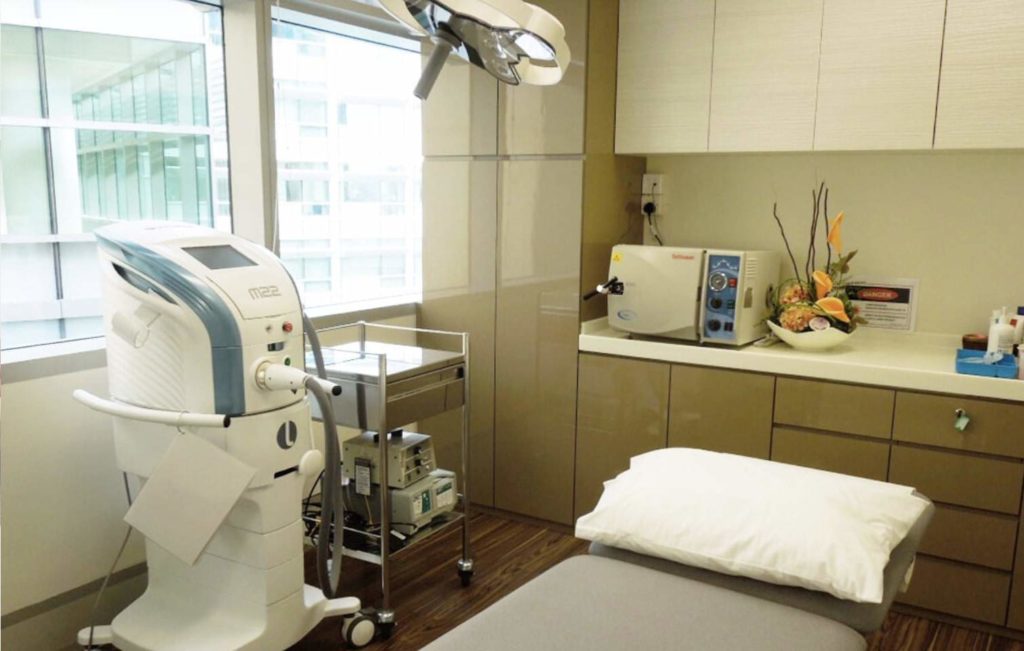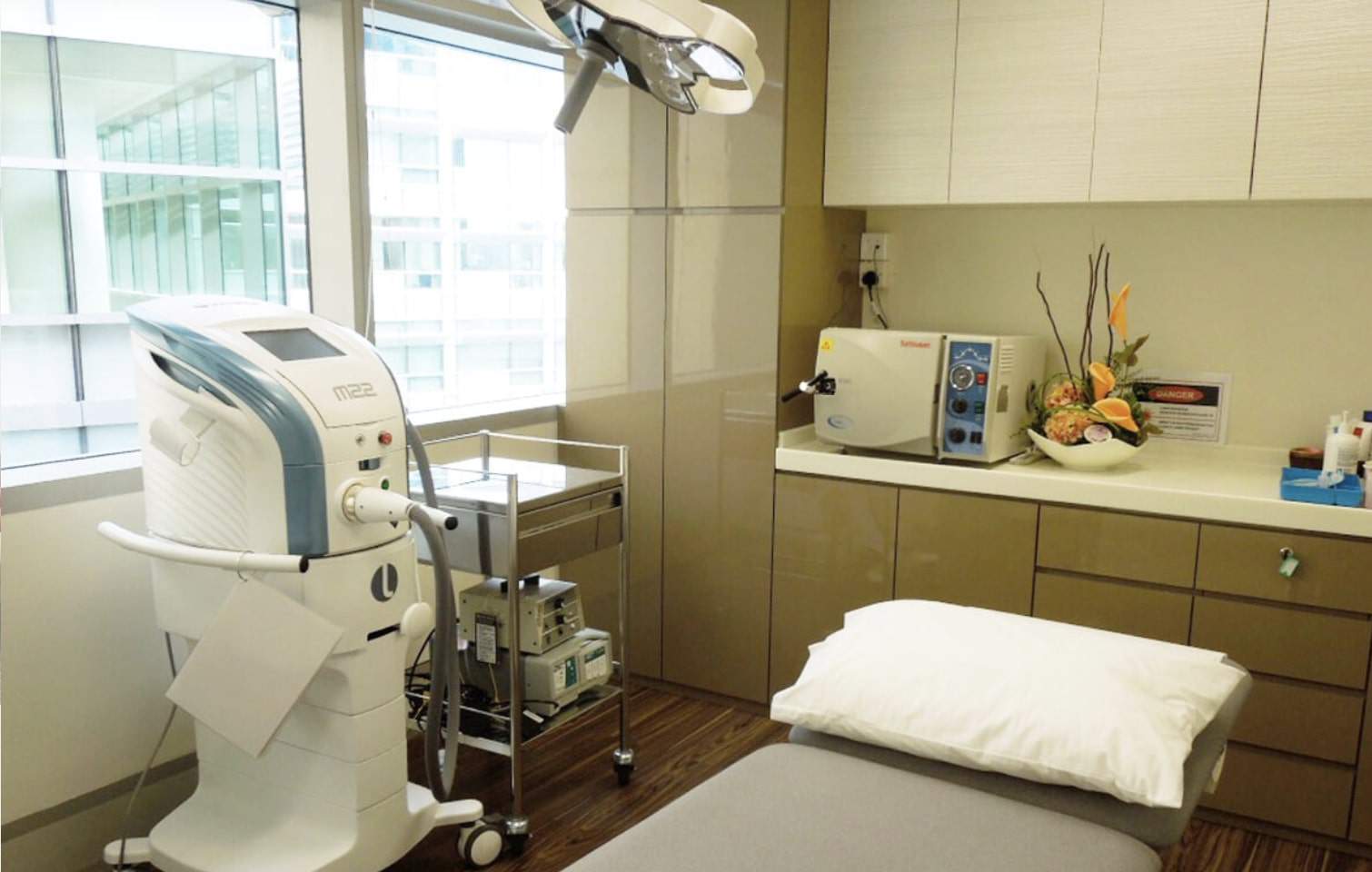 BEST IN
Dermatology
SERVICES
General Dermatology, Aesthetic Dermatology, Surgical Dermatology
WEBSITE
https://www.assuranceskin.com/
ADDRESS
Mount Elizabeth Novena Specialist Centre #10-22/23, 38 Irrawaddy Road, Singapore 329563
CONTACT DETAILS
+65 6690 2971 |

[email protected]

OPERATING HOURS
Mon to Fri (except Thurs): 9:00 am – 5:00 pm
Thurs and Sat: 9:00 am – 12:30 pm
Assurance Skin, Laser & Aesthetics is another good choice for those with medical skin problems—regardless if you're a local or a foreigner. Resident consultant Dr. Wong Soon Tee has over 20 years of experience under his belt, treating a wide range of skin problems from eczema to simple infections.
He performs surgeries on a regular basis to remove skin cancers, growths, and cysts. Apart from that, he offers comprehensive keloid scar management including topical treatment, injection treatment, laser surgery, excisional surgery, and radiation treatment.
Of course, keloid scar management isn't normally covered by medical insurance, much like other cosmetic procedures that this clinic offers. In that case, you'll have to foot your own bill.
Conveniently located within Mount E, patients have access to a myriad of investigative and laboratory technology including MRI/CT scanning, x-rays, and more. Hence, you don't have to worry about looking for affiliate medical centres just to have certain procedures done.
It's understandable that the clinic doesn't have tele-consultation options, considering that most consultations are conducted face-to-face. We're just a bit disappointed to see this clinic have short hours on Thursdays.
But that's a minor thing to worry about. Just make sure to plan your schedule ahead of time.
Wide range of services/procedures
Specialises in skin surgeries
Convenient location
Doctor fluent in English, Mandarin, and Chinese dialects
Short clinic hours on Thursdays
No tele-consultation available
Customer Reviews
Straightforward in his assessment
"This review was long overdue. I had my toes infection for my years. The clinic was recommended by my company's doctor and it truly cured my infection. Dr Wong was straight forward in his assessment and very professional. Staff there was also pleasant and friendly. Thumbs up." —Sa-adah Mahamud, Google Reviews
Always professional, patient, detail-oriented
"Dr. Wong has helped me with a number of skin concerns including eczema, broken blood vessels, and hyperpigmentation. He is always professional, patient, and extremely detail-oriented. He always walks me through the options, costs, pros and cons for anything aesthetic, but has never pressured me to purchase any specific treatment. My first appointment he took notes on all the skin concerns I wanted to address and every appointment since, he makes sure to follow-up on how the previous issues are going. Since that visit my skin has improved immensely!" —Lindsay Nichole, Google Reviews
5. Cove Orthopaedic Clinic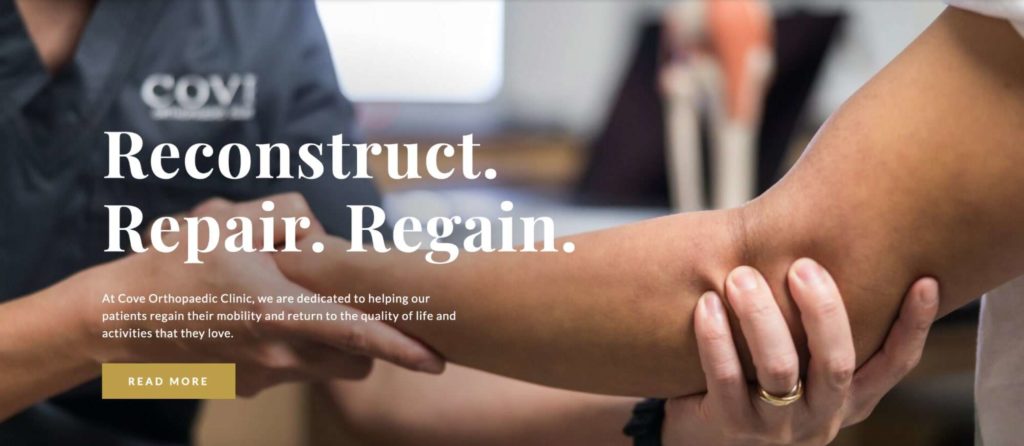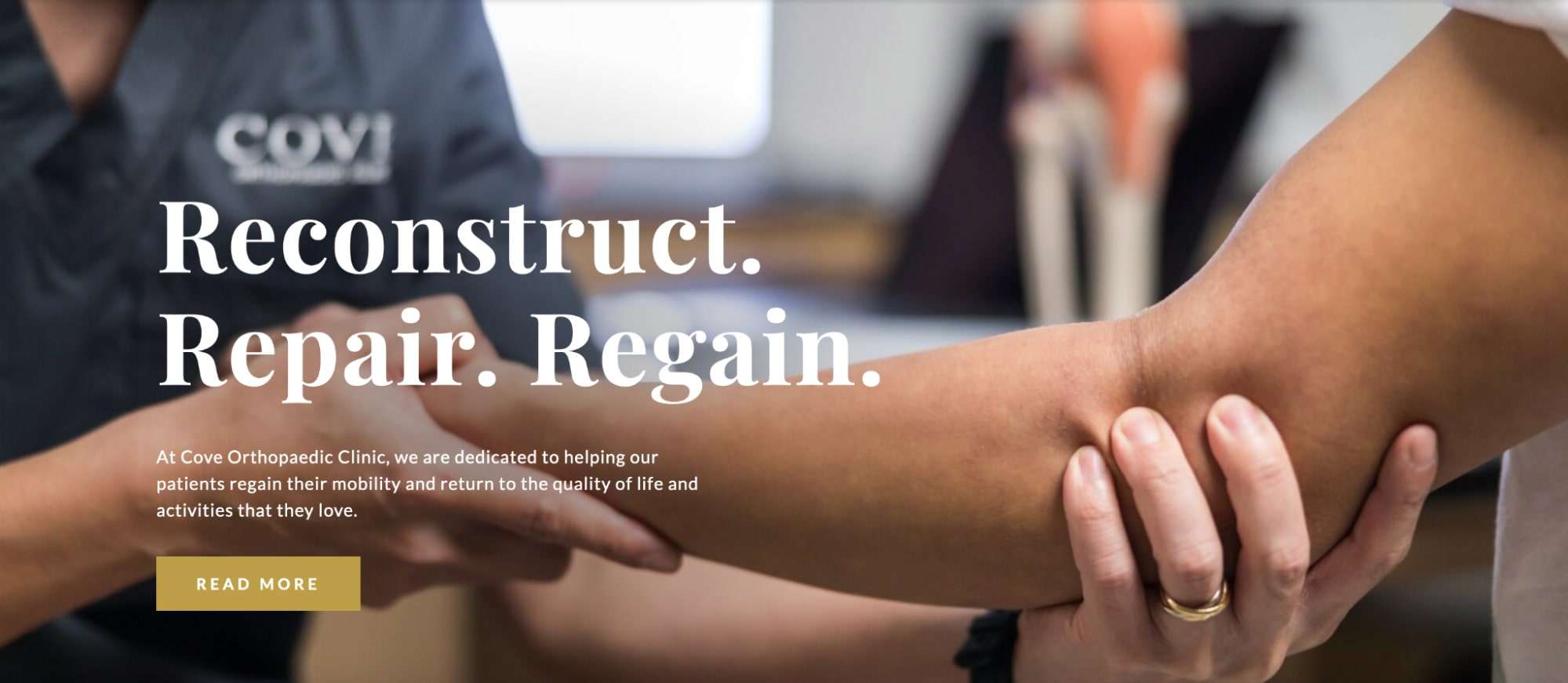 BEST IN
Orthopaedics
SERVICES
Diagnosis and Treatment of Conditions Related to Shoulders, Spine, Limbs, Elbows, Wrist and Hand, Hip, Knee/Leg, Foot/Ankle, Paediatric Bone Problems
WEBSITE
https://coveorthopaedics.com.sg/
ADDRESS
Nearest Clinic Available Here
CONTACT DETAILS
Check Nearest Clinic for Contact Details
OPERATING HOURS
Mon to Fri: 8:30 am – 5:30 pm
Sat: 8:30 am – 12:30 pm
If you're an athlete who's vulnerable to bone fractures and injuries, then Cove Orthopaedic Clinic should be one of your top choices in case of emergencies.
Resident orthopaedic surgeon Dr. Edwin Tan has literally performed thousands of surgeries, from common fractures to more complex cases.
But what truly makes him special is his expertise on reverse shoulder arthroplasty—a unique surgical procedure for complex shoulder problems. In fact, he's one of the few surgeons in Singapore who has performed this surgery in high volumes.
Medical procedures shouldn't be a numbers game but in this case, it speaks highly of competence and reliability. Despite this, we've also heard that Dr. Tan doesn't immediately resort to surgery—great news for those who are afraid of going under the knife.
Regardless of your treatment plan, rest assured that this clinic is capable of taking care of you from start to finish. Truly, it's no surprise why he's a hit among patients active in sports.
Despite not offering tele-consultations, you can visit them in 3 accessible locations. Just be sure to ask the clinic of Dr. Tan's availability though, as his schedule isn't available online.
Wide variety of procedures 
Specialises in complex shoulder surgery
3 locations available
Ideal for those active in sports
High volume of successful surgeries
No tele-consultations available
No emergency number listed
Customer Reviews
Extremely helpful, warm, reassuring
"I had my right knee operation done by Dr Edwin Tan previously at SGH. And when my left knee was suffering from pain, I seek help from Dr Tan at his private clinic. The operation was good. I would say he is an extremely helpful ,warm and reassuring doctor. Thank you Dr Edwin!" —SouwHwe Choo, Google Reviews
Highly experienced
"Dr Edwin saw my mother for knee pain. He was very patient and detailed in explaining his diagnosis and course of treatment to us, in both chinese and english. He is highly experienced, and his sincere personality made feel us very assured." —Ronnie Pang, Google Reviews
6. gutCARE Digestive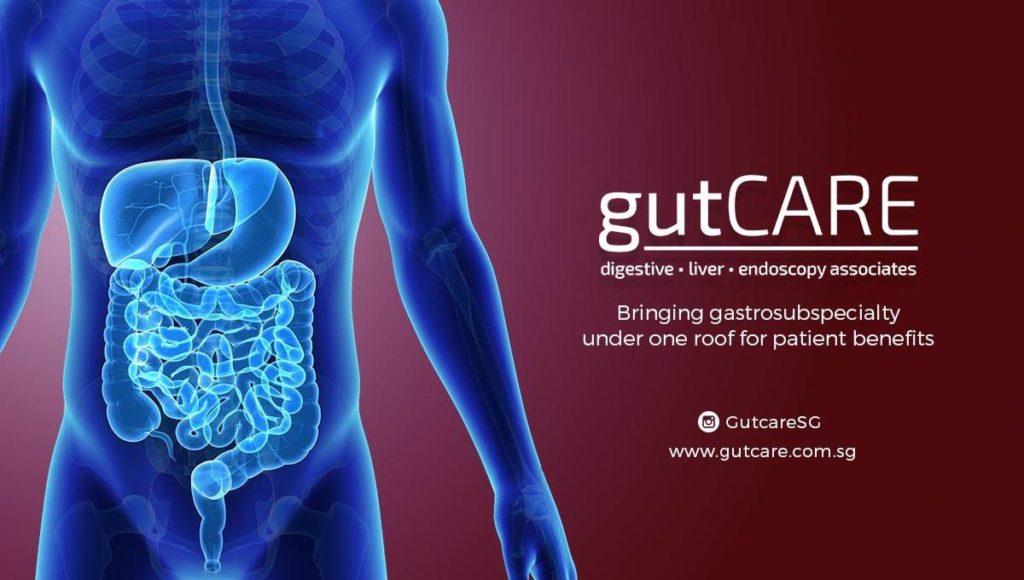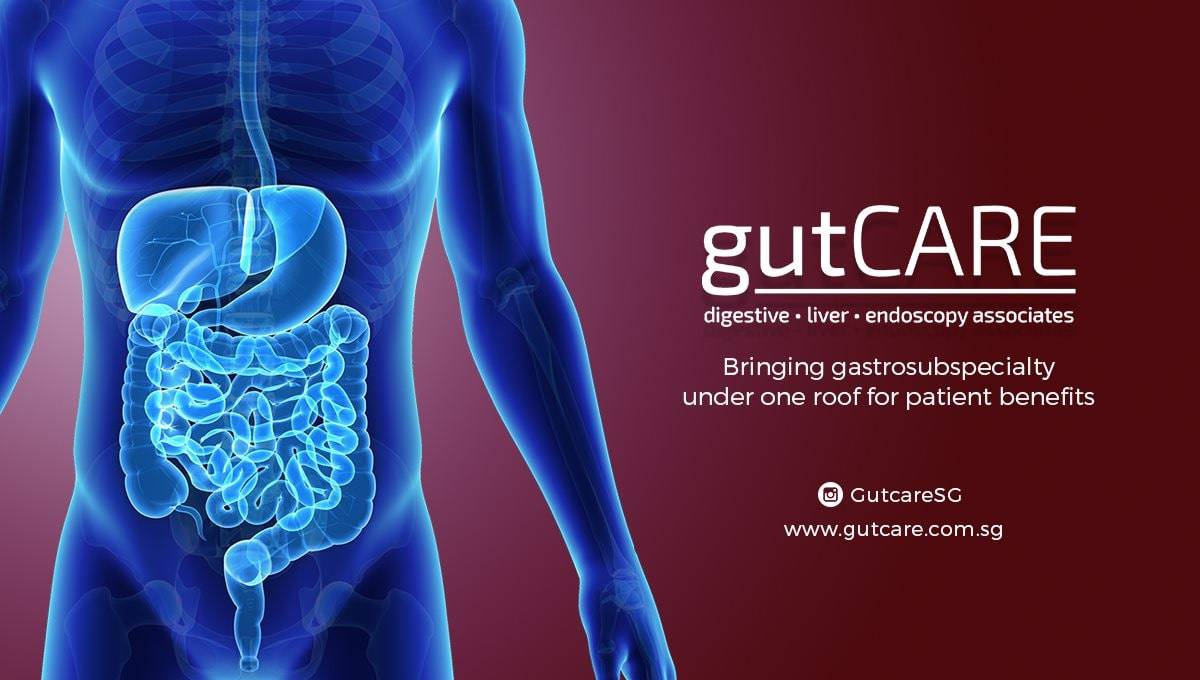 BEST IN
Gastroenterology
SERVICES
Gut Health and Cancer Screening, General Endoscopy, Advanced Endoscopy, Specialised Services
WEBSITE
https://www.gutcare.com.sg/
ADDRESS
Nearest Location Available Here
CONTACT DETAILS
+65 6443 0708 | Online Form Available Here
OPERATING HOURS
Mon to Fri: 9:00 am – 1:00 pm; 2:00 pm – 6:00 pm
Sat: 8:30 am – 1:00 pm
If you've been following our medical recommendations, then you'll notice that gutCARE Digestive is another returning entry. We simply think that they're one of the best gastroenterology clinics in Singapore, not just in Raffles' panel of clinics.
For one, the clinic operates in several central locations across Singapore, offering a comprehensive selection of diagnostic procedures. Some of these include colonoscopy, foreign body removal, advanced endoscopy, and more.
That said, this chain of clinics is also home to Singapore's finest gastroenterologists who have their own subspecialties as well. Whether you're struggling with a fatty liver or even digestive cancer, their line of doctors can get you the most effective treatment plan for your diagnosis.
Now, what we really like about this clinic is how involved they are in their patients' mental health wellbeing too. From what we've seen, they're the only gastroenterology clinic that offers specialised psychology services to cater to patients with digestive disorders.
The clinic also has dieticians on standby for patients who need a hand in improving their diet. These additional services come as a surprise, considering that not all clinics offer these additional services.
We also like the fact that they're on the panel of all IP plans in Singapore. So even if you plan to switch your shield plan at any point in the future, you won't have a problem with billing here.
Convenience-wise, we would've liked to see tele-consultation options. But with all that they offer, one can easily overlook this minor drawback.
Wide variety of services/procedures
Large team of doctors
Several locations available
Covers all shield plans and corporate insurance plans
Psychology services available
Short weekend hours
No tele-consultation available
Customer Reviews
Patient, attentive, addressed all concerns
"Visited Dr Chia for my follow-up endoscopy last month. As usual, he was patient, attentive and addressed all of my concerns. He also took the effort to make sure I understood what my issues were and what were the options open to me. His personal assistant Sharmila was friendly and capable. Procedures in the medical centre as a whole were smooth flowing with clear instructions from the staff. Parking is a hassle though. Consider to take MRT if possible." —Calvin Sng, Google Reviews
Smooth experience
"I did my gastroscope recently with GutCare and was attended to by Dr. Mark Fernandes. He was very patient in explaining the results of the scope to me in layman terms which made it very easy for me to understand. He was reassuring and I felt comfortable being treated by him. It helps that he has an able assistant, Patricia, who was easily available via WA, for me to ask questions and to make appointments. Overall it was a smooth experience for me as a patient." —Raen Lim, Google Reviews
7. Bobby Cheng Eye & Retina Centre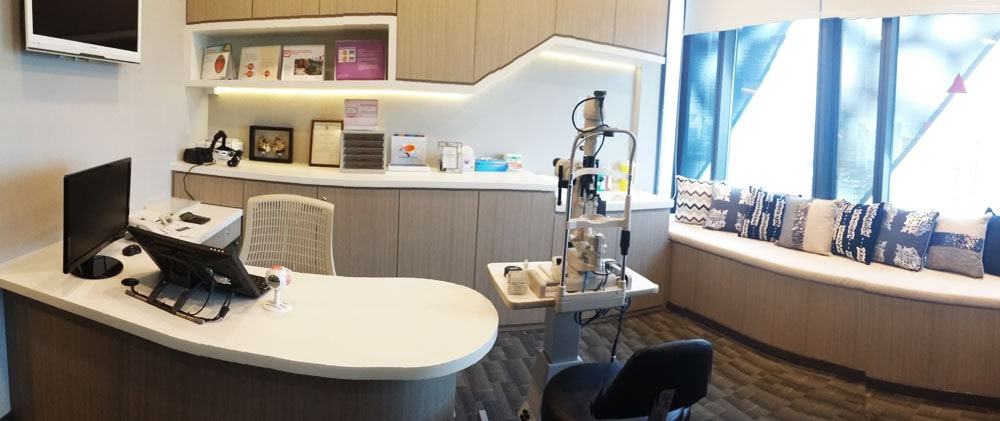 BEST IN
Ophthalmology
SERVICES
Medical and Surgical Treatment of Eye Conditions, Comprehensive Eye Examinations, etc.
WEBSITE
http://eyeretina.com.sg/
ADDRESS
1 Farrer Park Station Road #12-01, Connexion, Singapore 217562
CONTACT DETAILS
+65 6636 0930 |

[email protected]

OPERATING HOURS
Mon to Fri: 9:00 am – 5:00 pm
Sat: 9:00 am – 1:00 pm
For eye-related concerns, we recommend Bobby Cheng Eye & Retina Centre. This eye clinic provides patients with plenty of options in diagnostic tests and treatments.
Compared to most of our entries, Dr. Bobby Cheng is the lone specialist operating in this clinic. While this may mean limited availability, the good thing is you get to receive a personal brand of care.
This clinic is equipped with a bunch of in-house equipment to give you the most accurate diagnosis. We've noticed that the process is quite streamlined from start to finish, despite the presence of other patients.
Suffice to say that Dr. Cheng has an eye for detail, seeing that he specialises in complex procedures involving cataracts, ocular inflammation, and more. His patients recommend him for his meticulous approach in treatment and diagnosis.
Unfortunately, you can only see him in a single location. The good news is that it's centrally located at the heart of the city, so you won't have a problem with accessibility.
Wide variety of services/procedures
Specialises in eye surgeries
Central location
Streamlined service
No tele-consultations available
Only 1 location available
Customer Reviews
Friendly team
"I was referred to Dr Cheng from my family doctor. My domestic helper's vision was deteriorating and experienced pain at times. Dr Cheng did a very thorough check for her and suggested treating it with eye drop for a few weeks. It had since been getting better. Really appreciate Dr Cheng and his friendly team for a good job done and offering a discount for treating her. Will be following up with the next visit soon. Looking forward to a full recovery for my helper. Thank you Dr Cheng." —Eric Koh, Google Reviews
Very caring and professional
"Very caring and professional doctor. Came to seek second opinion on SNEC due to flashes of light in peripheral vision and white spot in eye. Dr Cheng gave a much clearer diagnosis and better explanation of possible underlying factors, along with a well thought out treatment plan. Problem was eventually solved. Thanks Dr Cheng :-)" —Julian Yap, Google Reviews
FAQs about Raffles Panel Clinics
More Resources about Panel Doctors in Singapore