Our 7 Favourite Nephrologists in Singapore
Most people who've been diagnosed with kidney problems are already in treatment for high blood pressure, diabetes, heart disease, and the like. If you have one of these conditions, it'd be better to have a consultation with the best nephrologists in Singapore.
They're kidney specialists who treat and prevent the early stages of different kidney conditions including chronic kidney disease, kidney failure, kidney infections, and other diseases.
We've gathered all the most recommended medical services with the most accessible services on the island, so you'll certainly find them convenient and practical. Without further ado, here are the top clinics that have the best nephrologists in Singapore.
(Note: This list is in no particular order.)
SH Tan Kidney & Medical Clinic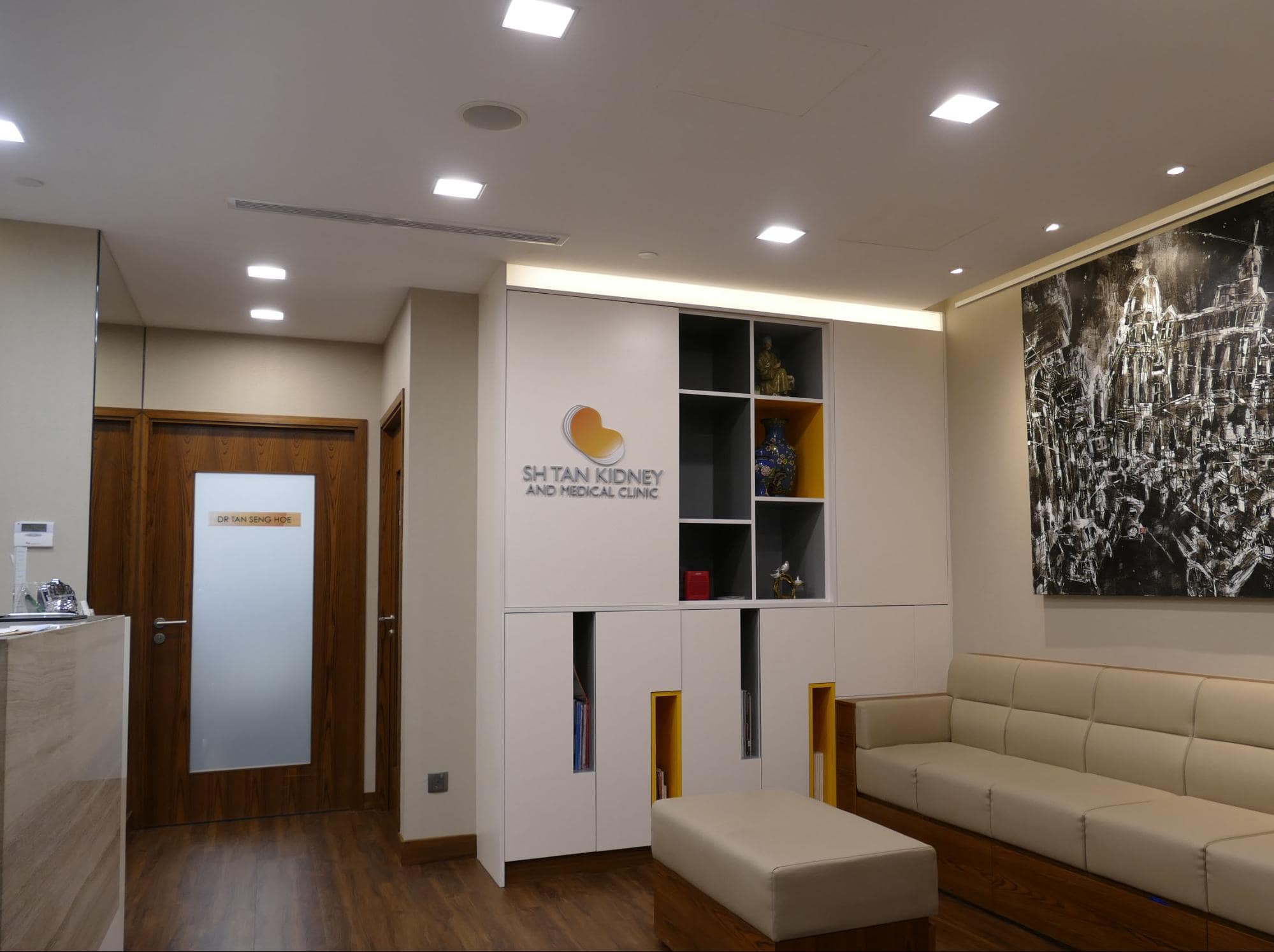 The award-winning SH Tan Kidney & Medical Clinic is managed by a senior consultant who has been providing kidney-related treatments and generic medications for several decades.
He has years of experience in different procedures including kidney biopsies, dialysis, hemodialysis, and more — which is why he's considered one of the best nephrologists in Singapore.
Their medical services range from comprehensive diagnosis up to treatments for complex kidney diseases. They help in managing general kidney conditions, hypertension, diabetes, kidney failure, dialysis, transplantation, procedures, preventive medicine, as well as internal medicine for chronic illness.
Highlights
Full range of kidney-related treatments
Accessible locations
The Kidney Clinic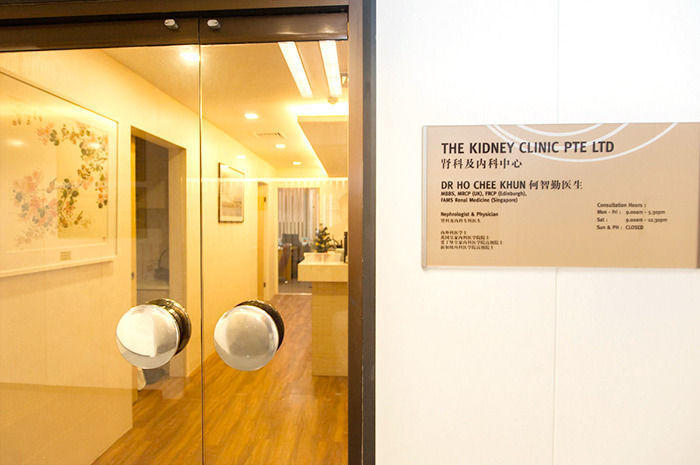 BEST FOR
Dialysis treatments
WEBSITE
http://www.thekidneyclinic.sg/
ADDRESS
3 Mt Elizabeth #12-09, Mt Elizabeth Medical Centre, Singapore 228510
CONTACT DETAILS
+65 6737 9022
OPERATING HOURS
Weekdays: 09:00am – 05:00pm

Saturday: 09:00am – 12:00pm
The Kidney Clinic has one of the best nephrologists in Singapore (Dr. Ho Chee Khun) and mainly specialises in dialysis and critical care. With this speciality and extensive training, their doctor is capable of managing various kidney conditions such as kidney impairment, infection, inflammation, and transplantation.
Other conditions related to kidney disease including hypertension, diabetes, and vascular diseases are also covered by their medical services. It's also located at Mount Elizabeth Hospital, a large medical centre that's equipped with some of the best specialists on the island.
Highlights
Treatment for all kinds of kidney conditions
National University Hospital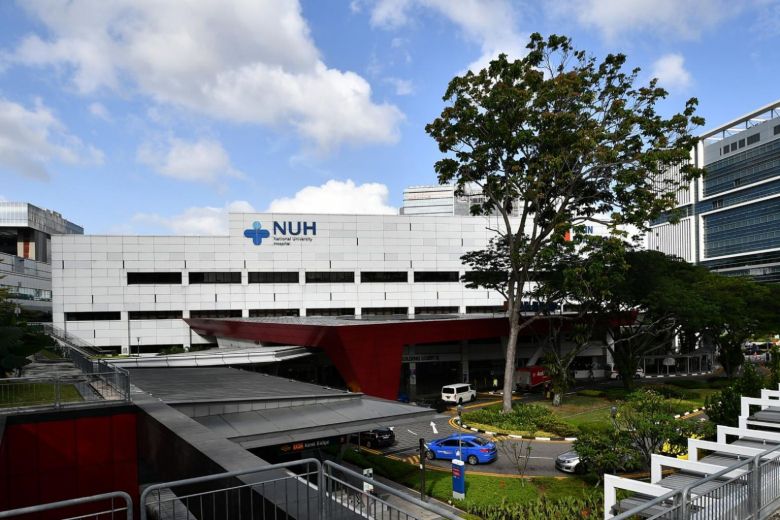 | | |
| --- | --- |
| BEST FOR | Kidney disease programmes |
| WEBSITE | https://www.nuh.com.sg/ |
| ADDRESS | 5 Lower Kent Ridge Road Singapore 119074 |
| CONTACT DETAILS | +65 6779 5555 |
Being one of the leading hospitals in Singapore, National University Hospital offers a broad range of medical specialities and one of them is the Nephrology department.
At this department, they have some of the best nephrologists in Singapore, along with renal counsellors, therapists, and more specialists to provide inclusive treatments for any kind of kidney-related condition.
They also have different options for kidney replacement therapy and provide both home-based dialysis and long-term care for kidney transplantation.
Highlights
End-stage kidney disease programmes
Long-term care and management
T G Ng Kidney & Medical Centre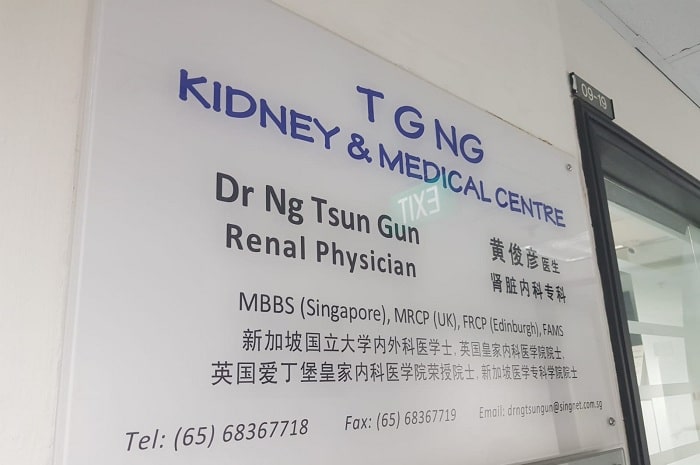 The senior consultant at T G Ng Kidney & Medical Centre has gained local and international recognition throughout his career. This is why he's one of the best nephrologists in Singapore who treat general kidney conditions, diabetes, hypertension, kidney failure, dialysis, transplantation, and more.
This clinic is located at two of the prime medical centres in the country, Gleneagles Medical Centre and Mount Elizabeth Hospital.
Highlights
Financial counselling
Price guarantee
Wu Nephrology and Medical Clinic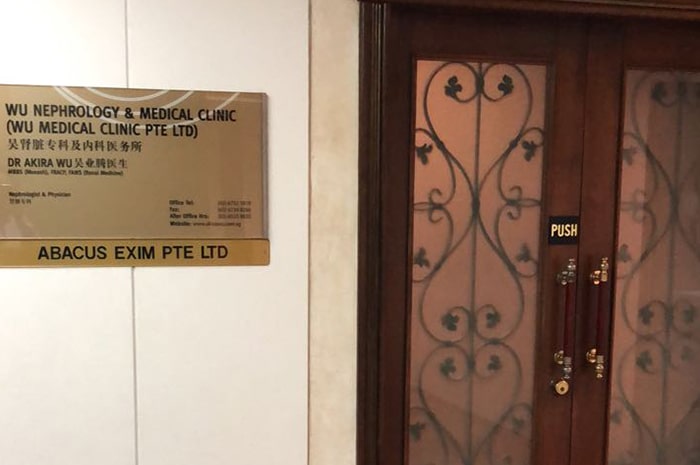 | | |
| --- | --- |
| BEST FOR | Wide range of nephrology services |
| WEBSITE | http://www.drakirawu.com.sg/ |
| ADDRESS | Mount Elizabeth Medical Centre 3 Mount Elizabeth #16-12 Singapore 228510 |
| CONTACT DETAILS | 65-6732 1819 |
The most impressive thing about the main kidney specialist at Wu Nephrology and Medical Clinic is that he serves in both local and international medical centres. His fame and experience both locally and abroad prove that he's truly one of the best nephrologists in Singapore.
They provide prevention and treatments for all types of kidney disease and kidney failure, all forms of dialysis, and management of high blood pressure. With the skilled nephrologist and these medical services, you can surely rely on their capabilities.
Highlights
Dr. Francisco Salcido-Ochoa
BEST FOR
Personalised, holistic & empathetic medical care
WEBSITE
https://www.franciscokidneycentre.com/dr-francisco
ADDRESS
Francisco Kidney & Medical Centre, Mount Elizabeth Novena Hospital, #07-32, 38 Irrawaddy Rd, Singapore 329563
CONTACT DETAILS

Tel: + 65 62619066

Fax + 65 62619166

OPERATING HOURS

Office clinic visits Mon-Fri 9:00-17:00 H

Office clinic visits Sat 9:00-12:00 H

Tele-medicine (webcam) Mon-Sat 9-18:00 H

Nights, Sun & Public Holidays No service/Family time (only if urgent)
Dr Francisco Salcido-Ochoa is a nephrologist that currently works at Mount Elizabeth Novena Hospital. He offer various services to his patients, including clinic visits, home care, and telemedicine.
His main interests lie in prevention, treatment, and diagnosis of numerous kidney disorders. He focuses on holistic patient care while also putting emphasis on the role of diet and lifestyle in self care.
Dr. Francisco Salcido-Ochoa maintains his holistic services by partnering with various specialists and corporations all around Singapore. There's no doubt that he's one of the best nephrologists you can count on.
Highlights
More than 10 years of experience
Wide range of services
Focuses on holistic patient care
Runs free and commercial educational programmes
And that's our list of the best nephrologists in Singapore. If you'd like to recommend more clinics that you think we missed on our list, feel free to share them with us and we'll review them!
Kidney diseases are also the expertise of some urologists so you might want to look at these best urologists in Singapore. They specialise in treating certain kidney-related conditions, giving you more options to choose from.