Top 10 Best Urologists in Singapore for 2021
If you're in need of the top urologists in Singapore, you're in the right place. We're here to take a look at the best doctors of urology in Singapore, whether for male reproductive health or urinary tract concerns.
To find the best specialists in this field of medicine, we trawled the country's hospitals and clinics for the best-credentialled, most experienced, and most-positively-reviewed Singapore urologist. We also considered patient outcomes and the quality of the establishments from which they operate.
At the end of it, there were 10 who clearly stood out from among the rest. So without further ado, let us present the best urologists in Singapore.
(Note: This list is in no particular order.)
Dr. Ronny Tan – Urologist Singapore
BEST FOR 
Urological Prosthetic Surgery
SERVICES
LiESWT, Surgeries, TUVP, Testosterone therapy, Male subfertility treatment, Vasectomy
WEBSITE
https://www.drronnytan.com
ADDRESS
Parkway East Medical Centre 319 Joo Chiat Place, Suite 02-05 Singapore 427989
CONTACT DETAILS
+65 6432 8239
OPERATING HOURS
Mon – Fri : 09:00 – 17:00
Saturday : 09:00 – 12:00
Dr. Ronny Tan is a urologist that specialises in men's urological health. He is well-versed in handling a variety of problems, may it be erectile dysfunction, testosterone deficiency, or other male reproductive system irregularities.
Certified by the Specialist Accreditation Board, there's no doubt that he is one of the best in his field. Under his care, you can rest assured that your urological health will be in good hands.
Highlights
Certified by the Specialist Accreditation Board
One of the first to be trained in urological prosthetic surgery
Fully-equipped and sterile clinic
Constantly updated knowledge and equipment
Dr. Shirley Bang – Advanced Urology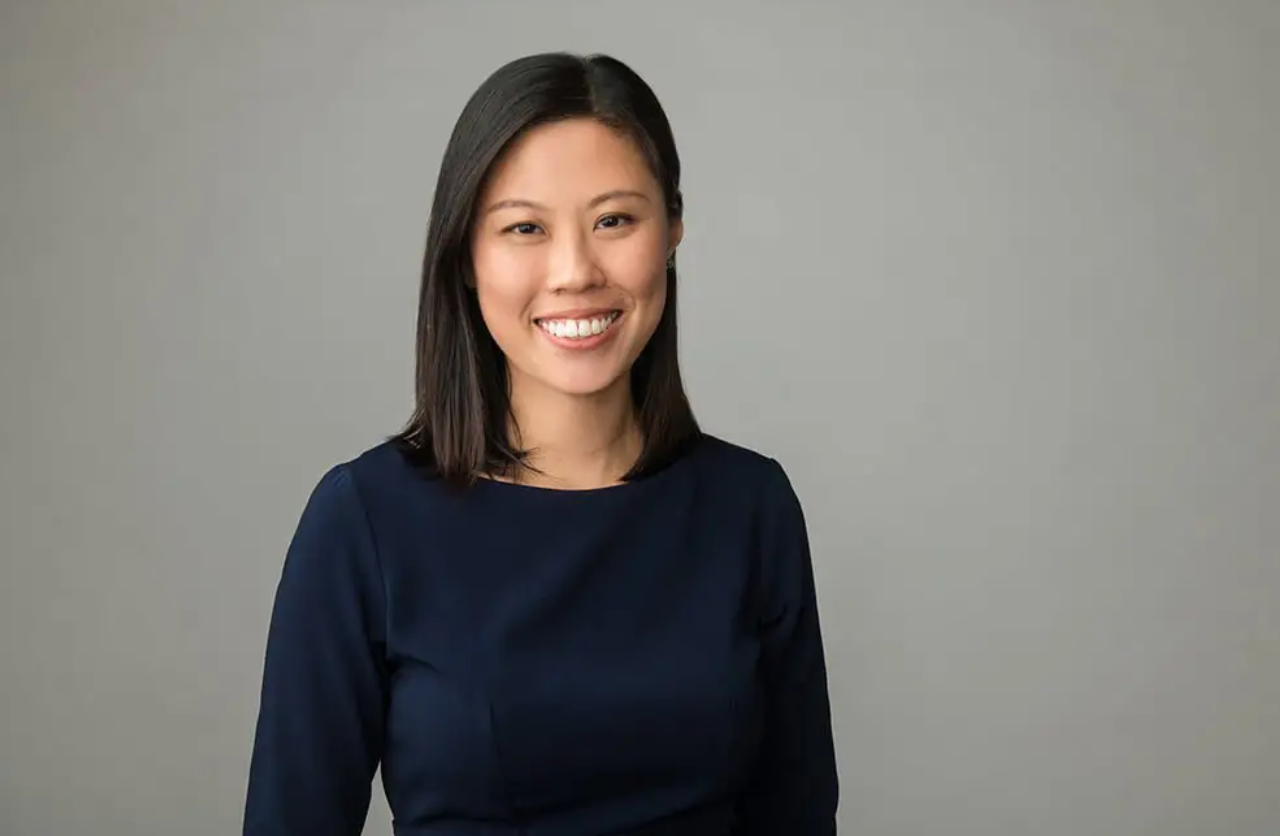 BEST FOR 
Female urology, bladder function disorders, neuro urology
SERVICES
https://www.femaleurologistsingapore.com/
WEBSITE
https://www.femaleurologistsingapore.com/
ADDRESS
Mount Elizabeth Specialist Centre

 

 

38 Irrawaddy Road,
Suite 07-40,
Singapore 329563

CONTACT DETAILS
+65 6432 8281
OPERATING HOURS

Monday to Friday:
9:00am to12:30pm
2:00pm to 5:00pm
Saturday:
9:00am to 12:30pm
Sunday / Public Holidays:
Closed
If you're looking for a female urologist in Singapore that's highly experienced and trained overseas, you should consider Dr. Shirley Bang.
Dr. Bang is certified by the Singapore Medical Council as a urological specialist. Her training has brought her to New Zealand and the UK, where she did her subspecialty fellowships.
Today, she specializes in a wide range of procedures and urological conditions. For instance, she regularly performs male and female urinary incontinence procedures, as well as intra-vesical injections and bladder augmentation.
Experience-wise, she's easily one of the best urologists in Singapore. She's also fluent in Cantonese, Malay, English, and Mandarin, so it's easy to express your concerns to her.
Highlights
Male and female urological treatments
Overactive bladder syndrome treatments
S H Ho Urology and Laparoscopy Centre
| | |
| --- | --- |
| BEST FOR  | Wide Area of Expertise |
| SERVICES | Urine Stones, Prostate Problems, Laser Circumcision, UTI, Vasectomy, Endoscopy, and Urine Leakage |
| WEBSITE | http://urologycentre.com.sg/ |
| ADDRESS | Gleneagles Medical Centre #09-18, Singapore 25849 |
| CONTACT DETAILS | +65 6475 2512 |
| OPERATING HOURS | Monday – Saturday, 9:00 AM – 5:00 PM |
If you're seeking a urology clinic with a vast area of expertise, then S H Ho Urology and Laparoscopy Centre might be the one you're looking for. Its doctors are experts on urinary tract infection, prostate problems, urine stones, vasectomy, endoscopy, erectile dysfunction, and sexually transmitted diseases.
On top of these, it's a clinic equipped with state-of-the-art and advanced medical technologies that are crucial in treatments and surgeries — which is why we've named it one of the best urology clinics in Singapore.
Of course, all of its urologists are trained and experienced in a vast number of issues so if you need a urology specialist in Singapore that has performed numerous procedures before, they should be top of mind. 
Highlights
Experienced urologists
Full range of equipment
Minimally invasive surgeries
Urohealth Medical Clinic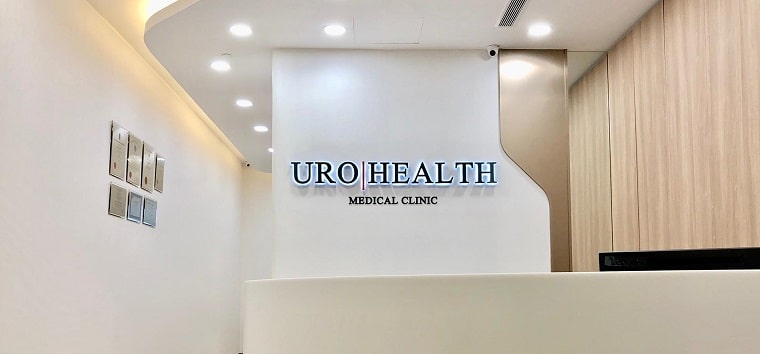 The Urohealth Medical Clinic is located at Mount Elizabeth Hospital, which is the leading private hospital in Singapore. With their talented and skilled urologists, they provide medical treatments for conditions such as urinary tract, prostate, kidneys, and bladder.
This urology clinic in Singapore handles more advanced stages of urological issues such as cancer so that's something important to keep in mind. 
Highlights
Cancer treatments
Adult circumcision
Robotic surgery
Pearllyn Quek Urology and Bladder Control Centre
BEST FOR 
Female Patients
SERVICES
Kidney Stones, Kidney Cancer, Bladder Cancer, Prostate Cancer, Prostatitis, and Voiding Disorders
WEBSITE
bladdercontrol.com.sg
ADDRESS
38 Irrawaddy Rd, Mount Elizabeth, #11-59 Medical Centre S329563, Singapore 329563
CONTACT DETAILS
+65 6352 0880 |

[email protected]

OPERATING HOURS
Monday – Saturday, 9:00 AM – 5:00 PM
Pearllyn Quek Urology and Bladder Control Centre is considered one of the best urology clinics in Singapore for female patients because it specialises in female urological conditions. It accepts patients of all ages, from teens to elderly females.
What's more, it's headed by two female urologists in Singapore who have been in the field for quite some time, so patients can be assured that they're in safe hands.
It's also known for having a friendly and comfortable atmosphere, helping patients be at ease before undergoing a treatment. Hands down, the best urologist in Singapore for females. 
Highlights
Cutting-edge management
Advanced medical equipment
Dr. Lee Fang Jann – Starmed Specialist Center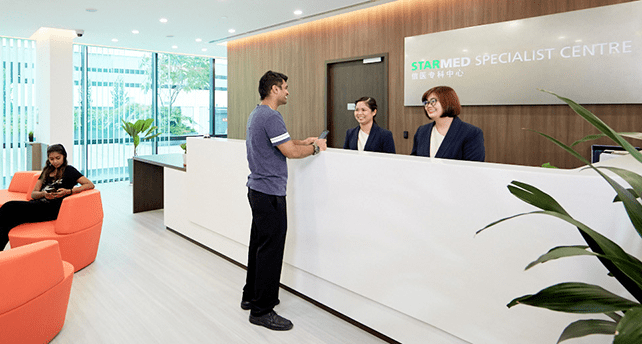 BEST FOR 
Male subfertility and kidney and prostate surgeries
SERVICES
Urology
WEBSITE
https://starmedspecialist.com/
ADDRESS
12 Farrer Park Station Rd, #05-01, Singapore 217565
CONTACT DETAILS
+65 6322 6333
OPERATING HOURS
Monday to Friday – 8:30am–6pm

 

 

Saturday – 8:30am–1pm
Farrer Park Hospital has a sub-unit department called Starmed Specialist Center that focuses on treating male urology-related concerns as well as kidney, prostate, and other urinary diseases.
They offer a wider range of services that include more specific treatments and surgeries for particular conditions.
To those who are looking for a second opinion on something urology-related, this could be your ideal option since they have many different areas of expertise within that field.
Highlights
Minimally invasive surgical procedures
Diagnostic services
General urological treatments for both genders
Tan Urology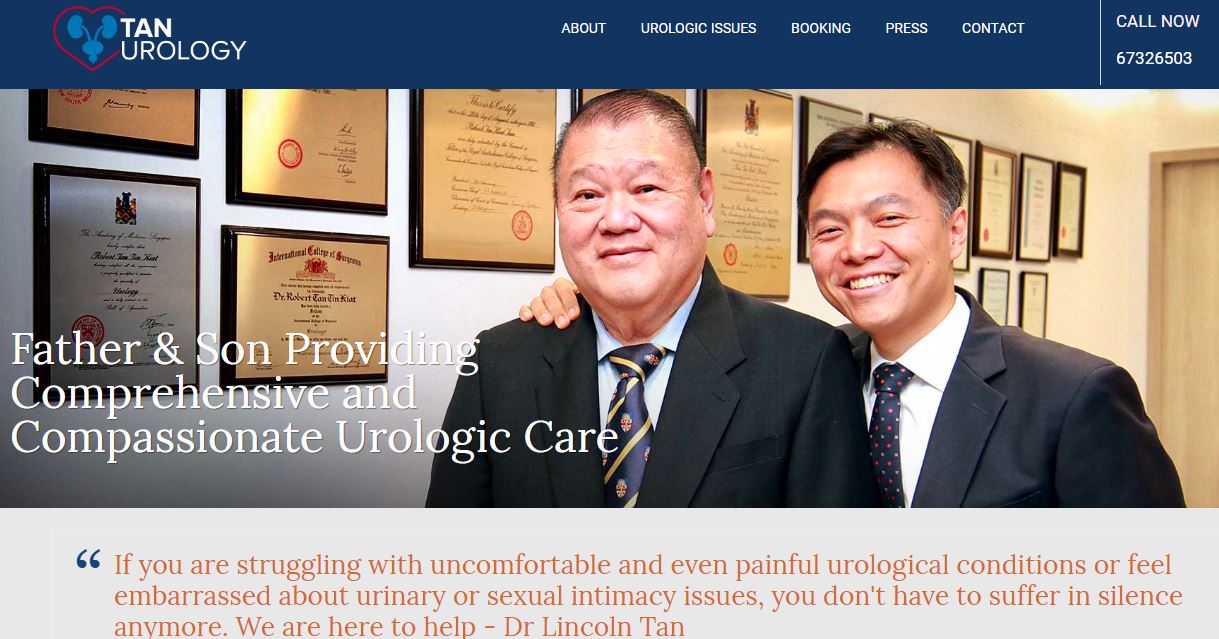 Tan Urology is a unique father-and-son urological practice. Dr. Robert Tan's decades of invaluable experience in combination with Dr. Lincoln Tan's' cutting-edge knowledge and expertise, will provide seamless, comprehensive and compassionate urological care for you and your family or friends.
Highlights
Kidney Sparing Treatments
Treatments for Urinary Tract Stones
Advanced Prostate Cancer Diagnostics
Catheter-less Robotic Radical Prostatectomy
Dr Ong Chin Hu – ACE Urology Clinic & Surgery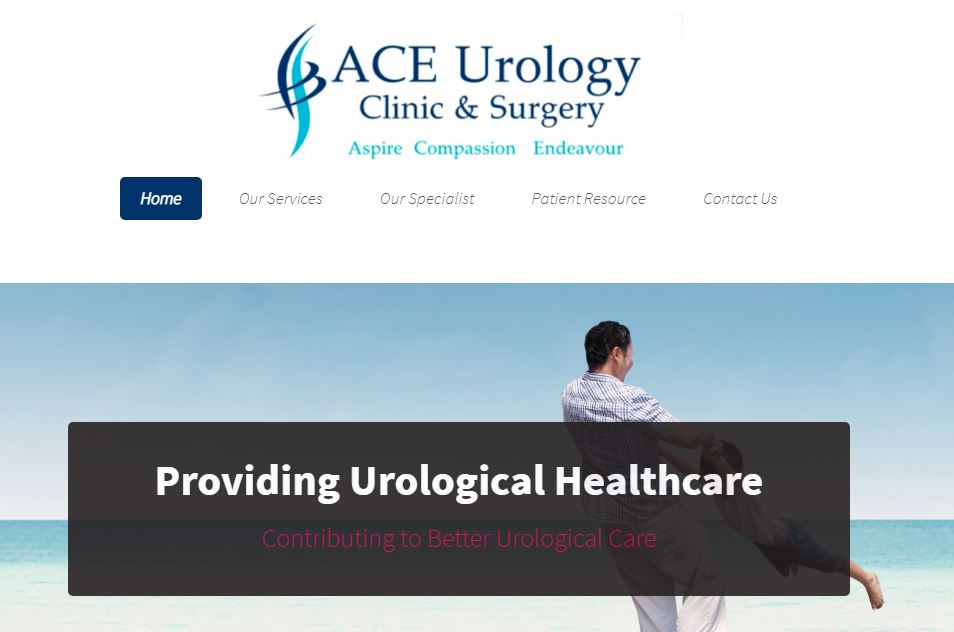 BEST FOR  
Urology team management for each patient
SERVICES

Screening and treatment of haematuria (blood in urine)
Screening and treatment of abnormal PSA (prostate cancer screening)
Urinary tract stones/kidney STONES
Prostate, Kidney, Bladder and Testicular CANCERS
Minimally invasive, Endoscopic & Robotic Urological surgery
Male & Female Urinary tract symptoms e.g. BPH, LUTS, Voiding dysfunction.
Urinary tract Infections (Male & Female) e.g. recurrent UTIs, Prostatitis
Male Sexual Dysfunction e.g. erectile dysfunction, premature ejaculation.
Sexually Transmitted Disease
Male andropause (late onet hypogonadism)
Male Circumcision (above 12 year-old), Vasectomy etc.

WEBSITE
http://www.aceurology.com/home.html
ADDRESS
#07-56 Mount Alvernia Medical Centre D, 820 Thomson Road, Singapore 574623
CONTACT DETAILS
Tel: +65 6255 1005
Fax: +65 6255 1006
Email:

[email protected]

OPERATING HOURS
Monday To Friday: 9.00am – 5.00pm
Saturday: 9.00am – 1.00pm
Closed on Sunday and Public Holidays
Dr. Ong Chin Hu is ACE Urology Clinic & Surgery's specialist urologist. Dr. Hu is a qualified Urologist with Fellowship recognition from various international institutions including the Academy of Medicine, Singapore, the European Board of Urology, and the Royal College of Surgeons' of Glasgow. He is currently a visiting Urologist to Mount Elizabeth Hospital (Orchard & Novena), Gleneagles Hospital, Mt Alvernia Hospital and Parkway East Hospital. He is also the assistant renal transplant surgeon with the National Organ Transplant Unit (NOTU). Dr. Ong Chin Hu also speaks fluent Bahasa Melayu/Indonesia, English, Mandarin and Hokkien.
Highlights
Urological check-up & diagnosis
Singapore General Hospital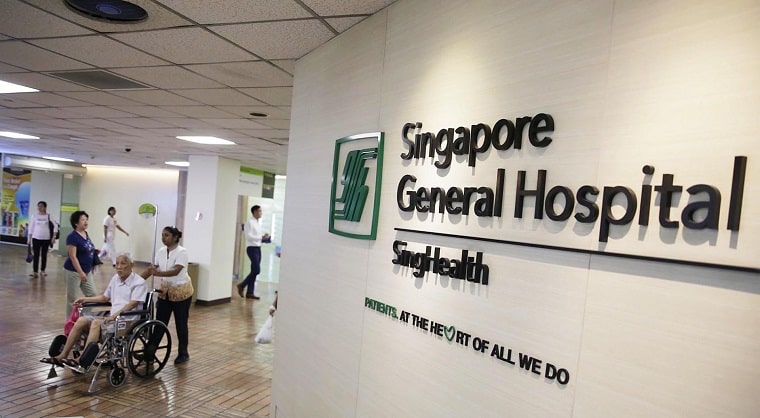 | | |
| --- | --- |
| BEST FOR   | Urology team management for each patient |
| SERVICES | Urology |
| WEBSITE | https://www.sgh.com.sg/ |
| ADDRESS | Outram Road Singapore 169608 |
| CONTACT DETAILS | +65 6222 3322 |
| OPERATING HOURS | Daily, 24 hours |
Singapore General Hospital is a public hospital so the location and services are highly accessible. They have a very well-equipped and well-staffed urology department too.
Their medical specialists also have their own areas of expertise such as laser surgery, constructive urology, renal transplantation, and other fields. The speciality clinics are categorised into female urology and incontinence, prostate and urinary stone disease, male infertility and andrology, and many more.
The most outstanding service that they provide is the team management for each patient, which will include more than one urologist. 
Highlights
Benign prostatic enlargement and hyperlapsia treatment
Impotence treatment
Urological surgeries
Dr. Colin Teo – Urologist Singapore
BEST FOR 
Urological treatments and diagnoses
SERVICES
Urological Treatments and Surgery, Urological Check-ups, Testicular Surgery, Fertility Treatments and Evaluations, Sterilization
WEBSITE
https://www.urologistsingapore.com/
ADDRESS
Gleneagles Hospital Annexe Block 6A, Napier Road, #05-36D, Singapore 258500
CONTACT DETAILS
+65 6432 8245
OPERATING HOURS
Monday – Friday, 8:30 AM – 5:00 PM

 

Saturday, 8:30 – 12:30 PM
Urologist Singapore is a clinic helmed by one of the best urology specialists in Singapore, Dr. Colin Teo. Its patients are mainly ones with complaints of the kidney and prostate, but the clinic also provides healthcare services for those in need of such things as sterilization, fertility treatments, and more.
Thanks to the expertise of Dr. Colin Teo, this clinic can provide a number of the most advanced procedures performed in urological care. These include robotic keyhole surgery, shockwave therapy, laparoscopic surgery, and endoscopic surgery.
Highlights
Helmed by a very skilled urologist
Wide range of services
Latest urological treatments are available
---
These urologists should be more than capable of seeing to your health concerns capably. If you think we missed a great urologist who also deserves to be on this list, though, please let us know!
Note that this is also just one of our many roundups for the top medical personnel and facilities in the country. You may want to check out the others, like our list of the best orthopaedic specialists in Singapore, for example.
---
*Images are taken from each company's official websites/social media.