If you're in need of the top urologists in Singapore, you're in the right place. We're here to take a look at the best urological doctors in the country, whether for male reproductive health or urinary tract concerns.
To find the best specialists in this field of medicine, we trawled the country's hospitals and clinics for the best-credentialled, most experienced, and most-positively-reviewed doctors. We also considered patient outcomes and the quality of the establishments from which they operate.
At the end of it, there were 9 who clearly stood out from among the rest. So without further ado, let us present the best urologists in Singapore:
1. Dr. Colin Teo Urology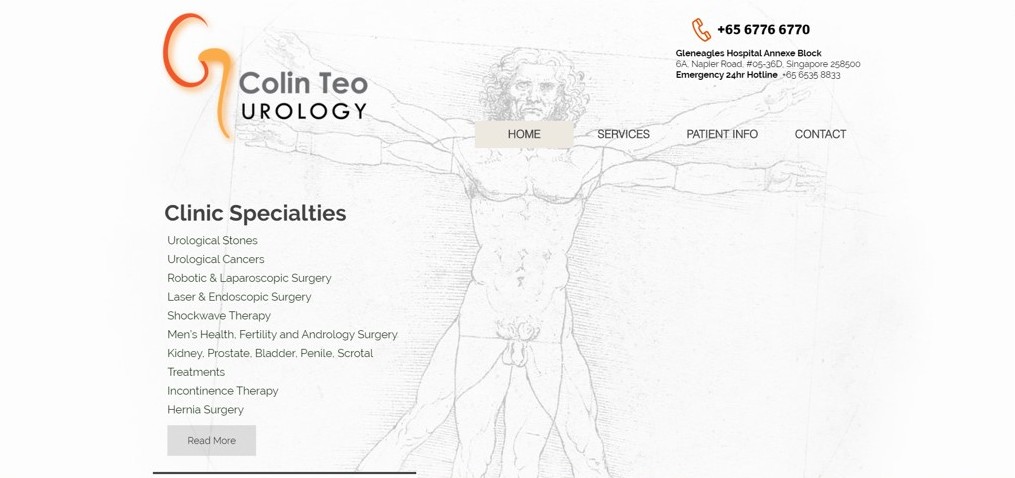 BEST FOR 
Urological treatments and surgery; 5.0-rating on Google Reviews
SERVICES
Full range of urological procedures
WEBSITE
https://www.urologistsingapore.com/
ADDRESS
Gleneagles Hospital, 6A, Napier Road, #05-36D, Singapore 258500
CONTACT DETAILS 
+65 3129 2580
OPERATING HOURS
Monday to Friday: 8.30 am to 5.00 pm
Saturday: 8.30 am to 12.30 pm
Sunday & PH: Closed
Patients of Colin Teo Urology can benefit from Dr. Colin Teo's wide range of expertise and advanced medical training. Dr. Teo, a Senior Consultant Urologist, was the Founding Head of the Urology Department in Khoo Teck Puat Hospital while in public service and is a recipient of multiple patient service champion Gold excellence awards.
Dr. Teo has a wide area of expertise and experience in Urinary Stone Disease harnessing Shockwave and Laser Endoscopic equipment & Endourology techniques. His special interests are in Laparoscopic and Robotic key-hole surgery in Urological Cancers such as kidney, prostate, bladder, testicular & penile cancers. He has a passion for Men's Health, Andrology & Subfertility along with a strong foundation in General Urology treating Benign Prostatic Hyperplasia (BPH), overactive bladder and inguinal hernia treatment.
SERVICE HIGHLIGHTS
Convenient online booking
Wide variety of treatments
Accepts a range of health plans
CUSTOMER REVIEWS
Dr. Colin Teo is sought after by his patients for his professionalism and compassion.
In a Google review, Mike Peace gave him and the clinic a perfect 5-star rating.
He described Dr. Teo as a "very knowledgeable and highly skilled specialist surgeon." In addition, he shared, "As a bonus, he has a super nice and kindly bedside manner! Highly recommended!"
2. Dr. Tan Yung Khan – Urohealth Medical Clinic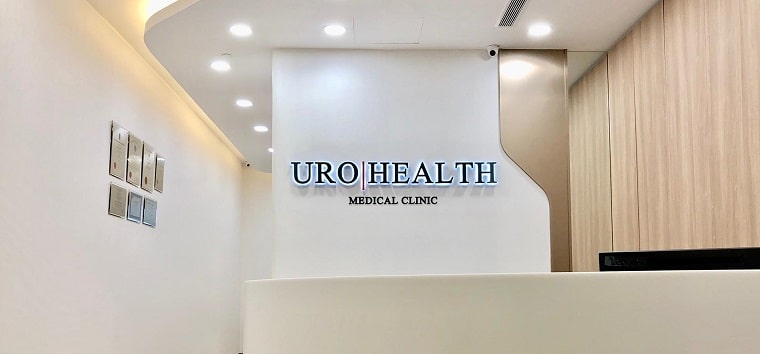 BEST FOR 
Critical bladder and prostate treatments
SERVICES
http://www.urologysingapore.com/services/
WEBSITE
http://www.urologysingapore.com/
ADDRESS
Mount Elizabeth Novena Hospital 38 Irrawaddy Road #05-26 Singapore 329563
CONTACT DETAILS
(65) 3129 2889
OPERATING HOURS
Monday-Friday: 9am – 5pm

Saturday: 8.30am – 12.30pm

Sunday and Public Holidays: Closed
The Urohealth Medical Clinic is located at Mount Elizabeth Hospital, which is the leading private hospital in Singapore. With their talented and skilled urologists, they provide medical treatments for conditions such as urinary tract, prostate, kidneys, and bladder.
SERVICE HIGHLIGHTS
Cancer treatments
Adult circumcision
Robotic surgery
CUSTOMER REVIEWS
At the Urohealth Medical Clinic, consultations, treatments, guidance, surgeries, and maintenance assistance are all provided in their services. With or without insurance, they will accept patients who are in need of immediate admission.
The general consensus is that they are one of the top providers of medical services in the country. A reviewer from the official Facebook account praised the hospital's medical team and wrote:
"A wonderful team with a passionate and caring doctor. Fully competent to handle all urological issues."
3. Dr. Lee Fang Jann – Starmed Specialist Center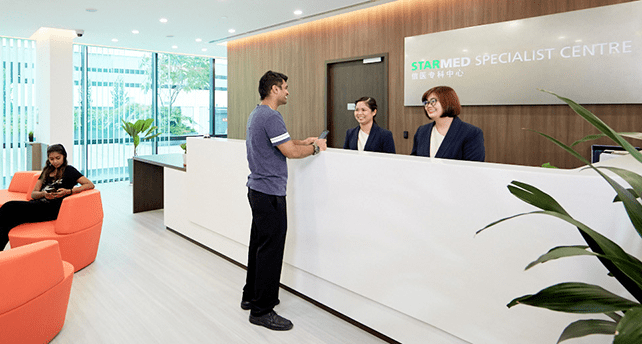 Image Source: HMI Institute of Health Sciences
BEST FOR 
Male subfertility and kidney and prostate surgeries
SERVICES
Urology
WEBSITE
https://starmedspecialist.com/
ADDRESS
12 Farrer Park Station Rd, #05-01, Singapore 217565
CONTACT DETAILS
+65 6322 6333
OPERATING HOURS
Monday to Friday – 8:30am–6pm

Saturday – 8:30am–1pm
Farrer Park Hospital has a sub-unit department called Starmed Specialist Center that focuses on treating male urology-related concerns as well as kidney, prostate, and other urinary diseases.
They offer a wider range of services that include more specific treatments and surgeries for particular conditions.
To those who are looking for a second opinion on something urology-related, this could be your ideal option since they have many different areas of expertise within that field.
SERVICE HIGHLIGHTS
Minimally invasive surgical procedures
Diagnostic services
General urological treatments for both genders
CUSTOMER REVIEWS
Starmed Specialist Center has various specialities and facilities for urology, and have received kudos from patients for their doctors' expertise. Alan recommended their services and gave this feedback on Google Reviews:
"Convenient location, friendly staff and very reasonable prices. I did my full health checkup and got everything done quickly. What I really liked is that they occupy a few floors in the building and have all the necessary machines in one location. Denise their CSR manager was also a great help in getting my insurance payments sorted out. Highly recommended"
4.  Raffles Urology Center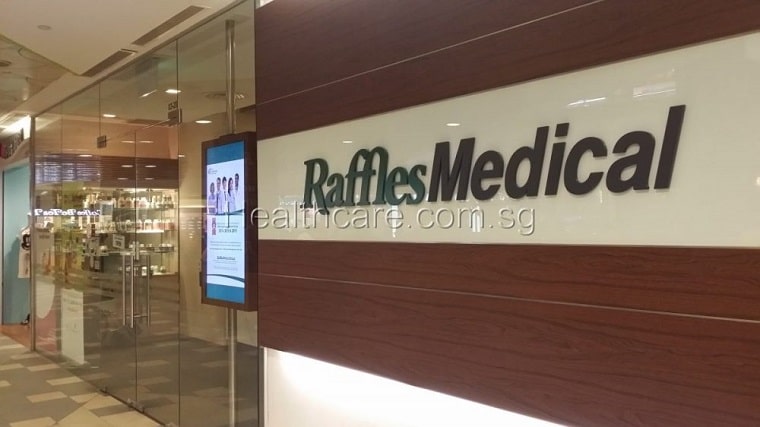 Image Source: Healthcare Singapore
BEST FOR 
Prostate cancer screening and urethral surgery
SERVICES
Urology
WEBSITE
https://www.rafflesmedicalgroup.com
ADDRESS
Level 13, Raffles Specialist Centre 585 North Bridge Road Singapore 188770
CONTACT DETAILS
(65) 6311 2100, (65) 6311 2107
OPERATING HOURS
Monday – Friday: 8.30 am – 6.00 pm

Saturday: 8.30 am – 1.00 pm
Raffles Urology Centre has a group of urologists who can attend to the concerns of many patients. Each specialist has years of experience too, so you can be certain that you will receive immediate and professional treatment.
Some of their urology services include treatment for prostate diseases, female bladder concerns, urinary complications, kidney stones, circumcision, etc. They prioritise men's health, which is why they have a men's vitality and prostate screening package.
SERVICE HIGHLIGHTS
Scarless transvaginal surgery
Health screening packages
Up-to-date equipment
CUSTOMER REVIEWS
Raffles Urology Centre may not have free initial consultations but they have treatment packages for critical conditions that are way better than those at most other centres, say patients, as they are more convenient and budget-friendly.
Michael Lawler was very impressed with its facilities and left a positive review on Google Reviews:
"I found this hospital to be really good and as such am very surprised by the low rating, my visit is through travel insurance so perhaps that made a difference? Excellent attention and technologies, doctor was fantastic, nurses excellent, food was ok. Room was great too. I guess we can only review our own experience."
5. Khoo Teck Puat Hospital

| | |
| --- | --- |
| BEST FOR   | Urological emergencies and trauma |
| SERVICES | Urology |
| WEBSITE | https://www.ktph.com.sg/ |
| ADDRESS | 90 Yishun Central Singapore 768828 |
| CONTACT DETAILS | +65 6555 8000 |
| OPERATING HOURS | Daily, 24 hours |
The urology department in Khoo Teck Puat Hospital has several consultants with particular expertise in different urological sub-specialities. Their services include cancer treatments, stone procedures, female and male urology, and other treatments.
They have a large facility for diagnostics and analysis for more accurate and detailed results. With the competent skills of the doctors and excellent equipment, they will surely be able to treat many different conditions.
The main hospital is also known for being active in events that raise health awareness, which makes them trustworthy for most patients.
SERVICE HIGHLIGHTS
Male and female urology problems
Cancer treatments
Kidney stone surgeries
CUSTOMER REVIEWS
With the high number of urology surgeons at Khoo Teck Puat Hospital, most patients appreciate that they will always be accommodated with great service in the hospital.
Judy Phang expressed her gratitude towards the professionalism of the team and wrote this on Google Reviews:
"I am impressed at the hospital professionalism in providing health care. Nurses support, doctors supports are very professional. The Team of doctors and nurses touch deep in my heart. Really take my hats off to them. I was warded in A & E for rupture of appendicitis. Nurses, medical team and the surgical team were very professional, i could feel i am treated as a special individual. They explained my condition and the treatment very patiently and monitored my recovery during my stay.My deepest gratitude to the team of doctors and nurses at KTP hospital. Thank you."
6. Tan Urology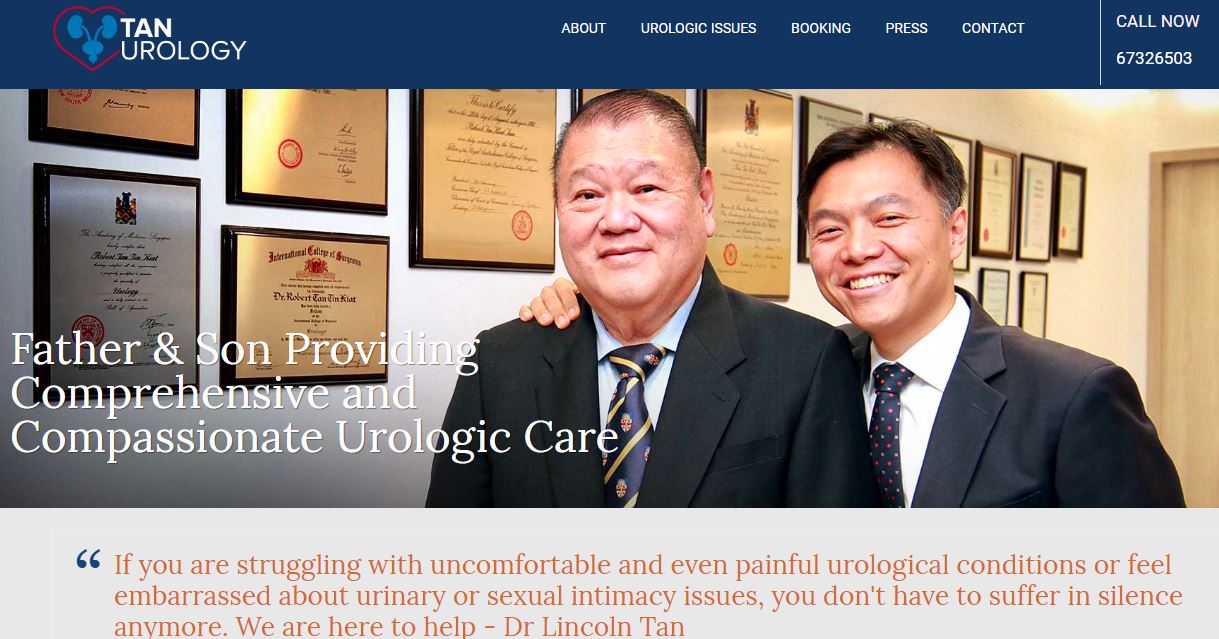 Image Source: Tan Urology's Website
BEST FOR  
Urology father-and-son team; 5.0-rating from 14 Google Reviews
SERVICES
https://www.tanurology.com.sg/book-an-appointment/
WEBSITE
https://www.tanurology.com.sg/
ADDRESS
6 Napier Road #05-03
Gleneagles Medical Centre
Singapore 258499
CONTACT DETAILS
Tel: +65 67326503
Fax: +65 67323978
OPERATING HOURS
Mon – Fri: 9am – 5pm
Sat: 9am – 1pm
Sunday & Public Holidays: Closed
Tan Urology is a unique father-and-son urological practice. Dr. Robert Tan's decades of invaluable experience in combination with Dr. Lincoln Tan's' cutting-edge knowledge and expertise, will provide seamless, comprehensive and compassionate urological care for you and your family or friends.
SERVICE HIGHLIGHTS
Kidney Sparing Treatments
Treatments for Urinary Tract Stones
Advanced Prostate Cancer Diagnostics
Catheter-less Robotic Radical Prostatectomy
CUSTOMER REVIEWS
5-star Google review from Linda Lcc:
"My husband and I, highly recommend Tan Urology. Dr Lincoln is so friendly and caring but most of all so patient to answer all our questions and to explain to us all the issues involved. We were put so much at ease by the medical staff that we almost forgot that we were in a medical centre. Thanks again for my husband quick recovery. Wish Tan Urology Much Success and Prosperity." 
7. Sengkang General Hospital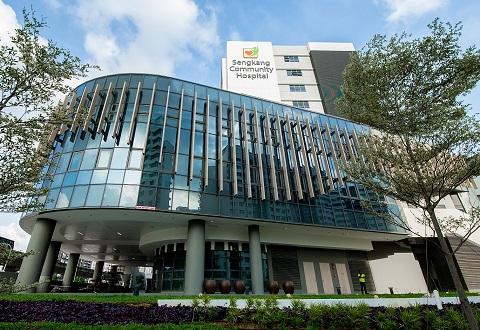 | | |
| --- | --- |
| BEST FOR   | General and sub urological specialities |
| SERVICES | Urology |
| WEBSITE | https://www.skh.com.sg/patient-care/ |
| ADDRESS | 110 Sengkang East Way, Singapore 544886 |
| CONTACT DETAILS | +65 6930 6000 |
| OPERATING HOURS | Daily, 24 hours |
Sengkang General Hospital offers a broad range of urological services. This includes neurological problems affecting the lower urinary tract, male infertility problems, female urinary concerns, and other services.
Each medical specialist team collaborates for a more precise and elaborated diagnosis for each condition. This teamwork has helped many of their patients throughout the years.
SERVICE HIGHLIGHTS
Treatment for kidney disorders
Radical prostatectomy
Male sexual dysfunction treatment
Men's health
CUSTOMER REVIEWS
Sengkang General Hospital has earned countless recommendations from former patients and their families because of the attentive and skilled team as well as the first-class facilities. Kristian Liem shared his experience and left his comment on Google Reviews:
"Emergency team (docs & nurses) are super responsive and very attentive. I was warded to isolation room immediately. Once I got chickenpox complications, comfortable and very high tech."
8. Dr Ong Chin Hu – ACE Urology Clinic & Surgery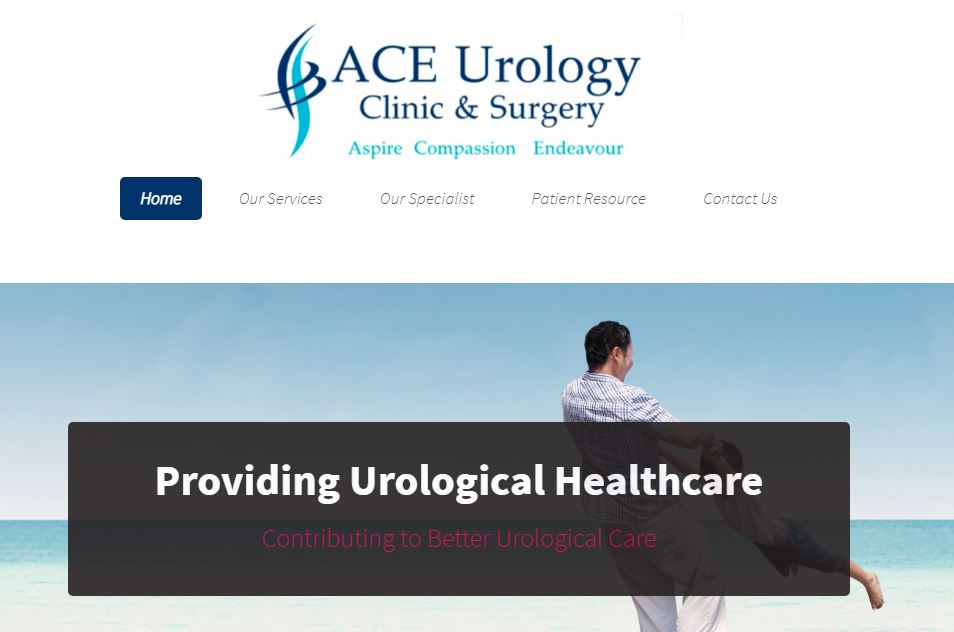 Image Source: ACE Urology Clinic & Surgery's website
BEST FOR  
Urology team management for each patient
SERVICES

Screening and treatment of haematuria (blood in urine)
Screening and treatment of abnormal PSA (prostate cancer screening)
Urinary tract stones/kidney STONES
Prostate, Kidney, Bladder and Testicular CANCERS
Minimally invasive, Endoscopic & Robotic Urological surgery
Male & Female Urinary tract symptoms e.g. BPH, LUTS, Voiding dysfunction.
Urinary tract Infections (Male & Female) e.g. recurrent UTIs, Prostatitis
Male Sexual Dysfunction e.g. erectile dysfunction, premature ejaculation.
Sexually Transmitted Disease
Male andropause (late onet hypogonadism)
Male Circumcision (above 12 year-old), Vasectomy etc.

WEBSITE
http://www.aceurology.com/home.html
ADDRESS
#07-56 Mount Alvernia Medical Centre D, 820 Thomson Road, Singapore 574623
CONTACT DETAILS
Tel: +65 6255 1005
Fax: +65 6255 1006
Email: [email protected]
OPERATING HOURS
Monday To Friday: 9.00am – 5.00pm
Saturday: 9.00am – 1.00pm
Closed on Sunday and Public Holidays
Dr. Ong Chin Hu is ACE Urology Clinic & Surgery's specialist urologist. Dr. Hu is a qualified Urologist with Fellowship recognition from various international institutions including the Academy of Medicine, Singapore, the European Board of Urology, and the Royal College of Surgeons' of Glasgow. He is currently a visiting Urologist to Mount Elizabeth Hospital (Orchard & Novena), Gleneagles Hospital, Mt Alvernia Hospital and Parkway East Hospital. He is also the assistant renal transplant surgeon with the National Organ Transplant Unit (NOTU). Dr. Ong Chin Hu also speaks fluent Bahasa Melayu/Indonesia, English, Mandarin and Hokkien.
SERVICE HIGHLIGHTS
Urological check-up & diagnosis
CUSTOMER REVIEWS
5-star Google review from Cindy Lim:
"Dr Ong is a very kind and compassionate doctor! My father is a stroke patient and travelled a long way to consult him regarding urinal tract infection. He was very attentive towards him and my family, patiently explaining his condition to us, and even helping him to the bed when he was too tired on his wheelchair. Strongly recommend!" 
9. Singapore General Hospital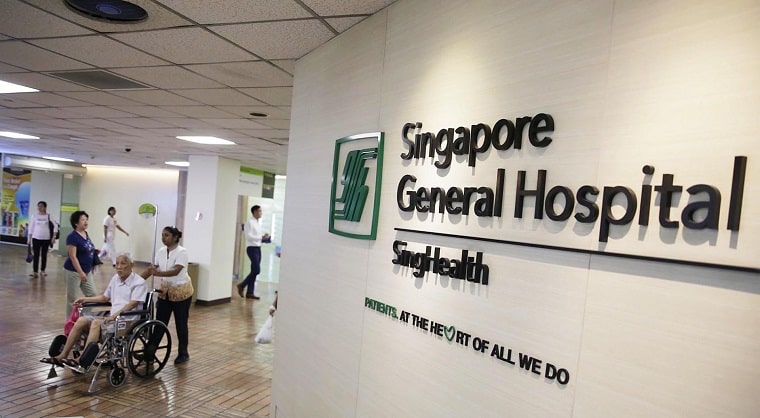 Image Source: Pinterest
| | |
| --- | --- |
| BEST FOR   | Urology team management for each patient |
| SERVICES | Urology |
| WEBSITE | https://www.sgh.com.sg/ |
| ADDRESS | Outram Road Singapore 169608 |
| CONTACT DETAILS | +65 6222 3322 |
| OPERATING HOURS | Daily, 24 hours |
Singapore General Hospital is a public hospital so the location and services are highly accessible. They have a very well-equipped and well-staffed urology department too.
Their medical specialists also have their own areas of expertise such as laser surgery, constructive urology, renal transplantation, and other fields. The speciality clinics are categorised into female urology and incontinence, prostate and urinary stone disease, male infertility and andrology, and many more.
The most outstanding service that they provide is the team management for each patient, which will include more than one urologist. 
SERVICE HIGHLIGHTS
Benign prostatic enlargement and hyperlapsia treatment
Impotence treatment
Urological surgeries
CUSTOMER REVIEWS
Former patients of the urology department in Singapore General Hospital say that the hospital's doctors are excellent and praise the exceptional management. A reviewer from Google Reviews wrote:
"Physio Therapist Cheng Ren Xun Marvin is young but professional and knowledgable in his field.  He is patient towards his patients regardless of interruption and questions.  His recommended exercises for me to practise at home really target and resolve my hip and knee pain and ache quickly.  By Mdm C.H. Lim" 
10. FeM Surgery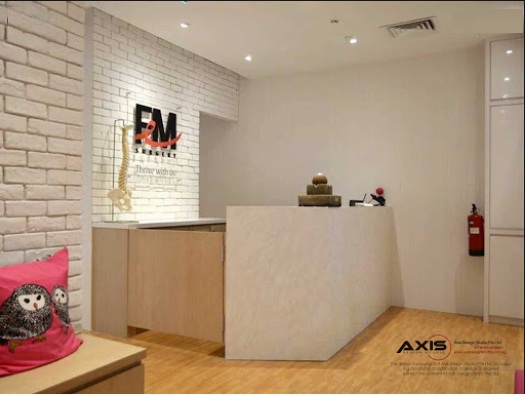 BEST FOR

Quality surgical care

WEBSITE

https://www.femsurgery.com/

ADDRESS

Mount Elizabeth Novena Hospital 38 Irrawaddy Rd, #11-53, Singapore (329563)

Mount Elizabeth Medical Centre 3 Mount Elizabeth Road, #05-02, Singapore (228510)

Mount Alvernia Hospital Medical Centre D 820 Thomson Road, #07-54, Singapore (574623)

401, Macpherson Road #03-09/10, Singapore (368125)

1 Farrer Park Station Road, #11-19, Connexion, Singapore (217562)

401, Macpherson Road #02-11, Singapore (368125)

CONTACT DETAILS

(65) 6339 1101/(65) 6733 3383/(65) 6259 8880/(65) 6283 0950/(65) 6970 7866/(65) 6242 8717
FeM Surgery performs a variety of surgical procedures for both local and international patients and are strictly done only by credible and qualified experts. Each of their patients are guaranteed to be provided with a personalised subspecialty opinion and care by the respective surgeons.
FeM Surgery works on 11 subsidiary specialties including Neurology. From Evaluation and medical treatment of urinary symptoms related to prostate enlargement to Treatment of advanced or recurrent prostate cancer with 1st and 2nd line hormonal treatment before chemotherapy you can trust FeM Surgery to deliver a safe and excellent procedure.
Highlights
Multiple locations for easier access
Uses latest medical technology
Wide scope of expertise
---
These urologists should be more than capable of seeing to your health concerns capably. If you think we missed a great urologist who also deserves to be on this list, though, please let us know!
Note that this is also just one of our many roundups for the top medical personnel and facilities in the country. You may want to check out the others, like our list of the best orthopaedic specialists in Singapore, for example.
---
*Images are taken from each company's official websites/social media.