Our 9 Favourite Clinics for Breast Implants in Singapore
Do you feel like your breasts are disproportionate to your body type? Or maybe you need breast reconstruction services after a rather emotionally draining mastectomy?
Whatever your reason is, you'd no doubt need only the best breast implants in Singapore to achieve the breasts you want.
In this article, we've listed the top Singaporean clinics offering the best breast augmentation services. We also wrote a simple guide to help you choose which implant types and incision sites are best for you.
And if you're looking for more answers to frequently asked questions about the topic, you can also scroll down to the bottom of the page. But before anything else, let's talk about how much breast implant services may cost you.
How Much Do Breast Implant Costs in Singapore
| | |
| --- | --- |
| Type of implants | Price range |
| Saline implants | $1,500-$5,700 |
| Silicone implants | $3,200-$13,800 |
| Gummy bear implants | $6,000-$16,000 |
Aside from the implants themselves, you'll also have to pay for your doctor's labour fees. Here are the other costs you should expect for your breast augmentation procedure.
| | |
| --- | --- |
| Type of services | Starting costs |
| Consultation | $200-$350 |
| Anaesthesia | $700-$1,800 |
| Surgery | $3,000-$7,200 |
| Medications | $60-$200 |
| Post-surgery follow up sessions | Approximately $600 |
The Best Breast Implant Clinics in Singapore
It's time we take a look at what you came here for with these best breast implant clinics. And don't worry because we only listed clinics with board-certified surgeons to ensure your safety and satisfaction!
Dr. Terence Goh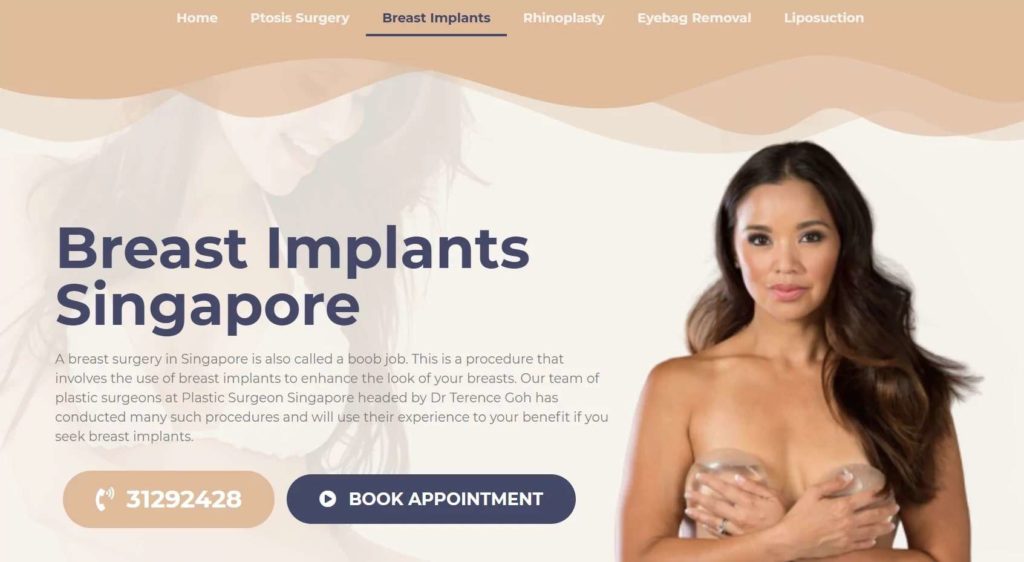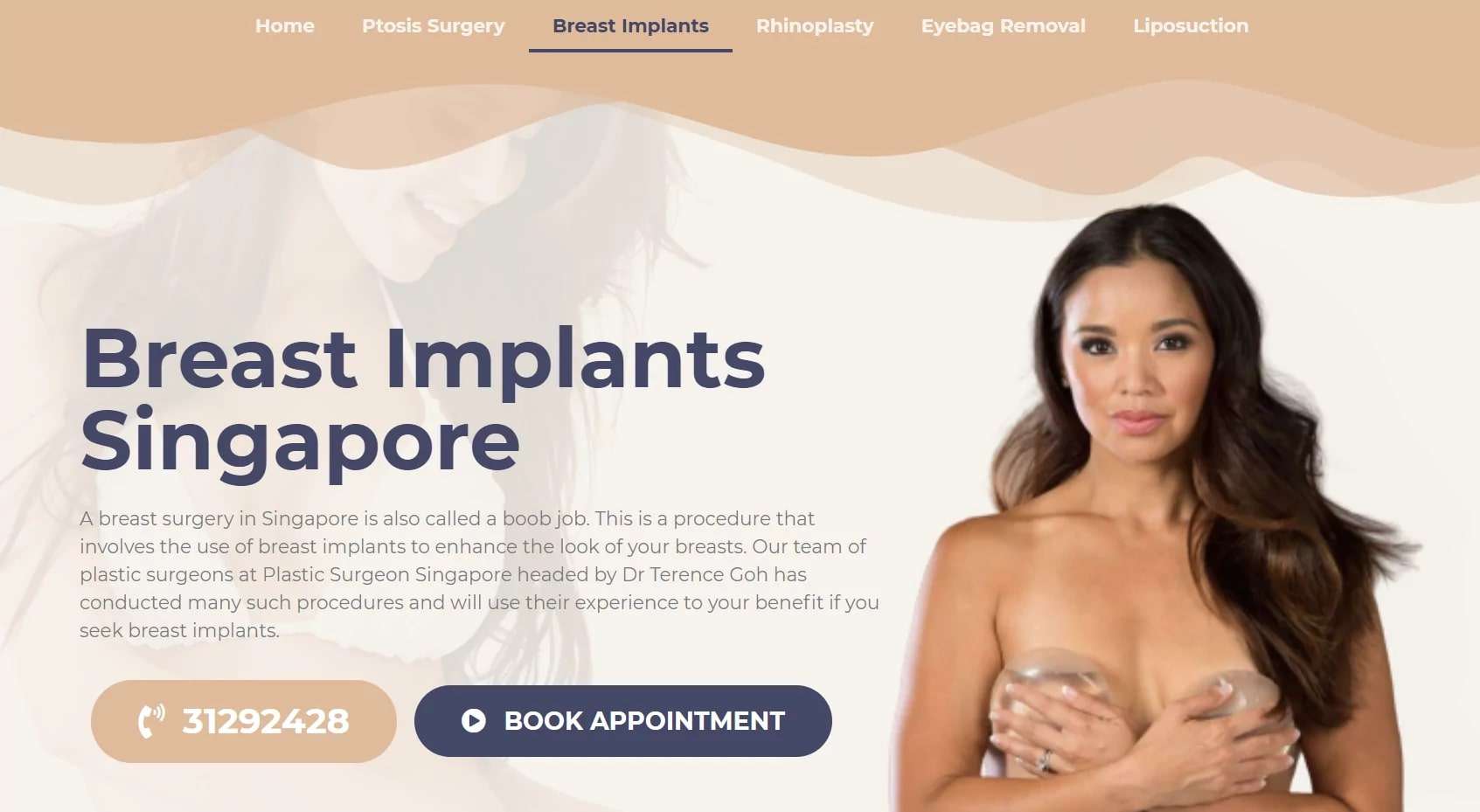 WEBSITE
https://www.plasticsurgeonsingapore.com/breast-implants/
ADDRESS
Royal Square Medical Centre
101 Irrawaddy Road #14-09
Royal Square Medical Centre
Singapore 329565

Mount Elizabeth Orchard
3 Mount Elizabeth #15-11
Mount Elizabeth Medical Centre
Singapore 228510
CONTACT DETAILS
Main Line: (65) 6778 8648 (Novena),
(65) 6767 1648 (Orchard)
WhatsApp: (65) 9649 6648
Email:

[email protected]

OPERATING HOURS
Monday – Friday: 9:00 AM – 6:30 PM
Saturday: 9:00 AM – 1:00 PM
Dr. Terence Goh of Plastic Surgeon Singapore specialises in both aesthetic and reconstructive surgeries. With such expertise, he offers more than just simple breast implantation services as he also does breast lifts to provide fuller and younger-looking breasts.
Plastic Surgeon Singapore even has a full mommy makeover, which involves liposuction and breast augmentation services. So, mothers who want to reclaim their bodies after childbirth can get more services for lesser prices.
For breast augmentation services, this clinic offers all types of breast implant types. Whether gummy bear or textured implants, you name it and Plastic Surgeon Singapore has it.
Additionally, Dr. Goh is also an expert when it comes to microsurgeries, especially when it comes to breast reconstruction. So, patients who have undergone medical breast surgeries and want to restore their breasts may also benefit from his services.
Because of these benefits, Plastic Surgeon Singapore also draws many clients. So, waiting times can be very long.
Mommy makeover package
Additional breast lift services
Offers all types of breast implants (including fat transfer)
Expertise in breast reconstruction microsurgery
Allure Plastic Surgery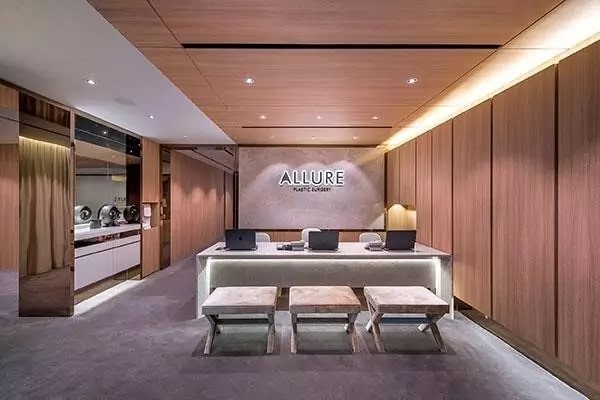 WEBSITE
https://www.allureplasticsurgery.sg/
ADDRESS
435 Orchard Road #22-04 Penthouse Floor Wisma Atria Singapore 238877
CONTACT DETAILS
+65 6432 8206
OPERATING HOURS
Monday – Thursday: 10:00 AM – 6:00 PM
Friday: 10:00 AM – 8:00 PM
Saturday: 10:00 AM – 3:00 PM
Allure Plastic Surgery is all about improving aesthetics which is why clients can rely on this clinic for its wide array of invasive and non-invasive procedures. It provides the best breast implants in Singapore in two ways.
First, it provides a thorough explanation of the necessary treatments and is open to discussion during pre-surgery consultations. Second, Allure Plastic Surgery groups its breast procedures with other treatments, like tummy tucks, in package deals.
Allure Plastic Surgery also goes beyond when it comes to customer services. It does so by assisting foreign clients with booking accommodations and chauffeur service.
Dr Samuel Ho of Allure Plastic Surgery is also trained in Korea. Thus, he knows exactly how to deliver the most natural results for Asian bodies and faces with minimal scarring.
Despite these advantages, Allure also has its downsides. Because while this clinic does have scheduled aftercare sessions, clients have expressed discontent over its poor accountability.
Helps with accommodations booking
Packaged procedures
Expertise in the Asian body
Offers all types of breast implants
Complaints about poor accountability and aftercare
Hong Plastic Surgery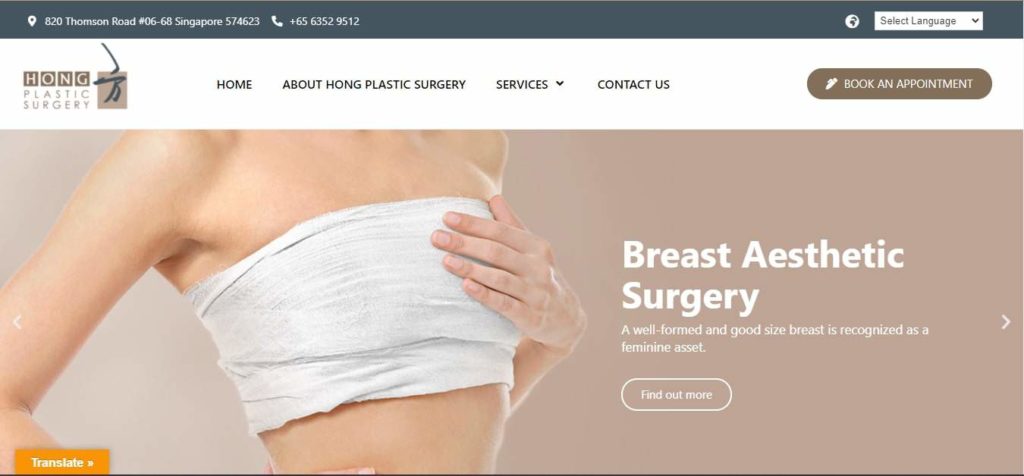 When it comes to breast plastic surgeries, Hong Plastic Surgery is an expert in numerous procedures. It offers everything from breast reduction to breast augmentation services, catering to more clients at a time.
One of the best things about Hong Plastic Surgery is that its website is available in over eight languages and its services in four languages. This makes sure that anyone with any type of breast concern and nationality can benefit from the clinic.
But what Hong Plastic Surgery really boasts of is its Royal College of Surgeons-accredited plastic surgeon. With Dr Hong Soo Wan's expertise and techniques, this clinic also guarantees minimal scarring and downtime.
For breast augmentation, Hong Plastic Surgery uses silicone gel and gummy bear implants. That said, those looking for other types may not be so lucky with this clinic.
Fluency in 4 languages with website content available in 8 languages
Fellow at the prestigious Royal College of Physicians and Surgeons
Minimal scarring
Minimal downtime with early recovery
Limited to silicone and gummy bear implants
Limited opening hours
Mount Elizabeth
Mount Elizabeth is a full-service private hospital offering a variety of services, from imaging and diagnostics up to surgeries and intensive care.
Its large team of 95 surgeons handle numerous types of surgery, whether it be laparoscopic, reconstruction, or robotic. These techniques can thus deliver minimal scarring and improved precision.
Since it is a hospital, Mount Elizabeth caters more to cancer patients who need breast implants after a mastectomy or lump removal surgery. That said, those looking for breast implants purely for aesthetics may have to find other clinics to accommodate them.
Its website is also available in four languages, including Bahasa, Tieng Viet, Chinese, and English. Mount Elizabeth also accommodates its clients by accepting local and international insurance package plans alike.
Expertise in minimal access and robotic surgeries
Large team of surgeons
Accepts numerous local and international insurance
Complete breast surgery services patients with cancer and tumours
24/7 services
Cashless hospitalization
Greater focus on medical treatments than for aesthetics
Farrer Park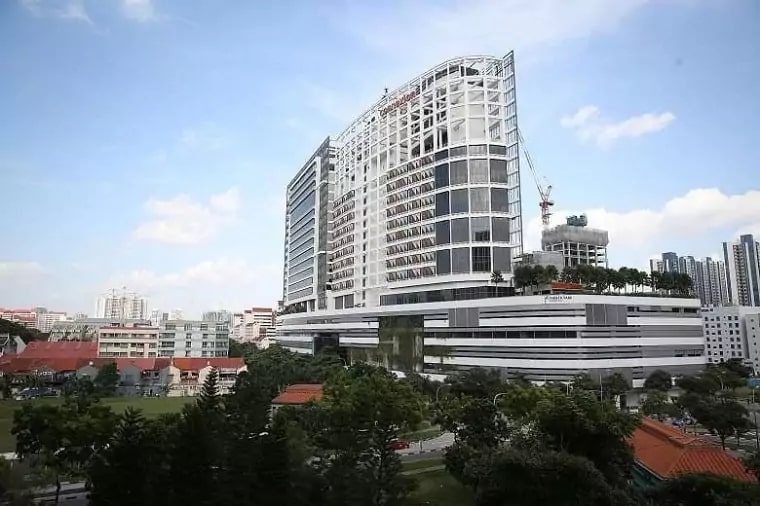 Farrer Park is more than just a private hospital as it also has a spa and hotel. With these amenities, patients can receive top-notch medical services while still being able to relax in a calming environment despite their situations.
Its breast implant services are lumped with other breast cancer treatment options. So, clients with tumours can request Farrer Park's breast-conserving surgery, mastectomy, lymph node surgery, and hormone therapy in addition to breast reconstruction.
To go above and beyond, Farrer Park offers both breast implants and fat transfer options for breast reconstruction.
Despite all these advantageous services, Farrer Park Hospital may fall short when it comes to financing. This is because we've found numerous complaints about its billing and its communication with insurance providers.
24/7 services
A large team of surgeons and doctors
Complete breast surgery services for patients with tumours and cancer
Offers both breast implants and fat transfer
Services limited to breast cancer patients
Poor communication with insurance companies
Gleneagles Singapore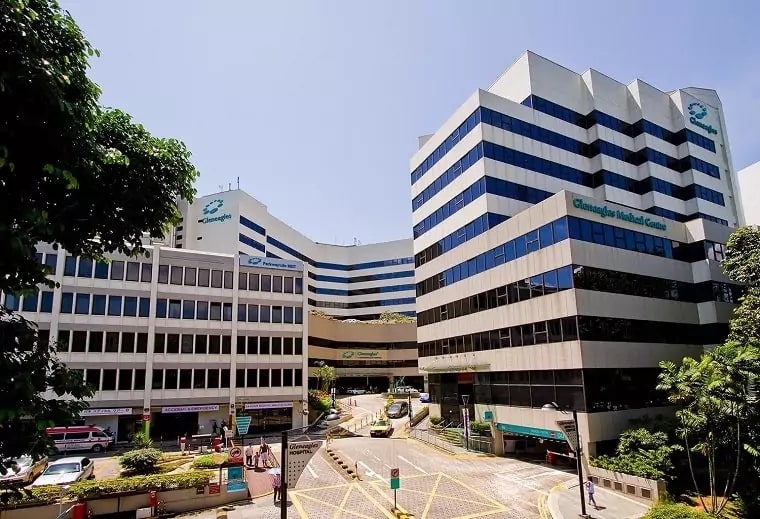 Gleneagles Singapore is yet another hospital offering a wide range of women's healthcare services. From diagnostic services such as biopsies up to complex cancer removal services, this hospital's services aim to improve its client's overall quality of life.
It provides treatments for breast lumps and cancerous tumours, including mastectomy, lumpectomy, and quadrantectomy. Gleneagles Singapore also has a large team of over 35 providers to cater to clients anytime.
Another guarantee that Gleneagles Singapore provides is its smooth insurance claiming as it accepts international and local insurance plans alike. The hospital even accepts online payments and foreign currencies for its international clients.
Despite its nurse and doctor's expertise, customers have shared their sentiments about Gleneagles poor customer services. This is mostly due to rude and cold staff.
24/7 services
Cashless hospitalization with online transactions
Numerous options for breast cancer removal surgery
Full range of breast cancer treatments
Greater focus on other medical services
Some complaints about customer services
Shens Clinic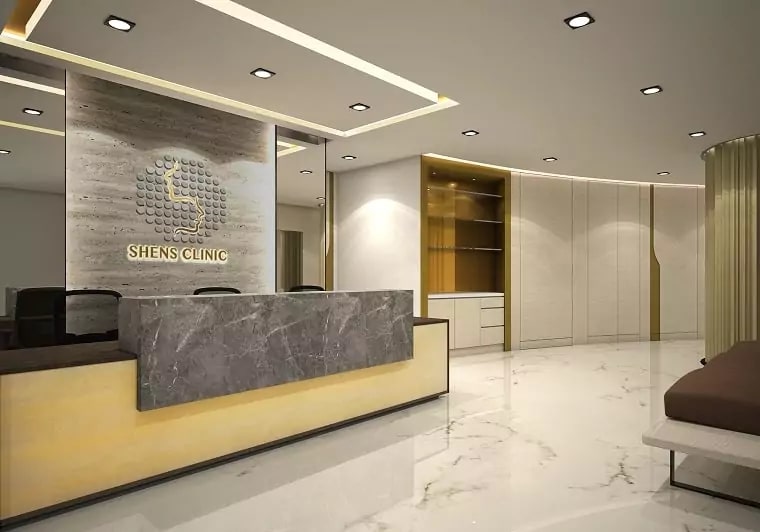 WEBSITE
https://www.shensclinic.com/
ADDRESS
Winsland House 1, #09-08, 3 Killiney Road, Singapore, Singapore 239519
CONTACT DETAILS
+65 6904 4488
OPERATING HOURS
Monday – Friday: 9:30 AM – 6:30 PM
Saturday: 9:30 AM – 2:30 PM
Shens Clinic offers all types of breast aesthetic surgeries, including implants, lifts, and fat grafting. This clinic follows Korean-style plastic surgery trends and techniques because of its head surgeon's training background.
Additionally, the head surgeon, Dr Shenthilkumar Naidu (aka Dr Shens) attended the prestigious Royal College of Physicians and Surgeons. With these experiences, Shens Clinic guarantees clients that its plastic treatments are suited for both Asian and Caucasian bodies and faces.
His training enables him to conduct fat transfers and the acclaimed Short Incision Breast Augmentation (SIBA). So, clients who are looking to update their looks with minimal scarring can come to Shens Clinic.
To add to all of this, Dr Shens is also among the few doctors that Motiva trusts. Thus, clients can enjoy special products and processes, including the Motiva Imaging Centre which features 4D projections.
That said, Shens Clinic is limited only to breast implants produced by Motiva. While this brand already offers many benefits, it still cannot cater to those looking for saline implants.
Treatments suitable for both Asian and Caucasian profiles
Minimal scarring with SIBA
Relatively faster treatments
Offers fat transfer services
4D simulation before the actual surgery
Limited to Motiva products
Mount Alvernia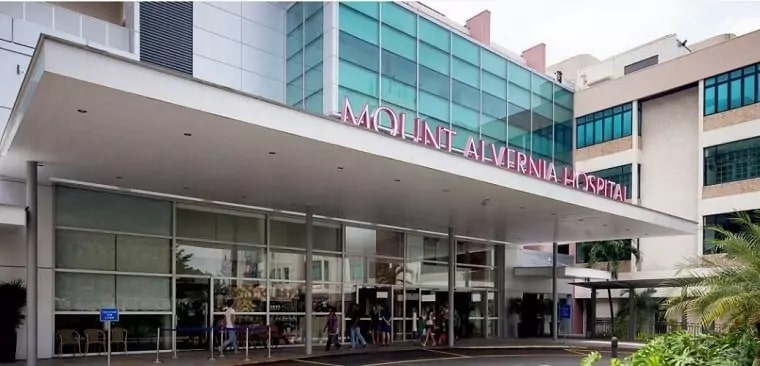 Now if you're looking for breast surgeries due to medical conditions, then Mount Alvernia can be another sound option. It focuses on breast cancer treatments, which includes cancer removal and breast reconstructions.
It also has a large team of in-campus doctors, with 27 in medical oncology alone, and 24/7 services. So, patients can visit this hospital without worrying whether or not they'll be accommodated.
To go above and beyond, Mount Alvernia also offers its services in three other languages, namely Mandarin, Bahasa Melayu, and Bahasa Indonesia. It also has special pre-arrival and upon-arrival assistance services for its international clients.
Despite its excellent medical staff, Mount Alvernia has still garnered negative comments because of its sometimes cold customer services.
24/7 services
Additional services for international clients
A large team of surgeons
Full range of breast cancer surgeries
Greater focus on medical treatments
Complaints about poor customer services
Polaris Plastic & Reconstructive Surgery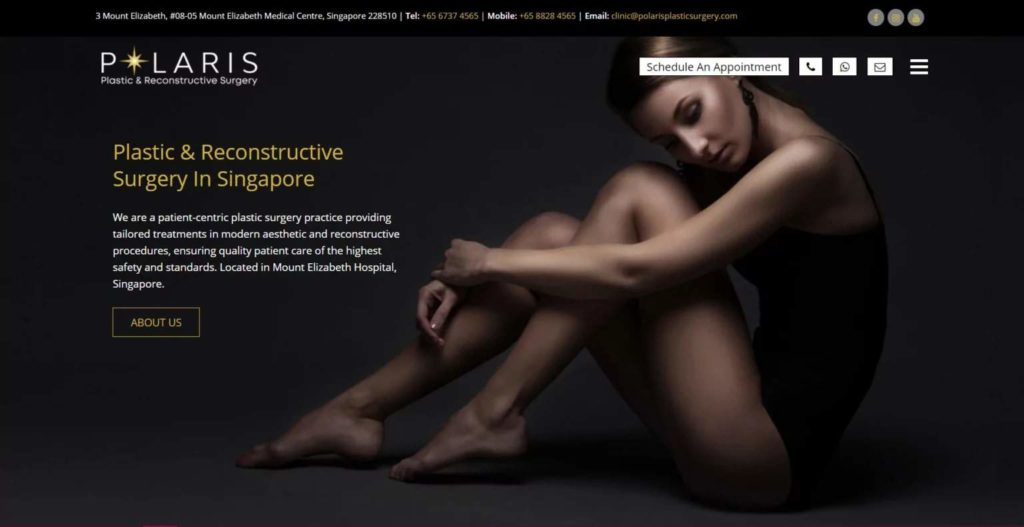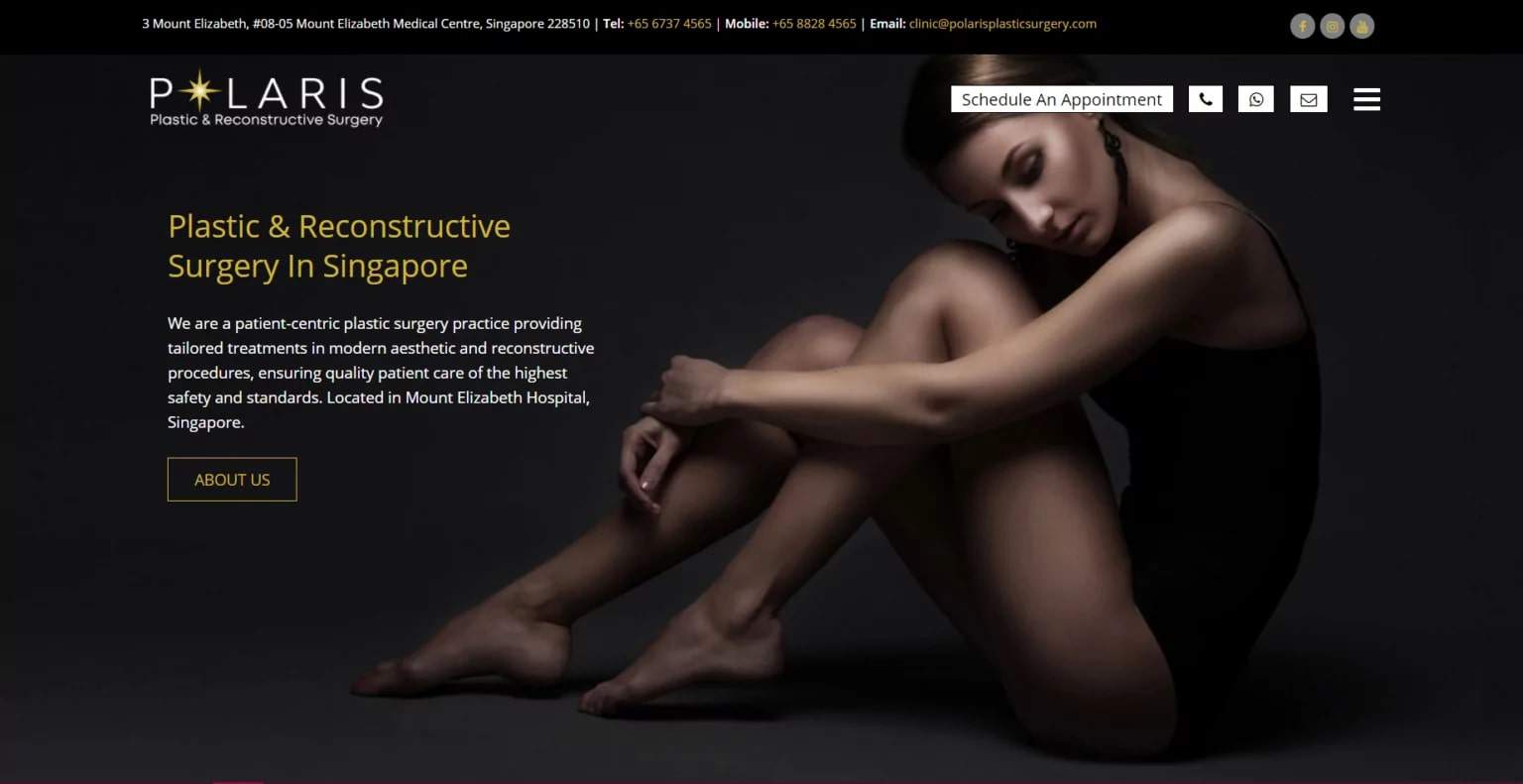 Polaris Plastic Surgery & Reconstructive Surgery offers just as its name suggests, thanks to its in-house expert, Dr Adrian Ooi. The clinic offers all types of services, from breast implants and fat grafting to breast reductions.
This surgeon is also tech-savvy as he is among the only two surgeons trained in robotic microsurgeries, thus providing more precise outcomes. Additionally, Dr Ooi uses 3D morphing software to show clients realistic projections of their breast implant choice.
But what really allows Polaris to provide the best breast implants in Singapore is its special procedure, the hybrid breast augmentation. With this procedure, clients get the best of both worlds of fat transfers and silicone breast implants.
However, you should know that Polaris only offers silicone breast implants. So, you'll have to find another provider if you're younger than the prescribed age for silicone breast or are just looking for saline implants.
3D morphing software for realistic projections
Expertise in robotic microsurgeries for precise results
Special hybrid breast augmentation
Wide range of breast services
Limited to silicone implants
Choices to Make Before Getting Breast Implants
During your initial consultations, you'll also have a lengthy discussion about breast implant surgery and it pays to know some information beforehand to maximize time during the consultation.
Here are the different factors you'll have to decide on for a breast implant.
1. Type
There are many types of breast implants, with the two most common being saline implants and silicone implants. Both of these types have silicone shells and vary only on the filling.
For saline implants, your implant surgeon will first place the implant in and then fill it with sterilized saltwater. Thus, the incision is usually smaller for saline implants.
On the other hand, silicone implants are pre-filled with gel and will thus require a larger incision. While this type may be more expensive, it looks and feels more natural as it resembles human fat.
Both types have risks, including:
Scarred tissues
Rupture or leaks
Infection
Localised breast pain
Altered breast and nipple texture
2. Size
Next, you should decide on how big you'd want your breast implant to be. Experts suggest getting only a maximum of two sizes away from your natural cup size.
For a better fit, consult your doctor about the size that's perfect for your physique and lifestyle. Some doctors also have realistic projections and simulations to manage their clients' expectations.
3. Shape
There are also many different breast implant shapes. Here in Singapore, breast implants can either be tear-shaped or round.
Tear-shaped implants are for those who want a natural look and to lightly address sagging. On the other hand, round-shaped implants result in fuller breasts and a more noticeable cleavage.
4. Incision location
Incision location depends on all the earlier factors. Here are the options for the incision site:
Transaxillary (armpit) incision is for those who don't want to see scarring within their chest area. Scarring is usually an inch long and follows the natural creases of the armpit.
Umbilical (navel) refers to the incision in your belly button. This requires a longer trip and is thus suitable only for saline implants.
Inframammary (underside of breast) offers the best accessibility and is thus suited to silicone implants. This is also suitable for patients with favourable scarring.
Periareolar (around the nipple) is common for breast lifts, removals, and exchanges. It can also hide the scarring with the nipple's natural darker lining.
If you're planning on breastfeeding in the future, you should avoid periareolar incisions and instead opt for transaxillary or inframammary incisions.
Frequently Asked Questions about Breast Implants
---
Now all you need to do to get the best breast implants in Singapore is choose one provider from our list. You can also schedule an appointment or message any of these choices to gain more insight into its costs and customer services.
Have you heard about any other breast augmentation clinics that you want to learn more about? If you have, feel free to leave us their name so we can check them out, too.
Breast implant surgery is just one of the many ways to improve your looks and self-confidence. If you're looking for more ways, then you can also check our other cosmetic service provider lists like the best plastic surgery in Singapore.