If you've noticed some minor pains in your feet the past few weeks, you must immediately consult with the best podiatrist in Singapore today. They are medical specialists who treat feet ailments, so they'll be able to help you address your concerns.
Searching for the most reliable and best podiatrist in Singapore might be a bit hard to do, especially with the countless clinics that offer healthcare services for foot and ankle ailments.
So, we've narrowed down your choices to only the most well-known and trustworthy clinics in the country — which we list here.
(Note: This list is in no particular order.)
1.  Osteopathy & Podiatry Centre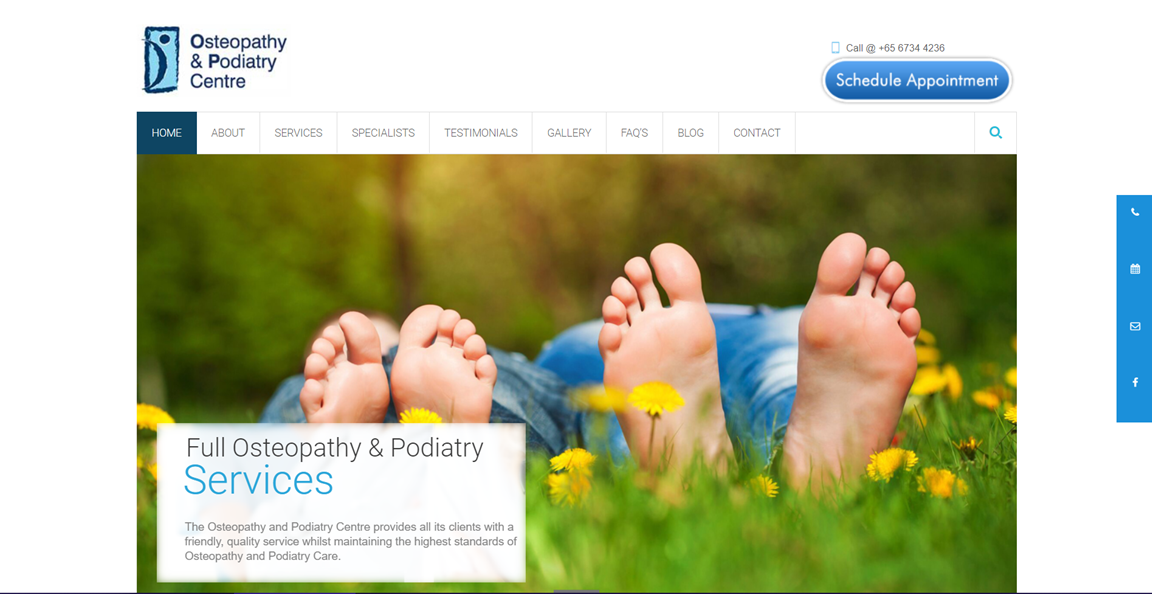 BEST FOR 
Osteopathy, Podiatry, and Dietetics
PRICING
https://osteopathy-podiatry.com/site/podiatry-service/
WEBSITE
https://osteopathy-podiatry.com/
ADDRESS
583 Orchard Rd #06-03 Forum, Singapore 238884
CONTACT DETAILS
+65 3129 2185
OPERATING HOURS
Mon – Fri: 8.30am – 6.00pm
Saturdays: 8.30am – 1.00pm
Closed on Sundays and Public Holidays
Osteopathy & Podiatry Centre is a great choice if you need treatment or betterment of the body. Their amazing team of qualified practitioners, partnered with the use of groundbreaking technology, validates that they truly are one of the best in the country. Among their long list of services, some of which involves osteopathy, dietetics, and therapy, podiatry is what most demand.
Their podiatry services are vast, covering skin and nail disorders, Biomechanics & Orthotics, Heel Pain / Planter Fasciitis, Sports Injuries, Diabetes, and Paediatrics (Children's Feet).
They have two main podiatrists, one of which is Dr. Helen Crawford. Her years of study in the UK proved to be helpful, as she is now one of the greatest and most established podiatric doctors in Singapore. She has vast experience in all the fields of podiatry, but specialises in diabetic foot and biomechanics– while also sporting an interest in paediatrics. With her long list of credentials and years of experience and skill, rest assured that with Dr. Crawford, you're in nothing but the best and safest hands.
Highlights
Friendly, Quality Service
Speedy Recovery
Customer Reviews
Almost all the customers who have experienced Osteopathy Podiatry Centre's services provide proof how amazing and even life-changing their assistance may be, especially when it comes to treatments and improving the body. Here's one feedback left on their Google Review specifically for Dr. Helen Crawford, one of their best podiatrists:
"If there was ever an Arch Angel, she would be Helen. Focused, committed, professional and extremely passionate about her work and helping her clients achieve better lives. Regrettably my tennis game hasn't improved despite her immense help!"
2.  The Foot Practice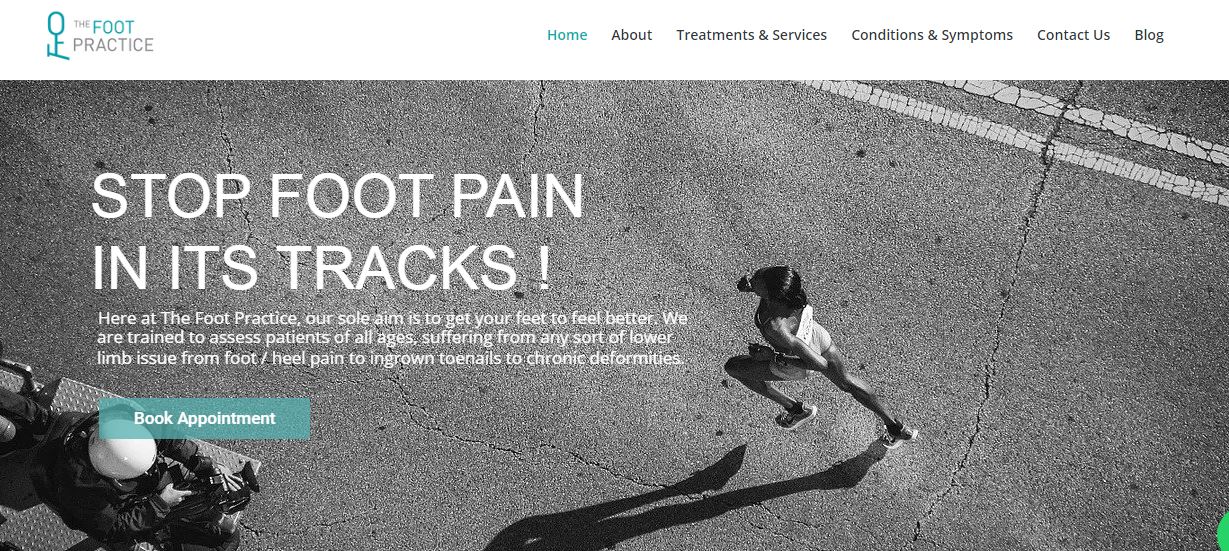 For the students who have been experiencing foot or leg pain, you might want to consult with the specialists at The Foot Practice. They assist many universities and hospitals in Singapore, so it can be a great help to be treated by them.
Their team provides treatments for sport, dance, elderly, paediatric, and diabetic podiatry. They also make custom insoles, foot mobilisation, and help you recover from lower leg and foot injuries.
Highlights
Sports and dance assessment
Injury recovery
Customer Reviews
Customers complimented the specialists at The Foot Practice and shared that their treatments and therapies are highly effective, resulting in great improvement.
Therefore, many athletes and students have claimed that their clinic has the best podiatrists in Singapore.
"Tim is a very experienced in his field, I saw him for an incessant pain caused by a heel spur and I've been a lot better ever since. Apart from learning to manage the injury long term, my confidence to jump and run has improved too.  He is also personable and generous with sharing his knowledge. Im so glad I found him! Highly recommended !"
3.  Family Podiatry Centre
BEST FOR 
Full range of podiatry services
PRICING
Rates
WEBSITE
https://www.familypodiatrycentre.com/sg/
ADDRESS
02-19 Serene Centre 10 Jalan Serene 258748
CONTACT DETAILS
+65 6464 8654
OPERATING HOURS
Monday to Wednesday: 9am–6pm

Thursday & Friday: 8am–7pm

Saturday: 9am–4pm

Sunday: 10am–12:30pm
Being one of the most featured clinics in various media, Family Podiatry Centre has proven that their excellent services have helped their clients solve several misalignments, treat injuries, and prevent possible severe conditions.
They offer therapies and treatments for foot muscles and bones, skin and nails, sports injury, children's conditions, and diabetic foot pain.
Highlights
Extensive podiatry services
Prevention advice
Customer Reviews
Family Podiatry Centre has gained the loyalty and trust of many clients who have experienced fast analysis and results, and professional services. This is why many locals mentioned that they truly have the best podiatrists in Singapore.
A customer from Google Reviews left this review:
"My podiatrist, Kardem, is amazing and my favourite doctor of all time- she is so attentive, empathetic, professional, and skilled. The price is very reasonable too and the staff (including receptionists) are welcoming, professional and not pushy. When I first went to her, a podiatrist in another (much more expensive and unnecessarily pushy) clinic made my left toe infected; Kardem identified the problem and solved it. She also performed surgeries for in-grown nail in both of my big toes, alleviated my fear about the procedures, and I have had a speedy recovery thanks to her. A big thank you to Kardem and all the staff who also helped me during my surgery and my biomechanical analysis!"
4.  Physio and Sole Clinic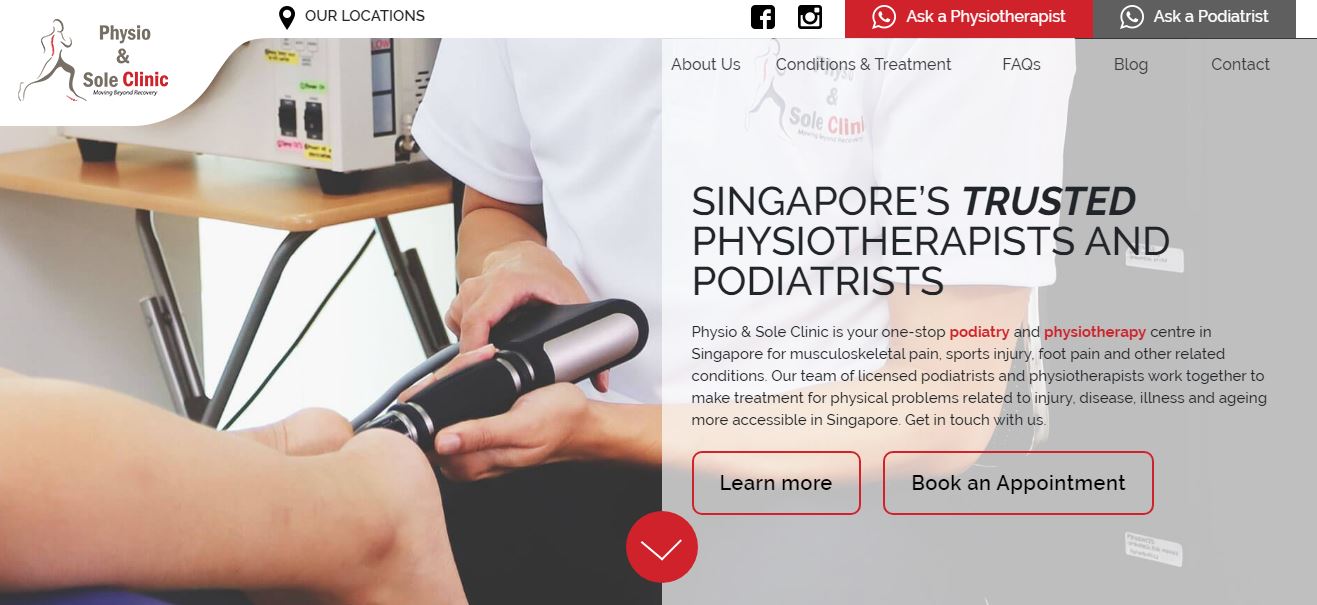 If you're a foreign resident living in Singapore and you're worried about language barriers, there's no need to worry anymore! Physio and Sole Clinic has multilingual specialists who will assist you every step of the way.
Their podiatry services can help treat bunion, calluses and corns, flat feet, fungal nail infection, heel pain, ingrown toenails, and plantar warts. This clinic's best podiatrists in Singapore also offer treatments for diabetic foot care, sports podiatry, and foot fitness.
Highlights
Sports injury prevention
Customised insoles
Customer Reviews
Most customers were pretty much satisfied with the competent treatments Physio and Sole Clinic which are all offered at an affordable cost. A customer posted this review on Google Reviews:
"I really like the service and the care that the staff of The Sole Clinic gave me They are focus on the customer's satisfaction and healing, and they are really affordable considering that they are a well known clinic in Singapore. I am really grateful on how you treated my injuries and it would be my thanks giving to refer you to my friends."
5.  MyFootDr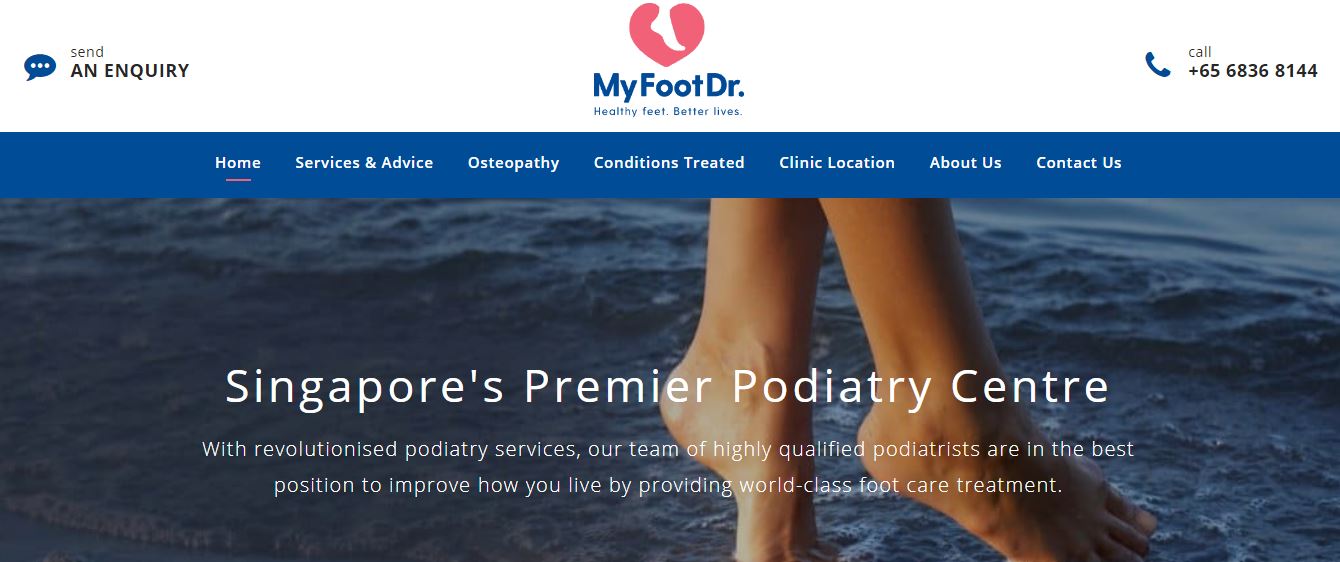 BEST FOR 
Wide range of condition treatments
WEBSITE
https://www.myfootdr.com.sg/
ADDRESS
#07-03 Camden Medical Centre, 1 Orchard Boulevard, Singapore 248649
CONTACT DETAILS
6836 8144
OPERATING HOURS
Weekdays:  9am to 5pm

Saturday: 9am to 1pm
MyFootDr proudly offers their innovative podiatry services and skilled podiatrists who are part of the largest podiatry group in Singapore. With this high standard, they provide personalised treatments for each client.
They treat various ailments for the Achilles tendon, ankle, arch, foot, forefoot, toes and nails, heels, legs, midfoot, and more.
For treatments such as clinical podiatry, custom foot orthotics, diabetic or aged footcare, osteopathy, and other therapies, they use advanced equipment.
With their high-quality services, professionals, and equipment, they indeed rank as some of the best podiatrists in Singapore.
Highlights
Customised approach
Osteopathy services
Footwear advice
Customer Reviews
MyFootDr has received nothing but praise from their many clients. The latter said that they were even able to learn a lot of exercises that can maintain the wellness of their feet and legs.
A customer from Google Reviews wrote:
"I just visited MyFootDr for my bunions problem. The team there are very friendly and helpful.
My podiatrist, Charles, gave insightful information which is very useful for me in order how to follow up my bunions. Thank you!"
6.  East Coast Podiatry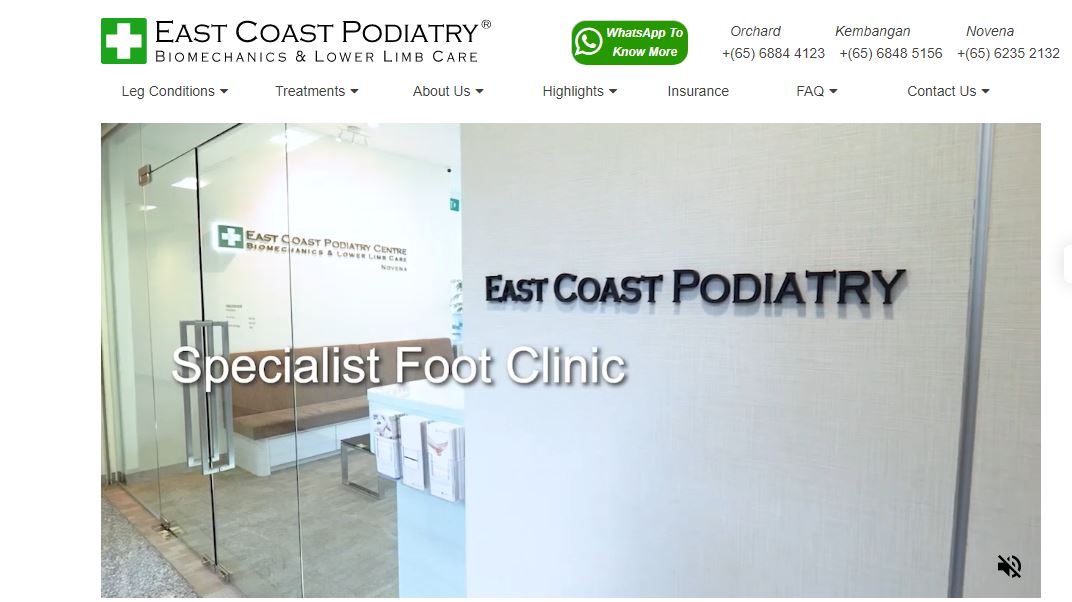 | | |
| --- | --- |
| BEST FOR  | Podiatry services for children |
| WEBSITE | https://www.eastcoastpodiatry.sg/ |
| ADDRESS | Multiple locations throughout Singapore |
| CONTACT DETAILS | |
| OPERATING HOURS | 9am to 6pm Monday to Saturday |
East Coast Podiatry is considered by many to have some of the best podiatrists in Singapore because they are able to facilitate fast recovery processes for working professionals and athletes.
They treat heel pain, bunions, forefoot pain, fungal toenails, plantar warts, ankle sprains, and flat foot, and offer paediatric podiatry for children.
Highlights
Paediatric podiatry for children
Accessible locations
Customer Reviews
Many clients have been visiting East Coast Podiatry regularly for years due to their exceptional and accommodating services. A customer gave this feedback on Google Reviews:
"Our podiatrist Louis Loy has treated my daughter and I for several years now, and he is by far the best podiatrist in Singapore. He is very gentle, efficient and his work is exceptional! We have always come out pain free and happy! We are definitely going to miss Louis as he departs! It is going to be extremely difficult to find someone as good as him!"
Do you already have an experience with our picks for the best podiatrists in Singapore? Let us know about it and tell us how the treatments went.
For additional options, see our list of the best orthopaedic specialists in Singapore! They also provide treatments for ankle and foot injuries so you might be able to find the nearest clinic from your place.