Our 16 Favourite Dark Circle Eye Treatment Clinics in Singapore
When we have piles of homework or business transactions to do, we can't avoid long sleepless nights.
Unfortunately, that often leads to dark circles forming under our eyes—and that's where this article comes in!
Today, we'll talk about the best and most reliable dark circle eye treatment clinics in Singapore, and how their services compare to others.
Before any of that, let's talk about costs you can expect first.
The Best Clinics for Dark Circle Eye Treatments in Singapore
Now that we have that covered, let's head straight to the top dark circle eye treatment clinics in Singapore.

1. Plastic Surgeon Singapore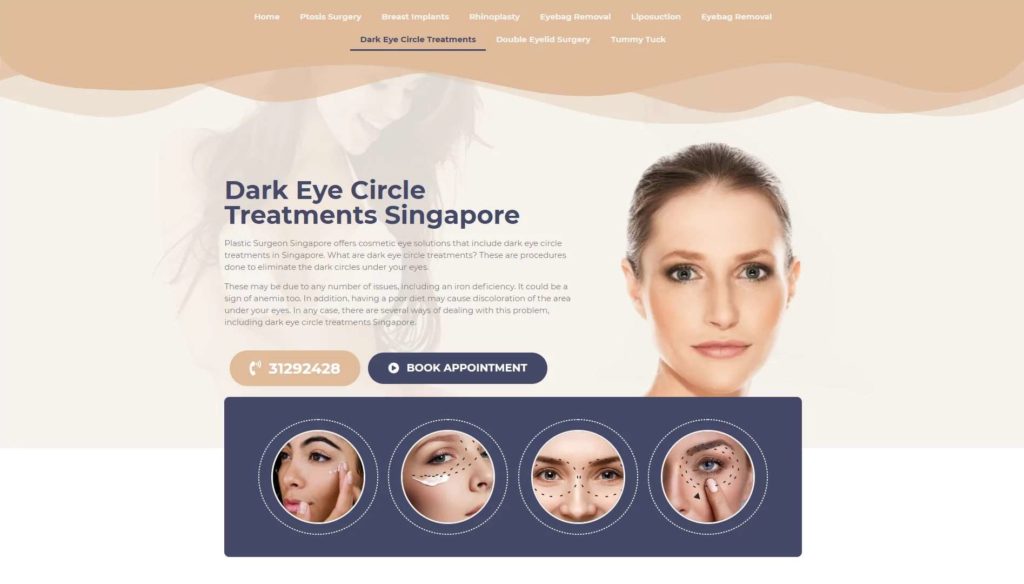 We're kicking things off with Plastic Surgeon Singapore—a clinic that offers a variety of services that can be personalised according to your needs.
They have a lot of procedures for you to choose from, such as facial treatments, hair transplants, liposuction, and more. Their team of professionals is headed by Dr. Terence Goh, a plastic surgeon who specialises in reconstructive microsurgery.
As far as this clinic's dark eye circle treatments are concerned, patients have 5 options to choose from: chemical peeling, laser surgery, tissue fillers, surgical implants, and topical lightening products.
We think this variety allows customers to conveniently choose the best one according to their preferences and budget. Of course, that will still depend on what Dr. Goh would recommend for your skin type and needs, though.
Still, the fact that there are a variety of dark circle treatments is good news for those who are looking for this specific service.
We're just a bit disappointed to see that their weekend hours are extremely short, which isn't surprising considering that this clinic is based in a hospital. So, if you want to make an appointment, you'll have to find time on weekdays or on Saturday mornings.
2. Allure Plastic Surgery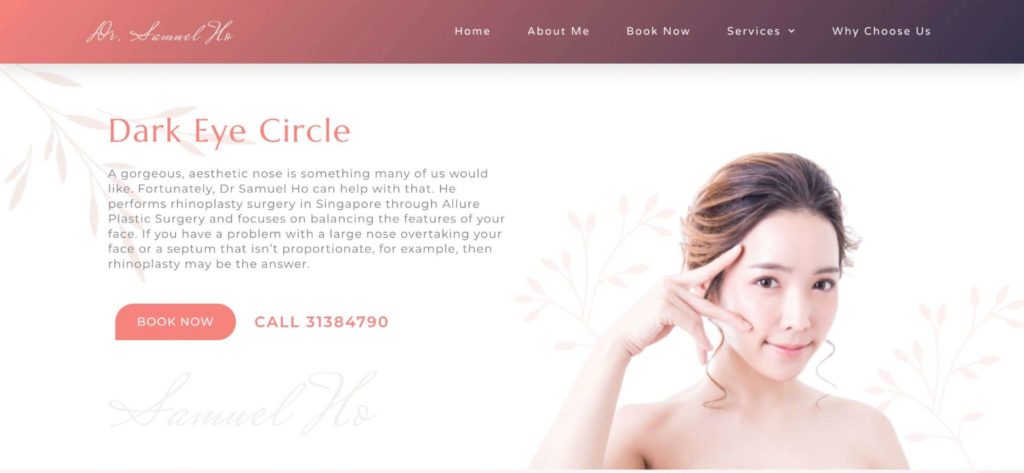 Allure Plastic Surgery is a clinic that offers many cosmetic treatments for various aesthetic needs. They can provide any treatment you may need, from simple fillers to complex surgeries.
Dr. Samuel Ho is the clinic's resident plastic surgeon who specialises in rhinoplasty.
Now, this is something worth mentioning because dark circles are also a known side effect of rhinoplasty. And because he specialises in this procedure, it's safe to assume that he's had many patients ask him about these dark circles post-procedure.
In fact, post-op care is something that they take seriously in this clinic. So whatever procedure you decide to go for, rest assured that Dr. Ho can remove those dark eye circles safely and precisely.
From what we've seen, this clinic is also a popular choice among international clients. Apart from their convenient location, the clinic also offers concierge services, which includes assistance with chauffeur services from the clinic to hotels, for instance.
So, if you're a tourist who's reading this article by chance, we highly recommend the convenience this clinic offers.
3. Dr. Hong Soo Wan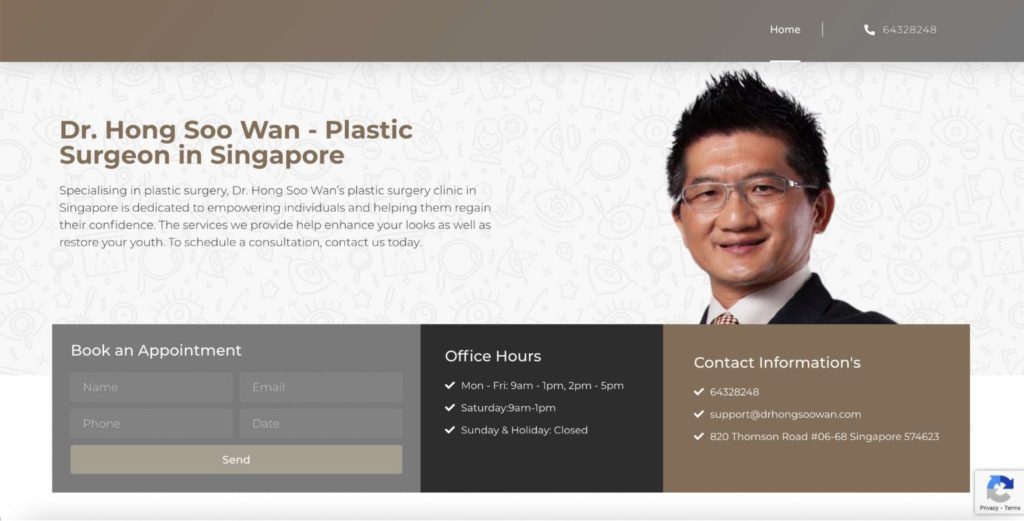 Dr. Hong Soo Wan has been practising plastic surgery for a little over 25 years now. His private practice features an array of procedures including tummy tuck surgeries, rhinoplasty, facelifts, and much more.
Because of his specialties in eyelid surgery and rhinoplasty, you can be assured that he's had patients see him for dark eye circle treatments too.
On your first visit, expect that he'll assess your request and condition. He does this by considering surgical options that will address your concern, taking into consideration your current physiology.
To give you a glimpse of treatments he's done in the past, some procedures include chemical peeling, laser treatment, and filler injections.
Apart from that, we like the fact that his staff members can converse in Mandarin, Hokkien, Malay, and English, allowing them to cater to a variety of patients.
However, while their location in Mount Alvernia Hospital is convenient, their short clinic hours on weekends can also be a drawback for some. So, make sure to plan your appointment accordingly!
4. Kowayo Aesthetic Clinic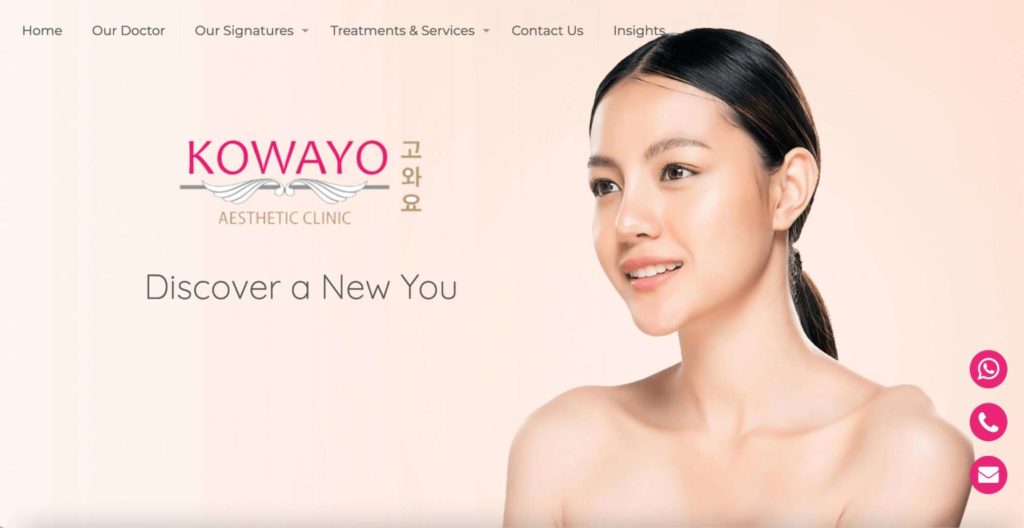 When it comes to dark eye circle treatments, Kowayo Aesthetic Clinic easily has one of the best solutions in Singapore, and here's why.
Compared to other aesthetic clinics, Kowayo actually specialises in treating dark eye circles. Unique to them is their "Redensity II" treatment—a unique filler that combines hyaluronic acid with a complex of vitamins and antioxidants to restore volume and rejuvenate the tear trough.
This filler doesn't only lighten dark circles, but it also reduces eye bags non-surgically too. So in a way, we think that it's like getting 2 treatments at once!
You only need to visit the clinic once a year for this type of filler, which saves you time and money in the long run.
The only drawback here is that their dark eye circle treatments are limited to fillers. Hence, if you're looking for other services like laser treatments, this clinic may not provide you with what you're looking for.
Dr. Wong Kee Seng, the clinic's founder, oversees all treatments. Just bring up your concerns to him and rest assured that he'll advise you on the best treatment moving forward.
We love how long this clinic's business hours are—perfect for busy professionals who can't come by during weekdays. Not to mention, their central location at One Raffles Link is also convenient for commuters.
5. Sozo Aesthetic Clinic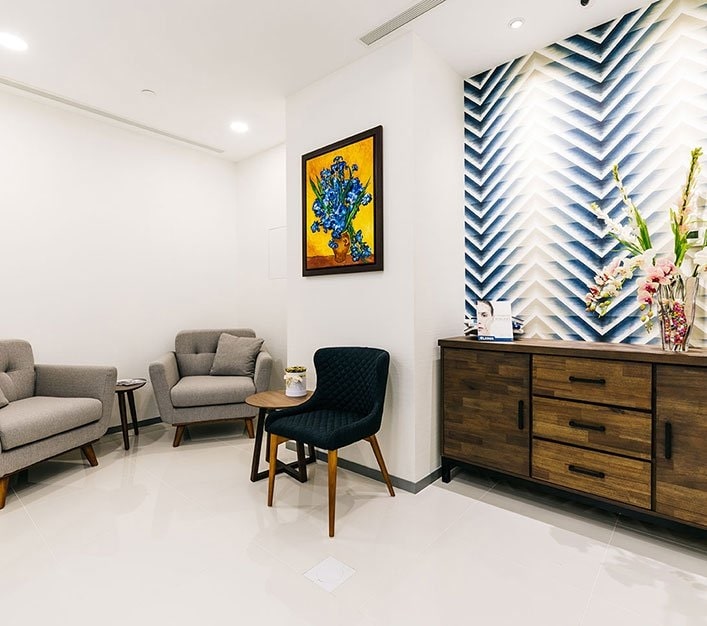 Sozo Aesthetic Clinic is another one-stop shop for your consideration. They also have a comprehensive selection of aesthetic treatments ranging from fillers to facial skin tightening.
The clinic is run by Dr. Justin Boey who has extensive experience in aesthetic medicine, including treatments for dark circles.
Compared to other clinics, this one's primary focus is on non-surgical eye treatments for dark circles including laser treatments and hyaluronic fillers.
So for those who are afraid of going under the knife, you can rest in knowing that Dr. Boey won't pitch the idea to you in his clinic!
We'd like to highlight one particular treatment for dark circles that you can only find in this clinic: INFINI laser. In simpler words, this treatment involves microneedling and radiofrequency to improve fine lines and saggy skin around the undereye region.
This is a good option for those in their 40s and above. Still, the best course of action is to schedule a consultation with Dr. Boey so he can round up a list of possible treatment options for you.
6. Edwin Lim Medical Aesthetic Clinic

Edwin Lim Medical Aesthetic Clinic is another trusted name in dark eye circle treatments, as well as a wide range of aesthetic treatments, for that matter.
Dr. Edwin Lim is the clinic's principal doctor, and his expertise lies in surgical procedures. But don't be mistaken—dark eye circle treatments in this clinic are minimally invasive and are limited to fillers and High-Intensity Focused Ultrasound (HIFU) technology.
In case you're aren't familiar with the latter, it's a non-surgical skin tightening treatment that improves the appearance of saggy and aging skin. Patients who tried this treatment say that the sensation is akin to tiny ant bites, so you can expect just a slight amount of discomfort here.
We love how modern and inviting this clinic is. We've noticed how important this is for patients who feel a bit nervous prior to getting treatment.
The clinic has 2 very convenient locations too: one at Orchard Medical Specialists Centre and the other at Changi City Point. Both locations have ample parking spaces and are easily accessible via MRT—that scores another point with us!
While the clinics are open all day long on most days of the week, they're unfortunately closed on Tuesdays. So if you don't have a habit of setting appointments, do take note of their schedule to avoid disappointments.
7. Astique The Aesthetic Clinic

Astique provides a comprehensive range of FDA-approved medical aesthetic treatments that have minimal or no downtime. They're the ones to go to if you're definitely sure that you don't want to go under the knife to treat dark circles.
When it comes to their dark circles, their eye rejuvenation package is one of the clinic's go-to treatments. This package involves using vitamin C serum and a tri-beam laser to reduce the appearance of sagging skin around the eye area.
They also have fillers to combat dark circles, should you prefer it. If you aren't sure which treatment will work for you, then we recommend booking a consultation with their doctors first.
However, we should warn you that we've heard of stories of some sales staff who have a tendency to hard-sell their services. So, make sure to keep your guard up and take this into account when you come in for an appointment.
Clinic hours on weekends are relatively long compared to some of our entries, which is great news for those who are busy on weekdays. Their location is also conveniently located at the heart of Orchard with many shops and restaurants at your disposal.
8. Halley Medical Aesthetics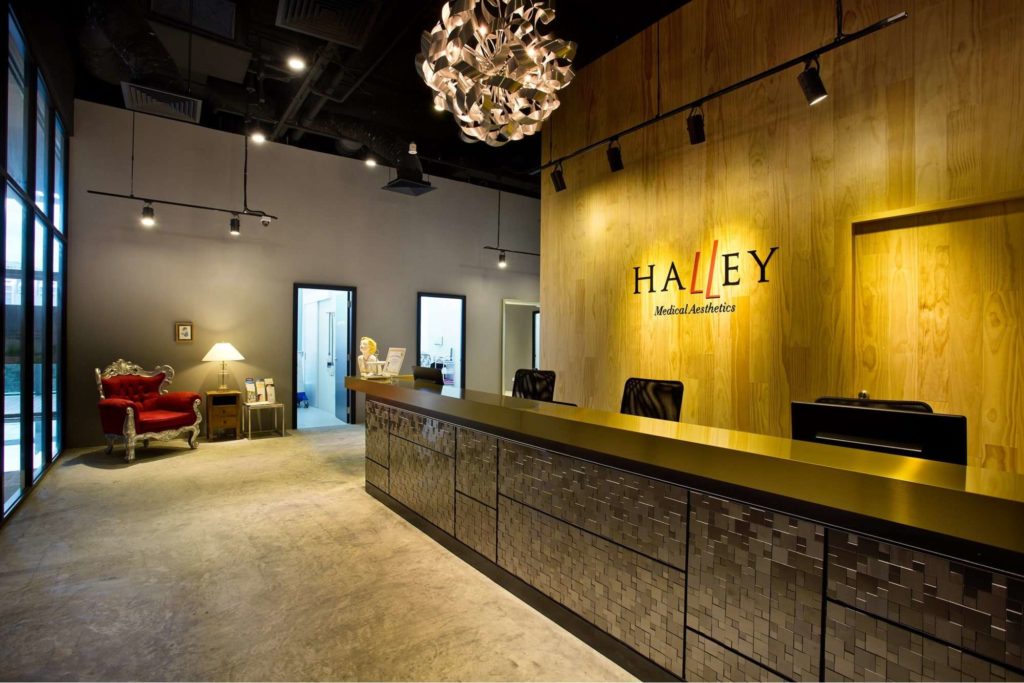 We can't help but be in awe of Halley Medical Aesthetics' cozy interiors. It's exactly what caught our eye in the first place!
It tells you a lot about the amount of love and detail that they put into their clinic, all in the name of patient comfort and aesthetics—which is exactly what they're offering to customers anyway!
Similar to our other entries, you can also consider this clinic as a one-stop shop for all your cosmetic needs, be it body firming or dark circle treatments.
Speaking of the latter, this clinic offers a bunch of different treatments that target dark circles including fillers, lasers, and thread lifts.
Ultherapy is also one of their signature treatments. If you haven't heard of it, this non-invasive treatment uses ultrasound to stimulate new collagen to lift, tone, and tighten loose skin.
You'll have to double check with one of their doctors to see if you're a suitable candidate for the treatment. And don't worry—we've heard from our colleagues and friends that hard selling isn't a thing in this clinic.
Prices are on the steep side though, which can be a drawback for some. The good news is that their price list is readily available on their website so you can plan your budget accordingly.
Another thing that's unique in this clinic is the option to book a tele-consult with their doctors, which also makes them a great choice for those based overseas.
9. The Artisan Clinic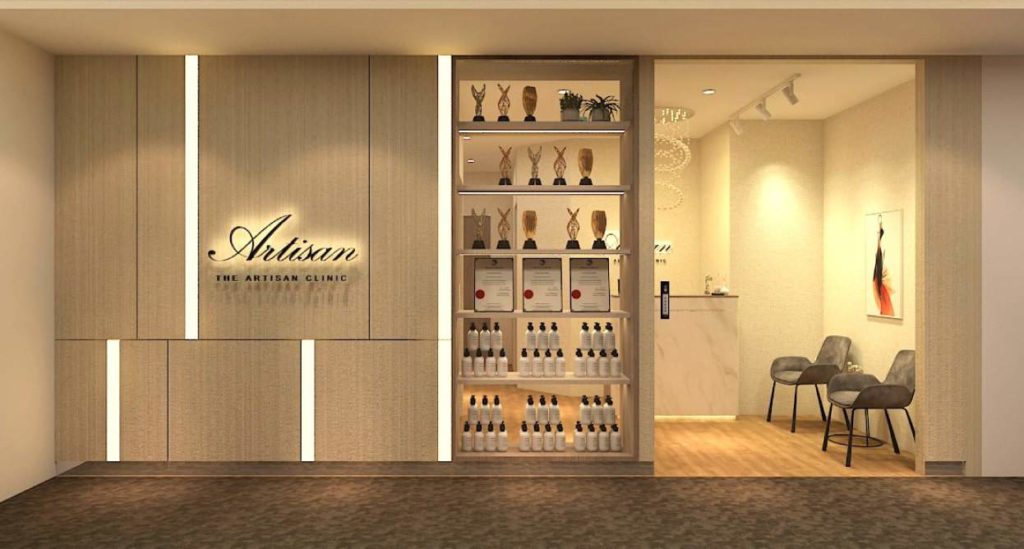 You can add The Artisan Clinic to your list of stops if you happen to be around Orchard. This clinic features an extensive range of facial and body cosmetic treatments for men and women.
The clinic may not be as large as the others but we think their personalised approach to accommodating their patients is a huge plus! They even serve coffee and tea to each patient who comes by for an appointment.
Unique to this clinic's line of treatments is the Picosure Laser treatment, which can be used to target dark circles and other problem areas.
Now, what sets this treatment apart from traditional lasers is that it's generally safer and more effective. Technically, the pulses of laser light are so quick that it reduces the amount of discomfort you'll experience during treatment.
They're one of the very few clinics in Singapore to use this type of technology. So if it's something you're interested in, then we won't hesitate to recommend The Artisan Clinic to you.
10. Asia Aesthetic Academy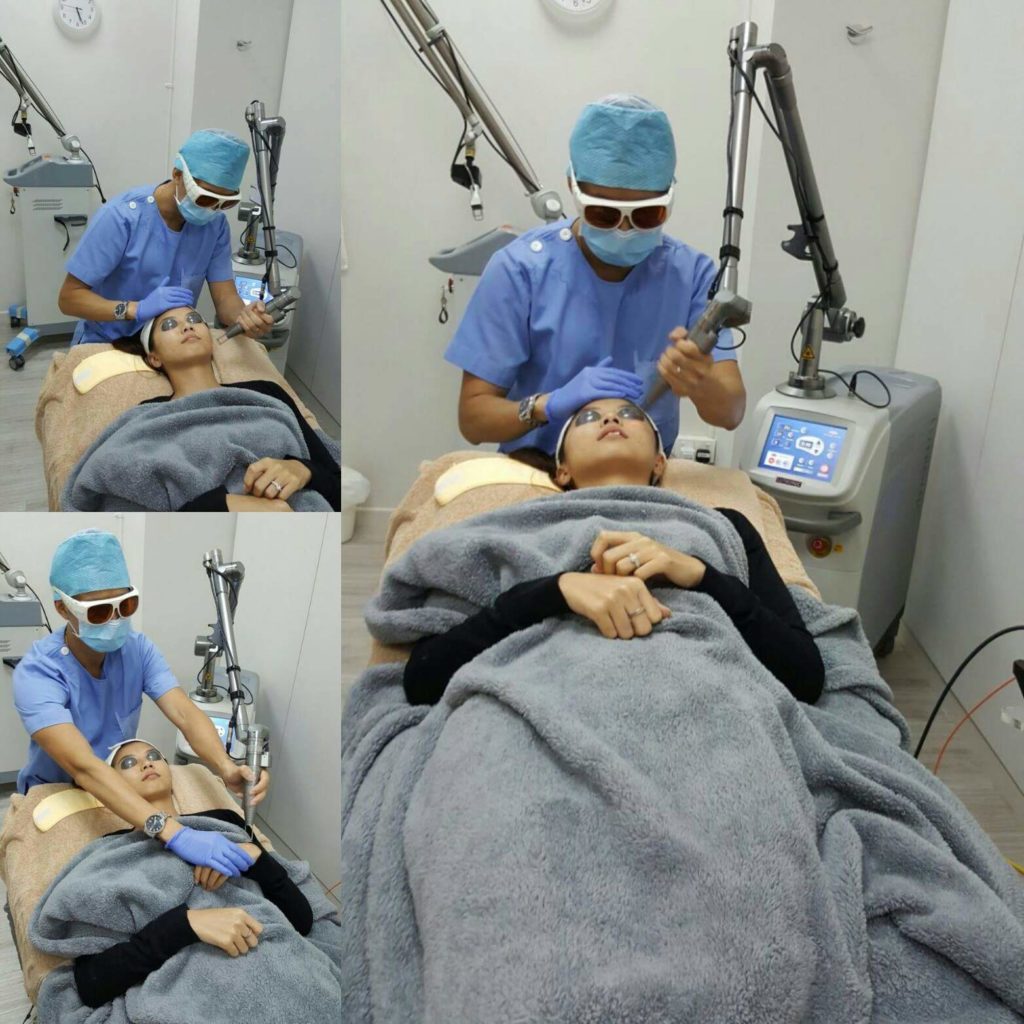 Asia Aesthetic Academy is headed by Dr. Daniel Chang, a cosmetic doctor who specialises in Korean medical aesthetics. Yes, you read that right—you can achieve your dream Korean-inspired look thanks to Dr. Chang.
His special interests lie in non-surgical face lifts. In fact, you can expect only a single dark eye circle treatment here: virgin eyelift.
This isn't your usual treatment because this one targets multiple areas including your brows, eyelids, dark circles, and wrinkles.
We think this all-in-one approach to improving the overall look of your eye area is perfect for those who are thinking of getting multiple treatments. There's no need to do that with Dr. Chang's unique treatment.
He can also perform minor surgical procedures to treat sagging and wrinkles. Rest assured that he'll advise you on the best treatment moving forward, surgery or no surgery.
That said, they're certainly not the most affordable ones in Singapore, seeing that they only use high-quality FDA-approved products. So if budget is a main concern for you, this clinic may not be the best one for you.
11. S Aesthetics Clinic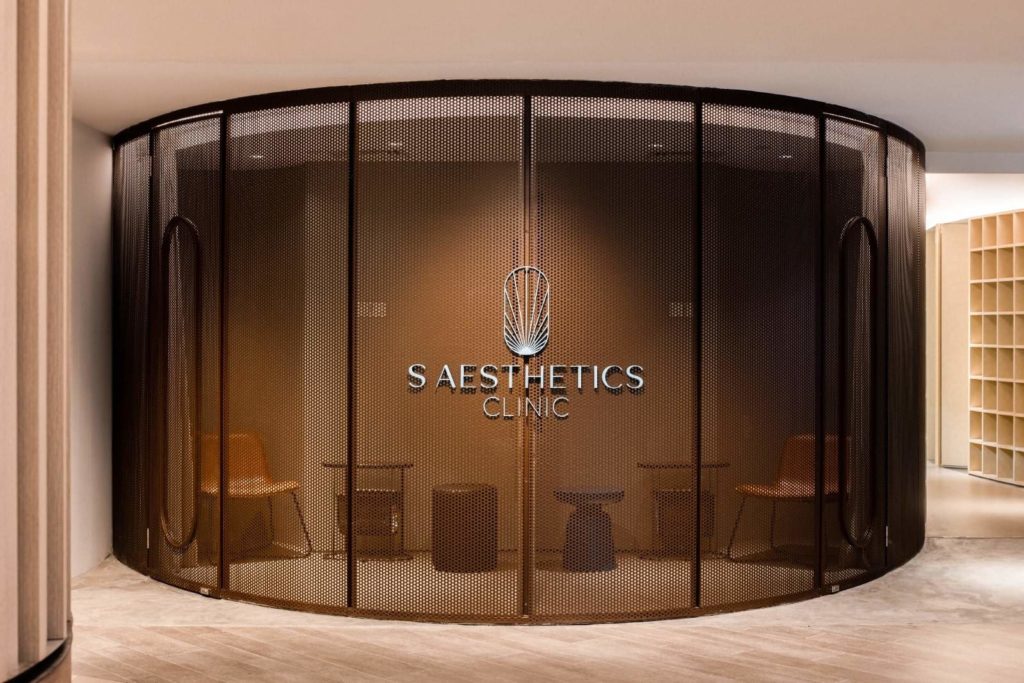 We're huge fans of how spacious and modern S Aesthetics Clinic's space is. If anything, it's quite telling of the quality of services they provide their customers with—clean, welcoming, and consistent!
And we can see that we weren't wrong, seeing that customers recommend them for the same things.
On top of that, this clinic is also equipped to handle the latest technologies in facial and body treatments.
As far as dark circle treatments go, they carry a bunch of unique procedures that we've highlighted in our previous entries including Ultherapy, Pico Laser, HIFU, and much more.
This makes them a great choice for those who prefer getting the most advanced treatments in Singapore today. You'll find plenty of choices at S Aesthetics Clinic.
We also like how accessible this clinic is to both locals and tourists alike. Apart from their central location just off Orchard, they also offer tele-consults for those who can't make it.
And the best part? Tele-consultation services are free for all, and you'll only have to pay for medication and delivery charges, if applicable.
Just take note that tele-consultations aren't substitutes for actual in-clinic medical advice with their doctors. So if you're looking for a thorough treatment consultation, it's still best to head over there instead.
12. 8 Medi Aesthetics Group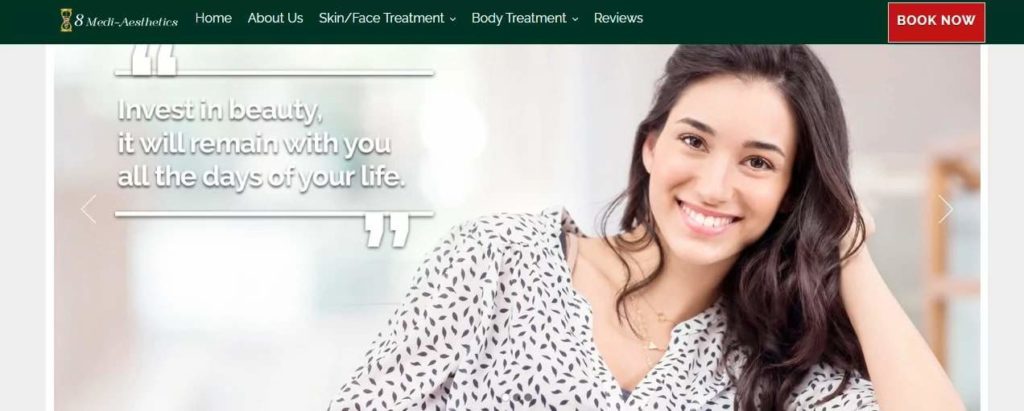 If you're looking for a good treatment for dark eye circles without breaking the bank, you just might find that at 8 Medi Aesthetics Group.
They only offer 1 treatment for dark eye circles here, which involves using laser technology to only target dark pigments under your eyes while passing harmlessly through healthy cells.
While the lack of several options can be a drawback for some, we've seen how many customers swear by the effectiveness of this treatment.
You can schedule a free consultation and skin assessment to see if you qualify for treatment. And if you do, you can decide to get the treatment right then and there to qualify for their trial price of $45—the lowest in our list!
We think that this is a good opportunity to see if the treatment works for you without needing to shell out a huge amount from the get-go.
They're also one of the very few clinics on our list with multiple locations around the island, making them accessible to more customers in Singapore.
13. Tiffiny Yang Aesthetics & Surgery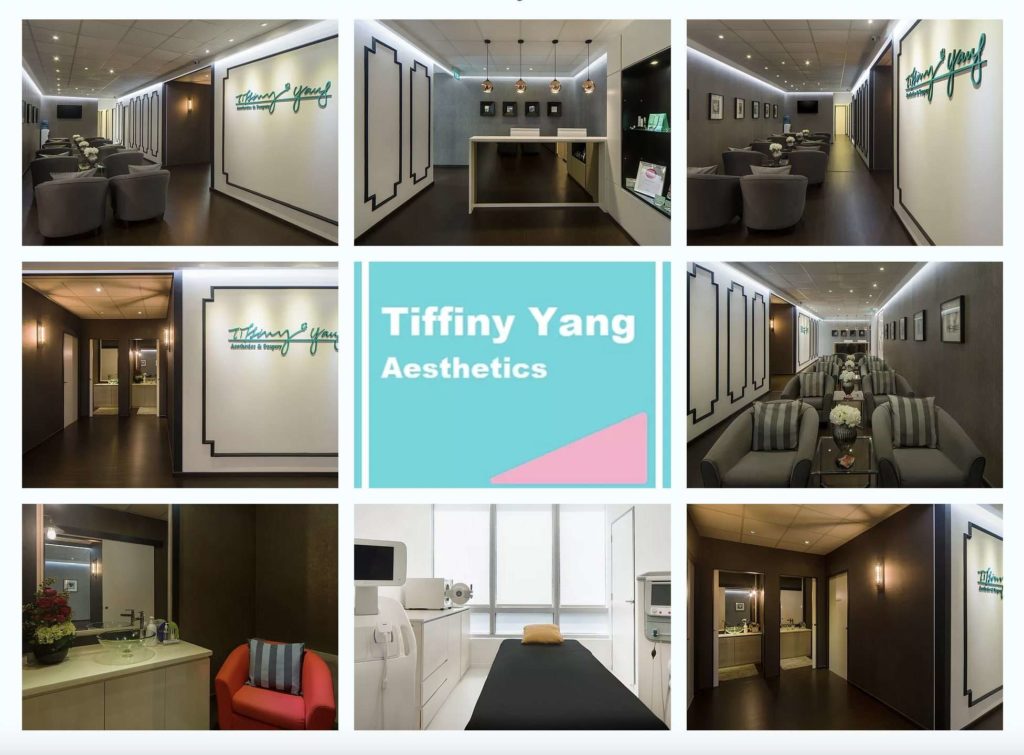 Dr. Tiffiny Yang's namesake clinic reminds us of the famed luxury jeweller Tiffany & Co. And in a way, their services reflect the elegance that Tiffany & Co. is known for, which is why we weren't surprised to see why many customers had a pleasant experience there.
For starters, this clinic offers a wide range of treatments for whatever cosmetic concern you have, from dark circles to saggy skin. For the former, their line of treatments include fillers and lasers, both of which have been proven effective in removing dark circles.
Apart from these basics, this clinic offers a unique service in the form of cute eye rolls. This treatment involves using fillers to create feminine eye bags that's common in many Korean idols.
So, if you're looking to recreate your favourite Korean star's signature look, this clinic is one to consider.
We can see that this clinic is also quite popular among tourists, seeing that Dr. Yang can speak English, Mandarin, and Japanese fluently. On top of that, she also represented Singapore in the Miss Universe beauty pageant in 2010, so it's no surprise why many clients come to see her.
Of course, this popularity has its own share of drawbacks. For instance, you'll find that Dr. Yang is normally fully booked on most days, so you'll have to schedule your appointment at least a week in advance if you prefer to see her.
Otherwise, we hear that her colleagues are pretty good themselves. Either way, you'll get the same quality of service that this clinic is known for.
14. Veritas Medical Aesthetics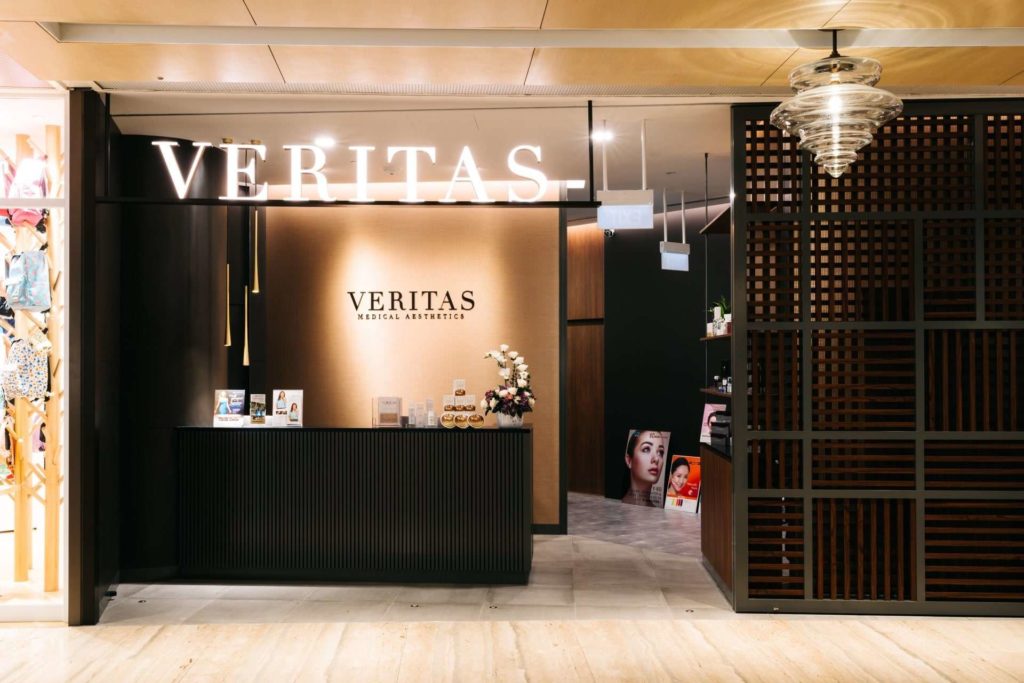 Veritas Medical Aesthetics prides themselves for offering science-based treatments that are only backed by data.
From Fotona BrightEye to SmoothEye lasers, we haven't seen a range of laser treatments that are as extensive as theirs.
While dark circle fillers are also available here, we'd like to highlight one particular filler that's uniquely offered in this clinic: Teosyal RD2. Compared to general dermal fillers, this one specifically targets dark circles.
This special filler doesn't absorb too much water, and pretty much produces a natural result.
From what we've seen though, their doctors normally recommend using a combination of treatments for optimal and long-term results.
While this says a lot about their versatility, this can also ramp up costs in your bill. Hence, those on a budget may be at a disadvantage here.
Of course, treatment will still depend on the causes of your dark eye circles, so it's best to schedule a consultation first.
On the bright side, they're also one of the few clinics on our list to open daily, even on public holidays. Just remember to schedule an appointment first to avoid being turned away.
15. Illumia Medical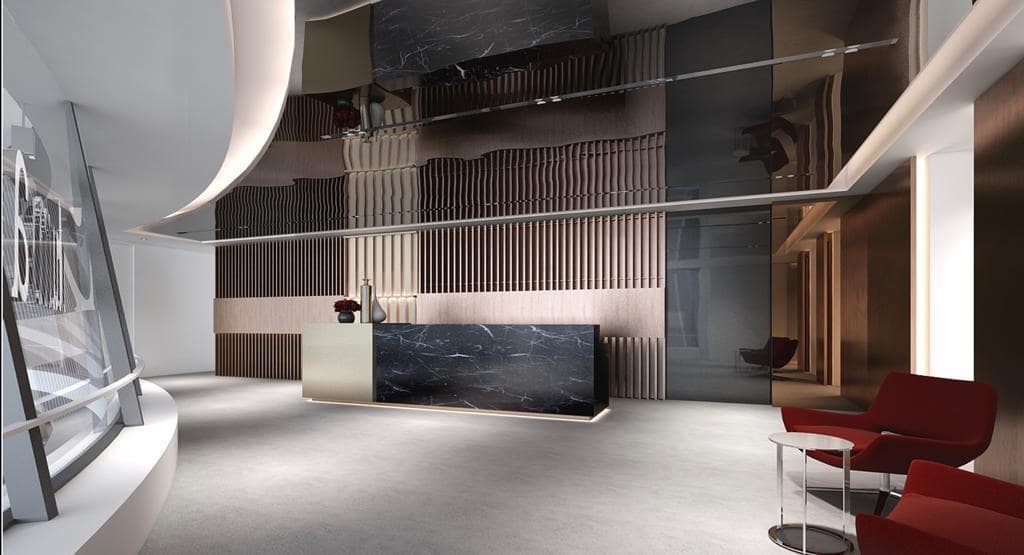 Next, we have Illumia Medical—another clinic you can consider for aesthetic services and surgeries.
Their services include body sculpting to facial modifications, and everything in between. They also have various treatments suited for reducing wrinkles and brightening skin, such as MD Secret RF, Pico Laser, and Gold Laser.
All of the aforementioned procedures are suited for dark circle treatments as well.
To start, the MD Secret RF is a non-surgical method that makes use of radio frequencies and microneedles to heal targeted areas. It has the additional benefit of rejuvenating the skin and gently reducing wrinkles and fine lines around the eyes.
You may be familiar with Pico Laser already, which uses concentrated bursts of light to work at the speed of sound. It's also used to reduce acne or remove tattoos.
Finally, the Gold Laser is also a laser treatment that, unlike the Pico Laser, is on a green wavelength of light. This unique feature allows it to break down red pigments and makes it perfect for vascular treatment.
A bit of discomfort can be expected during these treatments, but we like the fact that the clinic provides appropriate supplements, such as numbing cream or cooling gel, to keep you comfortable.
They will also help you with the aftercare by advising you on what to do and providing you with the necessary items for better recovery.
Now, there are 2 words to describe a particularly special service that only Illumia Medical provides: 3D consultation.
This breakthrough technology allows patients to see what their body or face would look like after treatment. This is definitely a first in Singapore, so we highly recommend giving it a try at least!
16. Mirage Aesthetic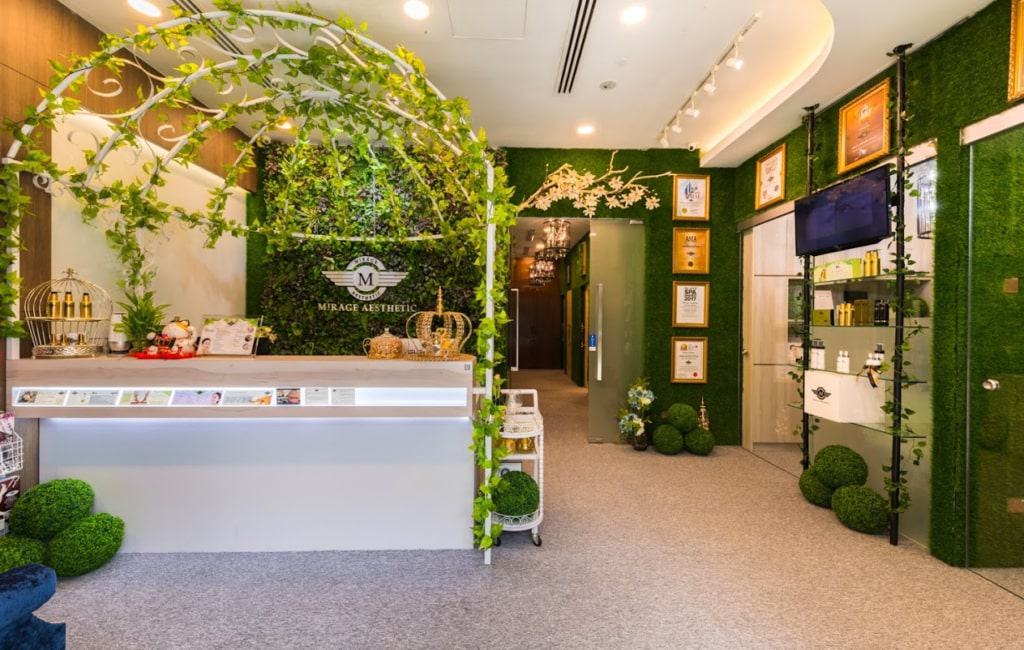 Mirage Aesthetic is the first botanically-inspired aesthetic centre established by professionals with more than 10 years of experience working with aesthetic treatments. These professionals care a common goal: to provide quality and customer oriented service to the people of Singapore.
To achieve this goal, Mirage Aesthetic makes use of the latest technology and high-quality products in all of their treatments.
Typically, the procedures are non-invasive and feature the use of specialised skincare products from Korea that help the centre customise the perfect solution for clients.
Mirage Aesthetic is open seven days a week and even operates during public holidays, making it one of the more accessible centres on the island.
Moreover, they have three locations spread throughout: one in Orchard Rendezvous Hotel, another in Westgate Shopping Mall, and the last on Scotts Square.
FAQs about Dark Eye Circle Treatments
---
That concludes our list of the best dark eye circle treatment clinics in Singapore!
If you already have some experience with any of our picks, share with us your experience with their treatments. We'd love to hear your story!
Moreover, you might also be interested in these best eye bag removals in Singapore! The clinics included on the list are local favourites as well, so you'll absolutely have more options!