Where to Find the Best Bespoke Suits in Singapore
Are you planning to attend a format event soon but still need a suit for it? If so, consider yourself lucky because today… we're looking at the shops where you can get the best bespoke suits in Singapore.
If you want to stand out at the event, wearing a ready-to-wear suit isn't going to be enough. You have to wear one of the best bespoke suits in Singapore — one that not only complements the event's theme, but shows off your personality as well.
We compiled the top tailors to help you with that. So, without further ado, here are the places where you can find the best bespoke suits in Singapore.
1. Mohan's Custom Tailors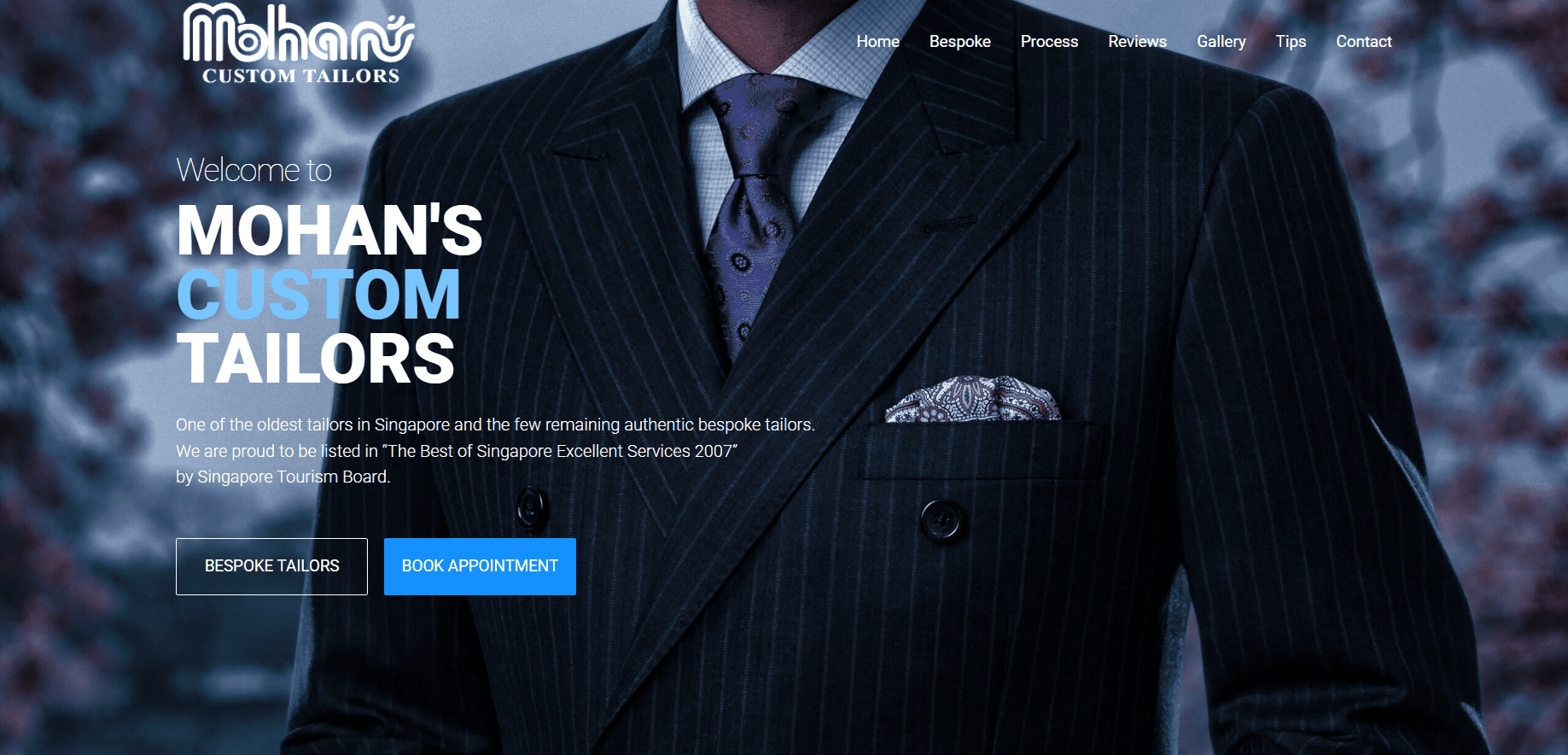 Are you looking for the best tailor in Singapore that offers bespoke suits? Look no further as Mohan's Custom Tailors is one of our best recommendations for you! 
Mohan's Custom Tailors offers true bespoke tailoring with you taking the helm for the full creative process, while their team of professionals ensures that your dream suit is achieved. Their suits are measured and creatively made for you and their delicate craftsmanship ensures you own that suit as an extension of your personality. 
If you are in need of the best suit to wear on an occasion, Mohan's Custom Tailors can handcraft the best suit with their professional hands crafting from the buttons down to the last thread in your suit. 
Even if you are new to customizing your own suit, Mohan's works fully with their clients to fully guide them in achieving their dream suit. Their tailors are ready to follow your lead and of course, provide guidance to suit your plan. What sets them further apart from other tailoring is that they offer a rigorous process for your suit to be materialized. From getting to know their client to the actual sewing of the suit, Mohan's and their tailors are ready to serve you. 
Quite simply, Mohan's Custom Tailors offers the best tailoring experience for you to wear that suit with confidence and style!
Highlights
Offers a wide range of styles to suit your taste

Detailed work on both pre-sewing and sewing of the suit

80% of every custom suit is handsewn
Customer Reviews
Absolute 5-star quality
"I have been visiting Mohan's since I first moved to Singapore 6 years ago, on the recommendation of my Brother who had in turn been recommended by others. I had my wedding suit made here and have subsequently had a number of suits from Mohan's. The service has always been 5 stars and the quality of the suits is second to none." – Dave Fowler 
Fast tailoring
"A very fast and tailor-made suit just in a day! As I need it urgently, they are able to get it done within a day. A lifesaver! Highly recommended to all who is looking to tailor a suit, shirt or pants." – Xavier Goh 
2. Picadilly Custom Tailors
Starting in the 1930s as a small shop for every gentleman's tailor needs, Picadilly Custom Tailors has grown into a popular establishment known in all of Singapore. It's owned by a distinguished gentleman himself, an experienced and highly skilled tailor, Mr. Suresh Mulchand.
The establishment offers an array of premium quality fabrics, unique cuts, and beautiful suit styles. Picadilly always has something new up their sleeve, making jaw-dropping creations every man would want to wear.
From the initial measurement, to several fittings during the making, and up to the final showcase, Picadilly Custom Tailors makes sure that you'll only feel comfortable and very much satisfied in their work. They leave no room for disappointment, always going all out and doing their very best in something that they've always been passionate about: making suits.
Highlights
Affordable prices
Decades of experience
Professional tailors
High quality fabrics
Customer Reviews
Picadilly has received nothing but good praises from their clients, having patrons that has been taking up their services for decades. They truly are reliable and remarkable in their work. Check some of the feedbacks left by their customers on their website:
"Great suits – high quality fabric and detailed fittings at affordable prices. If you want a good suit skip the young startup tailors with what you feel are low prices and go directly to the best in the biz. Amazing advice and guidance to give you the best look that you deserve." – Anirudh Ayyala
"I've been tailoring pants and shirts from Picadilly for 25 yrs.They are affordable and good quality. Their staff are awesome and friendly. I'm giving 6 stars for their service!" – Mike Rama
3. CYC Made to Measure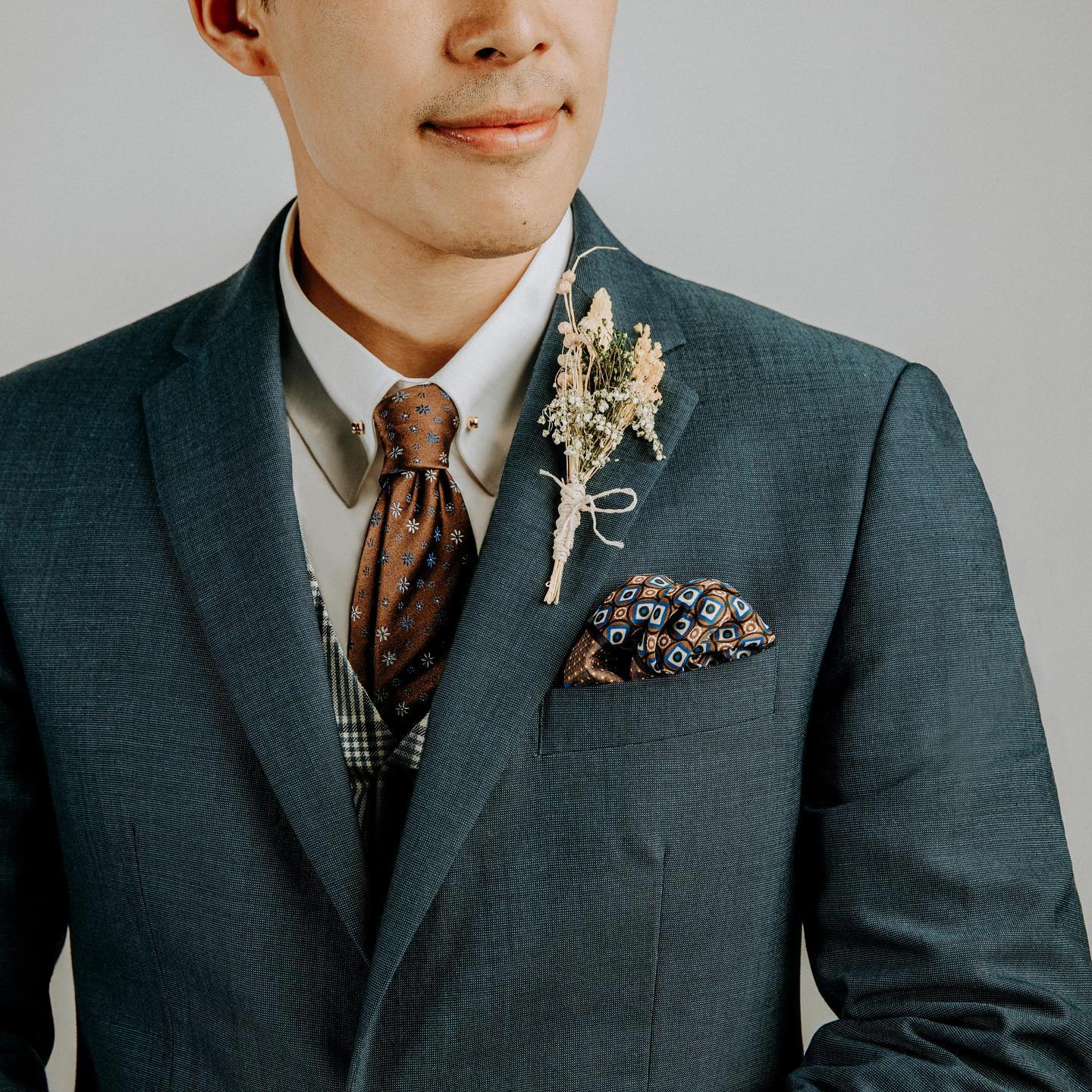 CYC is a shop that you can count on when it comes to quality suits done quickly. Their tailor's expertise and knowledge about fabrics and crafts is something incomparable– something that you should consider when looking for well-made ensembles.
They were established in 1935, since then becoming one of Singapore's most well-known tailor shops. They're known to have timeless pieces drawn from their own heritage, resulting in unique but staple suits that will fit your needs.
Highlights
Sophisticated measurements
Well-made suits
Fast and efficient tailor services
Customer Reviews
Take a look at what a very satisfied client had to say about CYC's services:
"I had a fantastic time at CYC Fullerton. In particular, I would like to commend Jeremy for his exceptional service and always going the extra mile for his clients. What sets Jeremy apart is the fact that with every client, he envisions (and knows) what that client will look best in and challenges the client to be daring and take that leap of faith. Simply put, Jeremy knows how to make his client stand out from the crowd. This is a man who understands both traditional and contemporary fashion perfectly well – with him, you are in safe hands. I look forward to my next tailoring experience at CYC with Jeremy. Cheers!"
4.  Made Suits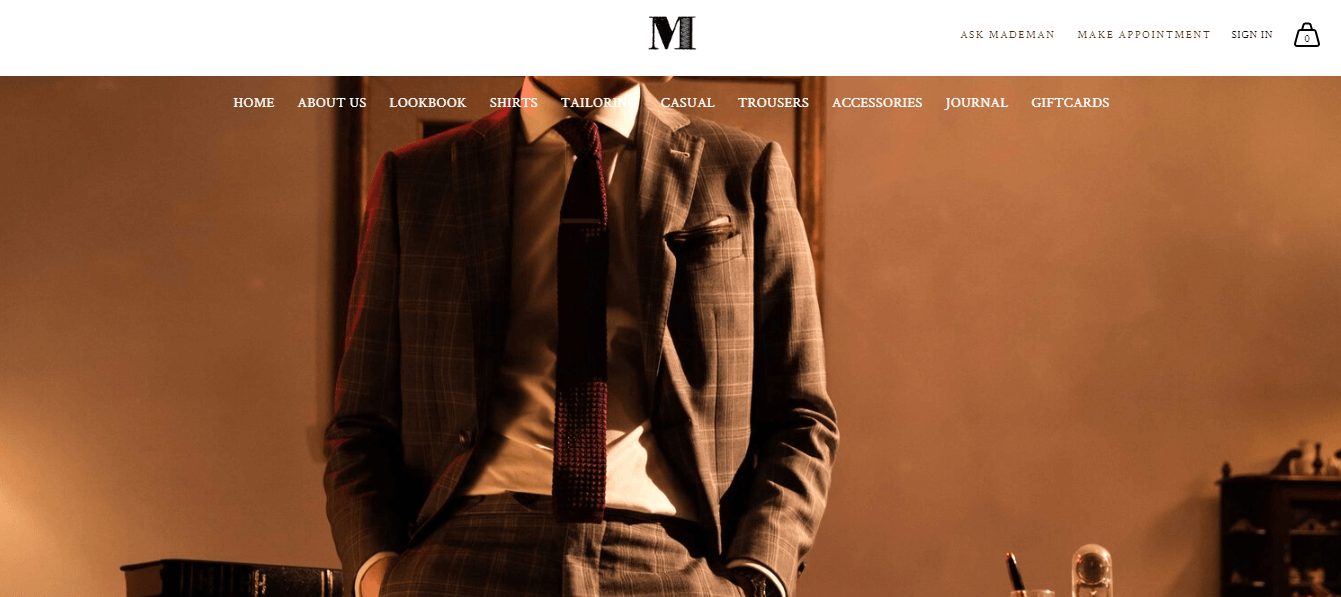 | | |
| --- | --- |
| BEST FOR  | Contemporary Style |
| SERVICES | Bespoke Suits, Blazers, Tuxedo, Safari Jackets, Waistcoat, Chinos, Denim Jeans, Polo Shirts, and Trousers |
| WEBSITE | www.made-suits.com |
| ADDRESS | 138 Robinson Road Oxley, Tower, Unit 02-09 Central Business District, Singapore 068906 |
| CONTACT DETAILS | +65 9828 6746 |
| OPERATING HOURS | Monday – Saturday, 11:00 AM – 8:00 PM |
If you thought that having the best bespoke suits in Singapore comes with a heavy price tag, then consider the ones from Made Suits different! The shop promises clients that they can wear a well-made, personally-tailored suit without shelling out a lot of money.
It's the ideal tailoring shop to visit if you don't attend a lot of formal events but still want a bespoke suit that's unique and expresses your personality well. It also has an extensive range of high-quality and durable fabrics that clients can choose from.
More than this, Made Suits doesn't offer only bespoke suits. It also makes other garments that are essential to every gentleman's wardrobe, such as polo shirts, trousers, blazers, shorts, safari jackets, and even denim jeans.
Highlights
Competitive pricing
Modern designs
Wide range of fabric
Casual wear
5.  Kevin Seah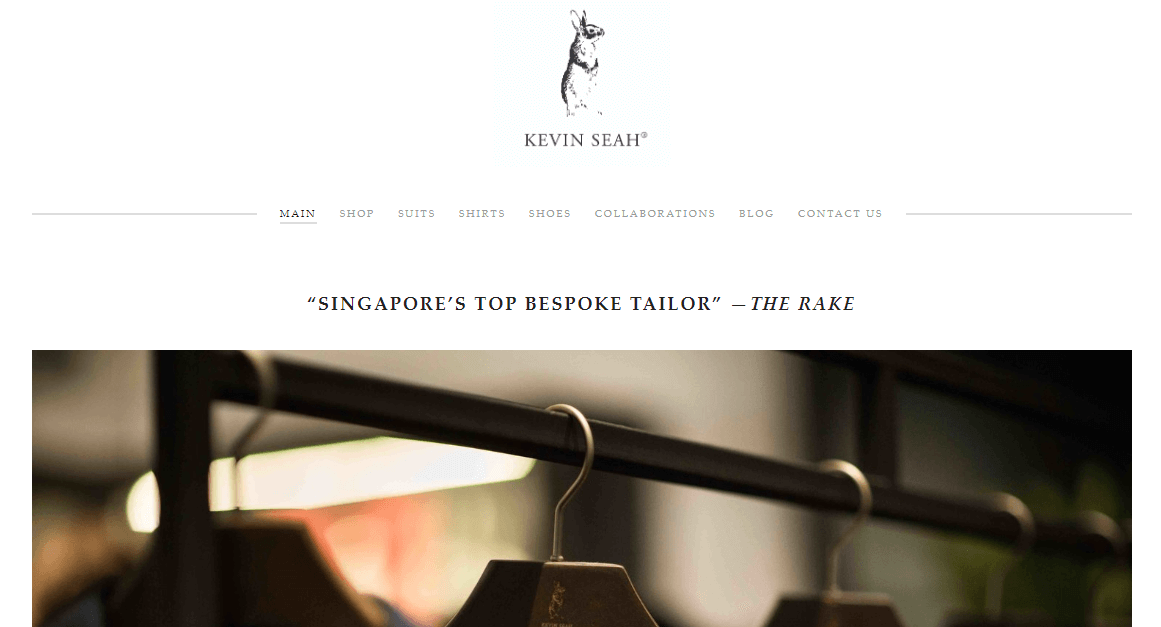 BEST FOR 
Traditional Tailoring
SERVICES
Bespoke Suits, Shirts, and Shoes
WEBSITE
http://kevinseah.com/
ADDRESS
5 Jln Kilang, #03-01 The Mill, Singapore 159405
CONTACT DETAILS
+65 6532 2018 |

[email protected]
Since he's considered one of the top bespoke tailors in Singapore, you won't regret purchasing a bespoke suit from Kevin Seah. He has more than 15 years of experience in traditional tailoring, creating suits that can be worn by any gentleman at a formal occasion.
What's more, Kevin Seah uses a wide selection of high-quality and premium cloth to ensure that every suit will last longer than usual. He's also known for being a design-driven bespoke tailor who merges classic and contemporary designs in all his creations.
So, if you're after quality craftsmanship for your bespoke suit, then Kevin Seah is your best option!
Highlights
15 years of experience
Premium collection of cloth
Exclusive offers for VIP members
Customer Reviews
Here are some of the reviews posted by customers on Google Reviews:
"I'm just as pleased as I am grateful. I was getting married and in need of some serious help managing not only what I was wearing, but also what my groomsmen were wearing. Kevin and his team worked with me to make sure I was comfortable, my group was all taken care of, and we all were looking fantastic for the big day. This is something I could have spent so much time and energy worrying about, and Kevin (with the help of his incredibly talented team) took excellent care of us. Not only am I a satisfied customer, but I also learned so much about the craft in the process. I'd highly recommend stopping by and checking this place out. You will be glad you did."
"If quality and fine craftsmanship are what you're after, then owning a Kevin Seah piece is imperative! Kevin's artistry shines through every piece of clothing he makes. To date, I've purchased four shirts for my husband and they've become his absolute favourite pieces to wear! Will definitely be going back for more!"
6.  Edit Suits Co.

BEST FOR 
British and Italian Fabrics
SERVICES
Bespoke Suits, Tuxedos, Trousers, and Custom-tailored Shorts
WEBSITE
https://www.editsuits.com/sg
ADDRESS
35A Duxton Rd, Level 2, Singapore 089499
CONTACT DETAILS
+65 3158 3926 |

[email protected]
If you want a quality but affordable bespoke suit comparable to the ones from luxury brands, then Edit Suits Co. comes highly recommended. It offers clients not only the best bespoke suits in Singapore but also custom-made trousers, tuxedos, and even shirts.
Edit Suits Co. is famous for using premium British and Italian fabrics in all of its custom-made and ready-to-wear garments, so rest assured that its products are all durable.
And of course, it boasts a team of skilled and experienced bespoke tailors who will make sure that their clients' demands and preferences are filled by their personalised suits.
Highlights
Quality cloth and fabric
Trained bespoke tailors
Customer Reviews
If you want to know what customers think of Edit Suits Co.'s services, take time to read these comments: 
"Great service and satisfying product. I was served by Chanel and she did a great job from the beginning. Measurements were professionally taken and adjustments were made accurately. Delivery time was punctual and customer service was responsive. I had the opportunity to be served by the manager, Jeroen during my final fitting and he was very attentive and genuine." 
"Had my first suit made at Edit Suits. The team was professional and patient while providing great advice on my purchase based on my needs. The waiting time is relatively short and the final product definitely exceeded my expectations! Overall a great experience, I will purchase from them again."
7. Mr. G Sartorial
Mr. G Sartorial is an establishment that aims to provide the best tailored suits for men and women alike. They believe that pre-made suits won't do for once in a lifetime events– like your first job, or even your own wedding. For these milestones in your life, they make sure to create something that you'll be proud of wearing.
A well-made suit can be considered as your second skin, one that can even boost your confidence if it's great enough. If you let Mr. G handle your clothing, you're sure to have quality personalised suits appropriate for any event.
Highlights
Affordable prices
Precise measurements
Very professional tailors
Excellent Service
Customer Reviews
As a shop that was established in 2014, Mr. G has received nothing but good praises from their customers. Here is one of them:
"The shop front is warm and inviting. Service is excellent and efficient. Both owners are passionate experts in suit fashion, saving customers time in their decision making. Their products are of high quality. True value for money. Definitely recommend this place to all."
"I needed a suit urgently because of travel plans, and Mr. G Sartorial ensure that the experience was both excellent and timely. The studio was comfortable, and felt like I was having a conversation in a living room. The service was par excellent with Gary giving great recommendations.
All in all, a very good experience, and would highly recommend anyone to get a suit with them."
8. Suit Yourself SG
With Suit Yourself SG, you'll find yourself getting perfect-fitted suits– all custom made and available at a fraction of the price most shops would sell it for. Despite the relatively cheaper price, they only use high quality materials and detailed crafting processes for their clothing.
They established their own way of checking measurements, known as the 3D Body Scanner. It ensures that your measurements are as precise as possible, to help you look your best in your customised suit.
In every step of the process, Suit Yourself SG will do their best so that you receive only the most detailed and perfect suits; From fabric choosing, sewing, fitting, and delivery.
Highlights
3D Body Scanner Technology
High Quality Fabrics
Great Style Advices
9. The Prestigious Bespoke Tailors

If you're looking for the top tailor shop on the island, then look no further than The Prestigious Bespoke Tailors. It offers customers the best bespoke suits in Singapore that can be worn for all types of formal events, from birthdays to company gatherings.
Of course, it wouldn't be called one of the best tailor shops in Singapore for no reason. It is known for having a team of trained and skilled in-house tailors who have years of practice here and abroad.
The Prestigious has also been featured in countless magazines and websites for its unique and high-quality bespoke suits.
Highlights
Skilled tailors
Unique bespoke suits
Made from durable materials
Customer Reviews
As one of the best tailoring shops in Singapore, The Prestigious has received nothing but praise from customers. Here are some of them:
"Came in looking for quality and that was exactly what I got. Yes, it's not the cheapest place in town but you absolutely get what you pay for. If you're looking to get something classic and timeless, seriously, look no further. Aside, Alvin, Mr Wong and the team are some of the nicest and most patient people you'll ever meet. Can't recommend this place enough." 
"We always look forward to visiting Prestigious Tailor for my fittings. During my first appointment, it was a pleasant surprise when Mr Wong sat my wife and I down to personally share his experience on bespoke tailoring. Because of my body type, finding the right fit is challenging. Together with Alvin and Joyan, the entire bespoke tailoring experience was nothing short of first class. Nothing matters more than the final result, I was really happy with the fit, compared to other tailor made suits I have."
10. Ron Master Tailors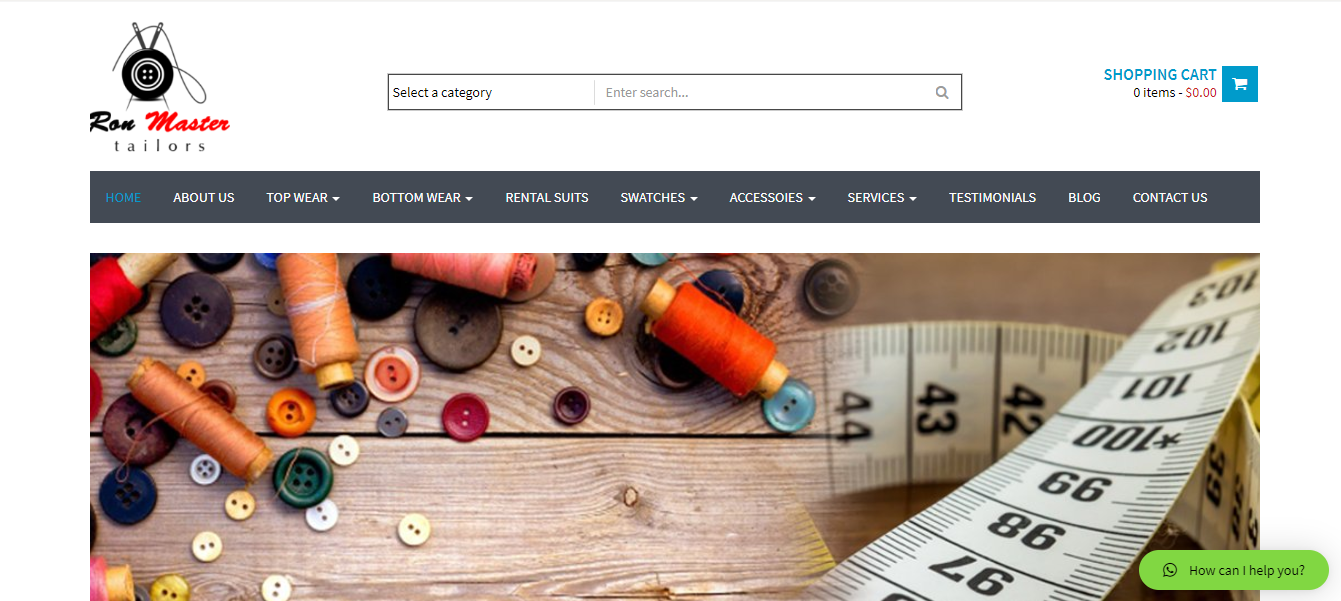 BEST FOR 
Latest Trends
SERVICES
Bespoke Suits and Dresses
WEBSITE
http://ronmastertailors.com.sg/
ADDRESS
#01-02/ #01-14, Orchard Plaza 150 Orchard Road, Singapore 238841
CONTACT DETAILS
 +65 9733 1012 | +65 6735 1992 [email protected]
OPERATING HOURS
Monday to Saturday — 10:30 a.m. to 9 p.m
Sunday – 11 a.m. to 7 p.m
Ron Master Tailors specialises in creating custom made clothes for men and women. They are a well established tailor, working with 30 years of experience under their belt.
They offer their custom tailoring services for all seasons, ensuring that you stay comfortable while reaching your standards. In creating their products, they use high quality fabrics of 100% worsted, wool, silk, linen, cashmere, gabardine and mohair for the outfits of both the ladies and gentlemen. They organise every client's data, keeping it safe in their database for future purposes.
They accept personal appointments, but you can also order online– they even offer delivery services. Their expertise is without a doubt, excellent, as they are always ready to make you feel good and confident in any event or occasion you will be wearing their work.
Highlights
High Quality Customer Service
Custom Made Clothing
Customer Reviews
Take a look at what a very satisfied client had to say about Ron Master Tailor's services:
"I met Mr. Ron for the first time nearly 25 years ago in Singapore. I am now able to meet with him every year to order suits and shirts as he travels around Europe to visit clients. The thing that really stands out with Ron Master Tailors is the high quality and fantastic customer service. He makes the process very simple for those who know exactly what they want, but is also very helpful to those that have never ordered custom tailored clothes before. Ron is truly a master at what he does!"
11. The Bespoke Club Singapore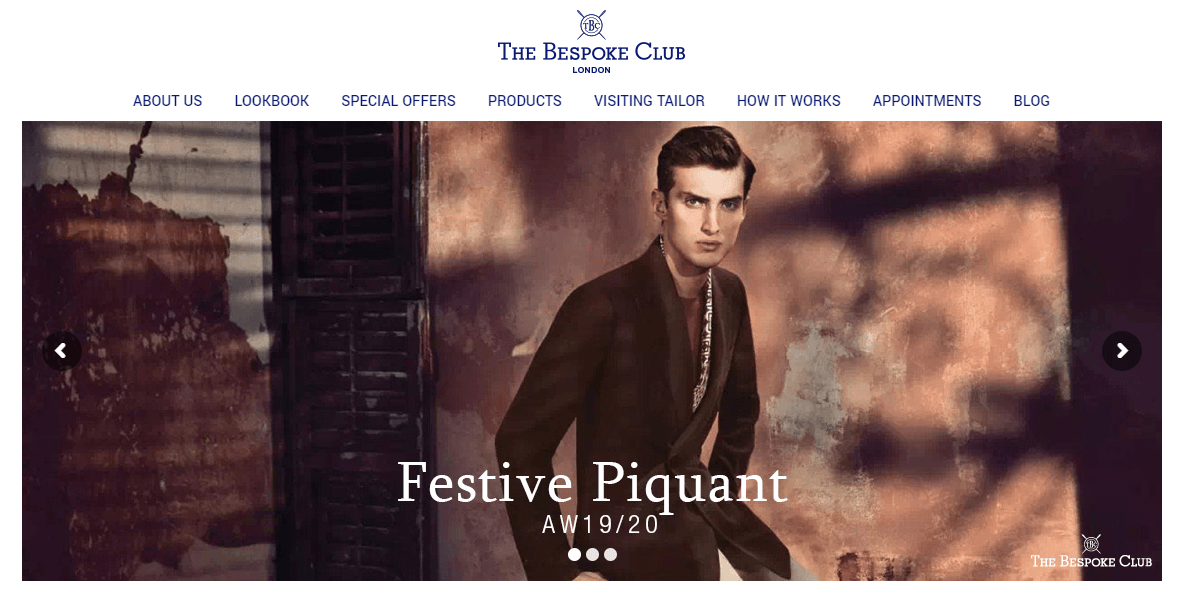 BEST FOR 
Latest Trends
SERVICES
Bespoke Suits and Dresses
WEBSITE
https://thebespokeclub.sg/
ADDRESS
Temasek Blvd, #01-484 Suntec City North Wing, Singapore 038983
CONTACT DETAILS
+65 6734 4167 |

[email protected]

OPERATING HOURS
Monday – Sunday, 10:00 AM – 8:30 PM
The Bespoke Club offers clients the best bespoke suits in Singapore that are in line with the latest fashions trends. It's the perfect shop to go to if you want quality and premium bespoke suits for a special occasion.
What's more, all customers get to choose the type of material that will be used in their own bespoke suits, guided by a professional and experienced tailor, of course. The Bespoke Club provides clients with fusion traditional and modern designs that will reflect the type of gentleman they are.
On top of bespoke suits, The Bespoke Club also offers formal dresses for ladies of all ages and sizes.
Highlights
Premium materials
Skilled and trained tailors
Easy booking of appointment
Customer Reviews
Take a look at what clients have to say about the services of The Bespoke Club:
"The Bespoke Club is by far the best tailor house in Singapore. My suit was meticulously cut and fits me perfectly. The finishing of the suit is immaculate. The attention to details is unprecedented. For a client who was extremely fussy about all the tiny detail and finishing of a suit, the Bespoke club superseded my standards. The service rendered was of the highest standard. Mr Ricky, the house's principal consultant, was patient, attentive and highly professional in providing his consultations throughout. I highly recommend the Bespoke Club to any suit connoisseur."
"We are so glad that we have chosen The Bespoke Club for our wedding day and my husband has been very satisfied with the service by Ricky and his 3 piece suit! We have been going back then to make his regular work shirts/pants even after the wedding day. For those who are looking for a bespoke suit, this store is definitely to go for! Thumbs up to the excellent service and the attention to details by Ricky!"
12. Common Suits
| | |
| --- | --- |
| BEST FOR  | Shirting Fabrics for Men |
| SERVICES | Private Tailoring, Bespoke Suits |
| WEBSITE | http://commonsuits.com/ |
| ADDRESS | 50A Club Street, Level 2, Singapore 069427 |
| CONTACT DETAILS | (+65) 8298 5224 |
| OPERATING HOURS | N/A |
Common Suits was established to empower men– reminding people of the common traits of good men through permanent fashion, an enduring style of masculine art. They want to allow men to feel and perform their best by being their best wingman.
Men and society have evolved over the centuries, but what fundamentally makes a man are the core values of integrity, manners, power, humility, resilience, confidence, leadership and inspiration. Regardless of background and status, these traits are the common denominators of all good men.
Common Suits, is too a common denominator of all good men. They want to help men develop taste – the sort of taste that is fearless yet grounded; unapologetic yet humble; refined yet effortless.
Highlights
Shirts, Suit, and Pants
100% House Cotton Fabrics
Customer Reviews
Here is a review left by a very satisfied client:
"Came here in April to check it out. Bought a couple of shirts then and was extremely pleased with them. Since then have about 7 more shirts and 2 suits. And it's only just August. Amazing service by Javin. Have never gone back to retail since. Thanks Javin for the excellent work."
13. Stitched Custom Singapore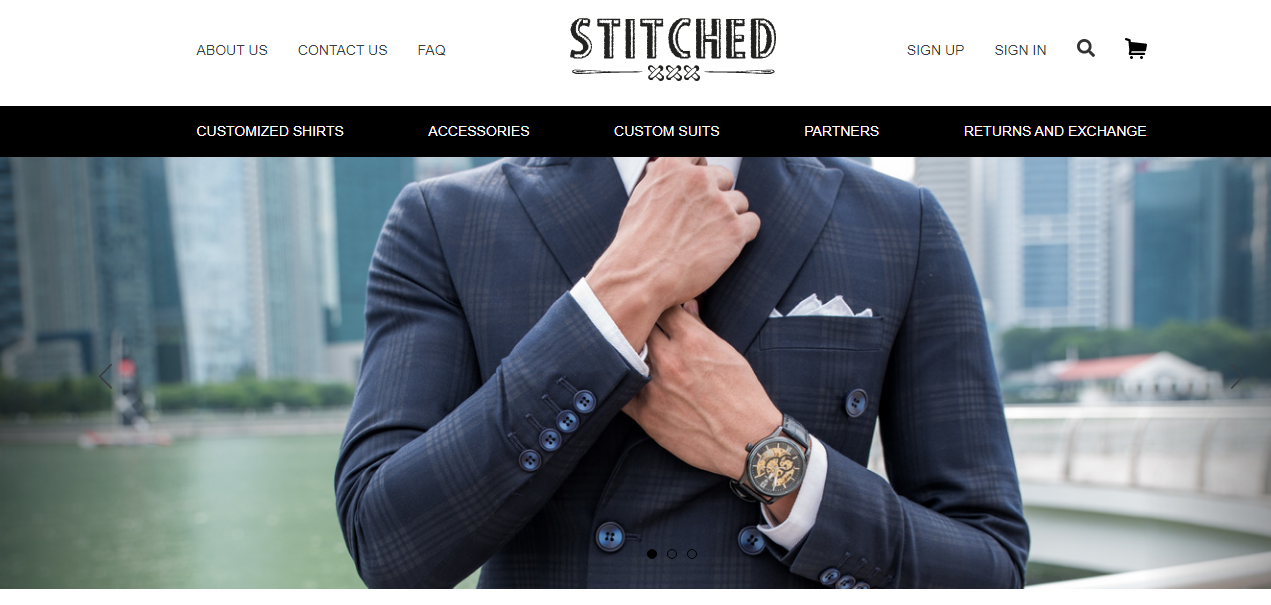 BEST FOR 
Tailoring Services
SERVICES
Customised Shirts, Accessories, Custom Suits
WEBSITE
https://www.stitchedcustom.com/
ADDRESS
193A Kitchener Road #02-01, Singapore 208534
CONTACT DETAILS
9720 3000
[email protected]
OPERATING HOURS
Weekday: 12PM – 8PM
Weekend (Saturday): 12PM – 430PM
Sunday: Closed.
Stitched Custom is a company inclined towards the art of dressmaking. Since its establishment in 2016, it has already catered to and earned the trust of several artisan fashion brands.
Stitched Custom will help transform that design in your head into a reality. You have nothing to worry about because this company is very particular about quality. Every finished product made is subject to thorough inspection before being delivered to clients.
Stitched Custom hires competent and efficient seamstresses who can perform both dressmaking and alterations. You can rely on them to craft and tailor any garment that would absolutely capture your fancy.
Highlights
Customized Suits
Wide Array of Fabrics
Professional Tailors
Customer Reviews
As one of the best tailoring shops in Singapore, Stitched Custom has received nothing but praise from customers. Here are some of them:
"I went there a month or so ago to get a couple of shirts and pants and found the Stitched Custom team to be very friendly and helpful. The shirts are very comfortable and an excellent fit, and the trousers are perfect and a joy to wear! After that first fitting I have been back there to get a couple more shirts and pants to fill out my wardrobe and look forward to getting more apparel from the Stitched Custom team. Keep up the excellent work! "
"Made an order for a pants on Monday. The measurements were taken and they asked for my preference. It was an urgent order and they obliged. The following Tuesday, I was asked to go down for fitting. They listened to all the minor details. The fit was perfect. I have been tailoring all my office wear since 2013 at various tailors. This is the first time no alterations were required! Thanks to the team at Stitched!"
14. Perfect Attire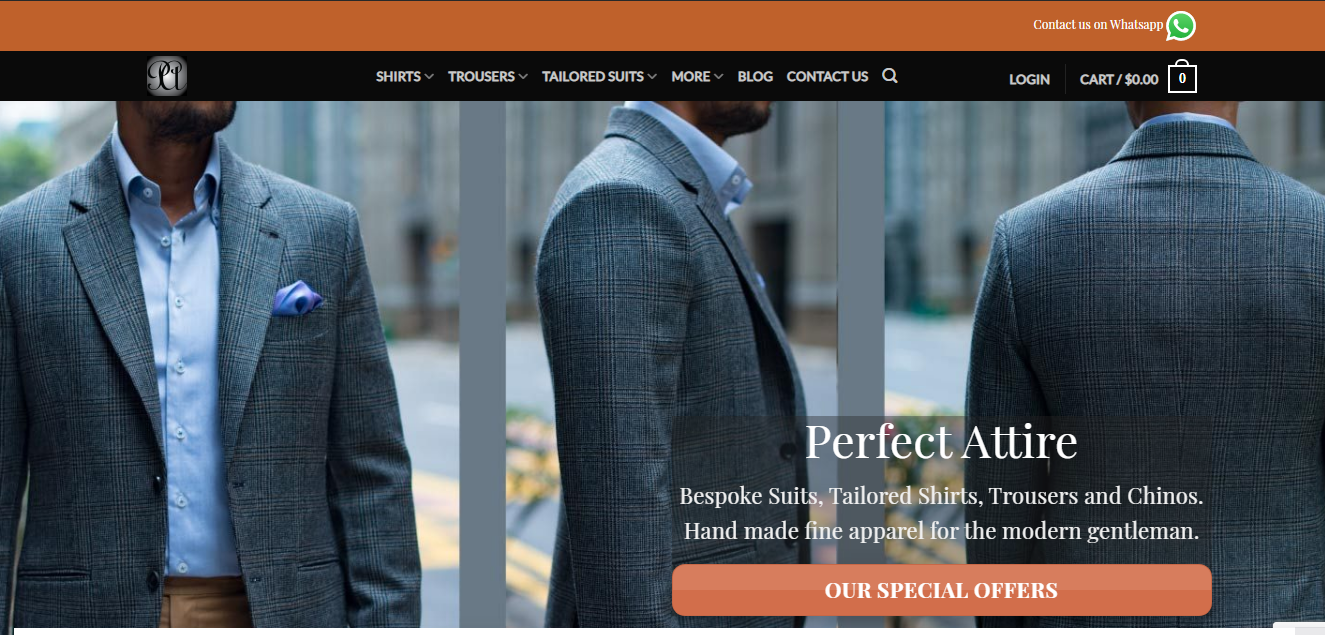 BEST FOR 
Men Formal Attires
SERVICES
Shirts, Trousers, Tailored Suits
WEBSITE
https://www.perfectattire.com/
ADDRESS
Oxley Tower,Unit 03-38, 138 Robinson Road, Singapore – 068906
CONTACT DETAILS
(+65)-98187062
[email protected]
OPERATING HOURS
N/A
Producing custom clothing is the Perfect Attire team's passion. They pour all of their artistry into this field by rendering expert tailoring services to clients at very reasonable prices, as well as providing a wide range of fabrics to choose from.
Every garment from Perfect Attire is the product of meticulous craftmanship. These articles of clothing are checked repeatedly for defects before being delivered to their respective owners. To avoid any risk, it is also ensured that they are customized to perfectly match the clientele's body features and preferences.
Perfect Attire has already partnered with several prestigious clothing brands, and its staff can definitely be trusted with dressmaking projects of any sort. You can avail their services by visiting their website, which is updated regularly to ease your means of access into their system.
Highlights
Unique Designs
Affordable Price List
High Quality Fabrics
Customer Reviews
As one of the best tailoring shops in Singapore, Perfect Attire has received nothing but praise from customers. Here are some of them:
"Schedule a time at Perfect Attire after reading multiple positive reviews. They certainly lived up to my expectations. During my first visit, we decided on style, fabrics, made first measurements, etc. A second visit was scheduled two weeks later to correct the initial measurements. The two suits and three shirts that I had ordered were later shipped directly to Norway according to my instructions. Very happy with final results. Will order from them again.."
15. BKK Bespoke Singapore
BKK Bespoke is a multi-national tailor known for, you guessed it, its bespoke suit designs. The shop has branches in California, Bangkok, and Singapore, all of which are only accepting guests by appointment.
Now, it's worth noting that bespoke suits from BKK are some of the most expensive options on this list, but all within good reason. BKK is known for its elegant makes, as well as the high-quality fabrics and materials they use in every piece.
As a result, clients can avail of suits that are both eye-catching, flattering on their forms, and will last a lifetime.
Highlights
Only accepts clients by appointments
Elegant bespoke suits
Various branches worldwide
16. Esquire's Bespoke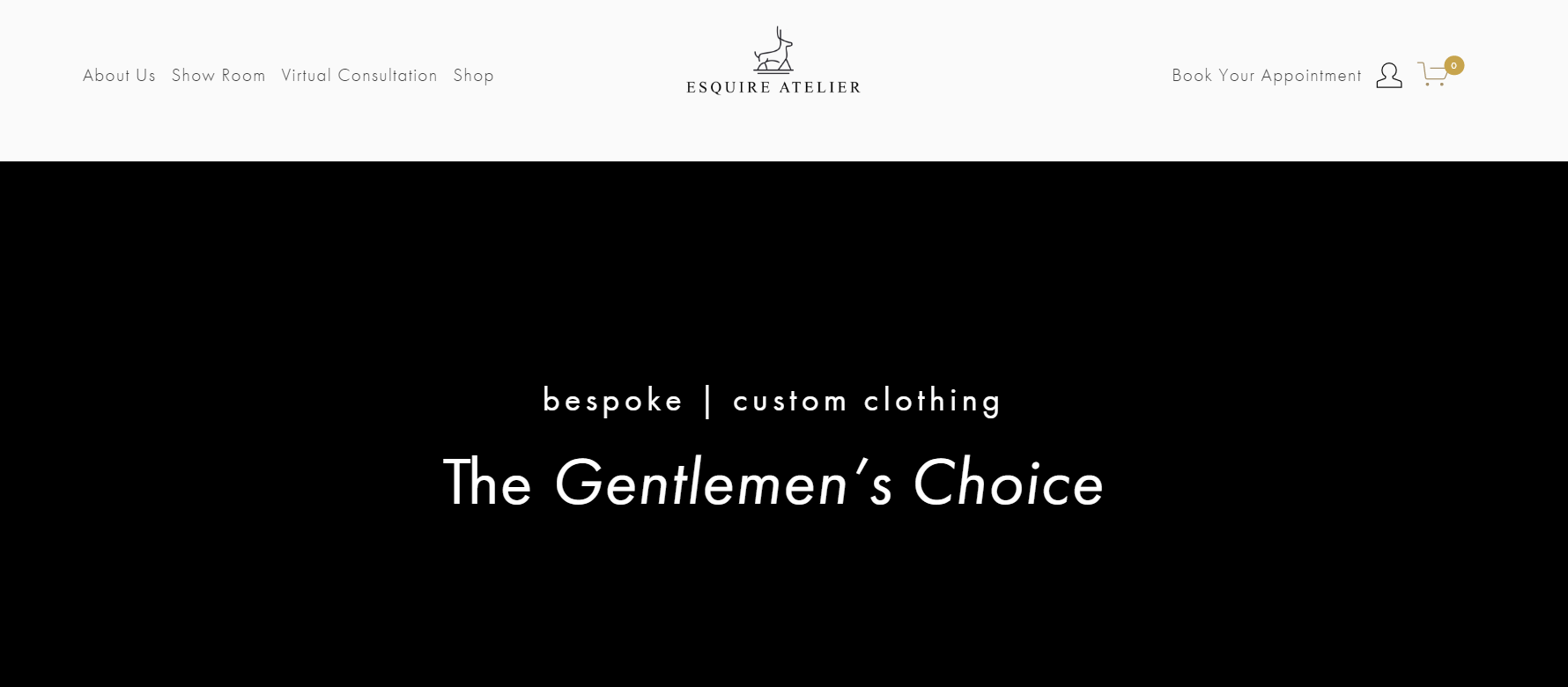 BEST FOR
Bespoke Pieces for Formal Occasions
SERVICES
Custom Pieces
WEBSITE
http://www.esquireatelier.co/
ADDRESS
Sultan Plaza, #03-30, 100 Jalan Sultan, Singapore 199001
CONTACT DETAILS
[email protected]
9837-4630
OPERATING HOURS
By appointment only
Esquire's Bespoke first opened its doors to the public in 2013 with two main goals in mind.
First, to offer customers bespoke menswear at affordable prices. And second, to create a seamless and enjoyable experience for clients searching for their own styles.
Since then, Esquire's Bespoke has unfailingly done both, catering to numerous clients and helping them find the right piece either for the office, weddings, or other formal events. They do so by meeting with each client on a one-on-one basis.
This process allows the experts at Esquire's to get a feel of the client's personal style. These experts then give recommendations (e.g. pattern, inner lining, cut), and explain the difference of each.
Finding the right suit is time consuming and requires patience. Fortunately, Esquire's has both and is dedicated to helping their clients.
Highlights
Only accepts clients by appointments
Bespoke suits for the office, weddings, and many more
Partners with renowned brands for fabrics, accessories, and inner linings
Shop accepts clients on an appointment basis
And that's it for our list of the places where you can find the best bespoke suits in Singapore. If you've purchased a garment from any of these tailors before, share with us what you think of their product!
For more options, you might want to see our list of the best tailors in Singapore. These skilled tailors can not only make custom-made suits but a whole other lot of special occasion garments as well!