By Jasmine Wee
Getting overly bothered because of your dark eye bags? Well, worry no more, as we've got you the most well-known clinics that offer the best eye bag removal in Singapore.
Their treatments are painless and highly effective so you'll absolutely have your eye bags and dark circles removed in no time! Take a look at our list of places for the best eye bag removal in Singapore to know more about these treatments and services.
(Note: This list is in no particular order.)
1. Dr. Terence Goh
BEST FOR
Eye Bag Removal
WEBSITE
https://www.plasticsurgeonsingapore.com/eyebag-removal/
ADDRESS
38 Irrawaddy Road #06-48 Mount Elizabeth Novena Specialist Centre Singapore 329563
CONTACT DETAILS
31292428
OPERATING HOURS
Mon – Fri: 9am – 6:30pm
Sat: 9am – 1pm
Plastic Surgeon Singapore is an agency comprised of a team of highly skilled individuals who operate under the supervision of Dr. Terence Goh. It has proven to be an excellent go-to clinic for plastic surgery just because of this fact alone. Another is that it offers a large selection of procedures to choose from for any body part, all personalised to suit the needs of the patient.
Some of the surgical procedures that Plastic Surgeon Singapore provides include facial aesthetics, body contouring, and breast surgery. Reconstructive surgery is also one of the clinic's specialties.
All of the plastic surgeons that make up the Plastic Surgeon Singapore team are specially trained and guided by Dr. Goh in performing both reconstructive and aesthetic procedures. Thus, you can be sure that the enhancement of any of your physical features is in the care of very skilled hands.
Highlights
Face and body treatments
Expert plastic surgeon
Wide variety of treatment services
2.  Allure
BEST FOR 
Signature services
WEBSITE
https://www.drsamuelplasticsurgery.com/
ADDRESS
435 Orchard Road #22-04 Penthouse Floor Wisma Atria Singapore 238877
CONTACT DETAILS
31384790
[email protected]
OPERATING HOURS
Mon-Thu: 10AM – 6PM
Fri: 10AM – 8PM
Sat: 10AM – 3PM
Sun & PH: Closed
Even if your dedicated hard work causes long sleepless nights and worse, deep and dark eyebags that make you look dull, there's an answer. Allure Plastic Surgery offers one of the best eye bag removals in Singapore.
Their eye bag removal is a scarless treatment that'll remove excess fat deposits under your eye area. They perform two different techniques and each is suitable for certain conditions.
The process will take up to 1 hour and you may choose to have anaesthetics to numb the eye region or be sedated during the operation. The recovery usually takes up to 2 weeks.
Highlights
Anaesthetics and sedation options
Eyelid correction
3.  Shens Clinic
BEST FOR 
Eye bag removal surgery and dark circles treatment
WEBSITE
https://www.shensclinic.com/
ADDRESS
Winsland House 1, #09-08, 3 Killiney Road, Singapore, Singapore 239519
CONTACT DETAILS
+65 3138 4395
OPERATING HOURS
Weekdays: 9:30am–6:30pm

Saturday: 9:30am–2:30pm
As it's known for being a Korea-trained clinic, you can rely on the high-quality treatments of Shens Clinic. This involves scarless eye bag removal surgery that is done under local anaesthesia so you won't feel a thing throughout the process.
They've performed this treatment countless times for thousands of clients so you can be sure that you're in good hands. Moreover, they also offer treatments for dark circles that include derma fillers or laser treatments.
Highlights
Additional lower eyelid treatments
Derma fillers or laser treatments for dark circles
Customer Reviews 
Most clients were pretty satisfied with the lower eyelid treatments of Shens Clinic. Some of them also said that they have the best eye bag removal in Singapore due to their premium services and attentive staff.
A customer from Google Reviews shared this experience:
"I had my eye bags and eyelid blepharoplasty with Dr Shens and I am happy with the results. He is very patient and professional with my all my post-surgery requests. I will not hesitate to recommend Dr Shens to anyone."
4.  Cambridge Medical Group
BEST FOR 
Non-surgical eye bag removal
WEBSITE
https://www.cambridgemedical.com.sg/
ADDRESS
391B Orchard Road, #08-05A1, Tower B, Ngee Ann City, Singapore 238874
CONTACT DETAILS
6733 0777
OPERATING HOURS
Monday to Wednesday: 10am – 6pm

Thursday: 10am – 8pm

Saturday: 10am – 3pm
Cambridge Medical Group is widely known for its full range of aesthetic treatments. They even have various types of eye bag removal such as their own non-surgical treatment and laser treatment.
If you're afraid of going under surgery, you may consider their treatments as one of the best eye bag removals in Singapore.
Their non-surgical treatment reduces eye bags and eye wrinkles with a patented micro-needle that's as mild as a mosquito stinger. This will also tighten up your loose skin under lower eyelids, giving you a more youthful look.
Highlights
Eyelift treatments
Accessible locations
5. Edwin Lim Medical Aesthetic Clinic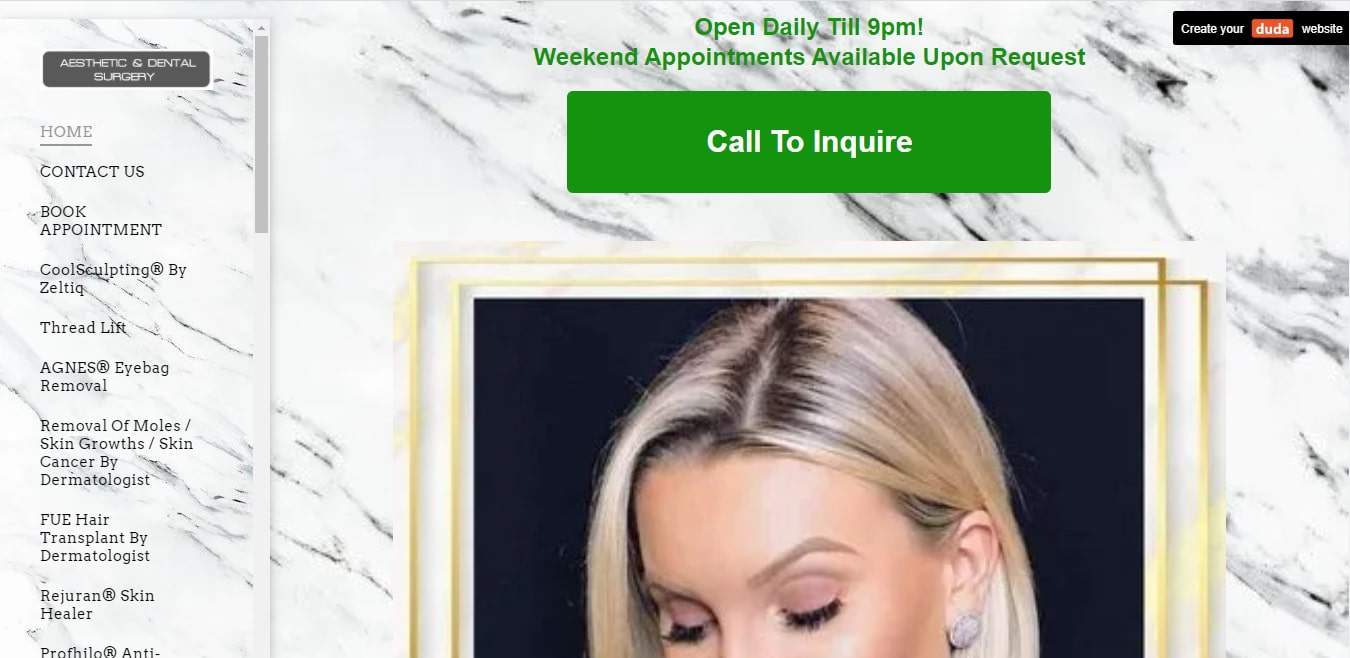 BEST FOR

Full range aesthetic procedures

WEBSITE

https://edwinlimclinic.sg/

ADDRESS

#02-12/13, Changi City Point,

5 Changi Business Park Central 1,

Singapore 486038

By Appointment Only:

#05-51, Lucky Plaza,

304 Orchard Road

Singapore 238863

CONTACT DETAILS

Tel: +65 69042218

Whatsapp: +65 96372218

OPERATING HOURS

Mon-Fri – 11 am to 8 pm

Sat-Sun – 11 am to 6 pm
Equipped with advanced and latest technology, Edwin Lim Medical Aesthetic Clinic is one of the best in the field, helping clients to look their best with minimal amount of time. They offer a wide variety of medical aesthetic services, including laser, injectables, HIFU, lump removal, chemical peels, and facial. 
The team is also able to assess clients' skin condition, and match them with the appropriate treatment for best results. Beauty products such as cleansers, toners, serums, moisturizers, sunblocks, and many others, are also available at their clinic, for their clients' skin care needs. 
Highlights
Injectables

Laser treatments

Customized solutions for each unique skin condition
Customer Reviews
Satisfied customers have shared their delight to the clinic's Facebook page. One of them is Xavier Foo, who wrote:
"Currently treating my acne with Dr Edwin.
He's patient and caring, staffs do not hard s
ell, Dr Edwin even has his own products created to combat acne prone skin.
Strategic location- At Changi City Point
Definitely worth a visit."
6. Azataca Plastic Surgery Pte. Ltd.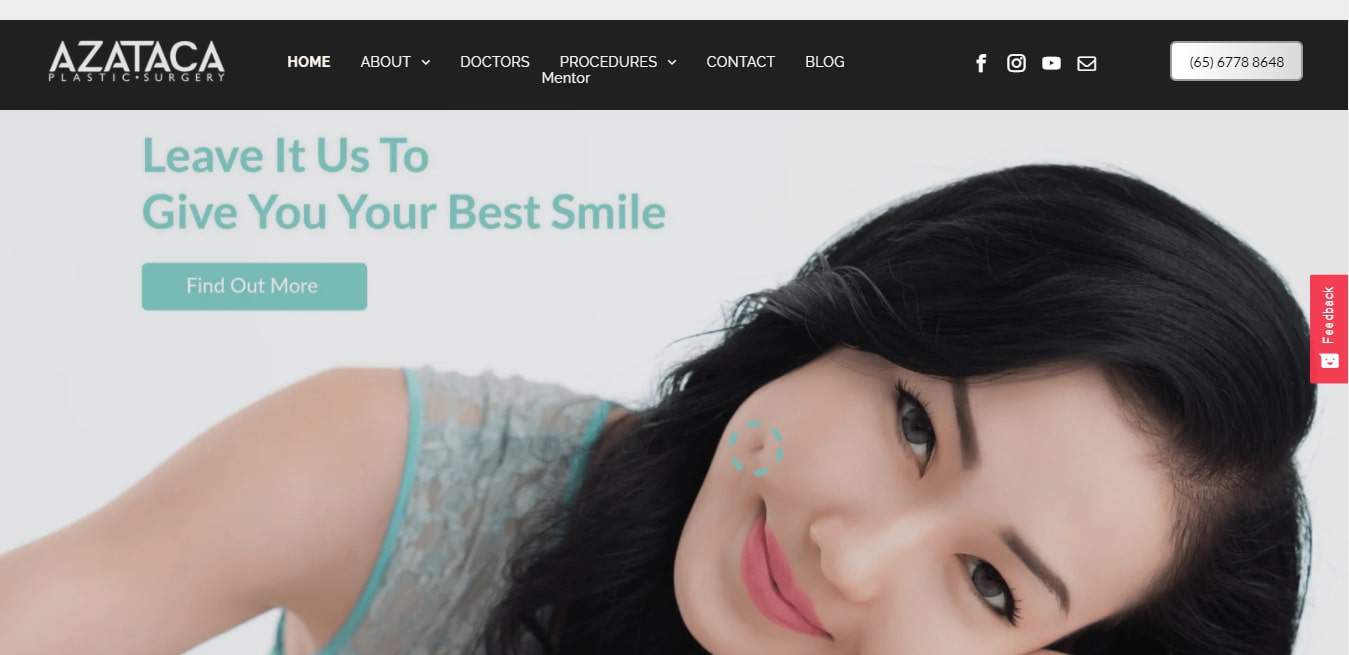 BEST FOR

Facelift, double eyelid creation, rhinoplasty, reconstructive surgery

WEBSITE

https://www.azataca.com/

ADDRESS

Novena:

38 Irrawaddy Road #06-48

Mount Elizabeth Novena Specialist Centre

Singapore 329563

Orchard:

3 Mount Elizabeth Road #15-11

Mount Elizabeth Hospital 

Singapore 228510

CONTACT DETAILS

Main Line: (65) 6778 8648 

WhatsApp: (65) 9649 0648

WeChat: (65) 9649 0648

OPERATING HOURS

Mon-Fri: 9am – 6:30pm

Sat: 9am – 1pm

Sun: Closed
Azataca Plastic Surgery is vastly known in the Singapore plastic surgery scene, with their three accredited and highly-skilled Singaporean plastic surgeons, you are assured that you are in good hands when you avail of their services. 
As a testament to their high-quality and excellent service, Azataca was recently included in the top plastic surgery clinics in Singapore. Equipped with the latest, state-of-the-art technology, they are offering a wide array of services including facelift, double eyelid creation, rhinoplasty, breast augmentation, head and neck reconstruction, among many other services.
Highlights
Facelift

Double eyelid creation

Rhinoplasty

Reconstructive surgery
7. Aesthetics Central Clinic
BEST FOR 
Customisable treatment plan
WEBSITE
https://www.cosmeticsurgery.sg/
CONTACT DETAILS
(+65) 6532 2400
OPERATING HOURS
Weekdays: 10am-8pm

Saturdays: 10am to 2pm
Aesthetics Central Clinic is another option for non-surgical methods. This will also reduce the bulk under your eyes, tighten the skin and remove fine lines.
The procedure is only less than an hour but the results can last for at least 5 years. For those who have severe eye bags, a certain number of sessions might be needed.
Highlights
Wide range of eye treatments
Personalised treatment plans
Customer Reviews 
Aesthetics Central Clinic has been earning high-rated reviews from the clients saying that they keep coming back because of their quality treatments and attentive staff.
A customer left this review on Google Reviews:
"Been visiting Aesthetics Central Clinic for a while now for my treatments and it almost feels like home here with such friendly staff who are always ready to assist and Dr Ryan is so caring, always putting my worries at ease! 5 stars and definitely my aesthetic clinic of choice!"
8. Aesthetic & Dental Surgery
Aesthetic & Dental Surgery offers an extensive scope of facial aesthetic services like eye bag removal, chin enhancement, fillers,  glycolic peel, etc., as well as dental services like teeth replacement and dental braces.
One of their prides is their AGNES Non-Surgical Eye Bag Removal that guarantees no pain, and no scar and is quickly done in just an hour.
Compared to the traditional surgical eye bag removal, their procedure only uses modern non-invasive aesthetic and laser technology so you can immediately go back to your normal activities but this time with a fresher look.
Highlights
Wide scope of facial care and treatments

High quality products and equipment

Interest-free Installments with OCBC Credit Cards
9. Sweng Plastic Aesthetic and Reconstructive Surgery
BEST FOR

One-stop aesthetic needs facility

WEBSITE

https://www.sweng.sg/

ADDRESS

1 Farrer Park Station Rd, #16-08 to 10 Connexion, Singapore 217562

CONTACT DETAILS

+65 6600 6868

OPERATING HOURS

Mon-Fri: 9am to 6pm

Sat: 9am to 1:30pm
Sweng Plastic Aesthetic and Reconstructive Surgery wows their patients with their state-of-the-art facility where they can comfortably lounge around and receive first-class aesthetic treatments delivered only by some of the best and most qualified specialists in Singapore.
The clinic is primarily led by the in-house plastic and reconstructive surgeon Dr. Ng Siew Weng who is accredited by the Ministry of Health of Singapore. 
Sweng Plastic Aesthetic and Reconstructive Surgery offers a wide range of aesthetic and reconstructive procedures, from the face down to the limbs, both surgical and non surgical and their eye bag surgery is guaranteed to be scarless.
Highlights
Scarless eye bag removal

Advanced medical equipment

Premiere aesthetic treatments
Customer Reviews
Sweng Plastic Aesthetic and Reconstructive Surgery has a perfect 5.0-rating on Google. Dr Ng was especially praised for his seamless work that makes his client 100% satisfied.
"Dr Ng is an excellent doctor.  He is very detailed and meticulous. He explained very clearly the procedures and various options before i decide on the surgery.  He was extremely gentle while performing the surgery. My recovery process was smooth sailing, no pain and side effects. I am very pleased with the result.  
Follow up checkups just as pleasant. 
Appreciate the nurses attention and care before, during and after the surgery"
10.  Aesteem Clinic

BEST FOR

Eye Bag Removal

WEBSITE

https://aesteemclinic.sg/eye-bag-removal/

ADDRESS

Novena Medical Center

10 Sinaran Drive #11-23

Singapore 307506

CONTACT DETAILS

(+65) 6850 5050 |

[email protected]

 

Operating Hours 

Tuesday

10am–8pm

Wednesday 10am–8pm

Thursday 10am–8pm

Friday             10am–8pm

Saturday 10am–6pm

Sunday Closed

Monday 10am–8pm
One of their signatures on their clinic is eye bag removal, so if you are looking for it, you may consider choosing Aesteem Clinic as one of your options.
Before they perform a service, they always make sure that each procedure will be comfortable for the customers and make it as painless and quick as possible.
Dr. Gerald Tan is the medical director of Aesteem Clinic, he graduated in 1993 with the degree of M.M.,B.S in the prestigious National University of SIngapore. He has a lot of experience on using various laser treatments for both face pigmentation, scars, pores, acne and body sculpting.

Highlights
Premium Quality Signature Treatments

Minimal Downtime Treatments

Minimal Pain Procedures
11. Radium Medical Aesthetics

BEST FOR

Non-invasive medical aesthetic treatment

WEBSITE

https://radium-aesthetics.com/

ADDRESS

3 Temasek Boulevard #03-325/326 Suntec City Mall, Singapore 038983

CONTACT DETAILS

+65 6837-0507/ +65 9630-3022

OPERATING HOURS
Monday to Saturday:

10:30am to 8:00pm (Last appointment at 7pm) 

Sunday: 10:30am to 3:00 pm (Last appointment at 2pm)
Radium Medical Aesthetics always make sure to use modern and latest technology when it comes to treating their clients. They offer different treatments which are designed to enhance and rejuvenate your skin. One of which is eye bag removal. 
The clinic is renowned for its non-invasive procedures Thus, you will only suffer minimal pain during the process. Their end goal is to make their clients look and feel better about themselves. 
Headed by Dr Siew Tuck Wah, the medical staff of the clinic provides excellent performance and efficient service. This is how the clinic established their reputation and integrity in the industry. 
Highlights
Non-invasive treatment

Customized skincare procedure 

Minimum discomfort and pain
Customer Reviews
Radium Medical Aesthetic has garnered positive feedbacks and reviews from their customers. Here are some of those: 
Just wanted to thank Doc. Siew for saving my skin. It was so bad just a few days ago as it was peeling and throbbing red and I thought I really had to go under some medication or something.
Doc. Siew then told me to think what I had use differently and told me not to worry and perhaps try a treatment first and if am not in a rush just use his products first. I took all his suggestions for the light treatment plus products and it's softer now even. 
I started to see Doc Siew since my poly days and I must certainly say he has nv once tried to product push, in fact i feel that he always tells me to go for the most economic way. In fact sometimes if theres no need to, he would tell me to leave it, Which i really appreciate. All his treatments are very value for money and products are certainly lasting cos i only need a drop/2 . 👏🏻 – salsayaya85
Very satisfied with the results & services in Radium, 5-Star experience with reasonable prices. My first visit to consult with Dr Siew. He addressed my concerns and only recommended the treatment with very natural contour to enhance the face features. I took the Under Eye Filler,  reducing early wrinkles and hollow spaces under my eyes. He is very attentive and skillful in what he does. Highly recommended! – Sary Ann
12. Dream Singapore
Dream Singapore specializes in incisional eye bag removal, a simple procedure that only takes an hour. They also offer a scarless eye bag removal which, unlike the former, does not involve knives and stitches and this definitely recovers faster than the surgically done one.
Dream is the first and only authentic Korean plastic surgery clinic in Singapore with a MOH-certified day surgery center. They always keep a high standard in their aesthetic procedures which truly reflects on the results of their work.
Aside from eye bag removal, they also offer an extensive range of aesthetic procedures from the face down to the body.
Highlights
Eye bag removal leaves no visible scars on the face

Surgeons have more than 20 years of experience

MOH-certified day surgery centre
And that's it for our list of clinics that offer the best eye bag removal in Singapore! Each one of them either provides surgical or non-surgical procedures so you can easily choose which services suit you the most.
If you're also looking for some products that can lighten your dark circles, you might want to see these best Korean eye creams in Singapore! They're made of organic ingredients that'll moisturise and hydrate your under-eye area, giving you a healthier-looking skin!