Our 14 Favourite Clinics for Chemical Peel in Singapore
Of all skin treatments offered by aesthetic clinics today, chemical peel is considered one of the most effective as it can make skin look smoother and less wrinkly immediately. With the best chemical peel in Singapore, you can easily achieve brighter and younger looking skin.
On top of improving the condition of your skin, the best chemical peels in Singapore can also treat acne, reduce freckles and age spots, make acne scars less obvious, and reduce lines under the eyes. It's the ideal treatment to get because it targets a lot of skin problems!
Since we want to make your lives easier, we compiled the top aesthetic clinics that offer the best chemical peels in Singapore. We included the ones that are well-reviewed, have excellent staff and experienced doctors, and a wide variety of beauty treatments.
So, without further ado, here are the aesthetic clinics worth checking out:
(Note: This list is in no particular order.)
The Clifford Clinic
The Clifford Clinic is an excellent choice for beautifying solutions and cosmetic treatments. The chemical peel treatment that the clinic offers can help address issues that have to do with acne and scars, and skin discoloration.
Dr. Gerard Ee, their head dermatologist, works with his team of expert aesthetic doctors in delivering the best services. With his interest in minimally invasive surgery and aesthetic medicine, you can rest assured that any treatment you undergo in Singapore Aesthetic Practice will go well.
Highlights
Minimal Downtime
Minimal Scarring
Safe Procedure
Accurate Treatment
Dr. Lee Mun Heng – Cambridge Medical Group
Cambridge Aesthetic Clinic provides holistic treatments to make you beautiful inside and out. This boutique medical and laser aesthetic clinic provides medically sound and comprehensive aesthetic care in a comfortable and private environment.
Cambridge Aesthetic Clinic uses FDA-certified and approved machines, as well as Korean technology, to provide a comprehensive range of customised non-invasive therapeutic treatments for all their patients. Their range of services include laser and resurfacing therapies, radiofrequency, light and ultrasonic based treatments, botox and filler injections, chemical peels and various facial and body wellness treatments.
They will help you become the best version of yourself. With their experience and expertise, every treatment recommendation and program will be personally and specifically tailored to you, to ensure optimal results and outcome.
Highlights
Customised treatment programs
FDA-certified and approved machines
Comprehensive range of non-invasive therapeutic treatments
Cutis Medical Clinic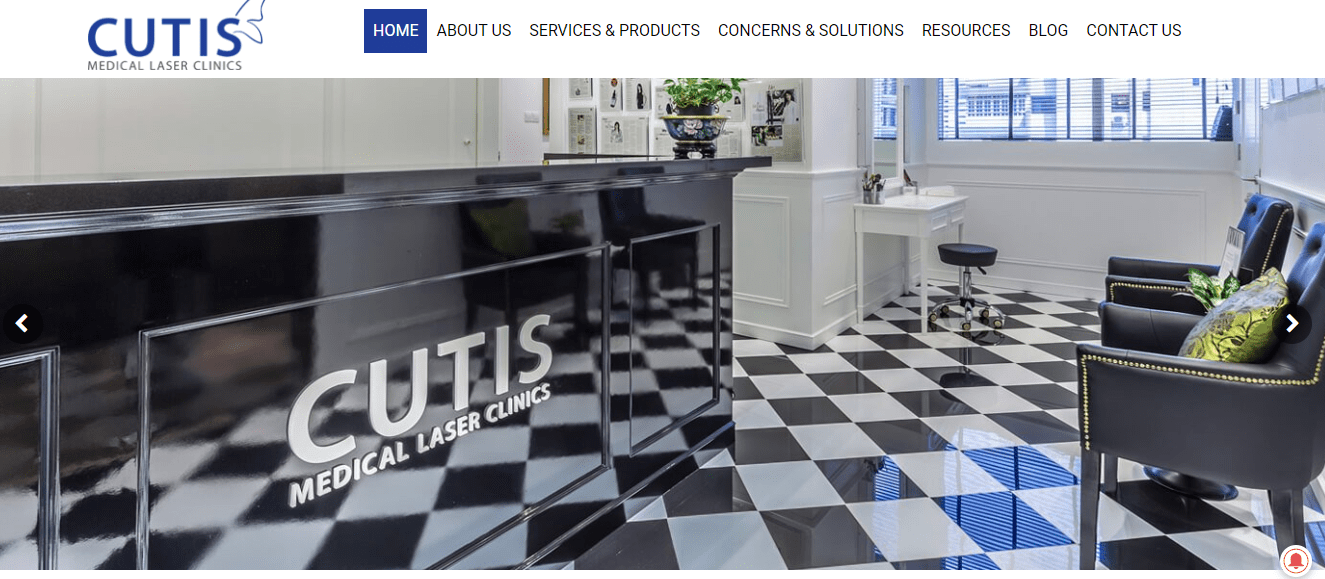 | | |
| --- | --- |
| BEST FOR  | FDA-approved Treatments |
| SERVICES | Chemical Peels, Botox, Lip Fillers, Dermal Fillers, Thread Lift, Laser Vein Removal, Body Sculpting, Liposuction, and Fat Freezing |
| WEBSITE | https://www.cutislaserclinics.com/ |
| ADDRESS | 9 Scotts Road Pacific Plaza Scotts Medical Center #08-07, Singapore 228210 |
| CONTACT DETAILS | +65 3138 4380 |
| OPERATING HOURS | Monday – Friday, 10:00 AM – 8:00 PM |
If you're looking for an aesthetic clinic whose areas of expertise include chemical peels, then consider checking out Cutis Medical Clinic. It's already deemed one of most in-demand aesthetic clinics on the island, so there's no doubting how great its beauty procedures are.
More than this, it's also among the top choices for the best chemical peels in Singapore because it offers a variety of peels to choose from. Customers can choose between acne peel, crystal peel, VI peel, among others.
Cutis Medical Clinic also has one of the cheapest chemical peels on the island, priced only at S$165, a lot cheaper than the rates of other aesthetic clinics
Highlights
FDA-approved treatments
Affordable rates
Sozo Aesthetic Clinic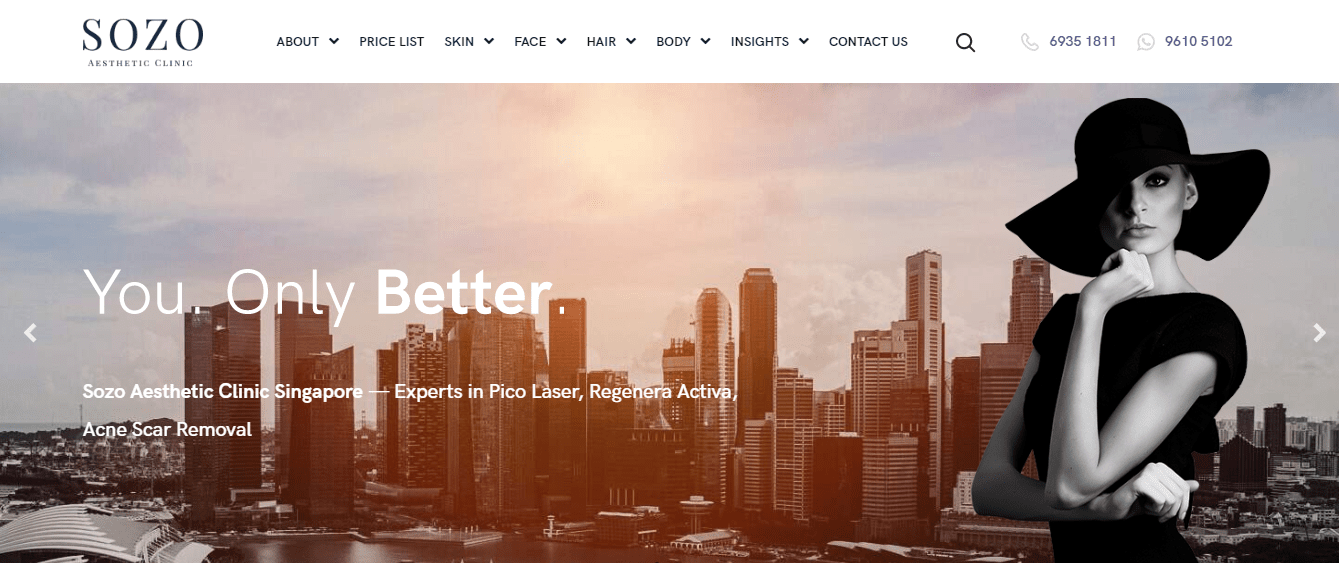 | | |
| --- | --- |
| BEST FOR | Facial Aesthetics and Hair Loss |
| SERVICES | Chemical Peel, Anti Aging, Pigmentation, Acne Scar Removal, Wrinkle Removal, Nose Filler, Laser Tattoo Removal, and Hair Loss Treatment |
| WEBSITE | https://sozoclinic.sg/ |
| ADDRESS | 1 Raffles Place, #05-12/13, Singapore 048616 |
| CONTACT DETAILS | 6935 1811 |
| OPERATING HOURS | Monday – Friday, 10:00 AM – 8:00 PM |
Sozo Aesthetic Clinic is headed by a licensed aesthetic doctor named Dr. Justin Boey, who has long years of experience under his belt. Among his areas of expertise are facial and hair treatments.
In addition, Sozo Aesthetic Clinic is known to be a research-based aesthetic clinic, so all its treatments are proven to be safe and effective, on top of being FDA-approved. Only a few aesthetic clinics on the island can actually say that they're both these things.
Sozo Aesthetic Clinic's chemical peel treatment can also be customised to fit the type and needs of a patient's skin. If a type of peel is too harsh for a certain skin type, its doctors will just opt to use another type of peel that's more safe and effective.
This is why we consider it to be one of the best chemical peels in Singapore. You know you're getting the best option for your skin here.
Highlights
Research-based treatments
FDA-approved treatment
Singapore Aesthetic Centre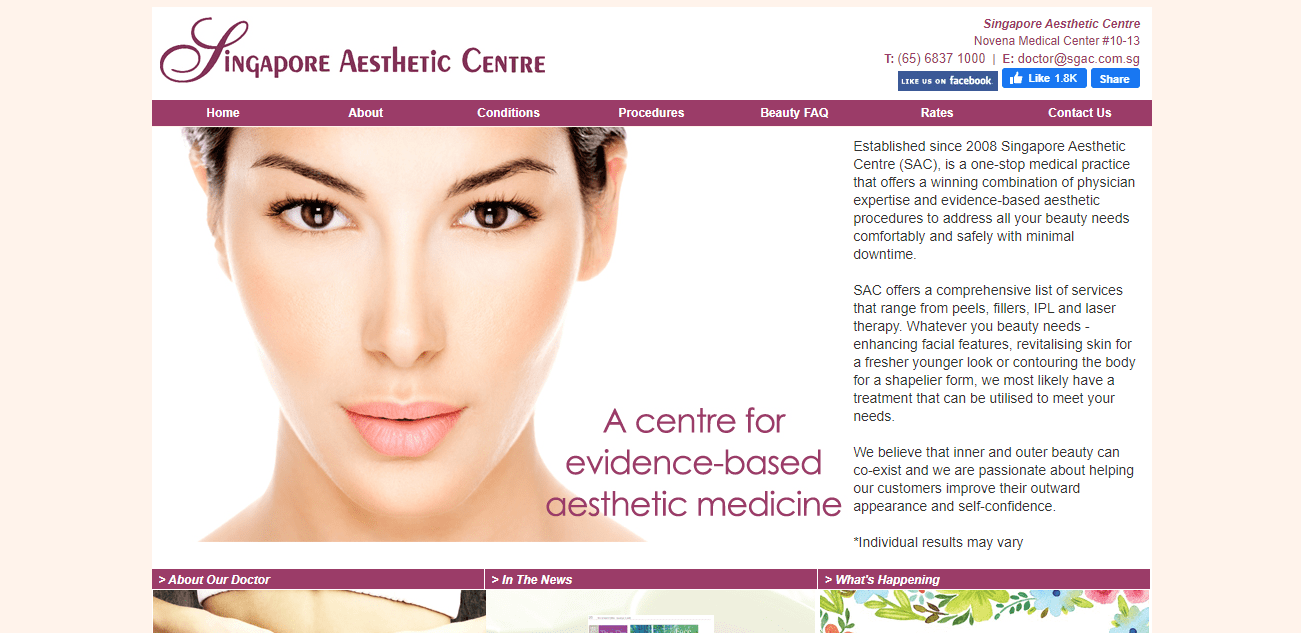 BEST FOR 
Facial Treatments
SERVICES
Chemical Peel, Dermal Fillers, Hydraskinboosters, Mole Removal, Nose Threadlift, Face Lift, Thermage CPT, and Laser Face Revitalisation
WEBSITE
https://sgac.com.sg/
ADDRESS
10 Sinaran Dr, #10-13 Novena Medical Center, Singapore 307506
CONTACT DETAILS
(65) 6837 1000

 

OPERATING HOURS
Monday – Friday, 10:00 AM – 7:00 PM
Established almost 12 years ago, Singapore Aesthetic Centre has become one of the staple names in aesthetic procedures on the island.
It's a one-stop aesthetic clinic that offers treatments for hair down to the feet, including chemical peels, face lifts, coolsculpting, and a whole lot more.
What's more, Singapore Aesthetic Centre specialises in enhancing facial features, and the chemical peel is one of its most famous beauty treatments. It also offers different types of peel from which customers can choose depending on their skin types.
We consider it among the best chemical peels in Singapore because such a procedure is done by an experienced doctor, so rest assured that it will yield quality results.
Highlights
12 years of experience
Professional doctors
Competitive rates
Edwin Lim Medical Aesthetic Clinic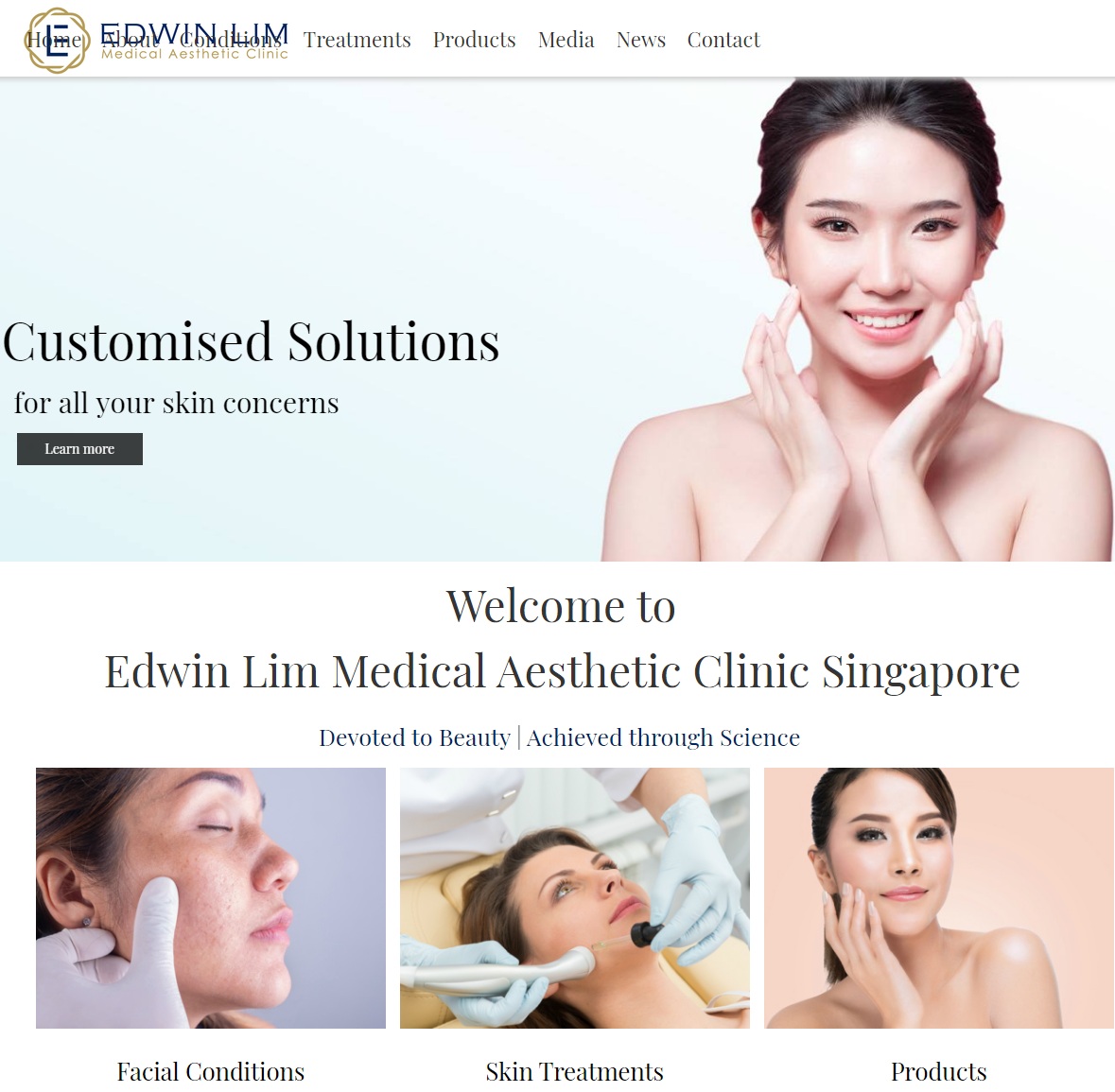 If you are looking for a clinic that specialises facial treatments, you can consider Edwin Lim Medical Aesthetic Clinic as one of your choices.

Dr Edwin has a fond interest in Aesthetic injectable procedures such as Fillers, Skinboosters and Neurotoxins. One of his priorities is to enhance one's beauty by performing natural looking results with his treatments.
He offers treatments with no downtime, it is very suitable for those customers who have very busy schedules but still want to enhance their beauty.

Highlights
Personalisation

Minimally Invasive

Evidence Based
APAX Medical and Aesthetic Clinic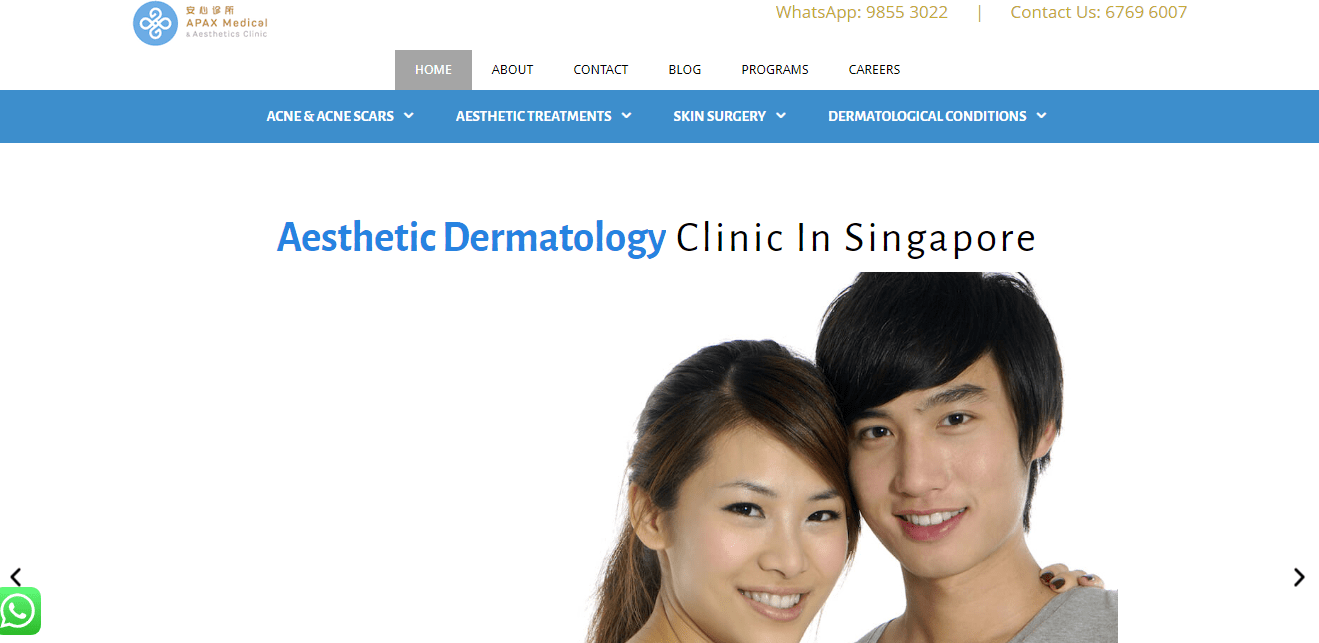 BEST FOR
Acne and Acne Scar Treatment
SERVICES
Chemical Peels, Skinboosters, Face Thread Lift, Rejuran Healers, Nose Thread Lift, Skin Surgery, Laser Acne Treatment, and Dark Eye Circles
WEBSITE
https://apaxmedical.com
ADDRESS
212 Hougang Street 21, #01-331, Singapore 530212
CONTACT DETAILS
9855 3022

6769 6007

OPERATING HOURS
Monday – Friday, 10:00 AM – 5:30 PM
APAX Medical and Aesthetic Clinic offers a wide range of services that target skin problems, including chemical peels, skinboosters, acne treatments, face lifts, eyebags removal, and many more.
A handful of Singaporeans prefer its beauty procedures because they're effective, safe, and affordable compared to other aesthetic clinics.
What's more, its chemical peel treatment is perfect for all skin types and skin conditions. It's also ideal for both men and women because it fights acne, lightens scars, and reduces pore size.
Above all, it also doesn't require downtime, so customers can pretty much have a chemical peel during lunchtime and return to work after as if nothing happened.
Highlights
Affordable rates
No downtime
LS Aesthetic Clinic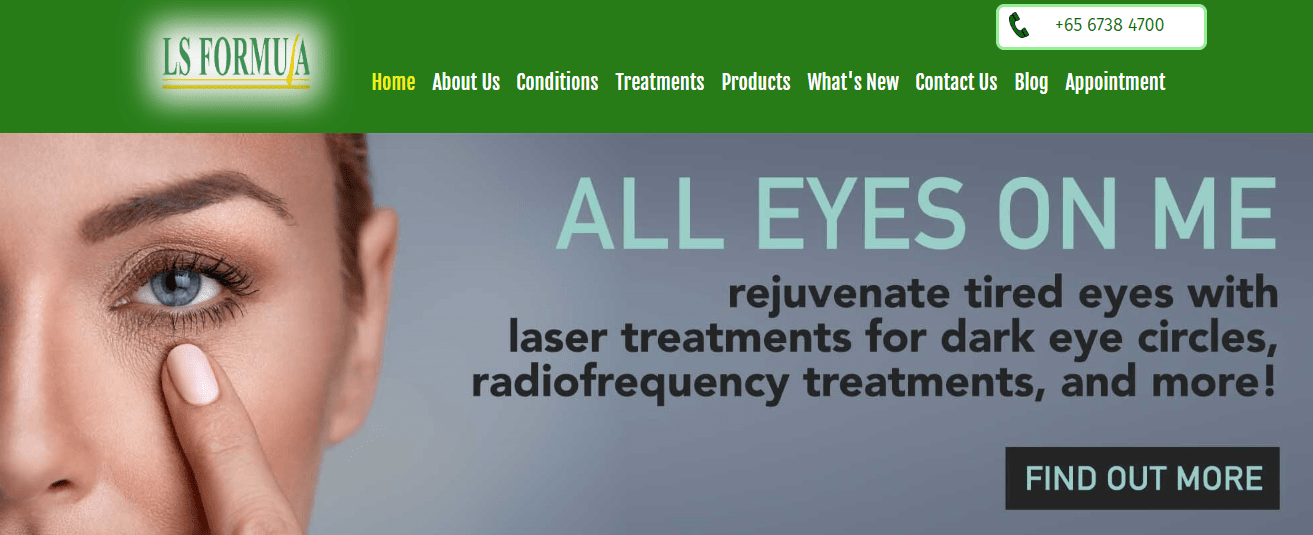 | | |
| --- | --- |
| BEST FOR | Comfortable Environment |
| SERVICES | Chemical Peels, Face Lift, Nose Lift, Skin Tightening, and Acne Scar Removal |
| WEBSITE | https://www.lsaestheticclinic.com/ |
| ADDRESS | 435 Orchard Road, #10-04 Wisma Atria Office Tower, Singapore 238877 |
| CONTACT DETAILS | +65 6738 4700 |
| OPERATING HOURS | Monday – Friday, 9:00 AM – 8:00 PM |
LS Aesthetic Clinic has been making Singaporeans feel good about themselves for quite some time now. Through their effective, safe, and affordable beauty procedures, clients become more confident with their physical appearance.
Among its long list of services, chemical peel remains one of themost famous due to its efficacy and long-lasting effects. Every chemical peel is done by a licensed aesthetician with attentive and personalised care.
Another reason why customers seem to go back for more is the smooth-flowing, comfortable, and quick chemical peel procedure. And honestly, these are some of the qualities that customers look for in an aesthetic clinic.
Highlights
Long-lasting effects
Quick procedures
Licensed aestheticians
Bio Aesthetic Medispa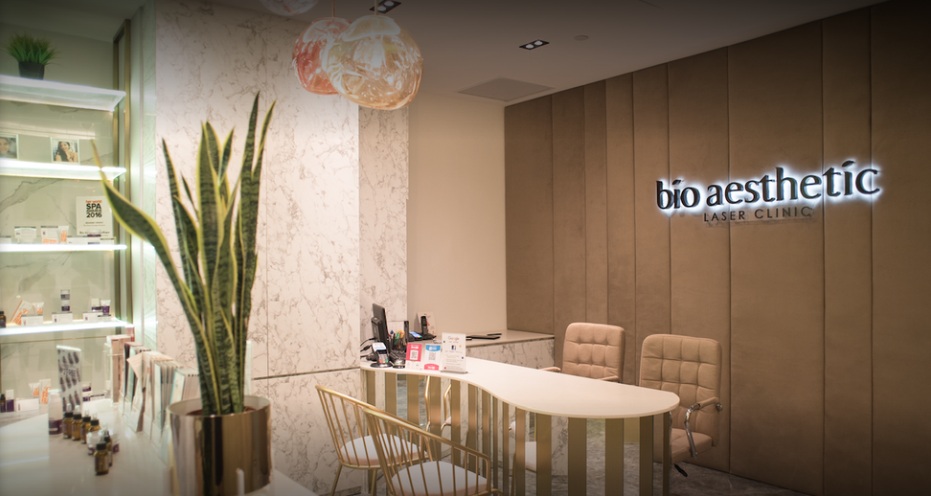 BEST FOR

Multi-awarded spa

SERVICES

Lip Fillers, Hydrating Booster for Intense Hydration, Chemical Peel Express, Fractional RF Skin Tightening, PhytoPeeling Hulk Acne Therapy, Opsis EyeLift Antitox, Thavma Wrinkle Control Therapy

Fat Freezing

WEBSITE

https://bioaesthetic.com.sg/

ADDRESS

Palais Renaissance, 390 Orchard Road #03-01 Singapore 238871

CONTACT DETAILS

+65 6333 4566

OPERATING HOURS

Mon- Fri 11am to 8.30pm

Sat: 10am to 6pm

Sun & Public Holidays Closed
Bio Aesthetic Medispa is a multi-awarded clinic offering an extensive range of aesthetic treatments that redefine and achieve beauty goals of all shapes and colors. They provide numerous procedures from the face down to the body.
One of the services they offer is the Express Chemical Peel that guarantees to remove acne scars in just 15 minutes.
Their clinic is completely equipped with the latest technology to ensure the quality of their work as well as the safety and comfort of their clients. They also feature some of today's most sought after beauty brands.
Highlights
Wide spectrum of aesthetic services

Medically Designed Treatments

Experienced Aestheticians
8 Medical Aesthetic Clinic
BEST FOR
Complete Aesthetic Treatments
SERVICES
Skin Treatments, Face Treatments, Body Treatments
WEBSITE
https://www.8medicalaesthetic.com/
ADDRESS
SOMERSET BRANCH
51 CUPPAGE ROAD, #06-22, SINGAPORE 229469DHOBY GHAUT BRANCH
2 HANDY ROAD, #04-19/20 THE CATHAY, SINGAPORE – 229233

CLEMENTI BRANCH
41 SUNSET WAY, #01-05, CLEMENTI ARCADE, SINGAPORE 597071

TAMPINES BRANCH
TAMPINES PLAZA, 5 TAMPINES CENTRAL 1 #03-01 S529541

CONTACT DETAILS
Tel: +65 3157 5947

SMS/WHATSAPP : +65 9151 9017
8 Medical Aesthetic offers a diverse set of medical aesthetic procedures. They primarily offer non-surgical treatments.
They have high standards of quality, from their doctors to their equipment. 8 Medical Aesthetic is a clinic you can count on to fulfil any of your aesthetic needs.
Highlights
Excellent attention to detail
FDA approved technology
Theresa

BEST FOR
Acne Chemical Peel
SERVICES
Prenatal Massage
Postnatal Massage (Post Partum)
Ancient Asian Therapy (TCM Meridian Massage)
Aromatherapy Body Massage
Fat Freeze (Cryolipolysis)
Thermo-lipolysis (Cellulite Slimming)
Ginger Detox Tumergenic Treatment
LED Teeth Whitening
Sygmalift HIFU Facelift
Skin Booster 水光针
Thavma Therapy Facial (Non Surgical Botox)
Acne Chemical Peel (Eliminate Active Acne)
BB Glow (Semi Permanent Makeup)
HydraPeel Facial (Deep Pore Cleansing)
Silk Protein Whitening Peel
WEBSITE
https://theresa.com.sg/contact-us/
ADDRESS
Blk 806 Hougang Central #01-152

Singapore 530806

CONTACT DETAILS
+65 6482 1187
[email protected]
If you're struggling with acne and enlarged pores, then you might want to visit Theresa. They're a clinic that offers a variety of body wellness solutions, one of which includes their acne chemical peel.
Their Acne Chemical Peel treatment aims to eliminate dead bacteria and skin cells under the skin. After just one visit, you can already expect a smoother complexion and glowing skin.
Highlights
Chemical peel is especially effective against acne prone skin and acne scars
Results visible after one visit
SkinLab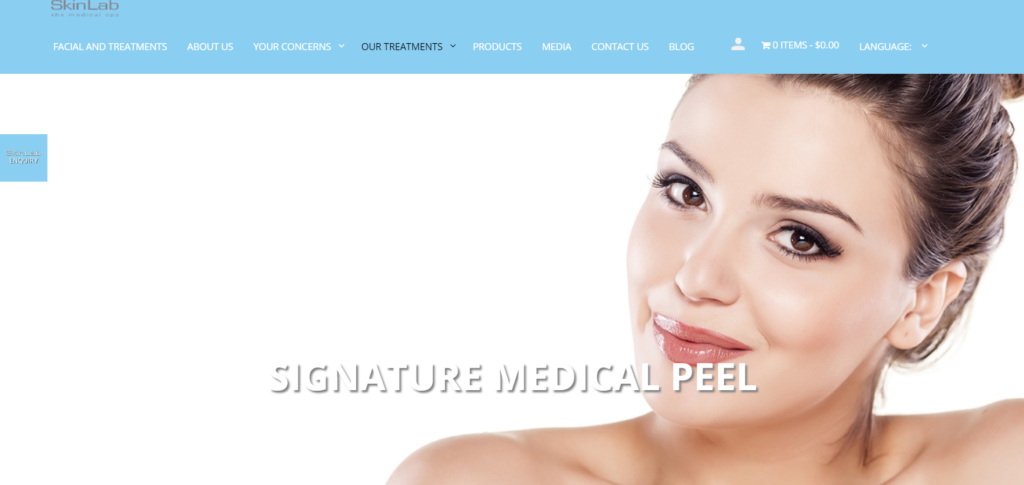 True to its name, SkinLab The Medical Spa is a clinic that provides aesthetic services with spa-like facilities. They're well-known for their wide variety of non-invasive and non-surgical procedures.
Their beauty therapists are more than qualified in their work with their many years of local and abroad experience. Pamper yourself while boosting your confidence with the SkinLab The Medical Spa.
Highlights
Unobtrusive services
Advanced aesthetic techniques
Spa-like environment
Experienced beauty therapists
Illumia Medical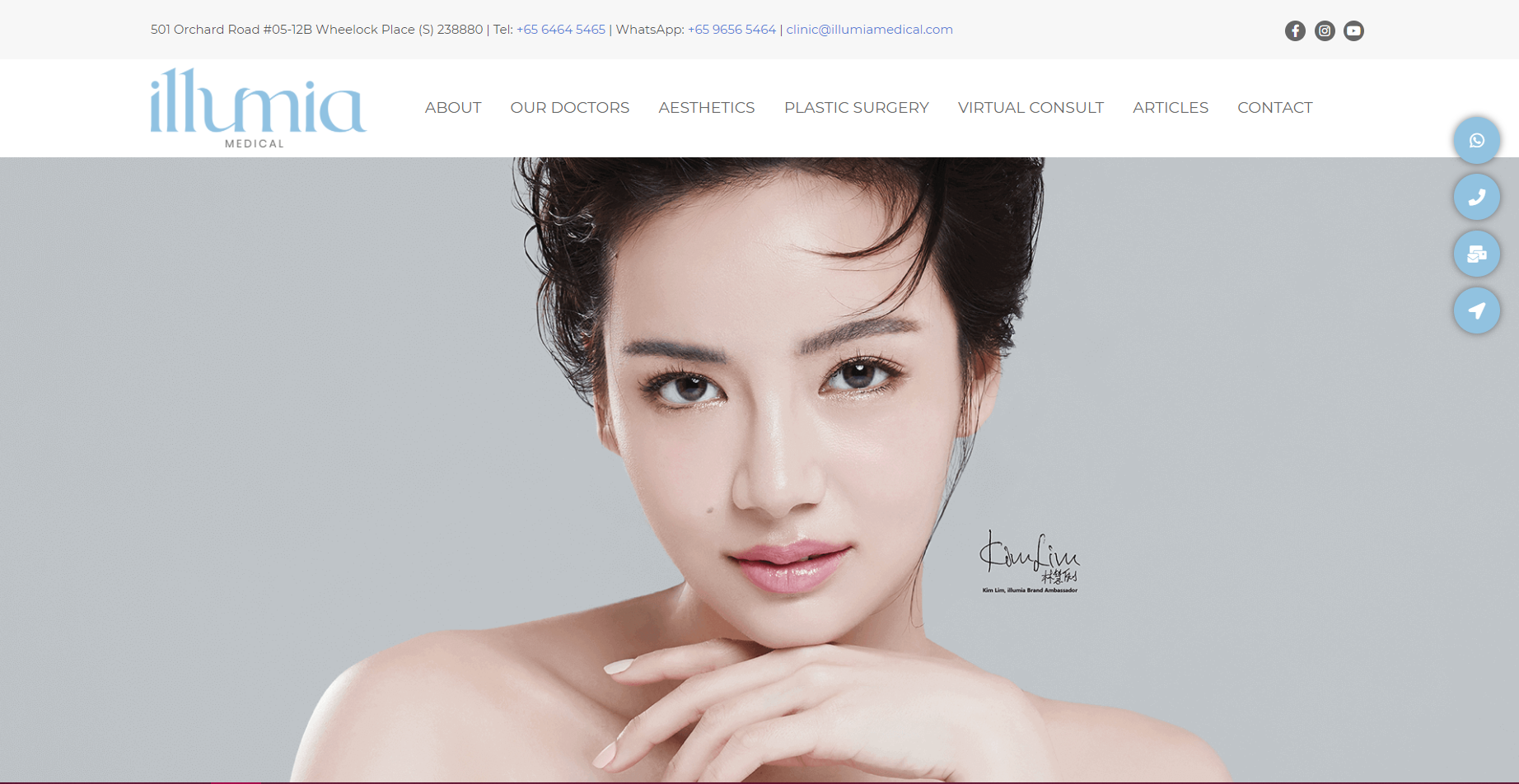 BEST FOR
Medical Aesthetics and Plastic Surgery
WEBSITE
https://www.illumiamedical.com
ADDRESS
501 Orchard Road, #05-12 Wheelock Place, Singapore 238880
CONTACT DETAILS

Tel: +65 6454 5465

Whatsapp: +65 9656 5464

Email: [email protected]

OPERATING HOURS
Mon to Fri: 10.30am – 8.30pm | Sat 10:30am – 3pm, Sun & Ph: Closed
Illumia Medical is an aesthetic clinic that helps people attain their beauty needs with the use of state-of-the-art methods and technologies.
They offer a wide range of aesthetic and plastic surgery procedures that will provide you with satisfying and natural-looking outcomes. Among these procedures are chemical peels.
Chemical peels come in varying degrees: light, medium, and deep. To determine the suitable treatment depth for you, their team of doctors will review your medical history and assess you thoroughly.
As a general rule, the more severe the condition, the deeper the chemical peel needed.
You can expect to feel stinging and burning sensations during the procedure as the chemical peel does its job. However, neutralising solutions or cooling compresses are administered to reduce the discomfort.
After a chemical peel of any depth, your skin will feel tight and irritated. To reduce the risk of infection or irritation, their doctors will provide you with the necessary protective ointments and medication, as well as some tips to follow for proper aftercare.
Highlights
State-of-the-art centre
High performance
Self developed technologies
Latest proven technologies from all over the world
SL Aesthetic Clinic
BEST FOR
Aesthetic Services for the Entire Body
WEBSITE
https://slclinic.com.sg/our-treatments/skin/chemical-peels/
ADDRESS
Causeway Point
1 Woodlands Square,
#04-11, Causeway Point S(738099)
Junction 8
9 Bishan Place, #04-02B/C,
Junction 8 S(579837)
Jurong Point
63 Jurong West Central 3, #B1-32
Jurong Point Hse 2 S(648331)
Plaza Singapura
68 Orchard Road, #04-08B,
Plaza Singapura S(238839)
Tampines 1
10 Tampines Central 1, #04-30/32
Tampines 1 S(529536)
Wheelock Place
501 Orchard Road #04-04,
Wheelock Place S(238880)
Westgate
3 Gateway Drive, #04-22
Westgate S(608532)
CONTACT DETAILS
Causeway Point
Tel: +65 6877 0144
Junction 8
Tel: +65 6262 5898
Jurong Point
Tel: +65 6316 2556
Plaza Singapura
Tel: +65 6336 1106
Tampines 1
Tel: +65 6634 8102
Wheelock Place
Tel: +65 6235 8403
Westgate
Tel: +65 6358 4588
OPERATING HOURS
Contact clinic for more information
Next on our list is an aesthetic clinic known for the range it has to offer its clients. SL Aesthetic Clinic has been serving the people of Singapore for over a decade now.
The clinic's team consists of highly skilled and knowledgeable individuals whose main goal is to make customers happy with their services, all while empowering them to be the best versions of their selves. As a result, SL Aesthetic Clinic is always updating its services, ensuring that they are non-invasive as well as FDA-approved, CE-marked, or HSA-approved.
Some of these services include derma fillers, mole removal, ultherapy, skin boosters, eyebags removal, pigmentation treatment, and more. When it comes to aesthetic clinics that caters to the aesthetic needs of various parts of the body, SL Aesthetic Clinic comes highly recommended.
Now, it's also worth noting that all of these services, including the ones that aren't mentioned, are performed by doctors who are all medically trained. Plus, they have the needed certifications of competence recognised by the Singapore Medical Council's Aesthetic Practice Oversight Committee (APOC).
Aside from being highly talented, skilled, and knowledgeable, these doctors are committed to helping clients look their best selves. So, it isn't all too surprising that they take the time to consult with each client, learning more about their aesthetic history and needs before moving forth with any service that they are in need of.
All in all, SL Aesthetic Clinic makes an excellent choice because of its range of services, team of doctors, and dedication to customer service.
Highlights
Offers a wide range of aesthetic services
Constantly updates aesthetic services
Minimal downtime depending on the service chosen
Multiple locations available
Professional and friendly staff
That's it for our list of the best chemical peels in Singapore. If you know other aesthetic clinics on the island that offer chemical peels, share their names with us and we'll see if we can add them to our list!
By the way, if you're also looking for other beauty treatments aside from chemical peels, you may want to check out our list of the best aesthetic clinics in Singapore. Every item on this list offers a long list of services that you may be interested in.