By Ryan Lim
Of all skin treatments offered by aesthetic clinics today, chemical peel is considered one of the most effective as it can make skin look smoother and less wrinkly immediately. With the best chemical peel in Singapore, you can easily achieve brighter and younger looking skin.
On top of improving the condition of your skin, the best chemical peels in Singapore can also treat acne, reduce freckles and age spots, make acne scars less obvious, and reduce lines under the eyes. It's the ideal treatment to get because it targets a lot of skin problems!
Since we want to make your lives easier, we compiled the top aesthetic clinics that offer the best chemical peels in Singapore. We included the ones that are well-reviewed, have excellent staff and experienced doctors, and a wide variety of beauty treatments.
So, without further ado, here are the aesthetic clinics worth checking out:
(Note: This list is in no particular order.)
1. 

The Clifford Clinic
BEST FOR 
Quality Noninvasive Treatments
WEBSITE
https://www.singaporeaestheticpractice.com/chemical-peel
ADDRESS
24, #01-04 Raffles Place, Singapore 048621
CONTACT DETAILS
3129 2550
OPERATING HOURS
Mon to Fri: 10am to 8pm
Sat: 10 am to 5pm
Sun: Closed
Closed on Sundays and Public Holidays
The Clifford Clinic is an excellent choice for beautifying solutions and cosmetic treatments. The chemical peel treatment that the clinic offers can help address issues that have to do with acne and scars, and skin discoloration.
Dr. Gerard Ee, their head dermatologist, works with his team of expert aesthetic doctors in delivering the best services. With his interest in minimally invasive surgery and aesthetic medicine, you can rest assured that any treatment you undergo in Singapore Aesthetic Practice will go well.
Highlights
Minimal Downtime
Minimal Scarring
Safe Procedure
Accurate Treatment
2. Cutis Medical Clinic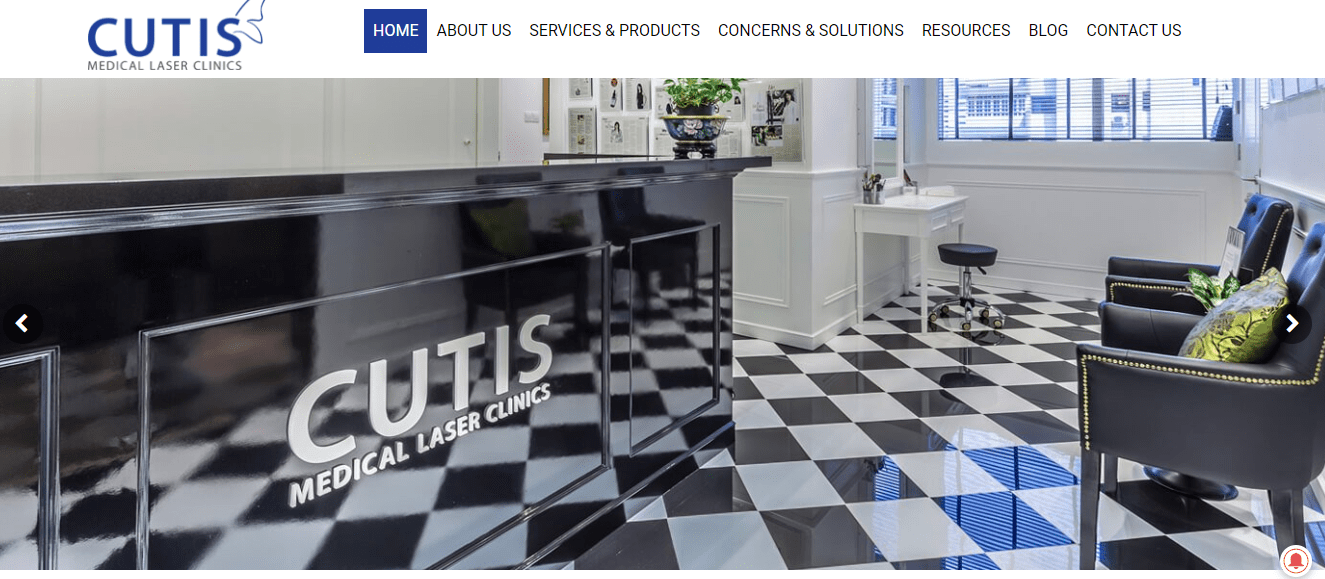 | | |
| --- | --- |
| BEST FOR  | FDA-approved Treatments |
| SERVICES | Chemical Peels, Botox, Lip Fillers, Dermal Fillers, Thread Lift, Laser Vein Removal, Body Sculpting, Liposuction, and Fat Freezing |
| WEBSITE | https://www.cutislaserclinics.com/ |
| ADDRESS | 9 Scotts Road Pacific Plaza Scotts Medical Center #08-07, Singapore 228210 |
| CONTACT DETAILS | +65 3138 4380 |
| OPERATING HOURS | Monday – Friday, 10:00 AM – 8:00 PM |
If you're looking for an aesthetic clinic whose areas of expertise include chemical peels, then consider checking out Cutis Medical Clinic. It's already deemed one of most in-demand aesthetic clinics on the island, so there's no doubting how great its beauty procedures are.
More than this, it's also among the top choices for the best chemical peels in Singapore because it offers a variety of peels to choose from. Customers can choose between acne peel, crystal peel, VI peel, among others.
Cutis Medical Clinic also has one of the cheapest chemical peels on the island, priced only at S$165, a lot cheaper than the rates of other aesthetic clinics
Highlights
FDA-approved treatments
Affordable rates 
3.  Sozo Aesthetic Clinic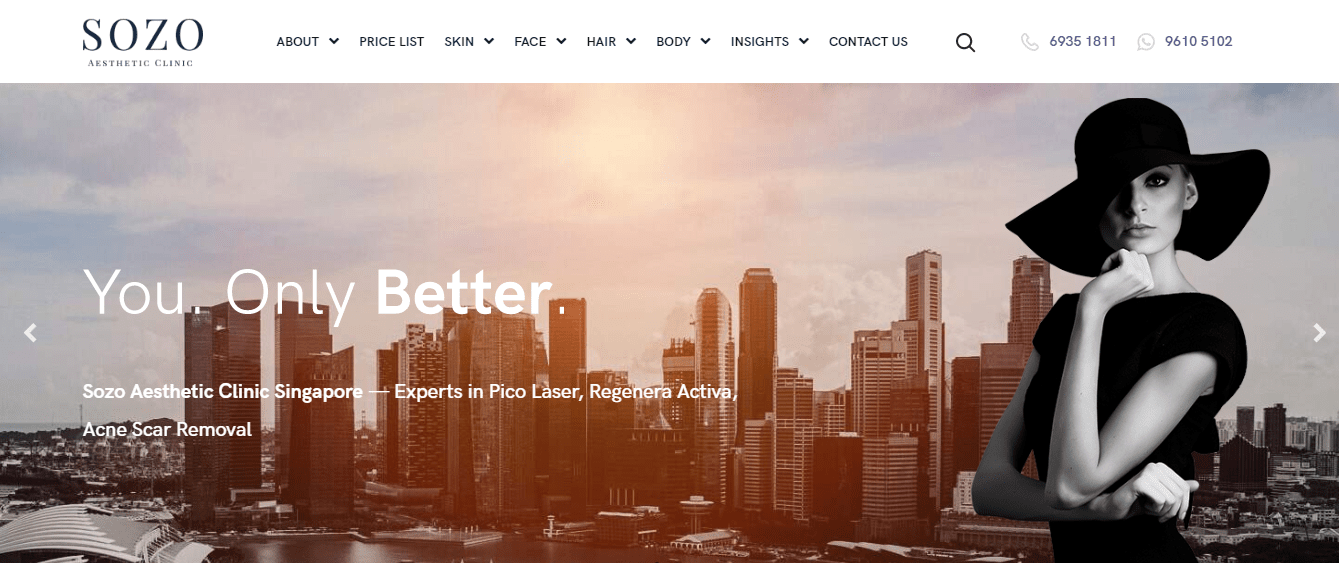 | | |
| --- | --- |
| BEST FOR  | Facial Aesthetics and Hair Loss |
| SERVICES | Chemical Peel, Anti Aging, Pigmentation, Acne Scar Removal, Wrinkle Removal, Nose Filler, Laser Tattoo Removal, and Hair Loss Treatment |
| WEBSITE | https://sozoclinic.sg/ |
| ADDRESS | 1 Raffles Place, #05-12/13, Singapore 048616 |
| CONTACT DETAILS | 6935 1811 |
| OPERATING HOURS | Monday – Friday, 10:00 AM – 8:00 PM |
Sozo Aesthetic Clinic is headed by a licensed aesthetic doctor named Dr. Justin Boey, who has long years of experience under his belt. Among his areas of expertise are facial and hair treatments.
In addition, Sozo Aesthetic Clinic is known to be a research-based aesthetic clinic, so all its treatments are proven to be safe and effective, on top of being FDA-approved. Only a few aesthetic clinics on the island can actually say that they're both these things.
Sozo Aesthetic Clinic's chemical peel treatment can also be customised to fit the type and needs of a patient's skin. If a type of peel is too harsh for a certain skin type, its doctors will just opt to use another type of peel that's more safe and effective.
This is why we consider it to be one of the best chemical peels in Singapore. You know you're getting the best option for your skin here.
Highlights
Research-based treatments
FDA-approved treatment
4.  Singapore Aesthetic Centre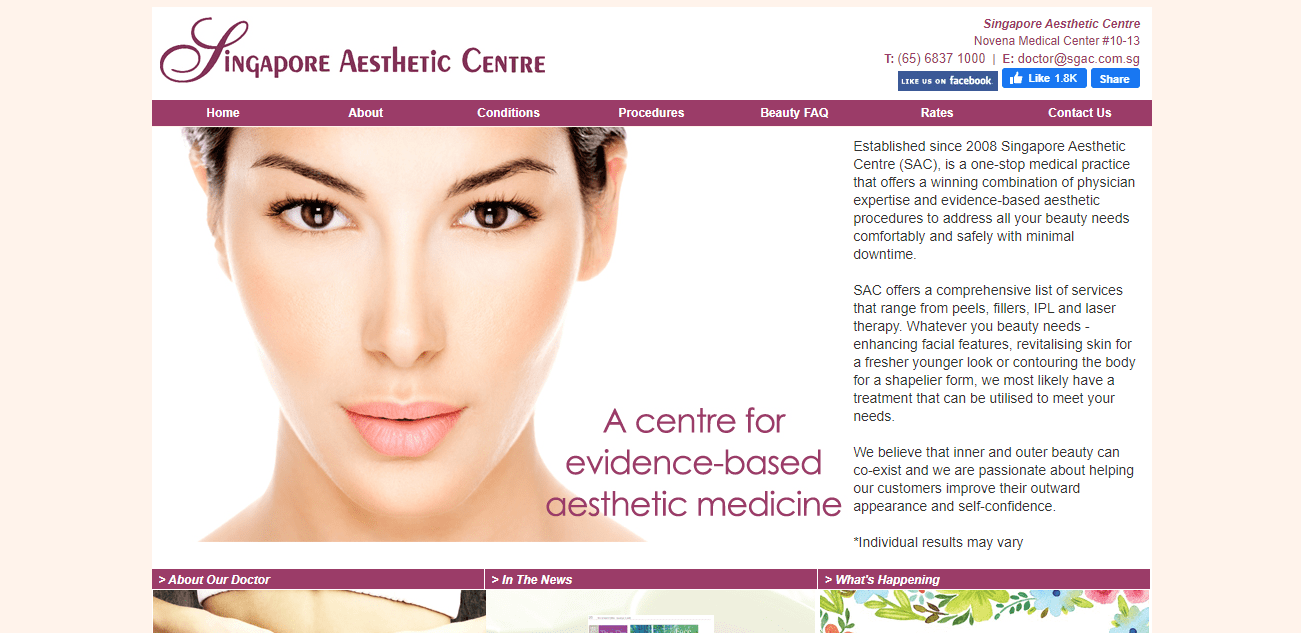 | | |
| --- | --- |
| BEST FOR  | Facial Treatments |
| SERVICES | Chemical Peel, Dermal Fillers, Hydraskinboosters, Mole Removal, Nose Threadlift, Face Lift, Thermage CPT, and Laser Face Revitalisation |
| WEBSITE | sgac.com.sg |
| ADDRESS | 10 Sinaran Dr, #10-13 Novena Medical Center, Singapore 307506 |
| CONTACT DETAILS | (65) 6837 1000 |
| OPERATING HOURS | Monday – Friday, 10:00 AM – 7:00 PM |
Established almost 12 years ago, Singapore Aesthetic Centre has become one of the staple names in aesthetic procedures on the island.
It's a one-stop aesthetic clinic that offers treatments for hair down to the feet, including chemical peels, face lifts, coolsculpting, and a whole lot more.
What's more, Singapore Aesthetic Centre specialises in enhancing facial features, and the chemical peel is one of its most famous beauty treatments. It also offers different types of peel from which customers can choose depending on their skin types.
We consider it among the best chemical peels in Singapore because such a procedure is done by an experienced doctor, so rest assured that it will yield quality results.
Highlights
12 years of experience
Professional doctors
Competitive rates
Customer Reviews
Singapore Aesthetic Clinic has received mostly praise from its clients. Most clients have commented how efficient its treatments are, on top of the minimal downtime. Take a look at these reviews:
"I am writing this letter to express my heartiest compliments to Dr. Yeak of Singapore Aesthetic Centre. My session with Dr. Yeak begins with a personal consultation. Initially, I thought it was just a pigmentation, but after having carefully assessed my skin condition, Dr. Yeak customised the treatment by removing the pigmentation as well as a patch of skin tag. She is extremely professional and patient at the same time. I notice improvements after 2 sessions and I would highly recommend her to anyone who needs aesthetic services. Her staff and their good services are an asset to the organization"
5. Edwin Lim Medical Aesthetic Clinic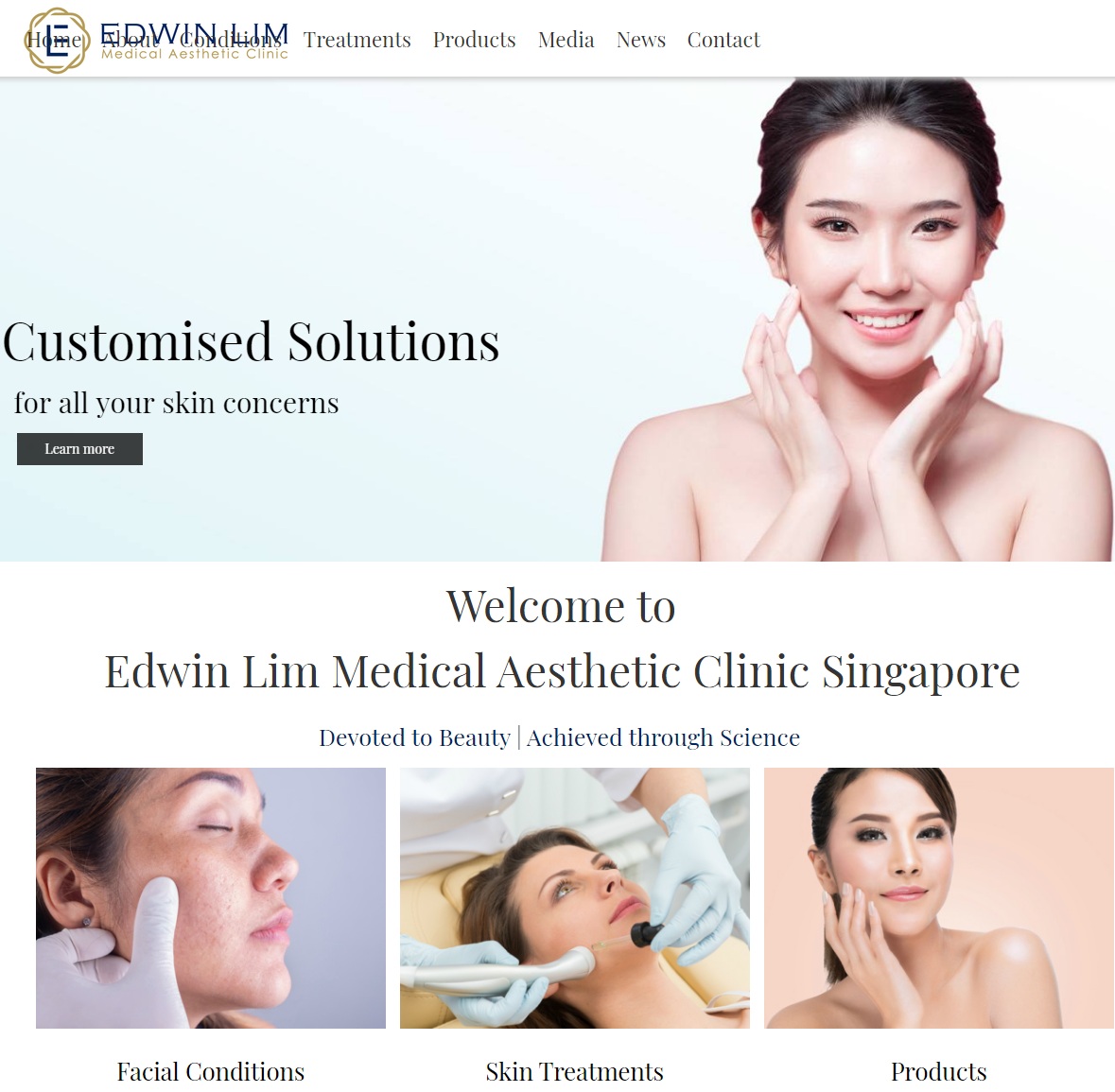 If you are looking for a clinic that specialises facial treatments, you can  consider Edwin Lim Medical Aesthetic Clinic as one of your choices.

Dr Edwin has a fond interest in Aesthetic injectable procedures such as Fillers, Skinboosters and Neurotoxins. One of his priorities is to enhance one's beauty by performing natural looking results with his treatments.
He offers treatments with no downtime, it is very suitable for those customers who have very busy schedules but still want to enhance their beauty.

Service Highlights
Personalisation

Minimally Invasive

Evidence Based
Customer Reviews
Their clients were very much delighted with the professionalism of the doctors and nurses in the clinic.
" Very happy to find a good aesthetic clinic! Dr Lim genuinely cares about providing results and not selling services you do not need. The price is very affordable! Dr Lim is very professional and patient to explain to me and the advice is exactly what I need. The nurse is also quite friendly and the whole process was very comfortable, the effect is satisfactory! Will try more treatments at Edwin lim medical aesthetics clinic, highly recommended!"
6.  APAX Medical and Aesthetic Clinic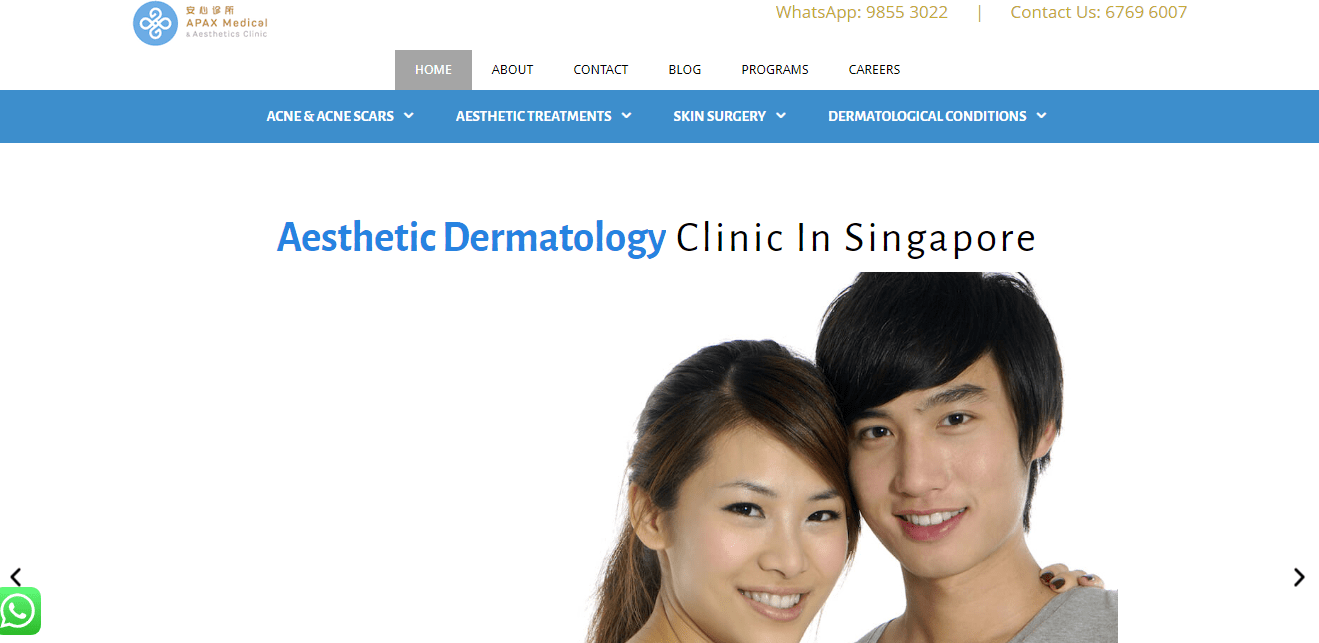 BEST FOR 
Acne and Acne Scar Treatment
SERVICES
Chemical Peels, Skinboosters, Face Thread Lift, Rejuran Healers, Nose Thread Lift, Skin Surgery, Laser Acne Treatment, and Dark Eye Circles
WEBSITE
https://apaxmedical.com
ADDRESS
212 Hougang Street 21, #01-331, Singapore 530212
CONTACT DETAILS
9855 3022

6769 6007

OPERATING HOURS
Monday – Friday, 10:00 AM – 5:30 PM
APAX Medical and Aesthetic Clinic offers a wide range of services that target skin problems, including chemical peels, skinboosters, acne treatments, face lifts, eyebags removal, and many more.
A handful of Singaporeans prefer its beauty procedures because they're effective, safe, and affordable compared to other aesthetic clinics.
What's more, its chemical peel treatment is perfect for all skin types and skin conditions. It's also ideal for both men and women because it fights acne, lightens scars, and reduces pore size.
Above all, it also doesn't require downtime, so customers can pretty much have a chemical peel during lunchtime and return to work after as if nothing happened.
Highlights
Affordable rates
No downtime
7. LS Aesthetic Clinic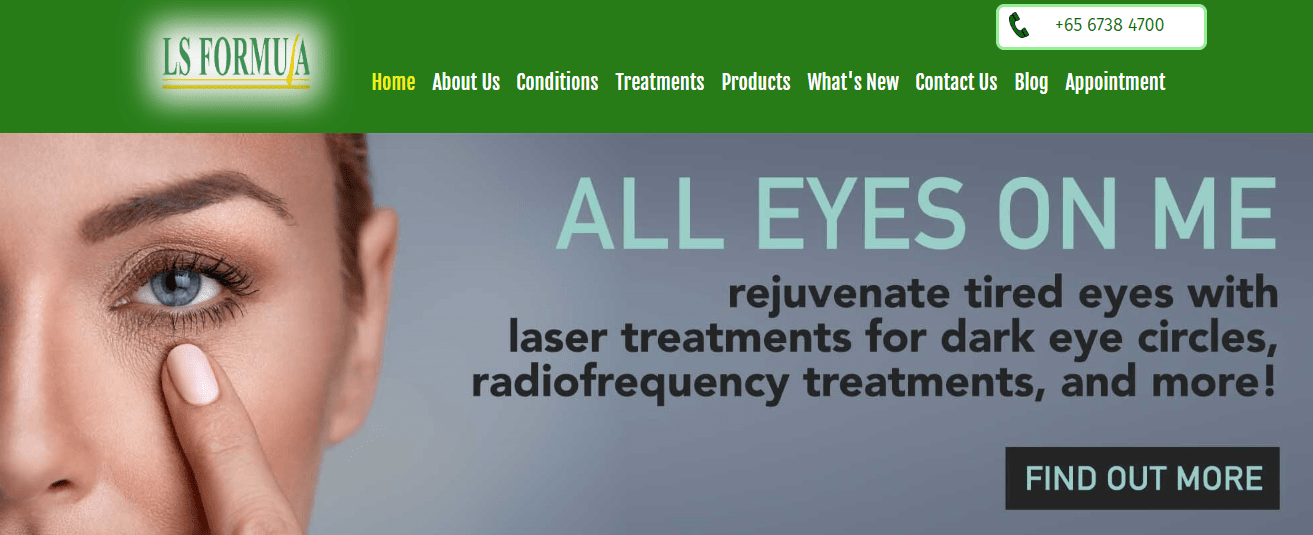 | | |
| --- | --- |
| BEST FOR  | Comfortable Environment |
| SERVICES | Chemical Peels, Face Lift, Nose Lift, Skin Tightening, and Acne Scar Removal |
| WEBSITE | https://www.lsaestheticclinic.com/ |
| ADDRESS | 435 Orchard Road, #10-04 Wisma Atria Office Tower, Singapore 238877 |
| CONTACT DETAILS | +65 6738 4700 |
| OPERATING HOURS | Monday – Friday, 9:00 AM – 8:00 PM |
LS Aesthetic Clinic has been making Singaporeans feel good about themselves for quite some time now. Through their effective, safe, and affordable beauty procedures, clients become more confident with their physical appearance.
Among its long list of services, chemical peel remains one of themost famous due to its efficacy and long-lasting effects. Every chemical peel is done by a licensed aesthetician with attentive and personalised care.
Another reason why customers seem to go back for more is the smooth-flowing, comfortable, and quick chemical peel procedure. And honestly, these are some of the qualities that customers look for in an aesthetic clinic.
Highlights
Long-lasting effects
Quick procedures
Licensed aestheticians


8. Bio Aesthetic Medispa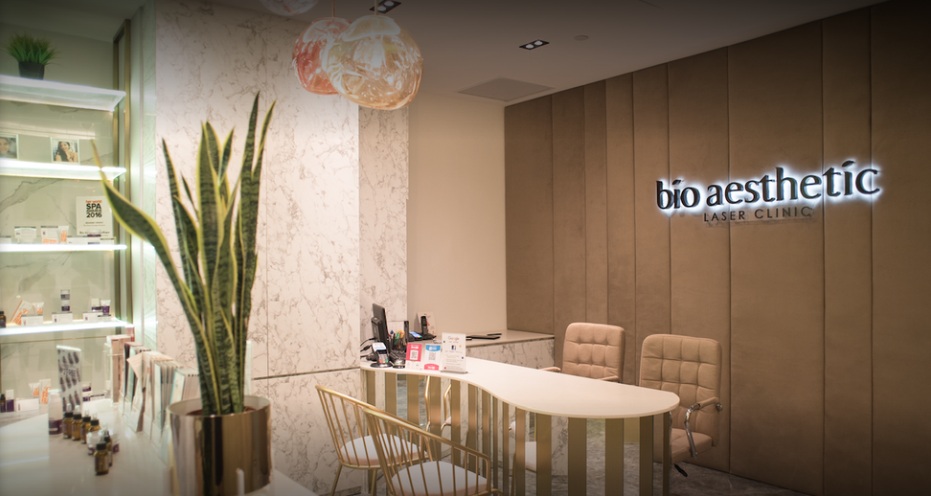 BEST FOR

Multi-awarded spa

SERVICES

Lip Fillers, Hydrating Booster for Intense Hydration, Chemical Peel Express, Fractional RF Skin Tightening, PhytoPeeling Hulk Acne Therapy, Opsis EyeLift Antitox, Thavma Wrinkle Control Therapy

Fat Freezing

WEBSITE

https://bioaesthetic.com.sg/

 

ADDRESS

Palais Renaissance, 390 Orchard Road #03-01 Singapore 238871

CONTACT DETAILS

+65 6333 4566

OPERATING HOURS

Mon- Fri 11am to 8.30pm

Sat: 10am to 6pm

Sun & Public Holidays Closed
Bio Aesthetic Medispa is a multi-awarded clinic offering an extensive range of aesthetic treatments that redefine and achieve beauty goals of all shapes and colors. They provide numerous procedures from the face down to the body.
One of the services they offer is the Express Chemical Peel that guarantees to remove acne scars in just 15 minutes.
Their clinic is completely equipped with the latest technology to ensure the quality of their work as well as the safety and comfort of their clients. They also feature some of today's most sought after beauty brands.
Highlights
Wide spectrum of aesthetic services

Medically Designed Treatments

Experienced Aestheticians
Customer Reviews
Here's one of the reviews as posted on Google Reviews.
"Had an amazing experience at this clinic. Dr fin, Jennifer, Rachel and xiao man were really friendly and helpful in explain the details to me. Nice ambience and atmosphere was great. Felt really relaxed throughout the whole procedure. Highly recommend and will totally visit again!"
That's it for our list of the best chemical peels in Singapore. If you know other aesthetic clinics on the island that offer chemical peels, share their names with us and we'll see if we can add them to our list!
By the way, if you're also looking for other beauty treatments aside from chemical peels, you may want to check out our list of the best aesthetic clinics in Singapore. Every item on this list offers a long list of services that you may be interested in.