By Michaela Koh
Are you having visible signs of ageing and have already tried a bunch of skincare products only to find it's still not enough? Then it might be time for you to try some aesthetic treatments such as the best dermal fillers in Singapore.
These fillers enhance your facial features by bringing volume to your skin, smoothing out the fine lines, and improving facial contours… leaving you with a restored youthful look. This is non-invasive and the recovery will be done in a short span of time.
With its benefits and practicality, you probably want to visit a clinic and know more about your options now. That's why we're here to help you find the local favourite clinics that provide the best dermal fillers in Singapore.
(Note: This list is in no particular order.)
1. 

The Clifford Clinic
BEST FOR 
Quality Noninvasive Treatments
WEBSITE
https://www.singaporeaestheticpractice.com/fillers
ADDRESS
24, #01-04 Raffles Place, Singapore 048621
CONTACT DETAILS
3129 2550
OPERATING HOURS
Mon to Fri: 10am to 8pm
Sat: 10 am to 5pm
Sun: Closed
Closed on Sundays and Public Holidays
The Clifford Clinic is an excellent choice for facial filler treatments. Undergoing filler treatments in The Clifford Clinic can help clients achieve better-looking skin.
Dr. Gerard Ee, their head dermatologist, works with his team of expert aesthetic doctors in delivering the best services. With his interest in minimally invasive surgery and aesthetic medicine, you can rest assured that any treatment you undergo in Singapore Aesthetic Practice will go well.
Highlights
Minimal Downtime
Minimal Scarring
Safe Procedure
Accurate Treatment
2. The Belle Clinic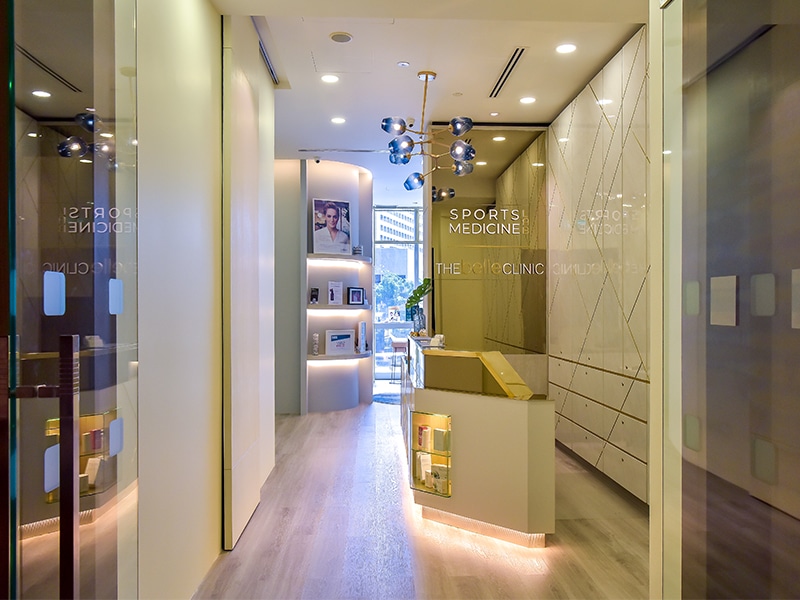 BEST FOR 
 Customised clinical solutions
WEBSITE
https://www.thebelleclinic.com/
ADDRESS
SBF Medical Center, #03-02 160 Robinson Road ​Singapore 068914
CONTACT DETAILS
+65-64448108
OPERATING HOURS
Monday to Friday: 10.00am -7.00pm

Saturday: 9.00am – 2.00pm
The Belle Clinic offers certain skin solution programmes and one of them is their fillers for wrinkles and fine lines. They use it on the cheeks, lower-eye region, lips, and even on the back of the hands to rejuvenate and restore the elasticity of the skin.
You can also choose to pair their fillers with botox for more defined results. Their other procedures include laser peel and skin tightening facials.
Highlights
Different skin enhancement programmes
Award-winning treatments
Customer Reviews
As they've mentioned in various publications, The Belle Clinic has already won several awards for their excellence in aesthetic treatments. This is why they're considered to have the best dermal fillers in Singapore.
Customers were also satisfied with their overall services, which keep them coming back for another session. A customer gave this review on Google Reviews:
"Although I didn't think it was possible, your personalised program delivered the results I wanted. Thank you Dr Tan for your kindness, encouragement and skill! You helped me achieve my dream body and glowing skin on my special day."
3.  S Aesthetic Clinic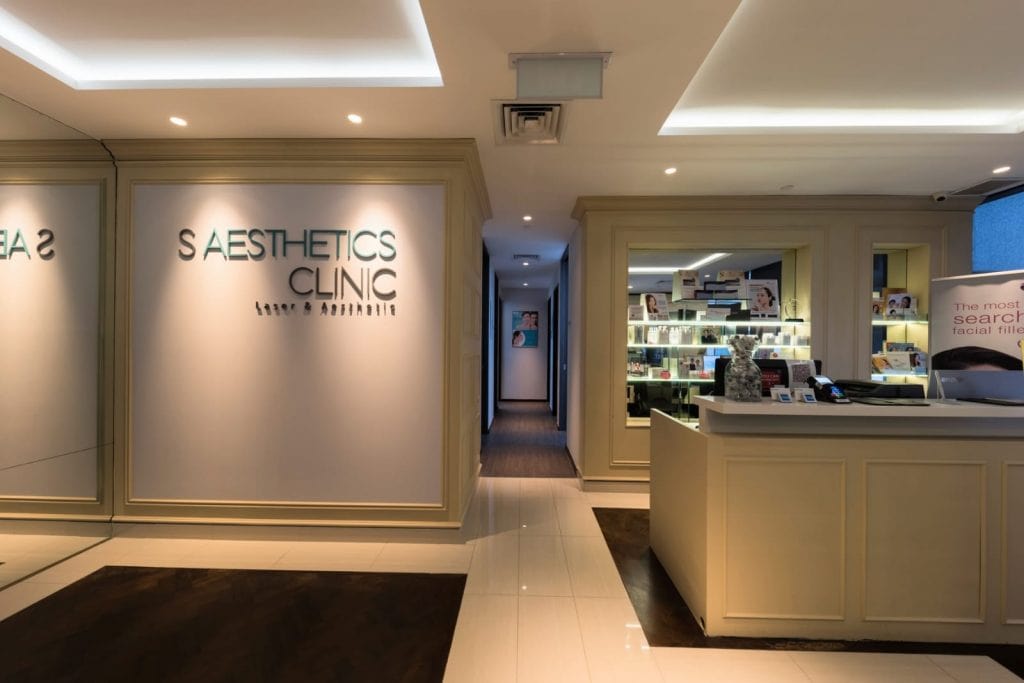 BEST FOR 
Long-lasting effects
WEBSITE
https://saestheticsclinic.com/
ADDRESS
9 Scotts Road #07-07 Scotts Medical Centre (Pacific Plaza) Singapore 228210
CONTACT DETAILS
(65) 6235 0338
OPERATING HOURS
Weekdays: 10am – 8pm

Saturday: 10am – 6pm
S Aesthetic Clinic offers a full range of facial treatments and this includes their best dermal fillers in Singapore. They help treat sagging and sunken skin on different facial features such as the cheeks, under-eye, and temples.
It'll restore volume to the skin by providing a strong foundation, enhancing the contours, and redefining the features of your face. This includes improving the skin on your forehead, jawline, lips, nose, and chin.
Highlights
Wide range of facial enhancements
Facial and body treatments
Signature products
4.  Astique Clinic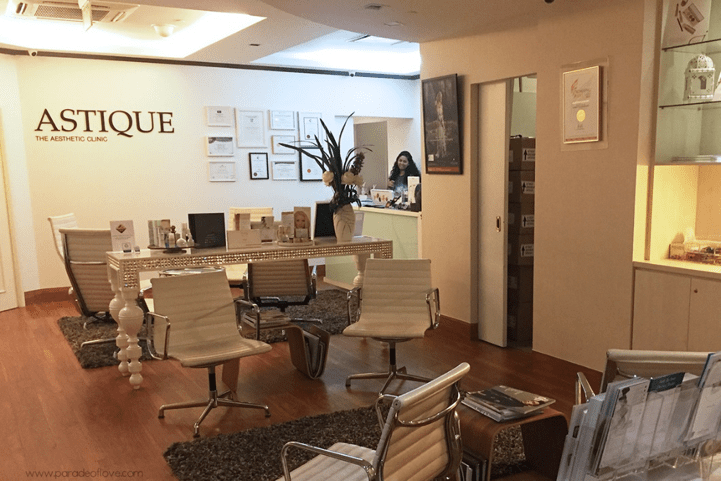 BEST FOR 
Additional facial enhancements and skin boosters
WEBSITE
https://www.astiqueclinic.com.sg/
ADDRESS
350 Orchard Road, #08-00 Shaw House Singapore 238868
CONTACT DETAILS
+65 6732 3801
OPERATING HOURS
Mondays & Fridays : 11:00 am to 08:00 pm

Tuesday – Thursday : 09:00 am to 08:00 pm

Saturdays: 11:00 am to 04:00 pm
The dermal fillers treatment at Astique Clinic is applicable to certain parts of the face including nose, cheek, chin, laugh lines, and under-eye. Their procedures can restore the softness and fullness of your skin, giving you well-defined facial features.
They can make your cheeks fuller by lifting the skin and add volume on your chin by reshaping it. Fine lines, wrinkles and even dark circles can also be reduced with their best dermal fillers in Singapore.
Highlights
Dermal fillers for dark circles
Signature products
5. Dr. Rachel Lim – Cove Aesthetics
BEST FOR 
Customised non-invasive therapeutic programs
WEBSITE
https://www.aesthetic-clinic-singapore.com/fillers/
PRICING
Botox From $150++
Jaw Botox From $599++
Fillers From $680++All prices before GST
ADDRESS
501 Orchard Road
#04-07 Wheelock Place
Singapore 238880
CONTACT DETAILS
+65 3129 2038
OPERATING HOURS
Mon – Fri: 10:00am to 8:00pm
Sat: 9:30am to 3:30pmClosed on Sundays and PH
Cove Aesthetic Clinic provides holistic treatments to make you beautiful inside and out. This boutique medical and laser aesthetic clinic is conveniently located within Wheelock Place along Orchard Road. They provide medically sound and comprehensive aesthetic care in a comfortable and private environment.
Cove Aesthetic Clinic uses FDA-certified and approved machines, as well as Korean technology, to provide a comprehensive range of customised non-invasive therapeutic treatments for all their patients. Their range of services include laser and resurfacing therapies, radiofrequency, light and ultrasonic based treatments, botox and filler injections, chemical peels and various facial and body wellness treatments.
Medical Director Dr Rachel Lim and Aesthetic Doctor Dr Ng Hong Yi will help you achieve become the best version of yourself. With their experience and expertise, every treatment recommendation and program will be personally and specifically tailored to you, to ensure optimal results and outcome.
Highlights 
Customised treatment programs
FDA-certified and approved machines
Comprehensive range of non-invasive therapeutic treatments
6.  Halley Medical Aesthetics
| | |
| --- | --- |
| BEST FOR  | Variety of face lifting and contouring treatments |
| PRICING | From $380 |
| WEBSITE | https://www.halley.com.sg/ |
| ADDRESS | 277 Orchard Road #03-15 Orchard Gateway Singapore 238858 |
| CONTACT DETAILS | 6737 8233 |
| OPERATING HOURS | Daily, 10am – 9pm |
Halley Medical Aesthetics offers dermal fillers that are made with safe ingredients for healthier and youthful skin. They use it for their anti-ageing or facial shaping treatment.
To reduce the signs of ageing, their fillers plump up the cheeks on your face, lessen the eye bags and more. For more defined facial features and other parts, they paired the dermal fillers with 3D projection and additional treatments to achieve your desired look.
Highlights
Signature treatments and products
Weight loss treatments
Customer Reviews
Customers loved the anti-ageing treatments of Halley Medical Aesthetics. They also mentioned the fair costs and overall services of the clinic.
These are some of the reasons many have claimed they have the best dermal fillers in Singapore. A customer shared this post on Google Reviews:
"I've been around various aesthetic clinics in Singapore China Korea and Taiwan, mostly for fillers and anti aging treatments.  Love Halley for its awesome and transparent pricing, good service and of course Dr Terence Tan who never fails to help me achieve my desired look in the most cost efficient way.  He has a fine sense of proportion, aesthetics and treatments  are always near pain free due to his skill."
7. Radium Medical Aesthetics

BEST FOR

Non-invasive medical aesthetic treatment

WEBSITE

https://radium-aesthetics.com/

ADDRESS

3 Temasek Boulevard #03-325/326 Suntec City Mall, Singapore 038983

CONTACT DETAILS

+65 6837-0507/ +65 9630-3022

OPERATING HOURS
Monday to Saturday:

10:30am to 8:00pm (Last appointment at 7pm) 

Sunday: 10:30am to 3:00 pm (Last appointment at 2pm)
Radium Medical Aesthetics always make sure to use modern and latest technology when it comes to treating their clients. They offer different treatments which are designed to enhance and rejuvenate your skin. One of which is their Collagen Dermal Filler. 
The clinic is renowned for its non-invasive procedures Thus, you will only suffer minimal pain during the process. Their end goal is to make their clients look and feel better about themselves. 
Headed by Dr Siew Tuck Wah, the medical staff of the clinic provides excellent performance and efficient service. This is how the clinic established their reputation and integrity in the industry. 
Highlights
Non-invasive treatment

Customized skincare procedure 

Minimum discomfort and pain
Customer Reviews
Radium Medical Aesthetic has garnered positive feedbacks and reviews from their customers. Here are some of those: 
Just wanted to thank Doc. Siew for saving my skin. It was so bad just a few days ago as it was peeling and throbbing red and I thought I really had to go under some medication or something.
Doc. Siew then told me to think what I had use differently and told me not to worry and perhaps try a treatment first and if am not in a rush just use his products first. I took all his suggestions for the light treatment plus products and it's softer now even. 
I started to see Doc Siew since my poly days and I must certainly say he has nv once tried to product push, in fact i feel that he always tells me to go for the most economic way. In fact sometimes if theres no need to, he would tell me to leave it, Which i really appreciate. All his treatments are very value for money and products are certainly lasting cos i only need a drop/2 . 👏🏻 – salsayaya85
Very satisfied with the results & services in Radium, 5-Star experience with reasonable prices. My first visit to consult with Dr Siew. He addressed my concerns and only recommended the treatment with very natural contour to enhance the face features. I took the Under Eye Filler,  reducing early wrinkles and hollow spaces under my eyes. He is very attentive and skillful in what he does. Highly recommended! – Sary Ann
8. Edwin Lim Medical Aesthetic Clinic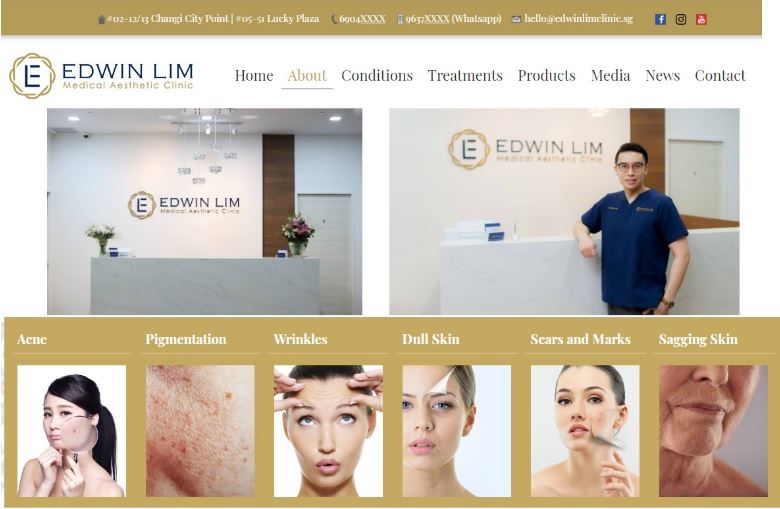 BEST FOR

Wide range of aesthetic services

SERVICES

Injectables, Laser, Medi-Facials and Fat Freeze, HIFU treatment

WEBSITE

https://edwinlimclinic.sg/

ADDRESS

#02-12/13 Changi City Point | #05-51 Lucky Plaza

#05-51, Lucky Plaza, 304 Orchard Road Singapore 238863

CONTACT DETAILS
[email protected]
OPERATING HOURS
Monday – Friday:

11:00 to 8:00 pm

Saturday and Sunday: 11:00 am to 6:00 pm
Edwin Lim Medical Aesthetic offers an extensive and comprehensive aesthetic service for their clients. They are equipped with the modern and latest technology which they use for their procedures. Their aim is to lessen and minimize the pain or discomfort felt by their patients. 
One of the services they offer is dermal fillers for facial contouring to make your skin more tight and help with the aging.
They have two branches located at Changi City Point and at Lucky Plaza. These two can be easily located and have ample parking areas for their clients. Thus, you are always welcome to visit their clinic at any time. 
Highlights
Comprehensive medical aesthetic service

Minimal discomfort and pain
Customer Reviews
At Edwin Lim Medical Aesthetics, you will get the service that you deserve. Check out what their customer has to say regarding their service: 
Dr Edwin Lim came highly recommended through a good friend. I am not disappointed at all. Initially, concerned about finding the way to clinic but it turned out to be a breeze. There is an underground link from the EXPO station all the way to Changi City Point Mall; that keep me sheltered from the weather. He is thorough in his explanation, professional in the clinical care, exercise dexterity in surgical skills, has gentle touch and has a friendly persona. There is no hard sales. The Clinic staff are great too! The Clinic's emphasis on clients' needs taking centre stage is commendable. Just done my neurotoxin and fillers; really happy with the outcomes. Always gratifying to invest in my skincare as I am wearing it everyday. – Madeline Chan
A month ago, I messaged the clinic asking it about mole removal late at 11pm. To my surprise, the reply came within a minute. After the review today, I am more than happy with the outcome of the procedure. What had been a dark raised mole is now a reddish scar. Moreover, it is most likely going to return to skin colour in two to three weeks. There are no complaints whatsoever with my smooth and minimal-pain experience with the clinic. Dr Edwin and his female manager are there to help you and allow you to make the most informed decision as possible. I highly recommend dropping them an inquiry especially if you're unsure. – Brad 
Do you already know which clinic you'd like to visit from our list of the best dermal fillers in Singapore? Let us know all about it, as we'd love to hear about your experience with their treatments and services.
If you're searching in particular for a treatment to enhance your chin's appearance, look at our picks too for the best chin fillers in Singapore to achieve that V-shaped look!