Our 13 Favourite Clinics for Dermal Fillers in Singapore
Are you having visible signs of ageing and have already tried a bunch of skincare products only to find it's still not enough? Then it might be time for you to try some aesthetic treatments such as the best dermal fillers in Singapore.
These fillers enhance your facial features by bringing volume to your skin, smoothing out the fine lines, and improving facial contours… leaving you with a restored youthful look. This is non-invasive and the recovery will be done in a short span of time.
With its benefits and practicality, you probably want to visit a clinic and know more about your options now. That's why we're here to help you find the local favourite clinics that provide the best dermal fillers in Singapore.
(Note: This list is in no particular order.)
Nuffield Aesthetics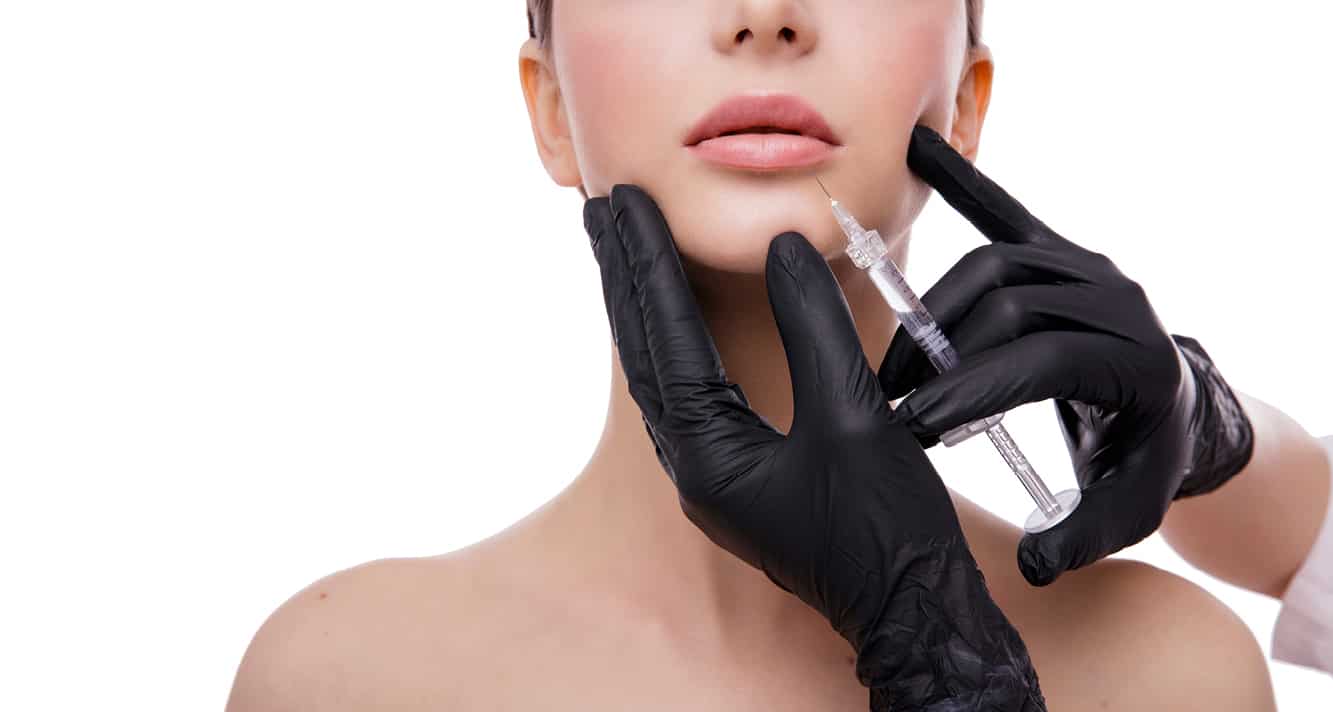 Nuffield Aesthetics is an aesthetics clinic that can provide aesthetic treatments to your face, skin, and even your whole body. What's great about them is that they extend these services to all genders.
As we grow old, it is inevitable to get wrinkles and lose facial volume. With them, you will be looking youthful again in no time.
A reason why we prefer them over others is how their derma fillers consist of hyaluronic acid, a natural polysaccharide that is already present in our skin and cartilages. They use this type of fillers because they are easy to administrate and have a low allergic response.
Unlike others, you will be able to witness immediate and visible results with them. And since this is a minimally invasive treatment, recovery time is cut in half as compared to traditional surgery.
The only catch here is that their rates are not available on their website so make sure to contact them first and know their prices beforehand.
Highlights
Extensive range of services
Have two doctors
Offers personalized treatments
The Clifford Clinic

The Clifford Clinic is an excellent choice for facial filler treatments. Undergoing filler treatments in The Clifford Clinic can help clients achieve better-looking skin.
Dr. Gerard Ee, their head dermatologist, works with his team of expert aesthetic doctors in delivering the best services. With his interest in minimally invasive surgery and aesthetic medicine, you can rest assured that any treatment you undergo in Singapore Aesthetic Practice will go well.
Highlights
Minimal Downtime
Minimal Scarring
Safe Procedure
Accurate Treatment
Dr. Lee Mun Heng – Cambridge Medical Group
Cambridge Aesthetic Clinic provides holistic treatments to make you beautiful inside and out. This boutique medical and laser aesthetic clinic provides medically sound and comprehensive aesthetic care in a comfortable and private environment.
Cambridge Aesthetic Clinic uses FDA-certified and approved machines, as well as Korean technology, to provide a comprehensive range of customised non-invasive therapeutic treatments for all their patients. Their range of services include laser and resurfacing therapies, radiofrequency, light and ultrasonic based treatments, botox and filler injections, chemical peels and various facial and body wellness treatments.
They will help you become the best version of yourself. With their experience and expertise, every treatment recommendation and program will be personally and specifically tailored to you, to ensure optimal results and outcome.
Highlights
Customised treatment programs
FDA-certified and approved machines
Comprehensive range of non-invasive therapeutic treatments
The Belle Clinic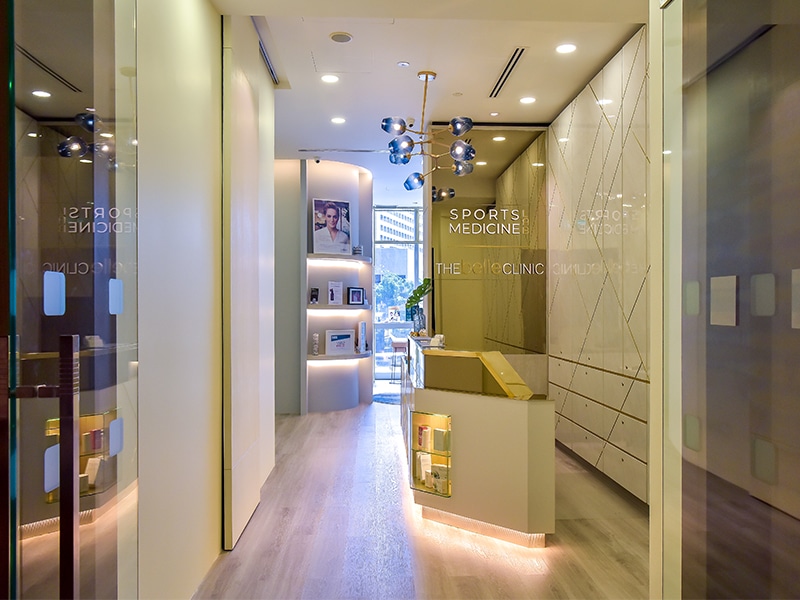 BEST FOR
Customised clinical solutions
WEBSITE
https://www.thebelleclinic.com/
ADDRESS
SBF Medical Center, #03-02 160 Robinson Road ​Singapore 068914
CONTACT DETAILS
+65-64448108
OPERATING HOURS
Monday to Friday: 10.00am -7.00pm

Saturday: 9.00am – 2.00pm
The Belle Clinic offers certain skin solution programmes and one of them is their fillers for wrinkles and fine lines. They use it on the cheeks, lower-eye region, lips, and even on the back of the hands to rejuvenate and restore the elasticity of the skin.
You can also choose to pair their fillers with botox for more defined results. Their other procedures include laser peel and skin tightening facials.
Highlights
Different skin enhancement programmes
Award-winning treatments
S Aesthetic Clinic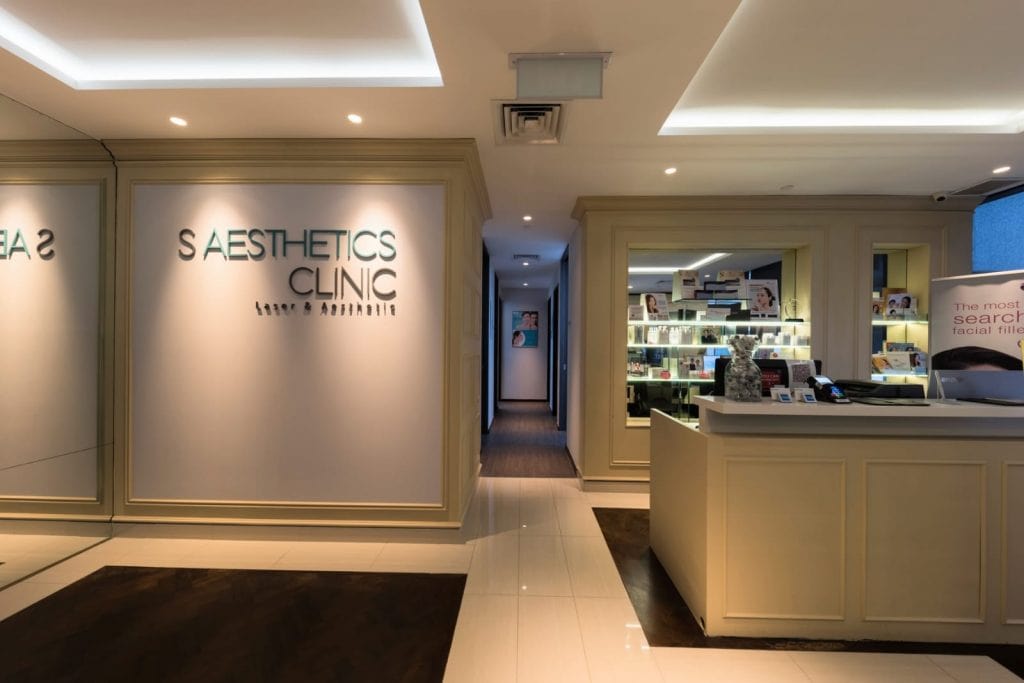 BEST FOR
Long-lasting effects
WEBSITE
https://saestheticsclinic.com/
ADDRESS
9 Scotts Road #07-07 Scotts Medical Centre (Pacific Plaza) Singapore 228210
CONTACT DETAILS
(65) 6235 0338
OPERATING HOURS
Weekdays: 10am – 8pm

Saturday: 10am – 6pm
S Aesthetic Clinic offers a full range of facial treatments and this includes their best dermal fillers in Singapore. They help treat sagging and sunken skin on different facial features such as the cheeks, under-eye, and temples.
It'll restore volume to the skin by providing a strong foundation, enhancing the contours, and redefining the features of your face. This includes improving the skin on your forehead, jawline, lips, nose, and chin.
Highlights
Wide range of facial enhancements
Facial and body treatments
Signature products
Astique Clinic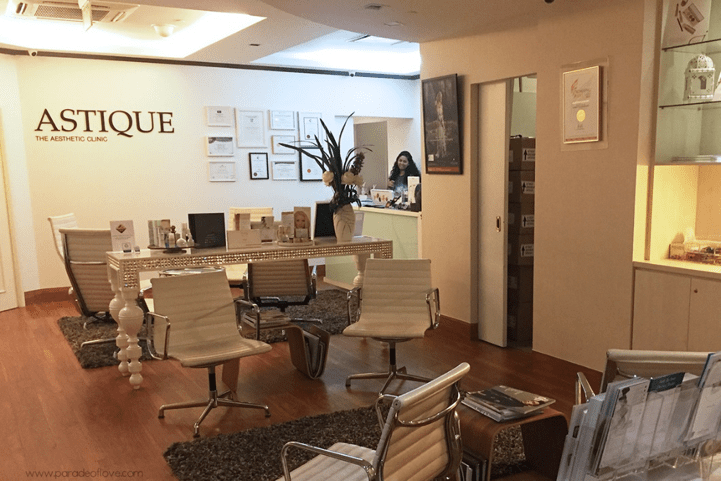 BEST FOR
Additional facial enhancements and skin boosters
WEBSITE
https://www.astiqueclinic.com.sg/
ADDRESS
350 Orchard Road, #08-00 Shaw House Singapore 238868
CONTACT DETAILS
+65 6732 3801
OPERATING HOURS
Mondays & Fridays : 11:00 am to 08:00 pm

Tuesday – Thursday : 09:00 am to 08:00 pm

Saturdays: 11:00 am to 04:00 pm
The dermal fillers treatment at Astique Clinic is applicable to certain parts of the face including nose, cheek, chin, laugh lines, and under-eye. Their procedures can restore the softness and fullness of your skin, giving you well-defined facial features.
They can make your cheeks fuller by lifting the skin and add volume on your chin by reshaping it. Fine lines, wrinkles and even dark circles can also be reduced with their best dermal fillers in Singapore.
Highlights
Dermal fillers for dark circles
Signature products
Halley Medical Aesthetics
| | |
| --- | --- |
| BEST FOR | Variety of face lifting and contouring treatments |
| PRICING | From $380 |
| WEBSITE | https://www.halley.com.sg/ |
| ADDRESS | 277 Orchard Road #03-15 Orchard Gateway Singapore 238858 |
| CONTACT DETAILS | 6737 8233 |
| OPERATING HOURS | Daily, 10am – 9pm |
Halley Medical Aesthetics offers dermal fillers that are made with safe ingredients for healthier and youthful skin. They use it for their anti-ageing or facial shaping treatment.
To reduce the signs of ageing, their fillers plump up the cheeks on your face, lessen the eye bags and more. For more defined facial features and other parts, they paired the dermal fillers with 3D projection and additional treatments to achieve your desired look.
Highlights
Signature treatments and products
Weight loss treatments
Edwin Lim Medical Aesthetic Clinic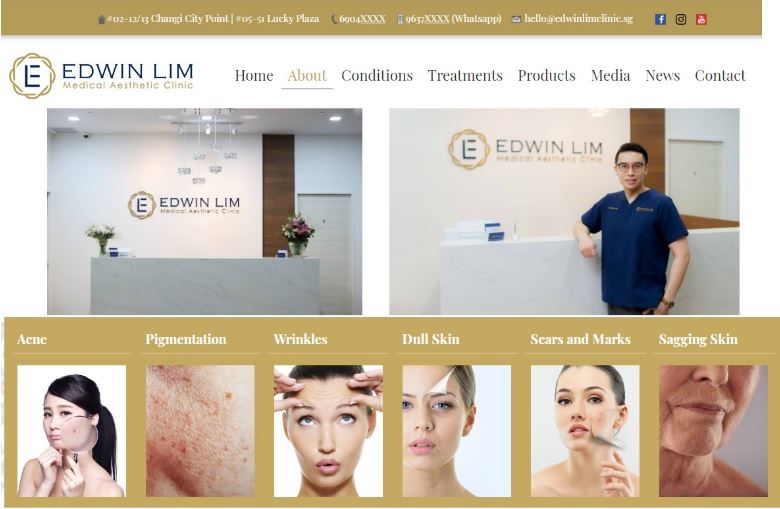 BEST FOR
Wide range of aesthetic services
SERVICES

Injectables, Laser, Medi-Facials and Fat Freeze, HIFU treatment

WEBSITE

https://edwinlimclinic.sg/

ADDRESS

#02-12/13 Changi City Point | #05-51 Lucky Plaza

#05-51, Lucky Plaza, 304 Orchard Road Singapore 238863

CONTACT DETAILS
[email protected]
OPERATING HOURS
Monday – Friday:

11:00 to 8:00 pm

Saturday and Sunday: 11:00 am to 6:00 pm
Edwin Lim Medical Aesthetic offers an extensive and comprehensive aesthetic service for their clients. They are equipped with the modern and latest technology which they use for their procedures. Their aim is to lessen and minimize the pain or discomfort felt by their patients.
One of the services they offer is dermal fillers for facial contouring to make your skin more tight and help with the aging.
They have two branches located at Changi City Point and at Lucky Plaza. These two can be easily located and have ample parking areas for their clients. Thus, you are always welcome to visit their clinic at any time.
Highlights
Comprehensive medical aesthetic service

Minimal discomfort and pain
Radium Medical Aesthetics

BEST FOR

Non-invasive medical aesthetic treatment

WEBSITE

https://radium-aesthetics.com/

ADDRESS

3 Temasek Boulevard #03-325/326 Suntec City Mall, Singapore 038983

CONTACT DETAILS

+65 6837-0507/ +65 9630-3022

OPERATING HOURS
Monday to Saturday:

10:30am to 8:00pm (Last appointment at 7pm)

Sunday: 10:30am to 3:00 pm (Last appointment at 2pm)
Radium Medical Aesthetics always make sure to use modern and latest technology when it comes to treating their clients. They offer different treatments which are designed to enhance and rejuvenate your skin. One of which is their Collagen Dermal Filler.
The clinic is renowned for its non-invasive procedures Thus, you will only suffer minimal pain during the process. Their end goal is to make their clients look and feel better about themselves.
Headed by Dr Siew Tuck Wah, the medical staff of the clinic provides excellent performance and efficient service. This is how the clinic established their reputation and integrity in the industry.
Highlights
Non-invasive treatment

Customized skincare procedure

Minimum discomfort and pain
8 Medical Aesthetic Clinic
BEST FOR
Complete Aesthetic Treatments
SERVICES
Skin Treatments, Face Treatments, Body Treatments
WEBSITE
https://www.8medicalaesthetic.com/
ADDRESS
SOMERSET BRANCH
51 CUPPAGE ROAD, #06-22, SINGAPORE 229469

DHOBY GHAUT BRANCH
2 HANDY ROAD, #04-19/20 THE CATHAY, SINGAPORE – 229233

CLEMENTI BRANCH
41 SUNSET WAY, #01-05, CLEMENTI ARCADE, SINGAPORE 597071

TAMPINES BRANCH
TAMPINES PLAZA, 5 TAMPINES CENTRAL 1 #03-01 S529541

CONTACT DETAILS
Tel: +65 3157 5947

SMS/WHATSAPP : +65 9151 9017
8 Medical Aesthetic offers a diverse set of medical aesthetic procedures. They primarily offer non-surgical treatments.
They have high standards of quality, from their doctors to their equipment. 8 Medical Aesthetic is a clinic you can count on to fulfil any of your aesthetic needs.
Highlights
Excellent attention to detail
FDA approved technology
Illumia Medical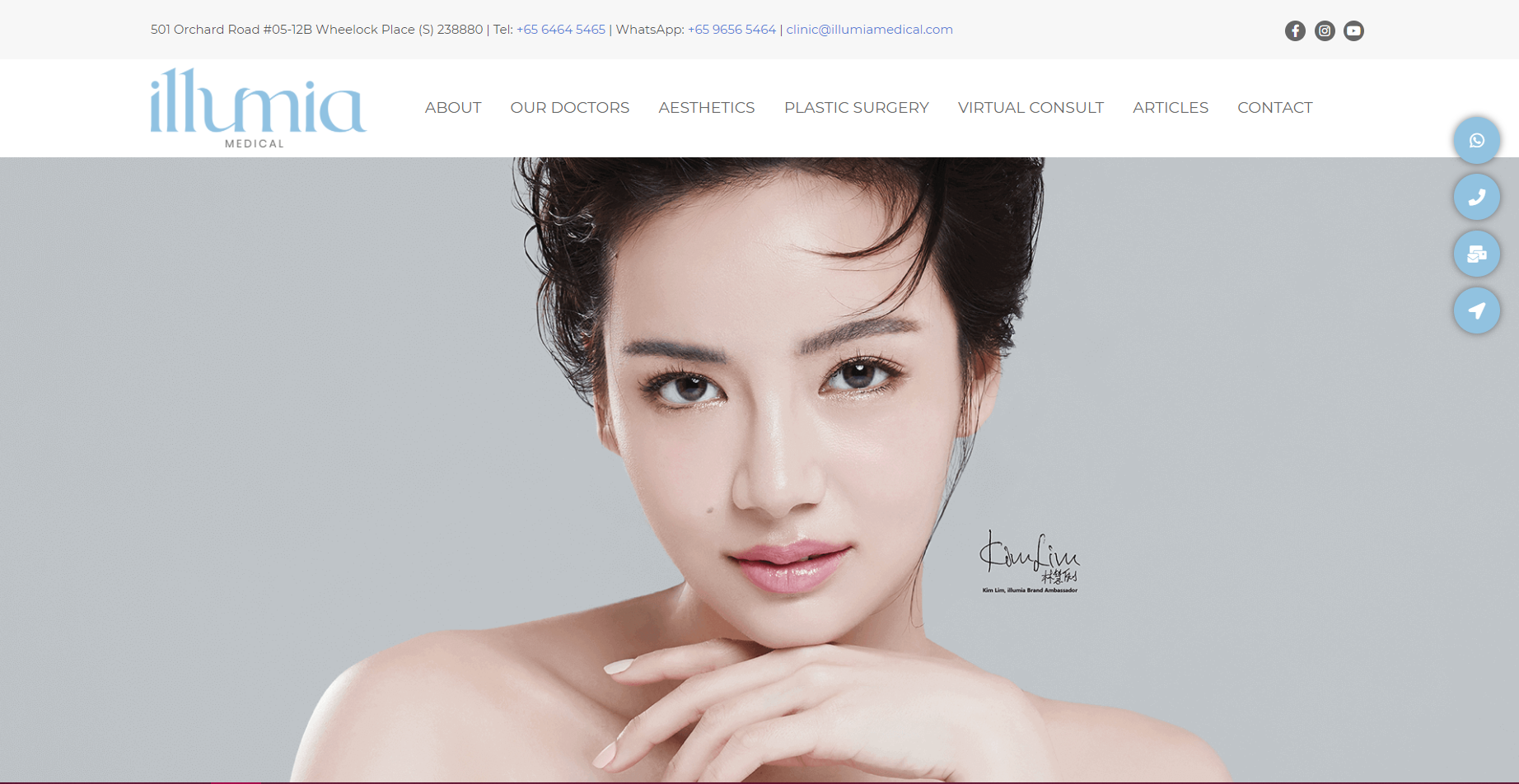 | | |
| --- | --- |
| BEST FOR | Medical Aesthetics and Plastic Surgery |
| SERVICES | Aesthetic Services: Dynamic Skin Brite, Illumia Face Design, Feminine Health Rejuvenation, Hair Loss and Regrowth, Illumia Body SculptPlastic Surgery: Upper Eyelid, Lower Eyelid, Face, Body |
| WEBSITE | https://www.illumiamedical.com |
| ADDRESS | 501 Orchard Road, #05-12 Wheelock Place, Singapore 238880 |
| CONTACT DETAILS | Tel: +65 6454 5465Whatsapp: +65 9656 5464Email: [email protected] |
| OPERATING HOURS | Mon to Fri: 10.30am – 8.30pm | Sat 10:30am – 3pm, Sun & Ph: Closed |
Illumia Medical makes use of the latest technology to serve their patient's beauty needs. They provide various aesthetic and plastic surgery services that brings natural and satisfying outcomes, no matter the patient's physical appearance.
One of the services they offer are facial fillers, which include lip fillers, forehead fillers, or nose fillers.
If you're interested in getting their fillers, they'll begin with an assessment of your features to see where to tweak and improve. With the use of their Face Design protocol technology, they ensure that the improvements they do will have visible, positive results.
During the procedure, they make use of fillers that only contain hyaluronic acids, which is a nontoxic, natural component proven to hydrate skin. This non surgical treatment will be relatively quick and painless, so you won't need to worry about experiencing any discomfort at all.
Highlights
State-of-the-art centre
High performance
Self developed technologies
Latest proven technologies from all over the world
SL Aesthetic Clinic
BEST FOR
Aesthetic Services for the Entire Body
SERVICES
Aesthetic services for the skin, hair, face, and body
WEBSITE
https://slclinic.com.sg/our-treatments/face/forehead-fillers/
ADDRESS
Causeway Point
1 Woodlands Square,
#04-11, Causeway Point S(738099)
Junction 8
9 Bishan Place, #04-02B/C,
Junction 8 S(579837)
Jurong Point
63 Jurong West Central 3, #B1-32
Jurong Point Hse 2 S(648331)
Plaza Singapura
68 Orchard Road, #04-08B,
Plaza Singapura S(238839)
Tampines 1
10 Tampines Central 1, #04-30/32
Tampines 1 S(529536)
Wheelock Place
501 Orchard Road #04-04,
Wheelock Place S(238880)
Westgate
3 Gateway Drive, #04-22
Westgate S(608532)
CONTACT DETAILS
Causeway Point
Tel: +65 6877 0144
Junction 8
Tel: +65 6262 5898
Jurong Point
Tel: +65 6316 2556
Plaza Singapura
Tel: +65 6336 1106
Tampines 1
Tel: +65 6634 8102
Wheelock Place
Tel: +65 6235 8403
Westgate
Tel: +65 6358 4588
OPERATING HOURS
Contact clinic for more information
Next on our list is an aesthetic clinic known for the range it has to offer its clients. SL Aesthetic Clinic has been serving the people of Singapore for over a decade now.
The clinic's team consists of highly skilled and knowledgeable individuals whose main goal is to make customers happy with their services, all while empowering them to be the best versions of their selves. As a result, SL Aesthetic Clinic is always updating its services, ensuring that they are non-invasive as well as FDA-approved, CE-marked, or HSA-approved.
Some of these services include derma fillers, mole removal, ultherapy, skin boosters, eyebag removal, pigmentation treatment, and more. When it comes to aesthetic clinics that caters to the aesthetic needs of various parts of the body, SL Aesthetic Clinic comes highly recommended.
Now, it's also worth noting that all of these services, including the ones that aren't mentioned, are performed by doctors who are all medically trained. Plus, they have the needed certifications of competence recognised by the Singapore Medical Council's Aesthetic Practice Oversight Committee (APOC).
Aside from being highly talented, skilled, and knowledgeable, these doctors are committed to helping clients look their best selves. So, it isn't all too surprising that they take the time to consult with each client, learning more about their aesthetic history and needs before moving forth with any service that they are in need of.
All in all, SL Aesthetic Clinic makes an excellent choice because of its range of services, team of doctors, and dedication to customer service.
Highlights
Offers a wide range of aesthetic services
Constantly updates aesthetic services
Minimal downtime depending on the service chosen
Multiple locations available
Professional and friendly staff
Do you already know which clinic you'd like to visit from our list of the best dermal fillers in Singapore? Let us know all about it, as we'd love to hear about your experience with their treatments and services.
If you're searching in particular for a treatment to enhance your chin's appearance, look at our picks too for the best chin fillers in Singapore to achieve that V-shaped look!