Our 17 Favourite Clinics for Plastic Surgery in Singapore
Are you finally ready to take a step closer to your dream body or face? If so, then you've come to the right place because we've listed the top places offering only the best plastic surgery in Singapore.
Aside from a list of the top plastic surgery clinics, you'll also find answers to some of the most frequently asked questions about plastic surgery. But before anything else, let's take a look at the costs of the different types of plastic surgeries.
The Best Plastic Surgery Clinics in Singapore
Now, let's dive into our list of the best plastic surgery clinics in the country. We only listed clinics with board-certified plastic surgeons so just feel free to choose any entry from this list.
Note that they're in no particular order, by the way!
Dr. Terrence Goh Plastic Surgery
Dr Terrence Goh Plastic Surgery offers numerous types of cosmetic and reconstructive surgeries such as ptosis surgery and breast implants.
Dr Goh's clinic even has special procedure packages like the mommy makeover. This package includes breast augmentations and liposuction, and tummy tucks, among others.
Additionally, Dr Goh is also an expert when it comes to microsurgeries. So, clients who need precise treatments such as bone flap transfers, nerve repairs, and complex wound reconstructions can rely on this clinic.
Dr Goh is also well-known for working specifically on the Asian face and body. He also guarantees to listen to his customers for the best results not only for his standards but also for his patient's wants and needs.
Despite all these benefits, some clients have spoken about the long waiting times in this clinic. So, if you are a bit impatient, this clinic may not be for you.
Dr. Samuel Ho- Allure Plastic Surgery
Dr Samuel Ho of Allure Plastic Surgery specializes in aesthetic invasive procedures. His personal consultations include a full explanation of the procedures to inform patients of risks and manage their expectations.
Allure is also well-known for providing amazing results with little to no scarring. At Dr Ho's clinic, clients can also choose multiple procedures and lump them into a single package for better payment and scheduling options.
Aside from all these services, Allure goes above and beyond when it comes to customer services. Specifically, it offers accommodations and chauffeur assistance to its foreign clients.
While it delivers excellent quality for numerous types of aesthetic plastic surgeries, Allure may not be the best for double eyelid surgeries as we've found numerous complaints about this service.
Hong Plastic Surgery
Hong Plastic Surgery is yet another clinic offering both aesthetic and reconstructive procedures. From non-invasive facial fillers to invasive breast procedures, this clinic can help those who want to improve their looks and their function.
Aside from its wide range of services, Hong clinic also guarantees to provide natural results with early and fast recovery periods and minimal risks.
This clinic's resident surgeon, Dr Hong Soo Wan is a fellow who has trained both locally and internationally. He also uses his expertise to treat needy patients as he joins numerous global medical missions..
Another great thing about Hong Plastic Surgery is that it has a doctor and team that can speak fluent English, Mandarin, Malay, and Hokkien.
Despite this inclusivity, Hong clinic may not be as accessible as you may think. This is simply because it has such a wide range of services for its relatively small team.
Evan Woo Breast and Plastic Surgery
Now, if you're looking specifically for the best plastic surgery in Singapore for breasts, then Evan Woo Breast & Plastic Surgery may be what you need. This clinic provides all types of breast procedures, including lifts, augmentation, reduction, and reconstruction.
This clinic is also appropriate for breast cancer patients who are looking for all types of breast procedures in just one clinic. With this target demographic, Evan Woo clinic is also well-known for its prompt responses and compassionate patient care.
What makes Dr Woo stand out from other surgeons is that he is also an expert in microsurgical breast reconstruction and oncoplasty breast surgery.
Additionally, Dr Woo has also trained in lymphedema and paediatric surgery. Evan Woo clinic continues to extend its services as it also offers laser treatments, scar management, and fat grafting services.
Despite having these services, you should know that Evan Woo clinic focuses more on patients with breast issues. So, if you're only looking for minor aesthetic treatments, you may save up more time booking other providers.
Dream Aesthetics and Plastic Surgery
As its name suggests, Dream Aesthetics & Plastic Surgery is a clinic that helps patients realize the aesthetics that they want. To realize this vision, it offers all types of aesthetic services, from invasive lifts and contouring procedures to non-invasive laser therapies.
This clinic has two board-certified plastic surgeons, Dr Wong Chu Hui and Dr Vincent Yeow. Dr Vincent Yeow is well-known as he leads medical missions for cleft lip and palate and teaches surgeons about the latest advancements in breast augmentation services.
On the other hand, Dr Wong Chu Hui specializes not only in plastic surgery, but also in otolaryngology, primary care, general surgery, and paediatrics.
With their combined expertise, Dream can thus offer medical surgeries such as craniofacial, cleft lip and palate, and infant ear correction.
However, customers have also shared complaints about upselling. There's also a considerable number of complaints about its uneven eyelid surgery.
Dr. Marco Faria Correa Plastic Surgery Pte Ltd
Dr Marco Faria Correa is an internationally recognized surgeon in aesthetic and reconstructive surgery. He is an innovative plastic surgeons as he is also trained in robotic surgeries and microsurgeries.
Additionally, Dr Correa has the expertise for endoscopic surgeries. He even stays on top of the latest techniques and trends as he continuously does research and attends workshops and conferences.
His clinic also offers extreme makeover packages. But what really sets this clinic apart is that it has special treatments for men who want to have plastic surgery.
Another great thing we learned about Dr Correa's clinic is that it has frequently scheduled follow up appointments even after surgery.
Dr Correa also has a clinic in Brazil, where he practices during the country's winter and summer. That said, you'll have to find other clinics if you're planning on getting surgery in July, December, or January.
SW1
SW1 is yet another aesthetic clinic providing a range of non-invasive and invasive procedures for the skin, hair, face, body, and breasts. It prides itself mainly on its large team of board-certified and skilled surgeons and medical staff.
Aside from the usual plastic surgeries, SW1 also offers scar revision treatments as well as paediatric procedures like ear moulding and birthmark removals.
But what really sets SW1 apart is that it also has an online shop, and its very own spa. So, clients can also rely on this clinic for relaxation and pampering.
Besides all these services, SW1 promotes accessibility by being fluent in four languages languages, namely English, Bahasa, Tieng Viet, and Simplified Chinese. This clinic also has two branches around the country to improve accessibility to the best plastic surgery in SG.
However, SW1's Paragon branch may be inconvenient for some due to its limited parking spaces. Additionally, some patients have also complained about expensive and unforeseen fees.
Woffles Wu Aesthetic Surgery & Laser Centre
Dr Wu of the Woffles Wu Aesthetic Surgery and Laser Centre is well-known for his contributions and practice of non-surgical facial rejuvenation (NSFR). Thus, he does IPLs, fillers, and injectables complimentary to surgeries.
Dr Wu also developed an effective non-surgical facial lift, now well-known as the Woffles Lift, for the best results with fewer risks and discomfort. He also guarantees minimal scarring and downtime for his treatments.
Despite this expertise, Dr Wu still caters to those looking for invasive procedures such as body contouring and breast surgery. This surgeon is also trained in craniofacial surgery to cater to those with medical needs.
However, be sure to prepare your wallet if ever you choose this clinic because their prices are on the expensive end.
Leslie Kuek Plastic Surgery
Leslie Keuk Plastic Surgery is yet another clinic offering aesthetic services exclusively. It has everything from face injectables and non-invasive lifts to breast surgery and tummy tucks.
This clinic is well-known for its excellent patient care and informative nature. Leslie Kuek clinic also offers effective surgeries with little to no scarring.
This clinic is led by Dr Leslie Kuek, who has been in the industry for more than 30 years. He has also received training and accreditation from prestigious global institutions like the Royal College of Surgeons.
Additionally, Dr Kuek is active in volunteer work as he helped victims of natural disasters in neighbouring countries.
Since it focuses more on invasive aesthetic procedures, you may have to find another provider for when you need reconstructive surgery other than for cleft lip and palate.
Sweng Plastic Aesthetic and Reconstructive Surgery
Now if you're aiming for a specific look, then Sweng Plastic Surgery Singapore may be what you need. This clinic's head plastic surgeon, Dr Ng Siew Weng, has trained in South Korea and has become an expert in the country's plastic surgery techniques and processes.
With Dr Ng's expertise in the Asian look, he suggests necessary changes to provide improved results to his clients. Dr Ng is also compassionate as he has travelled internationally to treat those with cleft lip and palate, burns, and post-traumatic scars for free.
Additionally, Dr Ng is an expert in fat grafting, stem cell healing, and microsurgery. But this clinic offers more than just effective cosmetic procedures because it also provides an excellent patient experience.
It does so simply by pampering its patients with its very own three-in-one medical tourism complex. In Sweng's complex, patients will find a hotel and spa wherein they can relax and recover after receiving the best Singapore plastic surgery.
Despite these disadvantages, Sweng may not provide a perfect experience as some clients have had problems booking appointments due to its admin.
W Aesthetic Plastic Surgery
W Aesthetic Plastic Surgery offers more than just invasive cosmetic procedures. With its team of two doctors, one plastic surgeon and one dermatologist, it can thus provide both invasive and non-invasive treatments.
Dr Wong Chin Ho leads this clinic's plastic surgery services with his expertise in both cosmetic and reconstructive treatments. He trained both locally and internationally and has been published in numerous international journals.
His interest in both practice and research lies in the anatomy of the Asian face, especially of the Asian nose. With this particular interest, Dr Wong provides its clients with natural-looking results.
While it caters mostly to Asian clients, W Aesthetics welcomes anyone looking for te best plastic surgery in Singapore. The clinic's staff members even offer to help its foreign clients by making hotel bookings themselves.
Yeap Plastic Reconstructive & Cosmetic Surgery
If you're looking for a place that provides all ranges of plastic surgery, then Yeap clinic deserves to be on your top list. This clinic offers all types of plastic surgery, from aesthetics to reconstruction.
Dr Yeap, the head surgeon of the clinic, was even accredited by the Royal College of Surgeons. His training abroad and in Singapore enables him to perform even complex surgeries like those for facial trauma and fractures.
Aside from surgical procedures, Yeap clinic also offers non-invasive procedures. These include laser treatments and facial fillers for improved aesthetics.
Dr Yeap is also well-known for listening to his clients and delivering results according to their own vision of beauty.
However, since Yeap Plastic Surgeon is only available by appointment, you may have a hard time knowing when they are free. That is, unless you communicate with them early on.
Polaris Plastic & Reconstructive Surgery
Polaris Plastic Surgery is yet another clinic offering both reconstructive and cosmetic plastic surgery services. It even offers hair transplants, thigh lifts, scarless eye bag removal, and other more rare plastic surgery services.
This clinic even goes beyond and provides trunk reconstruction, lymphedema surgery, and extremity reconstruction, all thanks to its resident surgeon, Dr Adrian Ooi. Dr Ooi trained in Singapore, UK, and the US to learn about the latest techniques in the field.
But what really sets him apart is that he is also among the only two experts of robotic surgery in the country. With this additional expertise, Dr Ooi guarantees its clients efficient and detailed treatments.
Aside from its wide range of services, Polaris also guarantees to listen to its clients' wants and needs. The clinic even goes above and beyond with its services by providing virtual consultations.
Dr. Leo Aesthetic Plastic and Reconstructive Surgery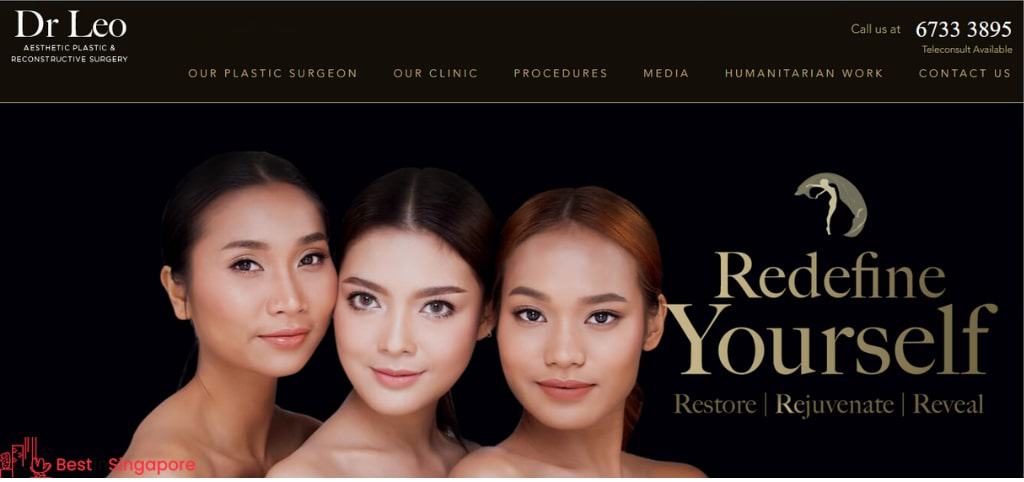 Dr Leo Kah Woon serves as the resident plastic surgeon at Dr. Leo Aesthetic Plastic and Reconstructive Surgery, one of top aesthetic clinics on the island. He's an accredited plastic surgeon by the Singapore Ministry of Health, so rest assured that every patient is safe in his hands.
Some of the services offered by his clinic are breast augmentation, breast reduction, rhinoplasty, face lift, butt augmentation, gender reassignment, stretch marks removal, and of course, the best hymenoplasty surgery in Singapore.
People we talked to who have undergone hymenoplasty and other vaginal surgeries at Dr. Leo Aesthetic Plastic and Reconstructive Surgery noted how careful and delicate its doctors and nurses are.
Pros
Experienced surgeons
Certified and trained medical support staff
Wide range of aesthetic services
Cons
Customer Reviews
Here are some comments shared by its previous patients on Google Reviews
"I've always accepted my droopy eyelids but since they've been feeling heavier and starting to affect my sight, I decided to get ptosis surgery. Dr Leo patiently gave me all the information I needed, and felt assuring. True to his word, the surgery went smoothly and without complications. Thankful to the whole team!"

"I've been here several times to get my lip fillers touched up. I've been to other places where the injections really hurt, and sometimes become a bit lopsided. But with Dr Leo, the discomfort is quick and mild and the results look nice and even!"
Colin Tham Plastic Surgery Clinic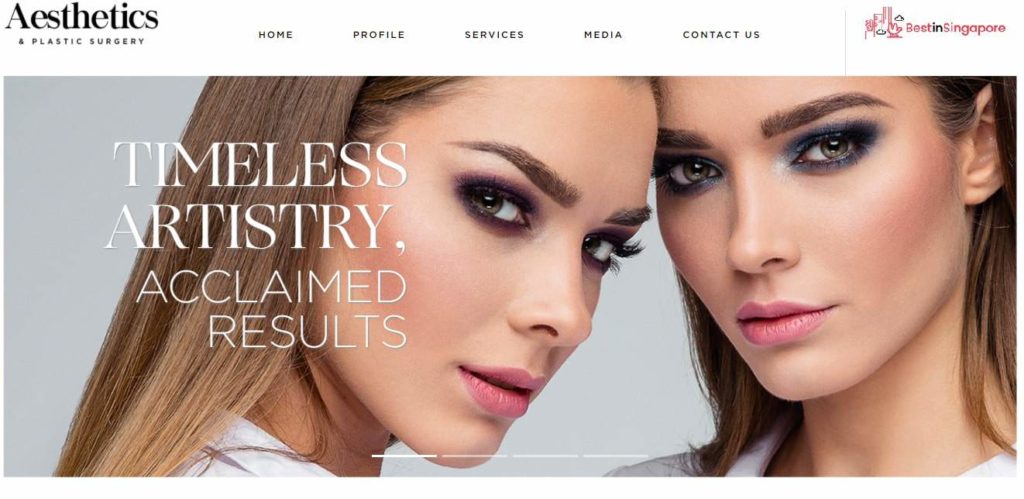 Colin Tham Plastic Surgery Clinic is known for providing top notch personalised medical treatments to all its patients. It's aware that patients all have different needs, so it will make sure that your medical concern is addressed in the best way possible.
In terms of range of service, Colin Tham Plastic Surgery Clinic provides both surgical and non-surgical techniques for cosmetic or reconstructive purposes. It's also armed with cutting-edge medical equipment to ensure the success of every procedure and the safety of each patient.
Apart from the best hymenoplasty surgery in Singapore, Colin Tham Plastic Surgery Clinic offers breast reduction, breast enhancement, liposuction, fat transfer, rhinoplasty, earlobe repair, and lip augmentation, among others.
Colin Tham Plastic Surgery Clinic also has friendly and approachable support medical staff that patients can talk to before surgery. If you ever feel nervous before going under the knife, making small talk with its staff may ease your nerves: they're very soothing to talk to.
Pros
Professional surgeons
Cutting-edge medical technologies
Non-surgical techniques
Cons
Customer Reviews
With over 30 reviews online, Colin Tham Plastic Surgery has an impressive average rating of 4.7 given by their clients. Here's a review written by Cathy Ong, one of their satisfied clients:
I rarely post reviews, but for Dr Tham I have to make an exception as he did a great job on my double eyelid surgery! The procedure and recovery went well and the results look natural. I'd happily recommend him to others looking to get their eyelids done too.
Shens Clinic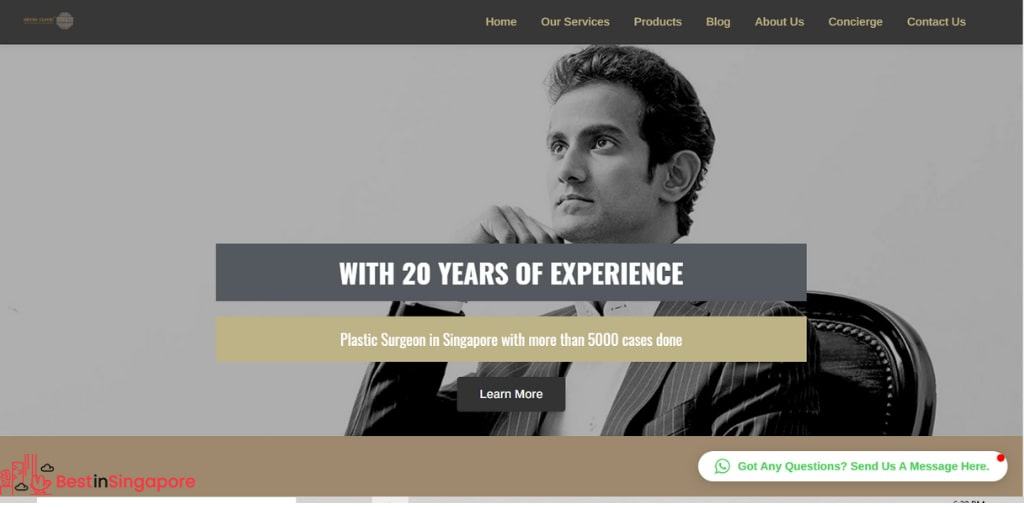 Shens Clinic is one of the few plastic surgery clinics in Singapore that specialise in Korean-style cosmetic procedures. Dr. Shen, its head surgeon, may not be Korean-born, but he has years of extensive medical training in Korea.
Apart from common procedures such as face lift, eyelid surgery, and breast enhancement, Shens Clinic is among the few clinics that provide different types of gender-based reconstructive surgeries. These include labiaplasty and hymenology for women, and gynecomastia for men.
Shens Clinic's hymenoplasty surgery is open for all women, whether you're single or married. It promises a safe, comfortable, and quick procedure that will not take more than 30 minutes.
Pros
Korea-educated surgeon
Extensive range of cosmetic procedures
Advanced medical equipment
Cons
Not exactly a con but it's good to note that they specialise in Korean type surgeries
Customer Reviews
As it's one of the top plastic surgery clinics in Singapore, we're not surprised that it's received mostly positive comments from patients. Here's what some of them had to say:
"I believe Dr Shen is one of the best specialists in Singapore; his great expertise combined with supportive customer service and newest technology made me feel safe and confident that I'm in good hands. The results of the treatments exceeded my expectations. Dr Shen offers a detailed consultation prior to the treatment to assure the client obtained the desired effect."
"I did a double eyelid sutera with Dr Shens. I wanted a higher lid but he explained very patiently why it would not suit me. I trusted him and went for the recommended height. It has been 3 months. My eyelids look fabulous. It is so natural that nobody would even guess I did any work to it. Thank you Dr Shens! He will definitely be the surgeon of choice if I want to do more plastic surgery!"
The Clifford Clinic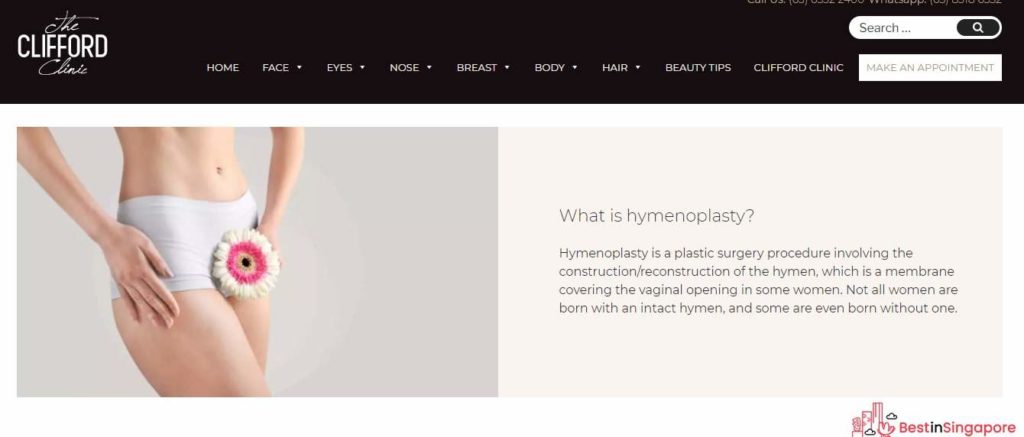 For those searching for competitively priced aesthetic services and plastic surgery, we recommend taking a look at The Clifford Clinic. It's a trusted and established cosmetic clinic with over 18 years of experience.
The Clifford Clinic offers all sorts of aesthetic procedures for all parts of the body, including breastaugmentation, double eyelid surgery, rhinoplasty, nose lift, tummy tuck, liposuction, hymenoplasty, and even hair transplant.
One reason we call it one of the top options for the best hymenoplasty surgery in Singapore is that it offers 3 types of hymenoplasty. Its surgeon can repair the hymen, construct a new hymen, or create an artificial hymen.
Pros
3 types of hymenoplasty
Trained and certified surgeons
19 years of experience
Customer Reviews
Here are some examples of positive feedback posted on Google Reviews:
"Its my second visit here and I decided to leave a review. First, the receptionists are all very kind and helpful. They have a sense of humour despite having so much to do. Secondly, I was consulted by Dr Gerald Ee and he is very nice and knowledgeable. He recommended that I do the Q switch laser treatment for 10 times for my acne and I saw instant results from the first session. I've never had much hope for my skin until now. Thank you Dr Gerald Ee. Oh and they also have a refreshment table completely free of charge! Mega bonus!!"
"My wife Jennifer had her eye bag removal procedure done by Dr Timothy Shim. We were worried at first how the results will be … if it will be as good as what we have seen on Carol who also had done the similar procedure. Not only were we pleased with the results, my friends and family were much impressed and my wife now looks at least 10 years younger! Very happy to recommend Dr Timothy as he had done a fabulous job and for Carol's expert advice and assurance during this wonderful journey."
Frequently Asked Questions about Plastic Surgery
---
And that concludes our list. We hope you find the clinic that'll give you the best plastic surgery in Singapore!
Know any other plastic surgeons who you think may be worthy of being called the best in Singapore? Leave us a message so we can review them, too.
Now, if you want to improve your looks but don't want to go under the knife, then the best dermatologists in Singapore may be what you need. Check out our list for more informatin about non-invasive procedures.