9 Clinics to Visit for the Best Rhinoplasty in Singapore
By: Michaela Koh
Do you want a more visually appealing nose? Well, that's now possible with help from several trusted clinics that offer the best rhinoplasty in Singapore.
For today's article, you'll get to know more about these clinics, from the range of their services down to what previous customers think about them. Most of their procedures are open whether it's for medical or aesthetic reasons too.
Before we reveal their names, we'll go over the average cost of undergoing a rhinoplasty in Singapore. You'll also find answers to a few commonly asked questions about this procedure at the end of this article.
The Cost of Rhinoplasty in Singapore
The best rhinoplasty in Singapore is a bit more affordable than many think. It's an aesthetic procedure that has risen in popularity over the past few years, so it's become cheaper and more accessible.
However, interested individuals will have to spend money out of their own pockets because most medical insurance companies don't cover aesthetic procedures, including rhinoplasty, even if it's done for medical purposes.
The average cost of a rhinoplasty is anywhere from from $4,000 to $20,000, depending on the complexity of the procedure. It's a highly tailored cosmetic procedure, so the cost of someone's surgery may be wildly different from yours.
Some rhinoplasty procedures involve only the bone, while others may need cartilage reconstruction and skin grafting. This means that the cost will also depend on the type of functional corrections that will be made.
For better context, here's what goes into the cost of rhinoplasty in Singapore:
The Clinics with the Best Rhinoplasty in Singapore
Let's jump right into our picks for the plastic surgery clinics with the best rhinoplasty in Singapore. We listed only those with experienced surgeons, full-range facilities, and impressive reviews from previous patients.
By the way, our list is in no particular order.
Dr. Terence Goh's Clinic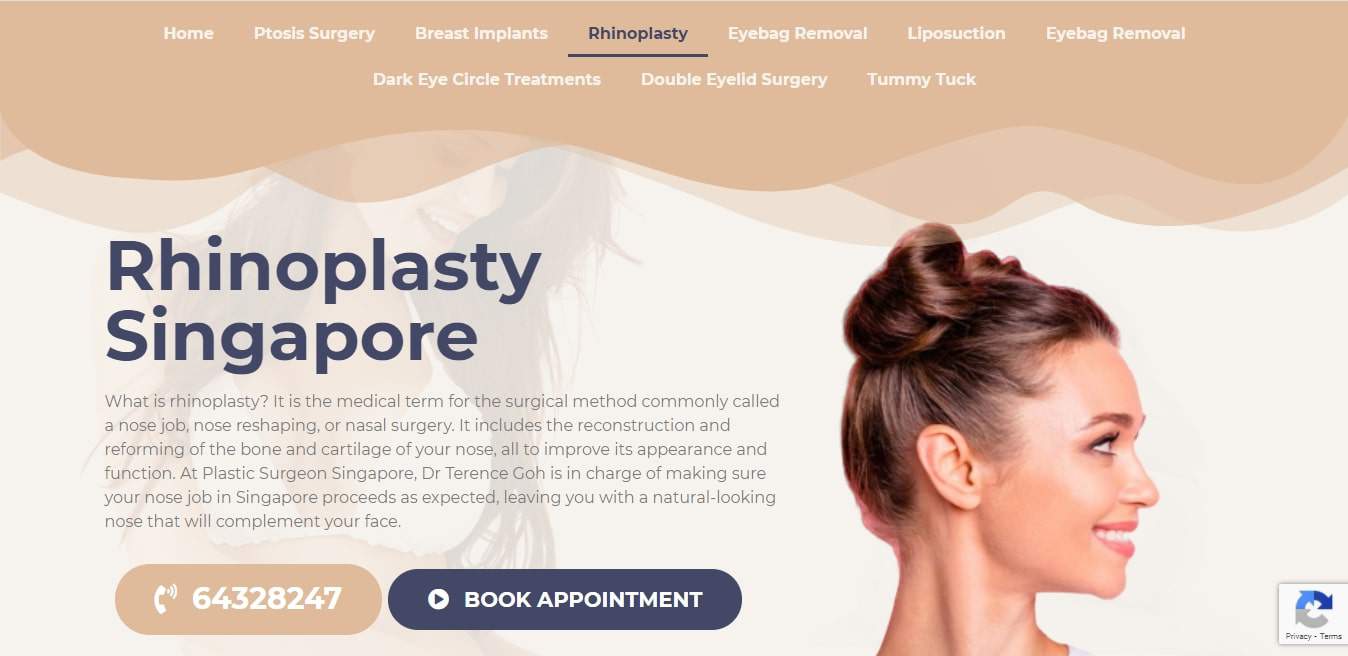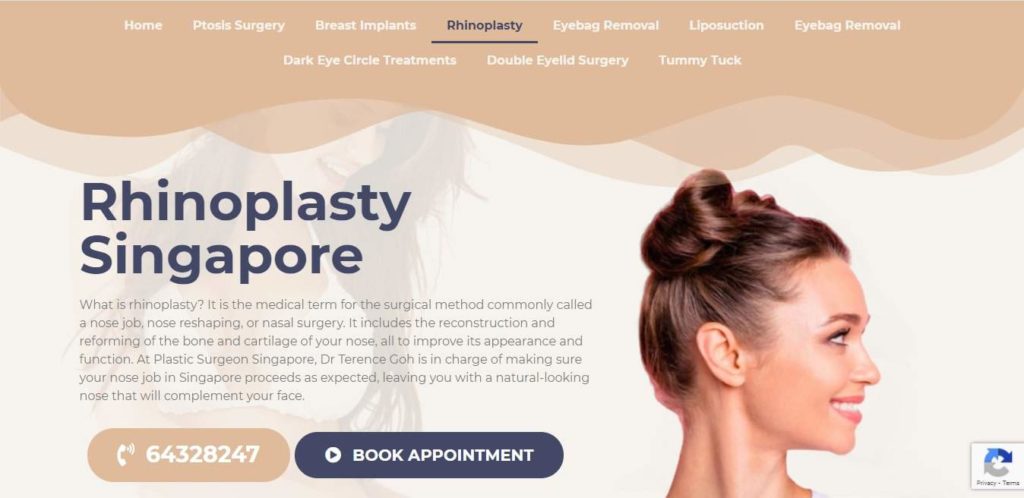 SCOPE OF SERVICES
Rhinoplasty, ptosis surgery, breast implants, eye bag removal, liposuction, dark eye circle treatment, double eyelid surgery, and tummy tuck
ADDRESS
38 Irrawaddy Road #06-48 Mount Elizabeth Novena Specialist Centre Singapore 329563
CONTACT DETAILS
+65 6432 8247
WEBSITE
https://www.plasticsurgeonsingapore.com/
OPERATING HOURS
Monday to Friday: 9:00 AM – 6:30 PM
Saturday: 9:00 AM – 1:00 PM
Dr. Terence Goh is a plastic surgeon who specialises in aesthetic and reconstructive microsurgeries. He's accredited by the Ministry of Health and currently stands as the President of the Singapore Association of Plastic Surgeons
As one of the most prominent surgeons in Singapore, Dr. Goh is an expert on Asian facial features, with a particular interest in noses and eyelids. In fact, he runs his own aesthetic clinic where he offers different rhinoplasty procedures.
The reconstructive rhinoplasty offered in his clinic aims to repair broken noses post-accident, while the cleft rhinoplasty is for patients with abnormally shaped noses due to a cleft lip and palate.
Aside from that procedure, one of Dr. Goh's most in-demand surgeries is the Asian rhinoplasty, which reshapes noses based on the Asian beauty standards. It's popular not only among locals, but expats and tourists as well.
Other procedures offered by his clinic include lip fillers, breast augmentation, ptosis surgery, liposuction, breast lift, body contouring, double eyelid surgery, and eye bag removal, among others.
Trusted by locals and expats
Full-range medical facilities
Personalised aesthetic procedures
Accepts patients on Saturdays
Limited staff because it's a small clinic
Dr. Dennis Chua's Clinic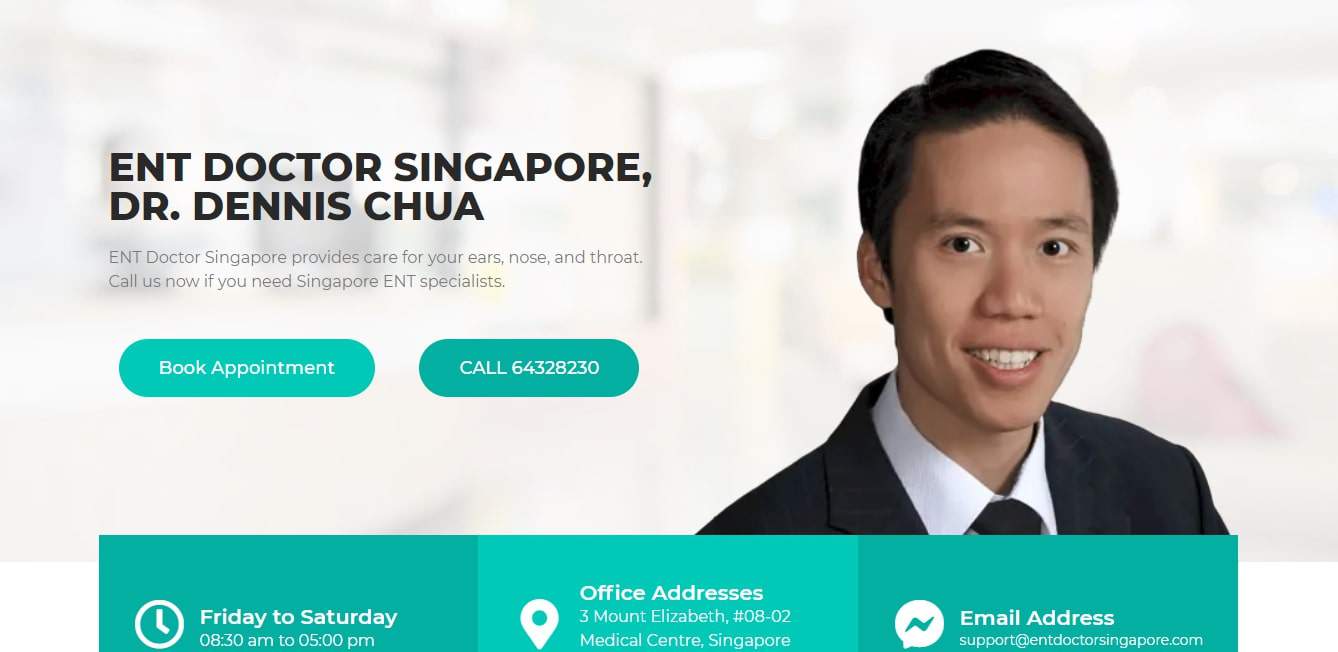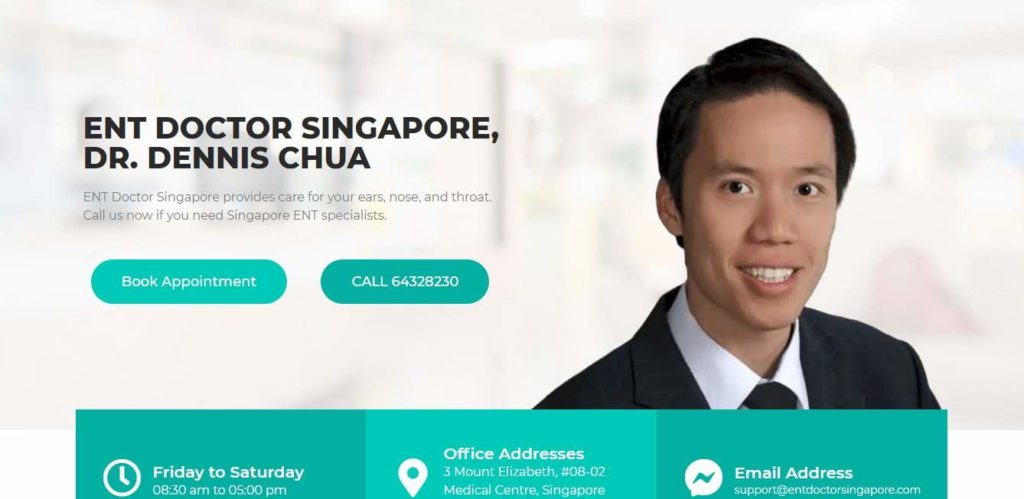 SCOPE OF SERVICES
Facial plastics, sleep disorders, facial plastics, sinuses, allergies, throat and thyroid problems, and paediatrics ENT
ADDRESS
3 Mount Elizabeth #08-02 Mount Elizabeth Orchard Medical Centre, Singapore 228510
CONTACT DETAILS
+65 6432 8230
WEBSITE
https://www.entdoctorsingapore.com/
OPERATING HOURS
Monday to Friday: 9:00 AM – 5:00 PM
Saturday: 9:00 AM – 12:00 PM
Dr. Dennis Chua is primarily known as an ENT specialist, but he's among the doctors with a subspeciality in facial plastics and reconstructive surgery. He runs an ENT clinic though, not a plastic surgery clinic, so keep that in mind.
He completed his medical undergraduate degree at the National University of Singapore and subsequently completed his otorhinolaryngology training in various hospitals and clinics on the island.
Some of the facial plastic procedures offered by Dr. Chua are nasal valve reconstruction, alloplasts, rhinoplasty, autologous cartilage, and septorhinoplasty. These are recommended mainly to patients with medical concerns and not for aesthetic purposes.
Speaking of patients, Dr. Chua's clinic is open to individuals of all ages, so basically anyone can drop by during clinic hours. It accepts patients on Saturdays too, although on a limited basis.
As a trusted ENT specialist, Dr. Chua has dealt with all sorts of ENT conditions, including sleep disorders, snoring problems, thyroid diseases, sinus diseases, and even complex nasal issues.
Accessible location
Accepts patients on Saturdays
Open to patients of all ages
Customer Reviews
Take a look at these comments posted on Google Reviews
"Dr. Chua and his staff are absolutely great! Dr. Chua ably addresses my concerns and conveys the information in simplified terms when necessary. I even recommended him to my wife; she is now a patient as well. His staff is second to none. Those ladies are true medical professionals…always friendly. Highly recommended!!!"
-Ronnie Trahan
"I read about Dr Chua online and thanks to the reviews here recommended my dad to see Dr Chua for his sinus congestion. After having a disappointing experience with another ENT prior to this, I was apprehensive for my dad. However, Dr Chua is extremely patient and empathetic. My dad is shy and Dr Chua made him as well my mum feel very comfortable. The day after his appointment, my dad even sent Dr Chua an email query and received a quick reply. We are very grateful to have found Dr Chua."
-Kavitha Palanivelu
Hong Plastic Surgery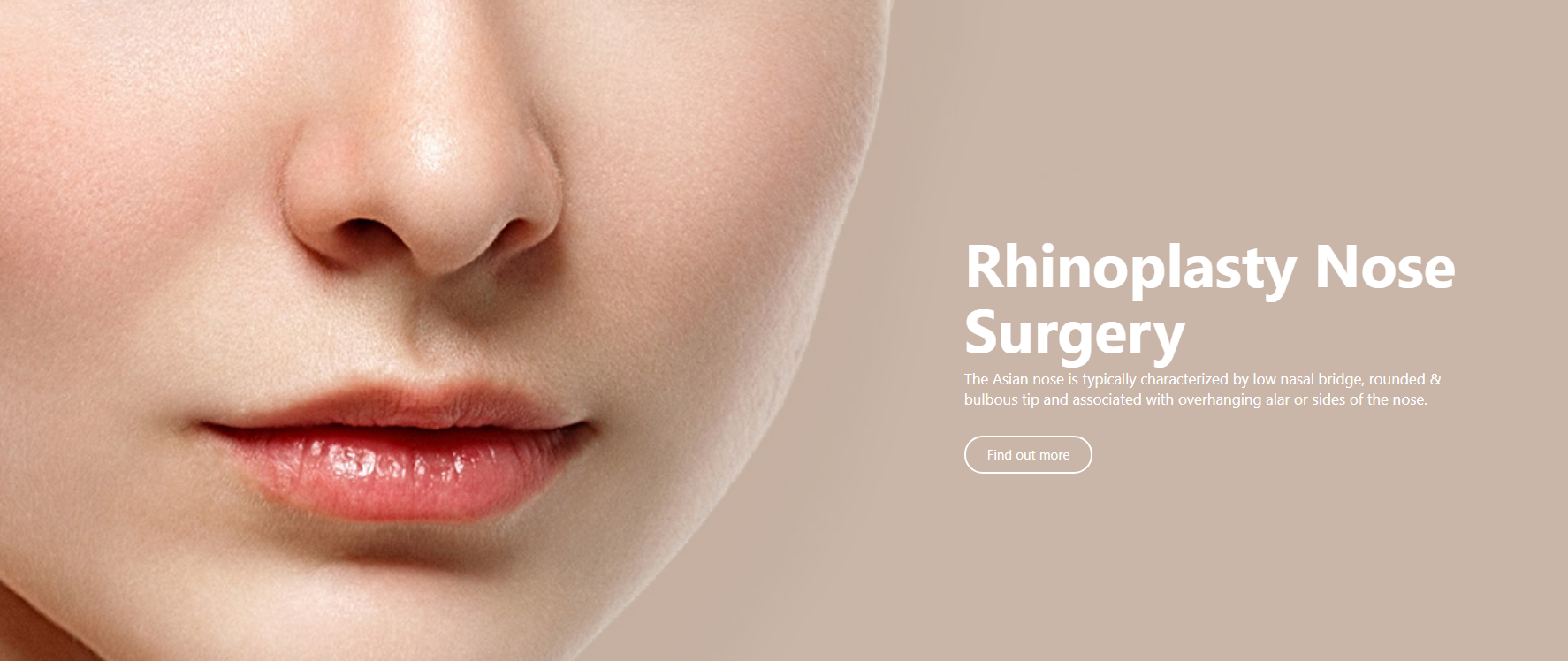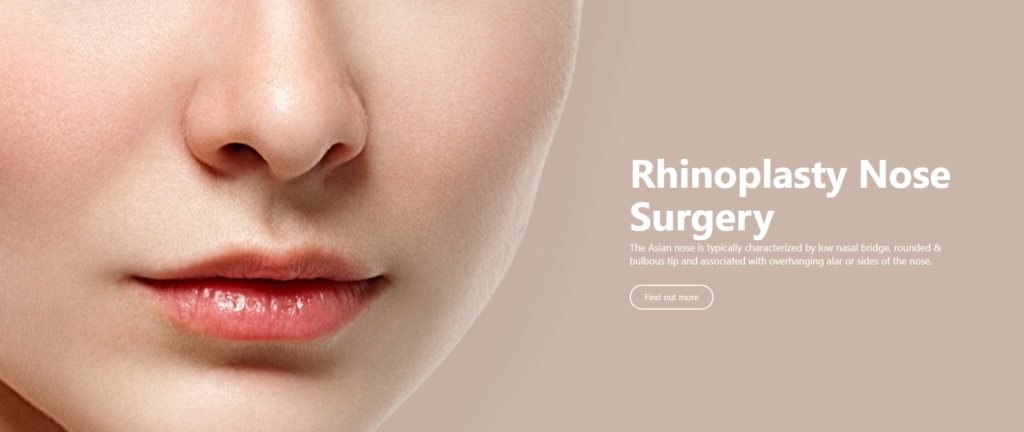 SCOPE OF SERVICES
Rhinoplasty, double eyelid surgery, ptosis surgery, droopy eyelid surgery, browlift surgery, breast augmentation, butt augmentation, liposuction, earlobe repair, face lift, neck life, nose lift, facial contouring, and mole removal
ADDRESS
820 Thomson Rd, #06-68, Singapore 574623
CONTACT DETAILS
+65 6432 8248 |

[email protected]

WEBSITE
https://www.hongplasticsurgery.com.sg
OPERATING HOURS
Mon – Fri: 9am – 1pm, 2pm – 5pm
Saturday:9am-1pm
Sunday & Holiday: Closed
Hong Plastic Surgery is an all-around plastic surgery clinic headed by its namesake Dr. Hong Soo Wang, a specialist with more than 30 years of experience. He's a plastic surgeon who can help anyone achieve a taller nose, slimmer nose, or even smaller nose.
Dr. Hong is known for his gentle approach and attention to details that result in long-lasting and natural-looking results. You won't have to worry about your nose looking "artificial" weeks after the surgery.
Another reason we like Hong Plastic Surgery is the comprehensive aftercare services given to every patient, which accelerate the recovery process. Some of Dr. Hong's patients were able to return to their normal routines in less than a week.
The medical staff at Hong Plastic Surgery can also speak English, Mandarin, Hokkien, and even Malay, so expats and tourists are more than welcome to his clinic.
Other aesthetic procedures offered by Dr. Hong are double eyelid surgery, ptosis surgery, butt augmentation, breast augmentation, nose lift, face lift, liposuction, facial contouring, mole removal surgery, and more.
30 years of experience
Convenient location
Multilingual staff
After-surgery services
Most procedures are pricey
Allure Plastic Surgery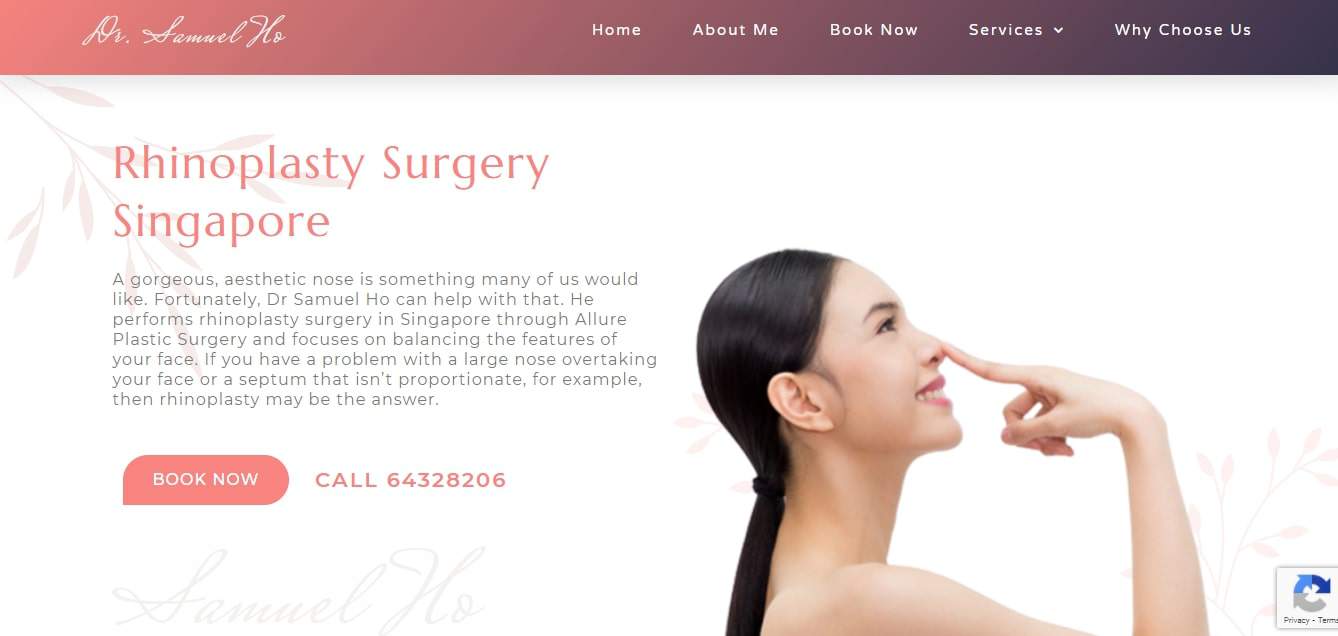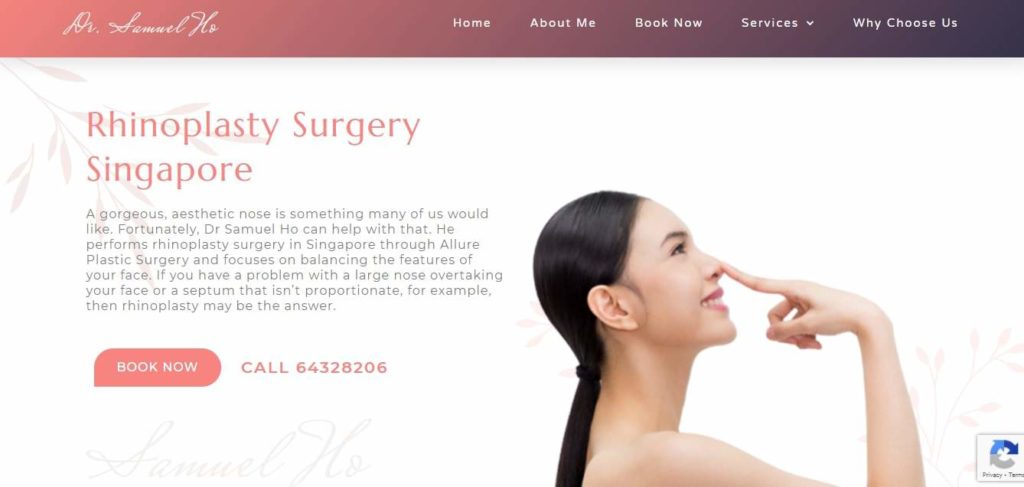 SCOPE OF SERVICES
Rhinoplasty, liposuction, fat transfer, face lift, neck lift, nose list, double eyelid surgery, ptosis surgery, droopy eyelid surgery, eyebag removal, scar revision surgery, vaginoplasty, tummy tuck, breast augmentation, and breast reduction
ADDRESS
435 Orchard Road #22-04 Penthouse Floor Wisma Atria Singapore 238877
CONTACT DETAILS
+65 6432 8206
WEBSITE
https://www.drsamuelplasticsurgery.com/
OPERATING HOURS
Monday to Friday: 10:00 AM – 6:00 PM
Saturday: 10:00 AM – 3:00 PM
Allure Plastic Surgery is an established aesthetic clinic in Singapore with an excellent track record. It's headed by Dr. Samuel Ho, a plastic surgeon with hundreds of successful operations under his name.
Dr. Ho is no doubt one of the most prominent plastic surgeons on the island, so we couldn't not include his clinic in this list. Whether you have a large nose that overwhelms your small face or a disproportionate septum, he can definitely fix that.
Allure Plastic Surgery offers four types of rhinoplasty: open rhinoplasty, secondary rhinoplasty, closed rhinoplasty, and filler rhinoplasty. Any of these procedures wouldn't take more than three hours.
Before the surgery takes place, Dr. Ho will take time to thoroughly explain the whole process of rhinoplasty, including what patients need to do before and after surgery. It's worth noting that not all plastic surgery clinics do this.
Another benefit of undergoing rhinoplasty at Allure Plastic Surgery is the proper aftercare given the patients. In case you need to schedule a follow-up consultation or have questions regarding the recovery process , its team will only be one phone call away.
Apart from rhinoplasty, Allure Plastic Surgery also offers double eyelid surgery, breast augmentation, eye bag removal, brow lift surgery, tummy tuck, otoplasty, and ptosis surgery, among others.
Fast procedures
Offers four types of rhinoplasty
Excellent customer service
Thorough consultation before surgery
Easy booking of appointment
Limited patients are allowed on Saturdays
Customer Reviews
Here's what previous patients had to say about Allure Plastic Surgery:
"Dr Samuel Ho and the whole Allure Team had been a great help through my breast augmentation process. Took more than 1 year to think about it before finally going for it. Though I took such a long time, the staff were extremely helpful and patient with me. I was so nervous and they really calmed me down. The surgery was way less scary than I imagined. I went for my follow-ups 1 month, 3 months and 6 months post-surgery. If you're looking for a surgeon to perform breast augmentation, think no more."
-Lily Poh
"My eyes have always been awkward looking because of my single eyelids. The doctor explained how the procedure would go and healing time. I left a different person with my double eyelid surgery gone perfectly. I'm very thankful to Dr Samuel Ho and his team!"
-Eric Huang
The Rhinoplasty Clinic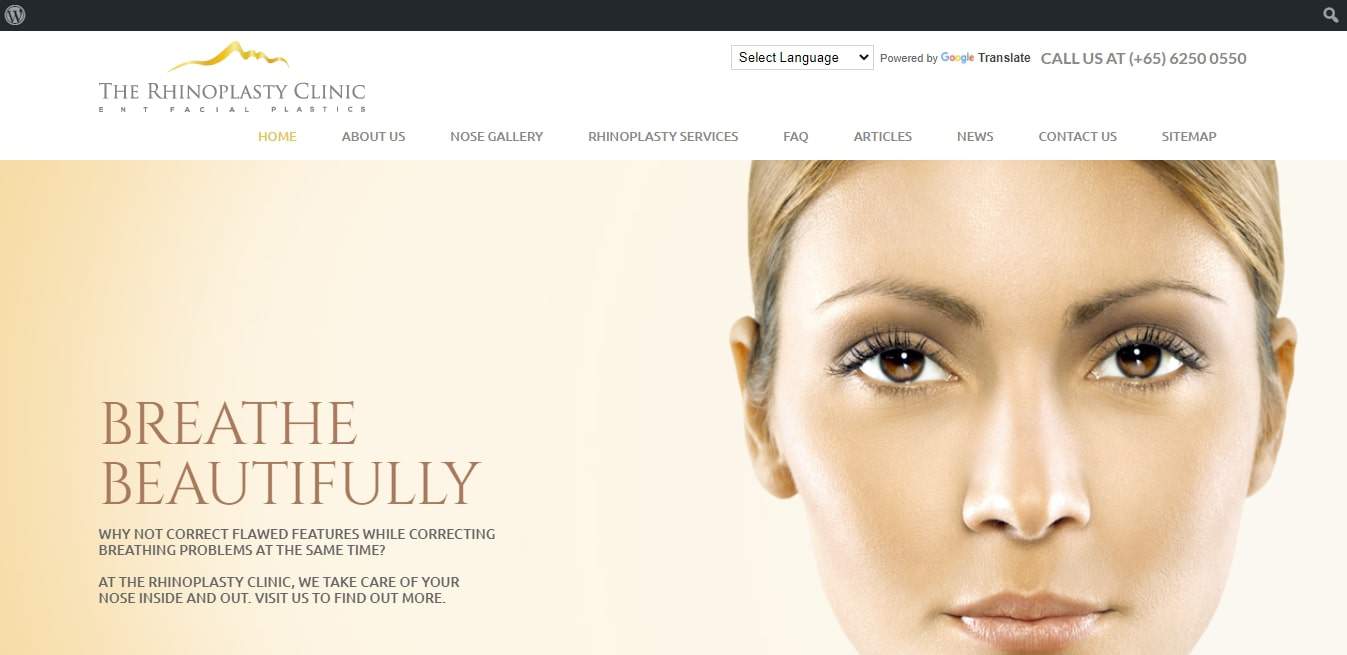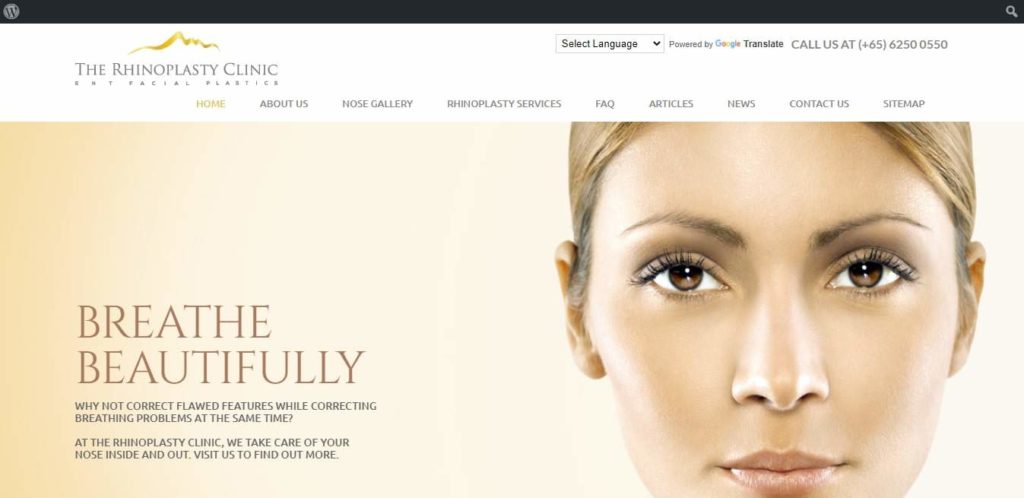 SCOPE OF SERVICES
Cosmetic rhinoplasty, functional rhinoplasty, revision rhinoplasty, and reconstructive rhinoplasty
ADDRESS
#04-35 Mount Elizabeth Novena Specialist Centre, 38 Irrawaddy Rd, Singapore 329563
CONTACT DETAILS
+65 6250 0550
WEBSITE
http://www.therhinoplastyclinic.com.sg/
OPERATING HOURS
Monday to Friday: 9:00 AM – 5:00 PM
Saturday: 10:00 AM – 3:00 PM
The Rhinoplasty Clinic is headed by Dr. Tan, a registered ENT specialist with a subspecialty in facial plastics surgery. After completing his EMT training in Singapore, he flew to South Korea to train full-time at a rhinoplasty clinic.
What makes Dr. Tan's aesthetic clinic stand out from others is that it focuses on the different forms of rhinoplasty. Aside from typical aesthetic rhinoplasty, it offers functional rhinoplasty, revision rhinoplasty, and reconstructive rhinoplasty.
Its surgical procedures aren't open only to those who want to improve how their nose looks, but to those who struggle with breathing, have broken noses due to accidents, and have had poor rhinoplasty in the past as well.
The Rhinoplasty Clinic's functional rhinoplasty can help individuals with nasal obstruction, allergic rhinitis, and external valve problems. Its reconstructive rhinoplasty, on the other hand, is recommended to patients with nasal cancers and congenital deformities.
Dr. Tan can speak English, Mandarin, and Korean too, by the way.
Full-range rhinoplasty services
Multilingual surgeon
Large support staff
Open to patients with nasal obstruction, nasal cancer, and congenital deformities
Rates are above average
Customer service isn't that reliable
Customer Reviews
Here are some comments shared on Google Reviews by previous patients:
"I am very satisfied with Dr. Tan and his team. They are very patient and professional. During my first consultation, Dr. Tan spent more than an hour giving me a great detail about rhinoplasty. A week before the surgery he spent another 30 mins to ensure I understood the procedure, practical expectation, etc. And I had my blood test as well to ensure I am free from infectious diseases . I would recommend him if you are considering doing rhinoplasty in Singapore."
-Ying Yap DeFabio
"More than a year had passed, and I still fondly remember till this day.. the professionalism + tender care provided by Dr Tan & team~ It is hard to find the words to fully express how amazing I feel and how pleased I am. Appreciate it & thank you~"
-Wend T
Sweng Plastic Aesthetic and Reconstructive Surgery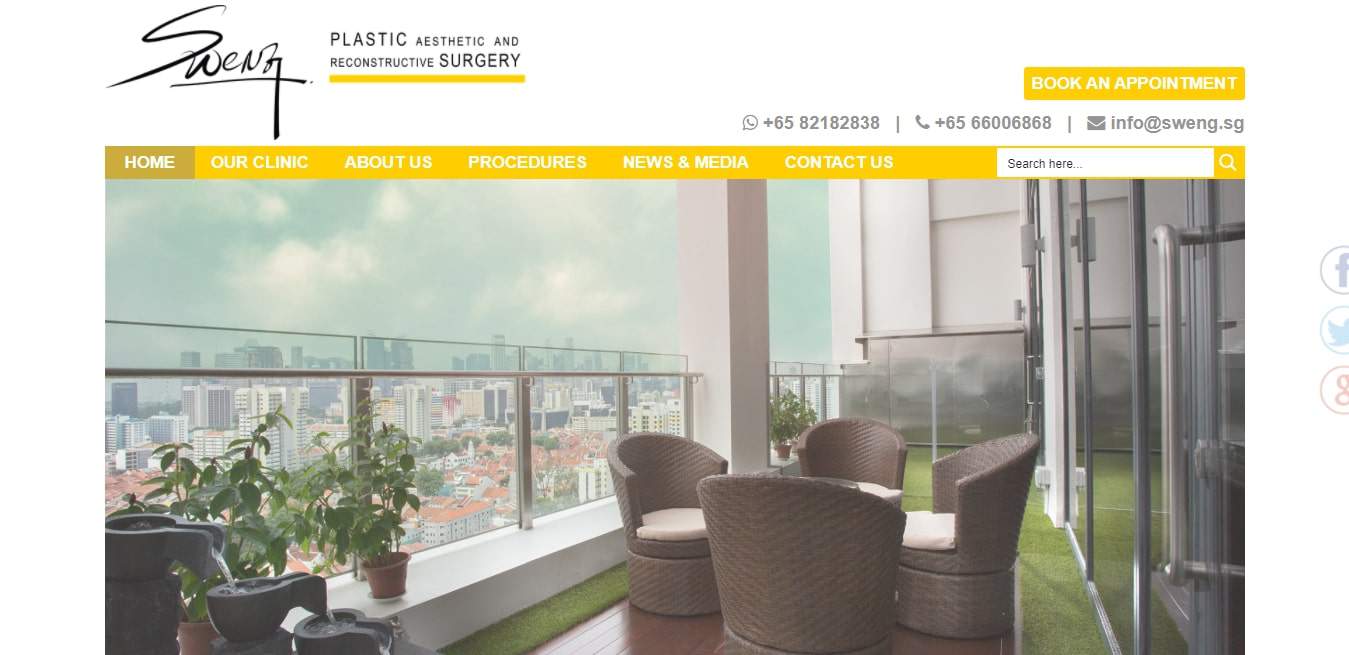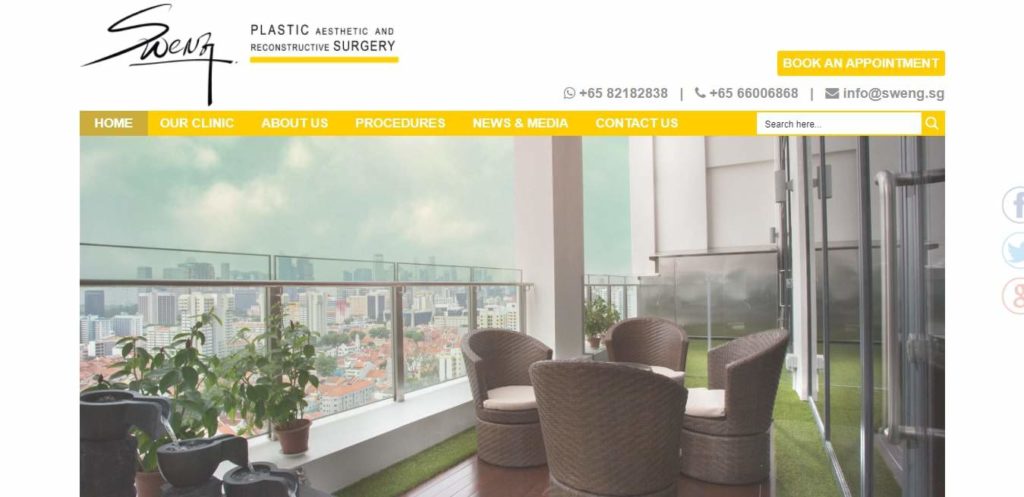 | | |
| --- | --- |
| SCOPE OF SERVICES | Rhinoplasty, ptosis surgery, droopy eyelid surgery, brow lift surgery, scar revision, double eyelid surgery, lip injections, breast augmentation, butt augmentation, liposuction, breast reduction, and torn earlobe repair, |
| ADDRESS | 1 Farrer Park Station Rd, #16-08 to 10 Connexion, Singapore 217562 |
| CONTACT DETAILS | +65 6600 6868 |
| WEBSITE | https://www.sweng.sg/ |
| OPERATING HOURS | Monday to Friday: 8:30 AM – 5:30 PM Saturday: 8:30 AM – 1:00 PM |
Sweng Plastic Aesthetic is one of the most famous plastic surgery clinics in Singapore, providing a variety of safe and effective aesthetic procedures. Its prominence as a clinic is mainly attributed to its resident surgeon, Dr. Ng Siew Weng.
Dr. Ng is a plastic surgeon accredited by the Ministry of Health in Singapore. He specialises in rhinoplasty, cool sculpting, double eyelid surgery, breast augmentation, and some reconstructive surgeries.
When it comes to rhinoplasty, Dr. Ng uses the Korean-style surgery as he believes that it enhances the typical Oriental nose that most Asians have. This method is known for improving nasal tip, alar width, dorsal height, columellar length, and tip projection.
The suitable candidates for Dr. Ng's Korean-style rhinoplasty are those with typical Oriental features, such as low and broad nose height, broad and bulbous nose tip, wide ala, and short columella.
It's done with a general anaesthesia for safety, so there's no need to worry about the procedure being scary and painful. Post-surgery care will be given to all patients as well, regardless of the complexity of the procedure.
The only downside is that it requires at least two to three weeks of recovery time because the swelling usually resolves only after one to two weeks.
Korean-style rhinoplasty
Ideal for Asian features
Full-equipped aesthetic clinic
Post-operative care to patients
Customer Reviews
Sweng Plastic Aesthetic has an average 5 out of 5 rating on Google Reviews, making it one of the top-reviewed aesthetic clinics in Singapore. Here are some comments:
"Dr Ng is an excellent doctor. He is very detailed and meticulous. He explained very clearly the procedures and various options before I decided on the surgery. He was extremely gentle while performing the surgery. My recovery process was smooth sailing, no pain and side effects. I am very pleased with the result. Follow up check ups just as pleasant. Appreciate the nurses attention and care before, during and after the surgery."
-Chua Jessie
"My visits to this clinic have been very pleasant! The staff here are very friendly and professional. Procedures went very smoothly and everything is always explained to me clearly whether it was pre or post surgery and I definitely recommend this clinic. I have nothing but positive things to say about my experience here."
-Shaun Boon
SW1 Clinic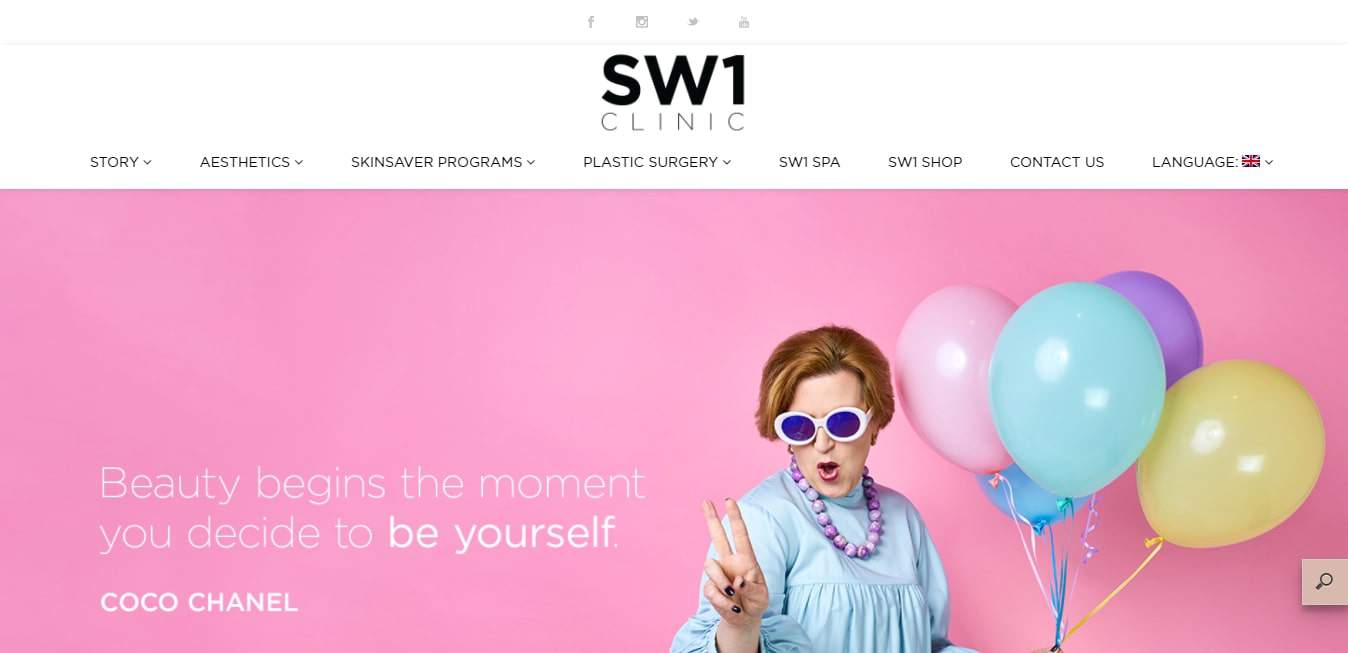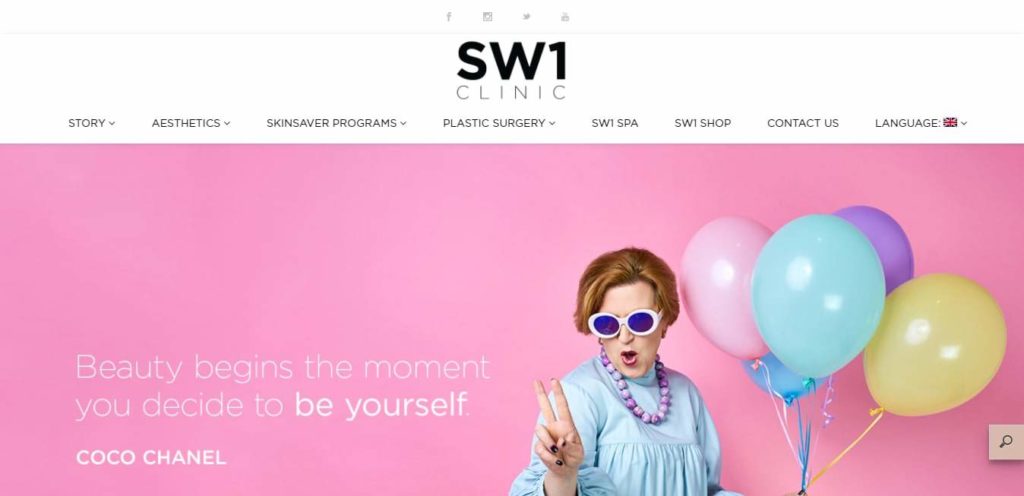 SCOPE OF SERVICES
Rhinoplasty, facial fillers, lip fillers, anti-wrinkle injections, acne removal, breast augmentation, breast reduction, chin augmentation, lower eyelid surgery, liposuction, and lip reduction
ADDRESS
290 Orchard Road, #13-01/2/3/4/5/6, Paragon, Singapore 238859
6A Shenton Way #02-19, Tower 2 OUE Downtown Gallery, Singapore 068815
CONTACT DETAILS
+65 6817 8888
+65 6817 8882
WEBSITE
https://www.sw1clinic.com/
OPERATING HOURS
Monday to Friday: 9:00 AM – 8:00 PM
Saturday to Saturday: 9:00 AM – 4:00 PM
SW1 Clinic is another trusted plastic surgery clinic with a broad range of aesthetic procedures targeting every part of the body. It's open mainly to adult men and women of all ages, but offers paediatric services as well.
If most aesthetic clinics only have a single resident surgeon, consider this one different. SW1 Clinic's team is made up of six experienced and professional plastic surgeons.
When it comes to rhinoplasty, patients may choose between the two: simple rhinoplasty and hybrid rhinoplasty.
The simple rhinoplasty is suitable for those who already have a desirable nose tip but want a higher nasal bridge. It uses an L-shaped silicone implant to raise the nasal bridge, so there's no complex and extensive surgery involved.
Meanwhile, the hybrid rhinoplasty is designed to improve the appearance of the typical Asian nose, making it more refined and proportioned. It raises the nasal bridge, refines the nasal tip, narrows the nose base, and creates a smoother nose profile.
Both of these rhinoplasty procedures are performed under local anaesthesia and sedation. The simple rhinoplasty would take about an hour to finish, while the hybrid rhinoplasty lasts about two to three hours as it's a more complicated procedure.
Two types of rhinoplasty
Longer operating hours
Large team of aesthetic surgeons
Comfortable and cozy atmosphere
Deals with a huge number of patients every day, so booking is recommended
Customer Reviews
Previous customers left the following comments on Google Reviews:
"Really grateful that I found SW1. I must say Dr Low and Team is very professional, meticulous and friendly. I'm here to treat a scar on my face which is really bothering me. And I already notice gradual improvement after a few sessions of laser done by Dr Low. She is an expert, each time I felt confidence and safety under her hand. She's always willing to listen to my concern, giving so much care that I felt is not about money which had amazed me. The team is really sweet. The girls alway maintain top notch approaches each time I visit."
-Carmen Liew
"Had a facial laser and body treatment here before my wedding. Doctors and staff were extremely nice. I really like their skincare ranges, and want to buy everything LOL! Place is huge but very comfortable. Nurse Melody took really good care of me and made me feel like a princess for a day. Thank you!"
-Catherine Lim
MH Plastic Surgery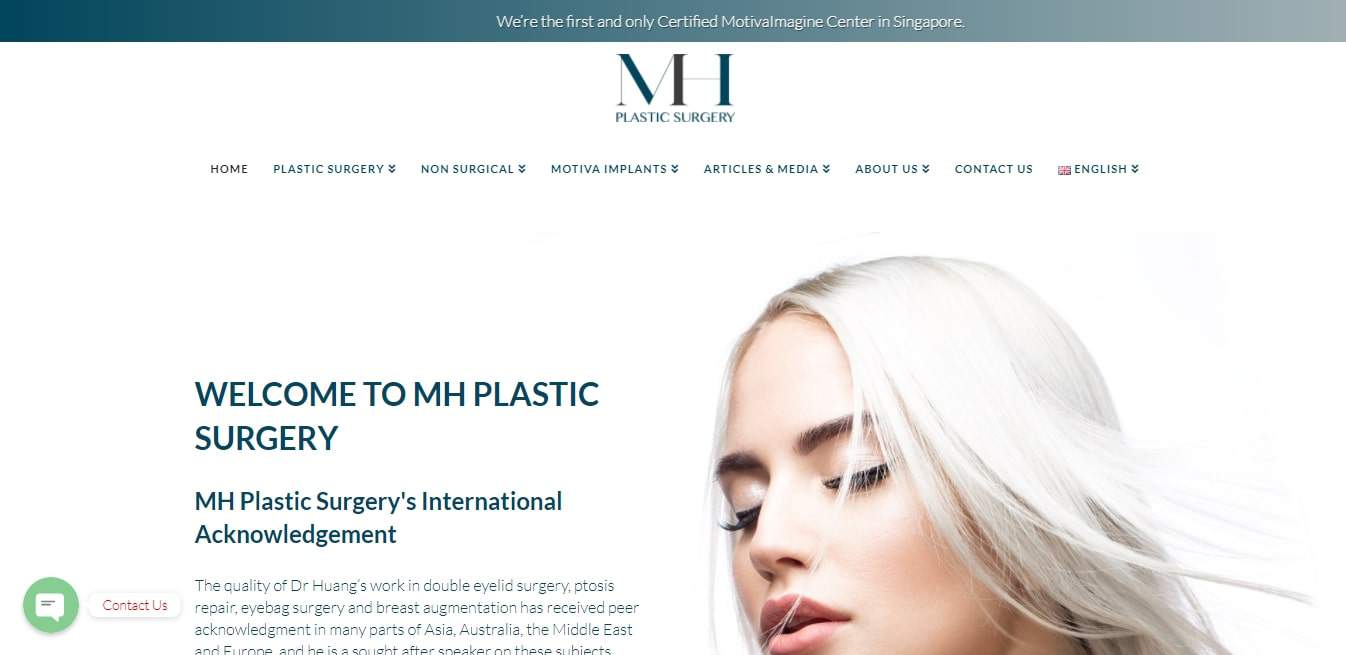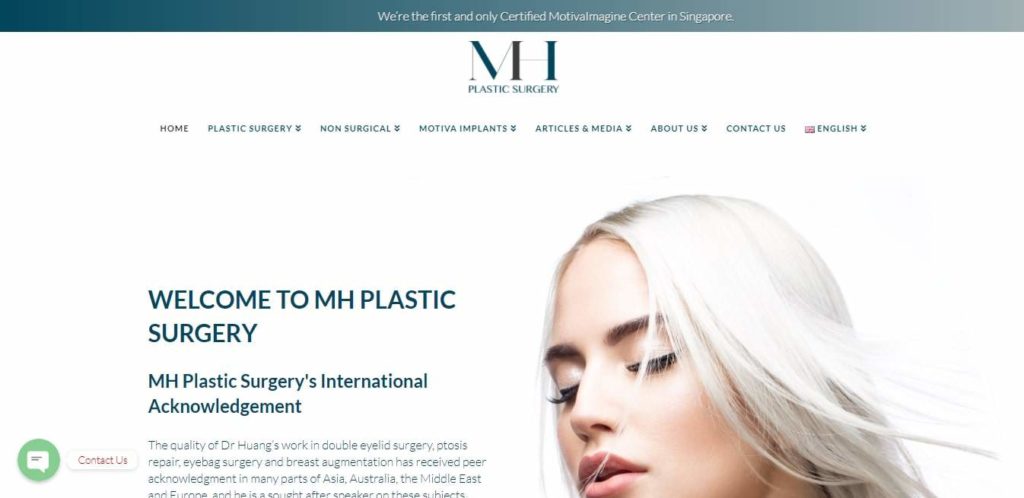 SCOPE OF SERVICES
Rhinoplasty, upper eyelid surgery, eye bag surgery, cosmetic breast surgery, body contouring, fat grafting, face lift, facial contouring, facial trauma surgery, and cool sculpting
ADDRESS
290 Orchard Rd, #20-01 Paragon, Singapore 238859
CONTACT DETAILS
+65 6733 3372
WEBSITE
https://www.mhplasticsurgery.com.sg/
OPERATING HOURS
Monday to Friday: 9:00 AM – 6:00 PM
Saturday: 9:00 AM – 1:00 PM
If you're looking for a plastic surgery clinic that offers both surgical and non-invasive procedures, then look no further than MH Plastic Surgery. We highly recommend it to those who are afraid to go under the knife.
MH Plastic Surgery's aesthetic services cover most parts of the body, starting from the hair down to the legs. Every procedure is conducted using high-end and advanced medical equipment, facilitated by an experienced plastic surgeon and skilled nurses.
A few of the procedures provided by MH Plastic Surgery are double eyelid surgery, breast reconstruction, body contouring, fat grafting, face lift, eye bag removal surgery, and rhinoplasty — which is the crowd-favourite.
Its rhinoplasty services are categorised into three types: Asian, Caucasian, and Revision. Obviously, the Asian rhinoplasty is designed to improve a flat nasal bridge and round nose tip, while the Causian rhinoplasty repairs the nose by removing the hump and shortening the long nose tip.
Meanwhile, the revision rhinoplasty is for patients who have received poor rhinoplasty in the past and want to fix how their nose looks.
Any of these rhinoplasty procedures can be covered by insurance if your nose's condition is causing nasal airway obstruction and other breathing problems.
Can be covered by insurance
Three types of rhinoplasty
Non-surgical aesthetic procedures
Easy booking of appointment
Rates of services lean toward the expensive side
Customer Reviews
A foreign patient said the following about his experience at MH Plastic Surgery:
"I am from Russia, found out about MH plastic surgery which provides Russian translation which is an added advantage to me as I was researching for Rhinoplasty procedure. I had a consultation with Dr Huang from Singapore and his clinic is really clean and it was infused with a touch of art. I must say that the effort put into this sophisticated design for his clinic is really impressive. When I arrived at the clinic, I was greeted by the warm staff who then brought me into a consultation room and just within a few mins, Dr Huang came in and his voice was so welcoming that it made me feel really comfortable. The whole consultation took less than 45mins and right after, he even took some time out just to introduce places in Singapore that I should visit before heading back. Really professional and hospitable. Good job MH."
-Albert Lebedev
Polaris Plastic & Reconstructive Surgery
SCOPE OF SERVICES
Upper Eyelid Surgery
Lower Eyelid Surgery
Face
Rhinoplasty
Ears, Lips, And Hair
Breast
Body
Minimally Invasive Procedures & Skin Care
Male Aesthetic Procedures
Reconstructive Microsurgery
Head And Neck Reconstructive Surgery
Facial Plastic Surgery
Breast Reconstruction
Trunk And Perineal Reconstruction
Extremity Reconstruction
Lymphedema Surgery
Burns, Scars And Complex Wound Management
ADDRESS
3 Mount Elizabeth, #08-05 Mount Elizabeth Medical Centre, Singapore 228510
CONTACT DETAILS
Tel: +65 6737 4565
Mobile: +65 8828 4565
Email: [email protected]
WEBSITE
https://www.polarisplasticsurgery.com
OPERATING HOURS
Mon – Fri: 9am – 6pm | Sat: 9am – 1pm | Sun / PH: Closed
Polaris Plastic & Reconstructive Surgery provides aesthetic procedures that can modify the body from head to toe. They make use of the latest methods and technologies to deliver quality services to their patients.
Their services in general include aesthetic surgeries, minimally invasive procedures, and reconstructive procedures. For face treatments, they provide fat removal, facial lifts, and rhinoplasties.
Scheduling a rhinoplasty procedure might be difficult, given that they only work with a small number of staff. However, their skill and expertise in aesthetics make up for the long waiting time.
During your first consultation, their surgeon will begin by assessing you thoroughly to see if you're suited for surgery. Once you fulfill the requirements, you can start discussing your expected surgical outcomes, which you can visualise with the help of their advanced facial morphing software.
Finally, when undergoing the procedure, their use of anaesthesia ensures that you experience as little discomfort as possible.
You'll be able to achieve natural results that last a long time thanks to their holistic care.
Services of the utmost quality
Individualised treatments per patient
Professional and ethical standards
Quality and compassionate care
Small team of surgeons and nurses
FAQs about Rhinoplasty in Singapore
---
And that's a wrap for our list of the best rhinoplasty in Singapore. If you'd like to suggest more clinics, let us know about their services and we may consider adding them to our picks.
However, if you prefer to have a non-surgical nose enhancement procedure, see our list of the best nose fillers in Singapore. The process can be done after a few minutes and has minimal downtime and side effects, so it'll surely be a practical option for you.