The Top 8 Clinics for Best Rhinoplasty in Singapore
Doing a nose job goes beyond the purpose of aesthetics and enhancement, as this procedure can also fix an injury or improve an unusual health condition. That's why many still prefer the best rhinoplasty in Singapore compared to non-surgical treatments.
With a nose job treatment, enhancements such as changing the shape and size can make your nose higher, slimmer, and more. It can also help solve sinus problems, birth defects, and serious snoring, as well as fix a broken nose.
Whether it's for medical or aesthetic reasons, you can achieve your desired look or resolve your health concern with the best rhinoplasty in Singapore. So we've gathered the most reliable and recommended clinics that offer comprehensive nose procedures and treatments.
(Note: This list is in no particular order.)
Dr. Terence Goh
Comprised of a team supervised by the highly professional Dr. Terence Goh, Plastic Surgeon Singapore proves to be an excellent go-to clinic for plastic surgery. It offers a wide range of procedures to choose from for any part of the body, all personalised to suit the needs of each patient.
Dr Terence Goh is a MOH-accredited plastic surgeon who specialises in aesthetic and reconstructive microsurgery. He is the current President of the Singapore Association of Plastic Surgeons, but he also serves as the Vice-Chairman of the Chapter of Plastic Surgeons Academy of Medicine, Singapore. His practice centres around the principles of providing his patients with procedures specially tailored to the individual, to deliver improved but naturally beautiful results that enhance and complement the individuals features.
Dr Goh is one of the few surgeons to combine the intricate skills of microsurgery with aesthetic surgery. He is an expert in surgery of the Asian face, particularly Asian eyelid surgery and rhinoplasty. His other specialties include mummy makeovers, breast augmentation, body contouring and liposuction. He is likewise skilled in reconstructive microsurgery, focusing on breast reconstruction, complex head and neck reconstruction, and lower limb salvage.
Services
Rhinoplasty
Reconstructive surgery
Body contouring
Facial contouring
Eye bag surgery
Dr. Dennis Chua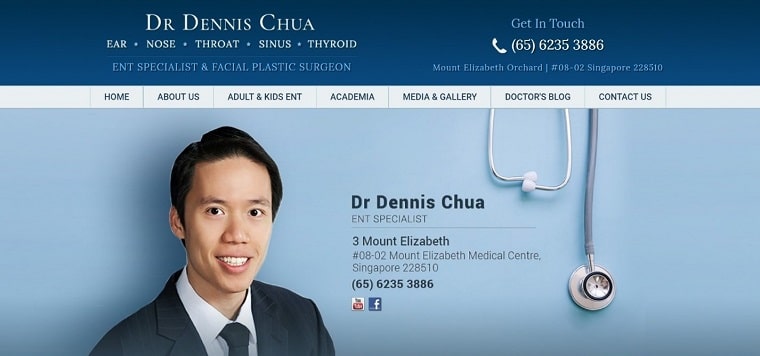 SCOPE OF SERVICES
Sleep/Snoring, Thyroid/Head & Neck, Throat & Voice, Facial Plastics, Nose/Sinus & Allergies, Paediatrics ENT, Ear
PRICING
Enquire for fees
WEBSITE
https://www.entdoctorsingapore.com/
ADDRESS
3 Mount Elizabeth
#08-02 Mount Elizabeth
Orchard Medical Centre,
Singapore 228510
CONTACT DETAILS
+65 6432 8230 | [email protected]
OPERATING HOURS
Friday to Saturday: 08:30 am to 05:00 pm
Dr. Dennis Chua is an Ear, Nose and Throat (ENT) Surgeon with a sub-specialty focus in Facial Plastics & Reconstructive Surgery. He is recognised as one of the best ENT specialists in Singapore with more than 15 years of medical experience.
He has dealt with complex ENT issues, including complex nose issues, sinus diseases including breathing issues such as sleep apnoea, snoring problems, thyroid diseases, and facial plastics & reconstructive surgery.
Dr. Chua completed his medical undergraduate degree at the National University of Singapore (NUS) and subsequently completed his (ENT) Otorhinolaryngology training in Singapore.
He obtained his Otorhinolaryngology specialist accreditation from Singapore and is fully accredited as an Ear, Nose and Throat (ENT) surgeon by the Ministry of Health (MOH) and Singapore Medical Council.
In addition, he is one of the few ENT specialists that is also International Board Certified in Facial Plastics & Reconstructive Surgery. He's not just one of the top ENT specialists in Singapore — he's among the island's best plastic/reconstructive surgeons too!
Services
Facial Plastics
Sleep Disorders
Head, Neck, and Thyroid
Voice and Throat
Nose, Sinuses, and Allergies
Ears
Hong Plastic Surgery
Hong Plastic Surgery is one of the best cosmetic and plastic surgery clinics in Singapore. They have a wide variety of beauty procedures, such as rhinoplasty, body contouring, and more.
They continuously work towards delivering personalised care and ideal cosmetic outcomes to their patients. With their expert and knowledgeable plastic surgeons, you can achieve your ideal beauty and regain your confidence
Services
Fast recovery
Natural results
Certified and Experienced Plastic Surgeon
Allure Plastic Surgery
Rhinoplasty surgery is one of the most featured services of Allure Plastic Surgery, in which they can enhance the nose's appearance to balance the overall facial features. Other procedures can also improve breathing and more functions.
They use different techniques to reshape the nose, smoothen the humps, and more, providing the best rhinoplasty in Singapore. Their main specialist has trained in South Korea, giving you more assurance for successful surgery and recovery.
Services
Skin and hair treatments
Signature services
The Rhinoplasty Clinic
BEST FOR
Different kinds of rhinoplasty services, Treatment for complex conditions
WEBSITE
https://www.therhinoplastyclinic.com.sg/
ADDRESS
#04-35 Mount Elizabeth Novena Specialist Centre, 38 Irrawaddy Rd, Singapore 329563
CONTACT DETAILS
+65 6250 0550
OPERATING HOURS
Weekdays: 9am–5pm

Saturday: 9am–1pm
The Rhinoplasty Clinic offers a complete range of services including cosmetic, functional, revision, and reconstructive rhinoplasty. So you'll certainly find the specific nose treatment that you've been looking for.
For their cosmetic rhinoplasty, they enhance the shape and size of the nose with their competent surgical techniques and even ethnic approaches. They also help treat complex conditions such as nasal cancer, post-trauma, allergic rhinitis, and more.
Services
Full range of rhinoplasty services
Treatment for nasal cancers
Sweng Plastic Aesthetic and Reconstructive Surgery
BEST FOR
Aesthetic and medical procedures for face and body
WEBSITE
https://www.sweng.sg/
ADDRESS
1 Farrer Park Station Rd, #16-08 to 10 Connexion, Singapore 217562
CONTACT DETAILS
+65 6600 6868
OPERATING HOURS
Weekdays: 8:30am–5:30pm

Saturday: 8:30am–1pm
Sweng Plastic Aesthetic and Reconstructive Surgery is one of the most well-known clinics that provide all types of plastic surgeries for both facial and body features. This includes their best rhinoplasty in Singapore, for which they offer different styles such as Korean and Caucasian.
They also have procedures for crooked noses, alar reduction, revision, and palate rhinoplasty. Surgeries they offer for other body parts including breast, hips, thighs, and more.
Services
Face and body treatments
Accessible location
SW1 Clinic
SW1 Clinic has two kinds of rhinoplasty procedures, the simple and hybrid rhinoplasty. The simple one just involves raising the nose bridge, perfect for those who don't want to do too much on their nose.
For the hybrid type, you can opt for several changes such as getting a refined tip, higher bridge, or a narrower base, creating an ideal and natural look. With these options, they truly offer the best rhinoplasty in Singapore.
Services
Skin saver programs
Signature products
MH Plastic Surgery
BEST FOR
Inclusive range of plastic surgeries
WEBSITE
https://www.mhplasticsurgery.com.sg/
ADDRESS
290 Orchard Rd, #20-01 Paragon, Singapore 238859
CONTACT DETAILS
+65 6733 3372
OPERATING HOURS
Weekdays: 9am–6pm

Saturday: 9am–1pm
The rhinoplasty services of MH Plastic Surgery are categorised into Asian, Caucasian, and, revision procedures. Asian style is the most popular, where they enhance every part of the nose, giving you that ideal look to make you feel more confident.
For the Caucasian, they usually reshape the appearance by reducing the bridge and shortening the tip, making it more refined. Meanwhile, the revision procedure will focus on improvement.
Services
Different rhinoplasty styles
Non-surgical aesthetic treatments
And that's a wrap for our list of the best rhinoplasty in Singapore. If you'd like to suggest more clinics, let us know about their services and we may consider adding them to our picks.
However, if you prefer to have a non-surgical nose enhancement procedure, see our list of the best nose fillers in Singapore. The process can be done after a few minutes and has minimal downtime and side effects, so it'll surely be a practical option for you.