By Lindsey Tan
Do you have a crooked nose? Or perhaps, you want to enhance your nose, making it higher and thinner? Then, you should look for a well-trusted clinic that has the best nose fillers in Singapore.
Nose fillers can improve the overall appearance of your nose by lifting the tip and reshaping it for more defined features.
The non-surgical process can be done in just a few minutes with less downtime and side effects than invasive solutions, which is why it's considered to be one of the most popular aesthetic treatments.
There's no need for you to waste much time going around searching for the most competent clinic… because we've already listed the greatest clinics that have the best derma fillers in Singapore! Take a look at our list below to see which one you'd prefer to visit.
(Note: This list is in no particular order.)
1.

The Clifford Clinic
BEST FOR 
Quality Noninvasive Treatments
WEBSITE
https://www.singaporeaestheticpractice.com/fillers
ADDRESS
24, #01-04 Raffles Place, Singapore 048621
CONTACT DETAILS
3129 2550
OPERATING HOURS
Mon to Fri: 10am to 8pm
Sat: 10 am to 5pm
Sun: Closed
Closed on Sundays and Public Holidays
The Clifford Clinic is an excellent choice for facial filler treatments. Undergoing filler treatments in The Clifford Clinic can help clients achieve better-looking skin.
Dr. Gerard Ee, their head dermatologist, works with his team of expert aesthetic doctors in delivering the best services. With his interest in minimally invasive surgery and aesthetic medicine, you can rest assured that any treatment you undergo in Singapore Aesthetic Practice will go well.
Highlights
Minimal Downtime
Minimal Scarring
Safe Procedure
Accurate Treatment
2. Cutis Medical Laser Clinic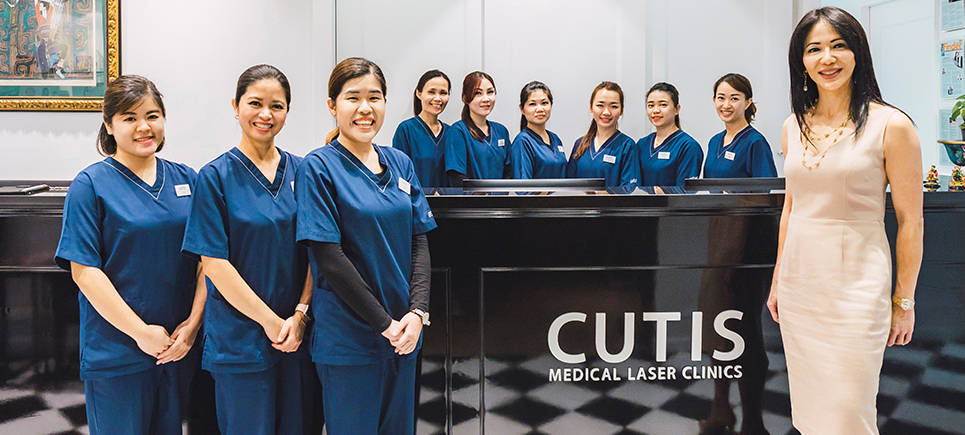 Cutis Medical Laser Clinic is an award-winning aesthetic laser clinic in Singapore. Their services are based on the fundamentals of scientifically proven, "evidence-based" aesthetic treatments.
They focus on the safety and effectiveness of their services and staff. Their medical and scientific director is a Harvard trained physician who reviews published clinical data before any treatment is introduced into their system, to ensure that every client is safe when undergoing the said procedure.
The clinic also offers FDA-cleared, non-surgical aesthetic treatments to unsure clients who also desire to be the best version of themselves. For the convenience of their clients, they are located along Orchard Road.
Highlights
Hair Removal Treatments
Specialized Treatment
Unique Service
3.  Kowayo Aesthetic Clinic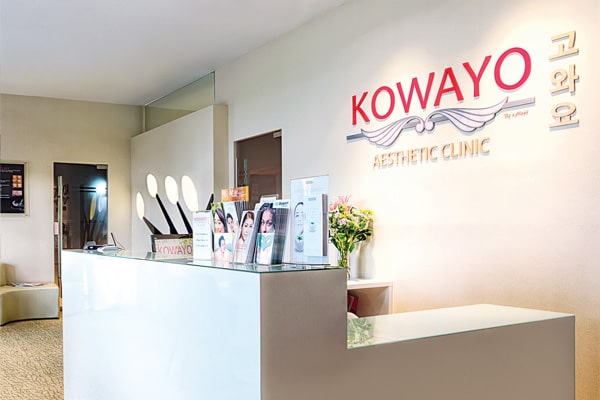 BEST FOR 
 Signature facial treatments
WEBSITE
http://kowayo.com/
ADDRESS
1 Raffles link 01-03B Singapore 039393
CONTACT DETAILS
+65 6884 4280
OPERATING HOURS
Weekdays: 11:00am – 8:00pm

Saturday: 11:00am – 6:00pm
The nose fillers provided by Kowayo Aesthetic Clinic are designed to be immediately visible and to heal faster than others. They use minimal fillers not just to enhance the nose but also improve the chin, cheeks, and lips.
All of their procedures for the nose, cheek, and chin fillers can be completed in one session, making their solutions cost-efficient and convenient.
Highlights
Facial and body treatments
Bespoke treatments
4.  The Chelsea Clinic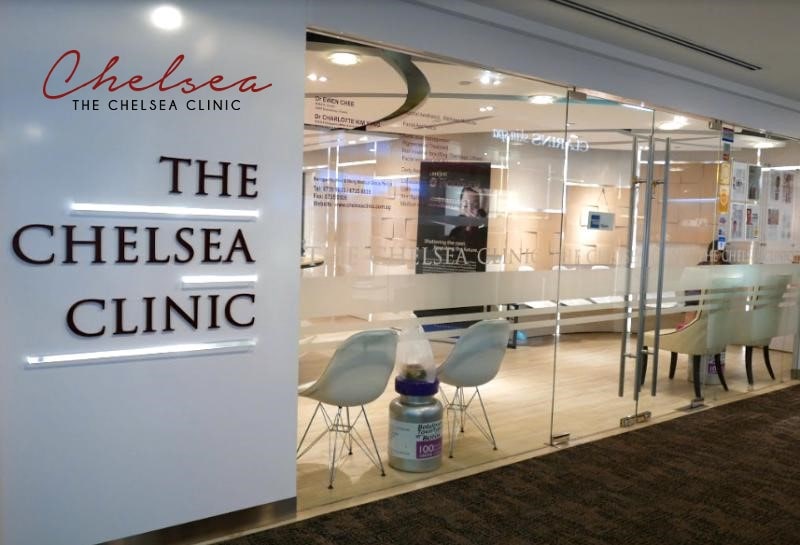 The Chelsea Clinic is one of the longest-running clinics in Singapore, providing a full range of medical, aesthetic, and wellness treatments. This includes the best nose fillers in Singapore.
Their nose filler treatment can last up to 2 years, although it varies depending on the used products. Aside from the nose enhancement, they also improve the volume of the cheeks, temples, under the eye, and chin, and lips.
Highlights
Medical and wellness treatments
Solutions for skin concerns
5.  Halley Medical Aesthetics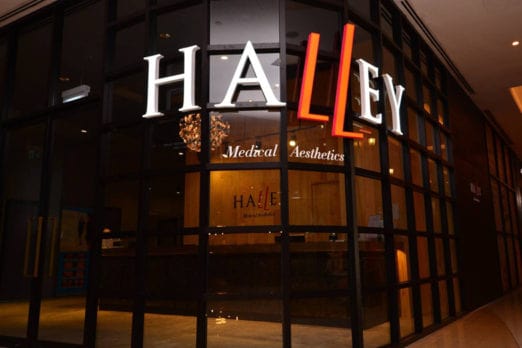 | | |
| --- | --- |
| BEST FOR  | Anti-ageing and facial reshaping treatments |
| PRICING | From $130 to $160 |
| WEBSITE | https://www.halley.com.sg/ |
| ADDRESS | 277 Orchard Road #03-15 Orchard Gateway Singapore 238858 |
| CONTACT DETAILS | 6737 8233 |
| OPERATING HOURS | Daily, 10am – 9pm |
Halley Medical Aesthetics is known to be one of the favourite clinics of locals on the island and their best nose fillers in Singapore are among the many reasons behind this recognition. They use fillers that contain safe ingredients, resulting in natural youthful skin.
To redefine your nose appearance, their fillers are combined with a 3D projection for a more effective technique. Other treatments including Ultherapy are also paired up with nose fillers to achieve a well-defined look.
Highlights
Combination of fillers and other facial treatments
Signature products
Customer Reviews
Most customers were very satisfied with the nose filler treatment of Halley Medical Aesthetics. They even came back for more sessions and recommended their services.
A customer left this high-rated feedback on Google Reviews:
"Had my 2nd nose filler done by Dr Terence Tan. Very satisfied with the result! 👍🏻👍🏻 Higher & sharper nose bridge without making me look like avatar. 🤣 Dr Tan is very experienced & skillful. He is not pushy and only recommend treatments that you need. Will definitely come back for other services! Highly recommended!"
6.  Aesthetics Central Clinic
BEST FOR 
Personalised treatment
WEBSITE
https://www.cosmeticsurgery.sg/
CONTACT DETAILS
(+65) 6532 2400
OPERATING HOURS
Weekdays: 10am-8pm

Saturdays: 10am to 2pm
Aesthetics Central Clinic offers a signature 5-minute nose-job that uses the best nose fillers in Singapore. This process doesn't only opt for faster results and less downtime, it also offers more safety compared to traditional nose enhancement procedures.
They also take pride in their personalised approach, giving you an option to share your desired goals during the procedure. You can opt for a small lift, pointed tip, enhanced hump, and more.
Highlights
Customised treatment for your desired look
Signature treatments
7. Edwin Lim Medical Aesthetic Clinic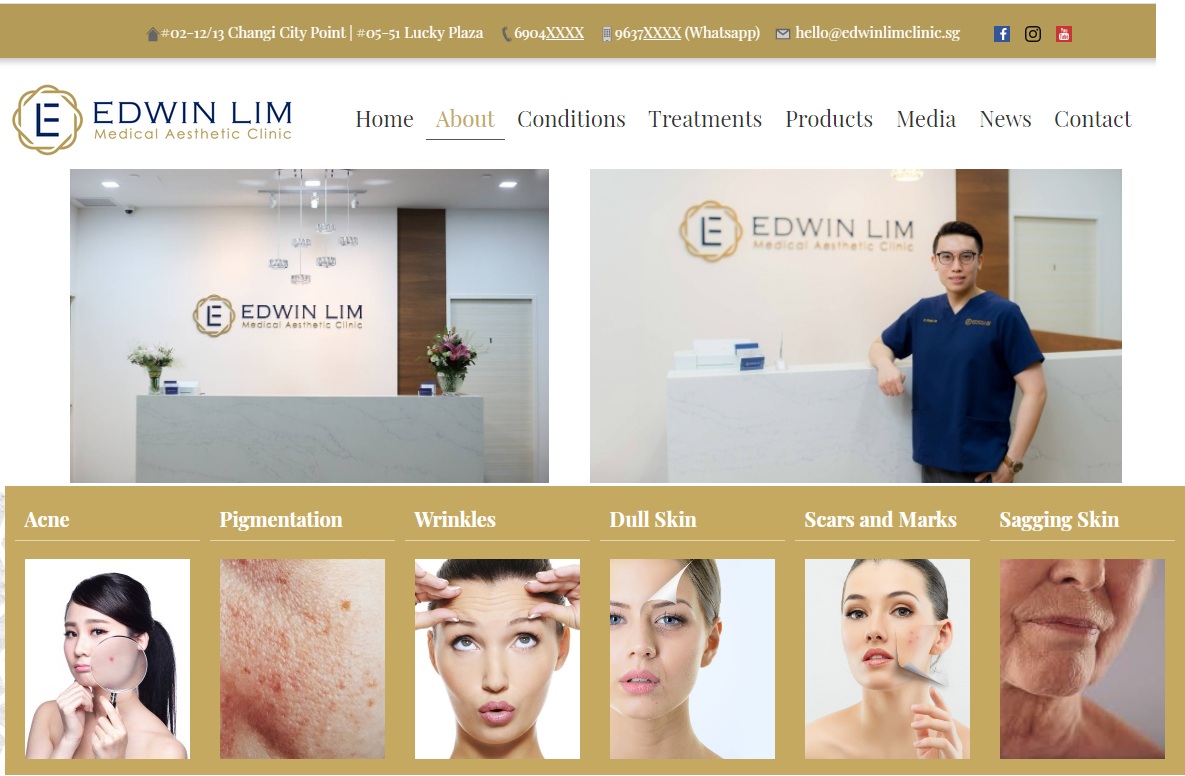 BEST FOR
Wide range of aesthetic services
SERVICES

Injectables, Laser, Medi-Facials and Fat Freeze, HIFU treatment

WEBSITE

https://edwinlimclinic.sg/

ADDRESS

#02-12/13 Changi City Point | #05-51 Lucky Plaza

#05-51, Lucky Plaza, 304 Orchard Road Singapore 238863

CONTACT DETAILS
[email protected]
OPERATING HOURS
Monday – Friday:

11:00 to 8:00 pm

Saturday and Sunday: 11:00 am to 6:00 pm
Edwin Lim Medical Aesthetic offers an extensive and comprehensive aesthetic service for their clients. They are equipped with the modern and latest technology which they use for their procedures. Their aim is to lessen and minimize the pain or discomfort felt by their patients. 
One of the services they offer is nose fillers that will instantly give your a sharper, higher, and more defined nose in just 15 minutes!
They have two branches located at Changi City Point and at Lucky Plaza. These two can be easily located and have ample parking areas for their clients. Thus, you are always welcome to visit their clinic at any time. 
Highlights
Comprehensive medical aesthetic service

Minimal discomfort and pain
Customer Reviews
At Edwin Lim Medical Aesthetics, you will get the service that you deserve. Check out what their customer has to say regarding their service: 
Dr Edwin Lim came highly recommended through a good friend. I am not disappointed at all. Initially, concerned about finding the way to clinic but it turned out to be a breeze. There is an underground link from the EXPO station all the way to Changi City Point Mall; that keep me sheltered from the weather. He is thorough in his explanation, professional in the clinical care, exercise dexterity in surgical skills, has gentle touch and has a friendly persona. There is no hard sales. The Clinic staff are great too! The Clinic's emphasis on clients' needs taking centre stage is commendable. Just done my neurotoxin and fillers; really happy with the outcomes. Always gratifying to invest in my skincare as I am wearing it everyday. – Madeline Chan
A month ago, I messaged the clinic asking it about mole removal late at 11pm. To my surprise, the reply came within a minute. After the review today, I am more than happy with the outcome of the procedure. What had been a dark raised mole is now a reddish scar. Moreover, it is most likely going to return to skin colour in two to three weeks. There are no complaints whatsoever with my smooth and minimal-pain experience with the clinic. Dr Edwin and his female manager are there to help you and allow you to make the most informed decision as possible. I highly recommend dropping them an inquiry especially if you're unsure. – Brad 
8. Alaxis Medical & Aesthetic Surgery
| | |
| --- | --- |
| BEST FOR | Non-surgical nose augmentation, nose reshaping |
| SERVICES | |
| WEBSITE | https://alaxis.com.sg/ |
| ADDRESS | 360 Orchard Road 04-02 International Building Singapore 238869 |
| CONTACT DETAILS |  +65 62350880 / +65 62351181 | [email protected] |
| OPERATING HOURS | Monday to Friday, 9:30 AM – 8:00 PM and Saturday, 9:00 AM – 2:00 PM |
Alaxis Aesthetics is a top-quality clinic that aims to give you a better life by providing treatments for your face, skin, body, and hair. You don't have to worry about surgery, non-surgical nose augmentation uses dermal fillers and it provides instant results.
Alaxis Medical & Aesthetic Surgery has professional and experienced doctors who have trained in cosmetic surgery and medicine. Your concerns about your face and body will be attended to and you will be given an explanation on the treatments that are tailored for your needs.
Highlights
Creates a more define outline of the nose bridge
High Patient Satisfaction
9. Dr Israr Wong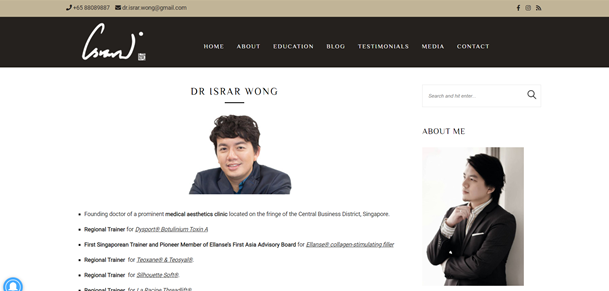 BEST FOR
Nose thread-lifts, face filler, V-face shaping
SERVICES
Injectables (Botox, Fillers)
Non-surgical facelifts (Thermage™ CPT, Ulthera, La Racine Threadlift, Korean Ultra V Threadlift, Silhouette Soft)
Both surgical/non-surgical options of hair loss (including hair transplant and ARTAS Robotic Hair Transplant)Chemical and light rejuvenation of the skin (Super Skin Rejuvenation™)
Skin lasers (Pixel™ Pro, Korean pigment laser)
Localised non-surgical fat reduction (Liposonix™, CoolTech)
Super Hair Removal (SHR™)
WEBSITE
https://israrwong.com/examples-nose-threads-better-hyaluronic-acid-fillers/
ADDRESS
CONTACT DETAILS
+ 65 88089887 | [email protected]
OPERATING HOURS
Known for using the combination of power fillers and thread lifts, Dr. Israr Wong has given his clients no other clinics could provide: no down time lifting. Offering a list of options in face enhancement, fillers aren't the only think he's skilled at. As an aesthetic physician, he knows best on what customers want the moment they walk into his clinic. And surely, he won't be leaving you disappointed nor unsatisfied.
Long-lasting, skillful, and professional; believed to have magic hands to transform ladies to look more youthful and even more gorgeous, Dr. Israr Wong can be your best bet if you want to have fillers injected pain-free and have results as quick as 1-2-3!
Highlights
Free consultations
World-class services
Customer Reviews
One of the highly requested professional when it comes to face aesthetic, Dr. Israr Wong has once again proven his skills, leaving his customers very much satisfied. Some have left their feedback on the site:
"I have visited Dr Wong since 2015 and he have proven nothing short of amazing all this time. His skills and eye for perfection have help me elevated my self-esteems and confidence."

"Did a nose filler using Radiesse and I absolutely love the results of it! My bridge was significantly taller without undergoing any surgery. Dr Wong knew I wanted definition and made it so natural, nobody would have guessed that it was all fillers. Downtime was low and my side profile looks so much better now. A great enhancement procedure done under the skilled hands of Dr Israr Wong."
10. Artisan Clinic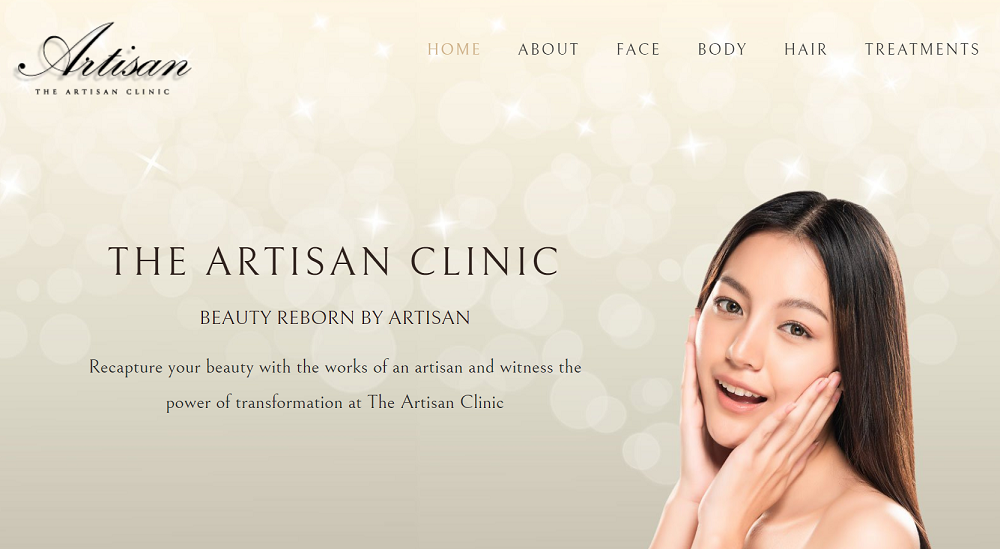 Using only the best and most natural ingredients for their fillers, Artisan Clinic is dedicated to their craft in helping their clients attain the facial structures they want, while ensuring their safety and well-being. Artisan Clinic offers different types of fillers but they're most popular with nose fillers. Finishing the procedure in a matter of 10-20 minutes, they are quick but careful in their work. What sets them apart is that immediate results are seen while lasting to upto 24 months.
When wanting something done to what can be considered as one of the most sensitive parts of our body, you'd only want it done by experts on said field. Let Artisan Clinic help you in achieving a better but naturally enhanced look of your choosing. Trust the experts, trust only the hands of an artisan.
Highlights
Minimally invasive procedures
Cost-efficient services
Long-lasting results
Customer Reviews
Only in Artisan Clinic will you be able to achieve the best and most natural looking fillers in all of Singapore. Several clients have been raving about their service, two of which wrote:
"Dr. Isaac and his team at Artisan are friendly, professional and deliver good results. I've always been searching for a good doctor for all my aesthetic needs and I think I've definitely found one. I used to see going to the clinic as a chore but recently I've began to start looking forward to my follow up sessions!"

"Thank you to Dr. Isaac and his team for the good service. I wouldn't trust any other doctor with my fillers treatments. Central location is also good as I work only down the road from their clinic, so I have no problems with scheduling appointments over lunchtime."
11. S Aesthetics Clinic

BEST FOR
Face fillers
SERVICES
Popular Treatments, Face Treatments, Skin Treatments, Eye Area Treatments, Hair Aesthetics Treatments, Body Treatments
WEBSITE
https://saestheticsclinic.com/
ADDRESS
9 Scotts Road #07-07
Scotts Medical Centre (Pacific Plaza)
Singapore 228210
CONTACT DETAILS
Email: [email protected]
Telephone: +65 6235 0338
WhatsApp: +65 90207234
OPERATING HOURS
Mon-Fri: 10am – 8pm
Sat: 10am – 6pm
Sun & Public Holidays: Closed
S Aesthetics Clinic is one of the best aesthetic service providers, especially for filler treatments. They provide numerous aesthetic services for both the face and body.
Their filler treatments are safe and pain-free, thanks to their professional staff and use of numbing cream and ice packs. The results will also last for a long time, for at most 2 years– provided that it is maintained properly.
Highlights
Expert aestheticians
Great customer service
High quality equipment and materials
Customer Reviews
Check out some reviews left by S Aesthetics Clinic on Google review:
"Hands-down the best doctors I have ever seen.
Dr. Sii and Dr. Kwan really took the time and listened to my situation with patience to really understand what is best for solving the issue. I was having some allergic reactions from a lip filler, which I got from a different clinic a couple months ago. My lips were very swollen when I walked into S Aesthetics. I was in a middle of a business trip, so you can imagine, I was under great pressure and stress with the situation.
They explained to me in a logical and calm manner each step of the way, so I had little fear during the dissolving process.
I am so appreciative of their work and my situations have immediately gotten better.
Please keep up the wonderful things you are doing because the world needs doctors like you.
Thank you."
And that's our list of the best nose fillers in Singapore! If you'd like to suggest more aesthetic clinics, share with us as we'd like to know more about their services!
For additional options for nose enhancement, you might be interested with these best nose thread lifts in Singapore. The procedure is also non-invasive and known as a safer treatment than fillers, so go and see our picks to explore more about this procedure.