The 30 Best Videographers in Singapore
Almost done with your upcoming event preparations and now, all you need is someone who can perfectly capture every moment throughout the event? Look no more because we've found you the top-recommended studios that have the best videographers in Singapore.
We selected skilled and creative professionals who've produced hundreds of video concepts, event highlights, and many more specialities. So whether you need one for a pre-video shoot or actual event, you'll certainly find the best videographer in Singapore on our list.
1. Vivid Snaps Video Production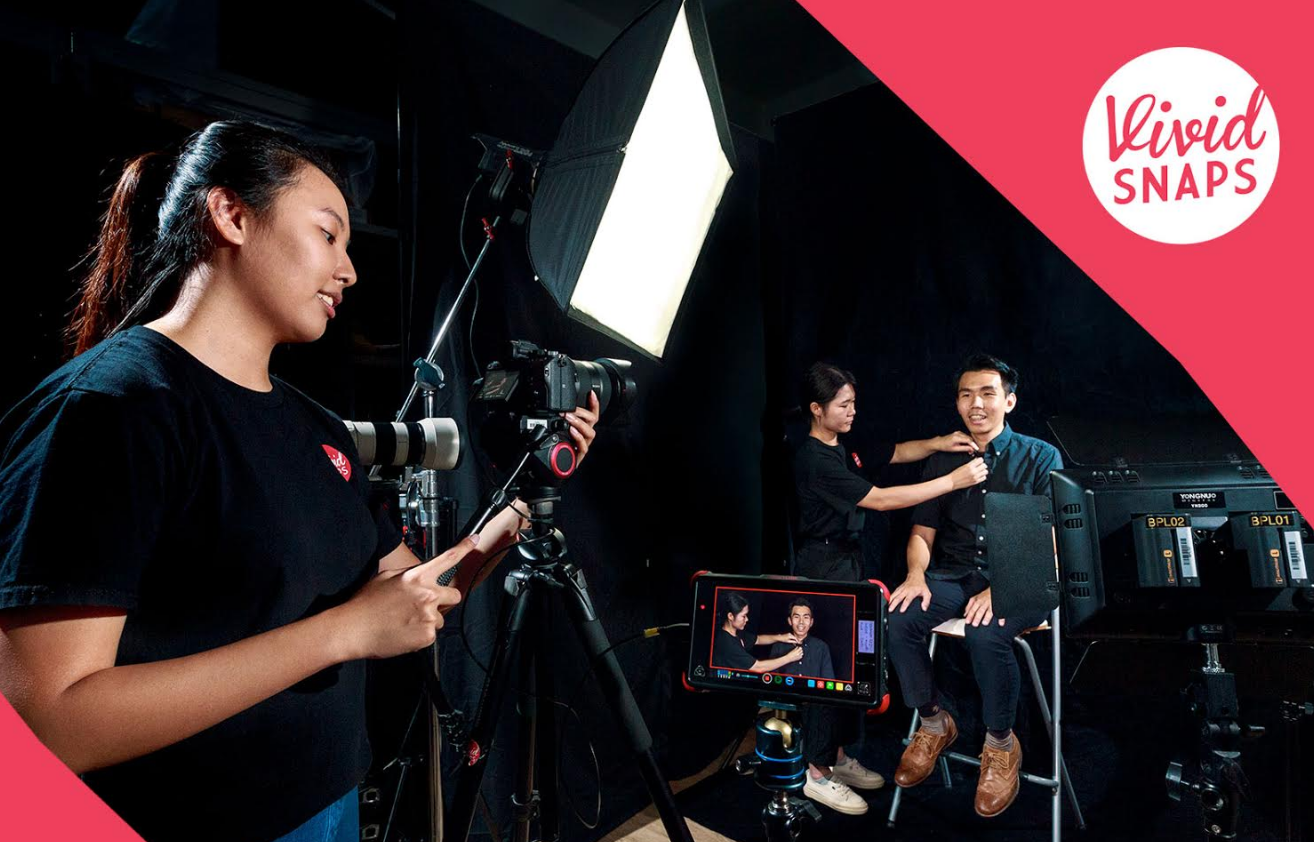 BEST FOR 
Corporate Video Production
SERVICES
Interview Video, Corporate Speech Video, Brand Video, Social Media Video, Live Streaming, Webcasting, Virtual Events & Hybrid Events, Corporate Photography and Portrait Photography
WEBSITE
https://www.vividsnaps.com/
ADDRESS
30 Kallang Place, #07-24, Singapore 339159
CONTACT DETAILS
+65 9482 5300 (Office)
+65 9231 8067 (Shine)
+65 8886 2300 (Ledon)
OPERATING HOURS
Weekdays: 10am–5pm
If you need a reliable corporate video production company, you must try consulting with Vivid Snaps Video Production. Their team of project managers and video professionals focus on meeting your business objectives by delivering purpose-driven content.
Vivid Snaps offers a wide range of services for corporate clients from SMEs to MNCs. Their video production portfolio includes corporate interview filming, company profile video and brand story videos for B2B and B2C engagements.
They also do corporate event video highlights, perfect for your business events. Aside from their skills and knowledge, they use high-end video production equipment to ensure high-quality video content.
Vivid Snaps is best known for their focus on corporate clients, which makes up more than 95% of their portfolio. The company was established in 2012, making them a reliable team with more than 8 years of experience in the industry.
Highlights
Strong focus on corporate clients

 

Live streaming and hybrid events

 

Corporate video production

 

Event video production

 

Corporate interview & speech videos
Customer Reviews
Clients shared that Vivid Snaps Photography & Videography helped them produce engaging video content. A customer posted this review:
"Great photos and superb video! Thank you Charli, Gwendolyn and team for the professional and helpful service rendered. As an event planner, it is important to have trusted vendors who can deliver good work and I am glad to have worked with Vivid Snaps. Thank you team and I sure look forward to working with the team again"
2. Graphiss Media

BEST FOR
Effective Storytelling
SERVICES
Corporate Video, Event Coverage, Motion Graphics, Social Media Clips, Sports Coverage, Live Streaming, Photography
WEBSITE
https://graphiss.com/
ADDRESS
114 Lavender Street, CT Hub 2
#10-86, Singapore 338729
CONTACT DETAILS
[email protected]
OPERATING HOURS
N/A
Graphiss Media is a video production company that serves clients all around Singapore. They are capable of handling any media project, both large and small.
They use the latest innovative technology in producing their videos, while their team always aims to improve themselves by learning new things. With their constant drive to learn new skills and techniques, they are able to meet their client's requirements each and every time.
No matter what you need, Graphiss Media is sure to produce a video that will catch your attention.
Highlights
Skilled team
Uses latest technology and techniques
3.  Forte Visuals Production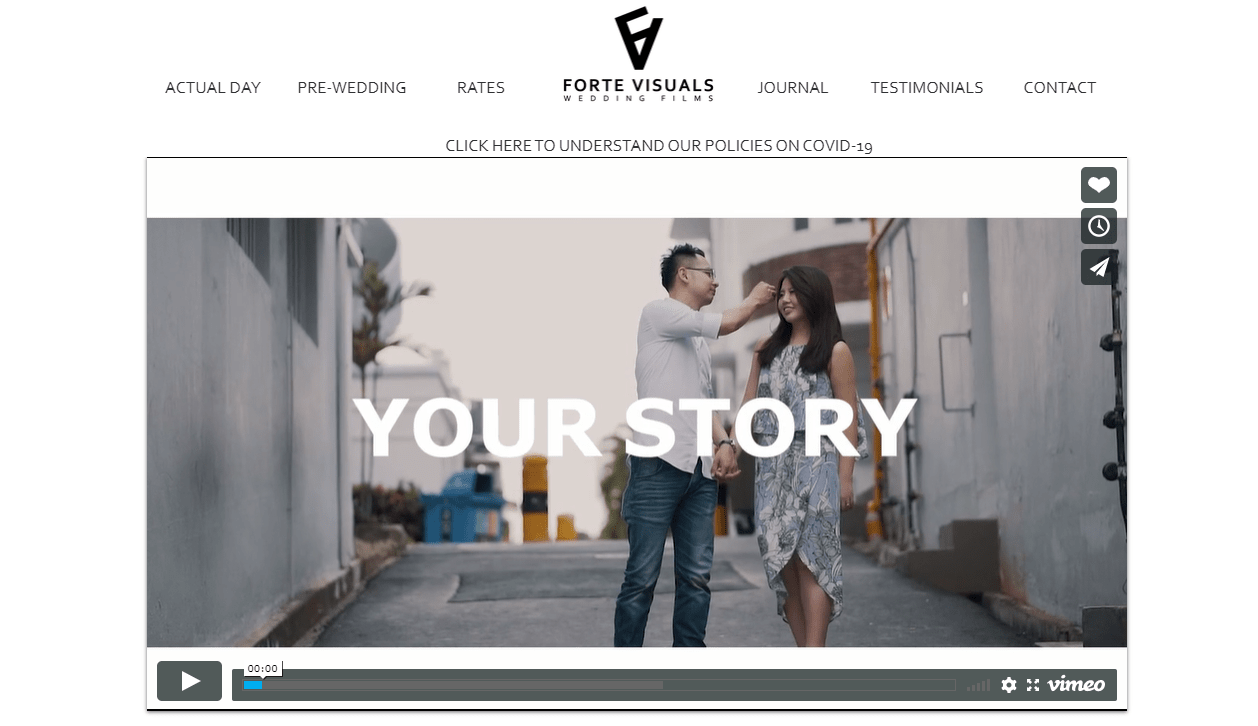 | | |
| --- | --- |
| BEST FOR  | Wedding videography |
| PRICING | Rates |
| WEBSITE | https://www.fortevisuals.biz/ |
| ADDRESS | 62 ubi road 1, #08-21, Oxley Bizhub 2, S408734 |
| CONTACT DETAILS | 9119 9416 |
| OPERATING HOURS | Weekdays: 11am–8pm |
For a personalised wedding film where you can relive the timeless moments of your life, Forte Visuals Production has the best videographers in Singapore who can beautifully capture genuine and raw emotions.
For their pre-wedding films, they've produced different styles, showing the real story behind every relationship. They also take charge of actual wedding films where they take graceful shots despite a fast-paced environment.
Highlights
Pre-wedding films
Actual wedding films
Customer Reviews
Many newlywed couples were satisfied and delighted with the quality and nostalgia of the wedding films created by Forte Visuals Production.
A customer gave this feedback:
"A young and energetic team of professionals who took great pride in the photos and videos they produce. Unlike traditional bridal photographers whereby couples take more posey and highly edited photos, Forte Visuals focuses on letting couples being relaxed and comfortable before capturing them. Video and photos were also edited and sent to us promptly without compromising on its originality and quality. It definitely has been a pleasant experience working with them and I highly recommend them to anyone who is looking to capture important moments in their lives."
4.  Back Alley Creations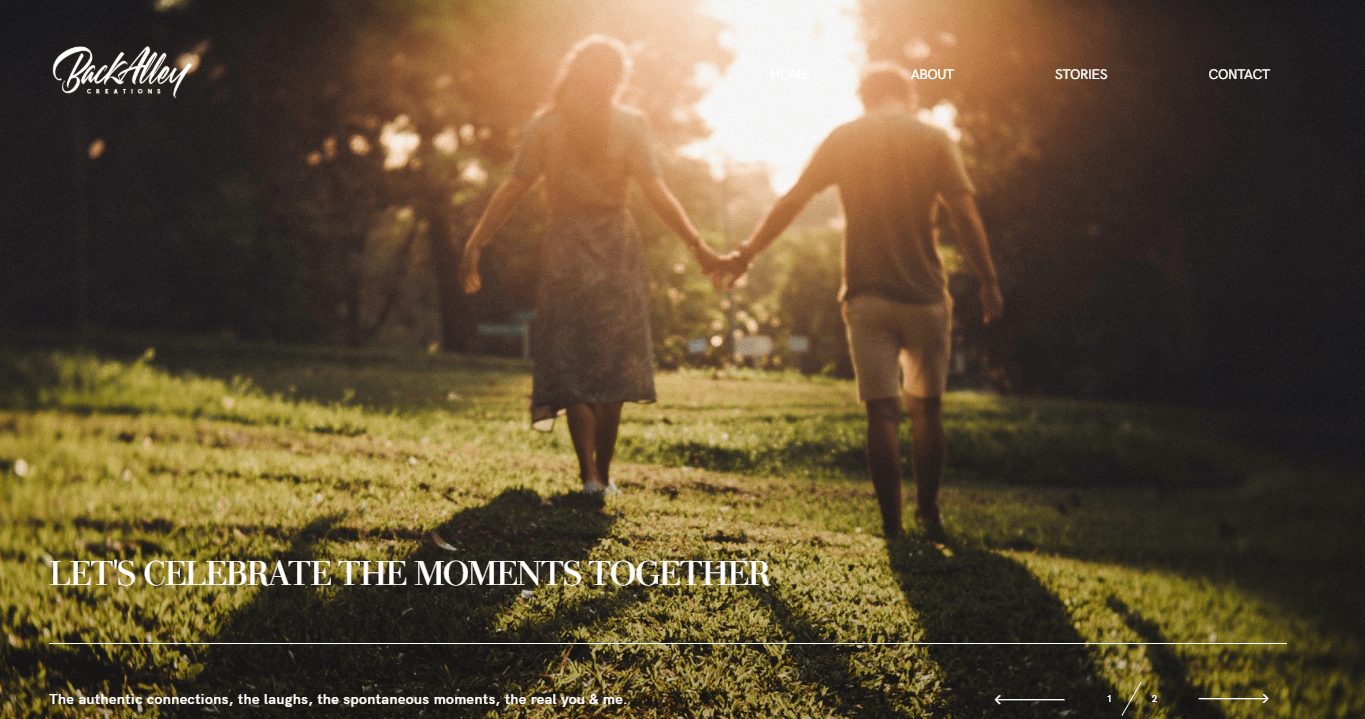 Back Alley Creations is known for being a great storyteller that showcases the heartfelt connections between couples. The works of this studio are suitable for those who like more spontaneous moments rather than traditional shots.
When it comes to their pre-wedding videography, they're capable of doing a destination pre-wedding film where you can pick a region or a country that you'd like to visit and capture your wedding photo and video shoots with a scenic background.
Highlights
Pre-wedding and actual wedding films
Wedding photography
Family photography
Customer Reviews
Back Alley Creations has gained a lot of positive responses from clients who received heartwarming and candid wedding films from them, proving that they indeed have the best videographers in Singapore.
A customer wrote this review:
"Highly recommend! Thank you Back Alley Creations for being a wedding day videographer that we could trust and just enjoy our day. We really wanted someone who had a more natural and candid shooting style and it was so easy to shoot with Jootz, even for my camera-shy husband. As we were waiting for this highlights video to play during our dinner, we were hoping it wouldn't be too sappy or lovey-dovey because we wanted something more fun, so we were all smiles seeing this good vibes video. Super glad to have a videographer who understood us without us needing to say it, we couldn't be happier without this video that was made for us!"
5.  PixelMusica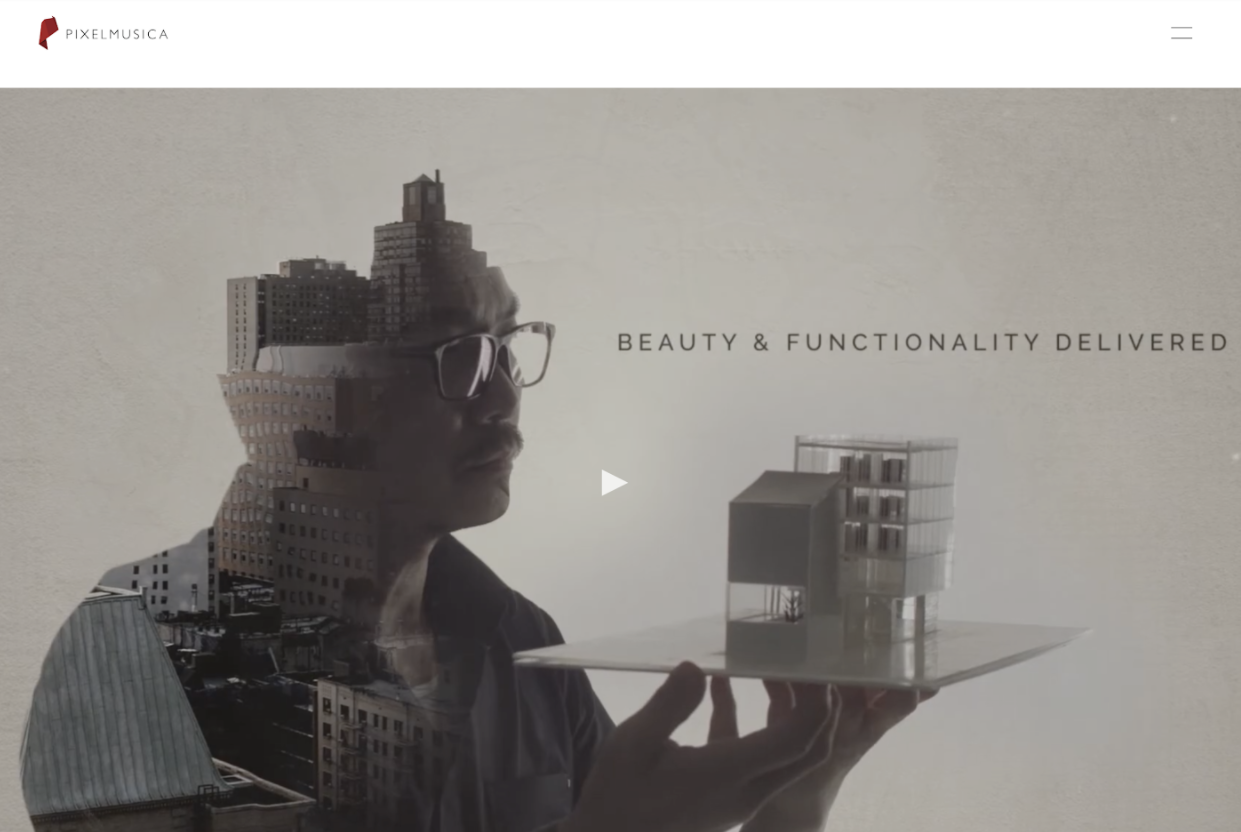 | | |
| --- | --- |
| BEST FOR  | Whole range of corporate video production |
| WEBSITE | |
| ADDRESS | Waterloo Centre, 261 Waterloo Street, #02-45 & #04-26, Singapore 180261 |
| CONTACT DETAILS | |
| OPERATING HOURS | Mon – Fri 10:30 am to 5:30pm, Closed on Saturday & Sunday |
Founded in 2012, PixelMusica's team of experienced directors, cinematographers and producers have delivered over a thousand projects for clients locally and internationally, across a diversity of industries including IT, cybersecurity, financial services, security services, utilities, healthcare, engineering and charities to name a few.
From conceptualization to post-production, their extended suite of creative services that span across branding, design, UX/UI, photography and web development, make them an ideal choice for those looking for a creative media production partner for their videography needs and beyond.
Highlights
– corporate videos
– event highlights
– interviews
– animated explainers
– commercials
– documentaries
Customer Reviews
Ronal Poon, Chief Executive of Certis Singapore
"I would like to express my heartfelt thanks to you and your team for all the effort taken to put together such a beautiful video. Your team has well-captured all the hard work and sacrifices made by our frontline officers, and has managed to evoke the emotions and gratitude that I've been wanting to bring across to my officers. I am truly grateful for your team's attention to details and admirable dedication involved in the production of this video. It is truly a job done marvellously."
Vivian Jong
"We have been engaging PixelMusica photography service for the past 1 year and continue to do so this year for our corporate events. They are very professional and always impresses us with their quality deliverables. Most importantly they understood brief and take initiative to recommend better suggestion to make sure we receive the best work. The team are friendly, helpful and flexible. Definitely looking forward to working with them again."
6.  Black Button Media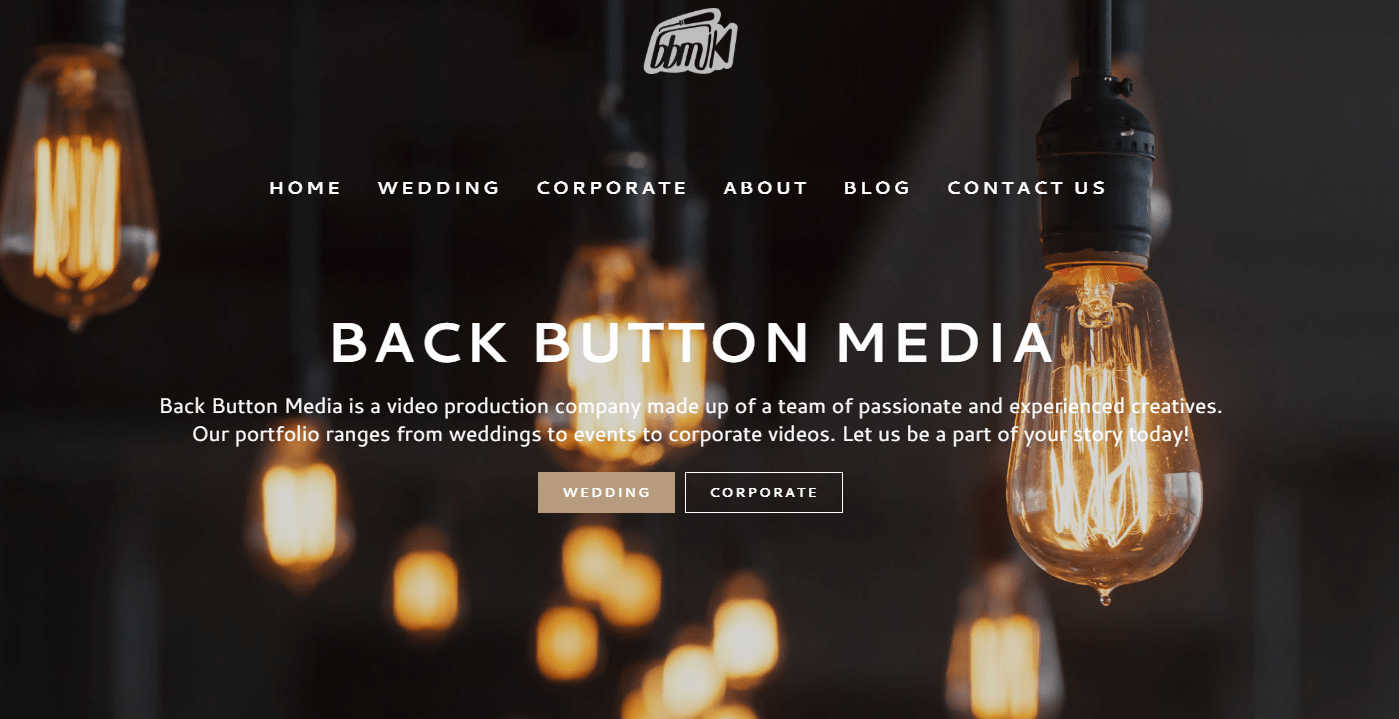 | | |
| --- | --- |
| BEST FOR  | One-stop videography services |
| WEBSITE | http://backbuttonmedia.com/ |
| ADDRESS | 5001 Beach Road #08-10 (S)199588 Singapore |
| CONTACT DETAILS | +65 9126 5486 |
| OPERATING HOURS | Daily, 9am–9pm |
Black Button Media offers the widest range of video production services, including corporate videos, event videography, and even weddings! With their dedicated and passionate team, they've served hundreds of clients and produced great films.
Their best videographers in Singapore have different skill sets in both video and audio and some even have a decade of experience.
They offer a wedding videography package that covers the whole wedding day — from the preparations up to the reception events. Corporate and commercial videos, documentaries, event coverage and more are all part of their services.
Highlights
Corporate videos
Wedding films
Documentaries
Customer Reviews
Many clients were impressed with the overall services of Black Button Media.
A customer left this review:
"We had such a fun time recording our pre-wedding video! Out-of-this-world ideas that were actually brought to life! We never expected you guys to go the extra mile in planning, coordinating and preparing all the logistics for the whole day shoot! Thank you for all your effort and for accommodating to our requests! You guys made the whole process so fun that we'd gladly do it again (minus the sunburns of course)! The whole team at Back Button Media is professional and reliable, and expect lots of fun along the way too! We highly recommend them to anyone searching for videographers for their big day!"
7. Kint Weddings
BEST FOR
Wedding Videography
SERVICES
Videography Services for: Actual Day, Pre-Wedding, Occasions, Short Films
WEBSITE
http://kintweddings.com/
ADDRESS
N/A
CONTACT DETAILS
EMAIL: [email protected]
PHONE: +65 9336 8853
OPERATING HOURS
Enquire for more information
If you want your special day to be documented on film, then Kint Weddings is who you should call. They'll make sure to capture all the intimate and romantic moments without ruining the atmosphere.
Kint Weddings offers videography services for both pre-weddings and the actual day. No matter what option you choose, they're sure to produce a video that will fulfil your expectations.
Highlights
Meaningful videos
Skilled videographer
8. Winson Cinematography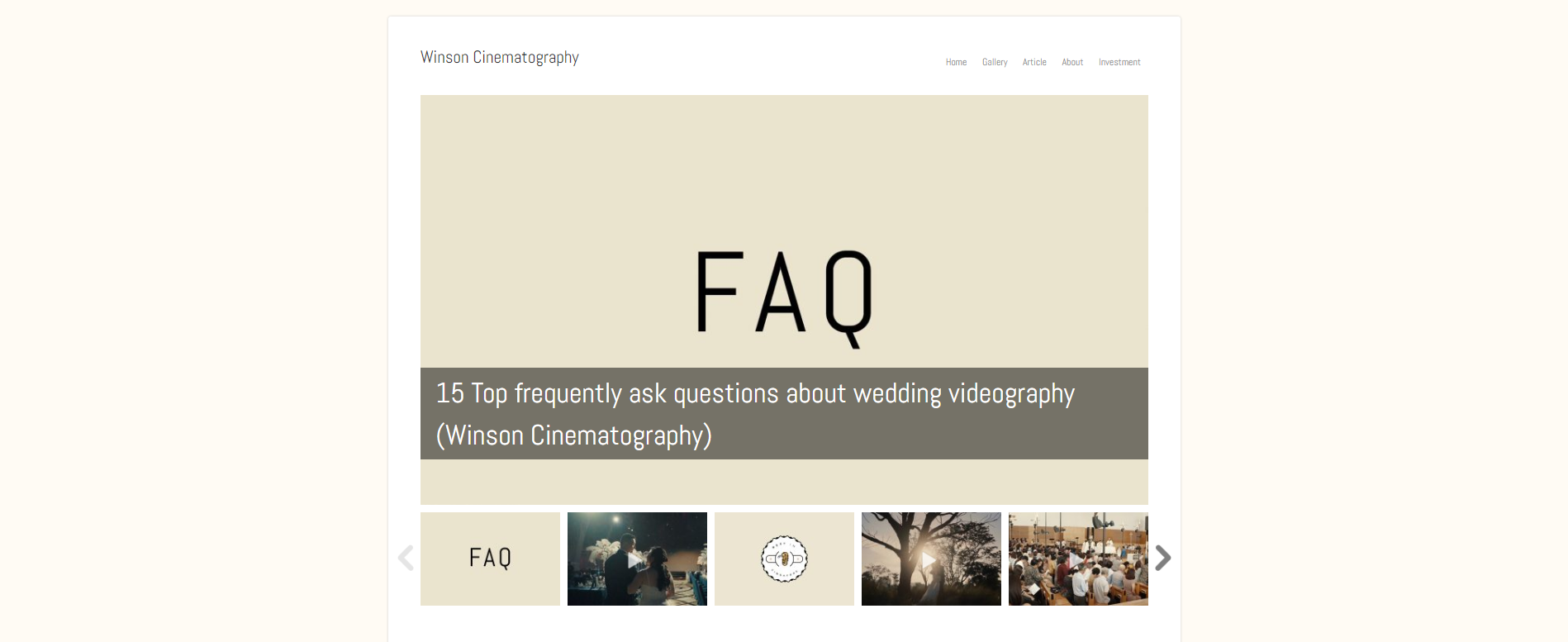 BEST FOR
Wedding Videography
SERVICES
Banquet Highlights, Church Wedding, Concept Wedding, Destination Wedding, Featured Wedding, Gate-crash wedding, ROM, Wedding Day
WEBSITE
http://winsoncinematography.com/
ADDRESS
N/A
CONTACT DETAILS
+65 9022 7551
[email protected]
OPERATING HOURS
N/A
Winson Cinematography is a company that specialises in producing compelling and honest wedding videos. They take pride in the fact that every video they produce is unique to each wedding.
They take the time to get to know the couples they're capturing, which is why they never fail to produce great videos. If you want your special day to be memorialised the way you want it, then Winson Cinematography is who you should call.
Highlights
Unique videos
Personalised and honest storytelling
9. Mount Studio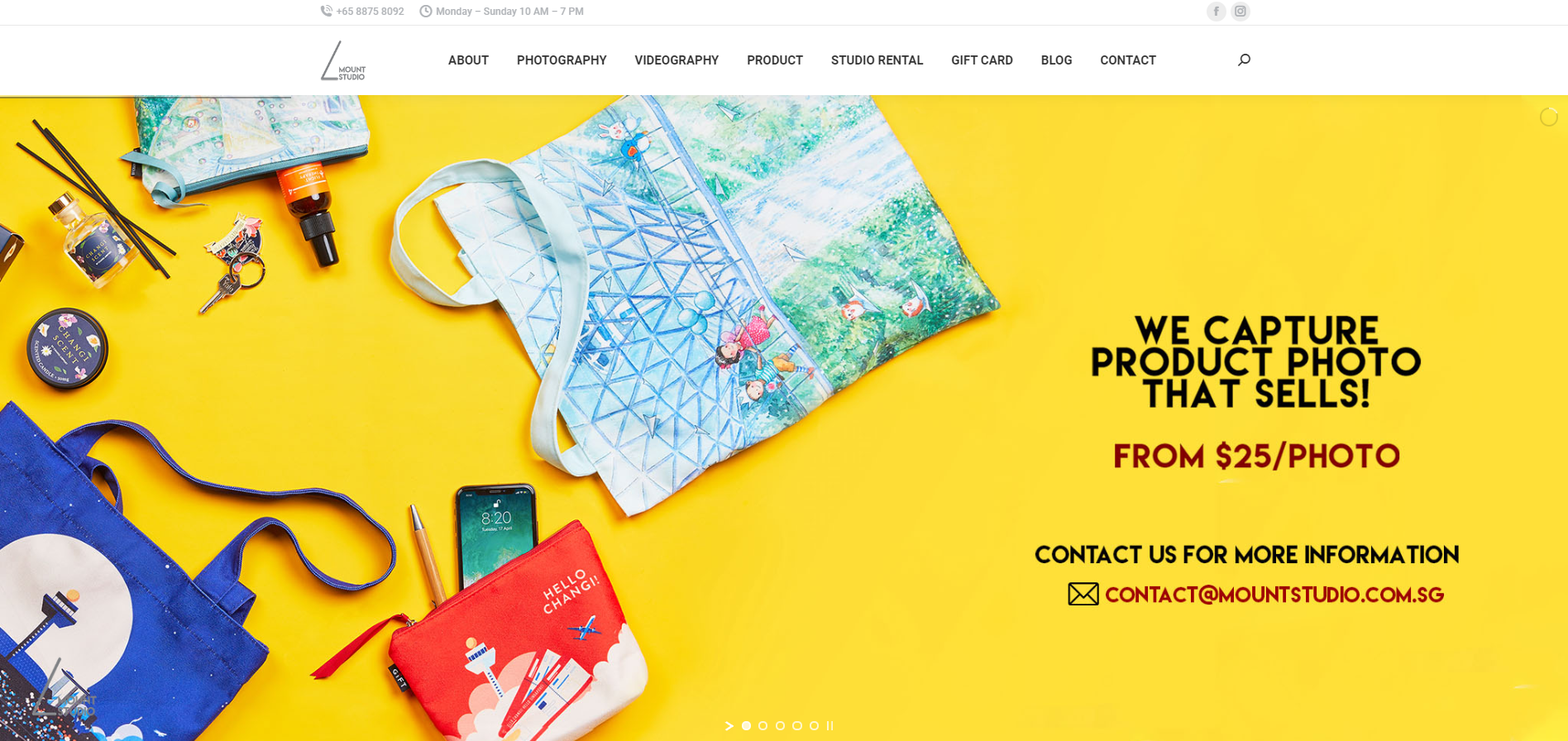 BEST FOR
Photo and Video Studio Rental
SERVICES
Various Photography Services, Video Studio, Event Videography, E-Commerce Product Video, Live Streaming
WEBSITE
https://mountstudio.com.sg/
ADDRESS
Foo Wah Industrial Building
45 Jalan Pemimpin #07-04 Singapore 577197
CONTACT DETAILS
Email: [email protected]
Mobile: 8875 8092
OPERATING HOURS
N/A
Founded in 2017, Mount Studio is a trusted company that offers various photography and videography services. With almost fifteen years of experience, it's no surprise that many notable clients now rely on them.
Their team is composed of individuals with their own respective specialisations. As a result, they offer services that are not only widely varied but are also unmatched in quality.
Whatever photography or videography service you need, you can rest assured that Mount Studio will deliver.
Highlights
Photo Studio and Video Studio rental
Many photography and videography services available
10. Alta Productions

BEST FOR
Quality Video Productions
SERVICES
Video Production, Studio Filming, Live Streaming, Studio Rental
WEBSITE
https://www.alta.sg/
ADDRESS
996 Bendemeer Road
#06-06 Singapore 339944
CONTACT DETAILS
Email: [email protected]
Tel: +65- 9479 8478Fax: +65- 6391 1707
OPERATING HOURS
N/A
Alta Productions is an award-winning company that has been delivering quality projects to its clients since 1998. Challenging projects are more than welcome to them.
They are capable of working with many aspects of media, such as corporate videos, films, dramas, TVCS, and documentaries. Their sister company, Skyshot, specialises in aerial and time-lapse videos.
Alta Productions has garnered many accolades throughout their years in the industry. If you're looking for quality projects through and through, they a top choice to consider.
Highlights
Award-winning company
Specialises in studio filming, studio rental and live-streaming
11. Pan Pixels
| | |
| --- | --- |
| BEST FOR | Event Videography |
| SERVICES | Photography Services, Videography Services, Live Feed |
| WEBSITE | https://www.panpixels.com/ |
| ADDRESS | 45 Jalan Peminpin Singapore, Singapore 577197 |
| CONTACT DETAILS | [email protected] |
| OPERATING HOURS | N/A |
Pan Pixels offers photography and videography services that are catered to their individual client's needs. They have experience handling various events, from commercial photography to birthday parties.
Their team is composed of skilled photographers and videographers, each striving to continuously improve themselves. They make sure to work with their clients closely, in order to achieve the best results.
With their wide range of services, Pan Pixel is sure to fulfil any of your multimedia needs. Contact them now!
Highlights
Wide range of photography and videography services
Works closely with clients
12. Flyht Studio
BEST FOR
Aerial Filming & Photography
SERVICES
Aerial Photography & Videography, Motion Control Equipment, Remote Controlled Car, Underwater Photography & Videography, Retouching & Editing
WEBSITE
https://www.flyhtstudio.com/
ADDRESS
Shun Li Industrial Park Singapore, in th' Lands o' Singapore 415982
CONTACT DETAILS
+65 9781 0619
[email protected]
OPERATING HOURS
N/A
True to their name, Flyht Studio is an award-winning creative studio that specialises in aerial filming and photography. They are proficient in projects large and small.
The secret to their excellent production value is their use of state-of-the-art equipment and techniques, for both photography and cinematography. Most notable is their proficiency in taking stable aerial footage– which utilises complex motion control systems.
Flyht Studio continues to innovate and pioneer in the realm of aerial technologies, even today. When it comes to aerial videography, they're the ones to call.
Highlights
Specialises in aerial filming & photography
Offers customisable drones for events
13. Vicinity Studio

BEST FOR
Visual Narratives
SERVICES
Animations, Branded Content, Community Videos, Corporate Videos, Event Videos, Experimental Videos, Films & Documentaries, Illustrations, Travel Videos
WEBSITE
https://vicinity.studio/
ADDRESS
[email protected] 201 Henderson Road #04-11/12 Singapore 159545
CONTACT DETAILS
+65 69570947 (Office)
+65 69570948 (Office Admin)
+65 9668 7465 (HP)General Enquiries
[email protected] in working with them?
[email protected]
OPERATING HOURS
Always Open
Vicinity Studio presents narrative videos seen through the lives of people, particularly the unique stories they have to tell. They have extensive experience in handling non-profit and community projects.
They take pride in their dedicated pursuit of high-quality productions. Through their videos, they aim to influence the community to become more interconnected.
Although they're based in Singapore, they've expanded their connections around the world. Vicinity Studio's skilled team will surely bring your ideas to life.
Highlights
Expert team of videographers
Visual storytelling experts
14. Offing Media

BEST FOR
High Quality, Affordable Videos
SERVICES
Corporate Videos
Training Videos
Advertisements
Health and Safety Video
E-Learning Videos
Maritime Video Production
CSR Videos
Documentary Video Production
Video Testimonials
Services
Event Video Recording | Conference, Seminar Video Production
Website Videos
Product Videos
Explainer Videos
Live Streaming
Video Editing
Animation
WEBSITE
https://offingmedia.com/
ADDRESS
#03-18, Shun Li Industrial Complex
705 Sims Drive
Singapore 387384
CONTACT DETAILS
[email protected]
+65 9784 5872
OPERATING HOURS
N/A
Offing Media is a video studio that aims to help brands communicate and build their brands better. They're committed to continuously improving themselves and becoming the most trusted partner in video production.
They have experience producing a wide variety of videos, such as corporate videos, short films, learning videos, and more. Their full-service production house will be with you every step of the way– from concept development to post-production.
Offing Media has a team composed of some of the best talents in Singapore. With their services, you're sure to get only the most compelling and engaging video content.
Highlights
Low-cost and high-quality content
Team of talented people
15. Fresh From Kenneth

| | |
| --- | --- |
| BEST FOR | Raw and untainted wedding documentary |
| SERVICES | Documentary Videography |
| WEBSITE | https://www.freshfromkenneth.com/ |
| ADDRESS | CT Hub 2, 114 Lavender St, #05-76 Singapore, in th' Lands o' Singapore 338729 |
| CONTACT DETAILS | [email protected] |
| OPERATING HOURS | N/A |
Fresh From Kenneth makes sure to capture even the most intimate and small moments without intruding. He will craft together a narrative of your wedding day that you'll fondly look back upon.
Best of all, he offers his expert services at the most affordable prices. With Fresh From Kenneth, you can rest assured that they will capture your special day as well as the emotions at the heart of it.
Highlights
Documentary style
20 weddings a year
16. Reel Film Production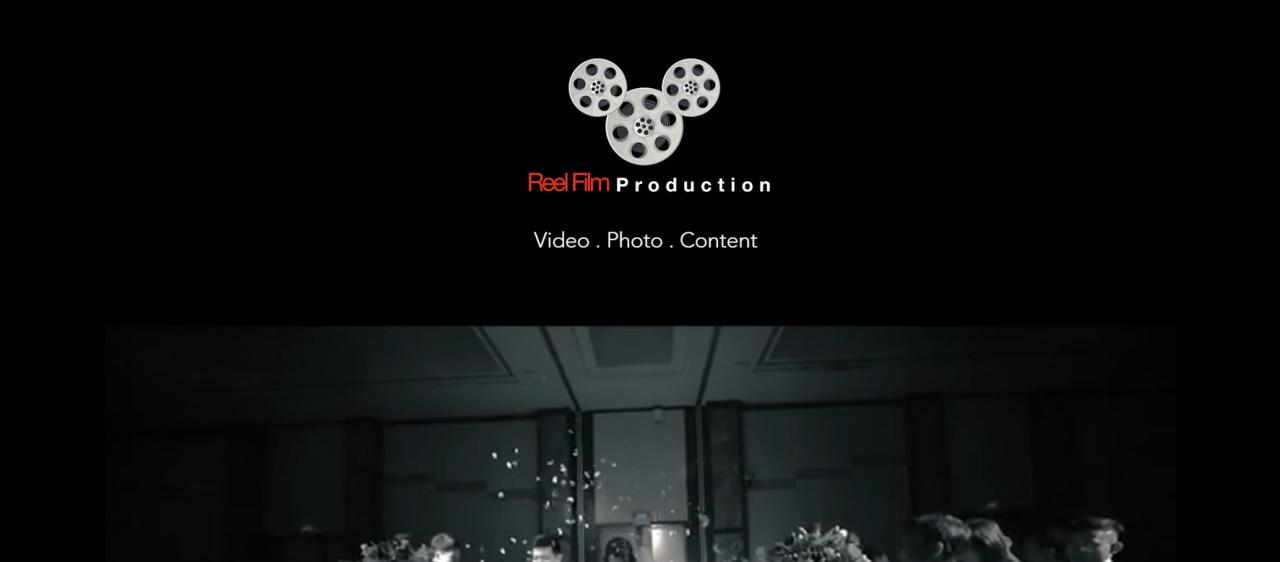 Reel Film Production is the company to acquire for the best photography and videography services. Their team is composed of highly professional and talented people that are definitely good at the job.
Rest assured that with their experience and expertise, you'll surely get your money's worth. Have them take care of capturing memories for any event, contact Reel Film Production for your next party!
Highlights
Pre-wedding films
Corporate videography
Events videos
Customer Reviews
Here's what clients of Reel Film Production had to say about their videography services:
"Samuel is really flexible, understanding and accommodating to our requests. He is also good at sharing experiences and giving tips to couple on what to note and do on the special day so that we don't end up dealing with surprises."
"Astounding work from Samuel and his team! The hours that the team put in for this is definitely well worth and we are all very glad to have picked Reel Film Production for this."
17. Trio Films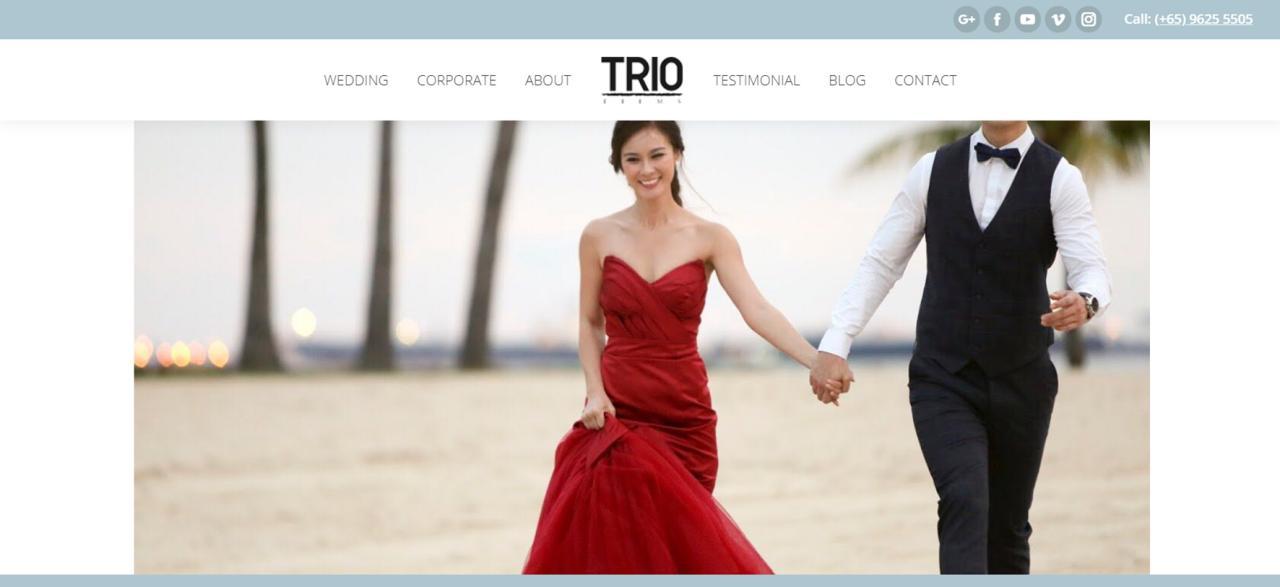 BEST FOR
Seamless videography
WEBSITE
https://triofilms.com.sg/
ADDRESS

Singapore Handicraft Building, 72 Eunos Ave 7

CONTACT DETAILS
(+65) 9625 5505 / (+65) 9125 5185
[email protected]
OPERATING HOURS
Daily: 9am–9pm
If you're looking for a reliable company to provide you with top-notch video assistance, then Trio Films is the place to be. They're known for their efficiency and quality of work.
Among many of the services they offer, Trio Films specialises in corporate, wedding, and almost any event videography. So if you're in need of these specific services, you can definitely rely on the company's amazing team to provide you with only the best shots and memories to keep.
For more inquiries, simply check out their website.
Highlights
Pre-wedding and actual wedding day videography
Wedding photography
Corporate
Customer Reviews
Read a feedback left on Trio Film's google review:
"Trio films was an amazing videographer to work with. As an event organizer of our 10th year anniversary, we are so happy to work with vendors like them who are communicative & friendly to work with. We look forward to working with them again on future events"
18. Adrian C. Cinematography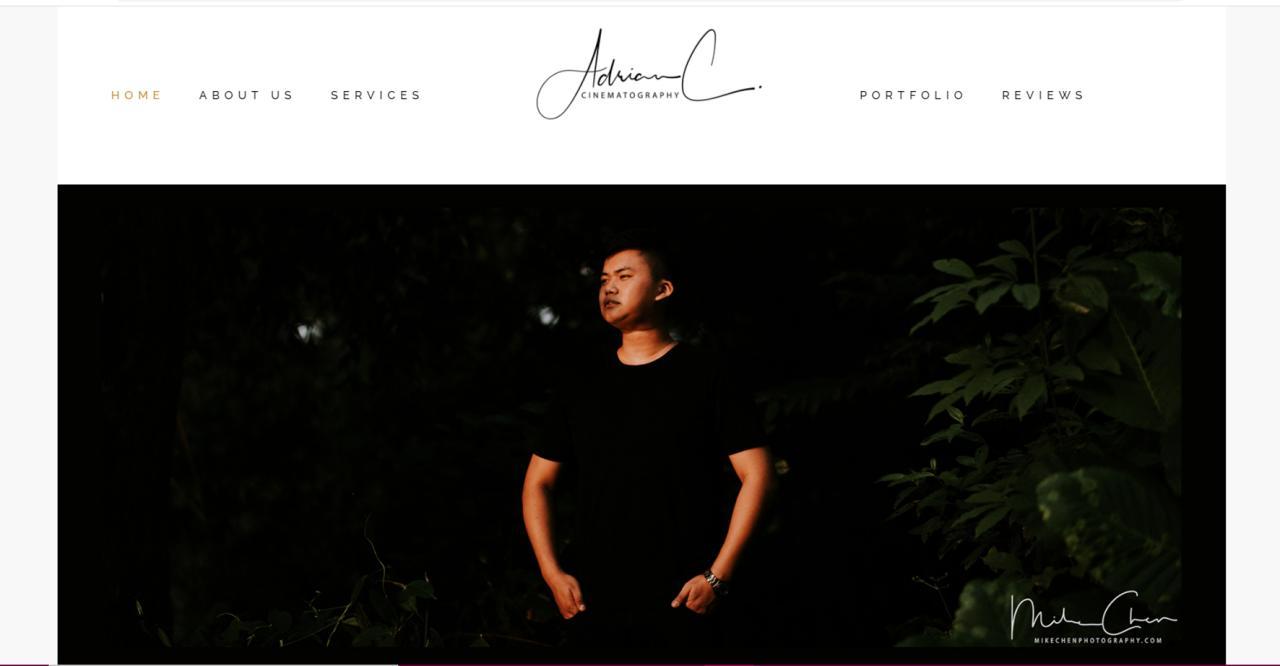 Acquire Adrian C. Cinematography's professional videography services if you want uniqueness and flair to your final product. Their dynamic team of amazing managers and videographers will make sure to have pre-film advising and discussion of ideas, ensuring that you're satisfied with what they're going to do. You're the first to see the output as well.
With their expertise, you're sure to receive premium quality videos you'd love to look back to in the years to come.
Message Adrian now to book for your event!
Highlights
Actual day wedding videography
Wedding express highlights
Proposal videography
Customer Reviews
Gerald Tang has expressed nothing but appreciation for just how great Adrian C. Cinematography is at their craft. Check out what he had to say here:
"We initially booked another videogeapher. However a few months prior as they had experienced some issues they were unable to shoot for our wedding anymore. We panicked and subsequently found Adrian and saw that his videogprahy style wad the cinematic type which we liked and thus went for it. As it was technically our second choice we didn't really have much expectations and kind of lowered them. But on the wedding day while we were outside of the door waiting for our march in, we saw the Same Day Edit. WE WERE SO IMPRESSED and that surprise elevated our mood for the walk in! We have had a lot of comments saying the video was super good! The sequencing, the music, the tempo and story telling of the video was top notch. It was perfect. Throughout the process we also thought that Adrian is a very nice guy! He initially requested for cash payment on the actual day but as we were so busy on the actual day we forgot. He was nice enough to allow ush to bank transfer! (which we did when I was sober enough lol) Overall the video was one of the best things that we showed to the audience and we wouldn't change it in any way! Definitely highly recommended!"
19. Freya Films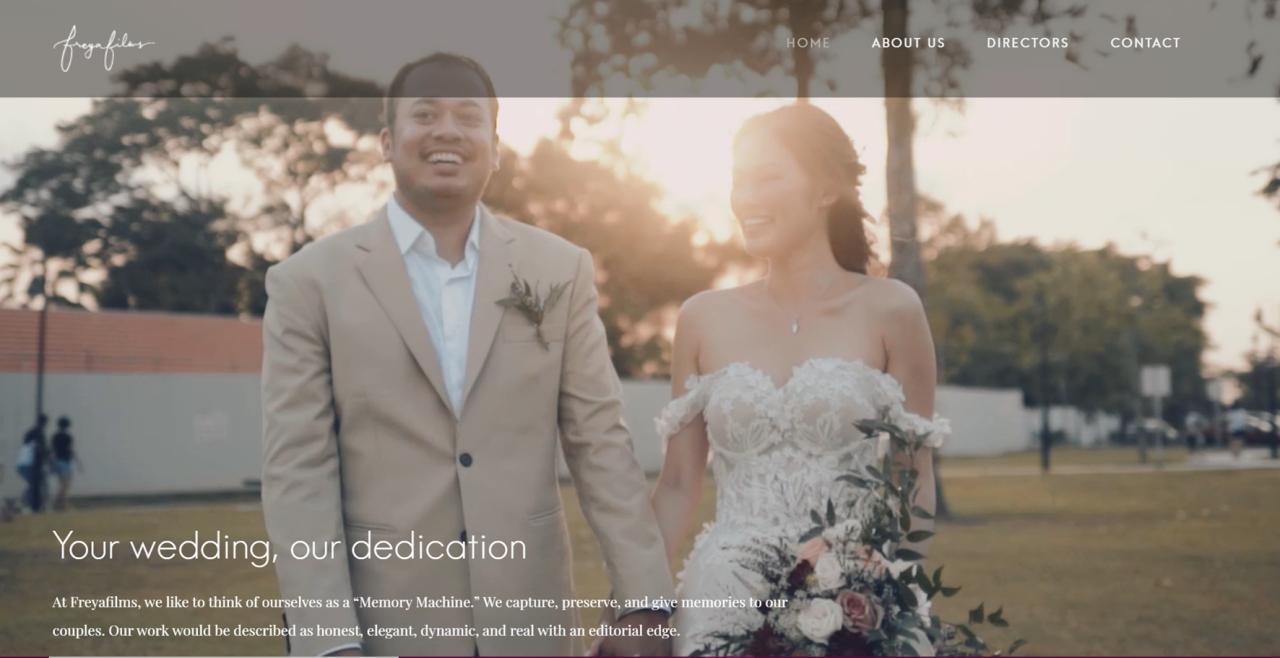 BEST FOR
wide variety of wedding films ѕеrvісеѕ
WEBSITE
https://freyafilms.co/
ADDRESS

1 YISHUN INDUSTRIAL STREET 1, #07-16
A'POSH BIZHUB
Singapore (768160)

CONTACT DETAILS
[email protected] | +65-96439630
OPERATING HOURS
n/a
Freya Films is a company that captures their clients' beautiful memories like no other. They offer a wide range of wedding films ѕеrvісеѕ, which includes pre-wedding videos and other common events that need videography.
The company believes that no event is the same, that is why they treat them as such: each unique from the other.
Have Freya Films tell your story in the rawest and authentic way, contact them for bookings.
Highlights
Pre-wedding and wedding day video
Memorial films
20. Studio Five Weddings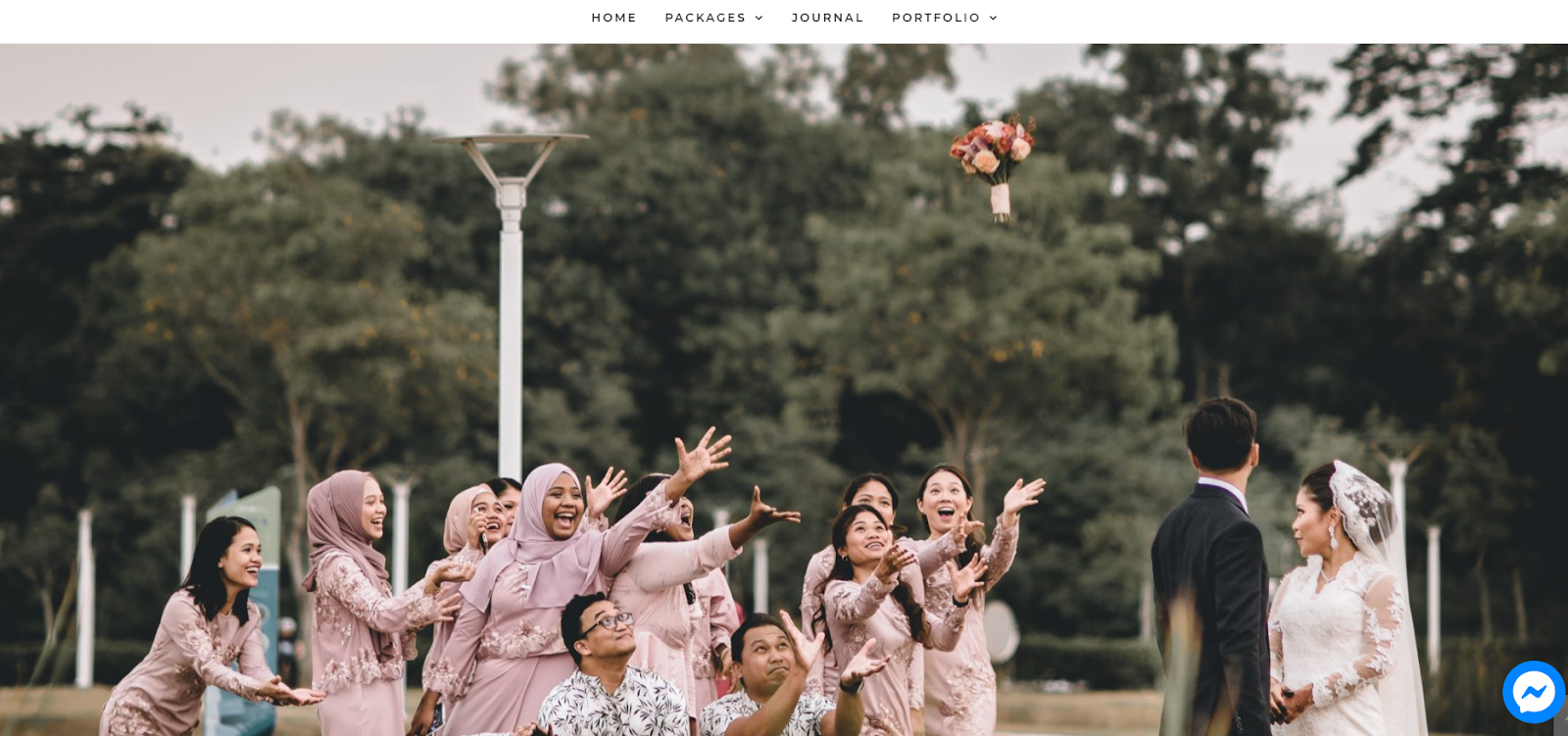 | | |
| --- | --- |
| BEST FOR | Affordable Quality Service |
| SERVICES | Photography, Cinematography, Photobooth, Invitation Cards, Engagement Coverage, Pre/Post Wedding Coverage |
| WEBSITE | https://studiofiveweddings.com/ |
| ADDRESS | 1 Industrial Street 1 Aposh Bizhub #06-12 Singapore, Singapore |
| CONTACT DETAILS | (+65) 6339 3738 | [email protected] |
| OPERATING HOURS | Monday – Friday, 9:00 AM to 7:00 PM |
Capturing one of the most important milestones in someone's life is truly a moment that should last forever. With Studio Five Wedding, they can offer affordable packages to cover this milestone in your life from engagement to your wedding's afterparty.
The packages that this studio offers vary from budget-friendly to luxurious, but all of this is executed with the greatest quality. The luxurious packages can even offer a photo booth service for your wedding as well as the production of your invitations.
All weddings, whether big or small deserves long-lasting memories that couples can look back to. This is what Studio Five Wedding strives to do with the greatest customer care and product quality.
Highlights
Affordable
Product Quality
Customer Care
Customer Reviews
Here are some examples of the feedback posted by customers on Google Reviews:
"Fantastic service! Awesome pictures and Brilliant Cinematography!"
"Excellent service, will recommend my friends!"
21. Treehouse Weddings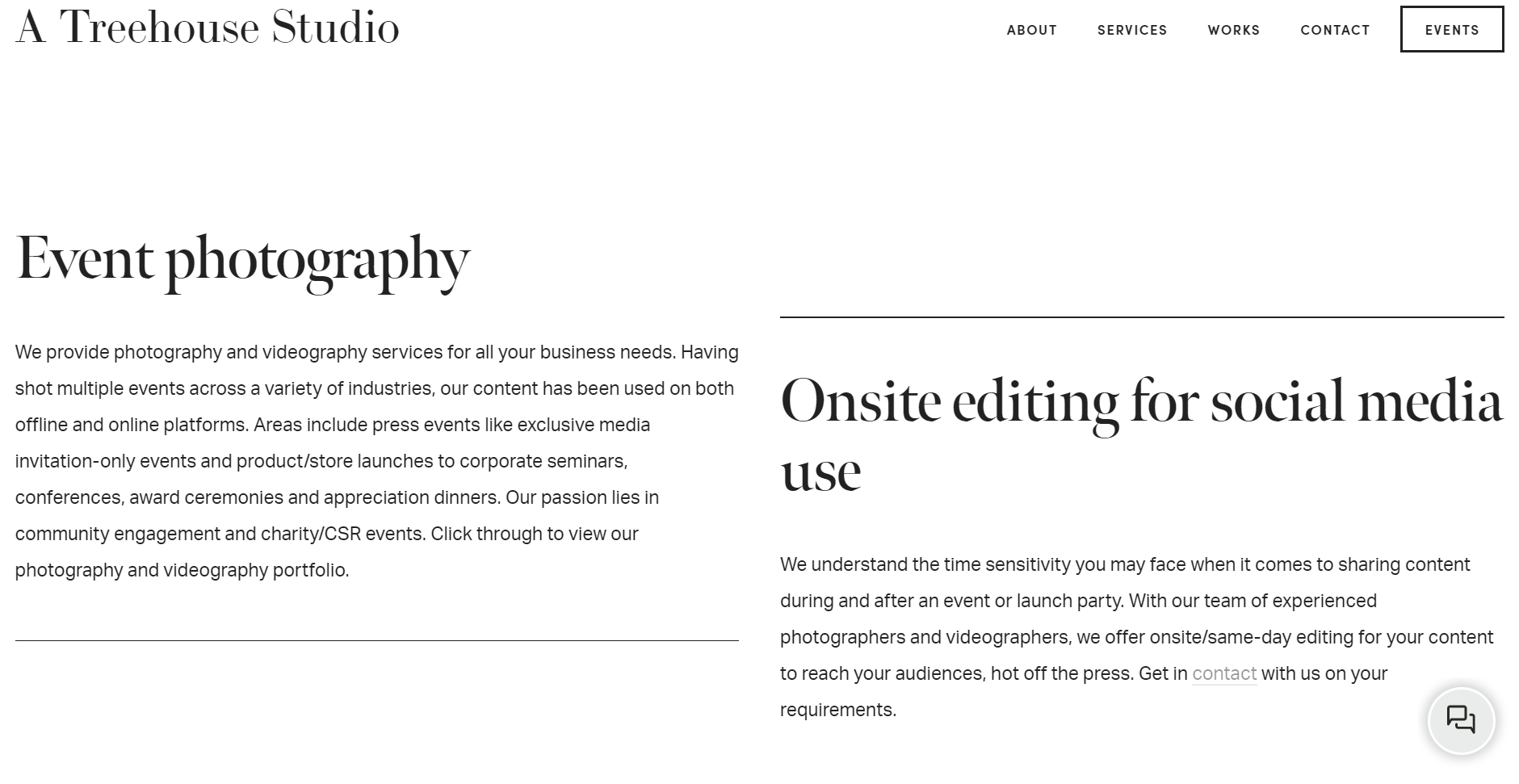 Treehouse Weddings brings out the uniqueness of every couple, through honest and heartfelt wedding films.
Their team is experienced to handle both lunch and dinner same day edits, attentive service and affordable wedding videography and photography in Singapore.
Treehouse Weddings caters to all types of weddings, Chinese Weddings, Indian Weddings, Western Styled Weddings, Church Weddings and more.
So, if you're following a particular family tradition, or are looking for a team that focuses on the details, the team at Treehouse Weddings are able to capture the essence of your family cultures, along with the strong bond of the couple and their family.
Highlights
Affordable actual day and pre-wedding photography & videography packages
Covers both local and overseas locations
Customer Reviews
Most clients have complimented the well-captured wedding films of Tree House Weddings. Here's a review from their client:
"Jach & team were indeed a pleasant bunch to be working with. They were attentive to the details and we had such a fuss-free experience which made our whole wedding planning less worrisome. There were no hidden costs too! – key to all BTB!! Deliverables came as a surprise; beautifully captured and pieced up. Very glad to have chosen this team to be journeying our big day! Overall, passionate bunch honest with their works and experiences. Am satisfied with the services and would recommend them!"
22. Tuckys Photography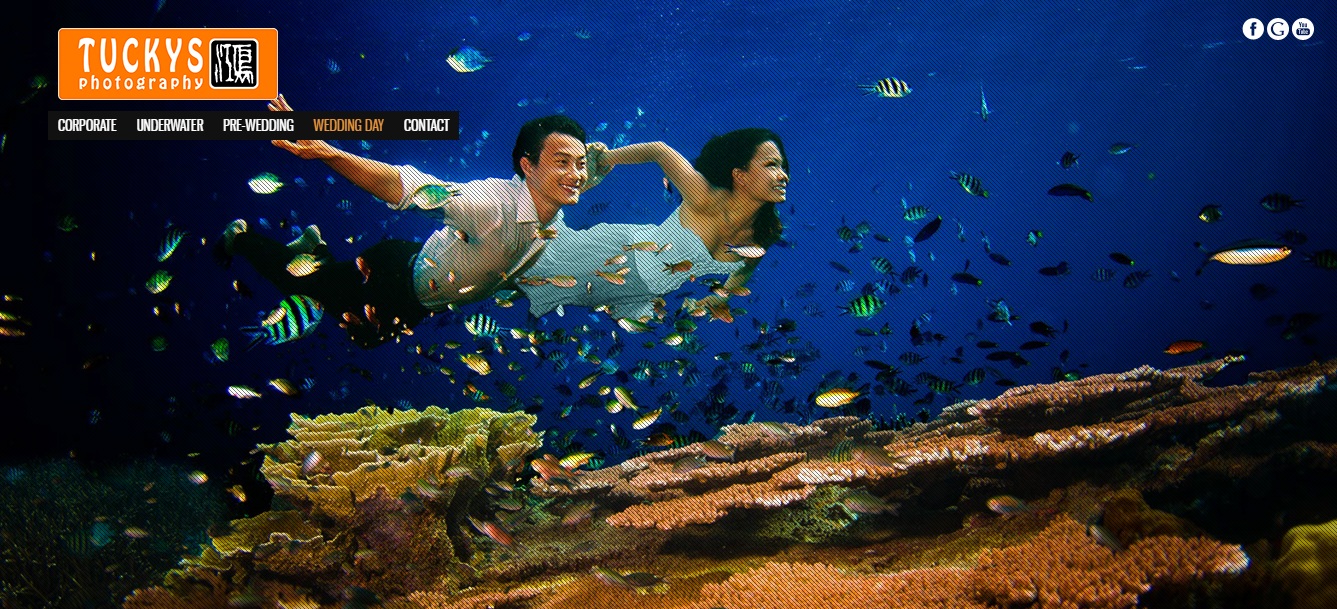 Tuckys Photography is your one-stop studio for all your videography and photography needs. May it be a wedding videography, corporate outputs, portraits, or event videography, the team is always guaranteed to bring out their best bullet.
Their professionalism, authenticity, and creativity are what's setting them apart from their competitors. They always make sure that they provide their clients with sound and realistic plans while keeping their work unique and creative.
Tuckys Photography does not box themselves in just one approach to photography and videography. In fact, they specialize in different genres so they create different kinds of outputs for their clients.
Highlights
Well-experienced and excellent team of photographers and videographers
Unique and authentic video creations
Multiple genres of photography
23. APX GARY PHOTOGRAPHY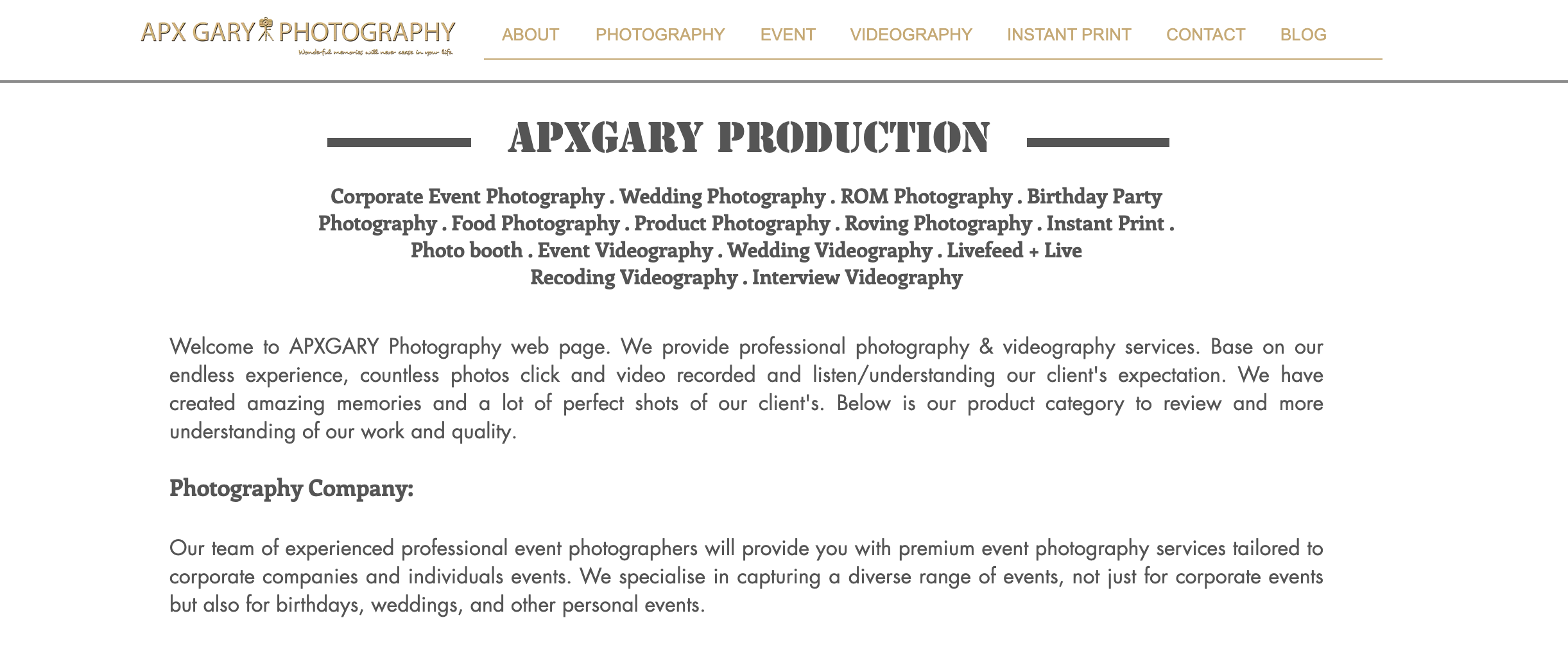 Need a professional photographer or a videographer for your wedding, your next corporate/commercial, or family event? Whatever the occasion may be, APX Gary Photography is your one-stop professional photographer/videographer.
His past clients have been raving about their professionalism, as they entertain clients' requests, guaranteeing that they are ultimately satisfied with the service the team brings the clients. The team's top priority is to ensure that they capture the essential moments in each event they are in.
Highlights
Offers a full range of photography services
Uses top industrial software
24. MomentsCreative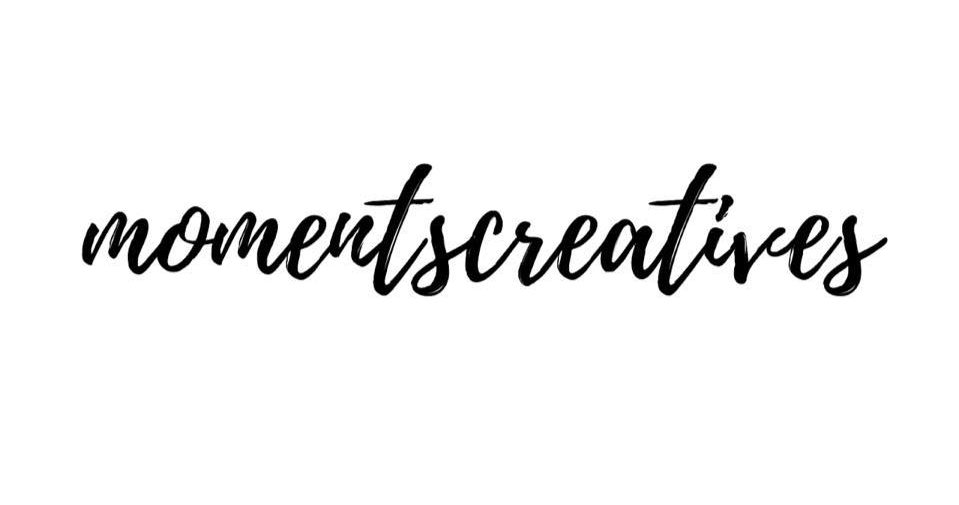 BEST FOR

Video Production, Branding and Marketing 

SERVICES

Video Production, Branding and Marketing 

WEBSITE

https://momentscreatives.com/

ADDRESS

Level 6, Vanguard Building, 1 Kallang Jct, Singapore 339263

CONTACT DETAILS

+65 9002 0997

 

OPERATING HOURS

Open everyday from 9:30AM-9:30PM 
Moments Creative is a content development company that focuses on branding and marketing, video production founded in Singapore. They specialise in creative storytelling through Digital Media (Facebook, Instagram, Youtube), Content Strategy, Video Production, Animation, Green Screen and Graphic Design.
With over 12 years of handcrafting ideas through videography and design, and armed with a talented team of content creators, they have had the privilege of providing their services to brands, creative agencies, and a wide range of businesses in Singapore, in helping them create their stories. Just tell them a story and we will bring it to life.
Highlights
Transforms any idea/story into reality

Professional, high-quality services
Customer Reviews
Here's a review from one of Moments Creative's clients:
"Great location and well set up! Bryaan is warm and friendly. A great space for all kinds of photoshoots and videoshoots. Highly recommended!"
Here's another one:
"It was a pleasure working with momentscreatives' team for our video shoot"
 25.

Ombré Photography
BEST FOR
Naturally lit candid shots
SERVICES

Actual Day and Pre-Wedding Photography and Videography

WEBSITE
https://www.ombrephotography.com
ADDRESS

Singapore

CONTACT DETAILS

Phone: +65 90607355
Email: [email protected]

OPERATING HOURS
Contact for more information
Mike of Ombré Photography began his journey as a photographer in 2012, and later found his calling in wedding photography and videography in 2014.
Nowadays, he is most known for his candid shots, all done with minimal editing in order to capture the raw beauty of the moment. Choosing him as a videographer yields a beautiful reel of your Big Day.
Highlights
Friendly and personable videographer
5-star rating on Facebook reviews
Customer Reviews
Mike has been commended by clients for his friendliness, which helps put clients at ease. As a result, he gets to take amazing candid shots that can't be missed. Here are a few comments left by previous clients:
"Mike is a skilled photographer who tries to make people around him feel comfortable at all times. He makes candid shots look really stunning and memorable. He makes us feel relaxed and always reminded us to just have fun during the photoshoot. I would definitely recommend this efficient one-snap-per-shot photographer to anyone out there for their special day! – Saiful (His photo album is here: https://www.ombrephotography.com/galleries/saiful-dhabitah/)"
"Mike is very patient and easy to work with. His service, professionalism, and the outcome of his photos are top notch! Words cannot describe what a fantastic photographer he is! You can tell he truly loves what he does, and the pictures show his absolute talent!" -Eleanor Tan

26. Magi Media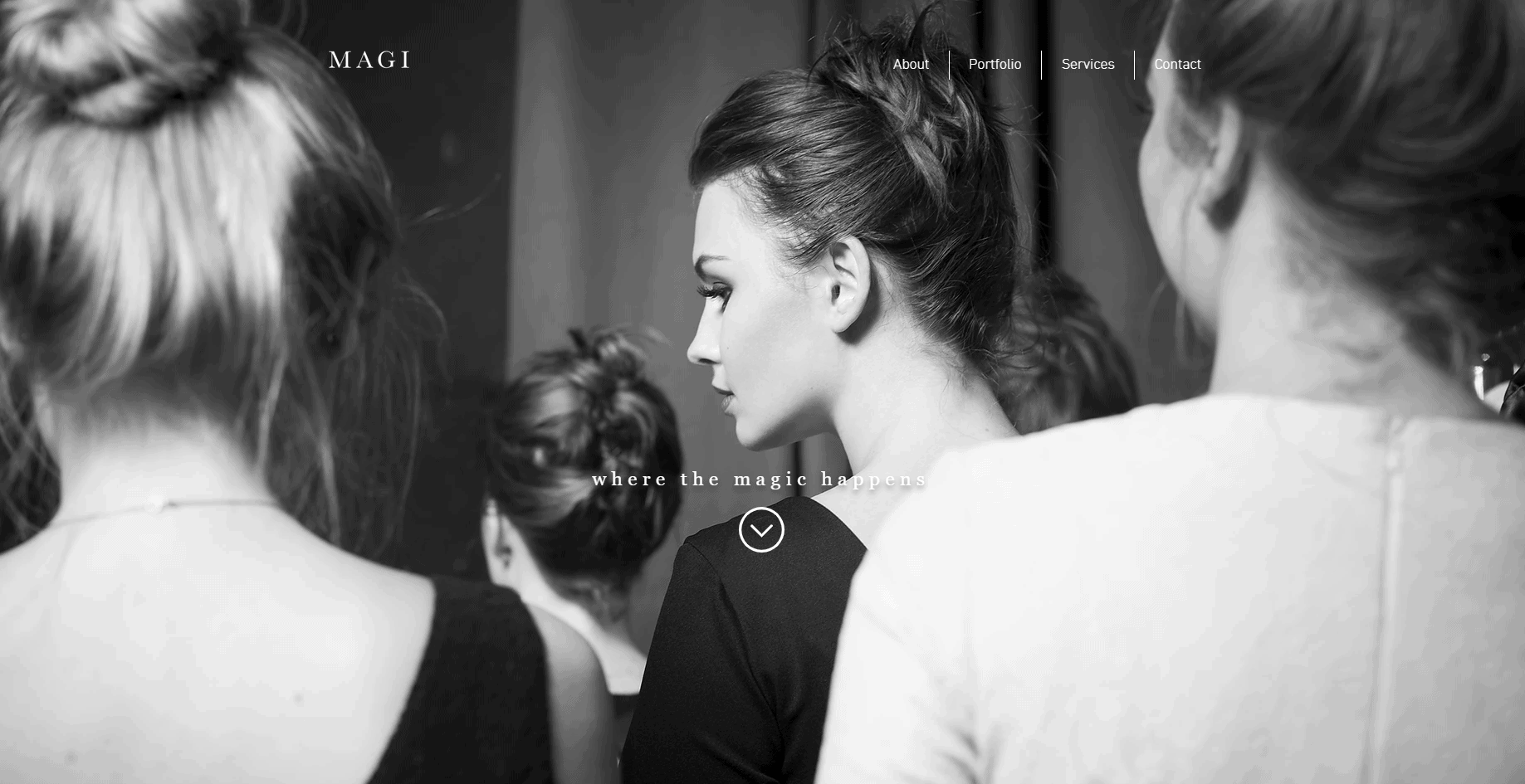 BEST FOR

Comprehensive Videography Services

SERVICES
Corporate Video
Promotional Video
Event Coverage
Television Commercial
Instructional Video
Marketing
Photography
WEBSITE
https://www.magimedia.sg/
ADDRESS
16 Shaw Road #03-04
Kin Building
Singapore 367954
CONTACT DETAILS
[email protected]
OPERATING HOURS

Contact for more information
Based in Singapore, MagiMedia is a video production company specialising in professional branding and communication solutions, both of which they offer in the form of motion pictures. Aside from its specialty, the company is also known for its comprehensive videography services, which include the development and finalisation of the concept before shooting.
The extensiveness of MagiMedia's services has drawn many a brand to the company. MagiMedia has worked with numerous clients from various industries and all walks of life, including but not limited to public-listed corporations, government organisations, educational institutes, SMEs, and startups.
To top things off, MagiMedia has also shown strong dedication to forging strong relationships with clients. The team comprises personable, professional, and talented individuals who will stop at nothing to provide clients what they need.
As such, many trust and depend on MagiMedia for videography needs, no matter the industry they are from and the type of organisation they manage and operate.
Highlights
Has worked with clients from different industries


Prompt and professional team

Focuses on understanding their client's needs
27. iSnap Media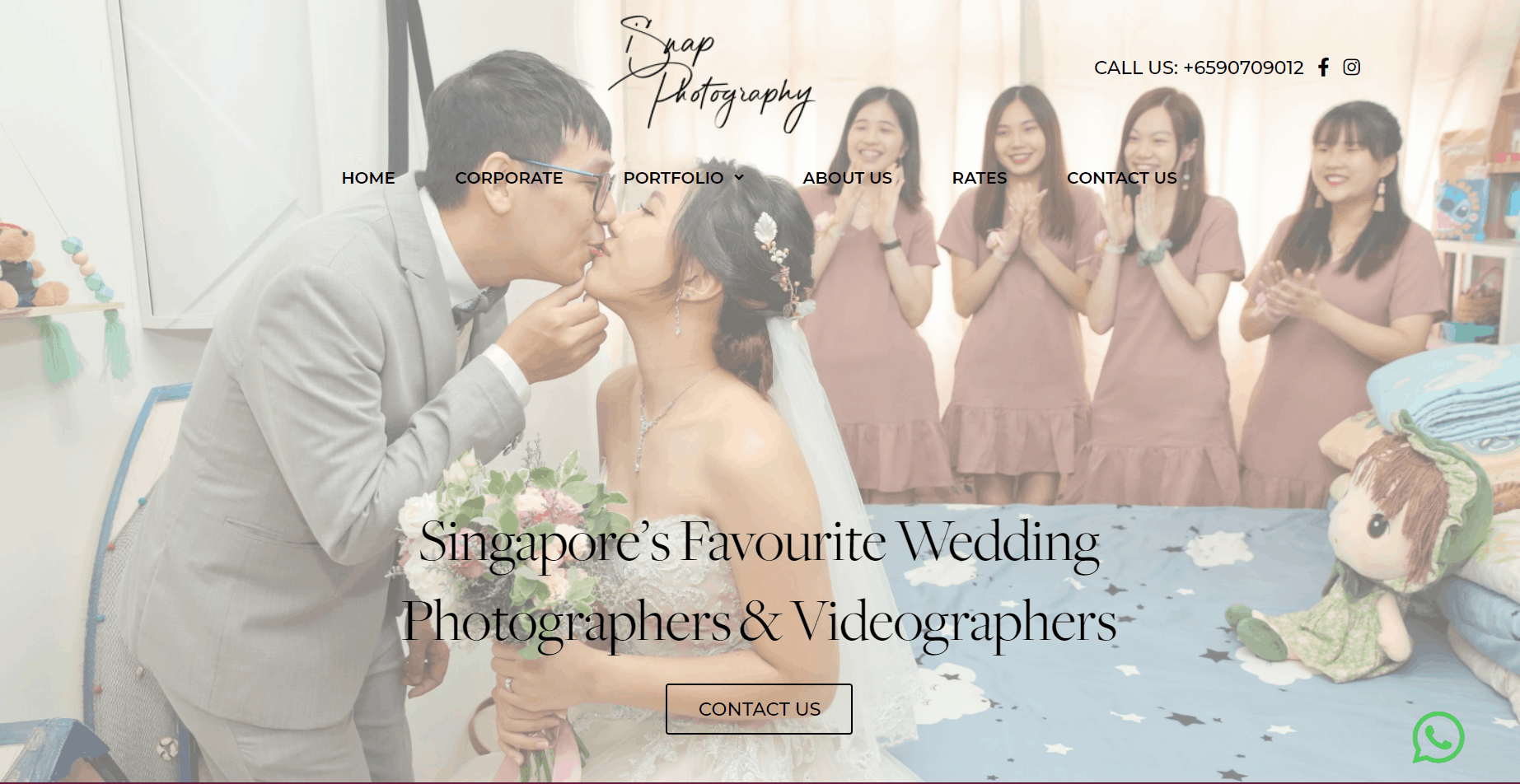 BEST FOR

Wedding Packages

SERVICES

Corporate and Wedding Photography and Videography, Photobooth services

WEBSITE
http://isnapphotography.sg/
ADDRESS

Singapore

CONTACT DETAILS
[email protected]
+6590709012
OPERATING HOURS

By appointment
Formally established in 2012, iSnap Media first began as a wedding videography and photography company before growing into something more. This growth was a result of an understanding — an understanding that convenience, variety, and quality are key to ensuring impeccable service.
The result of this understanding is iSnap Media's comprehensive wedding packages, which include videography, photography, and photo booths. It doesn't stop there, though, as the company also provides documentation services for corporate events.
Now, aside from its extensive services, iSnap Media is also known for its star team of passionate professionals and state-of-the-art videography and instant photo booth set-ups. iSnap Media strives to immortalise each important moment, capturing its true essence, which is why we highly recommend them and their well-rounded services.
Highlights
Caters to corporate events

Uses top of the line equipment


Professional and personable team
28. Daniel Baci Photography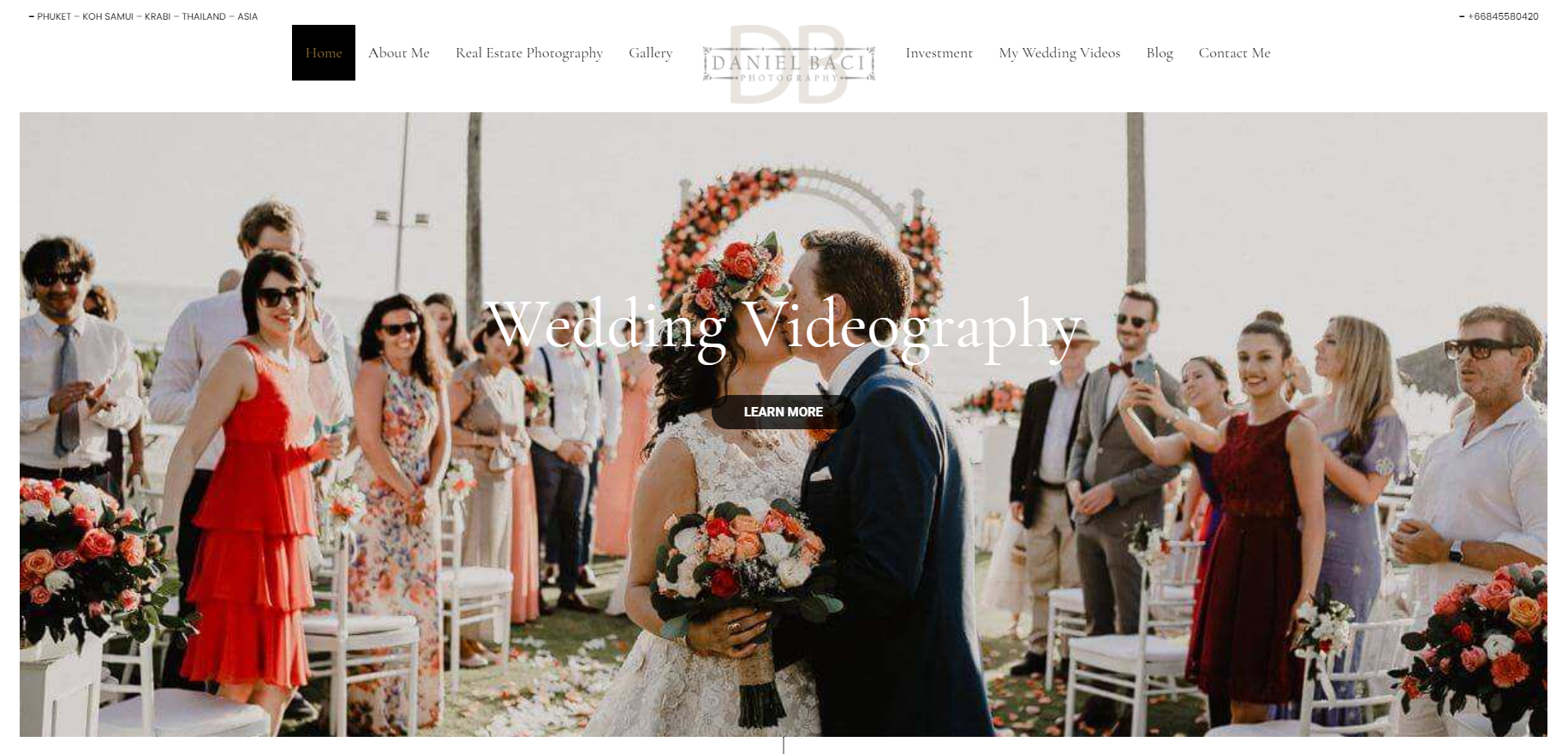 BEST FOR
Real estate photography and videography
SERVICES
Photography
Videography
Package Enhancements
Wedding Planning
Event Planning
WEBSITE
https://www.dbaciphotography.com/
ADDRESS
Phuket, Krabi
CONTACT DETAILS
[email protected]
+66 84 558 0420
OPERATING HOURS
Open 24 hours
Daniel Baci is the next option on the list of great videographers to consider. He is based in Phuket, Thailand, but caters to clients from all over the world, especially projects in Singapore.
What makes Daniel great is that he's definitely a one-stop solution for event needs. Not only is he a videographer and photographer, but also an entrepreneur in his own right. Daniel owns Luxury Events Thailand, which is an event-planning company. This means that he is able to assist you in the planning, execution, and of course, capturing the moments in between.
More than that, he is able to handle almost any type of occasion, may it be a wedding, a corporate seminar, or even a real estate promotion.
Experience the art of an award-winning videographer, contact Daniel Baci to acquire his services. Be sure to do so as soon as possible as Daniel can become quite booked especially on peak seasons for weddings.
Highlights
Virtual tour photography
Engagement videography and photography
Wedding planning and videography
29. 48 kg Production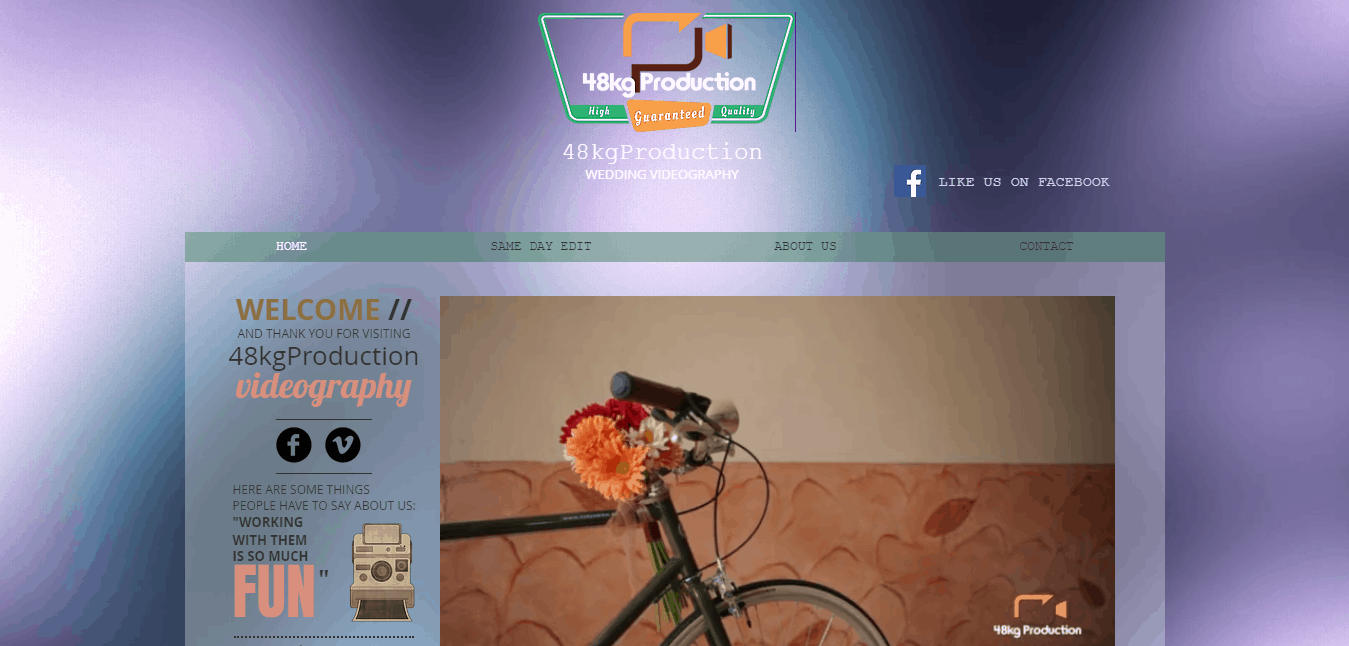 | | |
| --- | --- |
| SERVICES | Same-day edit, actual day shooting, pre-wedding shooting, express highlights |
| WEBSITE | |
| CONTACT DETAILS | |
Like many other wedding videographers, 48 kg Production tells your unique story through pre-wedding videos, actual day shooting, and express highlights. It even does same-day edits to give you and your guests something to get back to before parting ways after the reception. 
But what makes it stand out from its competitors is that it uses the latest tools and technologies in videography. 
However, 48 kg Production doesn't let itself be limited to its videography equipment. Instead, 48 kg Production relies on its creativity—finding the perfect angles, shooting at the right instances, and bringing together clips and music to capture the emotions during the event. 
Another great thing about 48 kg Production is that it caters to Chinese-speaking couples. They even accept requests for Chinese background music and subtitles to bring the wedding closer to your family's culture. 
Highlights
Same-day edits

Use of latest videography equipment

Unique creative decisions for each client

Accepts Chinese music and subtitle requests
30. iSnap Photography
| | |
| --- | --- |
| SERVICES | Wedding and event photography and videography |
| WEBSITE | |
| ADDRESS | Punggol E, Singapore |
| CONTACT DETAILS | +65 9070 9012 |
| OPERATING HOURS | 24/7 |
iSnap Photography began only with wedding photography packages. Now, it has grown to be one of Singapore's favourite wedding videographers, too.
This large team of photographers and videographers has seven wedding packages, five of which include both photography and videography services. The five packages are named lite, deluxe, crystal, silver, and gold. 
The simplest among the photography and videography packages is the lite wedding package. This already comes with 10 hours of coverage of photography and videography.
Its other packages have increasing coverage, with the highest being 12 hours for both photography and videography. The crystal, silver, and gold packages even include extra features like photo booth service, same-day edits, and complimentary childhood montages.
And should you only want videography services, you can still avail of iSnap's ala carte packages. At lower costs, you can even receive same-day edits and some wedding highlights.
However, its prices are at a premium. And do know, the cost for each package can increase by $250 if you choose to hire iSnap Photography's founder, Sito.
Highlights
Three packages have a photobooth, same-day edits, and montage services

Five different packages with videography

Ala carte videography options

Live video feed services available
Customer Reviews
iSnap Photography has been praised for its professionalism, responsiveness, and high-quality photos and videos, just as these previous clients have:
"BEST DECISION EVER! Engaged iSnap for roaming photography and was assisted by Sito. He was very professional & experienced, he asked my coordinator if I had an official photographer so he can plan who covers which photos. The photo quality is superb, printing was fast & efficient. The most important part: fastest group phototaking ever!!! Despite his speed, he will still check to make sure nobody has blinked before he moves on. As the bride, I didn't have face cramps from smiling like I expected I would. The soft copy of photos were ready within 3 days, my friends who hired other companies received their photos 3 months later! Needless to say, the photos were wonderful. P.S. if you are artsy, I recommend you to design your photo border like me!"—Laura Chan
"Worked with Advin for our AD. He was extremely friendly, professional, and knew exactly what style of video edits we wanted. The way he presented our SDE was creative and far from being normal. Our video received praises from everyone who watched it. We highly recommend   iSnap photography! Kudos to the team."—Eliza Tan
There you have it! That's our list of the best videographers in Singapore! Have you already chosen which one would you like to hire? Tell us all about it!
And if you're searching for more professionals who specialise in wedding events, here are some of the places with the best wedding videography in Singapore!