Our 39 Picks for the Best Wedding Videography in Singapore
A couple's wedding day is one of the most special days in their lives, and it deserves to be documented on camera. With the best wedding videography in Singapore, couples can have their most important day immortalized on video!
If you're having a bit of trouble looking for great wedding videographers on the island, worry no more. We explored the island in search of the ones that can provide the best wedding videography in Singapore so you won't have to.
So, without further ado, here are the wedding videographers we found to be worth hiring:
1. Candid Moments Cinematography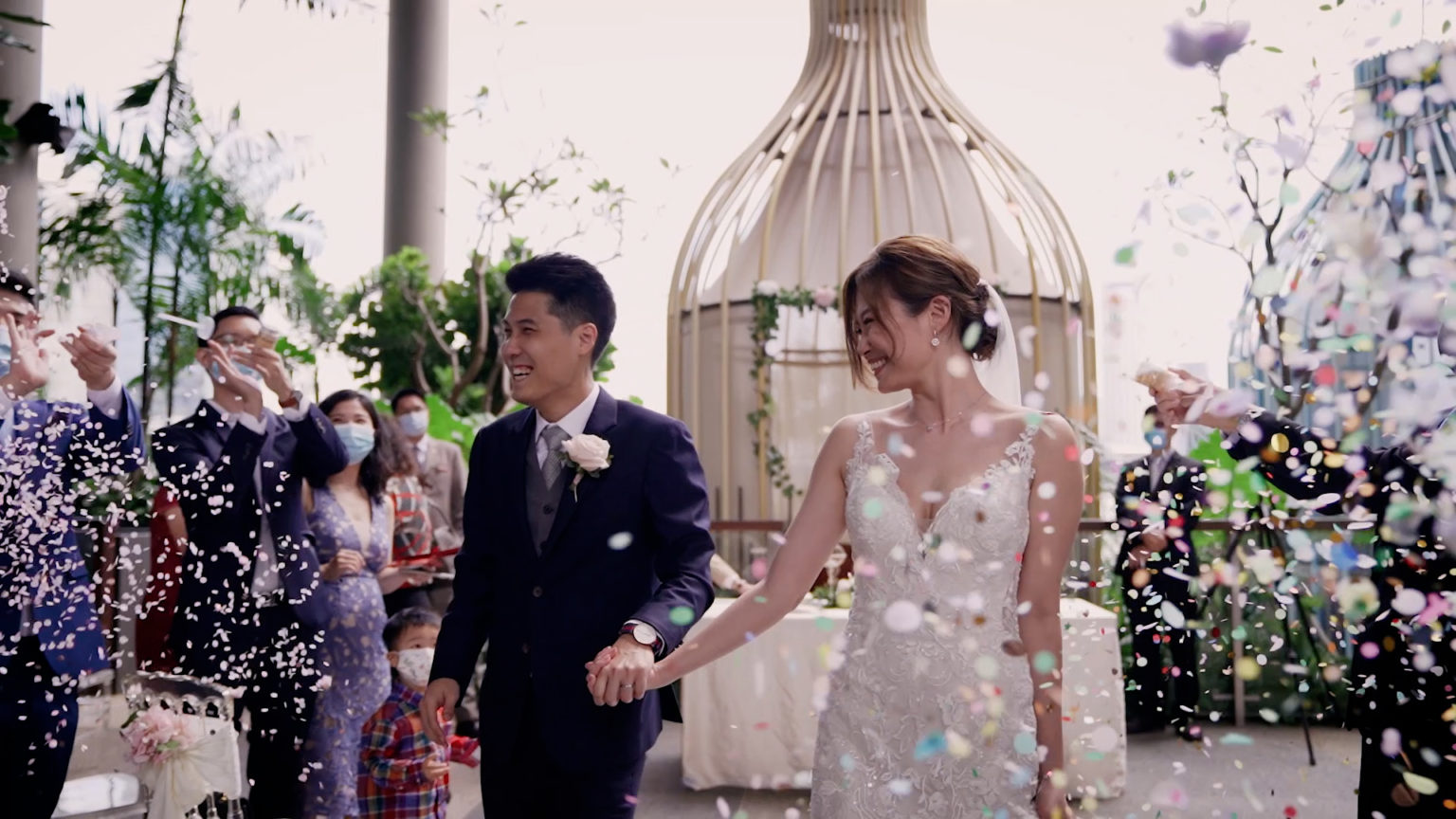 Candid Moments Cinematography is a team of experts in wedding cinematography. They specifically used the term cinematography because the videos they come up with are more film-like than documentary-style.
What we love about their style is how they put videos together in such a unique way that makes the film exciting and allows the story of the wedding day unfold beautifully and meaningfully.
Besides their incredible talent and expertise, they also use high quality equipment that adds to the overall excellence of their films.
We think their team is one of the most impressive with their authentic storytelling. They're true artists that are very attentive and meticulous, with every detail being well thought of.
We've asked past clients what they think of Candid Moments Cinematography and all that we've received is praise for their team and their work. Highly recommend!
Highlights
Professional videographers
Attentive and meticulous
Film style videos

2. Ichiro Films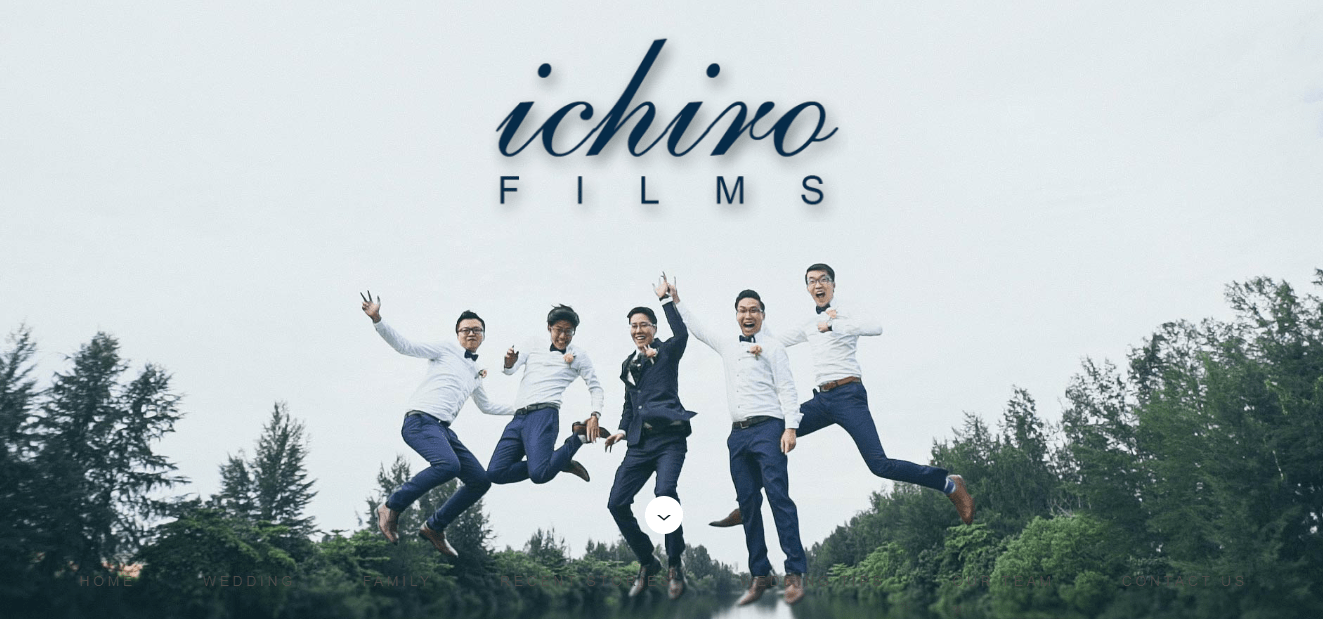 BEST FOR
Experienced Videographers
SERVICES
Wedding Videography, Family Videography, and Maternity Videography
WEBSITE
https://www.ichirofilms.com/
ADDRESS
73 Ubi Road 1 Oxley Bizhub #10-60 Singapore 408733
CONTACT DETAILS
+65 98427458 |

[email protected]

OPERATING HOURS
Tuesday – Friday, 10:00 AM – 7:00 PM
If you're looking for experienced videographers to document your wedding day, then look no further than Ichiro Films! It has a team of professional and trained videographers who have years of experience under their belts.
It's also considered one of the top video studios as it can produce the best wedding videography in Singapore. Couples will even get to see their videos on the same day as the ceremony through its videographers who can do same-day edits.
Ichiro Films has worked with hundreds of couples and families, documenting their most special days. On top of weddings, it also does family and maternity videography.
Highlights
Professional videographers
Same-day edit
3. Substance Films

| | |
| --- | --- |
| BEST FOR | Experienced Camera Crew and Editors |
| SERVICES | Wedding Videography, Event Videography, and Pre-Wedding Videography |
| WEBSITE | https://www.substancefilms.com/ |
| ADDRESS | 140 Paya Lebar Rd, #05-26 AZ @ Paya Lebar, Singapore 409015 |
| CONTACT DETAILS | +65 9711 7359 | +65 9299 4143 |
| OPERATING HOURS | Monday – Friday, 9:00 AM – 6:00 PM |
If there's one thing that Substance Films can give to its clients, it is the best wedding videography in Singapore. Over its years of operation, it has received numerous awards proving its mastery in different forms of videography.
Unlike other video companies, it goes beyond the average wedding videography by incorporating your story as a couple into the video. Substance Films can capture not only what can be seen at your wedding day, but the feeling of being part of it too.
Highlights
Trained videographers
Experienced video editors
Customer Reviews
As one of the top wedding videographers in Singapore, Substance Films has received a lot of praise from its previous clients. Take a look at some of them:
"Substance Films is definitely not the cheapest videographer in the market, but it was one of our first and best decisions made for our wedding. It was money well spent! We had already made up our minds to book Yang, even before we finalized the wedding date and venue. A wedding is (hopefully) a once in a lifetime affair. Beyond the memories and highs of the actual wedding day, we wanted assurance that the key elements were captured on video in the best way, and Substance Films exceeded those expectations."
"We enjoyed the entire process of working with Yang and especially love the final product!! Hence, we are writing this review to share our experience! After viewing countless videos of various videographers, we decided to engage Substance films even though they were pricier. We believe that it was important to engage a professional, reliable and trustable videographer for our actual day in order to capture the raw moments that were happening so quickly."
4. Just Married Films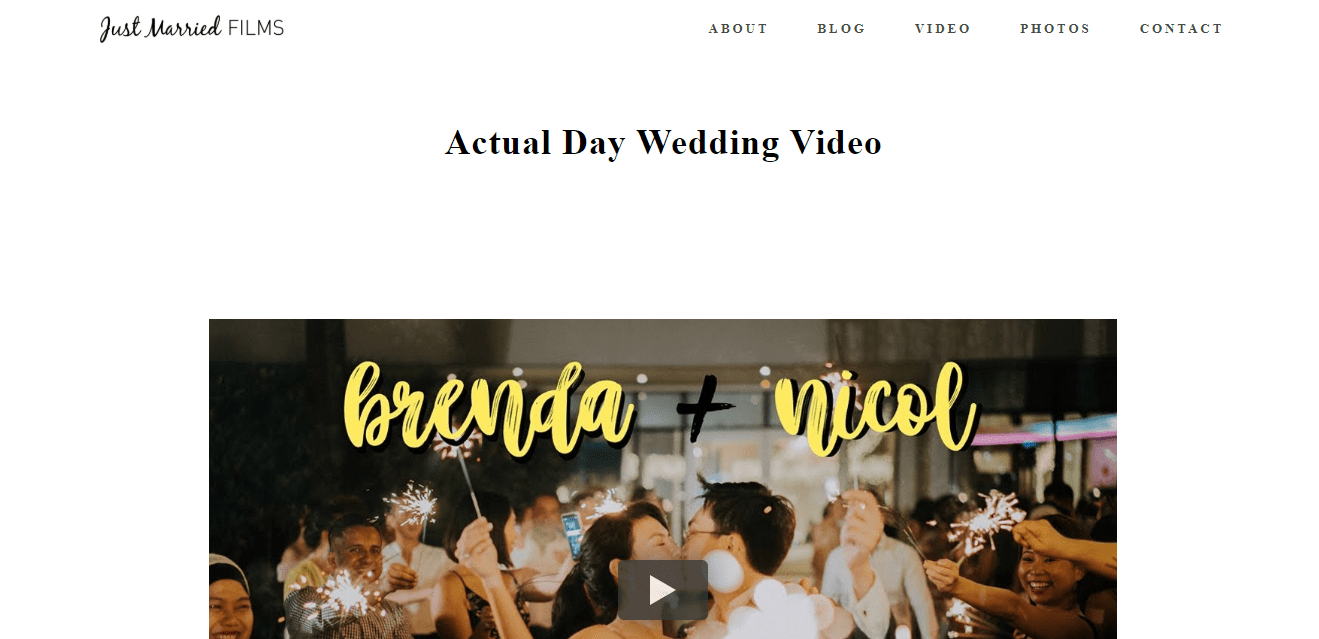 BEST FOR
Affordable Packages
SERVICES
Pre-Wedding Videography and Wedding Videography
WEBSITE
https://www.justmarriedfilms.com/
ADDRESS
53 Dafne St, Singapore 459573
CONTACT DETAILS
+65 9776 3321 |

[email protected]

OPERATING HOURS
Monday – Friday, 9:00 AM – 11:00 PM
Hiring a wedding videographer is definitely not cheap, but Just Married Films can prove that it doesn't have to come with a heavy price tag. It's known for offering affordable pre-wedding and actual wedding day videography, conducted by its professional videographers.
If you're looking for the best wedding videography in Singapore that won't cost a fortune, then Just Married Films is the perfect option for you. Over its 8 years of operation, it has filmed over hundreds of weddings and other important functions that need to be documented on camera.
Highlights
8 years of experience
Competitive rates
Same-day edits
Customer Reviews
Here's what customers have to say about the services of Just Married Films:
"We are so blessed to have had Jamie and his team capture our wedding through his lens. His insanely high energy and ideas were so infectious and exactly what we were looking for. He goes above and beyond. Thank you so much Jamie! Thank you for helping us remember our special day for years to come."
"Just Married Films make the best wedding videos. We love how it turned out for our express edit. Thank you to the team of Just Married Films. Their team was professional and helped guide us throughout the whole process. We are a clueless couple when it comes down to tea ceremony processes. Am very thankful that you reminded me to smile whenever I had my RBF face. Best in wedding videography and best same day edit ever.
5. Forte Visuals Productions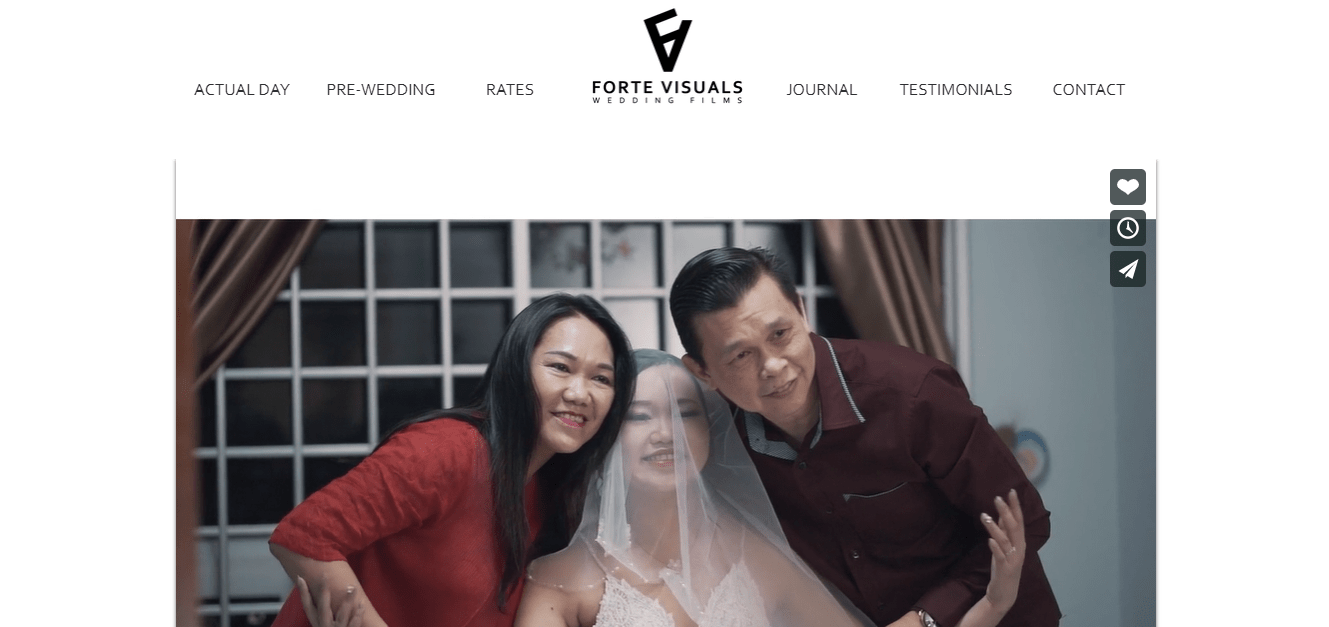 BEST FOR
Complete Wedding Packages
SERVICES
Pre-Wedding Videography and Actual Wedding Videography
WEBSITE
https://www.fortevisuals.biz/
ADDRESS
62 Ubi Road 1, #08-21, Oxley Bizhub 2, S408734
CONTACT DETAILS
9119 9416 |

[email protected]

OPERATING HOURS
Monday – Friday, 9:00 AM – 11:00 PM
If you can afford to spend money on a great wedding videographer, then we highly suggest that you check out Forte Visuals Productions. Its rates may be higher than most video companies, but we guarantee that customers will receive their money's worth, down to the last cent.
Forte Visuals Productions offers both pre-wedding and actual wedding videography packages, both of which come with a principal and junior principal videographers.
If you have two videographers documenting the wedding, you have a better chance of getting more remarkable scenes and memories included in the final edit — which is why we name this company one of the top providers of the best wedding videography in Singapore.
Highlights
Principal and assistant videographers
Same-day edits for lunch and dinner
Customer Reviews
Take a look at some of the feedbacks posted on Google Reviews:
"Huge thanks to FV for making the entire video experience fun and memorable. You guys were true warriors – battling the crazy sun trying to get the best shots, carrying heavy equipment, and going the extra mile to facilitate our speeches on film. It was a busy day with a tight schedule yet they remain energetic throughout the day & did what was needed to. Their passion and dedication to their craft (definitely more than a job to them) is impressive! Highly recommended!"
"Forte Visuals did my pre-wedding video shoot as well as the actual day video shoot and photography. We are so glad that we signed up with Forte Visuals! Not only are Junior and his team professional at what they do, they are willing to go the extra mile for their clients."
6. Back Button Media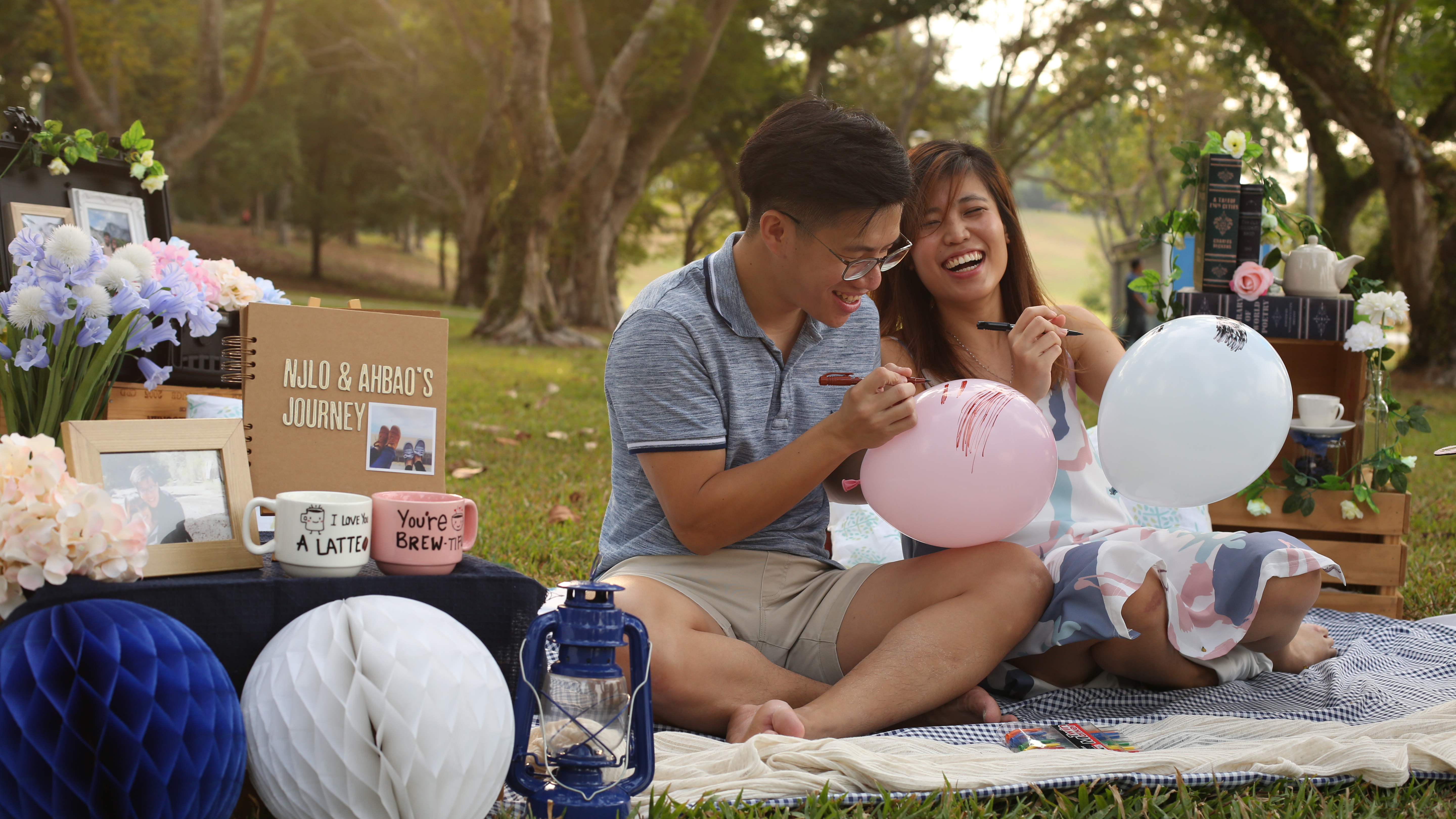 Back Button Media is popular not only for capturing the most natural of moments and conversations during a wedding, but also how seamless the scenes are stitched together. They seek to bring out the personalities of their couples and guests through a mixed use of recorded location sounds, 2-camera angle scenes and lighthearted music choices.
One of its points of pride as a company is its experienced and professional team of creatives who are a fun bunch to hang out with – highly important for couples who'd want to feel comfortable during the filming process.
With over 10 years of experience, Back Button Media has told countless stories, providing them impeccable documentation for couples before and on their wedding day. Couples seeking the best wedding videography in Singapore can get it from Back Button Media.
Highlights
Experienced crew
Reasonable rates
Signature editing style
Customer Reviews
Back Button Media has a perfect 5.0-rating on Google and they are praised for their creativity and professionalism making any wedding video stunningly heartwarming and beautiful.
"Meiyin and her team are true professionals. They are an easy going and lively bunch who add joy and laughter to the wedding. Their fun and outgoing nature makes it easy for them to click with other vendors. What we really like about BBM is their style of filming where they are able to capture the happy moments, the funny scenes and the touching ones all in one video. They are able to edit the flow of the video smoothly to keep the viewer engaged at all times, leaving them with a smile at the end of it. We had a wonderful experience with BBM and would truly recommend this to anyone considering to have a fun filled wedding shoot that will stay memorable in the years to come. 5/5 stars."
7. J Production Still & Motion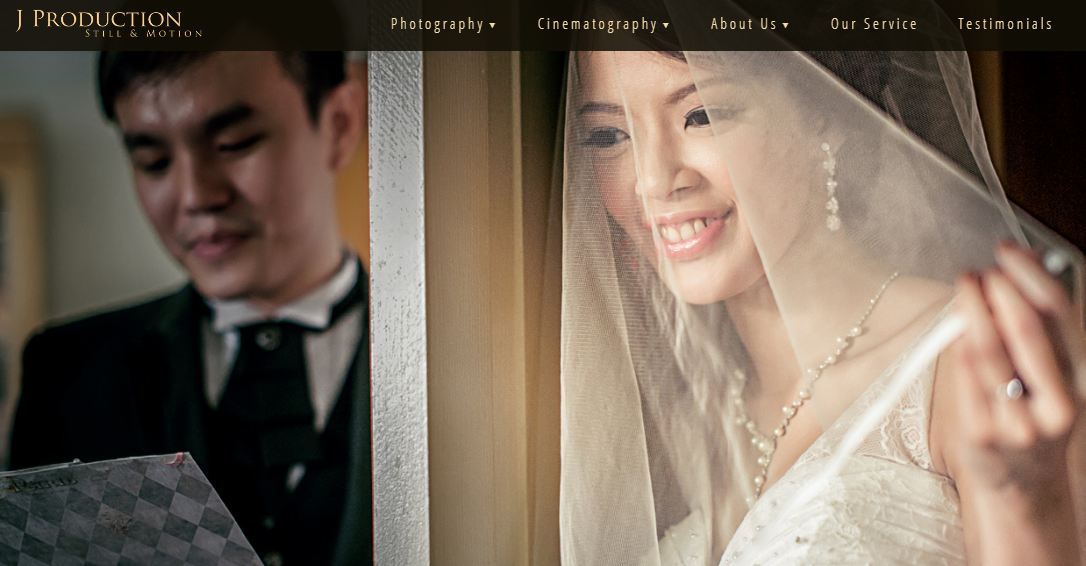 | | |
| --- | --- |
| BEST FOR | Nostalgic and Creative Wedding Cinematography |
| SERVICES | Wedding Videography and Commercial Production |
| WEBSITE | https://www.jstillmotion.com/ |
| ADDRESS | 25 Tagore Ln, Singapore 787602 |
| CONTACT DETAILS | +6596617188, 96617188 (WhatsApp) |
| OPERATING HOURS | By Appointment |
J Production Still & Motion features a group of creative and experienced photographers and cinematographers who capture actual wedding-day shoots, pre-wedding pictorials, and engagement.
They're known for having some of the best videography in Singapore, as they produce heartwarming, genuine, and high-quality cinematography that'll help you relive all the greatest moments on your wedding day. Their photography service also comes with an affordable package, so you can save more with them.
Highlights
Wedding photography packages
Wedding cinematography
Commercial production services
8. Steph Lee Films
BEST FOR
Overseas pre-wedding film
SERVICES
Pre-wedding Videography, Actual Day Wedding Photography and Videography
WEBSITE
https://stephleefilms.com/
ADDRESS
1 Kallang Jct, Singapore 339263
CONTACT DETAILS

[email protected]

| +65 9455 0507
OPERATING HOURS
Weekdays: 10am–8pm

Weekends: 12–6pm
Steph Lee Films is known for a unique videography style that goes beyond the expectations of clients. They introduce refreshing video concepts that best suits the personality of the couple, giving their clients an everlasting memory of their wedding.
They do pre-wedding shoots at overseas locations, capturing the sweetest smiles of the couples along with scenic and breathtaking views. On your actual wedding day, they'll compile the highlights of the ceremony and make a same-day edit so you can immediately relieve the moments.
Highlights
Same-day edit
1 minute instafilm of the wedding day
9. Momentold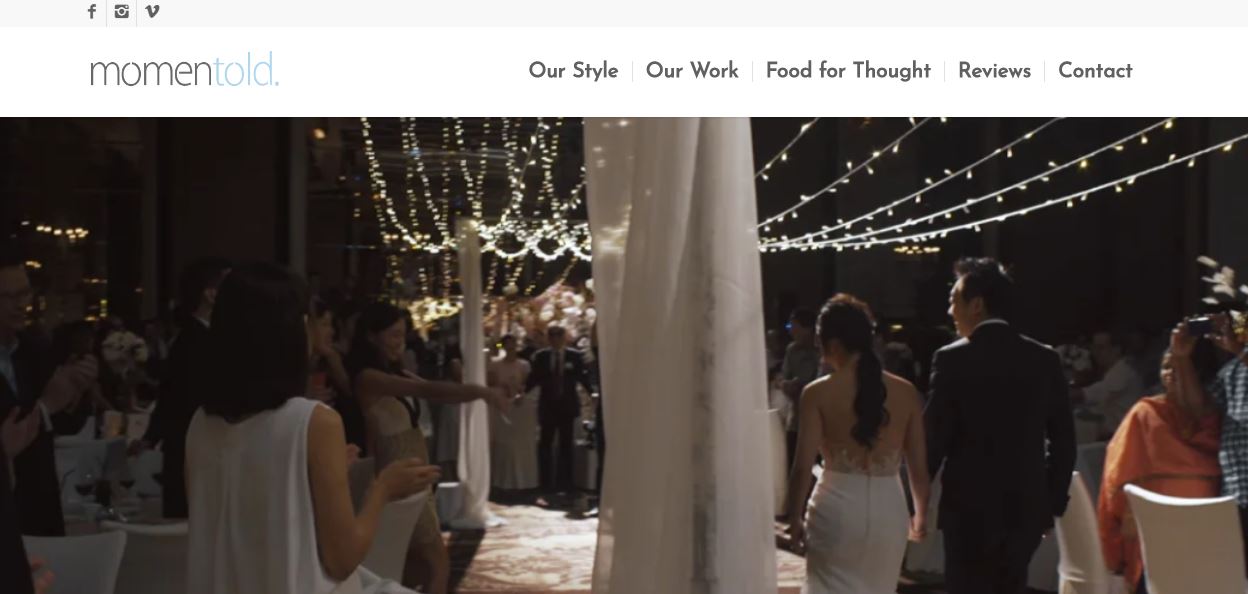 Momentold brings the essence of heartfelt words of love and blessings into their wedding films. Their unique approach of seamlessly weaving together wedding vows and speeches from each wedding has become their trademark that won the hearts of many wedding couples, making them deserving of being one of the best wedding videography companies in Singapore.
Their narrative and clean treatment to the wedding films is highly personal, authentic and timeless With their creativity and artistry, you'll certainly have a once-in-a-lifetime wedding memory like no other!
Highlights
Narrative style
Personal and authentic
Clean and timeless
Customer Reviews
Many clients have expressed their sincerest gratitude to the team of Momentold because of their remarkable wedding films. Here's a review from their client:
"We are so blessed to have crossed paths with Momentold! Right from the start, Yun Yun has been so lovely and assuring, and has treated us with kindness throughout. Melvin, too, is one of the nicest and most talented vendor we've met. We were completely ourselves and at ease during the shoot and he captures our moments so perfectly!The final piece was so magical and lovely, and we are certain it will be something we hold so dear to. So, thank you, Momentold, for giving us an amazing video, a beautiful memory to look back to, and a wonderful experience altogether! We are grateful and thankful"
10. PixelMusica Weddings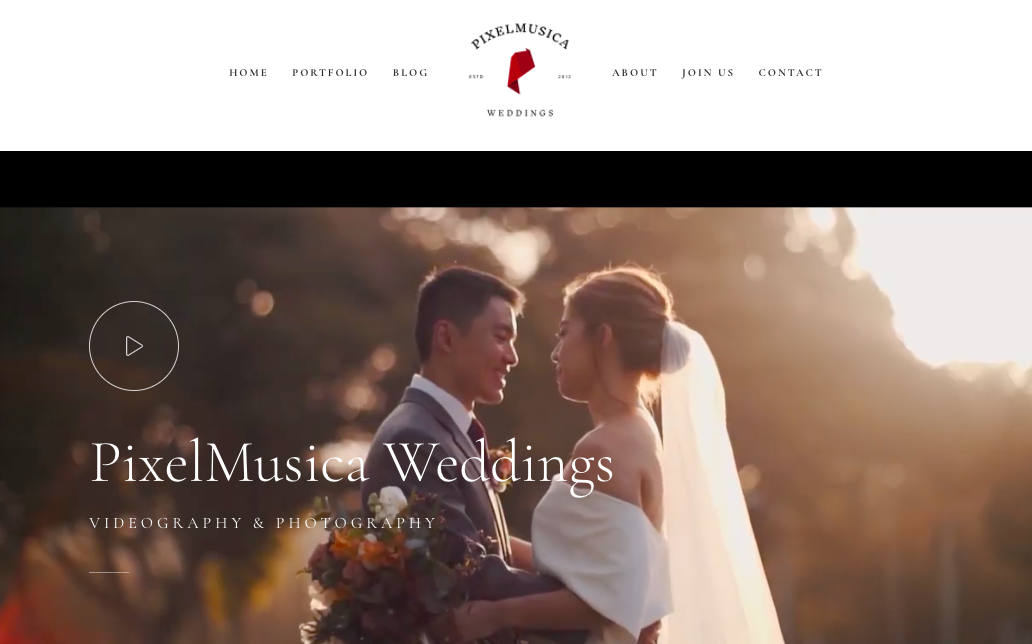 | | |
| --- | --- |
| BEST FOR | Cinematic Wedding Videography |
| SERVICES | Wedding Videography & Photography |
| WEBSITE | https://www.pixelmusicaweddings.com/ |
| ADDRESS | 261 Waterloo St, Waterloo Centre, #02-45 & #04-26, Singapore 180261 |
| CONTACT DETAILS | |
| OPERATING HOURS | Monday – Friday, 10:00 AM – 6:00 PM (By appointment) |
PixelMusica Weddings houses a group of talented videographers, sound engineers, editors, and lighting creatives who are also storytellers. For years now, they've been producing wedding films that express the depth of marriage and the beautiful commitment of a couple.
They capture pre-wedding and actual wedding day moments, creating lifetime memories filled with vivid colours so you can still experience the same emotions even after decades.
Highlights
Producing wedding videos with the aim of promoting, preserving and protecting the values of lasting marriages.
Customer Reviews
The works of PixelMusica Weddings are greatly loved. A client posted this feedback:
"Thank you for capturing such lovely moments during our wedding and especially for the really beautiful video you guys put together for us. We've watched it many times already !! I see how it is really part of your mission to help preserve and promote marriages!" – Charlene Kwa
11. Treehouse Weddings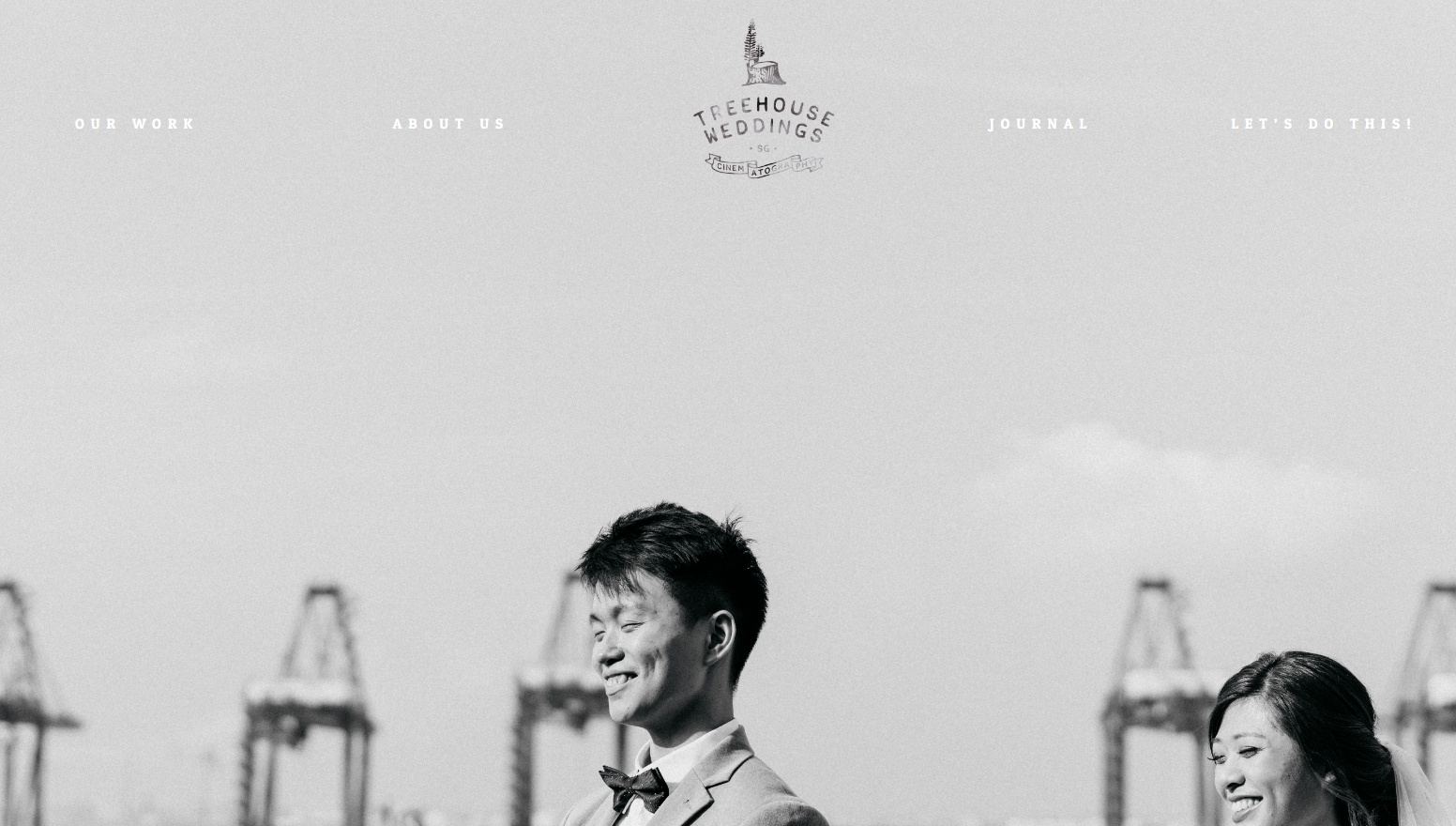 Treehouse Weddings brings out the uniqueness of every couple, through honest and heartfelt wedding films.
Their team is experienced to handle both lunch and dinner same day edits, attentive service and affordable wedding videography and photography in Singapore.
Treehouse Weddings caters to all types of weddings, Chinese Weddings, Indian Weddings, Western Styled Weddings, Church Weddings and more.
So, if you're following a particular family tradition, or are looking for a team that focuses on the details, the team at Treehouse Weddings are able to capture the essence of your family cultures, along with the strong bond of the couple and their family.
Highlights
Affordable actual day and pre-wedding photography & videography packages
Covers both local and overseas locations
Customer Reviews
Most clients have complimented the well-captured wedding films of Tree House Weddings. Here's a review from their client:
"Jach & team were indeed a pleasant bunch to be working with. They were attentive to the details and we had such a fuss-free experience which made our whole wedding planning less worrisome. There were no hidden costs too! – key to all BTB!! Deliverables came as a surprise; beautifully captured and pieced up. Very glad to have chosen this team to be journeying our big day! Overall, passionate bunch honest with their works and experiences. Am satisfied with the services and would recommend them!"
12. Love Confetti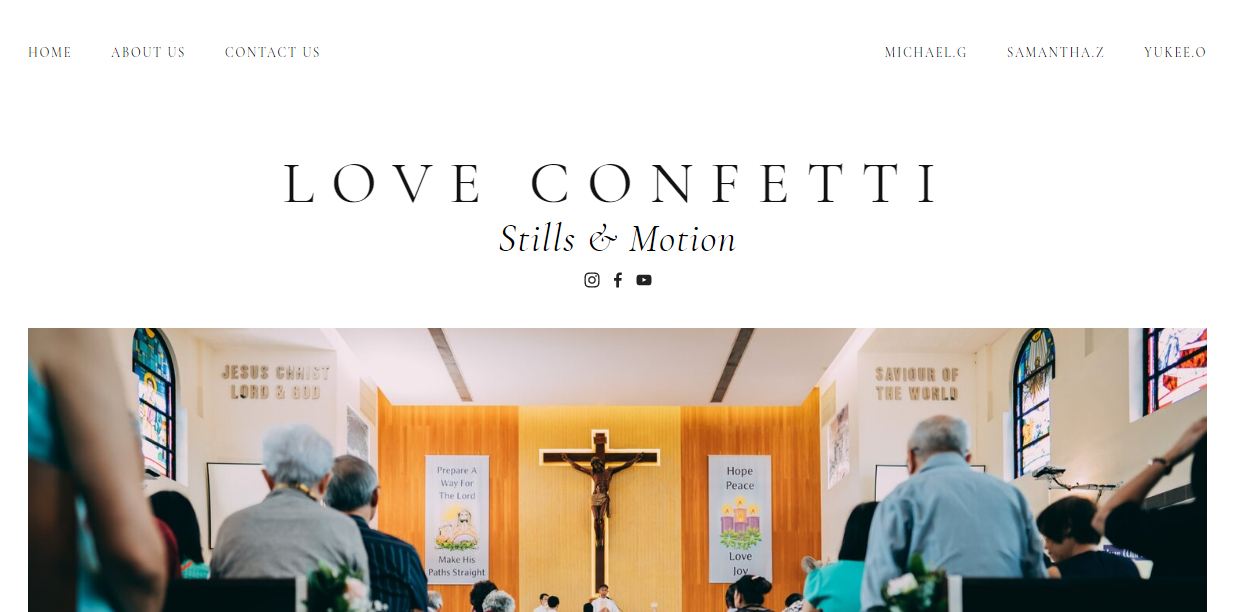 BEST FOR
Boutique, experiential, intimate, real and personal
SERVICES
Actual Day videography, Pre-wedding videography
WEBSITE
https://www.love-confetti.com/
ADDRESS
33 Jalan Keli, Singapore
CONTACT DETAILS
+65 9189 4327 |

[email protected]

OPERATING HOURS
Monday – Sunday, 9:00am – 9:00pm
Spontaneous moments will always be the ones that are most cherished and when they're captured, the compassionate love between the glances, tears, and kisses will become oblivious. Therefore, Love Confetti has been creating the best wedding videography in Singapore where the couple's stories are told through their genuine and sweet interactions.
Their team will make sure that every moment will be magical through their lenses, letting you have nostalgic memorabilia of your once-in-a-lifetime wedding day. They've produced wedding cinematography featuring different themes, capturing the real and raw personalities of the couple.
Highlights
Same-day edits for luncheon & Dinner
Experience videographer
Customer Reviews
Clients were very impressed and delighted by how the team of Love Confetti was able to capture the most unforgettable highlights of their wedding day. Here's the feedback shared by one of their clients:
"We are so thankful for Yukee to be a part of our big day. He really went the extra mile to interview our loved ones and came by to video me re-making my husband's late mum's wedding gown. It's been an incredible process especially with his good spirits and high energy! Really helped us on our wedding day. Especially when the couple is so busy with the hectic day's schedule, his team was there to capture the important moments that we can look back fondly on later. More importantly, I really appreciate how raw he wanted to portray us to be; just in our simplest and most precious moments. We love and appreciate Love Confetti Stills & Motion and we highly recommend them to all couples getting married! "
13. Winson Cinematography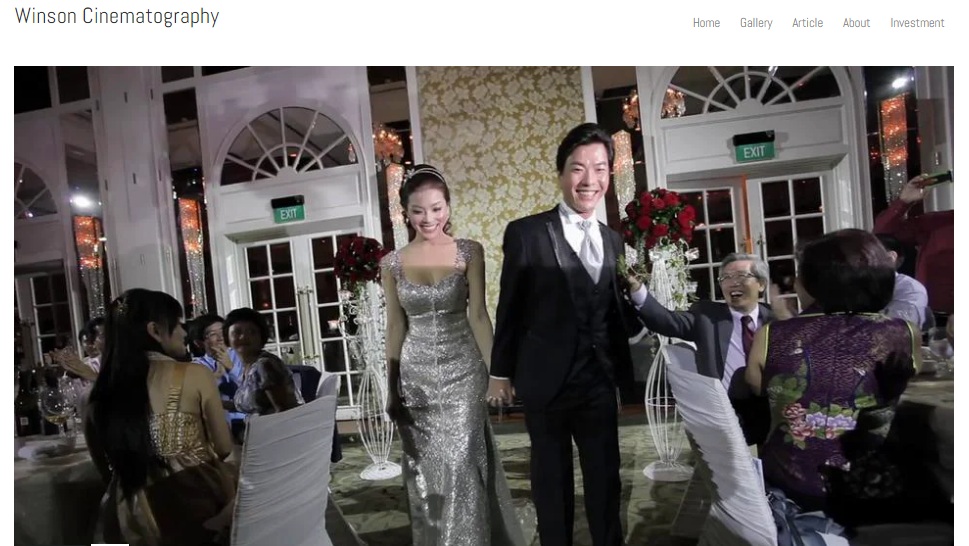 Winson Cinematography mainly specializes in producing wedding videos of any kind. Whether it is a church wedding, concept wedding, destination wedding, gate-crash wedding, etc., you can trust Winson Cinematography to cover the best highlights of your special day.
The team does not merely capture every part of your wedding but rather they tell a beautiful love story out of those clips.
Winson Cinematography firmly believes that no two weddings should be the same so they make it a point to make each of their video creations unique from each other.
Highlights
Dedicated team
Cinematic approach
14. Daniel Baci Photography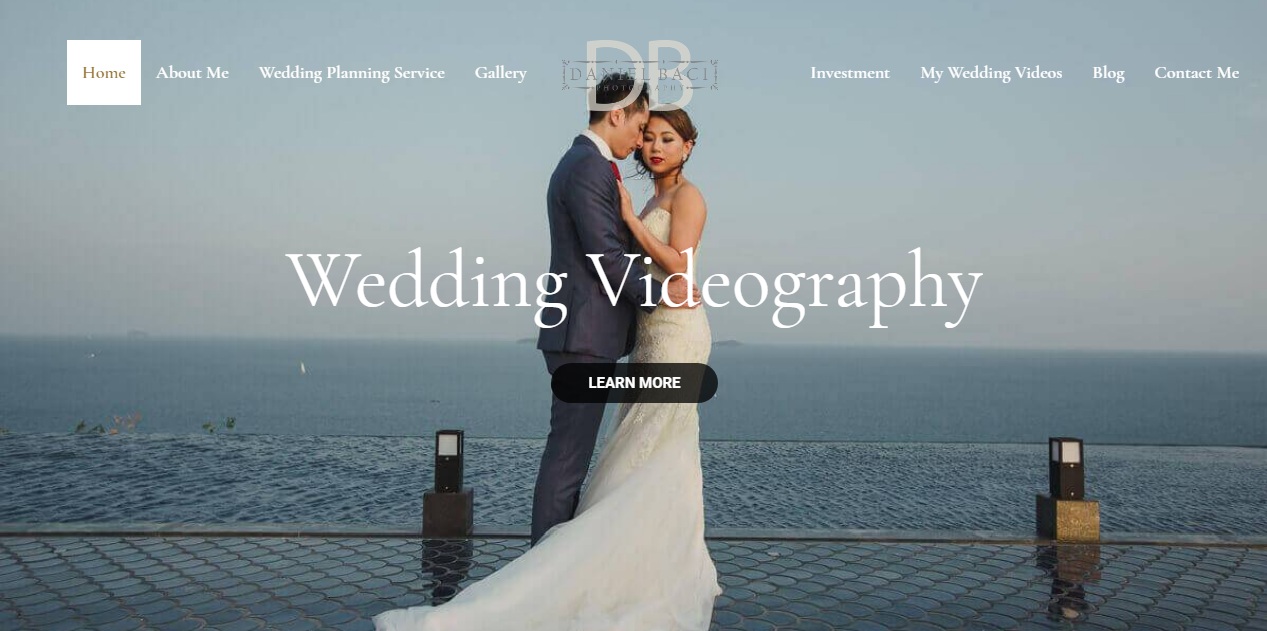 Daniel Baci Photography shows his versatility by accommodating weddings in diverse cultures. If you visit his website, you will be greeted with some of his finest works featuring weddings in different traditions like Phuket Weddings, Krabi, Western, Chinese, Buddhist, and Jewish.
The wedding videos that he creates highlights not only the best parts of the wedding but also the most genuine moments that give life to the entire videography.
Due to his professionalism and creativity, Daniel Baci Photography has been recently voted in the Top 100 Best Wedding Photographers In The World as well as The Best Wedding Photographer In Thailand.
Highlights
Award-winning
Creative and unique outputs
Multicultural
15. The Next Chapter Film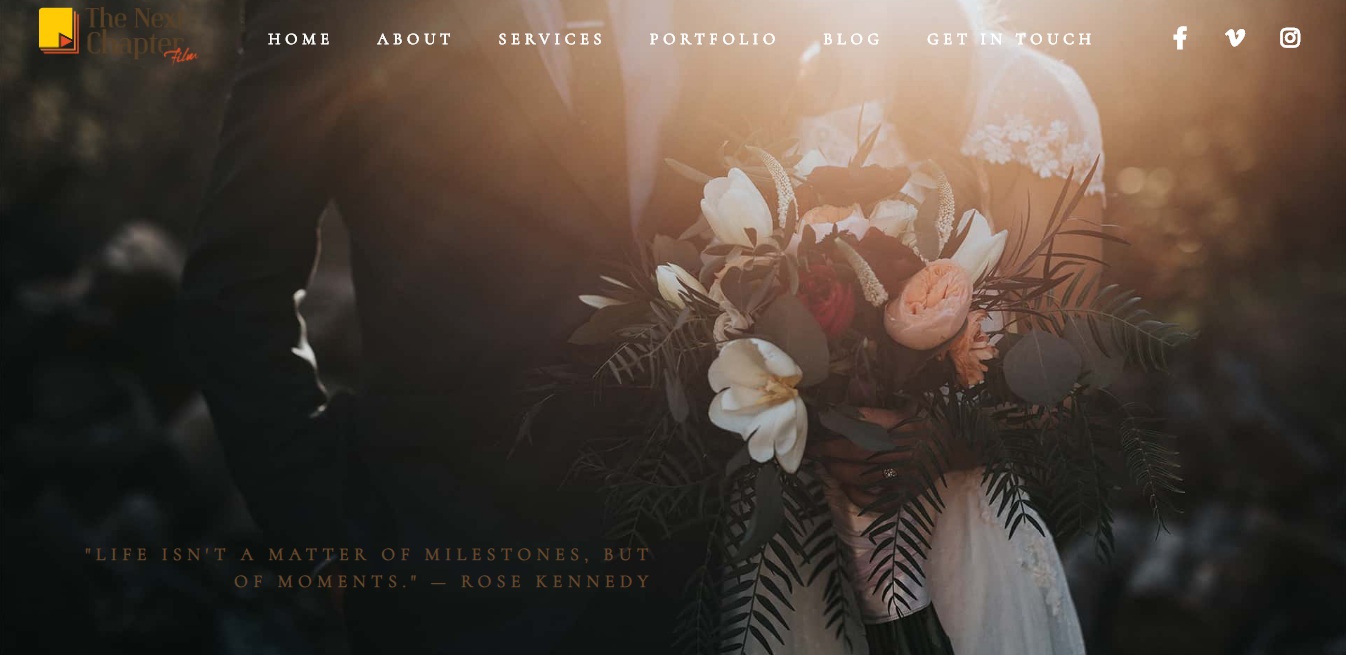 Rawness and authenticity is what The Next Chapter Film is all about. They understand that wedding is a once in a lifetime experience that a couple will treasure for the rest of their lives so it is only right to give them a perfectly made tangible memory that they can keep with them forever.
For transparency and for your peace of mind, the team promises to guide you from pre to post production so you'd know the step by step procedure in creating your wedding videos.
You can tap The Next Chapter Films for Proposal, Pre-Wedding, and Actual Wedding Day videography.
Highlights
Team of professional and creative staff
Competitive rates
Signature style
Customer Reviews
Here's one of the reviews written by their client.
"On our wedding day, the filming was done very professionally, Eric and his team were very helpful and easygoing which makes the whole experience very smooth and enjoyable for everyone.
They managed to be unobtrusive and allowed all of us to be candid and natural. We enjoyed our day and can now relive the moments through the footage captured.
Thanks The Next Chapter Film! 2 thumbs up!"
16. Highest Kite Weddings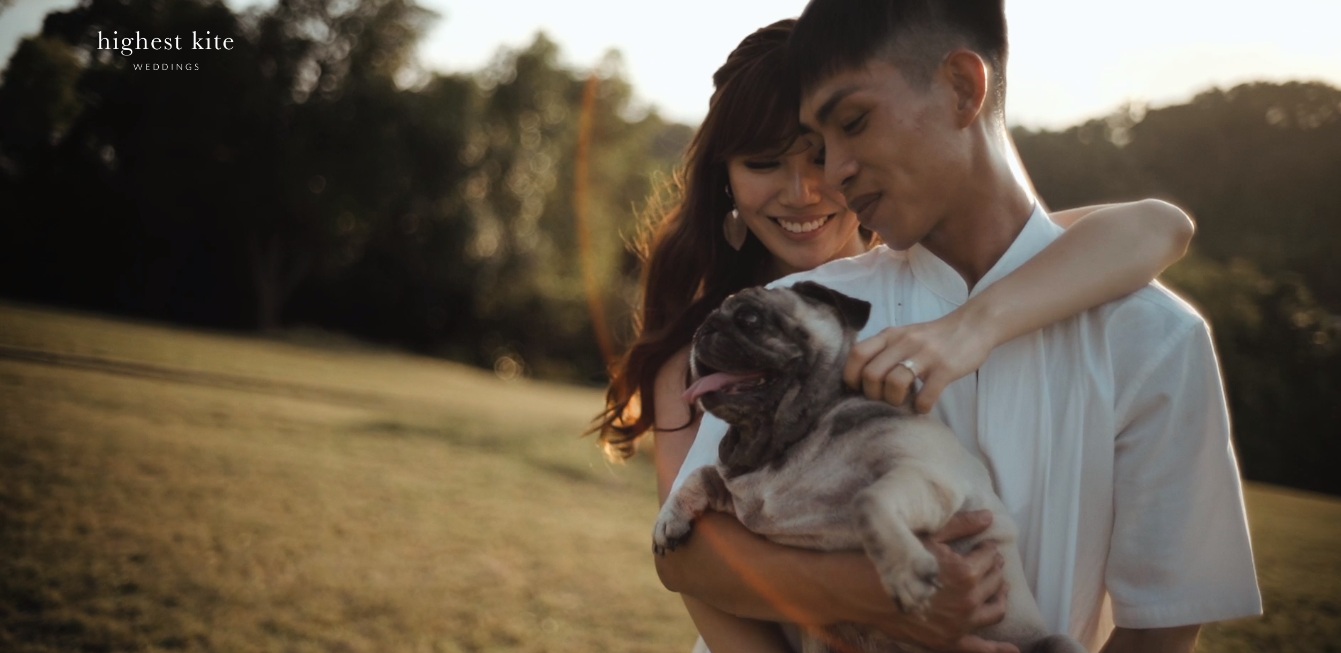 Raw emotions and heartfelt moments are what Highest Kite Weddings is always after for. They make sure to bring out and capture the deepest emotions of the couple and from there the team will be able to craft an authentically stunning video that tells the genuineness of the couple's love story.
Highest Kite Weddings promises to be always on your way from pre-wedding to the actual wedding. They even go beyond what is expected of them like providing hair and make up for a full blown service.
Highlights
Heartfelt wedding videos
Well-experienced team
Customer Reviews
"Thank you highest lite for making my wedding such a wonderful event. The people are so fun loving. Response was so on time and they never fail to reply you no matter what time. The videographer was so friendly, they helped you think of ways and ideas to make your videography more interesting. Would recommend to everyone."
17. Sugartofu Production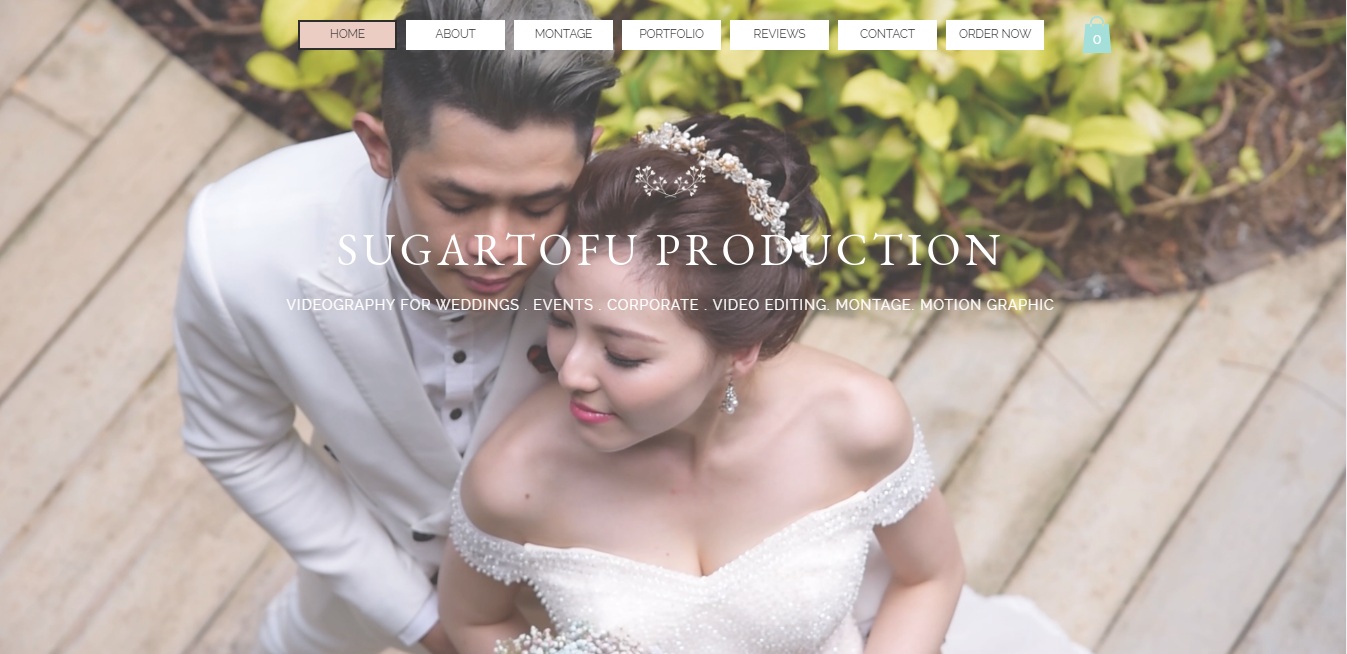 What started in passion has become a profession and the fruit of this is Sugartofu Production. Amanda founded the studio in 2014 after working as an Assistant Producer in Mediacorp, various production houses, and also 6 years as a Flight Stewardess.
Now, she is extremely dedicated to capturing beautiful weddings across Singapore. You can also tap her if you need someone to create a heartful video of your marriage proposal and pre concept wedding.
At Sugartofu Production, only sky's the limit when it comes to creative ideas in creating uniquely stunning wedding videos.
Highlights
Artistic and creative concepts
Competitive rates
Well-trained and professional team
18. Trio Films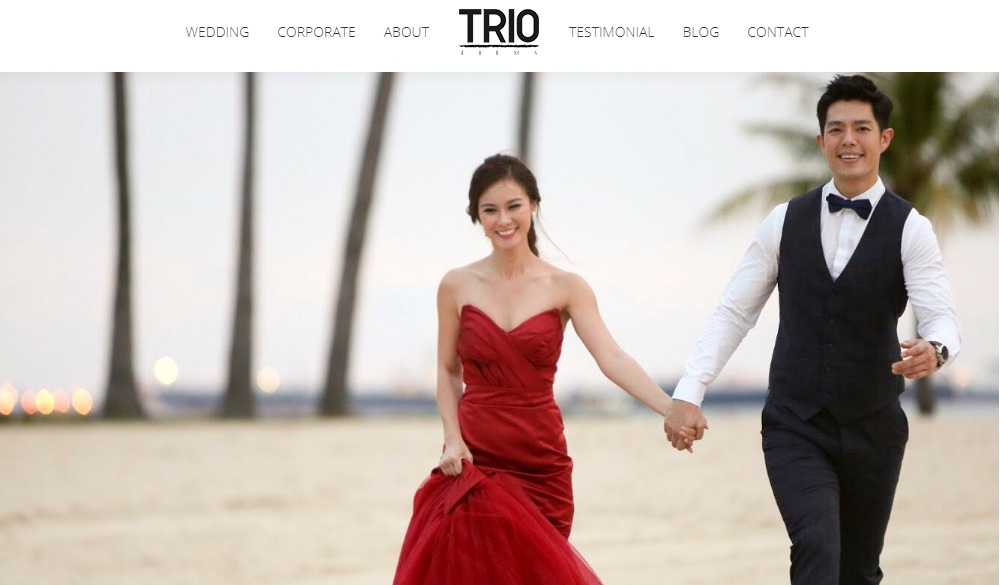 Fast & efficient service as well as high quality video are some of the promises Trio Films always make sure to fulfill for their clients. Not only do they make sure to capture every single moment in a couple's wedding but they also see to it that they produce it in such high quality content.
A professional & dynamic team of videographers & event managers is also one of the prides of Trio Films. Everyone in the team is extremely dedicated to give the best value for money and provide their clients with video outputs that they can treasure forever.
They specialize in videography for corporate & wedding as well as photography sessions.
Highlights
Professional discussion on ideas
Pre-filming advise & preparation
Customer Reviews
This review was written by one of their clients, Michael Poh.
"Our videos received pretty good responses from our guests especially the Pre-wedding video. As our theme was "Korean romantic comedy ", The video was nicely done up! The guests commented that the video was hilarious and very entertaining. Just the kind of response we want. The AD highlights was also just as good. Thumps up! Kudos to the team again for your hard work both in the shoots and editing. Your guys has been very accommodating to our requests and ideas. Please keep it up! Lastly , thank you once again and we hope your team will continue to soar to greater heights. Will definitely refer customers to you when i have the chance."
19. InFrame Photography & Videography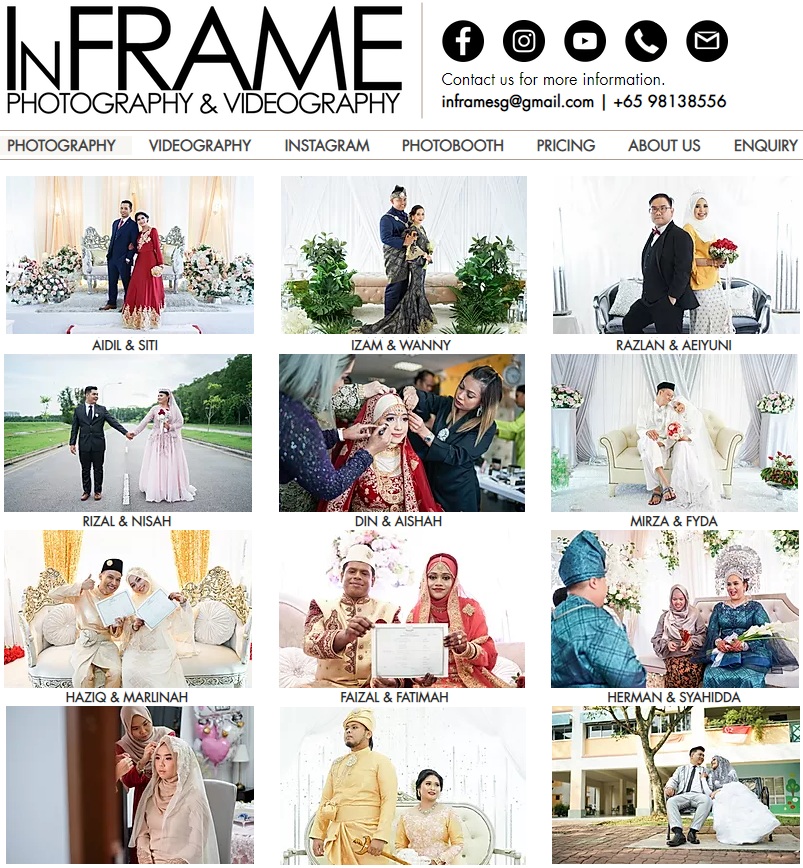 InFrame Photography & Videography always strives to produce high quality video and photography content at very affordable prices and they promise to never make compromises in all of their work.
One of the reasons why they have a relatively low cost because they do not have a physical office to begin with. However, that does not hinder them from making appointments with their clients. In fact, you can freely contact them to meet for discussion any day of the week.
Aside from actual wedding videography, you can also request for the team to provide you with a photobooth for the reception as well as an actual team of professional photographers for the photos.
Highlights
Seamless payment settlement
Affordable pricing
20. Twenty8Picks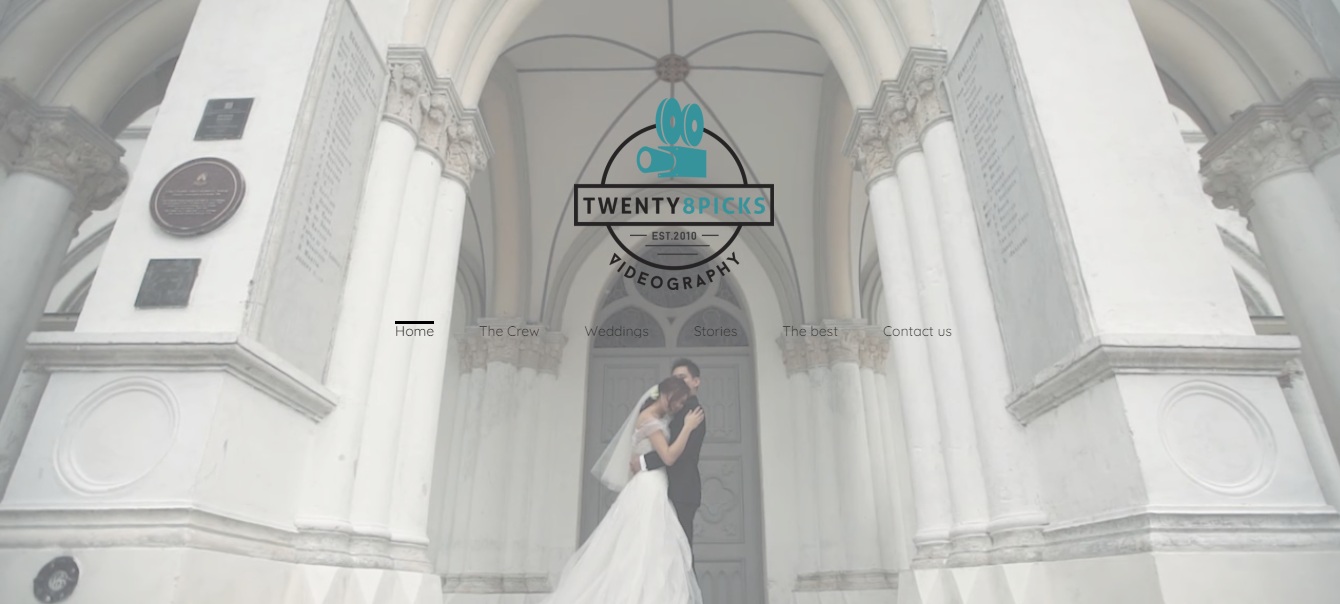 Since 2010, Twenty8Picks has been one of the most trusted wedding videographers serving the whole country of Singapore. They make sure that each of the videos they create are specifically captured and edited according to the couple's preferences and personalities so definitely no two videos are alike.
Their wedding services include Pre-wedding, Actual day coverage and a combination of both.
Let the people know your beautiful love store by allowing Twenty8Picks capture the best moments of your lives and create a wedding video that you can look back into for the years to come.
Highlights
Creative videos
Elegant ideas
21. Tuckys Photography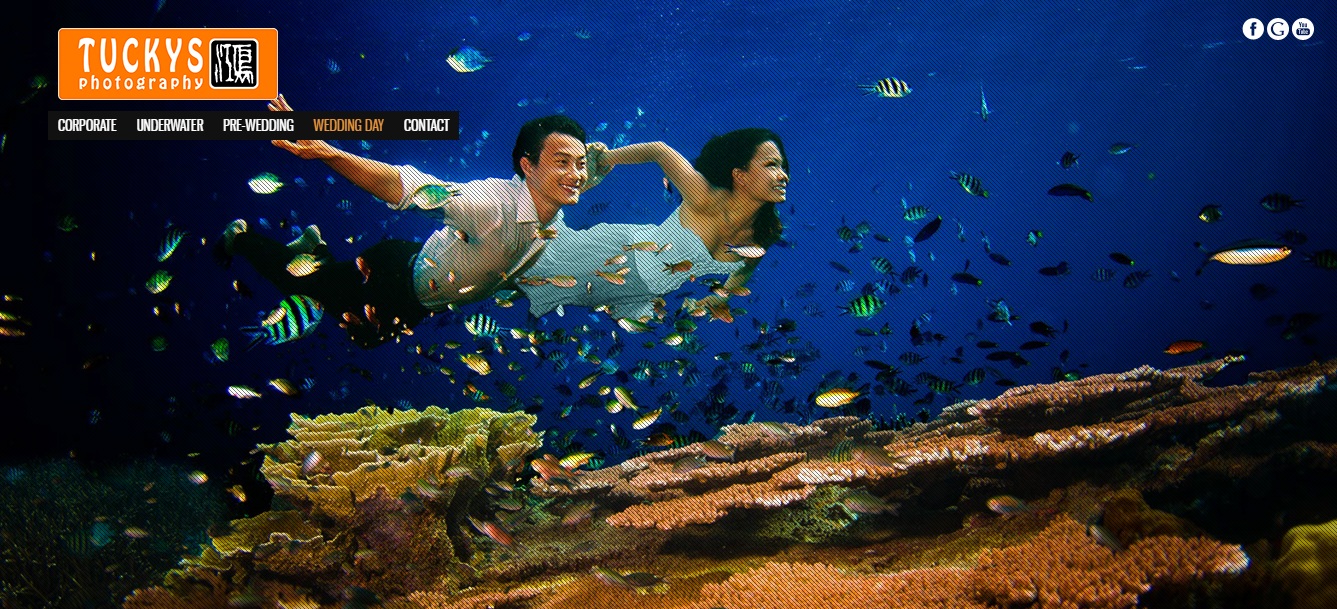 Tuckys Photography is your one-stop studio for all your videography and photography needs. May it be a wedding videography, corporate outputs, portraits, or event videography, the team is always guaranteed to bring out their best bullet.
Their professionalism, authenticity, and creativity are what's setting them apart from their competitors. They always make sure that they provide their clients with sound and realistic plans while keeping their work unique and creative.
Tuckys Photography does not box themselves in just one approach to photography and videography. In fact, they specialize in different genres so they create different kinds of outputs for their clients.
Highlights
Well-experienced and excellent team of photographers and videographers
Unique and authentic video creations
Multiple genres of photography
22. Freya Films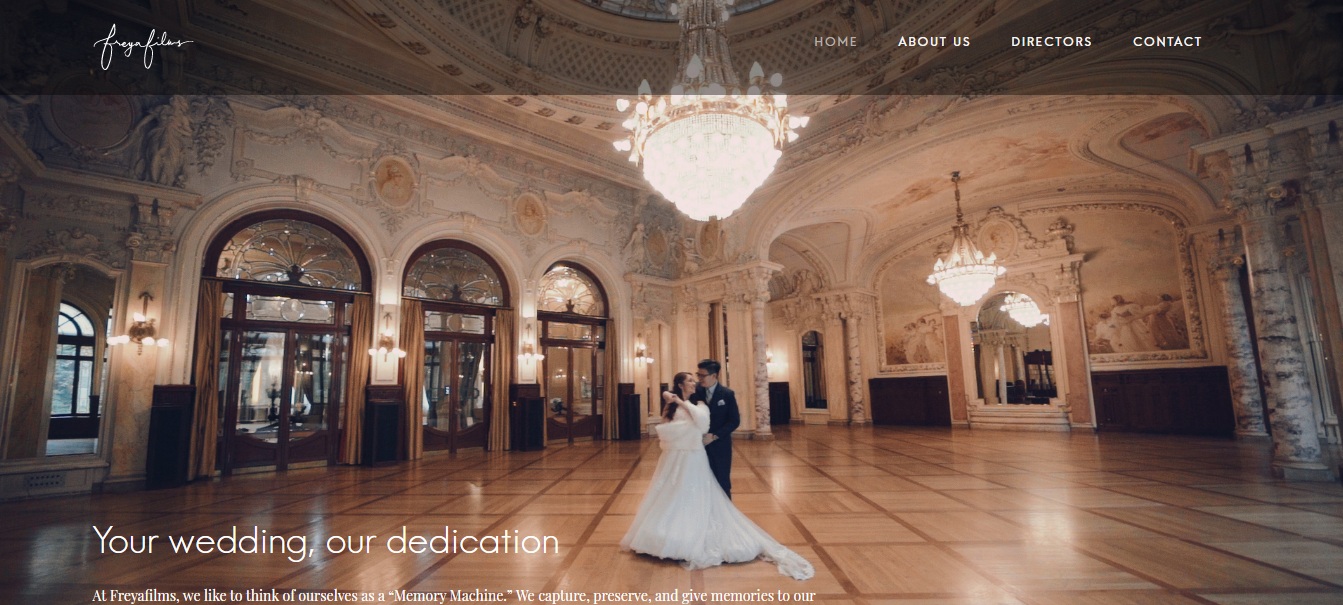 Turn your beautiful love story into your own film by allowing Freya Films to cover your wedding. Their creative and unique ideas allow them to craft film-like wedding videos that show deep and genuine emotions of the couple as well as the guests in such artistic manner
They also give high attention to every detail of their craft from the background, lighting, costume, and props to make their video creation truly a work of art.
Shoot your pre-wedding and actual wedding with only some of the best in this country just like the team of Freya Films.
Highlights
Competitive rates
Artistic concepts
23. Moomedia
| | |
| --- | --- |
| BEST FOR | Wedding Photography, Cinematography |
| SERVICES | |
| WEBSITE | https://www.moomedia.com/ |
| ADDRESS | 38 Kim Pong Rd #02-41, Singapore 161038 |
| CONTACT DETAILS | Whatsapp chat: +65 9824 4220 | [email protected] |
| OPERATING HOURS | By appointment only |
Make every moment memorable with Moomedia. Moomedia is one of the leading wedding photographers and cinematographers in the industry. They offer different packages that suits the needs of its customers.
Let Moomedia Capture every detail of your union with your loved one and watch them give justice to a life-changing event.
Highlights
Various photography packages exclusive to clients
Customer Reviews
"Experience of a Lifetime! Andrew together with his team(Kenny in particular) made our shoot truly unforgettable. Glad to be Moo's first couple to shoot in Lapland 🙂 Anyone who is deciding to choose Moomedia, i give you this popular brand slogan, Just Do It" (Source: Moomedia Facebook Page, 2017)
"I love Love Love Moomedia. My Husband and I enjoyed the entire journey of our pre wedding shoot and video. Andrew, Suresh and Steph are wonderful!!! Highly recommend." (Source: Moodmedia Facebook Page, 2017)
"Thank you thank you so much so much for going beyond the extra mile just to make this proposal perfect and memorable. A big thanks to Andrew and the team; no doubt the best-est cinematographer in Singapore. Wanted to give you 6 stars, too bad Facebook only allow me to give you 5. Please blame Facebook for this injustice." (Source: Moomedia Facebook Page, 2016)
24. RS Photography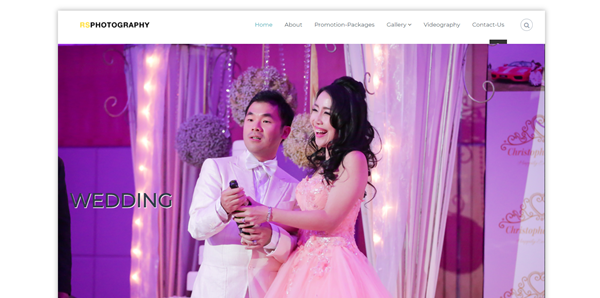 No matter how beautiful an event is, what remains are pictures to be kept until the dawn of age. We all want pleasing wedding pictures to show our friends and future family, and RS Photography is here to deliver that to you. From simple pictures, to videography and photo booths to spend time with peers, rest assured every special moments are captured by their lenses.
Believing in the art of spontaneity and unspoken dialogue, they make sure to capture the essence of happiness and intimacy spread during your perfect day. And what perfect day it is to not worry about anything else other than the love of your life, and your future with them. Let RS Photography take care of you and handle everything with their expertise. You'll surely be happy even after your ceremony when you see your wedding photos.
Highlights
Artistic versatility
All-rounded set-up
Great customer service
Customer Reviews
No matter the event, RS Photography makes sure they capture the highlight of the night with such creative shots. Truly an amazing team, some clients have left these on Google:
"That was a good experience working together with Ricky Ee of RS Photography Singapore. For our event in Singapore we hired RS Photography for a Photo booth and event photography! In the presales everything went perfect already. Ricky is proactive and fast in responding, answering all our questions! During the event Ricky and his team did a perfect job and the photo booth experience was one not to forget. Extra compliment for the photographer of team Ricky. Beautiful pictures. A remembrance not to forget of our event! Team RS Photography, thanks and recommended to everyone!" – Emile Leus

"As soon as a friend of my got engaged the first thing he did was contact Ricky to be his photographer for his wedding day. Having seen his work and hearing about wonderful experiences from other grooms there was no shopping around anymore. What a wonderful experience.. Ricky is worth every penny. Can not wait to see all the photos. Ricky and his staff could not have been nicer or more professional. Guests at the wedding said they have never seen a photographer go above and beyond as you did to get shots from every angle. Thank you so much!" – TVWorkshop Asia
25. Kint Weddings
BEST FOR
Short Films
SERVICES
Videography Services for: Actual Day, Pre-Wedding, Occasions, Short Films
WEBSITE
http://kintweddings.com/
ADDRESS
N/A
CONTACT DETAILS
EMAIL: [email protected]
PHONE: +65 9336 8853
OPERATING HOURS
Enquire for more information
If you want your special day to be documented on film, then Kint Weddings is who you should call. They'll make sure to capture all the intimate and romantic moments without ruining the atmosphere.
Kint Weddings offers videography services for both pre-weddings and the actual day. No matter what option you choose, they're sure to produce a video that will fulfil your expectations.
Highlights
Meaningful videos
Skilled videographer
26. Wandefilms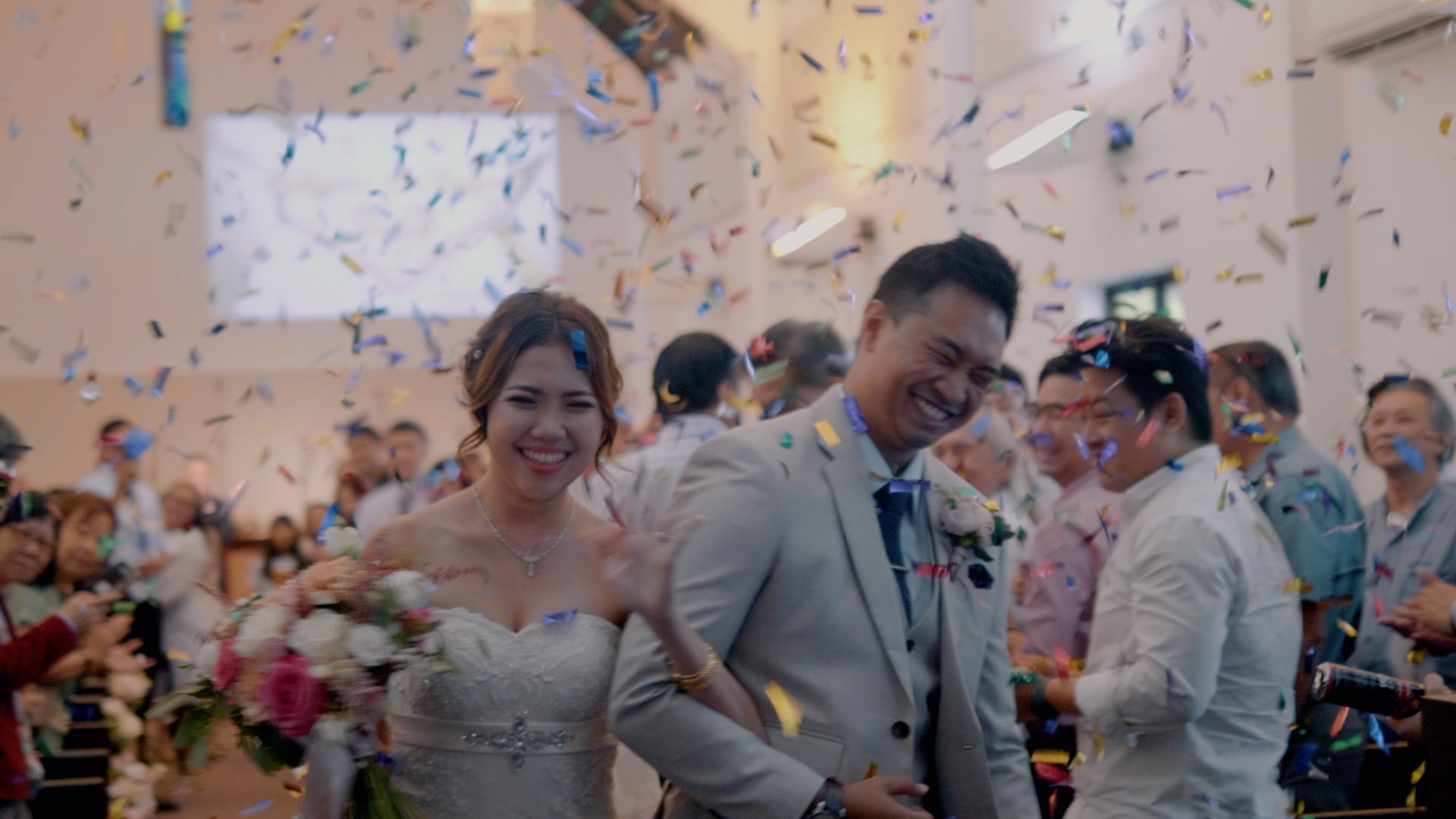 Wandefilms knows your story is unique, which is why they aspire to capture every moment of your special day. They will create a personalised and thoughtful edited film, collecting memories throughout your celebration and shaping them into a beautiful piece of cinema that will make you relive the emotions.
Highlights
Experienced wedding videographer and creative director.
Same-day edits for lunch and dinner.
27. Vicinity Studio

BEST FOR
Visual Narratives
SERVICES
Animations, Branded Content, Community Videos, Corporate Videos, Event Videos, Experimental Videos, Films & Documentaries, Illustrations, Travel Videos
WEBSITE
https://vicinity.studio/
ADDRESS
Apex@Henderson 201 Henderson Road #04-11/12 Singapore 159545
CONTACT DETAILS
+65 69570947 (Office)
+65 69570948 (Office Admin)
+65 9668 7465 (HP)General Enquiries
[email protected] in working with them?
[email protected]
OPERATING HOURS
Always Open
Vicinity Studio presents narrative videos seen through the lives of people, particularly the unique stories they have to tell. They have extensive experience in handling non-profit and community projects.
They take pride in their dedicated pursuit of high-quality productions. Through their videos, they aim to influence the community to become more interconnected.
Although they're based in Singapore, they've expanded their connections around the world. Vicinity Studio's skilled team will surely bring your ideas to life.
Highlights
Expert team of videographers
Visual storytelling experts
28. Ark Moments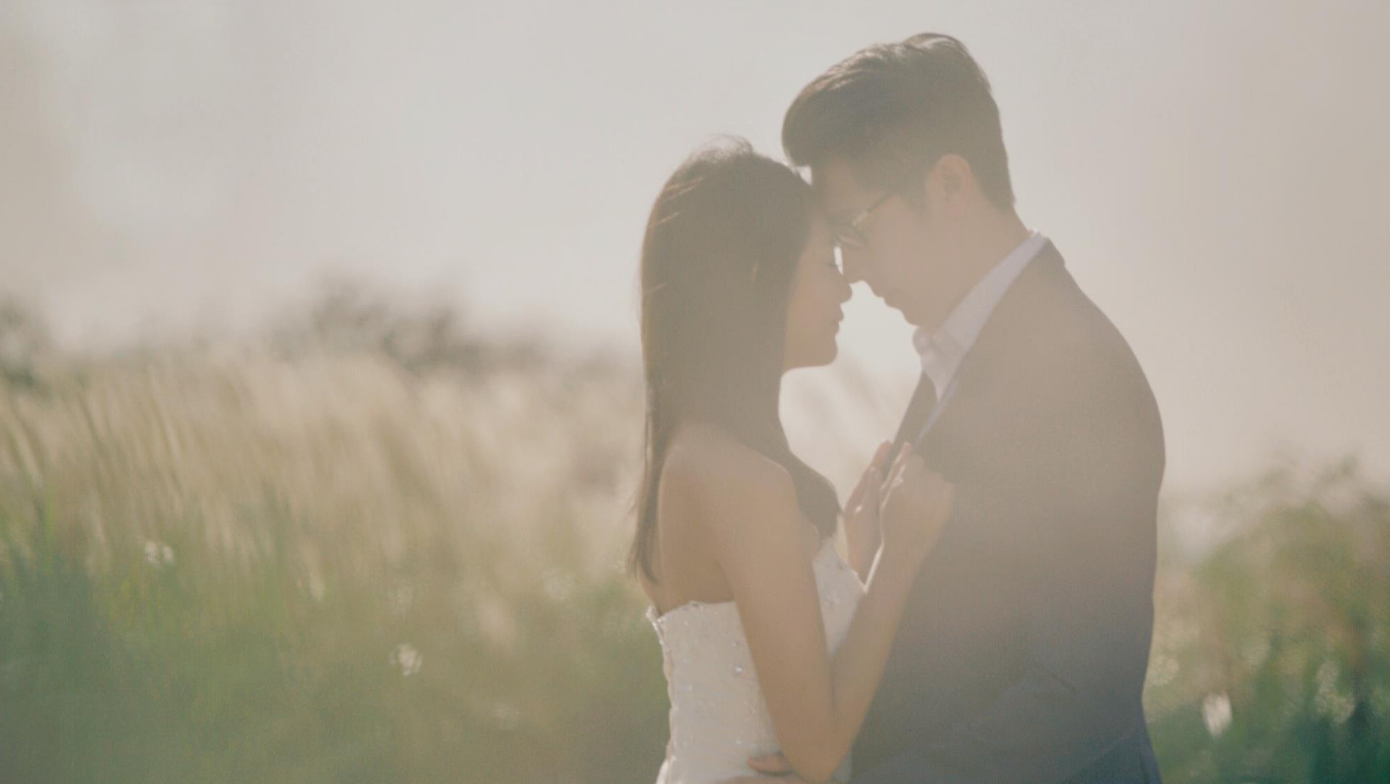 BEST FOR
Wedding videography
SERVICES
Singapore and Destination Weddings
WEBSITE
http://arkmoments.com/
ADDRESS
18 Sin Ming Lane, Midview City, Singapore 573960
CONTACT DETAILS
Email:

[email protected]


Tel. +65 6635 7205
OPERATING HOURS
Always Open
Obtain the opportunity to relive moments from your Big Day with the aid of Ark Moments. This media production company specialises in Wedding Videography, with the talented team working to capture the genuine beauty of your love and joy on film.
Unlike other media companies, Ark Moments go above and beyond regardless of your wedding venue. In Singapore or out of the country? No worries, Ark Moments will get the job done.
29. Portsdown Films
| | |
| --- | --- |
| BEST FOR | Videography |
| SERVICES | Actual Day Video, Save the Date |
| WEBSITE | https://www.portsdownfilms.com/ |
| ADDRESS | 993 Bukit Timah Road, Singapore, , 589631, Singapore |
| CONTACT DETAILS | +65 91185279 |
| OPERATING HOURS | 24/7 |
Portsdown Films is a video production company that focuses on making creative videos. They work in commercial and wedding videography.
Their team is composed of numerous directors, videographers, writers, and other creatives. They work together to make videos that are not only visually pleasing but also tell a story.
They offer actual day and save-the-date videos for weddings. With their help, you can relive the memories of your wedding as if it were yesterday.
Highlights
Focuses on visually inspiring imagery
Creative team
Expert videographers and editors
Engaging videos
30. IrisWave
BEST FOR
Award-Winning Wedding Videos
SERVICES
Wedding Videos, Corporate Videos, Social Media Videos, Aerial Videography, Multicam & Livestream
WEBSITE
https://www.iriswave.com
ADDRESS
52 Niven Road
Singapore, 228400
CONTACT DETAILS

P: +65 9786 4989
E: [email protected]

OPERATING HOURS
24/7
IrisWave is a video production company that creates quality videos with heart. They've been awarded with more than 50 accolades thanks to their outstanding work.
Their staff is composed of videographers that are experts in what they do. They always strive for continuous improvement so that their videos remain the best.
Besides wedding videos, they also offer videography services for corporate videos, social media videos, and more. Any video they create is sure to help you relive the day itself.
Highlights
Award-winning results
Professional videographers
Fun and engaging process
Captures candid moments
31. Our Wedding Story
BEST FOR
Wedding Videography
SERVICES
Actual Day Videography, Pre-Wedding Videography, Actual Day Photography, Pre-Wedding Photography, Family & Friends Photography
WEBSITE
https://www.ourweddingstory.sg
ADDRESS
Singapore
CONTACT DETAILS

[email protected]
(+65) 9081 8555

OPERATING HOURS
24/7
Our Wedding Story aims to capture all the memorable and precious moments of their client's wedding. They take pride in creating high-quality videos each and every time.
Their main videographer is Aloysius, who is skilled with what he does. With his years of experience, he takes videos that are well worth their price.
They offer actual day and pre-wedding videography. Photography is also available for those interested.
Highlights
High-quality videos
Skilled videographer
Unintrusive shoot
Captures memorable moments
32. Chocolate Door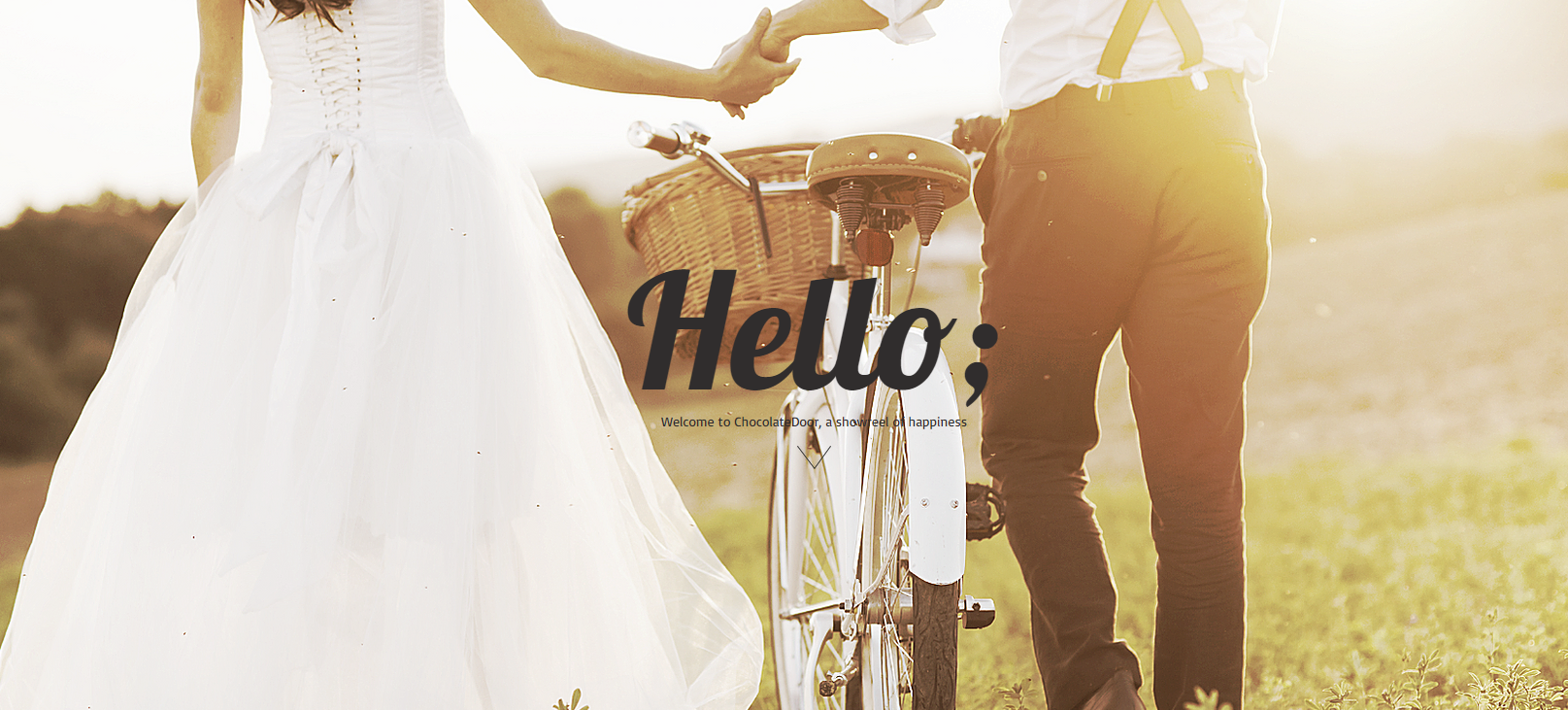 BEST FOR
Film-Like Wedding Day Videography
SERVICES

Wedding Day Cinematography

Same-Day-Edit

Wedding Solemnisation Cinematography

Pre-Wedding Cinematography

Love Story Short Film

Pre-Wedding Filmlet

WEBSITE
https://www.chocolatedoor.sg/
ADDRESS
61 Ubi Road 1 #02-06 Oxley Bizhub Singapore, Singapore 408727
CONTACT DETAILS
OPERATING HOURS
Contact for more information
Immortalise once-in-a-lifetime moments with Chocolate Door. Their expert team specialises in Wedding Day Cinematography, giving clients the opportunity to relieve their Big Day film-style.
Aside from their dedication to their craft, Chocolate Door is also dedicated to providing the best videography services to their clients. Expect them to put in 101% of the effort as they capture your wedding frame by frame and craft a seamless story.
Highlights
Great value for output
Highly professional, experienced videographers
5 star rating on Google Reviews
Customer Reviews
Chocolate Door has been commended for their professionalism and quality of work. One client wrote:
"Jason did an amazing & impressive job with our wedding video! He captured all the precious and loving moments of our special day and pieced them all together so beautifully. With his skills & expertise, he managed to film all the important key parts so smoothly and yet being creative at the same time.
Jason put in 101% of his sincerity and effort to film the entire ceremony on that day. On top of that, he was able to produce the video so swiftly. His after sales attitude is truly commendable as well!
He will try his very best to produce a great quality video in a very short span of time.
Just like his company's name – Chocolate Door – he wants to provide the best service he can give and yet make you feel like you have gained a really sweet and wonderful experience by letting him capture your most precious & beautiful moments for you.
His service is definitely highly recommended! Both for the quality & price :)"
33. Aferriswheel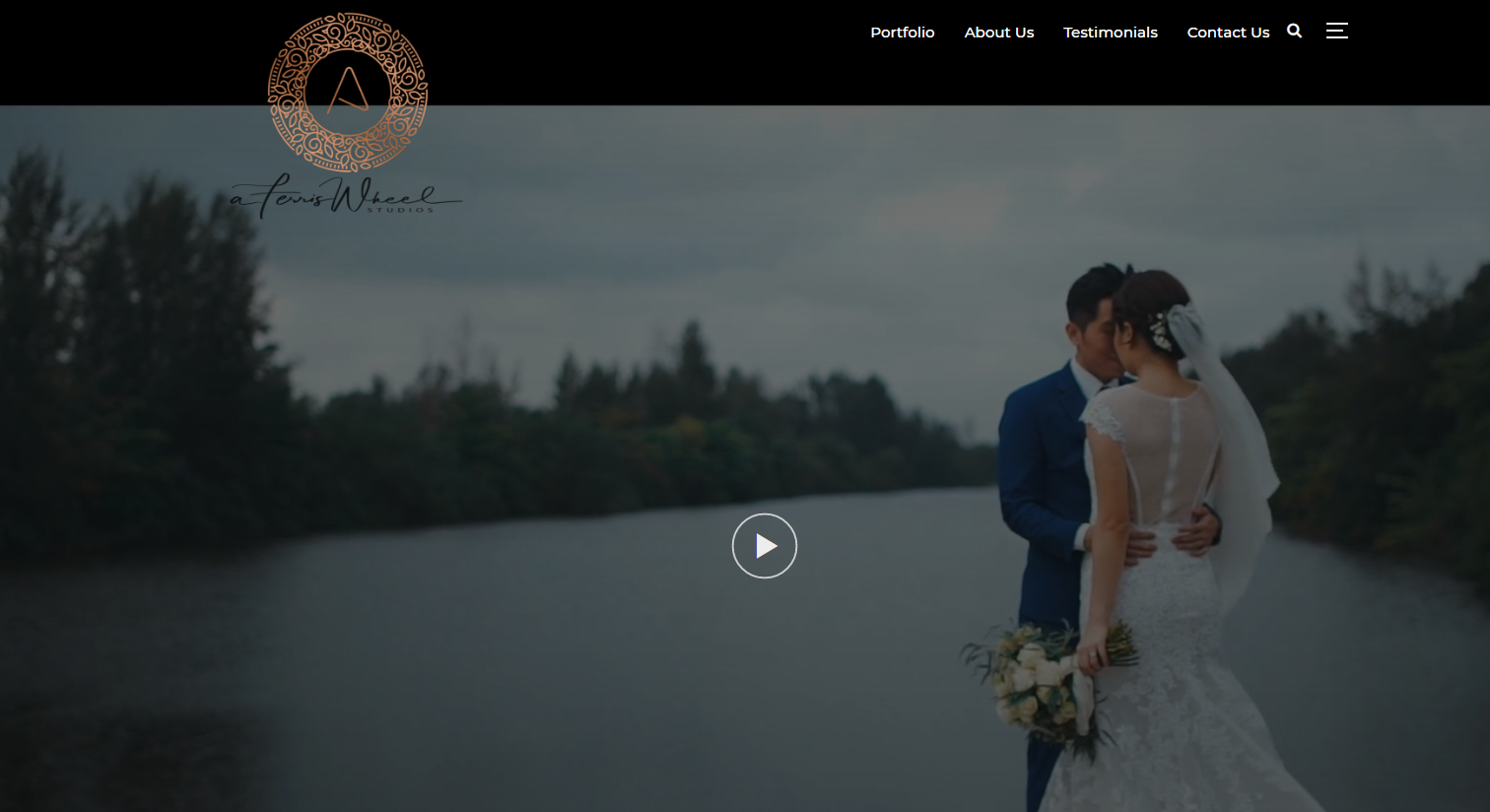 BEST FOR
Cinematic wedding videography
SERVICES

Wedding Coverage

Wedding Photography

Split Day Wedding Coverage

Event Videography

WEBSITE
http://aferriswheel.com
ADDRESS
61 Ubi Road 1 #02-06 Oxley Bizhub Singapore, Singapore 408727
CONTACT DETAILS

E: [email protected]
T: +6597318505 | +6583851064

OPERATING HOURS
Contact for more information
Aferriswheel comprises talented individuals who aspire to capture their clients' best moments and deliver them in such a way that they come out heartwarming and cinematic with minimal directing involved. They achieve such a feat by putting in a lot of work in the shooting process, with talented photographers and videographers going out of their way to capture significant moments and highlight emotions in them.
Clients can take their pick from various wedding packages, whose fees depend on the length of the event, the staff that would work on said event, and the editing time. Aferriswheel also offers a pre-wedding package that works to capture behind the scene moments before the Big Day.
Highlights
Makes people comfortable during shoots
Minimal direction
Cinematic wedding videography
Customer Reviews
Aferriswheel has been praised for the wedding highlights they edit for clients, as well as their professionalism during events. See comments from previous clients:
"Our morning highlights were well received by our guests on our actual day. Compliments came one after another, my wife and I were truly delighted with the finish product. Thank you Desmond and his team for piecing up such a beautifully directed video in crunch time. Highly recommended!"

"Thank you Sky and Desmond for creating such beautiful memories for us! Working with them feels so comfortable! They have been very patient and professional throughout their filming!
Highly recommending Aferriswheel!"
34. Beyond Pictures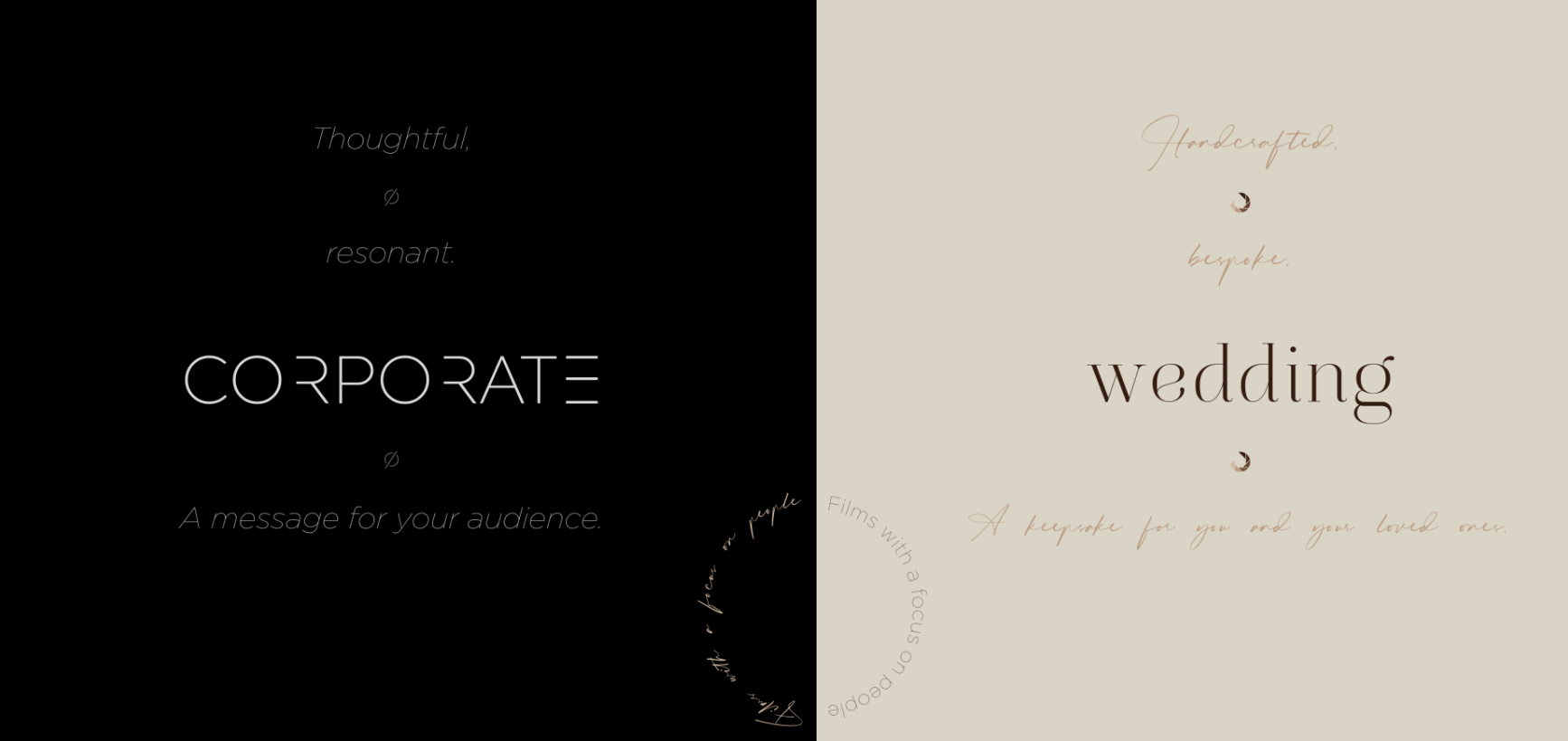 | | |
| --- | --- |
| BEST FOR | Cinematic wedding videography |
| SERVICES | |
| WEBSITE | https://www.beyondpictures.sg/ |
| ADDRESS | 6 Ubi Road 1 Wintech Centre #05-13 Singapore 408726 |
| CONTACT DETAILS | 8233 7399 | [email protected] |
| OPERATING HOURS | Contact for more information |
Instead of filmmakers, the Beyond Pictures team aspires to be seen as storytellers whose medium is film.
Beyond Pictures work to blend in with the crowd, capturing precious memories on film and piecing them together in such a way that the viewer can fondly look back on the day and remember how marvelous it was.
For weddings, there is, of course, great focus on the wedded couple. But make no mistake, Beyond Pictures also film the little interaction with friends and family, taking in the full story that happened during one's Big Day.
Highlights
Organic filming style
Unobtrusive when filming
Story-driven videography
35. e IMAGE Studio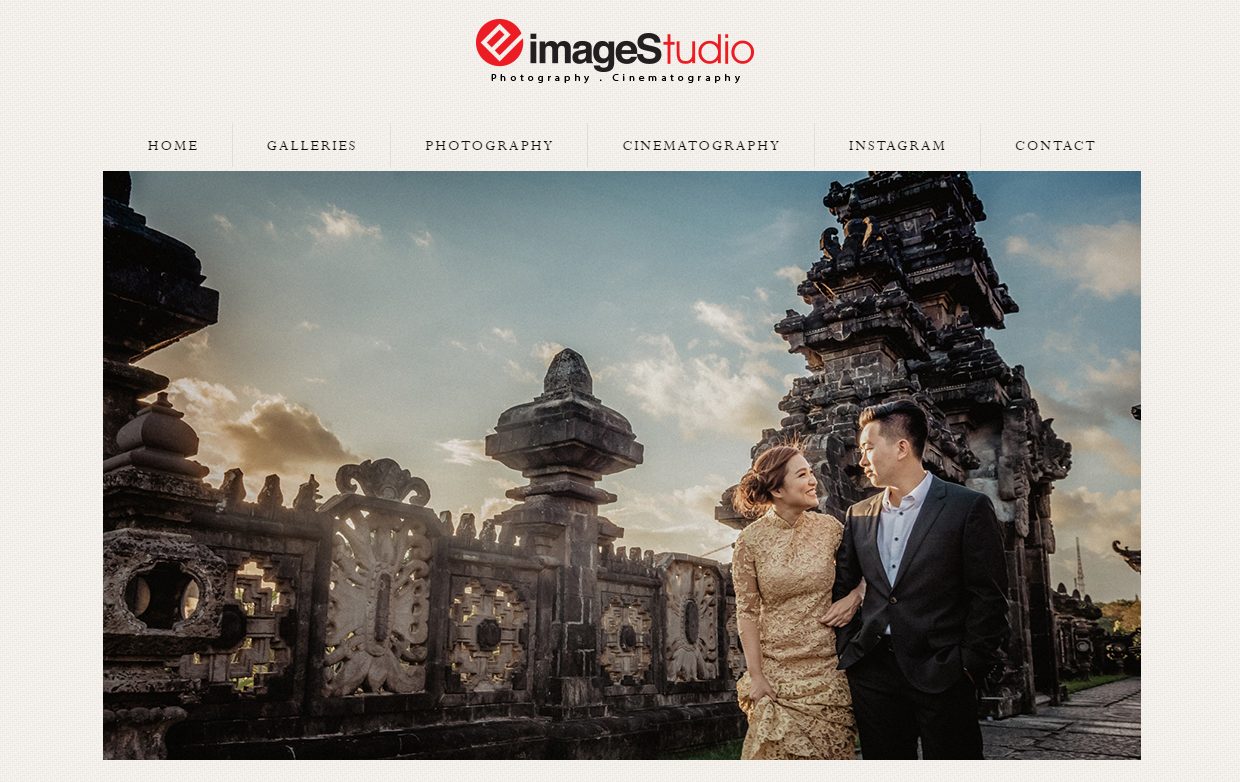 BEST FOR
Wedding Photography and Cinematography
SERVICES
Pre-Wedding, Wedding, Solemnisation Photography, Overseas and Singapore Cinematography
WEBSITE
http://www.eimagestudio.com
ADDRESS
Singapore
CONTACT DETAILS
+65 8522 8812
[email protected]
OPERATING HOURS
By appointment
e IMAGE Studio is run by one Kenny Lee, who strives to capture his clients' best moments through photography and film.
Kenny Lee is amazing at taking directed photos, as seen in his portfolio, but his skill truly shines through the candid shots, where he manages to capture the subtle expressions, the twinkle in the eyes, and the subdued smiles of pride.
Now, in terms of the actual services, e IMAGE Studio is open to take pre-wedding, wedding day, and solemnisation photography. Moreover, their cinematography services are available both for local projects as well as international ones.
Kenny Lee and his team are quick to answer any and all queries, as well. All in all, the combination of skills displayed as well as the quick way they accommodate clients make e IMAGE Studio an excellent choice for photography and videography services.
Highlights
Specialises in candid shots
Accepts local and international projects
36. Dreamzcoffee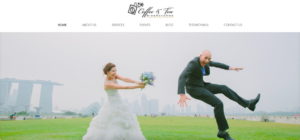 | | |
| --- | --- |
| BEST FOR | Wedding Photography and Videography |
| SERVICES | Local & Conceptualize Pre-Wedding, Actual Wedding Day Photography; Videography; Animated Films; Instant Services |
| WEBSITE | http://dreamzcoffee.com/ |
| ADDRESS | Singapore |
| CONTACT DETAILS | |
| OPERATING HOURS | Contact for more information |
Dreamzcoffee, also commonly known as Coffee and Tea, is a wedding photography and videography service that can offer you "fresh brewed creativity" for your special day.
At Dreamzcoffee, they make the photos speak for themselves. One look at your photos and anyone can immediately feel all your emotions.
They specialise in pre-wedding and actual day photography, but what sets them apart is that they can also create animated films of your love story to capture the hearts of your guests.
What's more is you can avail of their instant print photo booth service so your guests can also have their fun.
With Dreamzcoffee, you'll have a professional and experienced team to help you capture memories that will last you a lifetime, and this is why we didn't forget to include them in this list.
Highlights
Specialises in pre-wedding and actual day photography 
Offers same day video edits and highlights
Creates animated films and cartoon illustrations 
More than a decade of experience 
Customer Reviews
Here are some testimonials from their past clients: 
"We are pleased with the outcome of the photoshoot and videography that were done by your professionals – Lawrence and Zero. They were on time and able to manage and adapt to every situation." — Zhonghe and Eileen
"We are very satisfied with your service and product! Thank you so much! We are impressed with your professionalism and end product! Will definitely recommend your service to our friends and family. Thank you for making our wedding a success and memorable for us!!" — Hong Huat and Limin
36. Green Imagination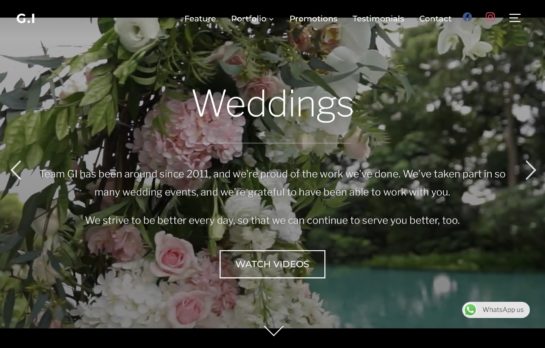 | | |
| --- | --- |
| BEST FOR  | Natural and Candid Cinematography |
| SERVICES | Pre Wedding, Actual Day Wedding, Proposals, Events |
| WEBSITE | https://www.greenimagination.com/ |
| ADDRESS | Punggol Drive, Singapore 821612 |
| CONTACT DETAILS | Contact them via their website |
| OPERATING HOURS | By appointment basis only |
Green Imagination, our chosen wedding videography maestros, seamlessly wove our special day into a cinematic masterpiece. Their services were not just a recording; they were maestros orchestrating the symphony of our love story. From candid moments to the grandeur of the ceremony, they captured it all with an artistry that left us breathless.
Efficiency is Green Imagination's forte. Our wedding day was a whirlwind, but their team moved with the grace of ballet dancers, ensuring every frame was perfection. The unobtrusive presence of their crew was like the wind – felt only in the gentle rustle of capturing authentic moments. Our video was ready before we could say "happily ever after," a testament to their swift yet meticulous editing.
Quality, the cornerstone of Green Imagination, is akin to a finely crafted Swiss timepiece. Each frame exudes precision, and the storytelling through visuals is nothing short of cinematic poetry. The play of light and shadow, the nuanced expressions, all captured with an artistic flair that turned our wedding video into a timeless piece of visual artistry. It's not just a video; it's an heirloom.
As we navigated the labyrinth of wedding expenses, Green Imagination stood out as a beacon of reason in a sea of budgetary chaos. The cost of their services, a pleasant surprise, left room for an extra layer on the wedding cake. The value they provided, both in terms of the moments immortalized and the artistry displayed, exceeded the investment.
Highlights
Specialises in pre-wedding and actual day photography 
Offers same day video edits and highlights
Creates animated films and cartoon illustrations 
More than a decade of experience 
Customer Reviews
Green Imagination transformed our wedding into a visual symphony that still resonates in our hearts. From the initial consultation to the final edit, their team exhibited unparalleled professionalism. The seamless coordination during the event captured every nuance, leaving us with a video that doesn't just document our day but encapsulates the essence of our love. Their artistry is beyond compare, turning ordinary moments into extraordinary memories. The efficiency and quality they brought to our wedding were worth every penny, making Green Imagination an investment in nostalgia that we cherish.
Choosing Green Imagination for our wedding videography was the best decision we made. Their team, like wizards behind the lens, managed to capture the magic of our day without intruding on the intimacy. The swift and meticulous editing process left us in awe as we watched our love story unfold cinematically. The quality of their work is nothing short of exceptional – every frame, a work of art. What impressed us equally was the transparency in their pricing; no hidden costs, just a straightforward investment in preserving our memories. Green Imagination exceeded our expectations, and we're forever grateful for the masterpiece they created, etching our wedding day in visual poetry.
37. Louvre Bridal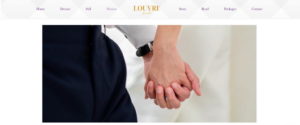 BEST FOR
Wedding Photography and Videography
SERVICES

Pre-Wedding & Actual Wedding Day Photography; Pre-Wedding & Actual Wedding Day Videography

WEBSITE
https://www.thelouvrebridal.com/
ADDRESS
Showroom: 91 Bencoolen Street (Sunshine Plaza)
CONTACT DETAILS

Email: [email protected]

Whatsapp: 88780918

OPERATING HOURS
Contact for more information 
The Louvre Bridal believes in the uniqueness of each love story, and that each one is worth telling. 
They want to tell your story of love, devotion and commitment and evoke all the emotions through their art, whether in stills or in motion. 
However, they don't only have photography services. They also have wedding gowns of different styles that you can rent. 
There are also customisable and personalisable wedding packages available, so they can help you conceptualize a wedding fit for your one-of-a-kind story. 
Louvre Bridal is truly your one-stop shop for your wedding planning, and this is why they're one of Singapore's top bridal shops.
Offers pre-wedding and actual wedding day photography and videography services 
Bridal gown rentals 
Customisable wedding packages 
Customer Reviews
Here are some testimonials from their past clients: 
"Thank you to Louvre bridal for their professional service throughout our entire wedding preparation from pre-wedding photo shoot to actual wedding day. We are happy with the service and appreciative. We would definitely recommended Louvre bridal to our friends. 🙂 Good job louvre bridal!" — Melissa Koh Yin
"I just had my wedding dress fitting at Louvre Bridal and had a challenging time to select the dress for my photoshoot. Reason being that their gowns are brand new and delicate with wide range of designs for us to choose. I am delighted that I made the right choice with them base on their good service I received and massive gown range. I am looking forward to my photoshoot with them next month." — Jessica Tan
38.

Darren and Jade Photography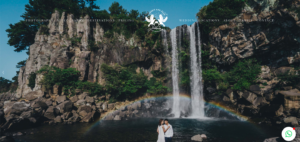 | | |
| --- | --- |
| BEST FOR | Wedding Photography and Videography |
| SERVICES | Wedding Photography and Videography |
| WEBSITE | https://www.darrenandjade.com/ |
| ADDRESS | Contact for more information |
| CONTACT DETAILS | [email protected] | +65 9297 0077 |
| OPERATING HOURS | Contact for more information  |
Darren and Jade Photography boasts an award-winning photographer, indicating a high level of skill, creativity, and recognition in the field.
We think that this accolade adds credibility to their expertise.
We commend them for their helpfulness in pre-wedding planning. From providing tips on trip preparations to recommending accommodations, local makeup artists, and drivers, the team ensures a smooth and well-organized experience for the couple.
The team carefully curates pre-wedding shoot locations, showcasing a mix of different nature ambiences.
The attention to detail in selecting picturesque and diverse settings for their photo sessions, enhancing the overall visual storytelling, is something many of their clients praise. 
They capture spontaneous and stunning shots. Their ability to think on their feet, suggesting cool and spontaneous ideas for photo backdrops, framing, and angles, adds a unique and artistic touch to the photography.
We love how they're oozing with dedication, professionalism, and workmanship throughout the entire photography journey. They go the extra mile each time and it's highly appreciated. 
We find that the images they come up with are of high quality and they're truly excellent at capturing the best moments!
Highlights
High quality images
Excellent service delivery 
Attention to detail 
Customer Reviews
"We enjoyed Stephanie covering our event at the Singapore Botanic Gardens. A very easy-going photographer who put us at ease. She did not mind helping us to carry our stuff when we move from one location to the next. Her photos were awesome, very well taken in that they captured the joyous atmosphere. She was able to immortalize through her lens the happy moments at their most natural state. We are so glad to have engaged her. Will not hesitate to call her again when we have another joyous event."
"We engaged the services of Kael from Darren and Jade photography for our actual day wedding. Kael was positive and professional throughout the event. He was a proactive photographer who captured the best moments. Having Kael around was reassuring and made the experience a fun and memorable day! We highly recommend him as your photographer."
And with that, we end our list of the video production companies that offer the best wedding videography in Singapore. If you've tried out the services offered by any of these videographers, don't hesitate to share your experience with us!
Since you're probably in the early stages of wedding planning, you might still be looking for wedding venues for your special day. If you still haven't settled on one, we highly recommend that you check out our list of the best wedding venues in Singapore.