Every wedding planner will tell you that where you hold your wedding has massive impact on its success. Choosing to hold yours in any of the best wedding venues in Singapore, for instance, can facilitate the event organisation, improve guest (and couple!) comfort, and enhance the beauty of the event itself.
That's why we're taking the time to list the best wedding venues in Singapore today. We went looking for the most elegant, most spacious, and most easily-accessible spots on the island.
At the end, we came up with these 6 spectacular locations. These spots can help you turn your dream wedding into a reality, as you'll see below.
1. JW Marriott Hotel Singapore South Beach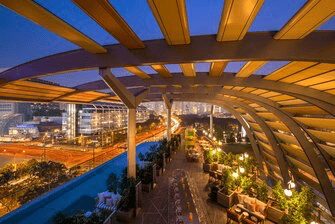 *Photo from JW Marriott Hotel Singapore's website 
To satisfy those longing for timeless elegance, JW Marriott Hotel Singapore meshes contemporary aura with classic design.
The hotel is a feast of picture-perfect interiors and exteriors that will instantly make any wedding iconic. Finishing off the look is the comely sky garden that exudes sweetness during the celebration.
Essential Information
Location
30 Beach Road, Access via Nicoll Highway, Singapore
Contact Number
Website
Customer Review
More than being a stellar venue, the JW Marriott Hotel is strategically placed in Singapore's metro. Clients have enjoyed sightseeing after the wedding, thanks to its location.
Many also mention the convenience of having weddings in the hotel when there are a lot of out-of-town guests. Here's a review:
"Central location, excellent access to metro and most government facilities and businesses. The place to start your daily sightseeing with the best views of the city." – Houston proud via JW Marriott Hotel's website.
2. Burkill Hall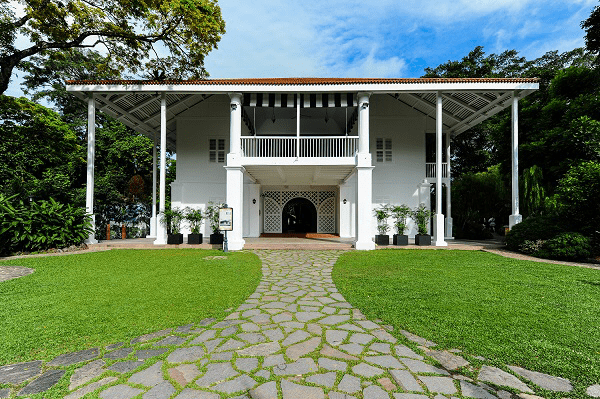 *Photo from Burkill Hall's website
Burkill Hall is situated in Singapore's National Gardens, declared a UNESCO World Heritage Site in 2015. Weddings can benefit from the lush, historically-rich setting.
Burkill Hall features a restored Anglo-Malayan plantation house— a minimalist yet splendid venue that can help realise a memorable marriage ceremony.
Essential Information
Location
Contact Number
Website
3. The Dempsey Cookhouse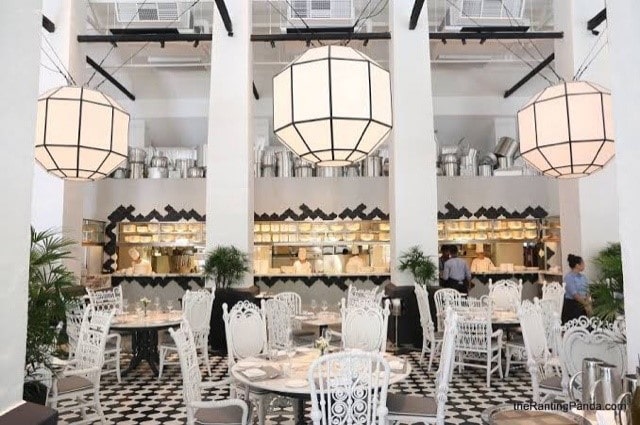 *Photo from The Dempsey Cookhouse's website 
World-renowned The Dempsey Cookhouse is home to Singapore's finest meals, served in an awe-inspiring restaurant/venue.
The Dempsey Cookhouse celebrates new ideas and fresh fashion while thrilling guests as they dine on artistic flavours. It's a boutique of scenic deliciousness, so it's definitely a great place for a wedding.
Essential Information
Location
17 & 18 Dempsey Road, Singapore
Contact Number
Website
4. Faber Peak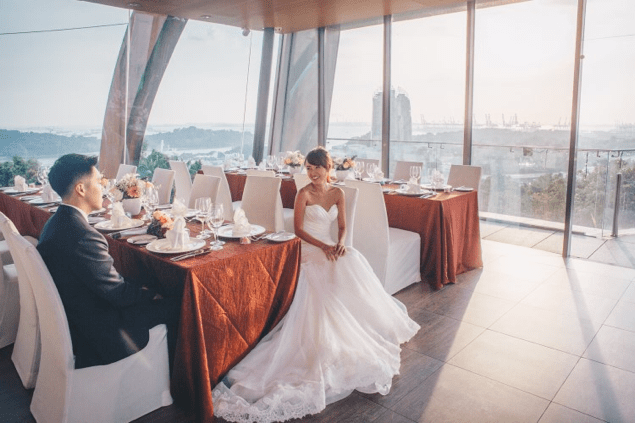 *Photo from Faber Peak's website
Faber Peak is a tourist destination located atop Mount Faber. You can relish a hilltop wedding in a romantic setting here, where Singapore's skyline provides an astonishing backdrop to the ceremony.
Faber Peak is complemented by a lulling garden built with an al fresco overlooking the lush valley, perfect for the tender moment of marriage.
Essential Information
Location
109 Mount Faber Road, Faber Peak, Singapore
Contact Number
Website
5. The Summerhouse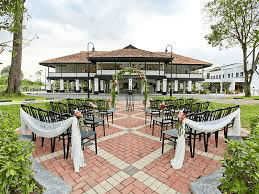 *Photo from The Summerhouse's website
Sitting in a countryside garden on a farm, The Summerhouse is a heartwarming home that oozes with eternal summer allure. The garden is rich in edible produce that can actually be cooked and served during the ceremony; the menu is also seasonal.
Essential Information
Location
Contact Number
Website
6. Keyaki Garden Pavilion at Pan Pacific Singapore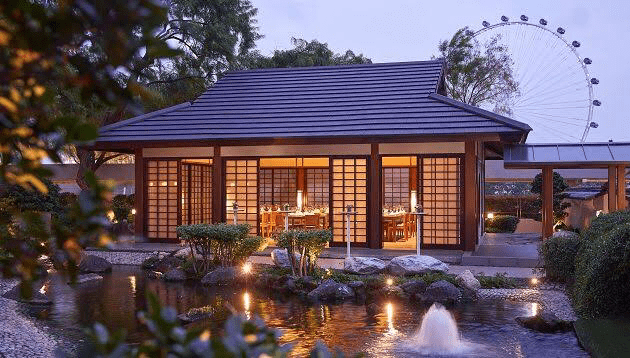 *Photo from Pan Pacific Singapore's website
Nestled in the Pan Pacific Singapore hotel's fourth floor, the Keyaki Garden Pavillion is a Japanese-inspired venue blossoming with genuine Asian culture.
The garden features a koi pond, shoji screens, and dimmed lighting for an intimate, peaceful setting meant for a smaller celebration.
Keyaki Garden Pavilion has a seasonal array of meals curated and prepared by virtuoso chefs.
Essential Information
Location
7 Raffles Boulevard, Marina Square Singapore
Contact Number
Website
7. Copthorne King's Hotel Singapore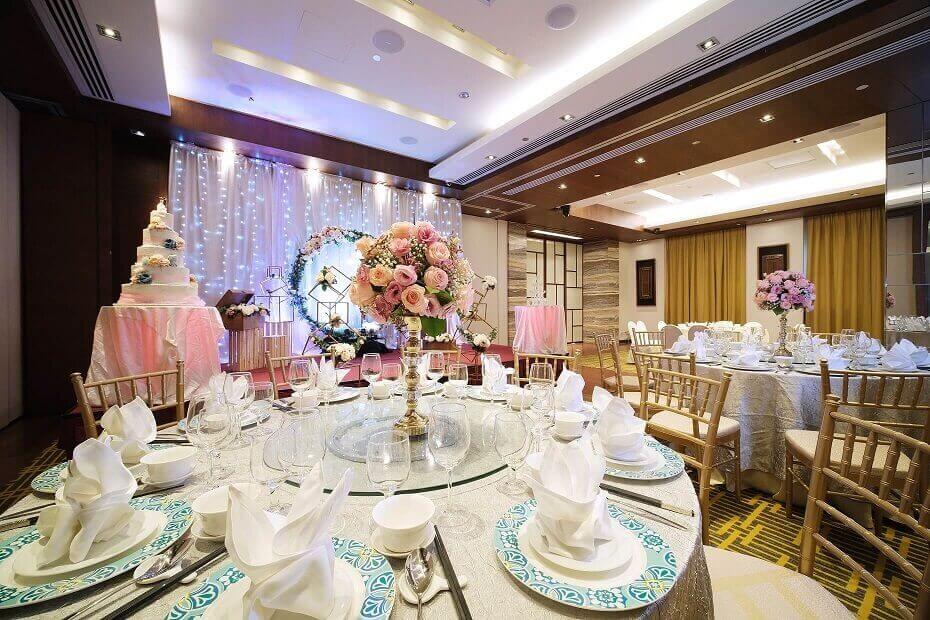 Copthorne King's Hotel Singapore is strategically situated in Robertson Quay which is just a stone away from the cities popular high profile and entertainment districts. It is also just a 30-minute drive from Changi International Airport, so it will be a lot more easier for your guests to travel from the airport to your wedding venue. 
The hotel is also well-lit and modernly designed, plus all of their event venues are equipped with complete with audiovisual equipment and high speed Wi-Fi.
Essential Information
Location
403 Havelock Rd, Singapore 169632
Contact Number
+65 6733 0011
Website
Millenium Hotels- Copthorne King's Hotel
CUSTOMER REVIEW
Aside from the hotel's stunning interior and excellent location, they are also praised for their hospitality and completely prepared rooms and venues, thus their clients had wonderful stays. One of them is Alan O Neill who left this comment on Google Reviews.
"Great hotel. Room was excellent with everything you could need provided. Bus stop outside the front door for short trip to everything. Staff are all super nice and helpful …"
8. The Garage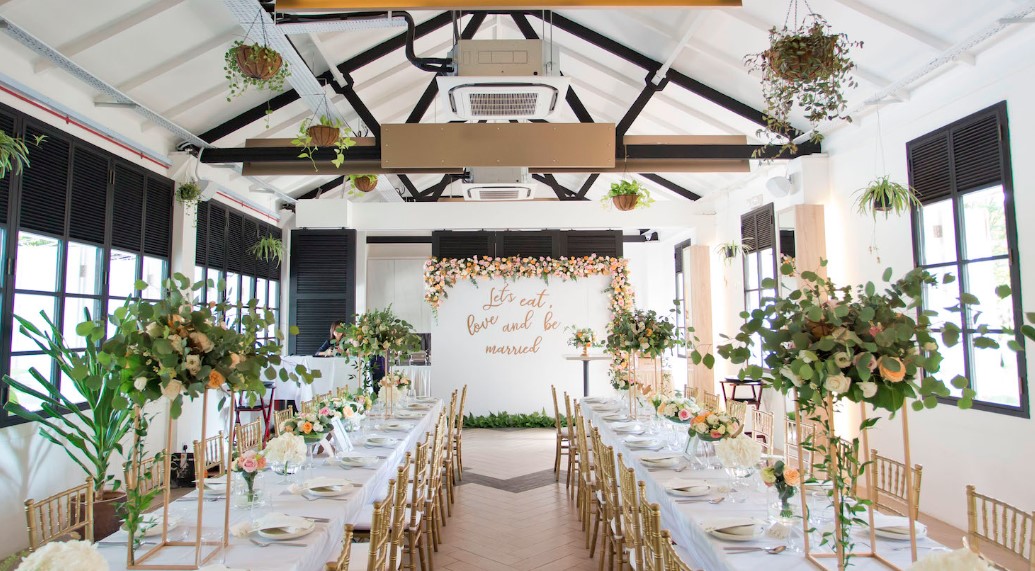 The Garage is a multi-concept F&B destination uniquely located within the Singapore Botanic Gardens, Singapore's only UNESSCO Heritage site. The Garage has two establishments housed in its beautiful 1920s Art Deco conserved architecture, namely Bee's Knees at Level 1 and Botanico at Level 2, where some customers prefer to hold their majestic Garden Weddings and reception.
Essential Information
Location
50 Cluny Park Rd, Singapore 257488
Contact Number
Bee's Knees: +65 9815 3213 | [email protected]
Botanico: +65 9831 1106 | [email protected]
Website
http://www.thegarage.sg/

CUSTOMER REVIEW
5-star Google review from Donovan Sy:
"Wonderful experience. Service was good with friendly engagement from the staff. Food was delightful. We had the 5 course dinner and every dish was mouthwatering and delightful. In fact we would likely be returning soon."
9. Panamericana Singapore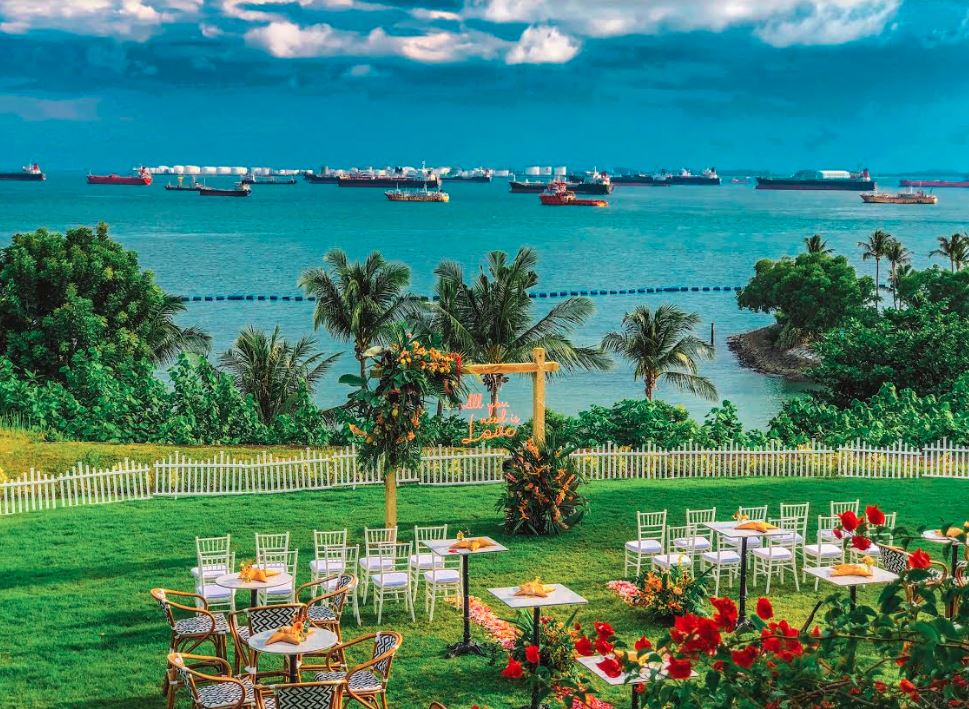 Panamericana brings to life the rich diversity of cultures and cuisines found in the 14 countries along the sprawling 50,000km of the Pan-American Highway that stretches through the North, Central, and South Americas.
An ideal destination for a scenic wedding, the 7,000 sq. ft of indoor and outdoor dining and drinking space enviably sits on a prime spot upon Singapore's finest and most prestigious golf club, set against the scintillatingly South China Sea, offering a relaxing and stylish setting with breath-taking ocean views.
Essential Information
Location
Sentosa Golf Club, 27 Bukit Manis Rd, 099892
Contact Number
+65 62538182 | [email protected]
Website
https://www.panamericana.sg/
CUSTOMER REVIEW
Facebook recommendation from Louissa Lavnea Thomas:
"This gem of a place made my dream wedding come true! Thank you to the team for the great hospitality, my guests enjoyed their time very much."
10. Beaulieu House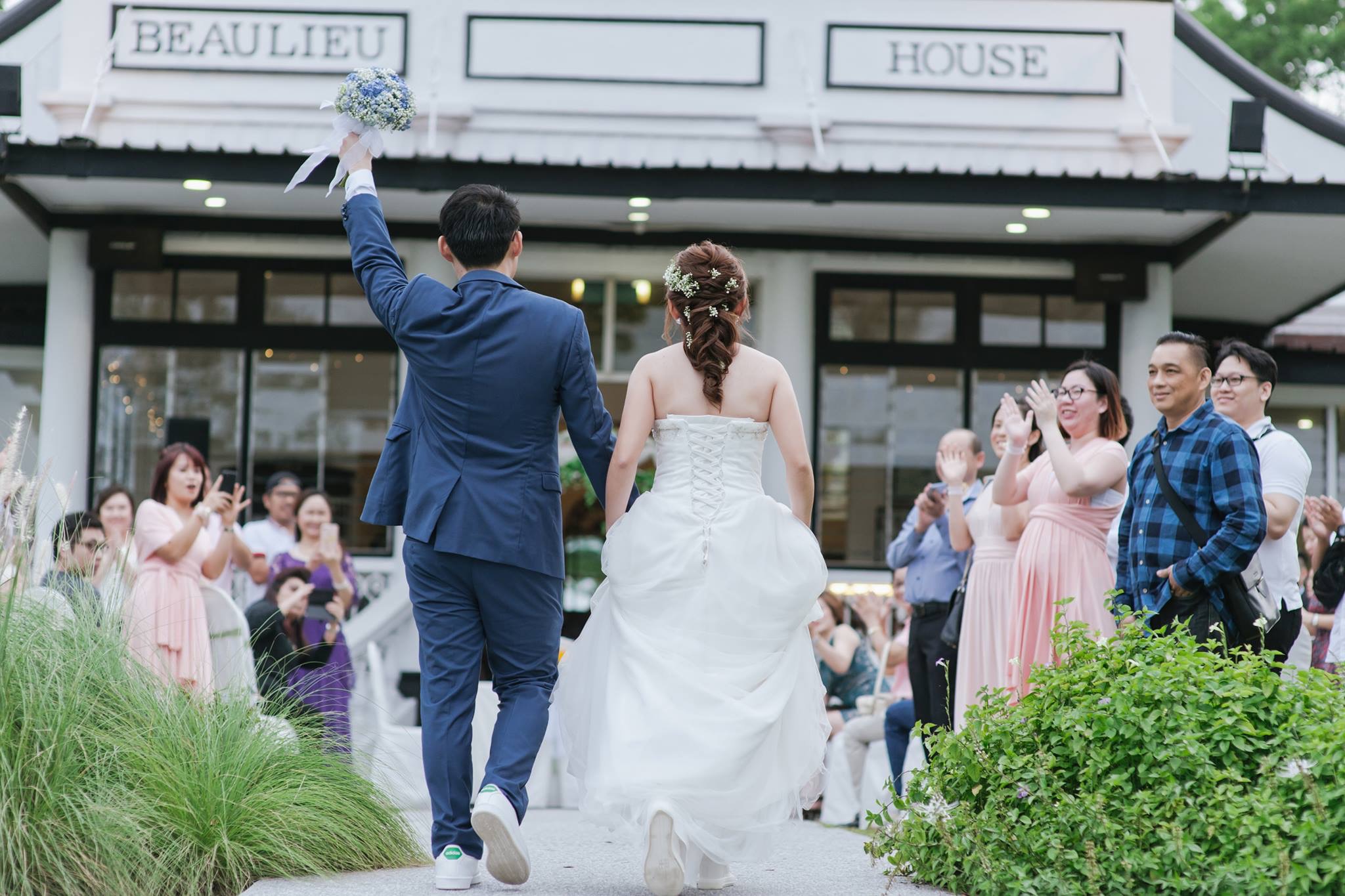 Looking for a perfect seaside restaurant? Then Beaulieu House is a perfect place for you. This was originally a seaside house in 1910 but eventually, it was reformed and became a restaurant. It can be a good venue if you want your wedding to be romantic and sentimental. The place has an overview of the beach and a historic design. So, if you're into this kind of place, you may contact them to get an appointment. 
Essential Information
Location
117 Beaulieu Road Singapore 759837
Contact Number
Website
11. LAWRY'S THE PRIME RIB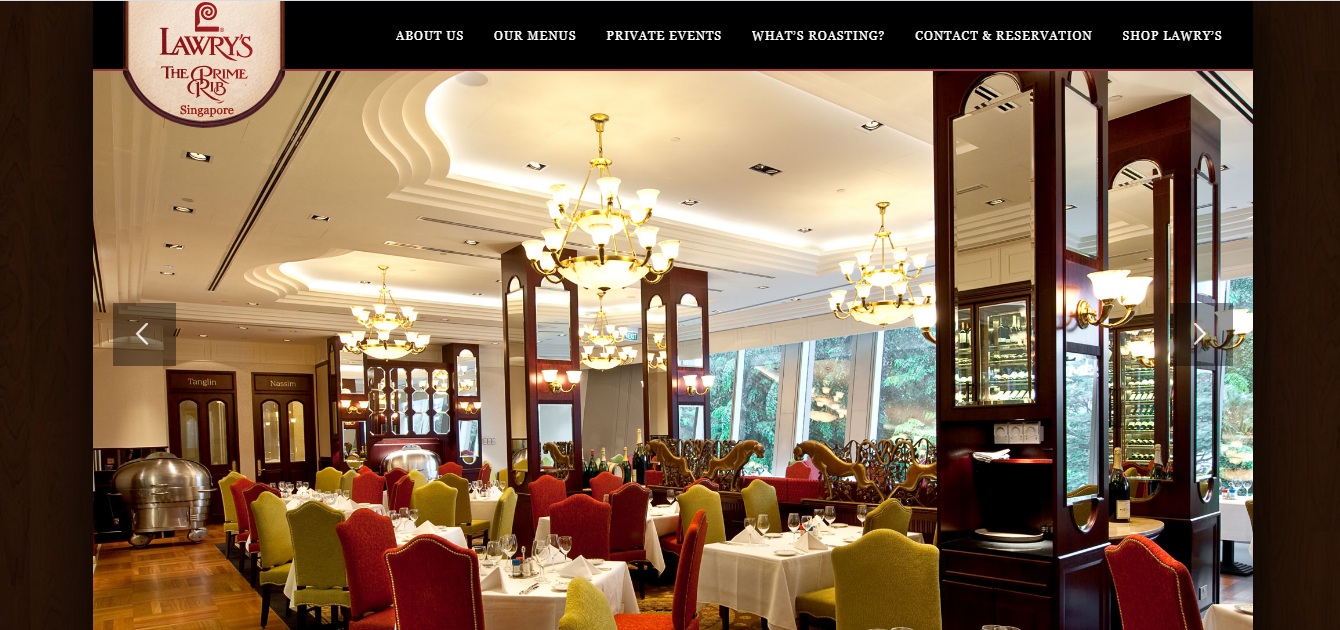 Lawry's The Prime Rib has been a the go to place in Singapore when a situation calls for a celebration since the 1930s. 
People keep coming back because of the delicious food, especially the scrumptious Roast Prime Ribs of Beef. You should also try other food offerings in their menu as these are equally flavorful. 
It's also a perfect place for weddings as their place is elegant and the staff are very accomodating. 
Essential Information
Location
333A Orchard Rd., #04-01/31 Mandarin Gallery Mandarin Orchard, Singapore 238897
Contact Number
Website
Customer Review
Their customers keep coming back and keep celebrating special moments here because of the exquisite food and accommodating staff. Here's what they have to say about Lawry's The Prime Rib:
"Lawry's has a reputation as being a good place to celebrate special occasions for good reasons. The service, as usual, is impeccable. We were very warmly greeted by the Maitre D and our waitress was very friendly and accommodating throughout the entire meal."
"The best prime rib as you would expect from Lawry's. From the moment you arrive you feel the elegance and class of an outstanding, upscale restaurant. Although every table was full, our dining experience was intimate and relaxing. The staff treated us like celebrities! Reservations are recommended."
12. ARTEMIS GRILL & SKY BAR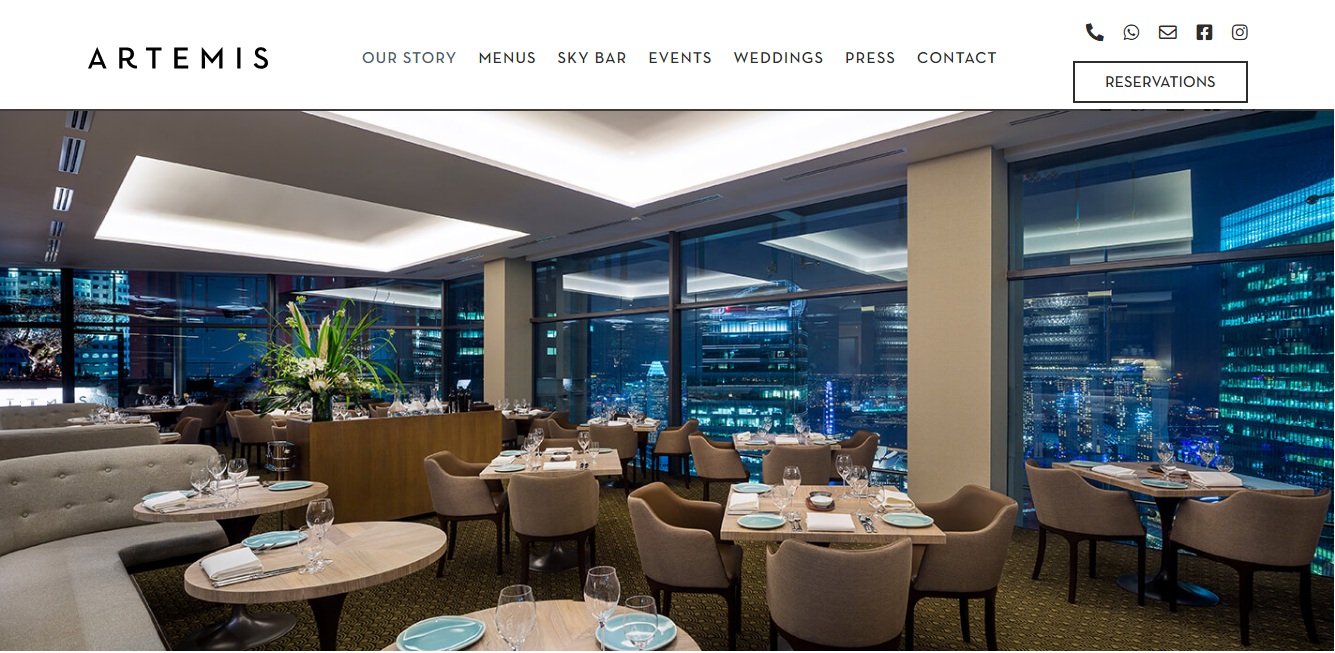 If you are looking for a romantic place to host your wedding reception, a beautiful view of the Marina Bay Skyline could add more magic to your special day. 
Artemis Grill & Sky Bar is perfect for you and your party as they have a spacious place that could accommodate a large number of guests. 
They also offer amazing food that is inspired by a contemporary Mediterranean inspired menu. Their food offerings commonly include local vegetables, fresh seafood, and grilled meats, so you'll never go wrong with Artemis Grill and Sky Bar. 
Essential Information
Location
138 Market St., #40-01 CapitaGreen, Singapore 058956
Contact Number
Website
Customer Review
Customers usually eat out in this restaurant not just because of the view, but also of the fantastic food choices. You'll love the tasty food and accommodating restaurant staff here. Here are some of the feedback from their customers:
"Hosted a get together with a client to celebrate the completion of the project and thank them too. 14 of us were settled into a nice corner at the open bar. We tried the bar food – beef steak sliced, fries, popcorn chicken, grilled chilli peppers, BLT sandwiches, cheese and cherry tomatoes. The drinks menu offered a good range of beer and stout."
"Attended a wedding lunch here. Food was fantastic. The service was excellent as plates were cleared promptly and drinks constantly refilled. The view was fabulous!"
13. REDDOT BREWHOUSE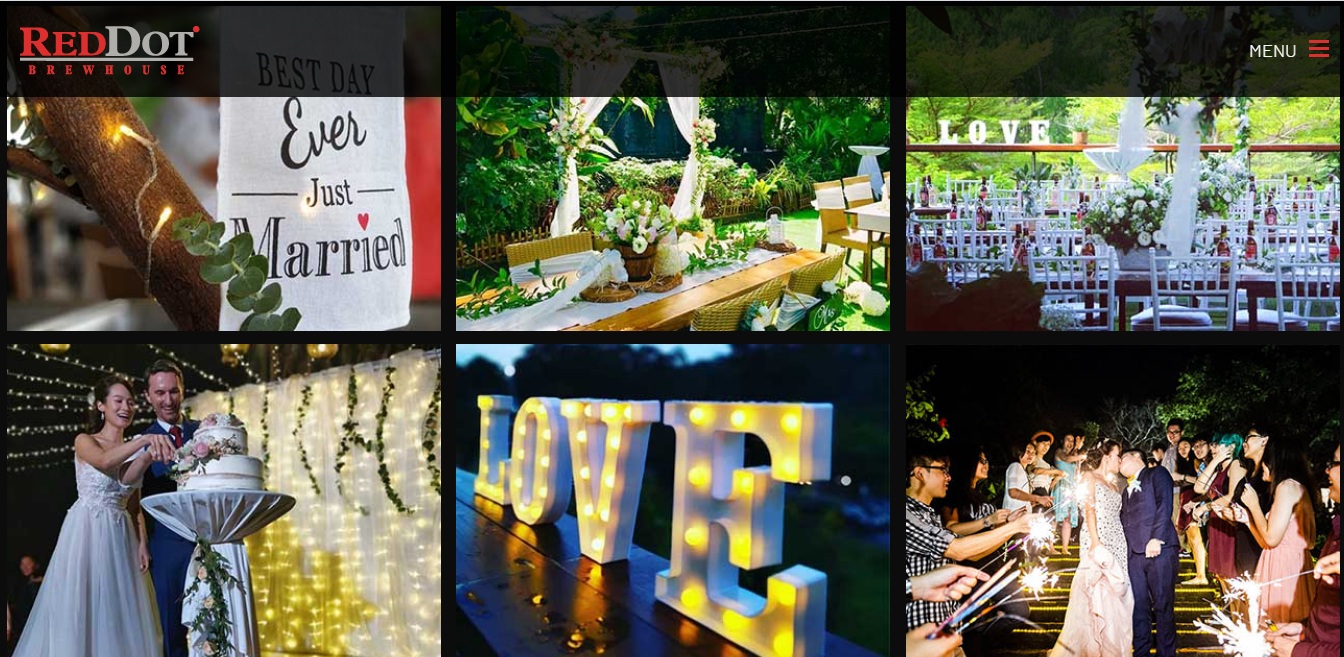 RedDot Brewhouse produces their own beer. In fact, they are the first independent microbrewery in Singapore. If that isn't exciting enough, they also create their own equipment for brewing. 
Currently, they also ventured into the dining business wherein their selection of beer could still be a highlight. They now have two restaurants that's also rich in history. 
These two restaurants are perfect for your upcoming wedding. You could have the Dempsey restaurant which is a bungalow built in 1860. You could also look into Boat Quay which is a 3-story shophouse near the Singapore River. 
Essential Information
Location
25A Dempsey Road #01-01 Sigapore 247691 
Contact Number
Website
Customer Review
Their restaurant in Dempsey got a 4.1 rating mainly because of the good food, garden view, band, and a variety of choices. 
"Attended a wedding lunch. Service was excellent and personal. Ambience was lovely. Food was excellent. Service and attention was 11 out of 10. Highly recommended. Ask the chef for beef cheeks in reduced red wine. Excellent.. can't recommend it enough."
On the other hand, their restaurant in Boat Quay received a 4.2 rating in Google. Majority of its customers liked the craft beer and the food. 
"All the beers here are amazing. We tried the monster green lager, mango ale and hibiscus mead. All of them were really good. We went on a Friday night when they happened to have a live performance, and the entire atmosphere was very wholesome and energetic."
14. WEDDINGS AT FLAMES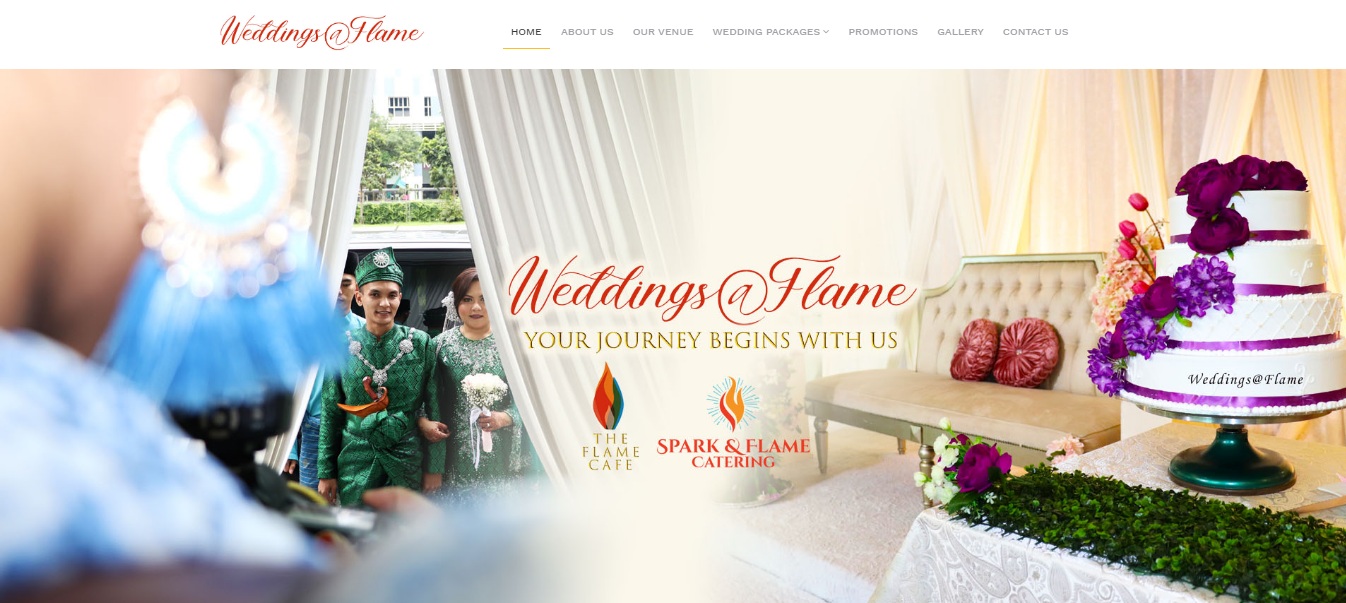 If you want a wedding to remember because of the perfect food, ambience, and service, Weddings at Flames could just be the perfect wedding venue for you. 
Food was made with the most thoughtful ingredients to make your special day even more special. The service staff are always there to make your guests feel welcomed. Most importantly, the aesthetics of the venue is very elegant and romantic. 
They offer comprehensive wedding packages to fit any of your wedding needs. Be sure to check it out on their website
Essential Information
Location
The Flame Cafe, 73 Upper Paya Lebar Rd., Level 1 Centro Bianco Building, Singapore
Contact Number
Website
Customer Review
Brides to be and grooms to be surely enjoyed this place on their wedding as their google page garnered a perfect five star rating. 
"Highly recommended! Had my wedding at Flame Cafe in Nov 2018. All the guests loved the food and the venue was beautifully decorated. The staff were very helpful and friendly. The event manager is top notch! She took care of the function really well and made sure everything ran smoothly. "
15. PARKROYAL on Kitchener Road
PARKROYAL on Kitchener Road Hotel offers a wide array of services and amenities for your wedding needs. Whether you want a small and solemn or a grand wedding, you are assured that the hotel can cater to your every need.
They offer a wide selection of carefully crafted wedding themes and culinary offerings  to choose from. In addition, they offer flexible packages so that you could fit your budget for your wedding.
Essential Information
Location
181 Kitchener Road, Singapore 208533
Contact Number
Website
16. VENUERIFIC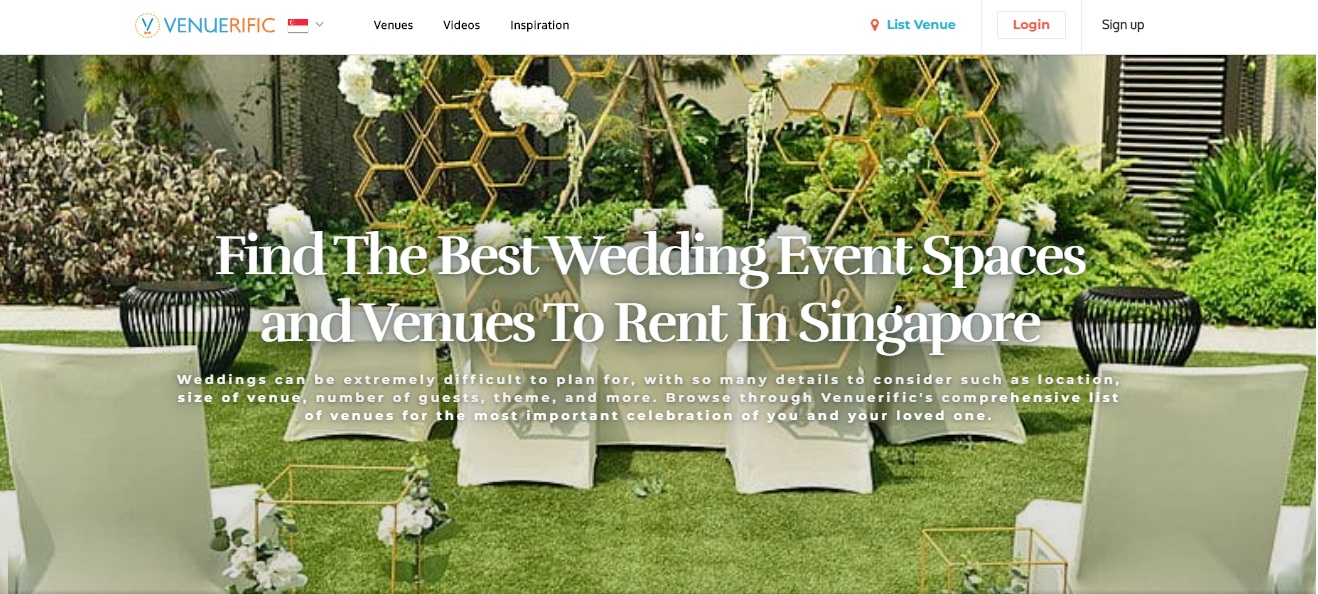 Venuerific finds you the perfect place for a business meeting, birthday celebration, and even weddings. They have a great selection of venues that showcase the most perfect venue for your special day. 
By visiting their website, you could browse for a number of venues that could have different specifications that could fit your requirement. If you're looking for a space for small number of guests or a bigger number, you could definitely find a majestic and magical place here for your wedding day. 
Essential Information
Location
Odeon Towers # 02-01 331 North Bridge Road, Singapore, 188720
Contact Number
Website
Customer Review
While the list of venues enrolled in this website could be a long list, customers were impressed at how the selection is unique and of excellent quality. 
"A fantastic, easy-to-use platform to find, discover and book event venues. I love how many hidden gems I found for my private event (which I otherwise would never have known existed!). Will definitely recommend this to all event planners."
"The best platform  to find spaces to organize events. Thanks to her I was able to find a space according to the needs I was looking to  organize my wedding, I found my space and instantaneously I contacted the owner. "
17. Spruce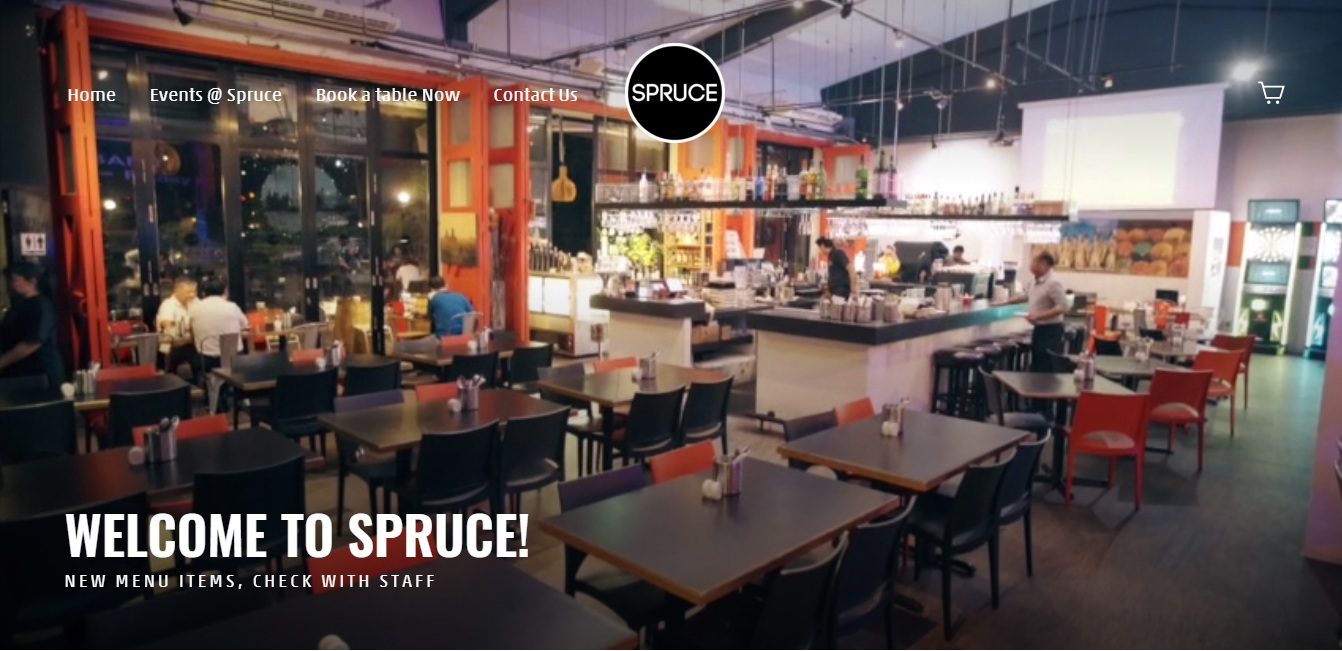 Spruce is definitely the perfect place if you prefer an intimate and laid back wedding ceremony with a reception prepared with an extensive range both modern European and local cuisine. 
Their set-up is completely customizable to fit your design preferences and budget. Spruce also extends their service by providing floral arrangements and live bands directly sourced from their partner companies.
You can choose whether to use their serene indoor venue or a larger yet equally casual outdoor space for your ceremony.
Essential Information
Location
260 Upper Bukit Timah Road, #01-01 Singapore 588190
Contact Number
Website
18. FLUTES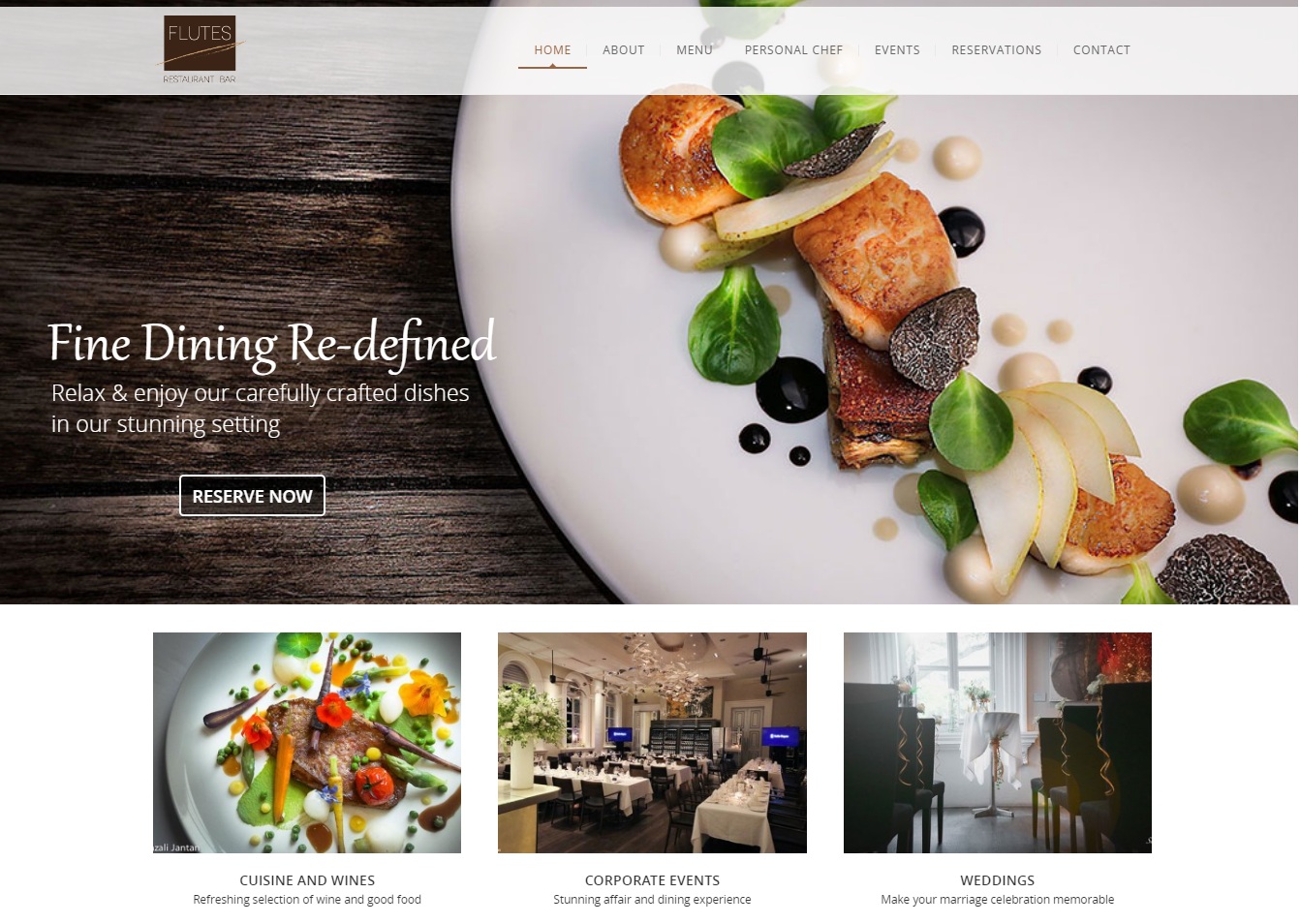 Flutes is a combination of good food and stylish ambiance which is perfect for weddings. Their events place can accommodate up to 150 guests but if you opt to have a more intimate setup, they also have some private rooms readily available for any type of celebrations.
You may also choose to hold your event either outdoors or indoors, both are guaranteed to be set up in a stylish manner or whichever is best suited for your wedding theme. Check out their venues here without having to actually set foot on their place through these virtual tours: Solemnisation at William Farquhar Terrace; Wedding in Jubilee Room and Henry McCallum Room.
Essential Information 
Location
93 Stamford Road, #01-02 National Museum of SingaporeSingapore 178897
Contact Number
Tel:  +65 6338 8770

Fax: +65 6338 8780
Website
Customer Reviews
"Had my wedding dinner and solemnization there on the terrace. Impeccable service and attention to detail. Must mention the wonderful manager Mr. Ali and Ruth who was our liaison for the whole event. Friends and family loved the food, drinks and service.Pretty good food and service. Salad was really fresh and the salmon was served perfectly, really juicy inside with a crispy skin outside."
---
And that's it for our list of the best wedding venues in Singapore at this moment. Did you have your own wedding in any of these spaces? If so, tell us how it went and how you liked the venue!
Don't forget to check out our list of the best wedding photographers in Singapore too, by the way. With the right photographer, you can immortalise your wedding for future reminiscence and sharing with family members!