Every wedding planner will tell you that where you hold your wedding has massive impact on its success. Choosing to hold yours in any of the best wedding venues in Singapore, for instance, can facilitate the event organisation, improve guest (and couple!) comfort, and enhance the beauty of the event itself.
That's why we're taking the time to list the best wedding venues in Singapore today. We went looking for the most elegant, most spacious, and most easily-accessible spots on the island.
At the end, we came up with these 6 spectacular locations. These spots can help you turn your dream wedding into a reality, as you'll see below.
1. JW Marriott Hotel Singapore South Beach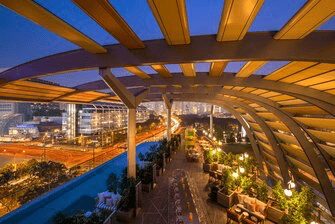 *Photo from JW Marriott Hotel Singapore's website 
To satisfy those longing for timeless elegance, JW Marriott Hotel Singapore meshes contemporary aura with classic design.
The hotel is a feast of picture-perfect interiors and exteriors that will instantly make any wedding iconic. Finishing off the look is the comely sky garden that exudes sweetness during the celebration.
Essential Information
Location
30 Beach Road, Access via Nicoll Highway, Singapore
Contact Number
Website
Customer Review
More than being a stellar venue, the JW Marriott Hotel is strategically placed in Singapore's metro. Clients have enjoyed sightseeing after the wedding, thanks to its location.
Many also mention the convenience of having weddings in the hotel when there are a lot of out-of-town guests. Here's a review:
"Central location, excellent access to metro and most government facilities and businesses. The place to start your daily sightseeing with the best views of the city." – Houston proud via JW Marriott Hotel's website.
2. Burkill Hall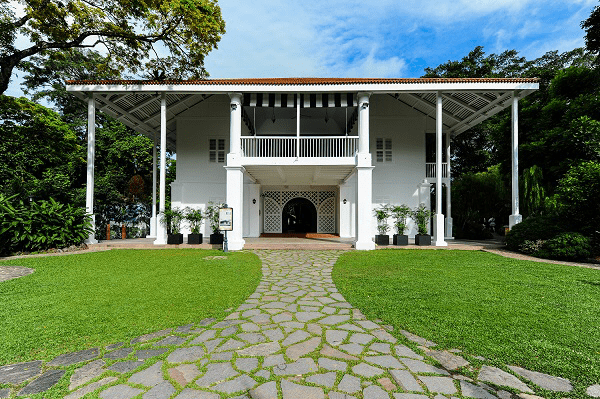 *Photo from Burkill Hall's website
Burkill Hall is situated in Singapore's National Gardens, declared a UNESCO World Heritage Site in 2015. Weddings can benefit from the lush, historically-rich setting.
Burkill Hall features a restored Anglo-Malayan plantation house— a minimalist yet splendid venue that can help realise a memorable marriage ceremony.
Essential Information
Location
Contact Number
Website
3. The Dempsey Cookhouse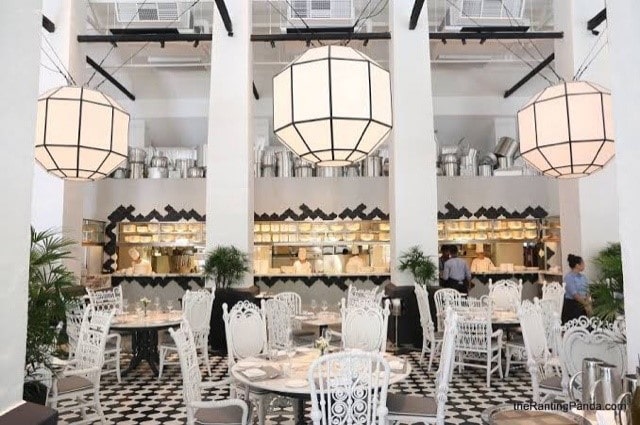 *Photo from The Dempsey Cookhouse's website 
World-renowned The Dempsey Cookhouse is home to Singapore's finest meals, served in an awe-inspiring restaurant/venue.
The Dempsey Cookhouse celebrates new ideas and fresh fashion while thrilling guests as they dine on artistic flavours. It's a boutique of scenic deliciousness, so it's definitely a great place for a wedding.
Essential Information
Location
17 & 18 Dempsey Road, Singapore
Contact Number
Website
4. Faber Peak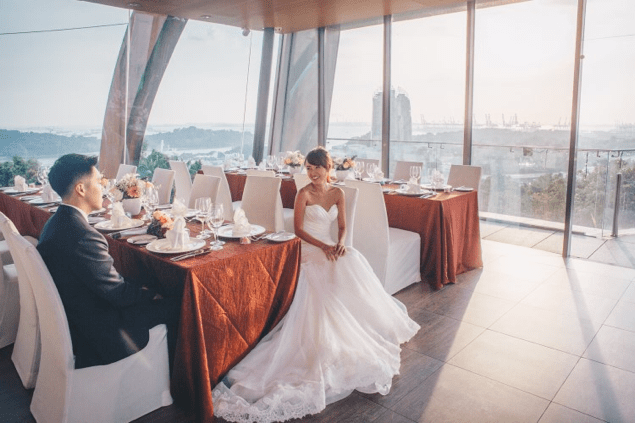 *Photo from Faber Peak's website
Faber Peak is a tourist destination located atop Mount Faber. You can relish a hilltop wedding in a romantic setting here, where Singapore's skyline provides an astonishing backdrop to the ceremony.
Faber Peak is complemented by a lulling garden built with an al fresco overlooking the lush valley, perfect for the tender moment of marriage.
Essential Information
Location
109 Mount Faber Road, Faber Peak, Singapore
Contact Number
Website
5. The Summerhouse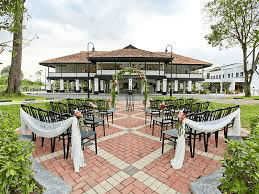 *Photo from The Summerhouse's website
Sitting in a countryside garden on a farm, The Summerhouse is a heartwarming home that oozes with eternal summer allure. The garden is rich in edible produce that can actually be cooked and served during the ceremony; the menu is also seasonal.
Essential Information
Location
Contact Number
Website
6. Keyaki Garden Pavilion at Pan Pacific Singapore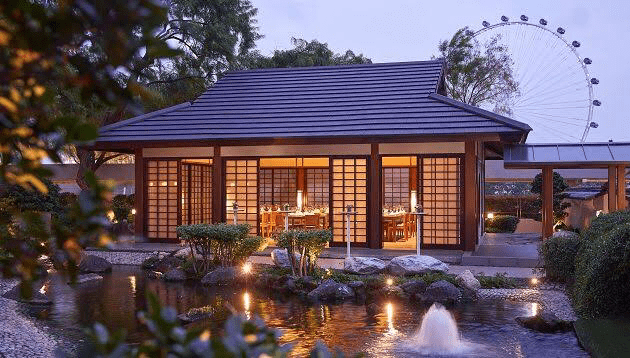 *Photo from Pan Pacific Singapore's website
Nestled in the Pan Pacific Singapore hotel's fourth floor, the Keyaki Garden Pavillion is a Japanese-inspired venue blossoming with genuine Asian culture.
The garden features a koi pond, shoji screens, and dimmed lighting for an intimate, peaceful setting meant for a smaller celebration.
Keyaki Garden Pavilion has a seasonal array of meals curated and prepared by virtuoso chefs.
Essential Information
Location
7 Raffles Boulevard, Marina Square Singapore
Contact Number
Website
7. Copthorne King's Hotel Singapore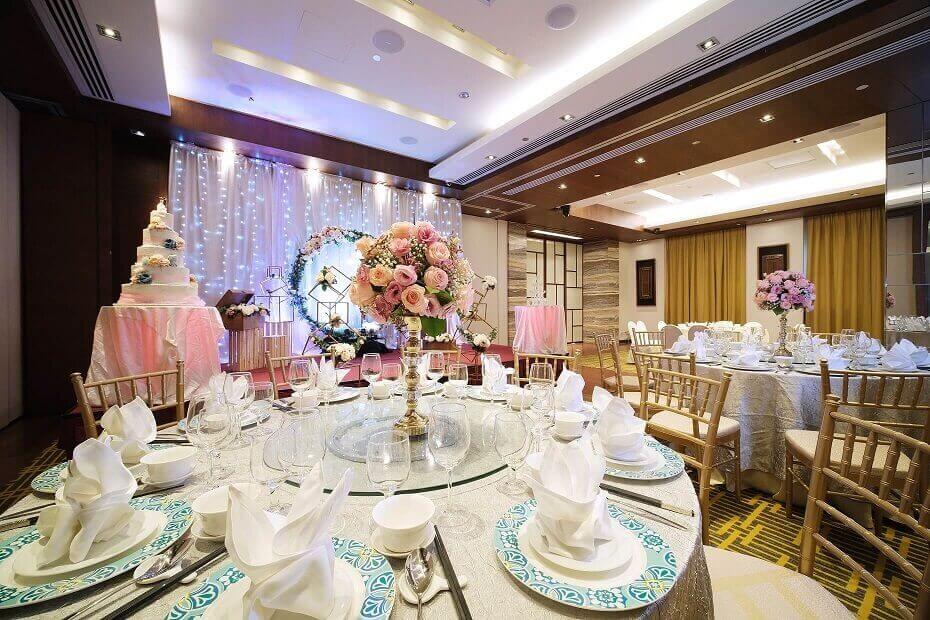 Copthorne King's Hotel Singapore is strategically situated in Robertson Quay which is just a stone away from the cities popular high profile and entertainment districts. It is also just a 30-minute drive from Changi International Airport, so it will be a lot more easier for your guests to travel from the airport to your wedding venue. 
The hotel is also well-lit and modernly designed, plus all of their event venues are equipped with complete with audiovisual equipment and high speed Wi-Fi.
Essential Information
Location
403 Havelock Rd, Singapore 169632
Contact Number
+65 6733 0011
Website
Millenium Hotels- Copthorne King's Hotel
CUSTOMER REVIEW
Aside from the hotel's stunning interior and excellent location, they are also praised for their hospitality and completely prepared rooms and venues, thus their clients had wonderful stays. One of them is Alan O Neill who left this comment on Google Reviews.
"Great hotel. Room was excellent with everything you could need provided. Bus stop outside the front door for short trip to everything. Staff are all super nice and helpful …"
8. The Garage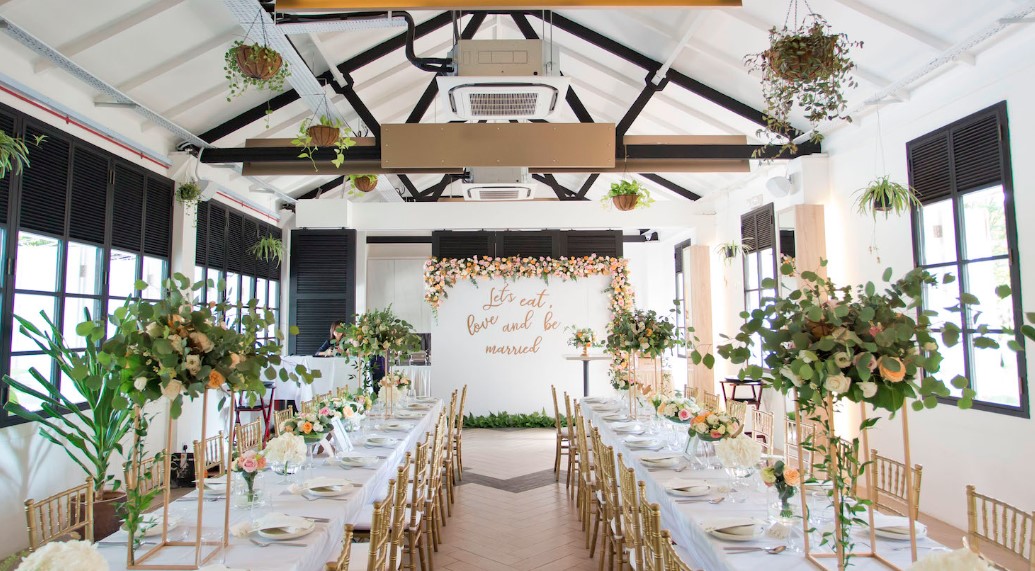 The Garage is a multi-concept F&B destination uniquely located within the Singapore Botanic Gardens, Singapore's only UNESSCO Heritage site. The Garage has two establishments housed in its beautiful 1920s Art Deco conserved architecture, namely Bee's Knees at Level 1 and Botanico at Level 2, where some customers prefer to hold their majestic Garden Weddings and reception.
Essential Information
Location
50 Cluny Park Rd, Singapore 257488
Contact Number
Bee's Knees: +65 9815 3213 | beesknees@thegarage.sg
Botanico: +65 9831 1106 | reservation@thegarage.sg
Website
http://www.thegarage.sg/

CUSTOMER REVIEW
5-star Google review from Donovan Sy:
"Wonderful experience. Service was good with friendly engagement from the staff. Food was delightful. We had the 5 course dinner and every dish was mouthwatering and delightful. In fact we would likely be returning soon."
9. Panamericana Singapore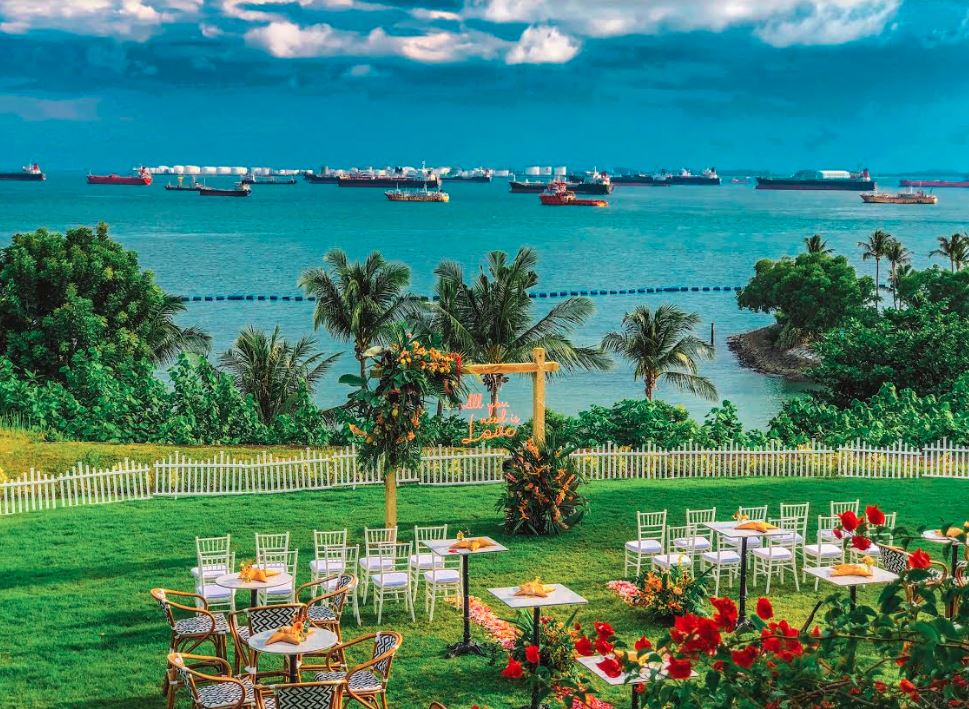 Panamericana brings to life the rich diversity of cultures and cuisines found in the 14 countries along the sprawling 50,000km of the Pan-American Highway that stretches through the North, Central, and South Americas.
An ideal destination for a scenic wedding, the 7,000 sq. ft of indoor and outdoor dining and drinking space enviably sits on a prime spot upon Singapore's finest and most prestigious golf club, set against the scintillatingly South China Sea, offering a relaxing and stylish setting with breath-taking ocean views.
Essential Information
Location
Sentosa Golf Club, 27 Bukit Manis Rd, 099892
Contact Number
+65 62538182 | info@panamericana.sg
Website
https://www.panamericana.sg/
CUSTOMER REVIEW
Facebook recommendation from Louissa Lavnea Thomas:
"This gem of a place made my dream wedding come true! Thank you to the team for the great hospitality, my guests enjoyed their time very much."
---
And that's it for our list of the best wedding venues in Singapore at this moment. Did you have your own wedding in any of these spaces? If so, tell us how it went and how you liked the venue!
Don't forget to check out our list of the best wedding photographers in Singapore too, by the way. With the right photographer, you can immortalise your wedding for future reminiscence and sharing with family members!