The 16 Best Wedding Restaurants in Singapore
Are you looking for restaurants that can host a bunch of people for your wedding reception? If so, you've come to the right place, because we know of the best wedding restaurants in Singapore that serve mouth-watering food!
We combed through the island in search of restaurants that are perfect for wedding receptions, and we're sure that you're going to like each one of them. Take a look at our (and locals') favourites below!
1.  Sinfonia Ristorante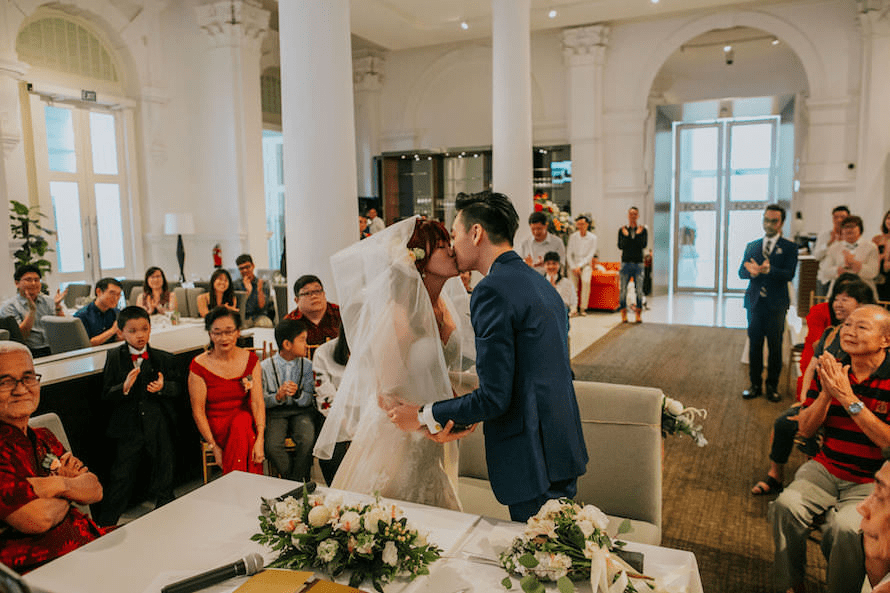 BEST FOR 
Classy Interiors
SERVICES
Wedding Catering
WEBSITE
http://sinfonia.com.sg/
ADDRESS
11 Empress Place, 01-01 Victoria Concert Hall, Singapore 179558
CONTACT DETAILS
+65 6385 5588 |

[email protected]

OPERATING HOURS
Monday – Friday, 12:00 PM – 11:00 PM
Sinfonia Ristorante's dining hall can hold up to 180 seated guests — 380 if the guests are standing. It's one of the restaurants with large capacity on the island, making it an ideal site for events such as wedding receptions.
What's more, guests will never be disappointed with the food and drinks as they're made by one of the top executive chefs in Singapore. Sinfonia Ristorante has an exquisite menu and concocted cocktails that will keep the guests alive throughout the reception — which is why we name it one of the best wedding restaurants in Singapore.
In terms of interiors and atmosphere, it definitely doesn't fall short either. Its elegant, Victoria-style interiors are made specifically to make weddings even more unforgettable.
Highlights
Elegant interiors
Personalised service
Large seating capacity
Customer Reviews
Here's what clients have to say about the services of Sinfonia Ristorante:
"Had an event dinner there, the food is amazing. The octopus is like heaven, crispy outside while tender inside, along with the creamy mashed potato, it's just perfect. Highly recommended. The venue itself has its limit as there are pillars in the hall, but it can be quite flexible to cater for event needs. Great place that will definitely come back again."
"My wife brought me here for lunch today. We had the Omakase Lunch. Every dish was excellent and remarkable in its own right. You have got to try it to believe it. Every staff member was attentive to our needs. They were friendly and service is definitely A+++. It was an afternoon I will remember for a long time. We will definitely be back! :)"
2.  The Villa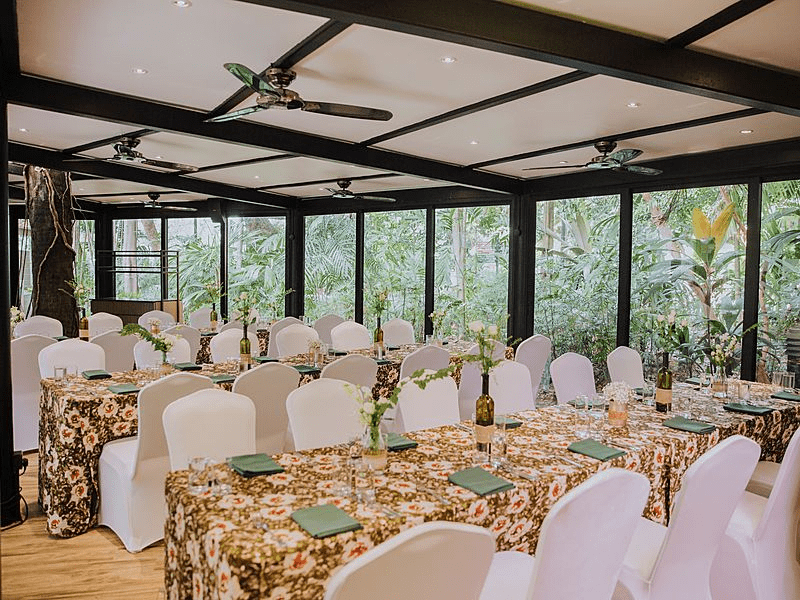 BEST FOR 
Customer-focused Experience
SERVICES
Wedding, Birthdays, Corporate Events, and Catering
WEBSITE
http://www.garden-events-sg.com/
ADDRESS
Tyersall Avenue, Ginger Garden, Singapore 259569
CONTACT DETAILS
(65) 6484 0711  |

[email protected]

OPERATING HOURS
Monday – Friday, 12:00 PM – 9:30 PM
The Villa remains one of the most preferred and best wedding restaurants in Singapore due to its proximity to nature. It's the perfect place for couples who want to be surrounded by greenery at their wedding reception.
If there's anything that its 12 years of operation has proved, it's that its team of experienced organisers know how to make wedding ceremonies more memorable. On top of weddings, it also accepts birthday events, corporate events, private dinners, and even food catering.
Speaking of food, The Villa offers a wide variety of meals that will not only fill up your guests' stomachs but bring smiles to their faces as well.
Highlights
12 years of experience
Nature backdrop
Customer Reviews
Take a look at some of the feedbacks posted by satisfied clients:
"This is a great place for tourists who want to sample Singaporean favourites but with a nicer ambiance than a hawker center. It's located in the beautiful Botanic Gardens and is comfortably air conditioned. The ambiance is lush green and amazing. There is an indoor vertical garden on the back wall and a tree growing up from the middle of the floor. There are also large windows so you can look out and enjoy the tropical foliage while enjoying your lunch. The staff are very friendly and attentive too. I've had the buffet here several times, and it changes a little bit but always had chicken & rice, spaghetti, and shaved ice."
"For the general public visiting the gardens there is a fantastic buffet of traditional Singapore style food that you can tuck into while enjoying the ambience and complementing music. The staff are very friendly and we recommend dishes to us."
3. The Summerhouse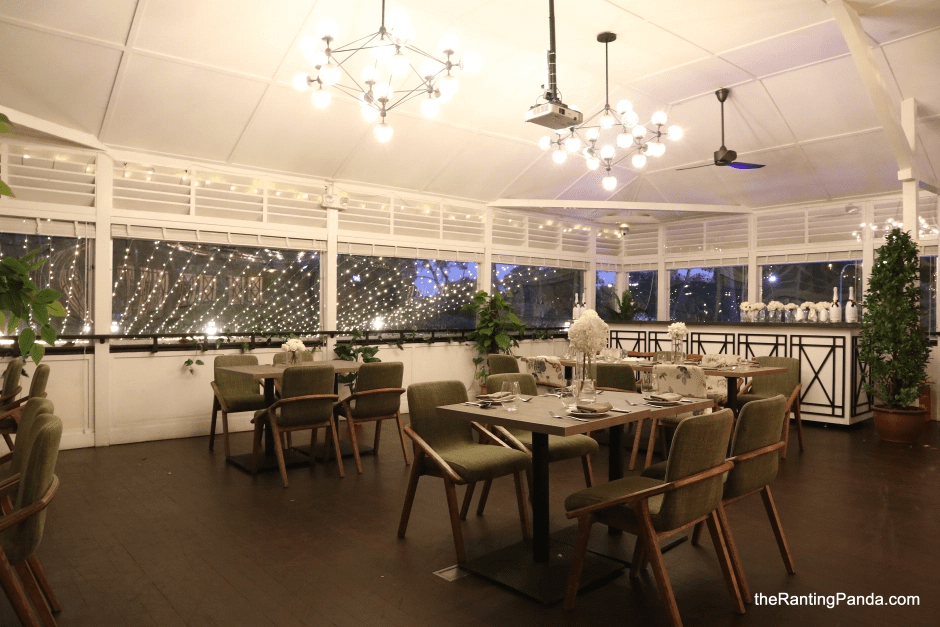 BEST FOR
Countryside Landscape
SERVICES
Wedding, Private Dinners, Corporate Events, Social Events, and Brand Launches
WEBSITE
http://www.thesummerhouse.sg/
ADDRESS
3 Park Ln, Singapore 798387
CONTACT DETAILS
8809 5840 |

[email protected]

OPERATING HOURS
Monday – Friday, 11:30 AM – 10:00 PM
If you're searching for a wedding restaurant with a picturesque, countryside landscape, then The Summerhouse would be a great place for your reception! It has a large garden filled with greens that's perfect for nature-themed weddings and couples who like being close to nature.
One reason we call it one of the best wedding restaurants in Singapore is its delicious nature-inspired cuisine — a majority of which is plant-based and healthy. Your guests will get to enjoy nature while eating healthy food, and is there anything better than that?
What's more, it has a vast space that has a seating capacity of more than 200 guests. If 200 guests isn't enough, the dining room and balcony space can be used to hold at least 180 more guests.
Highlights
200 seating capacity
Nature landscape
Plant-based cuisine
Customer Reviews
Here are some comments posted by customers on Google Reviews:
"It was an amazing dine-out for my family! Great place for families of all ages from adults to teens and toddlers. Lovely place for children to play outdoors with the bouncy castle activity. The live band music was very entertaining and food/drinks were awesome. It was very relaxing and we had an enjoyable evening. I would definitely return with more friends again!"
"I was recommended by a friend to dine at Summerhouse last Friday! Never knew there is a beautiful colonial style of dining near Seletar Aerospace area. Love the ambience and the services of one staff who wear blue gloves and ear studs! The overall experiences of dining gave me a pleasant dining feel."
4. Tamarind Hill
If the previous options are perfect for weddings with many guests, Tamarind Hills is the ideal place for couples who want to have an intimate wedding reception. It may have a limited seating capacity, but its delectable food makes up for it for most customers.
Another reason we name it one of the best wedding restaurants in Singapore is its timeless decor and rustic interiors. Guests will not only be served delicious epicurean food but will enjoy a beautiful environment as well.
More than this, guests can enjoy fine wines, signature cocktails, and even house-infused gins. It's the really best option for those looking forward to an amazing food experience.
Highlights
Epicurean dishes
Signature cocktails
Executive chef
5. Flutes
BEST FOR
Indoor or Outdoor Dining
SERVICES
Wedding and Corporate Events
WEBSITE
https://flutes.com.sg/
ADDRESS
93 Stamford Rd, #01-02 National Museum of Singapore, Singapore 178897
CONTACT DETAILS
+65 6338 8770 |

[email protected]

OPERATING HOURS
Monday – Friday, 11:30 AM – 10:05 PM
Located at the National Museum of Singapore, Flutes is the ideal place for couples who want to make their weddings part of history. If you're planning to invite more than a hundred guests, then you may do so as it can accommodate up to 150 guests.
It's not hard for us to call it one of the best wedding restaurants in Singapore because of its mouth-watering and delectable cuisine.
Oh, and by the way, Flutes also offers photographers, florists, and musicians to make your wedding reception even more memorable
Highlights
150 seating capacity
Personal chef
Elegant interiors
6. The Alkaff Mansion
Probably one of Singapore's most sought after wedding venue, The Alkaff Mansion is over 100 years old. Adorned with European-styled fountains, water features and welcoming outdoor spaces, it is perfect for your ideal intimate garden wedding venue.
The courtyard can accommodate up to 250 guests and the al-fresco areas are pet-friendly. There is also a private bridal room and the gazebo is ideal for your solemnization. The Alkaff Mansion serves up modern Spanish cuisine and menu is highly customisable.
Capacity
Level 1: Indoor – 113 guests, Outdoor – 250 guests
Level 2: 244 guests
The Grounds: 550 guests
Highlights
Garden solemnization
Up to 550 guests
Pet-friendly weddings
Over a decade of experience
Award-winning chefs
Romantic venue
Customer Reviews
Here are some reviews left by previous clients:
"Just had the wedding of our dreams at Alkaff Mansion, thanks so much to Janet, Mel, Aska, Seraj and the whole Alkaff team for making it such a special and smooth flowing night!
Janet and Mel were super patient and offered much guidance to us newlyweds through the whole planning process from our first meeting to the final day, which we were super thankful for! Not only that, they paid much attention to the theme and style that we envisioned and really brought it to life that night, making everything more than perfect! We really loved all the decor and special touches added which showed their attentiveness to us! Our guests couldn't rave enough about the decor, table settings and inside of the restaurant. Apart from that, the food was sooo good our guests asked if they could visit to have the same course!
Also a huge thanks to Aska, Seraj and the Alkaff team that night, for all the guidance and quick accommodations made as it was raining heavily during the cocktail reception, and for helping to make the rest of the night seamlessly smooth.
Thanks to making the wedding of our dreams and more come true, and for a night to remember.
Love, Ming & Fi" -Fi Ai Lin
"Had our wedding at The Alkaff Mansion and the setting done by the team was just so gorgeous. Food came out on point and at the right doneness, for all 200+ guests. Kudos to the team for going all out to assist us, more so since we do not have any bridesmaid / groomsmen. Thanks for the beautiful memory you have imprinted in everyone of us ♥️" -Adele Lee
7.

Open Farm Community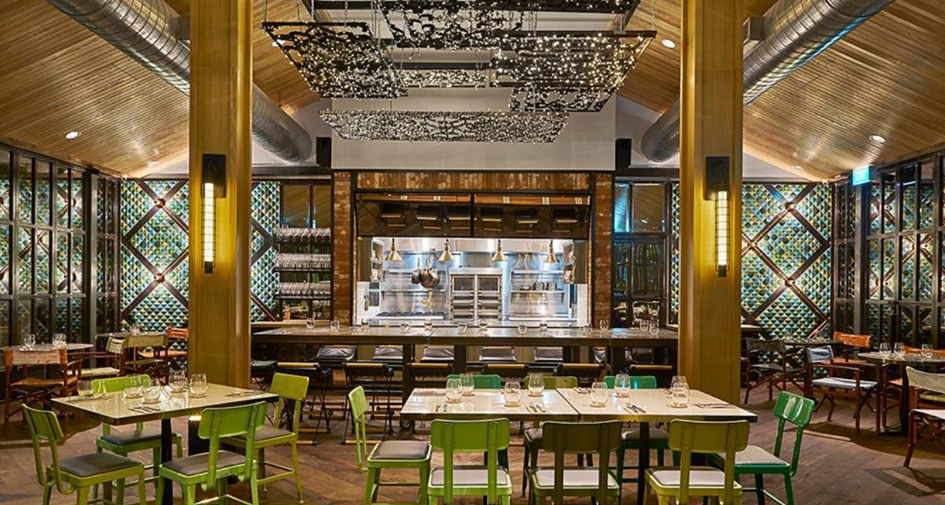 BEST FOR
Sustainable Green Dining
SERVICES
Wedding and Corporate Events
WEBSITE
http://www.openfarmcommunity.com/
ADDRESS
130E Minden Rd, Singapore 248819
CONTACT DETAILS
+65 6471 0306
OPERATING HOURS
Mon-Fri: 12nn-2:30pm | 6pm-9pm
Last orders: 2:00pm & 8:30pm
Sat & Sun: 10:30am-3:30pm | 6pm-9pm Last orders: 3pm & 8:30pm
Located at the National Museum of Singapore, Flutes is the ideal place for couples who want to make their weddings part of history. If you're planning to invite more than a hundred guests, then you may do so as it can accommodate up to 150 guests.
It's not hard for us to call it one of the best wedding restaurants in Singapore because of its mouth-watering and delectable cuisine.
Oh, and by the way, Flutes also offers photographers, florists, and musicians to make your wedding reception even more memorable
Highlights
Offers locally sourced, seasonal and innovative dishes
Open-concept dining
Curates and hosts local farmers to showcase their produce
8. Venuerific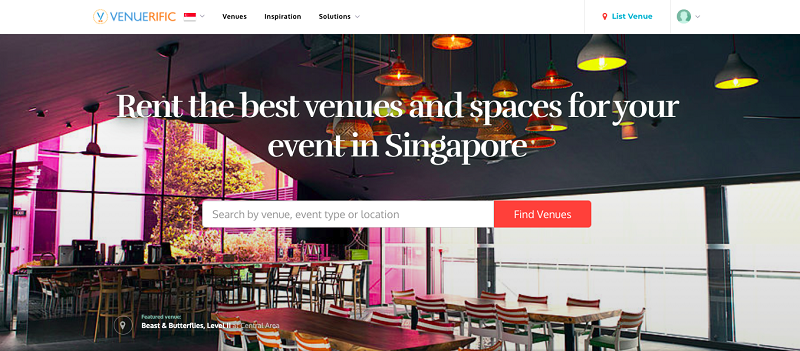 Founded in 2013 to help people celebrate anywhere, Venuerific today is the largest event venues booking platform in Southeast Asia with hundreds of unique event spaces listed on the platform. You can choose from a wide variety of venues to accommodate one of the most important milestones in your life, your wedding day!
If you're thinking to have a bird eye's view of the ocean and rainforest on your wedding day, check out the only top-of-hill venues on Faber Peak or experience the history of Singapore at Singapore's first Parliament House at The Arts House, Tribe Restaurant that features the elegant atmosphere from the buildings and flavours from around the world. Couples that are preferring a private intimate wedding, discover the contemporary lifestyle of Beast & Butterflies, Level II which brings a warm and cozy feel to the venue. For Malay Wedding with halal-certified food, you definitely need to choose Yassin Kampung, they also have an option for alfresco dining events.
Most importantly, you can make an inquiry directly via form or contact the host on the phone about the venue you are interested in. If you still need help to find the perfect place for your event, let their helpful staff know and they will be happy to assist you.
Highlights
Zero Cost
Fuss-free booking
Wide Variety of Event Spaces
Customer Reviews
"The best platform to find spaces to organize events. Thanks I was able to find a space according to the needs I was looking for to organize my wedding, I found my space and instantaneously I contacted the owner. They also have a service of experts in advising for events that make your job much easier. Without a doubt an excellent option."
"This platform makes it so easy to browse through hundreds of venues and pick the right one for your event. With comprehensive information together with detailed photos and videos, finding the right venue has never been easier."
9. Imperial Restaurant
BEST FOR
Imperial Family Sets
SERVICES
Wedding Events, Private Dinners, Corporate Events
WEBSITE
http://www.imperialherbal.com/
ADDRESS
FOUR POINTS BY SHERATON Level 2
382 Havelock Road, Singapore 169629
CONTACT DETAILS
Tel: 6337 0491
Email: [email protected]
OPERATING HOURS
Monday – Saturday: 8am – 9pm
Sunday: 9am – 10pm
Imperial Restaurant is one of the highly sought after Chinese places where you can get delicious yet healthy food. They're known to incorporate herbal traditional practices in cooking dishes, allowing a unique dining worth the try.
What makes them a solid option for your wedding reception is that not only do they have amazingly good food, but their designing concept and themes are one you'd surely love. The way they make it is simple, elegant, and timeless.
Savour the best Chinese cuisine you'll get in Singapore only at Imperial Restaurant. Make sure to book your wedding or even private dinners and corporate events with them!
Highlights
Flawlessly designed wedding receptions
Delicious and healthy food
Exotic menu
Years of experience
Customer Reviews
Below are some of the feedbacks left on Imperial Restaurant's Google Review:
"Chinese food, some are herbal based. Bought a package through Fave. Price reasonable. Food was above average. Ambience was better than good, probably due to the non-peak hours. I like the excellent service by the middle age waitresses. Very caring and good attention to details."
"Just went today with my 70+mom n dad,
Staff is friendly and observant,
My mother was coughing quite abit and the staff recommend the mint tea which really helps to reduce her coughing
We tried the egg white with dried scallop, spring rolls, herbal cod fish 200g, bamboo pith soup, boxthorn vegetable with Chinese wolf berries, fried efu noodles with seafood. "
10. Waterfall Ristorante Italiano

Offering a cosy and homey vibe, Waterfall Ristorante Italiano is the perfect wedding reception place if you're looking for a more intimate conversation and seating.
Already in their name, the restaurant is proud to incorporate Italian qualities to the overall design and feel of the place, and of course, to their food.
Expect only the most amazing dishes from hand-me-down recipes passed for years on end. The freshest seafood and other ingredients are also used for each of the items on the menu, so rest assured that you'll experience on the best of quality from Waterfall Ristorante Italiano.
Highlights
Beautiful pool view
Amazing pasta dishes
Comfortable ambience
Friendly and efficient servicing
Customer Reviews
Here's what a very satisfied client had to say about Waterfall Ristorante Italiano:
"Wanderful Italian seafood pasta restaurant with great pool views of Shangri-la Hotel and Water features of Garden Wing with breezy greenery away from busy cityscapes. Love the Southern Italian classic cuisine with luxurious comfort atmosphere and decor. Freshly prepared Seafood with healthy ingredients tender loving skillful cooking and warm services. Conveniently located at Orange Grove with frequent free shuttle bus from Shangri-la Apartments Orchard MRT Hotel Jens Tanglin Mall Takashimaya Shopping Centre with plenty of dinning shopping banking supermarkets library cinemas Electric Electronics entertainments groceries sundries postage services Luxury hotels restaurants resort and amenities nearby. Friendly cosy comfy welcoming ambience for romantic intimates groups students expats locals visitors and families."
11. Wheeler's Estate
BEST FOR
Rustic Environment
SERVICES
Restaurant, Alfresco, Bar, Events, Entertainment, Recreation
WEBSITE
https://www.wheelersestate.com/
ADDRESS

2 Park Ln, Seletar Aerospace Park,

Singapore (798386)

CONTACT DETAILS
OPERATING HOURS
Monday: CLOSED
Tuesday: 11:30 – 23:00
Wednesday: 11:30 – 23:00
Thursday: 11:30 – 23:00
Friday: 11:30 – 23:00
Saturday: 09:00 – 23:00
Sunday: 09:00 – 23:00
If you're looking to have your nuptials close to nature, then you may want to consider Wheeler's Estate as a wedding venue.
Considered Singapore's largest 2-acre dining destination, Wheeler's Estate is far removed from the hustle and bustle of city life, nestled as it is in lush abundant greenery.
Couples who choose Wheeler's Estate for their wedding ceremony are undoubtedly spoiled for choice, what with the area featuring a conserved colonial building with a sprawling lawn, an elegant pavilion, Bambi trailer, and refurbished black-and-white bungalow. These facilities allow Wheeler's Estate to give clients the opportunity to have a garden wedding ceremony, a wedding under the stars, or a wedding adorned by old world charm.
Aside from the picturesque locations, Wheeler's Estate also offers catering for the reception that follows the ceremony. They specialise in modern European and Australian cuisine, and can provide plated set courses, live rotisserie, buffets, and canapes upon the clients' requests.
It's worth noting that the catering from Wheeler's Estate is headed by Chefs Jayd and Foong, with the team boasting over eight years of collective experience in the field. The chefs are committed to quality, and it shows with their use of the freshest, finest ingredients.
Highlights
Largest 2-acre dining destination
Connected to Cinder Steakhouse
Alfresco dining
Offers catering services
12. Whitegrass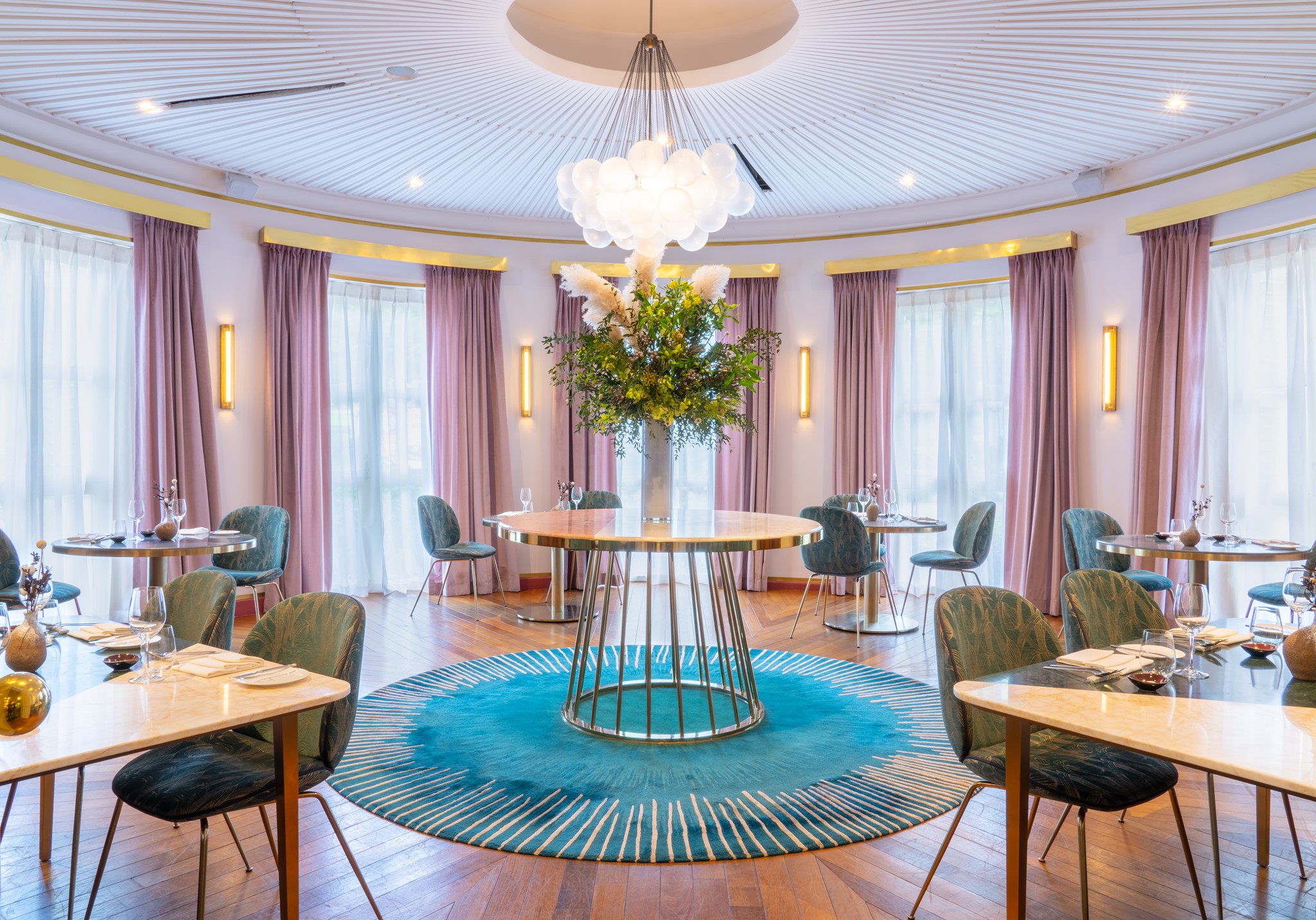 BEST FOR
French-Japanese Cuisine
SERVICES

Sit down and Standing parties

WEBSITE
https://www.whitegrass.com.sg/
ADDRESS
30 Victoria Street #01-26/27 Chijmes Singapore, Singapore 187996
CONTACT DETAILS

+65 6837 0402

OPERATING HOURS

Lunch

Tuesday – Saturday: 12:00pm – 2:30pm

(Last seating 2:00pm)

Sunday and Monday: closed

Dinner

Tuesday – Saturday: 6:00pm – 10:30pm

(Last seating 9:00pm)

Sunday and Monday: closed
Located in a 160-year-old heritage building, Whitegrass is a contemporary French-Japanese restaurant whose kitchen is helmed by Chef Takuya Yamashita. Whitegrass' menu features seasonal options, all made from the freshest and finest ingredients. The chef also takes great care to respect the ingredients and the people who have provided them.
Whitegrass also offers an extensive selection of wines and sake, which include Organic and Biodynamic labels. Guests looking to know the right choice for their meals can ask for recommendations from the expert staff.
In terms of event spaces, Whitegrass is perfect for small crowds, with the elegantly designed hall fitting in around 70 to 90 people, depending if it's a sitting or standing party.
Highlights
70 pax for sitting party; 90 pax for standing
Takes note of dietary restrictions
Seasonal menus
Private dining available
13. Alma by Juan Amador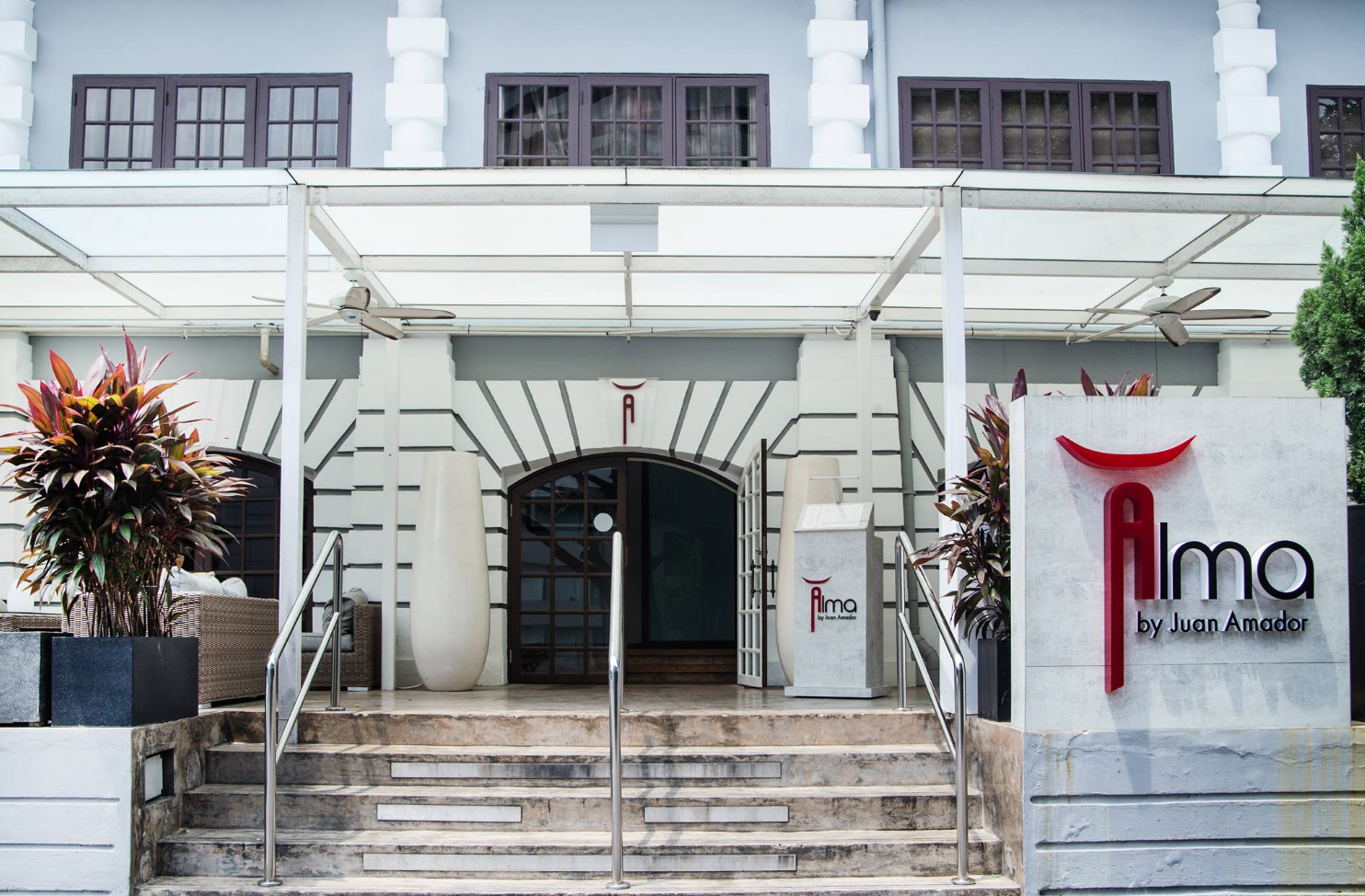 BEST FOR
Modern-European with Asian Influence
SERVICES
Lunch and Dinner
WEBSITE
https://alma.sg/
ADDRESS
Goodwood Park Hotel, 22 Scotts Road, Singapore 228221
CONTACT DETAILS
Phone:
+65 6735 9937 (Main Line)
+65 9119 8928 (Events & Non-Operation Hrs)

Email:
[email protected]

OPERATING HOURS
Takeaway & Delivery

12 pm, Last Order at 530 pm

Dine-In

Lunch: 12 pm – 230 pm
Last Seating at 145 pm

Dinner: 6 pm – 1030pm
Last Seating at 745 pm

Close on Every Sunday (Full Day)
Found within the luxurious walls of Goodwood Park Hotel at Orchard Road, Alma by Juan Amador is a one Michelin star restaurant whose quality of food and services has been proven since 2016.
Aside from the four years it has been granted a Michelin star, Alma has also been awarded the 2018 Traveller's Choice Awards by TripAdvisor for its culinary excellence and warm hospitality as one of the top restaurants out of 11,736 establishments in Singapore.
Now, to get into specifics, Alma's kitchen is led by one Chef Haikal Johari, who has a distinguished culinary career in some of the finest restaurants in the region. Chef Haikal's background in European and Asian cuisines allow him to create a symphony of flavours that marry the two flvaours.
Aside from his years and expertise in cooking, Chef Haikal also has access to some of the freshest and finest ingredients in the market, which lend to Alma's food quality. The restaurant also has an extensive list of wine to pair with every dish they have to offer.
We should bring up the fact that Alma only offers set menus to their patrons. No need to fret about pricing or the food being too much, considering that Alma offers three to five set courses to their customers, with vegetarian, seafodd, and meat options in each.
So, if you're looking to dine some time within the day, it's worth noting that Alma is open for lunch and dinner everyday. The restaurant is also available for takeaways and deliveries for customers who wish to experience good food in the safety and comfort of their own homes.
Highlights
Vegetarian options available
Open for takeaways and deliveries
Large seating capacity
14. Vineyard at Hortpark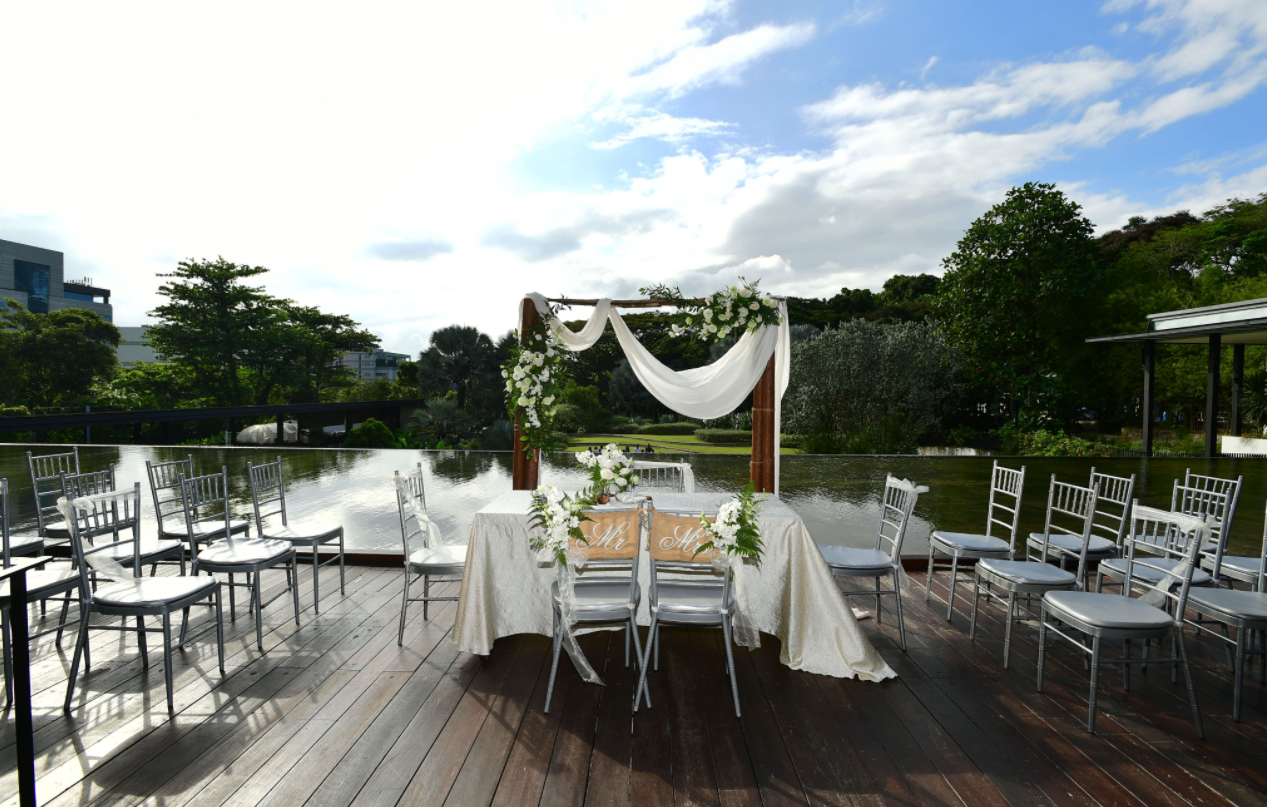 BEST FOR
Aesthetic Venue
SERVICES
Dine In, Corporate Events, and Weddings
WEBSITE
http://www.vineyardhortpark.com.sg
ADDRESS
33 Hyderabad Road Hort Park #02-02 Singapore, Singapore 119578
CONTACT DETAILS
Tel: 6479 7977
[email protected]
OPERATING HOURS

Mondays to Fridays:
12:00pm to 3:00pm
6:00pm to 10:00pm

Saturday, Sundays and Public Holidays:
10:30am to 10:00pm

Last orders for kitchen at 2:30pm for lunch and 9:30pm for dinner. Set Lunch available on weekdays. Brunch available on weekends, from 10:30am to 3pm
If you're looking for a wedding venue that's close to nature in terms of location and food menu, then Vineyard at Hort Park may be one of the best choices for you.
Nestled in luscious greenery, enjoy a perfect getaway from the bustling city! This charming restaurant aspires to recreate the provincial experience with it's beautifully aged-wood tables, overhung foliage and edible garden.
Vineyard also has special event halls for parties, solemnizations and weddings. Couples can choose to hold their special day in our rustic indoor dining room, sheltered veranda or by the reflecting infinity pool.
Aside from the picturesque location, Vineyard has also been praised tirelessly for its exquisite menu, which offers flavours unique to Vineyard thanks to restaurant's French-Italian flare. Here, you'll find Quail, Frog Leg and Fish all sourced locally in support of local farmers with garden-to-table herbs and vegetables from Vineyard's very own edible garden.
Regardless of the meal option of your choice, it's sure to be so fresh and tasty by the time it gets on your plate. This is because local produce takes a shorter time from farm and/or harvest to table, leaving nutrient value and its freshness intact.
Highlights
Ethically and locally sourced fresh ingredients and produce
Picturesque restaurant and special events location
Takes into consideration dietary restrictions
Offers a wide variety of events menu to choose from
15. Peach Garden
BEST FOR
Refined Chinese Cuisine
SERVICES
Fine Chinese Dining, Chinese Casual Dining, Event Catering
WEBSITE
https://www.peachgarden.com.sg/
ADDRESS
Peach Garden @ OCBC Centre
65 Chulia Street
#33-01, OCBC Centre
Singapore 049513
CONTACT DETAILS
For Weddings, Social and Corporate Events:
Winson Wong
Mobile: 8611 6197
Email: [email protected]

Debra Quek
Mobile: 8468 3763
Email: [email protected]

OPERATING HOURS
Contact for more information
Peach Garden is a group of Chinese restaurants with a wide array of dining options in various locations. Regardless of the restaurant you come into, however, you'll notice that there is a great focus on service and food quality.
This is because Peach Garden endeavours to provide an exquisite dining experience, and the aforementioned service and food quality are the foundations of such experience. In terms of food, however, it's worth noting that Peach Garden puts in the extra effort to acquire the freshest and finest ingredients.
These ingredients, paired with the expertise of their chefs in Chinese cuisine, result in tasty dishes that will bring you to flavour town.
The dim sums are a must try, of course, and so are the Roasted Spring Chicken, Crisp-fried Prawn with Wasabi Salad Cream, Signature Wok-fried Mian Xian with Diced Seafood in Superior Soya Sauce, and the Chilled Jelly Royale with Julienne of Coconut.
To learn more about Peach Garden and their array of restaurants, dining styles, and dishes, do check out their website for more information.
Highlights
Fine dining, casual dining, and catering available
Freshest and finest ingredients used for the dishes
Excellent customer-centric experience
16. Corner House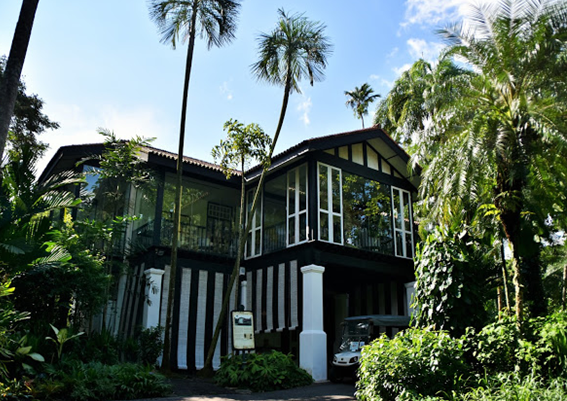 BEST FOR
One Michelin star restaurant
SERVICES
Wedding receptions, private events, fine dining, corporate meetings
WEBSITE
https://cornerhouse.com.sg/
ADDRESS
HCH Corner House Pte Ltd
1 Cluny Road Singapore Botanic Gardens
Singapore 259569
CONTACT DETAILS
T: +65 6469 1000
[email protected]
OPERATING HOURS
Lunch: 12 pm – 3 pm (last order 1.30 pm)
Dinner: 6.30 pm – 11 pm (last order 9 pm)
Since it was first established in 2014, Corner House has provided a great place to make amazing memories. The whole restaurant, from the exterior going towards the actual dining area, is enchanting; it's simple yet holds great impact to their customers. With that, it's definitely the perfect spot to celebrate after your very own wedding.
Their extensive menu is also a plus, with the restaurant offering gourmet dishes that couples would enjoy sharing with guests.
Corner House, with its one Michelin star and ranking belonging in the top 50 best restaurants in Asia, is surely on the list for you to check out if you're still looking for that perfect wedding reception.
Highlights
Amazing ambience and environment
Fancy interior
Amazing food
Great service
And that's it for our list of the best wedding restaurants in Singapore. If you've visited any of these places before, do tell us about your experience and what makes them a great wedding restaurant.
Anyway, this list was really for those who want big, relatively traditional wedding receptions and dinners. If you want something more intimate and unique — or possibly even a wedding dinner with only you and your spouse — you may want to try our list of the best unique restaurants in Singapore instead.