Are you looking for restaurants that can host a bunch of people for your wedding reception? If so, you've come to the right place, because we know of the best wedding restaurants in Singapore that serve mouth-watering food!
We combed through the island in search of restaurants that are perfect for wedding receptions, and we're sure that you're going to like each one of them. Take a look at our (and locals') favourites below!
1.  Sinfonia Ristorante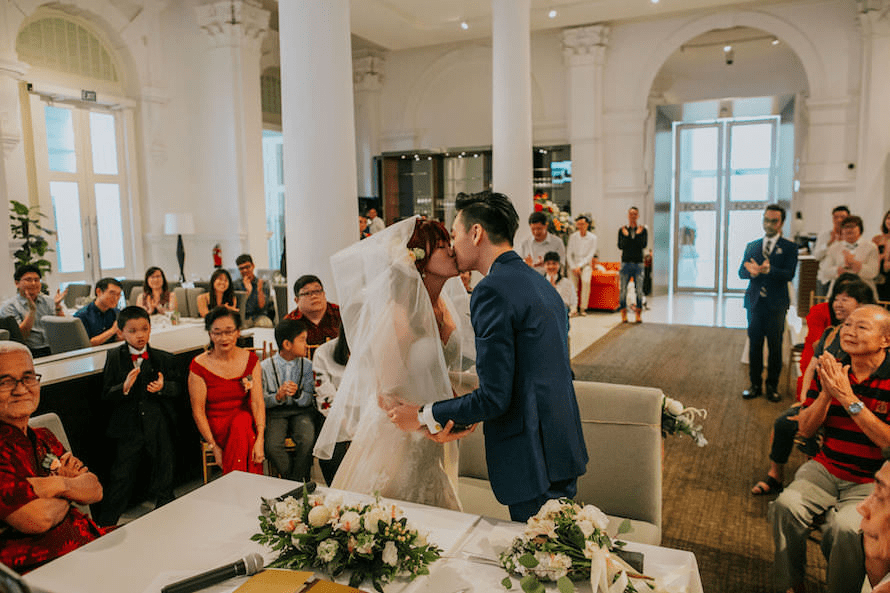 BEST FOR 
Classy Interiors
SERVICES
Wedding Catering
WEBSITE
http://sinfonia.com.sg/
ADDRESS
11 Empress Place, 01-01 Victoria Concert Hall, Singapore 179558
CONTACT DETAILS
+65 6385 5588 |

[email protected]

OPERATING HOURS
Monday – Friday, 12:00 PM – 11:00 PM
Sinfonia Ristorante's dining hall can hold up to 180 seated guests — 380 if the guests are standing. It's one of the restaurants with large capacity on the island, making it an ideal site for events such as wedding receptions.
What's more, guests will never be disappointed with the food and drinks as they're made by one of the top executive chefs in Singapore. Sinfonia Ristorante has an exquisite menu and concocted cocktails that will keep the guests alive throughout the reception — which is why we name it one of the best wedding restaurants in Singapore.
In terms of interiors and atmosphere, it definitely doesn't fall short either. Its elegant, Victoria-style interiors are made specifically to make weddings even more unforgettable.
Highlights
Elegant interiors
Personalised service
Large seating capacity
Customer Reviews
Here's what clients have to say about the services of Sinfonia Ristorante:
"Had an event dinner there, the food is amazing. The octopus is like heaven, crispy outside while tender inside, along with the creamy mashed potato, it's just perfect. Highly recommended. The venue itself has its limit as there are pillars in the hall, but it can be quite flexible to cater for event needs. Great place that will definitely come back again."
"My wife brought me here for lunch today. We had the Omakase Lunch. Every dish was excellent and remarkable in its own right. You have got to try it to believe it. Every staff member was attentive to our needs. They were friendly and service is definitely A+++. It was an afternoon I will remember for a long time. We will definitely be back! :)"
2.  The Villa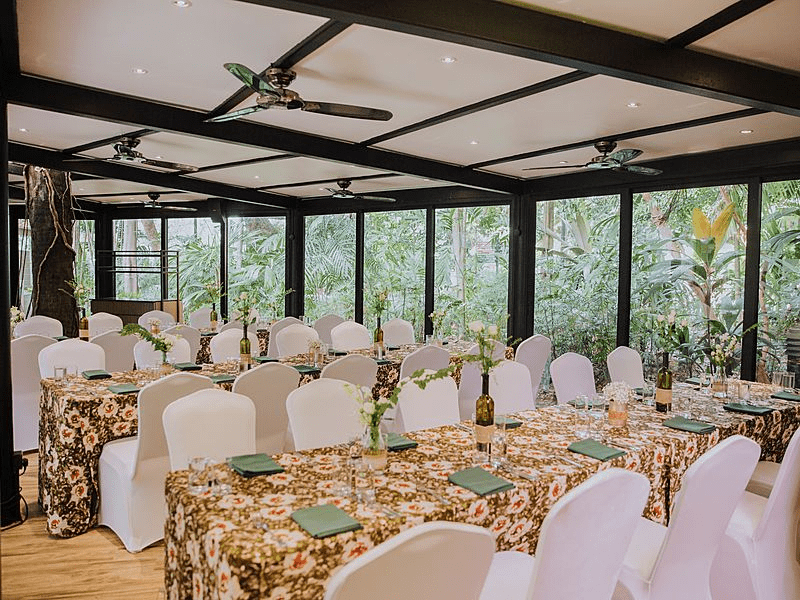 BEST FOR 
Customer-focused Experience
SERVICES
Wedding, Birthdays, Corporate Events, and Catering
WEBSITE
http://www.garden-events-sg.com/
ADDRESS
Tyersall Avenue, Ginger Garden, Singapore 259569
CONTACT DETAILS
(65) 6484 0711  |

[email protected]

OPERATING HOURS
Monday – Friday, 12:00 PM – 9:30 PM
The Villa remains one of the most preferred and best wedding restaurants in Singapore due to its proximity to nature. It's the perfect place for couples who want to be surrounded by greenery at their wedding reception.
If there's anything that its 12 years of operation has proved, it's that its team of experienced organisers know how to make wedding ceremonies more memorable. On top of weddings, it also accepts birthday events, corporate events, private dinners, and even food catering.
Speaking of food, The Villa offers a wide variety of meals that will not only fill up your guests' stomachs but bring smiles to their faces as well.
Highlights
12 years of experience
Nature backdrop
Customer Reviews
Take a look at some of the feedbacks posted by satisfied clients:
"This is a great place for tourists who want to sample Singaporean favourites but with a nicer ambiance than a hawker center. It's located in the beautiful Botanic Gardens and is comfortably air conditioned. The ambiance is lush green and amazing. There is an indoor vertical garden on the back wall and a tree growing up from the middle of the floor. There are also large windows so you can look out and enjoy the tropical foliage while enjoying your lunch. The staff are very friendly and attentive too. I've had the buffet here several times, and it changes a little bit but always had chicken & rice, spaghetti, and shaved ice."
"For the general public visiting the gardens there is a fantastic buffet of traditional Singapore style food that you can tuck into while enjoying the ambience and complementing music. The staff are very friendly and we recommend dishes to us."
3.  The Summerhouse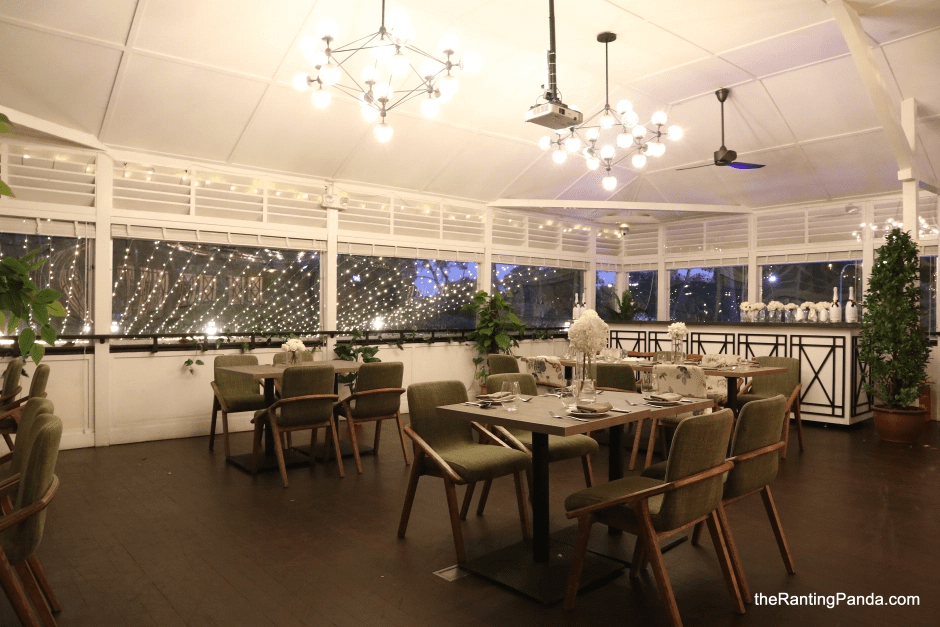 BEST FOR 
Countryside Landscape
SERVICES
Wedding, Private Dinners, Corporate Events, Social Events, and Brand Launches
WEBSITE
http://www.thesummerhouse.sg/
ADDRESS
3 Park Ln, Singapore 798387
CONTACT DETAILS
8809 5840 |

[email protected]

OPERATING HOURS
Monday – Friday, 11:30 AM – 10:00 PM
If you're searching for a wedding restaurant with a picturesque, countryside landscape, then The Summerhouse would be a great place for your reception! It has a large garden filled with greens that's perfect for nature-themed weddings and couples who like being close to nature.
One reason we call it one of the best wedding restaurants in Singapore is its delicious nature-inspired cuisine — a majority of which is plant-based and healthy. Your guests will get to enjoy nature while eating healthy food, and is there anything better than that?
What's more, it has a vast space that has a seating capacity of more than 200 guests. If 200 guests isn't enough, the dining room and balcony space can be used to hold at least 180 more guests.
Highlights
200 seating capacity
Nature landscape
Plant-based cuisine
Customer Reviews
Here are some comments posted by customers on Google Reviews:
"It was an amazing dine-out for my family! Great place for families of all ages from adults to teens and toddlers. Lovely place for children to play outdoors with the bouncy castle activity.  The live band music was very entertaining and food/drinks were awesome. It was very relaxing and we had an enjoyable evening. I would definitely return with more friends again!"
"I was recommended by a friend to dine at Summerhouse last Friday!  Never knew there is a beautiful colonial style of dining near Seletar Aerospace area. Love the ambience and the services of one staff who wear blue gloves and ear studs! The overall experiences of dining gave me a pleasant dining feel."
4.  Tamarind Hill
If the previous options are perfect for weddings with many guests, Tamarind Hills is the ideal place for couples who want to have an intimate wedding reception. It may have a limited seating capacity, but its delectable food makes up for it for most customers.
Another reason we name it one of the best wedding restaurants in Singapore is its timeless decor and rustic interiors. Guests will not only be served delicious epicurean food but will enjoy a beautiful environment as well.
More than this, guests can enjoy fine wines, signature cocktails, and even house-infused gins. It's the really best option for those looking forward to an amazing food experience.
Highlights
Epicurean dishes
Signature cocktails
Executive chef
5.  Flutes
BEST FOR 
Indoor or Outdoor Dining
SERVICES
Wedding and Corporate Events
WEBSITE
https://flutes.com.sg/
ADDRESS
93 Stamford Rd, #01-02 National Museum of Singapore, Singapore 178897
CONTACT DETAILS
+65 6338 8770 |

[email protected]

OPERATING HOURS
Monday – Friday, 11:30 AM – 10:05 PM
Located at the National Museum of Singapore, Flutes is the ideal place for couples who want to make their weddings part of history. If you're planning to invite more than a hundred guests, then you may do so as it can accommodate up to 150 guests.
It's not hard for us to call it one of the best wedding restaurants in Singapore because of its mouth-watering and delectable cuisine.
Oh, and by the way, Flutes also offers photographers, florists, and musicians to make your wedding reception even more memorable
Highlights
150 seating capacity
Personal chef
Elegant interiors
And that's it for our list of the best wedding restaurants in Singapore. If you've visited any of these places before, do tell us about your experience and what makes them a great wedding restaurant.
Anyway, this list was really for those who want big, relatively traditional wedding receptions and dinners. If you want something more intimate and unique — or possibly even a wedding dinner with only you and your spouse — you may want to try our list of the best unique restaurants in Singapore instead.