The 9 Best Unique Restaurants in Singapore
Is dining at a unique restaurant one of the things in your bucket list? Then you're on the right page — we're here to help you find the rarest and best unique restaurants in Singapore!
For this, we searched in particular for restaurants whose themes are different from everybody else's. We also looked for those with unusual settings, locations, services, or perks.
We ended up with some amazing establishments, from ones that let you dine as if underwater to ones that let you dine in a replica of the cafe from F.R.I.E.N.D.S. All that was missing from the latter was Gunther!
Ready to see our finds? Come and take a look at our list below to see the best unique restaurants in Singapore that we've gathered just for you!
1. NOX – Dine in the Dark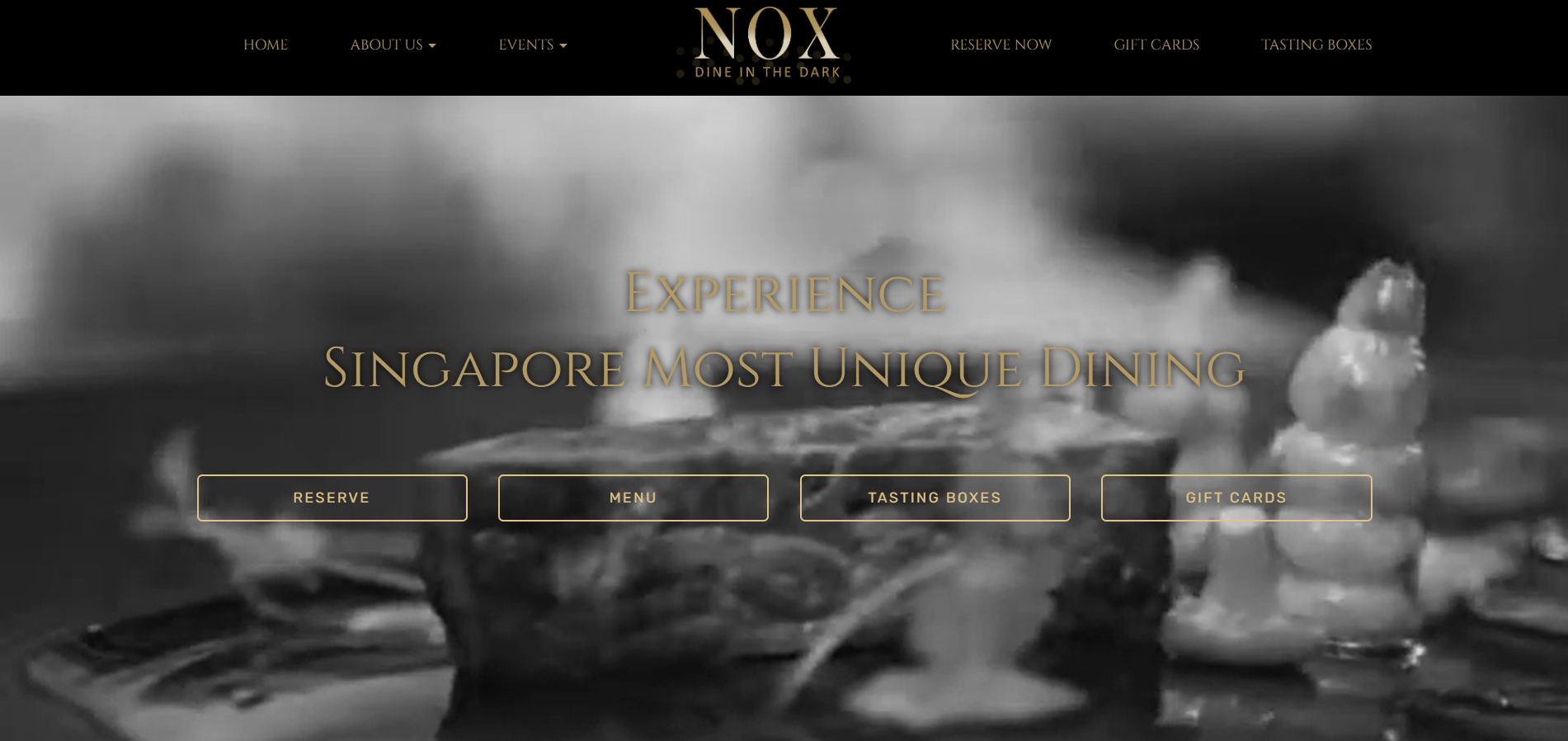 Nox offers a unique sensory dining experience to its customers. Unlike most restaurants, you will be seated in a pitch-black dining room, where you can enjoy their menu consisting of twelve mystery dishes.
To top it off, you will be served by blind and visually impaired hosts, making for a memorable culinary journey not everyone gets to experience. Check out their website and book a reservation if you're interested.
Highlights
Dishes made with the finest ingredients
Wine and/or cocktail tasting available
Blind and visually impaired hosts
Unique mind-altering sensory experience
2. Smith Marine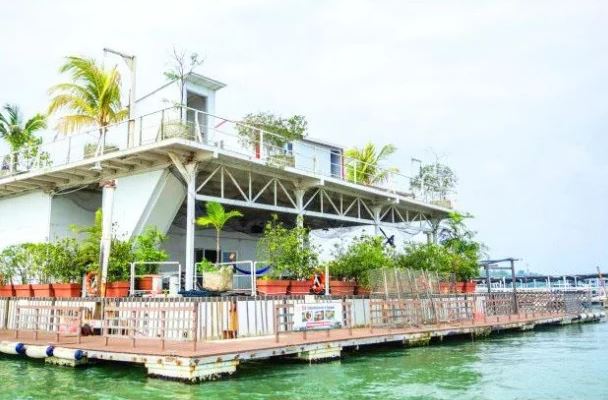 | | |
| --- | --- |
| BEST FOR | Halal seafood dishes |
| PRICING | Rates |
| WEBSITE | https://smithmarine.com.sg/ |
| ADDRESS | Johor Strait, Singapore |
| CONTACT DETAILS | +65 9792 7609 |
| OPERATING HOURS | Daily, 10am–7pm |
Smith Marine is the perfect place to visit during summer! As they're located at a ferry terminal, you can easily feel the sea breeze as you dine on their freshest seafood!
They offer a variety of set menus and each set fits group sharing. This includes their vegetable or crabmeat soup, seafood delicacies, tofu or chicken dishes, and many more!
They also provide the exciting option of catching a fish from their pond and once you've caught one, the main chefs will prepare and cook it for you!
Highlights
Unique Spot Catch Your Own Fish for LUNCH OR DINNER
Wide Range of Fresh Live Seafood
Customer Reviews
Most customers had a great time dining at Smith Marine. They complimented their overall services including the fishing activities, family games, fantastic menu, and pleasant ambience.
These are the reasons they're named one of the best unique restaurants in Singapore. A customer from Google Reviews posted this feedback:
"We had a wonderful experience dining at this restaurant; from the ferry pickup to catching our fish, playing family games to eating and soaking in the atmosphere and scenery.. the restaurant is also very environmentally conscious..advising us not to order too big a portion to avoid wastage and also conserving water."
3. Andsoforth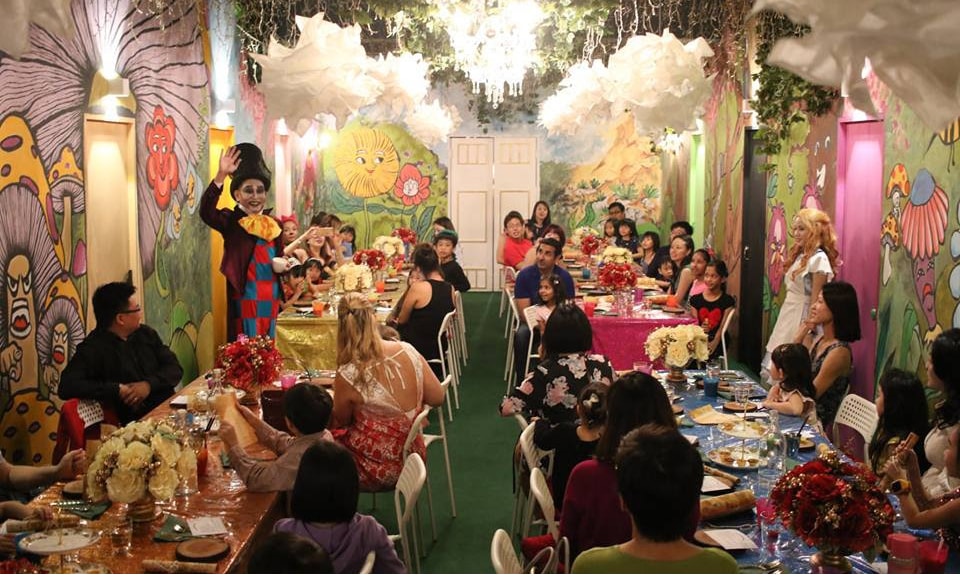 Andsoforth goes beyond the norm as they bring you immersive entertainment and a meticulously customised menu. We know their inclusion here is a bit of a stretch — they're not exactly a restaurant, after all, but we doubt you'll mind. After all, they have amazing food!
They're known to be the largest dining company in Asia that performs unique concepts or shows and this includes their creative team that consists of actors, dancers, singers, aerial hoop artists, cabaret, illustrators, puppeteers, and many more.
They don't have a single location because they travel all over the world, performing astonishing shows and offering intercontinental cuisine for everyone.
To access their services, you need to book a reservation and mention your dietary restrictions if you have any, so they can make a menu that perfectly suits your preferences.
Their exceptional, amusing, and thrilling events have made them one of the best unique restaurants in Singapore.
Highlights
Full of surprising performances
Flexible menu options
4. Mind Cafe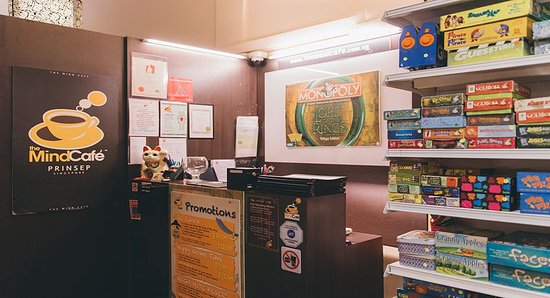 BEST FOR
Signature pastries, different kinds of board games
PRICING
Rates
WEBSITE
https://themindcafe.com.sg/
ADDRESS
60A Prinsep Street Singapore 188664
CONTACT DETAILS
+65 8121 5188
OPERATING HOURS
Sunday to Thursday: 11am–6am
Friday and Saturday: 11am–2am
If you enjoy playing board games, then Mind Cafe is the ideal place for you! They have a full-range game library filled with at least 500 games (you can also purchase one so you can try it at home!).
They provide trivia games, word games, strategy games, and more! You can also have fun with their game show events organized for company gatherings, birthday parties, and other celebrations.
For their menu, they have a whole set of beverages such as refreshing coffee and tasty signature pastries. When it comes to their main courses, they have lasagna, chicken dishes, salads, vegan meals, etc.
Highlights
Signature treats and vegan dishes
Game show events
Customer Reviews
Many customers have recommended the range of food and drinks, attentive staff, and variety of games at Mind Cafe, claiming them to be the best unique restaurants in Singapore for those who love playing while dining.
A customer wrote this review on Google Reviews:
"The service is really good! All the staff are friendly and polite, offering help even when not asked. Even when there's many people, they still remain friendly and polite to all customers. Just a fixed price of $10.80++ (for students), u get to enjoy unlimited drinks and snacks from 20 choices each, definitely highly recommended! You should also come in large groups as u can play more kinds of games, which will be more fun!"
5. Ocean Restaurant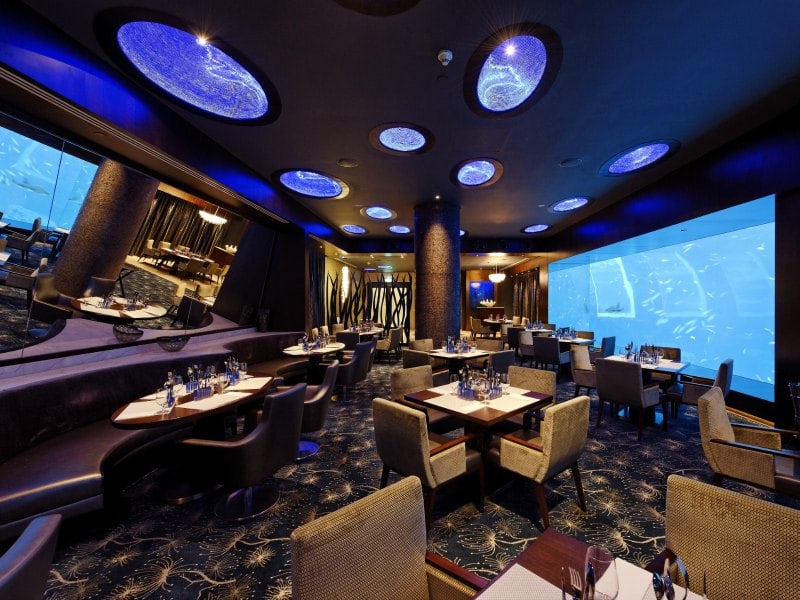 BEST FOR
Modern seafood dishes, scenic underwater aquarium view
WEBSITE
https://www.rwsentosa.com/en/restaurants/ocean-restaurant/overview
ADDRESS
Equarius Hotel, West B1M Carpark
CONTACT DETAILS
+65 6577 6869 / +65 6577 6688
OPERATING HOURS
Monday – Thursday:
Lunch: 11.30am – 2.30pm
Dinner: 6pm – 10pm
Friday, Saturday & Sunday:
Lunch: 11.30am (1st Seating) ; 1pm (2nd Seating)
Dinner: 6pm (1st Seating) ; 8pm (2nd Seating)
If your loved ones are quite fond of sea creatures, then you'd better impress them by bringing them to Ocean Restaurant. The place is considered to be the only one that offers an underwater aquarium dining experience in Southeast Asia.
They're also located at Resorts World Sentosa, so you won't have any trouble finding their location. As you have a taste of their modern take on seafood dishes, you can enjoy a wide view of beautiful sea creatures swimming around the big aquarium.
On their menu, they offer salmon, scallops, oyster, and prawn meals as well as pork belly and BBQ specials. You can enjoy all of that while feeling as though you're in a bubble under the sea!
Highlights
Sea nature dining experience
Special promotions
Customer Reviews
Ocean Restaurant has gained plenty of praise from the customers who've shared their experience dining there. Many of them insist that Ocean Restaurant is definitely one of the best unique restaurants in Singapore for lovers of marine life.
A customer left this post on Google Reviews:
"Singapore offers a lot, but this restaurant right in the acquarium attached to the biggest tank is unique. The large windows allow to observe large fish, schools of fish, mantas and more right a few feet from your table. On the inside there are lots of mirrors so that also the guests with their back to the aquarium can see it all. The staff is very nice, and the food excellent. As we booked the whole place for a company even, we also got two divers in the aquarium displaying our company's logo and message from "the fish side" and it had quite an impact on our guests. Truly an unforgettable experience!"
6. Central Perk Cafe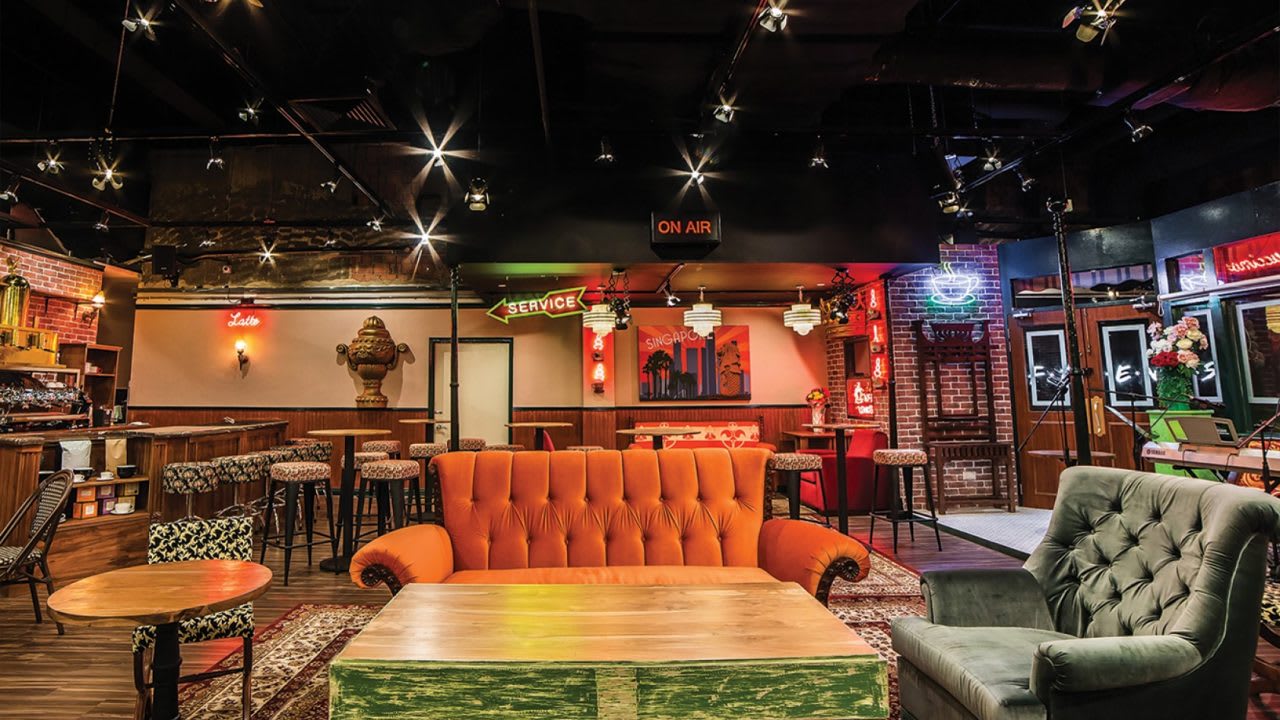 BEST FOR
F.R.I.E.N.D.S inspired cafe, Signature dishes
PRICING
Menu
WEBSITE
https://www.centralperk.sg/
ADDRESS
1 Magazine Road Central Mall #01-01 Singapore 059567
CONTACT DETAILS
+65 9025 2524
OPERATING HOURS
Monday – Sunday: 11:00am – 11:00pm
Tuesday : 11pm
Last order for food at 9:30pm
For the hardcore fans of the F.R.I.E.N.D.S. TV show, here's your chance to make your dreams of visiting the iconic cafe come true! Central Perk Cafe is now in Singapore!
At this place, you can relive the remarkable moments of the famous characters such as Chandler's sarcastic dialogues, Ross's problematic love life, Joey's nonsensical yet hilarious thoughts, Monica's perfectionism, Rachel's journey towards an independent life, and of course, Phoebe's phenomenal songs!
As you remember their genuine and one-of-a-kind friendship, you can experience their well-known coffee drinks and muffins! They even named drinks after the characters.
They also have signature dishes, including a variety of seafood, turkey dishes, and meat steaks. Other dishes such as pizza, pasta, as well as desserts and beverages are also part of their menu.
With the witty names of their food and drinks, you'll surely enjoy your dining experience here. That's why they're among the best unique restaurants in Singapore for many local and foreign visitors.
Highlights
Western cuisine
Live open performance
Online shop
Customer Reviews
Whether a F.R.I.E.N.D.S. fan or not, customers had fun with their dining experience at Central Perk Cafe. They recommended some signature drinks and complimented the well-designed interiors.
A customer from Google Reviews gave this feedback:
"A perfect place for FRIENDS fans. Enjoy a big cup of coffee and food to go with it, that is named after your favorite characters of the series. That favorite sofa and lot of stuff from the series lying around for that perfect photo op :)"
7. Sum Yi Tai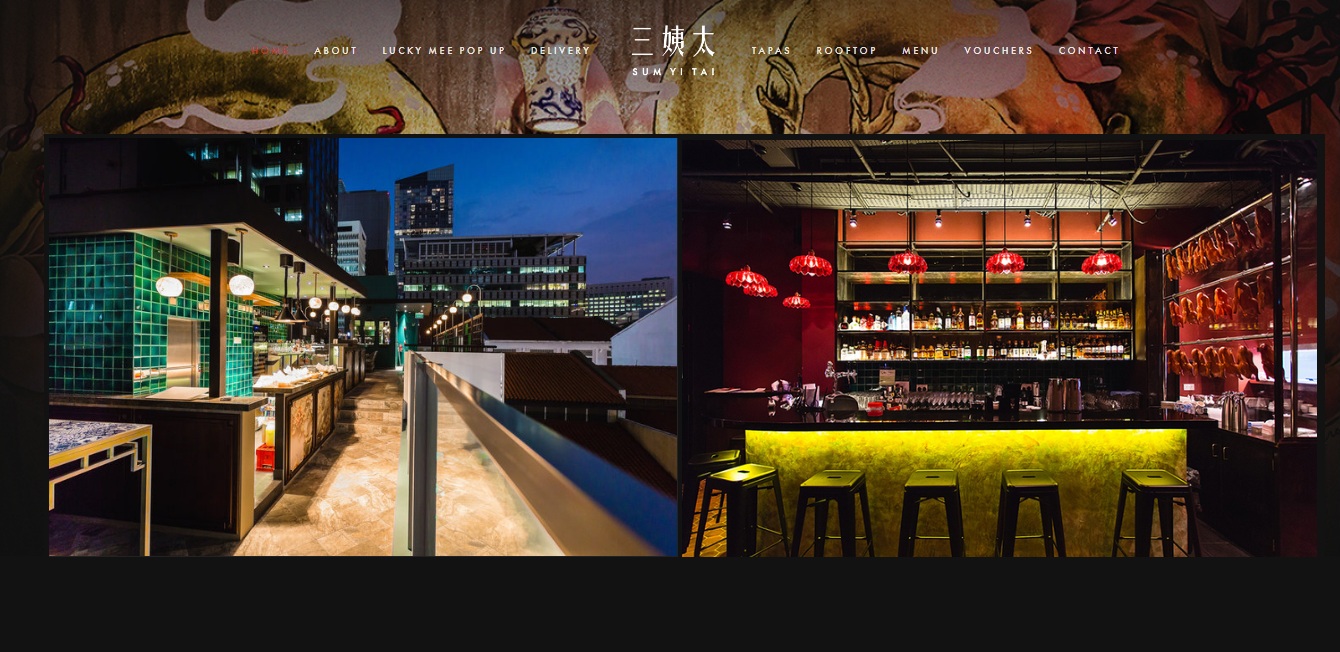 BEST FOR

Traditional chinese cuisine

PRICING

Menu

WEBSITE

http://www.sumyitai.com/

ADDRESS

25 Boon Tat Street Singapore 069622

CONTACT DETAILS

+65 62213665 |

[email protected]

OPERATING HOURS

Monday to Friday

Lunch –

11.30AM to 2.30PM

Dinner –

5.00PM to 12.00AM

Saturday

7.00PM to 12.00AM

Closed on Sundays

Public Holidays

Call us or check Facebook for updates
Next on our list of unique restaurants in Singapore is Sum Yi Tai. This is especially perfect for those who want to have an authentic Hongkong experience without having to fly out of the country.
They conceptualised the restaurant to pay tribute to the decadent glamour of 1980s Hong Kong. There will be dragons clanking glasses while dining on dimsum and classic Cantonese dishes in an oriental setting, complemented with Canto-pop tunes reminiscent of Hong Kong in the 80s.
This 3-storey place has an ablazing ambiance that will really add up to the whole Chinese dining experience.
Highlights
Authentic chinese cuisine

Fun ambiance

Offers 3 concepts
Customer Reviews
Sum Yi Tai has a 4.0-rating on Google with 305 reviews. Here's one of them.
"Really nice afterwork place – drinks are quite cheap for a rooftop in the CBD and the atmosphere and the food are very nice. Kudos to the team behind the bar, they're amazing!"
8. The Coastal Settlement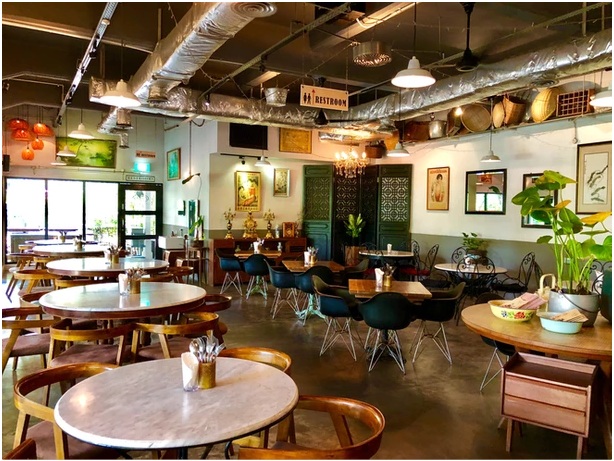 BEST FOR

Scenic view from the restaurant

PRICING

Menu

WEBSITE

https://www.thecoastalsettlement.com/

ADDRESS

200, Netheravon Road Singapore 508 529

CONTACT DETAILS

+65 6475 0200 |

[email protected]

OPERATING HOURS

Tuesday – Thursday: 10.30am till 11pm

Friday & Eve of PH: 10.30am till 12 Midnight

Saturday: 8.30am till 12 Midnight

Sunday & PH: 8.30am till 11pm
Want to be a bit closer to nature while enjoying your scrumptious breakfast or brunch? Dine in now at The Coastal Settlement and they will provide you with both good food, view, and experience.
The restaurant is surrounded by lush greens and even has a peek of the sea to save you from the hustle and bustle of the city. They also offer a fine selection of meals that will definitely make you love the place even more.
The place itself is designed to be a bit vintage so you'd feel more at peace, staring at some memorabilias and nostalgic stuff while having a beautiful view of trees and shrubs in the background.
Highlights
Vintage and cozy interior

Refreshing view of bushes and sea from the inside

Delectable choices of dishes
Customer Reviews
"Great service, they were sanitizing the doors. They gave my dog water. Food was served promptly. Plates were cleared promptly. Served us water without us asking. Explained to me what is good on the menu. 
Taste wise, liked the thick cut fries on beef burger. 
Didn't like the strawberry milkshake, but husband liked it."
9. Sushi Airways


BEST FOR
Airline Themed Sushi Experience
PRICING
Menu
WEBSITE
https://sushiairways.com
ADDRESS
Sushi Airways
20a Baghdad Street, Singapore
Singapore 199659
CONTACT DETAILS
Phone: +65 6291 1151
Email: [email protected]
Reservation: +65 6291 1151
OPERATING HOURS
Monday:
11:45 – 14:30
17:45 – 21:45
Tuesday:
11:45 – 14:30
17:45 – 21:45
Wednesday:
11:45 – 14:30
17:45 – 21:45
Thursday:
11:45 – 14:30
17:45 – 21:45
Friday:
11:45 – 14:30
17:45 – 22:00
Saturday:
11:45 – 14:30
17:45 – 22:00
Sunday:
11:45 – 14:30
17:45 – 21:45
Next on our list is one of Singapore's top Japanese restaurants, Sushi Airways.
What sets Sushi Airways apart is the overall dining experience it has to offer its diners. The restaurant is the only one with a unique retro-airplane theme on the island, featuring servers in hybrid kimonos, airplane-manual menus, stainless steel rivets, an interior reminiscent of an aircraft, and top-notch business class service.
Aside from that, Sushi Airways is also noteworthy because of its menu, which showcases some of the most mouthwatering dishes we have come across so far. Customers can treat themselves to Omakase options as well as a full selection of sushi, sashimi, Maki rolls, tempura, and seasonal delights.
There is also the option for a three course Executive Lunch priced at $26, although this is only available during weekdays.
Highlights
Unique retro interior
Excellent customer service
Authentic Japanese cuisine
And that's it for our list of the best unique restaurants in Singapore! If you've already tried one of the places from lists, share with us your story, as we'd like to hear more about it.
Oh, and if what you want is vegan food instead, you might want to try these best vegan restaurants in Singapore. They offer a full set of vegetarian options mixed with contemporary tastes, creating innovative and unique dishes!