The Top 5 Places the for Best Internships in Singapore
Searching for a good company where you can receive excellent training programs can be quite challenging, especially, if you're not familiar with corporations near your area. That's why we've found you the places where you can find the best internships in Singapore.
When applying for an internship, there's a lot of things to consider, such as the learning and experience that you can get from your chosen company. Therefore, we've picked the leading portals that provide focused programs for the interns.
On our list of the best internships in Singapore, we include comprehensive activities, competent instructors, excellent facilities, and accessible locations. So you'll certainly find the right one for you!
1. Glints
| | |
| --- | --- |
| BEST FOR | Wide range of internship options |
| WEBSITE | https://glints.com/ |
| ADDRESS | 71 Ayer Rajah Crescent #05-0 Singapore |
| CONTACT DETAILS | +65 6681 6481 |
Whichever field you desire to explore, Glints offers a broad range of options for you! As they're the first platform made for students, they provide opportunities for seniors in college to discover different career paths and help them choose the right one for them.
They have vacancies for marketing, finance, software engineering, operations, design, media and communication, human resources, and more, helping you get the best internship in Singapore.
Each company is verified, so you can rest assured that your time will not be wasted as you spend several months learning about business.
Highlights
Summer, winter, and part-time internships
Overseas programs
2. INTERNSG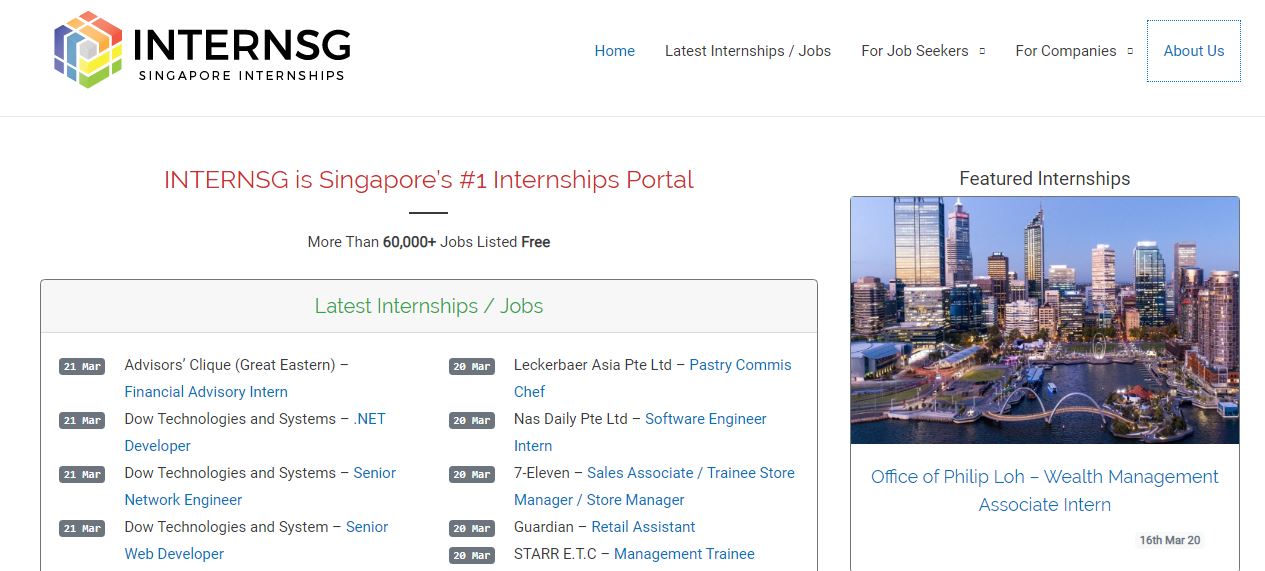 INTERNSG is made for everyone, including students, graduates, and corporations which means that they truly have the best internship in Singapore. Their offered vacancies come from the leading companies in Singapore, making them a reliable platform.
They also have free post job listings for the corporations to find the perfect employee to hire. Whether you're a student, fresh graduate, part-timer or someone who wants to go back to work or try out a new experience, you can find everything that you need on their portal.
Highlights
Free post job listing
Overseas programs
3. Asia Internship Program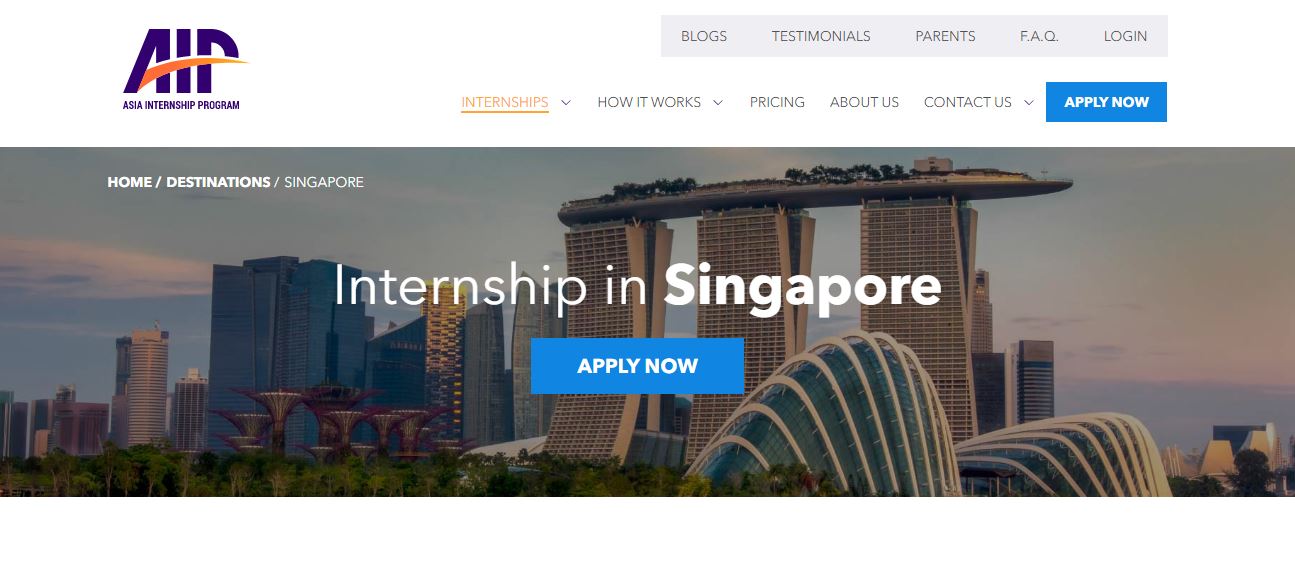 For the foreign students who aim to apply for the best internship in Singapore, Asia Internship Program offers high-quality and competent international internship programmes.
As we all know, Singapore is one of the largest business hubs in Asia, so having a job experience here will help you enhance your skills and gain more knowledge.
Hospitality and tourism, engineering, business development, and finance are their topmost offered internships. The best thing about them is that they offer a complete set of accommodations and this includes a place near public transportations, free WiFi access, central location, 24-hour security surveillance, and restaurants nearby.
They have programme packages that have a maximum duration of 6 months. They also offer scholarships and university grants.
Highlights
Overseas internships
Excellent accommodations
4. Absolute Internship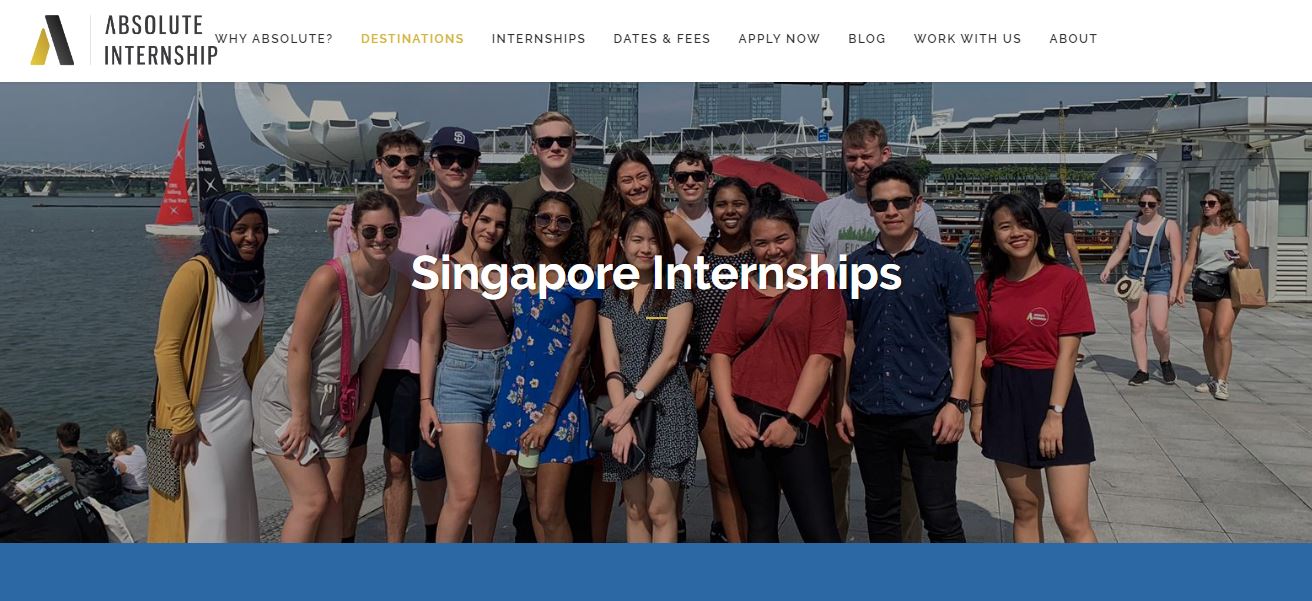 Absolute Internship offers comprehensive programmes for one to two months, giving you progressive career development and hands-on experiences. Their offered programmes will also let you meet and socialize with the professionals in the industry.
You can choose from different industries such as finance, marketing, business, public relations, and more. They also guarantee housing and some additional productive activities on the weekend so the two months would be all worth it.
Transportation to work is also part of their services. Their award-winning programmes are considered to be the best internship in Singapore by many local and foreign students.
Highlights
Award-winning internship programmes
Housing services
5. Next Step Connections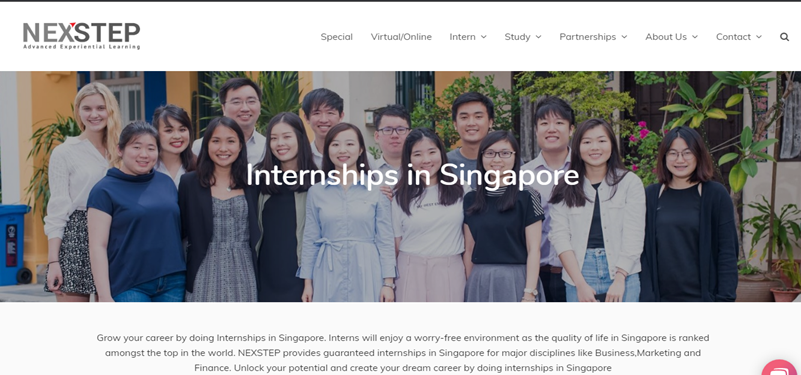 Next Step Connections is your ultimate partner when it comes to student internship. May it be local, international, virtual, or even physical, you can trust them to provide you with the best programs to develop your skills.
Next Step has already helped thousands of students worldwide, partnering with over fifty prominent universities in different countries. It is recognized internationally for its innovative methods and expansive range of internship offers, as well as its endearing support to clients.
Thousands of opportunities await you. Grab onto them today with the help of Next Step Connections, your ever reliable guide throughout the journey of internship.
Highlights
Innovative Internship
Professional Personnel
That's a wrap for our list of the best internships in Singapore! If you'd like to suggest more companies, let us know all about it so we can have more options!
For students who are on a tight budget, these best study loans in Singapore may help you find reliable financial assistance too so you can continue your studies including your internship. They offer a flexible loan amount and payment options to suit your needs.