By Lance Teo
Do you need financial assistance in order to continue your studies? If so, there's no need to worry, because we've found the lenders that offer the best study loans in Singapore to help you pursue your studies!
Every option on our list thinks that everyone deserves to have a quality education without struggling to pay for school fees. With our comprehensive list of the best study loans in Singapore, you will be one step closer to achieving your goals!
1.  DBS Study Loan

If you're looking for a study loan that's easy to repay after studying, then DBS's Study Loan is the perfect match for you! It's open to lending funds to both university study and polytechnic students.
Qualifying for this study loan is also very easy. As long as you're a student not less than 21 years old, you'll be pretty much accepted for this study loan.
Among the key features of this study loan are tuition subsidy of up to 25%, living stipend, and interest-free repayment during the course of the study, should you choose to repay it immediately.
One of the reasons we consider it one of the best study loans in Singapore is the lenient repayment process. You have the option to repay the loan even 20 years after graduating.
What's more, the repayment won't start right away unlike other banks. It will commence 6 months after your graduation, allowing you to find a stable job that will help repay the loan.
Highlights
25% tuition subsidy
Longer tenor
Low interest rates
Easy application
2.  FRANK by OCBC Study Loan

If you're a student from National University Singapore in need of financial assistance, then we have good news for you. Here's the FRANK by OCBC Study Loan, and it has a set of benefits only for NUS students.
Some of these benefits are 20% tuition subsidy, flexible payment schemes, no repayment and 0% interest while studying, and a whole lot more! It's really one of the best study loans in Singapore available today.
In addition, students with approved study loans will also receive an annual stipend amounting to $3,600.
Highlights
20% tuition subsidy
Living stipend
Flexible repayment period
3.  Maybank Education Loan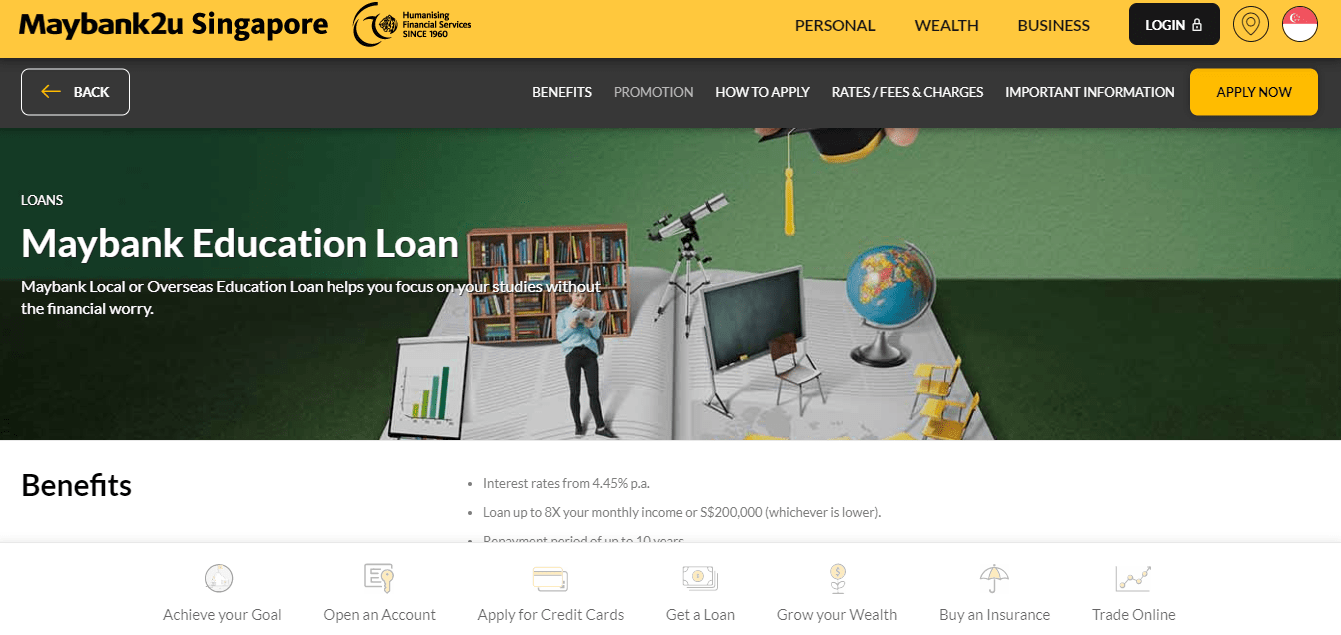 Maybank is one of the few banks on the island that offer study loans with huge sums for those who want to study in Singapore or overseas.
While most banks subsidise a percentage of a student's tuition fee, Maybank just lets students borrow money, and it's up to them if they want to allocate it to their studies.
Moreover, the amount you can borrow depends on your earnings every month. As stated on its website, students can borrow money 8 times their monthly salary.
With this arrangement, you will be able to borrow more money to be used not only for tuition fees but for living expenses as well.
In case the borrowed money isn't enough, students can ask for additional financing for accommodation, food expenses, books, and even computer equipment.
This is why some consider it one of the best study loans in Singapore that every financially-challenged student should get.
However, Maybank offers a shorter repayment period compared to other banks. Students can only repay the loan within 10 years or less.
4.  CIMB Education Loan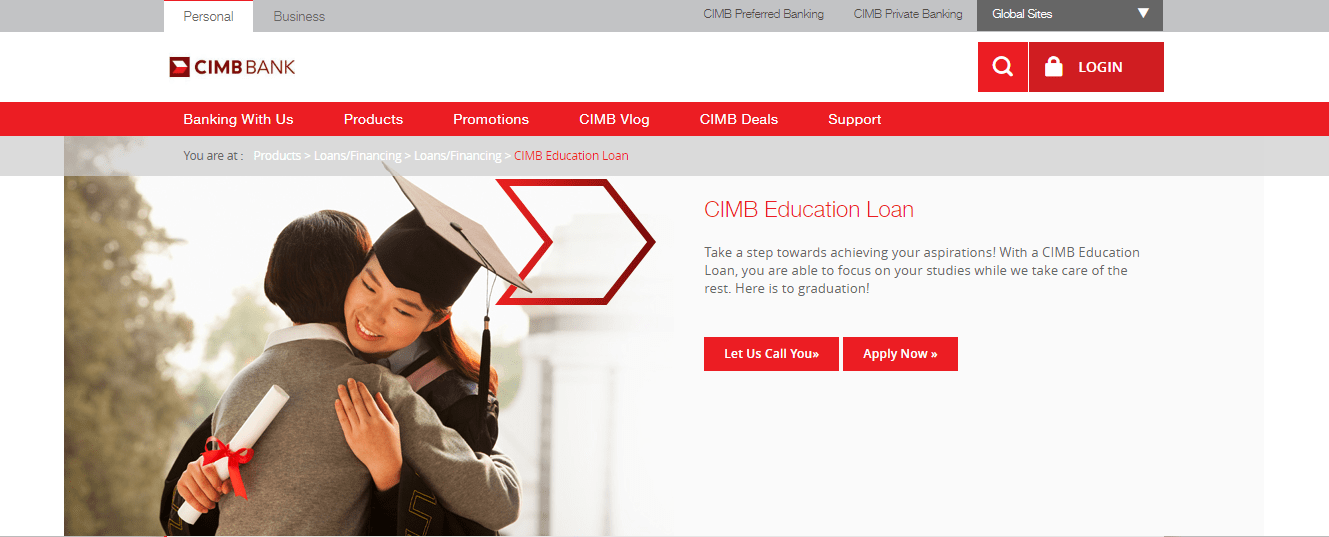 If you want a study loan that covers all your education needs, then the CIMB Education Loan has you covered!
Instead of focusing only on subsidising a portion of your tuition, CIMB goes beyond by making sure that other areas such as accommodation, supplies, and more are also covered.
One of the great features of this study loan is the flexible repayment period. Instead of dictating how long students have to repay the loan, CIMB will let you pay for it in your own time, as long as you don't go beyond 10 years.
It also has the lowest interest rates among the study loans offered on the island. With this feature, you don't have to stress over a future of drowning in student loans and debts.
In terms of eligibility, it's pretty easy to qualify for the CIMB Education Loan. If you're a Singaporean resident and not less than 16 years old, it will be easy for your application to be approved.
Highlights
Wide coverage
Low interest rates
Flexible tenure
Low processing fees
5.  RHB Education Loan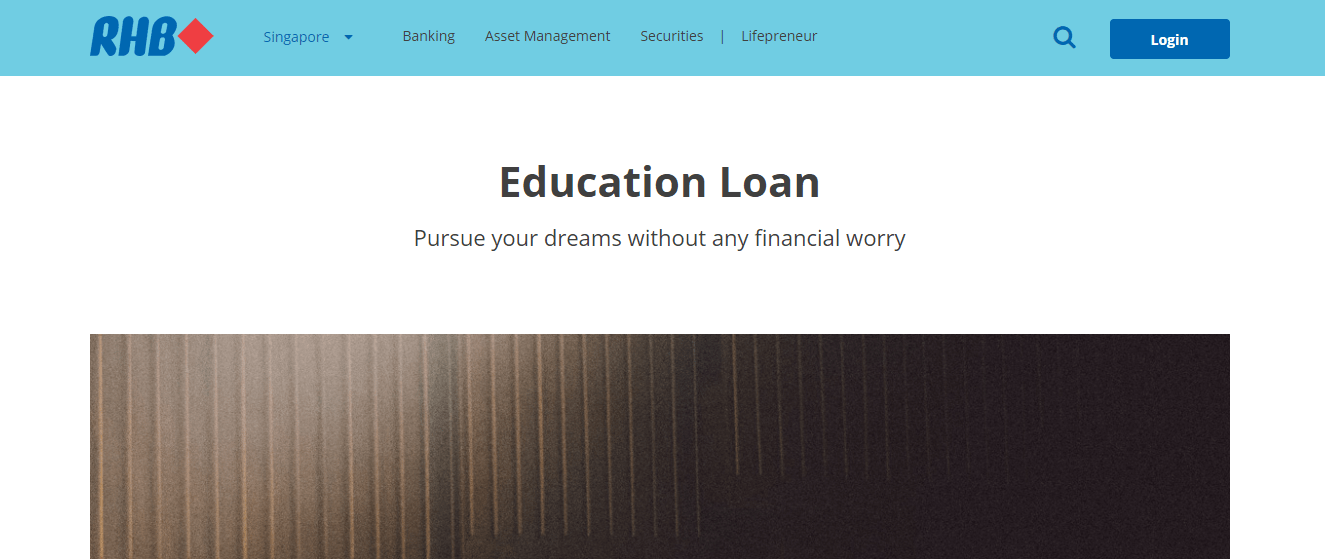 With the RHB Education Loan, you don't have to worry about postponing your dreams because of financial problems. As one of the best study loans in Singapore, it will allow you to focus on achieving your dreams by being able to go to school without any worries.
It's perfect for students who want to study locally and even those who want to pursue studies overseas. Once your application gets approved, you will be able to borrow money that can cover tuition fees, accommodation, and books.
On top of these, RHB promises flexible and lenient repayment terms. You can choose to pay for it incrementally while studying or start paying once you've landed a stable job after graduating.
Above all, the money you borrow can go up to 6 times your monthly salary. With that much money, you will be able to pay for everything related to education!
Highlights
For local and international students
High loan amount
Low interest rates
Flexible repayment schemes
Have you already identified which study loan you will avail for yourself? If you have, share it with us and we'd definitely love to hear what you have to say about the options included on our list!
By the way, if you're also looking into other types of loans, you may want to check out our list of the best loans in Singapore. Any of these banks or money lenders will help you with what you're trying to achieve!