11 Spots with the Best Craft Beers in Singapore
When visiting a pub in town, aside from wine and whisky collections, you can also enjoy the best craft beers in Singapore. Compared to the ones sold in supermarkets, craft beers are richer in flavour, have a unique backstory, and are more luxurious than a usual beer.
This is why you shouldn't miss the greatest craft beers ever made in the country! We've searched all over the island and came up with only the most-recommended places that make the best craft beers in Singapore, offering exceptional drinks to their patrons.
1.  TAP Craft Beer
Having several branches all over the island, TAP Craft Beer has truly proven that they're one of the leading bars offering high-quality signature beverages. They have a total of 20 craft beers and a specially designed menu that changes every month so you can keep coming back for more refreshing dishes.
On their main course menu, they have different kinds of burgers, stews, steaks, fries, pasta, meatballs, rice bowls, and more. A sharing platter is also part of their services so you and your friends can have a good time!
For their best craft beers in Singapore, the menu selections vary depending on the branch. With their wide range of collections, you can try a variety of tastes and styles.
Highlights
Private event gathering
Special promotions
Customer Reviews
Customers have recommended TAP Craft Beer because of the simple style and dynamic craft beer servings. A customer wrote this post on Google Reviews:
"Was told by a friend to try this place. Gem in the area. Staff are friendly and its a simple place that serves good food to go with 20 different types of beer. i only managed 3 today. The variety and vibe is great. However, if you are looking for an artsy, glam bar, this is not the place.  Will be back."
2.  Druggists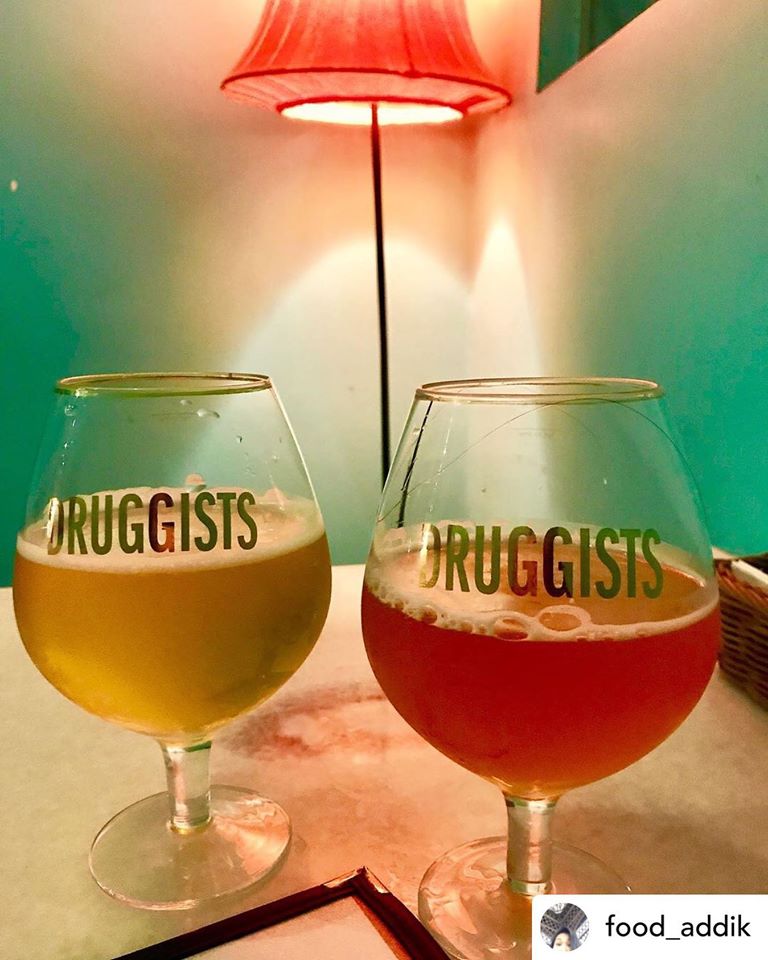 BEST FOR 
Craft beer delivery
PRICING
Menu
WEBSITE
https://www.facebook.com/DruggistsSG/
ADDRESS
119 Tyrwhitt Rd, Singapore 207547
CONTACT DETAILS
+65 6802 0228
OPERATING HOURS
Monday to Thursday and Saturday: 4pm–12am
Friday: 4pm–1:30am
Sunday: 2–10pm
Druggists is an award-winning bar that features a wide range of craft beers amounting to 23 taps, as well as cocktails, wines, tea, and more. For their menu dishes, they have burgers, fries, chicken, meatballs, cheese sticks, and more.
They also serve traditional Asian delicacies if you prefer Asian food to Western cuisine. With their range of beverage selections and cuisine, they're a good place to go for the best craft beers in Singapore.
Highlights
Beer delivery
Event services
Customer Reviews
Many customers mentioned the great selection of craft beers at Druggists and they also said that their free tasting service is excellent. A customer from Google Reviews gave this review:
"Lovely place if you look for a bit more relaxed time for a beer 'n a bite. Always a beer for your taste! ovely architectural details for the ones that are hooked to things like that. Floor is amazin"
3.  Level 33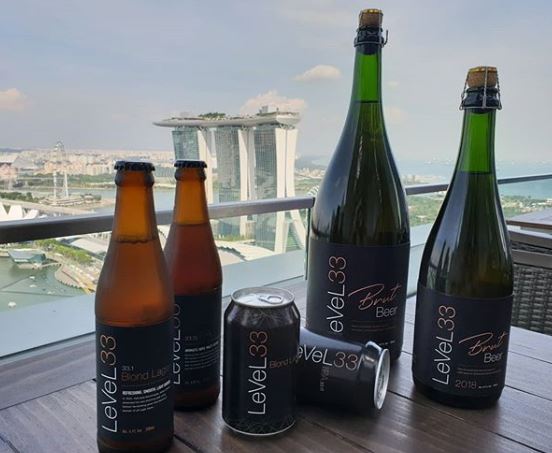 BEST FOR 
Mix of traditional and modern craft beers
PRICING
Menu
WEBSITE
https://www.level33.com.sg/
ADDRESS
8 Marina Boulevard #33-01 • Marina Bay Financial Centre Tower 1 • Singapore 018981
CONTACT DETAILS
+65 6834 3133
OPERATING HOURS
Mondays – Thursdays: 11.30am – 11pm
Fridays: 11.30am – 1.00am
Saturdays: 12.00pm – 1.00am
Sundays and Public Holidays: 12.00pm – 1.00am
Eve of Public Holidays: Till 1.00am
As you get to relax and see the wonderful view of Marina Bay and the city's skyline, you can have the best craft beer in Singapore, made by Level 33. Being known as the world's highest urban microbrewery, they offer freshly brewed beer crafted with traditional ingredients.
The place is designed with modern interiors, displaying luxury and elegance. The most notable thing about their beer selections is that they make classic selections with a modern touch so that it'll suit everyone's tastes.
Highlights
Seasonal beers
Private events
Customer Reviews
Customers recommended Level 33 because of the breathtaking view and high-quality craft beers. A customer left this review on Google Reviews:
"What a unique place to have a drink and dinner. Our friend reserved this place a while back as it books up quickly for sunset drinks and dinner. A great view the nightly light show in the marina. They have their own brewery with a good selection of quality brews. Their wine list was decent as well. The food was flavorful and portioned perfect for sharing. Highly recommend this place"
4.  Little Island Brewing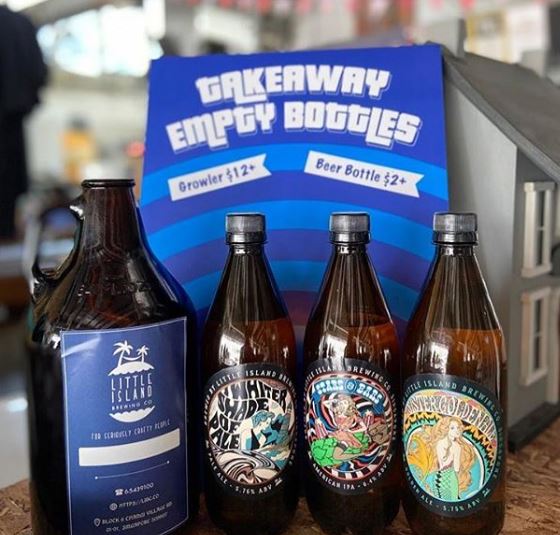 BEST FOR 
Locally made craft beers
PRICING
Menu
WEBSITE
http://libc.co/
ADDRESS
6 Changi Village Road Singapore 509907
CONTACT DETAILS
6543 9100
OPERATING HOURS
Mon-Thu: 12 noon – 11pm
Fri: 12 noon – 12mn
Sat: 11am – 12mn
Sun: 11am – 11pm
For fresh locally brewed craft beers, Little Island Brewing is the place to be! They curate a world-class and award-winning menu that'll certainly leave you with the best craft beers in Singapore.
The bar is styled with laid-back and chill vibes — you can also feel the romantic breeze at night here while having some beer and enjoying the live band performances. They offer a whole range of lunch and dinner dishes, as well as Western cuisine and a kid's meal!
Their craft beer menu features different styles and flavours and they're also served on a rotating basis, so you can try all of them.
If you'd like to include craft beers in your upcoming wedding reception, they also cater wedding events, so you can have your favourite drink on the most awaited day in your life.
Highlights
Live band performance
Wedding events
Customer Reviews
Customers said that even the non-drinkers will have a delightful experience at Little Island Brewing. They say that they have a complete range of drinks and tasty food.
A customer gave this feedback on Google Reviews:
"Great little craft brewery with plenty of options for the non beer drinkers, such as wine, cocktails, soft drinks and codfee. The self pour system is really good and let's you decide how much you want in each glass. The range of beers is impressive and the food is tasty. Great fun in the afternoon sun."
5.  Smith Street Taps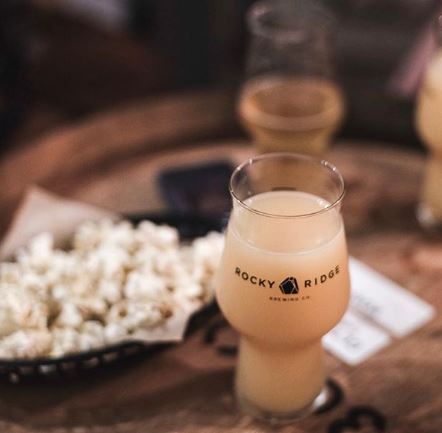 BEST FOR 
Traditional cuisine
WEBSITE
https://www.facebook.com/smithstreettaps
ADDRESS
Blk 335 Smith Street Chinatown Complex #02-062 Singapore
CONTACT DETAILS
+65 9430 2750
OPERATING HOURS
Monday to Thursday: 6:30–10:30pm
Friday: 5–11pm
Saturday: 2–10:30p
Whether you prefer local or international craft beer selections, Smith Street Taps has everything you've been looking for! They're located at the centre of Chinatown, making it easier for you to find and visit their place.
They also specialise in serving local food dishes and treats so for the Singaporeans and tourists who want to explore Singapore cuisine, this is a must-visit place!
Highlights
Local delicacies
Special events
Customer Reviews
Smith Street Taps has received a lot of compliments from customers saying that the place offers a great selection of beers and local food. A customer from Google Reviews wrote:
"Definitely a must visit to try the myriad of craft beers available. A little pricey for a hawker center but definately cheaper than any pub offering the same beers, if even available. Best thing is, there's lots of great local food to pair with your beers."
6. American Taproom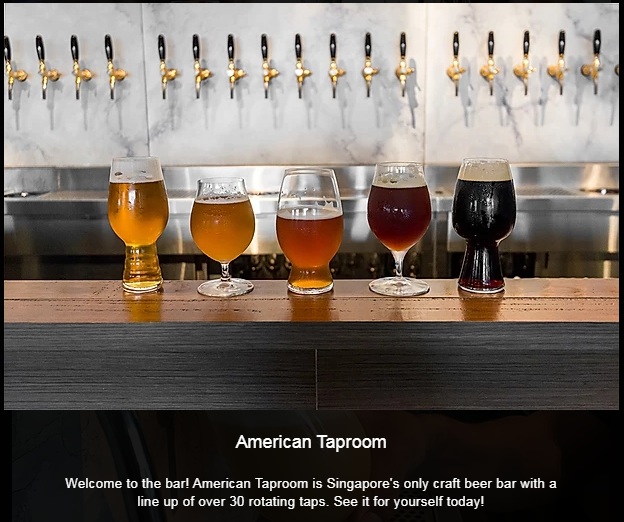 Image Source: American Taproom
American Taproom was established 30 years ago by three beer enthusiasts who have been running bars, bustling restaurants, and active beer retail and distribution businesses for years. Their passion for beers have been beautifully translated into what today's one of the best craft beer curators in Singapore.
They take pride in their large inventory of craft beers, specifically their 30 beer taps. It's like having a beer every single day of the month!
They also make sure to build a team full of certified professionals in various yet related fields to secure the quality not only of their products but of their services as well.
Highlights
Wide beer selection

Professional and well-trained staff

Unique beer tasting experience
Customer Reviews
"Can't believe I've not reviewed this place. 30 lovingly curated taps of excellent craft beer, ranging from Singaporean craft to regional selections, and more. All served up in beautiful spiegelau craft beer glasses – one of the few venues in Singapore to do so. 
Food is also fantastic too. Fries are crispy and not over-salted, burgers are by far one of the best in Singapore, and the pizzas are very delicious albeit a bit on the thin side. Highly recommend the smoked duck pizza. Lunch specials are extremely value for money, and there are other daily specials too – check out their socials for specific deals. 
Can get crowded at night, do make reservations. Afternoons are fairly quiet.
My favourite craft beer place in Singapore – and that's saying a lot."
7. The 1925 Brewing Co. Joo Chiat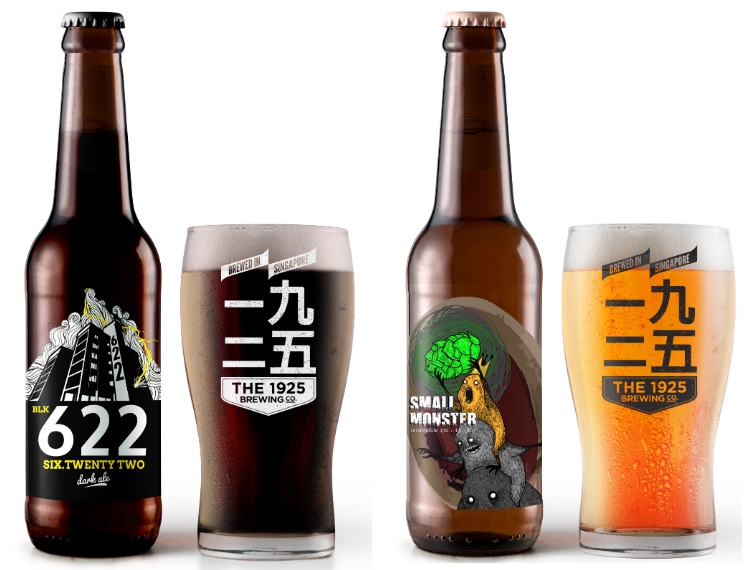 Image Source: The 1925 Brewing Co. Joo Chiat 
Drop by The 1925 Brewing Co. Joo Chiat and have a taste of some of their famous brewed beers. This microbrewery and restaurant is a family-owned business that has been running since 2014.
They have a variety  of craft beers for you to choose from. Some are own-made and others are made by their guests which they also feature in their beer taps. Regardless, they make sure that all of their drinks are always of the highest quality.
You will also be surprised at how affordable their products are knowing that all of these are made only from the best quality ingredients.
Highlights
Expert staff

High quality ingredients

Genuinely-crafted beers
Customer Reviews
"A hidden gem in Joo Chiat area serving local brew beers n craft beer, of which was shifted from their previous Bras Basah location.  Quite a good variety of beer selections which pair well with their teochow fusion western dishes. Beers n food are good quality n prices are very reasonable.  Try to be there during the happy hour periods to enjoy the drinks at even better deals. Staff are very friendly n helpful n passionate abt their home brews."
8. In Bad Co.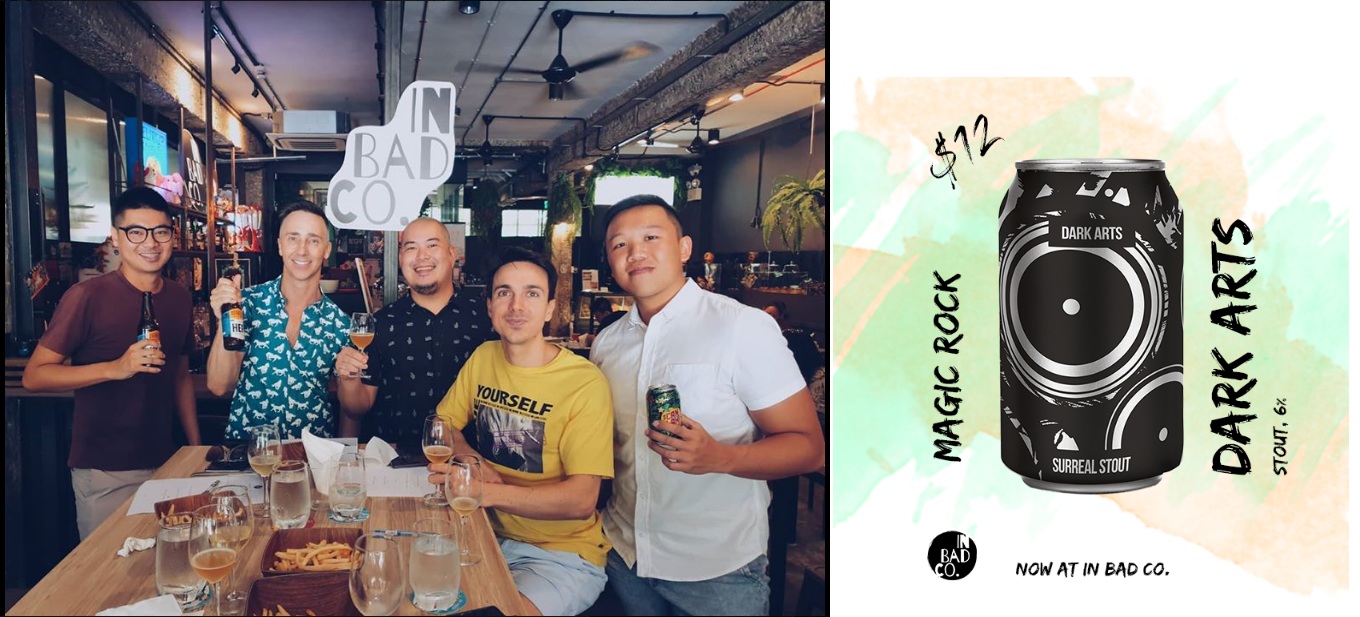 If you want to explore a wide variety of craft beers you can order some at In Bad Co. Their drinks menu is filled with a delectable choice of local, regional, and seasonal beers that will definitely please your palate. 
These beers are also offered at affordable prices so you can enjoy drinking alone or with your friends as much as you want. You may also match these with any of their food and snack choices.
If you have any allergies you can easily stay away from those because on their menu are some descriptions that say what type of ingredients are in the drinks.
Highlights
Local and Regional beers

Affordable
Customer Reviews
Here's a review from one of their customers.
"Tucked away in a rather secluded place near Fort Canning MRT Station, but then ambience is lovely! The staffs are approachable and friendly. The food look so appealing, and the taste was not bad! Next, their selection of craft beers was really unique and special. A restaurant bar worth visiting!"
9. Brewlander & Co. Pte. Ltd.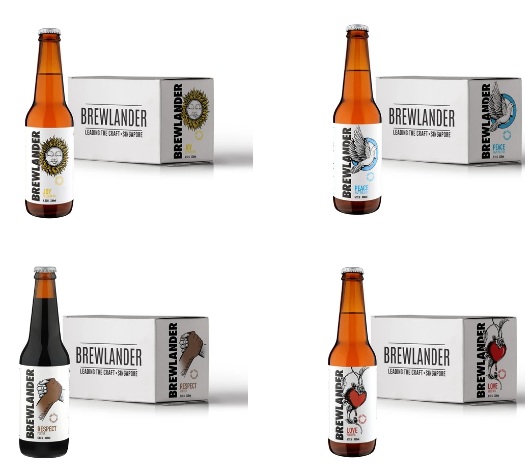 Brewlander & Co. Pte. Ltd. is Singapore's first Gypsy Brewery that features a large collection of craft beers that is perfect to be consumed anytime of the day. The shop normally offers their beers in packs of 6 or cases of 24 so they'd be wonderful if you're having a party or small gathering at your place.
They have also teamed up with The Golden Duck so you can match your favorite beer with their incredibly tasty packet of salted egg fish skin snack.
Highlights
Available for delivery

Free to cancel after 3 orders

5% off your first subscription and recurring orders.
10. TSA Wines 
Explore the tasteful world of craft beers, wines and artisanal ciders through the large inventory at TSA Wines.  TSA Wines is considered a veteran when it comes to providing Singapore with some of the best tasting International craft beers, ciders and wines since 2008.
TSA firmly stands by their name Taste So Awesome by ensuring that they only deliver the best tasting and most awesome craft beers for their beloved clients. This is even topped with their high quality and personalized customer services.
Watch out for their many promotions and discounts on FaceBook and Instagram.
Highlights
Wide range of International Craft Beers, Ciders and Wines
Large inventory
11. Almost Famous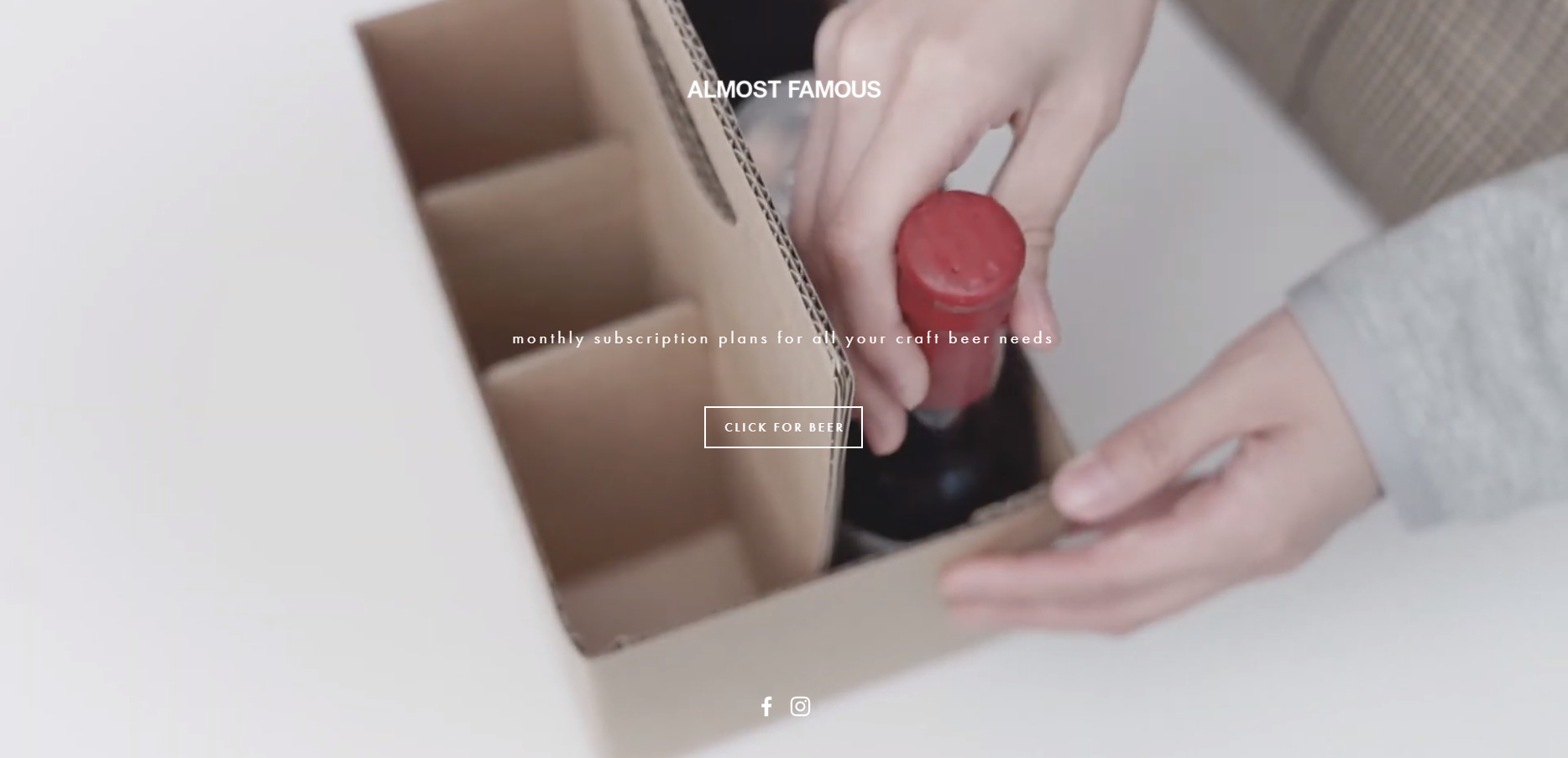 BEST FOR
Craft Beer
PRICING

Casual Plan – S$65.00 every month

Taster's Plan – S$90.00 every month

Premium Plan – S$130.00 every month

WEBSITE
https://almostfamous.sg
ADDRESS
CHIJMES, 30 VICTORIA STREET, #01-06, SINGAPORE 187996
CONTACT DETAILS
MON-FRI 5PM – 1030PM
SAT-SUN 12PM – 1030PM
Almost Famous aims to provide their customers with a unique craft beer tasting experience. They do so by providing an environment that allows tasters to fully immerse themselves in what they're drinking.
Their minimalist interior and furnishings ensure that nothing will detract customers from their drinking experience. They offer a wide selection of craft beers, brewed locally and abroad.
They also have a few bar bites that are perfect for pairing with their drinks. If you don't have time to dine in, feel free to place food delivery orders through their website.
Highlights
Unique beer tasting experience
Minimalist style
Wide selection of beers
Bar bites available
That's it for our list of the best craft beers in Singapore! Have you already tried some of the drinks from our picks? If so, share with us your thoughts and tell us about your experience!
For more options, take a look at these best draft beers in Singapore! For a more unique and unforgettable drinking experience, they offer a variety of flavours and tastes that you'll surely enjoy.